Climbing Kilimanjaro is a commonly shared bucket list item for adventure travellers. It's been high on mine for years, another big one for me was visiting 100 countries before I'm 40 years old.
Never in my wildest dreams did I envisage doing both at the same time!
At the ripe old age of 35, I flew into Tanzania; my 100th country, with the starry-eyed dream of celebrating this milestone by summiting "Kili," the tallest mountain on the continent of Africa, before exploring the rest of this fantastic country.
Follow this in-depth guide and you'll be up and back down with your very own Kili victory story before you know it…
The History of Kilimanjaro: Africa's Tallest Mountain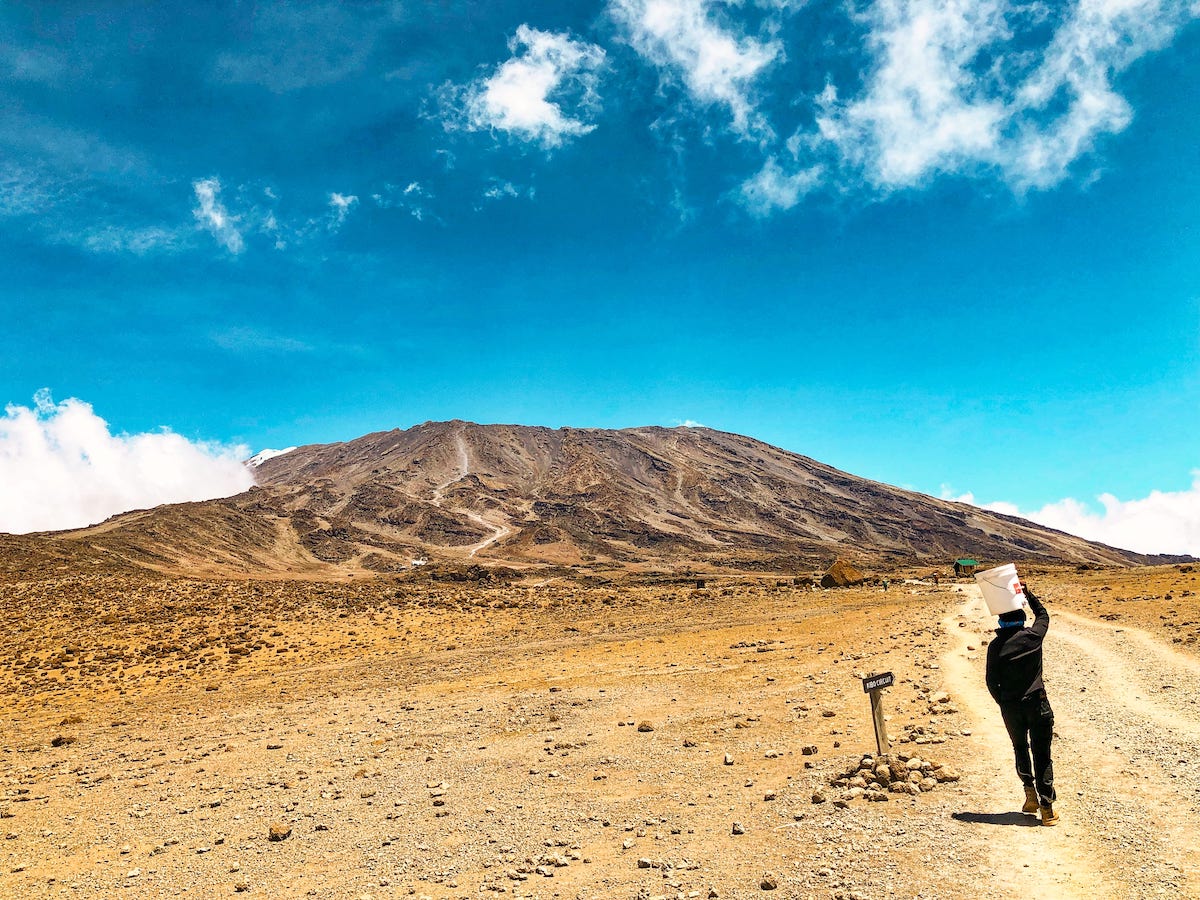 The tallest mountain on the African continent and the highest, single, free-standing mountain in the world, Mount Kilimanjaro is a true force of nature. Formed by volcanic activity alone, Kilimanjaro is a combination of three distinct volcano cones; Kibo, Mawenzi and Shira.
Standing at a grand 5,895 metres (19,341 ft) on the border of Tanzania and Kenya, climbing Kilimanjaro has long enticed explorers for centuries.
There's actually no record of any climb being made by the indigenous East African population before outside forces arrived (although realistically, the locals probably will have done it with ease in decent conditions).
German geologist Hans Meyer, Austrian mountaineer Ludwig Purtscheller, local guide Yohani Kinyala Lauwo and a number of native porters were the first known adventurers to summit Kilimanjaro in 1889.
The mountain has always stood as a sacred place in the landscape, especially for the local Kiswahili people and it's now a proud symbol of Tanzania, offering regular employment to (strong) local lads and lasses, who help foreigners like myself to reach the summit of Kilimanjaro.
As a dormant volcano, Mount Kilimanjaro isn't free from any potential volcanic eruption (but it's highly unlikely), though the last volcanic activity is thought to have been between 150,000 and 200,000 years ago.
Despite its lack of volcanic eruptions, climbing Kilimanjaro isn't completely without its risks. While the climb isn't anywhere near as hazardous as other Seven Summits mountains, such as Aconcagua of Argentina, the worst things tend to happen to those with incredibly bad luck (like the sad story of this Irish lady) or to individuals who aren't physically conditioned enough to scale the mountain.
How To Get To Kilimanjaro?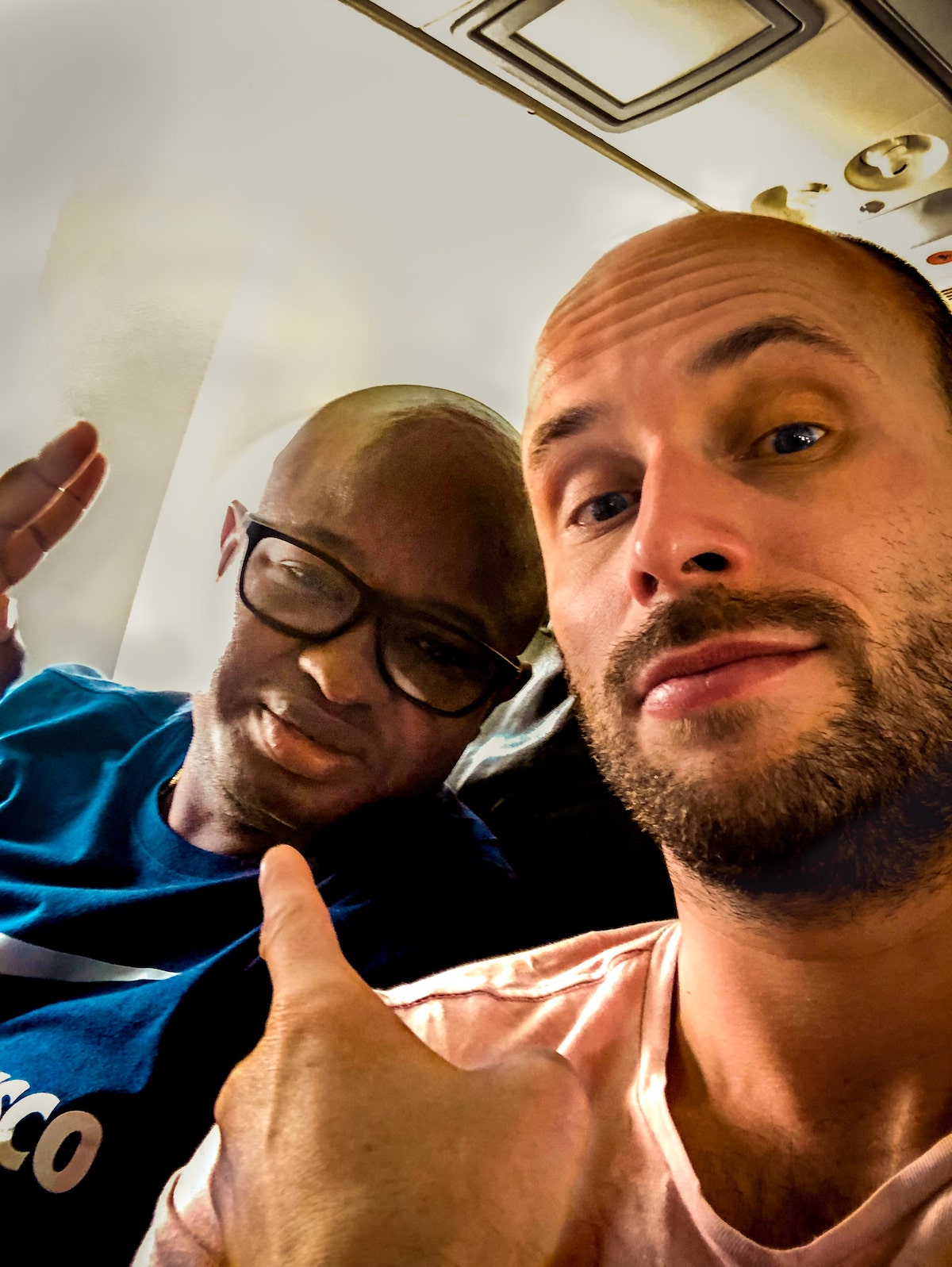 Coming from outside of Tanzania, you will need to fly to Kilimanjaro International Airport (JRO), the closest international airport to Africa's tallest mountain.
After flying into Kilimanjaro International Airport, most trekkers stay in either Arusha or Moshi, two Tanzanian cities that are considered to be the gateway to climbing Kilimanjaro.
It can get a little confusing at this point as both towns have an airport – why not just fly into one of those two options instead?
The short story is that they are very limited (as in you can only fly into them from a small number of destinations around the world).
I stayed in Moshi and also flew to Moshi airport from France, connecting in Kenya. Take note that this is a rare option due to my unique situation at the time, most people book everything online and fly into JRO to meet their smiley tour operator, who takes care of their logistics for them.
A lot of travellers on a tight budget fly into JRO, then make their way to Moshi town via a shared van taxi, to get a cheaper deal for climbing Kili. I didn't do it for this reason and I will elaborate on why I flew to Moshi, in my experience of climbing Kilimanjaro at the end of this post, but the difference between staying in Arusha and Moshi is generally a case of six and two threes.
Moshi is the capital of the Kilimanjaro region and an entry point to hiking, Tanzania Safaris and general Tanzania exploration. Arusha is one of the largest cities in the area and is an international hub for diplomacy and travel, famously as a gateway to the Serengeti National Park in the west and climbing Kilimanjaro in the east. 
Staying in either of them before your climb is fine, so chill out with your FOMO (just avoid the cheap and aptly named "Kilimanjaro Beer" until after your climb!)
The easiest way to get to either town from the airport is via a private taxi, or by jumping in a shared minivan. As you'll need to join a tour to climb Kilimanjaro, transport from either of these towns to Kilimanjaro will be included if you sort it all online before you go – you'll just need to let the operator know where to pick you up.
Best Time of Year To Climb Mount Kilimanjaro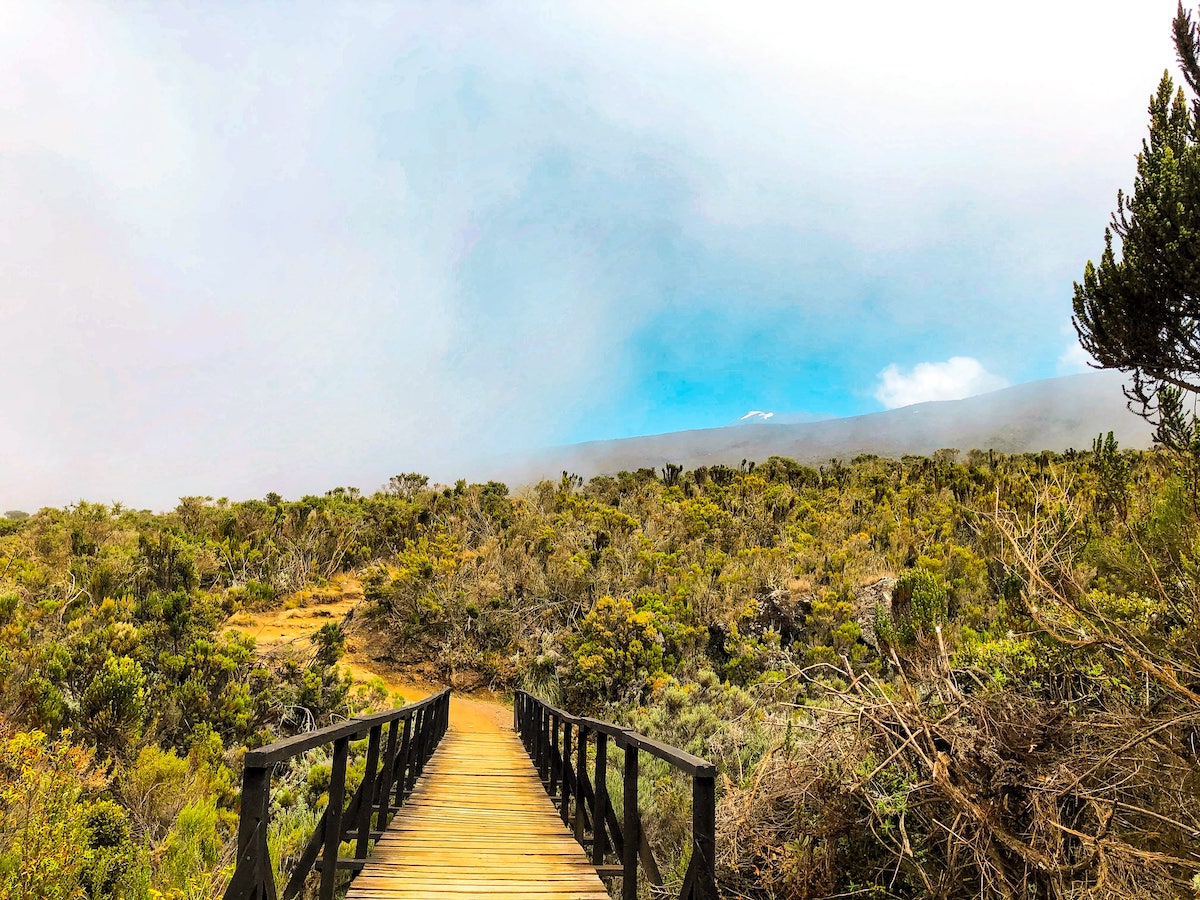 Climbing Kilimanjaro is relatively easier than other mountains in the "Seven Summits" category, such as the tallest mountain in Europe, Mount Elbrus.
However, it makes perfect sense to try and control as many variables as possible, in order to successfully summit Kili. Even during peak climbing season, you'll still need to keep an eye on the weather to make sure you're giving yourself the best chance of reaching the top possible.
There are two distinct trekking seasons for climbing Kilimanjaro; January and March and June and October. This is when weather conditions for climbing the mountain are at their best.
The trekking season from January to March is generally the coldest season and the time you're most likely to find snow at the summit. This might be a drawback for some who struggle in the cold, but this is also the time when fewer climbers are on the mountainside.
The June to October hiking season coincides with school holidays, so you're likely to be sharing the mountainside with a lot of other hikers. (I climbed it in September and it honestly wasn't too crowded to the point of annoyance or being held back).
Can You Climb Kilimanjaro Independently?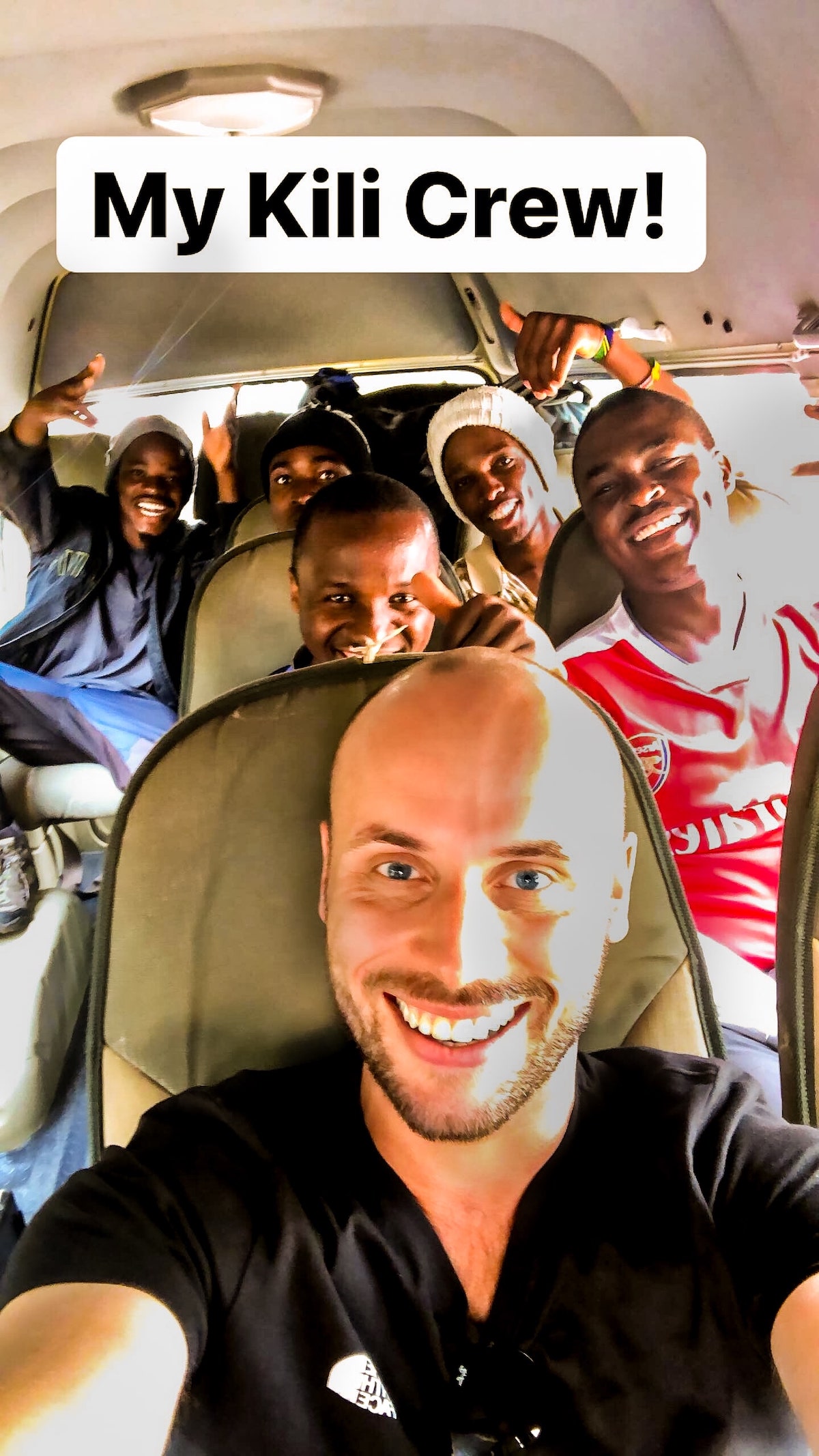 This shouldn't feel like a drawback though, even the most experienced mountain climber can benefit from a local guide who knows the mountain like the back of his hand, like mine – the man, the myth, the absolute legend that is "Agga," who was marching up to the top of Kilimanjaro with me for his 142nd scalp!
Cost of Climbing Kilimanjaro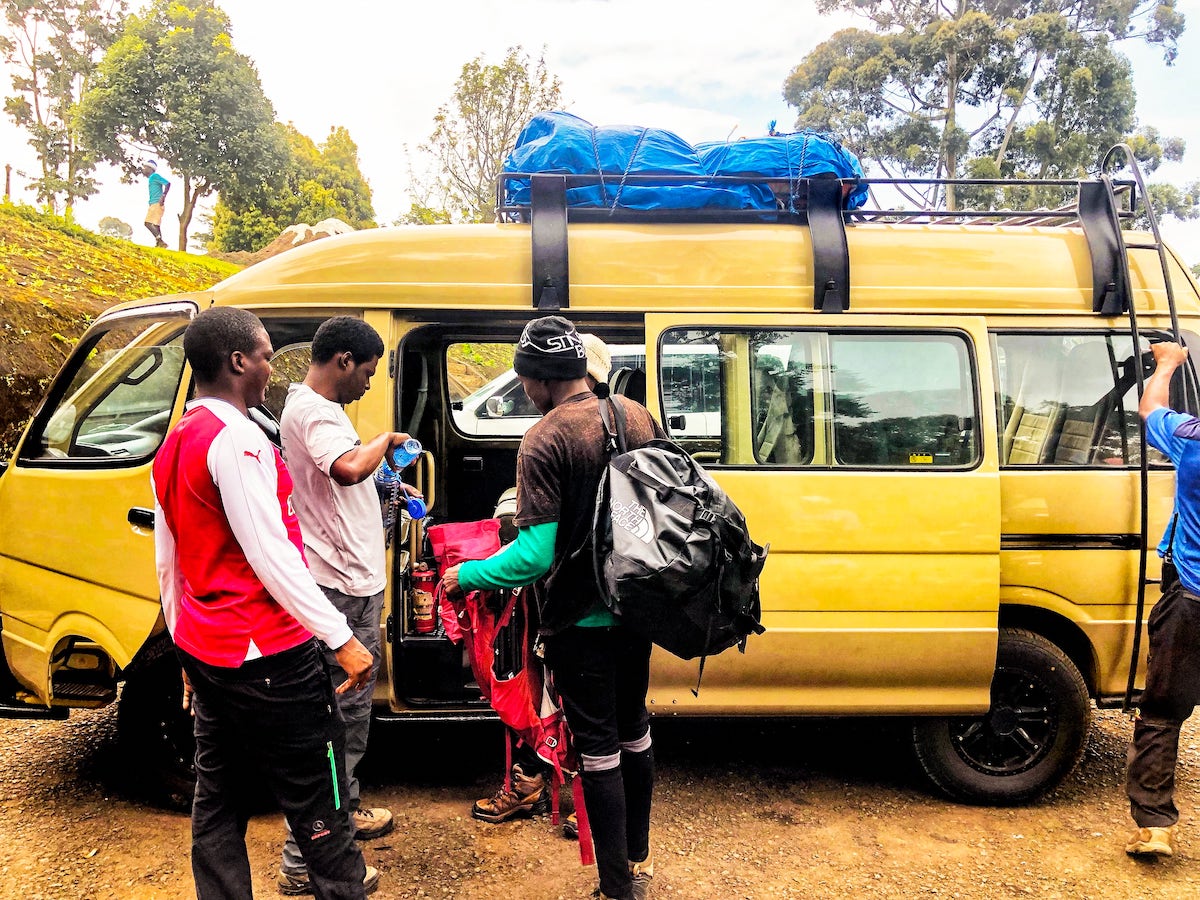 Climbing Kilimanjaro doesn't usually come cheap, mine certainly wasn't in the "budget" category as it was very last-minute and well… I'm no longer a budget backpacker (nor do I pretend to be one).
Don't get me wrong, I do love a good bargain whenever the moment presents itself, and if you have the luxury of time, alongside a high tolerance for bartering, you can bag a good deal for climbing Kili.
When you book a Kilimanjaro climb, you'll get given one figure, which is broken down into a number of different fees. Prices differ between tour operators and guides and which route you are taking (more on that below), but in general, the cost of climbing Kilimanjaro can range from anywhere between $1,000 USD and $4,000 USD.
The Kilimanjaro National Park fees make up the majority of the cost. For example, a six-day/five-night camping trek will set you back around $800 in fees alone. The rest covers the cost of guides, a team of porters, food and equipment. You will find tours that are temptingly cheap, but I'd steer clear.
Generally the lower the price, the poorer the conditions. You really do get what you pay for here, but that's up to you. As I said earlier, you can base yourself in Moshi for a couple of days and barter to your heart's content.
I paid $2000 USD for a 6-day climb (which ended up being 4 days), taking the Marangu Route. This did not include flights and also I got a little bit knocked off because I wanted to sort out my own accommodation.
Again, that is a rarity and I'll explain the method behind my madness in my experience wrap-up at the end of this post, also with a shout-out to a fantastic tour company (not sponsored, it was all from my own pocket).
7 Established Routes For Climbing Mount Kilimanjaro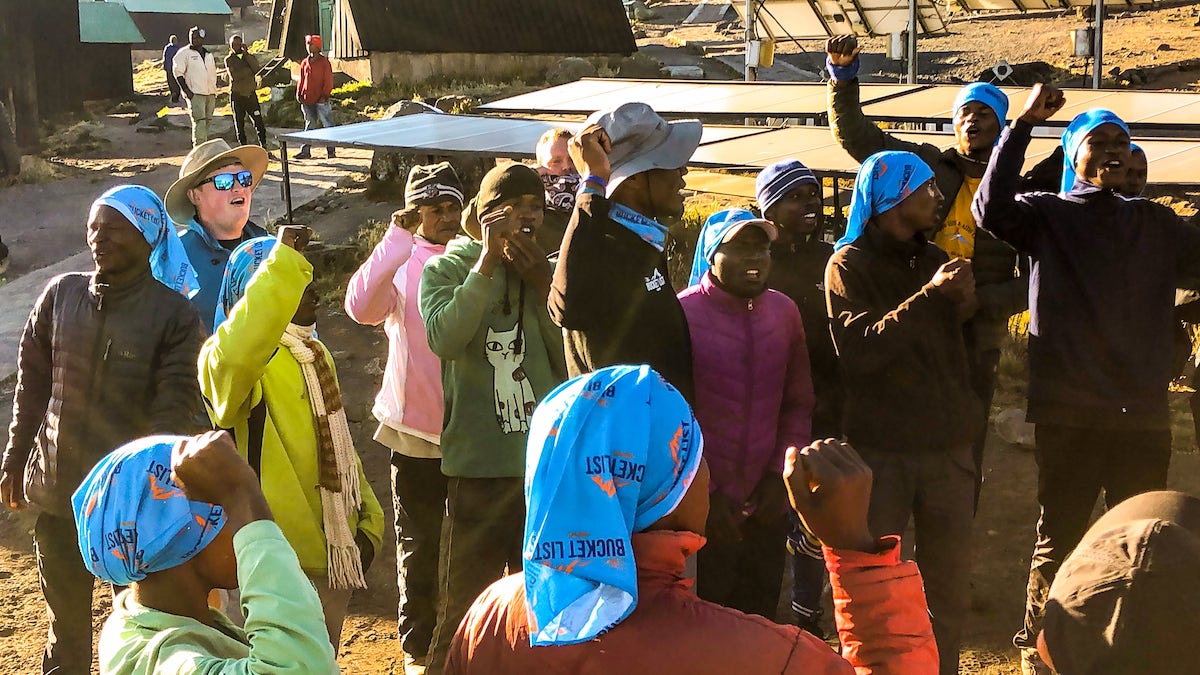 Mount Kilimanjaro is a giant structure, covering vast swathes of Kilimanjaro National Park. This being the case, there's not one single route to the summit but seven to choose from.
When it comes to climbing Kilimanjaro, it's worth thinking carefully about which route is right for your fitness levels. Below I've given you a quick overview of all seven of your options so you can make an informed choice before you book your tour.
Marangu (Coca-Cola Route) – 4-6 Days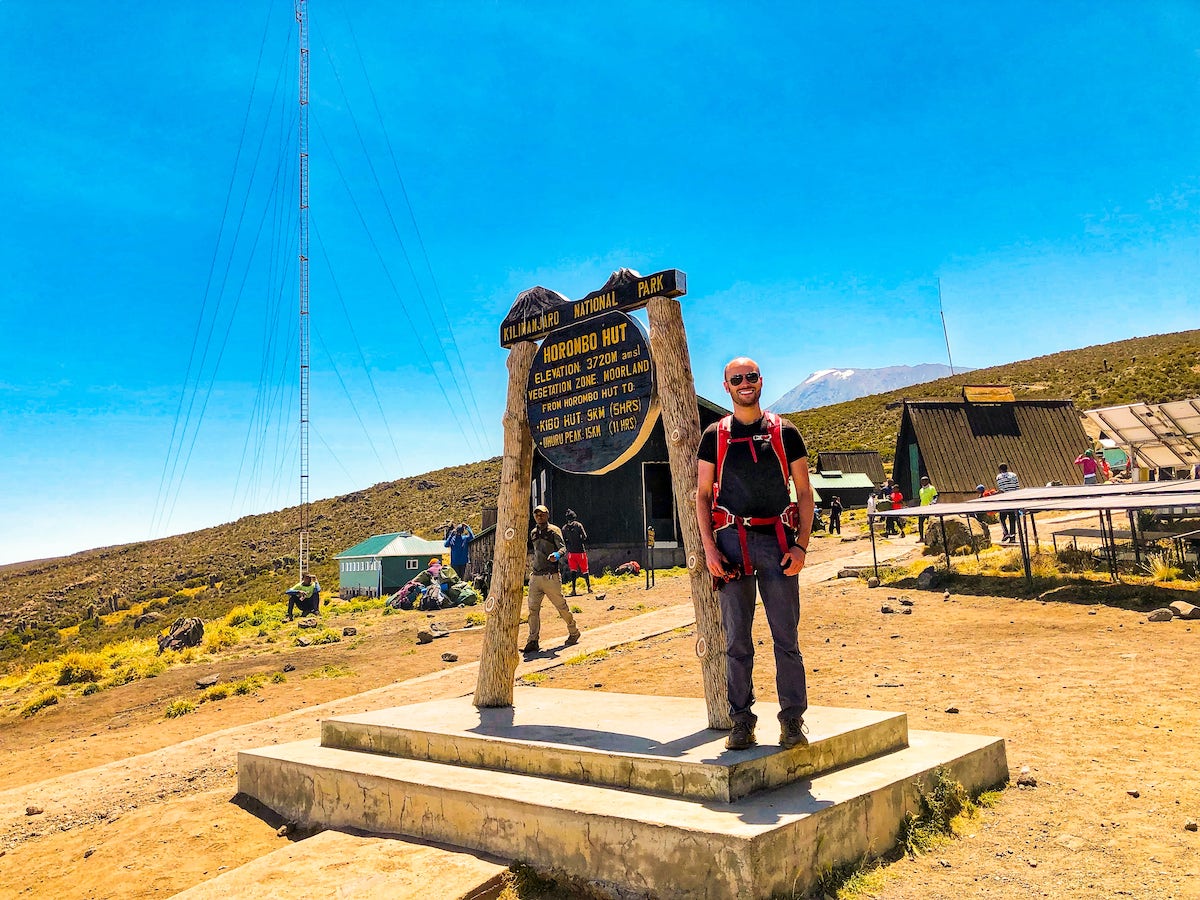 The Marangu route starts from the village of Marangu, which sits southeast of Mount Kilimanjaro and is actually one of the most well-established routes to the summit. From the Marangu gates, it's about 45 miles (70km) to the top of Kilimanjaro.
Nicknamed the "Coca-Cola Route," or the "Tourist Route", this is seen as perhaps the most commercialised route, generally chosen by novice climbers.
Don't think this is a bad thing though (I certainly didn't and I've been on my fair share of dodgy-ran, shitshows of base camps, I'll take comfort with a climb any day!)
Well-established routes come with their own advantages, like a series of huts along the way to help you shelter from the elements, or get a few hours shut-eye.
Marangu is actually the only route that offers this dormitory-style hut accommodation. As scenic routes go, the Marangu route isn't without its beautiful views, but it is potentially less scenic than the other paths and you'll need to return along the same path you ascended on.
Machame: 6-7 Days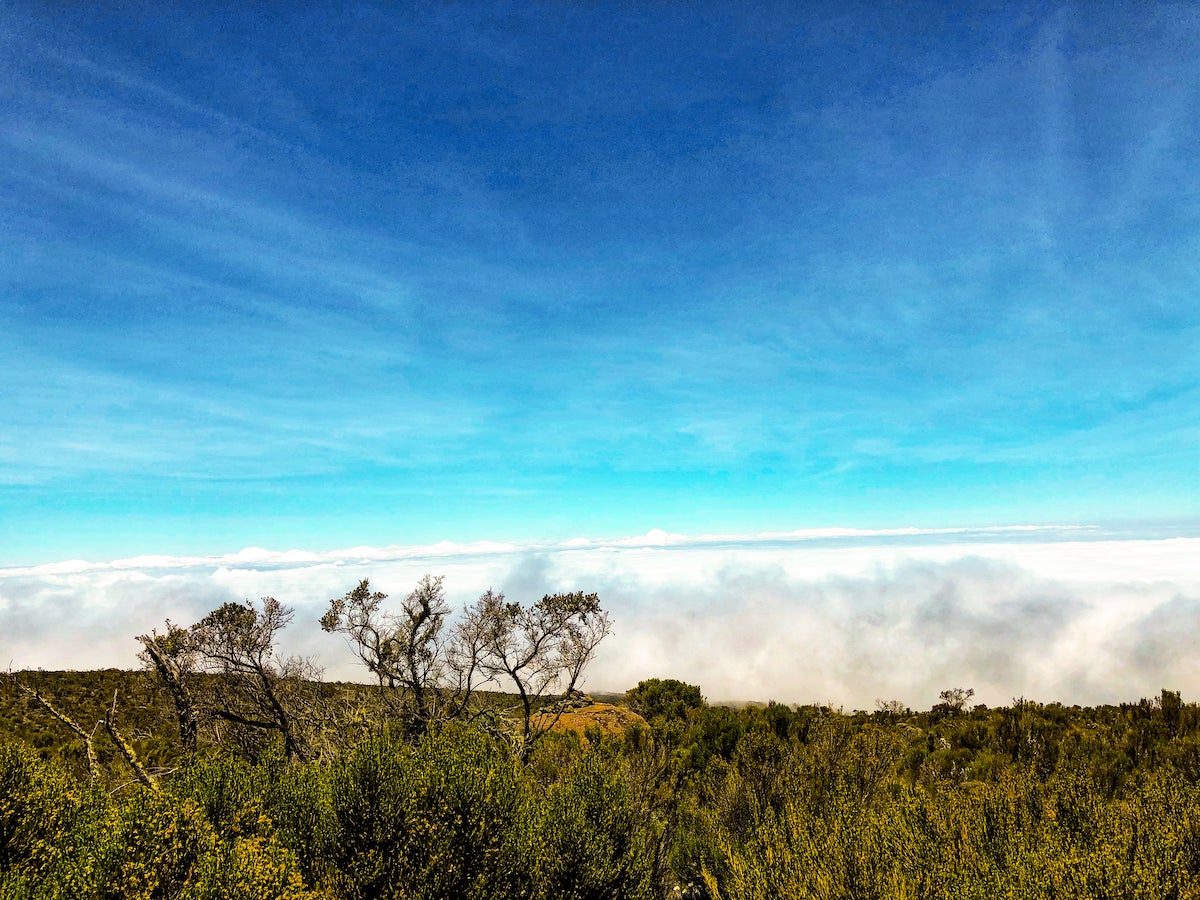 The Machame route, or the "Whiskey Route" as it is sometimes referred to, is one of the most popular routes when it comes to climbing Kilimanjaro. The Machame route begins from Machame Gate, on the southwest side of the mountain.
It's far steeper than the others and takes a person with a good level of fitness to make the accent comfortable. The advantage of this is that the trek is "only" 38 miles this way, making it one of the shortest of seven routes.
Because of its steep gradient, the Machame route tends to attract fitter and generally more experienced climbers. The route is also seen as one of the most scenic, and with strictly camping-only, you are among the stars and the awesome views that surround your Kilimanjaro climb.
Lemosho: 6-8 Days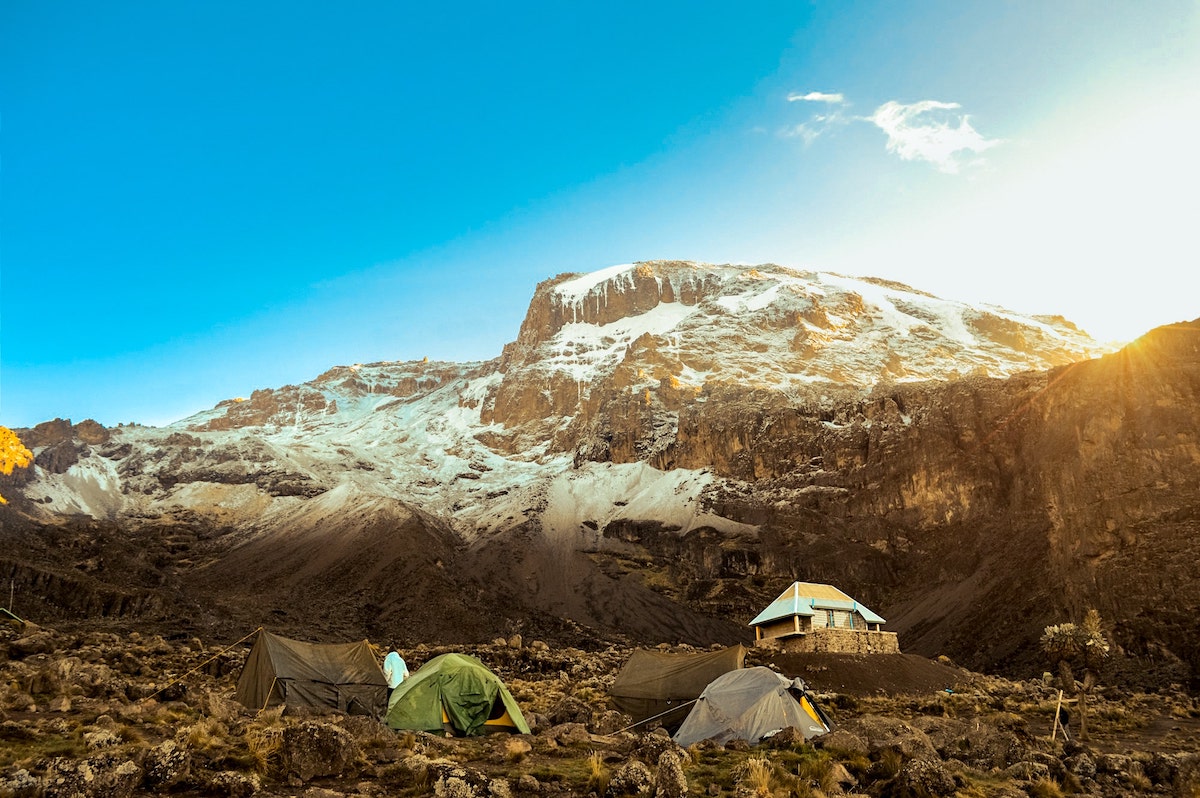 The Lemosho route starts from Londorossi Gate on the northwest side of Kilimanjaro and stretches around 43 miles before it reaches the summit. The scenery of the Lemosho route is what really makes this route so popular.
As you make your way through the start of the Lemosho route, vibrant rainforest surrounds you on all sides, combining a jungle trek with that of the mountainous one. Climbing from the rainforest, you will then pass the Shira Plateau and through vast ice fields.
As well as the stunning views, the route is also not frequented by hordes of climbers like many others, which means you might be able to enjoy a peaceful moment to yourself on the mountainside.
Shira: 5-7 Days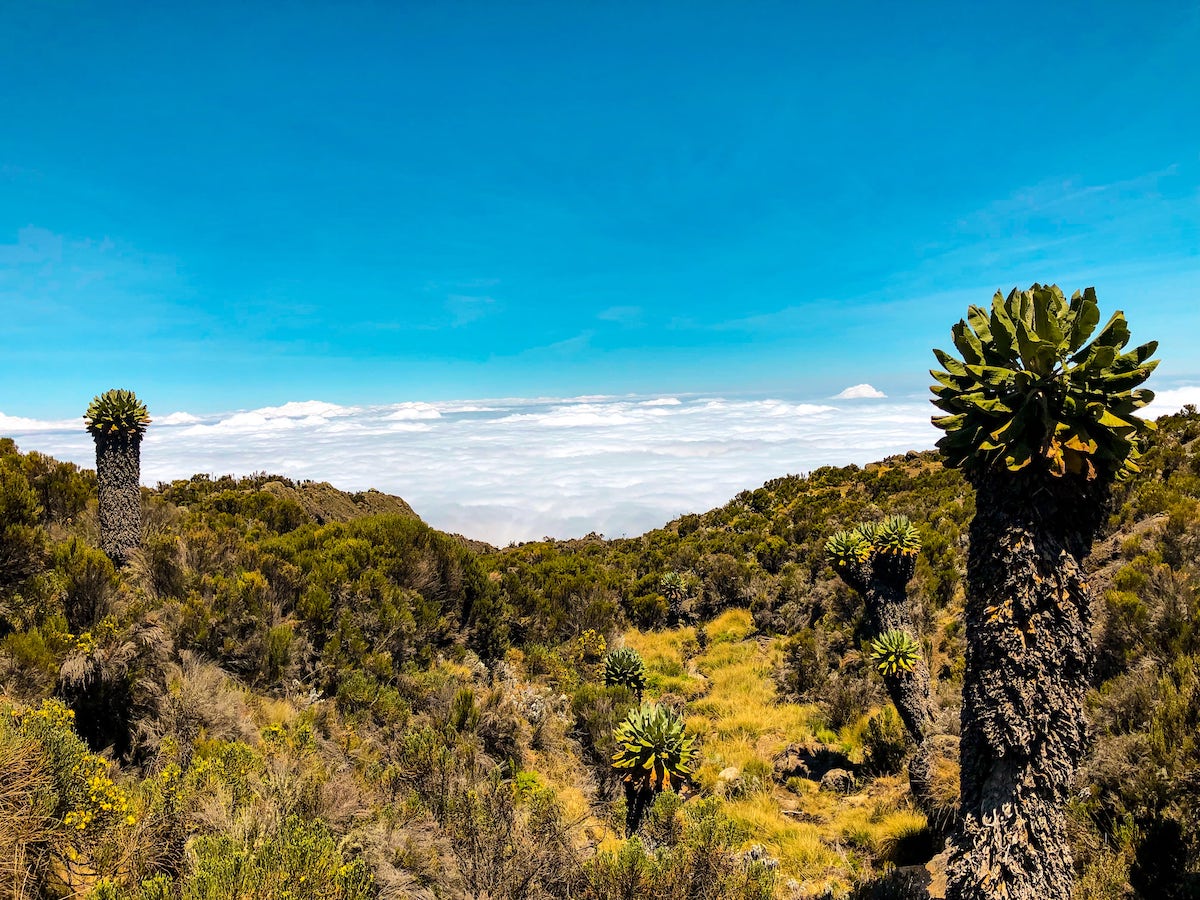 Starting from Shira Ridge on the western edge of Mount Kilimanjaro, the Shira route goes on for 34 miles, making it another of the shortest routes. This is mainly down to the fact that the Shire trail rises and starts at an elevation of 3,600 metres, making it a much harder climb overall.
One of the newest trails to be carved out, only experienced climbers with good fitness levels should attempt this route climbing Kilimanjaro. The Shira and Lemosho routes are practically the same route but with Shira's starting point at a much higher elevation.
Rongai: 7-8 Days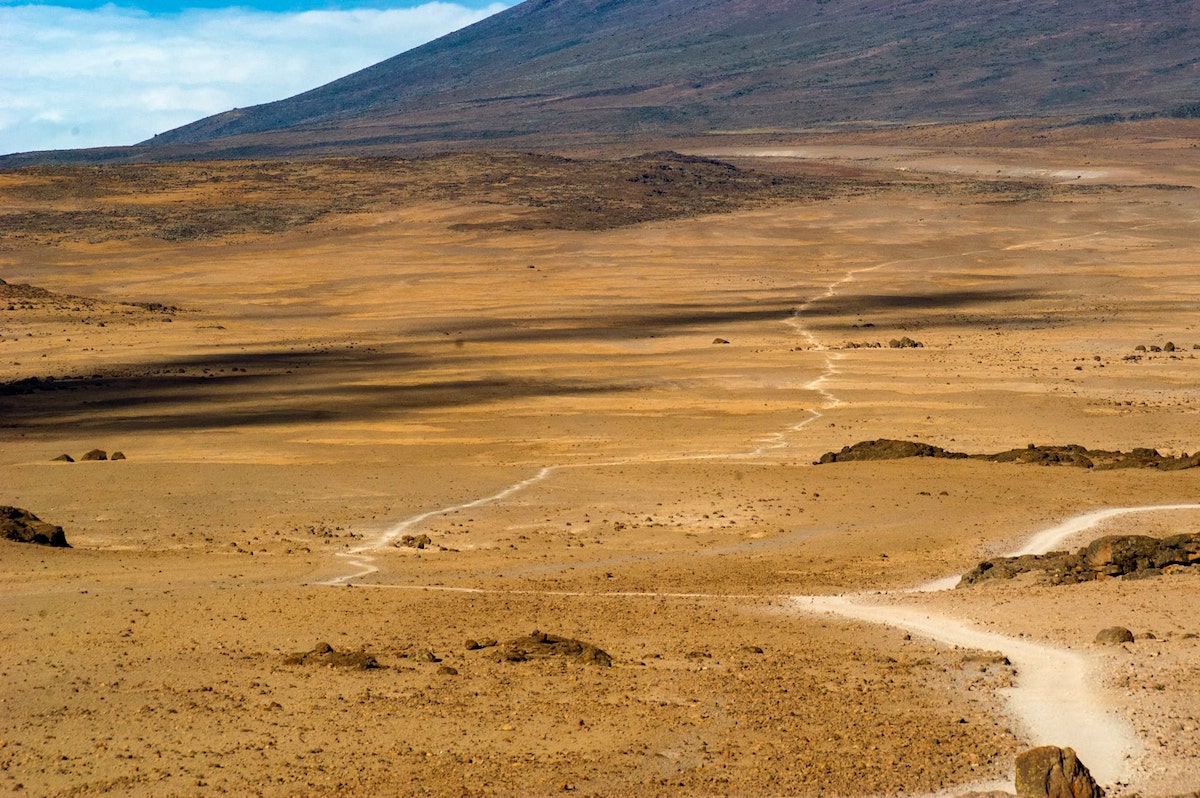 The Rongai route to the summit of Kilimanjaro is the only route that ascends up the northern side of the mountain, making it a unique choice and one of the lower traffic routes up to the top of Kili.
Rongai is just over the Tanzanian side of the Tanzania – Kenyan border, so to attempt this route, you may need to arrive from Kenya instead. The Rongai route is much flatter and open, with stunning views of the surrounding landscapes and a chance to see wildlife such as buffalo, elephants and antelope.
As the terrain tends to be flatter on the Rongai route, it's impossible to hike high and sleep low, increasing the chances of experiencing altitude sickness. It's worth bearing this in mind and giving yourself an extra day to acclimatise.
Northern Circuit: 8-9 Days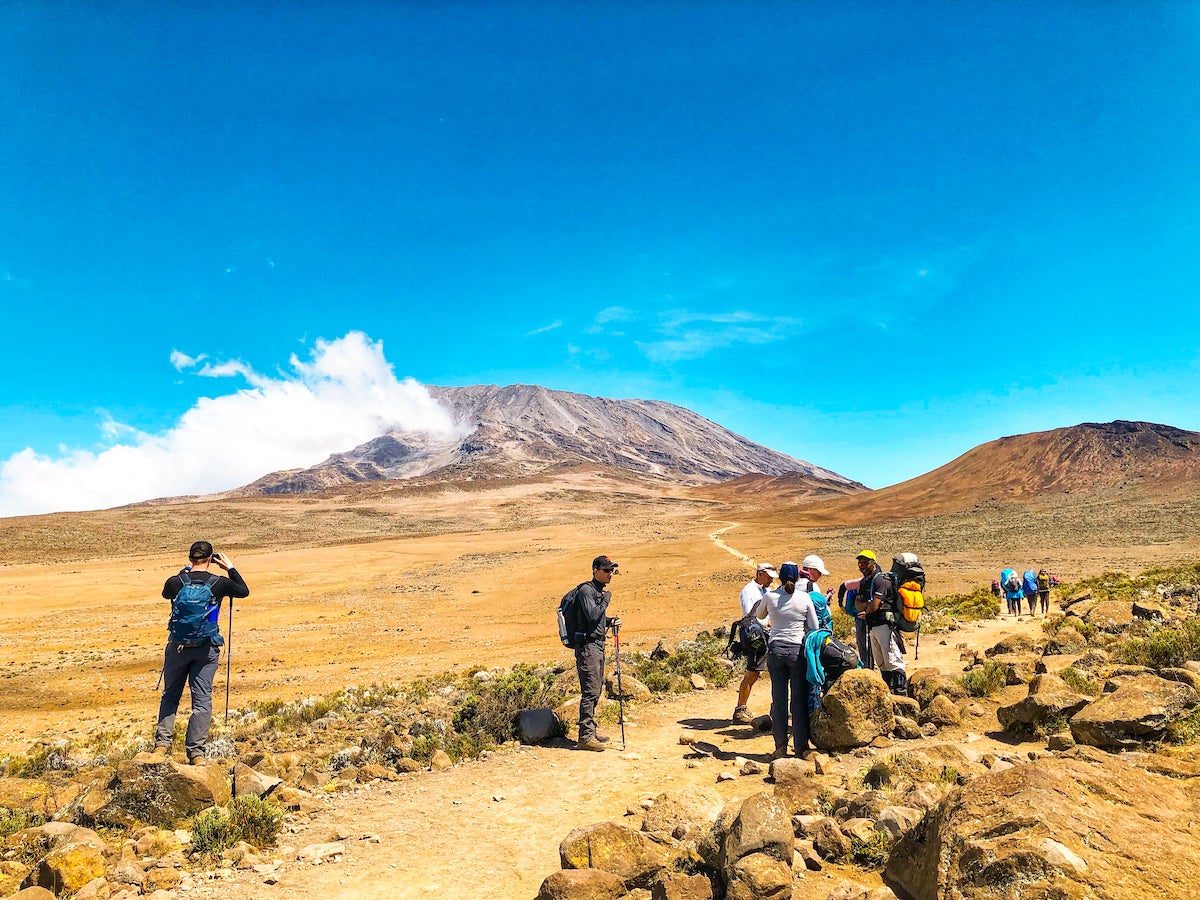 One of the longest routes to the summit of the mountain, the success rate in climbing Kilimanjaro via the Northern Circuit is pretty high. Covering 60 miles, the Northern Circuit starts similar to the Lemosho trail and then moves off to the northern edges of the mountain along the northern slopes. These slopes are much more open, and hikers can enjoy more space as they make their way to the summit.
Umbwe: 5-7 Days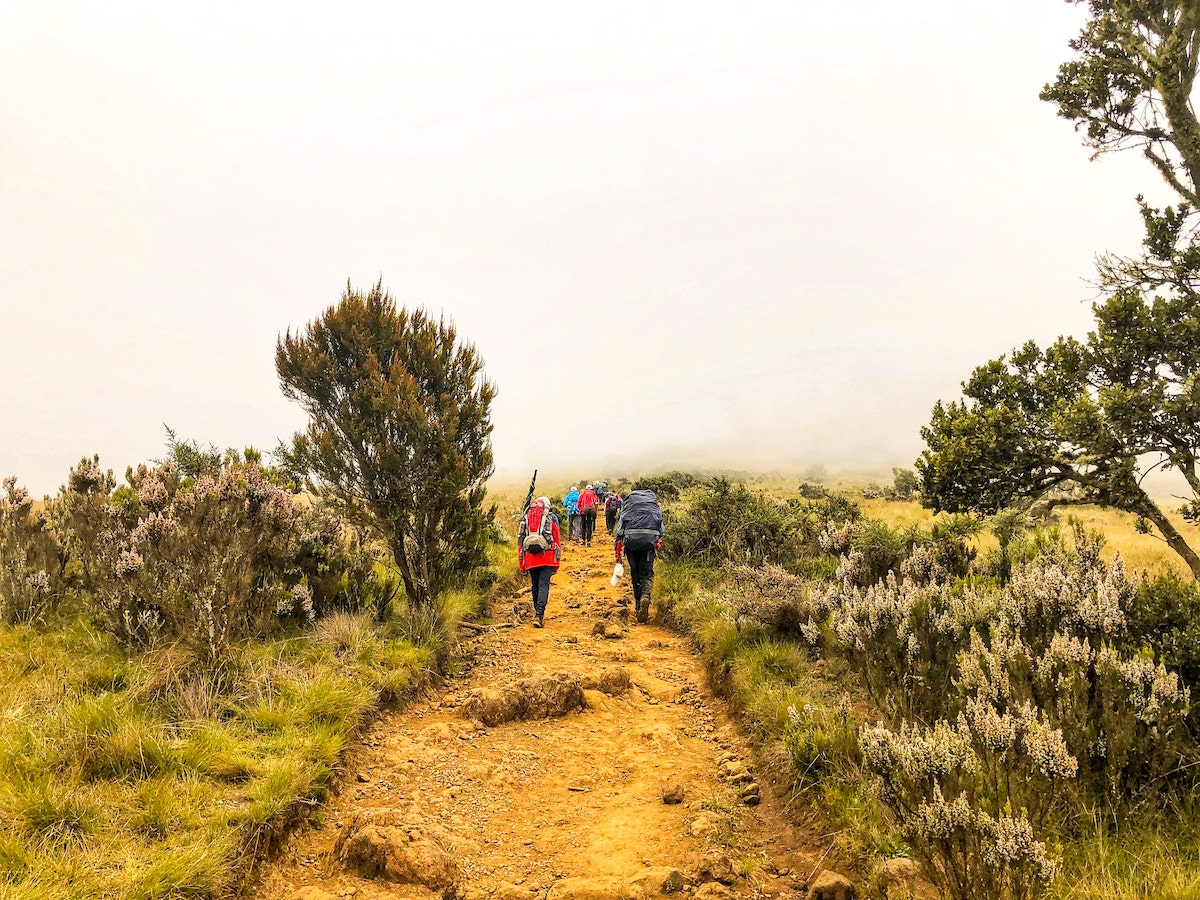 A real mix-match of pros and cons, the Umbwe route is one of the most difficult climbs but also happens to be one of the most spectacular. Covering only 32 miles, the Umbwe route is an extremely steep climb and should only really be attempted by experienced climbers.
The route once passed through the Western Breach, but due to a large rockfall that claimed the life of hikers, it now joins the Machame route at the end of the second day. Views from the Umbwe route are some of the most spectacular as the lack of woodland and vegetation gives clear views across Kilimanjaro National Park.
Packing List for Climbing Kilimanjaro
Climbing the highest peak in Africa and camping along the way is no little camping trip in the local park. It takes a bit of planning and thoughtful organisation to be prepared for the hike and give yourself the best chance.
There are often two kinds of hikers; those who are totally unprepared for what they have brought along and those who have brought way too much and will never use it (and I have been both of those guys).
To get a perfect balance, here are a few things you don't want to leave at home while you're out climbing Kilimanjaro:
Top and bottom base layers – with temperatures falling to −7 °C near the summit, it's important to have heat-saving base layers underneath.
Short-sleeve and long-sleeve shirts – Kilimanjaro has five climatic zones, meaning the weather and temperature change as you climb. Having both short sleeve and long sleeve clothing means you can adjust as you climb.
Lightweight inner gloves – These are ideal for keeping your hands warm but also provide perfect manoeuvrability and grip.
Warm outer gloves/mitts – Protect your digits from the biting wind and cold temperatures that can bring frostbite.
Walking poles – These will ensure you keep your footing on the more rocky and unstable parts of the mountain.
80-90L Waterproof bag – A bag of this size will ensure you have a compact space in which to carry all of your gear. This post should help you: Travel Backpack Buying Guide: What To Look For
Rain cover – Having a rain cover for your back will protect all your gear from the trade wind rain that can often cut across the mountain.
Four-season sleeping bag – Having a sleeping bag of this kind will make sure you can keep warm and cool when needed. I stayed in cabins but it got a little chilly for me higher up at night (I am a complete wimp in the cold though, so bear that in mind).
Insulated sleeping mat – An insulated sleeping mat will keep you elevated off the mountain and rent floor, providing comfort and warmth.
Large water bottle – keeping hydrated is of the utmost importance when hiking for so long.
Sun cream – Being so high up, the sun and drying wind can have a huge effect on your skin. Protecting it with sun cream will keep you in your best climbing condition.
Warm Hat – Africa can get chilly too, especially way up there at the top
For some extra inspiration for future endeavours, you can also check out my master camping list. A word of caution: don't try and carry all of this on your back, you almost definitely won't be making it to the summit…
Travel Insurance vs Extreme Sports Insurance for Climbing Kilimanjaro
Normally simple travel insurance would be enough to cover your trip, but when you're scaling the highest peak in Africa, this simply won't do. With higher risks and an increased potential of danger, you'll need to opt for an extreme sports add-on for your insurance policy. This will cost you a tad more than normal insurance, but it's worth it for peace of mind.
While thousands of people attempt to climb Kilimanjaro every year, without incident, the climb is not without its risks. If you were to require hospital treatment, travel insurance may not pay out if it was the result of climbing Kilimanjaro, whereas an extreme sports insurance policy would – and being at the wrong end of a hefty Tanzanian hospital bill is not where anyone wants to be.
A good tour company should provide adequate insurance in your package, so shop around with this in mind. As always, I'm a big proponent of both mountain insurance and also travel insurance in these situations.
My Experience Climbing Kilimanjaro
I made the decision to climb Kilimanjaro last minute when I was in France. To be more specific, RIGHT on top of France, to be more explicit; on top of Western Europe.
To be even more clear-cut and annoyingly humble-braggy; I had just summited the absolute beauty that is Mont Blanc! I was all fired up for the possibility of climbing the Seven Summits after already taking down the most technical climb on the list, Puncak Jaya, AKA Carstensz Pyramid and also recently scalped its bone of contention, Mount Kosciuszko of Australia.
High on adrenaline and the sweet dopamine rush surging around my body, after summiting such a gorgeous mountain, I asked my experienced guide for his opinion on a hypothesis of mine…
…I had gone through the acclimatisation process in France in order to be able to successfully summit Mont Blanc. Now that I was at 4,808 metres IF I (hypothetically) flew to Africa in the next few days, would my body be in prime condition (with jet lag ignored) for climbing Mount Kilimanjaro in a shorter climb of 4 days, as opposed to 6?
Without hesitation, my guide said yes, and that I was a madman to do such a thing – not taking extra time to stop and smell the roses in maybe the prettiest city in Europe, after a triumph, but my hypothesis was correct; my blood oxygen levels would be super-efficient and I'd have a good chance of climbing Kilimanjaro.
After a night of celebration with the lads enjoying some fancy French wines, I was en route to Tanzania, connecting in Kenya (a transit visa is 72 hours, but I wanted to go back so I got the awesome multiple-entry East African Visa, which allows you to travel between Kenya, Rwanda and Uganda for 90 days).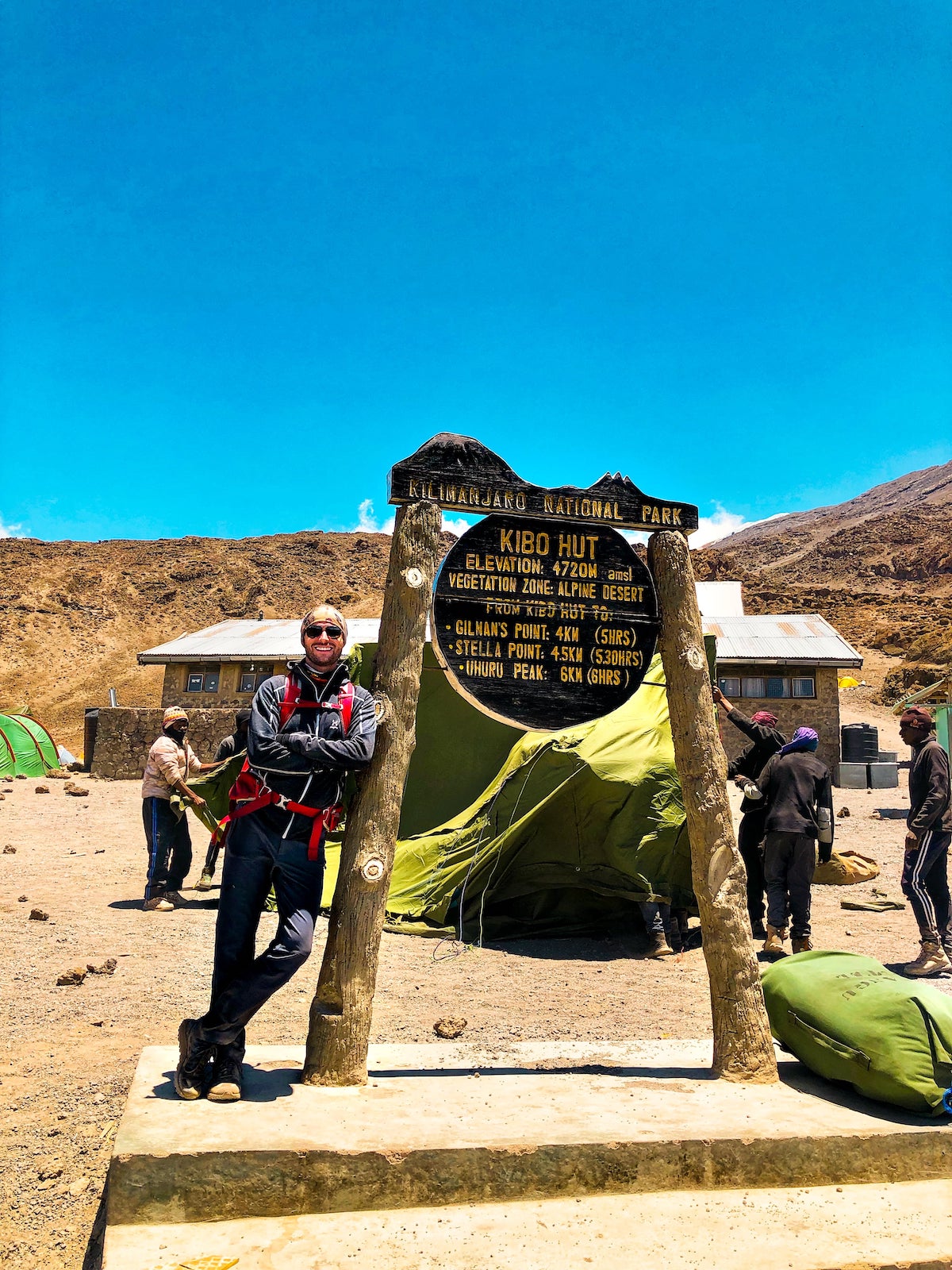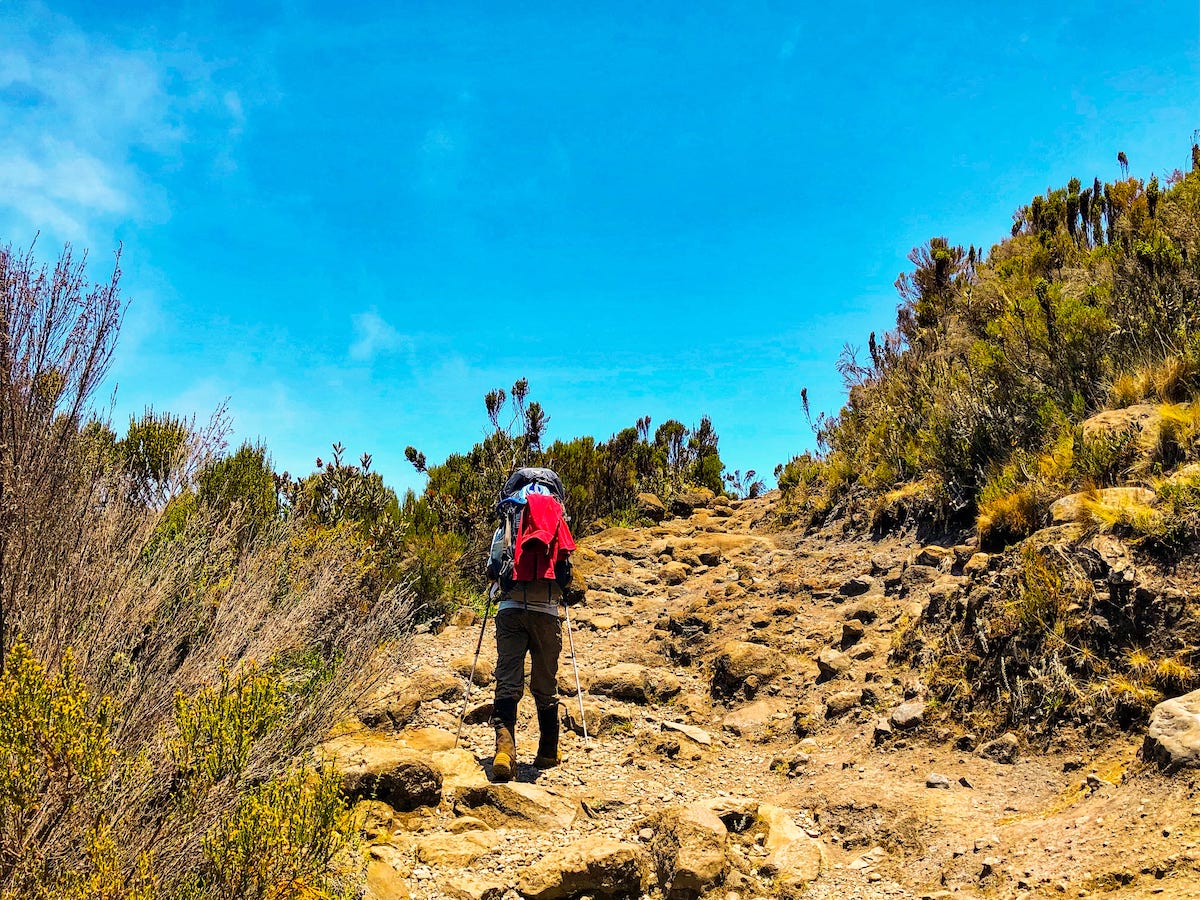 I had already chosen my tour company, "Gladys Adventure and Safaris." After going backwards and forwards via email (I was a difficult, but polite customer) due to my desire to cut a 6-day hike on Marangu down to 4 (because of me already being optimally acclimatised).
The agent waved the white flag, but with a pre-agreed deal; if I had bitten off more than I could chew, it would be on me and I'd return to Moshi with no fight.
I agreed although I knew I'd be exhausted upon arrival after my recent summit of Mont Blanc and Gran Paradiso (the tallest mountain in Italy), I wanted to choose my own hotel with a bathtub to get my head down for a day before the climb, so he gave me a little discount.
I met the boss, Gladys, on the day of my climb and hung out with her a few days after it. She was a typical East African lady; bubbly, smiley, lovely and any positive words ending in ending in "ly."
I'll never forget her infectious laugh, kindness and warm energy and I was recently saddened to hear that she had suddenly passed away after referring my friend, Nelson to the company for his Kilimanjaro climb.
But don't worry, this lady really had her shit together and her son continues her vision. I'm not clouded by nostalgia here when I recommend this tour company and I reiterate, that my climb was 100% out of my own pocket and not blog-sponsored.
On the day, I was expecting to meet the guide and maybe another porter, but I got a whole team of Kili climbers! A chef (who found it hilarious how many times I fervently requested "no onions please,") 3 porters and the main man himself; Agga!
This post is long enough, so I won't take you day by day, I'll just wrap it up with specifics…
I met people on my way up as they were coming down, after failing the summit. I didn't want to pry too much on anyone who looked (understandably) upset, but those who shared admitted to either being:
Unfit, inexperienced with hiking up high and unconditioned for climbing Kilimanjaro.
With someone weaker who couldn't make it, and felt obligated to come down with them.
Fit enough, but suffered from altitude sickness.
The first one is something you are going to have to address yourself and you should be 100% honest. Do you think you are in good enough condition for a 6-9 days hike at a higher-than-average altitude? I take my challenges very seriously and I don't like failing, so I usually train hard for them (visioning myself as the determined underdog) and I always expect the challenge to be hard, mentally and physically.
If you have experience at these heights then you will know, or not – you can make a based assessment of whether you are fit, or unfit enough to climb Kilimanjaro.
The second is something to consider. Will you have a gentleman/lady's pre-agreement to come down if the other one fails, or would you feel bad if your mate didn't summit and prefer a lone-wolf agreement? If it's the latter, call it, unless it's an emergency. My mate Paul compromised a summit of Aconcagua when I had a nightmare emergency 200 metres from the top.
Do I feel bad about that? Hell yes! I still feel awful about it, but I am eternally grateful to him for helping me in such an extreme situation. This is for you and your crew to decide.
Lastly, altitude sickness can happen to anyone. It's a lottery. It almost beat me on Mount Elbrus, but I powered through on my last legs. I've known people way fitter than me to get it, but it's still better to be as fit as you can! Good luck.
Agga and I were the first people up the very top of the highest peak out of the whole camp, summiting Mount Kilimanjaro on day 4, at 5:50 am Tanzanian time on Friday 6th September. We had the summit to ourselves as the sun rose for a whole 10 minutes, so we were the highest-standing humans in the whole continent of Africa for that blissful period, sitting in quiet solitude.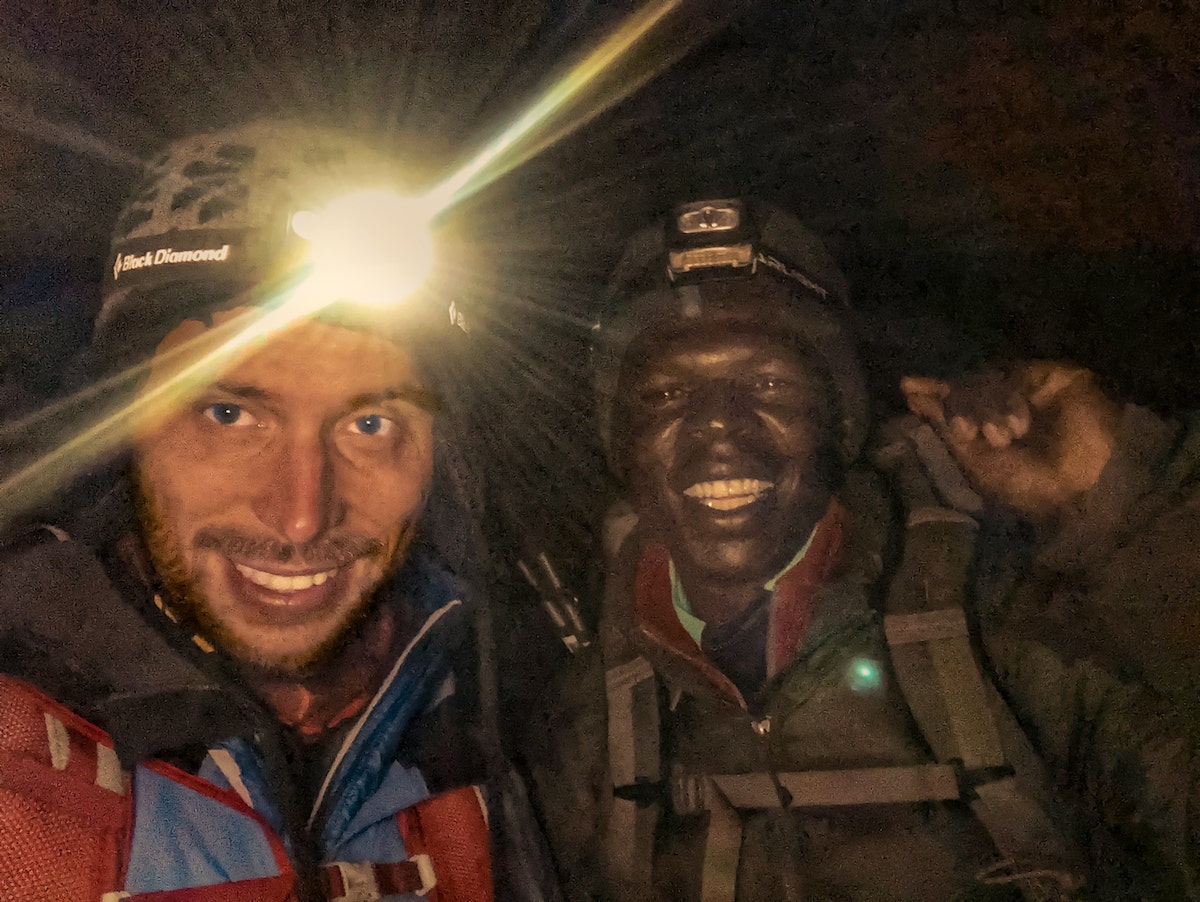 Crazy to believe that about a week ago from then, I was on top of France/Western Europe!
I found climbing Kilimanjaro easy – I'd say a 4/10. I swear I'm not being cocky here and if you don't believe me, I implore you to check out all my other mountain-climbing posts, where I am often talking about how hard I found them, you will not need to dig very deep into my archives for that – same for my endurance run challenges that totally ruin me!
I was just very prepared for climbing Kilimanjaro. I was fitter and the acclimatisation in France definitely helped me out.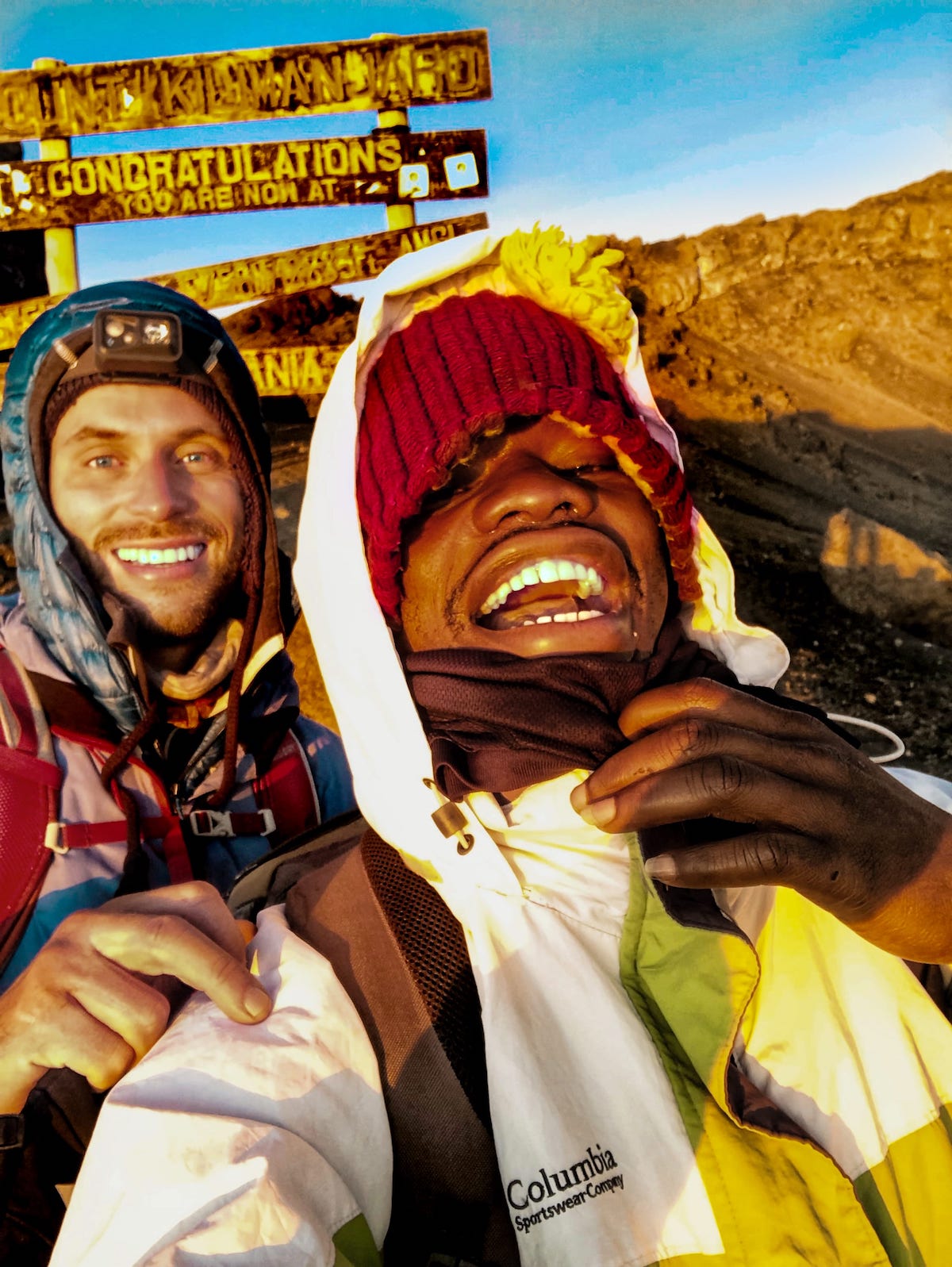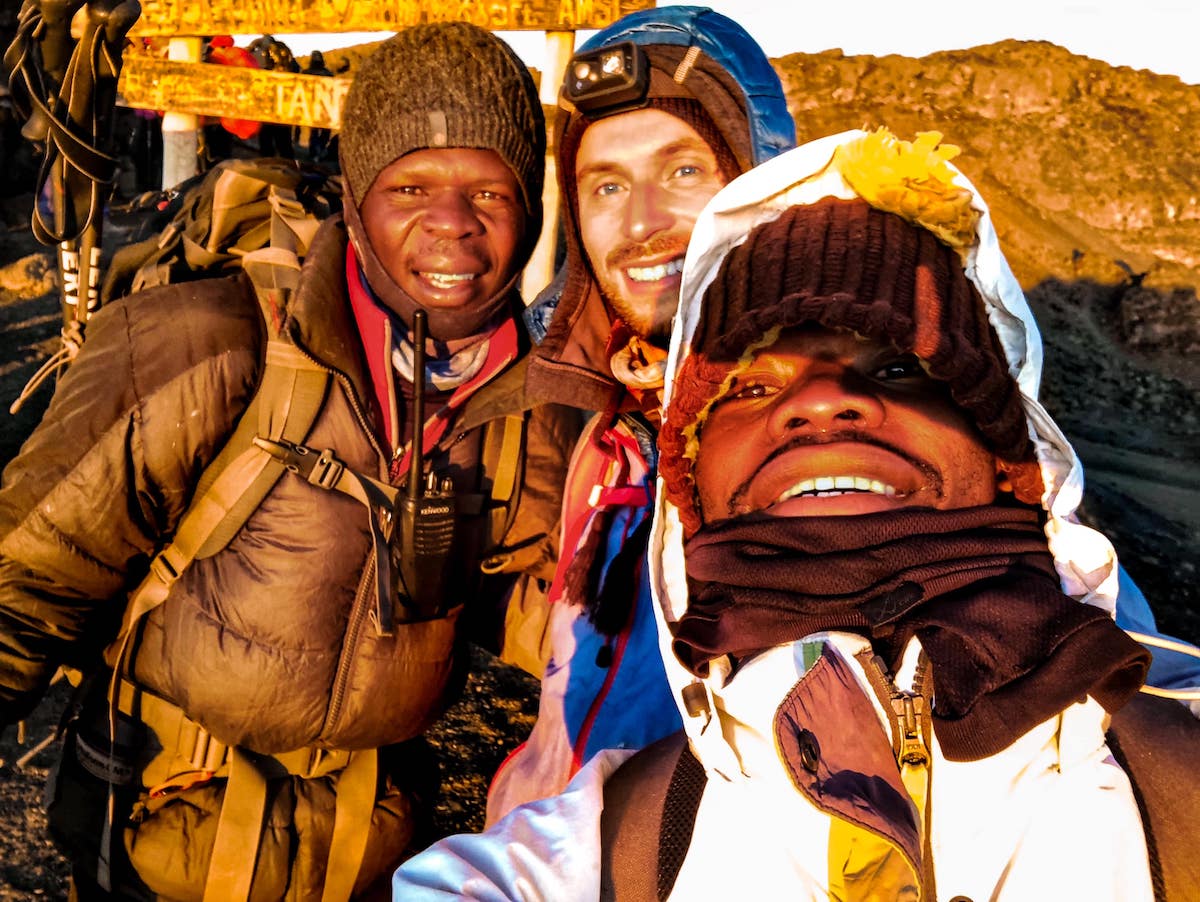 I'll never forget that week. Especially the night before, with the locals singing and dancing to the Kili song by the fire, me and Agga chatting away the whole time from base to summit (and back down). Two men from vastly different continents, learning about each other and sharing life goals…a proper human connection, beautiful stuff.
Climbing Kilimanjaro for my 100th country is going right in there with my Hall of Fame of Travel… What a life. Good luck with your own Kili adventure.