Even though it seems like a tiny dot on the map compared to the rest of Tanzania, I honestly had to whittle down my choice of the best things to do in Zanzibar, or this post would have been. mammoth and your time is clearly not infinite.
With a mix-match of Arabic, African and European influences, Zanzibar feels like a separate country from Tanzania, which makes sense as it was until the unification in 1964. Zanzibar is a cultural and historical mosaic made up of a multitude of influences. From the Great Lakes region of Eastern Africa, the influx of culture from the Arabian peninsula, colonial infusion and an ancient connection to the Indian subcontinent, Zanzibar is a true melting pot of cultures.
After summiting Africa's tallest mountain, Kilimanjaro for my 100th visited country, I hopped over to explore this justifiably famous island and it's definitely on my "would go back" list.
Here is a list of my top 13 things to do in Zanzibar, whether this is its modern connection with the famous Queen icon Freddie Mercury, learning about the East African slave trade or hanging out with massive ancient tortoises.
1. Visit Freddie Mercury's Home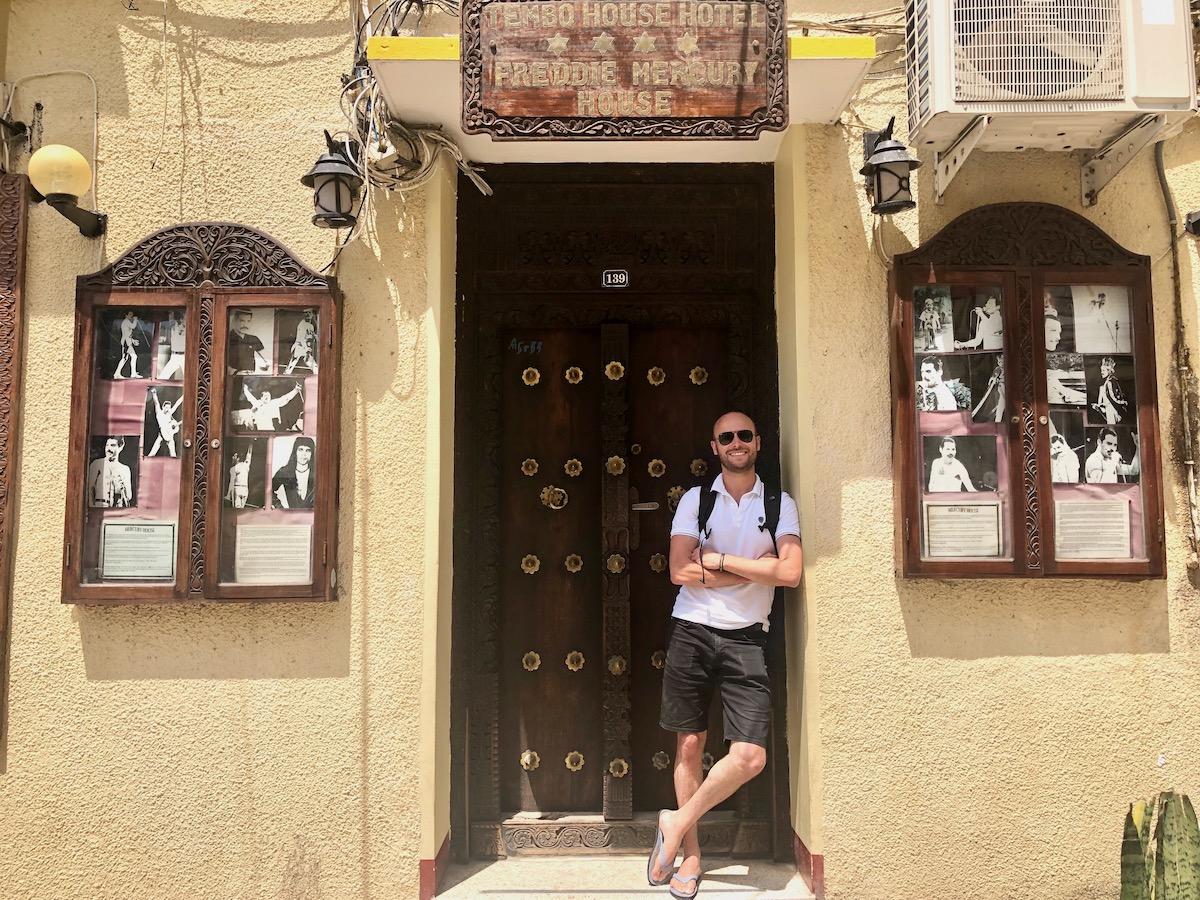 Attention; all 'Queen' fans!
One of Zanzibar's most famous residents was the legendary lead singer of the band Queen, Freddie Mercury. Born on the island in 1946, Farrokh Bulsara, as he was then known, lived with his Parsi-Indian parents in the island's Stone Town.
Freddie Mercury spent much of his early life in Zanzibar before leaving for St. Peter's School in India. Mercury would often return to the island to visit his parents during school holidays and would settle back here for a short time once he finished school. He and his family would flee the island in 1964 with the outbreak of civil war, finally settling in the UK.
Zanzibar milks the tourist cash for the flamboyant British national treasure (rightly so), and you can find many places dedicated to the Bohemian Rhapsody singer all over the island.
One of the most iconic places is the 'Freddie Mercury Home', thought to be the parental home of the rockstar throughout the 1950s/60s. Although there is much contention about how long the Bulsara family actually lived here, it is undeniable that the home is now a shrine and mecca for any Queen fan.
The building is home to numerous displays of the frontman on its facades and other notable Freddie Mercury memorabilia. Though the house is pretty small and the entrance is not allowed, it's a must-see for any fan of the fist-thumping idol that is Freddie Mercury.
Know before you go:
Location – The house is located along Kenyatta Road in Stone Town.
Cost – Free.
Opening hours – You can no longer go inside the house, so rock up at any time to enjoy the facade.
Time needed – 5-10 minutes to get snaps of the house.
Getting there – Located in the heart of Stone Town, walking to the Freddie Mercury home is really easy.
2. Slave Market Memorial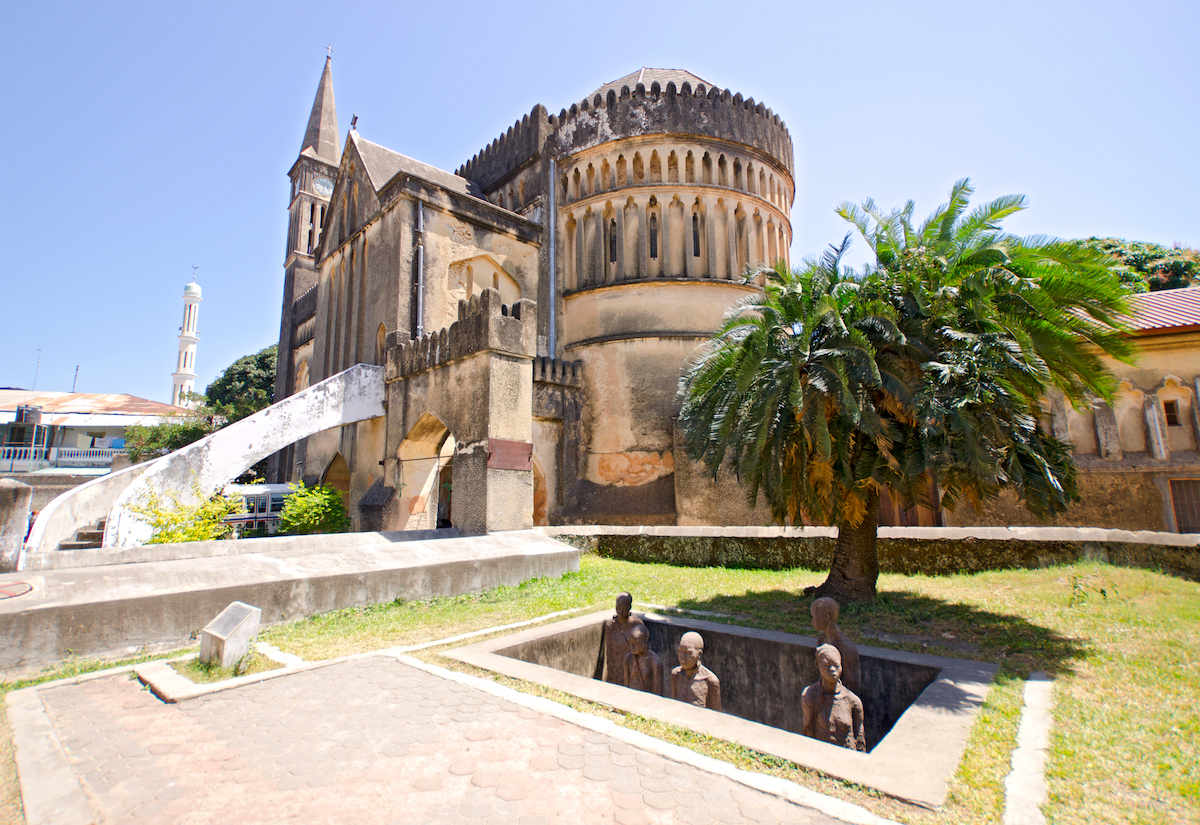 Home to one of the biggest and last closed slave markets in the world, Zanzibar was the epicentre for brutal slave trading right up until 1873. With the huge demand for ivory enveloping the globe, the leading powers took advantage of the already booming slave market in East Africa to process and export ivory.
Alongside this, huge clove plantations were built throughout Tanzania, worked on by thousands of slaves.
Today, you can visit the exact spot where the Zanzibar slave market was, complete with a memorial to the slaves. The memorial takes the form of a concrete pit, a recreation of the pit where slaves would be put to be observed by potential buyers.
Stone statues of five slaves, complete with iron neck chains, bring some feeling of the horror that took place here.
Close by the memorial is a mansion housing the slave cellar, one of fifteen low-ceiling chambers where hundreds of slaves would be held by chains in dark and squalid conditions. Nothing can ever show the true sordid history and horror of this part of this dark stain of Zanzibar's past, yet the memorial makes sure that this part of history will never be forgotten with a sombre piece of powerful art.
Know before you go:
Location – The Slave Market Memorial is located along Tharia Street, close to the Anglican Cathedral.
Cost – Free
Opening hours – 24 hours.
Time needed – Around half an hour is enough to see the memorial.
Getting there – The memorial is located in the centre of town and is easily walkable from many accommodations.
3. The Ruins of Maruhubi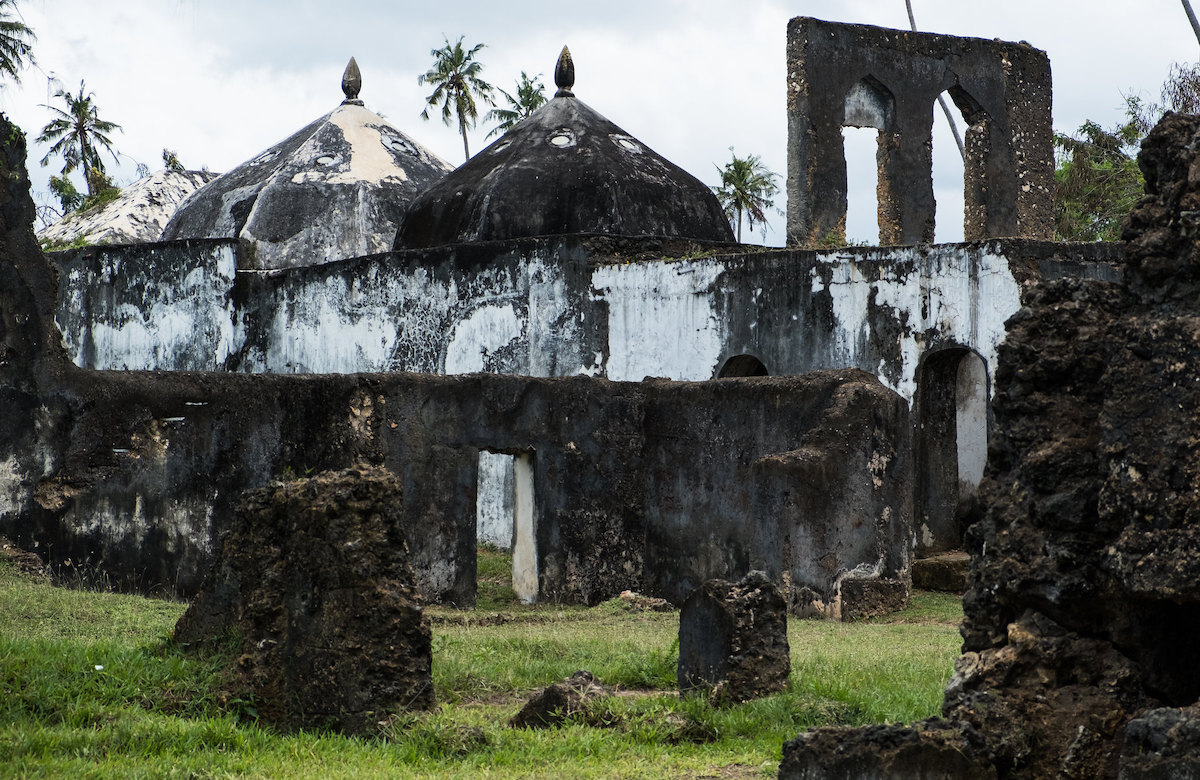 Around two and a half miles north of Zanzibar's Stone Town is the Ruins of Maruhubi. This former palace was built and used as the home of Sultan Barghash, the third Arab sultan of Zanzibar, between 1880-1882. Although now in ruins, this site gives you an impression of the hold the ruling Arabs had over Zanzibar for centuries.
Sultan Barghash used the palace to house his wife and up to 100 concubines, while he himself lived in a separate palace in Zanzibar Town. The palace was destroyed by a fire in the late 19th century, leaving it in a shell of its former grandeur.
The ruins have been reclaimed by nature and the surrounding grounds are home to lush vegetation, including shade trees, large lawn areas, and the original water reservoirs now overgrown with water lilies and large mango trees that were once imported from India.
Know before you go:
Location – The ruins are found around two and a half miles north of Zanzibar's Stone Town, close to the beach.
Cost – Free
Opening hours – 24 hours.
Time needed – Including travel and viewing time, you should give yourself around two hours.
Getting there – You can either take a short taxi ride or catch a dala-dala bus northwards.
4. Visit The Old Fort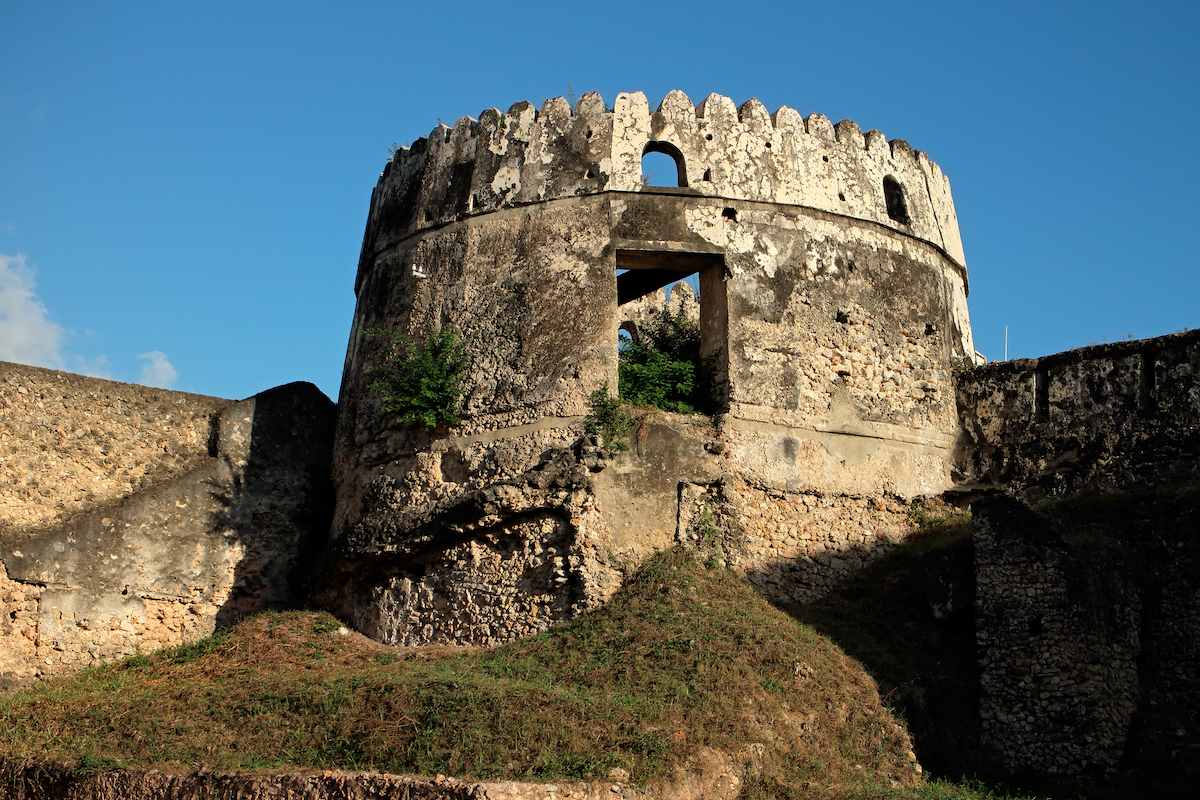 One of the most iconic historical spots in Zanzibar is the Old Fort. The oldest standing building on the island, the fort was constructed by the Omani Arabs after expelling the Portuguese in 1699. The building has gone through numerous transformations and uses over the years.
This includes being a prison during the 19th century, a terminal of the Zanzibar railways during the early 20th century and now the headquarters of the Zanzibar international film festival.
Visiting the Old Fort will give you a great insight into the history and multiculturalism of Zanzibar throughout the ages. The courtyard has also been adapted to serve as a cultural centre with curio shops selling tourist-oriented merchandise such as Tingatinga paintings. Seen as one of the sights in Stone Town, no visit is complete without a trip to the Old Fort.
Know before you go:
Location – The Old Fort is located on Mizingani Road in the centre of Stone Town.
Cost – Free.
Opening hours – 8 am – 6 pm.
Time needed – Around an hour is enough to explore the Old Fort.
Getting there – Being in the centre of Stone Town, it's easy enough to walk to the Old Fort.
5. Jozani Forest (Zanzibar's Only National Park)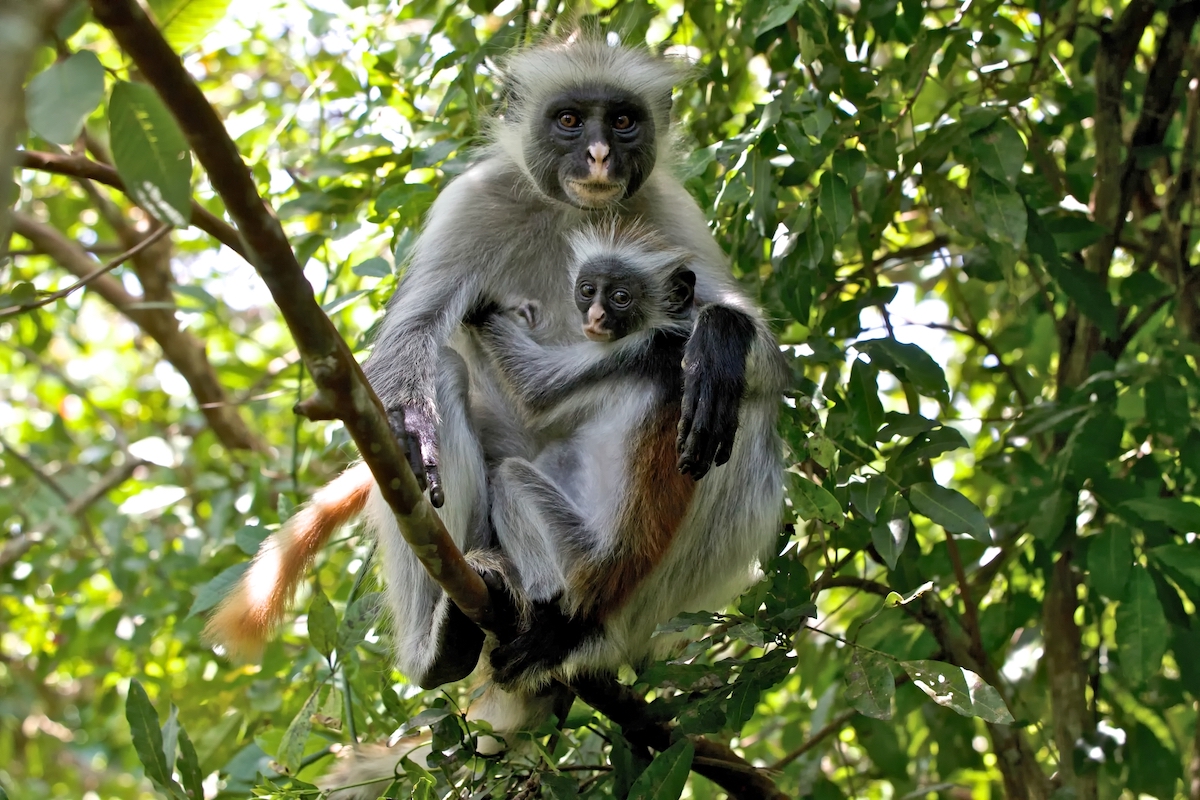 Located on the east of the island is the Jozani Forest, Zanzibar's one and only National Park. A day trip exploring this national park is among the most exciting things to do in Zanzibar and will have you surrounded by some of the more untouched and beautiful parts of the island.
Aside from the natural beauty of the forest, Jozani Forest is also home to a group of red colobus monkeys, one of the threatened groups of primates in all of Africa.
It's not possible to explore Jozani Forest without a guide. They will lead you through the forest and help you spot the wildlife; while I'm not always a fan of hiring a guide, in this case, they often make the whole experience far more rewarding.
Another of the forest's top attractions is its stunning mangrove forests. The twisting and swirling mangroves create an almost magical surrounding and only add to the beauty of the national park.
Visiting Jozani Forest is an incredible way of immersing yourself in the nature and wild areas of the island, and only being around an hour from Stone Town, visiting the forest can be done with surprising ease.
Know before you go:
Location – The Jozani Forest is located 26 miles east of Stone Town.
Cost – USD$12 entrance fee, including a guide.
Opening hours – 7:30 am – 5 pm.
Time needed – A good six or so hours are needed to travel and explore the forest; it is best to get here as early as possible.
Getting there – You can either take a taxi for around USD$20 or a dala-dala bus for around TZS 2,500 one way.
6. Enjoy Indian Food at Silk Route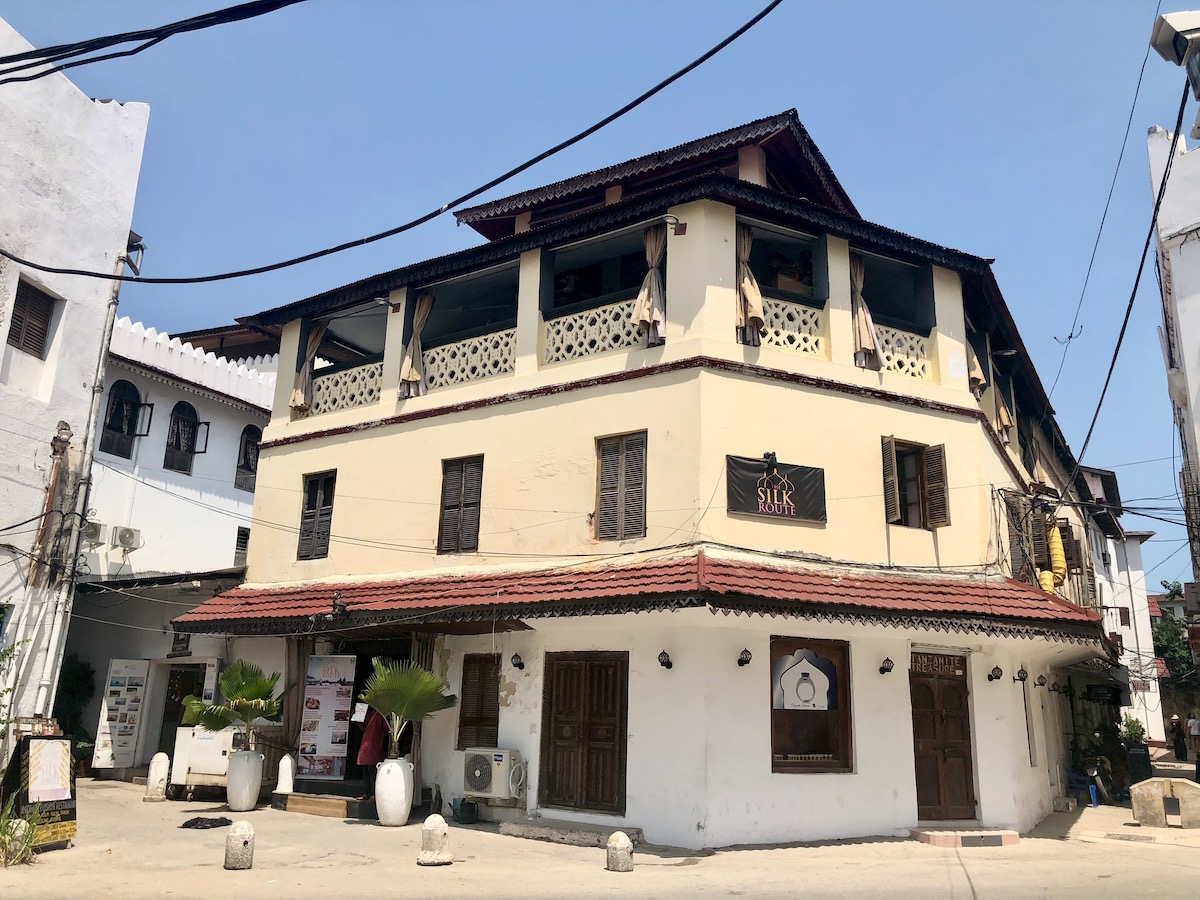 Another strong culinary and cultural influence on the islands of Zanzibar comes from its ancient connections to the Indian subcontinent. The food of India is a favourite amongst many and is also popular for its wide range of vegetarian and vegan food. If you're looking for things to do in Zanzibar that include dining on some delicious Indian food, then The Silk Route restaurant is the place to go.
Located a stone's throw away from the seafront beach, Silk Route dishes up a huge range of Indian delights, focusing on the cuisine of South India. With a traditional tandoor oven on-site, you can find a lot of famous Indian chicken dishes.
Although Southern India is less veggie-centric, Vegetarians can enjoy dishes such as Phaldari tandoori chat, a fruit and vegetable medley marinated in tandoori spices and yoghurt and finished in the tandoor.
Not only does the Silk Route provide some of the best Indian food in all of Zanzibar, but it also does so in picturesque surroundings. The rooftop dining area allows you to dine while enjoying fantastic views of the beach and setting sun along the nearby coastline.
Know before you go:
Location – The Silk Route is located just southwest of Forodhani Gardens, on the Mizingani Road.
Cost – Dishes start from around TZS 10,000.
Opening hours – 11 am – 10 pm.
Time needed – Around two hours is ideal to relax into your meal and enjoy the rooftop views.
Getting there – Either walk to the restaurant in the heart of Stone Town or catch one of the many buses that run along Mizingani Road.
7. Munch on Mango With Chilli (Street Food)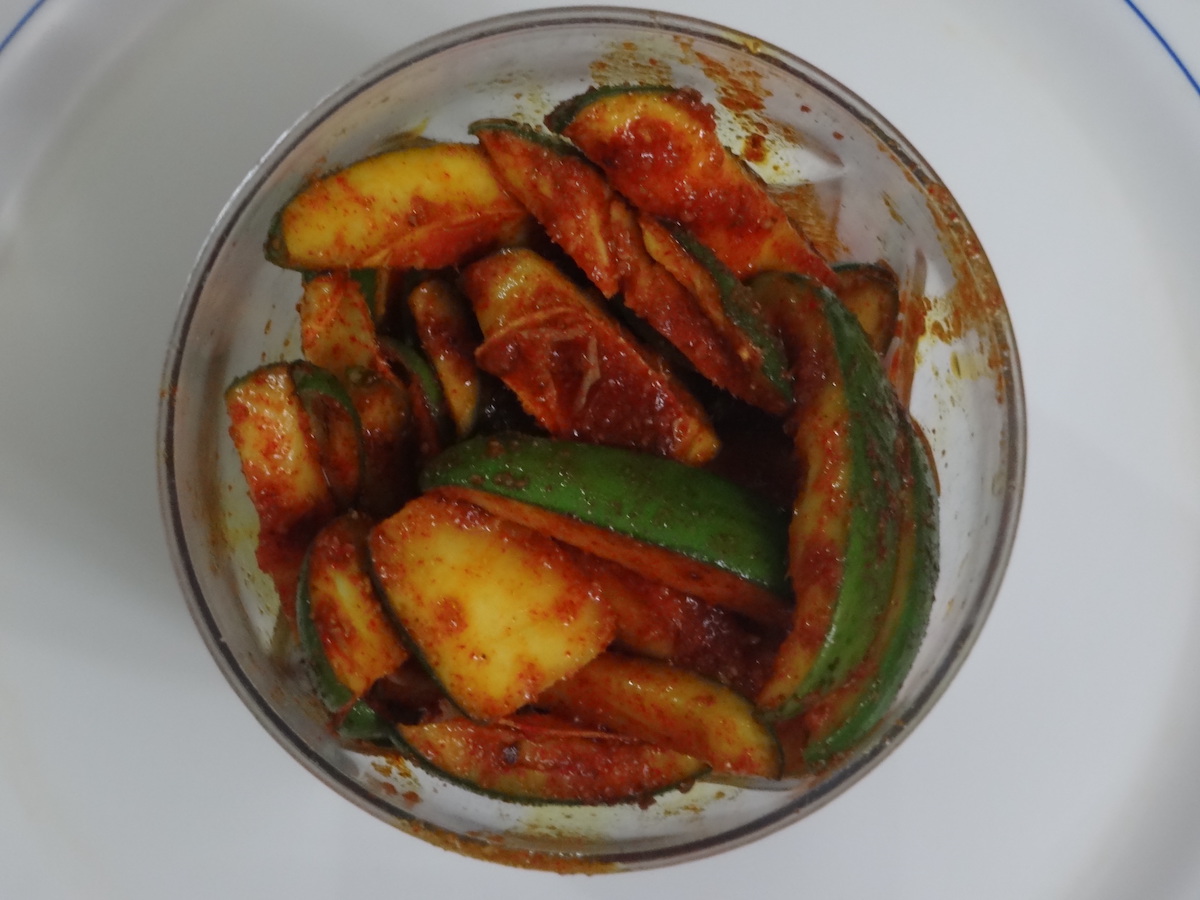 A street food favourite amongst the islanders of Zanzibar is the famed mango with chilli. Using a green unripened mango variety, the fruit is then sprinkled with ground chilli and salt. Although it may sound like an odd mix for many Western pallets, the mixture of the sour and sweet mango with a touch of heat and salt is the perfect combination.
You will find a number of street food vendors selling this local treat along the roads in Zanzibar's Stone Town. For as little as a dollar, this sweet pick-me-up is a delight for the tastebuds and will change your perception of what can be done with such a fruit.
Alongside this famous mango street food, the island is home to a number of delicious fruit and veg options. When it comes to fruit, it is said that Zanzibar has some of the sweetest in the world, and their avocados are huge and creamy.
The island is alive with fruit stalls, selling recognisable fruits such as mandarins, mangoes, passion fruit, grapes, bananas and watermelons, freshly grown and harvested in the region.
You will also have the chance to buy and taste more unusual tropical fruit such as durian, jackfruit, custard apple, pawpaw and papaya – making Zanzibar a haven for fruit lovers.
Know before you go:
Location – Street food such as mango with chilli and other delightful fruits can be bought at one of the many markets along the aptly named Market Street.
Cost – Fruit of all kinds can be bought for a few dollars or less, depending on your haggling skills.
Opening hours – Traders can be found from early morning right into the evening.
Time needed – Take a few hours to check out the huge range of fruit on offer in the town's streets.
Getting there – Walking around on foot means you can take in the numerous fruit stalls scattered across the town.
8. Chill at Jaws Corner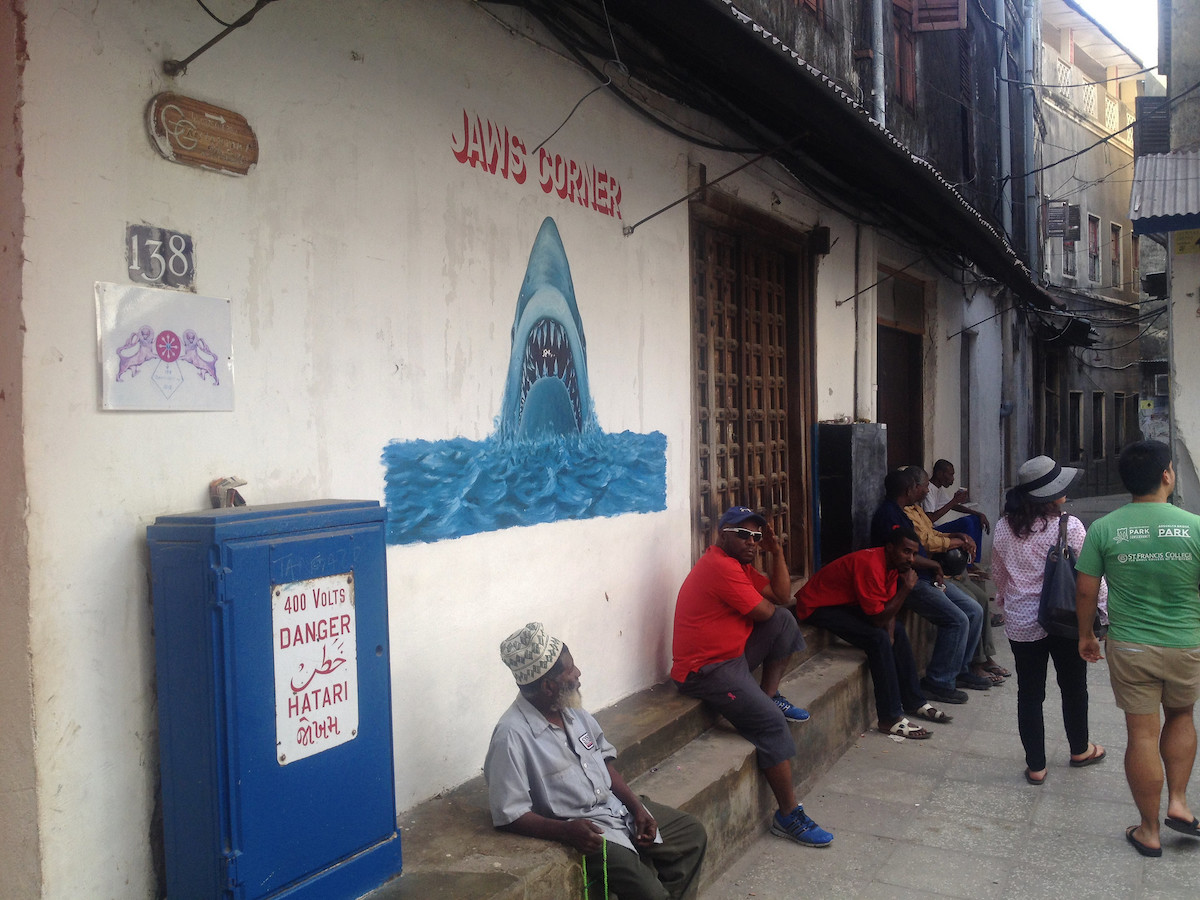 One of the small winding streets of Stone Town that have gone down in local folk law is Jaws Corner. As day breaks, Jaws Corner becomes a hub and unofficial outdoor meeting place for many of Zanzibar's residents. Local businessmen and traders sip their morning coffees and talk about their news and the day ahead.
This meeting place allows local men to strengthen their social communities and bond together. In a conservatively Islamic nation such as Zanzibar, Jaws Corner replaces the role that a pub or bar might have in the West—swapping late-night beer drinking for early morning coffee-sipping and a good old chat about their families, hopes, problems and gossip.
You can join in with casual socialising, welcoming Zanzibaris of African and Arab descent, old and young, locals and tourists alike. Make sure you get yourself one of the local coffees, small Arabic-style local coffee — strong, unsugared black coffee which is brewed in a metal kettle heated over a charcoal stove in the street.
This is the perfect way to start the day and get you perked up for the booming energy and atmosphere that Stone Town and Zanzibar provides.
Know before you go:
Location – Jaws Corner is a small square located in the Vuga area of the town's south.
Cost – A small cup of coffee will cost you around TZS 100.
Opening hours – It's best to come in the early or late morning when the corner is at its most atmospheric and electric
Time needed – Depending on your plans for the day, you can spend a brief 20 minutes here or a couple of hours.
Getting there – Being a pedestrian zone, you will have to walk through the narrow streets to get to Jaws Corner.
9. The Rock Restaurant
On the very opposite of the island, in the coastal village of Pingwe, is the popular Rock Restaurant. The famous restaurant is in the perfect coastal location, looking out onto the Indian Ocean and the eastern shores of the island.
Not only is this restaurant close to the beach, but it's also literally in the water. Perched on a giant rock, a paddling distance from the shore, your first view of the restaurant is one you won't forget in a hurry,
Aside from its jaw-dropping location, the Rock Restaurant also cooks up a huge range of delicious food, fresh from the ocean and the island itself. The restaurant unsurprisingly specialises in seafood, from stewed rock lobster and king prawns to more Italian flavours such as gnocchi and pasta.
All in all, the Rock Restaurant provides one of the most forgettable dining experiences you can have not only in Zanzibar but anywhere.
Know before you go:
Location – The Rock Restaurant is located in Pingwe, on the central east coast of Zanzibar.
Cost – Main courses start from around USD$25.
Opening hours – 12 pm – 8 pm.
Time needed – A couple of hours will be enough to enjoy the meal and surroundings.
Getting there – The quickest way is to order a taxi to take you across the island.
10. Hang Out With Giant Tortoise on Prison Island (Changuu)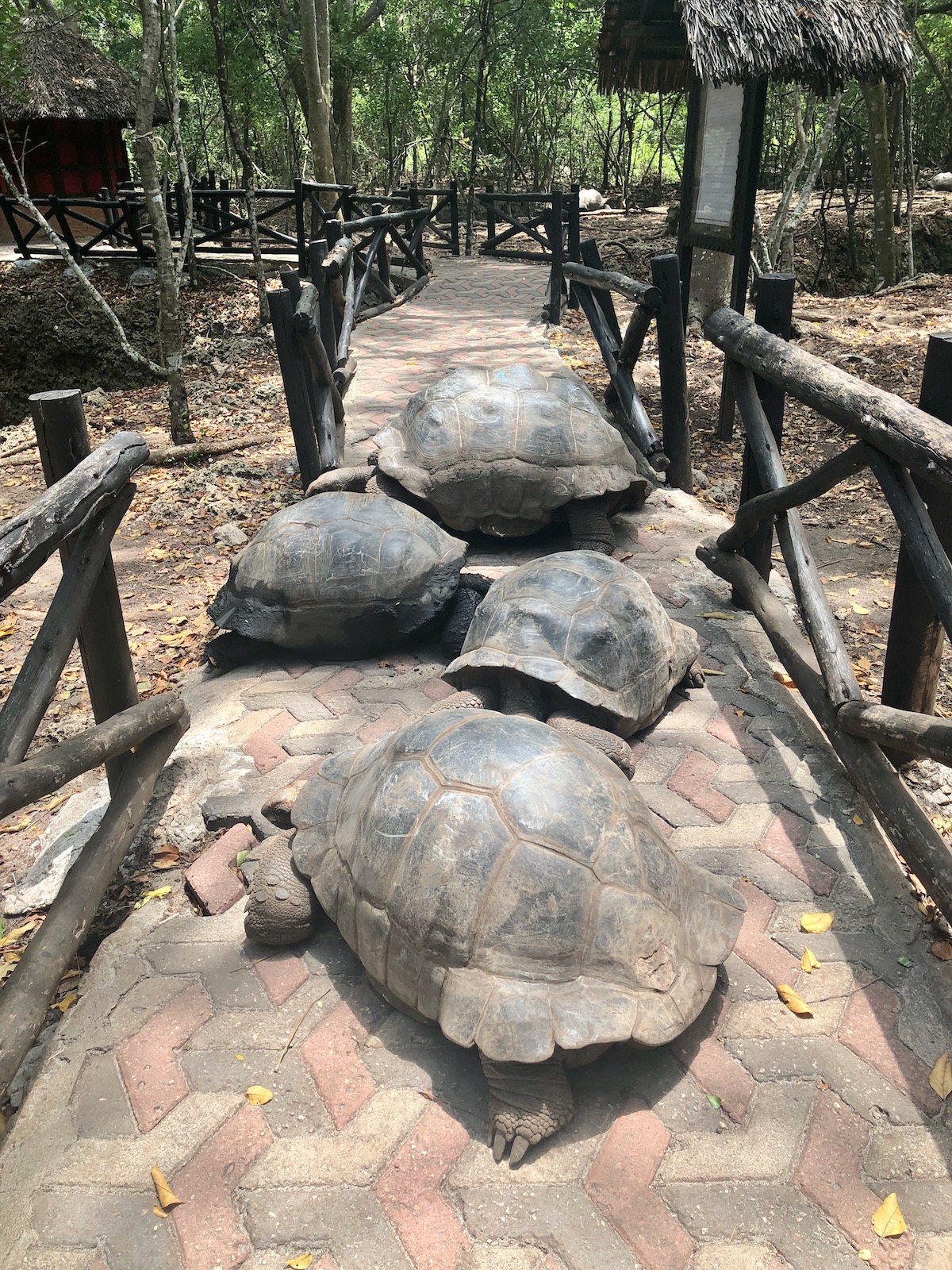 One of the biggest draws of Changuu Island is the fact that it is home to a number of giant Aldabra tortoises, and seeing these beautiful creatures is one of the most memorable things you can do in Zanzibar.
This breed of Aldabra tortoises is far more common in Seychelles and it is from here that this isolated group of tortoises originated.
In 1919 the British governor of Seychelles sent a gift of four Aldabra giant tortoises to Changuu from the island of Aldabra. These tortoises bred quickly, and by 1955 they numbered around 200 animals, yet due to poaching, the numbers dropped down to just seven by 1996.
With the combined efforts of the Zanzibar governments and animal conservation charities, their numbers were stabilised, and their numbers have continued to grow.
Watching and feeding these giant tortoises is a fantastic experience and one of the most rewarding things to do in Zanzibar. When I say giant, I mean no exaggerations. These tortoises are around 122 cm (48 in) in length with an average weight of 250 kg (550 lbs) and can live for up to 200 hundred years.
Also known as Prison Island, the island was used as a prison for rebellious slaves during the 19th century.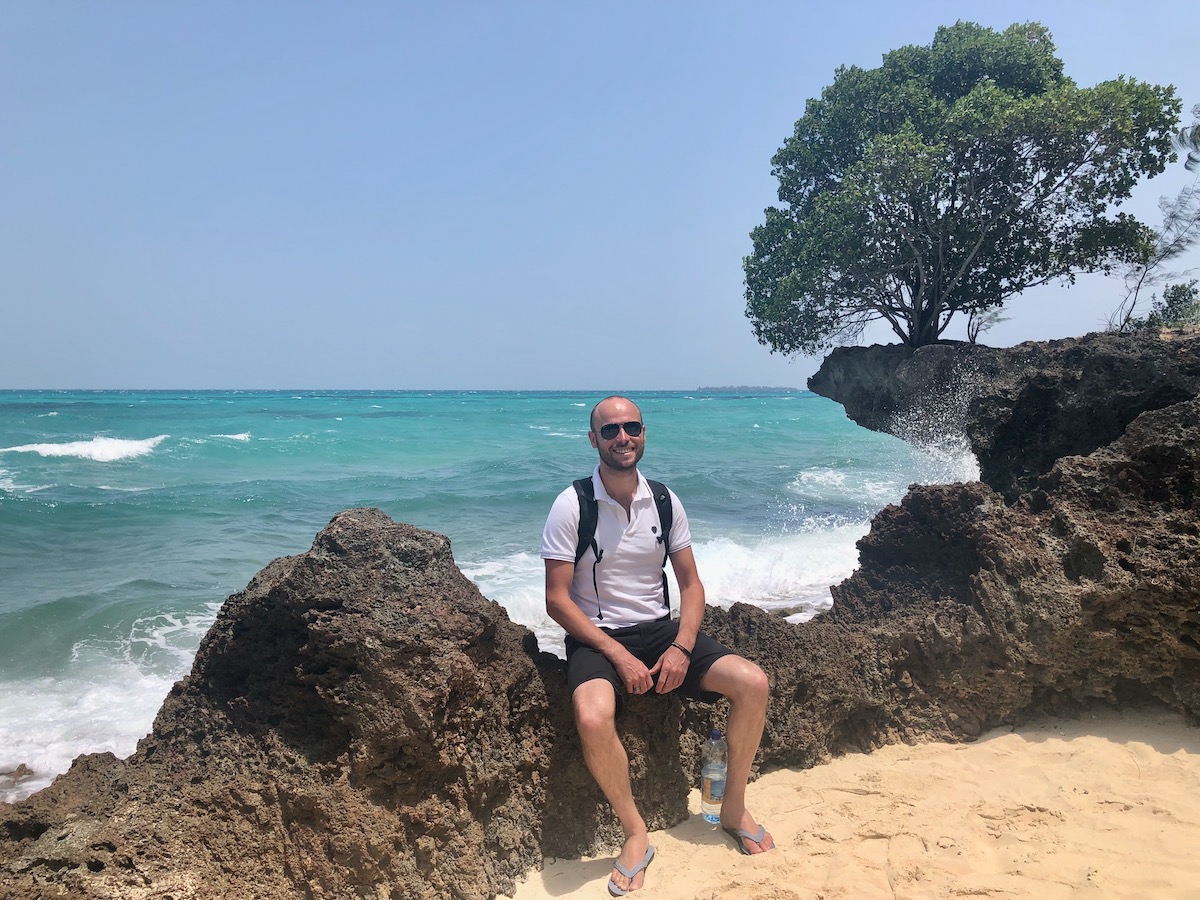 Although the prison was constructed, it never actually got around to housing any prisoners. The island was then used as a quarantine island, with the British authorities fearing a rise in diseases causing epidemics in Stone Town.
Around a 20 to 30-minute boat ride from Stone Town, Changuu Island offers a postcard picture of a place to explore and is a perfect size for a day of wandering around. With beautiful white sands and crystal clear turquoise waters, the island is a mini paradise surrounded by the Indian Ocean.
Much of the former prison's buildings have been converted into hotel blocks and bars, perfect for relaxing after a day exploring the island. From snorkelling, sunbathing and simply enjoying the pristineness of the island, Changuu Island is one of the most popular and best things to do in Zanzibar.
Know before you go:
Location – Prison Island is located a half-hour boat ride northwest of Stone Town.
Cost – The boat ride will cost between USD$30 and $40 return and a USD$4 charge for entering the island.
Opening hours – Boats will go to and from the island all day.
Time needed – It's best to spend a good part of your day here, as there is so much to see and do.
Getting there – Boats will leave Stone Town from Baharia Hindi Beach.
11. Dolphins & Snorkelling at Mnemba Island Reef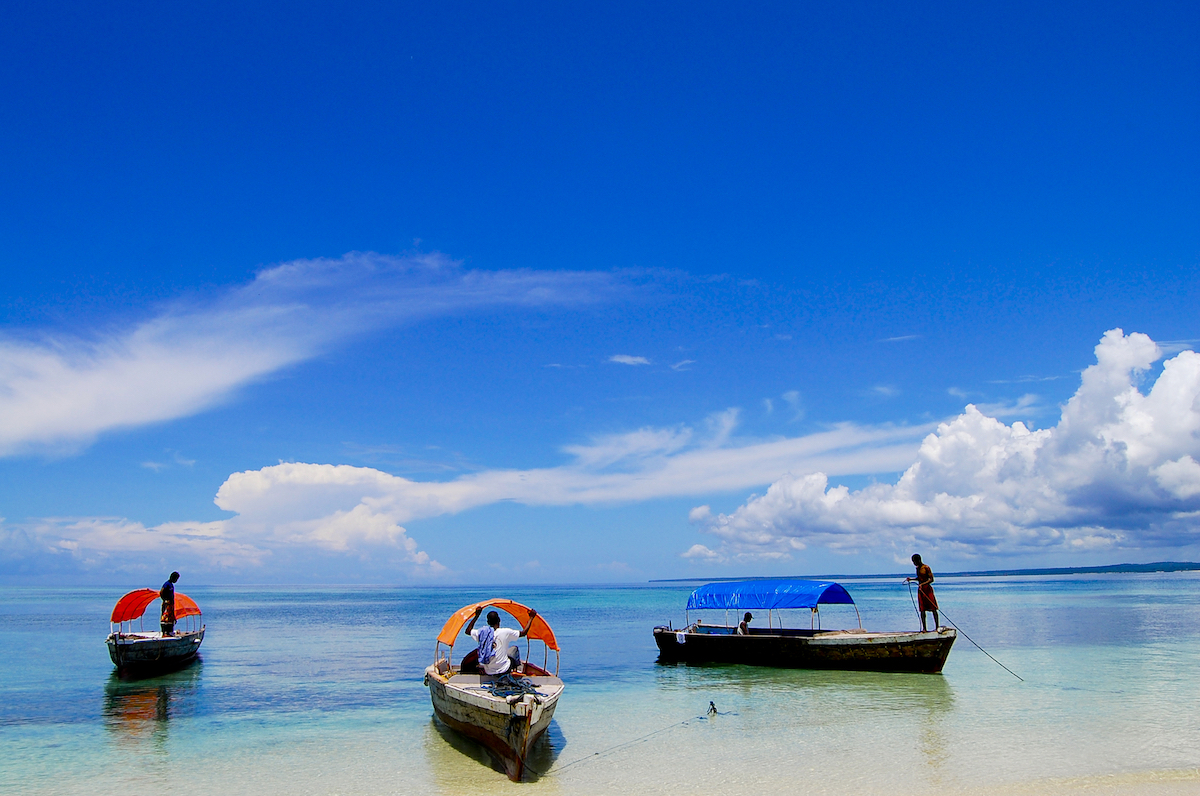 Found just off the northeast coast of Zanzibar is the small island of Mnemba, surrounded by a halo of coral reefs. This breathtaking stretch of water and coral is something pulled directly off the travel book of a paradisiacal desert island.
Along with its stunning natural beauty, Mnemba Island's reefs are home to an abundance of marine life. Diving into the crystal clear waters of the reef, you can spend many hours snorkelling above the corral and observing the huge array of fish and other sea life here.
A little further out of the island, you can spot humpback whales, three species of dolphin and whale sharks – it is no wonder that Mnemba Island is at the top of things to do in Zanzibar for wildlife lovers.
If you're looking for the same type of activities but in a less-developed area then go to Kizimkazi Island instead!
Related Posts:
Despite its small size, the island itself is also home to a surprising amount of wildlife. If you have sharp eyes, you may spit the elusive Ader's duiker or the tiny Suni antelope.
All in all, Mnemba Island is a little piece of Eden, home to an array of wildlife and a beautiful island landscape that has to be seen to be believed.
Know before you go:
Location – Mnemba Island is located a few miles off the very northeast of Zanzibar's main island.
Cost – Costs will depend on who you book your stay here with, as staying at the privately-owned island is run by &Beyond.
Opening hours – N/A
Time needed – You will want and need the best part of the day to explore the island and all its activities.
Getting there – Boats leave for the island from the northern town of Nungwi.
12. Cheetah's Rock
Around ten miles north of Stone Town is the animal welfare and conservation centre of Cheetah's Rock. Cheetah's Rock is a ZIPA-accredited educational wildlife rescue & conservation centre known for its cheetah tours. The centre was set up in the early 2000s as a home for a huge range of animals, rescued, rehabilitated and a look to release back into the wild.
Taking a wildfire tour of Cheetah's Rock is a great way of getting up close and personal with some of the continent's most beloved animals. A step away from a more common view, handing over money to tour the sanctuary's animals will leave you with a sense of doing some wider good.
This money will then go towards the preservation of Africa's sensational wildlife communities and also rehabilitating those animals that would be lost if these conservation efforts were not carried out by Cheetah's Rock.
Know before you go:
Location – Cheetah's Rock is located around ten miles north of Stone Town, along the coast.
Cost – Around $150, which includes transport between the locations.
Opening hours – 9 am – 11:30 am and 1:45 pm – 6:45 pm.
Time needed – Around six hours are needed to see the animals and travel there and back.
Getting there – As part of the fee, transport will be provided for you to the reserves.
13. Jog/Stroll Along Nungwi Beach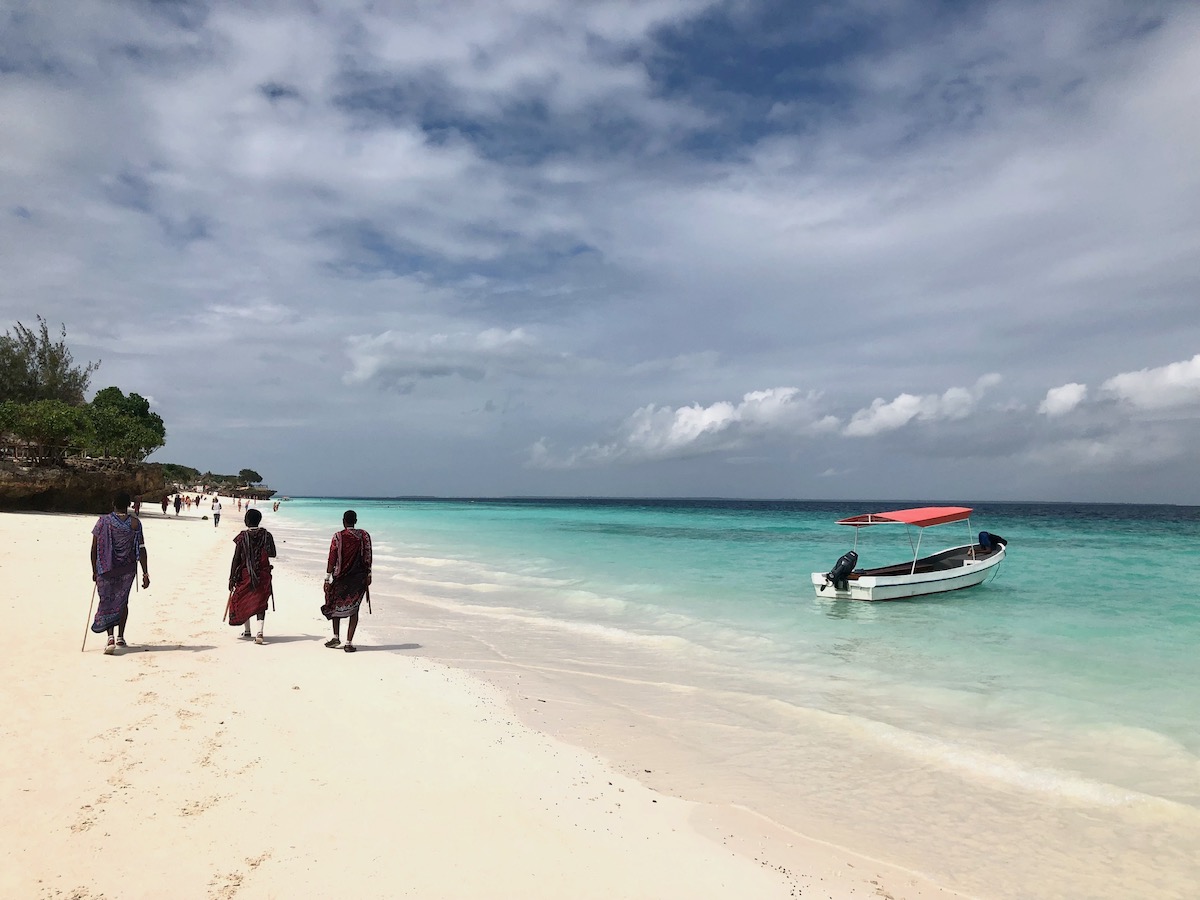 At the northernmost tip of Zanzibar is the small town of Nungwi, famous, amongst other things, for its fantastic stretch of beach. One of the last regions to welcome tourism on the island, Nungwi and Nungwi Beach are among the must-visit things to do in Zanzibar. Aside from the sheer beauty of the sprawling beach, it is also a great place to go for a morning or late afternoon jog to enjoy one of the best sunsets in Zanzibar.
Just be careful with your footing as I tore my foot open on a sneaky stone there. This isn't to put you off this activity, of course, it's just a warning for people who are as foolhardy and clumsy as me!
Keeping your fitness levels up, Nungwi Beach offers the perfect surroundings for a little exercise while you're thinking of things to do in Zanzibar. Once you've energised yourself with a jog along the beach, head into the northern Zanzibar town itself and soak up the laid-back atmosphere of Nungwi life,
Know before you go:
Location – Nungwi Beach is located on the northernmost tip of the island, around 36 miles north of Stone Town.
Cost – Buses from Stone Town will set you back around TZS 2,000 one way.
Opening hours – Buses run between Stone Town and the beach all day.
Time needed – With distances, it's best to set aside the whole day to travel, jog and see the town of Nungwi.
Getting there – Take a cheap dala-dala bus to the beach. Dala-dala number 116 leaves daily from Creek Road in Zanzibar Town for Nungwi every half-hour between 5:30 AM and 9 PM.
As you can see, there is such a fun mixture of the very best things to do in Zanzibar. For such a small island, it really does pack a punch of history, culture, adventure and beauty.