When it comes to finding the very best men's travel gear or finding travel gifts for the loved men in your life then look no further than this post.
I am a man who has travelled all over the world for the past decade, amassing over 100 countries in my many battered passports.
A slight confession though; I am certainly not a natural and I had to learn the difficult way, when I left for my first-ever long-term trip my packing was an absolute sh*tshow.
I packed an abundance of things that I simply did not need to bring and I forgot the most important items!
Although this post is more catered towards travel gear for men, women can still get some value out of the list and also I got a lady friend to write the female-centric version of this article.
If I made a post about absolutely everything that I pack for all the trips I go on, this article would be longer than the bible. So with that in mind, let's look at the tried and tested essential travel accessories for men and any brands that I genuinely have a preference for…
Most Vital Men's Travel Gear: Luggage and Packing
You're not going to get off to a very good start for your trip if you don't have your luggage and packing game on point.
Your luggage of choice will be either a joy or a burden and the decision to get the best one (for you) should not be taken lightly.
The backpack that I first travelled with left me with backache and the compartments were terrible, oh how far I have come with my new setup.
If you are unsure what type of luggage to take then my detailed post backpack vs suitcase will help you reach a solid conclusion.
I personally choose based on what kind of trip I am going on, so let's take a look at the types of luggage that I use and also the best travel accessories to go with them to make the perfect symbiosis.
Main Backpack For Long-Term Travel
Osprey Aether Plus 60 Men's Backpack
There are plenty of reasons why travel bloggers push Osprey backpacks and I'm not going to try and reinvent the wheel here, as this brand fully deserves its plaudits.
They can take one hell of a beating and their longevity is impressive.
On top of their ability to bounce back from abuse, they are reliable and comfortable and they seem to 'get' it in terms of what a traveller needs for compartments. This one, in particular, is not for minimalists – they're for people like myself who like to travel with a bit more and they come with a handy 13-litre daypack attached to it.
Osprey Backpacks come in all shapes and sizes and it goes without saying that I would not suggest the best travel backpack if it didn't have a front-loading system! It's something I feel very strongly about, read my travel backpack buying guide to see why that's important and to make sure you're primed and confident when looking for the best backpack for you.
Short Haul Backpack
Although the idea of travelling with more options appeals to me, sometimes when I am taking a small trip (1-3 days) where I really need to have my sh*t together, I use my NOMATIC 40L as my only piece of luggage.
The compartment design is second to none, it fits as a carry-on in an aeroplane, it's water-resistant and durable and as much as I am reluctant to use this very overused and worn-out term, it is quite simply a… "game-changer" and is very popular with digital nomads abroad.
Best Carry-on Backpack
North Face Router Commuter Laptop Backpack
Not to be mistaken with my preferred short-haul backpack above. This is the backpack that I use daily as a Digital Nomad in Chiang Mai, for day trips and it's also my partner in crime to my long-term giant suitcase that I am going to link to below.
Don't judge a book by its cover as this seemingly small bag is very spacious at 40 litres and acts as a hybrid of a day travel/comfortably popping to the office/carry-on backpack.
It's a good option to take on a last-minute hike too – so you're always rearing to go with this bad boy.
When the previous version, (North Face Surge) of this backpack got too tattered and torn I simply bought the new model as I knew what I was getting and I don't see myself changing allegiances any time soon.
I tend to travel regularly with The North Face Router as it's strong, reliable and has handy compartments for my laptop and electronic essentials for when going through security at airports.
Large Suitcase on Wheels
Samsonite Omni 28-Inch Silver Suitcase
I have lugged this absolute beast of a suitcase through many European countries. It's been battered, it's been bruised, it's fallen from heights and I can almost hear it dismissively laugh at me when I show concern for it breaking.
Samsonite's luggage admittedly comes at a bit of a premium, but you really do get what you pay for when it comes to your main luggage.
It's famously durable, and incredibly spacious, with a built-in lock for optimal security and the company has a reputation as one of the most trusted luggage companies in the travel industry since 1910.
Packing Cubes
Packing Cubes For Travel (All Sizes)
The days of a disorderly man, scrambling around his luggage; half of it thrown all over the floor to be stuffed back in last minute is soon to be a thing of the past.
Packing cubes are the calm needed in a storm and I simply can't believe I travelled without them. I use the brand TRIPPED for my packing cubes of choice, as my antidote to chaos as a man who is a little too high on the spectrum of messy (I'm working on it).
There is an abundance of budget-friendly packing cubes out there. I choose these particular packing cubes because I know they are sturdy, also act as a compression bag, are water-resistant and come in 10 different colours.
Drybag
I learned the hard way at the start of my first long trip by breaking my expensive camera in the Malaysian forest.
I was new to the game and I didn't even know that Drybags were even a thing, to be honest. Now I pack them any time I'm going to be going on trips near, or on water; I add my phone, watch, food, drinks and even my wallet to it and the material is so robust and dependable that I have literally never had an issue where my items get soaked, 20 litres is my size of choice although they do come in all sizes and colours.
Men's Travel Clothing
Gone are the days when men had to sacrifice looking good for the sake of comfort.
There are a lot of aesthetically pleasing clothing products on the market for men now and I am definitely a bloke that likes to like to find the sweet spot of finding comfortable, rigid gear that doesn't make me look like a tragically non-hip dad.
Gore-Tex Shoes For Travel
SCARPA Hiking and Running Shoes
GORE-TEX sounds fancy but what exactly does it mean? The party line for the company "Guaranteed To Keep You Dry" is a bold statement, but considering the fact they are 100% waterproof, windproof and come with the ability to be durable in the harshest conditions I would say they really do practice what they preach.
I use Hoka One trainers, they're my go-to shoe for when I am hiking mountains and need to be fast on my feet in some dangerous countries.
The breathability in these in any weather is an extra reason to purchase and another bonus is that they are completely vegan by accident, but are not flimsy like a lot of well-intentioned shoe manufacturers who aim to be cruelty-free.
You will see from my open and honest Loom Footwear Review that I am very particular about branding a shoe an all-around travel hero although the Hoka One is firmly in that category for me.
Willy & Gooch-Friendly Boxer Shorts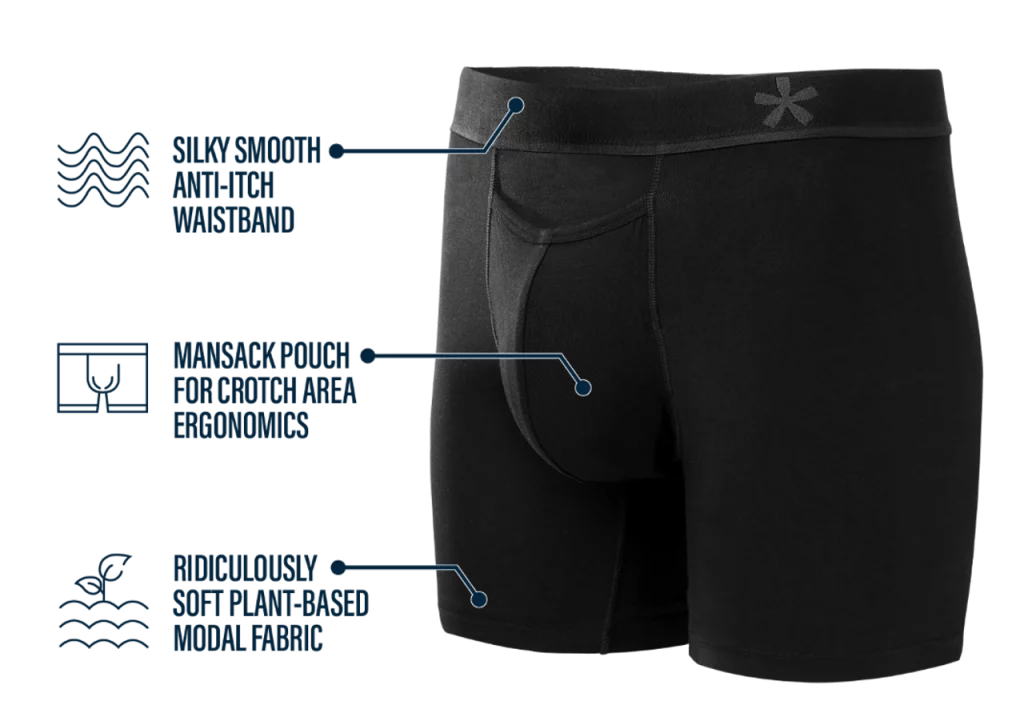 Don't get me wrong, whenever I have gotten lucky on the road I have always made sure that I have a spare pair of Calvin Kleins to get the party started, but when it comes to the travelling man on a mission for adventure; a major elephant in the room on these travel gear for men lists is the welfare of the willy and gooch.
"Willy" is British terminology for penis and gooch is the nickname for the perineum, also known as the "no man's land" area between the ball sack and the bum and my God, if you get the clothing wrong on this one it can be excruciating and uncomfortable down in that sacred area.
ManMade Boxer Briefs designed their men's underwear with all this in mind, creating a pair of itch-free boxers with increased ventilation that fits snugly around your manhood while ensuring that chafe does not occur as you travel in all weathers.
Love your bum and protect your lunchbox; prove it by buying 1-5 pairs of these for you or the travelling man in your life.
Black Cargo Pants
Black is a neutral colour that pairs well with pretty much every colour out there, so any fashion knowledge that you lack is taken care of and it's also a great choice for a clumsy man like me who spills a lot!
This option is not just about looks though, I take a couple of pairs of cargo pants on the road as the extra pockets are action-ready for any event from having your passport safely in your pocket during travel transition to housing snacks in there while hiking a volcano.
Cargo pants are very durable, they fold nice and tight without creasing and when clean they are perfectly acceptable nighttime attire when paired with the right shoes.
Speaking of which…
Easy Slip-on Casual Shoes
Black goes with just about everything and guess what pairs perfectly with black trousers; white shoes! I opt for Vans as they don't rub against your heels and give you unwanted blisters like quite a lot of these types of shoes do.
The beauty in these slip-on shoes lies in the comfort that they offer and they don't take up too much space in your luggage for the nights that you need them.
They are also a great option in ankle socks on days when you don't want to wear flip-flops (just remember they're white, so avoid that dirty trail walk). Tom's Shoes and also Oaka are a good choice for a travel dress shoe and they tend to be even more robust when shoving them into your luggage.
Hiking Socks
Not all socks are created equal when it comes to adventure and I find IZL socks to be quick-drying, cosy and much like the gooch-friendly boxers listed above; they do not chafe and as someone who has had many blisters I appreciate how I have barely had any since hiking in these.
Headwear and Neck Protection
If you are a fellow baldie travelling man and you don't own a BUFF then you are doing it wrong.
It may look like a simple piece of cloth, but this revolutionary bit of understated travel accessory will protect your precious chrome dome from the burning hot sun while keeping the sweat off your head.
If you are one of those annoying guys with superior hair genetics, a BUFF is also for you as this versatile piece of kit will not only look cool on your windswept hair, making you look all mysterious and adventurous but it also acts as a scarf, headband, hairband, wristband and balaclava.
I tend to have two – one for my exposed noggin and the other to protect my neck from sunburn and I also bring a cold weather version to keep the frost at bay.
They have an array of funky designs to choose from, my personal favourite is a customized one that I earned after running 6 marathons in 6 days in the Moroccan Sahara Dessert.
Base Layer Pair
Thermal Underwear Pair For Men
If you plan to visit a cold country and are a person who struggles in the chill then you would be certifiably bonkers to not take a base layer top and pants. The purpose of base layers is to provide an extra layer of warmth while absorbing and evaporating your sweat.
I also bring compression tights to wear during the day sometimes to increase blood flow and help me recover from heavy workouts on the road. When it comes to bedtime I slip into the base layers for a teeth-chattering-free sleep.
Travel Washing Line
Retractable Portable Travel Washing Line
It's all fun and games getting dirty and adventurous in your chosen activity… until you're overwhelmed in your room, lost under a pile of smelly and wet clothes.
Washing clothes while travelling can be a nightmare when you're not prepared or have chosen a more off-the-beaten-path option and the answer to your problem is a portable travel washing line, which can hang from trees or your dingy little bathroom and your towels and clothes will drip dry while you sleep.
Microfiber Travel Towel
4Monster Microfiber Travel Towel
Sticking with the theme of "it's a handy travelling companion and it doesn't take up a lot of space" is a microfibre travel towel.
For a start, cotton is inferior to microfibre because it's less likely to shrink, pick up any funky smells and most importantly for the sake of convenience, it dries a lot faster.
A microfiber travel towel is lightweight, easy to wash and they don't collect bacteria in the same way a traditional towel does. It comes in a neat and tidy zip-loc bag and you barely notice it's there until you need it.
Travel-Friendly Sunglasses
Easy Carry Polarized Mini Folding Sunglasses
Maybe I'm stuck in a Top Gun timewarp but I just can't seem to move on from the glorious aviators for my choice of sunglasses… but when it comes to more adventurous travel those beautiful Maverick posers can get bashed, broken, stolen or scratched way too easily.
Style over substance isn't a good idea when you're a travelling man and you need a good pair of travel-friendly sunglasses at your disposal.
Luckily, you can have both now and I travel with sunglasses that fold, have polarised lenses, and come in many different colours and their classic square frame design is beautiful. I also think that the Mad Max-type sunglasses look incredibly cool on a man roaming the desert or marching through the snowy mountains!
Blue Light Glasses
Another pair of glasses that belong on a man's travel items list are blue light glasses for reading and nighttime winding down.
When I am working on the road I always try to use my Gunnar glasses, since I've used them I don't get any eye strain and friends that I have recommended them to have reported fewer tension headaches from staring at a screen for too long since wearing them.
If I am having an early night while travelling I also wear them after the sun goes down, so that my natural melatonin stores can get going and I can start to wind down my mind for a good night's rest. Some people are self-conscious about wearing coloured glasses but I personally love their style.
Technology and Gadgets
I don't go crazy with tech when I travel but I have certainly nailed down the essentials to make my life easier on the road and no one should ever leave home without a good universal plug adaptor.
This list of travel tech gear should hold every man in good stead.
Best Laptop For Travel
Once you go Mac you never go back? I certainly didn't because I'm a man who likes convenience and Macs just make everything easier for me.
As someone who works online when I travel, I need a trusty laptop and the Macbook Air has been my laptop of choice for the last 8 years. Weighing in at 2.75 pounds (1.25 kilograms) it's a perfect digital addition to my North Face daypack and I use the UAG Laptop Case to keep it protected from liquids and bashes during transit.
Cable Troves
All hail the mighty troves! Also known as cable ties or cable organisers.
Are you sick of untangling the mess of cords in your bag as you look for your phone charger? That added stress is no longer when you leave home with these little heroes as they hug your wrapped-up wires and clip them tightly so you can grab them whenever they are needed.
Cable Organiser Bag
The perfect home for the above cable troves. Once you've wrapped up all your essential wires neatly you can put them in a cable bag organiser; what a solid combo. I also use cable bag organisers to store my supplements when I travel.
Bingo!
GoPro Camera
If you're one of those incredibly patient men who can wait for a snow leopard to spot in the mountains of Afghanistan, then power to you. You are a mutant.
If you're less patient and want to still live in the moment but are high on the sentimentality spectrum and wish you had more photos and memories of your bolder journeys then a GoPro is a fuss-free, robust option.
You can see photos that I took with my GoPro during Marathon des Sables and swimming with whale sharks in Cebu article and a few that I took while travelling alone during my Sri Lanka itinerary.
Kindle
While you can't beat the feel and smell of a brand-new book it's just not sustainable to carry around all those books if you're an avid reader. My first Kindle lasted 4 years and I was delighted when I upgraded because of the backlight feature.
The words are written in liquid ink, making it easier on your eyes than reading from a laptop or tablet.
Travel & Fitness Watch
Garmin Vivoactive 4 GPS Smart Watch
If you're into fitness and like to record your activities then a Garmin Watch is an ideal travel companion. As much as I like the Fitbit app, the battery life in the watch was left a little wanting so I bought a Garmin Vivoactive 4 GPS and never looked back.
I use it to record hikes, walks, runs, and gym sessions and I also make sure I get 10,000 steps in every day with help from my Garmin. The watch also nudges me to stand when I've been sitting on my bum for too long and when my heart rate is highly-stressed (not during a workout) it gently jabs me and reminds me to breathe slower and deeper.
Head-Torch
Head torches are a mainstay on any master camping list and they also come in handy when you're in countries that have random electricity outages. Remember to add the batteries before you go and also to pack spare batteries too
As a bonus; pack a wind-up torch that needs no batteries are perfect for people like me who need to piss a lot in the middle of the night but don't want to wake others or run into any snakes during the journey!
Three Power Banks
What's the point in having all this fancy tech if you can't charge it when you're out and about or getting to one with nature?
I travel with a large power bank that holds plants of juice and a smaller cylinder power bank for when I'm out during the day (it stores ever-so-nicely in cargo pants).
I also travel with a solar panel power bank, which still blows my mind every time it works. What a fantastic invention!
AirTag For Lost Luggage Anxiety
If you don't have Apple products then this is one not for you but I'm sure that other companies have this option. If you do suffer from "where is my luggage" anxiety you can locate it within seconds with an Apple AirTag via your phone at all times.
Travel Sound Speakers
Bose SoundLink Micro Bluetooth Speaker
Sometimes you will be invited to a last-minute party with travellers you've met on the road, or want to watch a movie in bed after a hard day and that maximum volume on your laptop is not going to be good enough sound quality.
I love this Bose speaker and it's incredibly robust. For times when I'm feeling particularly introverted I use either Airpods or BOSE's Quiet Comfort Earbuds as they both are comfortable and have excellent noise cancellation. I often sleep with them and listen to downloaded rain sounds when I am sleeping in noisy areas.
Wireless Bluetooth Remote
CamKix Camera Shutter Remote Control with Bluetooth Wireless Technology
Travelling solo, or wanting that romantic photo with your partner – but you don't want that awkward interaction with a stranger who will inevitably take a shite pic and you'll be too polite to ask them to take another?
Taking a wireless Bluetooth remote fixes that awkward social interaction and gives you control over photos via a click of a button after linking it to your phone.
GorillaPod
A tripod and wireless remote will let you click away until you're happy with the photo that you need.
I don't take an original tripod with me when I travel, I bring my GorillaPod instead as it can wrap around tree branches, lamposts and fences giving you more options for angles for that happy travel snap.
Men's Travel Essentials For Health & Wellness
Do you want to know a dirty little secret about this industry? Long-term travel is not perfect; it's objectively and unequivocally unhealthy.
It's also fun and wild and the sense of freedom that you feel is second to none, but those long periods without sleep, inadequate nutrition, higher stress levels and moving about are not sustainable and can wreak havoc on your immune system.
However, there are precautions that you can take to mitigate getting ill on the road and this is how I roll…
Water Purifier
Hydration is so vital when it comes to health and you must make sure to drink a decent amount of water when travelling. If like myself, you're lucky enough to come from a country with tap water to drink then you will probably be left with less-than-ideal options while abroad.
A GRAYL Geopress water purifier is like the SAS of Water Purification systems. It can filter dirty water from almost any water source, removing viruses, parasites and heavy metals within seconds while giving the environment a break from single-use plastic.
A cheaper option that I first started out with was the LifeStraw Water Filter Bottle, which isn't as hardcore as the GRAYL Geopress but is certainly good enough for most short hikes and those on a tighter budget.
Multivitamin or Multimineral
Solgar Multivitamins and Chelated Minerals
I always take a multimineral with me when I travel. Multivitamins are more well-known but I like to personally focus on minerals such as zinc, magnesium, iodine and calcium to make up for any potential nutritional shortcomings.
Not all multivitamins and multiminerals companies are created equally of course and some have better efficacy than others. That's something you may have to look into if you're sceptical, I personally like to aim for the brand Solgar which is known to have gold-standard efficacy for their supplements.
L-Theanine
No exaggerations here when I say that L-Theanine (commonly marketed as Theanine) genuinely changed my life. Do you ever get the jitters after having too much coffee?
There is a genuine hack to this problem, and the hack is an amino acid called L-Theanine, which is found in green tea – a beverage also high in caffeine, however, Theanine also works together with the caffeine so you have a calm focus without being smacked down on the floor hours later.
Sometimes people mock me about this by saying I am buying one drug (Theanine) to combat the other drug (caffeine). This is negative reframing; the best way to look at it is you get the best of both worlds here as they have a synergistic effect leaving you more alert and focused without having to experience the anxiety later.
I also take Theanine on nights when I am wanting to have a particularly good sleep and it works beautifully without the groggy side effects of synthetic Melatonin.
Travel Pillow
Travel Pillow With Memory Foam
"Look at that travel wanker," I would judgingly think to myself whenever I saw someone with a travel pillow on whatever mode of transport.
Now I AM that travel wanker.
I don't know why I was so hasty in my conviction, I'm guessing it was jealousy of the individual's good sleep that I was not about to have.
I never travel without one and I'd like to tell you I have one of those funky TRTL Pillows that are all the rage but I like a bog standard memory foam travel pillow and so does my neck.
Comfortable Sleeping Mask
Most Comfortable Sleeping Mask I've Ever Used!
If you're light-sensitive when you sleep or get pissed off when the lights come on unexpectedly when you're trying to relax then a sleeping mask is your friend.
I am sensitive to a lot of materials and I find most sleeping masks creepy as hell and they also they have stupid thin straps that cut into your ears. I thought I wasn't a sleeping mask kind of guy until I found my beloved adjustable sleeping mask, which is a smooth and not creepy material, that blocks out all light and wraps fully around my head like a hug from the angel of sleep.
Ear Plugs
Super Soft Silicon Ear Plugs For Noise Cancelling
Sometimes you don't want to hear anything at all and those friendly digital headphones become a sudden foe when you're experiencing an assault on your ears.
Not all earplugs are created equally and the type that you prefer is very much based on your individual preferences. I opt for silicone earplugs as pictured above as they stay in my ears better than other materials and designs.
DEET Insect Repellent Spray
Premium Maxi DEET 100% Insect Repellent
I have met travellers who outright refuse to use insect spray because they claim that it has some nasty side effects. If that's true then that sucks, but do you know what else sucks even more?
MALARIA.

I plan to do more research on this in the future, but for now, I'm sticking with it. My blood is apparently the nectar of the Gods to mosquitoes and I need all the help that I can get.
Tiger Balm
Tiger Balm Pain Relieving Anointment
Animal rights activists can take a sigh of relief; nothing in this product comes from the body of the beautiful majestic wild cats.
The origin comes from Taoist philosophy, where the tiger symbolises strength, vigour and vitality, all that this balm promises to return to the aching body after its soothing application.
Tiger balm is popular in Southeast Asia and it has a strong smell to it similar to Vicks Vapour Rub and is used for insect bites, tension headaches, and sprains to name a few.
Aloe Vera
Seven Minerals Organic Aloe Vera Gel
Pretty straightforward this one; if the sun got you good then Aloe vera is a famous gel from a plant that heals your sunburn. It also heals other burns, scars and wounds while hydrating your skin.
Imodium
Don't leave home without Imodium. You don't want to be stuck anywhere with the dreaded Delhi belly and you certainly would rather not have to deal with diarrhoea during a road trip.
Imodium, also sold under its original name Loperamide are tiny tablets that act like a superhero when you feel like you're going to uncontrollably sh*t yourself. It's so good that I took the time to write a poem about its brilliance.
MANSCAPED Trimmer
Looking good is part of feeling good and this all-around trimmer can sort out your beard, and those unwanted hairs on the back of your neck. Personally, I have a very hairy chest if left to its own devices, which is a nightmare travelling in hot and humid countries as I involuntarily enter a cruel game of sweat roulette.
Thankfully this trimmer halts my potential chest wig, but let's be real here about the main reason this was designed; shave your balls, you absolute heathen.
Swiss Army Knife
Aaaah, the jack-of-all-trades of travel equipment was designed by the Swiss Army 125 years ago and its glory still lives on.
Be still, my beating, manly heart.
Why would this be in the health and wellness section? Because the pain of not owning one is too gut-wrenching to bear and it always belongs on a men's travel gear list!