Visiting Baghdad: 4 Days in Iraq's Capital (Plus Babylon Visit!)
Back in 2014 I visited a city called Erbil in Kurdistan, Iraq. There wasn't an awful lot of information on the place online at the time so I didn't know what to expect. I spoke to as many locals as possible during that short visit and I was surprised to learn that the majority of natives felt that the 2nd Gulf War was for the overall greater good. The collective disdain for the tyrannical Saddam Hussein, who had waged terror on the Kurds via chemical warfare in 1988, superseded the glaring complexities of a post-war Iraq, which was arguably less safe than when Saddam was at the helm of the nation.
As it currently stands, Kurdistan is officially part of Iraq. But it's no secret that there are passionate voices in support of an independent nation. And as much as I subconsciously span the whole "I went to Iraq once" story on my blog – I knew deep down there was a more authentic, truer version of Iraq that I hadn't experienced.
For obvious reasons, I pushed that thought to the back of my mind. Fast-forward to 2018 and I got the unique opportunity to visit Baghdad and fascinating, historical surrounding parts of Iraq on a private tour.
Iraq is slowly trying to recover from years of war, violence and neglect, so I had valid concerns of safety. However, the thought of being able to see it for myself without any media meddling, connect with as many people as possible and breathe in "the cradle of civilisation" was an intoxicating mix that I simply couldn't say no to.
It started off as only two of us – me and OneStep4Ward.com, who was not feeling content with counting a visit to Iraqi Kurdistan as Iraq after his 'every country in the world' mission. It soon became sixteen. The trip was phenomenal and the itinerary follows below – I'll end the post with basic logistics and reflections of a rare trip that I'm very grateful to have experienced.
Day 1: Al Tahir Square
Al Tahir Square, also known as Liberation Square, tips its hat to the establishment of the Republic of Iraq in 1958. The artwork above the square depicts key events that gave birth to the country and it was opened in 1961.
This is where you'll have your first introduction to Iraq, with curious locals staring and making pleasant small talk in broken English. Get used to it. Spoiler alert: Iraqis are generally a warm and friendly bunch.
Al Shaheed Martyrs Monument
A visit to a striking monument dedicated to the memory of the Iraqi soldiers who died in the 1980 Iraq-Iran war will leave you in awe, as will the beautiful, complex mind behind the guy who designed it. Check out this quote of substance from the creator, Ismail Fatah Al Turk:
"I insisted on having a large, open space. Big monuments are originally from the East – the pyramids, the sphinx, the obelisk, minarets … the Earth is flat, so these monuments can be seen from all directions. In the beginning, I had the idea of having a martyr bursting from the centre. But I did not like it, it was too theatrical. Then, the idea of life versus death began to form. The two pieces moving together towards martyrdom and fertility and the life stream. I moved the pieces until I got the interplay I wanted."
Gates of Baghdad and the Golden Domes of Al-Khadimya Mosque
Saunter around the gates that were built to defend Iraq from foreign invasion, before a night-time visit to a bling mosque, which contains the tombs of notable Shia Imams.
It's hard to imagine how much of a battering the place has taken in the last 15 years. The last attack, killing 21 and seriously injuring 45, was claimed by ISIS so the security is seriously tight – no phones, cameras or digital watches allowed in this sacred building.
Day 2: The Ancient City of Babylon
The Ancient City of Babylon, my favourite day of the tour and I'm pretty sure I speak for most of the group here. It's hard to feel more surreal as a traveller than visiting the four-thousand-year-old Mesopotamia marvel. Home to one of the ancient wonders of the world (the Hanging Gardens of Babylon), it's a shame that it hasn't drawn as many appreciative visitors as hoped due to the unrest in the region.
Saddam Hussein's Palace of Babylon
Breathe in the deserted residence of the former Iraqi leader, which the current government keeps as a low-key monument. At the moment there are no well-kept artefacts with propaganda from either side, it's completely devoid of text or glass units and tactically placed pictures.
It's raw, slightly vandalised with graffiti, it's dirty and gritty and I absolutely love that. It gives the place an authentic feel and your mind wanders to places it probably wouldn't in a stuffy, characterless museum.
Borsippa
Some religious scholars say that Abraham was born here, some say he was born in Ur of the Chaldees and was brought straight here. Who really knows? It's a beautiful view anyway.
Day 3: Iraqi National Museum
On that note … the next day is a trip to the Iraqi National Museum. I don't think I'm a complete philistine, I have the ability to appreciate what I don't truly understand or care for. But I can't even pretend to be having a good time when in most museums.
But, if this is your cup of tea then power to you, museum your face off on the third day of your Baghdad trip. Same goes for the Armenian church that we visited straight after that. Wasn't for me, being a European who went to a Catholic school – I'm very much churched out.
British Gentlemen's Club
The religious right got their way and the remains are similar to Saddam's Palace in the way that it leaves ample room for imagination.
Shahbandar coffee shop
One of Baghdad's few remaining cultural cafés with the smell of shisha pipes and coffee so strong it'll give neighbouring Turkey a run for its money.
The owner, Mohamad al-Khashali, defiantly strived to maintain the personality of the café, which fell prey to a suicide bomb attack that killed his four sons and one grandson.
"Despite the calamity that be­fell my family, I was keen on re­habilitating the place to make it once again appealing to its regular customers and clientele, though it bears a new name, the Shahbandar Martyrs' Café," Khashali said.
Copper Market
Souvenir time. I bought a sword with a cobra head! All customs in Iraq, Maldives and Thailand saw it in my suitcase and were surprisingly ok with me travelling through with it. I don't know when I'll ever truly need a cobra-headed sword. But on the day I do; I'll be glad I went through the stress to get it home.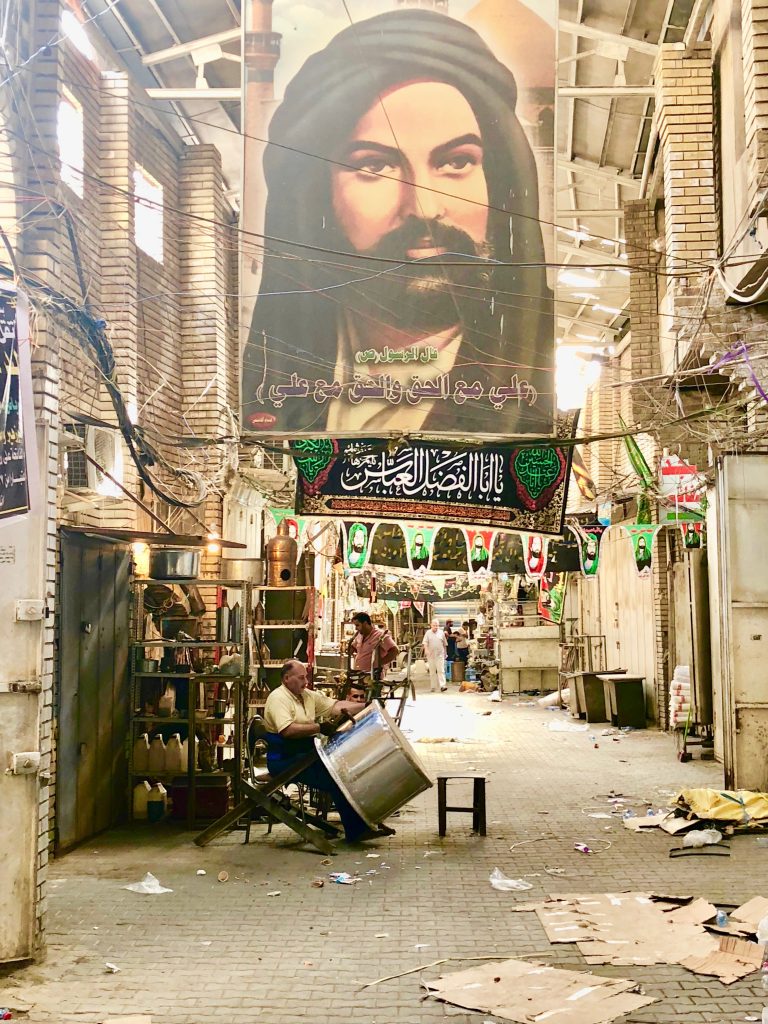 Dinner at Karrada shopping precinct
Dinner time in Karrada district, one of the most religiously diverse areas of Baghdad with a majority Shia Muslim and significant Christian presence.
Day 4: Baghdad Mall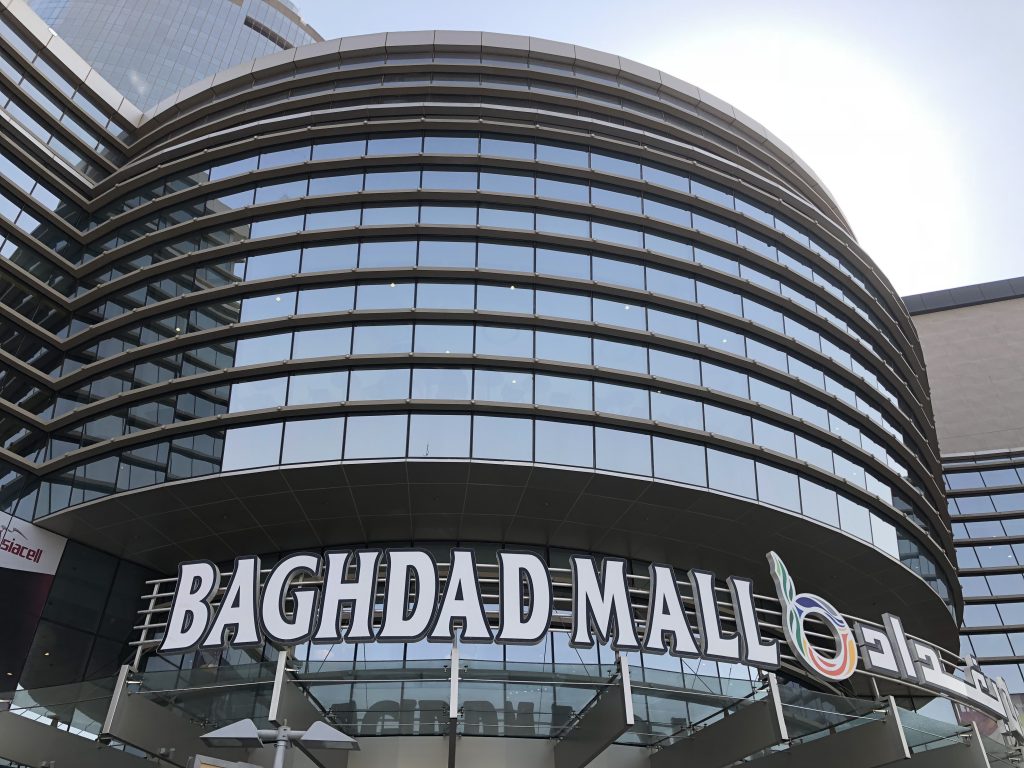 Wind down on the final day with a bit of modern-day Iraq. See how some locals are striving to live a "normal" life after the recent chaos the country has had to endure. Eat at the food court on the top floor and you'll be greeted with either shy, curious looks as a tourist, or with friendly conversation from enthusiastic locals who want to chat.
How much did it cost?
The 4 days' tour cost $1850 USD. It was worth every penny. We stayed in the Palestine Hotel, the tour did not include fights. I flew from Dubai with Fly Dubai.
Do you get travel insurance for Iraq?
Nope. I didn't exactly fall off my seat with shock when my insurance company, World Nomads didn't cover me for a trip to a recent war zone.
What's the visa situation?
The aforementioned Iraqi Kurdistan is easy-peasy – a simple visa on arrival. But "the real" Iraq is a bit of a different beast and I admittedly had the easier ride with Johnny taking on the heavy logistics.
I can't speak for all nationalities, but I know that Brits, Americans, Irish and South Africans have to do the following (if you're not any of those, don't worry. The tour organiser will help you out):
Get a letter of invitation to visit Iraq. Easier said than done, but the point of contact will follow in this article and he's very reliable and competent.
Once you have the letter of invitation, find your local Iraqi consulate and take your letter along with your passport and two passport photos. I paid 30 quid, but it differs amongst nationalities. Oh and make sure there are no Islamic festivals on the date that you go – I took the trip from Durham to Manchester during Eid and the place was closed for a week.
Say goodbye to your passport for up to 4 weeks, as the visa gets processed in Baghdad and sent back to your local Iraq consulate. This is not a trip that you want to miss out on because you left it until too late!
Receive your passport and start freaking out that it's actually happening …

you're going to Iraq!
Is it safe to visit Iraq now?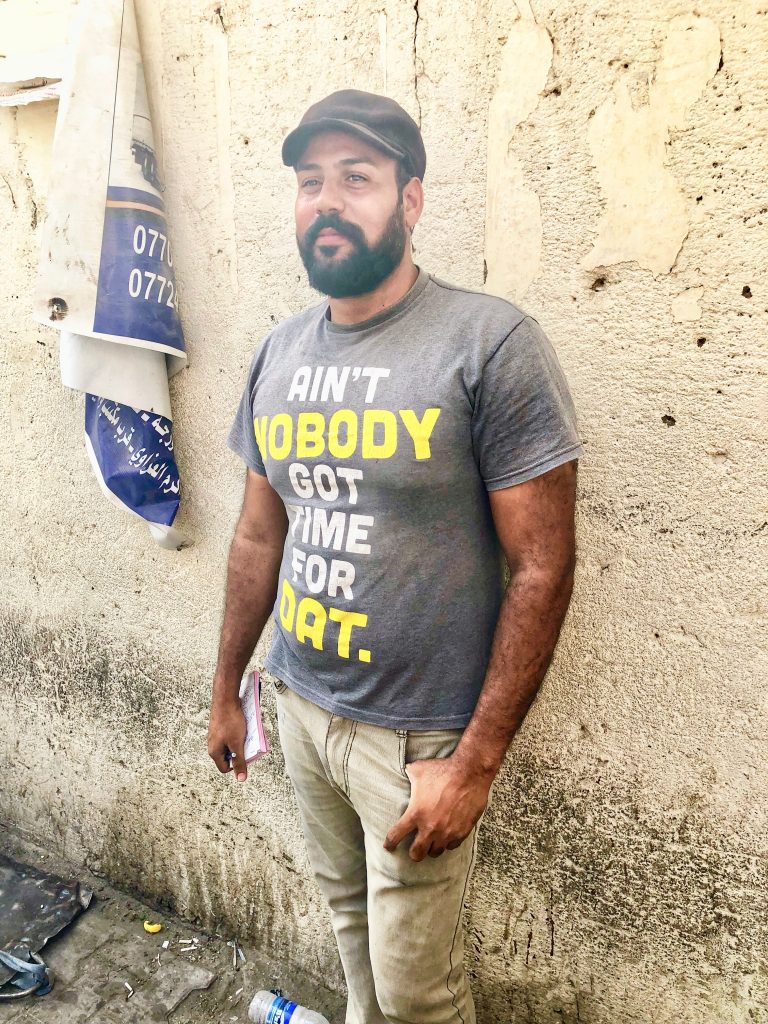 When talking about visiting countries with higher rates of violence, recent war and crime rates – this is the king eternal emperor of complex questions. As I did with my Papua New Guinea entry, I refuse to play down the security issues and often roll my eyes to those who bury their head in the sand at times like this. Your personal safety is your responsibility and you roll your own dice.
I knew the risks of going to Iraq and made peace with that before I arrived. I never felt unsafe in Iraq, but there was a nearby explosion, which killed several innocent civilians. If it's the people you are worried about – Iraqis generally fall into the typical category of warm and welcoming Arabic hospitality. However, it's still Baghdad and you have to make this call yourself.
What's the food like?
I adore Arabic food, but Iraqi food is a long way behind Lebanese grub and other neighbours in the region. I can't speak for the omnivores, but as a vegan I lived on dry falafel and my heart cried out for spices such as the sauce of the gods that is harissa. I didn't see the usual classics such as baba ganoush, fattoush and hummus very often, but I really can't (and won't) complain under those circumstances.
Why go to Iraq?
Accusations of "war tourism" fly about when people visit such destinations and I totally understand valid concerns that are not social media showboating. I watched a Netflix series called "Dark Tourism" recently and I felt the host was often ostentatious and occasionally engaging in a bit of atrocity porn for shock value and it left me cringing.
I think it's a little short-sighted to assume that locals don't desire tourist visits and money from tourism and, on a personal level, it's always seductive to experience a sensitive place without any unscrupulous external influences poisoning the well.
Locals' views of recent events are just as complex as any other nation on Earth. All humans have differing opinions, hopes and concerns and Iraqis are no different in this case. Iraq has been through hell and back, I'm always going to be delighted that I went and shared the experience with other free-thinkers who I met on the group tour and I truly hope that I live to see the day that it has it's own Phoenix From the Flames period.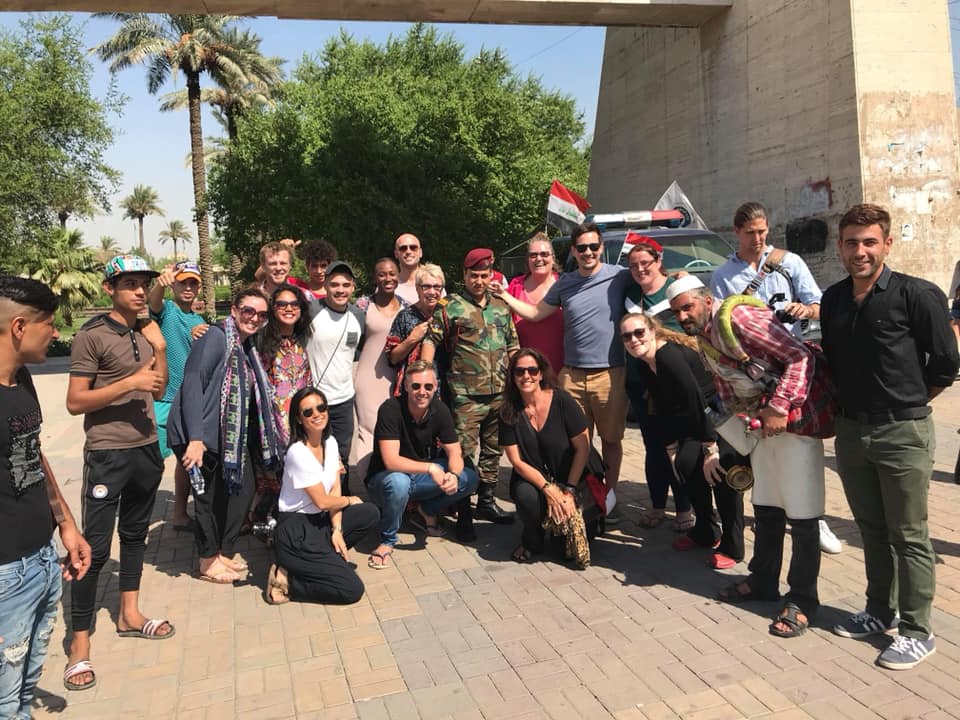 Contact for a private tour in Iraq:
Name: Adam Jebrin
Phone Number: 07947138673 (UK number, so +47947138673 for Whatsapp)
Email Address: info@alwaseilahtours.com
Sorry, we couldn't find any posts. Please try a different search.