Where festivals may lead us to think of muddy fields and bass-defying speakers back in the likes of the UK, the very best Thailand festivals are the cornerstone of the country's culture, and they couldn't be any more different to the more famous carnivals known to the west.
Often defined by its array of colours, postcard beaches and delicious food, your visit to the Land of Smiles will add layers to your trip once you've thrown yourself into a couple of the more weird and wonderful cultural festivals that Thailand has to offer.
After living in Thailand (and also travelling extensively within the country) on and off for about 5 years in total, here are 17 of the very best Thai festivals that I have either experienced myself or are high on my Thailand bucket list since finally deciding to make this beautiful country my official home.
The Best Thailand Festivals (Weird & Wonderful)
If you're new to the world of festivals in Thailand, then you're in for a real eye-opener when you land and commit fully to experiencing some of these powerful fiestas. Many of these celebrations have existed for thousands of years, born out of religion and tradition in equal measure and a big chunk of them will leave you utterly confused, or simply rendered speechless.
These more unique festivals in Thailand stand out by their often over-the-top practices, from colourful boat races and the ringing of obnoxious noises to violent self-flagellation and, what would appear to be to the non-accustomed viewer, temporary bouts of insanity.
These very contrasting approaches to a celebration, palpable religious fever and a general party atmosphere are factors that add to the intrigue of travel and this country certainly has enough to quench your curious thirst.
Attend these Thailand festivals with a completely open mind and you're likely to come away with a whole new perspective on the human condition, ways of the world and religious practices that have mostly been unaffected by modern Western ideals.
1. Lopburi Monkey Festival (Monkey Buffet Festival)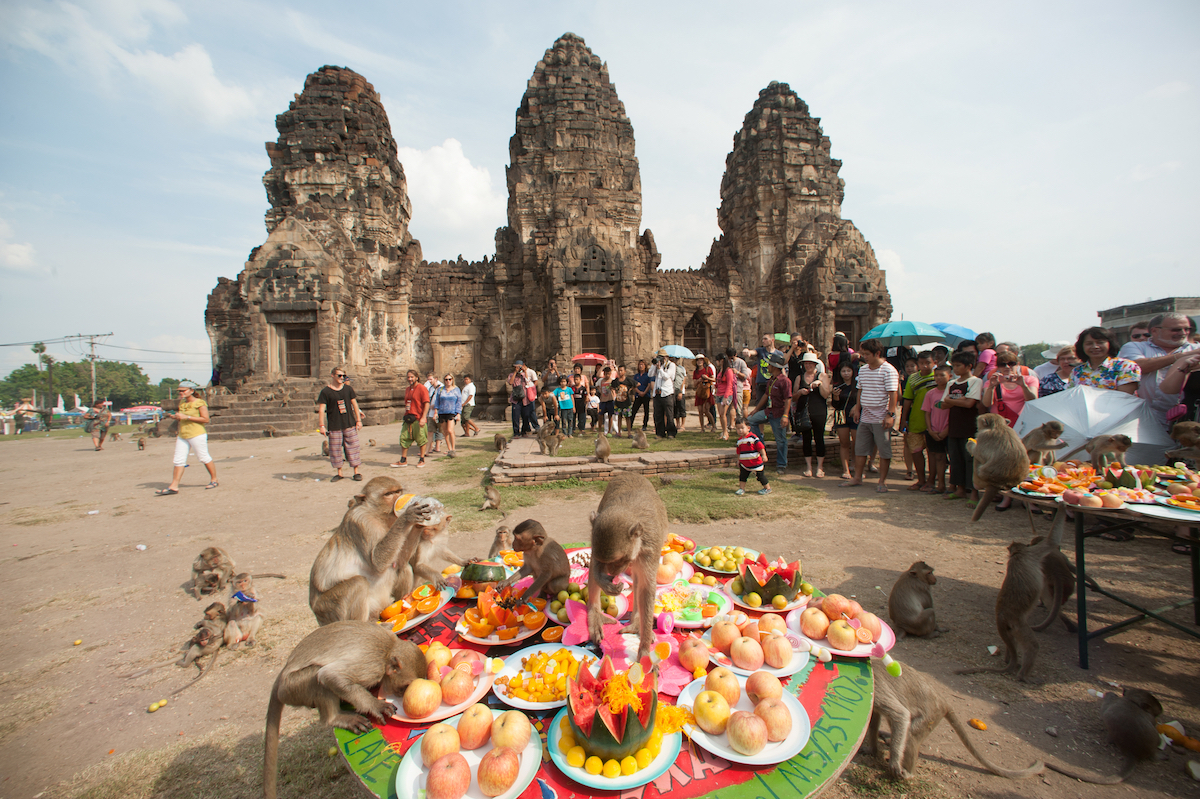 As the major religion across much of Southeast Asia, Buddhism is the centre of many festivals in Thailand. Respect for the natural world and living things is something that defines many Buddhist practices, and nowhere is this better illustrated than during the Monkey Buffet Festival in the city of Lopburi.
The Khmer-built temple of Phra Prang Sam Yot in Lopburi has stood here since the 13th century and has long been the home of a troop of macaque monkeys. These robust primates can be seen in and around the temple all year round, but the best day to visit is without doubt during the Lopburi Monkey Festival.
Held on the last Sunday of November, the festival celebrates these animals and their symbolism in both Buddhism and Hinduism, especially through the legend of Hanuman, who was considered to be the king of the apes.
The festival starts with dances and performances by devotees, with the monkeys at the heart of it all. Then, the main event begins, which takes the form of a huge fruit and vegetable buffet set up for the VIP guests themselves.
On a good day in Lopburi, monkeys scavenge the street and often the people, looking for a morsel to eat, so you can only imagine the scenes when hundreds of kilograms of fruit are laid out for them to enjoy at their own leisure.
This frenzy-like scene is incredible to watch, but you'll want to make sure you're not getting between a monkey and its food, as wild macaques can be pretty vicious when they feel threatened, or that their meal is in jeopardy.
Know before you go:
Date – The last Sunday of November each year.
Location – Lopburi is around 150km northeast of Bangkok.
Also Celebrated in – This festival is unique to the city of Lopburi.
Cost – Depending on the class that you choose to travel in, a return train ticket to Lopburi from Bangkok can cost anywhere from 200 to 1,500 Thai Baht or you can book a day tour from Bangkok.
Time needed – Set aside at least one day to travel to Lopburi and take in the sights of the festival.
Getting there – Lopburi is well connected to the Thai capital, with regular trains leaving from Bang Sue Junction taking around 90 minutes. The train station itself is a short five-minute walk from the main temple where the festivities take place.
2. Rocket Festival (Bun Bang Fai Festival)
Throughout northern Thailand and much of Laos, the Bun Bang Fai Festival, known in English as the Rocket Festival, is an ancient tradition that has taken on much more modern practices in recent years.
The festival's roots can be traced back to pre-Buddhist fertility rituals, mainly amongst the Laotian and Northeast Thai peoples. In modern times, the ritual has moved over from a subtle fertility practice to a festival that is best known for its rocket display shows.
Before the show, local families come together to build the biggest and best rocket. The idea is that the winner is the group that can fire their rocket highest into the sky. Despite being pretty make-shift, crafted out of bamboo tubes filled with gunpowder, they make a pretty impressive bang when they go off.
The Rocket Festival runs across two days and alongside the competition itself, there are also other events to check out. In the past, these have included a beauty pageant, parades through Yasothon and a variety of theatre performances in the streets.
The main event of the Bun Bang Fai Festival, the rocket firing competition, takes place in Phaya Thaen Park, which is found in the northeast Thai city of Yasothon.
Know before you go:
Date – Rocket Festival takes place around mid-May, but the exact dates vary from year to year.
Location – Yasothon which sits in northeastern Thailand.
Also Celebrated in – While the main celebrations take place in Yasothon, the festival is celebrated in many forms across northeast Thailand, especially in towns that are close to the border with Laos.
Cost – Long-haul buses from Bangkok to Yasothon cost between ฿400 to ฿600 each way, depending on the level of comfort you're after.
Time needed – It's worth taking the time to enjoy both days of the festival, but if you've only got time for one, make sure it's competition day!
Getting there – You fly to nearby Roi Et airport and take an hour-long bus to Yasothon, but the easier option is to jump on a long-distance bus from Bangkok. or take a long-haul bus from Bangkok Mochit Bus Terminal. Buses take around 10 hours to get from A to B and leave between 8 am and 9 pm. Popular operators that run the route include Budsarakam Tour, Jirattakarn Khemarat and Thaisanuan Tour.
3. Ubon Ratchathani Candle Festival (Hae Thian)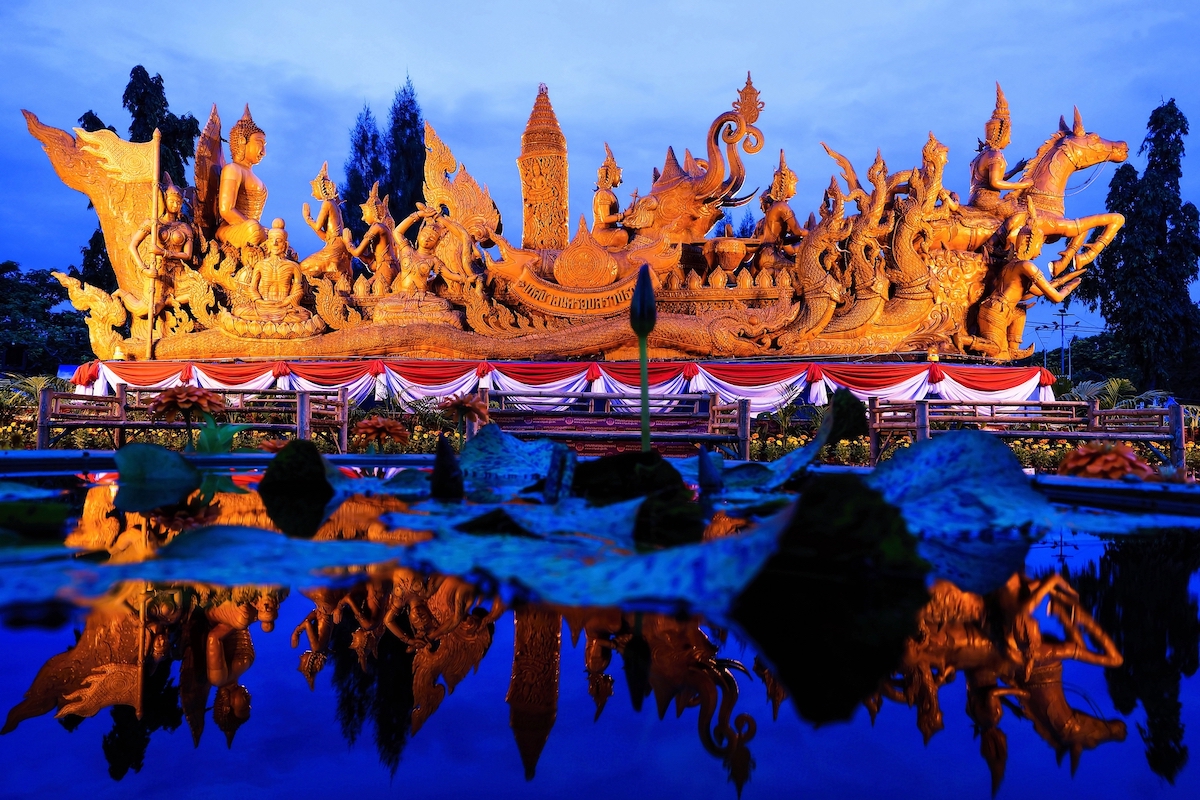 A major celebration in the Buddhist calendar is the Ubon Ratchathani Candle Festival, a day that honours the Asalha Puja when the Buddha gave his first sermon. During the festival, locals take candles and gifts to resident monks and temples in a town-wide procession.
But, in Ubon Ratchathani, these aren't just any old candles you'd find in your kitchen drawer. The locals spend weeks preparing for the festival, carving intricate designs of local temples and institutions into huge candles, and constructing floats with human-sized structures made out of wax.
Others are made from wooden sculptures depicting deities from Buddhist mythology – standing over 7 feet tall and covered in wax.
These huge candle structures are paraded through the streets on the way to the local temples, an image that has made the candle festival in Ubon Ratchathani famous amongst Thais and tourists alike.
Know before you go:
Date – The exact dates change each year, but the festival always falls over the full moon of the eighth lunar month (around July or August time).
Location – Ubon Ratchathani in the eastern provinces of Thailand, not far from its border with Laos.
Also Celebrated in – Celebrated in other parts of Thailand but with not nearly as much revelry as in Ubon Ratchathani.
Cost – A VIP-standard bus from Bangkok will set you back around ฿500 and a flight will be around ฿1,200.
Time needed – One day is needed to observe the parade of candles to the temples.
Getting there – Ubon Ratchathani is a fair way from Bangkok, so you'll need to jump on a night bus from Mochit Bus Terminal which takes around nine hours. Alternatively, you can get a direct flight from Suvarnabhumi Airport which takes around an hour, where it's an easy 2.5km taxi ride to the main town.
4. Thailand Water Festival (Songkran)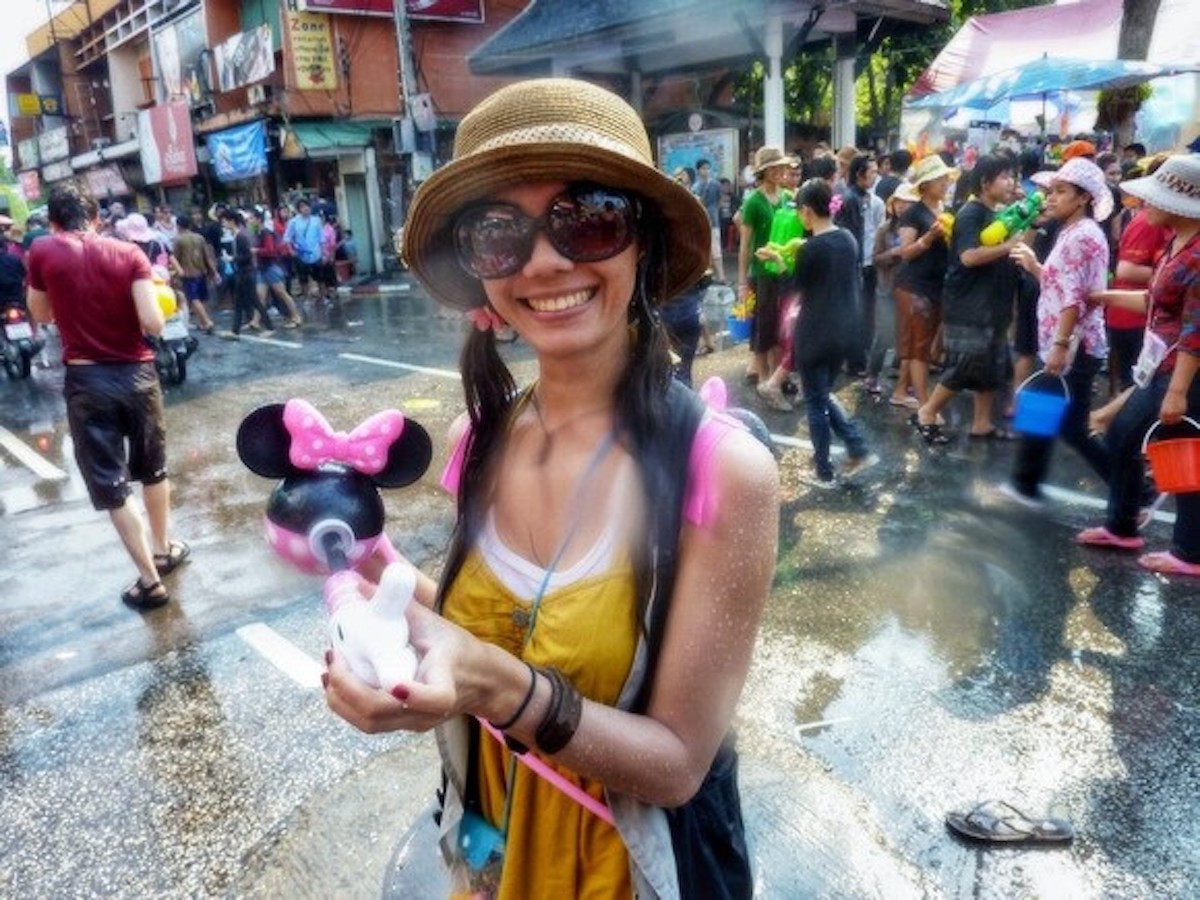 Songkran Festival is what the Thais call their New Year. Thanks to an amalgamation of the Buddhist and Zodiac calendar, these festivities don't fall on the western dates of 31st December, but instead, take place between the 13th and 15th of April.
As one of the most important national holidays and festivals in Thailand, those living in larger cities head home to be with their families for the holidays, with celebrations spread across five days.
In the northern Thai city of Chiang Mai, the Songkran Festival is undoubtedly revered with the most vigour and enthusiasm out of all the places that honour this meaningful event.
Taking on another name 'The Water Festival,' during the Thai New Year, thousands gather in the streets of Chiang Mai to completely soak each other with buckets of water and plastic water guns.
Now I'm not talking about a cheeky little playful squirt from a water pistol; I mean the whole hog – an all-out civil water war, and the water in those buckets… they are ice cold!
Seen to be a type of purification of the hang-ups people have gathered from the previous year, this huge water fight transcends religious and cultural meaning and becomes one big water party.
Bringing locals, expats and tourists together, visiting Chiang Mai during the Songkran Festival is a great laugh, and a memorable way to see the Thai new year.
Thapae Gate, the main entrance to the old city of Chai Mai, is where a lot of these celebrations are concentrated. Aside from the huge public water fights, you'll also see a number of competitions and cultural performances taking place, with many participants wearing traditional Thai costumes and dresses.
Know before you go:
Date – Between the 13th – 15th of April, but festivities tend to last around five days in Chiang Mai.
Location – Celebrated across Thailand and also parts of neighbouring Laos and regions of Myanmar.
Also Celebrated in – Festivities take place throughout the rest of Thailand and also Laos, Myanmar, parts of Vietnam, parts of Sri Lanka, Bangladesh and parts of China. But make no bones about it; Songkran in Chiang Mai is the real deal!
Cost – 1,753 – 1,903 for a 1st class sleeper train from Bangkok to Chiang Mai
Time needed – A couple of days to soak up the festival and enjoy all of its events.
Getting there – With a local airport and train station, you can either take the bus or train or fly to Chiang Mai, depending on your time and budget. If you're after quick and easy, the flight from Bangkok's Don Mueang Airport (DMK) takes around 1 hour 45 minutes and costs around ฿1,500 each way. Taking a sleeper train from Hua Lamphong Station is considerably longer (15 hours), and not much cheaper unless you sacrifice your comfort. First-class sleepers are around ฿1,400, while second-class sleepers with a fan sit around the ฿600 mark. The final and cheapest option is to jump on a bus from Mochit Bus Station. The journey takes around 11 hours to make the trip and prices hover around ฿800.
5. Por Tor Festival (Hungry Ghost Festival)
On the island of Phuket, it's time to turn to the Chinese community. Many Chinese celebrations centre around honouring ancestors, a practice that has survived aeons. Por Tor Festival, or Hungry Ghost Festival as it translates, is one of the only festivals in Thailand where you can witness this practice taking place.
The festival is based on the belief that once a year the gates of hell open, and ghosts of ancestors return to the living world to indulge in huge feasts laid on by their families.
The festival begins in the family home, where traditional dishes, along with a bowl of rice are laid out on the table. Incense sticks are stuck into the rice and lit; it's only when the incense sticks have completely burnt out that it's thought the ghosts of the ancestors have finished eating and the family can return to the table to finish the meal.
Once this ceremony has taken place, the festival falls out into the street and local shrines for around a month. If you want to see the bulk of the action, head to Por Tor Gong Shrine, a temple dedicated to the King of Hell.
Around the Shrine, you'll see the traditional merit-making ceremony, including lion dances, magic shows, live concerts, and cabaret shows.
Know before you go:
Date – A month-long celebration that begins on the first day of the waxing moon of the seventh lunar month of the Chinese calendar. That's usually in August or September to most of us clueless Westerners.
Location – Phuket, an island in southwestern Thailand and the largest in the country.
Also Celebrated in – You'll find some smaller celebrations taking place in Chinese communities across Thailand, but the main festivities are in Phuket.
Cost – You won't need to pay anything to watch the festivities, but you may need to factor in the cost of transport. For both flights and long-distance buses, expect to pay around ฿600
Time needed – Set aside a whole day and night to enjoy the best of this festival in Thailand.
Getting there – You can either take a 13-hour bus from Bangkok Southern Bus Terminal or fly to Phuket International Airport from both domestic airports within Thailand or nearby hubs in Southeast Asia.
6. Chanthaburi Fruit Festival (Durian Festival)
Arguably one of the most divisive fruits of Southeast Asia (so much that it's banned on most Thai public transportation), the Durian has been elevated to a status that gives it the name King of Fruits. While some Western palettes may not agree with the title, durian has become so popular and synonymous with Thailand that it now has its very own festival.
The province of Chanthaburi, where the festival is held, Is known as the tropical fruit bowl of Thailand. It's a sparsely populated agricultural area, but the province has built up a reputation based on its fruit festival, attracting thousands of people every year – both Thai and tourists alike.
Once known as the Durian Festival, it has been renamed the Fruit Festival, based on the fact that it sells far more than just the celebrated durian (and I guess alienating durian haters is bad for business too).
The Chanthaburi Fruit Festival takes place at a local lake, with market stalls selling everything from the humble banana to my personal favourite… the heavenly mangosteen (that bad boy deserves a dedicated article or even a love sonnet). The sheer scale of the festival now means that they've had to introduce a shuttle bus to help people move from one end of the festival to the other.
Visiting this festival as a fruit lover will blow your mind. Not only can you get your hands on a surprising amount of unknown exotic fruit, but you can also watch and learn about how agriculture plays such an important role in the lives of those in southeastern Thailand.
Know before you go:
Date – Exact dates vary each year, but this festival in Thailand is usually scheduled around the end of May or the beginning of June.
Location – Chanthaburi, is located in the far southeast of Thailand, not far from the border with Cambodia.
Also Celebrated in – Local to the area only.
Cost – It'll cost around 300 baht for a bus from the capital to Chanthaburi.
Time needed – You could easily spend a whole day at the festivals, but a morning or afternoon is probably enough.
Getting there – The only way to get from Bangkok to Chanthaburi is to jump on a three-hour bus from Ekkamai Station. It'll drop you off in the centre of the town so you won't need to worry about transport at the other end.
7. River Kwai Bridge Week Festival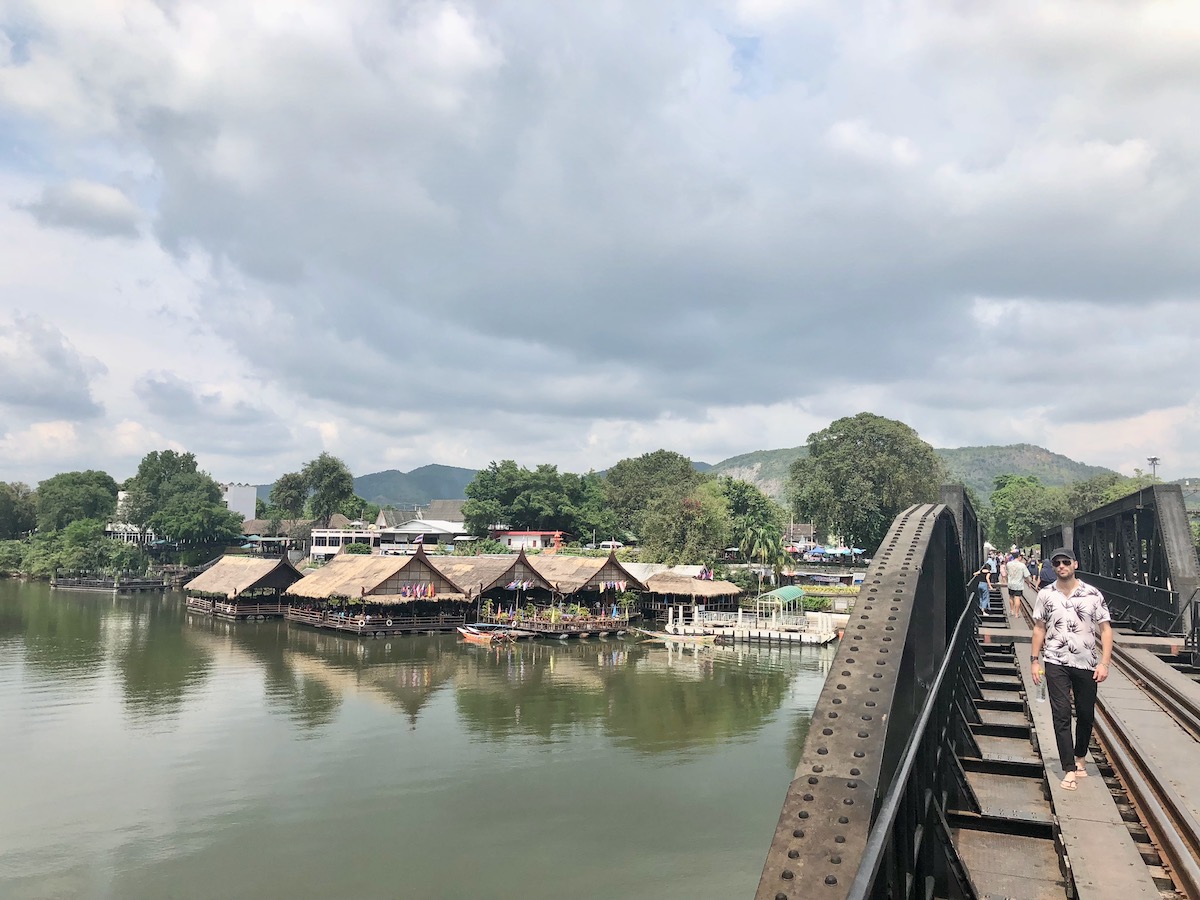 One of the few festivals in Thailand that has no religious or traditional Thai links is the River Kwai Bridge Week Festival. This festival looks back to the events of the early 1940s, when Thailand, Siam as it was known, was occupied by invading Japanese forces.
The Japanese planned to use Thailand as a base to invade British-held Burma, modern-day Myanmar. The only problem with this plan was the lack of supply routes into Burma, so they decided that they should build a railway line connecting the two countries.
To build this railway, they used hundreds of thousands of Asian civilians and Allied prisoners of war to carry out the work. With a lack of food, water, medical aid to treat tropical diseases and regular beatings by the Japanese army, 90,000 civilians and 12,000 Allied prisoners of war died building the railway.
One section of the death railway has become synonymous with the entire project, thanks to a novel and subsequent movie, the Bridge over the River Kwai. This bridge in Kanchanaburi township still stands today, though the original was destroyed by Allied bombing during World War Two.
The River Kwai Bridge Week Festival is a commemoration of the lives lost building this bridge and the wider death railway during the war. The festival features a remembrance ceremony at the nearby allied war cemetery, along with performances that light up the bridge, let off fireworks and reenact battle scenes with sights and sounds.
This war memorial festival is carried out with all the over-the-top vigour you would come to expect from festivals in Thailand, yet with a poignant undercurrent of sombre remembrance.
Know before you go:
Date – Usually around the end of November and the start of December.
Location – Kanchanaburi is west of Bangkok, not far from the border with Myanmar.
Also Celebrated in – This festival is local to Kanchanaburi only.
Cost – A one-way ticket to Kanchanaburi from Bangkok will cost 100 baht.
Time needed – While the festival lasts the entire week, much of the ceremonies can be seen in a day or two.
Getting there – It's easiest to get to Kanchanaburi from Bangkok via trains that depart Thonburi station twice a day, seven days a week.
8. Bor Sang Umbrella Festival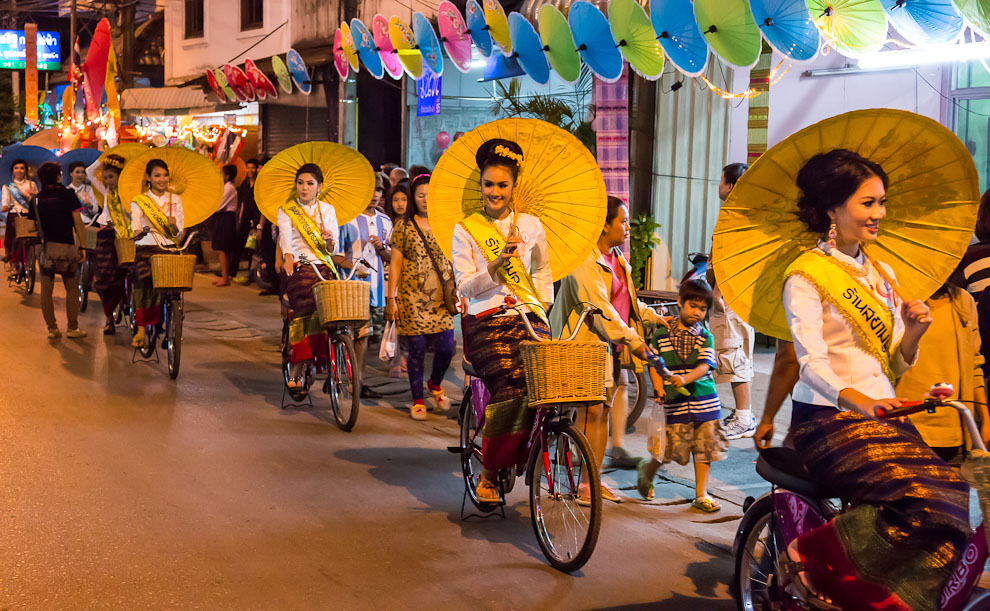 Just over eight miles east of the northern city of Chiang Mai is the town of Bo Sang. An unassuming village during much of the year, the third day of January turns this settlement into the place to be for lovers of arts and crafts.
Legend has it that the Bo Sang Umbrella Festival started when a Buddhist monk travelled from Bo Sang to Myanmar, where he learnt to craft saar paper umbrellas. On his return to the village of Bo Sang, the monk passed on his crafting knowledge to villagers, who in turn passed it down through the generations.
This soon became one of the village's main economic resources, crafting and selling these umbrellas across Thailand and beyond. To showcase these skills and the umbrellas themselves, the village of Bo Sang created a festival that put the saar umbrellas at the very heart of the celebrations.
The main event takes the form of a parade, where the creators of the umbrellas show off their finest work. Alongside their creations, the locals don traditional dress and put on a range of shows to entertain the guests. The Bo Sang Umbrella Festival has an overwhelming feeling of good times and fun vibes, making it one of the more chilled-out and wholesome festivals in Thailand.
Know before you go:
Date – Bo Sang Umbrella Festival takes place during the third weekend of January for three days.
Location – Chiang Mai, a mountainside town in northern Thailand.
Also Celebrated in – Local to the town of Bo Sang.
Cost – Just eight miles away from Chiang Mai, you can catch a songthaew for around 15 baht each way.
Time needed – Give yourself the whole day to see the parade and enjoy the celebrations.
Getting there – Songthaews leave from Chiang Mai's Warorot Market at regular intervals during the day. There's no set timetable but you'll just need to turn up and jump on whichever is the fullest.
9. Long Boat-Racing Festival (Ayutthaya Long Boat Race Festival)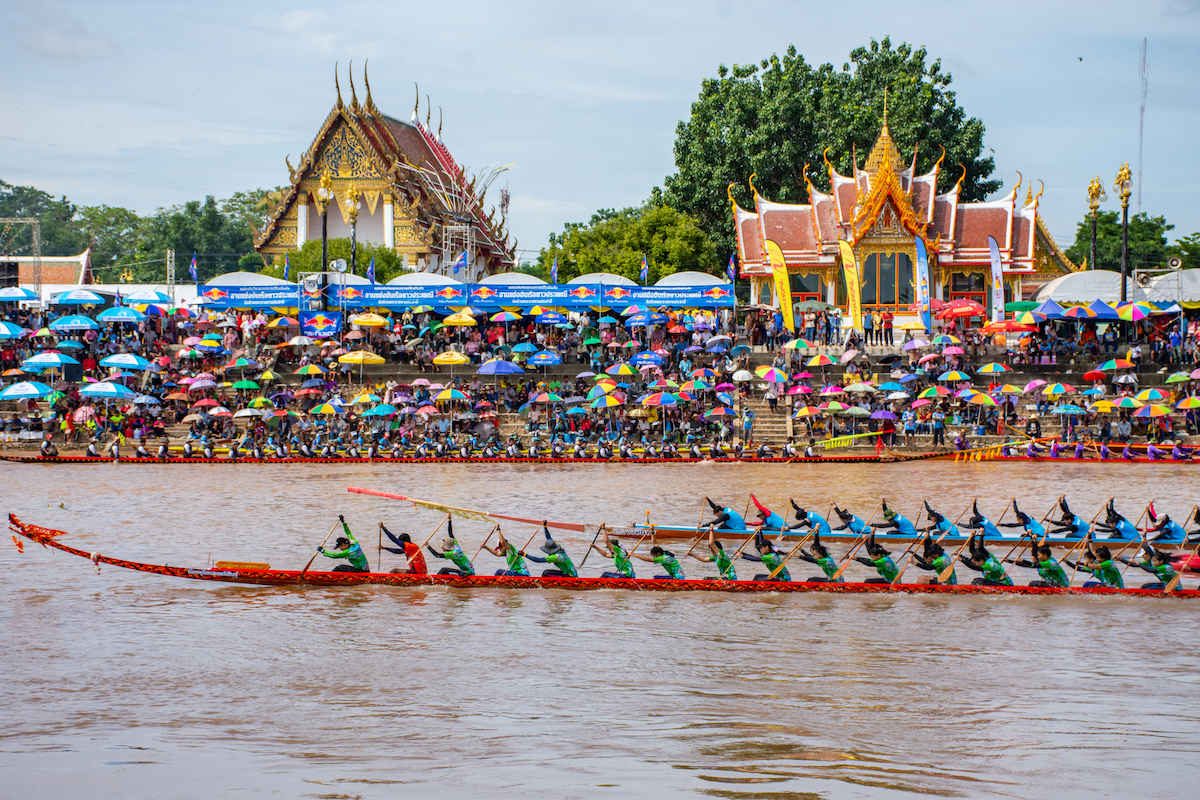 The city of Ayutthaya is predominantly known for being the former capital of the Ayutthaya Kingdom which once encompassed much of the country. Yet, over a few days in October, the city becomes the location of one of the biggest long-boat races in the country.
Throughout Thailand, these long-boat races have been conducted for hundreds of years, and Ayutthaya has become one of the most celebrated and attended.
The Ayutthaya long boat races were organised to celebrate the end of Buddhist Lent or Wan Ok Phansa during the agricultural non-growing season when the river's tide level was at its highest. Aside from its religious connotations, the boat races also bring out the competitive nature of the locals.
You can watch the boat races from anywhere along with Ayutthaya's Chao Phraya River Bank. However, the best place to see the crossing over the finish line is at the VIP enclosure. Here you can catch that photo finish, watch as the winning team collect their accolades and receive congratulations from the District Chief and the Governor of the local area.
Know before you go:
Date – This festival in Thailand usually happens in October, but its exact date will fall according to the 15th day of the 11th lunar month of the Thai calendar.
Location – Ayutthaya is a town that sits around 50 miles directly north of Bangkok.
Also Celebrated in – Other small towns including Phichit, Phitsanulok and Narathiwat hold long boat races too.
Cost – A train to Ayutthaya from Bangkok will cost around 15 Baht for a third-class seat or 345 baht for a second-class seat on a fast train.
Time needed – Take a whole day to watch the races.
Getting there – More than 30 trains leave each day from Bangkok's Hualamphong Station to Ayuttaya, taking around two hours to reach the destination.
10. Sak Yant Festival (Wai Kru)
The Sak Yant Festival is one of the more unique Thailand festivals and is truly an experience that you will not soon be able to forget… if you get a body modification as memorabilia. Taking place just west of the capital Bangkok, at the large Buddhist temple known as Wat Bang Phra, more than 10,000 people gather for the festival, many coming to recharge their Sak Yan tattoos.
These religious tattoos are ancient geometric designs mixed with Buddhist prayers and are tattooed onto the individual by the monks of Wat Bang Phra temple. Administered in true traditional style, monks use a long bamboo needle that is repeatedly stabbed into the skin.
Receivers of these tattoos believe that the designs and prayers will protect them during their everyday life. However, the strength and power of the tattoos wear out over time, which is why so many return to the temple each year, to renew the potency of their tattoo.
Once the tattoo's power is renewed, thousands sit in a prayer-like stance outside the temple. Many of the devotees will go into a trance-like state known as Khong Khuen, causing them to flail and run maddeningly towards the temple gates.
This rush of possession can seem a little overwhelming to outsiders who are not expecting it, and it's not unknown for the crowds to become a mass of crushing bodies.
Know before you go:
Date – There's no predetermined date for this festival in Thailand, but it usually takes place during March.
Location – Wat Bang Phra, a small town, 27 miles west of Bangkok.
Also Celebrated in – Local to the area.
Cost – A taxi from Bangkok will cost around 1,500 baht there and back and usually includes waiting time. Alternatively, you can get a minibus from Bangkok's central station bound for Nakhon Pathom for around 50 baht and get a quick taxi from there.
Time needed – You'll only need half a day if you're going to take a look – otherwise, leave the whole day to queue for a tattoo.
Getting there – Either take a Nakhon Pathom bound minibus from Bangkok central station and grab a taxi or take a private taxi there and back.
11. Phi Ta Khon Festival (Boon Luang Festival)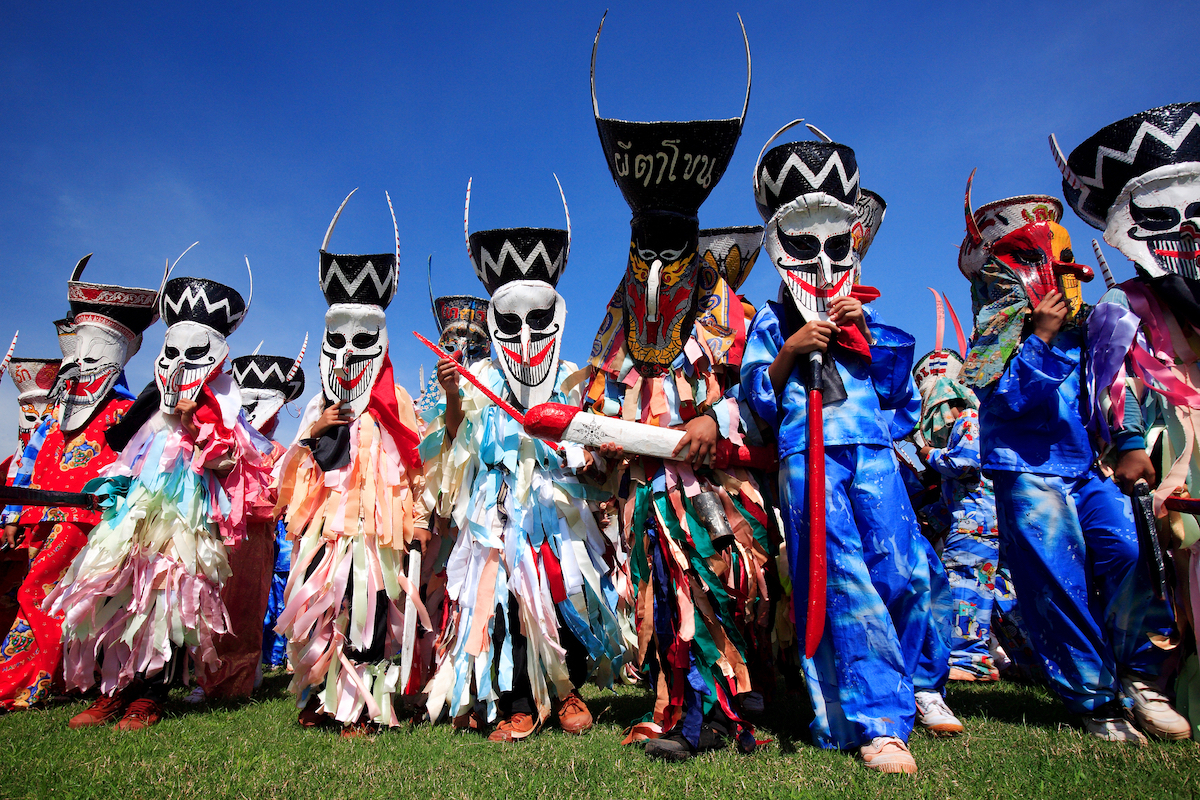 Phi Ta Khon is another Buddhist festival in Thailand that centres around the idea of death in religion. The history of the festival can be traced back to one Prince Vessantara (who was said to be Buddha in his past life) who set out on a long journey; a journey so long that they thought he was dead. When Prince Vessantara returned, the people were so overcome with joy and celebration that it was enough to wake the dead.
Festival-goers dress up in elaborate death masks as they parade through the district of Dan Sai. The masks are uniquely crafted for the festival and are made from the sheaths, or bottom part, of thick palm leaf stems.
Bamboo sticky rice steaming baskets are stitched onto the tops of the sheaths to make the top section of the mask, while more elaborate colours and decorations are added.
The festival lasts over three days, usually in June. The first day is mostly taken up by the rowdy celebrations the festival is now famous for. The second day incorporates elements of the Rocket (Bung Bang Fai) Festival, while the final day is for more serious religious contemplation with monks delivering sermons.
Know before you go:
Date – The festival lasts for three days in March and July, but the exact dates are selected annually by the town's local clairvoyants.
Location – Dan Sai, sits in the upper regions of Thailand, northeast of Phitsanulok.
Also Celebrated in – Laos
Cost – A bus from Phitsanulok will cost 270 baht for a one-way trip.
Time needed – Take one full day to see the mask-wearing processions.
Getting there – Dan Sai isn't home to a bus station, but plenty of local buses stop at a bus stop along Route 2013, not far from Kaeo Asa Road. You'll find a bus running from Phitsanulok to Dan Sai every two hours leaving from the city's main bus terminal.
12. Four-Faced Buddha Annual Birthday Celebration
Hidden away in central Bangkok, the Erawan Shrine depicts the four-faced Thai depiction of the Hindu God Brahma. The gilded gold shrine was placed here during the 1950s and is thought to contact the bad karma brought upon the city and its people by the building of the nearby hotel.
While it's semi-popular with mainly Buddhist visitors all year round who pray and offer incense sticks and flowers on their way to nearby malls, the shrine and its surroundings really come to life during the Four-Faced Buddha Annual Birthday Celebrations with ardent Buddhist and intense Hindu devotees.
During these festivities, huge crowds come together and present gifts and offerings to the shrine while dancers and revellers put on a show. Some of these dancers have been hired by worshipers in the hope that their prayers and wishes will be granted on such an auspicious day.
Know before you go:
Date – The 9th of November marks the birthday of the Four-Faced Buddha.
Location – Bangkok, the capital city of Thailand.
Also Celebrated in – N/A
Cost – Free to enter, your mode of transportation is up to you (BTS is the best option).
Time needed – A few hours to soak up the crowds and party-like atmosphere.
Getting there – Jump on the BTS to ​​Chit Lom, which is within walking distance of the shrine and is very unassuming.
13. Wonderfruit Festival (Music And Arts Festival)
Wonderfruit Festival is a step away from the traditional, long-celebrated religious festivals in Thailand and is more akin to what we would consider a festival in the West.
Located just east of Pattaya City within the Siam Country Club, this music and arts festival has become a huge hit since it first made its debut in 2014 and is now one of the most forward-thinking festivals in Thailand, and perhaps even Southeast Asia.
Founded by one Pranitan "Pete" Phornprapha, this festival is a celebration of music, arts and sustainability. Influenced by festivals such as Burning Man, the Wonderfruit Festival has all the trappings of any other music festival, including live performances by internationally renowned artists.
Where Wonderfruit differs from more Westernised festivals is with its series of art installations and workshops on sustainability which is designed to inspire the festival-goers to live a life that better the world, instead of taking away from it.
The pillars of Wonderfruit Festival are "music, arts, family, farm to feasts, talks and workshops, health, and adventures." This huge mix of multidimensional opportunities makes the Wonderfruit Festival an intriguing addition to the best Thailand festivals list.
That's whether you come for the social aspect – dancing and singing along to your new favourite band, for the thought-provoking art installations, to sample the delicious food or for a hefty mix of it all.
Leading the way in sustainable festivals Wonderfruit Festival banned all single-use plastics, has onsite water filtered from the nearby lake, rubbish separation systems with all food waste composted and has been declared carbon neutral by Thailand Greenhouse Gas Management Organization.
Know before you go:
Date – Second week of December
Location – Pattaya sits 150km south of Bangkok on the northeast coastline of the Gulf of Thailand.
Also Celebrated in – There's only one Wonderfruit festival in the world!
Cost – A weekend pass will set you back at 6,900 baht and a one-day pass at 3,700 baht.
Time needed – It's worth spending the whole weekend to make the most out of the music and workshops on offer.
Getting there – With short-haul flights from within Thailand and Southeast Asia, getting to Pattaya is relatively easy. Alternatively, if you're already in Bangkok, buses leave regularly from the Eastern Bus Terminal and cost around 120 baht each way. Once you're in Pattaya, you'll find regular shuttles to the festival at no extra cost to you. There's a dedicated Wonderfruit Festival app you can download that will show you the exact bus timetable for that day.
14. Chinese New Year Festival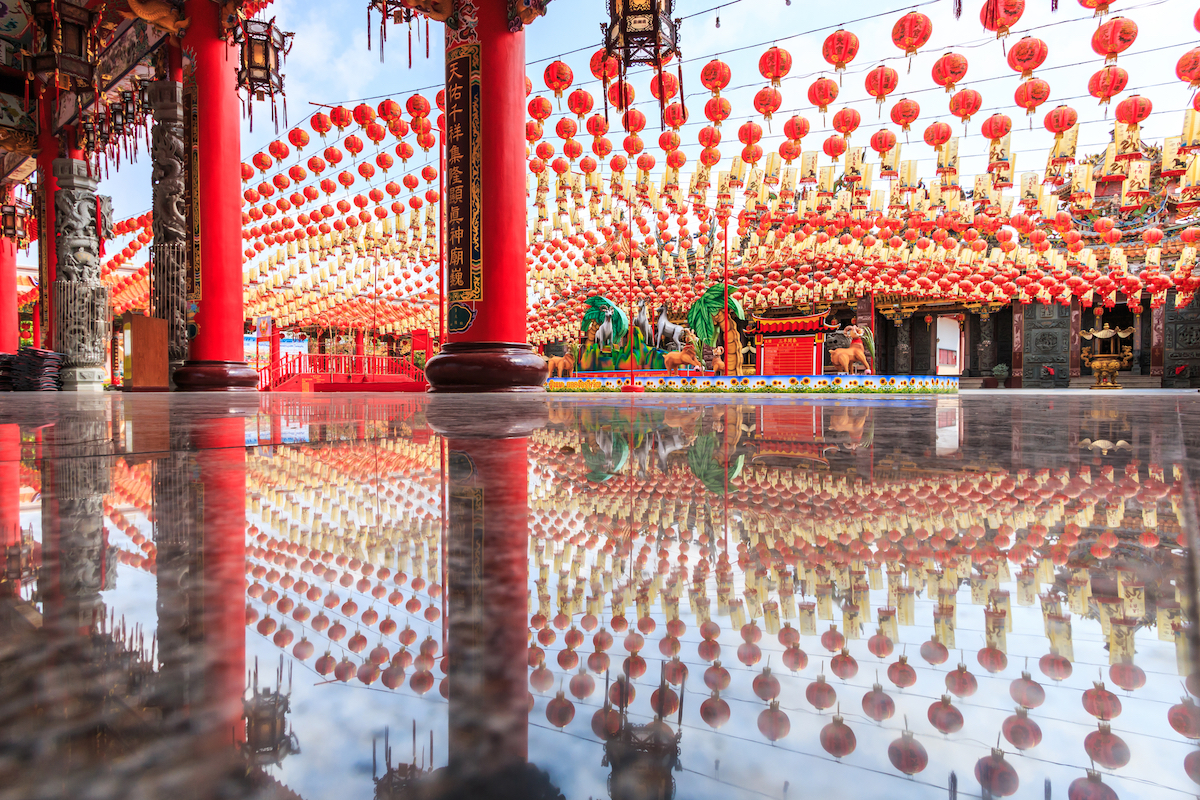 With a significant Chinese population, it's no great surprise that towns and cities around Thailand come alive during the Chinese New Year Festival. Also known as the Spring Festival, the events celebrate the coming of the new year and are marked by relaxation, spending time with the family, paying homage to higher powers and exchanging gifts.
In the days leading up to this festival in Thailand, you'll notice streets adorned with lots of red; lanterns, banners, candles and posters, all of which signify joy and good fortune for the upcoming year.
The day before New Year, families pay their respects to a God of their choice, leaving offerings outside of their homes in the hope that the god will come and leave good luck for the coming year. New Year's Day itself is marked as a day for relaxation and family time; no cleaning, work or washing is allowed.
While much of the Chinese New Year Festival celebrations are family-orientated, it's still worth visiting during these times to soak up the atmosphere around town and sample some of the celebratory foods that only come out around this time of year.
Those with a sweet tooth and a penchant for delicious exotic food should not leave without trying Khanom Keng, a steamed dessert made with rice flour and flavoured with coconut and molasses.
Know before you go:
Date – Chinese New Year normally takes place in January or February, but it changes each year depending on the Chinese Lunar calendar.
Location – The Chinese New Year festival in Thailand is celebrated across the country, but you'll find the most significant celebrations in the Yaowaraj province of Bangkok and the island of Phuket.
Also Celebrated in – Across the country, Bangkok, Phuket and Chiang Mai are some of the best places to experience the celebrations.
Cost – N/A
Time needed – The celebrations take place across a few days, but you can get away with joining in for just one.
Getting there – N/A
15. Phuket Vegetarian Festival (Nine Emperor Gods Festival)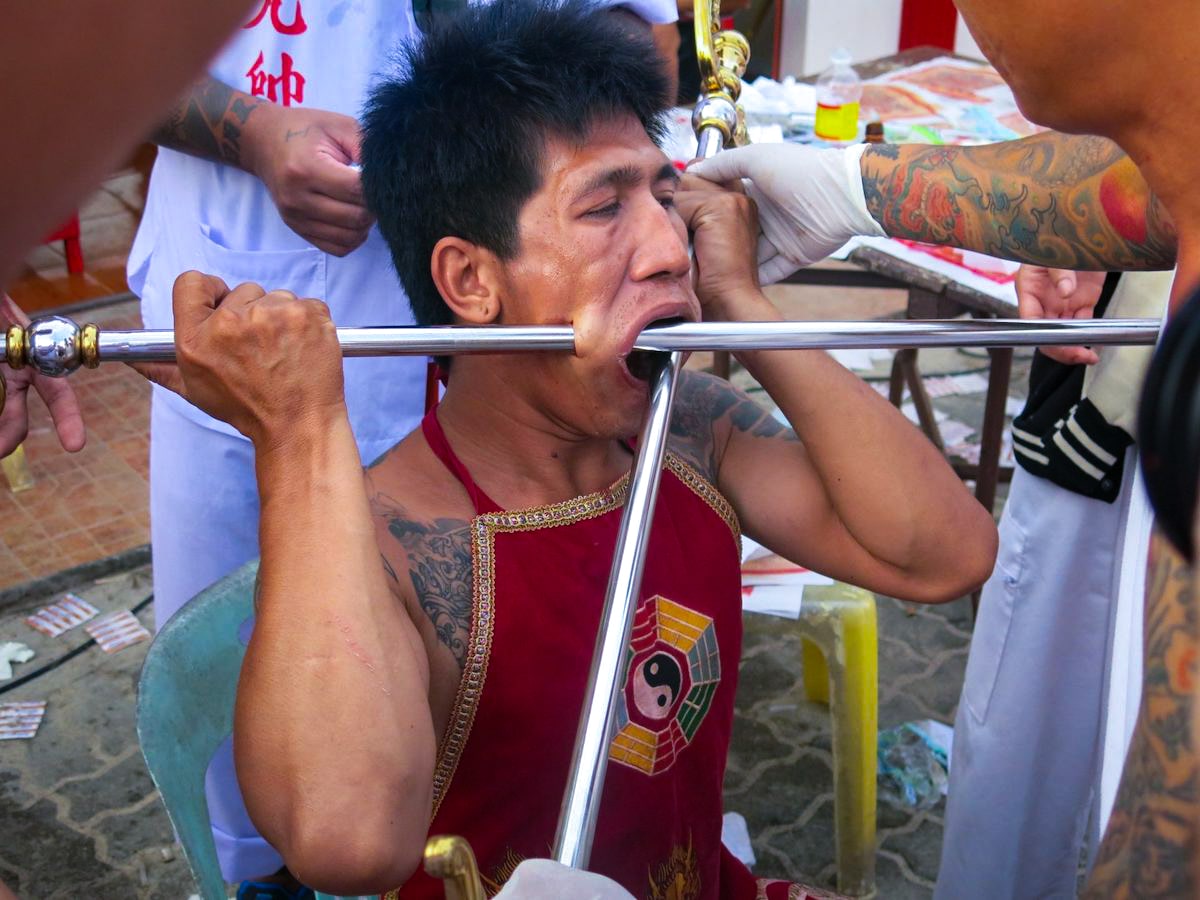 There are a fair few festivals in Thailand that combine the national appreciation of religion and food, but none are quite like the Phuket Vegetarian Festival.
Otherwise known as the Nine Emperor Gods Festival, this Taoist celebration was dubbed the Phuket Vegetarian Festival because of the pre-festival abstention from meat, dairy products or fish taken by its devotees.
The festival is celebrated across many different regions in East Asia and can be traced back to the traditions of the Chinese and the Peranakan people; those of mixed Chinese, Indonesian, Thai or Malay heritage.
While the festival is honoured in Peranakan communities across Asia, Phuket seems to be where you'll find some of the most intense celebrations. Beginning on the eve of the ninth lunar month (which normally falls in either September or October), the festival is defined by a number of lively processions that move through the island's streets, stopping off at significant shrines over the course of a week.
But don't expect this festival to be all dancing in the street and colourful processions.
One of the more shocking elements is the graphic self-mutilation that a lot of the devotees put themselves through. Men and women, also known as Ma Song, carry out acts of what we would consider, in the West, self-harm. Think piercing cheeks with huge skewers, and hanging from sharp hooks.
Seemingly oblivious to the pain of such an act, the devotees parade through the streets to their shrines, walking in a trance-like state that is reflective of the spiritual connection they feel as their deity possesses them. If you're familiar at all with the Thaipusam Festival in Malaysia; it's basically like that on steroids!
Not for the squeamish, or faint-hearted, the Phuket Vegetarian Festival is a real insight into the more outlandish nature of some festivals in Thailand.
Know before you go:
Date – The festival always begins on the eve of the ninth lunar month, which will normally fall in either September or October.
Location – Phuket, an island off the west coast of Thailand, not far from its border with Malaysia.
Also Celebrated in – Krabi and Surat Thani also host their own celebrations, but Phuket sees some of the more extravagant processions and acts of self-mutilation.
Cost – For both flights and long-distance buses, expect to pay around ฿600
Time needed – The festival lasts over a week, but if you can only visit for one day, make sure it's the last day of the Phuket Vegetarian Festival.
Getting there – You can either take a 13-hour bus from Bangkok Southern Bus Terminal or fly to Phuket International Airport from both domestic airports within Thailand or nearby hubs in Southeast Asia.
16. The Festival of Lights (Wat Rong Khun Light Fest)
If you've ever read about, passed through or heard about Chiang Rai, (or briefly read about it earlier in this post) you'll probably know about Wat Rong Khun. Sitting just outside the realms of town, this dazzling white temple is an art installation complete with Buddhist symbolism and hundreds of intricate carvings.
I ran 200 kilometres on foot to this temple, but I would not recommend it!
During the light show, Wat Rong Khun is the centre of attention. But, this is no traditional light show, with candles and lanterns; this is a huge multimedia light show which demands more than 100 lasers, huge water curtains and 3D mapping, and attracts more than 10,000 visitors each day.
During the festival, lights illuminate the temple, bringing particular buildings to life with stories, colours and images. In the past, the bell tower has been topped with a 3D Bodhi Tree, demonstrating the Buddha's enlightenment and the Ganesha Tower used a combination of water and lights to put on an impressive display.
Know before you go:
Date – This particular light festival usually falls in the middle of November, and runs for around a month. According to the lunar calendar, the Festival of Lights should be celebrated on the full moon night of the 12th lunar month.
Location – Chiang Rai, in the very north of Thailand, not far from its border with Laos.
Also Celebrated in – Just this gorgeous temple, as far as I am aware!
Cost – A one-way bus ticket starts from around 200 baht for a VIP experience and you'll need to pay for entry to the festival too. Ticket prices start from 400 baht.
Time needed – Just one evening to watch the main light show.
Getting there – Getting to Chiang Rai is easy from the northern city of Chiang Mai. Direct buses leave the Arcade Bus Station several times a day and take around three hours to get there. Depending on the level of comfort you're after, you can choose between a local minibus or VIP coach with reclining and spacious seats. In Chiang Rai, ask to be dropped off at Terminal One, which is walkable from the city centre.
17. Hmong New Year (Tsa Hauv Toj)
The Hmong people are a minority ethnic group that live in pockets across southern China, Laos, Vietnam and Thailand. Much like the Kurds in Western Asia, the Hmong have never had a state of their own and, instead, find homes in the hills of many different countries.
While they live within Thailand, the Hmong people have retained much of their own traditions and customs, most noticeably their vibrant fashion, decorated with their individual tribal colours.
In the Thai city of Phitsanulok, the Hmong New Year or Tsa Hauv Toj, as it is known amongst the Hmong people, is one of the more unique festivals in Thailand in terms of learning more about a lesser-known ethnic minority within the country.
At the end of December and the beginning of January, the Hmong community gathers for a ten-day festival to celebrate the new year.
Around 300 Hmong families meet for the celebration, which includes a number of ritual dances, plays performed by the children and plenty of feasting. Several times throughout the festival, the Hmong also pay tribute to their ancestors in their mother tongue, thanking them for their successes over the last year and blessing the year ahead of them.
Know before you go:
Date – The festival usually takes place at some point between January 6th and January 14th.
Location – Phitsanulok sits about halfway between Bangkok and Chiang Rai in Thailand's lower northern regions.
Also Celebrated in – Throughout the hills of northern Thailand, where many of the Hmong people live.
Cost – Trains from either Chiang Mai or Bangkok cost between ฿500 to ฿1,000 depending on the carriage class you've chosen. Flights are considerably more at around ฿1,500 to ฿2,000 each way.
Time needed – While the celebrations last ten days, you can get away with joining in the festivities for one or two days instead.
Getting there – Four to five trains depart from both Bangkok (7 hours) and Chiang Mai (6 hours) every day to the city of Phitsanulok. Alternatively, Phitsanulok has a domestic airport that sees flights from most of Thailand's domestic airports.
There you have it. If you're looking for the best festivals in Thailand; there really is an event for everyone. With an open mind and some tiger balm in your medikit, there's something to enjoy in each and every one of these cultural Thai celebrations.