Visiting Angkor Wat while wandering around Cambodia is a "must-do" item.
I usually avoid that term, but there are very few national monuments that mean so much more to the identity of a country than this iconic and sacred place and the backstory is just as impressive.
So much so that this ancient temple is the centrepiece of Cambodia's national flag (one of the coolest flags around, in my opinion). The allure of such a mystical and defining landmark brings in two and a half million visitors to the site every single year and I'd imagine a big chunk of those came to Cambodia especially for this as the main event.
Once lost to the forces of nature, the temple complex and its many facets were forcibly taken back from the jungle and now it offers us a glimpse into a fascinating chapter of Southeast Asia's past.
It also survived the brutality of the Khmer Rouge regime.
There are plenty of travel guides for this beauty, but how do you sift through all of that info to find tips for visiting Angkor Wat without the burden of a busy crowd? If you're anything like me, you'll always find the opportunity to visit a cool place when there are fewer bodies, so here's my Angkor Wat cheat sheet for those exact people!
The Best Time of Year or Visiting Angkor Wat is Shoulder Season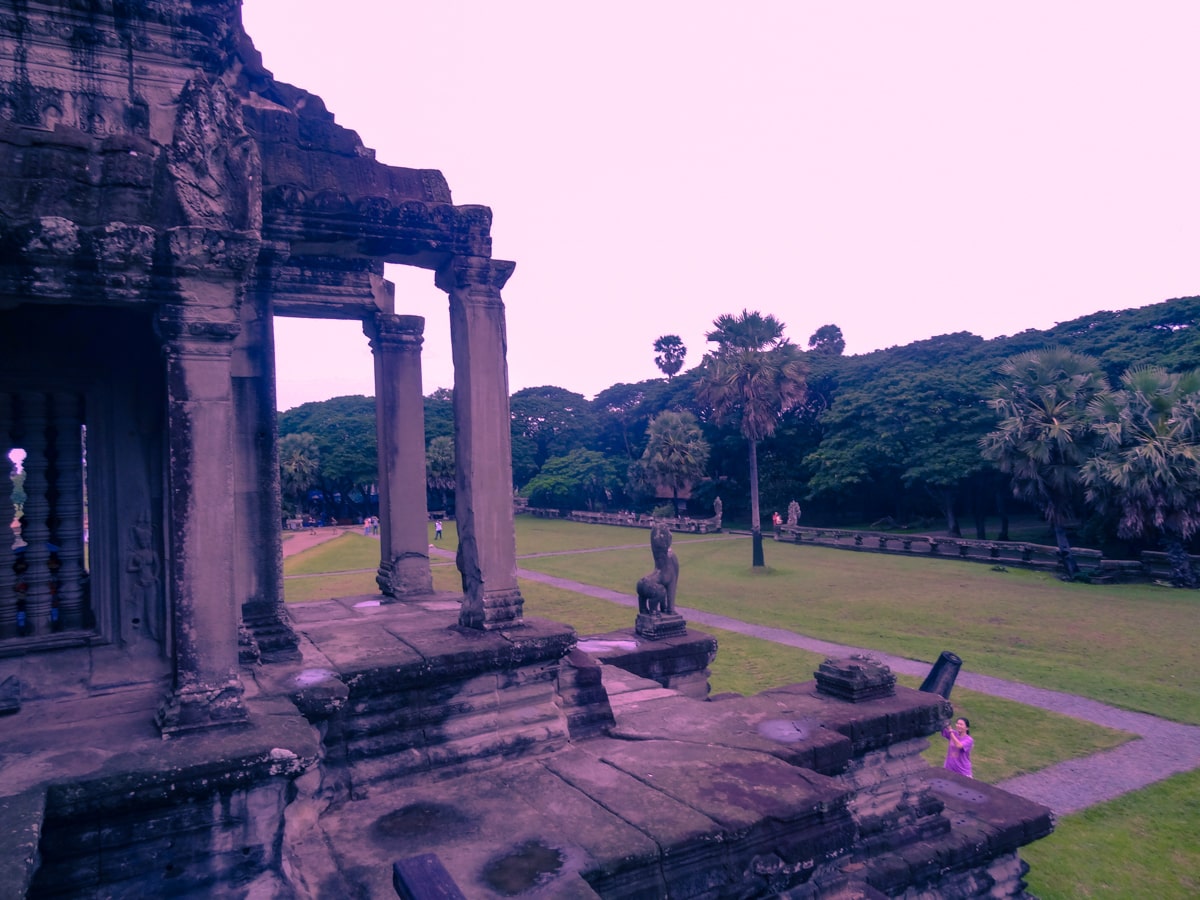 The shoulder season for visiting Angkor Wat is around April, May and November. As the rains come on in a rush, shoulder seasons are quite short in Cambodia. During this time of the year, crowds can be a little less, but April is also the hottest month in Cambodia, so be prepared for the heat.
A similar story comes with visiting Angkor Wat during the shoulder season of November. The rains have begun to ease off, and crowds can be minimal. However, as this is just the start of the end of the rain, you can still be caught in an occasional shower, so be prepared to bring a raincoat or umbrella.
I spent 3 days visiting Angkor Wat with my cousin around my birthday (mid-October) and although it lightly drizzled at times, we were happy with our non-perfect photo for the main event, I guess this all comes down to what you prioritise.
We still managed to snap a few decent ones, but we took more pride in the fact we had fewer queues, fewer bodies to fight past and more license to roam.
If you're a fan of visiting cool, ancient monuments without the annoyance of large crowds then check out the best place to see the Great Wall of China so you can get ahead of all of that madness when China finally opens back up for business
Decide First If You Want To Go Solo vs Hiring a Tour Guide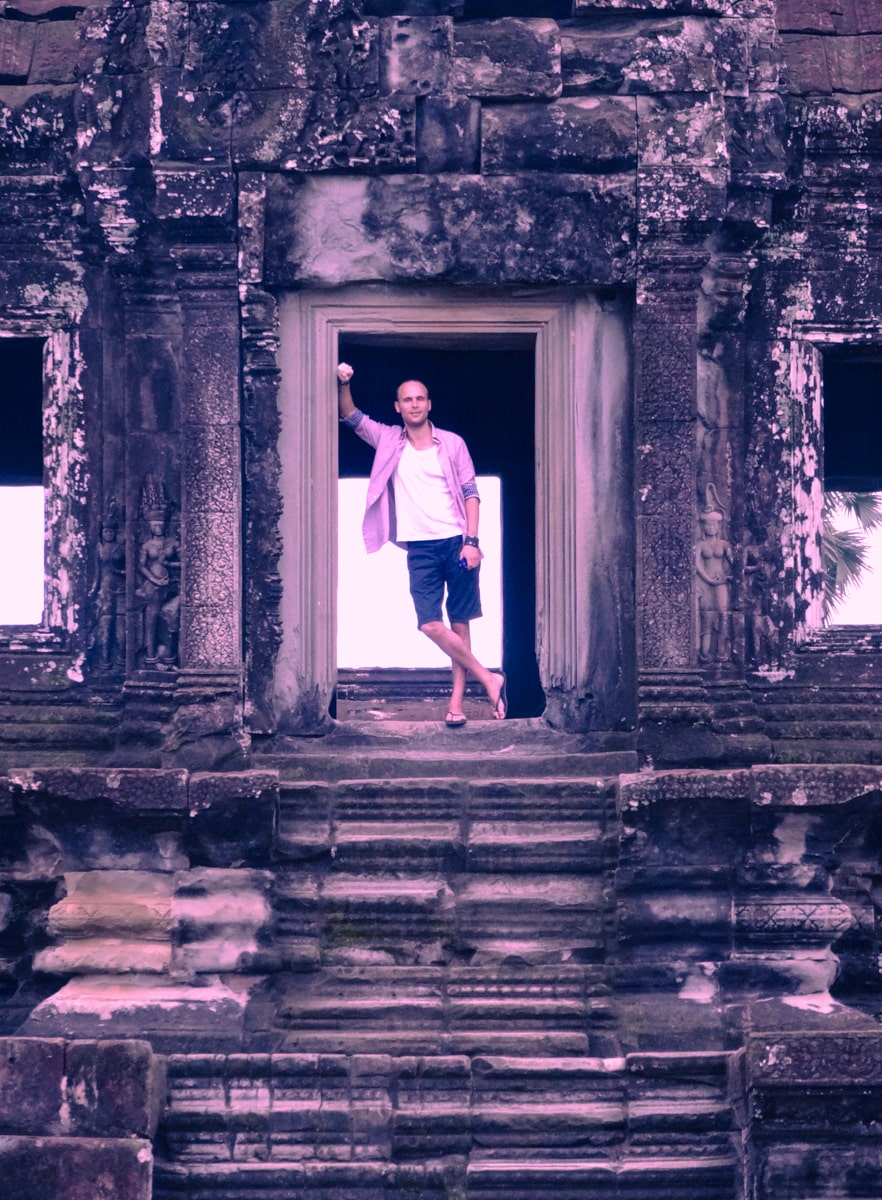 While you may have all of these different tour options at your disposal, it doesn't mean that you have to explore Angkor Wat as part of an organised tour. Visiting Angkor Wat with a tour guide may be a great idea if you want to learn about history at a far deeper level, yet if you want your own time and space when visiting Angkor Wat, then visiting solo is also another great option.
Visiting Angkor Wat solo requires you to do a couple of things under your own steam. The first of these is deciding how you are going to travel around the site, as walking isn't really the most optimal option due to the distances between the main sites.
You have a couple of options when it comes to transport. You can hire a bicycle to cycle your way around Angkor, though the heat of the day means this will take a fair amount of stamina and effort to do.
Another popular option is to hire a tuk-tuk driver for the day. This driver will usually pick you up from your accommodation and drive you around the many sights of Angkor. At each spot, your driver will wait for you to explore each temple and landmark before taking you on to the next one.
Note that we did this, and bought a 3-day pass. So DIY with no tour, but a nice and smiley personal chauffeur and 100& control of when and where we visited inside Angkor Wat next. I highly recommend this option (especially during shoulder season!)
All in all, it comes down to personal preference. Exploring the temples and city complexes solo offers the chance to go at your own pace, stop where you want to stop and see what you want to see. With numerous touts selling guidebooks, it's also more than possible to read up on the history of Angkor as you go around.
Those who are more inclined to listen to an official guide and explore as part of a group may want to join a tour, especially if you prefer everything to be organised for you… just remember that s/he might not be too bothered about visiting crowded areas.
Personally, I hate this option and feel very restricted. I only join a tour when it is 100% mandatory and there is no other choice, or if I know the tour guide myself and they're not too rigid.
I don't think I am superior or inferior to you for feeling this way, I'm a big fan of the whole "different strokes for different folks" approach. You do you, boo-boo.
Decide How Many Days You Need in Angkor Wat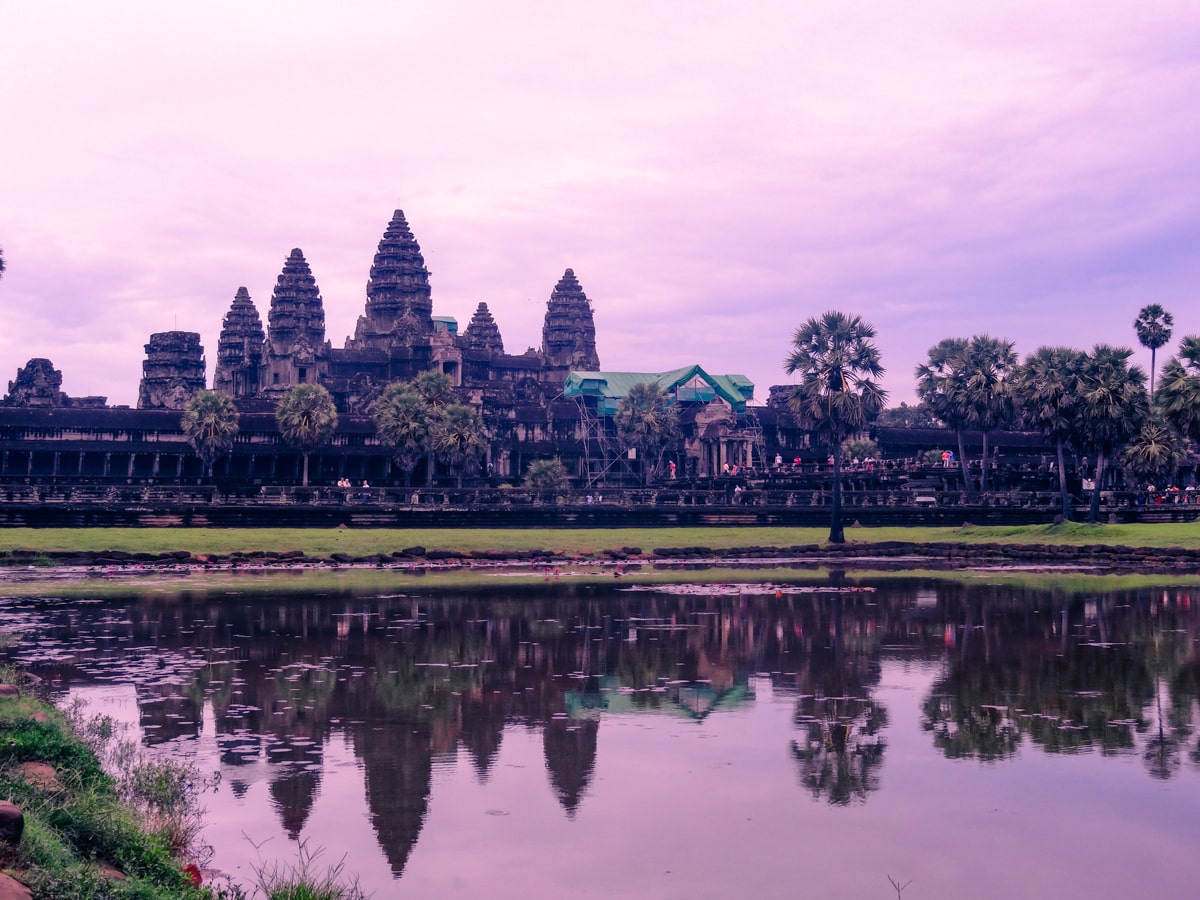 It's more than possible to explore the main sites of Angkor Wat and the city complex of Angkor in one day, though this will be a long, tiring and packed day out in Angkor (especially during peak season).
To truly experience the entire site while taking in the many sites, it's best to give yourself around three days when visiting Angkor Wat, I genuinely believe that is the sweet spot.
This is especially true if you want to make time for the sunrise or sunset over Angkor Wat. Having to rise early and be out all day in the heat can be a little tiring if you're not used to it.
By giving yourself three days, you can break the whole exploration down into manageable days without exhausting yourself or getting the oh-so-common temple fatigue. Also, you get a second bite of the sun photo cherry, if you have bad luck in your favourite part of Angkor Wat on any previous day.
Another reason for giving yourself a bit more time is the fact that not all temples open at the same time, so more days give you more breathing space and less potential disappointment.
Angkor Wat isn't Too Walkable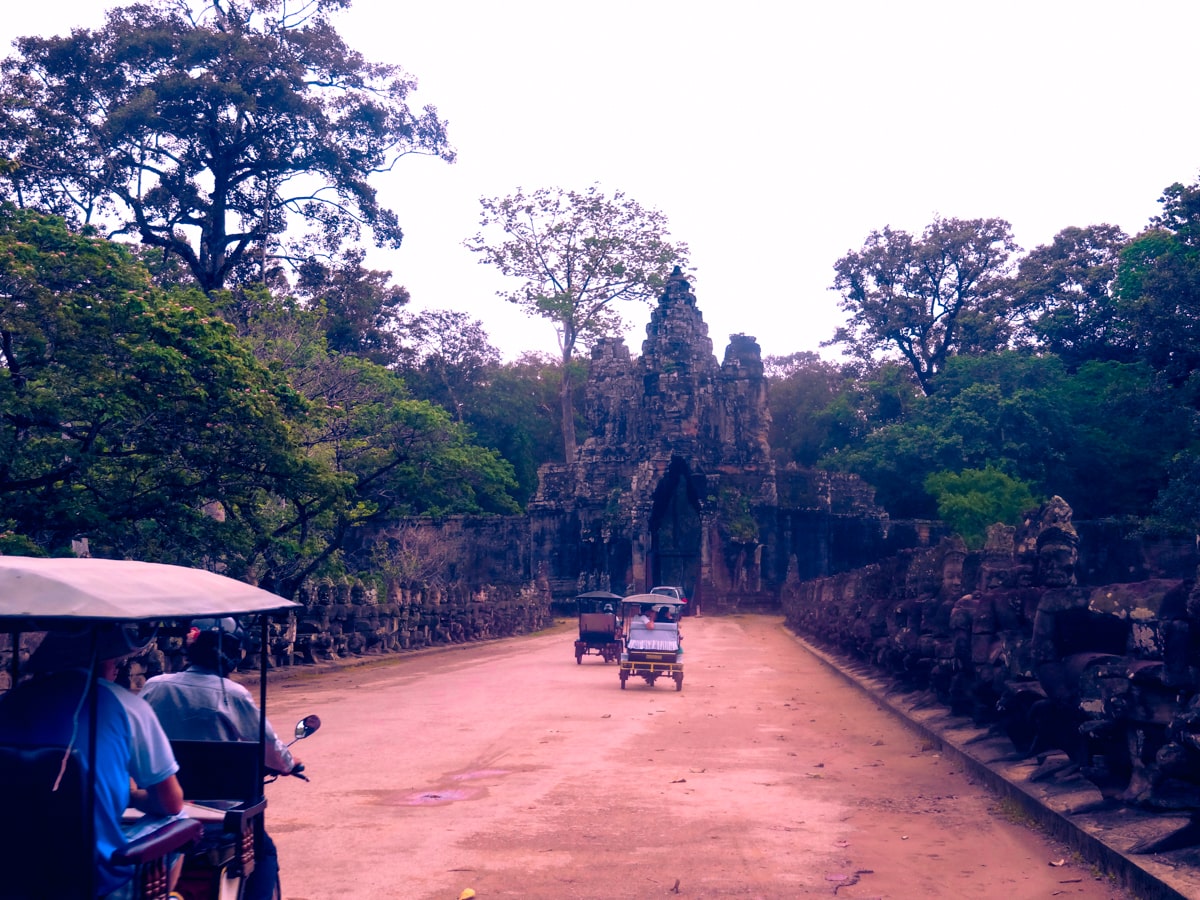 Walking around the vast site of Angkor City isn't really viable on foot. The sheer distances between each famous landmark and temple will not only tire you out, but it's not time-efficient; especially as you'll more than likely be exploring during the heat of the day.
As this is the case, you have a couple of different options for getting around when visiting Angkor Wat.
One of the most common and easiest ways of getting around is (as mentioned above) hiring a tuk-tuk and driver for the day. This backpacker-acclaimed carriage-like contraption, with an attached motorbike, is ideal for navigating the tracks leading around the Angkor site.
Your driver will drop you at each temple and landmark in turn, wait for you and then take you on to the next – perfect!
Alternatively, you can hire a bicycle and make your way around Angkor on your own steam. This is great for getting a bit of exercise into your day and is an enjoyable way to see Angkor Wat.
Just remember that cycling through the Cambodian heat and humidity can be a little challenging over a long day of site-seeing, so ensure you stay hydrated and protected from the sun.
Prioritise These 5 Temples Inside Angkor Wat
Visiting Angkor Wat, you will be no doubt drawn in by the famous Angkor Wat temple, whose image is seen everywhere, including the Cambodian national flag and Cambodian currency.
And yet, this is just one temple of many. The huge site of Angkor city is a miss-match of numerous temples, all of which offer their own unique attributes and place in the history of Angkor. Built during different decades and centuries, some are far older than others, while others are, in the grand scheme of things, new.
So to make the most of your time and with respect to your crowd-aversion; let's take a look at five cool temples at Angkor and what each offers in the way of understanding the site.
Angkor Wat (Most Popular)
Evidently, the most popular temple in the whole complex is Angkor Wat itself. Translating into "The Temple of Angkor", it is this temple that has gone on to give this whole site its fame and popularity. Located in the very south of Angkor, Angkor Wat is probably going to be one of the first temples you will see when you enter the site.
Constructed in the early 12th century, the temple is a representation of Mount Meru, the home of the gods. The central five towers of Angkor Wat are said to represent the five peaks of the mountains, while the moat and walls represent the surrounding mountains and ocean.
As the most popular temple, it's here that you will no doubt encounter the busiest crowds around Angkor. Though the size of Angkor Wat is deceivingly large, you'll have no problem finding your own little piece of the temple to enjoy by yourself.
Know before you go:
Location – Angkor Wat is located at the very south of the Angkor site. It is one of the first temples you will come to when entering Angkor.
Cost – Included in Angkor entrance fee.
Opening hours – 5 am – 6 pm
Time needed – You'll need at least an hour to explore the Angkor Wat temple, though even longer if you take in its many decorations and reliefs, or join a tour.
Getting there – You can enter the temple from its western gate. A bridge will take you over the outer moat and into Angkor Wat.
Srah Srang Lake (Best Sunrise Snap)
Although technically not a temple per se, Srah Srang Lake is an integral part of the Angkor Complex and is an added bonus when visiting Angkor Wat.
The reservoir lake was dug during the mid-10th century, long before the Angkor Wat temple itself. The lake provided a bathing pool for the royalty of the Khmer Empire and still retains water to this day.
Aside from being a site-defining element of Angkor Wat, Srang Srang Lake is also the best place to watch the sunrise above Angkor. Many people choose to watch the sunrise at Angkor Wat temple, but Srah Stang Lake offers so much more. One of the best things about watching the sunrise here is the lack of body-crushing crowds, as there can often be at Angkor Wat.
The huge stretch of water provides perfect reflections of the temples, and its shimmering colours only add to the awesomeness of your experience and photographs. The lines of trees that grow up around the lake also add to its overall magical imagery.
To get the best spot for watching the sunrise, head to the western edge of Srah Srang Lake. Here, you will find a multi-tiered terrace decorated with naga balustrades, lions and other Khmer carvings.
Know before you go:
Location – Sarah Srang Lake is located 4.5 miles east of Angkor Wat temple.
Cost – Included in Angkor entrance fee.
Opening hours – 5 am – 6 pm.
Time needed – Give yourself at least forty minutes to watch the sunrise and enjoy the view shimmering across the lake.
Getting there – On entering the Angkor Wat complex, take the right road and head eastwards; this will take you to Srah Srang Lake.
Bayon Temple (Best For Sunset)
Arguably the second-most famous temple in the Angkor city complex, the Bayon Temple was one of the last to be built by the Khmer Empire and sits at the centre of King Jayavarman's capital of Angkor Thom. The temple was built with Hindu deities in mind but was adapted by other Hindu and Buddhist rulers after the fall of the Khmer Empire.
One of the defining features of the Bayon Temple is its multitude of serene, smiling faces carved and sculpted into the temple's stone. These faces have been associated with the Hindu God Brahma because the four faces look in different directions, but they have also been interpreted as Buddhist imagery also and Brahma is celebrated every year in one of Thailand's cultural festivals.
The Bayon Temple can be enjoyed at any time of the day, yet it is also one of the best temples to watch the sunset at Angkor. Watching the light fade as the sun goes down over Bayon Temple is a truly magical sight. As the low sun dances off the ancient carved faces, the real epicness of visiting Angkor Wat shows itself.
Know before you go:
Location – The Bayon Temple is located inside the moated city of Angkor Thom, just to the north of Angkor Wat.
Cost – Included in Angkor entrance fee.
Opening hours – 5 am – 6 pm.
Time needed – Give yourself at least an hour to explore the temple and watch the sun go down.
Getting there – It is possible to access Bayon from the south gate. This road leads directly north from Angkor Wat Temple.
Phnom Bakheng (Oldest Temple in Angkor Wat)
Constructed more than two hundred years before Angkor Wat, Phnom Bakheng is considered one of the oldest temples in the entire Angkor complex. First constructed as a Hindu temple, Phnom Bakheng was built during the reign of King Yasovarman I, the builder of three of Amgkors oldest temples.
Standing between Angkor Wat and Bayon Temple, Phnom Bakheng can often be overlooked.
As one of the oldest constructions in Angkor, viewing Phnom Bakheng gives those visiting Angkor Wat an impression of how building, scale and design developed over the centuries, from a relatively small temple such as this to the larger grand designs later on.
Throughout history, Phnom Bakheng was converted into a Buddhist temple, and the image of a huge reclining Buddha can be seen carved out along its walls.
Phnom Bakheng is not only the oldest on the list, but it is also another contender for a solid place to watch the sunset over Angkor.
Built on a hill, the temple offers spectacular views over Angkor Wat, the surrounding forest and the gigantic Baray reservoir. As the space is particularly small compared to other temples, only three hundred people are allowed in at once. This means if you're choosing Phnom Bakheng as your sunset spot, make sure you get here early.
Know before you go:
Location – Phnom Bakheng is located between Angkor Wat and Angkor Thom. Before you enter Angjot Thom's south gate, look left, and Phnom Bakheng rises up.
Cost – Included in Angkor entrance fee.
Opening hours – 7 am – 6:30 pm.
Time needed – Around 40 minutes should suffice for exploring Phnom Bakheng.
Getting there – As you leave the road heading north from Angkor Wat to Angkor Thom, turn left off the road to reach Phnom Bakheng.
West Prasat Top (Youngest Temple in Angkor Wat)
As you are visiting Angkor Wat, you'll notice that most of the temples are thousands of years old. However, visiting West Prasat Top in the Angkor capital of Angkor Thom quickly turns these dates on their head.
Well, maybe not as dramatic as that, but it does show you that the construction of temples here continued here over centuries and compared to the rest of the site, West Prasat Top is Angkor's newest temple.
Although builders used stone from previous constructions, historians and archaeologists believe that West Prasat Top was constructed in the late 13th century. There are even Buddhist carvings here dating as far forward as the 17th century.
In juxtaposition with Phon Bakheng, visiting West Prasat Top allows you to bookend the oldest and youngest temples in Angkor, giving you an insight into the huge timeline that exists here.
Know before you go:
Location – West Prasat Top is located in the western section of Angkor Thom.
Cost – Included in Angkor entrance fee.
Opening hours – 5 am – 6 pm
Time needed – 20 to 30 minutes should be sufficient for exploring this small yet interesting temple.
Getting there – On entering Angkor Thom from the south, take the road north to the Bayon Temple and turn left.
Start Your Day Early When Visiting Angkor Wat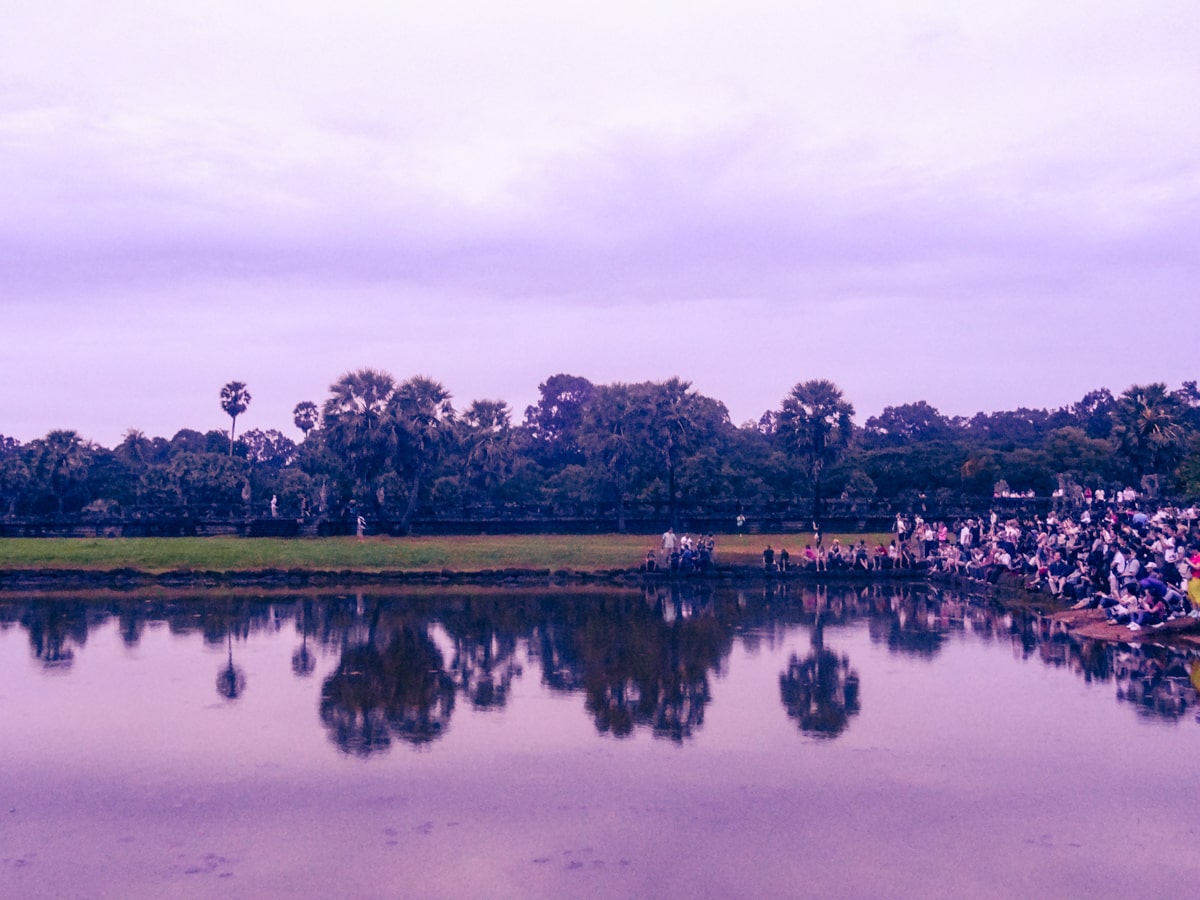 Sad announcement for night owls and I do feel your pain, but if you are planning on watching the sunrise, this should be an obvious point.
However, regardless of whether you are watching the sunrise or not, starting your day early when you're visiting Angkor Wat is a must if you want to give yourself the best fighting chance of avoiding those noisy crowds.

Aside from time and crowds, beginning early means you are not subjected to the day's intense heat and humidity, which can sometimes make the visit unpleasurable.
Sunrise & Sunset Times are Extremely Crowded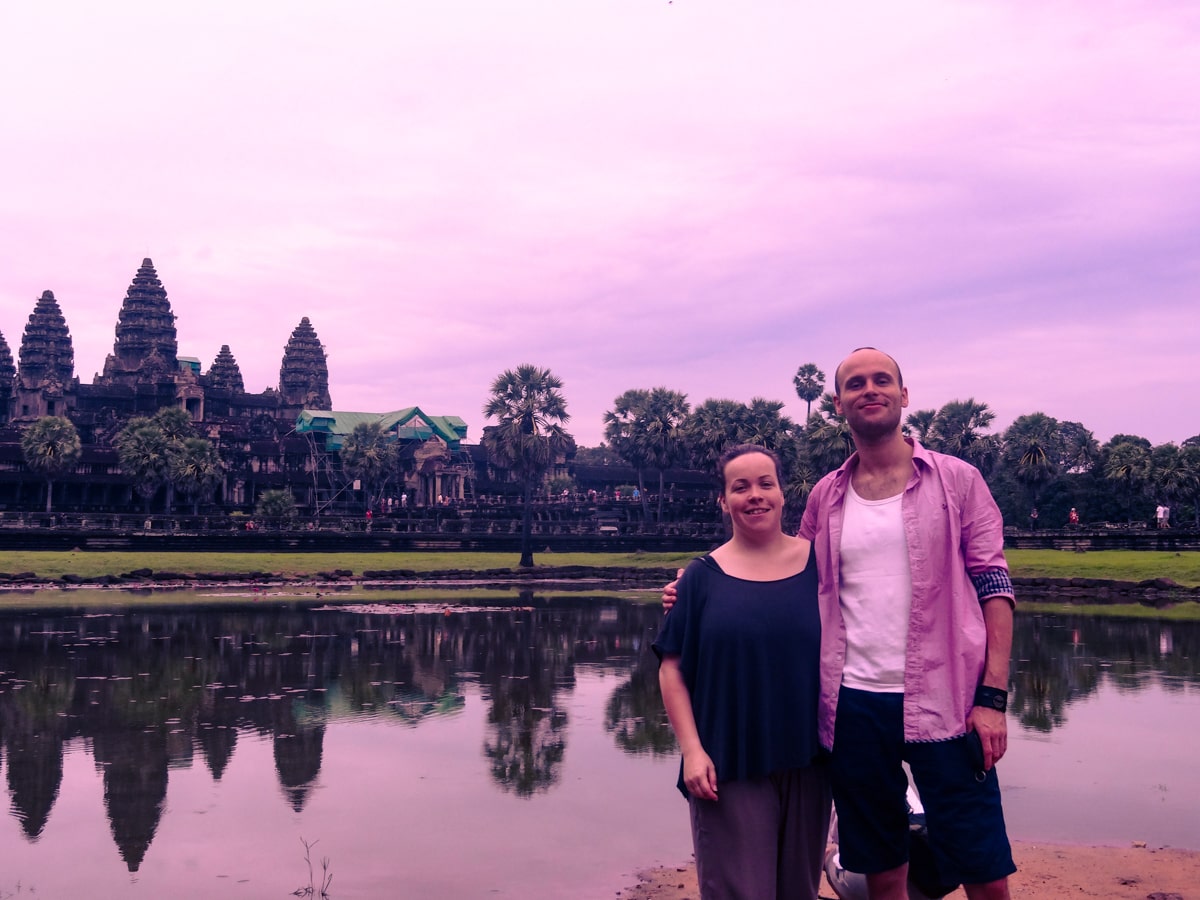 After seeing the picturesque images of the sun rising behind Angkor Wat, it is easy to believe that the scene is one of pure divine peace and bliss.

On the contrary, being such a popular thing to see and do, sunrise and sunset watching at Angkor Wat are more akin to a music festival crowd. Hundreds, if not thousands, of tourists, will pack in front of the temple, each vying to get their picture of sunrise reflections on the temple's moat.
Bear this in mind before you set out, and perhaps choose one of the less-popular temples for your sunset/sunrise pictures or try and make your visit to Angkor Wat during a less busy period.
Alternatively, just accept that this is the way that it is and that outside the majority of the other tips mentioned in this post – there isn't much you can do about this one. Leave it to the Gods!
Dressed Appropriately For Comfort & Culture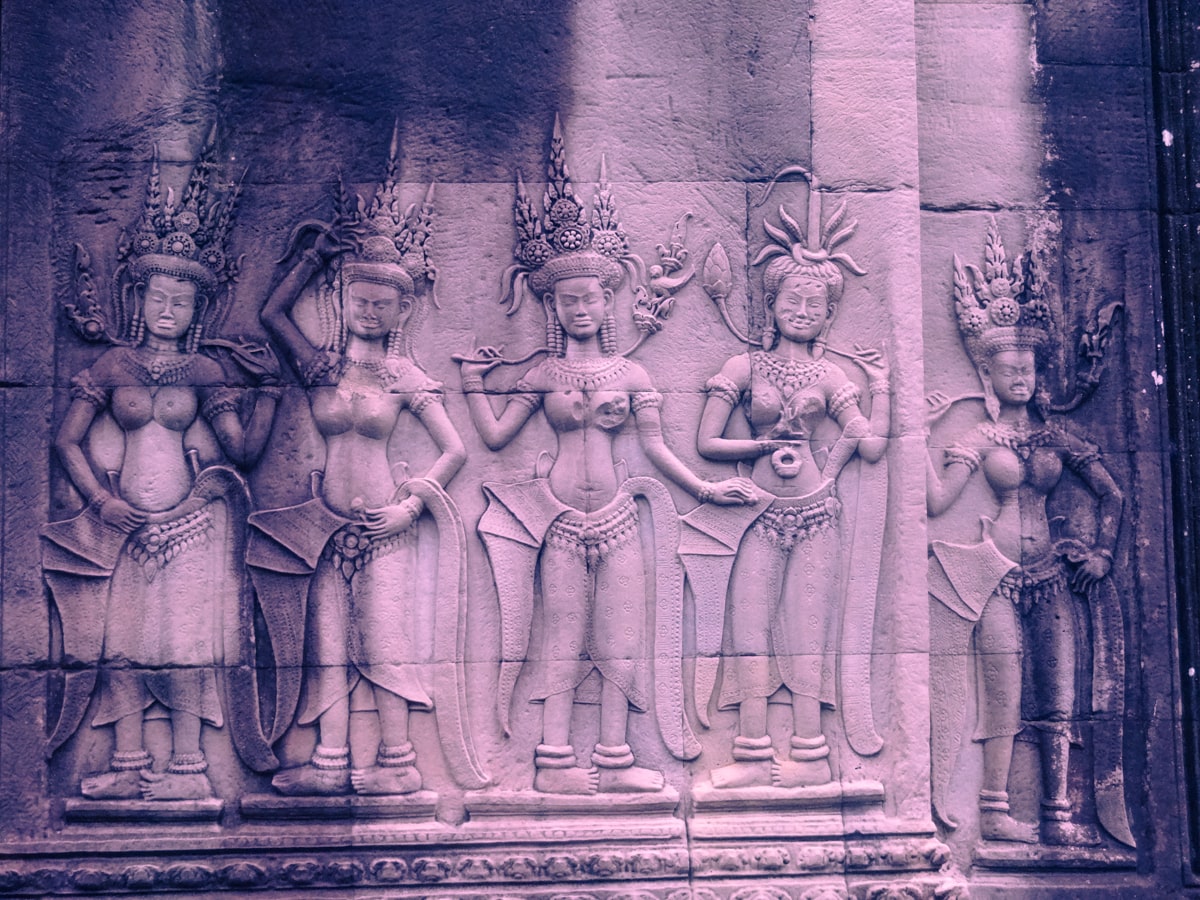 Even if you have hired a tuk-tuk or driver for the day, exploring Angkor Wat can be tiring depending on your fitness level. You will do plenty of walking across the site even with a driver, so having the correct footwear and clothing is essential for avoiding feeling fatigued (I wore flip-flops on day 1 and learned the hard way).
If you are a fellow baldie travelling man and you don't own a BUFF then you are doing it wrong.
With the heat of the day beating down, make sure you pack plenty of sunscreen and have comfortable clothing on. Also, remember that this is a sacred place so usual religious fashion rules apply – something else to consider when choosing an adequate outfit in terms of cultural sensitivity and comfort for your moving around in the sun.
I hope these essential tips help you to visit Angkor Wat without too much of a crowd during your trip to Cambodia!