The best things to do in Caye Caulker are all thankfully packed into one concentrated, sunny area that is easy to get around.
All you need is a short boat ride off the coast of Belize City. There you will find this tiny, laid-back island, sitting pretty at only 5 miles long and less than 1 mile wide. Its diminutive size makes it easy to get around, which can be done by using mopeds, bicycles, or simply walking everywhere.
The vibe of the place is laid-back, so you will have more than enough time to relax and rejuvenate in between your activities.
It's not exactly an off-the-beaten-track island, but it doesn't pretend to be! Here are 17 fun things to do in Caye Caulker, for travellers of all tastes…
The Best Things To Do in Caye Caulker (A Warning)
Even though it's small, there are plenty of "things" to keep you busy(ish) on this lazy little beach-bum haven… but not in the typical guidebook sense.
If you are the type of person who always gets your knickers in a twist, Caye Caulker is the ideal place to untangle them. There's simply no time for stress or heavy planning here and you must accept the 'Go Slow' vibe that the island embodies, or you're going to have a hard time.
Give into the nonchalant energy of this sleepy location and welcome the fact that the best things to do in Caye Caulker are done in a no fu**s given fashion (dodgy party places aside).
1. Scuba Diving The Great Blue Hole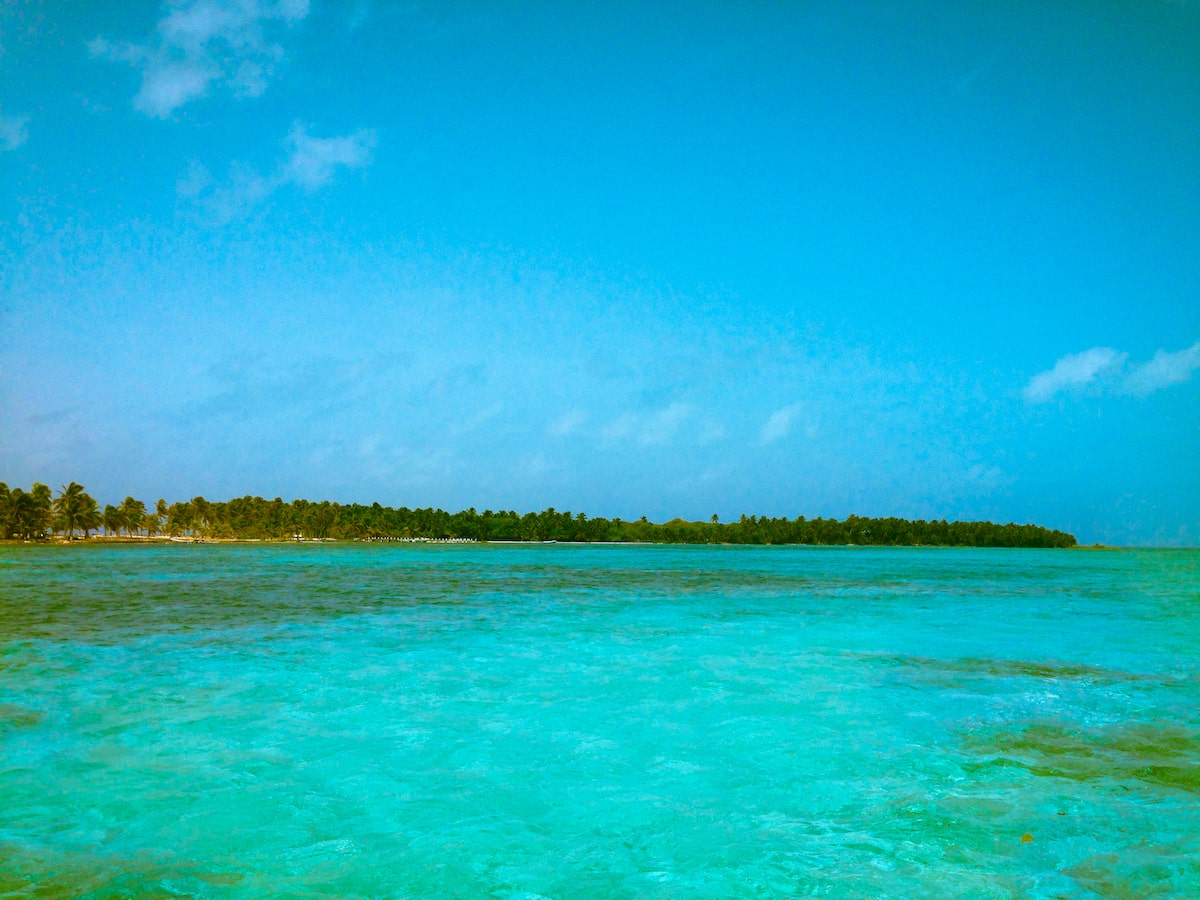 The Great Blue Hole isn't technically on Caye Caulker but it's so spectacular and close enough that it needs to be included in this list. It's a massive marine sinkhole that's almost perfectly circular, having a diameter of 1,043 feet and a depth of 407 feet (giving it its dark blue colour).
It's located in the centre of the Lighthouse Reef and was formed over hundreds of thousands of years during glacial periods.
However, I did almost die here due to a dangerous concoction of inexperience and company negligence. You can read more about that in my reveal-all post: How To Nearly Die Scuba Diving in the Great Blue Hole, Belize (Caye Caulker)
Know Before You Go:
Location: Lighthouse Reef, Belize (71 miles/2 hours from Caye Caulker)
Cost: Snorkeling is cheapest at around $200 USD. Scuba diving costs anywhere from $300-350 USD, and a flight over the reef for a bird's eye experience can cost $1000 USD per person (can be cheaper if you go with a group).
Opening hours: Depending on the tour operator, you'll be picked up around 5 am and the boat will leave around 6 am. Flight tours leave after 10 am.
Time needed: It takes approximately 2.5 hours to get to the site by boat, so plan to spend half your day on transportation alone. The tour will return you back to Caye Caulker around 4 pm. Flights tours last about 1 hour.
Getting there: Snorkelling/diving tours will get you there by speedboat, and flights will depart from Caye Caulker's airport.
2. Snorkelling in Turneffe Reef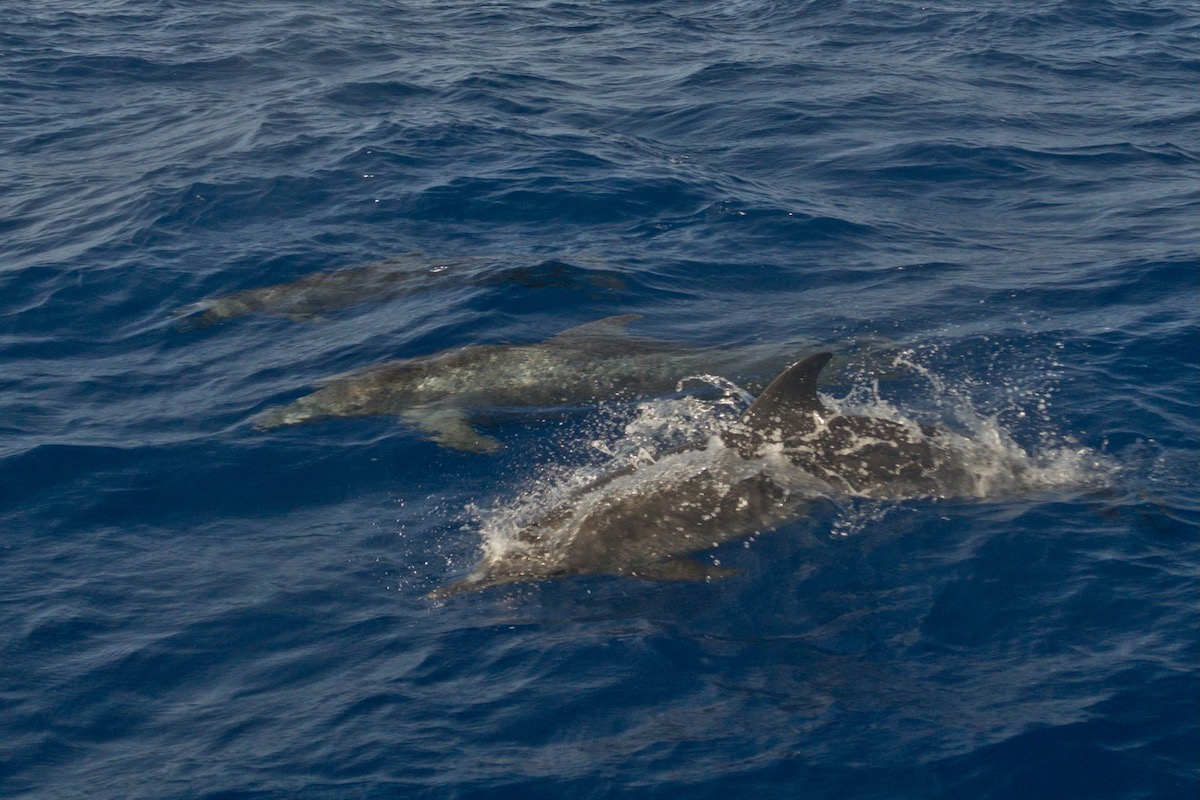 To the southeast of Caye Caulker is Turneffe Atoll, which is one of three atolls of the Belize Barrier Reef. Of the 3, it's the largest and most impressive, with 400+ islets that are a mixture of mangroves and shallow lagoons.
If you're new to diving you needn't worry, as Turneffe Atoll has sites for every level of diver. It offers world-class snorkelling where you can see tropical fish, sea turtles, lobsters, rays, and dolphins.
Know Before You Go:
Location: Turneffe Atoll is 51 km away from Caye Caulker.
Cost: Depending on the tour company you could pay anywhere from $100 to $250 USD.
Opening hours: Most tours operate early in the morning around 6 am.
Time needed: It takes 90 mins to get from Caye Caulker to Turneffe, and the tour will last until mid-afternoon.
Getting there: Tour operators will bring you to the site via speedboat.
3. Crocodile-Spotting At The Estuary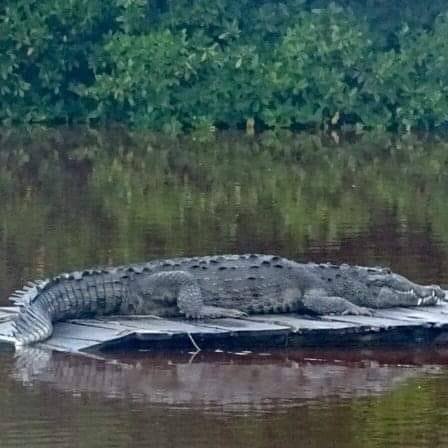 Wanna channel your inner-Steve Irwin? Board a boat on the south island and head on over to the Caye Caulker Estuary and Crocodile Reserve.
This tour allows you to explore a more primal side of Belize, as you're guided on a mile-long boardwalk known as The Origin of Life Nature Trail. Here you'll learn about different species and see crocodiles, birds, and unique plant life. From the smallest organisms to terrifying apex predators, the impassioned guides are more than happy to answer your geeky wildlife questions about every species.
Know Before You Go:
Location: The Estuary is located on the north island of Caye Caulker.
Cost: Be prepared to spend between $15 and $30 USD.
Opening hours: Operators run a morning tour (8 am) as well as a late afternoon tour (4 pm).
Time needed: Expect to spend 1 to 2 hours here.
Getting there: A short trip by boat will take you from the south island to the north island.
4. Swim With Nurse Sharks at Shark Ray Alley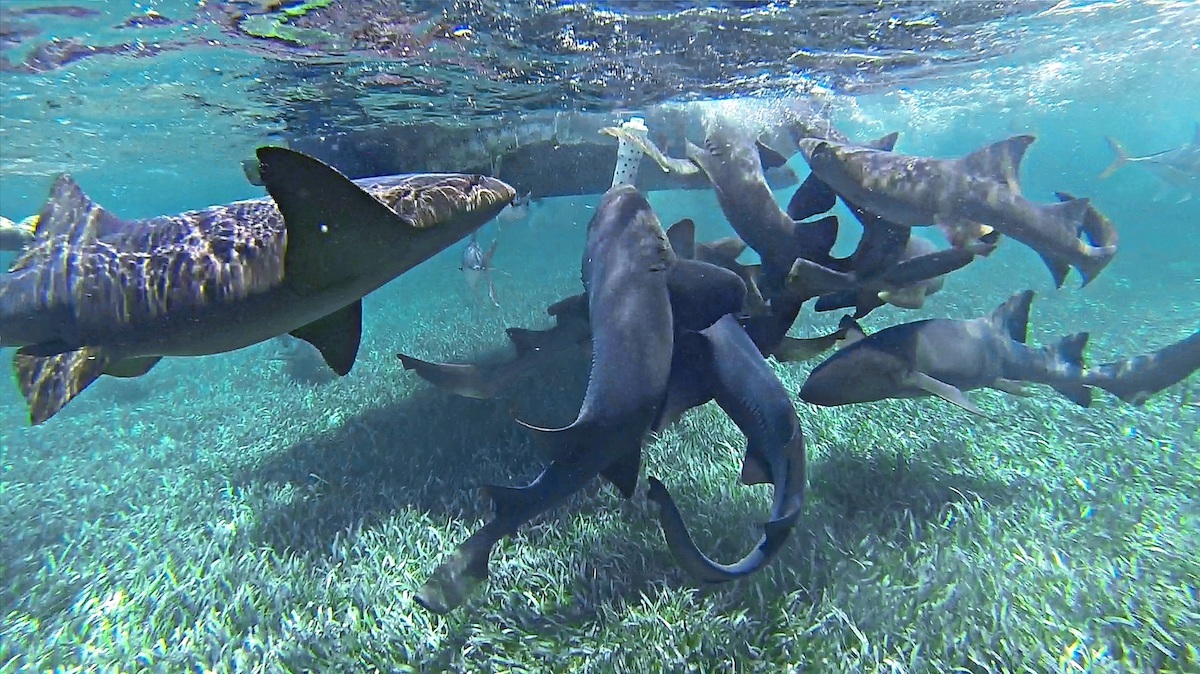 Ever wanted to swim with sharks? Then a trip to Shark Ray Alley might be right up your alley, however, I am hesitant to put this in here, feel free to read on.
Not to be confused with the Shark Ray Alley inside the Hol Chan Marine Reserve (which is also worth a visit), the Caye Caulker Shark Ray Alley is cheaper and you'll still be able to swim with plenty of nurse sharks and stingrays. At a depth of only 4 to 8 feet, it's safe for most people.
I didn't see anything distinctly bad about the practice when I was there. The animals seemed free however I am no expert and it turns out that it's a much more complex issue. This is something I admittedly didn't think about too much at the time, and after my thoughts on swimming with the Oslob whale sharks in Cebu I recommended anyone with valid concerns to read this informative post on travel4widlife.com
Know Before You Go:
Location: 5 to 10 minutes off the coast of Caye Caulker.
Cost: The price is around $45 USD per person.
Opening hours: Multiple operators run trips throughout the day.
Time needed: The tour runs 2.5 hours.
Getting there: The tour operator will bring you there by boat.
5. Cycle One End Of The Island To The Other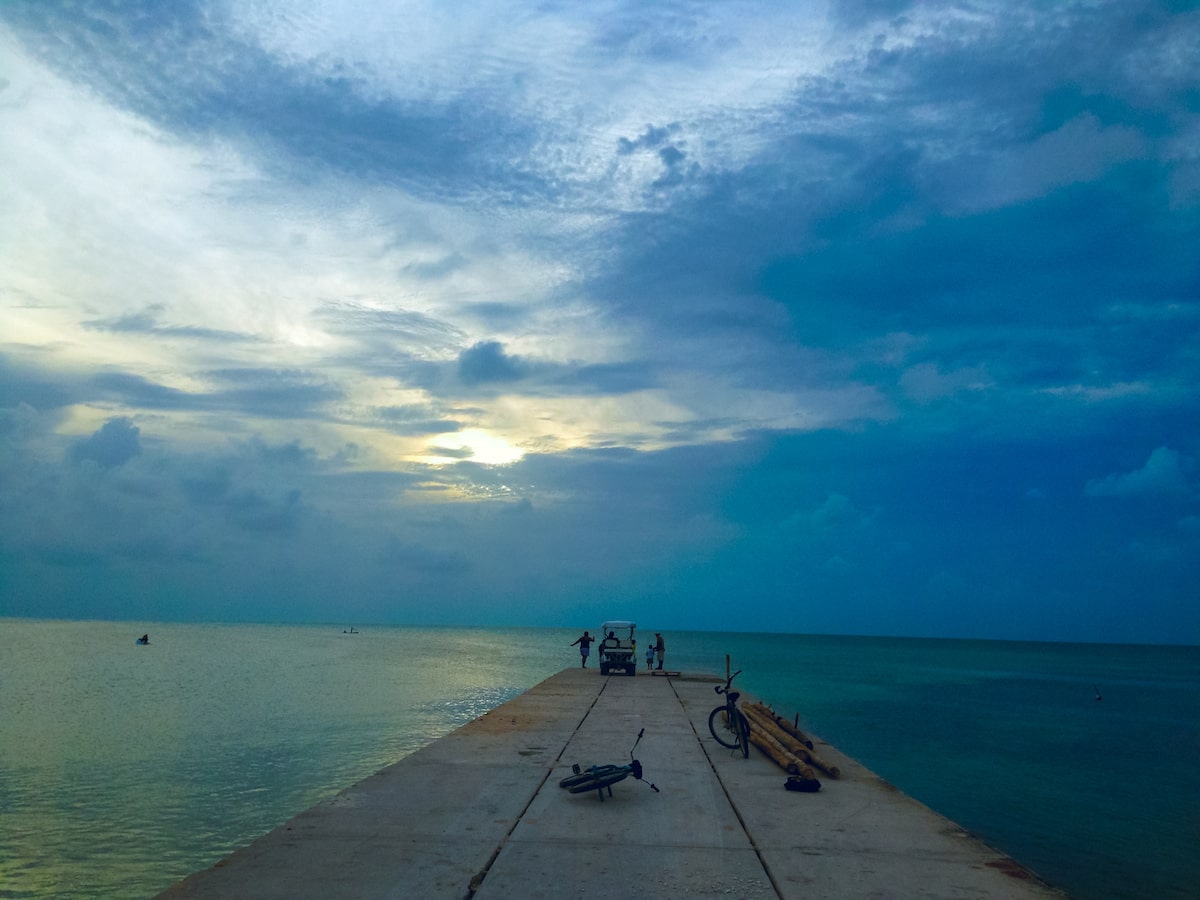 The small size of Caye Caulker makes it ideal to explore on a bicycle and there are bike rental shops all over the island you can choose from. In fact, your accommodation may also provide to you free of charge.
The nice thing about exploring by bicycle is there's zero traffic on the island, so you can go at your own pace while exercising at the same time. The island also has a few designated bike trails if you prefer something a bit more challenging.
Know Before You Go:
Location: Caye Caulker Island.
Cost: Pricing ranges from $2/hour to $7.50/day to $30 for the month.
Opening hours: Bike rental shops keep regular work hours.
Time needed: You can bike the 5-mile island in 60 minutes.
Getting there: Bike rental shops are aplenty on the island, take your pick.
6. Kick Back at Northside Beach Club Koko King
Previously known as Koko King, the Northside Beach Club offers visitors an upscale restaurant on a chilled-out beachfront along with drinks, a pool, and a lounge area with sunbeds for your latest book or sun-worshipping.
Kayaks are available on-site if you wish to do some paddling, and The We'Yu boutique hotel is located on this beach if you feel like staying the night.
Know Before You Go:
Location: Northside Beach Club is located on the west side of the north island.
Cost: The cost of the ferry is free provided you spend 50 BZD at the beach club.
Opening hours: The beach club operates from 7 am to 12 am every day.
Time needed: A popular time to go is at sunset, but you can stay for as long as you'd like.
Getting there: A ferry at The Split will take you to and from the beach club.
7. Rooftop Yoga at Namaste Café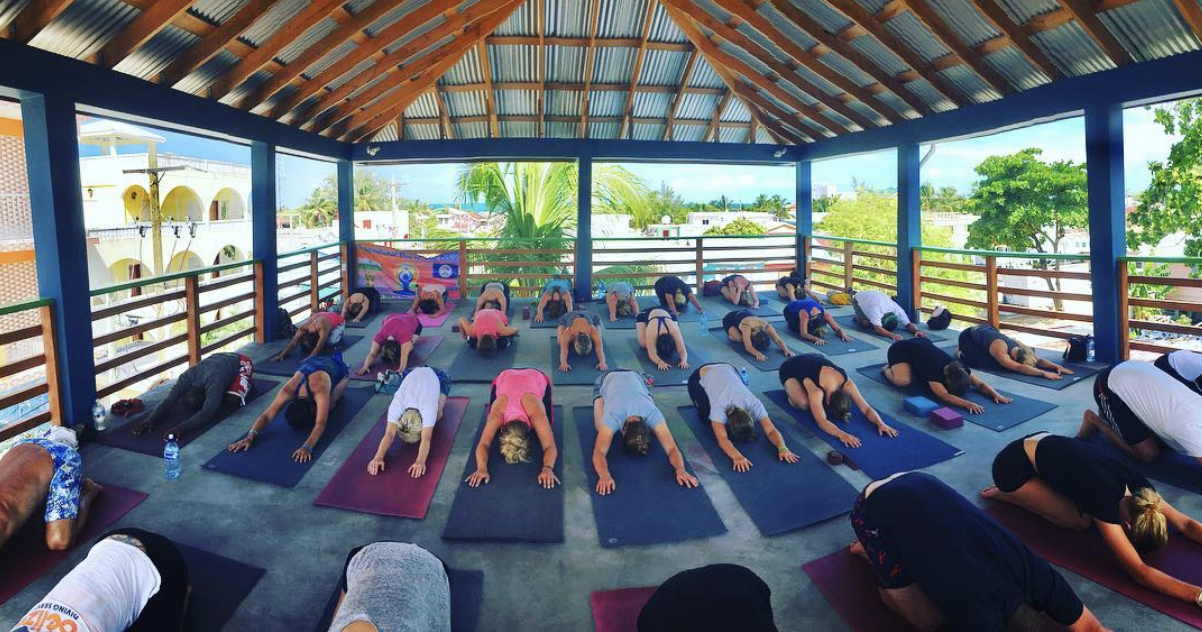 If you're a yogi, you won't have to stress about missing your workout when visiting the island. Head on over to Namaste Café for a rejuvenating open-air rooftop session. And if you're a newbie (like me), no worries…the classes are suitable for all levels, with mats, straps, and blocks provided. When it's over, you can enjoy a healthy meal or drink at the restaurant.
Know Before You Go:
Location: Namaste Café is on the south island, located on Pasero Avenue.
Cost: Yoga sessions are donation-based, so you pay whatever you wish.
Opening hours: The café is open from 7:30 am to 2:30 pm Monday to Saturday, and closed on Sundays.
Time needed: It's advised to show up 10 minutes before your session, as space is limited. Plan for a 1 to 2-hour session.
Getting there: Most people will walk to Namaste Café, as it's in the heart of the action on the south island.
8. Visit Seahorse Reserve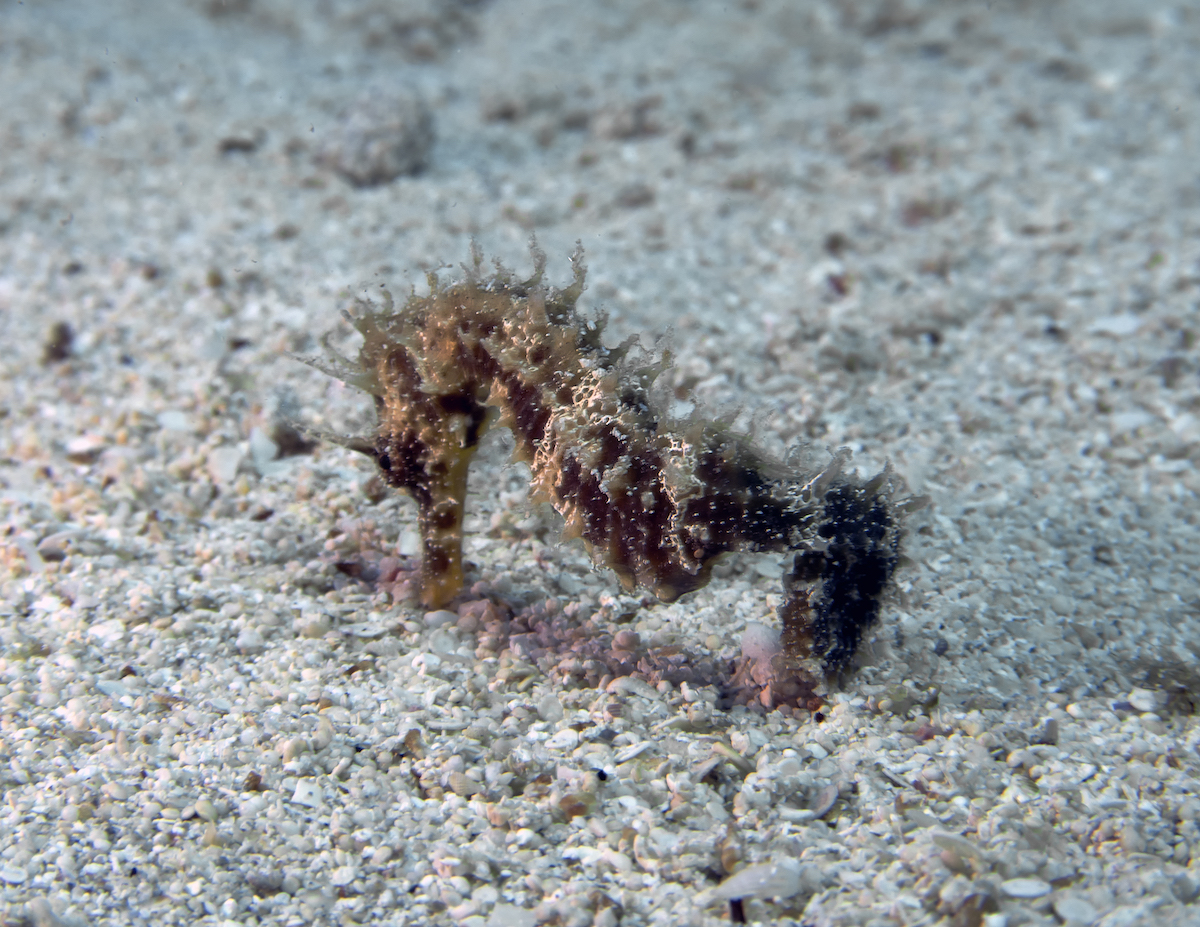 The Seahorse Reserve allows you to view seahorses and other marine life up close for zero cost. It's located in front of the Iguana Reef Inn hotel. The seahorses can be a bit shy, but it's worth a visit as you can see a variety of sea life as well and the views on the right day can be stunning (I do love a sexy red sunset).
Know Before You Go:
Location: The Seahorse Reserve is in front of the Iguana Reef Inn on the west side of the south island.
Cost: Visiting the reserve is free of charge.
Opening hours: There are no set hours as it's part of the hotel. Generally, you can visit anytime during the day.
Time needed: You could spend as much time or as little time as you want here.
Getting there: It's located on Chapoose Street, which is a centrally located road on the south island. Walking or biking to the west side of the island is doable.
9. Go Sea Kayaking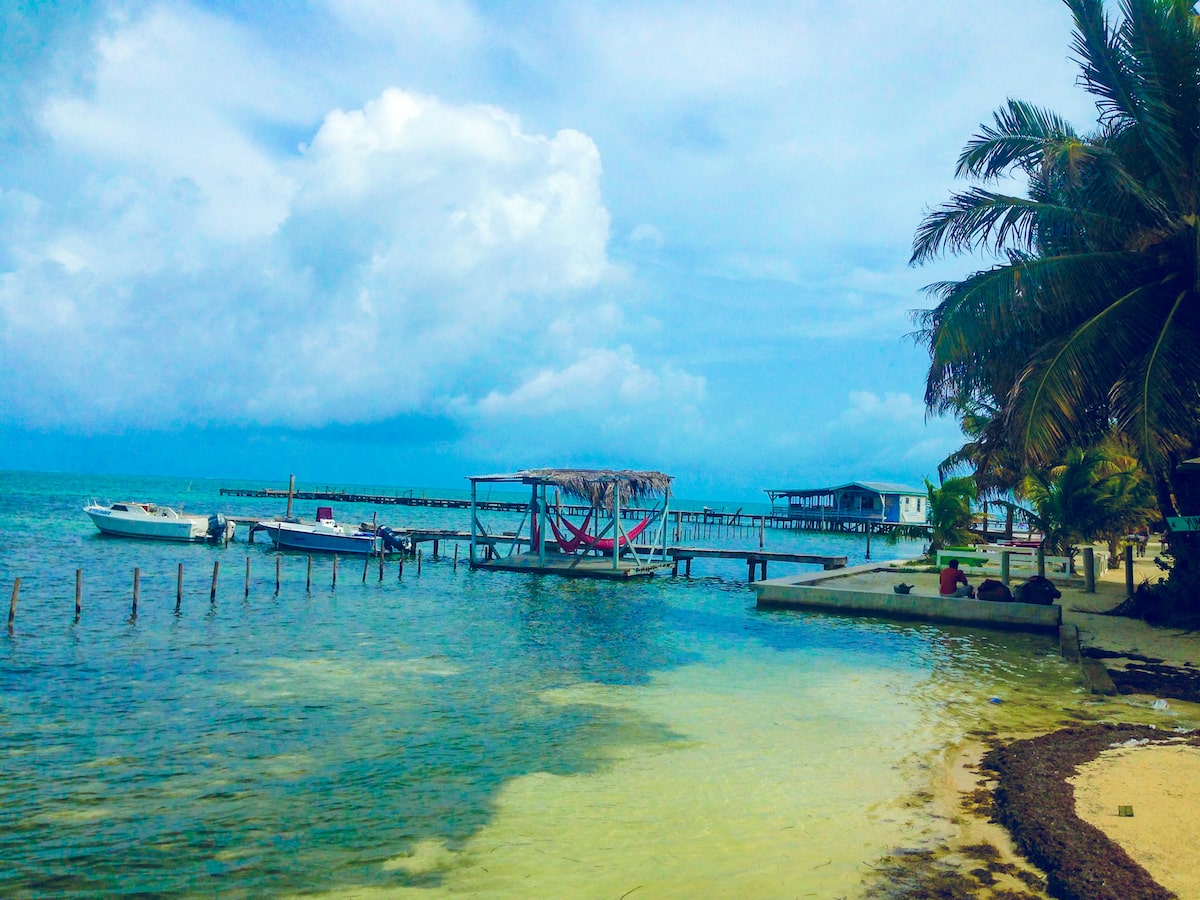 Those who prefer to stay active on their trip can get a great workout by kayaking in the Caribbean Sea. You'll find plenty of kayak rental companies all around the island, and some beach clubs and beachfront accommodations will provide them as well. 
Feeling a touch hesitant about venturing out? Kayak Guru's guide on sea kayaking can help
If that sounds boring to you then you can opt for stand-up paddleboarding – I find it much less claustrophobic than a kayak and the paddle board gives you a nice arm, shoulder and core workout to burn off all those delicious Creole carbs you've been gorging on.
Know Before You Go:
Location: First ask your accommodation if they provide or rent kayaks. If not, you can walk around until you find a shop.
Cost: Average price per hour for a kayak rental is between 20 to 30 BZD ($10 – $15 USD)
Opening hours: Most rental shops are open all day, every day.
Time needed: Kayaking for an hour will provide you with plenty of exercise for the day.
Getting there: Lots of kayak shops are by the beach and within walking distance from where you're staying.
10. Sunrise Stroll Around South Island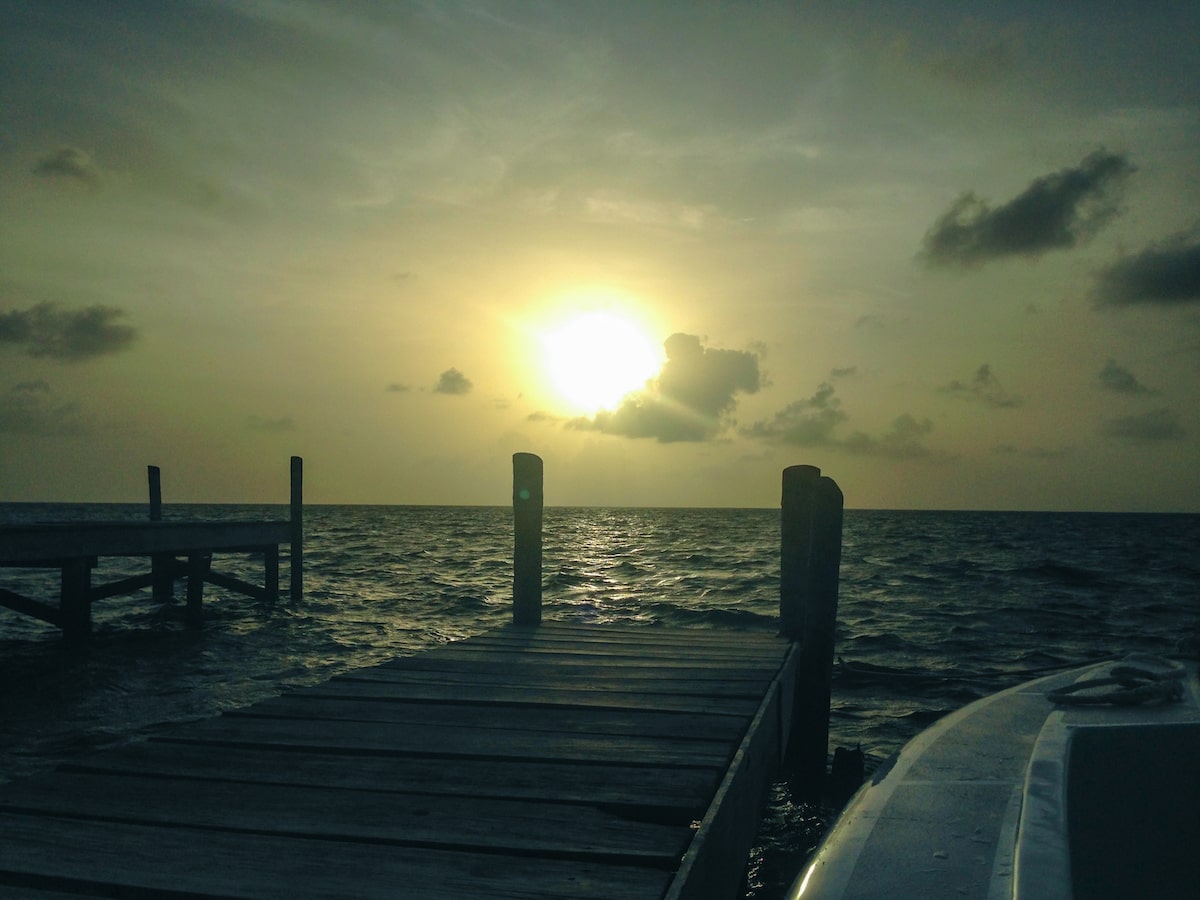 They say that how you start your day sets your mood for the rest of it and waking up early to catch the sunrise is a great way to do this. As the island is only 5 miles long, you can pretty much find a gorgeous sunrise anywhere on it.
Strolling around in the early morning hours provides you with tranquillity and calm energy that you can carry into your day and an island like this is a perfect place to set that tone.
Know Before You Go:
Location: Anywhere!
Cost: It's free!
Opening hours: Sunrise on Caye Caulker is usually between 5 and 5:30 am.
Time needed: Sunrise lasts under 10 minutes but plan for about an hour to walk around in the golden light.
Getting there: The sunrise can be viewed from anywhere on the island, enjoy!
11. Go Looking For Manatees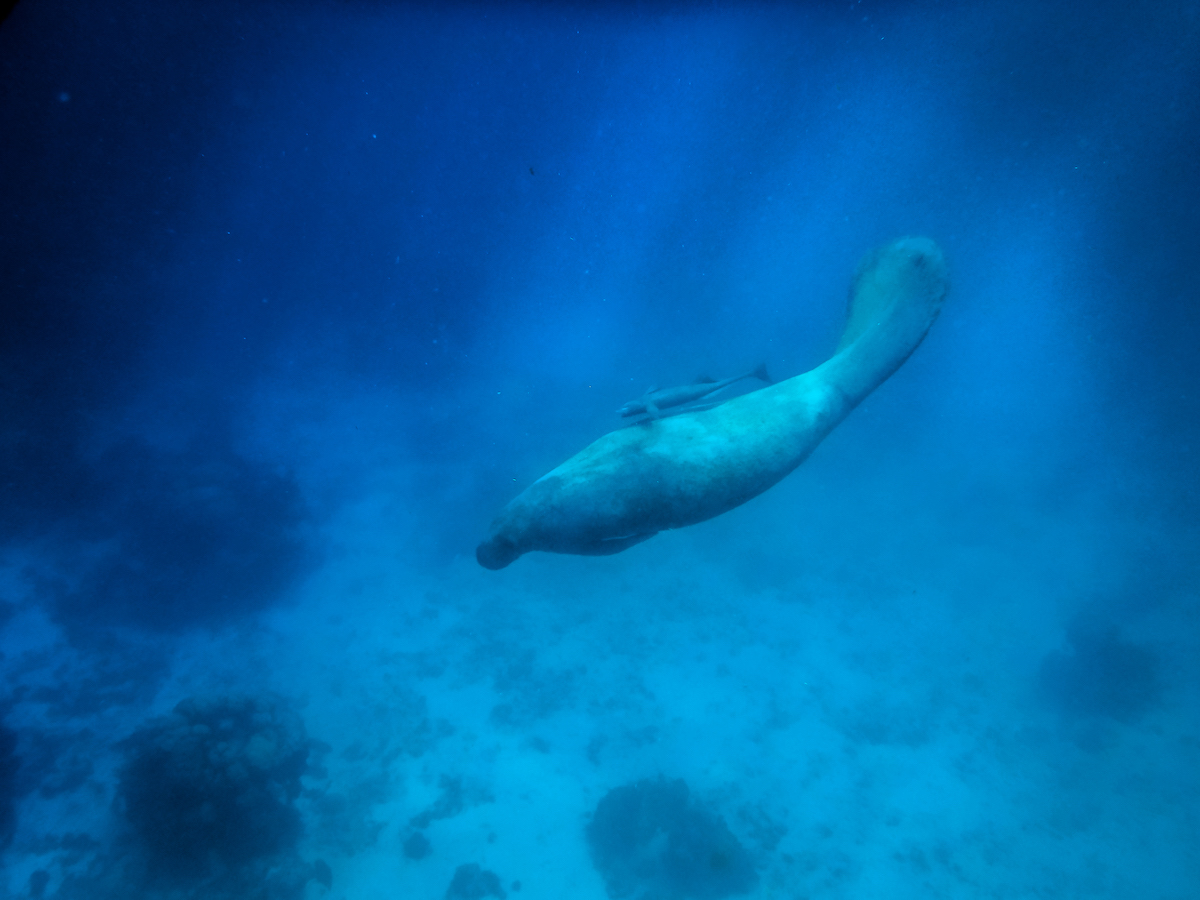 Another thing you can do in Caye Caulker is hanging out with some friendly manatees. I'd never seen any before so I was pretty fascinated by them, they honestly don't look remotely like any other animal that I'm aware of!
It is illegal to swim with these historically mistreated animals in Belize. You can be taken to this 9000-acre sanctuary by a tour operator to observe these sea cows in their natural habitat.
Know Before You Go:
Location: Swallow Caye Wildlife Sanctuary is about 19 miles southwest of Caye Caulker.
Cost: A tour costs approximately $100 USD and includes snacks, drinks, and lunch.
Opening hours: The tour starts early in the morning (around 8:30 am).
Time needed: Touring the Reserve is a whole-day affair, so plan to be away from the island for the entire day.
Getting there: Tour operators will transport you by boat to the Manatee Reserve.
12. Embrace The Bird Nerd Within You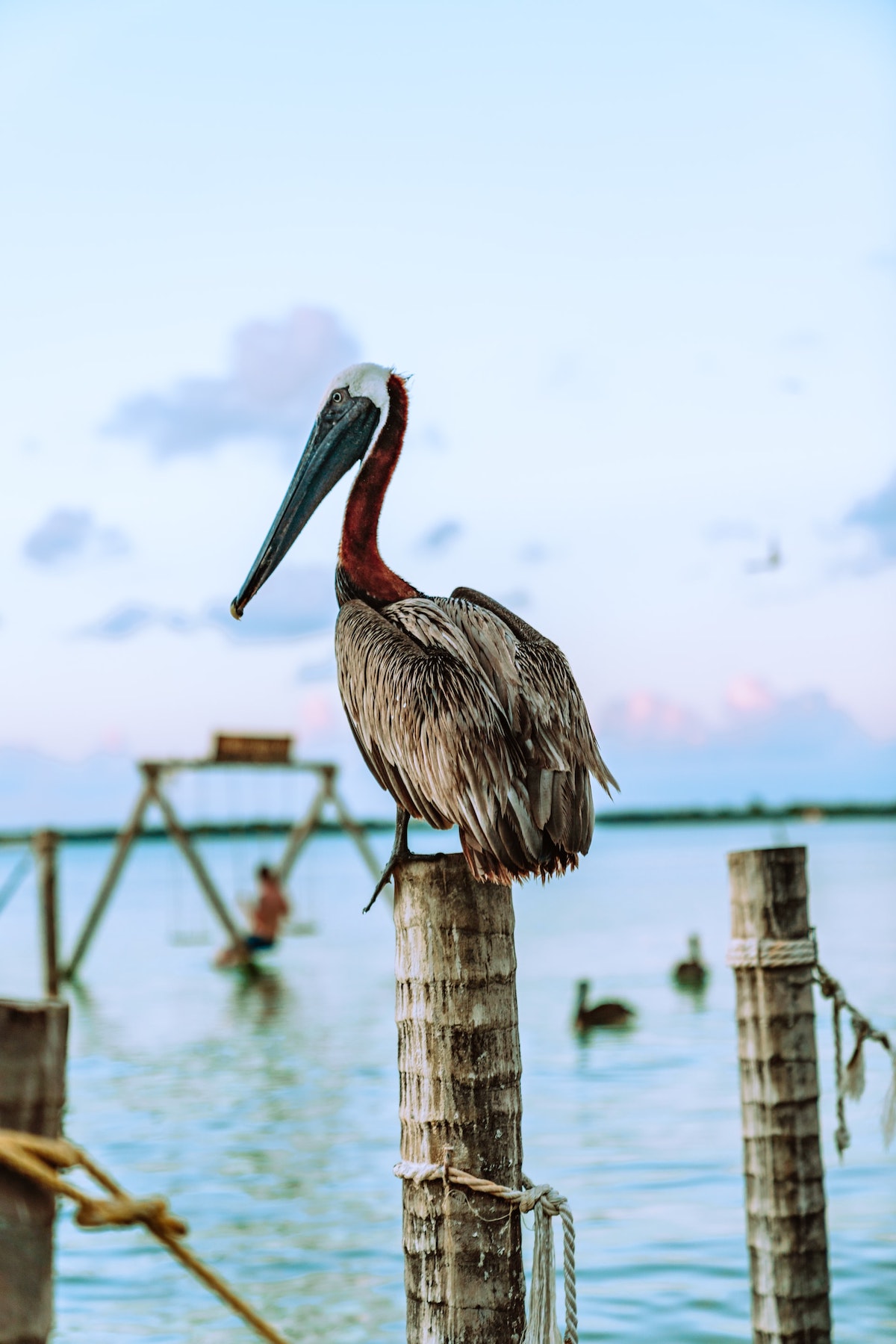 There are more than enough things to do in Caye Caulker, especially if you're a bird lover. Belize is known to have over 500 species. Your options on the island are; to explore on your own (there's a self-guided trail), go on a guided walking tour, or a birding tour by boat.
Don't forget to bring your binoculars and camera, as you'll want to capture the Cinnamon Hummingbirds, Black Catbirds, Ringed Kingfishers and Green Aztec Parakeets (just to name a few) that you'll see.
I'm no birdie myself, but I did notice some really pretty ones over there (profound, I know).
Know Before You Go:
Location: Walking tours and trails are operated on the south island, and the boat tour brings you to the north island and Caye Caulker Forest Reserve.
Cost: Walking tours are around $50 USD/per person, and boat tours are around $75 USD/per person
Opening hours: The best times to see birds are at dawn and dusk, so the tours start early around 6 am.
Time needed: These tours usually last a few hours and to half-day.
Getting there: As long as you're on the south island you can walk to the designated meeting point.
13. Eat Creole Belize Buns (& All The Rest)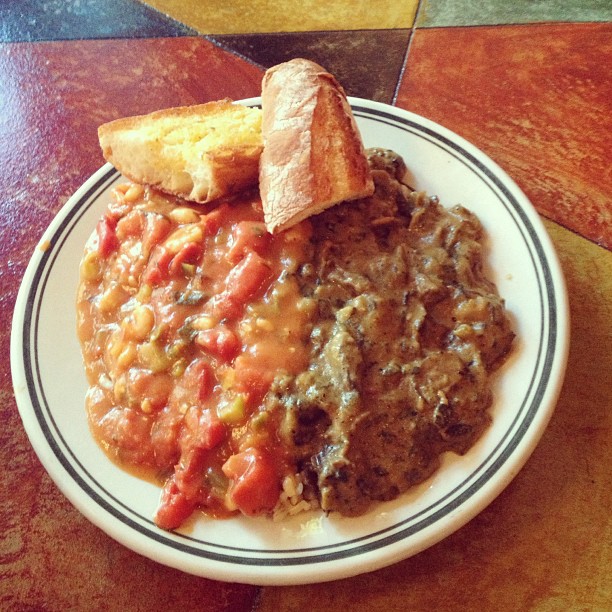 I would put most Caribbean cuisine in the "criminally underrated" category. On Caye Caulker there will always be something new for you to try, from the Creole Belize buns to the myriad of simple seafood dishes.
Belizean food has strong Mexican and Creole influences, so rice and beans are the foundation of a lot of the meals, which as a veggie I (happily) pretty much lived on when eating local grub as the sauces/toppings on them varied often and very rarely (if ever) disappointed my palette.
Know Before You Go:
Location: Food is everywhere in Caye Caulker. You can choose from any number of restaurants to dine at, or even pick up BBQ on the side of the road.
Cost: The average price for lunch and dinner meals is around $12.50 USD. Breakfast is a little bit cheaper.
Opening hours: Restaurant hours vary. Some cater to breakfast so they open around 7 am, while others open closer to lunchtime (or dinner time).
Time needed: You can spend as long as you want at a dining establishment.
Getting there: Walking the island is the best way to see what's available to eat.
14. Sunset at The Split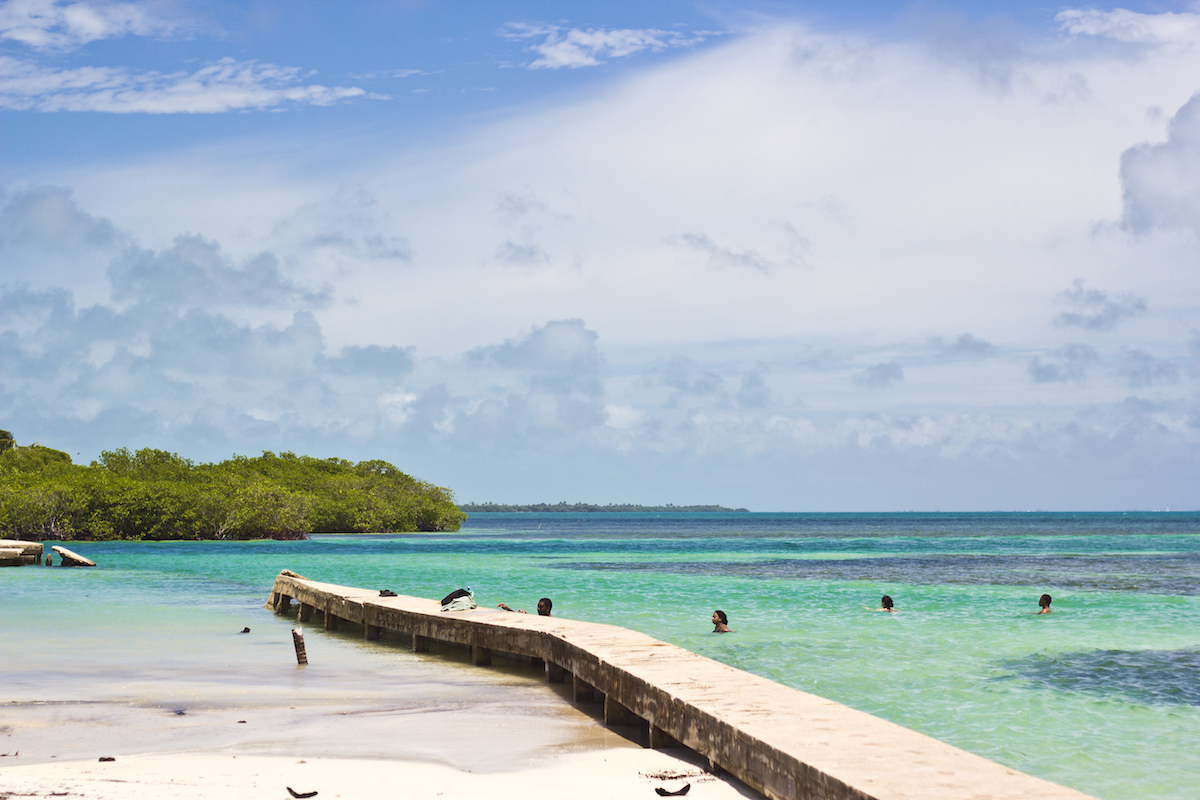 Tropical locales are famous for their sunsets, and catching one at The Split will be memorable. It's a laid-back atmosphere where you can relax with a drink, play in the water, or lounge in a chair while watching the dramatic sky.
Of course, there are also bar & grill restaurants here too where you can have dinner while enjoying the setting sun, hanging out at The Split might be the most popular thing to do in Caye Caulker at any time during the day.
Know Before You Go:
Location: The Split is located at the north tip of the south island.
Cost: The Split is free to visit but most people at least get a drink or some food while watching the sunset.
Opening hours: The sunset usually takes place between 6-6:30 pm.
Time needed: You can stay here as long as you want.
Getting there: Walking to The Split is common, as it's a very small island.
15. Get Pissed on Pantyripa!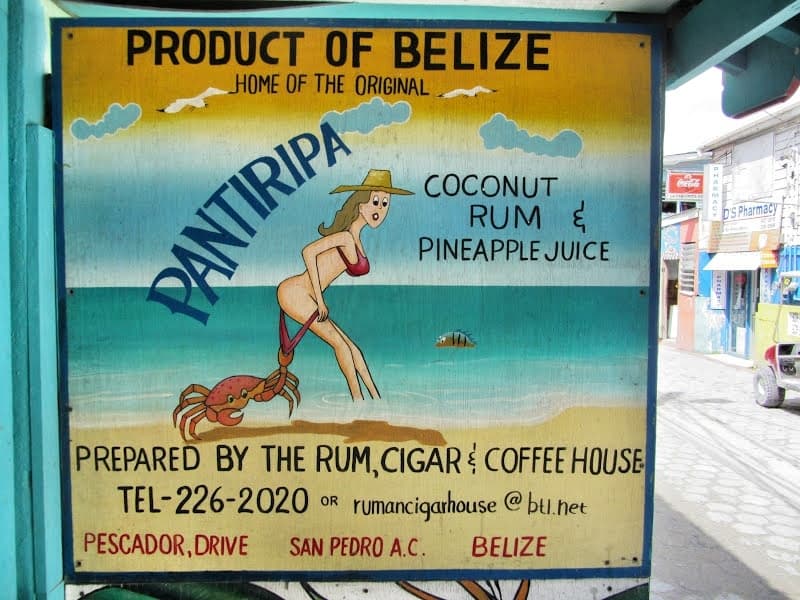 A tropical getaway isn't complete without throwing back a few bevvies, and Pantyripa (or Panty Ripper) is one of the most popular drinks on the island.
While it's basically Malibu, coconut rum and pineapple juice, they throw in some grenadine and a cherry to top it off. The drink is chilled over ice and was mainly created for the ladies, but you'll see plenty of blokes drinking it too. I thought it was delicious.
Know Before You Go:
Location: Can be found at any bar.
Cost: Mix drinks such as Pantyripa will run you around 20 BZD ($10 USD)
Opening hours: They're usually served at any time of day.
Time needed: Drink till you pass out (safely) in your hotel bed.
Getting there: You'll see signs advertising the drink while you're wandering the island, and it shouldn't be much trouble to find.
16. Belikin Beer at I&I Reggae Bar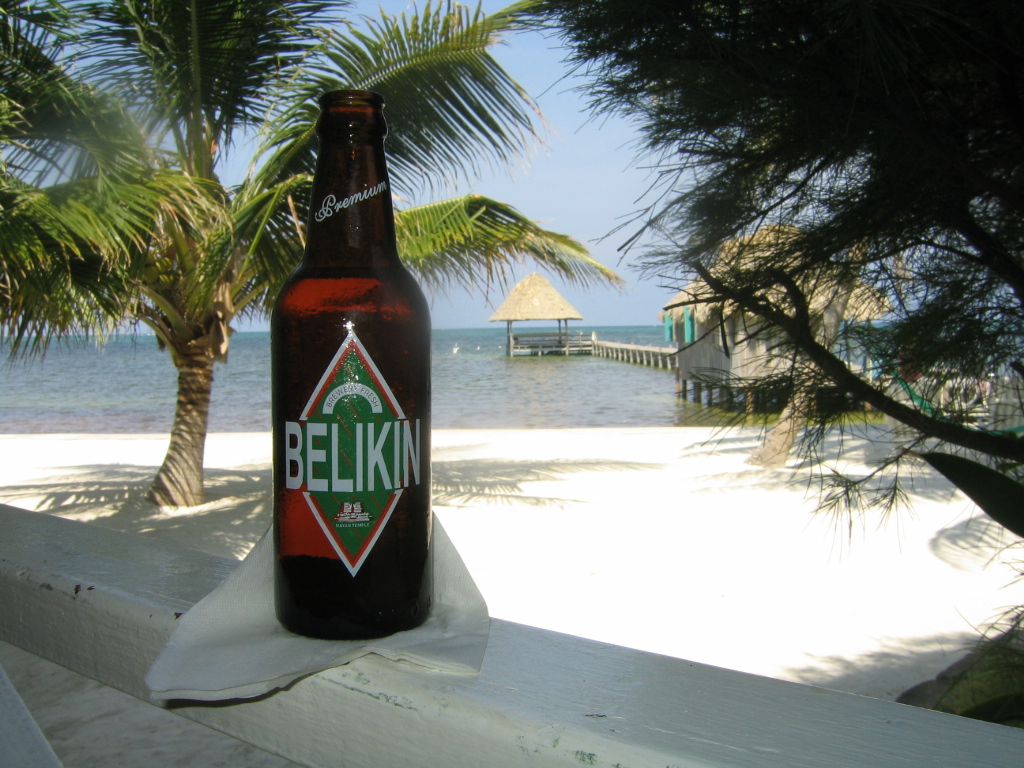 What's the tropics without a healthy dose of bouncy reggae? The I&I Reggae Bar is great if you're looking for chill vibes while sipping some Belizean Belikin Beer or local rum although it can get bouncy very quickly.
You can even score some cheap 2-for-1 Pantyripa here while watching the sunset. It's a multi-level bar, decorated in the traditional gold/red/green Rasta colours, and has swings, a DJ, and a dance floor.
Know Before You Go:
Location: The bar is located on Luciano Reyes Street, which is about a 15-minute walk from The Split.
Cost: Food can cost around $7 USD, while drinks vary from $2.50 – $10 USD.
Opening hours: The bar opens at 4 pm daily.
Time needed: Stay as long as you'd like, but they close between 1 and 2 am.
Getting there: It's a pretty central location so you can walk to it quite easily.
17. Go Slow!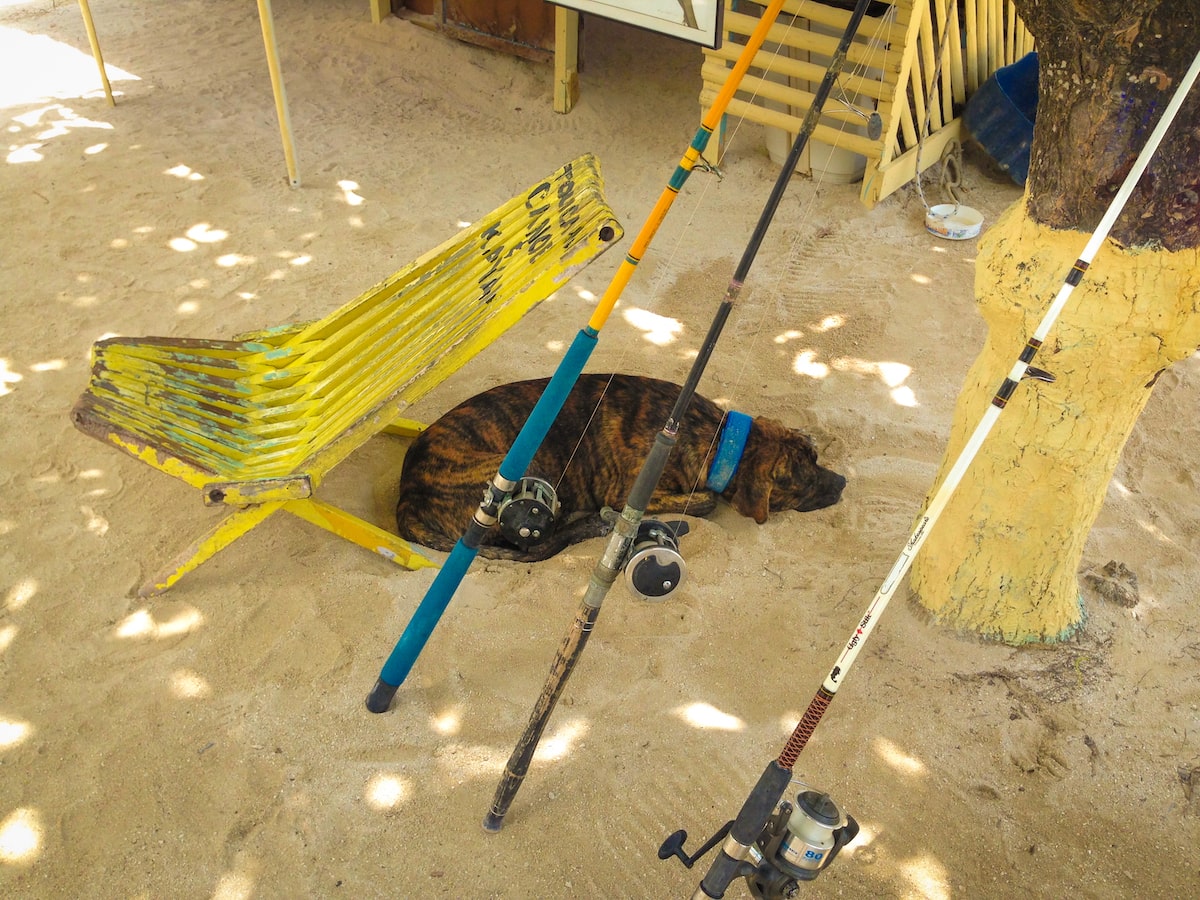 "Go Slow" is the motto of Caye Caulker. Taking it easy and relaxing is what's expected of you when visiting the island. So take a day to do nothing but chill out and just exist.
You can lounge in a hammock, sip on a coconut, day drink on the beach, lay back in the sun, or catch up with your favourite book. When you feel like doing something, do it, and if you feel like doing nothing, do that and leave the guilt behind.
How To Get To Caye Caulker
To get to Caye Caulker, you must get to Belize City first. Some absolutely fancy pants fly into Philip Goldson International Airport, which is a 20-minute drive away from the ferry terminal that you need, but the vast majority of people are already travelling in Belize when making their way to Caye Caulker via ferry.
A lot of those people like myself have also freshly crossed the Mexico-Belize border and are eager to get to Caye Caulker after getting to Belize City and seeing how run-down it is and sketchy at night.
The two ferry operators from Belize City to Caye Caulker are both 1 kilometre walk away from the bus station. Tickets are around $12 USD and the water taxis come every 2 hours and the boat trip to Caye Caulker only takes 45 minutes.
Best Places To Stay On Caye Caulker, Belize
There is a good range of places to stay on Caye Caulker to match all budgets and although the same as planning a trip to the Maldives in terms of fancy resorts, nor does it have the unique appeal of the San Blas Islands; I stayed 3 nights each in the following places and could not recommend them enough if they match your own preferences.
Although I stayed for 6 days, I think half of that is enough for most people. I planned for three but after my Blue Hole misadventure, I figured the universe was telling me to slow down (not to mention that I was physically exhausted).
Fantastic staff with a rooftop bar and free bikes to use as you please for the time that you are staying there. The breakfast was delicious and a perfect place to catch a sunset after being an island bum all day on Caye Caulker.
The only slight negative was the noise in the building next door, but to be honest, if you're noise-sensitive there aren't too many places on Caye Caulker that will allow your eardrums perfect harmony – it's a bit of a party island.
It may seem weird to stay in a hotel overlooking the barrier after literally nearly dying in it, but this place was a perfect mix of luxury and isolation that I needed.
A one-bedroomed cottage set me back quite a lot of Belize dollars, but I'd be a liar if I said I regretted a thing as I felt sorry for myself and pondered my near-death experience in absolute paradise, concluding that I quite like being alive!
Is Caye Caulker Worth Visiting?
A lot of people say it's "too touristy,' and there certainly is a lot of truth behind that statement, but I don't really care. Because it's not as if Caye Caulker was pretending to be one of the bastions of off-beat travel destinations or some sort of spiritual oasis.
It is what it is; a tourist-ready tropical destination, which is relatively easy to get to and fun for a couple of days. Yes, I stayed for a week and admittedly most of that was resting after my Great Blue Hole scuba accident, but even that trauma didn't taint the island for me too much, in all honesty.
I was happy that I still tried out the best things to do in Caye Caulker (for me) and hope you will be too should you ever venture over that part of the world.