Where To See Sloths in Costa Rica (In The Wild & Sanctuaries)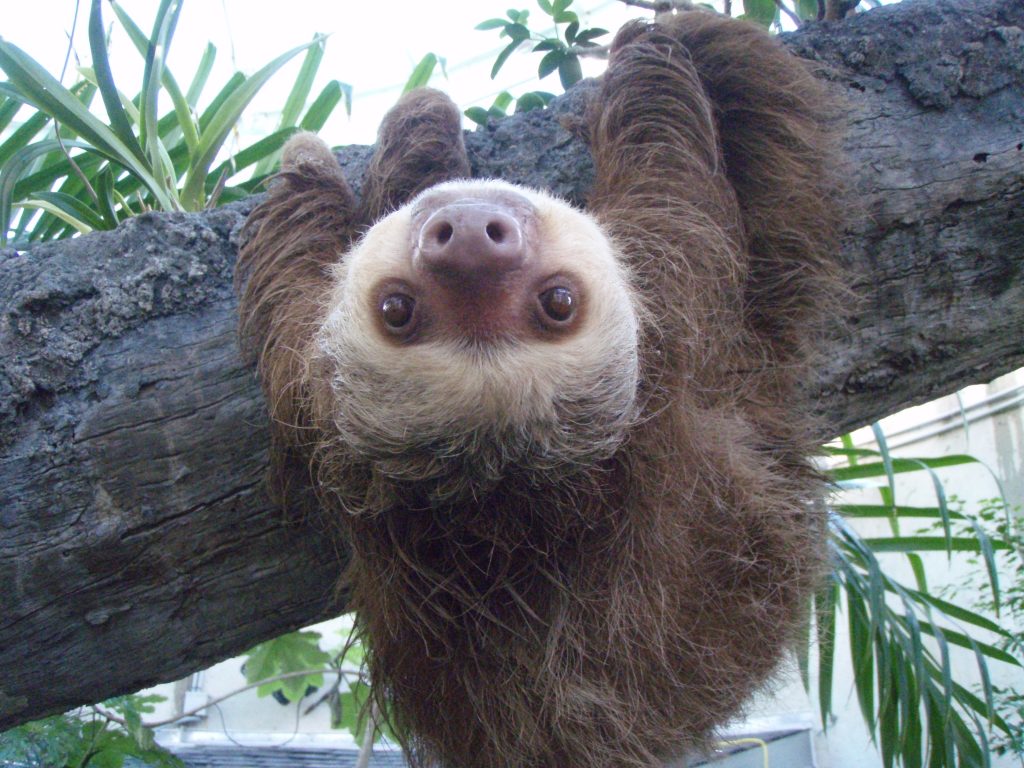 Updated: 014/06/21 | June 14th, 2021
Costa Rica is well-known for its incredibly diverse wildlife, but there's one species in particular that catches our attention… no other animal in the country has seemed to reach such dizzying heights of icon status as this adorable animal and tourists on the way there are desperate to know the answer of where to see sloths in Costa Rica.
After firsthand experience of unravelling the questions at hand, whilst travelling around the country in search of sloth, I hope to arm you with all the information you need to make this happen.
In this article I will teach you the 2 different types of sloths to look out for in Costa Rica, educate you on your chances of seeing them, tell you where you can see them and what to expect, so that you can pick out which places speak to you.
Different Type of Sloths In Costa Rica
While some exotic animals are celebrated for their size, scariness or majestic nature, sloths are revered for their seeming laziness and never to rush attitude. Even the Spanish word for a sloth, "perezoso" is quite simply the same as it is for the word "lazy."
With the bragging rights of being officially the slowest mammal on earth (yes, including a turtle) it's a wonder how they survived for so long, but one thing that is not up for debate is their cuteness.
If you take your sloth-spotting seriously during your travels in Costa Rica you will see one, but it's good to know which one you will see as not all sloths are created equal.
Read on to make sure you know which sloth you will be looking out for, because the chances are high that you will see both the two-footed sloth and the three-footed sloth.
Two-Toed Sloths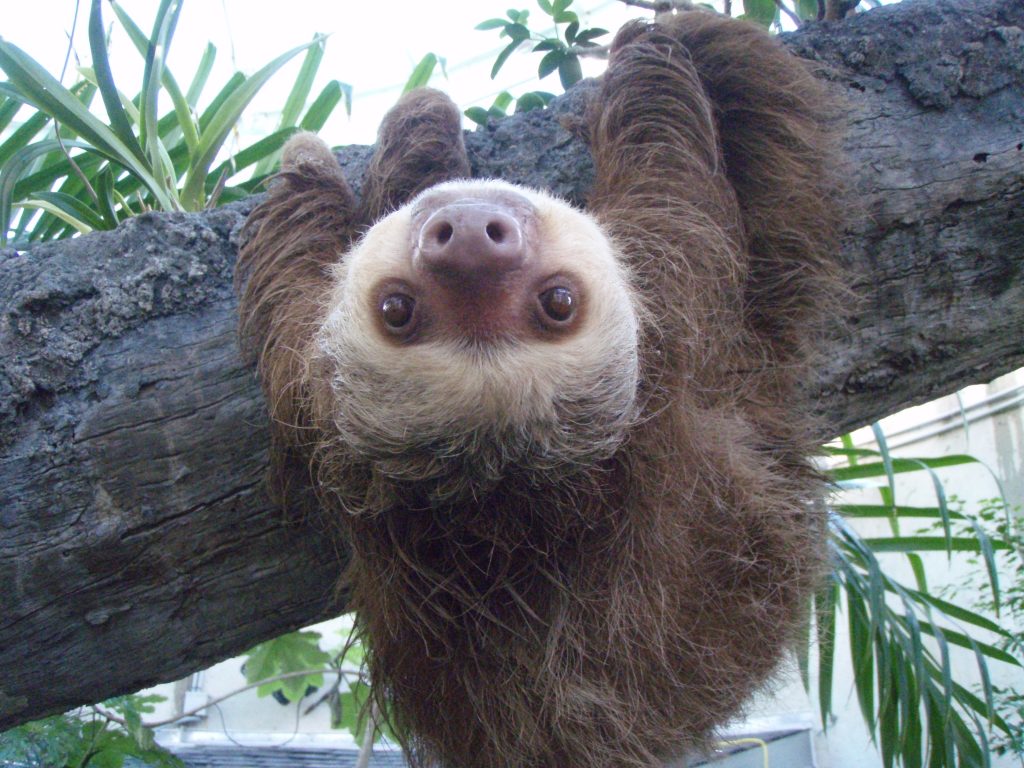 The two-toed sloth is a nocturnal animal with larger eyes than it's extra-toed furry Costa Rica citizens. They have distinguishable white-ringed faces, brown noses and rugged coats.
Due to their sleeping pattern, they are the most elusive out of the two species of sloths. Even when you do see one, they are more than likely to be getting some much-needed sleep in during the darker hours.

If you really want to see a two-toed sloth awake then be sure to book a night hike in one of the national parks mentioned later on in this article.
Three-Toed Sloths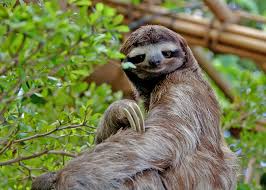 Aside from the obvious difference to the two-toed sloth, the three-toed sloth has a rounder face, a shorter nose. This type of sloth is the more known, iconic sloth of Costa Rica that you often see snapped with a big heartwarming smile.
Three-toed sloths are found closer to sea level in Costa Rica like Puerto Viejo, Uvita and the Osa Peninsula, to name only a few.
Similarities Between The Two-Toed and Three-Toed Sloth
Differences aside, the two species of sloth share a lot of commonalities. They both live in trees, eat the same kind of diet (mainly herbivorous based on twigs, leaves, shoots with some insects) and both use their strong claws to hang upside down from the trees in which they live…and they both impressively give birth upside-down!
Interestingly, the two types of sloths are not from the same family and are a byproduct of convergent evolution – where two entirely different species evolve to adopt the same traits by adapting to the similar, or the exact same environment.
As they are from a separate family the two-toed sloth and the three-toed sloth can not mate with one another.
Also, an important thing to note when trying to decipher between the two sloths; the two-toed sloth actually has 3 toes, just like the three-toed sloth does! It's an extra finger that they have compared to the two "toed" sloths, probably lost in Latin translation to English at some point.
Can You Hug a Sloth in Costa Rica?
I'm sorry to be that guy, wagging his finger disapprovingly at you but a better question than "can I hug a sloth in Costa Rica," is "should I hug a sloth in Costa Rica?"
I know, I know. No one likes a smart-arse, but hear me out…
For starters – I'm not judging, I wanted to hold one too and for full disclosure I once shared an embrace with a similar-looking animal in Papua New Guinea.
That was long before I started to think deeply about the ethics of my personal lifestyle choices on the road regarding animal tourism, and this concern led me to information which resulted in me making peace with the fact that I would not be hugging these absurdly cute creatures while travelling in Costa Rica.
According to a study by World Animal Protection, sloths in their natural state that were handled by tourists felt anxiety and fear followed by sleepless nights.
An extra reason to just admire these creatures from (reasonably) afar is the establishments that allow you to hug sloths at your request are quite possible a cog in the wheel of a nefarious business operation where sloths are taken from their habitat, purely for the sake of sloth-selfies in supposed sanctuaries.
Best Place To See a Sloth in Costa Rica (in the Wild)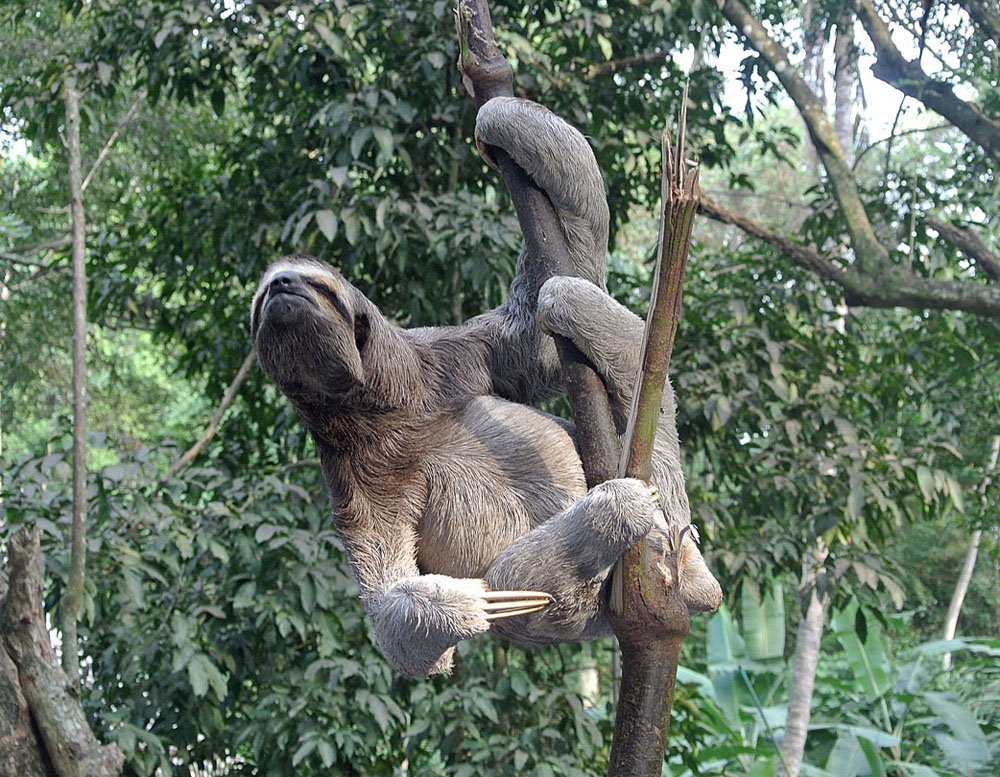 And now for some good sloth news. Costa Rica is pretty much the best country in the world to see a sloth in the wild, due to the favourable weather conditions and the government's famously intense conservation efforts in recent years.
However, you are much more likely to see a spontaneous sloth in the Caribbean Coast as opposed to the Pacific Coast, which tends to be a little too dry for the sloth's liking.
I saw sloths hanging outside of lodges that I stayed at along the Caribbean coastline in Tortuguero and Puerto Viejo, (mostly in trees) and even a few on the side of the road considering a brave saunter to the other side.
A top tip for those seeking three-toed sloths; look out for this tree pictured below. It's called a Cecropia Tree, which has fewer branches making it easier to spot the cute little rascals while they're up there: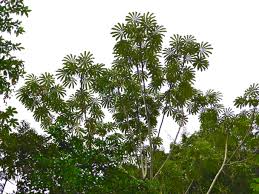 Where to See Sloths in Costa Rica (In The Wild)
If you are really emotionally involved in seeing a sloth in the wild then your best bet is to visit a national park and as mentioned earlier, you have a much better chance seeing them from the Caribbean side.
The exception to this rule is that the more south you go on the pacific side, the more chance you have of seeing sloths and other interesting Costa Rican wildlife due to favourable all-year round weather conditions for them.
Here are the most well-known national parks in Costa Rica from both the Caribbean and pacific side for seeing sloths in the wild, including the usual important travel logistics.
4 National Parks in Costa Rica to See Sloths (Caribbean Coast Side)
1. Cahuita National Park
If you're beating the well-travelled Costa Rica trail then the chances are you'll end up in Cahuita town, a sleepy but charming place in Limon Province, by the border of Panama.
The district boasts a decent percentage of the country's natural beauty, so it's no surprise that there is a cherished national park in this area. There are decent chances of seeing a sloth in Cahuita National Park, I saw 4 two-toed sloths during my half-day there although they also have three-toed sloths living there.
Pros:
It's free entry (donation is an option)

It's the most easily accessible national park in Costa Rica (town to national park travel is easy-peasy)

It's open 6am-4pm

Other cool wildlife: Howler monkeys, long-legged spider monkeys, coatis, poison dart-toads

Local beaches are lovely

It's close to Puerto Viejo (a popular tourist stop)
Cons:
Local tourist guides can be a little pushy for you to give them business as you walk around

Aggressive monkeys (be careful with your food on display)
2. Tortuguero National Park
Also located in Limon Province, Tortuguero National Park is known for its abundance of wildlife, including our beloved sloths of course.
Chances of seeing a few here are also not too shabby with both the two-toed and three-toed species being known to make an appearance during wildlife-spotting hikes in the park, I saw 2 immediately upon walking into the park.
Pros:
The park is a couple of hours drive from the capital, San Jose

Other cool wildlife: Capuchin monkeys, toucans, kingfishers, caiman, crocodile and most notably sea turtles – which is actually the main attraction as it's an important nesting site, with a solid conservation effort to help protect this endangered species

Many of the guides are cool, indigenous locals who are incredibly impressive at spotting sloths (and other animals)
Cons:
The park is not very well maintained in parts and has plastic garbage lying around

The local town to base yourself in is very boring

$15 USD admission fee is not good value for money when compared to other national parks and what they have as a full package
3. La Amistad National Park
La Amistad National Park is a World Heritage Site straddling Costa Rica and Panama and is also the largest national park in the country.
This remote part of the Talamanca Range gives birth to a multitude of gorgeous trails for hardcore hikers. But that's not why you're here, so what are the chances of seeing a sloth in La Amistad National Park?
To be honest, your chances are very slim. Doable, but not probable compared to the other picks here, but it's worth pointing this out in case you were heading this way.
Pros:
Relatively cheap admission ($10 USD)

Local guides are friendly low-pressure and relaxed

Less tourists (off the beaten track)
Cons:
Hikes could be too hard if you're not very experienced or fit

Sloth sightings possible, but not worth putting all your hopes in seeing them into this particular park, as others have a much better chance
4. Arenal Volcano National Park
I'm admittedly being a little bit cheeky adding this one in the Caribbean coast side as it's located in the centre of northern Costa Rica, but I thought it was worth an honourable mention because I saw sloths here, it's beautiful and it's also a perfect day trip from La Fortuna.
Whilst there aren't high volumes of sloth in Arenal, the chances of seeing them are high as there is a trail located 600 metres from the park, which is famous for sloths chilling out there in their own habitat.
Pros:
The volcano is beautiful on a clear day, especially if you catch it with the smoke coming out of the top

Easy hike for those with lower fitness levels or no desire to hike to see a sloth in the wild

Hot Springs are nearby for additional fun activity
Cons:
It's relatively small, so not worth the effort unless you're passing through there already

Not a great amount of wildlife in comparison to others

You

can't climb the volcano

(it's not permitted and illegal)

Personally I don't think $15 USD admission fee lived up to my highly volcanic expectations
3 National Parks in Costa Rica to See Sloths (Pacific Coast Side)
1. Corcovado National Park
Gear up for this one, folks. This place is not only gorgeous but also described by National Geographic as "the most biologically intense place on Earth," due to its size and also high concentration of diverse animals and plants.
This national park is absolutely teeming with wildlife.
You will see many endangered species here in their natural habitat and this is quite possibly your best chance of seeing both species of sloth in the wild.
Pros:
It's so diverse that a sloth sighting is almost a guarantee

Many extra cool wildlife to potentially spot (this national park has over 50% of the country's biodiversity)
Cons:
Requires additional air travel due to isolated location and at $300 USD each way (or you can travel via boat from Drake Bay)

Tour guides are mandatory here
2. Manuel Antonio National Park
Expect more busy human traffic at this park, particularly during peak season but sloth-seeing bucket list collectors should opt for this place if they have not yet seen one!
Pros:
Big chance of seeing both kinds of sloths (most important pro)

Beautiful beach

Other cool wildlife to spot: White-faced monkeys, iguana, white-tailed deer and chameleons
Cons:
The place is

really

badly organised, you will queue longer than necessary and some shady locals will pose as staff for extra money

Muggings are common in nearby town of Quepos
3. Monteverde National Park
Nearby Santa Elena is a popular tourist hub and also a gateway to visit Monteverde National Park. The cloud forest here is complete eye-candy, but you have to earn its beauty as the roads are sketchy to navigate (you will need a 4×4 to access the park if you're not paying for a tour).
Once you get there you'll see that the trails are well looked after, but that's not why you're here… is it?
You can see sloths here, but with a slight caveat; only the two-toed sloth inhabits Monteverde.
And remember that this type of sloth is nocturnal, so you are more than likely going to have a successful sloth viewing in Monteverde during a night hike with a guide.
Pros:
As far as National Park restaurants go, the in-house restaurant was very impressive and even has vegetarian options

Multiple trails to explore (if you're that way inclined)

Paths easy to follow and well-maintained
Cons:
Realistically you should go early (to enter at 7am) as it can get too busy after 10am. Negative for night owls, win-win for early birds 🙂

Those looking to see a sloth are limited to one species of sloth and more than likely only to have a successful viewing of one during the night time

$25 USD admission fee before potential (hard-selling) tourist guides is not the best value for money
Where To See Sloths in Costa Rica: 4 Ethical Sanctuaries
I'm going to assume one of three things here. The first being that you're embracing the sloth attitude and you simply can't be arsed to do all the adventurous Costa Rica stuff, so you'd rather visit a responsible sloth sanctuary instead.
The second is that you've tried and failed to see sloths in the wild and that this section is your last chance saloon.
The third is that you're like me and you're greedy. You want to see these cute little ridiculous fur-balls in the national parks and also in a sloth sanctuary in Costa Rica.
I'm not here to judge you on the why, I'd rather just show you the how. As mentioned before, there are certain red flag behaviours from a supposed "sanctuary" to suggest that some places are a no-no.
The following sloth sanctuaries in Costa Rica have been hand-picked by myself after hours of intense due diligence and personal experience.
Aviarios del Caribe
Also known as the creative name of "Sloth Sanctuary," this establishment in Cahuita was the original rescue centre for orphaned, injured and abandoned sloths.
The Sloth Sanctuary studies and observes the animals and its findings works in unison with other sloth sanctuaries around Costa Rica.
Guaranteed viewing of both the two-toed and three-toed sloth in this pioneer of Costa Rican sloth sanctuaries.
The Sloth Institute
Another sloth sanctuary in Cahuita with a glowing reputation for their welfare of sloths. The guides are fantastic and knowledgeable and you'll leave with a deeper understanding of the animals regarding their habits and struggles.
Just like its neighbour listed above (Aviarios del Caribe) this institution is big on research, education and conservation.
According to the institute they are not an official sloth sanctuary, but a non-profit organisation with a focus on sloth welfare and behaviour. Regardless of semantics, The Sloth Institute is still a worthy addition to the list of sloth sanctuaries in Costa Rica.
Alturas Wildlife Sanctuary
If you haven't exceeded your daily quota of cuteness, check out these 2 baby sloths from both species of sloth in the video below, recorded at Alturas Wildlife Sanctuary in Dominical:
You have very good odds of seeing not one, but many sloths here, including baby sloths. Not sure you can get much better than that!
Jaguar Rescue Center
Yep, you read it correctly. It says Jaguar, but the reality after visiting this place is that the sloths get quite a lot of the limelight here, I felt like they were the main attraction and the jaguar was more of an afterthought.
The jaguar is a mere cool addition to the centre, but like most big cats it's incredibly isolated and elusive by nature. I saw many sloths in this place while staying in Puerto Viejo and thoroughly enjoyed getting one more sloth fix.
The extra wildlife there was a lovely cherry on a very sweet cake at the end of my Costa Rica adventure.
Where To See Sloths in Costa Rica: A Conclusion
I hope that after reading this post you are left with the same peace of mind that I left Costa Rica with, safe in the knowledge that you will get to see sloths during your visit.
You may have to do some planning and prioritising before or during your trip, but if you follow this guide it shouldn't be too long before you are the envy of your cute-animal loving friends and family.
Just remember the key points; there are two different types of sloth, some are shyer than others, but they are almost always in trees and you have more than one option when it comes to sanctuaries.
Now that you know where to see sloths in Costa Rica, good luck with your cute animal quest and enjoy the "pura vida" environment while you're there.