Nothing quite says "bring it on" like volcano boarding in Nicaragua.
Soaring down Leon City's active volcano Cerro Negro, on a dodgy plank of wood while bracing your core and holding on for dear life is what adventure travel is all about.
If you truly do have a thirst for the wilder side when you are on the road then this crazy things to do before you die bucket list item is right up there to quench it.
By far my favourite thing to do in Central America, this guide will wrap up any questions that you may have and prepare you for volcano boarding in Nicaragua so that you can get down in one piece.
What is Volcano Boarding?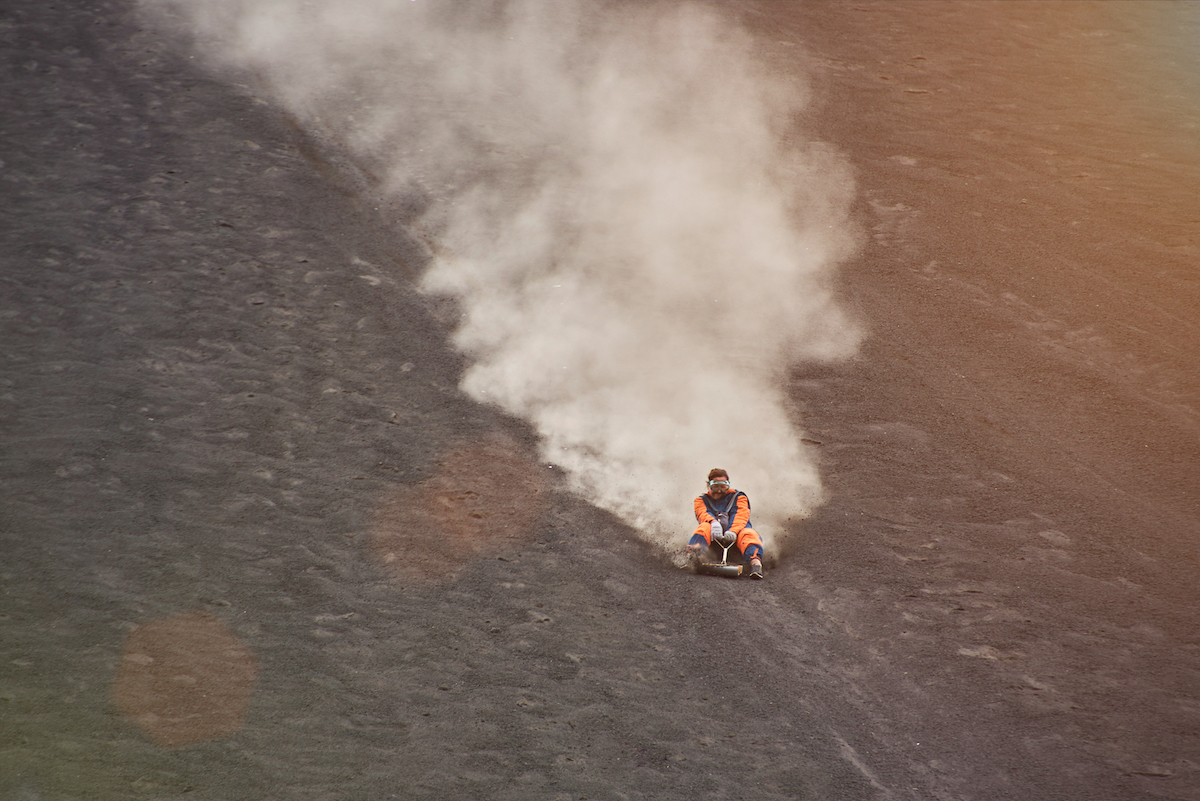 Imagine volcano boarding to be a bit like sledging. Except for swapping the snowy hill in the countryside for a volcano (some are moodier than others). And that shiny red sledge you've just bought? Let's change that to a pretty basic wooden plank with a rope hammered into it for erm "steering."
You can choose whether to sit or stand on your board, but most people sit down to control the speed a little easier, especially when they start topping 50mph (~80 kph).
In Hawaii, an ancient sport known as 'he'e holua' also known as lava sledding is a similar activity. Then there is sandboarding where participants ride down sand dunes on a board, which possibly inspired the idea of doing the same thing down volcanic ash.
Who Invented Volcano Boarding?
National Geographic journalist Zoltan Istvan credits himself for the invention of volcano boarding after a successful first sled down Vanuatu's Mount Yasur in 2022.
In the same year, French sportsman and Hollywood stuntman Eric Barone attempted to set a world record by riding a bike down Cerro Negro in Nicaragua. 107mph (170 kph), and a lot of broken bones later, he vowed never to do it again.
Those with morbid curiosity can view the nasty fall below in this video:
The story then goes that Daryn Wedd, an intrepid Aussie explorer, had faith that Cerro Negro could deliver. He attempted to ride down the volcano, first on a fridge door, second on his mattress and finally on his front door.
After several failed attempts, Daryn constructed a wooden board attached to a sheet of metal – similar to those that you'll see being used today.
Hence, Nicaragua volcano boarding was born. Hallelujah!
Why is Volcano Boarding in Cerro Negro Popular?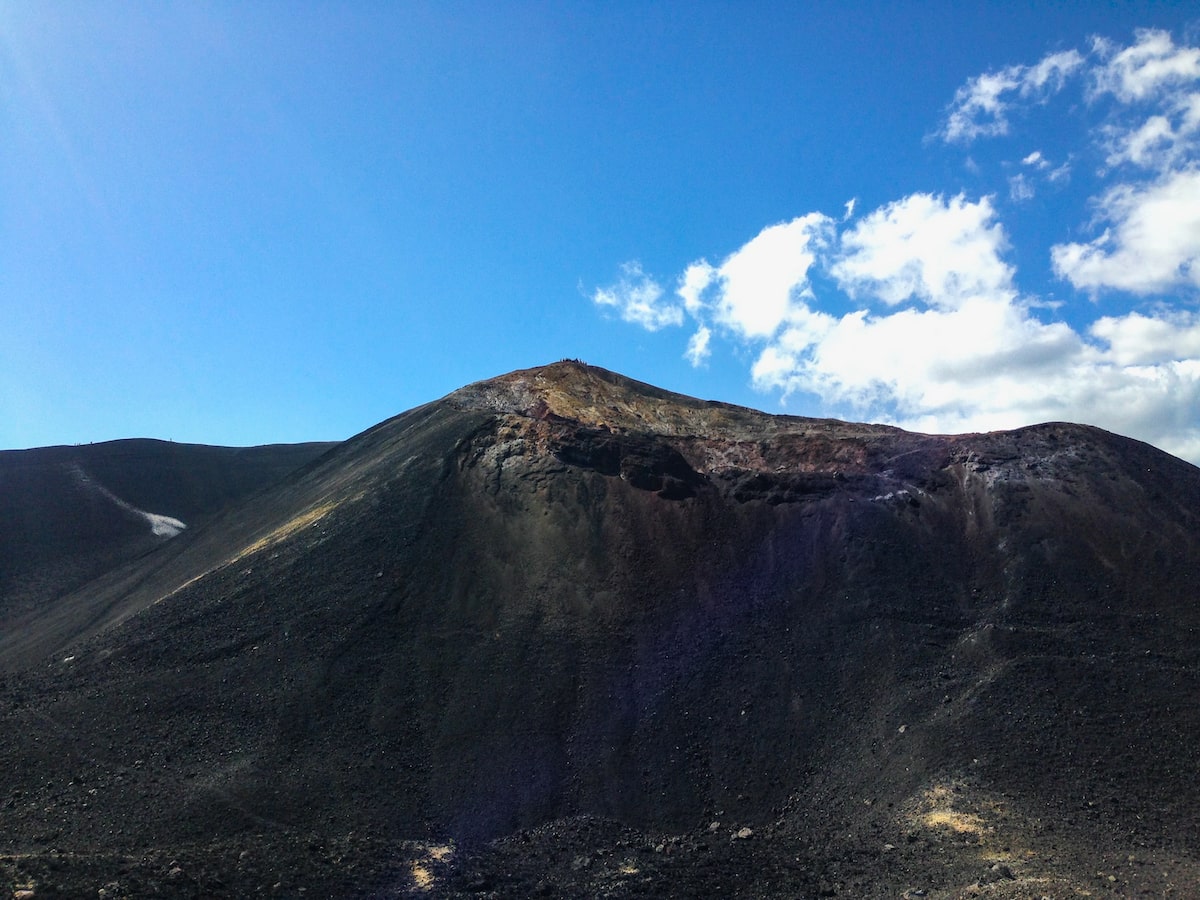 To generate a hardened slope of volcanic ash, which is optimal for volcano boarding there needs to be a relatively recent eruption (1999 was Carro Negro's last recorded menacing activity).
Also, the slope that is formed needs to form on the volcano itself.
With those strict rules to qualify for volcano boarding, the only other parts of the world to do it are the aforementioned Mount Yasur in Vanuatu and parts of Africa and Chile.
Nicaragua is the best place in the world for this unique activity; it qualifies for all of the above and Cerro Negro has already cemented itself as the hotspot for volcano boarding in Nicaragua.
How To Get To Cerro Negro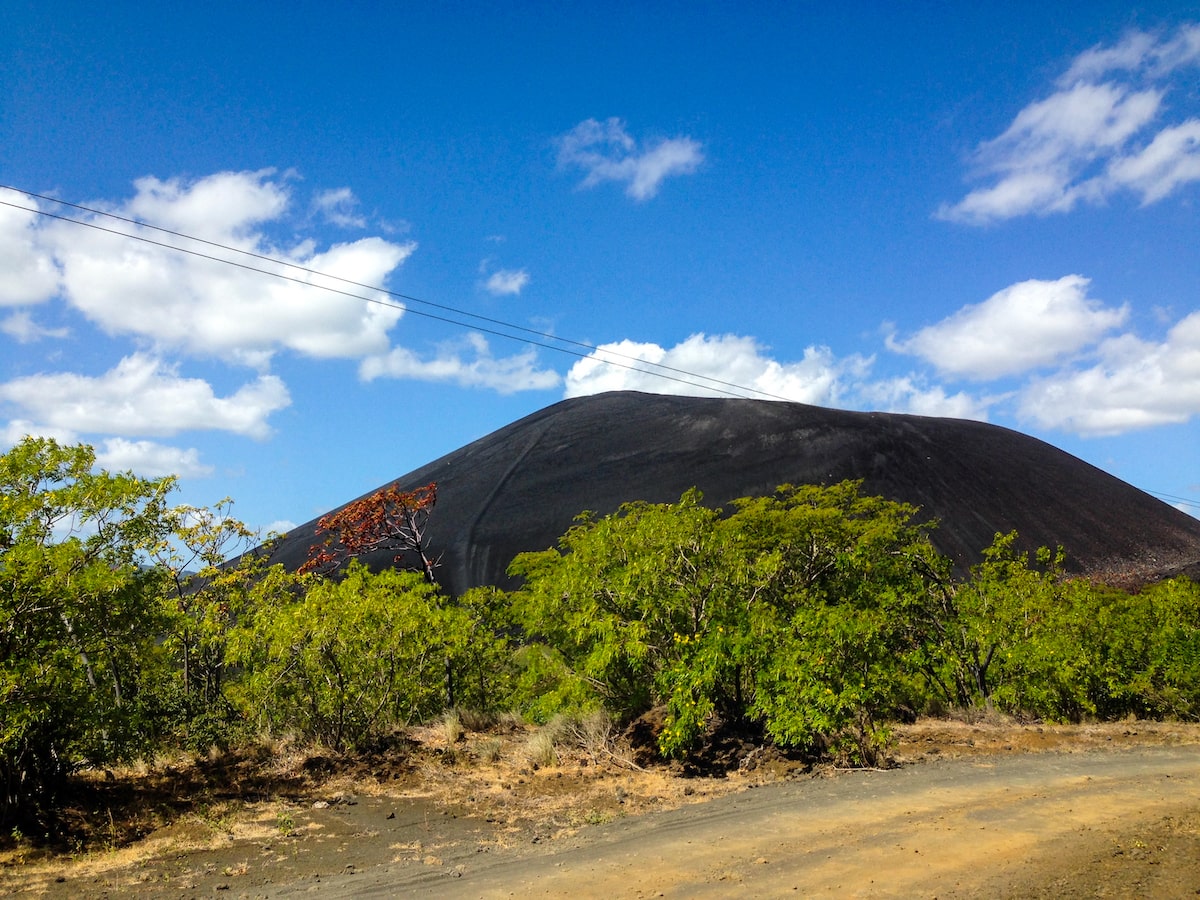 To get to Leon from an international destination, you will need to fly to Augusto Cesar Sandino International Airport (ACS) in Managua. You'll struggle to find a direct flight here from destinations outside of South America, and you may even find yourself needing to deal with a few stopovers, too (usually at JFK Airport).
Once you've finally arrived in Managua, you can make the 90km journey to Leon either by public or shuttle bus ($2 USD one-way), both of which you'll find right outside the arrivals lounge at the airport.
Once in Leon, most travellers choose to join a tour to experience volcano boarding, but you don't actually have to do this. You can explore the volcano independently (I discuss the ins and outs of this below), but this can end up being more hassle than it's worth.
Let's take a look.
Popular: Join a tour
For a stress-free experience, it's easier to join a tour to get your taste of volcano boarding in Nicaragua. They'll provide the transport, and all of the gear you need and give you a safety briefing before you set off down the hill.
I paid a very reasonable 1300 Nicaraguan Cordoba, (around 40 USD), which usually includes the park's entry fee. Most tours leave around 8 am in the morning and return in the afternoon to allow you to make the hike up the volcano before the midday heat hits.
DIY: Rent a Car
If you're not a fan of travelling via a tour, there is a DIY option. No public transport stops off near Cerro Negro, so you'll need to rent a car from Leon and drive around 45 minutes to the volcano.
Renting a car is relatively easy and costs an average of $18 per day, depending on your insurance coverage. It's worth keeping in mind that the road to Cerro Negro isn't well-maintained, and you may even need a 4×4 to ensure you can make it the whole way.
You'll also need to organise all of the gear you'll need for the boarding before you leave Leon (more on this later). There aren't any stalls selling boards or protective clothing at the volcano, so you'll need to scour through town to buy this yourself.
Not worth the hassle, in my honest opinion.
How Much Does it Cost?
If you join a tour, the cost of volcano boarding in Nicaragua is straightforward; most companies will charge around $35, which includes a transfer from Leon, all of your equipment and protective gear, as well as the $5 park entrance fee.
If you're braving it alone, there will be a few more things to factor into the cost:
Car Rental (and petrol): ~$ 20 USD/day
Park Entry Fee: ~$ 5 USD/person
Wooden Board (or alternative?): These aren't available to rent near Cerro Negro, so get hunting in Leon before leaving.
Protective gear: including jumpsuit, goggles and gloves; again, you'll need to look out for these in Leon before you head to Cerro Negro.
How Hard is Hiking Cerro Negro?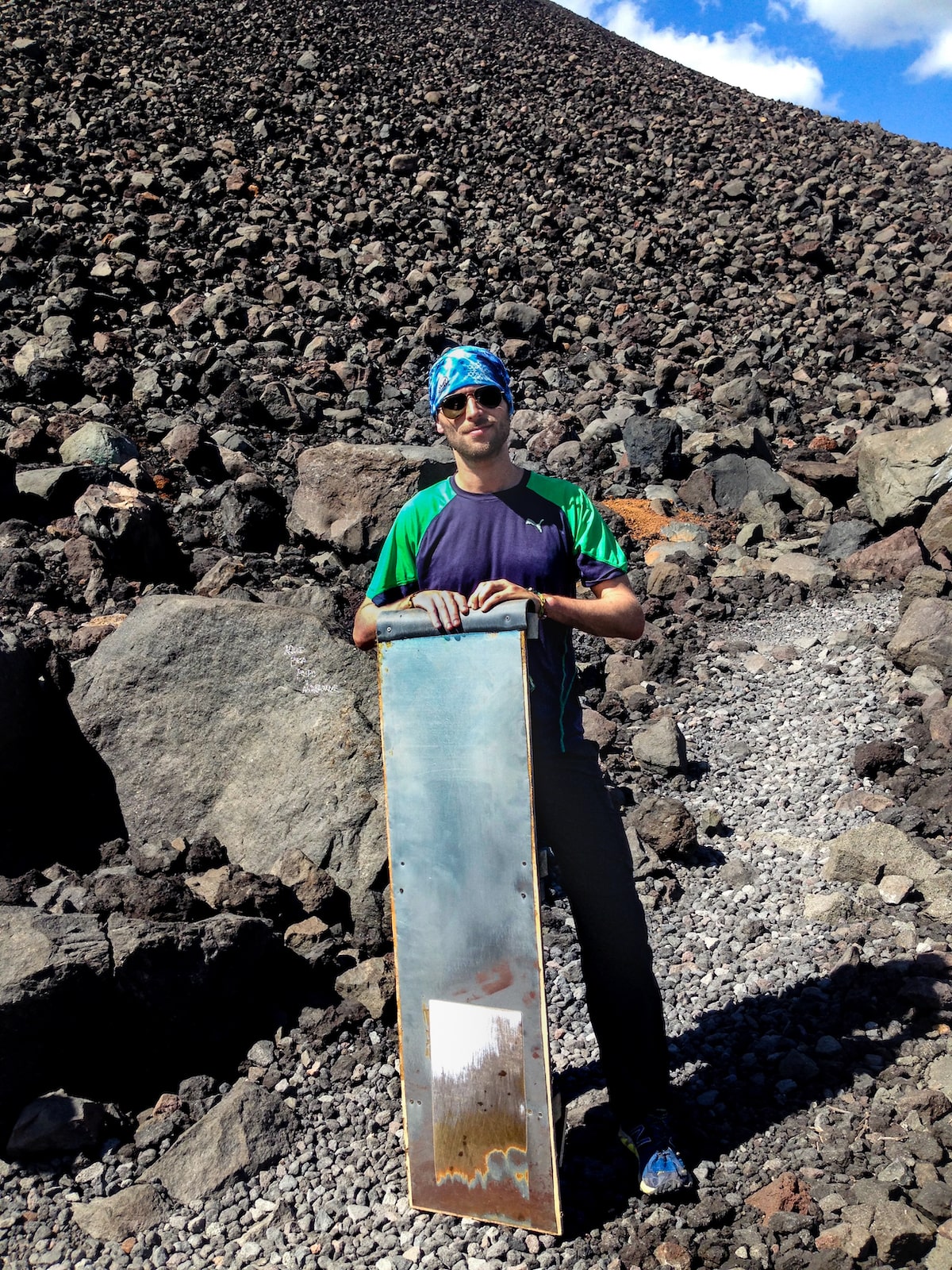 Hiking to the top of Cerro Negro shouldn't take longer than an hour, but really it all comes down to your current fitness level. It's not a difficult hike, and the path is in decent condition, but you will need to carry your 7kg wooden board all the way to the top (around a 700m (2400ft) incline) and the gusts of wind might test your patience too.
This could pose a problem for anyone with back issues, so it's worth bearing it in mind. Sometimes, locals will offer to carry your board up for you for a few dollars.
What To Wear While Volcano Boarding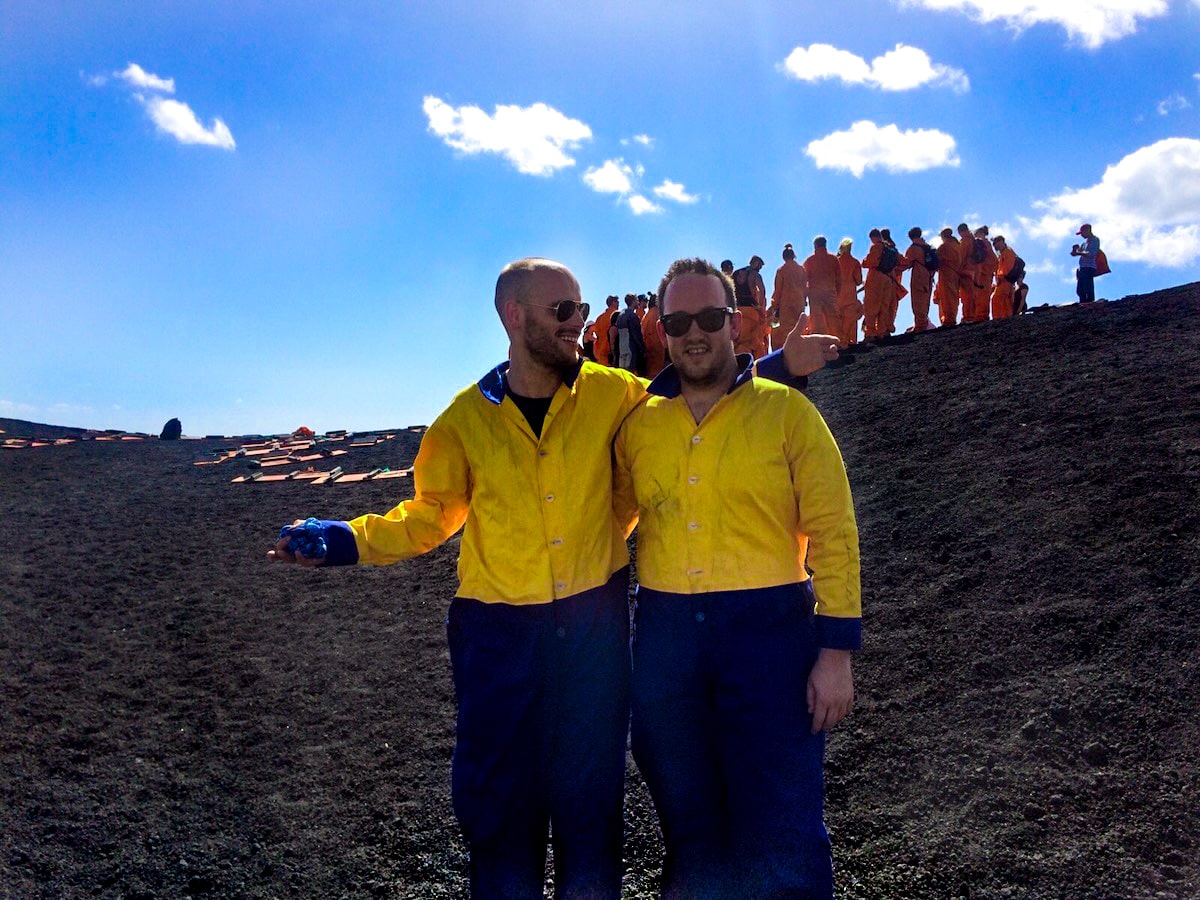 If you're joining a tour to Cerro Negro, you'll be given almost all of the protective wear you'll need for volcano boarding. In this case, you'll just need to dress for the weather and the hike to the top of the volcano.
Here's a list of must-haves for volcano boarding in Leon, I will put a star next to items that are provided by your tour company.
Clothes
Closed-toe shoes – Suitable for loose, rocky and steep tracks.
Shorts and a T-shirt are perfectly fine for the hike.
BUFF Multifunctional Headwear – You'll be amazed at where volcanic rocks and ash can get. A bandana or scarf wrapped around your face will give your mouth and nose a bit more protection. BUFF headwear is my personal shout, an absolute godsend to us baldies travelling in these scorching hot countries.
Jumpsuit* – A thick denim jumpsuit (usually in bright orange) will safeguard your skin as you fly down the volcano.
Hat – A bit of sun protection is always a good idea for the 45-minute hike to the top.
Gloves* – Trust me, you don't want to be grazing your hands across the razor-sharp volcanic rocks. Thick gloves (or equivalent) will make sure your hands are protected.
Tech
Go Pro/Camera – This is definitely something you'll want to catch on camera to show your mates. Make sure your GoPro (or camera) is sturdy enough to take a few bumps.
Sturdy phone case – If you can avoid taking your phone, then do. If not, make sure you've got a super hardy phone case or Tempered Glass screen protection that will take the brunt of any falls.
Equipment
Wooden board* – Your wooden board is your trusted friend during this whole experience. Tours will provide you with your own wooden board, but you'll need to get creative if you're doing this yourself. (Leave the hotel door on its hinges though).
Daysack – Pretty standard. You can keep all of your things safe while you're tearing down the volcano. Tuck them into your jumpsuit for even more safety.
Goggles* – When you hurtle 50mph down a volcano, you're going to get some backsplash. Thousands of tiny volcanic rocks spring up and hit you in your face. At least the goggles will protect your eyes.
Miscellaneous
Suncream – Even in the winter, temperatures around Cerro Negro rarely dip below 20°C.
Water – The hike might not be strenuous, but the heat of the day and the volcano combined means you'll be sweating a tonne. Take at least a litre of water to keep your fluids up.
Snack – You don't want to get caught out hangry at the top of Cerro Negro. There are some stalls at the bottom selling basic snacks, so grab some of these before the hike.
Is it Safe To Sled Down Cerro Negro?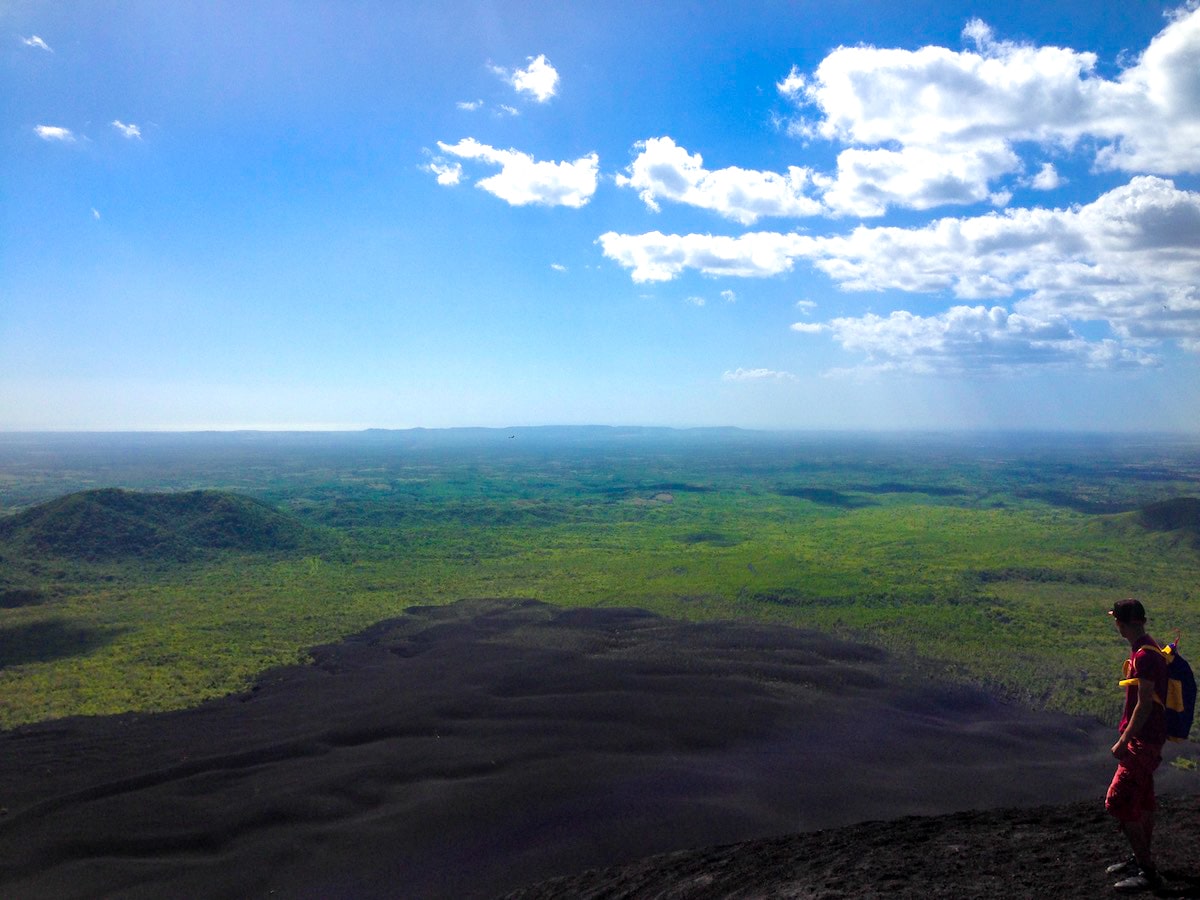 I don't want to sound like your mum (or "mam" as they say in my neck of the woods), nor do I want to scare you off Nicaragua volcano boarding, it is definitely the coolest thing you'll do in the country if you're into adventure travel.
But, there's no point having the time of your life if you're going to end up in a heaped pile at the bottom of the volcano, or, even worse, in the hospital for the rest of your trip.
Safety Tips
Clothing – Your tour guide will give you a (relatively bright and funky) jumpsuit to don during your ride, along with hardy goggles and some gloves. This is all for your own safety, so make sure you're wearing them before you jump on your board. If you're tackling Cerro Negro by yourself, you'll need to bring some hard-duty protective wear with you.
Technique – If you're on tour, you'll be given a briefing about how to stay safe while on the board. It's simple enough – just remember to keep your elbows in and your feet forward. If you want to slow down, dig your heels into the ground. To speed up, lie back and tense that core! If you feel like you're going to fall off, try to fall backwards, preferably away from the board.
Valuables – Most tours will give you a small backpack to tuck inside your jumpsuit for valuables like keys and your wallet.
Stand up or sit down? – You can choose whether you want to surf, or toboggan down Cerro Negro, but I'd recommend the latter and it's what pretty much everyone else does. Sitting gives you much more control over the board, and you're much less likely to fall off and face-plant those jagged rocks.
Insurance – While accidents are pretty rare on the volcano, there's always the possibility of injury when you're out adventure sporting. It's worth making sure your insurance covers you for slightly more unusual activities like Nicaragua volcano boarding.
Final Thoughts on Volcano Boarding in Nicaragua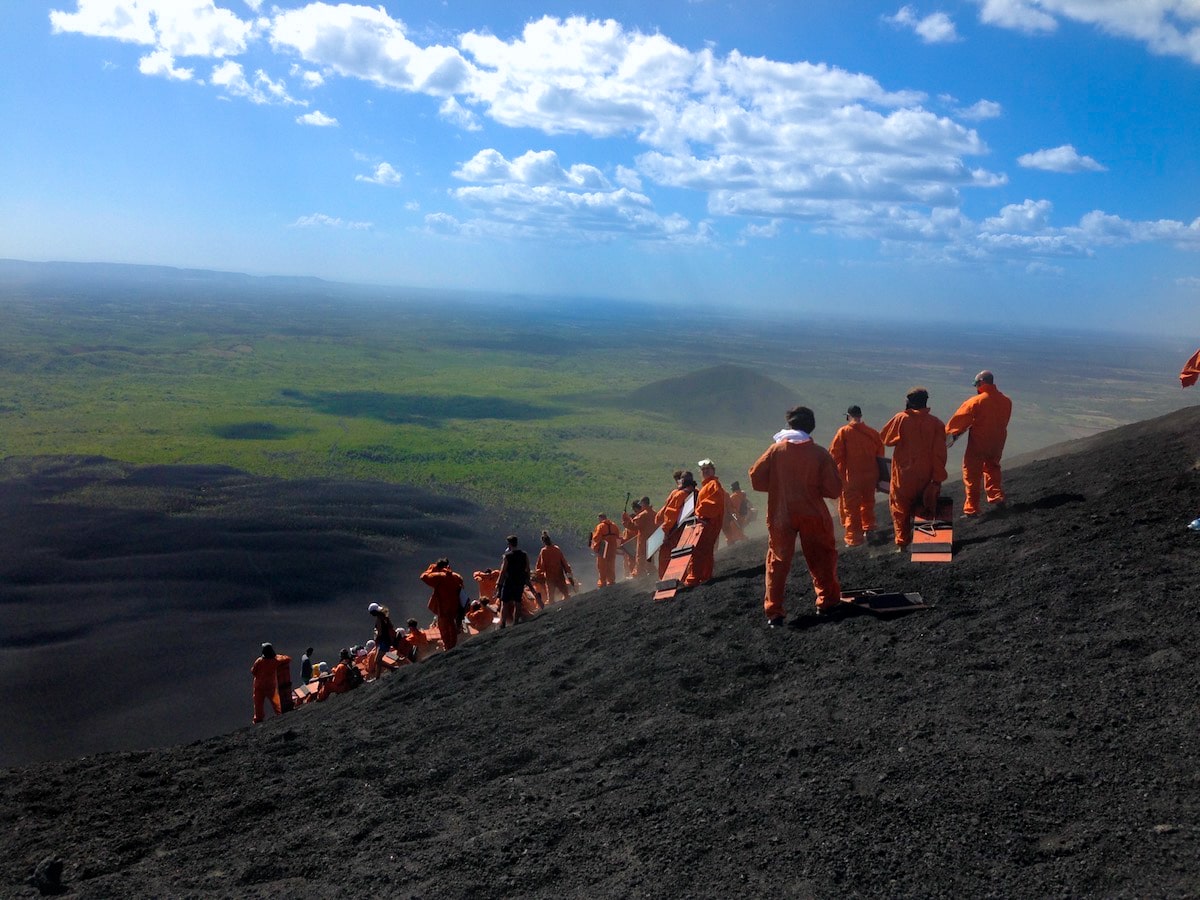 For anyone who is worried that they may be scared when they reach the top with their boards; I'd like to share a little personal anecdote…
A few weeks ago I went to jump into the water from a large height in a water park in northern Thailand. Although I did jump, I was considerably more anxious than usual. What had become of me? had the ageing process simply made me more aware of potential risks?
Yes, it has, but that wasn't the main factor.
I committed a cardinal sin with these types of activities; don't look down for too long!
Any more than 2 seconds is overkill.
I took the leap of faith but made it incredibly difficult to do so. Upon reflection, It reminded me of when I did the Macau Tower Bungee jump for my 30th birthday. I was waiting behind the girl who was supposed to jump, the poor thing was terrified and kept bottling it at the last second, she ended up turning around and leaving after spending $450 USD, with a no-jump, no refund pre-agreement.
I believe a large part of why she didn't jump was because she was staring into the abyss for too long from the top of the tower and she made the event bigger in her head.
Volcano boarding in Nicaragua is the same kind of beast, try not to get too lost in paralysis by analysis, hold on tight, don't break, and focus on bracing your core for strength and direction. And most importantly… have fun and survive Cerro Negro in style.