Climbing Mount Kosciuszko is a rite of passage for Aussie outdoor enthusiasts.
Being able to say that you have stood on the highest peak of your country can bag you some serious extra pride points. Whether that's national, personal, or both is entirely up to you.
As a Brit; I'd honestly never heard of it and there's no way I pronounced it correctly the first time I read about it!
Yet here we were, in what couldn't even be classed as shoulder season – more like "what the fack are you doing here, mate" season, climbing Mount Kosciuszko with my pal Johnny – the only other guy on the mountain, with snow at times up to our knees, pushing forward for the summit for the glory.
We had our reasons (which will be revealed) why we flew to Australia last-minute to climb Mount Kosciuszko, but if you want to know all the logistics in order to "climb" it (I think "hike" is more accurate) yourself in summer or the harshest of winter, then read on…
"Kozzie" is The Highest Mountain in Australia (Well, Sort of)
Climbing Mount Kosciuszko means you have lifetime bragging rights of climbing the tallest mountain in Australia, right?
Well, yeah. However, no. Kind of. But not. It's complicated, allow me to have a crack at explaining…
Australia is well-known as a country and needs no introduction, but it's also a continent. When I was a little lad (many moons ago) at school we learned about "Oceania," and it was looked at more like a continent.
That's outdated, Oceania is simply a region in the world – which does include Australia within its territory and is also home to the main bone of contention for the tallest mountain on the continent of Australia: Puncak Jaya, (aka Carstensz Pyramid).
Puncak Jaya is legally in Indonesia (which of course is in Asia). However, Indonesia's size is vast and Puncak Jaya is on the island of Papua, the same island as Papua New Guinea (which is also classed as The Pacific Islands). The people on the west side of Papua Island want to be their own independent country, "West Papua."
Wants aside, as it currently stands Puncak Jaya remains to be in Indonesia. Much like Mount Elbrus's contention for being the tallest in Europe, if we are going by the position of tectonic plates; Puncak Jaya is the tallest mountain in the continent of Australia and Mount Kosciuszko is the tallest mountain in the country of Australia.
History of Mount Kosciuszko
Now we've got that mindf**k covered, let's delve into the history of what Aussies affectionately refer to as "Kozzie."
Mount Kosciuszko is a mountain in the southeastern region of Australia that stands 2,228 metres (7,310 feet) above sea level. It's located in the Main Range of Kosciuszko National Park's Snowy Mountains, which are found in the state of New South Wales, near the NSW/Victoria border.
Originally, Indigenous Australians known as the Ngarigo people populated the area surrounding Mount Kosciuszko before European settlers arrived. An Austrian naturalist named John Lhotsky is suspected to have climbed the mountain in 1834 while travelling through the Monaro and Snowy River regions.
However, the first person to officially (on record) climb Kosciuszko was the Polish explorer Paweł (Paul) Edmund Strzelecki in March of 1840.
He decided to name the mountain after the famous Polish-Lithuanian freedom fighter, General Tadeusz Kościuszko. Kościuszko was a national hero in Poland, Lithuania, Belarus, and the United States. He fought in struggles against Russia and Prussia, and on the American side during the American Revolutionary War.
In 1794, as Supreme Commander of the Polish National Armed Forces, he led an uprising against the Russian Empire and the Kingdom of Prussia in an attempt to liberate the Polish–Lithuanian Commonwealth from Russian influence.
Kościuszko has been honoured in various countries through monuments, museums, and street names. Kościuszko Mound in Kraków, Poland bears a resemblance to Mount Kosciuszko, albeit in a much smaller size.
While its size makes for a decent hike, climbing Mount Kosciuszko is considered to be one of the easier mountains to trek when compared to other famous peaks like Kilimanjaro (2.5 times bigger, read more about my Kili climb here).
If you have a decent level of fitness, you will have absolutely no worries about climbing Mount Kosciuszko. However, it was a little harder on the legs for us considering it was the heart of winter.
How To Get To Mount Kosciuszko?
Mount Kosciuszko is more or less halfway between Sydney (a 5.5-hour drive) and Melbourne (a 7-hour drive), so getting to it from either of those cities is certainly doable if you're making an Aussie road trip out of it.
If you do happen to be passing through Sydney and are a bit of a weirdo, feel free to check out these 12 unusual things to do in Sydney
You can also fly to Australia's capital city of Canberra, and from there, it's a 3-hour drive to the mountain. There are buses/coach lines that run from all of these cities to Kosciuszko.
The closest towns surrounding Mount Kosciuszko are Crackenback and Jindabyne, both in New South Wales and a 30-minute drive from Kosciuszko. Jindabyne will be the most economically friendly accommodation in the area, and you can arrange to have shuttle buses (Snowy Mountains Shuttles, Snowlink Shuttle, Snow Connect) take you to and from Kosciuszko.
For the climb itself, there are two starting points you can choose from.
The first is at Thredbo, an alpine resort at the southern base of the mountain. From here, you can either walk to the starting point (via Merritts Nature Track) or take the Kosciuszko Express Chairlift (it runs from 9 am to 4:30 pm). If you choose to walk to the starting point, it adds an extra 4 kilometres and 2 to 3 hours to your day.
The trail passes through the rocky granite of Ramshead Range, across the Snowy River, above Lake Cootapatamba, and onto Rawson Pass before the final leg to the summit. This trek is 13 kilometres and takes anywhere from 4 to 5 hours to complete.
The second starting point is at Charlotte Pass Ski Resort, which is on the east side of the mountain. From here you'll begin at an elevation of 1,837 meters (6,027 feet) and take the Main Summit Walk. This is a popular trail on Old Kosciuszko Road (Kosciuszko's summit used to be accessible by car) that passes Snowy River, Seaman's Hut, and Rawson Pass before meeting up with the Thredbo trail. This trek is 18.6 kilometres.
There's an additional trail from Charlotte Pass called the Main Range Walk. This is a more challenging trail at 22 kilometres but is preferable for some as you can camp out and complete the hike over a few days if you wish. You'll see Snowy River, Hedley Tarn, and Blue Lake, and then descend the Main Summit track after you've reached the peak.
It would be hard to get lost on a clear day on Kozzie, but we had little visibility thanks to the snow covering the well-beaten track. I had the luxury of leaving navigation skills to my mate Johnny, who did a fine job.
The Best Time of Year To Climb Mount Kosciuszko
The best time to climb Mount Kosciuszko is between November and May, which is Australia's spring, summer, and fall months.
Summer runs from December and March, and during this time you can see the mountain's wild alpine flowers in full bloom. The shoulder season months of October/November and April/May have less foot traffic on the mountain and also a higher chance of snow as the weather is much cooler.
We climbed Mount Kosciuszko on 31st June, the heart of Australian winter and we were the only people attempting it.
Can You Climb Mount Kosciuszko Independently?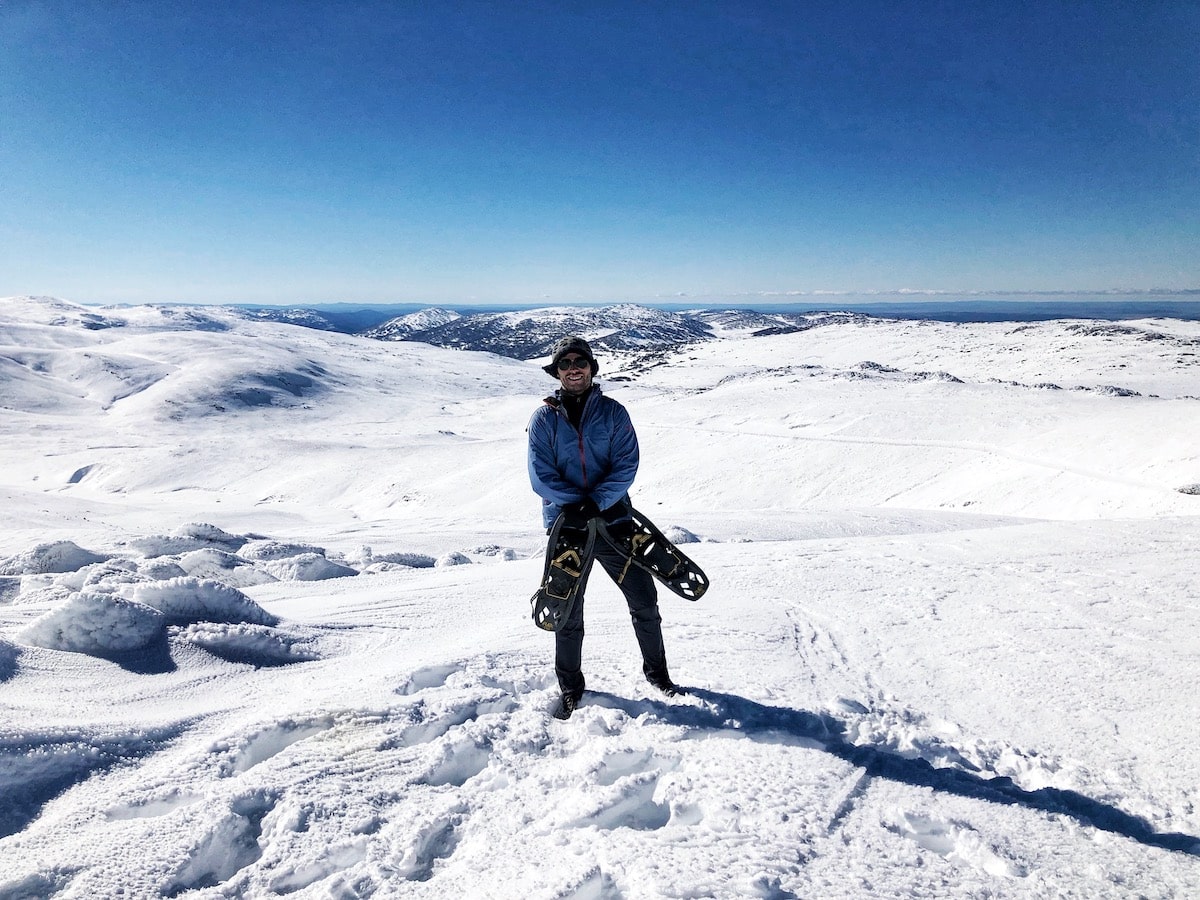 If you prefer to climb Mount Kosciuszko on your own, you're more than welcome to. Going in a group is always better from a safety standpoint if you go in winter, but there's no mandatory rule that you must go with a group or guide.
You should take your safety a bit more seriously though if you are climbing Mount Kosciuszko solo in the winter. It's recommended that you fill out a trip intention form and download the Emergency Plus app so that emergency services can locate you via your phone's GPS.
To be completely honest, I wrote that for those who are very safety-conscious and more risk-averse. If you are careful you will be fine – it's just climbing Mount Kosciuszko on your own in less than favourable conditions that's the one to look out for.
Cost of Climbing Mount Kosciuszko
To climb Mount Kosciuszko, you'll pay for entrance to the Kosciuszko National Park. Most of the year, the entry fee is $17 AUD ($13 USD) per car or $6.60 AUD ($5 USD) per person by bus, with children being $2.20 AUD ($1.70 USD) each.
The winter months see an increase in the price for entry – $29 AUD ($22 USD) per car or $11.45 AUD ($9 USD) per person by bus, with children being $3.60 AUD ($2.75 USD) each.
If you decide to hike via Thredbo, you'll have to pay an additional $25 AUD ($19 USD) fee for the use of the Kosciuszko Express Chairlift. We also had to rent snowshoes as an agreement to hike Kozzie, I can't remember how much that was, sorry!
Climbing Mount Kosciuszko in Winter: Why The Hell?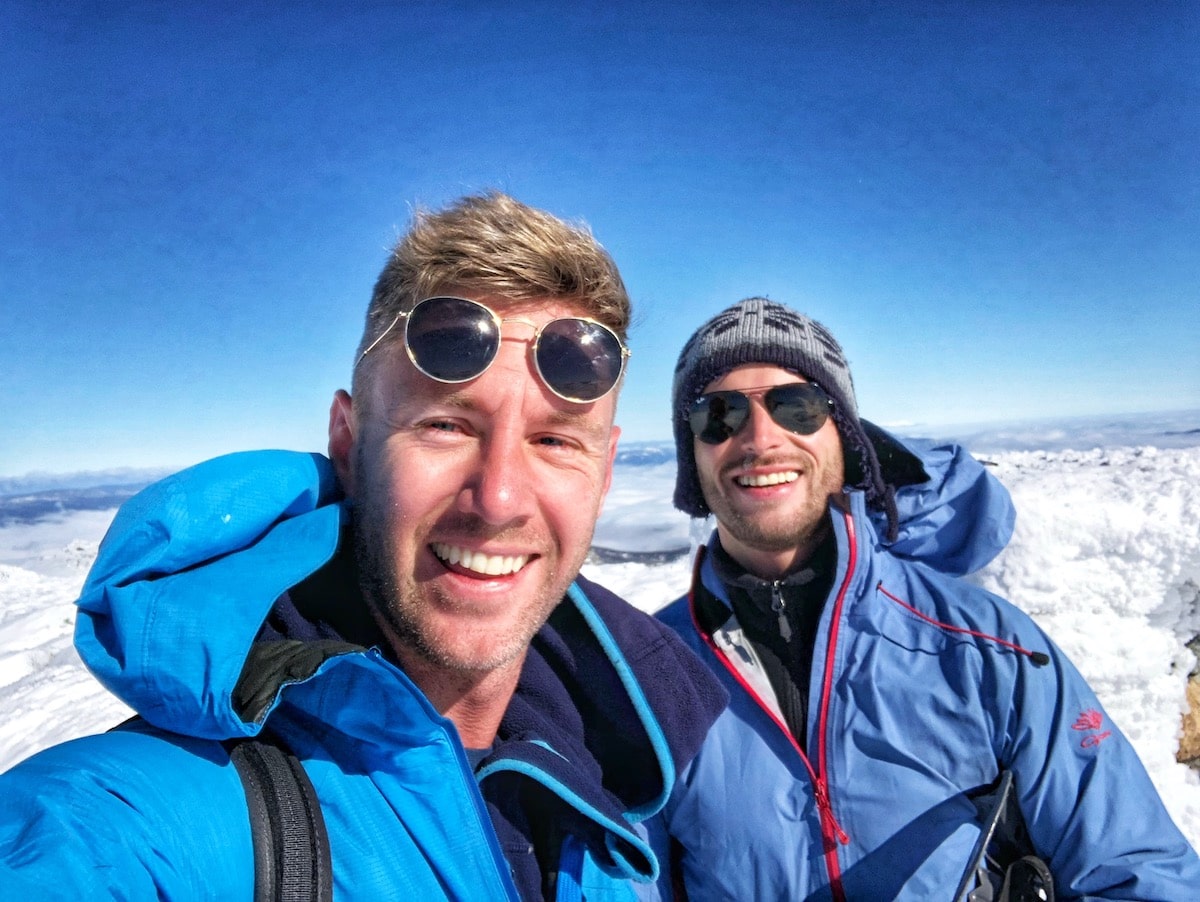 Winter in Australia is between June and October and resorts like Charlotte Pass and Thredbo are popular destinations for skiers and snowboarders. However, during these months the routes to Kosciuszko's summit are snowbound and trekking is advised against, but as you will find out if you read on; it's still possible.
You can even cross-country ski or snowshoe up the mountain if you wish. The only problem with this is that there's a lot of show and no clearly defined trail, so it depends on your level of competence, confidence and a bit of lady luck on your side.
The weather on the mountain is also unpredictable (especially in winter) so you could be in for a rude awakening at some point during your trek as blizzards with 80 mph white-out conditions aren't out of the norm. For this reason, strict restrictions are imposed and you'll only be allowed to climb if it's expected you won't encounter any major problems along the way.
Of note, the alpine hut along the trail known as Seaman's Hut was built as a memorial to Laurie Seaman and Evan Hayes, two skiers who got stranded on Kosciuszko in a 1928 blizzard and died – further proof that on any mountain you can be in the wrong place at the wrong time…but I don't want to scare anyone – climbing Mount Kosciuszko is usually relatively easy, safe and gorgeous.
Packing List for Climbing Mount Kosciuszko in Winter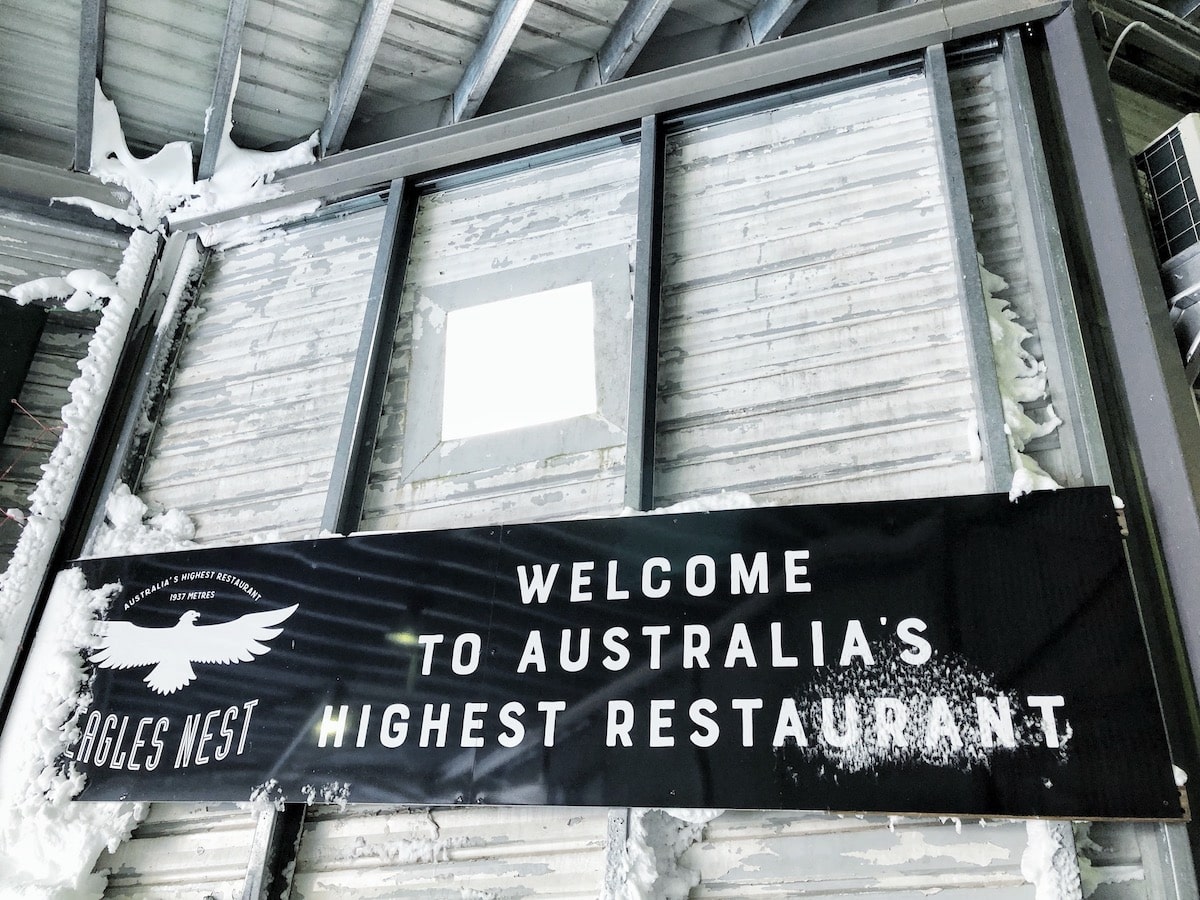 If you feel you're up for the challenge of climbing Mount Kosciuszko during the winter, be smart about it and make sure you bring the following items with you:
Food & Water: Make sure you pack enough food and drinks to sustain you for longer than the duration of your trek.
Sunscreen: Just because it's winter doesn't mean there's no sun. I learned this the hard way in Russia. Bring sunscreen to protect your face from getting burned.
Clothes: Dress yourself in lots of layers. Wear thermal underwear under long clothes to keep your body warm. Make sure you're wearing well-insulated outdoor gear – a jacket, pants, gloves, and boots. Bring some spare clothes just in case.
Gear: You'll either need cross-country skis or snowshoes to get up the mountain in winter. It's also advisable to wear goggles for eye protection and hand warmers so your fingers don't freeze.
First Aid Kit: A basic first aid kit is essential. Make sure it has bandages, Band-aids, antiseptic wipes, antibiotic ointment, sterile gauze pads, and adhesive tape. Again, you'll probably be fine – this is just for those who like to take extra precautions.
Mobile Reception / App: Prep your phone with data as mobile reception can be unreliable in the park. As mentioned earlier, download the Emergency Plus app in case of an emergency.
Phone Battery Backup: Bring a battery backup pack to charge your phone in case you run out of power.
Topographic Map: A paper map of the mountain will be a winter guardian angel if all your other navigation tools fail.
Travel Insurance vs Extreme Sports Insurance for Kozzie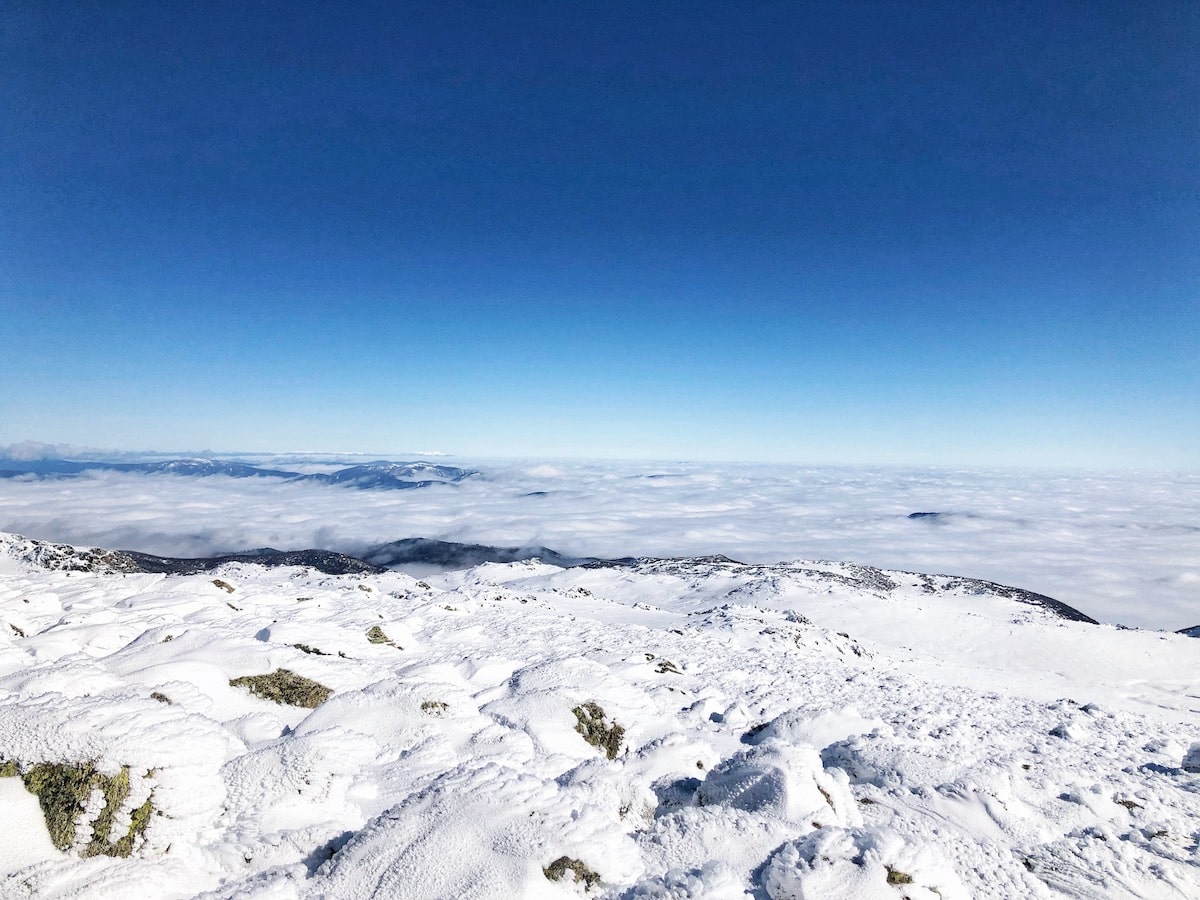 While you may not consider mountain climbing to be an extreme sport, most insurance companies do. Basic coverage on your travel insurance usually won't cover you for any incident, or injury you sustain as a result of your trek. However, you should read the fine print as some insurers do cover you as long as your ascent is under 4000 meters (SafetyWing does and that's who I use).
Kozzie is more of a long and steep hill, rather than a menacing mountain. Basic travel insurance and not being a wally and you'll be good to go.
Climbing Mount Kosciuszko in Winter: My Experience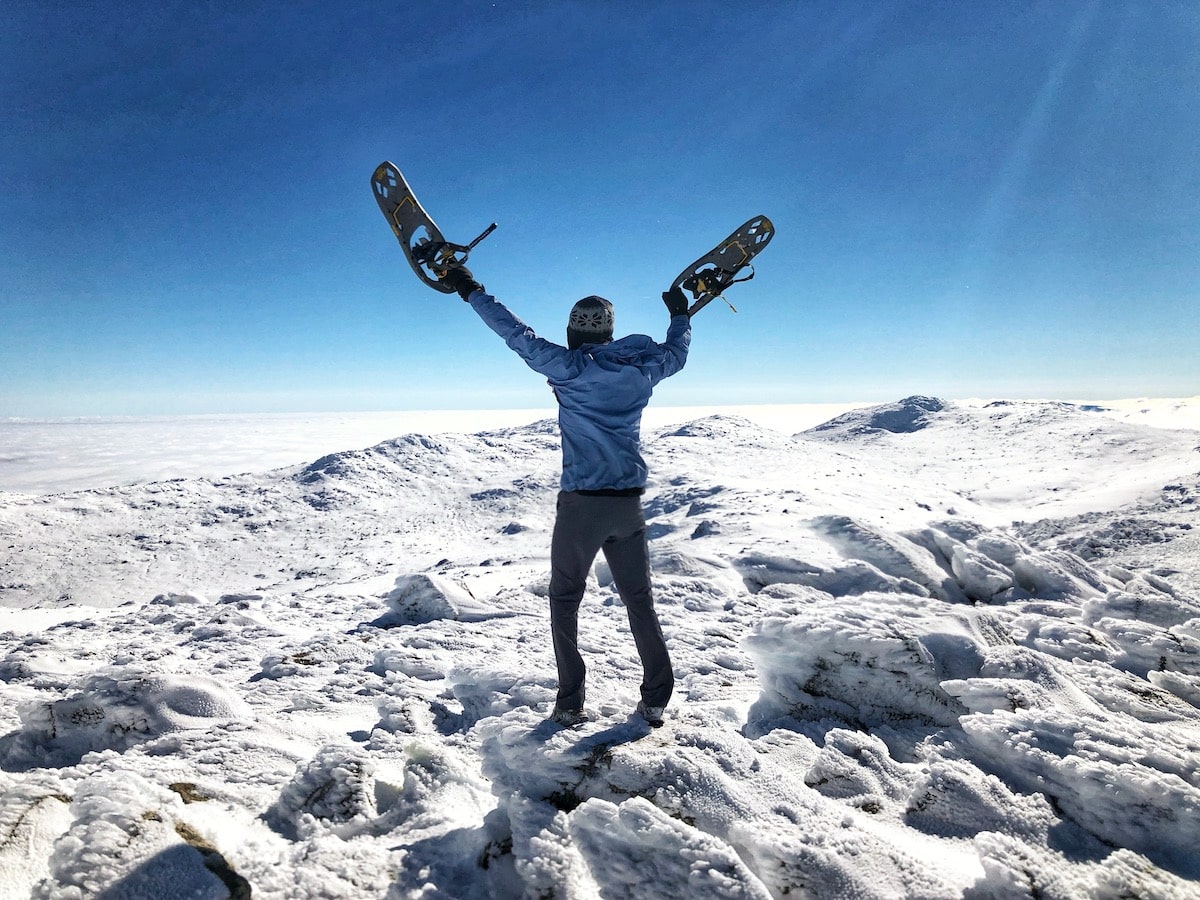 I travelled way too much before taking down the tallest mountain in the continent of Australia, Puncak Jaya. I was knackered and honestly wanted to be one of those annoying Bali bums who eat smoothie bowls and drink coffee all day while catching up on work.
However, the "tallest in Oz" conflict was bothering us both. Much like the contention between the tallest mountain in Europe situation when we climbed Mont Blanc after climbing Elbrus, in order to make sure we had covered all corners…we wanted to do the same with Australia.
So we took 6 redirected flights to Canberra (thanks to an angry volcano in Indonesia changing our course). We rented a car from the airport with RentalCars.com, which took less than half an hour (Aussies really do have their shit together) and headed to Thredbo Village with the aim of climbing Mount Kosciuszko ASAP.
Landing in Australia from West Papua was like landing in the future, the disparity almost inducing a reverse culture shock.
I also got a speeding ticket on the way to Thredbo and I can't remember being particularly speedy, so be careful with that!
We checked into The Thredbo Alpine Hotel, where we would soon find out that we were in the middle of a snowstorm, which wasn't going away. Historically we have had bad luck with weather on mountains, so this felt like a bad omen.
I'll let you into a secret for those, not in the know; Australia is a place of very strict rules. Don't buy the laid-back, flip-flops (or thongs, even) wearing TV Oz stereotype that I fell for. I've been to Australia a couple of times and have a lot of friends who live over there, they are rigid with regulations as a nation – so I was expecting to be told that climbing Mount Kosciuszko was a no-go.
However, the people at the information centre told us that they strongly advised us against Climbing Kozzie, but that we were free to make our own mistakes! A good thing about Australia to counteract the above slight criticism is they will tell you to your face what they think – and the lady at the counter thought we were a right pair of dickheads for even trying. 😀
Nevertheless, we rented the snow shoes and went back to wind down at the hotel…there was no way we'd come all the way to Australia without even giving it a crack; the next day was action time.
After smashing an early brekkie around 5 am (we wanted as much time as possible to get up and down before dark), we set off and from the ski lift, we put our snow shoes on. It turned out that we only needed them for certain parts of Kozzie, most of the time they were in our hands, which was cool as they acted as dual-use for makeshift walking poles at times.
Climbing Mount Kosciuszko in the summer looks picturesque too, but you know what, don't discount its beauty in the winter. We had the privilege of fewer bodies around us, so it felt more isolated and once the snow calmed down, the backdrop of the clear blue sky made it feel like we were climbing a mountain in the Alps.
On the way up we stopped for a rejuvenation coffee (and a bit of escape from the winter bite) at Eagle's Nest Cafe, the tagline is "Welcome To Australia's Highest Restaurant" being too seductive not to.
Just over an hour later and we had powered to the top with a couple of calamitous falls! The snowstorm had completely cleared up and the view from the top of Australia was a beauty, with the backdrop of clouds complimenting the scenery around us.
It was windy and nippy still, but the euphoria always helps you to ignore the cold (for a little bit). We were up and down in just over 3 hours, it'd probably take more time in summer as you wouldn't be in a rush due to fickle winter weather.
It didn't take too long after handing in our rented gear before we were enjoying celebration beers. There was no room for discussion now, regardless of how anybody looked at it – we had 100% climbed the tallest mountain in Australia!
Climbing Mount Kosciuszko is a treat, whatever the weather and I can see what all the fuss is about. Just wrap up well if you decide to do it in winter, Oz can get surprisingly chilly.
Good luck to you, whenever you choose to have your Aussie Kozzie experience.