Australia feels like it was made for road-trippin'. And, I'm not just talking about a two-day ramble into the countryside here, more like weeks and weeks of driving through the remote outback, camping under the stars, with nothing but the occasional calming sound of didgeridoos, a few kangaroos (and much scarier species) to keep you company along the way.
If that idea gets you sprinting to your nearest dusty atlas, then read on… we have some serious planning to do.
How To Plan The Ultimate Australia Road Trip
Before you jump behind the wheel and drive off into the Aussie sunset, you're going to have to narrow down exactly when and where you want to take your ultimate Australian road trip because well… Australia's pretty huge.
You'll also need a pretty good idea of what to bring because no one wants to be left stranded in the Outback Inbetweeners style.
Below, you'll find a guide to surviving the expansive island that is Australia, first-hand planning advice and I'll bow out the article with some of the best road trips you'll find in the Land Down Under.
Best Time of Year For An Australia Road Trip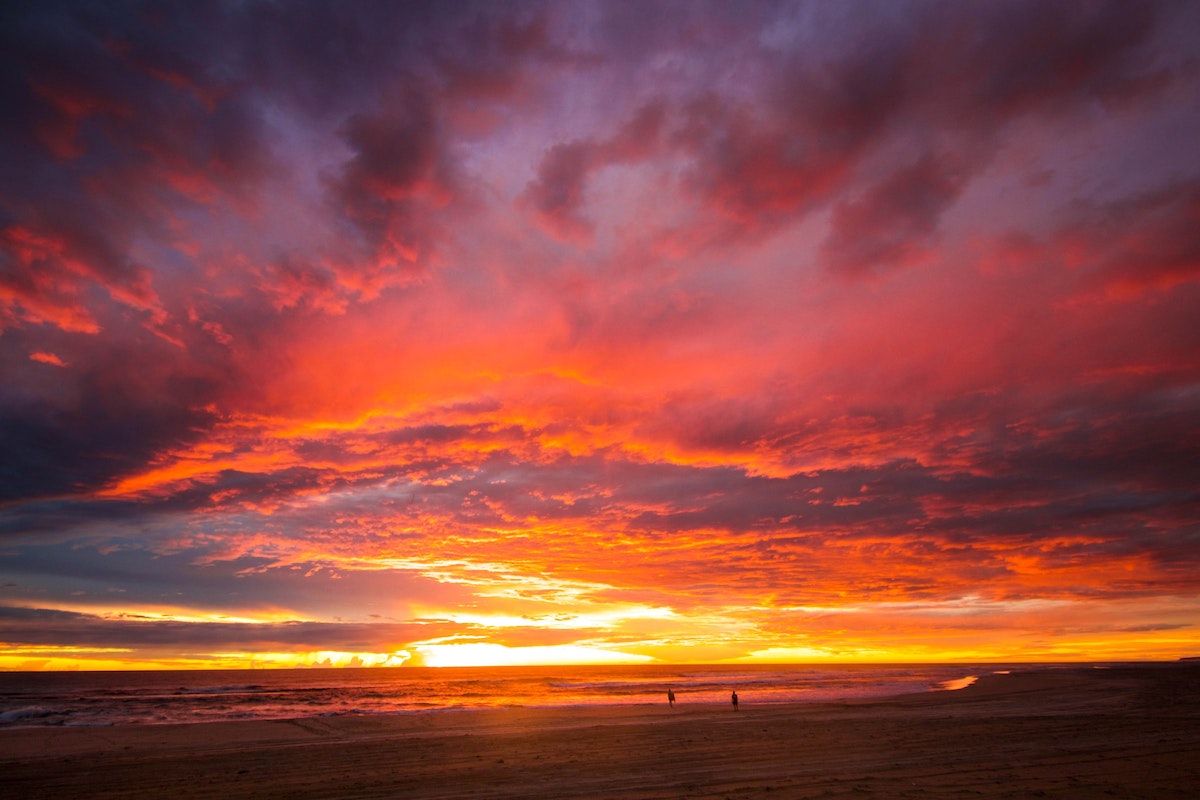 The great thing about Australia is that it doesn't tend to get as cold as it does over in the northern hemisphere, which means an Australia road trip is always on the cards, no matter what time of year it is. You just need to pick and choose carefully where you go, according to the seasons.
The main things to watch out for in Australia are flooding (in the subtropical north/northeast), insanely hot and dry temperatures (in the Red Centre), and, can you believe it, snow (in Tasmania)!
If you're not familiar with the Australian seasons, here's a quick low down:
Spring – September to November
Summer – December to February
Autumn – March to May
Winter – June to August
Hold up, here's where it gets a bit complicated.
Almost everywhere in Australia abides by these seasons, except for the subtropics in the north and northeast of the country. If you find a map of Australia and draw a line from Broome in the west to Townsville in the east, everything above that line is considered to have a tropical climate.
In these areas, the weather is dictated more by weather patterns that we see in places like Southeast Asia, with a pretty definite wet and dry season.
As you've probably guessed, the wet season sees A LOT of rain, causing road closures, and flooding in towns, and it also happens to coincide with peak crocodile breeding season too. Not ideal conditions for that lovely, laid-back romantic or solo soul-searching trip you had conjured up in your mind.
To make it a bit easier for you, I've put together a cheat list of when the best time to organise a road trip is according to different regions of Australia:
Tropical North: April to October (less rain and not too hot)
Red Centre: March to May, or September to November (these shoulder seasons offer up much cooler days for hiking)
East Coast: June to September (temperate weather conditions the whole way for this mammoth 5,000 km road trip)
West Coast: April and September (temperate weather conditions for outdoor activities and animal encounters)
Tasmania: December to February (warm, sunny and peak nature spotting season)
Southwest Australia: September to April (hot summer days and luscious greenery)
If you're looking to add some excitement to your adventure, consider whale watching Bremer Bay. The ideal time for orca sightings in Bremer Bay is January to April, while Southern Right whales come to give birth in the sheltered waters from July to October. Humpback whales can also be seen during their migrations in these months.
Transport Options (For All Budgets)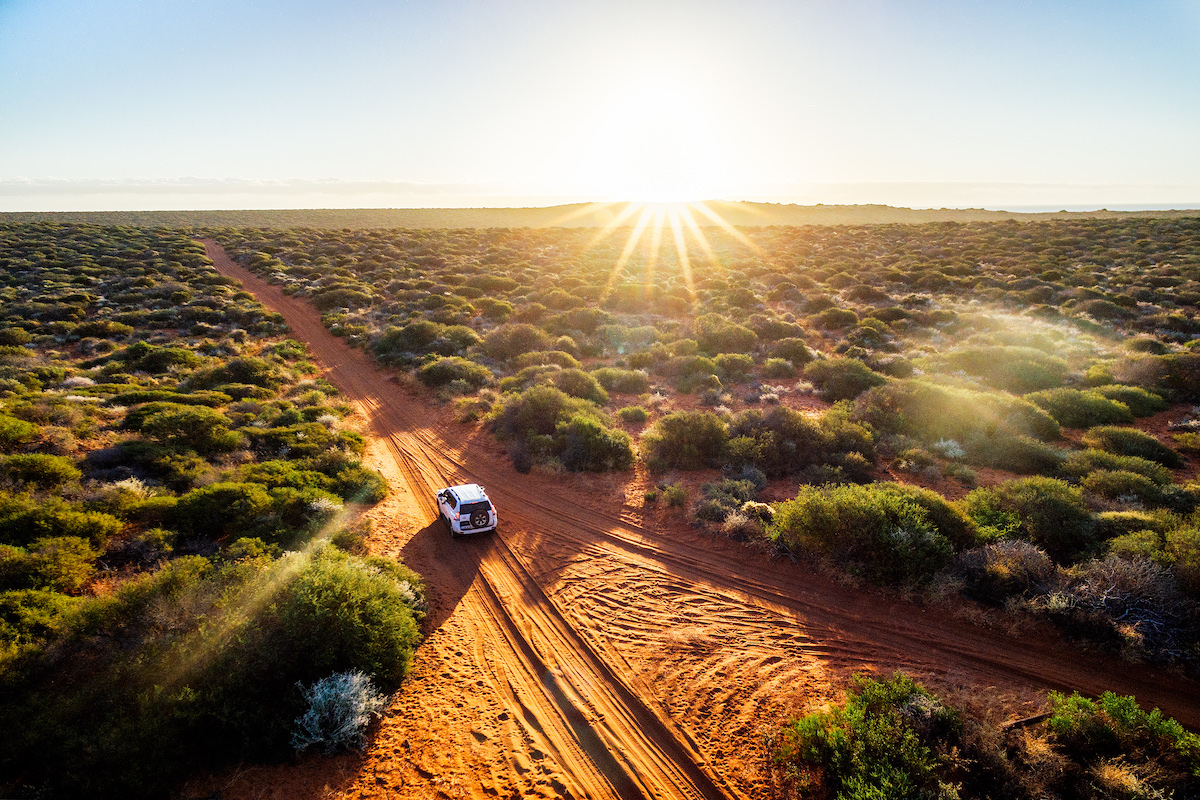 When it comes to an Aussie road trip, there are a few options to choose from: venturing out in your own car, jumping on a coach to find some fellow travellers, or joining a ready-made tour.
Australia does have a train system too, but it's pretty limited and certainly won't get you very far when it comes to road-tripping around the country. I almost definitely wouldn't recommend it as an alternative road trip, but train travel is fun so feel free to get acquainted with Australian trains at some point if you like.
Let's delve into your transport options in more detail…
Option 1: Buy a car
Buy a car and do the whole thing yourself. Nothing beats the freedom of getting up in the morning and deciding where you want to go, turning off on little dirt roads to explore the unexplored, and staying a couple of extra nights at your favourite campsite just because you feel like it.
If you're in Australia for several months, I'd definitely recommend buying a car. In most cases, you'll be able to sell the car to other backpackers at the end of your trip, saving you a good chunk of money along the way.
You'll also find a load of companies around Australia that promise to buy your car back from you at the end of your trip, so you'll recover at least some of the money that you've spent. The most popular of these, albeit with the occasional sketchy reviews, is Travellers Autobarn.
If you feel like being super thrifty, investing in a station wagon is ideal. Also known as estate cars, these spacious motors fit a mattress in the back, saving you money on accommodation too. Ford Falcons are pretty common in the backpacker world, and you'll find them for sale for between $3,000 and $6,000, including rego (the Australian version of road tax insurance combined).
Option 2: Rent a car/camper
All countries are not created equal when it comes to overland journeys. Vietnam is ideal for a motorbike road trip and in my opinion, Oz via camper van is my personal favourite choice of wheels to gallivant around this gorgeous country.
If you're in Australia for less than a couple of months, renting a car or camper van is another excellent option and also comes with a sense of freedom. There are hundreds of companies around the country offering a range of motors suitable for road tripping.
You'll find older, budget-friendly campers with a lot of character for as little as $50/day or a souped-up motorhome with all the mod-cons for $350/day.
If you decide to hit the open road in a motorhome or camper van during your Australian adventure, don't forget to capture the incredible moments along the way. Taking photos and videos of your journey can help preserve memories that you'll cherish for a lifetime. Once you've gathered your footage, consider using a free movie maker tool to create a captivating travel video. It's a great way to relive your road trip and share your experiences with friends and family back home. 
You'll also need to factor in insurance costs too, which you'll most often buy through the rental company. As is normally the case, you can choose from different levels of cover, from basic to comprehensive.
From experience, if you're heading into the deep outback, you're going to want to get comprehensive coverage. It's quite incredible just how quickly a kangaroo or wallaby can jump out from nowhere… that's not to mention a rogue emu that decides to sprint across the road at the last minute! Look into ROLLiN' Insurance's comprehensive car insurance to ensure you're covered for all unexpected encounters.
A quick side note on petrol: Whether you're buying or renting your car, you'll still need to factor in the cost of petrol. Petrol is much cheaper in Australia compared to the UK or US, BUT you will be travelling considerably longer distances, and at times, you may find yourself rinsing through a full tank of petrol in half a day or so.
Also, when in doubt about whether you should fill up your tank or not… always fill up!
On average, petrol fluctuates between AUD$1.2 and AUD$1.6/litre, but you'll find that it gets a lot more expensive as you venture out to more remote locations.
Option 3: Book a Bus
If you're travelling on a shoestring, Australia has a pretty impressive network of buses that travel cross country. While you're more than welcome to make use of the public buses that run from city to city via Busbud, most younger travellers tend to opt for a Greyhound bus.
Designed with backpackers in mind, Greyhound offers routes to all state capitals and major towns and will also stop at smaller towns and cities if you ask in advance.
For tickets, you can either pay for each journey individually (sometimes you'll find fares for $5 or less!), or, if you're looking for ultimate freedom, I'd recommend a Whimit Pass. These give you unlimited travel around the country for a set period of time, whether it be for 15, 30, 60, or 90 days. These will set you back (AUD) $339, $419, $469, and $599, respectively, which is pretty good value for money for the flexibility the pass will give you.
Option 4: Join a Tour
Sometimes, we just want the easy life, and that's where tours come in oh-so-handy, especially for those of us who might not be so confident on the road or might not have a valid driving license just yet.
A possible drawback to joining a tour is the cost – you'll certainly pay for the convenience of having everything organised for you. You also won't usually have a say over the type of accommodation you stay in, or where you end up eating, which can make everything that little bit more expensive and for me as an onion-hating strict veggie; annoying as hell.
You'll also find that road trip-esque tours tend only to cover a few days too, so you will be limited to where you actually find the tours heading.
Some common road trip tours include the Great Ocean Road from Melbourne, the East Coast from Sydney, and the Red Centre from Alice Springs, tours have their time and a place though and if you do decide it's best for you to book one, you'll be happy to know that Aussies really have their sh*t together when it comes to organisation skills.
Bonus Option 5: Car Pooling
If you're searching for that proper authentic Australia road trip experience, car sharing has also become common in recent years. For those who aren't familiar with the concept, I'll quickly explain how this works. Someone with their own car lists an advert or posts on a Facebook group with a planned itinerary for their road trip and, usually, a suggested contribution for the road trip too. All you need to do is respond to it and hope you got a seat in their car.
Some people will ask for a set amount of money each week, while others simply split the price of fuel, insurance and repair jobs along the way. It's a great way to save some pennies, get rid of the sometimes frustrating process of buying a car and make some mates along the way.
What To Pack For A Road Trip
There are tonnes of different routes you can take on your Australia road trip, each with its own requirements when it comes to packing. If you're heading out on dirt roads into the depth of the outback, you're going to want to be prepared with things like a satellite phone, a couple of extra tyres and a good-quality tool kit.
For road trips along the east coast, or anything closer to civilisation, you can get away without taking a bit less.
If you're camping along the way, you can check out my master camping list, which has pretty much everything you'll need for a tremendous trip. I also have a general travel packing guide for ladies (including a warm climate section) and I have a typical list for fellas too.
Here's a pretty extensive list of things that are worth having in the car for almost every Australia road trip, I admittedly went overboard in some areas as I figured it's best you have more options.
Papers/Documentation
People of authority in Australia are incredibly strict and anyone who has bought into the chilled-out, flip-flop meme of Australia as a whole has been duped. While the average Aussie is easy-going, the place is a complete stickler for rules and regulations so it's best to keep them happy to stay out of trouble.
Driving licence. You can drive with a foreign driver's license for three months in Australia – any longer and you'll need to have an international driving license.
Vehicle registration and insurance. In Australia, your vehicle registration and insurance are wrapped into one. Just make sure you have the documents nearby in case you get pulled over by the feds.
Copy of health insurance. Hopefully, you'll never need this during your Australia road trip, but it doesn't hurt to have a copy in your car.
Write down important phone numbers. As you head into the outback, you'll have limited signal and even fewer places to charge your phone. Make sure you write down important numbers so you can borrow a friendly stranger's satellite phone.
Paper map. It'll come in handy if your GPS fails or your phone overheats.
Clothes & Shoes
In a country that is so big that it's actually a bloody continent too, you have to pack for all possibilities Down Under. If you are really going on the ultimate Australian road trip then it's best to pack up that vehicle with more options so you can get the full Aussie experience.
Fleece
T-shirts
Shorts/dresses/skirt
Flip flops (or thongs as they like to call them down under)
Waterproof sandals
Swimming gear
Rashguard
Underwear
PJ's
Lightweight fleece
Hat
Buff Headwear (for baldies)
Toiletries and Medical Bits
Everyone knows that getting sick on the road is a recipe for a "Holidays From Hell" episode. Stock up on most of these bad boys and you'll have prevention and also cure in your arsenal.
Fly net for food (if you're heading into the red centre)
First aid kit
Toothbrush
Toothpaste
50+ SPF sun cream
Baby wipes
Hand sanitiser
Body wash
Shampoo and conditioner
Razor
Face cloth
Aloe vera
Deodorant
Pain killers
Tech
Whether you want to check in with your family when possible or bang out some Kylie and Jason during your ultimate Australia road trip (showing my age there) it's better to remember these handy gadgets.
Phone
GPS
Camera
Playlist of music and podcasts
Cooking and Food
Keep those hangry demons at bay and always be prepared to eat whenever, wherever during your road trip. Ideally, you want to eat in as many recommended places as possible, but sometimes you will be stuck when you're out in the sticks so it's better to be stocked up.
At least five litres of water per person per day
Cooking utensils (pots, pans, cutlery, cups etc.)
Washing-up cloth and detergent
Tea towels
Cooking fuel
Sharp knife
Tin opener (Golden advice, you were warned!)
Bottle opener
Corkscrew
Tupperware
Coffee/tea
Powdered milk
Herbs and spices
Cooking oil
Repair Tools
It's all fun and games on the ultimate Australia road trip… until you break down!
Jerry can
Emergency roadside toolkit
Spare tyre
Sturdy jack
Wheel brace (to loosen the nuts)
For Campers
A friendly reminder that not all species are created equally lovely and that Australia has some savage animals. That being said, camping in Australia is undoubtedly fun.
Miscellaneous
Because you never think that you will need it… until you forget it!
Paper map
Laundry detergent
Football/frisbee/tennis racket for a bit of beach entertainment!
Sunglasses
Toilet paper
Rubbish bags
Phone Apps
If your head is permanently buried in your phone during your road trip then well done… you are very much a part of the problem. That being said, you still have to be pragmatic and some apps are needed more than others in this situation.
WikiCamps/AirCamps. Every budget traveller's best friend, both of these apps help you to find nearby camps, breaking down their cost, amenities and location. It's great for finding free camps with toilets (and sometimes even free showers!).
FuelMap. Fuel gets expensive in the outback, and this app helps you find the best deal in your local area.
Audible/Spotify. It's easy to drive 200km without seeing another car in Australia, so downloading a few offline playlists will keep you from falling asleep at the wheel.
Google Maps. Downloadable Google Maps are a must for an Australia road trip. No need to worry about losing signal along the way, simply download the area you're driving through, and Google Maps will keep you on the right track.
MAPS.ME. Imagine Google Maps and Wikipedia combined, and you've got something that looks like MAPS.ME. It's a sort of editable map that previous travellers can add hidden camps and locations that Google Maps might not know about. Its real charm is that it works offline! Perfect for when that Aussie Outback Wi-Fi disappears on you.
Pocketbook. If you're travelling on a budget, this is an awesome app to help you to keep track of your expenses as you go, and make sure you don't blow the budget in the first week.
9 Experienced Tips For The Ultimate Australia Road Trip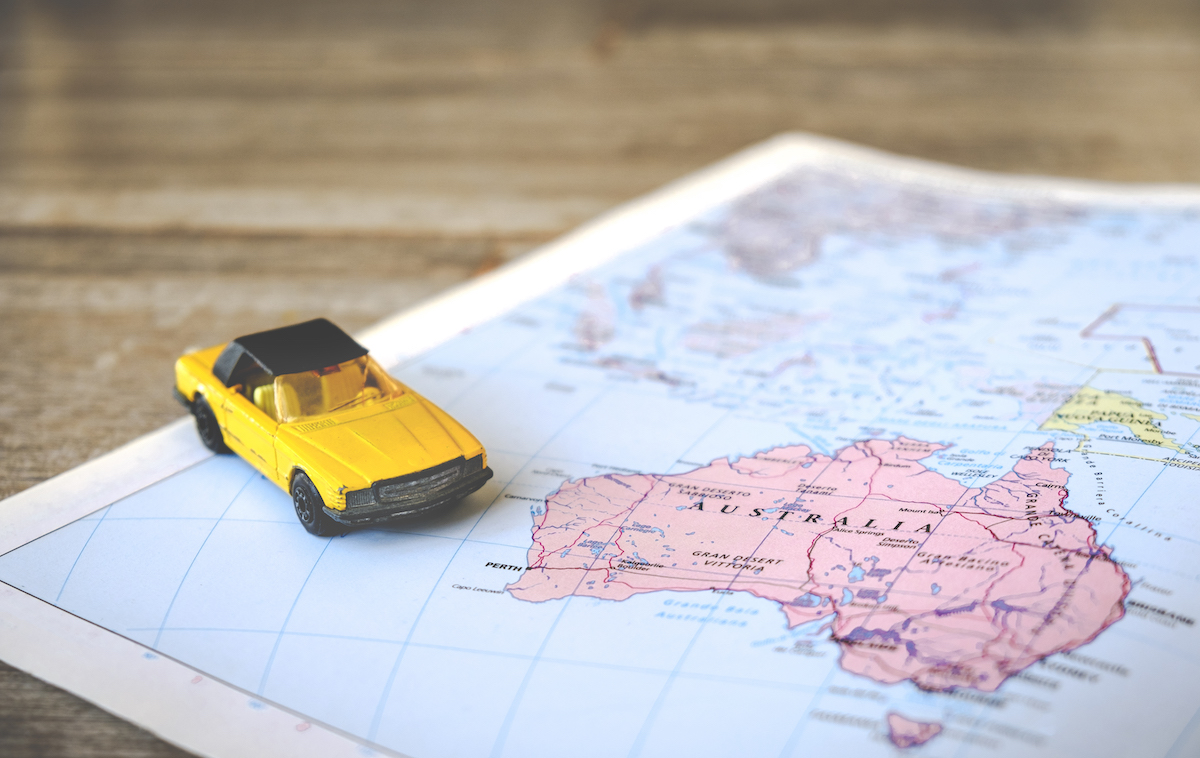 Australia is gigantic, and the excitement of a road trip can quickly turn into a disaster if you're underprepared or not really sure what you're doing. Take these tips from someone who has made the mistakes so that you don't have to.
The ultimate Australia road trip martyr, if you will.
Don't be afraid to ask for help. Australians are a typically friendly bunch for those in need, and most are happy to help if you find yourself in trouble along the way. It's remarkable just how much the average Aussie knows about cars. So, if you've broken down on the side of the road, don't be worried about flagging down a car for help.
Keep an eye out for petrol. It's quite incredible how the price of petrol almost doubles as you head into the outback. Fill up on petrol as much as possible before you hit the Red Centre or remote locations in the outback, or you'll easily be spending up to $100/day on the stuff.
Look out for relocation services. From time to time, car rental companies need their campers to be moved around the country according to demand. To do this, they offer a discount for anyone willing to move the camper (within a certain time frame) from one city to another, often for as little as $1 a day, plus insurance.
Take a spare tyre… and learn how to change one! You really don't want to be calling out roadside assistance (and facing a hefty bill) to simply change a tyre on your car. Which reminds me: get some roadside assistance cover too.
Learn some basic mechanics. Make sure you understand what's underneath your bonnet and remember to keep track of it. Check your oil and water at least once a week and keep some spares in your boot. It also pays to check your tyre pressure every so often, especially if you're travelling on dirt roads.
Avoid driving at night. No matter how tempted you are, as soon as that sun starts to go down, you want to get off the road pronto! Kangaroos, wallabies, wild horses, camels, wombats, koalas… you name it, they all come jumping out of nowhere at night, drawn in by your bright headlights. Most insurance companies won't even insure you for driving at night because of the high possibility of hitting an animal, as it is just too common.
Stay respectful of the Aboriginal people. If you're heading through central or northern Australia, you'll more than likely come across Aboriginal communities and a lot of sights that these communities consider to be incredibly sacred. Keep a lookout for signs as you drive around, as you're not allowed to park up in some communities, and there'll be a lot of sacred sites around that you can't stand on, or take photos of.
Don't get close to the Cassowary. The flightless bird that you might see roaming about with a blue face and red neck may get you curious for a selfie with such a rare-looking creature. Avoid at all costs. The Cassowary holds the creepy record as the most dangerous bird in the world and the Papua New Guinea tribe who I stayed with feared it more than God itself! Do not, by any means, fuck with the Cassowary's personal space or you will know about it.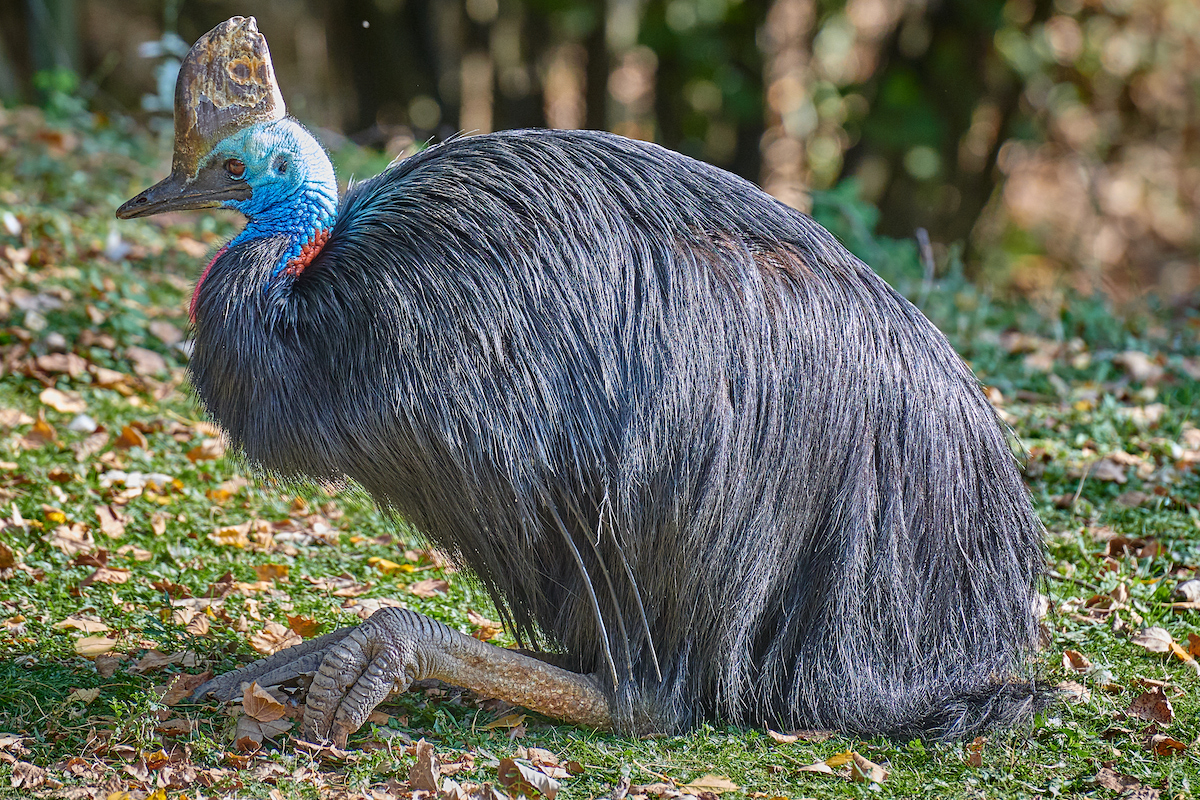 9. Watch your speed! Every state in Australia governs its own driving rules, and it's pretty easy to cross a border without even realising it. That's especially true when you drive from the Northern Territory to South Australia, dropping from 130mph to 110mph in a matter of seconds. I know a couple of friends who got hit with a $950 fine… but they were pushing their luck at nearly 60mph over the speed limit.
I got a pricey speeding ticket in Thredbo. I swear I was being very careful, although I had just summited the tallest mountain on the continent of Australia the day before and taken 6 diverted domestic flights from all over Indonesia (thanks to a last-minute volcanic eruption) to get to Australia – so maybe I'll give the police the benefit of the doubt on that one!
The Best Australia Road Trips (3 Itineraries)
There are more road-tripping opportunities in Australia than you could imagine in such a vast area of the world, but here are just three to give you a taste of what's on offer Down Under.
The itineraries I've suggested below include the absolute minimum amount of time I'd recommend spending on these road trips. Still, they can easily be extended if you've got some spare time on your hands.
I'm not going to be a travel contrarian here; Australia completely deserves the hype that it receives, I fully endorse putting these routes together (plus some more) and going on a truly ultimate Australian road trip where you leave no stone unturned in this glorious country.
3-Day Road Trip: Melbourne to Port Fairy (Great Ocean Road)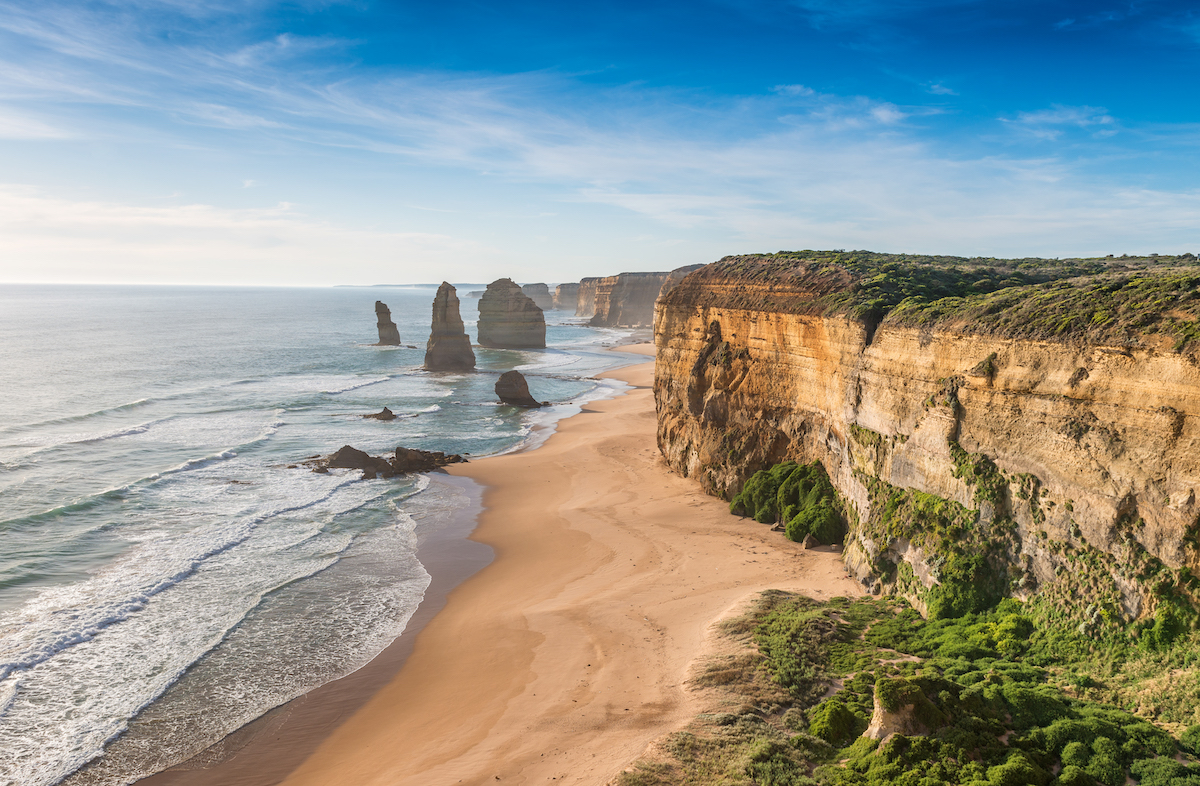 The Great Ocean Road technically starts in Torquay, a coastal town 100km (60 miles) south of Melbourne. However, most tend to start the journey from Victoria's capital, mainly because it's easier to get to and rent a car from.
Apart from the stunning coastal views and world-famous rock formations, the Great Ocean Road has a pretty cool history to learn about along the way (more on that later). You can fit the drive into a day if you really want to, but three days is about right to soak in all of the views and navigate through the windy roads.
The day before your trip, I'd recommend checking out a few of the sights in Melbourne, which is a pretty cool city in its own right. Here are a few of my top recommendations:
Explore the laneways and grab a coffee. Melbourne claims to make some of the best coffee in the world and I will hold my hands up here; after living in the land of tasty coffee that is Colombia, I prejudged this as absolute patriotic bollocks. My sincere apologies to Aussies, they were bang on – Australian coffee is definitely some of the best (if not, the best) that my lips have ever had the pleasure of sipping on during my travels.
Check out the street art. Parts of Melbourne are designated "street art areas", and you'll regularly see local artists adding their latest murals to the walls.
Wander through the botanic gardens. Just a short walk from Melbourne, the botanic gardens offer up a welcome respite from the busy streets with more than 8,500 species of plants. Botanic bliss right there.
Drop into the Australian Sports Museum. Part of the MCG (Melbourne Cricket Ground), this award-winning museum features interactive exhibits and immersive sporting experiences. I don't usually care for museums, but this stands out due to how interactive it is (it also helps that I'm a sports fan) and I bloody LOVED IT here.
Go shopping at Queen Victoria Market. One of the best markets in Melbourne, shop for local produce during the day but stay for street food at night.
See what's on at the National Gallery of Victoria. The NGV is Melbourne's largest art gallery and hosts some pretty interesting exhibitions, from indigenous artworks to works from internationally renowned artists.
Say hello to the colony of penguins in St Kilda. These unexpected residents have called St Kilda Beach their home since the 1970s. You can see them returning from their daily feed around sunset each day.
Day 1: Melbourne to Apollo Bay
It'll take you around an hour to drive to Torquay from Melbourne, which is where the Great Ocean Road officially begins. This seaside town has heaps of local cafes and sweeping bays, one of which is one of the most famous surfing beaches in Australia; Bells Beach.
Then, it's about 90km from Torquay to Apollo Bay, with plenty of places to stop off in between:
Split Point Lighthouse. Are you a bleeding-hearted 90s kid? Did you ever watch the show Round The Twist? This is where it was filmed! Even if you've never heard of the show, this quick 20-minute stop offers beautiful views over the coastline, and you can also take a tour of the lighthouse if you wish.
Memorial Arch. This poignant arch remembers the war veterans who fought for the country during WWI, the same men who built the Great Ocean Road on their return. The road actually had a great history behind it; check out this article if you want to learn more.
Lorne. A quiet coastal town, perfect to grab some lunch.
Kennett River. Grey River Road is home to a huge colony of wild koalas, and you're almost guaranteed a sighting if you head here. For your best chances, visit during the cooler hours of the afternoon when the koalas are a little more active.
Day 2: Apollo Bay to Port Campbell
The 120km stretch between Apollo Bay and Port Campbell is home to some of the Great Ocean Road's most popular attractions. If you've got time, spread today's itinerary across two days to fit more in!
Here's a little bit of what to expect today:
Otway National Park. This is one of the only sections of the Great Ocean Road that takes you inland to explore the region's rugged rainforests. You can zip-line your way through the forest, join a mountain biking tour or simply take a hike through the redwood forests. The choice is yours.
Twelve Apostles. Everyone in Australia knows the great Twelves Apostles – possibly the most iconic image of the Great Ocean Road. They were once part of the mainland, but they became caves, arches, and eventually sea stacks through natural erosion. Since they were discovered, a few have eroded completely, leaving eight to be admired from the viewing point.
Loch Ard Gorge. This small beach surrounded by tall limestone cliffs makes for a great photo and a bit of a learning opp! The gorge is actually named after a boat, Loch Ard, which shipwrecked here in the late 19th century. The ship had two survivors, Tom and Eva, the woman he heroically saved.
Day 3: Port Campbell to Port Fairy
For the last day of this Australia road trip itinerary, there are only about 60km to cover before you spend the night in Port Fairy, a quiet seaside town. You can drive back to Melbourne today if you want, but it'll add about three hours of driving to the end of your day.
Here are some final sights to see:
Bay of Islands Coastal Park. Arguably more beautiful than the 12 Apostles, the Bay of Islands is a 32km stretch of rugged sea stacks, limestone cliffs and sweeping beaches. There are plenty of opportunities to stop and admire the view along the way.
Warrnambool. Between June and September, Warrnambool is known for its whale-watching opportunities as the Humpback whales and the occasional Orca swims past on their yearly migration.
Tower Hill State Game Reserve. Victoria's first green space to be declared a national park, Tower Hill sits in a volcano crater and is one of the best places to see emus, koalas, echidnas (hedgehog-type things), kangaroos and wallabies in the wild.
Another option to consider if you only wanted a shorter day trip is to do something like a Phillip Island tour. Day tours can be an efficient way to experience some very unique places.
4-Day Road Trip: Sydney to Snowy Mountains (Great Alpine Way)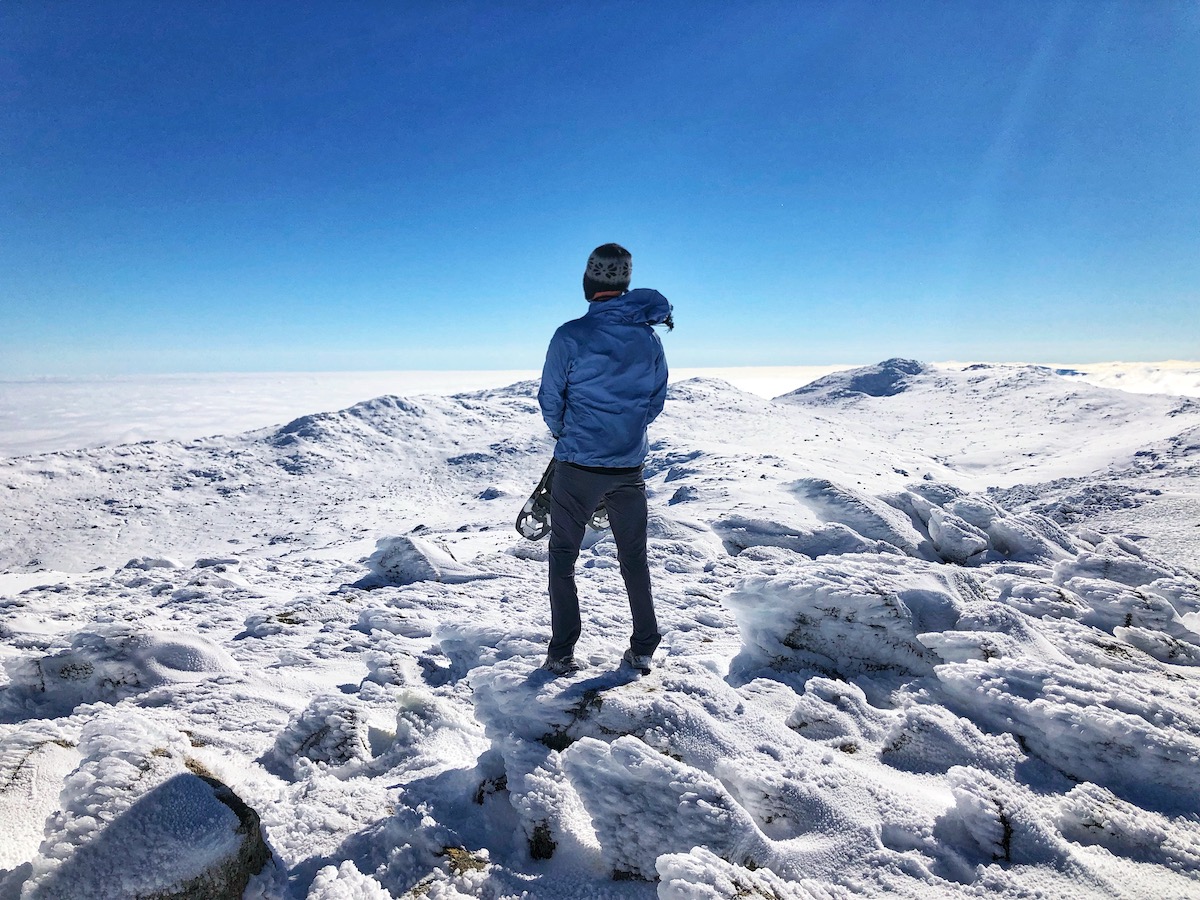 Are you up for scaling the highest peak in mainland Australia? The best way to get there is on a (quite literally) pretty scenic road trip from Sydney (if you've got time beforehand, here's some inspiration for unique things to do in Sydney). The roads are pretty easy to navigate here but be prepared for some hairpin bends.
Day 1: Sydney – Jervis Bay
Home to white sandy beaches and sparkly clear water and just a three-hour drive from the capital of New South Wales, Jervis Bay has become a popular weekend away for Sydney residents. The 200km drive will take you along the Grand Pacific Drive with views worth stopping to take a photo of.
Once you reach Jervis Bay, it's all about enjoying the great outdoors. Hire a kayak to explore the many bays, head across to Hyams Beach for a picnic, take a tour at Cape George St Lighthouse, or bask in the sun with a cocktail in hand.
Day 2: Jervis Bay – Canberra
Canberra doesn't get much attention as the capital city of Australia (and many still wrongly believe that Sydney is!) However, home to a selection of museums and galleries, it's worth a quick stopover on your Australia road trip. Even if you're not too interested in visiting the many cultural sights, it's the best pit stop between Jervis Bay and Cooma.
Take your pick of the city's best museums:
National Gallery of Australia
Australian War Memorial
National Portrait Gallery
Old Parliament House
National Museum of Australia
Day 3: Canberra to Cooma
Cooma perches just on the edge of the snowy mountains and is around a 90-minute drive from Canberra along with a pretty boring, and very straight road, so best to whack those Kylie tunes on that I mentioned earlier!
It's known as the gateway to the Snowy Mountains and is the perfect introduction to the scenery you'll get to check out over the next few days as you drive into Kosciuszko National Park.
There aren't loads to do in Cooma, it's more of a jumping-off point for various activities in the snowy mountains. Join a white water rafting adventure along the Alpine River, ramble through the area's many hikes or head to the Bombala Platypus Reserve to see the elusive mammal in its natural habitat.
Day 4: Cooma – Jindabyne
A 45-minute drive away from Cooma is the town of Jindabyne, often known as Snow Town. During the Australian winter (June to August), Jindabyne is packed with keen skiers and snowboarders hoping to hit the slopes at the first sight of snow. For the rest of the year, it's the jumping-off point to hike the tallest peak in (the country of) Australia; Mount Kosciuszko.
I climbed "Kozzie" at the most off-peak season possible in snow so deep, that you'd easily mistake it for Russia (see my images in this article).
From Jindabyne, you can follow the Great Alpine Way for half an hour to the start of the trail, depending on which one you choose. Both options are relatively easy and only get a little challenging once you're nearing the peak.
Here's a quick overview of your options:
Thredbo Village. Most people choose to take the 13km trail that starts from Thredbo Village. First, you'll need to catch a lift on the express chairlift from Thredbo (around $30 for a one-way trip) and then begin the five-hour hike along the Snowy River.
Charlotte Pass. For a quieter but longer alternative, try starting from Charlotte's Pass. This option does add 6km to your walk (19km in total), but it's a relatively leisurely incline to the top, and you can check out the historic Seaman's Hut built in 1929 on the way.
7-Day Road Trip: Perth to Exmouth (West Coast)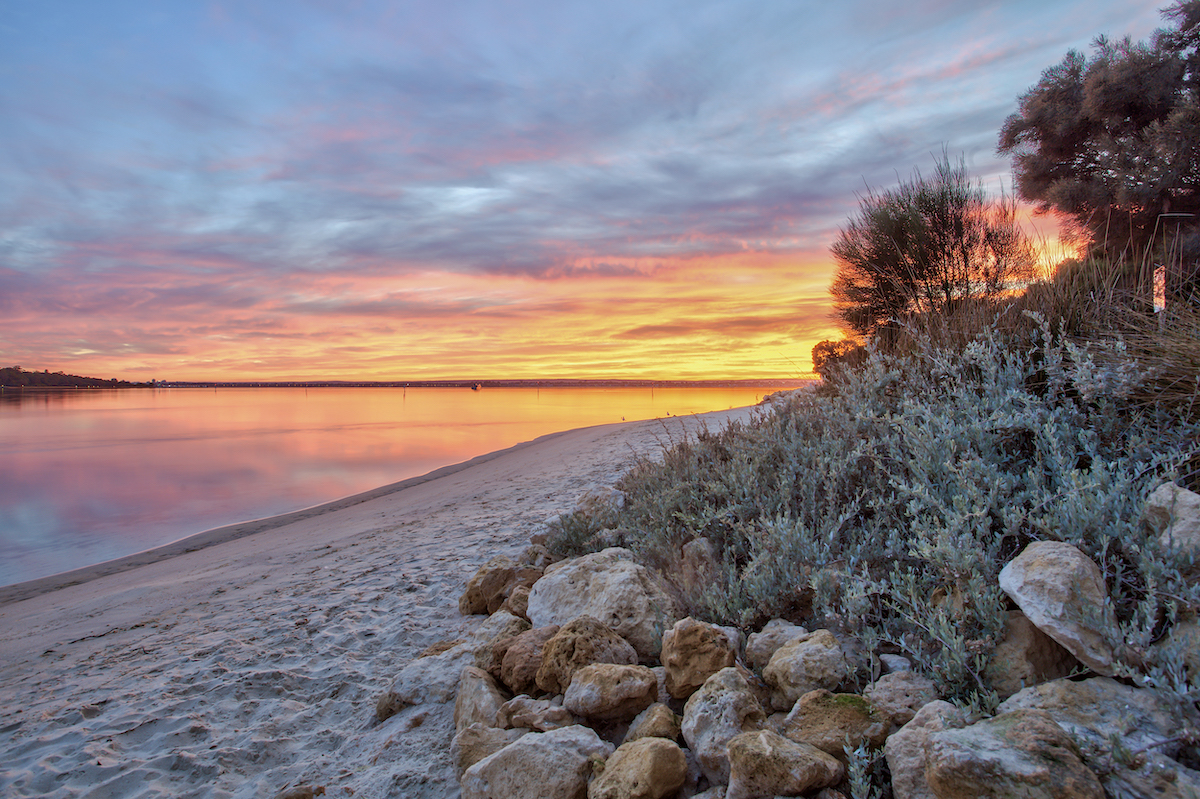 There's a lot of competition in the country for the title of the best road trip in Australia. For me, this trip through Western Australia is hard to beat. Just the right amount of outback, but not too remote that you feel you're miles away from civilisation. And the Australian wildlife?
The wildlife opportunities along this stretch of coastline are second to none in the country.
Day 1: Perth
There's little to no driving to do today, but it's the perfect time to stock up on food, and petrol and get yourself organised before you head into the more remote parts of Western Australia.
But, before you head off on your road trip, I'd recommend at least a day or two to explore Perth and its nearby attractions. Here are a few top spots to hit up in the city:
Kings Park. A pretty combination of botanical gardens and protected bushland, Kings Park looks proudly over Perth, offering some of the best sunset views in the city.
Swan River. The Swan River runs through the heart of the city, dividing it into two areas: the north and the south. Grab a bike or don your best versatile travel trainers and complete the 27km loop that runs right along the river.
The Perth Mint. If you're interested in the gold mining history of Australia, The Perth Mint can provide a pretty fascinating insight into its nearly two-hundred-year-old past.
Fremantle. A little suburb just south of the city centre, Fremantle is the heart of art and culture in the city. Stop by the historic market at the weekend (it's been going since 1897!), soak in some of the neighbourhood's cafe culture, or take a tour around Fremantle Prison – the largest structure in Western Australia built entirely by convicts.
Day 2: Perth to Geraldton
Today, you'll be tackling a stretch of road known as the Indian Ocean Drive, a pretty stunning 400km of road that offers unbelievable views out to the ocean. Even better, the road is in pretty immaculate condition, so you won't have trouble driving along here with even the smallest of motors.
While Geraldton will be where you'll be spending the night, there are a few stops to see along the way:
Lancelin Sand Dunes. Considered to be the largest network of sand dunes in Western Australia, these are worth a stop. If you've got time for more than just a photo opportunity, you can hire a sandboard and have some fun on the slopes.
The Pinnacles. Sitting in Nambung National Park, a drive through the Pinnacles Desert, is pretty awesome. Covering around 17,000 hectares (42,000 acres), the park is home to the Pinnacles, natural limestone structures that jut out of the sand and are sometimes more than three meters high. Formed after the sea receded and left seashell deposits, they're thought to be around 30,000 years old!
Lake Thetis. A quick stroll around Lake Thetic will introduce you to some of the oldest living organisms in the world – otherwise known as thrombolites.
Leaning Trees. With strong coastal winds along these roads, you'll see some pretty awesome leaning trees that are almost flat to the ground.
There's not much to see in Geraldton itself, but it's a good place to stop before you carry on your road trip tomorrow.
Day 3: Geraldton to Kalbarri
It'll only take you about an hour to drive from Geraldton to Kalbarri, which leaves the rest of the day to explore the stunning Kalbarri National Park. If you've got time, you could stop in at the Principality of Hutt River; Australia's self-declared sovereign state – to get a pretty unique stamp on your passport.
This "micro-state" was formed in 1970 due to an argument with the Australian government over wheat production quotas, and over the past 50 years developed its own currency, stamps and passports (that were not accepted as valid by any government).
The passionate Principality officially laid down its proverbial arms in 2020, but it's still worth a visit for the banter. I mean it even had its own national anthem!
Check out this banging tune:
Once you've reached Kalbarri, you'll be within a 20-minute drive of Kalbarri National Park, for which you'll need to pay a $15 entry fee per vehicle. The park is split into two sections: the coastal cliffs and the inland gorge.
I'd definitely recommend visiting both, but if you're stuck on time, prioritise the inland section. Here you can choose from a number of different hikes:
Nature's Window. A quick 1km hike from the car park to a rock formation known as Nature's Window, which forms a pretty cool natural frame looking over the gorge.
Z Bend Lookout. An easy 600m stroll to a lookout that treats you to views across deep ravines and winding rivers.
Loop Walk. A challenging 8km hike that has you wading through rivers, clambering across rocks and tackling some pretty steep hills. If you're attempting this walk, go as early as possible to beat the midday heat.
Day 4: Kalbarri to Monkey Mia
Driving distances in Western Australia can get pretty huge, so today is all about getting from A to B. It'll take you about four hours to drive the 360km from Kalbarri to Monkey Mia, one of the most remote places you'll find in this itinerary.
Part of the Shark Bay World Heritage Area, Monkey Mia is known for its close-encounter dolphin experiences. Around two hundred bottlenose dolphins live in the area, some of which come to the shoreline each morning for a feed. The dolphins are still 100% wild, so there's no guarantee of a sighting on your visit.
While some question the ethics behind feeding the dolphins, others say that it mimics the natural feeding habits of the dolphins themselves. You'll be given a briefing, and there's a limit to visitor numbers and strictly no touching.
In these situations when you are unsure, It's best to do your own research and see where your own moral compass lies.
Anyway, you'll be too late to see the dolphins today, so you'll need to get up nice and early for the 7.45 am feeding in the morning.
Day 5: Monkey Mia to Denham
After an early morning dolphin sighting, it's just a 20-minute drive to Denham, where you can set up camp for the night. Denham is perfectly placed to explore one of Australia's best UNESCO World Heritage Areas: Shark Bay, which is filled with remote national parks, pretty coastlines, and, you guessed it, a good chance of spotting some sharks in the water.
There are tonnes to see and do in this area, so spend more than a day here if you can. Here's a snapshot of some of the best bits:
Francois Peron National Park: Stretching along the top of the Shark Bay peninsula, Francois Peron National Park is made up of vibrant red rock cliffs towering above clear turquoise waters. This remote national park has no tarmac roads, so you'll almost definitely want to have a 4WD to explore all of its best bits.
Hamelin Pool: Hamelin Pool is home to the oldest living fossils on earth, which are thought to be more than 3.5 billion years old! Formally known as stromatolites, this is only one of two places you'll find them in the world (the other being in Tasmania). They aren't the prettiest things to look at – they pretty much resemble knobbly rocks – but these things are amazing, active colonies of one of the very first life forms on the planet is a pretty solid bragging point.
Eagle Bluff: Eagle Bluff forms a lookout point over Shark Bay and is your best chance of spotting some of the larger marine animals that call this place their home. Wander along the boardwalk and keep an eye out for sharks, manta rays and dugongs.
Shell Beach: Stretching 120km along the Indian Ocean coastline, Shell Beach is made up of trillions of tiny cockle shells, which are thought to be ten meters deep in some places. Other than the shells, this is the perfect place to test your buoyancy as the waters are twice as salty as the sea.
Day 6: Denham to Coral Bay
This is one of those days of driving when you wish that Australia was just a little bit smaller as you'll be making a mammoth 500km drive. Driving the five hours from Denham will take you to a popular holiday destination among locals called Coral Bay.
It's known as a gateway to the Ningaloo Reef and is particularly famous for its super accessible and easy-to-explore coral reef. With the continental shelf just meters from the beach, you can grab a snorkel and start exploring pretty much straight away.
One of the easiest ways to do this is to drift snorkel from Turquoise Bay. Rent or buy a snorkel from one of the many shops around town and head to the "Drift Snorkel" car park.
From here, walk onto the beach and head south around 100 meters, past the cliffs. That's where you can enter the water with your snorkel and let the current gently carry you past the coral reefs. You don't need to swim or paddle, just let the waves do their job as you enjoy the colourful coral below.
The currents aren't too strong here, but you'll need to be a relatively confident swimmer to exit the water before you hit the sandbar. (I am not and I admittedly struggled, but it wasn't too much of a drama).
Day 7: Coral Bay to Exmouth
A relatively quick (well, for Australians) 90-minute drive will land you in Exmouth, a sleepy town at the very top of the peninsula. It's known for its easy access to the great Ningaloo Reef, a UNESCO World Heritage area that stretches for 270km and is home to some pretty cool species, including the gentle giant; the whale shark.
Over 400 whale sharks come to the Ningaloo Reef each year to find food like plankton and krill, along with Humpback whales, manta rays, turtles and a range of different sharks. Tours leave from Exmouth all year round, but you'll have different experiences depending on the season:
Turtle Season: From December to February, you can witness Green Turtles, Loggerhead Turtles and Hawksbill Turtles nesting in their natural environment.
Whale Shark Season: Between March and August, you can swim with whale sharks as they come to the area in search of food.
Manta Ray Season: Manta Rays appear in the area between April and November and can be combined with a tour to swim with whale sharks or to observe the turtles' nesting grounds.
Humpback Whale Season: From June to August, humpback whales come to the reef to escape the cooler waters down south, with 35,000 of the giants passing by Ningaloo as part of their yearly migration.
As a World Heritage-listed area, there are strict rules and regulations around encountering these animals in the wild, hence the hefty price tag. Every tour operator must undergo a rigorous self-assessment process to operate in the area and contribute to the conservation of the area.
While I can't promise that every tour is perfect, the area seems to be one of the best-regulated reefs in the world.
If you struggle to come to terms with things like the whale shark swimming situation in the Philippines, this is a relatively guilt-free alternative. But again, I'd recommend doing your research, weighing up the pros and cons and seeing where your conscience lies with it all.
There you go, mate. Now you're now fully armed with enough info on how to plan the ultimate Australia road trip happen, what are you waiting for?