Lockdowns are over, all previous Covid-19 restrictions for this country have been officially lifted and these handy tips for driving a motorbike in Vietnam are just what the doctor ordered for those pining for the freedom of the open road.
Vietnam is undoubtedly gorgeous and ideal for a road trip in terms of established routes but there are a lot of extra bumps in the journey before you even sit that sweet bum on your bike.
There are scams to avoid, paperwork to be done and of course, your bike needs to be good enough to tackle the more challenging road conditions.
Let's overthrow the burden of any doubt so you're fully prepared for driving a motorbike in Vietnam.
5 Reasons Why Vietnam is An Ideal Motorbike Road Trip Country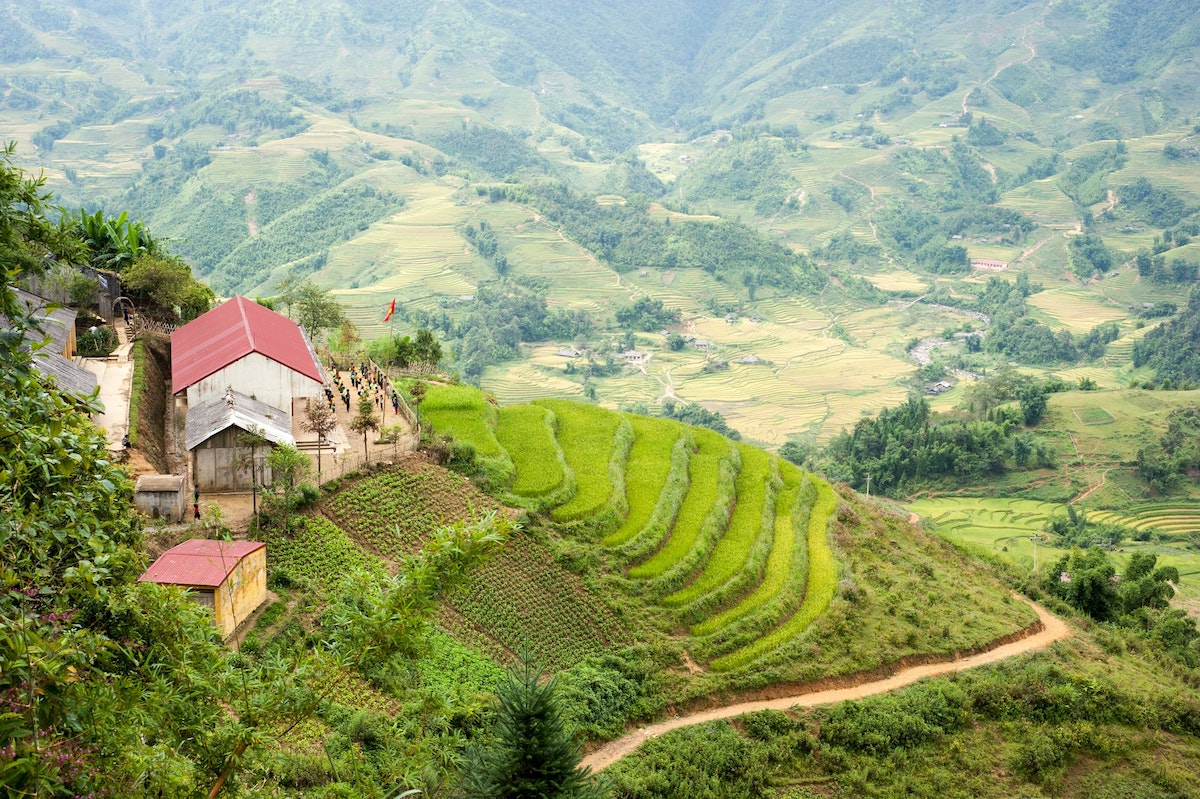 For the sake of pure honesty, I hated quite a lot of my time in Vietnam (and I will elaborate on the scam culture later on in this guide). So why on earth would I write a post, promoting a country that got under my skin so much?
I had a rough gig, sure, but it still doesn't change the fact that the country was an ideal place to explore via motorbike. Beauty is still objectively beautiful. Here are a handful of reasons why I still went to the trouble of writing this article…
It's Pretty. One of the biggest draws to travelling through Vietnam on a motorcycle trip is the country's stunning scenery. Running the length of 1,000 miles, Vietnam has a huge variety of landscapes and climates to be enjoyed. Northern Vietnam is very mountainous with green valleys, hillside villages and farmland. The 1000-mile coastline runs the length of the country, offering a plethora of beaches and warm seas to dip in whenever you like, while the southern rice bowl of the Mekong Delta offers unique landscapes of wetlands and a social scene barely changed in millennia.
Motorbike shops are everywhere. In a country where motorbikes and mopeds outnumber every other mode of transport, finding motorbike shops, repair shops and parts for bikes is a breeze – even in some of the more remote areas. If it comes to breaking down on the roadside, local Vietnamese knowledge of bikes is matched only by the Thais, and there will almost always be a local around to give you a helping hand, don't let my earlier comment put you off too much – there are still good people there.
Road signs use the Latin alphabet. Unlike its neighbouring countries, the Vietnamese language uses the Latin alphabet. This means place names and street signs are written using ABC rather than the Brahmic script or Chinese characters, which is a God-send when you've lost your way to Hue or Ho Chi Minh City, and you're looking for that next road sign to point you in the right direction.
Relatively untouched remote destinations. Hear me out, I know Vietnam is hardly untrodden, but most beautiful and interesting places are off the beaten track. Hiring tours or organising transport to these remote locations can be both costly and time-consuming. Heading out in your own direction on a motorbike means you can explore these places without restriction. Travel bloggers constantly whine about overtourism while going to the exact same places as everyone else. The world is not a prison, there's still quite a lot to discover, go get it.
Costs are low. While there are many fantastic motorbike trips to do around the world, a Vietnam motorcycle trip is one of the most affordable. Exchange rates from major currencies into Vietnamese Dong are generous; this, combined with the low cost of food, accommodation and fuel, makes a Vietnam motorcycle trip one of the most affordable in the world.
Getting a Driving License For Your Vietnam Motorcycle Trip
Getting the correct documents for an independent road trip in any country can initially seem daunting. However, sorting out a driving license for your Vietnam motorcycle trip isn't as complicated as it might seem although it does require a bit of preparation from your side.
You don't need a driving license to ride anything that is 50 ccs or lower. This type of motorbike might be great for tootling around town, but it'll be a long-old road trip if you try to ride the length of Vietnam on one. For a saucier motorcycle road trip, you're going to need something a little more powerful.
You'll actually find that most visitors hire motorcycles without any sort of license or permit. I wouldn't really recommend doing this as it's not unusual to get stopped by police officials in some of the more touristy areas who will absolutely rinse you.
Best to not give them a reason not to.
Not having a specific driving license for Vietnam in this situation could land you with a hefty fine or parting with some serious cash in the form of a bribe. It's also almost impossible to get insured on your motorbike without a license, leaving yourself open to expensive medical bills if something unfortunate were to happen.
Anyway, at the risk of sounding like your overprotective parent, make sure you sort out a license, it'll make things a lot easier in the long run. The easiest way to do this is to apply for an International Driving Permit (IDP) in your home country before you travel to Vietnam. 
Once you've arrived in Vietnam, you can then convert your IDP to a Vietnamese driving license. Here's a quick step-by-step guide on what you'll need to do (bear in mind that you'll need to be in Hanoi or Ho Chi Minh to do this):
Gather the following documents: three passport photos, a translated and verified copy of your IDP, a copy of your passport, your original passport, your driving license and a Vietnamese permit with at least three months of validity.
Fill in this form and find 135,000 VND to pay for the processing fee.
Head to the Department of Transportation in Hanoi or Ho Chi Minh to hand over the documents and pay your fee.
Fill in a postal form and pay another 30,000 VND to have the license posted to your address, which should arrive in about 7-10 days.
Should You Buy Or Rent Your Motorcycle?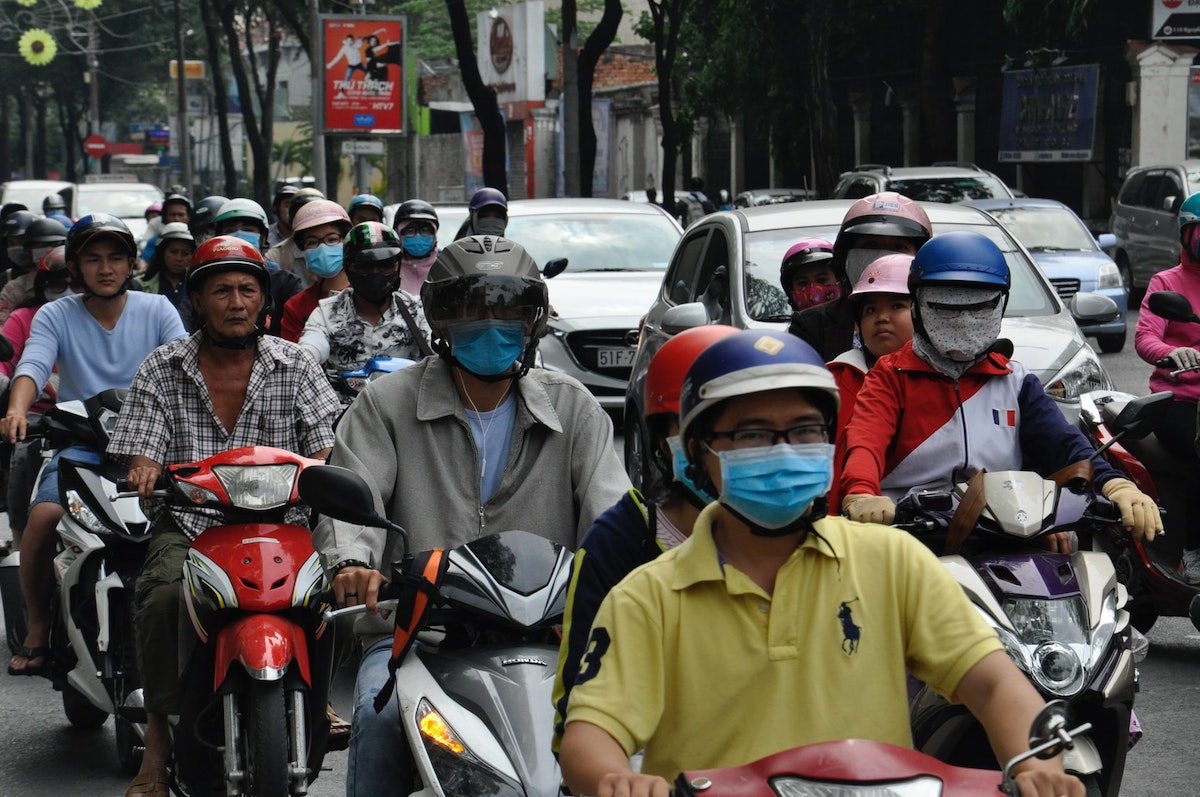 I won't sugar coat it, there's no black-and-white answer to whether you should rent or buy a bike for your Vietnam motorcycle trip. Your decision should really be based on how much money you want to spend, where you are in the country, your knowledge of bikes and the logistics of returning rentals or selling bikes you have bought. 
I'll take you through the pros and cons of both options, so you can make a decision that's right for you.
Renting a Motorcycle in Vietnam
Renting a motorcycle in Vietnam is, by far, the most popular choice for backpackers and short-term travellers for one simple reason: it's the easiest option.
Home to a seemingly endless number of motorbike rental companies, you'll pretty much find an outlet on every street in every city across Vietnam. Just make sure you read up on reviews or ask for recommendations from your hotel's front desk, so you go through a reputable company.
The cost of renting a motorbike in Vietnam depends on the make and model of the bike, as well as its size. Taking an average price, you're looking at paying around 150,000 VND per day for your bike rental, but you'll usually get a discounted rate if you're renting your bike for a month or longer. 
You might need to show your Vietnamese license to rent a motorcycle though it's not uncommon for this to be completely overlooked. Depending on the rental company or the hotel/guesthouse/hostel you rent from, you may also need to hand over your passport or a small deposit as a guarantee that you'll return the bike.
If you do have to hand over your passport, it's worth making a photocopy. Not only to have a record of it in the unlikely chance it gets lost but because you'll need a record of your passport to check into the many hotels, hostels or guesthouses further during your road trip.
When you rent your bike, you'll agree to a day to return your bike with the company. If you don't return it within this time or return it damaged or altered, you'll be liable to pay or lose your deposit.
Buying a Motorcycle in Vietnam
Buying a bike for your Vietnam motorcycle trip is another way of doing things. While it's less common than renting, buying a motorcycle does have its own advantages, especially if you're going to be in the country for longer than a month.
Firstly, buying a bike is generally more expensive than renting one, especially if you want something that won't malfunction half a mile down the road. The exact cost of buying a motorcycle can vary hugely, depending on the make, model and age of the bike. You can buy brand-new bikes from most major cities in Vietnam, but the high cost coupled with the logistics of getting them out of the country doesn't make it the most cost-effective choice. 
On the other hand, buying a second-hand bike can be pretty affordable. Depending on the type of bike you choose, you can usually buy a secondhand one for as little as 7,000,000 VND.
There are two ways of going about buying a bike for a Vietnam motorcycle trip; finding a fellow backpacker who's getting ready to leave Vietnam or responding to online adverts.
One of the best places to meet backpackers with a bike to sell is through adverts left in hostels and homestays in major cities like Hanoi, Ho Chi Minh City and Hue. In these popular cities, you're far more likely to buy bikes for a better price, as backpackers are keen to sell them before they leave the country.
Another way of buying a motorcycle in Vietnam is online; websites such as Travelswop enable you to buy motorcycles in the local area and give you detailed information about the condition and price of the bike. The Vietnamese website ChoTot, an equivalent of Craigslist or Gumtree but just for motorbikes in Vietnam, is also a great place to buy a bike for your Vietnam motorcycle trip.
Can A Scooter Handle A Long Road Trip in Vietnam?
While you're whizzing around Vietnam, you'll notice a number of different two-wheeled motors on the road; pushbikes, mopeds, scooters and motorbikes. But which one do you need for a successful road trip in Vietnam?
For longer journeys, I'd recommend renting a sturdy motorbike rather than a scooter. Saying that there are times when a moped will be perfectly fine for a bit of adventuring too.
You will need your moped to have at least a 125cc engine to make sure it's capable of holding its own on the winding roads of Vietnam. Anything smaller than this won't have enough power to make the journey and will end up being more of a hazard to you and other road users. You can find simple rev-and-go mopeds with this size engine, making them good enough to take on longer journeys.
Aside from the larger engines, you'll also find a selection of semi-automatic scooters. These are more likely to have a bit more power behind them compared to regular scooters and are ideal for long road trips through Vietnam.
Best Bikes For Your Vietnam Motorcycle Trip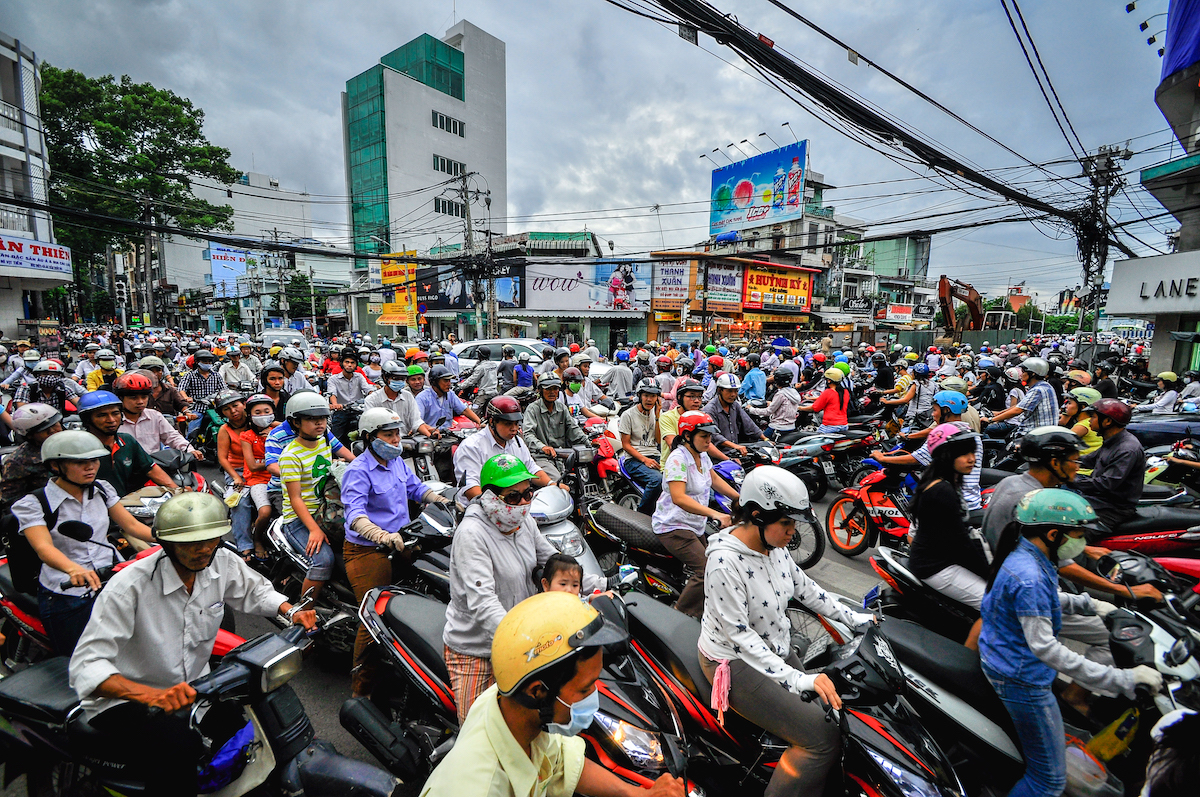 When it comes to choosing the right bike for a Vietnam motorcycle trip, you're going to need to weigh up the cost, the likelihood of finding repairs and parts and the availability of the bike itself.
Honda bikes are king mostly and some of the best bikes to rent or buy when in Vietnam, as you'll find Honda repair shops all over the country. It's worth bearing in mind that a lot of the Honda bikes in Vietnam aren't Japanese but Chinese copies; this is ok for some bikes and can also be a detriment to others.
If you're unsure, here are some of the best bikes you'll find for your Vietnam motorcycle trip.
Honda Wave
This is one of the most common and cheapest bikes you will find in Vietnam. It's unlikely that you'll come across a genuine Japanese Wave, and you're more likely to find a Chinese fake instead.
While this semi-automatic bike hasn't got the largest power capabilities, it is the workhorse of Vietnam bikes and can easily be fixed if anything goes wrong. The popularity of the Honda Wave can easily be seen on the street as the average Vietnamese rider is quite taken with this particular model.
Honda Master
Honda Master's are great all-around bikes for travelling across Vietnam; they are small enough to navigate the narrow passages of Vietnamese streets but also powerful enough to take you on those month-long road trips. The Honda Master uses a manual transmission, which is fine for your everyday rider but will take a bit of getting used to if you've only ever ridden automatics.
Yamaha Exciter
Probably the most common manual bike on the road in Vietnam, the Yamaha Exciter is no stranger to the winding routes of the country, and the 150cc large framed manual is more than capable of tackling the more mountainous stretches of road trips in the north.
Suzuki Hayate Automatic
As automatics go, the Suzuki Hayate is one of the best you'll find in Vietnam and is great value for money. They're thought of as pretty reliable bikes and can be easily repaired at local shops, something that comes to great use when travelling long distances across the country. The only downside to these bikes has to be a lack of storage and pegs on the back for a second passenger.
Yamaha Nouvo 4 Automatic
One of the fastest automatics on the streets, the Yamaha Nouvo 4 Automatic is a popular bike for locals and tourists alike. Thought to be more on the flashy side for the Vietnamese, the 135cc engine gives a huge boost compared to other automatic bikes. The Yamaha Nouvo 4 depreciates fast, though, which isn't great for those who are buying and selling brand-new bikes but is a bonus if you're buying it second-hand from a fellow backpacker.
Main Motorbike Scams in Vietnam To Be Aware Of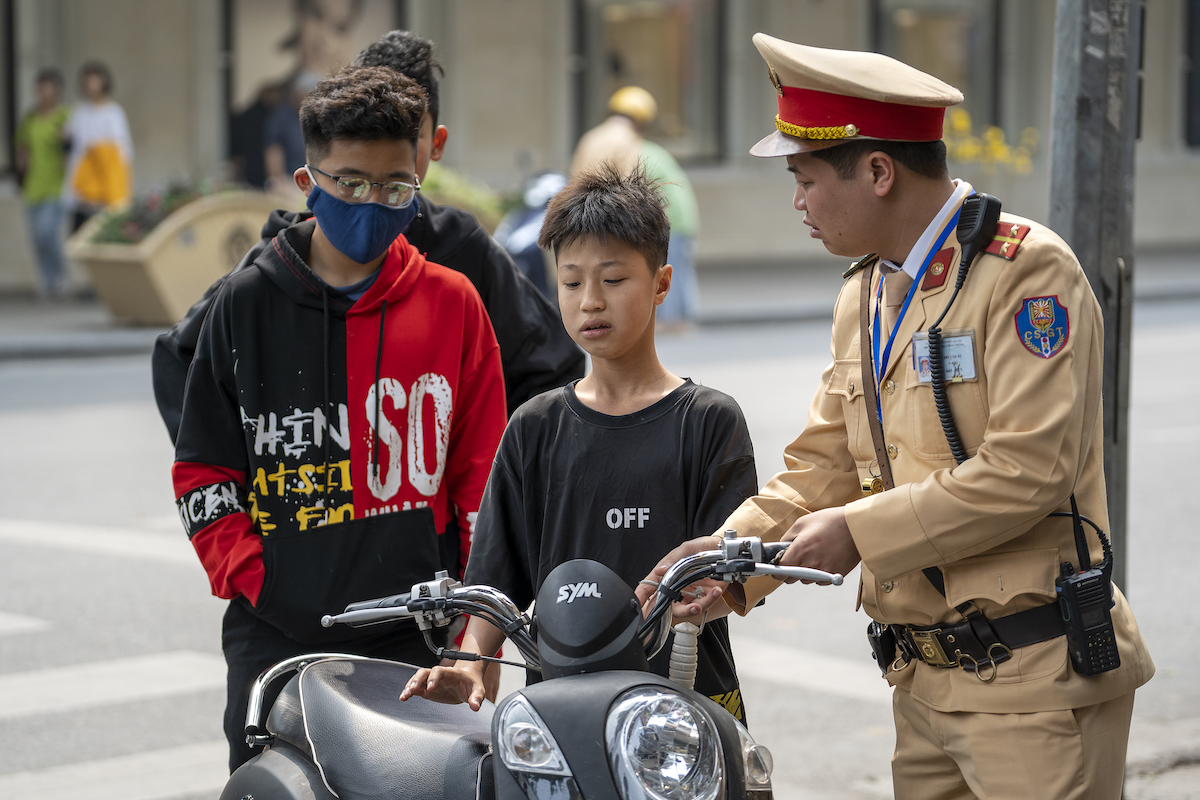 Like many countries around the world, there are always people looking for a quick win. In Vietnam, and especially when it comes to buying or renting bikes, you'll need to have your wits about you.
There are a number of motorbike scams that you should be aware of; some are quite well-known, while others are not. Here are some of the most common motorbike scams you'll come across in Vietnam so you can spot and avoid them.
Stolen bike scam
One of the most popular motorcycle scams is one that not only happens in Vietnam but across the entirety of Southeast Asia, but I'd say much more prevalent in Vietnam. It goes as follows. You rent your motorbike, and then at some point in your journey, you come back to find your bike has been stolen. The person or 'company' you rented the bike from then charges you a huge fee to replace the bike and a fine to cover any other costs.
What has actually happened is that the company you rented the motorbike from has a spare set of keys, and has "stolen" the bike while you're not looking.
Luckily this is an easy one to avoid. Simply make sure that the only bikes you hire for your Vietnam motorcycle trip are from reputable companies and not an individual. It's key to do some background research before you rent a bike. Ask yourself some questions like; Do they have an online presence? Are there reviews from previous companies? Are there actual business premises? And so on.
Superficial damage scam
This type of scam isn't uncommon around the world. When you return your motorbike to the rental company, they'll try to charge you for scratches or marks on the bike that might not be your fault. Chances are, these small damages were already on the bike before you rented it.
To avoid falling foul of this scam, it's always good practice to take photos of all angles of your bike before you get the keys and show them to the seller before you leave. This way, you can prove what condition the bike was in before it even left the shop.
Fake parking fees
As you make your way across Vietnam, you'll need to park your bike at various locations along the way, whether this is at the roadside or in a designated car park at a tourist attraction. Some of these attractions will have their own parking lots, many of which are free and are part of the attraction or sight.
On your approach to some tourist attractions, locals will try to flag you down and encourage you to park in their "car park" (this is most commonly seen at the Bich Dong Pagoda near Ninh Binh).
Of course, charging you a higher-than-average fee for doing so. Generally, there is no law or local rule saying you have to park here, and it's usually just a result of a local opportunist. The best way to avoid this is to research the parking situation beforehand, on an app like MAPS.ME. This will give you an insight into where to park, which ones are legitimate, and which are scammers.
Is It Safe To Ride A Motorcycle in Vietnam?
Riding a motorcycle by its very nature isn't without its own risks, no matter where you might be in the world. A Vietnam motorcycle trip has its own unique pitfalls and safety concerns, but it shouldn't be a reason not to complete a once-in-a-lifetime road trip through the country. The best way to make your trip as safe as possible is to follow some key rules and safety advice and nail down travel insurance that will cover this activity before you go.
Vietnamese roads are notoriously busy and chaotic and can be quite intimidating and overwhelming for nervous drivers. The best way to combat this is to drive defensively and cautiously and to drive with the flow of the traffic.
Road rules you may be used to in your own country probably don't apply here, so treat everything with caution and assume that every vehicle on the road is a potential hazard.
Driving in the major cities may at first seem chaotic, but there is a type of organised chaos that soon becomes second nature to motorcyclists. With so much congestion, speeds rarely go above 20/30mph in the city. Out on the country roads, conditions fall into two different camps; either you will be riding down nothing more than a dirt track, or you will be on larger open wide roads. Choosing the correct speed and using your bike's horn to ensure fellow road users are aware of your presence is key.
Finally, although you may see many Vietnamese riding motorcycles and mopeds in nothing more than shorts and sandals, it's not wise to follow suit if you're going on a big trip. Ensure you wear suitable clothing for your Vietnam motorcycle trip so you're protected, just in case the worst should happen, and you do come off.
Accommodation on a Vietnam Motorcycle Trip
Finding a place to stay in Vietnam is famously easy, and affordable. Accommodation in the country covers all types of travellers, from low-budget hostels to luxury hotels, most of which can be booked last minute while you're on the road.
Other than your budget, the type of accommodation you stay in will also be determined by the area you've chosen to explore by motorbike.
Driving through more secluded countryside areas means you may be restricted to one or two guesthouses. Whereas, if you're passing through major cities such as Hanoi, Haiphong, Da Nang, Hue or Ho Chi Minh City, you will have a plethora of accommodations to choose from, whether that's a cheap dorm room or a five-star hotel.
It's easy enough to book hotels, homestays and hostels through a range of websites and mobile phone apps, but it's not uncommon to turn up without a booking and find a bed or room. This being said, if you're slightly more picky about your accommodation, it's worth booking ahead of time.
The best way to go about this is to plan your journey beforehand and work out where you will be from day to day. This way, you can book accommodation for each night and save disappointment – if your plans change, at least you have something booked and room to get some rest in.
Travelling around Vietnam by motorbike is well worth the extra bit of admin that you need to do to make it happen and as you can see it's not such a big, bad, scary wolf – people do it all the time and I hope these tips for driving a motorbike in Vietnam will make it even easier (and more fun) for you on your road trip and if you're struggling with what route to take feel free to check out my best Vietnam motorbike routes and take your pick.