There's blood, there is personal sacrifice and there are primal screams. There are also vibrant colours, once-in-a-lifetime sights and profound religious significance.
The Thaipusam Festival in the Batu Caves, near Kuala Lumpur in Malaysia, is certainly not for the faint-hearted.
Much like the Thailand Vegetarian Festival in Phuket, this is undoubtedly one of the most intense cultural experiences you can have in a short amount of time. The 400 million years old Batu Caves, once a shelter to the indigenous Temuan people have now become the heartbeat of this powerful Hindu carnival for the local Tamil community and deeply curious travellers.
Still interested? Armed with a strong stomach and an open mind? Find out whether the annual Thaipusam Festival at Batu Caves is for you and most importantly, the logistics of how to make it happen.
What is Thaipusam?
Celebrated around the world by Tamil-speaking communities, The Thaipusam Festival is similar to The Holi Festival, in terms of its Hindu mythological roots. It honours the Hindu legend Lord Murugan, son of Shiva and Parvati, marking the day that he defeated three demons, after which he became known as the conqueror of evil.
See Also: The Worst Of The Holi Festival in India
On the eve of the three-day festival, you can watch the chariot procession, bearing the statue of Lord Murugan, which is carried from the Sri Mahamariamman Temple in Kuala Lumpur to the Batu Caves.
The festival was first brought to Malaysia in the 19th century when Indian migrants arrived to work on Malaysian rubber estates and in government offices. Not only celebrated in Malaysia, but you'll also find the Thaipusam Festival being revered in Tamil-speaking countries across the world including Sri Lanka, Singapore, Indonesia, Suriname, Mauritius and Fiji.
Thaipusam Festival at Batu Caves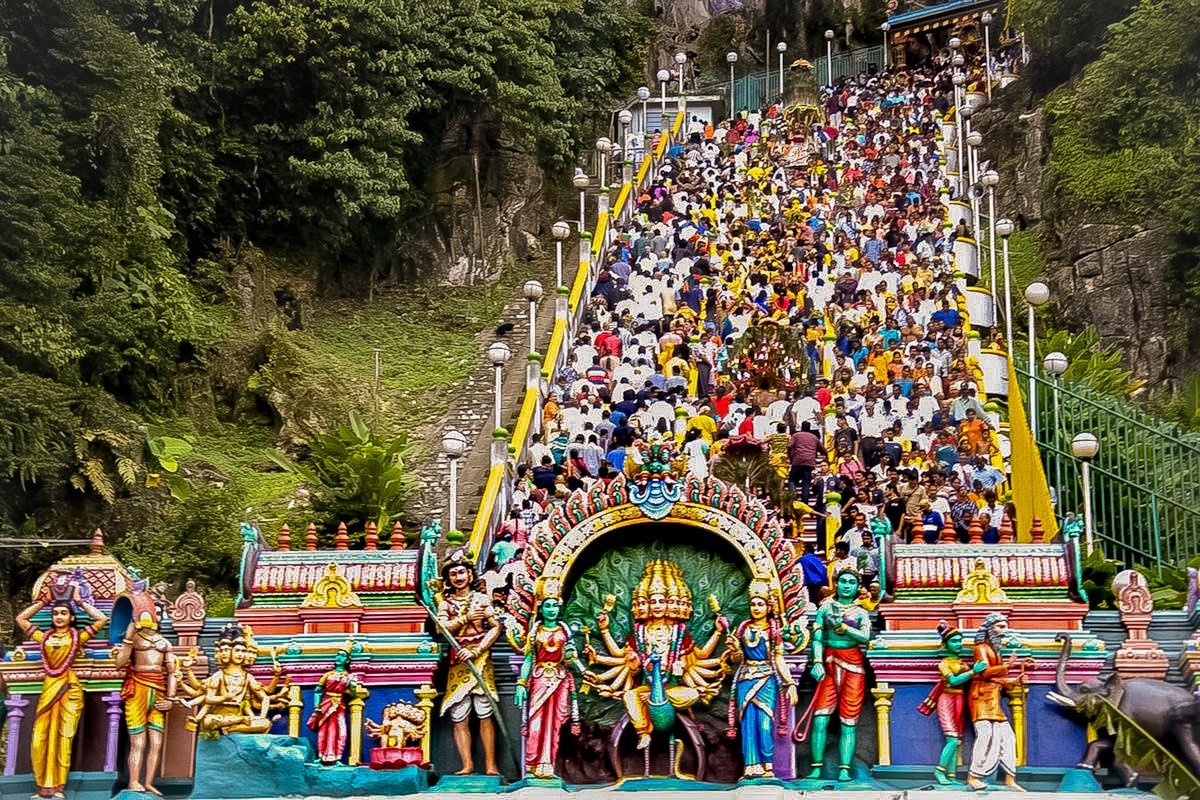 First celebrated at the Batu Caves in 1888, the Thaipusam Festival has been taking place on the outskirts of Kuala Lumpur for more than 130 years and has become one of the most significant Thaipusam Festivals in Malaysia.
The Batu Caves, which are a popular tourist attraction all year round are also dedicated to Lord Murugan (hence the ginormous gold-plated statue of him, towering over tourists as they enter the steps), firmly cementing this holy place as the most popular Hindu Temple in Malaysia and also one of the most revered Hindu shrines outside of India.
You'll find smaller celebrations in Penang, Sungai Petani and Ipoh, but nothing like the energy in Malaysia's capital, where over a million Tamil devotees and thousands of tourists descend on the Batu Caves, making it incredibly unique with palpable energy.
If like me, you battle with sensory overload when answering a simple question while making a cup of tea; the Thaipusam Festival at Batu Caves is going to smack you from all angles, with the array of colours, noises, smells and sounds overwhelming your senses at any given second.
Working for 4 years in the care industry in the UK put me in good stead for the aggressive parts of Thaipusam, as you can't work in that industry and be too squeamish, it's a serious conflict of interest.
With that being said, being up close and personal with the facial and body piercings and the exorcist-like trances certainly stunned me… at first. But like most things, the shock factor wears off when you see higher volumes of what initially shocked you and it becomes the "norm."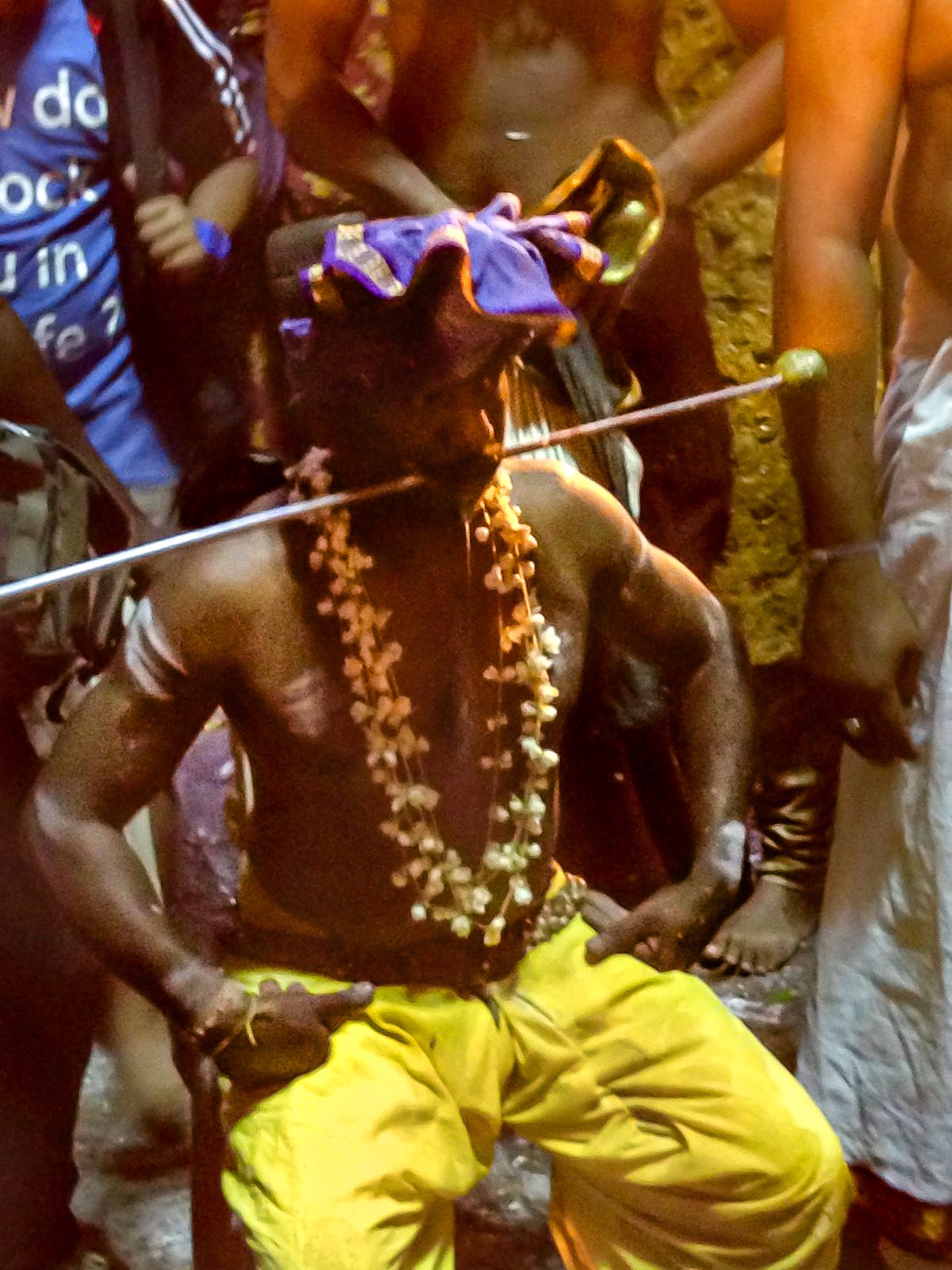 I watched one guy salivate, make growling cat-like noises, seemingly have a seizure and then scream as the thick blades were removed from his face. Seconds later he came over to me and said in the most cordial, delightful manner; "Thank you for coming to our festival, Sir. It's a great pleasure to have you here," while shaking my hand with a genuine smile, as the blood poured from his wounds on his face.
During the festival at Batu Caves, loyal devotees put themselves under a significant physical burden as an offering to their main man of the moment, Lord Murugan. They do this in return for answered prayers, the forgiveness of sins and for future favours. These intense physical duties are known in Tamil as a 'Kavadi'.
Kavadis are usually physical structures made out of steel rods and wood and decorated elaborately with bright colours, peacock feathers and pictures of other deities. However, kavadis can range from something as simple as carrying a pot of fresh cow's milk ('paal') or rose water on top of your head, to a more serious act, such as cheek piercings that prevent a devotee from talking – the ultimate sacrifice, and a sign of total dedication.
Most commonly, you'll see small hooks attached to weights pierced through a devotee's skin. In extreme situations, these hooks will be attached to a chariot, which will be pulled along by a believer.
Many devotees undergo intense preparation to prepare their minds, body and soul in order to be resolute enough to carry a kavadi. Some are put into a trance-like state, which allegedly stops them from feeling pain. Wounds are later treated with lemon juice and holy ash to prevent scarring.
The spiritual/religious aspect fascinates me at events like this, as the depth of devotion to their deity is the main reason why a lot of the attendees would put themselves through that. Of course, not all Tamil people celebrate this holy day via self-mutilation, and there was clearly a spectrum to what an individual would be prepared to do in order to fully express the love that they carried for their faith.
The night before the official day of Thaipusam, devotees gather at the Sri Mahamariamman Temple in Chinatown, Kuala Lumpur. They then spend the next eight hours completing a 15-kilometre barefoot walk to the Batu Caves, arriving the next morning. Once there, they will climb the 272 steps to the Batu Caves to show their respects to Lord Murugan.
During the first and third days of the festival, as Lord Murugan's chariot moves through the streets of the city, you'll see thousands of coconuts smashed along the roadside. Supposedly, this symbolises breaking your ego and allowing the purity inside to take hold.
"Vel vel… sakthi vel" was a constant chant that echoed within the Batu Caves from people burning incense sticks, singing along to this phrase in unison. It turns out the chant roughly translates in English as "powerful weapon," presumably a hat tip to the famous fable about Lord Murugan, which is influential amongst the Tamil and Hindu community and the main reason for the Thaipusam festival itself.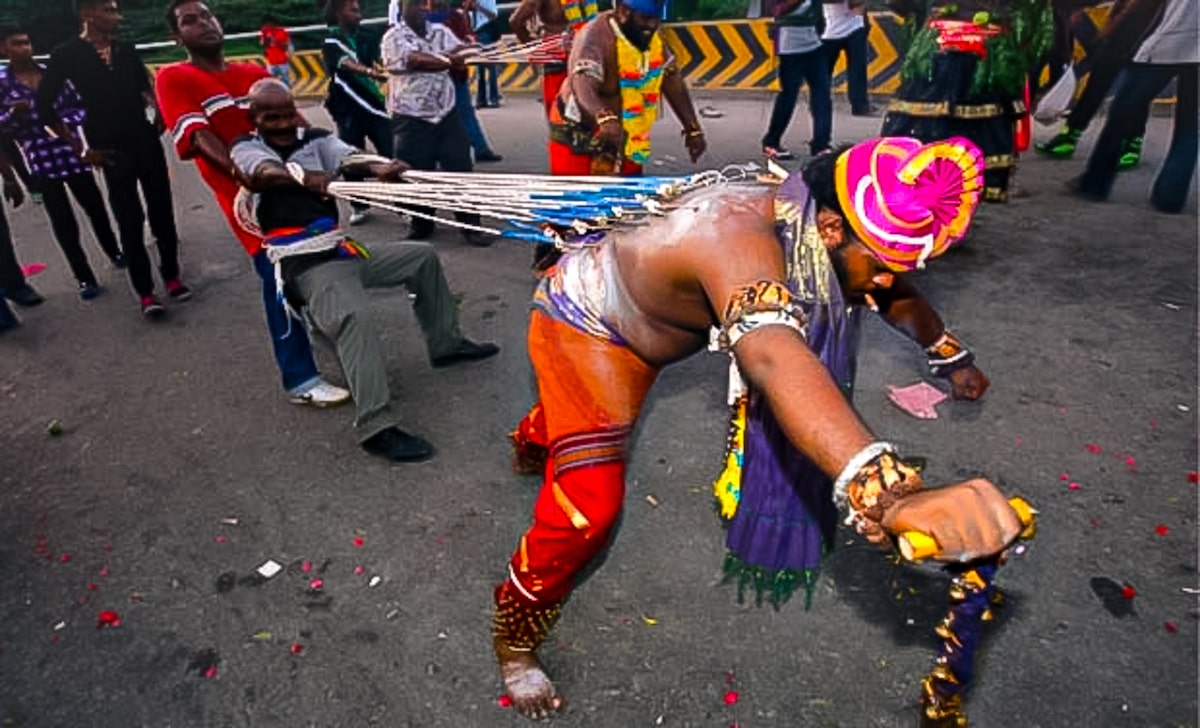 When is the Thaipusam Festival?
The exact dates of the Thaipusam Festival vary from year to year. Thaipusam itself falls on the day of the first full moon of the Tamil month of Thai, which usually falls at the end of January or the start of February. However, the festival normally lasts around three days. Here are some dates to keep in mind for the upcoming years for Thaipusam:
Thursday 25th January 2024
Tuesday 11th February 2025
Sunday 1st February 2026
How To Get To The Batu Caves From Kuala Lumpur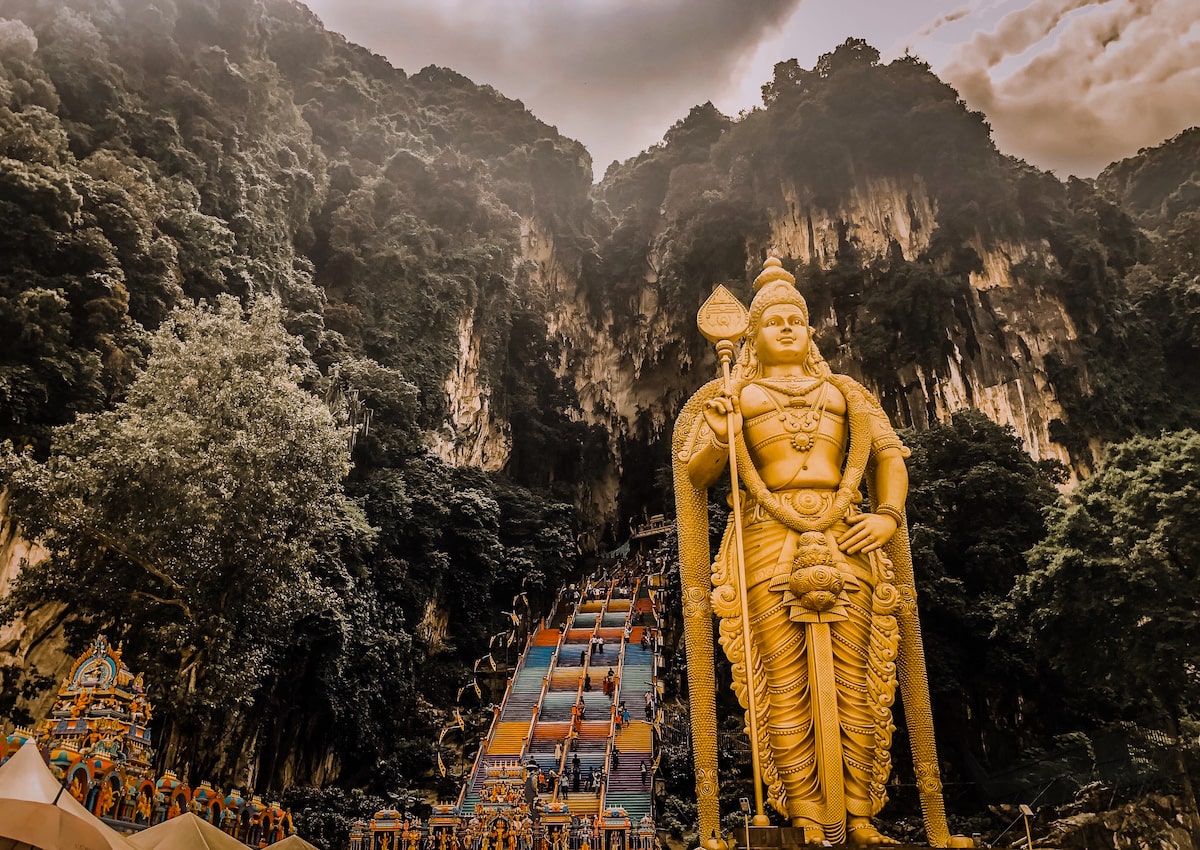 Sitting just outside of the Malaysian capital city of Kuala Lumpur, getting to the Batu Caves is pretty easy… if it weren't for the million other people trying to do the same during the Thaipusam festival, Malaysia gets BUSY on this particular day.
First, you'll need to get to Kuala Lumpur, a solid international hub with direct flights from major cities around the world including London, Singapore, Bangkok, Dubai, Tokyo and Hong Kong.
When you arrive in the city, you could be forgiven for avoiding road transport as roads are normally at standstill traffic, so resting up in a nearby hotel after your flight could be wise. However, if you get up early, a bus or taxi is a perfectly good option. (Personally, I think it's best to just suck it up and suffer some more until you get to your preferred base).
Train
I recommend using the train to get to the Batu Caves. You'll avoid the chaos on the roads, and they put on more trains to support all of the traffic for the festival.
Note for ladies; around ten years ago, Malaysia launched pink women-only coaches on their trains to help prevent sexual harassment and to give Muslim women the option of travelling separately from men. So, keep a lookout for these and make sure you're getting on the right carriage.
Direct KTM commuter route that goes from KL Sentral to Batu Caves Station.
How much does it cost? Between two and three Malaysian Ringgit each way.
How long is the journey? 25-minute journey with regular trains leaving KL Sentral.
Tour Guide
If you're looking for a hassle-free experience, you can opt for a tour. These tend to sell out quickly around Thiapasum so make sure you book in advance. Most tours will organise all transport for you, which means if you're staying centrally you'll be picked up and taken there.
Tours, of course, are not the cheapest option, but they can be more comfortable than tackling the crowds yourself and you have the added bonus of learning potentially lost nuance from an informative guide.
Public Bus
Taking the bus to Batu Caves means you'll get to see all of the action as you travel, but you're more likely to get stuck there for a few hours as you weave your way through the traffic.
Buses 11 and 11d both go direct from Puduraya in Chinatown.
How much does it cost? 2.50MYR for a one-way ticket.
How long is the journey? 45 minutes.
Taxi
Wherever you find yourself in Kuala Lumpur, you'll always be able to flag down a taxi but there is more competition during Thaipusam. Most local taxis run on a meter, but it shouldn't cost more than 20 Malaysian Ringgit to get there.
How much does it cost? Around 20 MYR but this can be cheaper on the meter.
How long is the journey? 20 to 25 minutes.
Grab
As well as local taxis, Kuala Lumpur is tech-savvy enough with one famous taxi-hailing app to choose from… and it's not Uber, thanks to the Malaysian-owned company 'Grab' merging and calling the shots within Southeast Asia, they are now top dogs in the country and the whole region.
You can select a ride via your phone from anywhere in the city.
How much does it cost? 20 to 30 MYR one-way
How long is the journey? 20 to 25 minutes depending on traffic, but bear in mind this is a huge event so it could be even longer.
8 Tips For Visiting The Batu Caves During Thaipusam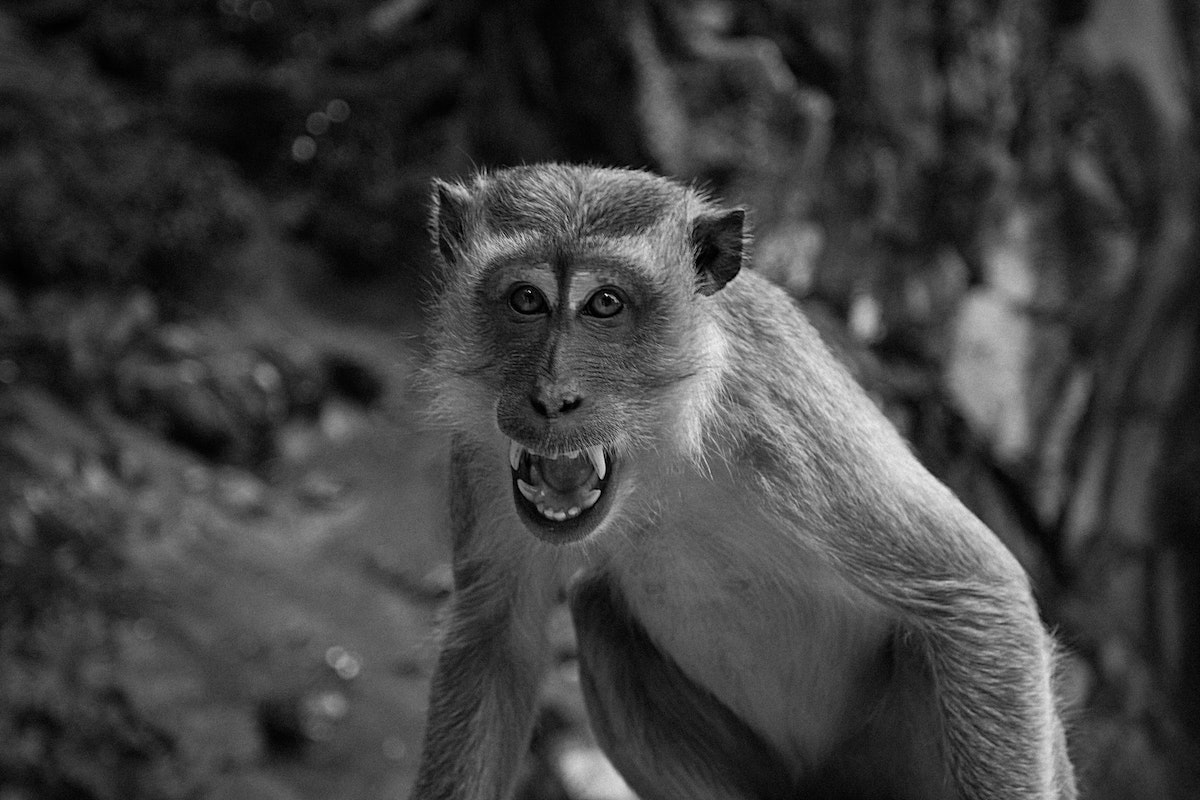 A deeply important religious festival like this requires a good level of respect and cultural must-knows and also you need to be realistic about what to expect during the Thaipusam festival in Batu Caves.
These 8 tips will help you avoid any potential faux pas' and prepare you for this mighty Hindu event.
Dress respectfully. As with many religious festivals, most people will wear traditional clothes that cover most of their bodies. Tourists are expected to dress respectfully, with covered shoulders and knees.
Take off your shoes when you visit the temples. Devotees make the 15km trek barefoot, but you don't have to. Once you get to the caves, there are certain spaces that you can't wear shoes in, and most choose to take their shoes off at the bottom of the stairs.
Take in the Hindu God Lord Murugan statue. With the bragging rights of being the 2nd tallest Hindu deity statue in the world, take some moments to appreciate the majestic, gold-plated Lord Murugan as you enter the steps to the cave. A true icon of Hinduism for the local and travelling Tamil community.
Try the food. Local vendors line the streets with vegetarian snacks during the festival, and I highly recommend giving as much of it a try as possible. You'll see Pongal, a mixture of rice and lentils seasoned with delicious spices, or Kolache Poha, flattened rice cooked with coconut, tamarind, green chillies and cumin, as well as Panakam, a sweet drink made of jaggery, lime juice, flavoured with cardamom, ginger and peppercorns.
Take non-evasive photos. It's okay to look, smile, and follow your innate curiosity, but remember that these people are in the midst of moral redemption, not at a freak show carnival. If you'd like to take a photo, keep your distance, and take a photo from afar.
Be vigilant of the monkey mafia. If you've travelled around South East Asia, you will probably have experienced the gangs of macaques found at various temples, and Batu Caves is no different. Hundreds of monkeys call the Batu Caves home, and they are quite mischievous/savage. If you're not careful, they'll steal your food, cameras and drinks, so keep things safe and out of cheeky monkey eyesight.
Prepare for discomfort. As well as hundreds of thousands of devotees, you'll also be part of the 10,000 tourists that witness the event every year. Brace yourself for noisy crowds, take lots of water and avoid any stampedes. To get to the caves, you have to walk up 272 steps, sometimes in the blistering midday heat. You'll need an average level of fitness for this, lots of water and you'll need to be prepared to be carried by the pace of the crowd.
Be down with gettin' dirty. With the smashing of coconuts, the thousands of human bodies and the hundred of monkeys hanging around, the streets and the cave get pretty mucky. Be prepared to walk through monkey shit and pigeon poo. Time to ditch those beloved flip-flops for some closed-toe shoes, or play "which shit is it" roulette?
Full disclosure here; I still had a bit of maturing to do as a younger man at this festival and there was still a very real part of me that labelled it "crazy" in my head, not allowing too much depth to combat this one-dimensional way of thinking.
The Thaipusam Festival in Batu Caves certainly is a "go hard or go home" kind of event and I'm beyond happy to say that I experienced it for myself. I loved this celebration, it was the gateway drug to many other holy festivals like it around the world, (such as The Philippines Crucifixion Ceremony). It was my first, and it certainly won't be my last!