Holi in Vrindavan and Mathura is a phenomenal fixture to celebrate 'The Festival of Colours,' which is the second biggest festival on the Hindu calendar after Diwali.
However, it can be considerably less pleasant, if you happen to be a woman.
The birthplace of Lord Krishna gives birth to a loud and proud street party with deeply-rooted spiritual meaning and as India is the land of extreme disparity; it always has the potential to be the best or worst Holi ever.
My goal with this article is to give logistical advice on how to get to Vrindavan and around it, explain why it's so special to celebrate Holi there while giving an open, honest account of Holi in Vrindavan; for better or worse.
How To Get To Vrindavan For Holi Festival
Vrindavan is a holy town in the northern Indian state of Uttar Pradesh. If you are travelling overland in India, you will likely need to head to Mathura as a connecting city.
If you'd like to head here to participate in the festivities, you'll find it's easily accessible by road from major cities like Delhi and has airport connections too. Vrindavan also has good rail connectivity, you just need to prepare, take a deep breath and say "This is India," accept the chaos and dive right into it.
Here are the options you have at your disposal in terms of getting to Vrindavan for Holi:
Train
I absolutely love train travel (especially in India) and this is my personal shout for transport to visit Holi in Vrindavan. Just make sure you give yourself a lot of time to get there as tickets could sell out due to the popularity of the event and the sheer volume of humans living in India.
A train station is located in Vrindavan, but since not all trains stop here, your best bet may be to head to Mathura, the closest major railway station, around 14km away. The Hazrat Nizamuddin Delhi to Mathura train, for example, will cost you as little as INR 130 for a single fare.
From Mathura, you have various ways of heading to your final destination at Vrindavan, including taxis, hired auto-rickshaws, or a bus, with prices starting from as little as INR 30 for a shared auto-rickshaw.
Air
The nearest airport to Vrindavan is Indira Gandhi International Airport in Delhi. Flight costs to this airport vary depending on your starting point, but you can fly directly from London Heathrow (LHR), with prices often ranging from GBP 400 to GBP 1200 return.
Based 150km away from Vrindavan, Delhi Airport (DEL) is quite the distance from the town, so you'll find a taxi journey will take you around three and a half hours and will cost you at least INR 2200.
Road
Several highways and expressways connect Vrindavan with cities including Aligarh, Delhi, and Agra (home of the distinguished Taj Mahal); you'll head through Mathura along your journey.
However, a more straightforward and cheaper option would be to take a bus from the cities above. For example, luxury buses are available from Delhi, with prices starting from INR 265.
You can head from Delhi to Mathura via bus and catch a taxi, bus, or auto-rickshaw to Vrindavan from there. A small auto will cost around INR 150, although you can catch a shared one for as little as INR 30.
Uber is another option you can use on your trip to celebrate Holi in Vrindavan, which is a safe, convenient option for those travelling to Vrindavan. Base fares in the Mathura region are INR 190, with costs per km ranging from INR 9.45 and INR 12.6.
Whichever transport option you choose to get to Vrindavan, it's highly recommended you experience a few days more beyond Holi in Vrindavan. Doing so will allow you to consume the culture before, during and after the festival.
6 Best Places to Celebrate Holi in Vrindavan & Mathura
Celebrating Holi in Vrindavan and Mathura isn't just in one concentrated part of town with a huge crowd of people throwing colour bombs. Holi in Vrindavan is all over town, but some places are more significant and alive than others.
Remember that Mathura and Vrindavan are two different cities, about an hour's drive away (crazy festival traffic pending).
If you're looking for the best places in Vrindavan to celebrate Holi, those that really crank it up a notch and stand out, read on for some must-visit locations (in no particular order):
1. Banke Bihari Temple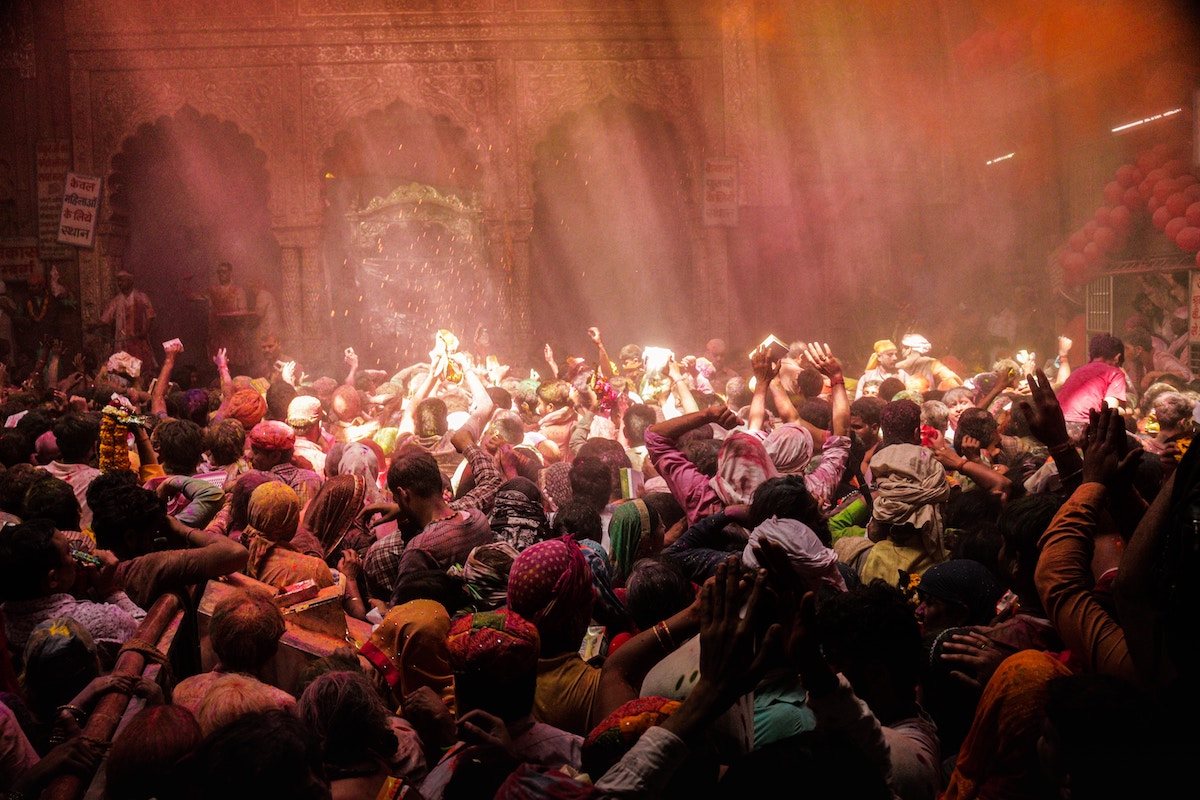 The Banke Bihari Temple is one of the holiest shrines in India that attracts heavy footfall at all times of the year, particularly during Holi celebrations.
One of the best places to worship Lord Krishna, this temple is one of the most visited tourist attractions in Vrindavan and the atmosphere is electric.
During Holi, you'll hear the chanting of ancient hymns all around Banke Bihari, with the temple priests throwing colours and holy water at the crowds.
It's absolutely raucous, albeit a unique experience. Just manage your expectations if you get overwhelmed and are oversensitive to noise.
It can get pretty wild in there.
2. Pagla Baba Ashram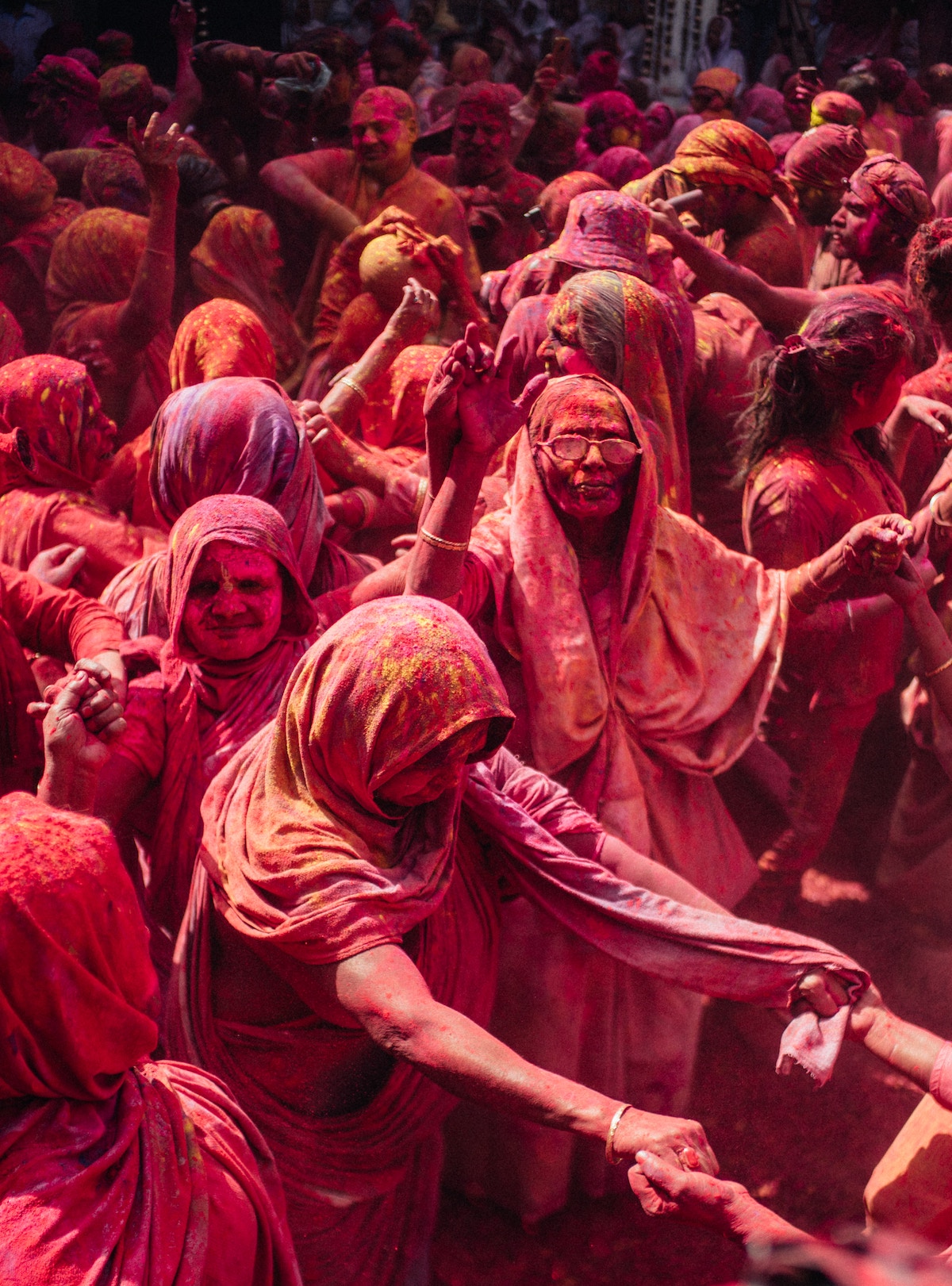 The widows in India have endured a difficult time in the past, as society ostracised them in previous years. Hopefully, things are changing, with the Pagla Baba Ashram now a place that adds beautiful layers to celebrating the Holi Festival in Vrindavan.
Witness the widows of India as they play with colours and flower petals during Holi, and allow yourself to join in and potentially capture some incredible scenes if you're a keen photographer.
Just make sure to be respectful in doing so, you will grab a lot of cool photos (or your camera will get damaged) at this event, just give those ladies a bit of breathing space.
They've had a rough ride, already. Don't spoil their special day.
Widow's Holi in Vrindavan commences around noon, after which you will encounter a relatively new celebration that began only in 2013.
3. Gulal-Kund
The Gulal-Kund in Braj is a small lake that locals treat as their own personal Holi festival. The people here act as Krishna and reenact theatrical scenes from his life for pilgrims to enjoy, making it a unique location to celebrate Vrindavan Holi.
Every major Krishna Temple in Vrindavan and Mathura will have their own celebrations during Holi. Still, the Gulal-Kund is an amazing one to check out if you're hoping to experience something a little different and watch locals pay homage to Krishna.
4. Lathmar Holi in Radha Rani Temple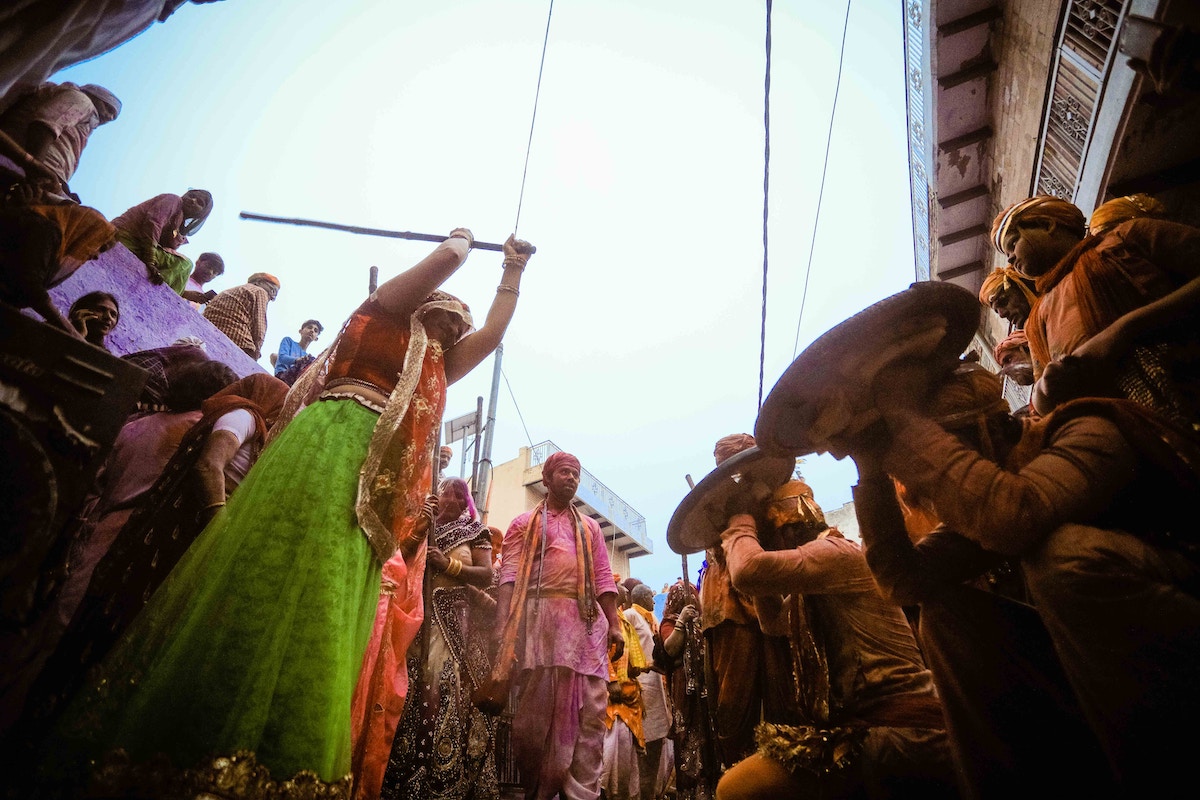 Lathmar Holi is the traditional ritual in which women chase men and beat them with lathi or sticks.
It's not as violent as it sounds, as the men, on their knees, protect themselves from the blows with a heavy shield held above their heads and the women slam the stick into it.
Those girls do give it a fair bit of welly, though!
It's a tradition kept alive for many years, with its roots tied to the story of Krishna, who would tease Radha and her friends during Holi, which prompted Radha and the Gopis to chase Krishna and his friends and beat them.
It's perhaps an unusual experience for foreigners, but if you want to experience the many layers of traditional Holi celebrations firsthand, you won't be disappointed encountering Lathmar Holi.
You're guaranteed plenty of fantastic photo opportunities during Lathmar Holi if you're willing to be patient in capturing your shots. But be warned – you'll undoubtedly find yourself (and even your eyes) drenched in colours.
5. Mathura and Holika Dahan Holi Procession
After you've experienced the Holi festivities taking place at Banke Bihari Temple in Vrindavan, it's well worth heading to Mathura to extend your celebrations if you have time and like to mix it up a bit.
Holi in Vrindavan has all you need, but things move fast during the Festival of Colours and you will be tempted when locals tell you the next best thing is happening in another area.
A vast procession begins around 2:00 pm the day before Holi, which involves plenty of chanting, a sprinkling of colours, and vehicles decorated in flowers.
From the very start, you'll be drenched in colours as everyone in attendance plays a part in celebrating Holi, and you'll even see cute children dressed up as Radha and Krishna.
You can experience Holika Dahan firsthand in the evening, which involves a few rituals alongside the burning of an effigy, with the largest one burnt near the Holi Gate.
6. Mathura Holi Celebrations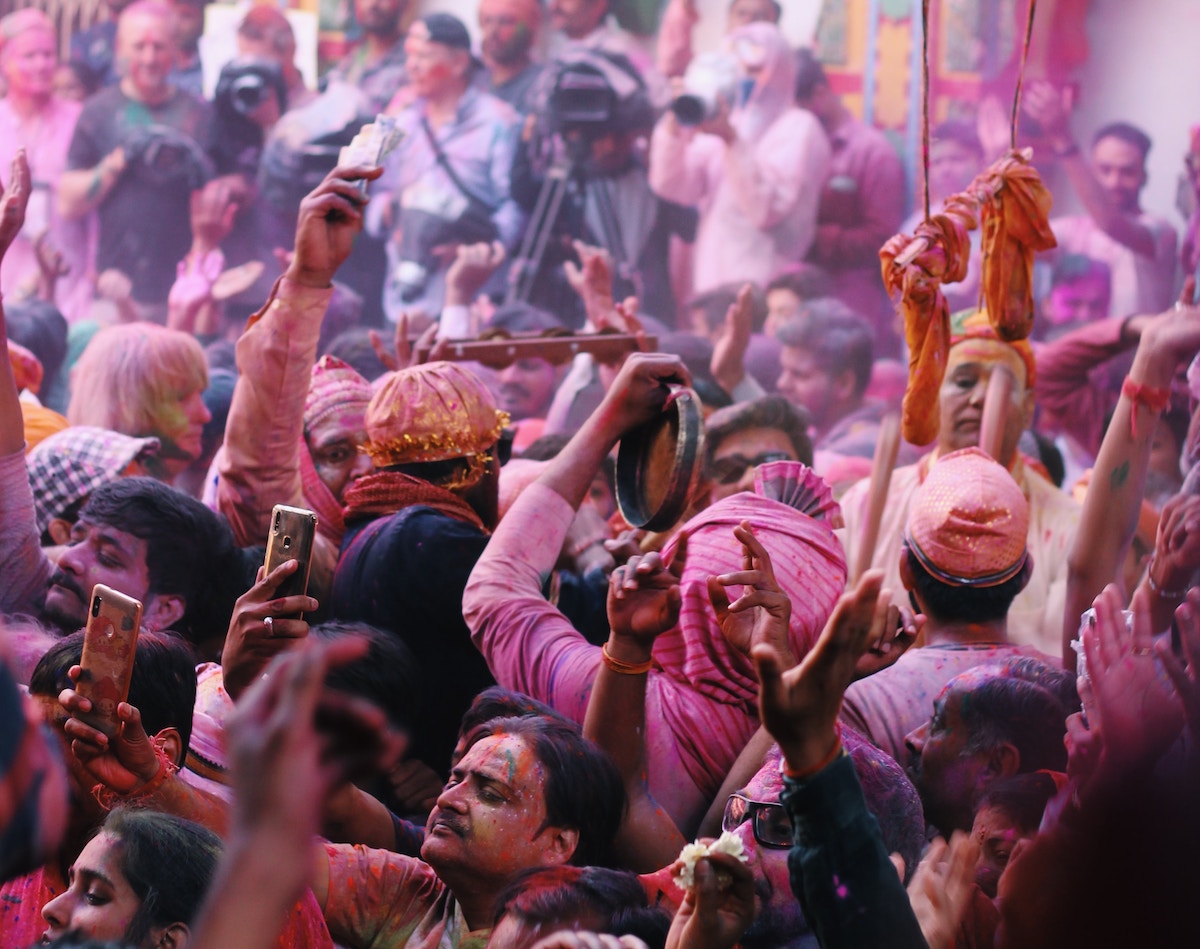 Head to Mathura on the main day of Holi to witness the grand celebrations taking place at the Dwarakadheesh Temple, with its gates opening around 10:00 am. However, it's worth arriving much earlier than this to avoid disappointment, as crowds gather in advance of this time.
The day begins with a procession at the Yamuna Ghat, with the playing with colours starting later in the day. Be prepared for things to get lairy here as the day goes on.
When is The Next Holi Festival in Vrindavan and Mathura?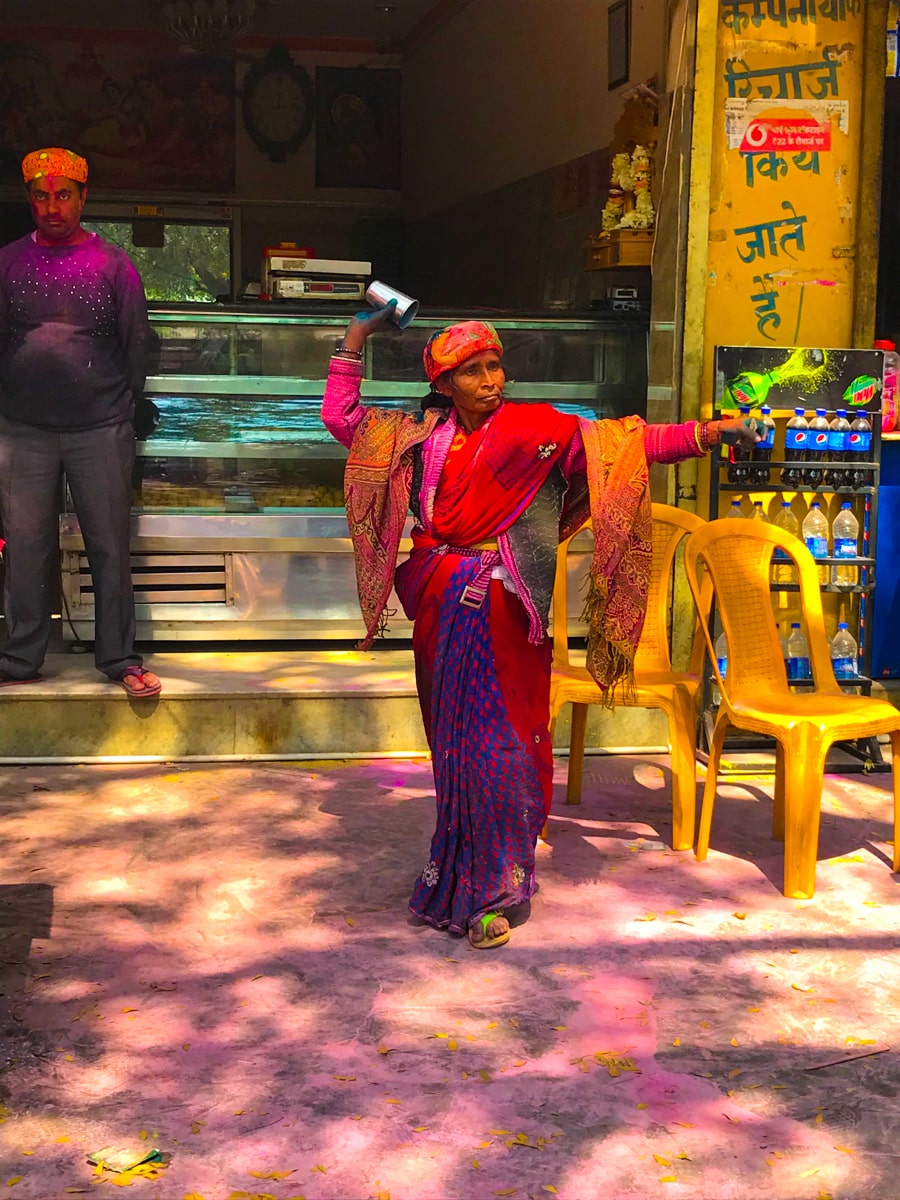 The next opportunity to celebrate Holi in Vrindavan and Mathura is between the 2nd and 10th of March in 2023. Each day is different, so if any of the above temples' activities are a priority for you, be sure to look out for which day they take place that week so you don't leave disappointed.