The art of finding the perfect footwear comes with a couple of challenges, whether it's the durability of the material, their practicability and for some, the overall style or the ethos and ethics behind the product.
Loom Footwear has aimed to combine all of these aspects into the all-action hero of waterproof trainers, and they were kind enough to send me a pair for an honest review.
Breaking down the pros and cons of Loom Footwear will allow you to make the best decision when it comes to getting yourself a pair. This Loom Footwear review will leave no stone unturned so that you are fully armed with enough information to whether you want to add them to your travels.
What Exactly is Loom Footwear?
Crafted from Merino wool interior, an H2-Go waterproof layer and an Excelcast sole, these not only mean that your shoes should last you many moons, but are also environmentally friendly.
Unlike most huge footwear manufacturers, who use unsustainable materials over and over again, causing huge wastage, Loom trainers are crafted from Merino wool. This wool is crafted from Merino sheep, who are reared for their hair – with the company still boldly claiming to be vegan (more on that later).
Not only are the trainer's materials crafted in a sustainable way, but none of this takes away from their comfort and style. Cushioned and comfortable, you can wear Loom Footwear for long treks without the typical foot pain that comes with other less comfortable trainers.
The overall look of the shoe is one that can also compete with the leading trainer makers, something that is not always the case with more conscientious manufactured footwear.
Alongside its many positive features is the fact that they are completely waterproof, something that is often only reserved for more bulky or less stylish footwear. Combining style, waterproofness and sustainability.
Pros of Loom Footwear
With any product review, it's important to break down the pros and cons of the product and there is plenty to shout about when it comes to Loom trainers. These can be broken down into the aesthetic, the practical and longevity of the trainers. Let's take a look at the best pros to Loom Footwear.
Easy Ordering Abroad
Although Loom footwear is based out of the US, its reach is far and wide. With a website providing prices in US, UK, Canadian, Australian and New Zealand currencies, it is easy to price up your new pair of Looms.
Not only do they ship across these westernised countries, but it is also possible to order your footwear from across the globe. Shipping fees and the time it takes to deliver your shoes will all depend on where you are in the world, though with such a worldwide reach, getting your new pair of Loom trainers shouldn't be an issue and I received mine in Thailand within a week of chatting with a Loom representative online.
They Are Stylish
One of the best pros about Loom Footwear is that they look good! We often see footwear that has spent so much time focusing on the ethos and the sustainable elements that the actual product lacks the style that comes with many best-selling trainers, not so with Loom.
From the outsole of the shoe to its tongue and lace cage, everything has been designed to look slick as well as practical.
Although trainers are marketed to be used in exercise or the great outdoors, Loom Footwear can also be worn as part of your everyday outfit. Whether you are on a great outdoor hike or casually walking down the street, Loom trainers fit in with any environment or outfit.
Environmentally Friendly
Due to the consumer nature of trainers and the plastics they contain, the shoe industry is one of the worst polluting industries on the planet. When it comes to Loom Footwear, they are crafted from natural materials, sourced from some of the most eco-friendly farms in the world and sustainably made.
Not only is the material used far more environmentally friendly, but the way they are made also take this into consideration. Each pair of trainers is made by using 45% less energy, 75% fewer fossil fuels, and 4500L less water, compared to the making of traditional trainers.
They're Comfortable and Breathable
Buying traditional trainers or hiking boots often comes with the unappealing factor of stuffiness and sweaty feet after a long day's run or hike. With Loom Footwear, you will be treated to stylish, practical and above all else, comfortable footwear.
The shoes are crafted from materials that absorb and release moisture from the air, keeping your feet breathable and cool.
With four-way stretch Merino wool and a layer of 3D mesh, your feet are cushioned and comfortable, whether you are walking or running. The combination of these layers makes the shoes some of the most comfortable and breathable on the market.
I tested these out here in hot and humid Thailand and I never felt like my feet were suffering, or lacking comfort enough to cause annoyance during my hike.
Genuinely Waterproof
One of the biggest selling points and pros when it comes to Loom shoes is its claim to be completely waterproof is genuine. When wearing the trainers, you can walk through puddles battle the heaviest downpour, and on occasions, I came out of lakes with them still impressively dry.
This genuine waterproofness comes from the design of the shoes. Combining layers of H2-Go and naturally waterproof sheep's hair, the shoes are ultimately protected with both man-made and nature-made materials to keep them dry. Perfectly crafted into the streamlined trainer, the whole shoe becomes impenetrable to water and moisture.
Bouncy Sole
Another element that makes Loomer shoes perfect for long walks, continuous wear and running is their bouncy sole. The pocket of cushioned air, combined with the lined- cushion, and an Excelcast sole, means wearers get that bouncy and light feeling no matter how long the hike or jog is.
As an all-around trainer or shoe, this bounciness competes with many of the best footwear on the market. Although it may not compete with professional marathon running footwear, the comfort that the bouncy sole provides makes the Loom shoe a fantastic and comfortable all-around shoe.
Very Easy To Clean
The design of the Loom trainer that makes it perfectly waterproof also enables them to be cleaned easily. The smooth nature of the shoe means that with a little detergent and cold water, dirt and grime comes away with surprising ease.
Having the black Loom trainer has made the chance of visible stains all the more unlikely, though the overall design of both the black and white trainers means that even the whole trainer will be simple enough to clean.
Any-Weather Friendly
A really notable pro to Loomer shoes is the ability to wear them in any type of weather. The famous waterproof nature of the shoes means that even in the coldest, wettest weather, your feet with be snug and protected.
On the other hand, the Loom trainers can be worn in hot, humid environments, thanks to their breathable nature. I used them hiking in Northern Thailand during the day when it was in the 30 degrees' and also during a road trip so far up north that I reached the Burmese border; famously colder on the evenings and mornings and my Loom's were solid for both of these weather extremes.
They Don't Carry Bad Smells
Many of us are used to the unfortunate side effect of wearing hiking boots, or sports trainers for long periods of time is the often bad odour that such footwear brings.
Where Loom Footwear differs is its ability to destroy bacteria that cause odour and sometimes fungal infections. The shoes do this by using the sheep's hair's natural ability to trap odours and to antimicrobial properties destroy the bacteria that creates the odours. This unique property is something that sets the Loom shoes apart and can only be praised.
Lightweight
Thanks to the careful designs and manufacture, the Loom Footwear is perfectly lightweight. This makes them ideal for sports and hiking; their lightweight design means that you are not weighed down by heavy footwear when conducting exercise or hikes.
Minimalist travellers will rejoice with these shoes being an all-arounder for travel.
Ankle Support
With such a lightweight design, you would expect the shoes to be quite flimsy and you're usually correct in your suspicions, yet this is not the case. Their smart design means that there is strong ankle support, which makes them makes them ideal for hiking and also sport. (I played football in my Loom shoes, with all sorts of twists and turns and I had no near-scares.
Combining both strong ankle support with a lightweight design is definitely something that makes these shoes stand out.
Cons of Loom Footwear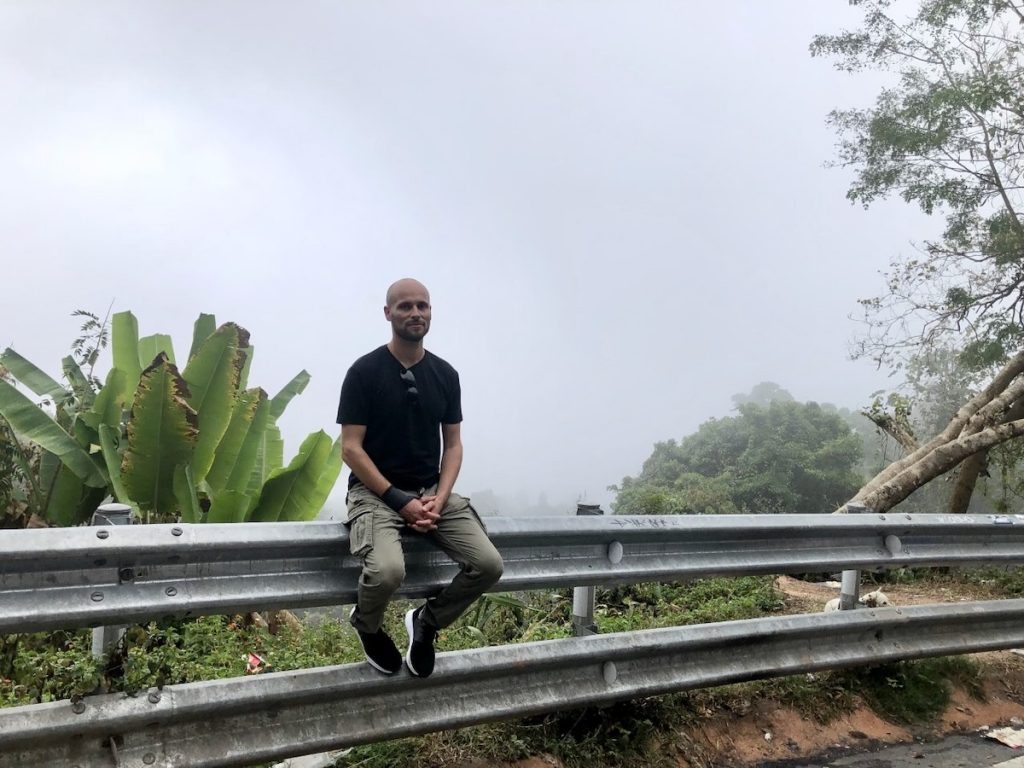 As with any product review, it's essential to bring a little balance, and although the cons of Loom Footwear are minimal compared to the pros, there are a few things that need to be worked on and one in particular that doesn't sit so well with me.
Sizing
Shoe sizes can fall into different measurements, depending on where you are from. If there is an online fault in Loom Footwear, it is getting the conversion correct between these scales, whether they sit in UK, US or European sizing. Only available in whole sizes, if you fall into the half sizing section, there may be more crossed wires when ordering your shoes via their website.
Pricing
Though there is a fair argument that you normally need to pay for high-quality materials and design, Loom Footwear's price of USD $249.99 is a surprisingly high one. This being said, the company's website is in the habit of posting regular sales of these shoes, with often as much as 50% off.
Bad Reviews About Return Policy
Many online customers often find fault with Loom's return policy, which has to be noted as a negative. Some of the purchases are non-refundable; when delivery is excepted, there is no going back.
Loom states that based on returns and refunds are not accepted for Loom shoes that have been worn. To be eligible for a return, your item must be in the same condition that you received it. It must also be in the original packaging. This lack of pragmatic approaches and flexibility is something that goes against the brand for some people.
I have to remind readers that I had absolutely no experience with this myself, as I received a pair of Loom Footwear in direct exchange for an open and honest review on my blog.
Limited Colour Options
The majority of companies will offer a huge range of colours for their shoes. When it comes to Loom Footwear, there is a limited choice between black and white. For those amongst you who are keen to buy fluorescent or even primary coloured trainers, this can be a disappointment.
I'm not too adventurous myself with the colours of trainers, but I'm pretty sure Loom will evolve and offer more colours.
Vague (And Probable False) Claims of Veganism
When first approached by Loom Footwear via email I was informed that the trainers were vegan on top of all of the other impressive bells and whistles. I thought "sign me up!" After all, I reluctantly chose to go vegan for ethical reasons roughly 6 years ago.
I had no reason to believe otherwise and agreed to receive the shoes in exchange for a review. Upon wearing them, I learned that the shoes were made from (as stated several times in this post) Merino wool, which of course is sheep's hair.
I searched their site and for search terms regarding their claims of "PETA-approved" practices for an answer and I was left with even more questions. PETA is a lot more hardcore than me in terms of vegan identity, but the wool industry is not without blood on its hands as I found out from the powerful 'Earthlings' documentary and from further education to the suffering that animals have to endure in all industries.
I am a fan of the Vegan Society's definition of what vegan is:
"Veganism is a philosophy and way of living which seeks to exclude, as far as is possible and practicable, all forms of exploitation of, and cruelty to, animals for food, clothing or any other purpose."
I will always remain highly suspicious of any "ethical" claims when an animal is involved (and in this case bred for the sole purpose of financial gain).
In short, I am pragmatic and I know that I am facing an uphill battle here with only a tiny percentage of the world's population living according to this strict philosophy. I do also believe in personal accountability and next time I will carry out due diligence in such a scenario.
"Sustainable," does not always equate to "ethical." I'd like to think that this is not a company piggy-backing off veganism because it's currently à-la-mode, and more about not knowing what the definition of veganism and even 'cruelty-free' really is.
Devil's advocate time; Maybe I am just missing something, or the website copy failed to make it clearer.
What Loom Footwear Are Perfect For
A pair of Loom trainers are ideal for many forms of exercise and hiking. Activities such as hiking, running, and long-distance walks can be made far more comfortable in a pair of Looms.
Loom Footwear is also ideal for walking in humid or wet environments, as you will be comfortable and completely dry. On the slide, these trainers are also perfect for simply hanging about, or idle walks through the street. They offer both style and substance, making them a real universal pair of shoes.
What Loom Footwear Are Not Perfect For
Where you wouldn't instantly grab your pair of Loom trainers are when you are participating in a competitive 10k, or longer runs, hardcore rock climbing, mountain climbing and more intensive hikes.
Although they offer support and protection from the elements, you will require far more specialised footwear for these kinds of activities. At the end of the day, they are a trainer and would not protect you from ultracold or falling debris, something that you would have to factor in on more hardcore pastimes.
Conclusion: Are Loom Footwear Worth it?
Overall, Loom trainers are impressive and live up to their claims of waterproof protection, stylish designs, odour-killing materials, good ankle support, environmentally-friendly materials and is easy to clean.
Although a little pricey and with a questionable returns policy, these things are irrespective of the fact that they have put a lot of effort into their product.
As this is a travel blog; I think they would be a worthy addition to your backpack or suitcase (if unlike myself, the suspicion of vegan claims doesn't play on your mind. I know I'm very much in the minority with this one).