Climbing Mount Kinabalu: How To Summit Borneo's Tallest Peak
Update: This post was originally about Climbing Mount Kinabalu in one day, which I did as part of a Man Vs Clock fitness challenge. However, since 2015 this option is no longer possible. I have left some information about the one-day climb just in case this becomes available again. The rest of the article is now focused on the logistics of planning the climb so that you get to the top, for a proud summit pic and a happy memory of your time in Malaysian Borneo.
Updated: 23/12/20 | December 23rd, 2020
Best Month to Climb Mount Kinabalu
The best month to climb Mount Kinabalu is between March to September, as this is officially dry season in Kota Kinabalu. However, if you can not climb during this period, there are some perks to having a crack between October to January.
The downside is that there is more chance of rain and your pre-agreed climb might be delayed or even cancelled, but you'll reap the benefits of cheaper local accommodation and less traffic on the mountain.
I climbed Mount Kinabalu in April, which I am assuming is the sweet spot because there was little to no chance of rain and the mountain wasn't too busy at all.
Mount Kinabalu Price: 1 Day
Just a friendly reminder that this is no longer a viable option and I've only kept it here on the off-chance of it returning. Also, the national park now only allows 100 permits per day so don't leave your planning until last-minute.
Permit – RM100 per person (non-Malaysian)
Insurance – RM7 per person
Mountain Guide – RM128
Conservation fee – RM3
Private Room in nearby hostel – RM27
Mount Kinabalu Price: 2 Days
Permit – RM 200-00 per person (RM50 for Malaysians)
Insurance – RM7 per person
Mountain Guide – RM230 (This is compulsory and there is not an option to go solo)
Conservation fee – RM3 per person
Transportation fee there and back – RM17
Private Rooms for one night: Laban Rata is the place to stay on Mount Kinabalu for the first night before summiting. To be honest, it's not the cheapest, so shop around on Agoda for different dates and consider sharing a dorm if you're uncomfortable with the price.
Package deal for climbing Mount Kinabalu: If you have the budget to spend and you prioritise convenience over costs then you should check out this Viator Mount Kinabalu package and let them do all the hard work for you.
Preparation for Mount Kinabalu
As you can see from above, the logistics of climbing Mount Kinabalu can be pretty tricky, but let's look at how to prepare for a successful climb. I've climbed a lot of mountains all over the world, and I've had to learn the hard way that not having the best gear for your climb can make things unnecessarily harder.
When I say "best" gear, I don't mean the most expensive, I am talking about the best gear in terms of terrain, weather and technical level for the particular mountain that you are attempting to climb.
View this post on Instagram
What to wear when climbing Mount Kinabalu:
A good pair of hiking boots. Sports shoes might be "just enough" but they are not optimal, also Kinabalu can be very slippery, so it's best to have proper shoes with a good grip.

Waterproof backpack (or a waterproof cover, for a cheaper option. It will just be a little annoying taking it on and off)

2 lightweight t-shirts

2 lightweight hiking pants

Thick socks

Fleece jacket

A small travel towel

Trekking pole (or rent one there for RM45)

Windbreaker

Head torch (make sure you do a dummy run with it beforehand). There's nothing more irritating than realising you have the weakest head torch during a night climb, trust me.

A Buff/Cap if you're a fellow baldie who doesn't want their head fried

Raincoat/Poncho

Waterproof gloves with a good grip
Mount Kinabalu Climbing Difficulty
Mount Kinabalu is a decent bump in the sky, towering at 4,095 and is usually incorrectly referred to as the tallest mountain in Southeast Asia. I don't know if that is due to a marketing gimmick that has just stuck around, or whether it's looking at it from a differing geological perspective (Puncak Jaya is technically Southeast Asia) but it's certainly the tallest mountain in Borneo (which will still sound pretty cool when you humble brag to your loved ones).
The path all the way is very well-trodden with a total elevation gain of 2300 metres. It can get very slippery, so watch your footing.
You should have above-average fitness levels when climbing Mount Kinabalu because your body will be more adaptable at high altitude, you will also enjoy the climb more and be able to get to the Laban Rata lodge faster.
Arriving there faster means you can get refuelled quicker and you will have more time to relax before your early morning climb to Laban Rata on summit day. So you'll need decent cardio and a strong core to climb Mount Kinabalu, although there have admittedly been times when I have been out of shape and slipped through the net by summiting a mountain that I should have had absolutely no right to summit.
But I don't recommend this. It's miserable and takes away the beauty of many moments. Train hard for this mountain if you have the time, there is no point in making it anymore difficult than it needs to be.
Climbing Mount Kinabalu Tips
I think that this covers everything you need for your Mount Kinabalu climb, but let's finish it off with a checklist to hammer home all the information so that you will have the confidence that you need for your trip to Malaysian Borneo:
Dress accordingly: Pack your backpack weeks before as a test pack. Make sure you have everything from the above checklist. Unpack and pack again just to make sure!
Book everything in advance: Regardless of budget, don't leave anything until last minute due to the 100-people-a-day limits, time and seasonal constraints.
If you're conservative/risk aversive: Book your Mount Kinabalu hike for the driest season.
Read the online reviews of your mountain guide
Train for your climb: Your fit, strong body will thank you for it and your mind will enjoy it more
Don't wander off from your guide: They know what they're doing, it's their job.
Rent or buy a walking pole: If you think you might need it.
Remember that you have to come down too: I've climbed

so many mountains

now, that this doesn't catch me out anymore. Smile and be proud at the top (you earned it!) but get your game face on for the slippery road back down. Many sources state that people have more accidents

when descending a mountain

. No fear mongering here, just looking out for you like an overprotective mother. I'm on your side!
Plan your photo before you get to Low's Peak (the summit) to get the famous shot in: Last, but not least – the backdrop of this gorgeous peak makes a wonderful view and is a famous photo to grab on your way up to the top of Borneo.So there you go, hopefully everything you need to know about Climbing Mount Kinabalu.
Good luck and feel free to annoy your friends and family with the frequent "that one time, when I climbed the highest mountain in Borneo" story. If they stop hanging out with you then go back to the other side of Borneo and hang out with orangutans all day instead!
Like this post? Pin it for later…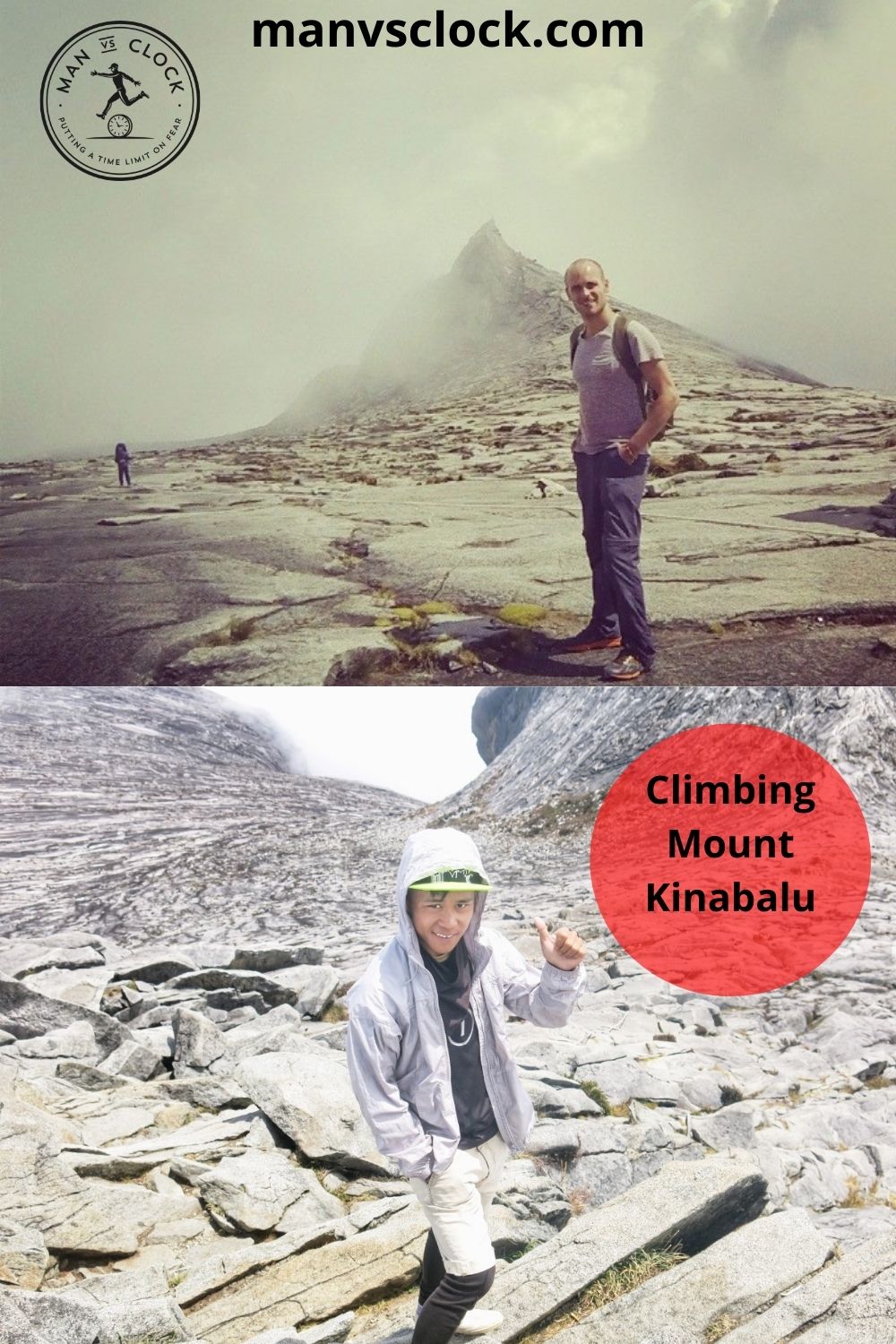 Further Kota Kinabalu Travel Resources
Where To Stay for Climbing Kota Kinabalu
I stayed in Sutera Sanctuary Lodge, which had a comfy bed and a lovely botanical garden. I usually use Booking.com but if I am wanting to live in a local apartment for a period of time I find one on Airbnb. If you don't have an account already, sign up to Airbnb using this link for a $38USD/£34 credit towards your first trip.
Best Travel Insurance
Finding the right travel insurance can be one of the most stressful things about the planning process. After 9 years on the road (and a handful of bad experiences) I'm well-versed on this topic and I have been raving about SafetyWing ever since I switched over.
You can sign up to a monthly contract, they're cheap as chips – starting at $9USD per week and they cater for both world travellers and digital nomads. You can read my full review blog post here, or you can get a hassle-free quote here.
Malaysia Travel Guide
Coming soon!
Want to Start a Blog?
Starting this blog was honestly the best decision I've ever made in my life. When used correctly and taken seriously, it's a powerful tool with the ability to upgrade the way you live and mine is living proof of that. Don't listen to anyone (including the voice in your head) telling you that it's too late as it's a "saturated market." Plenty of the cake to go around, come get a slice.
Maybe that doesn't appeal to you and you just want an up-to-date travel journal, or a place to showcase your interests/talents. Cool! If you're interested in getting started then check out my guide How To Start A Blog Before You've Even Finished Your Cup Of Tea!
Want to Save Money and Travel Better?
Feel free to check out my travel resources page, which talks in detail about the best companies to use around the world for less stress and more savings