Many tourists flocking to Sarawak want to know how to see orangutans at Semenggoh Wildlife Centre, a place with a glowing reputation for 4 decades in Kuching; I simply had to check out this place for myself while visiting Malaysian Borneo.
Semenggoh Wildlife Centre, also known as Semenggoh Nature Reserve is a safe haven for these troubled gorgeous great apes, which also allows visitors to responsibly get a glimpse of these incredibly endangered species.
I don't mess about when it comes to chasing my goals and a common theme on my travel bucket list is witnessing wild animals in their natural habitat (for better or worse). I will never lose my enthusiasm for this, but for me, animals that are closer in lineage to us humans, such as any family of apes are always going to stand out.
I had already been acquainted with the adorable, suicidal Tarsier of the Philippines, seen a silverback gorilla in the Ugandan rainforest and also the other monkeys that reside in the 3 nations that govern Borneo; the wonderful willy-nosed Proboscis Monkeys!
When it comes to Orangutans, these distant relatives of ours are native to Indonesia and Malaysia and are found only in the rainforests of Borneo and Sumatra. So after some solid research, I decided to check out Semenggoh Wildlife Centre and see if it was worth the glowing reviews.
I learned a lot and I got to see way more of the hairy locals than I expected. I embraced my superpower of asking the staff at Semenggoh multiple annoying questions before, during and after my visit (God bless them) and put the answers in a blog post, especially for you.
Background of Semenggoh Wildlife Centre
Semenggoh Wildlife Centre was established in 1972 and quickly became the largest orangutan rehabilitation centre in Sarawak. As well as being a refuge for displaced and abused orangutans, they educate visitors about the plight of these tormented species whilst providing the animals with a fighting chance to survive and thrive under less than favourable conditions.
There are just over 30 wild and almost-wild orangutans in the 1,613 acres of forest, which does not have enough land or naturally growing resources to feed the animals, so your money helps massively with donations to subsidise food that they are lacking due to the cards that the poor animals have currently been dealt.
The centre is also a home for gibbons, giant squirrels, pigmy squirrels, crocodiles and an interesting variety of exotic birds.
Best Time To Visit Semmenggoh
Good news; the best time to see orangutans in Borneo is also the most ideal time to visit Borneo, as the main factor is the weather and how it affects the feeding times of the animals. Between March and October is the sweet spot as it's hot and humid (dry season), making it ideal conditions to see these adorable, tree-swinging gingers.
Fruit season is a common concern for tourists hoping to see orangutans, which sees its most intense period in December and January. Technically all year round is fruit season as different fruits grow at different cycles. There have been reported sightings of the orangutans during this time and also disappointed travellers who didn't see any, so while this period is not optimal it is still certainly possible.
Essentially you can see orangutans all year round in Borneo as they don't hibernate or migrate. Orangutans are no strangers to rain (a perk of living in the rainforest) although they have been known to hide from it under trees or by impressively using large leaves as makeshift umbrellas, so this will affect the feeding times if the usual time is met with heavy rain.
If you can't make it to Borneo during that sweet spot, don't let it put you off visiting. Travelling during off-peak season obviously sees cheaper prices on flights and hotels, so if you're a bargain hunter then you should shop around for visiting Borneo from November up until March, with January and February being the tail-end of the rainy season.
Visiting Semenggoh Wildlife Centre in 2023
Semenggoh was a serious casualty of Covid, with the sanctuary being the last Orangutan-centric place in Malaysian Borneo allowed to open back up to the general public.
I spoke to the staff on Facebook chat and the good news is as of July 2022 the place is alive and kicking again for locals and tourists. They also kindly sent me their updated opening times and prices:
Visiting Hours: Morning: 08:00 am – 10:00 am Afternoon: 2:00 pm-4:00 pm
Entrance Fee: 1) Local (Malaysian): a) Adult = RM 5.00 b) Child (6-18years) = RM 2.00 c) S.Citizen/Disable = RM 3.00 2) Foreigner (Non-Malaysian): a) Adult = RM 10.00 b) Child (6-18years) = RM 5.00 c) Disable Person = RM 5.00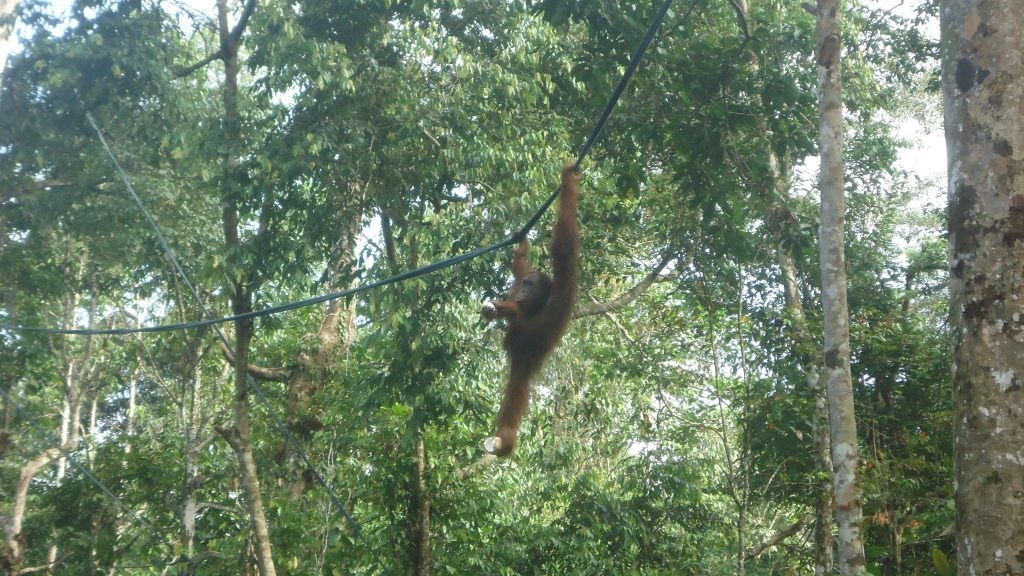 How To Get To Semenggoh Wildlife Centre
For your first step toward seeing Orangutans in the wild, you will need to fly to Kuching International Airport (KCH).
I was way up in the north in Sabah after climbing Mount Kinabalu in April and the one-way direct flight cost me $100 USD.
Semenggoh Nature Reserve is about 30km from Kuching City, so if your hotel isn't organising your 100 Malaysian ringgit private bus you can get the number K6 bus 1km outside of the entrance (ask the driver to remind you at the right stop) of the centre for 3 Malaysian ringgit from the bus station at Jalan Gartak.
The first bus leaves at 7:15 am and there are only 3 busses, every 3 hours. I'm not sure about the busses back as I got a taxi back for 50 Malaysian ringgit.
Use the beautiful pink-domed 'Masjid Bahagian Mosque' as a point of reference, which is only a few minutes walk away from the bus station. The place where all the action happens is a further 20 minutes walk from the main gate, so bear this in mind when planning your visit around the feeding times.
Feeding Times At Semenggoh Wildlife Centre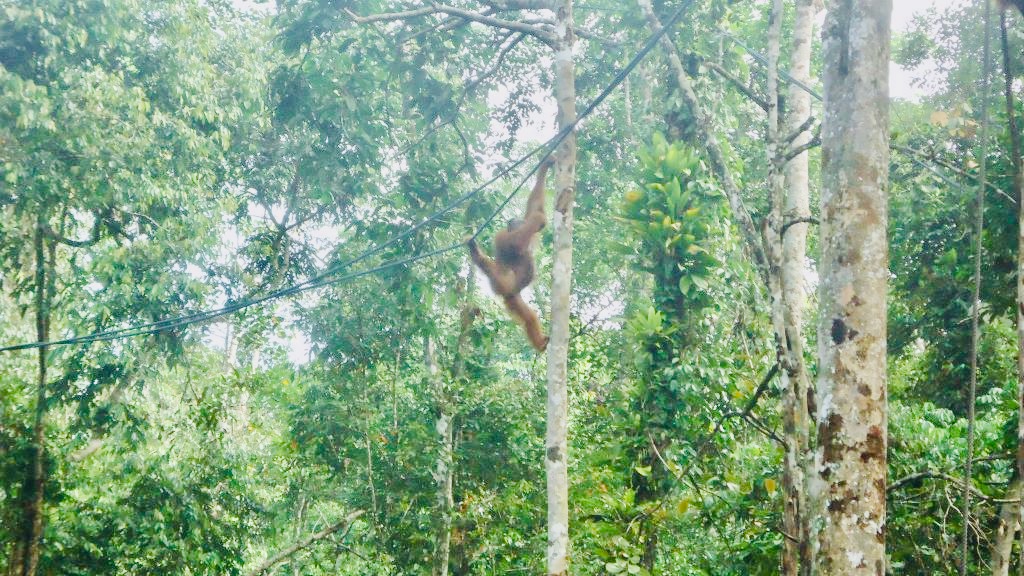 Feeding times take place twice in the day; once in the morning between 9-10 and once again in the afternoon between 3-4. Note that this doesn't particularly mean that you will 100% see them during this time, they may have had their feed already in the jungle or as mentioned before rain might change things.
However, there is still quite a high chance of seeing them during these times and it was one of the reasons I chose this particular orangutan sanctuary, Kuching seemed to have a decent amount of sightings, and rave reviews and I got to see way more animals than I expected.
5 Facts About the Orangutans in Semmenggoh
The sanctuary is a rehabilitation centre for orangutans found in captivity.
Many of the orangutans that come for feeding times have already been released back into the wild, but their local forest does not produce enough natural food. So it's not possible at the moment for them to be completely self-sufficient without human intervention.
Some of the larger males can weigh over 100kg! (I saw one of these big boys during my trip).
Deforestation, illegal pet trade, injuries, fires and orphaned orangutans due to the production of palm plantations are the main threat to orangutans who come to the sanctuary and many others like it.
The orangutans are fed bananas, sugar cane, papayas, oranges, pineapples, hard-boiled eggs, coconuts and sweet potatoes.
5 Respectful Rules To Consider At Semmenggoh
When visiting the orangutan sanctuary, you must respect the fact that these are wild animals, not domesticated like your dog or cat. You can get a cool enough Instagram photo without you being right up close to the orangutan and the centre asks you to respect a 6-metre rule at all times.

Do not bring any food or drink into the centre, this will confuse the animals or they may even approach you thinking that the food is for them. Good luck telling a 100-kilogram alpha male that it's actually "your" banana

in your backpack.

Do not smoke or litter on

the grounds of the centre.

Do not collect any animals (yes, some people have done this before and still try it) or plants. This is the orangutans' home, so don't steal their already limited resources.

We were not warned about this one, but it's important to know that camera tripods are banned. A guy set his massive tripod up and the wardens and orangutans freaked out in unison – these are intelligent animals and they suspect that you may be a poacher setting up his weapon to hurt them.
All of the above rules exist to protect the animals and also us humans that desire to see them. As cute as they are, orangutans are freakishly strong and you really don't want to upset one.
My Experience Visiting Semmenggoh Wildlife Centre
After paying my 10 Malaysian Ringgit and walking the 20 minutes we met our guide who told us the above rules after introducing us to photos of the family of orangutans along with their names. He then led us through the forest where I impatiently sat and waited to see if today was my lucky day.
After 30 minutes or so, with the fruit already out in plain sight, I made peace with myself that today wasn't going to be the day and it seemed that at that very moment, I had accepted it, a group of 4-5 orangutans swang towards our direction in the distance.
Their athleticism was absolutely incredible as they effortlessly glided from tree to tree and sometimes built-in ropes. When they landed I was surprised to see that they grabbed the fruit by their feet, before climbing back up the trees to get stuck into their snack.
I thought that it couldn't get any better and I'd have taken that for a perfect day, until a fully grown orangutan walked by me on all fours, roaming on its knuckles. We were in complete awe, but sadly there is always that one person who doesn't listen to perfectly acceptable boundaries and a female tourist got really close for a picture (mine looks close, but it's just the zoom).
The orangutan freaked out, clasped both of its hands together and banged hard against the bit of a wooden bridge that it was walking on, I heard the solid wood crack and it ruptured a part of the structure. The immense strength of these captivating creatures was witnessed before my very eyes.
"You're making him angry," one tourist said. The guide interjected immediately "She," it was the mother, which makes sense as most primates stay with their mothers throughout their life until they are ready to go it alone, and pretty much every time you see a parent animal go mad when their child is under perceived threat; it's usually the female of the species who is ready to throw down at all costs.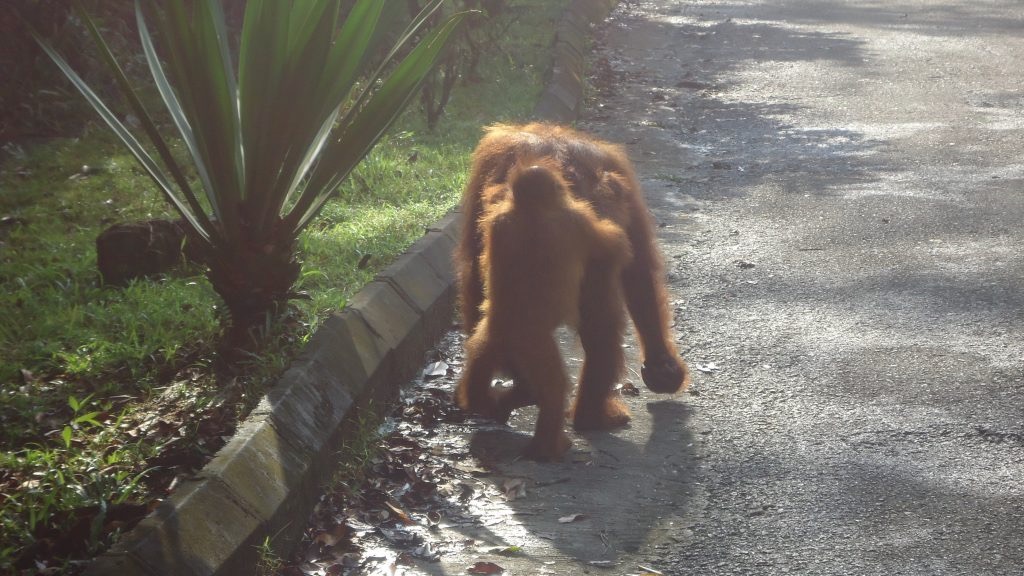 This was slightly annoying, but it wasn't enough to make a beautiful day anything other than that. It was a shame to see an already troubled animal under distress and I'm sure the lady didn't have bad intentions when she annoyed her, it was also a real eye-opener to witness such brute strength and power – I'm just happy that it was against a wooden structure.
I'm not sure if he was saying it for dramatic effect, but the guide turned to me during the crawling mother and said; "remember you saw this because they could become extinct soon." I read often about the plight of animals around the globe and depressingly his words seem very accurate, as orangutans are high on the hit list of becoming extinct.
I don't have inside info and can only go off what I saw and the vibe that I felt from the staff while Semmenggoh Wildlife Centre, who seem to be doing the very best that they can in an awful situation. A nice mix of pragmatism and empathy, it's a thumbs up from me.