Standing at 8,300 feet (2,530 metres) over the southern hills of Guatemala, Pacaya is a force of nature that is revered and often feared by locals; for tourists arriving in Guatemala; the Pacaya Volcano hike at sunset certainly has a romantic sound to it.
Dormant for over 70 years, Pacaya began frequently erupting from the early 1960s onwards and has remained an active volcano ever since.
So who would be silly enough to want to hike a volcano in Guatemala that has recently gotten angry again? Well, it's not as sexy as dodging falling ash and trying to outrun a river of lava – true disaster movie style – it's a little more subtle than that.
Let's dig into the hows, whys and whens of the Pacaya Volcano hike at sunset and whether it's worth your time.
Best Time of Year For The Pacaya Volcano Sunset Hike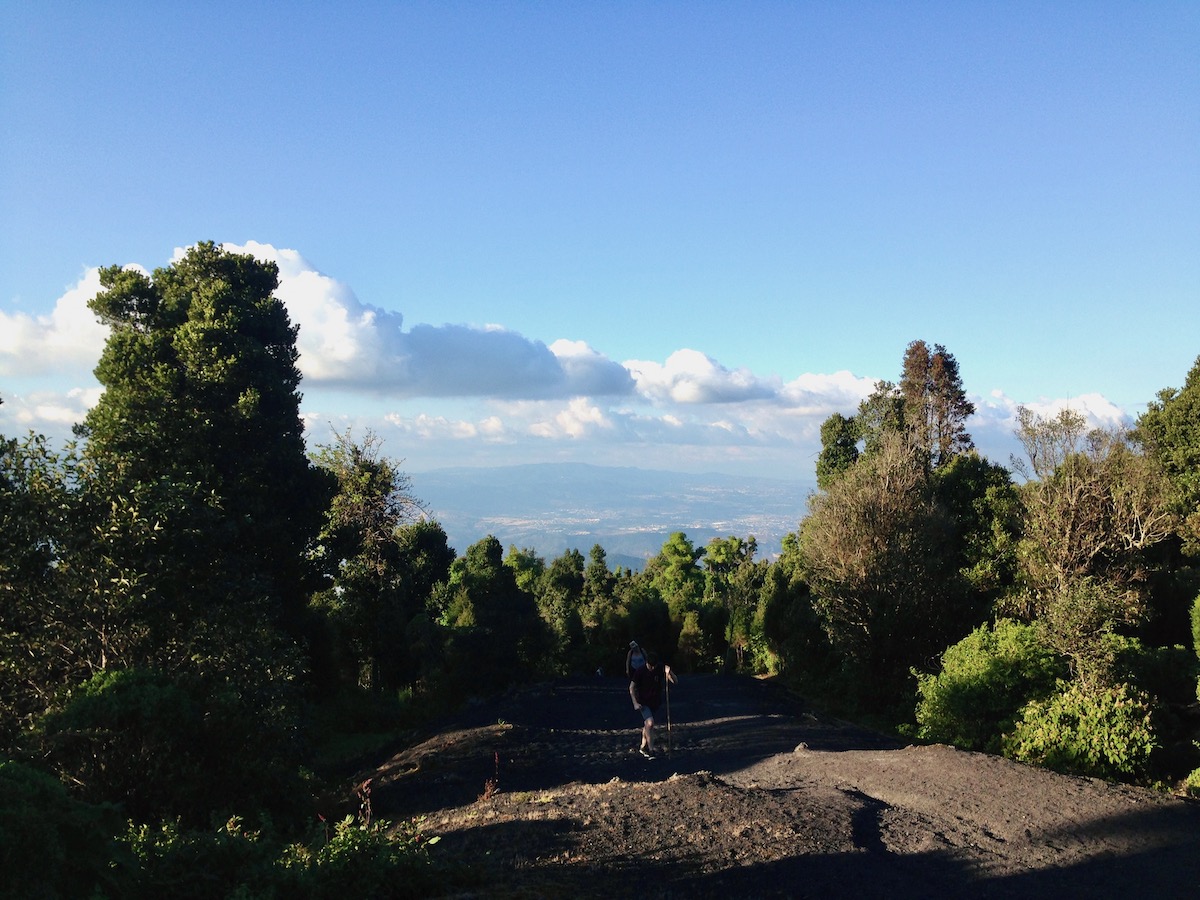 As is the case with most tropical and Central American countries, the yearly climate in Guatemala is broken into two distinct seasons; dry and wet.
The choice is obvious, right? Who would want to hike through wet sand, mud and a torrential downpour? Very true, but who would want to suffer in the blistering heat either?
Generally speaking, the dry season in Guatemala starts in November and lasts until April. November is considered to be the best time of the year for hiking Pacaya, just after the rain, but just before it gets too hot to handle. As a shoulder month (which is when I hiked it) you can dodge the hordes of tourists that also want to tick Pacaya off their Guatemala bucket list.
The Pacaya Volcano hike during November also lends itself perfectly to the picturesque photo opportunity and pleasant hike. The rains have only just stopped, leaving the landscape lush with green vegetation, a perfect contrast against the grey and black tones of cooled volcanic rock.
Is Hiking Pacaya Volcano Dangerous?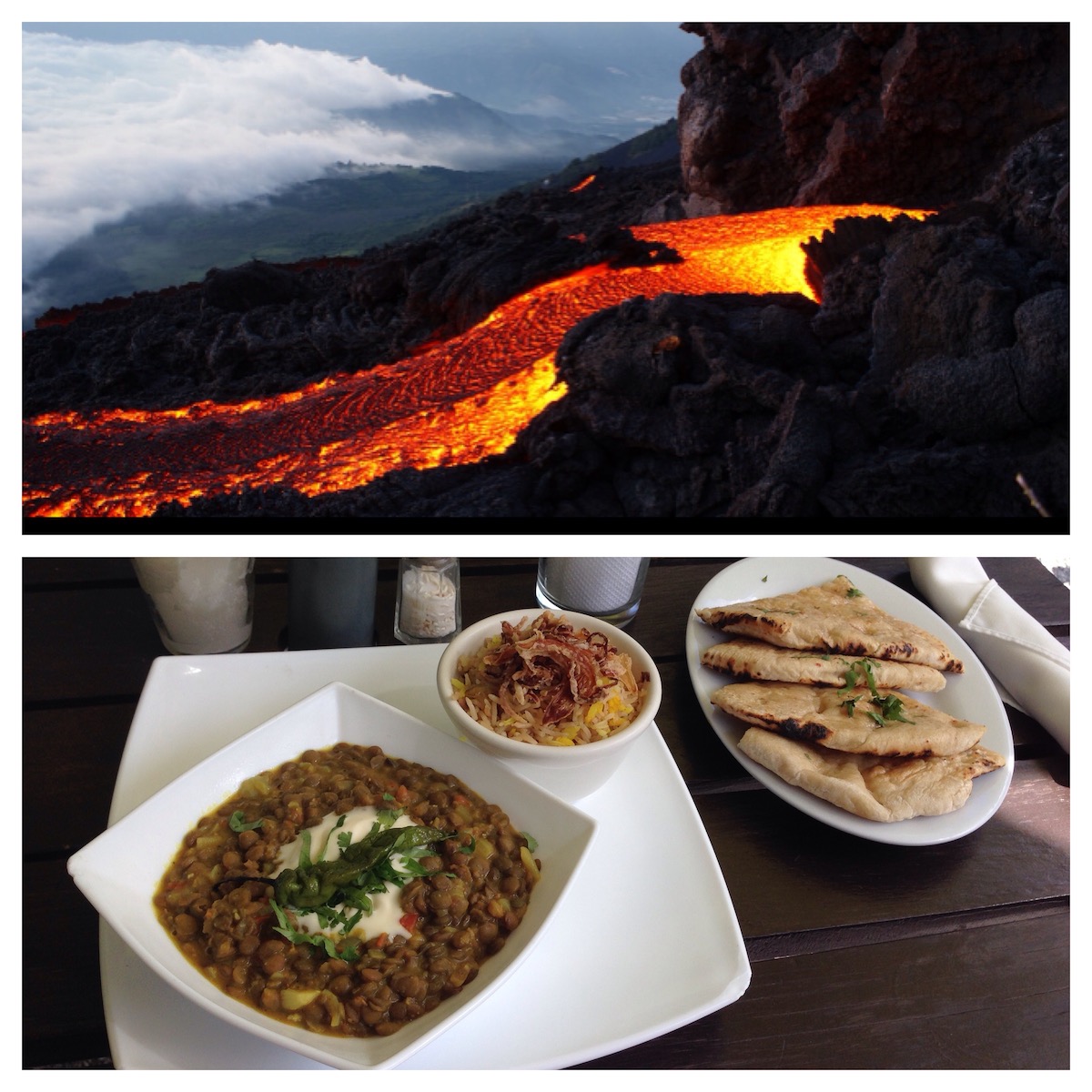 Pacaya is exactly 8,373 feet (2,552 metres) tall and the trek has an elevation gain of around 1,500 feet, a decent half-day workout in beautiful surroundings.
Now let's talk about that bubbling activity. Its eruptions are what are known as Strombolian eruptions or Plinian eruptions. This sort of volcanic activity usually consists of lots of ash, mild lava flow and the occasional wind of debris.
This makes hiking the Pacaya Volcano not exactly free from danger, yet hair-raising enough to still get that thrill without the life-threatening flee from a Guatemalan hillside.
A tad bit saucier than climbing Mount Fuji, in terms of potential volcanic eruption dinner table stories.
Pacaya's most recent eruption took place in early May 2021. This saw mild lava flow down the westerly side of the volcano, but thankfully it didn't threaten the nearby farmland and communities below. These frequent eruptions only seem to add to the appeal of hiking Pacaya Volcano for lovers of adventure travel.
The precarious nature of Pacaya doesn't mean that you can't hike close enough to the top to quench your curiosity. But the three-mile trek, up to an elevation of 1,500 meters promises to get the blood pumping. Complete with hot volcanic rocks, distant smoke fumes and an occasional melted shoe sole – hiking Guatemala's Pacaya Volcano can certainly scratch your adventurous itch.
How To Get To Pacaya From Antigua (+ Costs)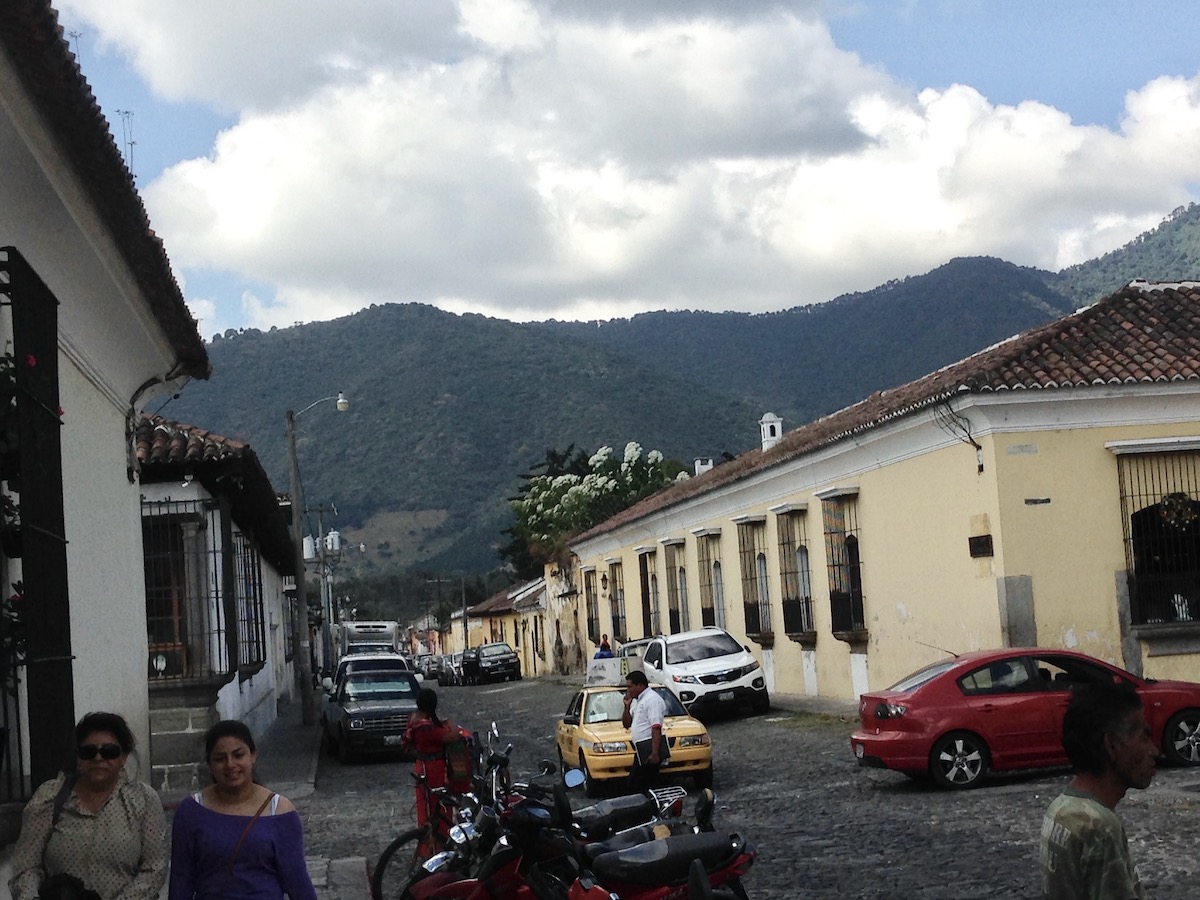 Like with many tourist hotspots, the price of your experience can range from ultra-budget to catering to those with deeper pockets; the choice is yours.
It is important to mention at this point that independently hiking Pacaya Volcano without the assistance of a tour guide is not even an option. Don't think this is a tourist trap, it is far more logical than that.
First off, you're attempting to navigate an eight-thousand-foot active volcano; this should be reason enough to want a well-informed local to show you the way. Secondly, an effort is often made to protect national parks, wherever you are in the world. Having a tour guide managing the influx and impact of foreign tourists can only be a good thing.
Let's take a look at your transport options to suit all budgets.
1. Budget-friendly public transport
Pacaya's hiking trips generally begin from the town of Antigua, an hour's drive west of the volcano and national park. If you're looking to save money on your Pacaya experience, you can travel to Pacaya using the local bus, which involves a bus change and a rather uncomfortable two-hour journey.
First, you'll need to take the bus from Antigua and head to Esculintla. Next, take a second bus from Esculintla heading to Amatitlan, ensuring you get off at the entrance to the National Park. This bus journey tends to cost as little as 20 Guatemalan quetzals.
While this is the cheapest option, when added to the obligatory 50 Guatemalan quetzals you have to pay to enter the park and the 200 Guatemalan quetzals for the mandatory tour guide, it may not work out all that cheaper than booking a tour from Antigua after all.
Another thing to consider is safety, you're more than likely to stand out as a tourist and bus robberies aren't exactly rare in Central America, also time restraints/late busses could result in you missing the Pacaya volcano sunset hike.
2. Mid-range tours
If you're willing to spend a little more on your Pacaya Volcano hike (and in a country such as Guatemala, this really isn't much), you can have a far more relaxed and organised adventure. The majority of visitors to Pacaya organise a tour from the local town of Antigua. There are numerous reputable tour companies in the town and most can be booked online in advance.
The cost of an organised tour ranges from 300 Guatemalan quetzals up to 660 Guatemalan quetzals. Be sure you understand what is included in the tour before parting with your cash, as some won't include things such as the entrance fee.
Considering you want to be at the summit of Pacayas for sunset, you'll leave Antigua at 2 pm, taking an hour to get from the town to the entrance of the national park. The trek to the top and back will usually take around 4 hours, a little longer to stop for photo ops or a bite to eat. of the toasted marshmallows courtesy of the volcano's heat.
Also, you'll be tired and more than ready to get into your minivan and back to the pretty little city of Antigua for your celebratory ice-cold bottle of Gallo beer if you like to try local drinks on the road.
Pacaya Volcano Hike Difficulty Level (Fitness Required)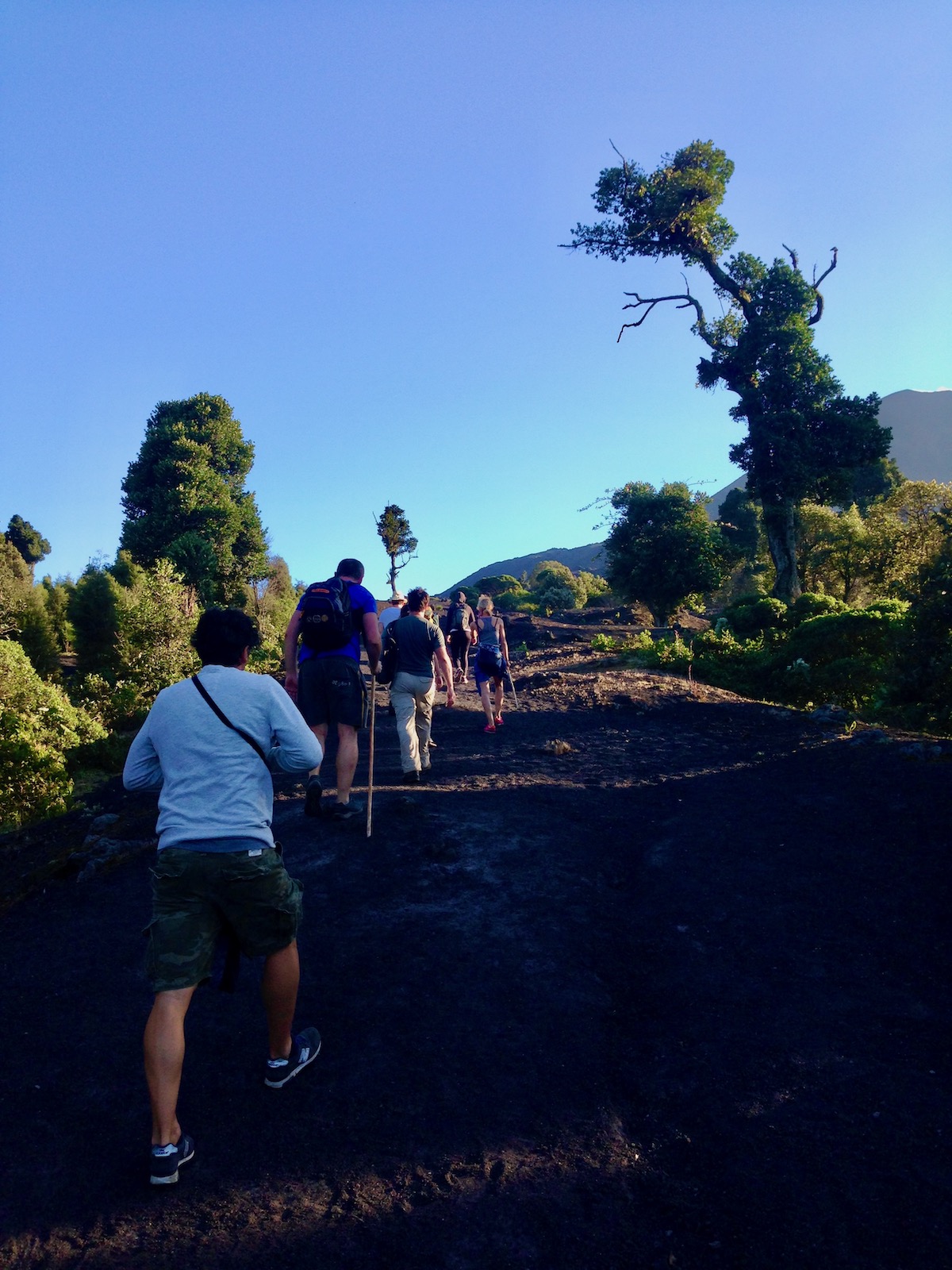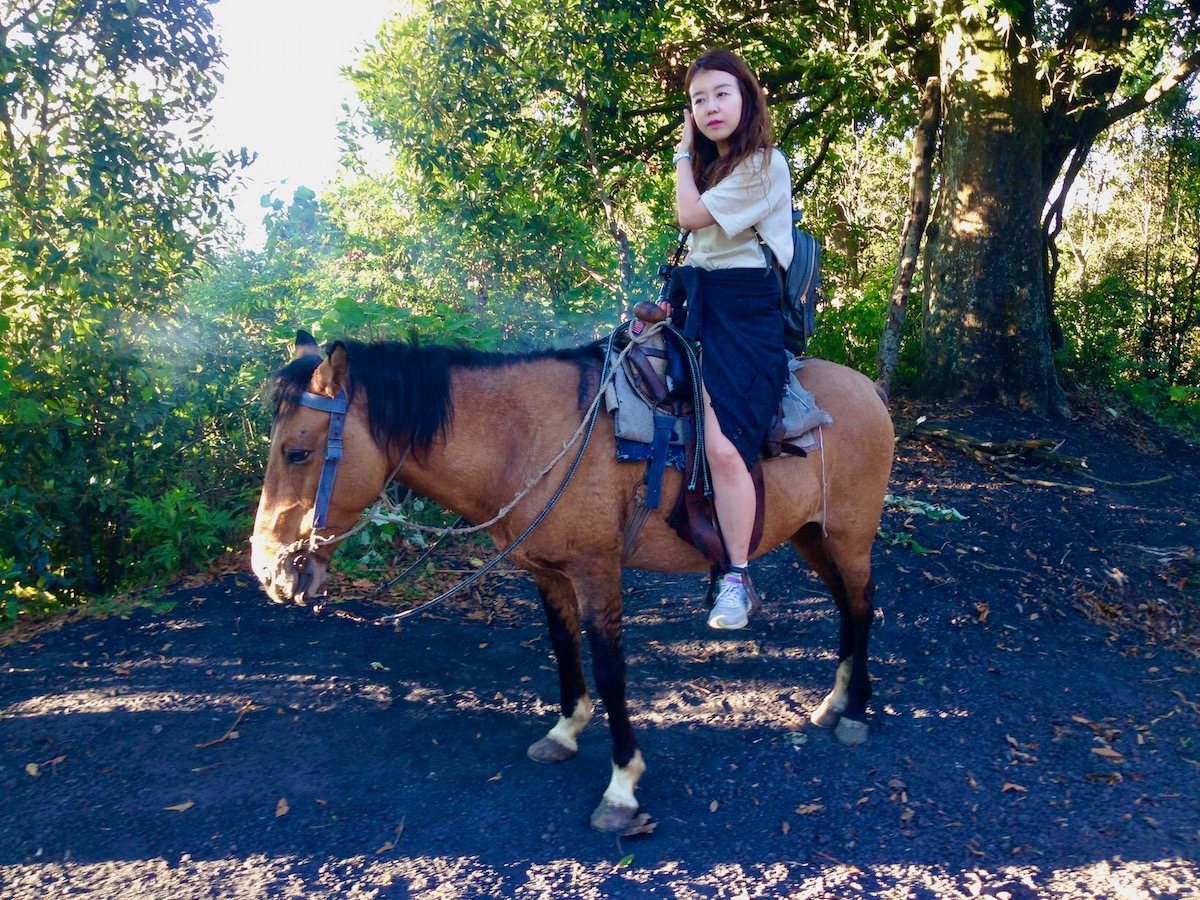 With an ascent of nearly 200 feet (610 metres) every hour, it is the elevation of the volcano that really takes the most effort. You don't need to be a super-fit athlete to make the climb, but those with joint problems, severe back problems or those who have a generally poor fitness level, should probably not attempt the hike.
I personally wasn't in good shape and did not find this hike strenuous at all, same for my friend (I'll elaborate on this in the conclusion of the Pacaya sunset hike).
Locals on top of horses will stalk behind hikers up to a certain point of the volcano and scout out those suffering from delusions of Guatemalan grandeur, often rescued by a gorgeous four-footed saviour.
7 Items Needed For Your Pacaya Volcano Sunset Hike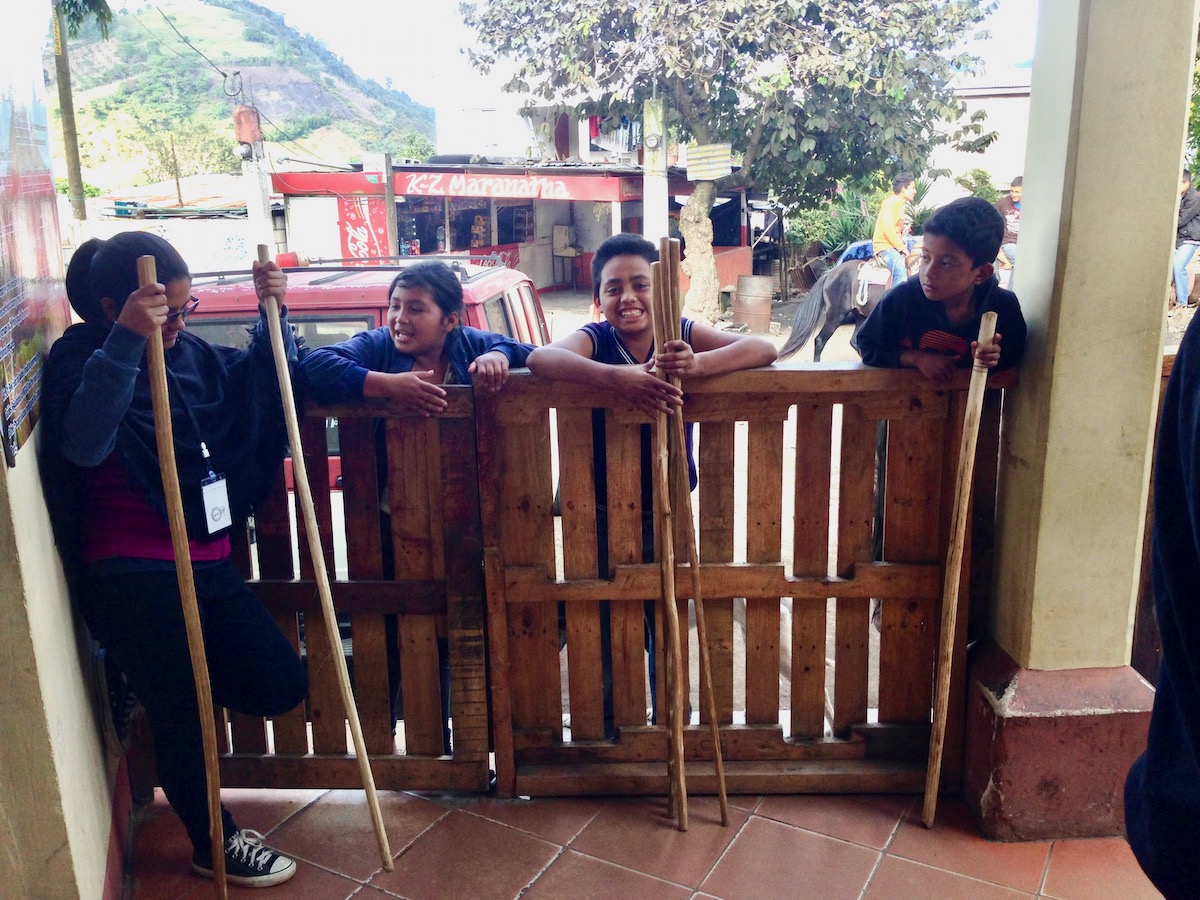 Let's break down the basic equipment you will need to get up this volcano (and back down), from the more obvious to the easy-to-forget.
The terrain at Pacaya Volcano can be very unpredictable and changes as you climb. The base is a mixture of soft earth and sand, whereas the higher reaches are solidified lava flows and often jagged rock. A good pair of hiking boots are essential to traverse the many types of surfaces at Pacaya. Test them out and break them in as early as possible before your trip; your ankles and feet will thank you later.
You might expect a lava-gurgling volcano in the heart of Central America to be a warm and even hot place, and in most cases, it is. You will, however, need a windproof coat or preferably, a windbreaker as part of your volcano trekking gear. The closer you get to the top, the more the winds increase and the temperature drops. It's important to wear layers as you hike as you are able to take them off and put them on as the climate changes.
3. Water
Like hiking anywhere, it's important to stay hydrated; taking at least a litre of water with you is advisable. You'll pass a number of vendors as you climb the volcano, but these tend to be sporadic and will charge you an inflated price for the luxury of cold, or sometimes lukewarm, water. If you have concerns about single-use plastic on the road then I highly suggest purchasing a Grayl Geopress or a Lifestraw Water Bottle.
4. Small Change
It's worth bringing along a little extra cash as vendors set up at different points along the trail – these sell everything from bottled water to marshmallows. Marshmallows? Yup, it has become a Pacaya rite of passage to roast your marshmallows over the heat of the volcanic rock. A little gimmicky you may think, but we all know we'd give it a try in the heat of the moment…
If you're planning on going for the glory of the Pacaya volcano sunset hike, your way down can be hampered by the lack of light, so a torch or headlamp is definitely a good idea for the clumsy amongst us.
6. Sun Cream
Although it can get a little windy on the slopes of Pacaya, there's no mistaking that the Guatemalan sun can also catch you out. It's sensible to pack a bottle of sun cream along with you, or you may arrive back in Antigua looking like a dried-up prune.
Known as "cheat sticks" by the hardcore amongst some esoteric areas of extreme adventure travel, but if you're not interested in a pissing contest, then this doesn't concern you. Walking poles are a godsend for the tired and weary and underrated for descending hills with dodgy terrain, a true friend to your fatigued core and wobbly knees.
We bought some wooden sticks from young industrious local boys outside of Pacaya, which did the job. You can go full-on fancypants and travel with collapsible lightweight poles though if that's your cup of tea.
Pacaya Volcano Sunset Hike (My Experience)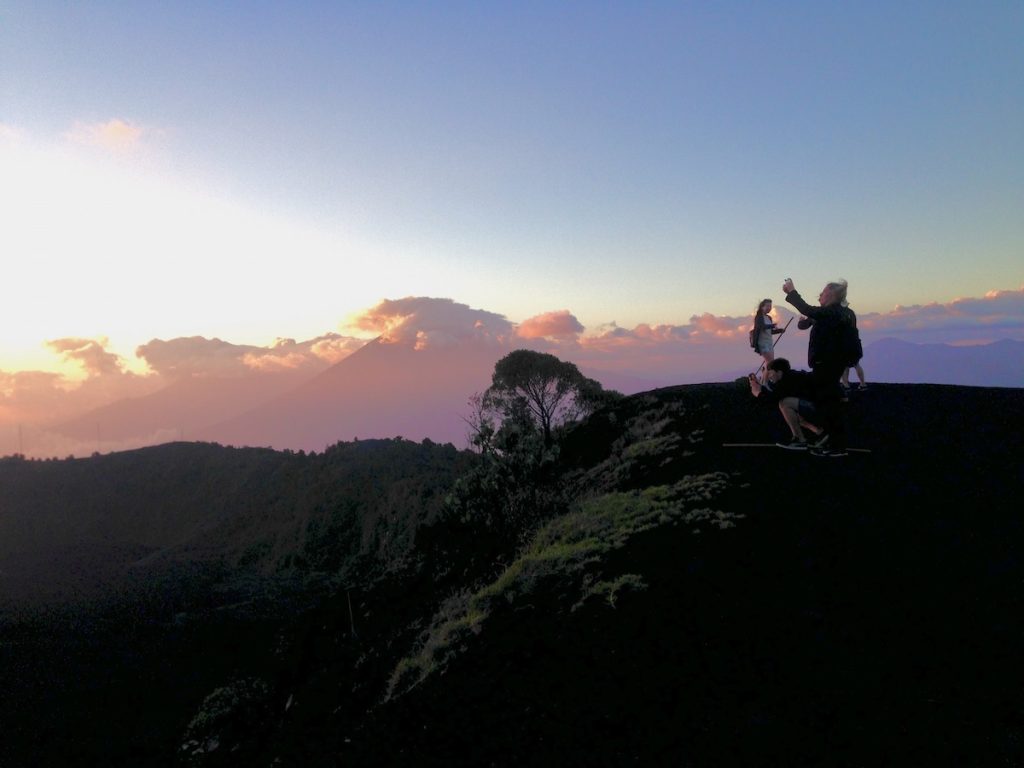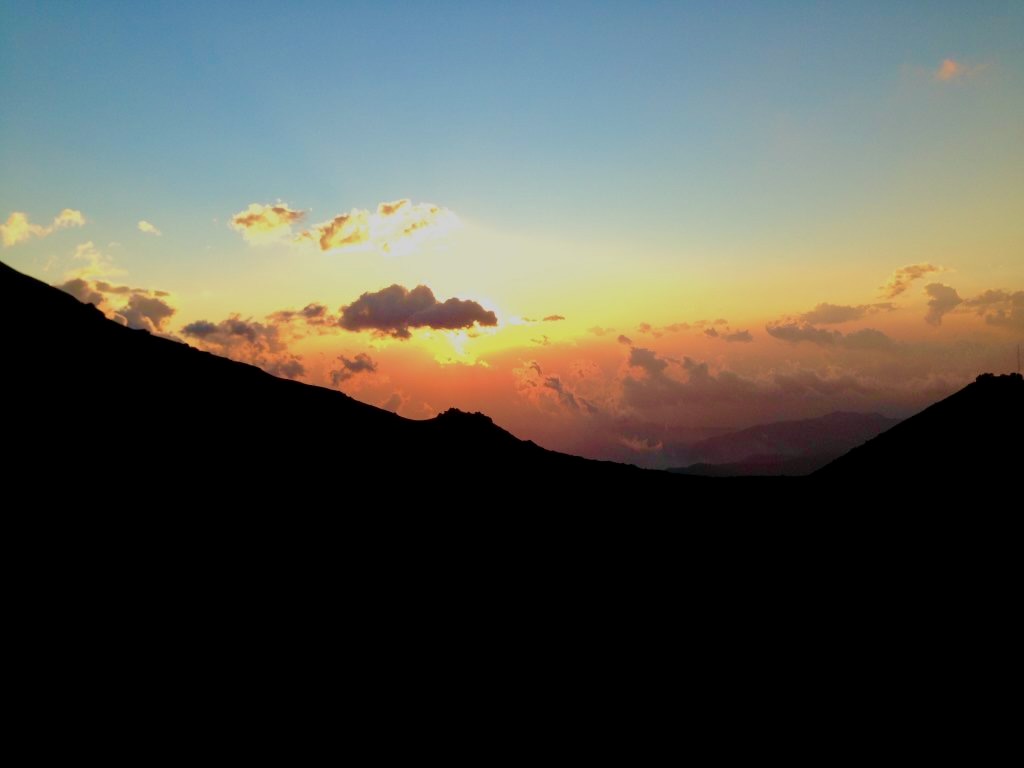 The Pacaya Volcano hike promised a lot. Whenever I allowed my imagination to get the better of me, whilst planning to hike an active volcano in the heart of Guatemala – it usually went a little something like this…
…Although your quadriceps feel like a thousand tons of lead, after hours upon hours of brutal uphill hiking, you fight against the odds and clamber your way to the top with the very last part of glycogen reserve in your tired, overworked, aching body.
You stand proud atop the beast that you have just conquered, but it's bittersweet as you fight back the painful tears as you remember the many good men that you lost along the way.
Suddenly, a stunning Latina lady loses her footing and cascades towards the unapologetically savage lava below. You make a valiant dive and catch her by the arm, as she hangs there over the gaping, boiling magma. It's all on you now, champ.
You both try to ignore the obvious sexual tension because you know – time and a place and all that. With every last bit of energy you have, you pull her up like the hero everyone knew you were and she gratefully collapses into your big, safe, strong, vascular arms.
Some years later, after making many beautiful mixed-race babies together, you're at a dinner party and someone mentions the word "volcano." You fall silent and despondent as it all comes rushing back to you. Because you're still tight after all these years, she just 'gets' it and makes a polite excuse to leave the party.
When you both get home, she understands that you need to retreat to the balcony (overlooking the ocean) with a glass of award-winning Malbec from the vineyards of Mendoza, to gather in your own thoughts. Yet she comes out and gives you a warm hug at exactly the right time, her bouncy curly hair smells like fresh rain as she looks up at you with those dreamy, hazel brown eyes as she whispers; "mi amor, vamos a la cama."
Aaaaaaand back to reality…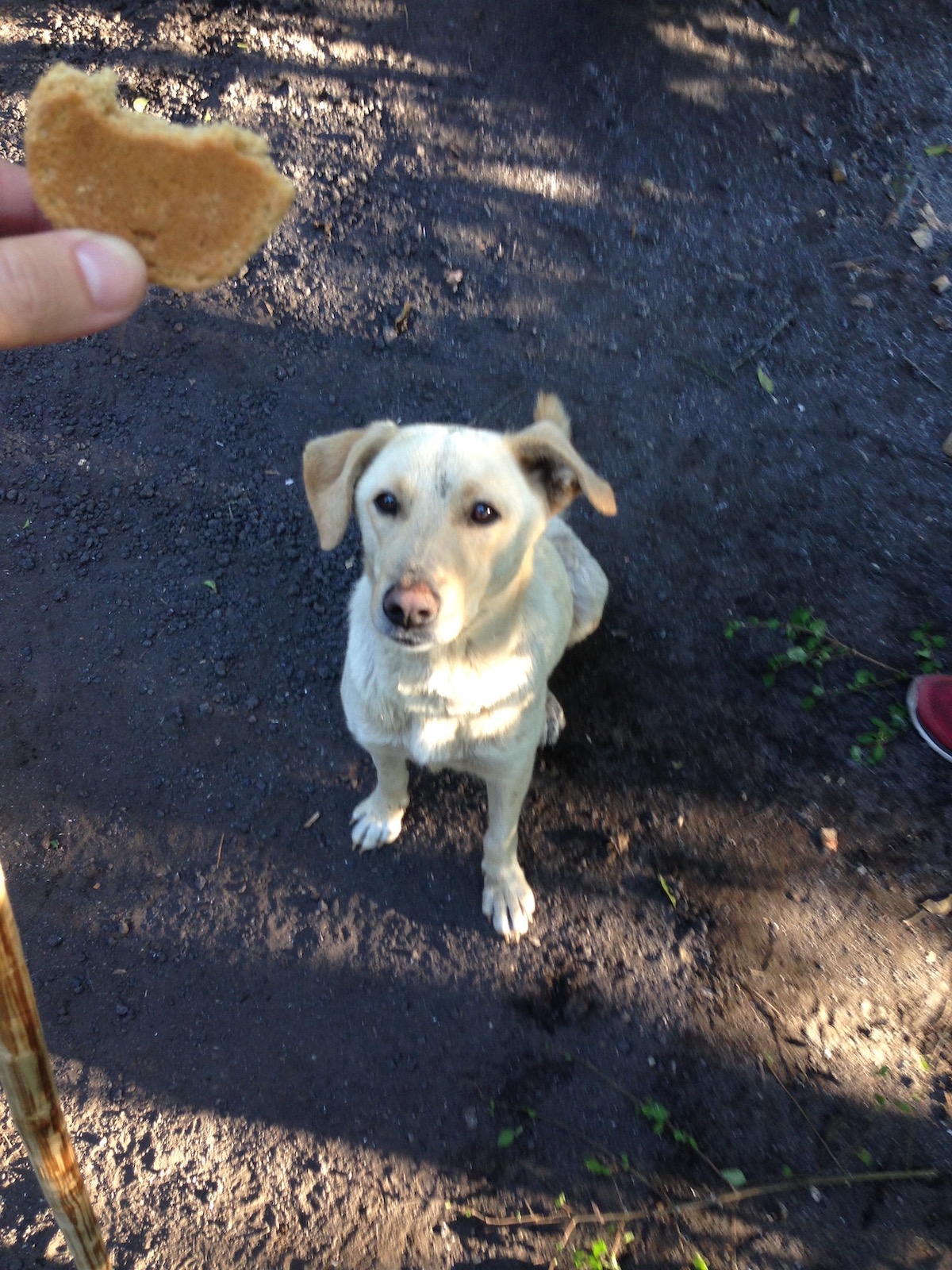 In my honest opinion, the hike is not difficult for even the lowest of fitness standards. My mate and I were carrying a fair bit of extra timber on our bellies after The World Cup in Brazil and Lapa's hedonistic nightlife. We both managed the trek without any issues at all and we put it down to a nice 6/10 workout.
The scenery of the hike is spectacular, so it's more of a lovely photo opportunity as opposed to a gruelling fitness test, very similar to climbing Mount Kosciuszko. It's no mystery here ladies and gents – just rock up to a tour company whilst staying in Antigua and sort out a lift and guide for your day of preference.
4 hours of a cheeky incline walk, aesthetics all around and a sweet sunset with toasted marshmallows. I've certainly had worse days than the day of the Pacaya volcano sunset hike.