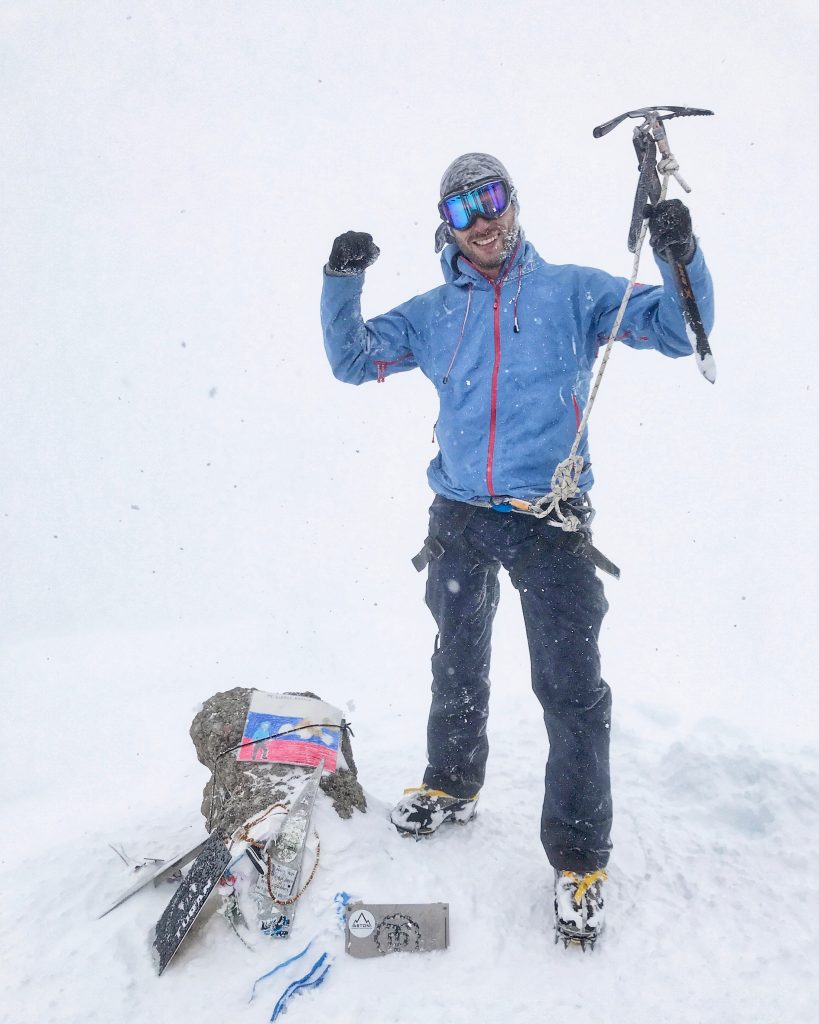 Mother Russia had been calling out to me for a very long time. The largest country in the world by landmass is really hard to miss after spending countless hours staring at the globe, dreaming, plotting and planning the next move.
I'd been on the road for about a year and I was starting to burn out really bad, with my fitness levels and health at an unprecedented low (I wish I could say the same about my expanding Malbec belly).
So, naturally, it made sense to last-minute tackle the tallest mountain in Europe, with absolutely no preparation at all…
Getting there – how to get to Mount Elbrus, Russia
Russia isn't the best country for spontaneous travel. No just rocking up and going with the flow for this one, ladies and gents. A pretty strict visa application process awaits anyone who isn't any of the following nationalities:
Argentina, Armenia, Azerbaijan, Belarus, Brazil, Chile, Colombia, Cuba, Hong Kong, Israel, Kazakhstan, Kyrgyzstan, Macao, Moldova, Montenegro, Nicaragua, Peru, Serbia, Tajikistan, Thailand, Turkmenistan, Ukraine, Uzbekistan, or Venezuela
I processed the paperwork with Johnny (OneStep4Ward) who was already going to climb Elbrus and had invited me along. Fresh from a solid running time in an extreme marathon in the North Pole, his fitness levels were very strong and I was concerned that I'd be the weak kitten in a litter of lions (more on that later).
My country (UK) has an increasingly Sid and Nancy type of political relationship with Russia, but the outsourced Russia Visa Application Centre service exists in London and Brits can still enter Putin's backyard (for now) – however, you do need a letter of invitation from a Russian before you can apply for a Russian tourist visa.
We went with mountain-climbing giants Elbrus Tours, who were efficient and extremely helpful – sending us our letter of invitation as soon as we agreed logistics and dates over email. You need to take that along to your application centre when you apply for your visa.
You must physically apply for a Russian tourist visa within the country of your passport, so don't waste your time applying in a foreign country. Also, you might hear your bank balance weep if you need a double-entry expedited visa like myself – a jaw-dropping 280 quid! (It won't be that much if you're going straight in and straight out of Russia and have some wiggle room to wait for your visa.)
Where is Mount Elbrus?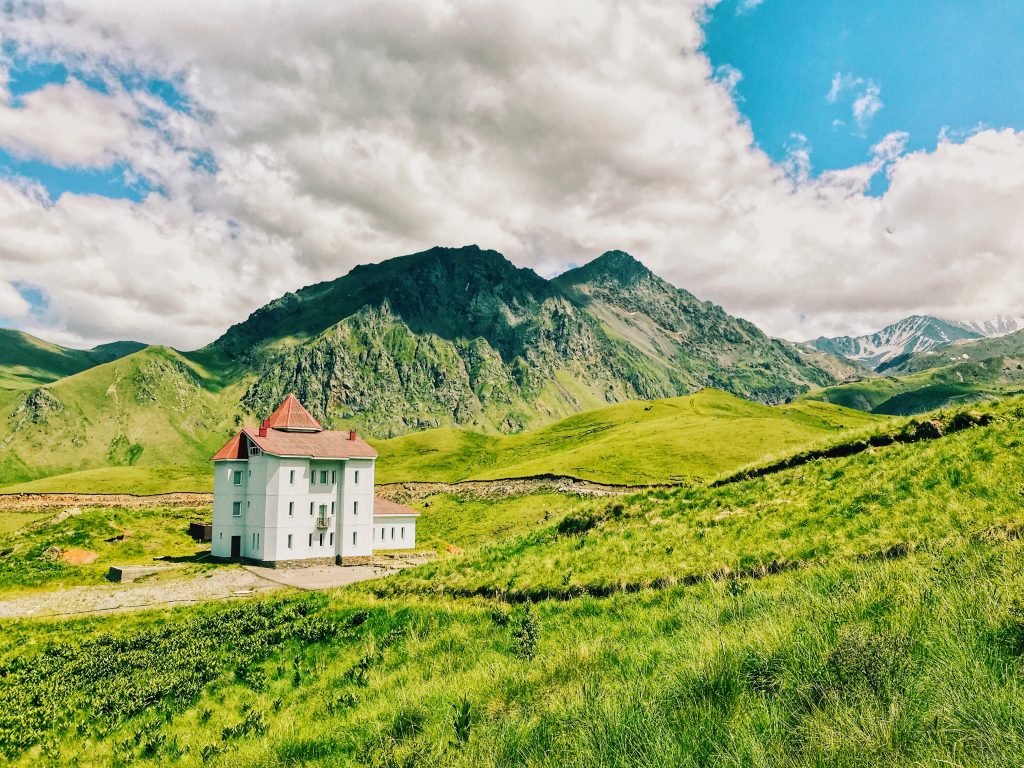 The elusive Elbrus is a dormant volcano, nestled in the heart of the Caucasus Mountains, by the border of Georgia. With untouched meadows, gigantic waterfalls and lush greenery everywhere – you could easily mistake parts of it for the Alps.
To get to Elbrus you need to fly to Mineralnye Vody Airport. You can connect in Moscow, just make sure you don't "do a Middleton" and book the wrong date flight to Vody from Moscow (I've been travelling for 7 years and I was embarrassingly thrown by a ten past midnight flight!). Oh, and it cost £1000 for the climb, before flights and visa costs.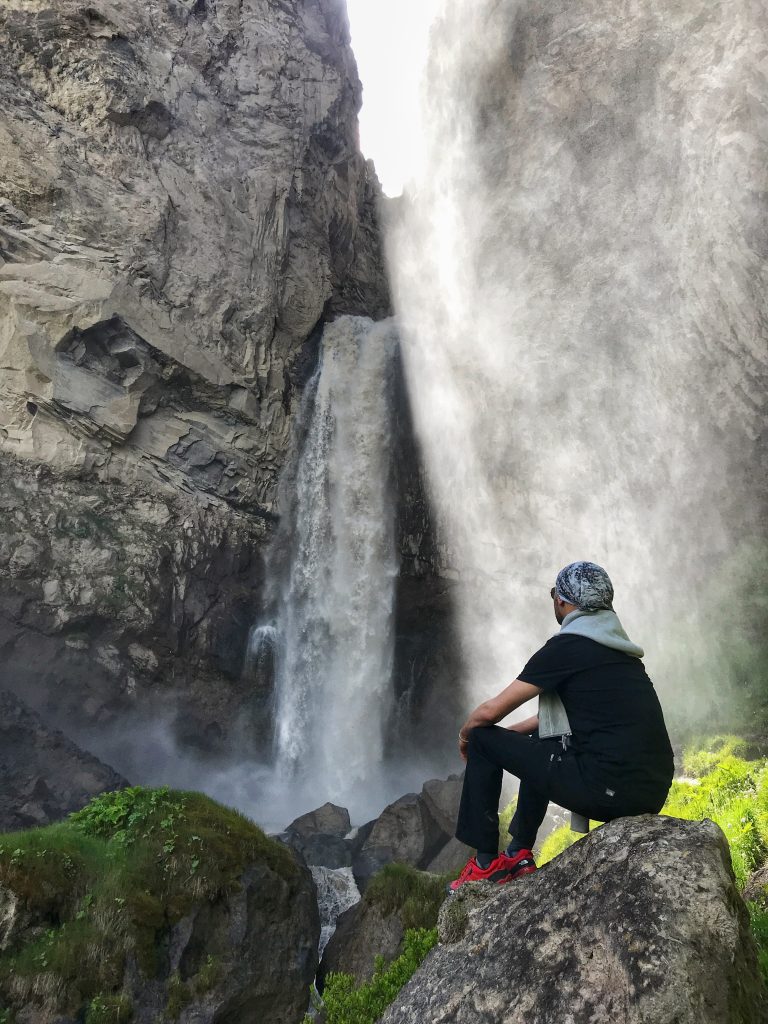 How fit do you have to be to climb Mount Elbrus?
No exaggerations or humble bragging here – I arrived in Russia feeling anxiously intimidated, but hopeful. I was very unfit and, on top of that, I had one hell of a chest infection!
I was coughing and spluttering almost every waking minute of the day and very short of breath. I have novice experiences with wee bumps in comparison to Elbrus, such as Mount Fuji and Mount Kinabalu over the years, but this new world of working out how to put on crampons (badly), walk efficiently in snowy terrain in -20 Celsius conditions and of course – tackling one of the World's Seven Summits was a completely foreign concept to me.
Elbrus is no joke and you need to be very fit to proudly summit her. Complete stubbornness got me there, but my situation was far from optimal and it made it even harder than it had to be. I wouldn't recommend going so unprepared like myself.
With that being said, mental fortitude is an absolute must and you need it in boat loads up there!
Wait, isn't Mont Blanc the highest mountain in Europe?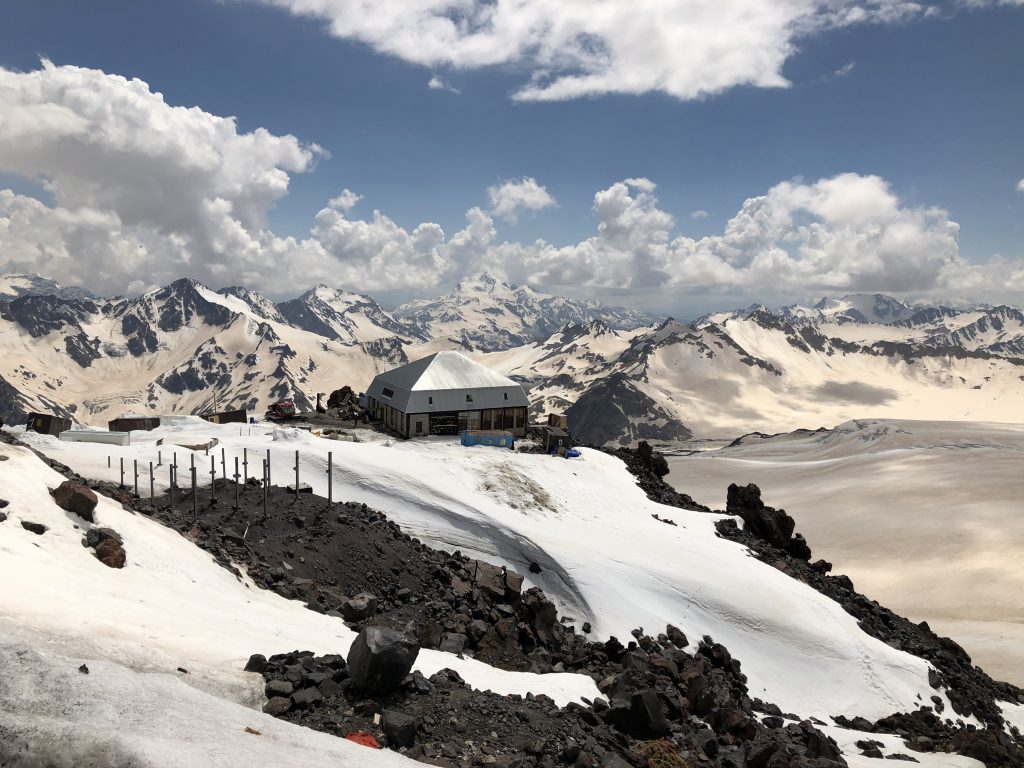 There is some contention here, but most of it is bureaucratic and outdated. The beast of France brags a noble challenge of 4,810 metres as opposed to Elbrus' 5,642 metres.
Is Russia culturally contrary to what most people perceive as Europe? Absolutely, but it's still very much Europe! Especially considering it's location right by Georgia. I'll probably attempt Mont Blanc too at some stage, to alleviate the nagging pain of my own pedanticism.
North route vs south route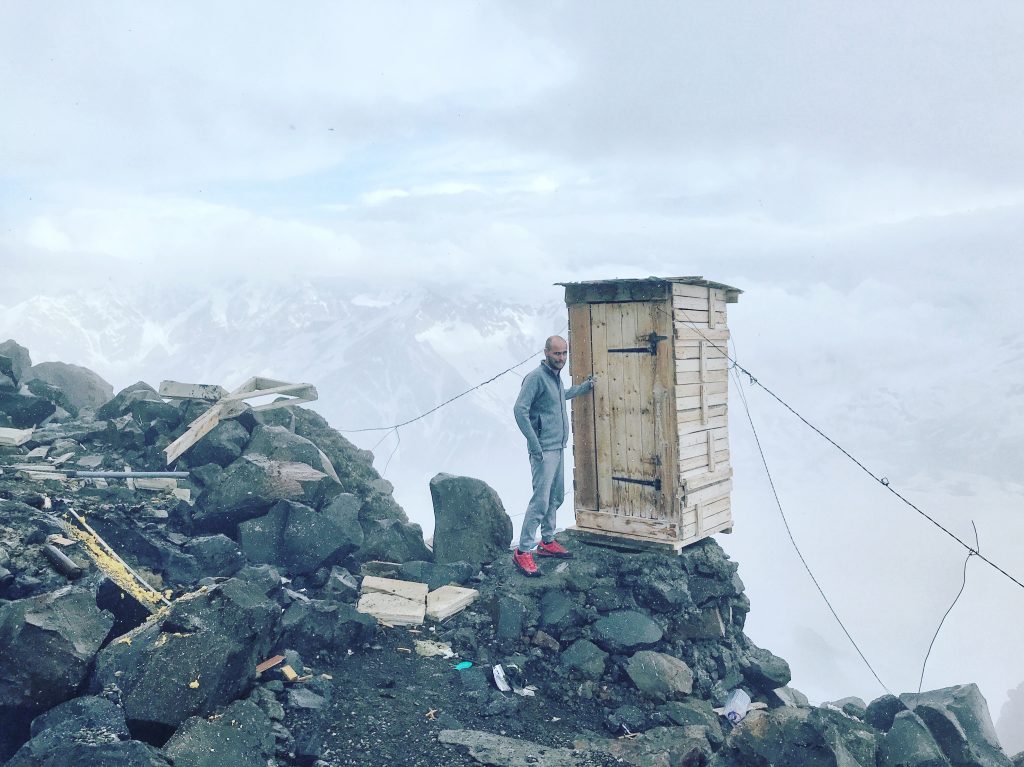 In a nutshell, the north side is more hardcore. The south is a little more developed, with a building containing bunk beds and 2 small cafes at base camp. They have snowcats for those who struggle on summit day and some nutjobs actually ski down it!
The north is more edgy and adventurous, with a communal tent, and it takes 9 days, as opposed to the south side's 6. The weather can be a little naughtier from the north too.
We mixed it up a little and trekked to base camp in the north (which is absolutely gorgeous at the lower level), and after a long day of hiking we had a bumpy transfer over to the south base camp in an old-school Lada.
What equipment do you need for climbing Mount Elbrus?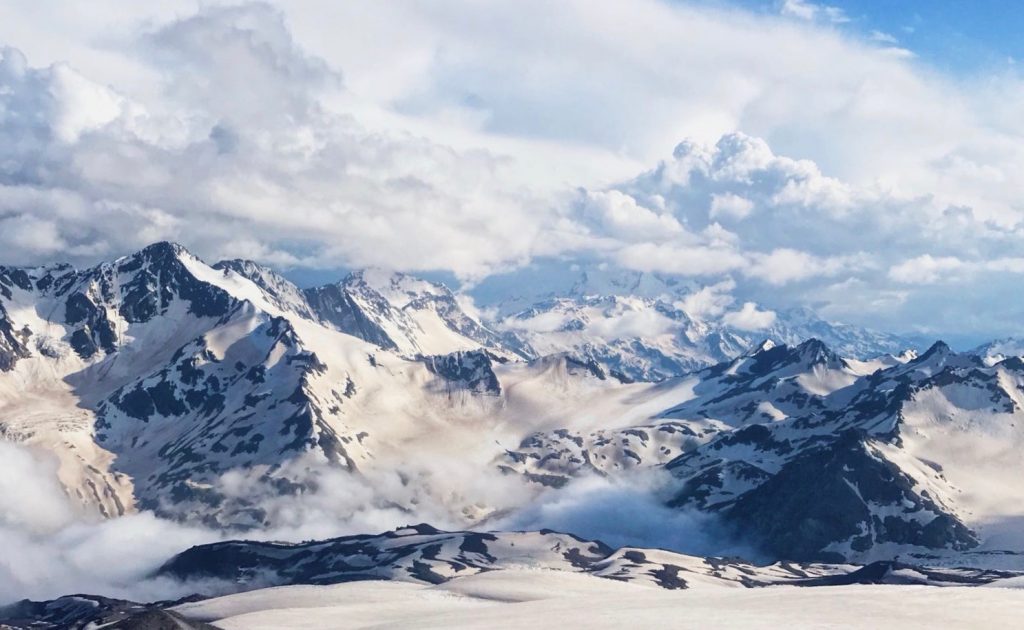 So there we were, with all of our mountain gear on the floor so that the guides could check out the standard of our kit. I had shopped for 3 days solid in Newcastle and I really thought I had done a stellar job…
…the guides – not so much. Russians are very matter-of-fact when they talk and it was painfully clear to see that I had done maybe a 2/10 job (but 10/10 for good intentions).
We rented pretty much everything from Elbrus Tours apart from a hat!
Getting to the top of Mount Elbrus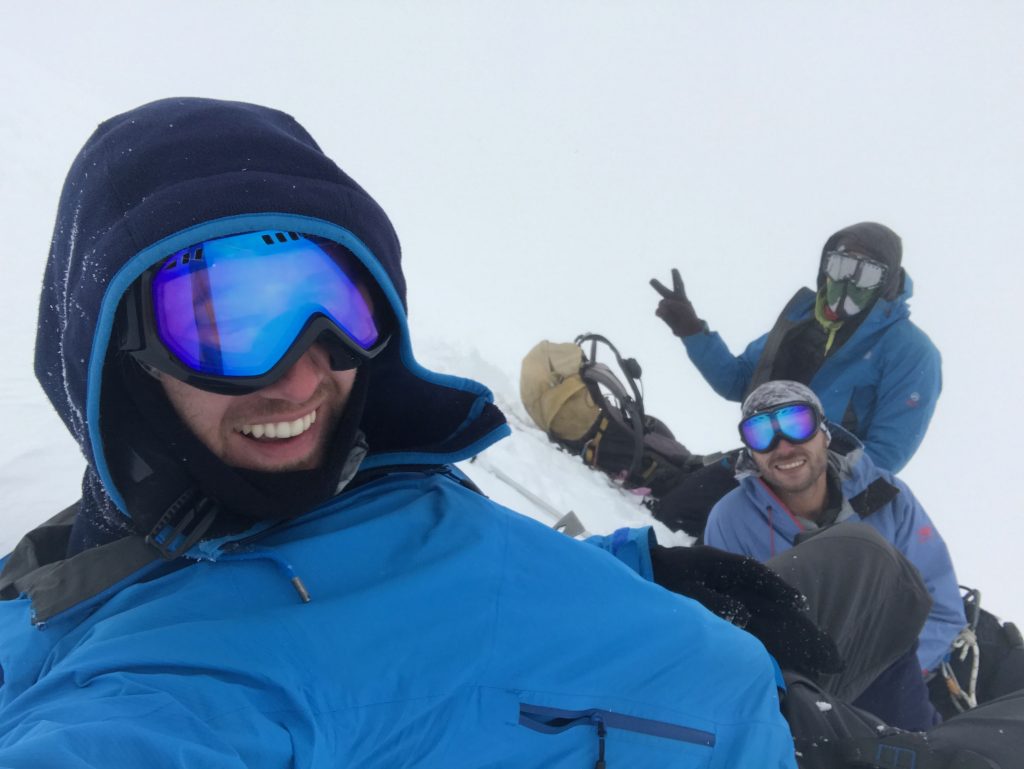 This is already long, so I'll just give you the highlights!
I didn't realise that when climbing a mountain of this size, you must acclimatise by coming back down to where you initially walked from. So for example we kept going up, then back down to where we started. Next day we would walk further than the day before and back down – it really f***ed with me mentally, as it seemed torturous – seeing the same spot every day and walking further away from the top on the way back down.
That may sound silly to seasoned mountain climbers, but I thought we would be incrementally going up and not coming down like that every time. I am but an amateur though!
It won't come as a surprise that my chest infection worsened as the longer (and higher) the journey got on. It would be the lie of the century to say the experience was enjoyable, it was pure hell and even though I was pushing myself to stay at the front – doubt grew stronger as each day passed and my violent cough and tight chest became more problematic at that high altitude, along with the extreme weather conditions.
Pushing myself to stay with the front pack was a tactical move in the psychological sense – I figured that if the guide constantly saw me somewhere up there, he would consider me strong enough for summit day.
I found myself not talking around him back at base camp, or pretending that I needed the (very interesting-looking) toilet because I could feel coughing fits coming on.
The mind games were upped on the day before summit when Boris (who, in deference to him, was just worried about me) tried to talk me out of the summit day and to use the snowcat transport instead.
There was not an agreeable bone in my body and I did not negotiate. I hadn't come all the way to Russia to climb Europe's highest mountain, just to concede defeat on the final day!
Boris reluctantly agreed, a little part of me was hoping he'd knock out a nonchalant; "If he dies – he dies," Ivan Drago style, but I was left disappointed.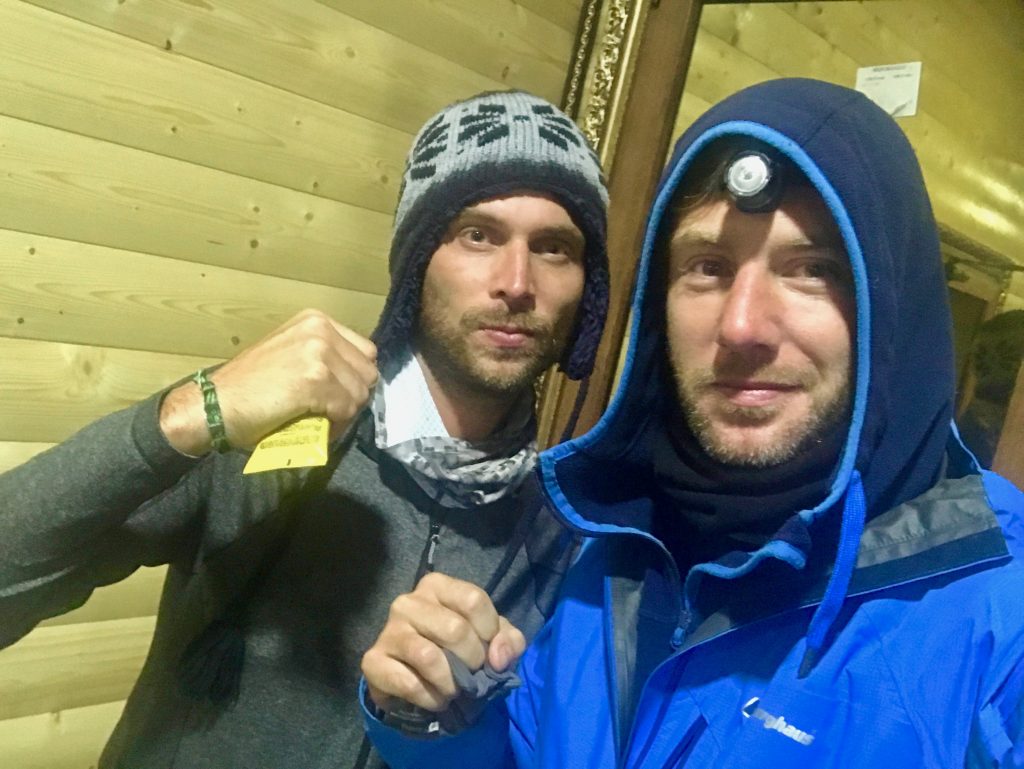 Out of the group of ten, only Johnny and myself were up for summiting by foot. So that meant a disbanded group and a need for a second guide at the eleventh hour. Step forward Victor! He looked like he was born for the mountains. Wiry, Irish gypsy build, rugged stubble and he even had a mountain axe tattooed on his forearm… now that's the man I want taking me up the tallest mountain in Europe!
We left at midnight the next day, crampons on, fuelled by a vegan chilli ready meal that we learned to associate with pain – and a starry-eyed dream of conquering Elbrus.
After a week of lung-busting attempts to stay at the front, the sustainability of that sadistic mindset, sandwiched with my illness, started to show cracks. Johnny and Victor were mostly a couple of hundred metres ahead of me, but I was not going to fail any of them and I just focused on one step at a time and breathing as efficiently as I possibly could.
They stopped a few times for me, then we would walk together for a few hours, until I would drop back a bit but continue on – all good though and the energy of old-school British/Irish self-depreciative humour and dark Russian banter made such sh*t conditions bearable.
On a more positive note, I had very successful laser eye surgery a month before and this made things SO much easier. I can't imagine the added stress of dealing with glasses/contact lenses in those harsh and unsanitary surroundings. Also, most of Elbrus is gorgeous and very easy on the eye, so that was a bonus!
We rested for 20 minutes before the final peak and I was speaking incoherently, like a drunk person. We were all laughing at my peculiar behaviour, I could barely form a sentence – camaraderie is everything in times like this and our army of three worked really well together.
The final slog was horrendous – a steep incline where you had to rope yourself in – along with busy traffic of summiteers coming the other way back down! It was very narrow and it was a looooong way down if I slipped, so I had to really concentrate on every movement.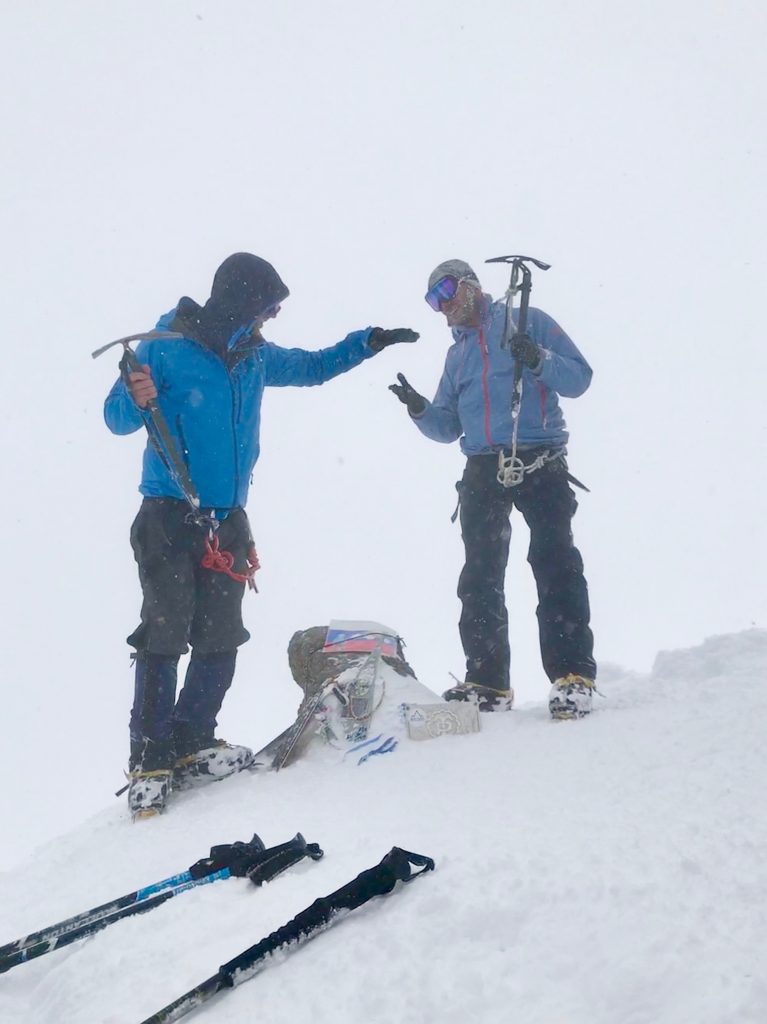 Getting to the top of Europe was one of the best feelings I've ever experienced, I even felt a little emotional – but there was no time for sentimentality…
…an aggressive snowstorm kicked in 15 minutes after summit and visibility was pretty much zero. We could not see the red guidance flags that we passed only an hour before. We had to rely on the trust of Victor, who roped the three of us together and flogged us down the mountain at high-speed – as it was too dangerous to stay.
I'm not sure I have the superlatives to match the heroic-like nature of Victor's escape from Operation Snowstorm. It was like something out of a movie. We had to keep the rope tight, with barely any slack so if one of us fell down the narrow passages from either side – Victor would anchor us in with his axe.
I'm not sure I'll ever do anything as badass in my life as escaping a snowstorm after summiting the highest mountain in Europe! Coming down the mountain was no easy ride, even after the snowstorm – and my delirious demeanour continued. My finest moment being when I took a wrong turning on the way back to base camp – I got a whole leg stuck in deep snow and an old Russian man had to dig me out with his shovel.
I slept for eighteen hours when I got back to the hotel, I was completely spent – nothing left in the tank at all. I'm going to be honest with you all and admit I hated every moment of this – but the feeling of accomplishment supersedes all of that.
In December, Johnny and I will attempt to triumph Aconcagua of Argentina. At a very naughty 6,960 metres tall – it's the tallest mountain outside of Asia and is South America's official shout for a Seventh Summit.
I am terrified, but I will be fitter this time and I'll be taking my Elbrus experience/mentality with me. I'll also be reading a lot about Stoicism and meditating for the next few months. If we are successful – I am officially going to put it in writing that I'm going to attempt all Seven Summits in my lifetime.
Any Aconcagua summiteers out there that have some solid tips? I'm all ears!
Also, random Russia fact: did you know that Boney M lead singer Bobby Farrell died on the same day (December 29th) in the same city (St Petersburg) as Rasputin?!