Looking for the ultimate guide to climbing Mount Elbrus? Look no further!
"Mother Russia" had been calling out to me for way too long. The largest country in the world by landmass is really hard to miss after spending countless hours staring at the globe, dreaming, plotting and planning the next move.
I'd been on the road for over a year and was starting to burn out really bad, with my fitness levels and health at an unprecedented low.
So, naturally, it made perfect sense to add climbing Mount Elbrus, the tallest mountain in Europe, with absolutely no preparation at all to my list…
But you're not going to have that excuse. Here's my guide on how to do it with optimal planning…
2023 Update: Due to the Russia/Ukraine war climbing Mount Elbrus is now tricky (to say the least) and sometimes not even allowed. I will do my best to update this page accordingly.
Applying For A Russian Tourist Visa (Not So Easy)
Russia isn't the best country for spontaneous travel. No just rocking up and going with the flow for this one, ladies and gents. A pretty strict visa application process awaits anyone who isn't any of the following nationalities:
Argentina, Armenia, Azerbaijan, Belarus, Brazil, Chile, Colombia, Cuba, Hong Kong, Israel, Kazakhstan, Kyrgyzstan, Macao, Moldova, Montenegro, Nicaragua, Peru, Serbia, Tajikistan, Thailand, Turkmenistan, Ukraine, Uzbekistan, or Venezuela
I processed the paperwork with Johnny (OneStep4Ward.com) who was all geared up for climbing Mount Elbrus and had invited me along. Fresh from a solid running time in an extreme marathon in the North Pole, his fitness levels were very strong and I was concerned that I'd be the weak kitten in a litter of lions (more on that later).
My country (UK) has an increasingly complex political relationship with Russia, but the outsourced Russia Visa Application Centre service still exists in London, so Brits can still enter Putin's backyard (for now) however, you do need a letter of invitation from a Russian national before you can apply for a Russian tourist visa.
We went with mountain-climbing giants Elbrus Tours, who were efficient and extremely helpful – sending us our letter of invitation as soon as we agreed on logistics and dates over email. You need to take that along to your application centre when you apply for your visa.
You must physically apply for a Russian tourist visa within the country of your passport, so don't waste your time applying in a foreign country. Also, you might hear your bank balance weep if you need a double-entry, expedited visa like myself – a jaw-dropping 280 quid! (British Pounds).
It costs £115 GBP for a single and double entry visa and the "expedited" option still takes a week, which relatively (compared to other countries around the world) isn't that speedy at all, but it is what it is, and it's the only option you have for quicker service to enter Russia legally as a tourist.
Another thing to remember is that you will need to show the centre/embassy proof of a flight out of Russia in order to get your visa.
Where is Mount Elbrus? (How To Get To Nalchik)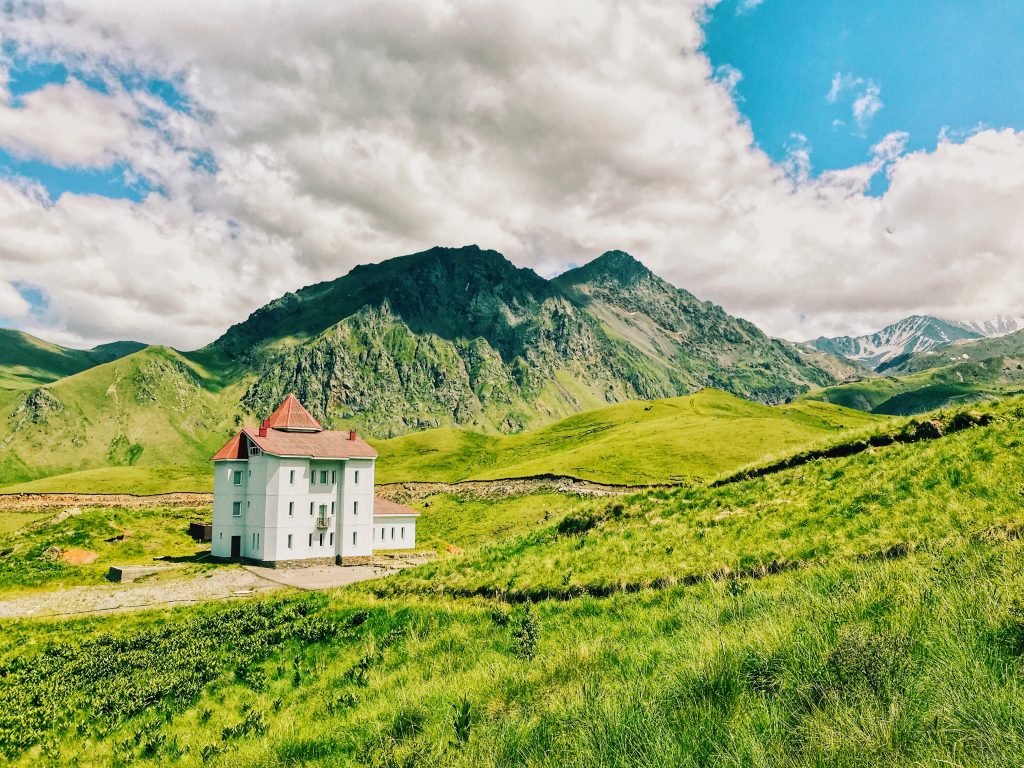 The elusive Elbrus is a dormant volcano, nestled in the heart of the Caucasus Mountains, by the border of Georgia. With untouched meadows, gigantic waterfalls and lush greenery everywhere – you could easily mistake parts of it for the Swiss Alps.
To get to Elbrus you need to fly to Mineralnye Vody Airport (MRV). You can connect in Moscow, just make sure you don't "do a Middleton" and book the wrong date flight to Vody from Moscow (I'd been travelling for 7 years and I was embarrassingly thrown by a ten past midnight flight!). Oh, and it cost $1500 USD for the climb and permit, before flights and visa costs.
Another important thing to take note of, Moscow has 5 airports. The one that you need that will connect directly to your base for climbing Mount Elbrus is called Moscow Domodedovo (DME).
You will need to order your 2 hours drive transport to get to the mountain park from the airport. Our tour company sorted that out, but if you're doing this solo, you need to be fluent in Russian upon arrival to sort that out… good luck, as English isn't widely spoken in this part of the world.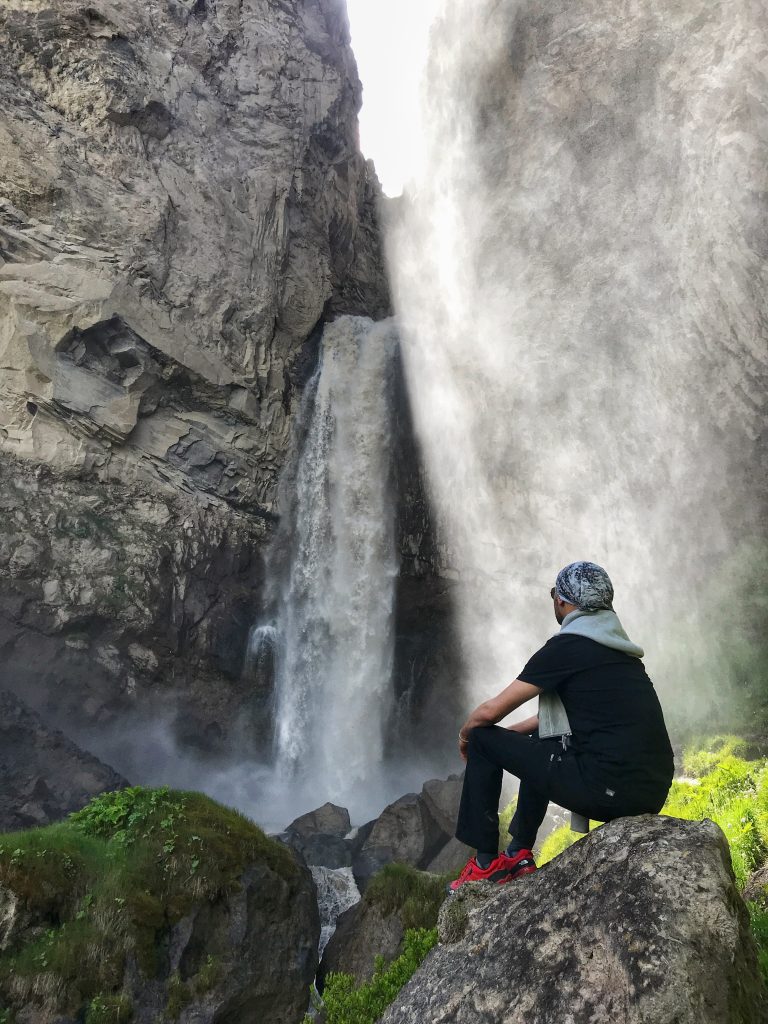 Meet Mount Elbrus: Europe's Tallest Mountain
Reaching 5,642 metres in elevation, it is by far the tallest mountain peak in Europe, but unlike the more well-known Mount Kilimanjaro climb of Tanzania, it's fallen under the well-trodden, tourist-hiking radar.
The mountain is made up of two distinct summits, both of which are dormant volcano domes. The taller western summit is around 5,642 metres, (18,510 feet) whereas the smaller summit is 20 metres shorter at 5,621 metres.
The history of Mount Elbrus harks back to ancient Greek myth, and it is thought to be the place where Prometheus was sent as punishment for giving man fire. The lower of the two peaks were first climbed by Imperial Army scientific guide Khillar Khachirov in 1829. It took another 45 years for someone to tackle the taller summit, this time by an English expedition led by Florence Crauford Grove.
Today, the mountain lies within the protected area of Prielbrusye National Park, just under two hours from the city of Nalchik or "Нальчик" as you'll see it written in Russian. Nalchik remains to be the main gateway to climbing Mount Elbrus, and you'll need to get here to begin your adventure to the summit.
As far as difficulty goes, climbing Mount Elbrus shouldn't be underestimated and it's definitely no walk in the park (as I would quickly find out). I'd recommend working on your fitness levels before you attempt the climb because you don't want it to be holding you back; you've got other things to worry about.
A lack of oxygen in the mountains, bitingly cold weather and the wind chill make this climb difficult before you've even started. This being said, in the right conditions, and with a good bit of preparation, the reward really outweighs the struggles.
Its mysterious location deep within the Caucasus, the adventurous nature of travelling to southern Russia and the pure glee of saying; "I've climbed the tallest mountain in Europe" make climbing Mount Elbrus worth the hassle.
Wait, Isn't Mont Blanc The Highest Mountain in Europe?
There is some bone of contention here, but most of it is bureaucratic and outdated. The beast of France brags a noble challenge of 4,810 metres (albeit a more technical climb) as opposed to Elbrus' 5,642 metres. (I ended up climbing Mont Blanc too, what a beauty of a mountain in possibly Europe's prettiest city as a base, Chamonix!)
Is Russia culturally contrary to what most people perceive as "typical" mainland Europe? I guess so, but that's somewhat of a slippery slope. Spaniards are culturally different to Germans in many ways, and I can make the same comparison with multiple other nations in Europe that differ but are still seen as being unquestionably labelled as European.
I must concede though, that I do see why it gets confusing to those, not in the know, so I won't get too much on my high horse about it. Russia is gigantic and has territory in both Asia and Europe. When it comes to The Seven Summits, tectonic plates' positions are a biggie for "the tallest mountain in (insert continent)," so Mount Elbrus' location is still very much Europe, especially considering its location right by Georgia.
The other controversial shouts for The Seven Summits are for the tallest mountain in Australia, as it's a country and also a continent (that's the very short story version of the debate). I won't get into that here, as I don't want to muddy the waters in an article tailored to climbing Mount Elbrus.
For those who are interested to know more about those two contentions, I ended up climbing both mountains in (the continent of) Australia as well and you can read more about them here:
How Fit Do You Have To Be To Climb Mount Elbrus?
No exaggerations or humble bragging here; I arrived in Russia feeling anxiously intimidated, but hopeful. I was very unfit, and underprepared and, on top of that, I had one hell of a chest infection.
Not the ideal condition for climbing Mount Elbrus, but I do like to put myself through a gruelling physical challenge or two.
I was coughing and spluttering almost every waking minute of the day and extremely short of breath. I had novice experiences with wee bumps in comparison to Elbrus, such as Mount Fuji and Mount Kinabalu over the years, but this new world of working out how to put on crampons (badly), walk efficiently in snowy terrain in -20 Celsius conditions and of course, tackling one of the World's Seven Summits was a completely foreign concept to me.
Elbrus is no joke and you need to be in good condition to proudly summit her. Complete stubbornness got me there, but my situation was far from optimal and it made it even harder than it had to be. I wouldn't recommend going so unprepared like myself unless you're a total sucker for punishment like myself.
With that being said, mental fortitude is an absolute must and you need it in boatloads out there.
Best Time of Year To Climb Mount Elbrus
As is the case with most major mountains, there's a clear cut season for climbing Mount Elbrus; a time in the year that offers up perfect summiting conditions. When it comes to Europe's tallest peak, the climbing season sits between the end of April and mid-September. During this period, weather conditions are at their most favourable, and there is less chance of your climb being cancelled, or having to be abandoned halfway through.
If perfect weather conditions are at the forefront of your mind then climbing Mount Elbrus in July or August is your best bet. Alternatively, if you prefer a climb that isn't hampered by excessive tourists or would-be climbers then opting for a shoulder season such as June or September is better.
Can You Climb Mount Elbrus Independently?
Unlike more restricted climbing legislation in Nepal/Tibet, Tanzania or Pakistan, the Russian government doesn't currently call for climbers to join any sort of expedition group, or the mandatory requirement of hiring a guide in order to climb Mount Elbrus.
This being said, unless you're quite experienced with high-altitude climbing, understand how to scale vast ice and snow-strewn mountainsides and also know the importance and practices of acclimatisation processes, climbing Mount Elbrus independently would be as close to a death wish as you can imagine.
I saw some Elbrus DIY guys out there, but those boys were as tough as old boots and cut from a different cloth (and any other fitting idioms about incredibly tough bastards).
Joining a team of experienced climbers brings a seemingly endless amount of advantages to your Mount Elbrus climb. Most of all, you'll be led by people who have scaled the 5,642 metres of the menacing mountain before, and experience is king on a trip like this.
Lastly, having a team of fellow climbers with you offers an unspoken advantage and a stronger "reason why." Don't underestimate the psychological power of 'keeping up with your friend to the peak,' or the one that drives me the most in times of low morale; the thought of 'not letting the team down.'
Cost of Climbing Mount Elbrus (The Lowdown)
To avoid a bit of repetition here (as I already touched upon some costs in the earlier part of the article) I'll itemise the costs that I paid below, in US Dollars, for the sake of consistency:
Expedited (One Week) Russian Visa: $385 (But $160 if you aren't in a rush for it back)
Direct flight from London Heathrow (LHR) to Moscow Domodedovo (DME) with British Airways: $220
Direct Flight from Moscow Domodedovo to Mineralnye Vody Airport (MRV) with Smart Avia: $60
Cost of Elbrus Tours: $1500 (included permit for climbing Elbrus, accommodation, mountain insurance and transport from MRV airport)
Cost of rental gear: $600 (all of this is relative to how prepared and experienced you are, I was neither).
Total cost for me climbing Mount Elbrus: $2,765
Other costs and important points to consider:
There is an option when climbing Mount Elbrus from the south side to take a snowcat (holds 5 people) for $70 or a snowmobile (which holds one person) for $40. These are snow transport vehicles that will take you the distance between Garabashi and Pastukhov rocks – a distance of 900m.
Me and Johnny were the only 2 of a team of 11 who refused the offer, in fact, it was pushed on us in a borderline mob rule fashion. We both decided with our type-A personalities that it would be cheating and against our moral compass with regards to completing our personal challenge.
We wanted to suffer (and oh boy did we do that) for the summit without the aid of any transport.
I'm not going to make that decision for you. I have my personal standards and reasons and you have yours, but it's something to consider if costs are important to you and you're open to this option.
There are also my terrible newbie issues to think about (not having the correct gear) so the chances are your costs will be a lot less than mine, if you're an experienced climber with the correct clothes and equipment knowledge.
Climbing Mount Elbrus From The North
Climbing Mount Elbrus from its northern side is considered to be the hardcore route out of the two. Far less developed, Mount Elbrus from the north is free from bunk beds, modern buildings and any other built-up tourism.
The route is much more picturesque especially with the wide-open expanses of greenery at the beginning of the climb. The northerly climb starts out from the spa town of Kislovodsk, just north of Mount Elbrus.
Climbing Mount Elbrus from the north takes around nine days, and camping is your only option. The weather on the north side of Mount Elbrus tends to be choppier too, with winds and rainfall rising up from the open plains below. If you're looking for a true hardcore mountaineering experience, climbing Mount Elbrus from the north side is definitely that. After all, this is the route taken by the first successful expedition in 1829.
Climbing Mount Elbrus From The South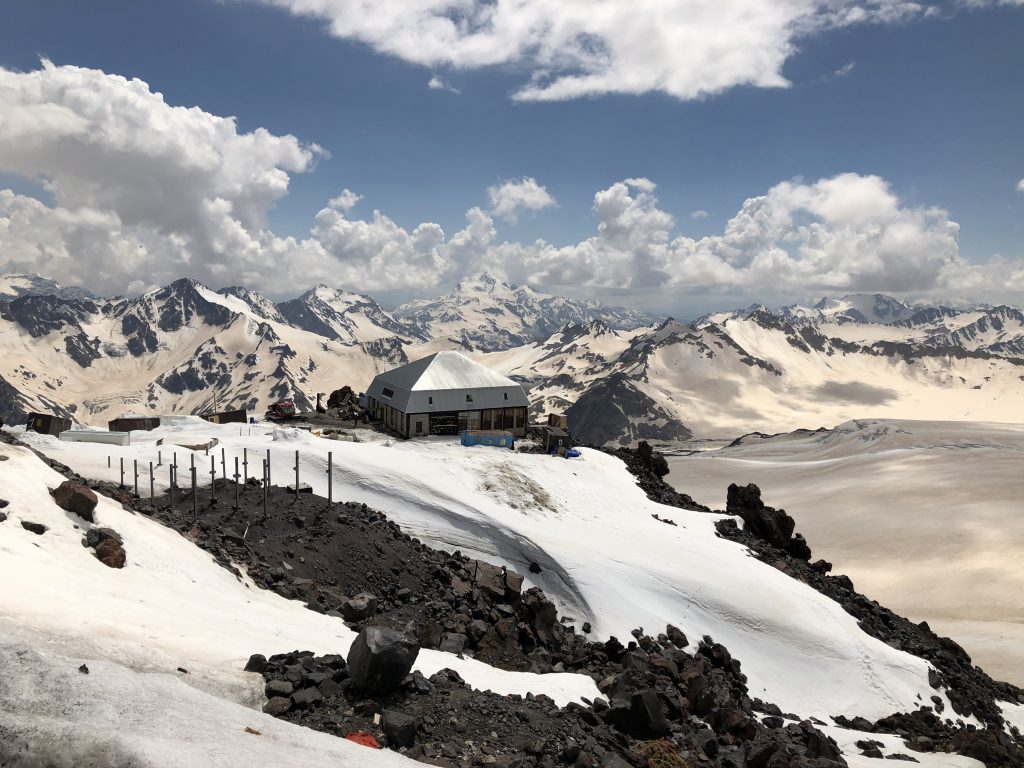 Most people choose to climb Mount Elbrus from its south side, mainly because there's a lot more modern mountaineering infrastructure to support adventurers. The route is peppered by mountain hut accommodation, providing a bunk bed for the night, a cable cart that carries your gear for you and even a few cut corners as you make your way to the summit.
The Elbrus climb from the south will usually take less time than from the north, with most climbers completing it in around six days.
Climbing Mount Elbrus from the south is for sure the best option if you're not overly experienced in this type of mountain climbing. There is no shame in turning down a communal tent for four walls as a newbie and after all, reaching the summit is something to be celebrated, regardless of the route you take.
Climbing Mount Elbrus: North Route Vs South Route (Conclusion)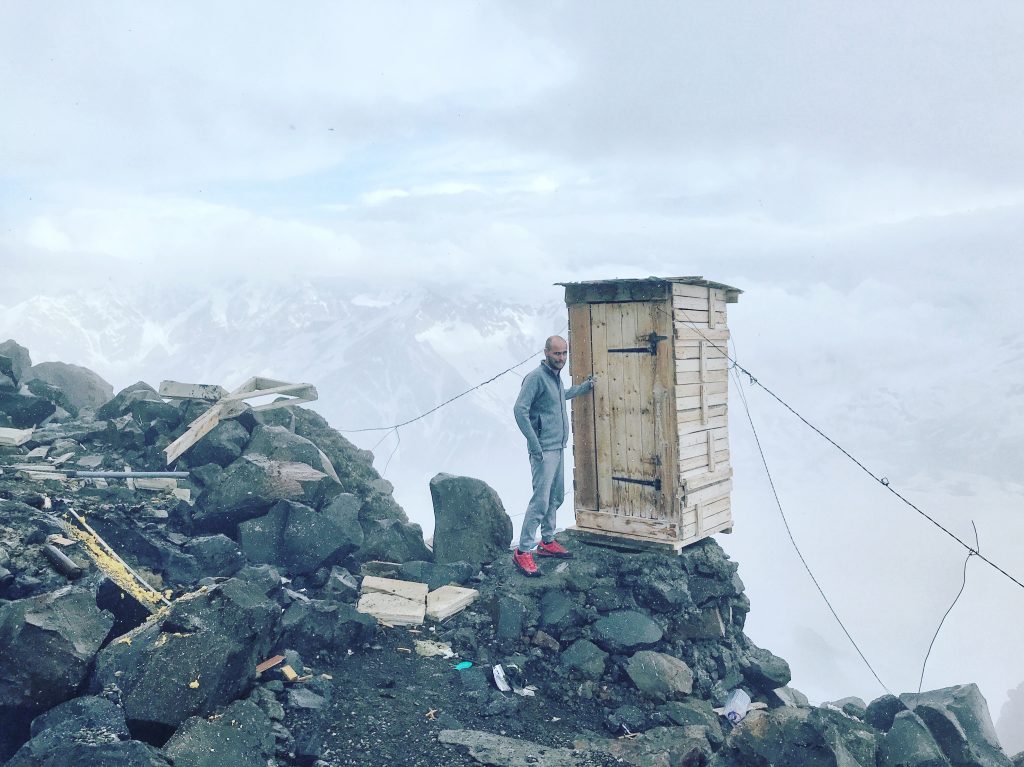 In a nutshell, the north side is harder and less comfortable. The south is a little more developed, with a building containing bunk beds and 2 small cafes at the base camp. They also have snowcats for those who struggle on summit day and some absolute nutters actually ski down it once they've summited!
The north is more edgy and adventurous, with a communal tent, and it takes 9 days, as opposed to the south side's 6. The weather can be a little naughtier from the north too.
We mixed it up and trekked to base camp in the north (which is absolutely gorgeous at the lower level), and after a long day of hiking we had a bumpy transfer over to the south base camp in an old-school Lada, the whole trek took 10 days in total.
Gear For Climbing Mount Elbrus: An (Embarrassing) Warning!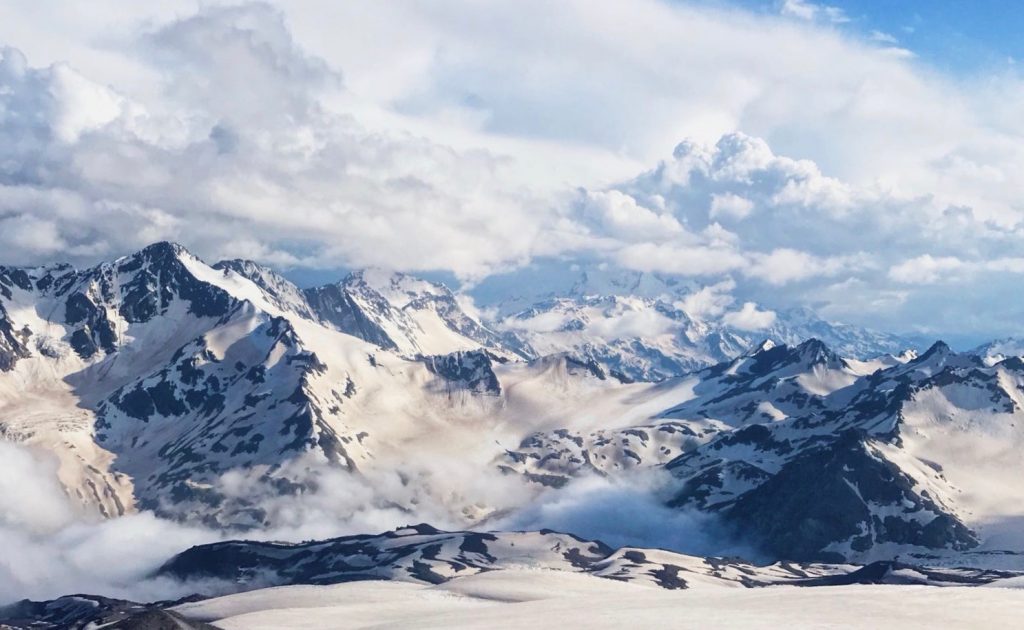 So there we were, with all of our mountain gear on the floor, so that the guides could check out the standard of our kit. I had shopped for 3 days solid in Newcastle and I honestly thought I had done a stellar job…
…the guides – not so much. Russians are very matter-of-fact when they talk and it was painfully clear to see that I had done maybe a 3/10 job (but 10/10 for last-minute good intentions).
We rented pretty much everything from Elbrus Tours apart from a hat! Mine being my classic, cold-weather country hat keeping my head and ears nice and warm the whole time.
Packing List For Climbing Mount Elbrus
Packing your kit to climb the tallest mountain in Europe is not your everyday camping packing list, and it can be difficult to know what to include. Most tour operators who run expeditions to the summit of Mount Elbrus provide a rental service for much of the gear, so it's not the end of the world if you forget something.
They'll also make sure that your gear is up to standard and that you've got everything you need before you being the ascent.
From that humbling experience, here are a few things you most definitely need as a foundation:
Mountaineering boots – It's important to pack a pair or two of high-quality mountaineering boots. These boots are specifically designed for high-altitude climbing and will keep your feet secure and dry.
Thermal t-shirts (long and short-sleeved) – Climbing in sub-zero temperatures, you need to keep your body heat at a healthy level, and thermal shirts are perfect for doing so.
Pair of lightweight trekking gloves or liner gloves – These are ideal for keeping your hands warm but with sustained manoeuvrability at the same time.
Fully waterproof over-trousers with taped seams – Perfect for keeping that strong wind and rain from getting into your legs and feet
Waterproof holdall 75 Litres – 90 Litres – This is ideal for keeping all of your gear in one place and also be protected from the elements.
Waterproof Rucksack liner or small dry bags – Again, these will allow you to pack things into smaller dry bags and separate your wet kit from your dry. This makes them far easier to access when you need them.
Sleeping bag – 3/4 season minimum – Having this type of sleeping bag will allow you to keep warm but also stay cool if you need to.
Sleeping mat – Sleeping mats can turn even the most uncomfortable sleeping surface into a comfy snug.
Lightweight waterproof bag for the sleeping bag – The last thing you want to find out at the end of the day is that your bedding is soaking wet.
Battery operated head torch – Whenever you're making your way around a campsite at night, you need to see where you're going. This is especially true when you're thousands of metres above sea level!
Crampons – Totally annoying, absolutely necessary. Make sure you have a few tries putting them on if you are new like me, as I had to learn last-minute, in freezing conditions, which added unnecessary extra stress.
Travel Insurance vs Extreme Sports Insurance Elbrus Climb
It's usual practice to take out travel insurance before any sort of trip, but when you're scaling the tallest peak in all of Europe, your traditional 'sitting on the beach' kind of travel insurance just simply won't cut it.
With the higher risks and the higher chance of you needing medical treatment, you're better off getting extreme sports insurance, but most normal travel insurance policies will see the fact you scaled a frozen mountainside of your own free will as a sort of waver to any sort of financial help.

Elbrus Tours took care of all of that laborious paperwork for me, but I still had my own travel insurance and you would be a madman/woman to leave your country without it. (Please note that this was before the Ukraine-Russia War, you will have to check if SafetyWing still covers travel within Russia).
Climbing Mount Elbrus (& Wobbling Back Down): My Experience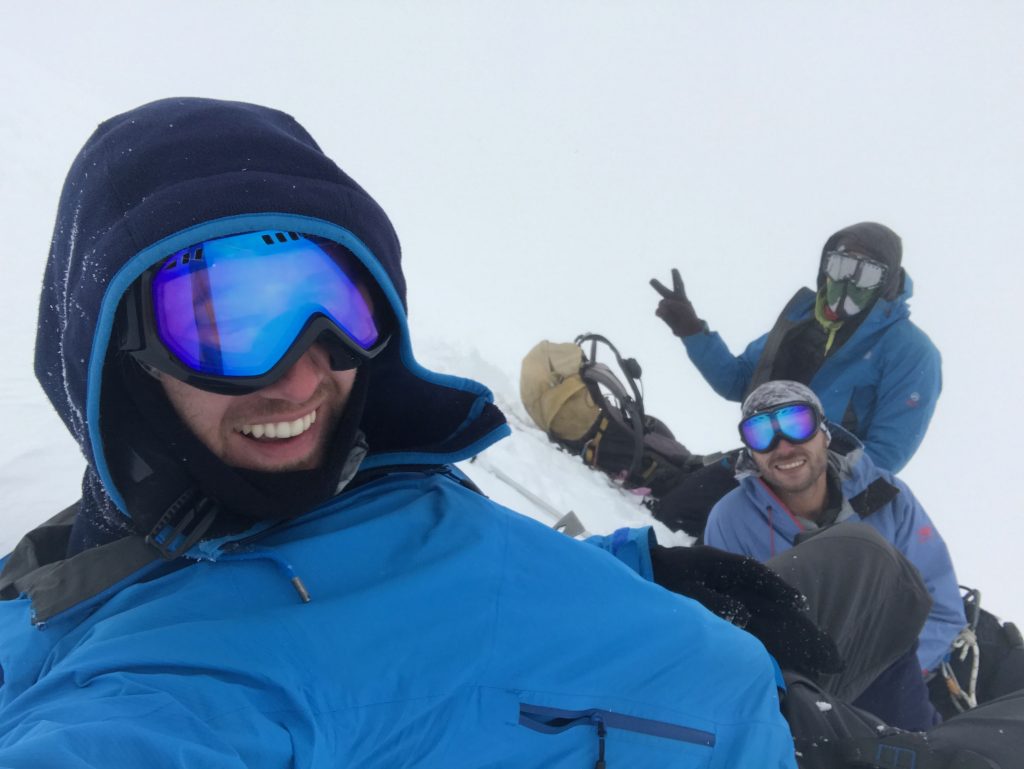 This is already long, so I'll just give you the highlights!
I didn't realise that when climbing a mountain of this size, you must acclimatise by coming back down to where you initially walked from. So for example we kept going up, then back down to where we started. The next day we would walk further than the day before and back down – it really f***ed with me mentally, as it seemed torturous – seeing the same spot every day and walking further away from the top on the way back down.
That may sound silly to seasoned mountain climbers, but I thought we would be incrementally going up and not coming down like that every time. I was but an amateur though!
It won't come as a surprise that my chest infection worsened as the longer (and higher) the journey got on. It would be the lie of the century to say the experience was enjoyable, it was pure hell and even though I was pushing myself to stay at the front – doubt grew stronger as each day passed and my violent cough and tight chest became more problematic at that high altitude, along with the extreme weather conditions.
Pushing myself to stay with the front pack was a tactical move in the psychological sense – I figured that if the guide constantly saw me somewhere up there, he would consider me strong enough for summit day.
I found myself not talking around him back at base camp, or pretending that I needed the (very interesting-looking) toilet because I could feel coughing fits coming on.
The mind games were upped on the day before the summit when Boris (who, in deference to him, was just worried about me) tried to talk me out of the summit day and to use the snowcat transport (heaven forbid) instead.
There was not an agreeable bone in my body and I did not negotiate. I hadn't come all the way to Russia to climb Europe's highest mountain, just to concede defeat on the final day!
Boris reluctantly agreed, a little part of me was hoping he'd knock out a nonchalant; "If he dies – he dies," Ivan Drago style, but I was left disappointed.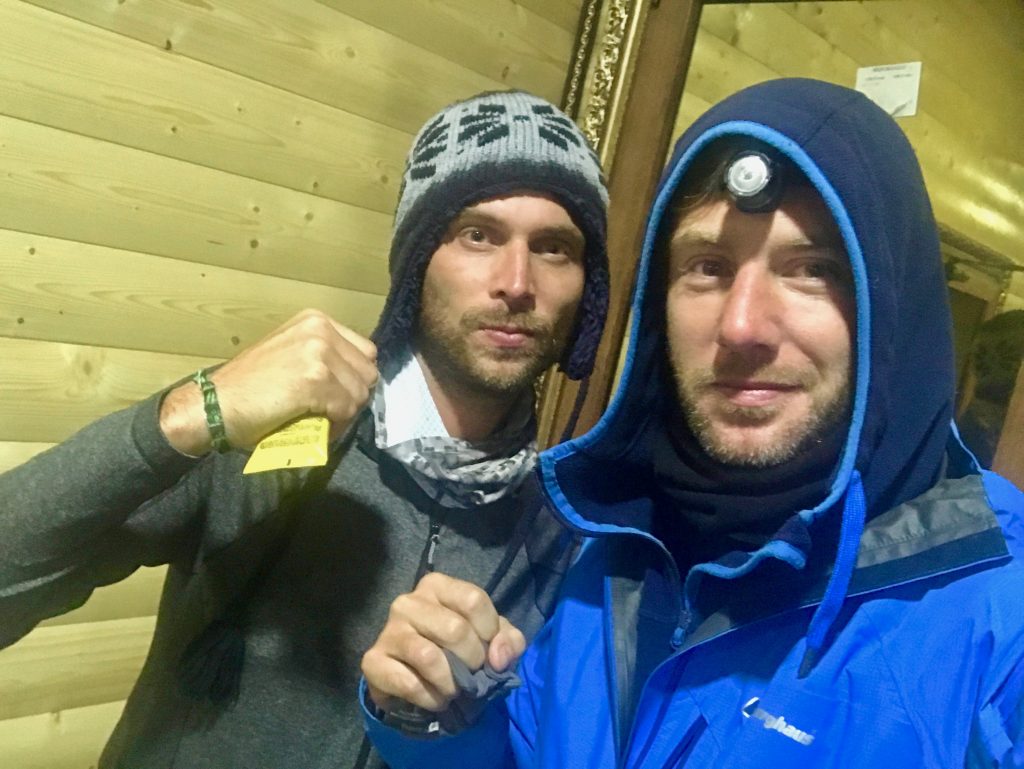 Out of the group of eleven, only Johnny and I were up for summiting by foot. So that meant a disbanded group and a need for a second guide at the eleventh hour. Step forward, Victor! He looked like he was born for the mountains. Wiry build, rugged stubble and he even had a mountain axe tattooed on his forearm… now that's the man I want to guide me while climbing Mount Elbrus!
We left at midnight the next day, crampons on, fuelled by a veggie chilli ready meal that we learned to associate with pain – and a starry-eyed dream of conquering Elbrus.
After a week of lung-busting attempts to stay at the front, the sustainability of that sadistic mindset, sandwiched with my illness, started to show cracks. Johnny and Victor were mostly a couple of hundred metres ahead of me, but I was not going to fail any of them and I just focused on one step at a time and breathing as efficiently as I possibly could.
They stopped a few times for me, and then we would walk together for a few hours until I would drop back a bit but continue on – all good though and the energy of old-school British/Irish self-depreciative humour and dark Russian banter made such sh*t conditions bearable.
On a more positive note, I had very successful laser eye surgery a month before and this made things SO much easier. I can't imagine the added stress of dealing with glasses/contact lenses in those harsh and unsanitary surroundings. Also, most of Elbrus is gorgeous and very easy on the eye, so that was a bonus!
We rested for 20 minutes before the final peak and I was speaking incoherently, like a drunk person. We were all laughing at my peculiar behaviour, I could barely form a sentence – camaraderie is everything in times like this and our army of three worked really well together.
The final slog was horrendous – a steep incline where you had to rope yourself in – along with busy traffic of summiteers coming the other way back down! It was very narrow and it was a looooong way down if I slipped, so I had to really concentrate on every movement.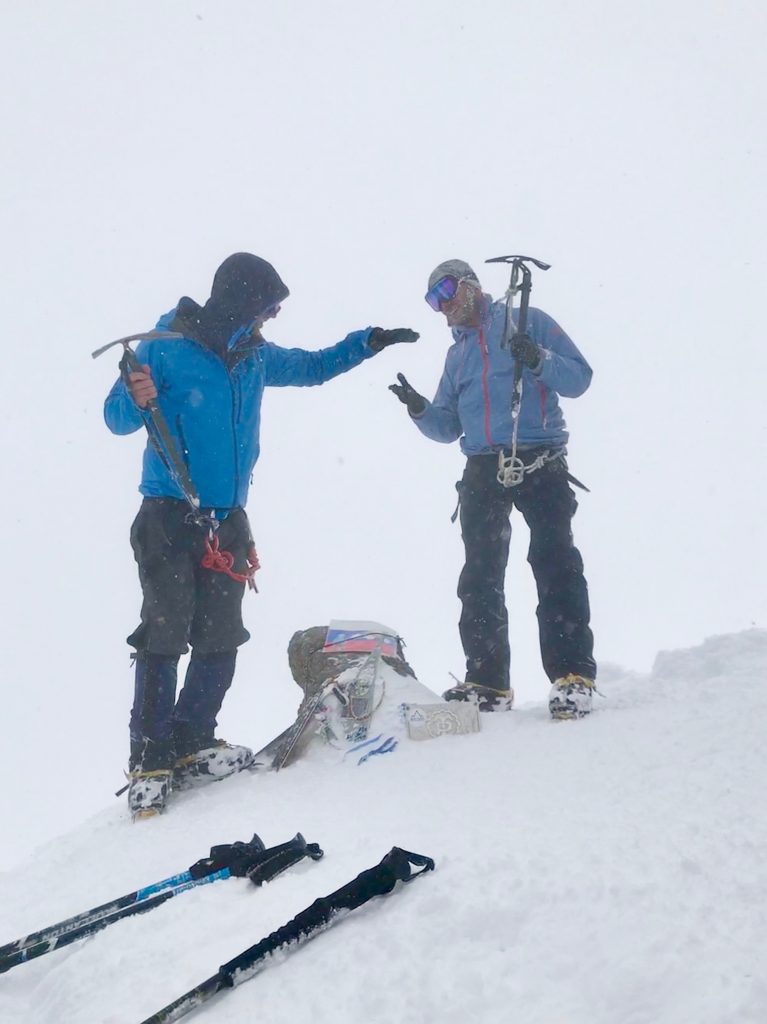 Getting to the top of Europe was one of the best feelings I've ever experienced, I even felt a little emotional after pushing through all that pain – but there was no time for sentimentality…
…an aggressive snowstorm kicked in 15 minutes after the summit and visibility was pretty much zero. We could not see the red guidance flags that we passed only an hour before. We had to rely on the trust of Victor, who roped the three of us together and flogged us down the mountain at high-speed – as it was too dangerous to stay.
I'm not sure I have the superlatives to match the heroic-like nature of Victor's escape from Operation Snowstorm. It was like something out of a blockbuster action movie. We had to keep the rope tight, with barely any slack so if one of us fell down the narrow passages from either side, Victor would anchor us in with his axe.
I hope that my life flashbacks on my deathbed are the less cringy moments and more badass ones, such as escaping a snowstorm after summiting the highest mountain in Europe!
Coming down the mountain was no easy ride, even after the snowstorm – and my delirious demeanour continued. My finest moment was when I took a wrong turning on the way back to base camp – I got a whole leg stuck in deep snow and an old Russian man had to dig me out with his shovel.
I slept for eighteen hours when I got back to the hotel, absolutely exhausted – nothing left in the tank at all. I'm going to be honest with you all and admit I hated every moment of this – but the feeling of accomplishment supersedes all of that.
In December, Johnny and I will attempt to triumph Aconcagua of Argentina. At a very naughty 6,960 metres tall – it's the tallest mountain outside of Asia and is South America's official shout for a Seventh Summit, with the menacing nickname "The Mountain of Death" for extra dramatic effect.
I am terrified, but I will be fitter this time and I'll be taking my Elbrus experience/mentality with me. I'll also be reading a lot about Stoicism and meditating for the next few months. If we are successful – I am officially going to put it in writing that I'm going to attempt all Seven Summits in my lifetime.
Any Aconcagua summiteers out there that have some solid tips? I'm all ears! (Update: I failed my first attempt at Aconcagua and sadly I had an awful accident on the 2nd attempt, which temporarily affected my eyesight, gave me frostbite on 3 fingers, and 4 missing teeth!
I recovered back home in Chiang Mai, Thailand and I'm ok now, but you can read about that crazy experience here: Going Blind on Aconcagua: Losing My Second Battle Against South America's Tallest Mountain and stay tuned for my 3rd effort of Aconcagua, when I'm 100% and fighting fit again!
Best of luck to anyone climbing Mount Elbrus!