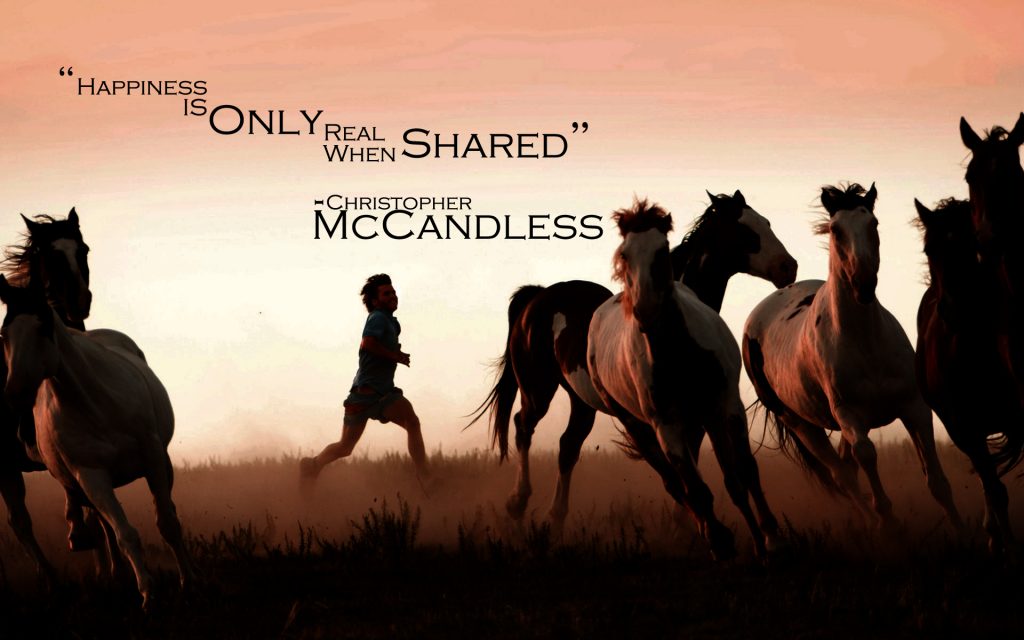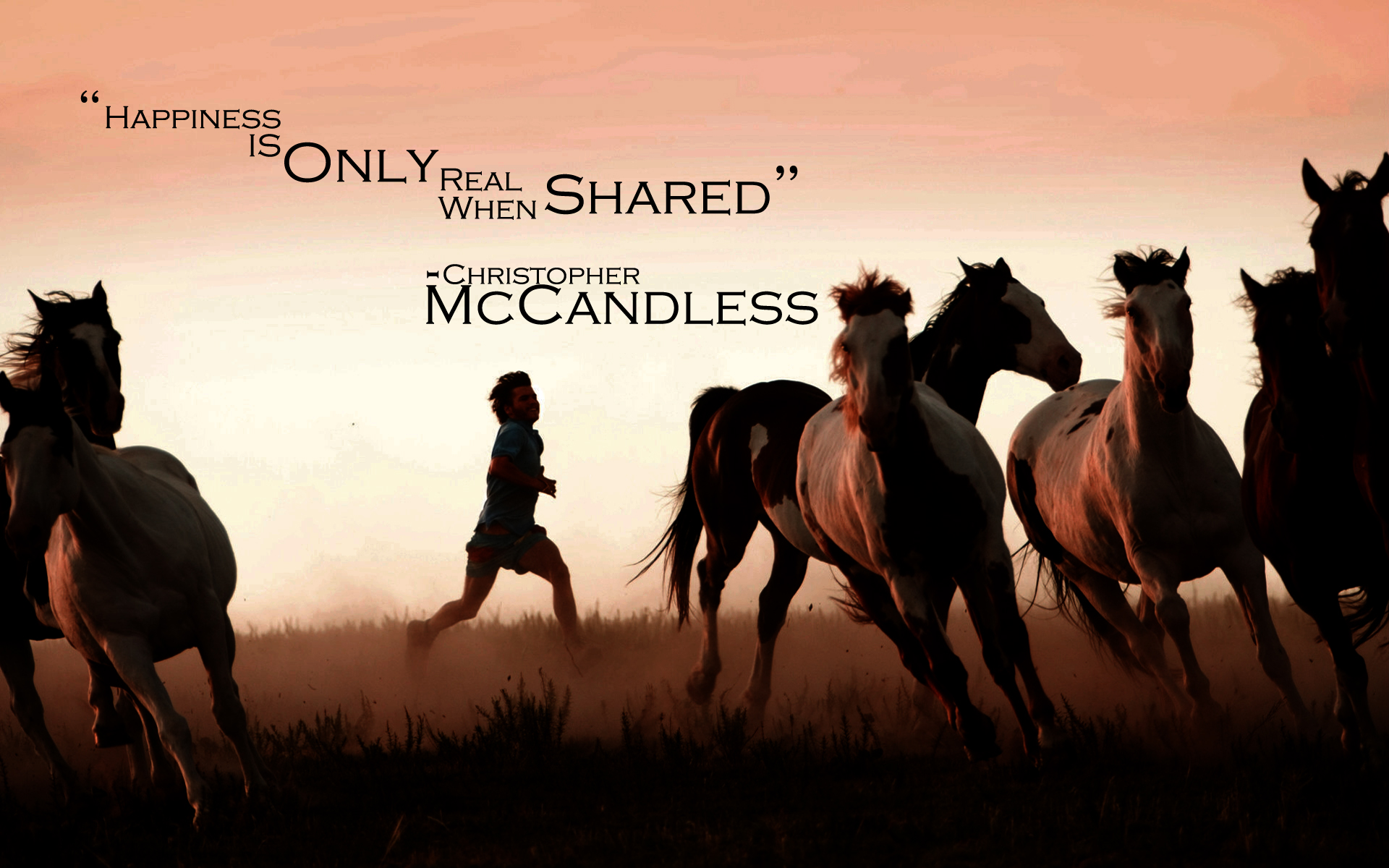 Cult travel movie and book 'Into the Wild' (which is based on a true story) documents young, intense, fiery and free-thinking Christopher McCandless's less than conventional road trip into the Alsakan wilderness. With no money, a notebook, an open, beautiful, unique mind, wild sense of adventure and a profound curiosity for human connections.
I won't spoil it for any readers who are yet to see it. It's my second favourite travel movie of all time (sorry, but Motorcycle Diaries is just perfection). However, it's not just the travel aspect that I love about the movie/book. It's as deep as the ocean and one of the most thought-provoking movies that I have ever had the pleasure of watching.
I couldn't recommend it any more and the fact that Emile Hirsch didn't receive an Oscar for his performance is nothing short of criminal.
But there was one phrase which was used in the movie…which kind of irked me at the time:
"Happiness is only real when shared."

(Christopher McCandless)
It really got under my skin and touched a nerve. In a negative way.
When I first heard of this concept I was on an aggressive quest for independence and ending a chapter of my life of being around people who knew, loved and accepted me. I was about to venture well and truly out of my comfort-zone to the other side of the world, on a one-way ticket. To understand myself better. To become braver. To feel alive. To quench my thirst for adventure, all by myself – just like McCandless did.
And there he was – after getting me to eat out the palm of his hands, because he was one of the few people to truly 'get' me. Only for him to go ahead and declare so confidently that doing it alone somehow devalues the experience!
Oh come on, Christopher! Why would you do such a thing?!
Hasn't Christopher heard of quotes such as; 'a crowded room can be the loneliest place in the world?' Doesn't he know that if you truly love yourself, that you can't dislike your company – when you are alone?
For months, years in fact, I staunchly denied this ideology. I clung onto any fun solo experience that I had, in order to dispel the claim that you can't obtain true happiness when on your own. But a good man admits when he is defeated. A real man must say; "I was wrong" with a good nibble on a hefty slice of humble pie.
I hold my hands up. I am truly beaten. I will fight this fight no more. I get it now; I really, really get it.
Don't get me wrong, I still love my own company and I do still believe that you should look to be comfortable as a lone wolf for periods of time. It does wonders for your confidence, gives you clarity to think and work out what is best for you.
I spent the last six months living alone in Bangkok – and I loved it. I even had a spare room and could have saved money by finding someone to sub-let. But I like to have my own privacy and the freedom to roam out when I want to go and socialise. I enjoyed spending 'me' time and I appreciated my sacred man-cave. But my best times were when I was with my network of friends.
I've also had some brilliant times by myself in the last few years on my own.
But that doesn't change the fact that I was wrong. That doesn't change the fact that those 'brilliant times' were somewhat incomplete. It doesn't change the fact that experiencing those moments with another human being on my frequency would have been the ripest cherry on the tastiest of cakes.
It all started with little things like watching a beautiful sunrise/sunset in a breathtaking place. I'd feel so blessed to have witnessed it and so happy to have the experience, but a little part of me felt that it would be better if I could turn to someone by my side and say; "Wow, isn't it beautiful?"
Sometimes words are not even needed though. Even just to share a smile because we are both feeling the same thing would have made such a thing complete. I could of course call my friends afterwards and tried to explain my experience – but that's an uphill task. You can't force someone to feel what you have felt.
That's when the seed was planted. When the cracks in my defence started to appear.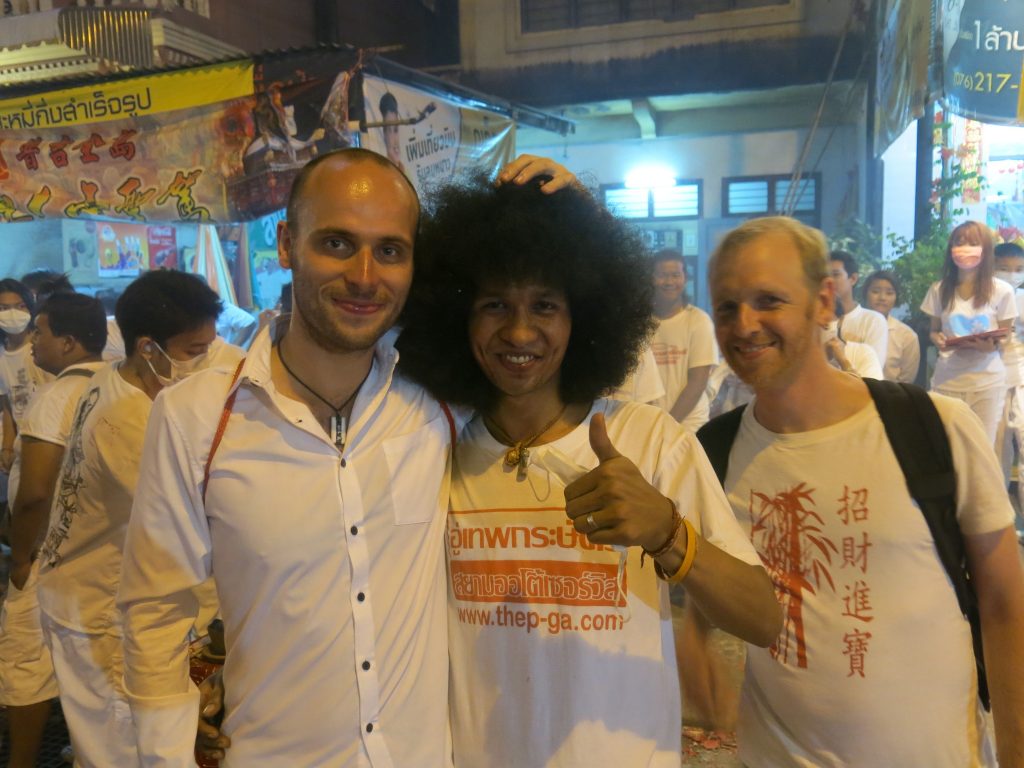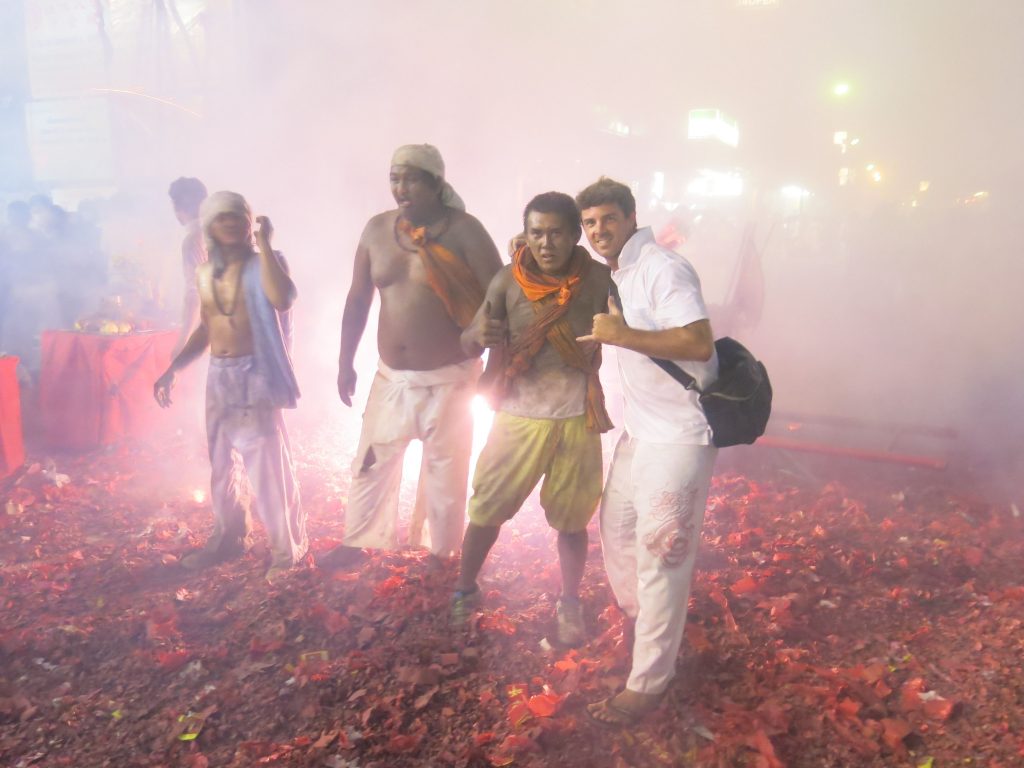 Then I started to notice a common theme (although I tried to deny it) – that fun times on my own were massively eclipsed by fun times with another person/people. I would go to spine-tingling festivals with friends and we would share the happiness and good-feelings between us. I would catch myself thinking in my euphoric state; "can it really get any better than this?'
It can not.
Take it from a man who has tried.
Sharing happiness with another person, or people is indeed, what 'it is all about.' I don't care if you're an introvert. I don't care if you're fiercely independent. I don't care if you find it hard to connect with people, because when you do – it makes all the dark times so much brighter.
The ironic thing is my claims of 'having fun on my own' usually included another person. It could be a complete stranger who I had only met for ten minutes. It could be a funny conversation with a local. It could even be a dog!! But the fact remains that I may have been on my own when I started out on the journey, but the greatest happiness that I have experienced was admittedly when it was with another living being. Human or animal.
And when you put that up against happiness when I was truly on my own – there really is no contest.
Last year my friend and his fiancé became a parent for the second time. I ordered some flowers to be sent to his address. I had an option to write a note on the gift card – but was only allowed 120 characters. Wow – even Twitter gives you 140!
How can I possibly put such an important life-moment into words, in only 120 characters?! I decided to borrow someone else's words, with a slight modification..
I wrote the perfect words for the event; "Happiness is better when shared."
And from that moment, I accepted it. I decided to let go of the fight and to give in to the need to be right. For it was standing in the way of my happiness. Stealing moments of joy from my precious life – and all completely self-inflicted.
After my World Cup trip to Brazil, (which I will be sharing happiness with a friend from home) I plan to live in Colombia for the rest of the year to build a new online business and learn Spanish. A friend of mine wants me to travel through some countries in South America with him first. I was in two minds because I'm really looking forward to living in Medellin. I will be living there by myself and I'm fine with that. I'm confident I'll make new friends. I'm excited about starting this new chapter of my life.
But I decided to say yes to the road trip – because I know that it'll be better than doing it on my own. I know that I'll be craving a connection with another human being when setting off on my own – but I already have that with my mate. And I can't wait to share my happy experiences, rather than keep them all to my greedy little self.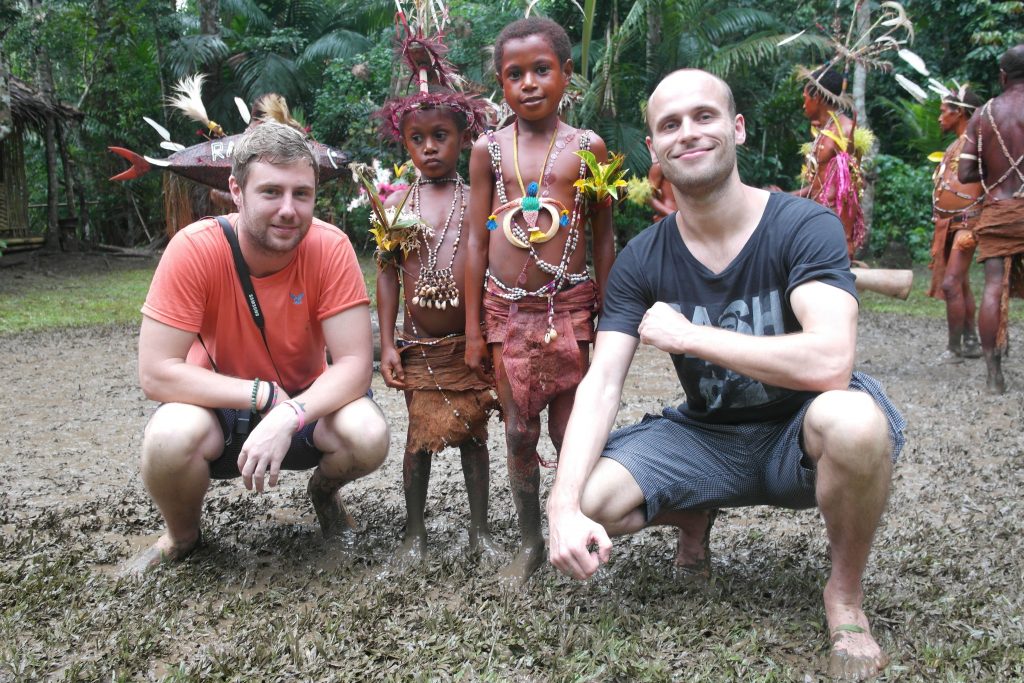 Humans are not meant to be solitary. We aren't Tigers. We seek comfort in the presence of other people (or living beings, you can share happiness with an animal too). And adding a dose of happiness into the concoction makes life worth living.
It seems Mr McCandless was right all along. And I'm more than grateful for (finally) learning this valuable life lesson.
Do you feel happiness is only real when shared?
Song for the moment – "Perfect Day," by Lou Reed.
Notable Lyrics:
"Oh it's such a perfect day,
I'm glad I spent it with you."