Hanging out with locals is one of the most rewarding things to do in Muscat.
We all love to be around welcoming people, and if you've found this article because you're on your way to 'The Pearl of Arabia,' then I have some good news for you; Oman hospitality really is on another level.
Oman was my favourite country on an 18-month trip, and a huge part of that was because of the unprecedented warmth that I experienced during my time there.
But in reality, that's not why you're here and you more than likely want to know about the best Muscat attractions in order to enjoy the capital city during your time here.
It's probably not too surprising after the gushing intro that Muscat is a thumbs-up from me, although getting around the place requires a lot of planning.
Without much further ado, here are the top things to do in Muscat at all hours of the day, how to get around Muscat and where to stay in this incredibly friendly city.
Top Things To Do in Muscat (During The Day)
While plenty of travellers are keen to quickly leave Muscat to explore vast deserts, the capital of Oman has so much to give. From its grand mosques to its relaxed beaches and its rather anonymous dining scene, don't rush Muscat if you don't have to.
I'd recommend giving this place a good few days of your time if possible, to make sure you explore everything this city has to offer, let's take a look at the best Muscat attractions during the daytime.
1. Sultan Qaboos Grand Mosque
While it may not be as acclaimed as the Blue Mosque in Istanbul, or the Sheikh Zayed Grand Mosque in Abu Dhabi, the Sultan Qaboos Grand Mosque still holds its own in a region dominated by beautiful Islamic architecture and also boasts the bling bragging rights of being home to the largest chandelier in the world.
It was built to celebrate the 30-year reign of Sultan Qaboos, which explains its grandeur and sheer size. In fact, at its most, it holds up to 20,000 worshippers at once.
You can spot the outside from a mile away. Its five minarets reach for the sky and represent each of the five pillars of Islam, while its golden-domed roof glistens with the sparkle of the sun, reminiscent of the Al-Kadhimiya Mosque in Baghdad.
The Sultan Qaboos Grand Mosque is also one of the only Omani mosques that welcome non-Muslims to take a look around.
You'll need to dress modestly to visit. For women, this means a covered head and arms, plus a floor-length skirt (you'll be turned away if your ankles are showing even a little). For men, you'll need to wear long trousers and cover your shoulders too.
Know Before You Go:
Location – You'll find the Grand Mosque in Western Muscat, sitting along the banks of the Wadi River, just off Sultan Qaboos Street.
Cost – It won't cost you a penny to visit the Sultan Qaboos Grand Mosque unless you're visiting as part of a tour. Usually, tours to the mosque are included as a half or full-day tour of Muscat and cost between 30 and 80 Omani Rial. You'll struggle to find a stand-alone tour of the mosque itself.
Opening hours – Non-Muslims can visit the mosque every day, except Friday, from 8:30 until 11:00 am
Time needed – You won't need much longer than an hour to explore the mosque, a little longer if you decide to go on a tour, or for some good old quiet contemplation.
Getting there – In Muscat, you have two options for getting around: a public bus or a local taxi. If you're choosing to go for the local taxis, look out for the red and white cars – these are always metered. The orange and white taxis, on the other hand, will be fixed rates, and you'll typically end up paying above the odds. If you're on a budget, the local buses serve the whole city and its suburbs. Bus stops are marked with red and white Mwasalat logos, and Route 1 will drop you right outside the Grand Mosque.
2. Qurum Beach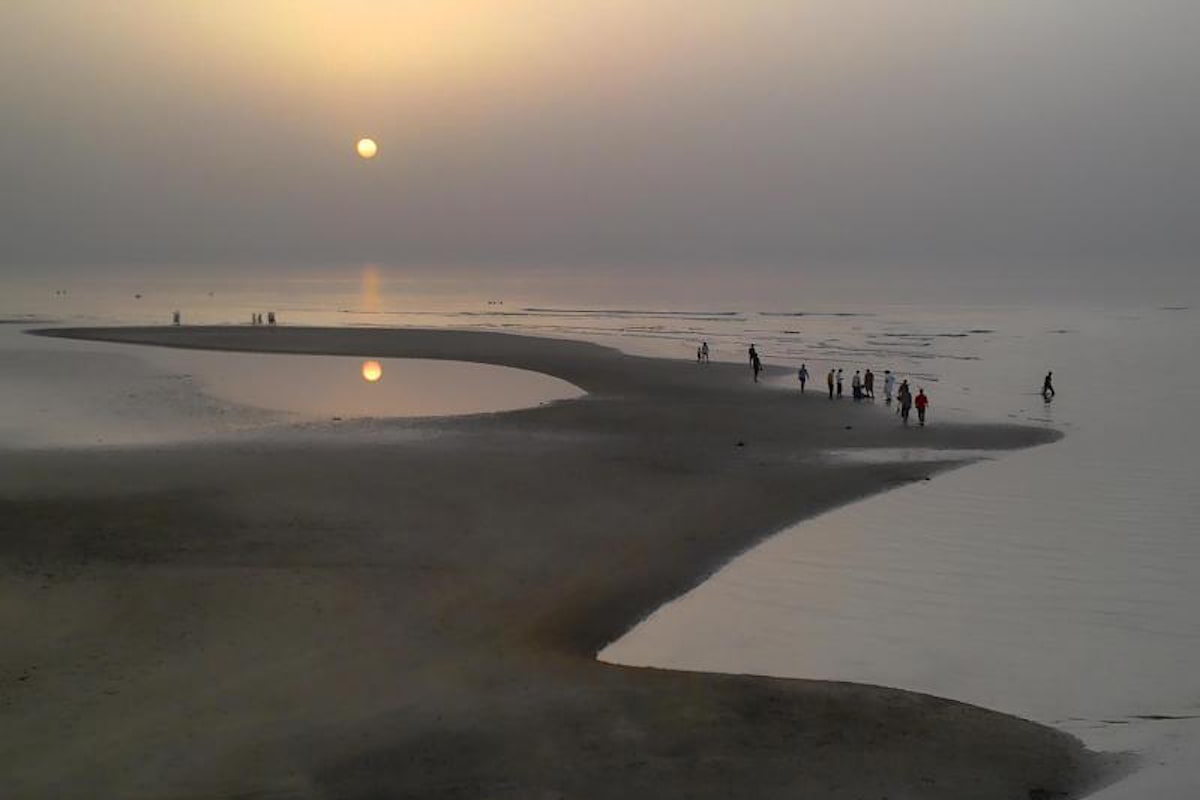 A local favourite and one of the best things to do in Muscat, Qurum Beach sits just outside the realms of the city. It's the perfect place to escape the heat, leave the hectic city behind and explore the coast.
Don't be fooled into thinking you'll be the only one here though, Qurum is known as modern Muscat, complete with high-end restaurants, local cafes and a great selection of watersports. Here you can jump on a jet ski, enjoy an exhilarating parasail, or simply explore the rocky coastline on foot. Most of the watersports can be booked not far from Crowne Plaza.
Compared to other Middle Eastern countries, Oman is considered to be more liberal, possibly due to the majority of the country belonging to the lesser-known 'Ibadi' branch of Islam (it is also the only country in the world that forms a majority of Ibadi Muslims).
Needless to say, general travel safety precautions should be taken in all corners of the world.
While they won't appreciate any topless sunbathing, many female tourists there were swimming in public wearing a one-piece swimsuit on the beach. Although be prepared for some stares, pointing and even a bit of laughter from the locals. If you're a bit worried about stripping down, I recommend finding a more secluded beach or wearing a T-shirt while you swim.
For women who are concerned about this and want more info, check out this detailed guide by Katie (and gents, take heed to the hilarious, yet true speedo comment!)
Know Before You Go:
Location – Qurum Beach is part of the upmarket neighbourhood of Qurum, a ten-minute drive from the centre of Muscat.
Cost – The beach is free to explore at your own leisure, while watersports come at various prices. On average, expect to pay 25 OMR for an hour on a jet ski or 40 OMR for half-day kayak hire.
Opening hours – Qurum Beach is open to enjoy around the clock, but we'd recommend a visit at sunrise or sunset for some of the most beautiful scenes.
Time needed – You'll want to put aside at least half a day, maybe more if you're water sporting.
Getting there – Flag down a local taxi (we talk more about this above) or use the local bus route 1 to get dropped off in Qurum. Let the driver know where you're heading, and he'll be more than happy to let you know where to get off.
3. Mohammed Al Ameen Mosque
If you're hoping to explore one of the city's mosques away from the tourist hotspots, Mohammed Al Ameen Mosque is a great choice. While you won't find any tours heading here, the mosque is open to the general public every morning, except for Fridays.
Like the Grand Mosque, you'll need to dress conservatively; women must cover their heads, arms and legs, while men must wear long trousers and cover their shoulders too.
The mosque itself is made almost entirely from white marble, the three domes topped with gold. While you can't go inside the mosque at night, it's worth a visit at this time to watch as the mosque is lit up in tones of blue and gold, making for a pretty awesome photo opportunity.
Know Before You Go:
Location – The Mohammed Al Ameen Mosque sits on top of a hill overlooking Muscat.
Cost – Free entry.
Opening hours – Open to the public every day from 8 am to 11 am except for Fridays.
Time needed – You usually won't need more than an hour to explore Mohammed Al Ameen Mosque.
Getting there – It's easiest to get a taxi to the mosque or to join bus routes 12 or 9.
4. Qantab Beach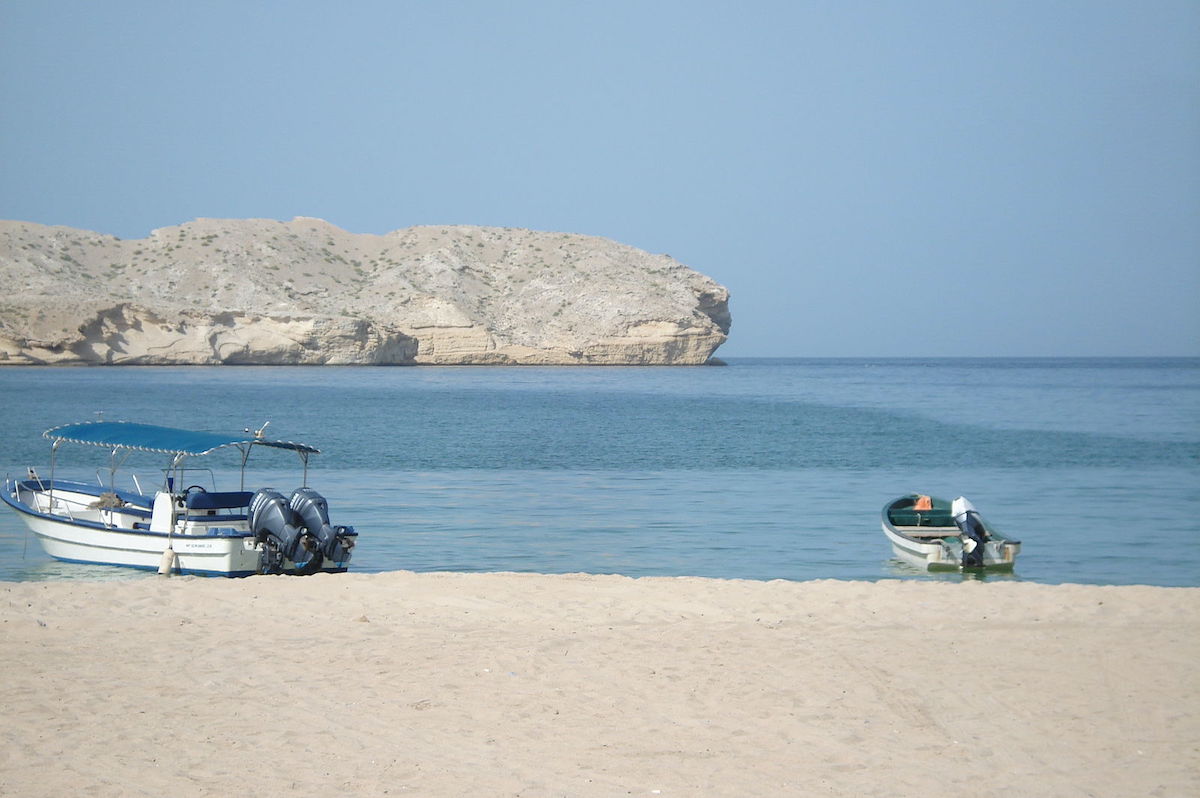 Qurum Beach is lovely, but it tends to attract crowds, which can lead to a rather tense experience when it's at its busiest.
Qantab Beach, on the other hand, has stayed somewhat undiscovered on the tourists' radar. Hidden away in a small village, Qantab is the kind of place the locals go to hang out in the evenings to have a final dip in the sea and watch the sunset. In the morning, you can watch as the fishermen return with the day's catch, and during the day you can try your hand at watersports.
Know Before You Go:
Location – Qantab Beach is part of Qantab Village, around a 25-minute drive east of Muscat.
Cost – Free!
Opening hours – You can explore Qantab Beach at any time of the day.
Time needed – As long as you'd like, but we'd recommend half a day to explore.
Getting there – You'll need to either rent a car or jump in a taxi to Qantab Beach, as you won't find any public transport heading this way.
5. Pebble Beach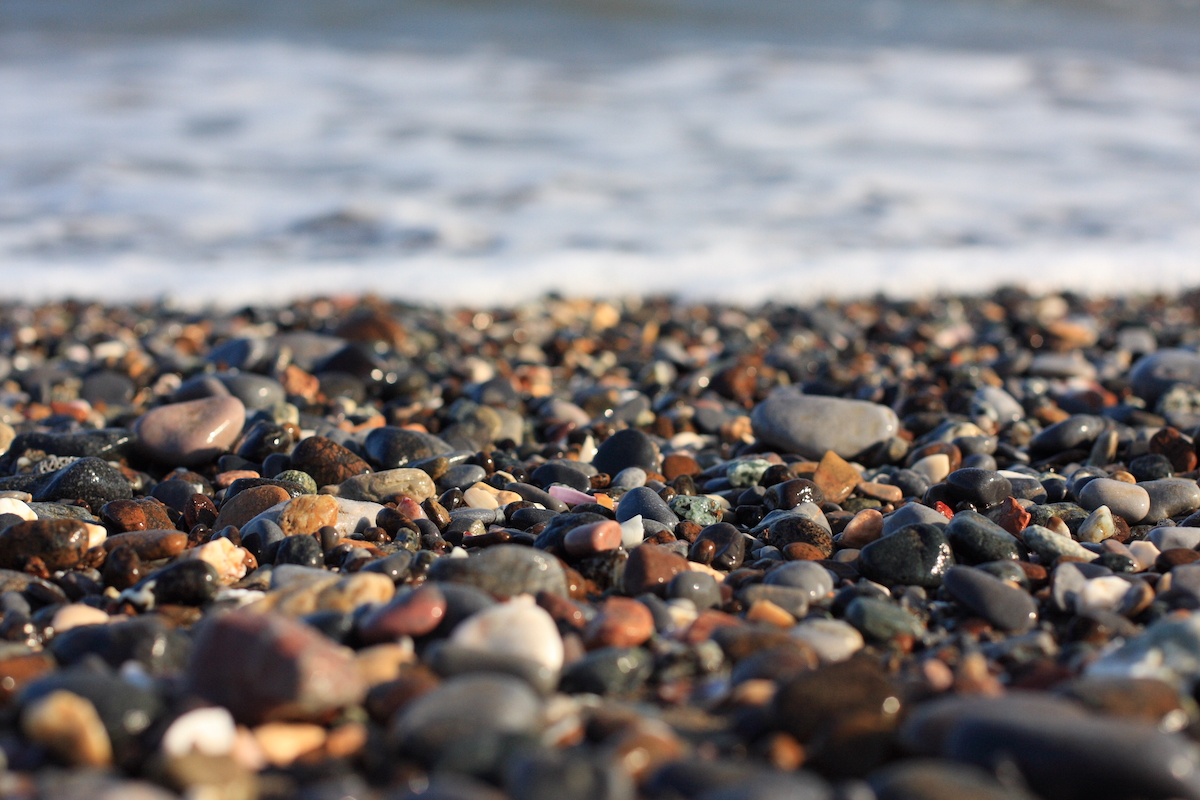 There aren't many beaches in the world that are completely made of pebbles, but Muscat just so happens to have one of them. It's the kind of place you can go to relax and listen as the waves wash over the smooth white pebbles, a very peaceful centring place if you've been enjoying any high-energy Muscat attractions.
Surrounded by weathered limestone cliffs, with a just-about-visible view of the mountains on the horizon, this is the place to appreciate the world around you.
Locals tend to go camping in Pebble Beach, which is entirely free. You can get a few friends together, find a tent and fall asleep to the sounds of the waves from the Arabian Sea.
Know Before You Go:
Location – Around an hour's drive from Muscat.
Cost – Free!
Opening hours – Open around the clock.
Time needed – We'd put aside around half a day, or a full day if you're up for wild camping.
Getting there – You'll need to rent a car or pay for a pretty long taxi ride there.
6. Mutrah Fort
From the outside, the Mutrah Fort doesn't look particularly special, and I won't beat around the bush, the inside isn't particularly special either – unless you have a thing for 16th-century castles. However, make your way to the top of the fort, and you'll quickly realise why this is one of the best things to do in Muscat; the view.
While you're catching your breath tackling the 250 steps to the top of the fort, don't forget to stop off at the many viewpoints along the way. Through the crumbling windows and over the top of the castle walls, you'll find unbelievable views across the bay and the city of Muscat, that make the scramble up this unassuming citadel worth every step.
The reason why a European-style castle like this sits in Muscat is that the Portuguese occupied Muscat from the start of the 1500s, right up until 1650, and left their mark in a series of forts you'll find peppered along the rocky coastline.
Know Before You Go:
Location – Mutrah Fort sits around a 20-minute drive east of the city.
Cost – 500 baisa for entry to the fort.
Opening hours – 9 am to 4 pm Saturday to Thursday, varied opening hours on Friday.
Time needed – Two hours tops to clear the stairs and appreciate the view.
Getting there – Like most places in Muscat, you can get to the Mutrah Fort either by private taxi or by bus. Route number 4 stops just outside and will cost about 500 baisas one-way.
Best Things To Do in Muscat (At Night)
Drinking alcohol isn't exactly the norm in Oman, which means you'll need to get inventive if you're someone who usually likes a tipple while looking to fill those quiet nights.
Omanis are a typically classy bunch and the nighttime Muscat activities are varied.
Here are a few places I'd recommend heading to when the sun goes down (although you will see that there are options to do these things during the day if you desire to).
1. Royal Opera House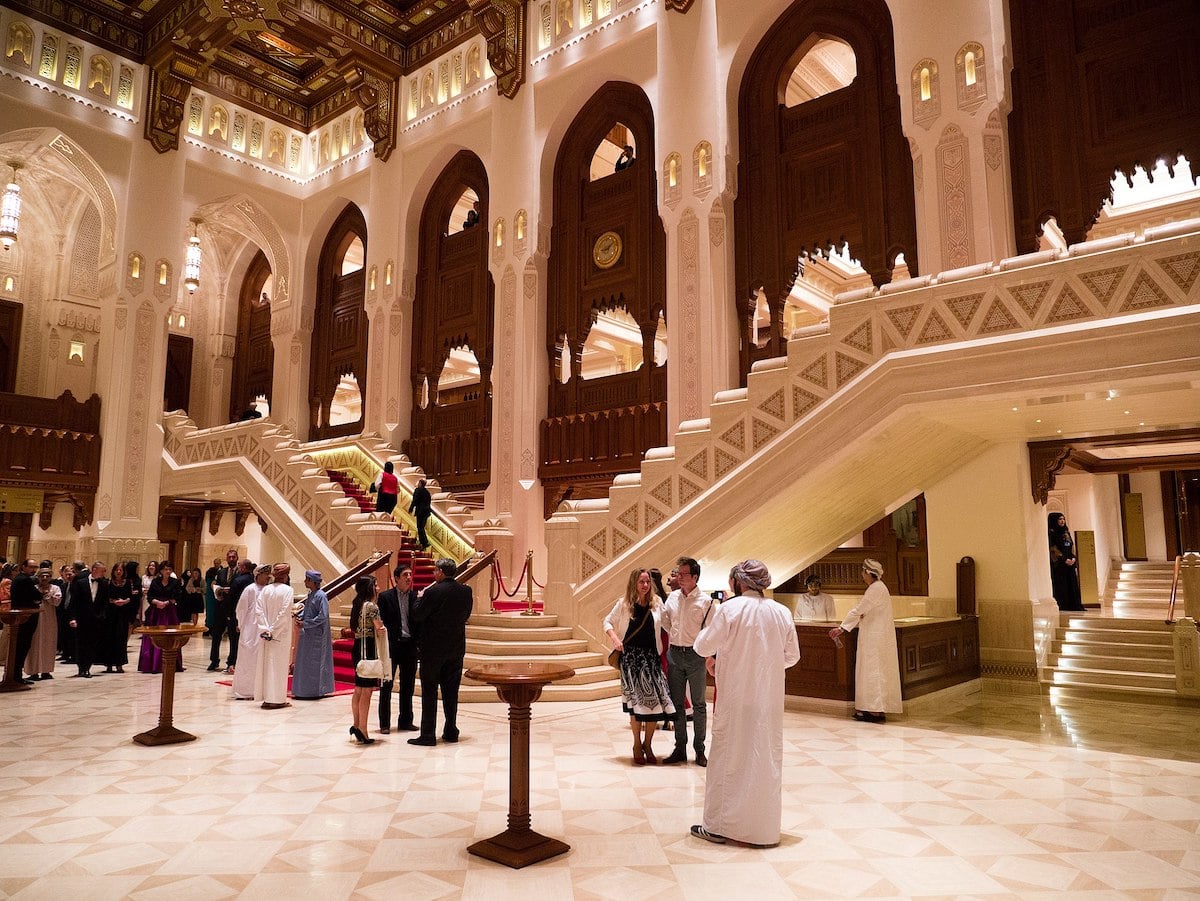 Only opened in 2011, the Royal Opera House in Muscat is a relatively new addition to this ever-evolving city but has quickly become the centre of arts and culture in the city. From the outside, it's hard to miss. Built to reflect the rising modernity of Oman, the Royal Opera House is a fascinating mix of Arabesque facades and modern architecture.
Although it differs in design from the one in Sydney, it matches it in scale and is a magnificent example of contemporary Omani architecture.
Inside, its production technology is often praised for its quality, leaving fantastic sound quality if you choose to watch an opera or ballet.
There is a strict dress code here, and you will be turned away if you don't adhere to it. Women should make sure their knees and shoulders are covered, whereas men will need a jacket for the occasion. No jeans allowed either! If you're limited on luggage, you can hire suitable clothing on-site too, including a suit jacket and trousers. Even if you don't want to fork out on a show, you can go on a tour of the grounds and its exterior.
Know Before You Go:
Location – Found in the Shati Al-Qurm district, not far from the Grand Mosque.
Cost – Ticket prices all depend on what you'd like to see but expect to pay around 70 OMR for basic seats at an open-air performance and up to 450 for the creme-de-la-creme of seats at an indoor show.
Opening hours – Open from 9 am till 10 pm for tours, variable hours for shows.
Time needed – You'll need a few hours if you're going on a tour, otherwise, allow three to four hours to watch a show with a few intermissions.
Getting there – The Royal Opera House is easy to reach by public transport, with bus route 1 stopping directly outside. Alternatively, you can flag down a taxi, where you'll need to head to Gate 3 or 4 for the drop-off point.
2. Oman Avenues Mall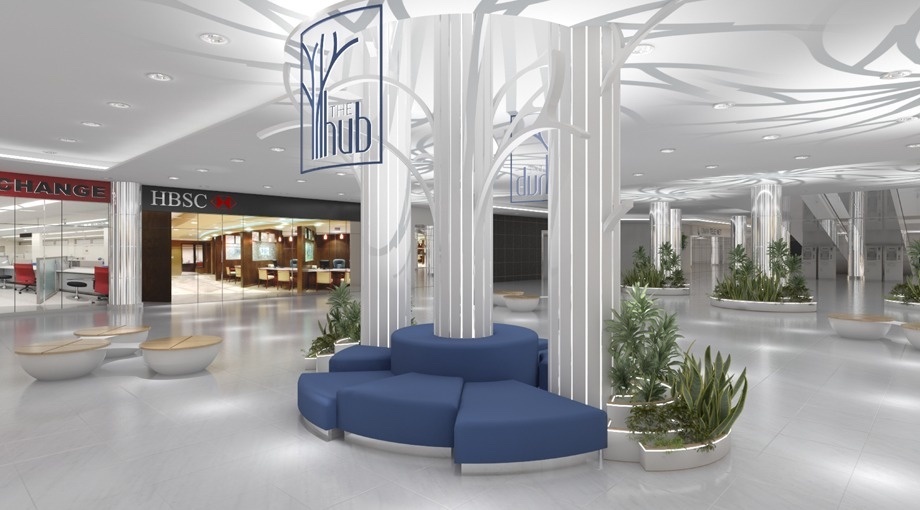 Also known as the Lulu Mall, the Oman Avenues Mall is one of the best things to do in Muscat if you're looking for an afternoon of retail therapy. From the outside, you'd be forgiven for confusing it with a Western shopping centre. Inside, however, you won't find many Western brands, but 150 Omani shops instead.
If you're not a fan of shopping, there are a few more reasons to visit the mall too. As well as the many shops, you'll also find a multiplex cinema and a huge food court that tends to stay open until the early hours of the morning on the weekend. If nothing else, head here to get some much-needed air-con during the hot summer months or enjoy a couple of fun games of bowling with your travel buddies.
While the malls of Oman are dwarfed in comparison to their famously conspicuous neighbours, the UAE, they have their own charm thanks to the amount of friendly folk you'll meet, eager for a chat in order to find out what brought you to their country.
Know Before You Go:
Location – Not far from Muscat's Bawshar region.
Cost – Free!
Opening hours – Open from 10 am to 10 pm every single day.
Time needed – At least an afternoon to explore all of the shops.
Getting there – Bus Route 1 stops off outside the mall. Otherwise, you'll need to flag down a taxi.
3. Al Amerat Park Festival (Muscat Festival)
The Muscat Festival is held in Al Amerat Park every year to celebrate the history, culture and heritage of the Omani people. The festival was first established in 1998 and was actually organised to keep school children entertained during their holidays.
It didn't take long for the festival to grow into a huge show of arts and culture, and now it attracts nearly one million visitors each year.
Spanning over one month, between January and February, there's a rich schedule of music, dance and even acrobatic shows telling stories of the history of the Omani people. Once you've watched and listened to all you can, this is a great place to sample Omani cuisine, like the much-loved Halwa, a concoction of nuts, sugar, rose water and saffron, often served with a bitter cardamom coffee on the side.
Know Before You Go:
Location – Al Amerat Park in the Al Amarat neighbourhood, a 20-minute drive from the city centre.
Cost – Free entry for the whole month!
Opening hours – The festival takes place from mid-January to mid-February.
Time needed – Give yourself at least half a day to soak in the atmosphere, understand the culture and try the food.
Getting there – Driving yourself or jumping in a taxi is the quickest and easiest way to reach Al Amerat Park. If you're on a budget, try the number 5 bus route that stops right outside the entrance.
4. Ubhar Bistro Restaurant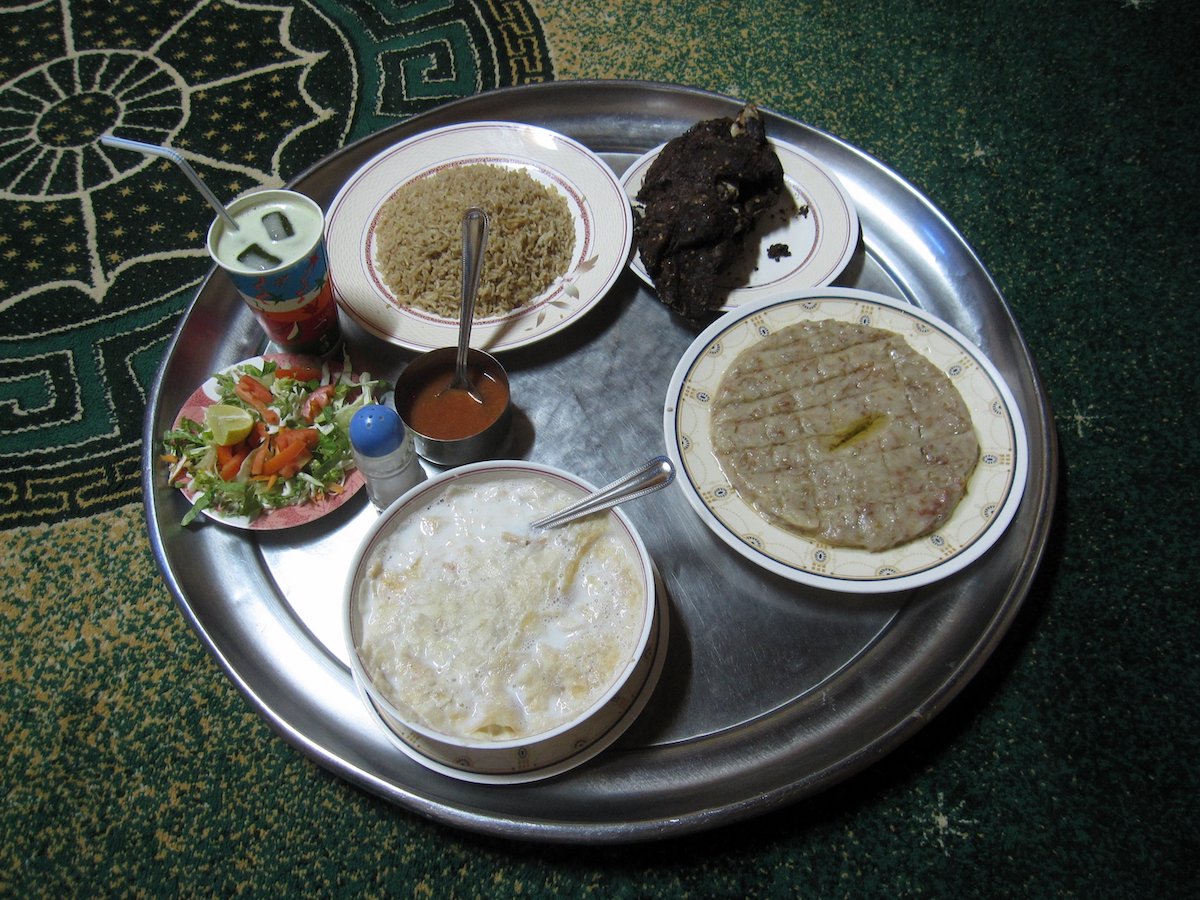 One thing you can't miss when you're exploring Muscat is a taste of authentic Omani cuisine, and the Ubhar Restaurant is one of the best places to do it. Named after the lost city of Ubar, which was known for trading frankincense, the restaurant has been designed to provide the best of Omani food, culture and hospitality.
Combining the modern with the traditional, the dishes here both look and taste a treat. Camel cooked in a range of different spices, along with a selection of other traditional meats is a popular choice. (It wasn't for me, as I don't eat meat, but there were plenty of delicious veggie options and I went back twice)
Room for dessert? Those with a sweet tooth can tuck into halwa, delicious and sickeningly sweet pastries.
Know Before You Go:
Location – The Ubhar Restaurant can be found at the southern end of Oman, in the Rub Al Khali, the Empty Quarter.
Cost – Main meals start from OMR5.
Opening hours – From 12.30 until 3.30 pm for lunch and 6.30 pm – 11 pm for dinner.
Time needed – At least a couple of hours.
Getting there – Just moments away from The Royal Opera House, bus route one will get you to Ubhar in a flash. Alternatively, flag down a taxi from the city centre.
5. Sunset Stroll Along Muttrah Corniche
Stretching from the Muttrah Fish Market in the west to Riyam Park in the east, Muttrah Corniche is one of Muscat's oldest commercial centres. With a backdrop of the Al Hajar Mountains and the gentle lapping of Muttrah Bay, this is one of the best places to soak up the local culture in Muscat.
In the morning, the fish market wakes at the crack of dawn, brimming with the day's catch, and in the evening, families stroll along the promenade, dipping into the Muttrah Souk to shop – a treasure trove of copper pots and gold jewellery.
Know Before You Go:
Location – Muttrah commune, around a 15-minute drive away from the city centre.
Cost – Muttrah Corniche is entirely free to explore.
Opening hours – The promenade is open around the clock, but we'd recommend heading there in the evening when it is at its most vibrant.
Time needed – Allow an entire afternoon or evening to stroll along the promenade, allowing time for dinner, drinks and a bit of shopping.
Getting there – Public bus route four stops a few times along Muttrah Corniche. Otherwise, flag down a local taxi, and they'll know exactly where to take you.
5 Things To Do in Muscat For Adventure Travellers
The Gulf region may be famous for its glitzy high rises and fancy shopping malls, but we're not here for only that, are we? The best things to do in Muscat are much more exciting when you venture out of the city and into the barren desert land. If you're looking for an adventure, these Muscat-based activities will certainly deliver.
1. Hike the Hajar Mountains
Tucked away in the northern realms of Oman, straddling its border with the UAE, the Hajar Mountains (translates as The Rocky Mountains) are one of the best things to do in Muscat if you're looking for an adventure and a workout in one.
Once used to protect the citizens of Oman, this 440km stretch of rugged mountains is now the gateway to one of the country's most spectacular natural wonders.
The Hajar Mountains aren't just about the craggy mountains that project out of nowhere, there are secret wadis to discover (perfect if you need a quick cool down) and abandoned villages to be explored. If you're on a tight schedule, you could possibly squeeze a hike into one day, alternatively, you can find a local tour company to buy you some more time in nature.
Know Before You Go:
Location – Northern Oman, on the border with the UAE.
Cost – Entry to the mountains is free, but you'll need to budget around 70 OMR if you're thinking about joining a tour.
Opening hours – You're free to explore the mountains as you wish!
Time needed – At least one day – two ideally.
Getting there – The Al Hajar Mountains are around a three-hour drive from Muscat, which is why we'd recommend this as more than a day trip. If you're not joining a tour, you can rent a car and drive it yourself.
2. Dune Bashing at the Wahiba Sands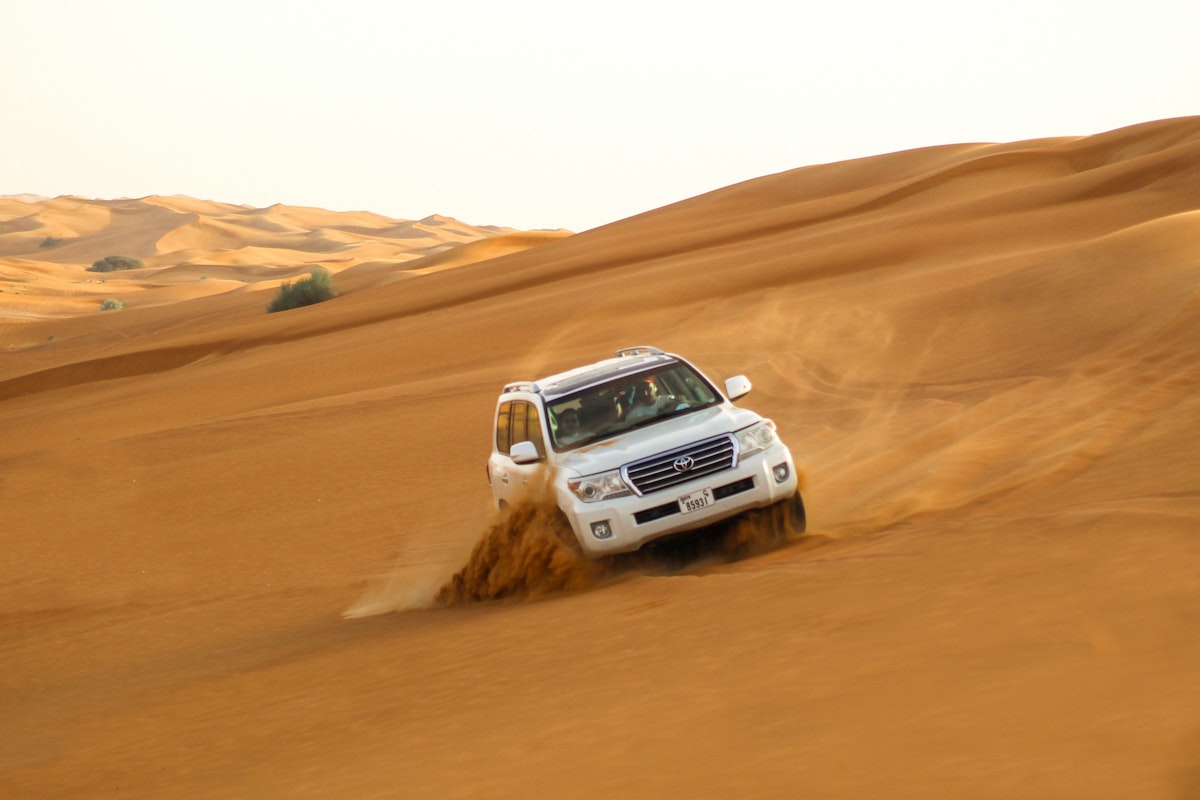 Also known as The Sharqiya Sands, the Wahiba Sands stretch an impressive 125 miles from the Eastern Hajar Mountains to the Arabian Sea. The amber-coloured sands are named after the nomadic Wahiba Bedouin tribe, who still live in desert camps to this day, and are known for their towering 300ft sand dunes, which make for some of the best sunset spots in the country.
You can explore the dunes on foot, and you can even fly over them, but for the most exhilarating experience, dune bashing is where you want to be.
These 6000-year-old sands are no better experienced than hurtling around in a four-wheel drive. You won't be able to drive the 4WD yourself (this is best left to the experienced local drivers), but you may be allowed to hang out the side of the car as it goes rearing across the dunes.
Know Before You Go:
Location – Just south of Sur in the Northeast of Oman.
Cost – The sands are free to explore, but you'll need to factor in the cost of a 4×4 hire or the price of a tour if you choose.
Opening hours – They never close.
Time needed – At least a day, or maybe even two if you choose to stay at a camp in the desert or try your luck at wild camping, which is allowed anywhere.
Getting there – Around a three-hour drive from Muscat, the only way to reach the Wahiba Sands is by driving yourself in a four-wheel drive or joining a tour.
3. Dolphin-Spotting Cruise
Dolphins might not be the first thing you associate with Oman, but who doesn't love to watch as these playful mammals leap in and out of the water?
Several species of dolphins hang around the coastline of Oman and call the Arabian Sea their home, making it almost guaranteed that you'd see them during your cruise. Muscat is also known for its whale sightings, anything from false killer whales (which are the 4th largest dolphin species) to blue whales, although the latter is less commonly sighted.
Even if it weren't for the dolphins, I'd still recommend jumping on a cruise because the coastline of Oman is stunning. Rocky coves, hidden sandstone buildings and forts left from the Portuguese interspersed with colourful mosque domes and turrets reaching the sky, make for some fantastic photo opportunities.
Know Before You Go:
Location – Most tours will pick you up and drop you off at your hotel, if not, they tend to leave from Marina Bander Al Rowdha.
Cost – Tours tend to run in the morning and cost between 20 and 40 OMR.
Opening hours – N/A
Time needed – Generally, tours last around half a day or longer if you've combined your cruise with snorkelling or another watersport.
Getting there – Typically, tour operators will pick you up from your hotel or will provide a transfer from central Muscat.
4. Snorkelling in Daymaniyat Islands
Sitting around 40km off the coast of Muscat is a small uninhabited archipelago made up of nine islands. Often known as the "Jewel of the Middle East", these stunning islands are home to rocky outcrops and whitewashed sands. But, it's what lurks below the water that makes your trip to the Daymaniyat Islands worthwhile.
The islands and the reefs that surround them have been marked as a protected nature reserve since 1996. They're a particularly popular spot for nesting hawksbill and green turtles as well as migratory birds like the sooty falcon. The islands are so strictly protected that they're completely off-limits from May until October to ensure the animals can continue with their nesting, undisturbed.
The best, if not the only way to explore the islands is to join a tour. Locals know which spots you're most likely to come across turtles, stingrays, moray eels and even the elusive black-tipped reef shark.
Throughout summer and autumn, whale sharks are also known to frequent the area, searching for nutrient-rich waters. If the conditions allow, you might even be allowed to jump in and swim alongside these gentle giants.
Know Before You Go:
Location – Daymaniyat Islands, around 40km off the coast of Muscat. Most tours leave from the Wave Marina, not far from the city's airport.
Cost – Tours cost around 25 to 50 OMR and include equipment hire; snorkelling tours in Daymaniyat.
Opening hours – Most boats leave in the morning around 8 am and return early afternoon.
Time needed – Allow half a day for the tour.
Getting there – The easiest way to get to the Daymaniyat Islands is to book a boat trip, which usually lasts half a day and includes the visitor permit fee. It takes around an hour of sailing time to reach the islands from Muscat.
5. Hike The Grand Canyon of Oman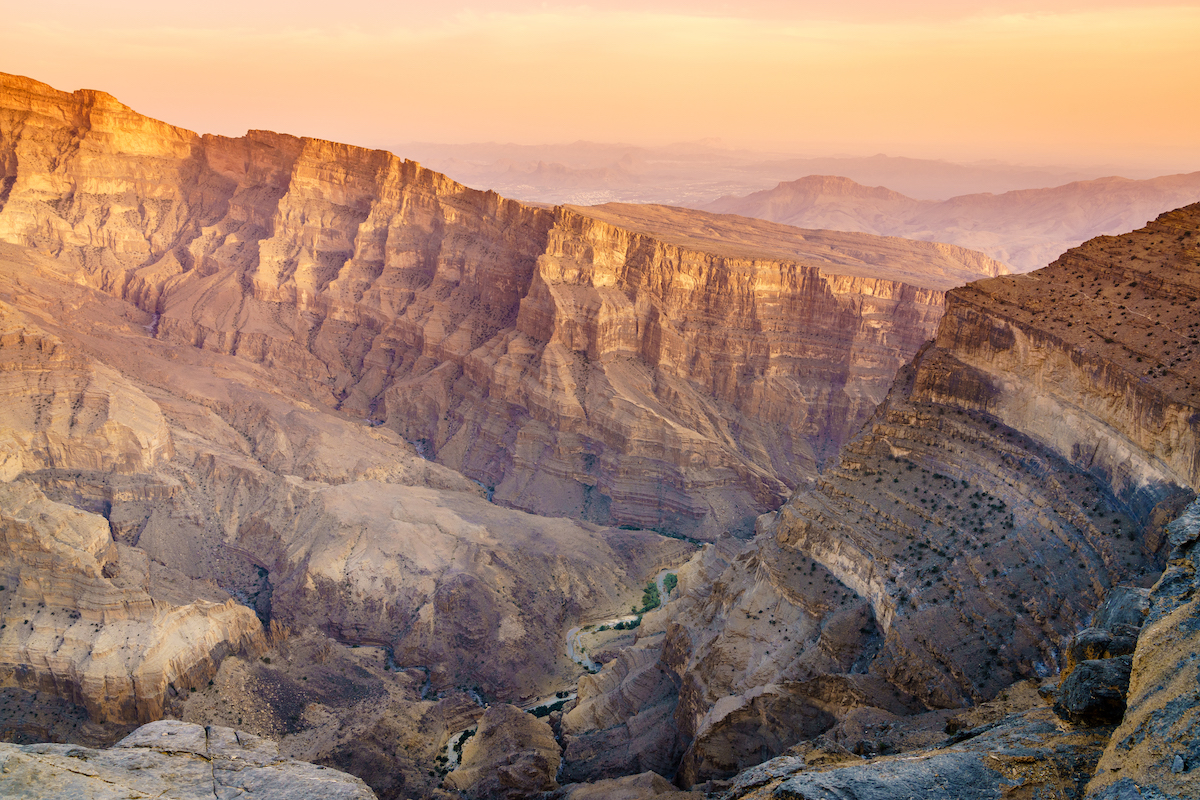 Also known as Wadi Ghul, the Grand Canyon of Oman should be at the top of your list of things to do in Muscat. As you can imagine, the canyon got its name from its sheer size – it is up to 1km deep at some points.
The Grand Canyon was actually a result of the Indian and Asian continental plates crashing together, which caused the ocean bed to be pushed up at a dramatic angle.
There are different ways you can explore the Grand Canyon, but the Jebel Shams Balcony Walk is one of the most popular things to do there. At around 4km long and with a 200m elevation change, the walk is relatively accessible to most fitness levels and will take about four hours.
Following along the canyon's rocky rim, you can enjoy peering over into the depths of the canyon, and the view of the mountains around it, before ending up at an old abandoned village known as Al Sab. On your way, keep a lookout for birds of prey and plenty of roaming mountain goats.
Know Before You Go:
Location – Village of Ghul, in the Al Hajar Mountains, about 150 miles away from Muscat.
Cost – Day trips to Oman's Grand Canyon will set you back around 65 OMR.
Opening hours – N/A
Time needed – Allow at least a day, preferably more, if you're making the journey to and from Muscat.
Getting there – By far, the easiest way to get to the Grand Canyon is along the main highway: Route 21. You can either rent a car and make the journey yourself or join a tour that will pick you up from your hotel.
Best Day Trips From Muscat
An impressive 82% of Oman is desert, and 15% is mountains, which means without leaving the city, you won't get to see what the country really has to offer.
There's no natural rail system in the country, which leaves you with the option of driving yourself, hiring a private driver, or jumping on a tour. The highways are generally in good condition, although we'd really recommend a handy 4×4 if you're planning to do a bit more exploration on off-the-beaten-track roads.
I used Explore Muscat Tours. LLC and proud Omani expert, Yaqoob Alhabsi for any wadi-related topic here. A genuine, warm man with a pure passion for Oman and showcasing the best things to do in Muscat.
1. Wadi Bani Khalid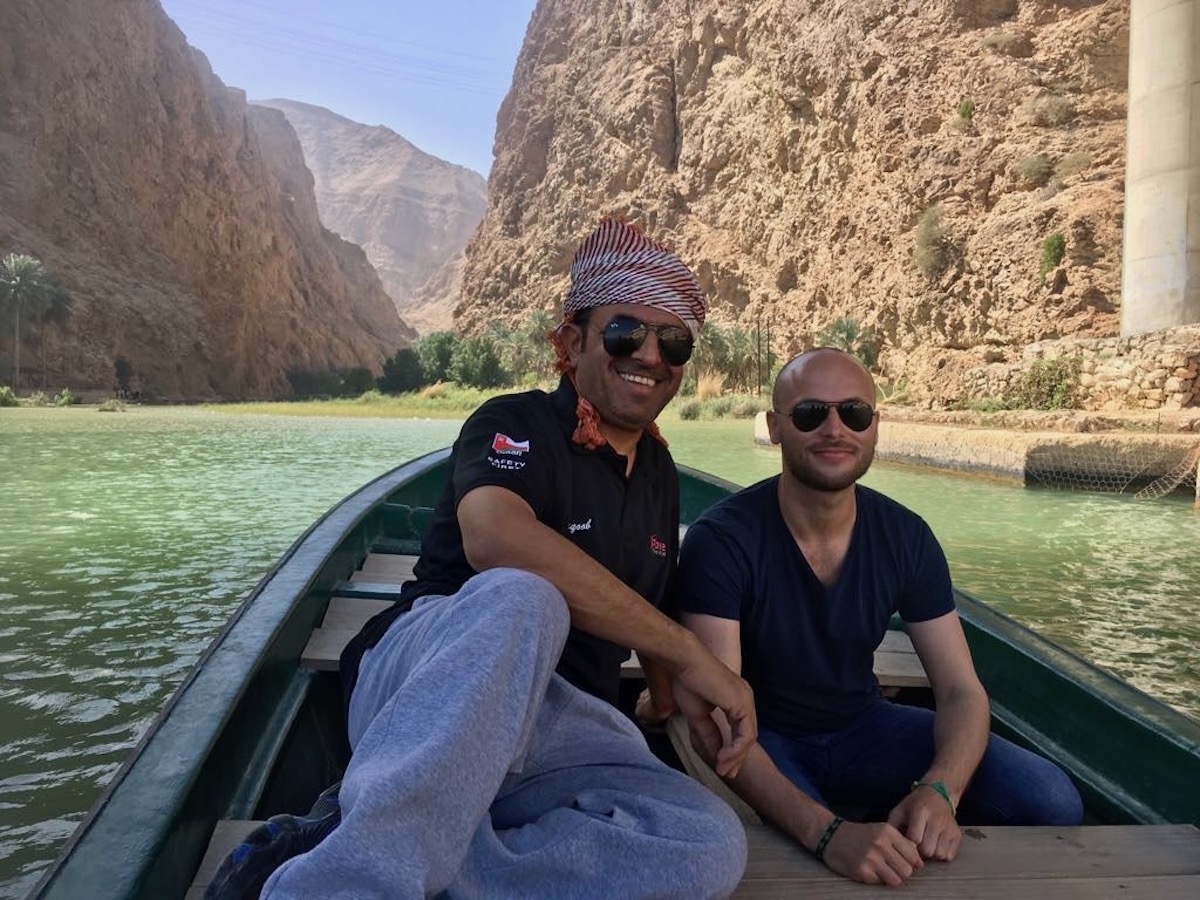 One thing you can't leave Muscat without seeing is a Wadi. Known more commonly in English as a river bed, wadis are turquoise water pools that spring up from seemingly nowhere in the Omani deserts.
Wadi Bani Khalid is one of Oman's most popular wadis, mainly because it's so easy to get to, but also because it never dries up, despite the relentless heat in the summer. Sat at the foothills of the Hajar Mountains, Wani Bani Khalid is constantly fed by an underground stream, leaving you with the perfect place to cool down after an afternoon of exploration.
As you'd expect in a place so popular, this wadi isn't alone in the desert. You'll also find a handful of other tourists and locals, along with a coffee shop and a few food vendors.
Have a dip in the plunge pool (remember, swimsuits should be on the more conservative side) and then head upstream following the river to a series of waterfalls. Here's where, after a few moments of scrambling, you'll be able to find your own private wadi to relax in as you wish.
Know Before You Go:
Location – Wadi Bani Khalid is a three-hour drive from Muscat and just west of Sur, so it's worth spending a night in a nearby town if you have time.
Cost – There's no entry fee to Wadi Bani Khalid.
Opening hours – 8.30 am to 5.30 pm every day.
Time needed – It's easy to spend two or three hours exploring Wadi Bani Khadi, but allowing half a day will enable you to make the most of it.
Getting there:
Tour – Despite being the most accessible of the bunch, Wadi Bani Khalid can't be accessed by public transport. The easiest way to reach the wadi is on a day tour from Muscat. Tours tend to include a visit to a few of the nearby attractions such as the Wahiba Sands, too and will cost around 80 OMR.
Hiring a car – If you're up for the adventure, it's easy enough to hire a car in Oman. The main highways are all pretty new, and the roads are smooth, it's only when you get into the desert that you might need the help of a 4×4. Hiring a four-wheel drive for the day, the cost ranges from 30 to 360 OMR depending on your insurance coverage and the quality of the car.
Hiring a chauffeur – For the ultimate luxury, you can hire a chauffeur to drive you around or book a private tour. This will give you the freedom to tailor your trip exactly how you'd like, though it will cost a pretty penny. Private tours tend to cost upwards of 150 OMR.
2. Bimmah Sinkhole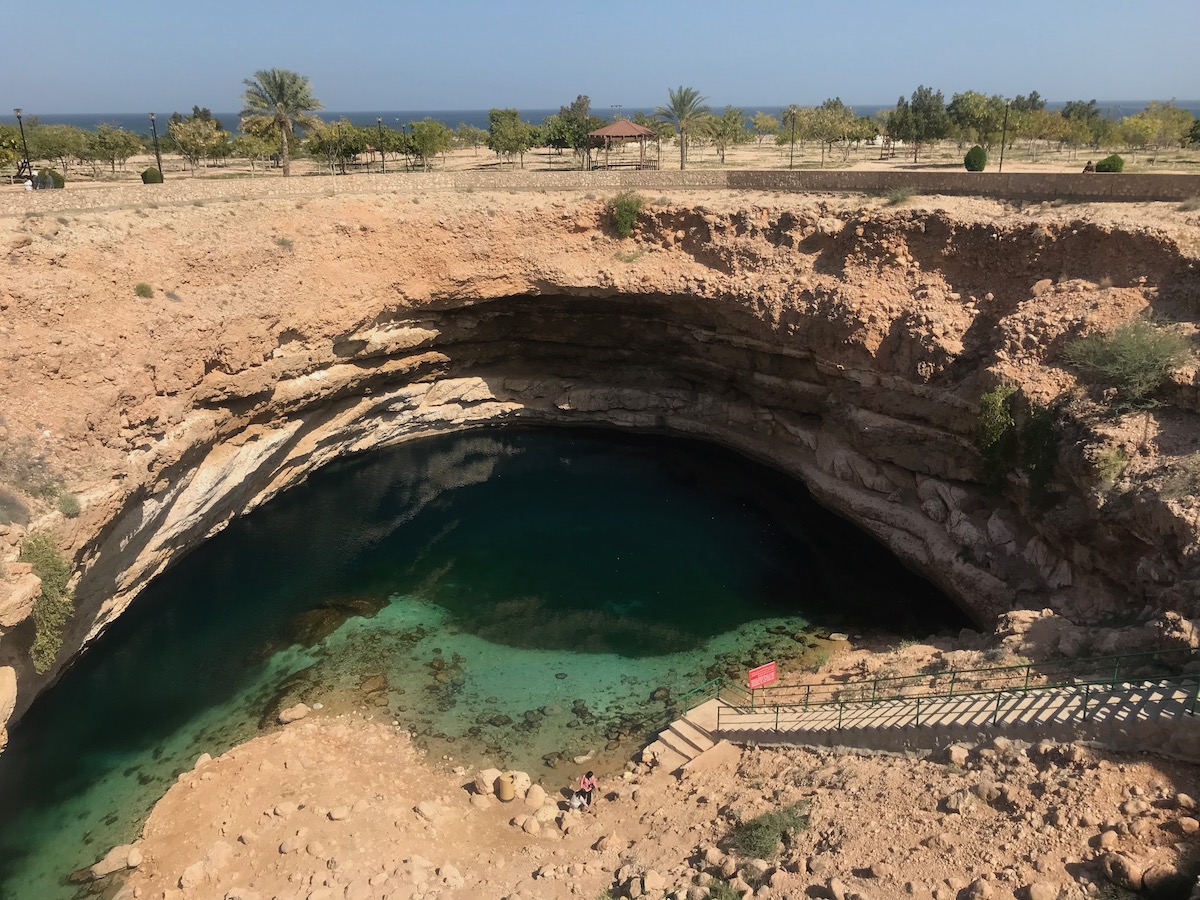 Legend has it that a falling star, known as hawiyat najm in Arabic, fell to earth and created this huge sinkhole that can now be found not far from the city of Sur. The scientists being the party-pooping truth-seekers that they are will tell you that a weak point in the limestone made the land cave in.
Science vs mysticism aside; I'm happy it did because this place is absolutely beautiful.
The turquoise water you'll find here is a mix of fresh water from the mountains and seawater that seeps in from the ground. The depth ranges from 20 to 300 ft deep, making it accessible for swimmers and non-swimmers alike. If you're feeling brave, the locals enjoy cliff diving from the top of the sinkhole, plunging 90 feet downwards into the green water.
If you're up for having a go yourself, there are smaller cliffs to dive from that are much less intimidating! These heady depths also lend themselves perfectly to free-diving, if you're that way inclined.
Like most public swimming spaces, you'll see signs around asking you to dress modestly, even while in the water. This means no skimpy bikinis or saucy speedos, though some local men do choose to swim topless.
Know Before You Go:
Location – Near the village of Dibab, around 130km south of Muscat.
Cost – Free!
Opening hours – Open from 8 am to 8 pm daily.
Time needed – If you're at Bimmah Sinkhole for a swim, it's worth setting aside at least three or four hours. If you just want to catch a sneaky snap, ten minutes will do;
Tour – Tours to Bimmah Sinkhole are usually combined with visits to Wadi Shab, Tiwi and Wadi Al Arbeieen, which are nearby. Sit back, relax and enjoy a full-day tour for around 30 OMR.
Hiring a car – If you enjoy the freedom of having your own vehicle, hiring a four-wheel drive in Oman is easy and can cost as little as 30 OMR/day, depending on the car you choose. To get there, head to Sur from Muscat along the main highway, and you'll find clear road signs pointing you in the right direction.
Hiring a chauffeur – For the ultimate indulgence, you can book your own driver or organise a private tour of the Bimmah Sinkhole. This will cost between 60 and 90 OMR per person.
3. Wadi Al Arbeieen
Oman's more popular wadis get busy with tourists and locals alike. But, if you're looking for something a little quieter, you can make your way to Wadi Al Arbeieen. The reason it's less popular is that it's somewhat more difficult to access; there's limited signage on the road, and you'll need to tackle a dirt track for a few miles before you get there.
However, if you're a dab hand at handling a 4WD, this should be an easy feat. As one of the lesser-known sights, there are no cafes or street vendors here, so remember to take food and water with you and pick up any of your rubbish before you go.
As well as the familiar glistening turquoise pools, Wadi Al Arbeieen is an outdoor mecca for hikers and outdoor enthusiasts. First, you'll need to climb your way over rocks and boulders and wade through a few ponds and bushes to even get to the pool (small reminder here to pack suitable footwear!).
Know Before You Go:
Location – Found in the Al Sharqiyah region of Oman, an hour's drive from Muscat.
Cost – Free!
Opening hours – Open from 8 am to 8 pm daily
Time needed – Allow at least half a day to get the most out of it, but this can be rushed if you're short of time.
Getting there:
Tour – Tours to Wadi Al Arbeieen are a little harder to come by and generally a bit more expensive too. Still, joining a tour takes the stress out of finding your way to this remote location and tackling those dirt roads. Budget between 60 and 80 OMR.
Hiring a car – Getting to Wadi Al Arbeieen by yourself isn't straightforward, and it's not uncommon for tourists to get a little lost along the way. There are signposts along the way, but make sure you have a good idea where you're going, as roads can get a little treacherous once you're on the dirt track.
Hiring a chauffeur – If you want a stress-free, hassle-free trip, then hiring your own driver isn't unheard of. This will cost upwards of 80 OMR but will allow you to stop and visit other attractions along the way.
4. Wadi Shab
By now, you might be all 'wadi-ed' out, but just hold on a second, there's one more that's worth your attention; Wadi Shab, which is not too shabby (sorry, not sorry). Less than two hours from Muscat, this is a popular spot, mainly because of its eye candy.
Once you've arrived at Wadi Shab, you'll need to jump on a small boat (1 OMR) to reach the other side, which is where you can begin your hike to the wadi through the narrow canyon. The walk is considered to be moderate, with a small climb to the viewpoints of the pools.
Watch out for signs that tell you where you can and cannot swim. After an hour or so of passing through the canyon, mini waterfalls, and the like, you'll come to the first Wadi Shab pool. Don't stop here though, if you make your way through the pools, you'll finally come to a cave. Venture inside the cave and a giant waterfall will appear at the end.
Once you reach the caves, a lot of the exploration takes place in the water, so we'd recommend bringing a dry bag if you're worried about your belongings.
Location – Found in the Al Sharqiyah region of Oman, Wadi Shab is around a two-hour drive outside of Muscat.
Cost – Free (apart from the boat ride, which will cost 1 OMR)
Opening hours – Boat crossings begin at 7 am and end at 5 pm.
Time needed – A full day to enjoy a swim and go hiking through the gorge.
Getting there:
Know Before You Go:
Tour – There's no public transport to Wadi Shab, but most people tend to join a tour or hire their own car. If you go for the tour option, it will normally be combined with a visit to the Bimmah Sinkhole too. Prices start from around 30 OMR.
Car rental – Driving to Wadi Shab is pretty straightforward. Head along the Muscat-Sur highway, and you'll find the car park just off the side. Hiring a four-wheel drive for the day, the cost ranges from 30 to 360 OMR depending on your insurance coverage and the quality of the car.
Private tour – Sometimes a private tour can be more convenient: you can set the schedule and just see the things you want to see if this is how you'd like to explore Wadi Shab, budget around 60-80 OMR for the experience.
5. Overnight Camping With Local Bedouins in the Desert
Bedouins are known for their nomadic lifestyle, have lived in Oman's desert for thousands of years, and are thought to make up 5% of Oman's population. They also make an absolute banging cuppa tea!
Traditionally, in the winter, they would set up camp in the desert, and in the summer months, they move towards the sea in search of food. However, as the world has moved on, so have the Bedouins, and many have replaced their material tents with stone-built houses and their camels with motorised vehicles.
Still, living like a Bedouin for a few nights in an Omani desert is the perfect way to experience a slice of nomadic life. Unfortunately, there are only a few camps that still deliver the authentic experience, most are "luxury" camping trips created solely for tourists.
Nomadic Desert Camp is considered one of the most authentic experiences a traveller can have in Oman today. While your accommodation will be on the basic side of things, you'll experience true Bedouin generosity and hospitality during your stay. Expect Bedouin song and dance performances and a huge feast.
Know Before You Go:
Location – Most Bedouin Camps can be found in the Sharqiya Sands (Wahiba Sands) part of the desert in Oman.
Cost – Prices start from 18 OMR for a dormitory but quickly rise to 65 OMR for a luxury tent. In most cases, prices include breakfast and dinner but no activities.
Opening hours – (N/A)
Time needed – Most people choose to spend one night with the local Bedouins in the desert, but staying an extra night will allow you to sign up for some added activities like hot air balloon rides or a sunrise tour.
Getting there – With most camps located in very remote areas, it's difficult to navigate them yourselves. Most camps will organise pick up and drop off at a nearby city or town.
Getting Around Muscat
Access to most Muscat attractions can be a little tricky to get to considering how spread out the areas of the city are. If this is your first time in Muscat, you should consider most of these neighbourhoods to be more like small towns or villages within a city.
Here are your best options for getting around Muscat:
Taxis in Muscat: Once you have accepted how sparse the areas of Muscat's main attractions are you then have to accept that taxis are possibly your best way of getting around the city… and they don't come cheap.
You also can't be shy as this is Arabia and the culture loves a bit of haggling, so put your best smile on and be willing to walk away if it gets too silly.
For extra convenience during your Oman trip, make sure you download the Mwasalat app, a government-owned service that works just like Uber (which is currently not available in Muscat after many whispers of it arriving in town). Other taxi apps in Muscat are Marhaba and O Taxi.
Public busses in Muscat: Busses in the city are few and far between and they also don't stop conveniently close to your place of desire. The best bus option for a tourist in Muscat is by far the Big Bus Hop on Hop off Tour, where you can buy a 1 or 2-day ticket for around 70 or 80 US dollars.
Hiring a car in Muscat: The average car rental in Muscat will set you back $40 USD per day, but if you are looking for a 4×4, which is highly recommended if you are driving long distances a lot and going out into the wadis/dessert can set you back around almost double that price.
All you need is an international driver's license and to remember to drive on the right-hand side of the road!
In terms of getting there to start the party, I flew from Bangkok to Muscat via Oman Air in October and it cost me $500 USD.
Where To Stay in Muscat
Muscat is a peculiar beast considering its main attractions aren't in one concentrated area. I stayed in 3 different areas; near the airport, Qurum and Muttrah, opting for mid-range to luxury in the following hotels:
Is a Trip To Muscat Worth it?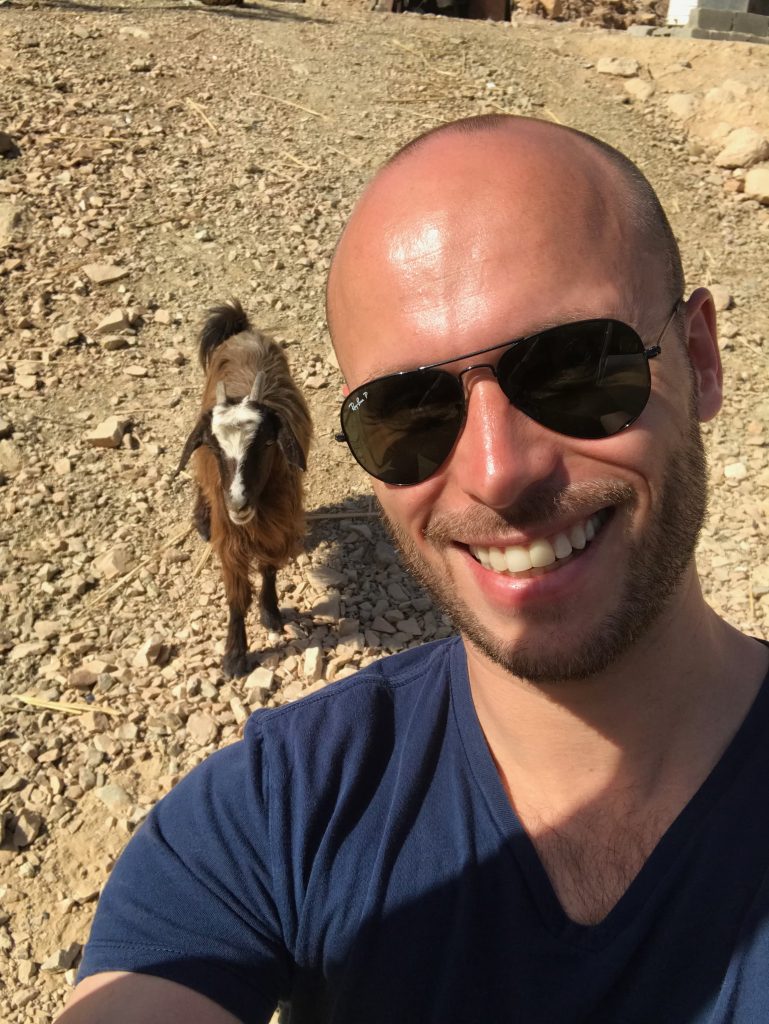 No surprises here, folks. I declared Oman to be my favourite destination in my annual life review, which was not the easiest out of 26 fantastic countries on a phenomenal trip when I was travelling non-stop. For me, it's always going to be about the people when making those seemingly arbitrary lists of champions every year.
As I have showcased, there are more than enough cool things to do in Oman and the people around those activities are the cherry on top of a very sweet cake.