We simply had to work out how to visit To Sua Ocean Trench of Samoa while exploring Samoa and American Samoa during a fantastic introduction to the South Pacific Islands.
Relatively untouched by tourism, the prospect of experiencing a 100-foot/metres sinkhole in an isolated tropical bliss, was all I needed to make sure this beautiful sinkhole was a priority landmark to check out.
So let's take a look at everything you need to know about To Sua Ocean Trench – all the usual logistics, do's and don'ts, how to navigate a trip there (depending on your location in the country) and whether it's worth your time and energy.
What is To Sua Ocean Trench?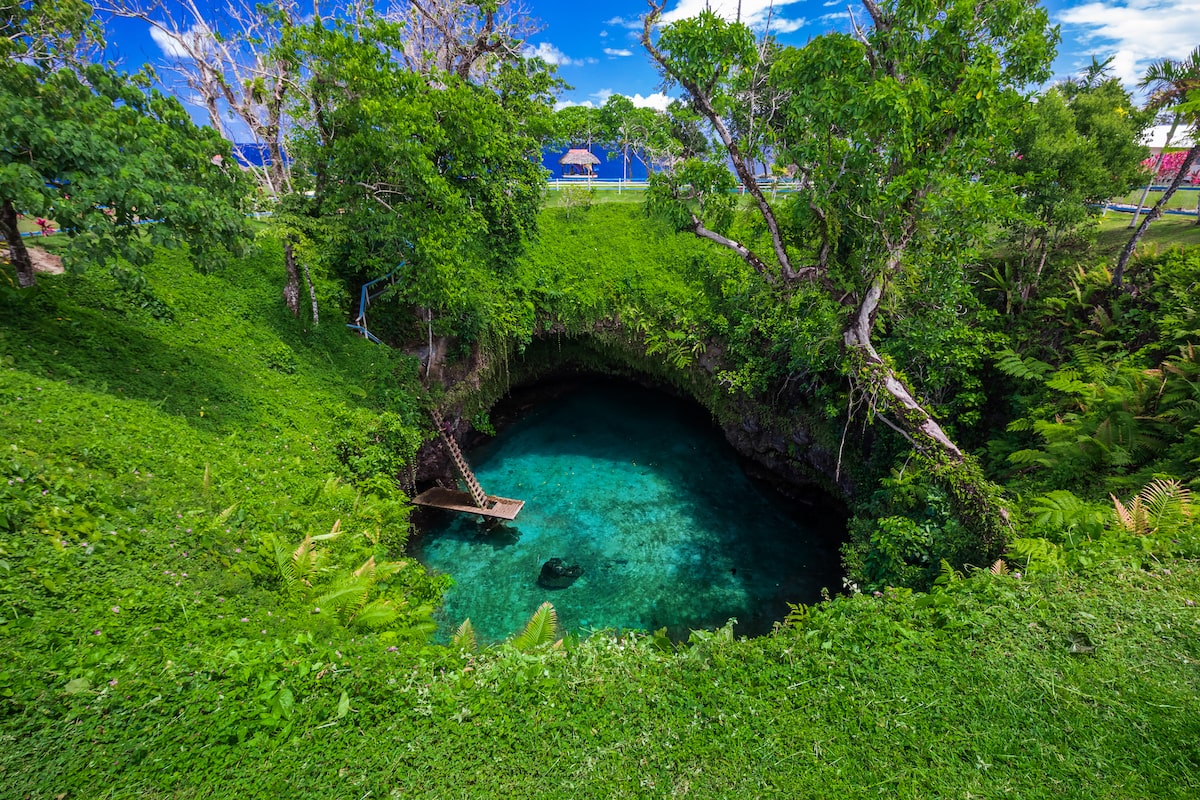 The name To Sua translates in the locals' native tongue as "giant swimming hole." The beauty in To Sua isn't just in the aesthetics but in the story behind how this natural wonder formed.
The gorgeous sinkhole was once a cave made up of two holes that eroded thanks to lava from an ancient volcanic eruption. This event, plus a couple of thousand years of wear and tear due to tidal waves from the nearby ocean, resulted in the postcard spot that is today's icon of Upolu Island.
Entrance to the To Sua Ocean Trench is typical via a long wooden ladder while others opt for a more ceremonious jump from a platform.
To Sua Ocean Trench is a proud Samoan symbol. While the Pacific Islands region boasts a fair amount of bragging rights for water landmarks, this bad boy stands alone in terms of the "wow" factor.
Related Post: 16 Famous Landmarks in Mexico (To Sua is very similar to the beautiful cenotes in Mexico).
How To Visit To Sua Ocean Trench (All Budget Options)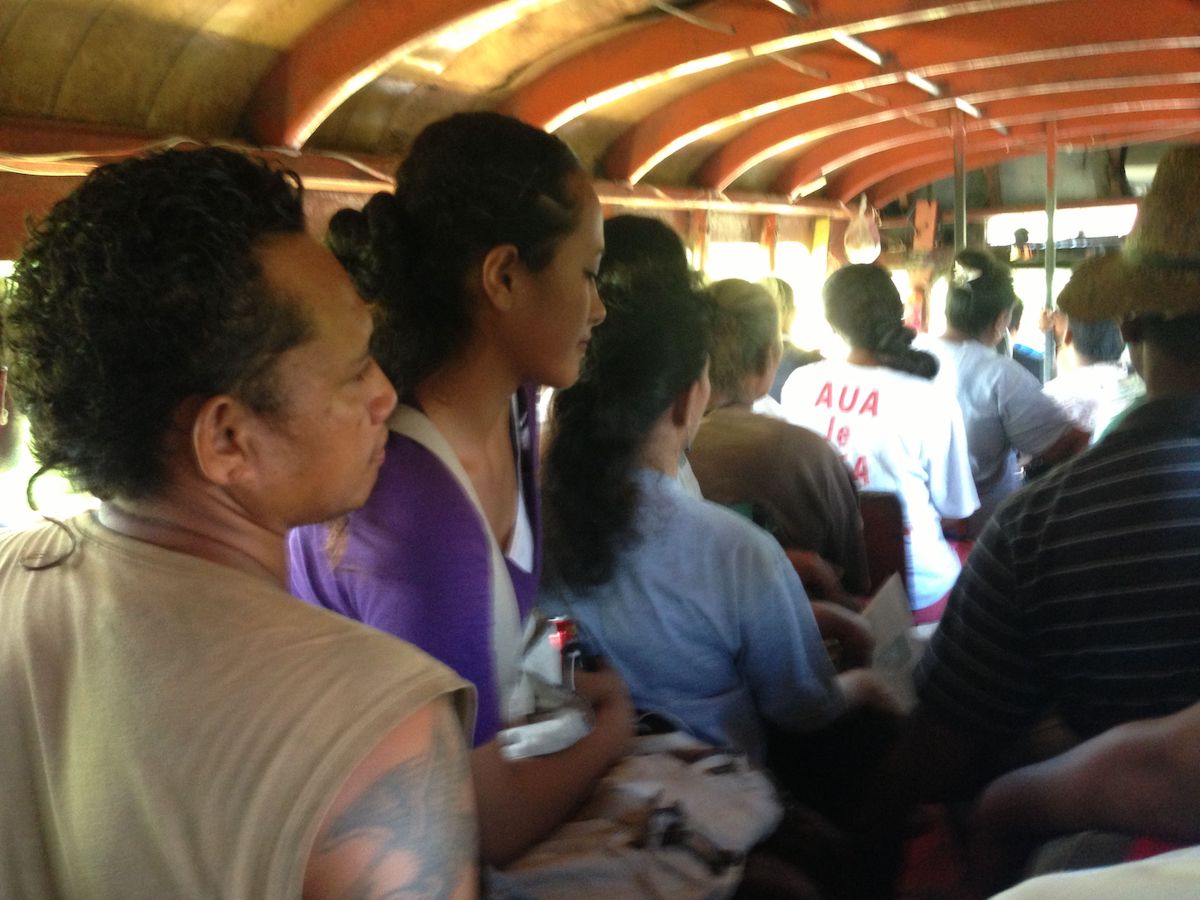 To Sua Ocean Trench is located on Lotofaga Village in the city of Apia, on Upolu Island, it is open 8 am-5 pm and the entrance fee is 20 Samoan tala. Most people who visit stay in Apia, reaching the sinkhole by bus, taxi, or rental car. The drive to To Sua from Apia should take around 2 hours.
If you are making your way from nearby Savaii Island, there are also ferry options noted below.
Rental Car
Renting a car in Samoa is highly recommended for those with less-than-ideal patience levels. Public transport in Samoa simply comes when it wants and so you can't rely on it for tight time frames.
Rental cars typically cost anywhere between $ST120 – and $ST300 per day. Reputable car rental companies include:
Taumeasina Rentals
Blue Pacific Car Hire
Sa'Moana Rentals
All 3 of the above companies will also arrange your temporary driver's licence for you.
Cheaper Car Rental Options
AA Car Hire
Funway Rentals
The above companies advertise at cheaper prices, this may or may not be due to a lack of service for a temporary driver's licence. 
It's best to ask beforehand if it comes as part of the package, but if you do want to get a hold of this document yourself in Apia you will have to apply at the Land Transport Authority (open 9 am-5 pm Monday-Friday, closed on weekends).
To Sua's car park is only 100 metres from the trench, making it ideal for individuals who have difficulty walking.
Taxis
Taxis are available all across the island, particularly near the airport and Apia city centre. They are not metered, and prices should be negotiated before travel. If you find a driver you like and trust it's worth getting their number and hiring them for day trips.
From near the airport $ST100 return
$ST150 for the day. (They will wait for you and drive you back to your initial destination).
Pio from Freddy's Taxi Service – the whole day, anywhere and everywhere on Upolu for around ST$ 350.
Public Bus
If you have all the time in the world or are like me and you like to experience travelling like the locals when the moment presents itself, then you're in for a funky surprise…
Samoan buses are loud and colourful, come whenever the hell they want and blast out R&B and reggae music during your trip. There are no official bus stops in Samoa, just flag one down and get involved.
This will double your time getting to To Sua, but the experience is worth that extra hassle.
You pay the driver as you get off the bus, oh and don't be surprised if a female stranger parks herself on your lap if the bus is full; this is completely normal in Samoan culture.
Ask Your Accommodation To Organise a Taxi
Most upscale places will happily organise the trip to To Sua Ocean Trench for you, at a premium of course. They will either sort you out a private car or a shared car for yourself and other guests at the hotel and they will also wait and bring you back when you are ready.
Taking a Ferry to Upolu Island From Savai'i
I took a ferry from Salelologa port in Savai'i on the Lady Samoa Ferry 111 after buying tickets at their local port kiosk. It was fast (1 hour and 15 minutes) but incredibly bumpy, which was fine for me. Quite a lot of locals were vomiting at one stage, so if you have a propensity for seasickness you should bear this in mind.
However, this cheeky little chappy made the madness easier for me…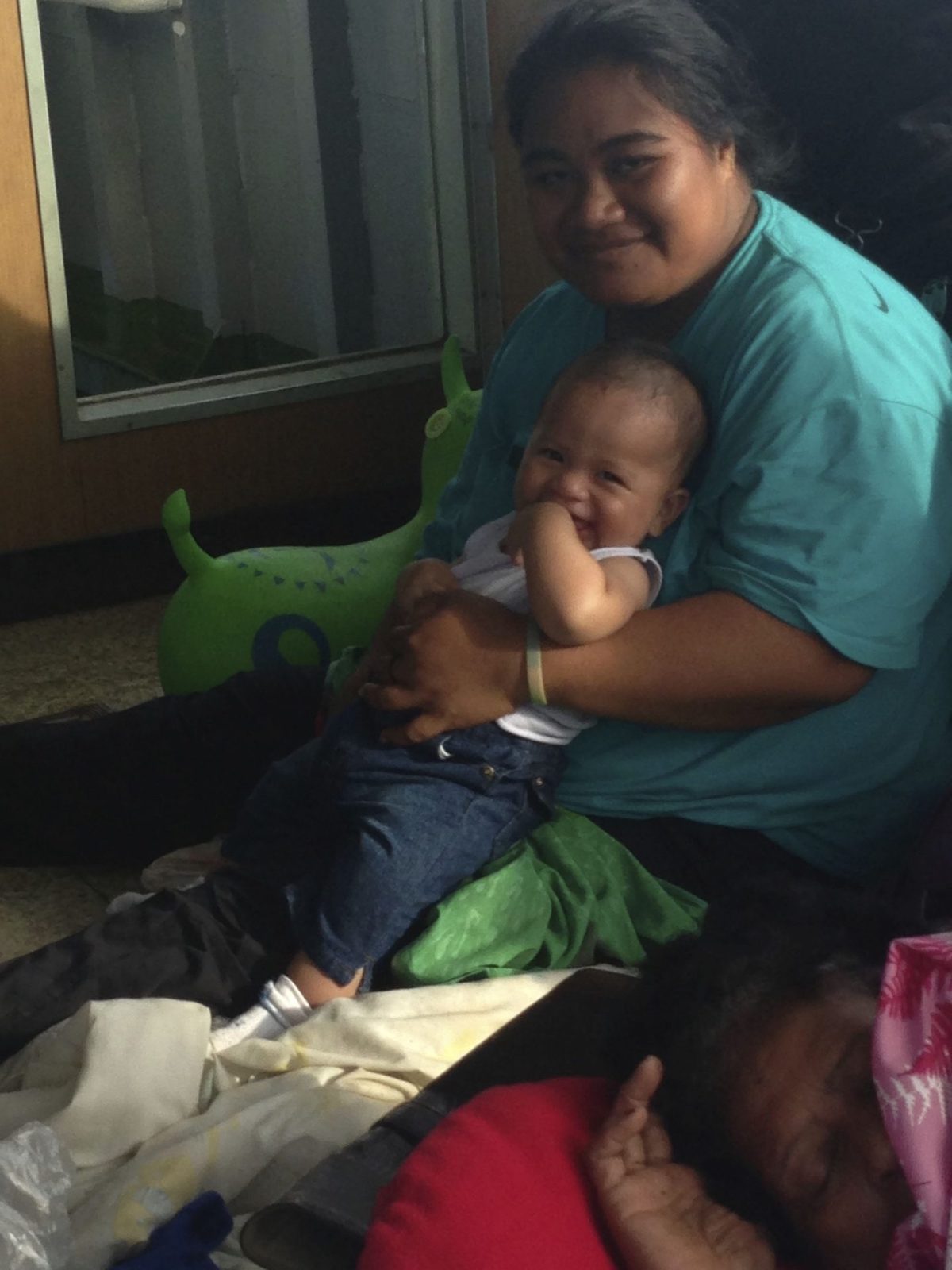 Day

From Upolu (Mulifanua)
From Savaii (Salelologa)
Sunday

1200 – Big Ferry




1700 – Big Ferry

1000 – Big Ferry




1500 – Big Ferry

Monday,
Wednesday,
Friday &
Saturday

0600 – Little Ferry / Barge




0800 – Big Ferry




1200 – Big Ferry




1400 – Little Ferry / Barge




1600 – Big Ferry

0600 – Big Ferry




0800 – Little Ferry / Barge




1000 – Big Ferry




1400 – Big Ferry




1600 – Little Ferry / Barge

Tuesday &
Thursday

0600 – Little Ferry / Barge




0800 – Big Ferry




1000 – Little Ferry / Barge




1400 – Little Ferry / Barge




1600 – Big Ferry

0600 – Big Ferry




0800 – Little Ferry / Barge




1200 – Little Ferry / Barge




1400 – Big Ferry




1600 – Little Ferry / Barge
Ferry Prices
| | | | |
| --- | --- | --- | --- |
| Adults | ST$12 | Bikes | ST$10 |
| 2-12yrs | ST$6 | Small Cars | ST$80-$95 (includes driver) |
| 0-2 yrs | Free | | |
(cash only)
Prices may change without notice. Purchase passenger tickets at the ticket office in the main area, and car tickets at the office at the back of the wharf building.
To Sua Ocean Trench Opening Times and Prices
| | |
| --- | --- |
| Tuesday | 8:30AM–5PM |
| Wednesday | 8:30AM–5PM |
| Thursday | 8:30AM–5PM |
| Friday | 8:30AM–5PM |
| Saturday | 8:30AM–5PM |
| Sunday | 12:30–5PM |
| Monday | 8:30AM–5PM |
Adults: $ST 20
Children 6-11 years: $ST 10
Children under 6: Free
Best Time (Of Day and Year) To Visit To Sua Ocean Trench
Go as early as possible upon the grounds opening, if you want to be around fewer people in the sinkhole. No brainer no matter where you are in the world!
The hot and wet season is between November and April, but showers tend to be short and those visiting between September and November may be fortunate enough to catch a bit of impromptu whale spotting nearby.
To Sua Ocean Trench is open all year round, but as Samoa is a deeply religious country you should check that it's not closed on the following public holidays:
New Year's Day – January 1 & January 2
Good Friday & Easter Monday
Anzac Day April 25 – To remember those who died in the two World Wars
Mothers' Day – The Monday after the second Sunday in May
Annual Independence Celebrations – June 1 – 3
Labour Day – The first Monday in August
White Sunday – The Monday after the second Sunday in October, in honour of the preceding White Sunday
Christmas Day & Boxing Day
Tips & Rules For Visiting To Sua Ocean Trench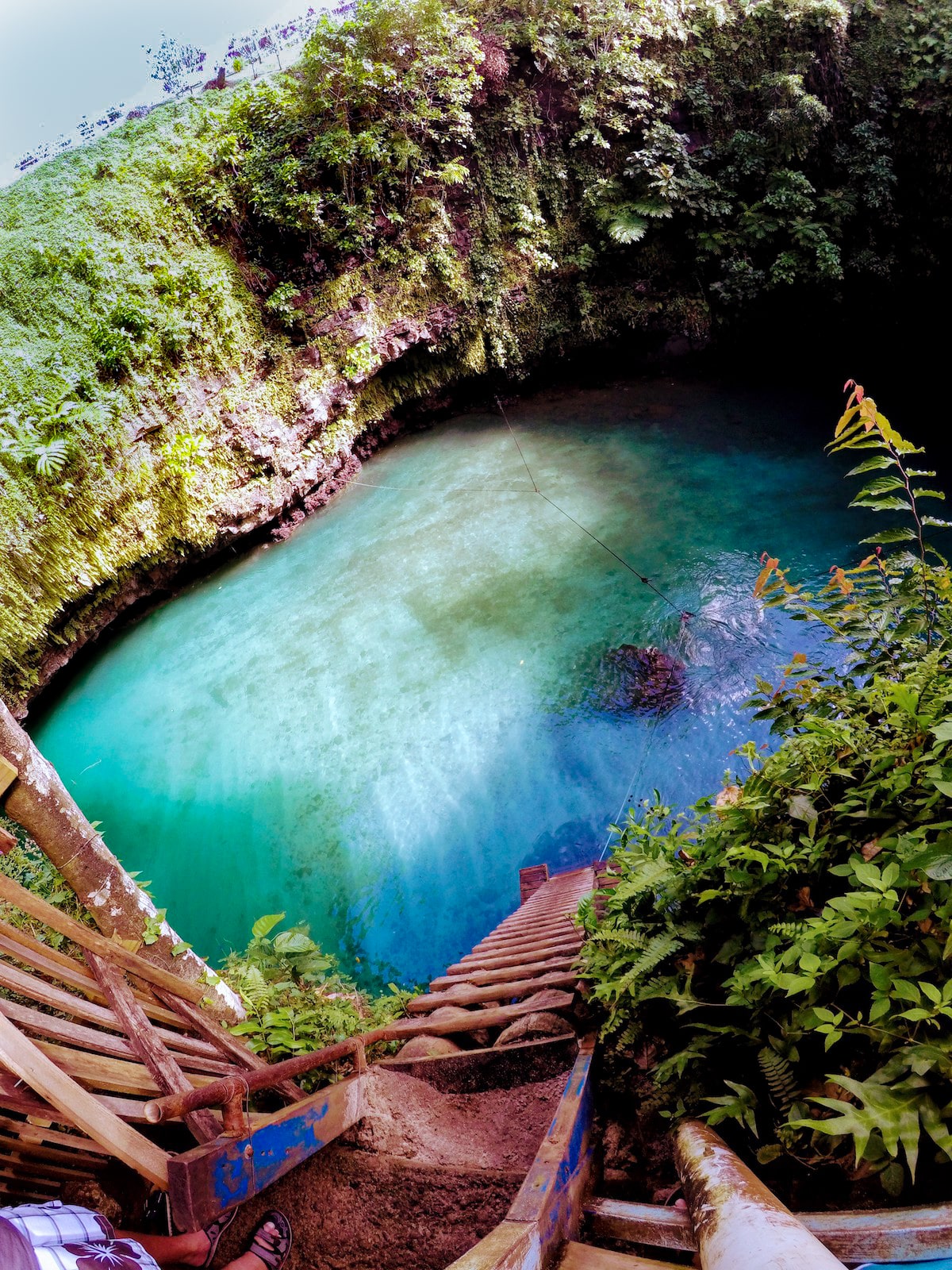 Avoid upsetting locals and stay safe while visiting To Sua Ocean Trench. The natives are incredibly friendly and welcoming, so do your best to show your appreciation with these words to the wise…
Don't leave any litter on the premises. Keep this beauty intact, and carry a wet bag for convenience for your personal belongings.
No bikinis or skimpy speedos. It's not as strict as other parts of the world, but with Samoa being a socially conservative and religious country, it's best to not wear revealing swimwear.
Take water. It seems obvious, but I have forgotten so many times it's embarrassing!
Bring sunscreen. As above, not only is it hot but you will be exposed to the intense sun thanks to the reflection from the pool.
No drones. They are simply not allowed. Would drone footage of this absolute marvel make you more popular at dinner parties? Absolutely. But it's not worth the risk of getting kicked out.
Be careful on the ladder. Take your time and don't rush other people. The surface is slippy, let everyone (including yourself) get there at their own pace.
Don't jump if you don't want to. I jumped because it was high tide and so did my mate. If he didn't want to, I wouldn't have given him shit and vice versa. Do what you want, negative peer pressure is pathetic.
Check out the nearby grounds. Soak in the nearby pretty gardens and blowholes overlooking the ocean.
Don't be whiny about "over-tourism." We had most of it to ourselves when we went. The secret is almost out now, but over-tourism isn't other people enjoying what you also have the right to enjoy. Be thankful you're there and go early doors if you really want as much solitude as possible.
Avoid the current. If you venture too far out and it feels weird, then go back towards the main part. Sadly a local and a Chinese lad were taken away by a strong current and died in 2018.
It's not for those afraid of heights. The ladder is pretty high and daunting even for me who has little to no acrophobia.
Be a gent/lady. Behave yourself and be polite like the Samoans while you are visiting their home.
You will be charged even if you are only taking a picture. If you rock up just to take a photo but don't pay the entrance fee, the caretaker apparently gets pissed off and demands money from you. He is well known for this, so don't say you haven't been warned.
Inside The Pool of To Sua Ocean Trench Samoa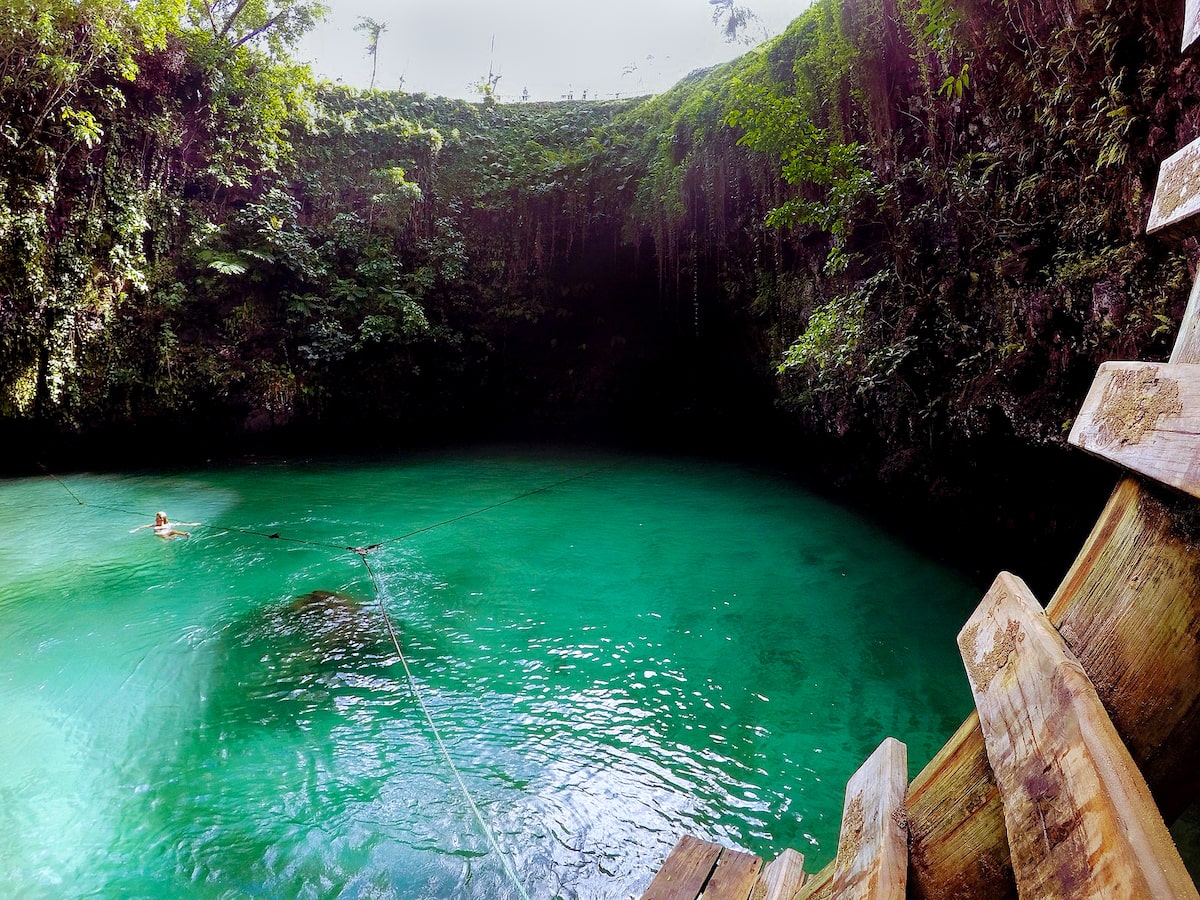 Upon approaching the eye candy that is To Sua Ocean Trench via the famous large ladder, we saw a local guy jump in. He lived to tell the tale and looked all giddy, although the jump from my view looked ballsy as f**k.
I wanted to do the same, even though it looked absolutely terrifying. I gathered that the longer I thought about it, the more chance I'd have to talk myself out of it, so taking the (quite literal) leap of faith, I propelled myself forward and before I knew it my friend followed me into sinkhole heaven.
It was hands down the most jaw-dropping natural beauty I had ever seen on my travels. Crystal-clear waters, perfect views of darting tropical fish everywhere, and the backdrop of lush green fauna around me were almost too much for my hypnotised eyes to witness.
The ladder back up was a little dodgy, so I'm sure it's even more intense coming down. It was sturdy but slippery and I was holding on with a vice-like grip to get back up. Some people suggest it's silly to jump and maybe they are right, but the ladder also comes with a degree of risk, hold on tight.
Screw the selfies, just get in there in one piece and be thankful that you are there.
We spent 4 hours in the sinkhole/cave itself, soaking up every second of it, repeating an animated "wow" every now and then, sandwiched in with raptures of hysterical laughter.
The water is the perfect temperature, visibility is outstanding and if the current gets too strong there are ropes fitted in certain areas of To Sua's pool so that you do not get (literally and metaphorically) too carried away, although you should avoid going too far in the cave as that leads to the ocean, this place is said to be for well-trained divers and people who know the area well.
Related Post: My San Blas Islands Travel Guide
What To Do Around To Sua Ocean Trench
There are delightful sights outside of the grounds of To Sua Ocean Trench's pool such as a walkway through a small garden, which brings to a cliff edge leading to a panoramic view of the Pacific Ocean.
If you continue to explore the small garden you will also find a nice little beach called Fagaoneone meaning 'white sand,' in the local language where you can kick back and relax and take in the views around you.
Opposite the beach (walk east of the trench) you will bear witness to a collection of blowholes that spray water high in the air, take as much time as you like to enjoy them. (Well, until 5 pm as that's when it closes).
With no rushing, I would say To Sua Ocean Trench and its surroundings is a good 3-5 hours occasion.
Where To Stay Around To Sua Ocean Trench

Upolo Island is one of the larger islands of Samoas and is perfect for kicking back with a coconut for a few days or even a week if you like to travel slowly and leave no stone unturned.
We took the budget option of Vaiula Beach Fales and we got every bit back of our $24 USD back.. and more. 
Here you get to stay a night in a local "fale" (local name for a beach hut) in this cheap and cheerful traditional Samoan room with free breakfast where we got to sleep and wake up to the sound of the waves. 
Parking is available to those with rental cars and the drive to To Sua Ocean Trench from this hotel is 20 minutes.
I'm forever grateful to have had the life experience of visiting this place in one of the most isolated and least visited countries on earth and I thoroughly enjoyed the country of Samoa.
None of the photos that you will see online will do this gorgeous Samoan symbol justice. It's a life-like panoramic marvel, an absolute jaw-dropper of implausible proportions and if you're making your way to this beautiful nation you have a duty to your eyes to let them witness this natural wonder. Now you how to visit To Sua Ocean Trench, Samoa is waiting for you to dive right in.