With a giant landmass, fascinating history and a beloved culture on a global scale you could spend years searching for the most famous landmarks in Mexico, both manmade and natural and still have more to see.
I lived in Mexico for a couple of years and thanks to travelling around and making friends with the natives, I got to know the very best of the country. So feel free to knock back a tequila and take your pick out of these top-drawer Mexican marvels from a place that I was more than happy to call "home."
Some of them you may have heard of, others maybe not, but the real beauty in this article is that I will also write the logistics of travelling to each destination so that you can pick and choose whichever manmade or Mexican landmark speaks to your heart and start dreaming about visiting these places yourself.
Famous Manmade Landmarks in Mexico
With a melting pot of cultures over the years and a foot firmly in the door of global tourism, it's no surprise that Mexico has some of the most beautiful and often mysterious monuments built by human hands.
Here are my top picks of the most famous manmade landmarks of Mexico, each of them adding its own personality to this fantastic country…
Chichén Itzá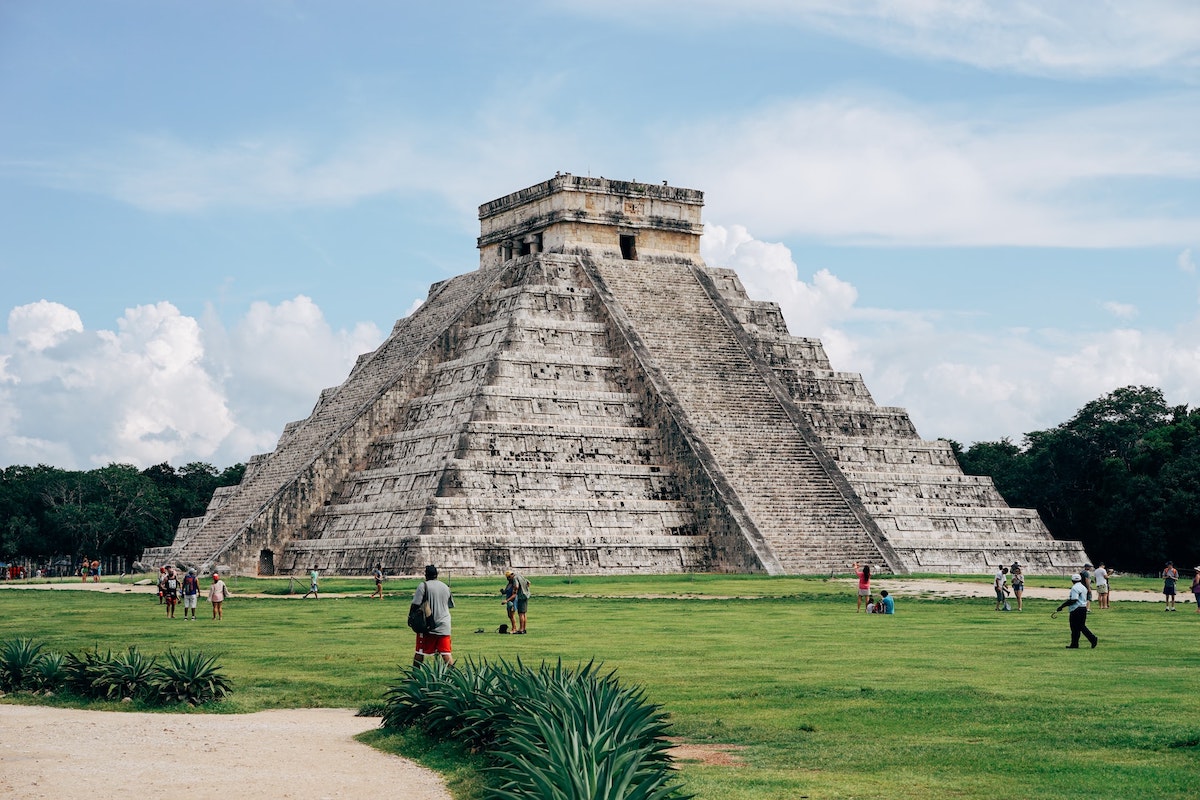 Aside from being a UNESCO World Heritage site, this 6-square mile complex is one of the most popular tourist attractions and was also voted one of the 'New 7 World Wonders' in 2007. It dates back to the Maya and Toltec civilizations and was erected sometime between 750 to 1200 A.D.
The icon of this complex is The Temple of Kukulkan, also known as El Castillo, which essentially acted as the world's largest man-made calendar before calendars even existed!
It was built with such precision that it perfectly aligns with the sun and has 365 steps to represent each day of the year.
Know Before You Go:
Location: Chichén Itzá is located in the northern half of Mexico's Yucatán Peninsula.
Cost: Admission for adults is $533 MXN ($25 USD). Tickets for kids cost $80 MXN ($4 USD).
Opening hours: It's open every day from 8 am to 4:30 pm, however, there are night tours as well.
Time needed: Plan to spend 2 to 3 hours there.
Getting there: If going with a tour operator, you'll be transported by bus. Depending on where you're located, it may be 2 or 3 hours to get to the site. ADO company provides public buses from the Cancun bus station between Tulum Avenue and Uxmal Avenue.
Palenque Ruins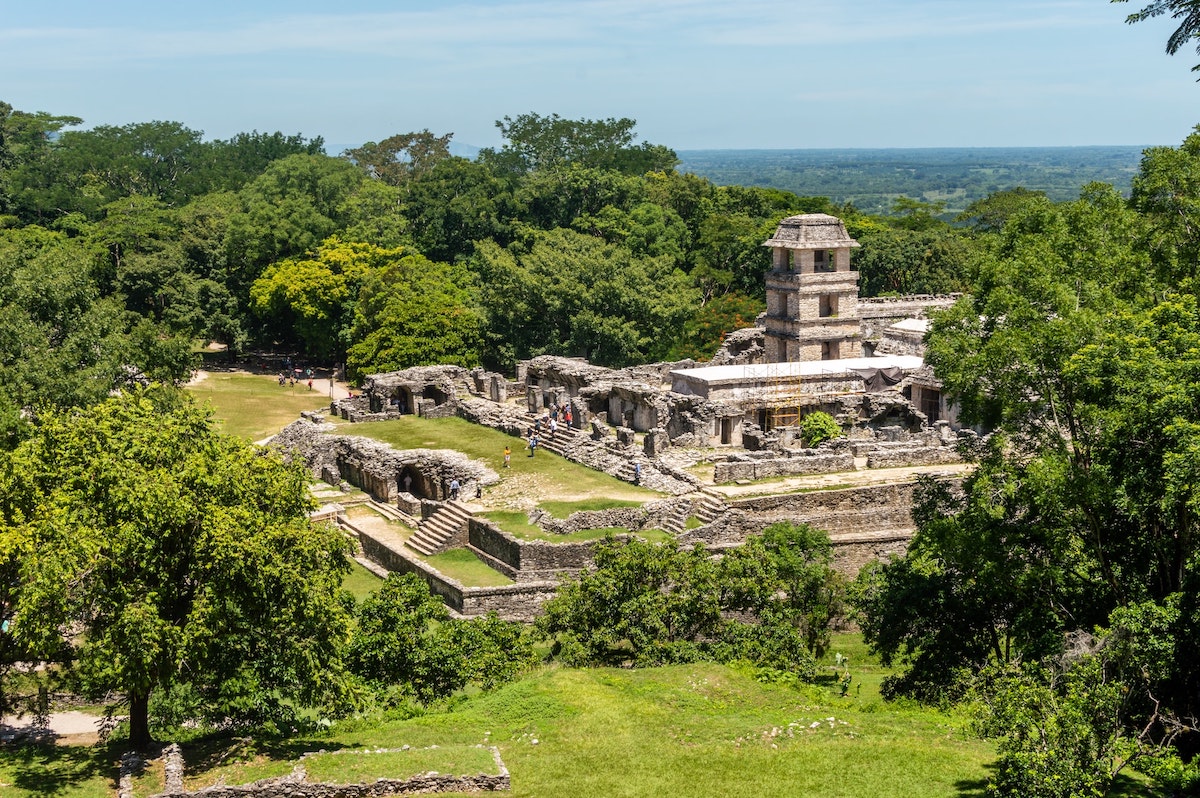 Palenque was an ancient Maya city-state that existed from around 226 B.C. to 799 A.D. While it's smaller and less popular than some of the other ruins in the country, it contains some of the finest craftsmanship the Mayas ever produced.
Despite being excavated and restored since being discovered in 1746, the Palenque Ruins are less than 10% of the city, much of which is still covered by the jungle and boasts several gorgeous waterfalls.
Know Before You Go:
Location: Located in the state of Chiapas, near the Usumacinta River.
Cost: Tickets are $75 MXN ($4 USD), and you'll also need to pay $36 MXN ($2 USD) for park access. If going on a tour, it can cost around $500 MXN ($25 USD).
Opening hours: The ruins are open daily from 8 am to 4:30 pm.
Time needed: Most people spend 2 to 4 hours here, you can easily spend most of your day here if you are kicking back/doggy-paddling in the waterfalls though.
Getting there: Tour companies will transport you by bus, or you can take public transport like ADO busses from Palenque town or minivans…it's a pretty uncomplicated process all around.
Monte Albán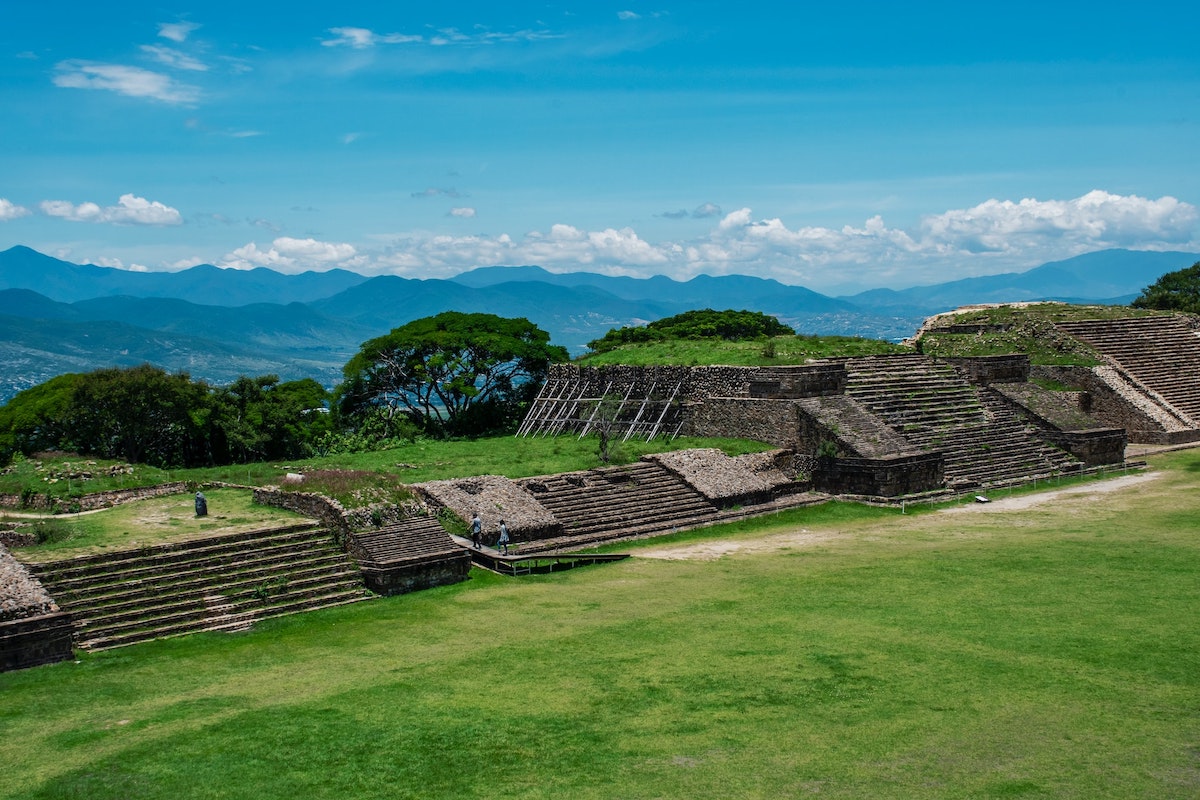 Monte Albán is one of the most important archaeological zones in Mesoamerica, being the pre-eminent socio-political and economic centre for the Zapotec people for 13 centuries.
The construction of this ancient city and fortress has been traced back to around 500 B.C. Its impressive architectural remains of terraces and pyramids cover four square miles, and it was designated a UNESCO World Heritage Site in 1987.
Know Before You Go:
Location: Santa Cruz Xoxocotlán Municipality of Oaxaca state.
Cost: $70 MXN ($3.50 USD). An additional $45 MXN ($2.25 USD) fee for taking photos may also be charged.
Opening hours: The site is open from 8 am to 5 pm daily.
Time needed: 2 to 3 hours is sufficient for exploring.
Getting there: Tourist shuttles from Oaxaca City run hourly and cost $50 MXN ($2.50 USD).
Tulum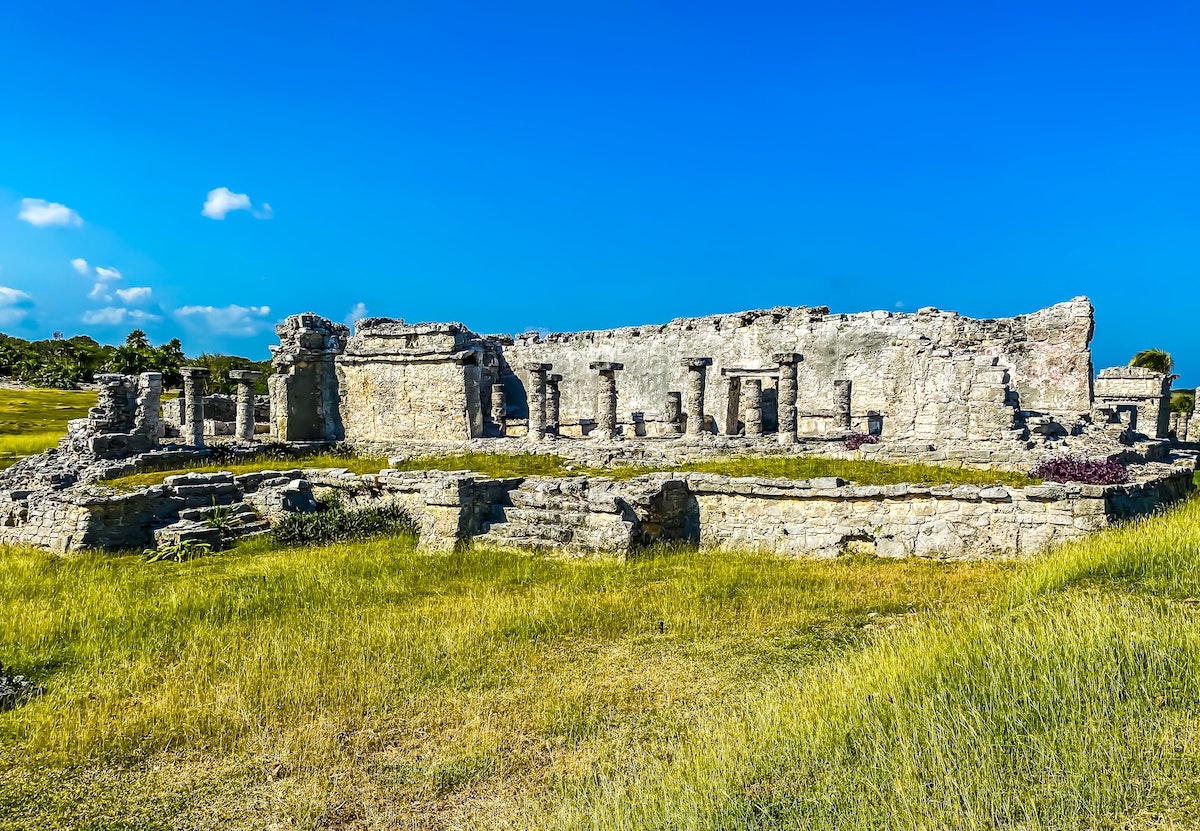 It's mostly known for its beaches today, but between 1200 and 1521 A.D. Tulum was a bustling port city for international trade. The ruins here are the only ones located by the sea, making them all the more special. Built on a 39-foot high bluff, they're the most visited Maya ruins in the Yucatán Peninsula.
A secondary tourist stop and natural marvel you can explore while in Tulum is Cenote Dos Ojos, which is a swimmable/diveable sinkhole located in an underwater cave (just go 8 am-10 am if you want more privacy, it gets pretty packed after that).
Know Before You Go:
Location: Quintana Roo, on the coastline of the Yucatán Peninsula.
Cost: Admission to the ruins is $60 MXN ($3 USD) with a camera fee of $30 MXN ($1.50 USD).
Opening hours: Tulum's ruins are open every day from 8 am to 5 pm.
Time needed: 2 hours is plenty of time.
Getting there: From the hotel zone, you can hire a taxi or rent a bicycle to get to the ruins. You can also drive if you have a car (there's a parking lot near the site). Coming from other areas of Mexico may need some extra planning. Tulum doesn't have an airport, so you'll have to fly to either Cancun Airport or Cozumel (choosing Cozumel will also mean a ferry and a taxi as an extra cost/logistics to consider).
Day of The Dead Festival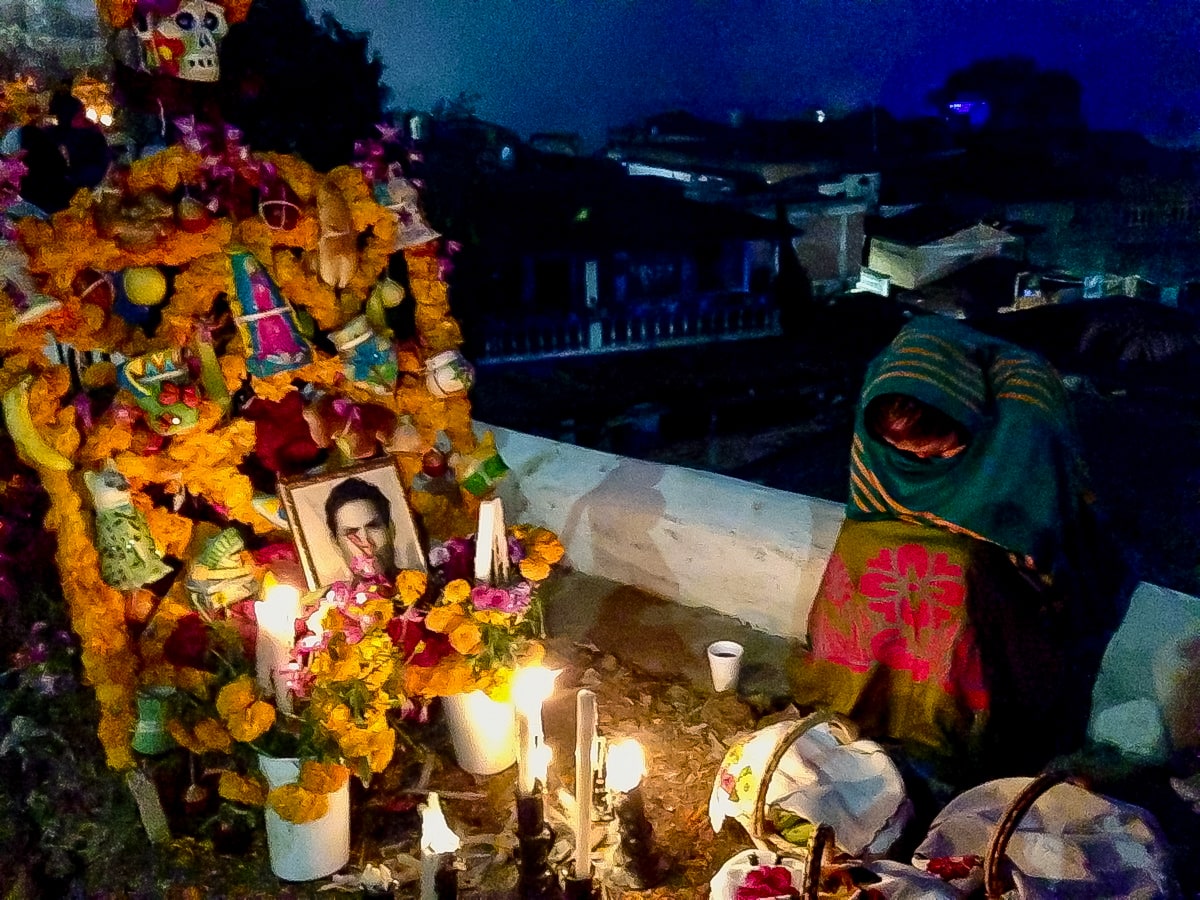 Also known as Dia de Los Muertos, The Day of the Dead Festival is an annual national holiday that commemorates friends and loved ones who have passed on. It's closely associated with the Catholic church's All Saints Day and All Souls Day and is celebrated between October 31st to November 2.
Mexico City and Oaxaca put on a lavish and colourful parade, but for me, the creme-de-la-creme of Dia De Los Muertos takes place on Janitzio Island, where I experienced an incredibly powerful ceremony on the island's cemetery to 'summon' the dead, one of the most profound of Mexican landmarks.
Know Before You Go:
Location: There are ceremonies all around the country, with Mexico City and Janitzio Island being the most popular.
Cost: There is no charge, but book up as early as possible as this festival is Mexico's biggest and even more significant than Christmas Day!
Opening hours: This holiday runs for 2 straight days – Nov 1 & 2.
Time needed: Ceremonies last a few hours (ie. the Mexico City parade runs for 3.5 hours).
Getting there: This will vary depending on where you are, as ceremonies differ in each city. Check out my post linked above if you want to witness The Day of The Dead on Janitzio Island (can recommend it enough!)
Lucha Libre Wrestling Match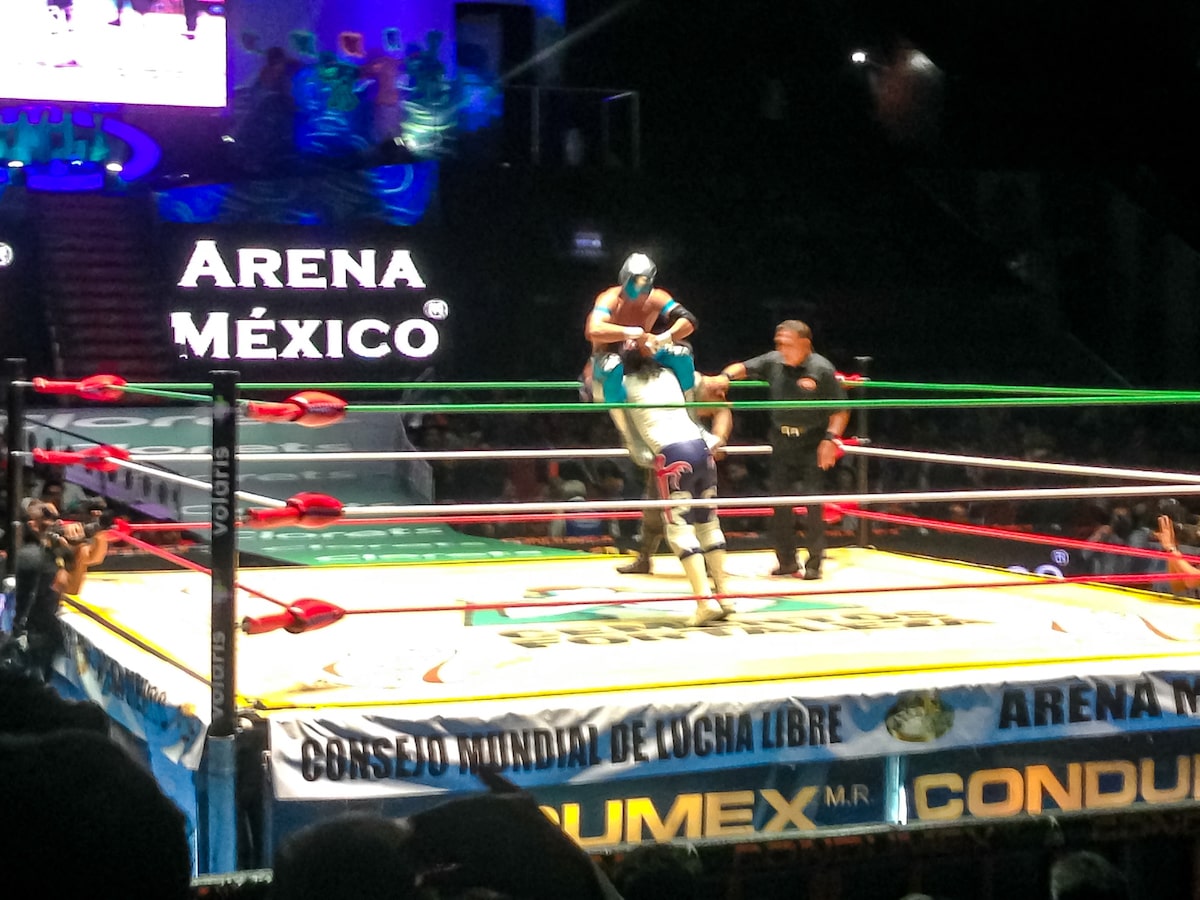 Lucha Libre translates to "freestyle wrestling," which you may have seen been popularised by a movie starring Jack Black by the name Nacho Libre. It's so popular that Mexico City alone has 3 popular arenas where you can catch a match the next time you're in the capital.
Wrestlers are known as 'luchadores,' and wear a colourful array of costumes and masks that add a touch of theatricality to the already wild experience.
Much like famous wrestling organisations such as the WWF, every character has their own set of loveable and equally deplorable traits.
Attending a Lucha Libre wrestling match while knocking back the beers and micheladas is honestly one of the funnest things you can do whether you're living in Mexico City, or just passing through.
If you raise a sceptical eyebrow as to why this seemingly absurd entry makes it into the manmade Mexican wonder category – I dare you to attend a Lucha Libre with a couple of good mates and tell me it's not a worthy competitor for famous manmade Mexican landmarks.
Know Before You Go:
Location: 3 arenas in Mexico City (Arena México / Arena Coliseo / Arena Naucalpan)
Cost: Going with a tour company can cost upwards of $450 MXN ($25 USD). You can pay for tickets at the gate if you go on your own for nearly half that price. You can also buy tickets on Ticketmaster.
Opening hours: Shows usually start at 7:30 pm.
Time needed: Arrive 30 minutes before showtime to explore the vendors outside the arena. The show itself lasts 2 to 3 hours.
Getting there: If going on a tour, they'll bring you to and from your hotel. If going alone, taxis and Uber/Lyft are good options.
La Casa Azul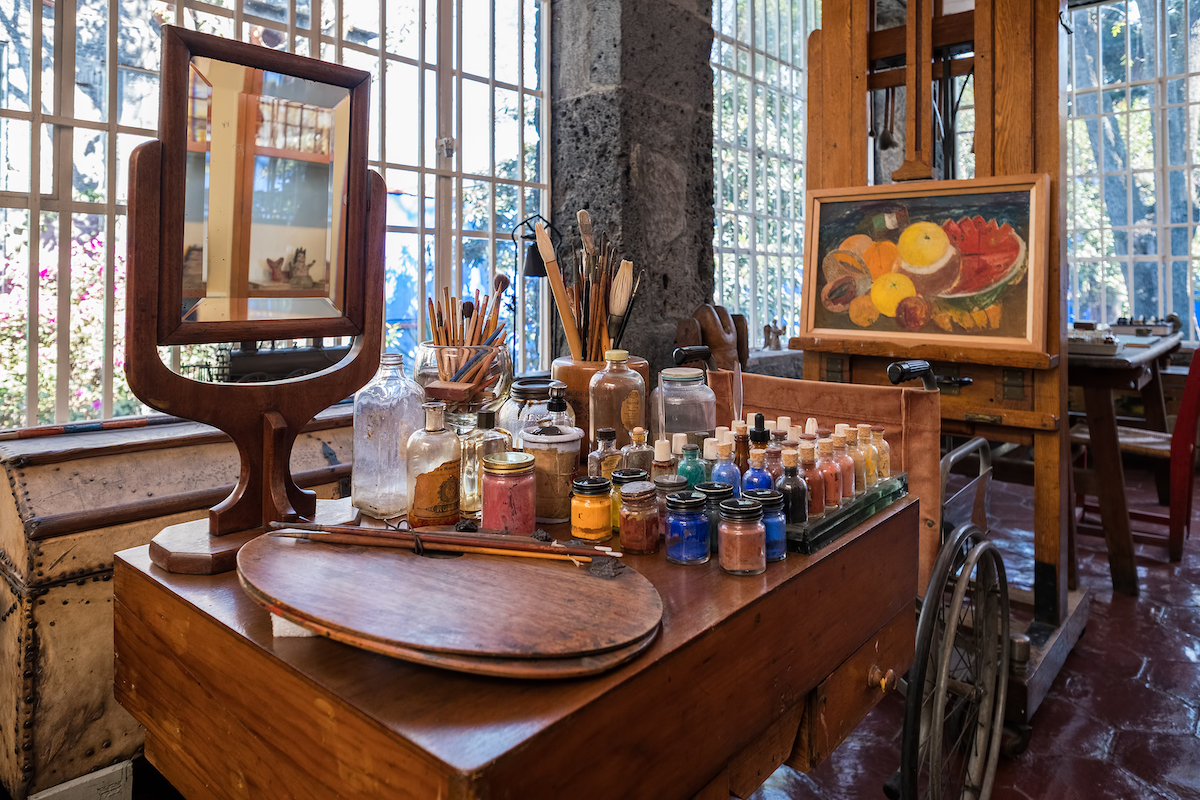 Frida Kahlo isn't just regarded as one of Mexico's finest artists, but also one of the fiercest and most revered cultural icons of Mexico. La Casa Azul (translating to The Blue House) is the house she lived in most of her life and created much of her work, much of it severely incapacitated after a horrific bus crash.
Officially called 'Museo Frida Kahlo,' touring the home and garden gives you access to profound paintings by both Frida and her Latin lothario lover, Diego Rivera, as well as exhibitions of her life and personal belongings.
Know Before You Go:
Location: Coyoacan, Mexico City
Cost: General admission tickets are $230 MXN ($11.50 USD) on weekdays, $270 MXN ($13.50 USD) on weekends, and there's a $30 MXN ($1.50 USD) fee to take photos without a flash.
Opening hours: The museum is open Tuesday to Sunday from 10 am to 6 pm.
Time needed: Most visitors spend 2 hours here.
Getting there: The easiest way to get here while in Mexico City is via taxi or Uber/Lyft.
Estadio Azteca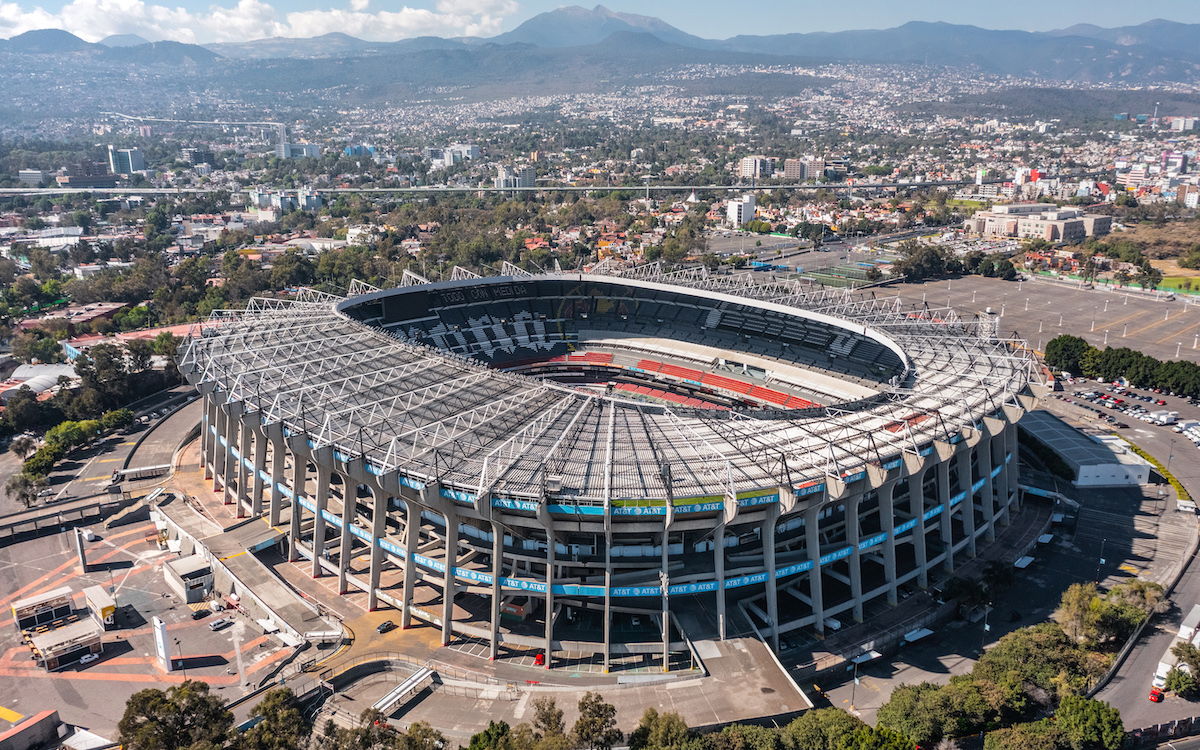 What's a trip to Mexico without taking in a game of football at one of the most historic stadiums in the world? With a truly whopping capacity of 87,523, Estadio Azteca was built in 1966, renovated 19 years later, and holds the distinction of being the largest stadium in the country.
Local clubs Cruz Azul and Club América play their home matches here. Much like the great football rivalry in Argentina, this fierce feud is fuelled by a palpable class divide within the city.
Mexico's national football team also play their international matches here and the stadium also showcased 9 World Cup matches here (including the World Cup Final) when the football-crazy nation hosted the illustrious tournament in 1986.
Know Before You Go:
Location: Mexico City
Cost: Tickets for matches can be purchased online, and range from anywhere between $80 and $400 USD depending on seat location. Tour operators offer stadium tours for around $70.
Opening hours: Matches are usually in the evening, but there are afternoon games as well. Stadium tours run in the morning.
Time needed: Matches last approximately 2 hours, and the stadium tour is 90 minutes.
Getting there: You can take the Xochimilco Light Rail line for quick access to the stadium. Buses, taxis and private services like Uber/Lyft also work well.
El Ángel de la Independencia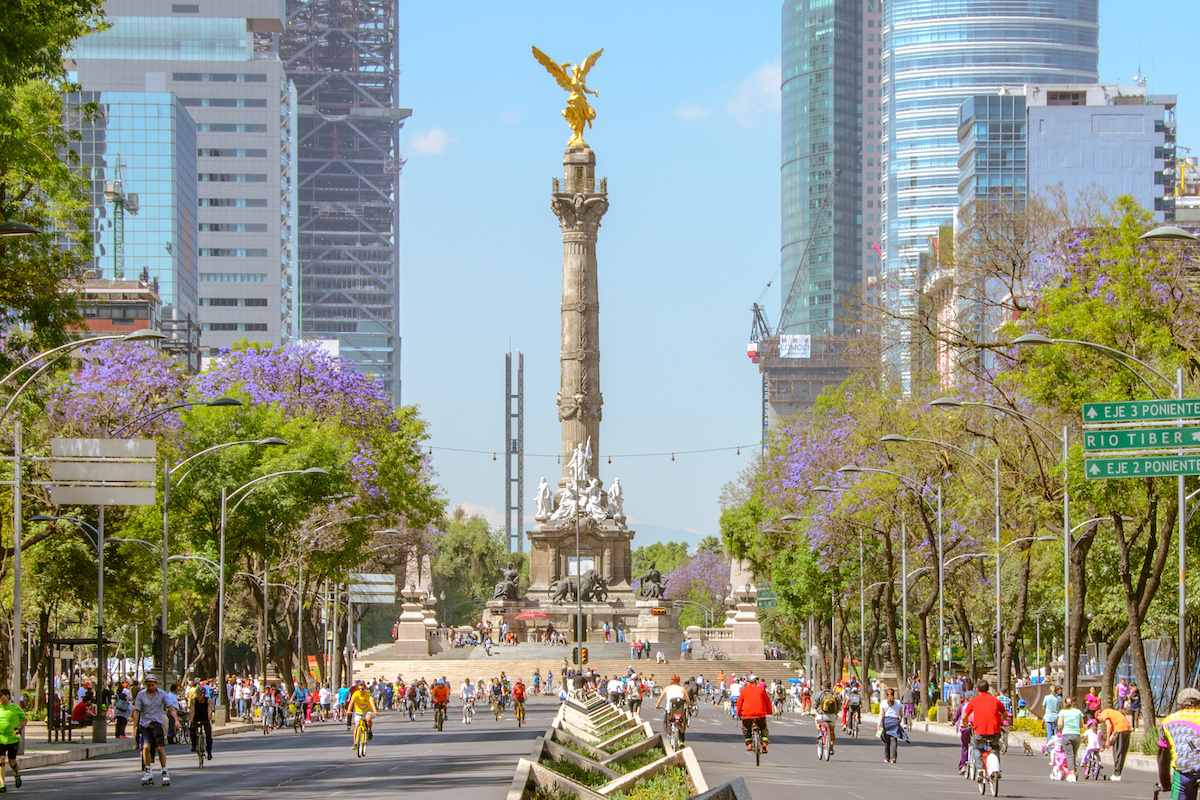 The Angel of Independence is one of the most recognizable landmarks in Mexico City. Commonly referred to as El Ángel, this victory monument stands 45 meters high above the traffic below.
It was created in 1910 by Antonio Rivas Mercado to commemorate Mexico's War of Independence (which resulted in Mexico's independence from Spain).
The base of the statue is a mausoleum that houses the remains of some of the most important people that fought in the war. Atop the monument is The Angel – a winged statue of Victoria (the Roman goddess of victory), who holds a laurel in one hand to crown the victors, and a broken chain in the other to signify breaking free from 300 years of Spanish rule.
The iconic angel fell in 1957 after Mexico's last large earthquake and had a little wobble after the last big one, but it still stands tall and proud on Avenida Paseo de la Reforma and is impossible to miss when you're in that area.
Know Before You Go:
Location: El Ángel is on the Paseo de la Reforma roundabout.
Cost: It's free to visit.
Opening hours: There are no operational hours.
Time needed: Stay as long, or as little as you want.
Getting there: You can walk or take a taxi to the statue.
Tequila Town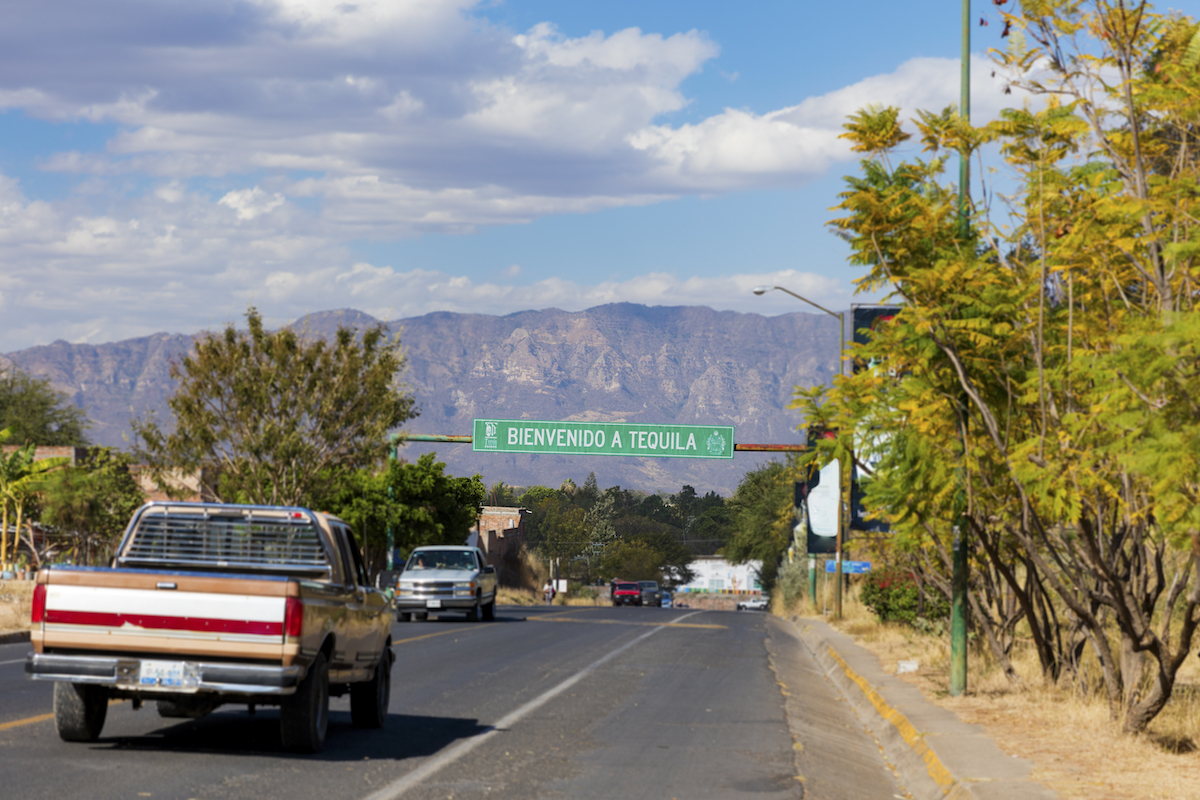 Mexicans are famous for a certain alcoholic beverage (it was even immortalised in a catchy 90s tune), and the town of Tequila is unsurprisingly known for its production of the renowned rocket-fuelled drink of Mexico. Tequila Town is where the drink's main ingredient, the blue agave plant, grows in droves.
The town has over 20 distilleries where you can learn all about the tequila-making process (and sample it, of course).
A train ride dubbed the "Tequila train" runs from Guadalajara to Tequila town, providing you with countryside views as well as onboard tequila. While you can see the town in a single day, you should really stay the night if you want to see the locals gather in the town square for live music and dancing.
Know Before You Go:
Location: Tequila is located in the Western state of Jalisco.
Cost: Distillery tours cost around $400 MXN ($20 USD). If you book the Tequila train (The Jose Cuervo Express), the price is between $120 and $175 USD (including the distillery tour).
Opening hours: The train leaves Guadalajara at 9 am, and distilleries start tours around 11 am.
Time needed: Distillery tours last between 60 and 90 minutes. If you take the train, you'll take a bus back to Guadalajara around 6 pm.
Getting there: The cheapest way is to leave Guadalajara by bus ($9 USD), otherwise, you'll have to take the train (that's my shout).
Teotihuacan Pyramids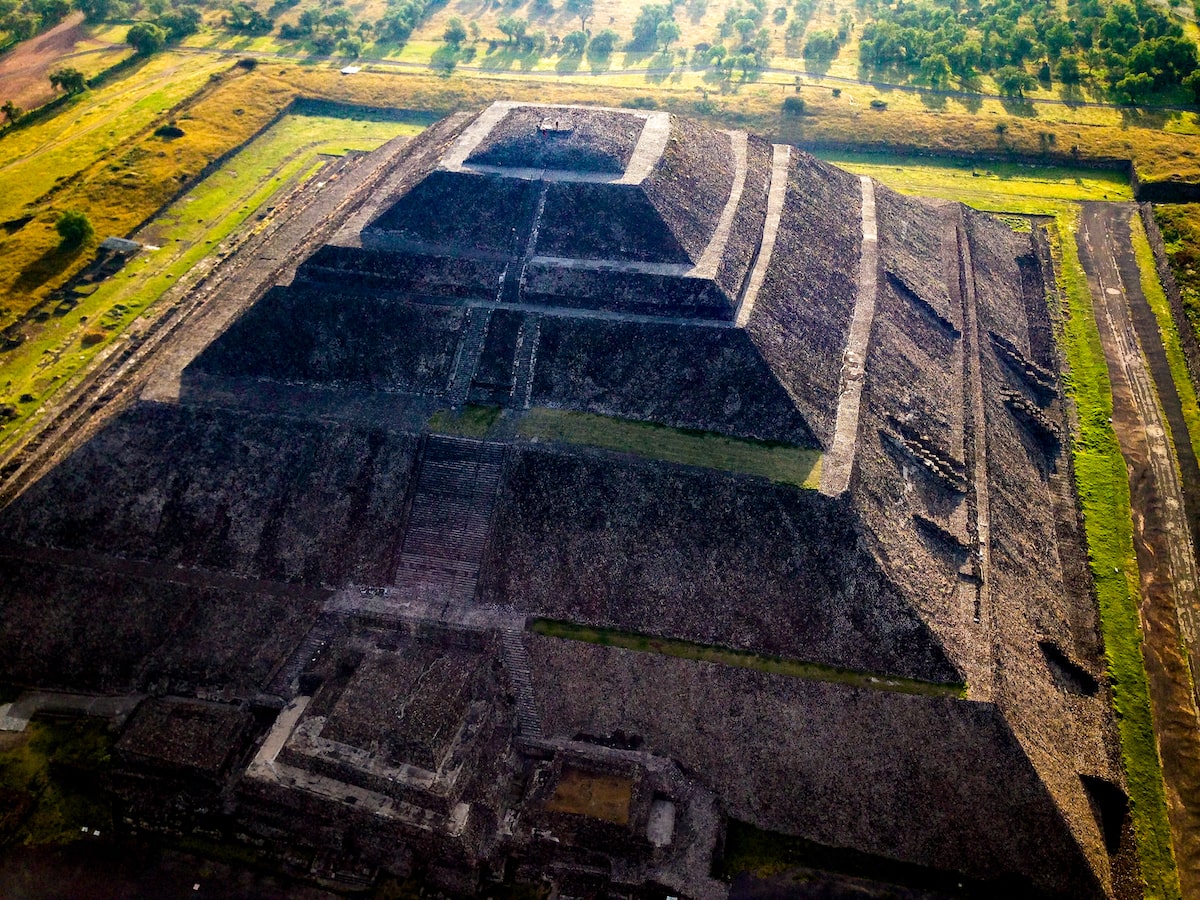 Teotihuacan ("the place where the gods were created") was founded around 400 B.C., and its structures were built between 100 and 700 A.D. Which civilisation built it remains a mystery. Teotihuacan is laid out in a grid format that covers roughly 8 square miles.
The site contains large monuments, with the most notable being the Temple of Quetzalcoatl (The Feathered Serpent), the Pyramids of the Sun and the Moon, and the Ciudadela (or Citadel). For a truly memorable experience, you can float over the site in a hot air balloon.
Know Before You Go:
Location: 48 km northeast of Mexico City.
Cost: Admission costs $75 MXN ($3.75 USD). Tours cost around $700 MXN ($35).
Opening hours: The site is open year-round from 9 am to 5 pm.
Time needed: The drive from Mexico City is about 45 minutes.
Getting there: You can get there by bus ($5 USD for a return ticket) or Uber (upwards of $70 USD). Tour buses are great for their value, or you may be able to negotiate a decent price with a private driver. I highly recommended getting a tour and hot-air ballooning over that bad boy as I did for my 33rd birthday. Brilliant!
Natural Landmarks in Mexico
While the manmade Mexican landmarks get a lot of the hype (and rightly so), their natural beauties shouldn't be overlooked. Here are a handful of Mexico's eye-candy wonders that you should stick on your Mexico bucket list…
Pico de Orizaba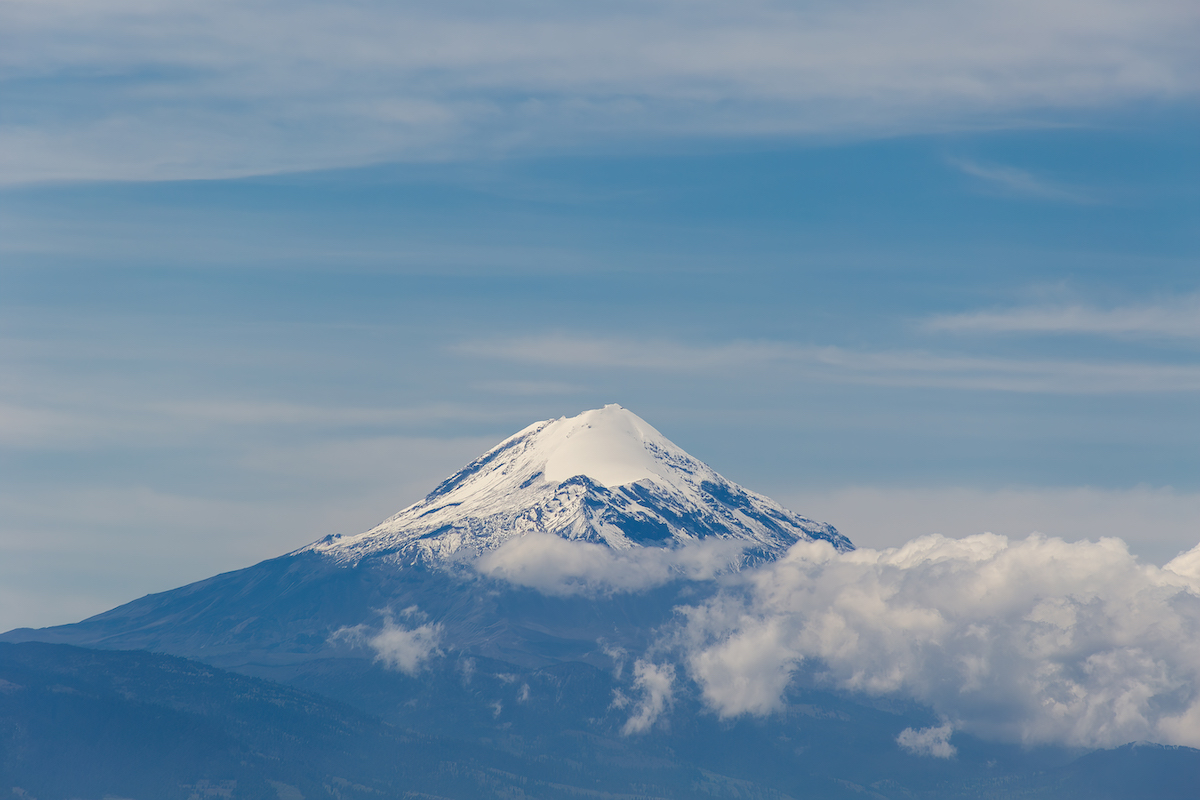 At an elevation of 18,491 feet (5,636 meters), Pico de Orizaba is an inactive stratovolcano. It's the highest mountain in Mexico and the third-highest peak in North America. Also known as Citlaltépetl (translates to 'Star Mountain'), it last erupted in 1846, and its dormant status allows you to have a crack at climbing it.
Pico de Orizaba is a decent choice for those who are fit but relatively new to mountaineering, as it's not too difficult to hike if the weather is on your side.
Know Before You Go:
Location: Located on the border between the states of Veracruz and Puebla.
Cost: With a local operator, $10,000 MXN ($500 USD). But some tour companies will charge anywhere between $800 and over $3000 USD.
Opening hours: The hike usually starts around 1 am.
Time needed: Trekking the mountain takes about 8-15 hours to the summit and back. This depends on your climbing speed.
Getting there: From Mexico City make your way to Puebla and then Tlachichuca via bus. From there, you'll go to Piedra Grande Hut (base camp) where the climb begins. If you go by tour, they will take care of all the transport for you.
Sistema Sac Actun (The Longest, Unexplored Cave in The World)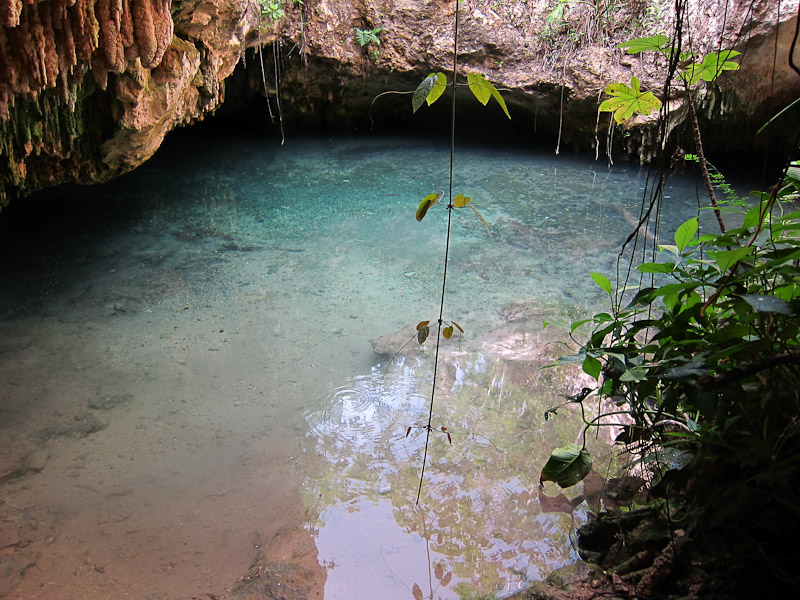 This beauty is the longest explored underwater cave in the world, recently ousting a neighbouring cave in the Tulum region.
However, Sistema Sac Actun knocked the former champion cave (Ox Bel Ha) off its record-holding perch relatively recently. It connects with dry caves to bring its total length to 364.4 kilometres.
Like Ox Bel Ha, it's located in Quintana Roo near Tulum, and discoveries inside this cave have ranged from ancient artefacts to human remains and even the bones of a Mastodon! Make sure you do your research on how far you can go according to your diving resume.
Know Before You Go:
Location: South of Tulum, in Quintana Roo.
Cost: Guides and equipment costs $170 USD/day, not including a $10 to $50 USD entrance fee (depending on cenote)
Opening hours: Times vary, but dives are usually done mid-morning to early afternoon.
Time needed: Half-day or full-day (dives are anywhere from 10 to 30 minutes).
Getting there: Your tour operator will provide transport to the dive site.
Sistema Ox Bel Ha (The Second Longest Unexplored Cave in the World)
Even with the recent demotion from bride to bridesmaid, Sistema Ox Bel Ha ("Three Paths of Water") is a cave diver's dream. There are 270.2 kilometres worth of underwater passages that can be explored, your limitation will of course be based on your diving qualifications.
Entrance to the cave system can be gained through any one of its 143 cenotes, and it's filled with both freshwater and saltwater, as well as a diverse array of life in its ecosystem.
Know Before You Go:
Location: South of Tulum, in Quintana Roo.
Cost: Guides and equipment costs $170 USD/day, not including a $10 to $50 USD entrance fee (depending on cenote)
Opening hours: Times vary, but dives are usually done mid-morning to early afternoon.
Time needed: Half-day or full-day (dives are anywhere from 10 to 30 minutes).
Getting there: Your tour operator will provide transport to the dive site.
El Zacatón Sinkhole
El Zacatón is the deepest water-filled sinkhole in the world at 1,112 feet (339 meters), which was so hard for experienced divers to find out that they had to borrow NASA's machinery! It belongs to the Zacatón system (a group of unusual karst features) and is named for the islands of Zacate grass which sit atop the surface.
The water temperature averages 30°C and is highly mineralised with a sulfurous odour. Over the years it's attracted many cave divers, but its true depth was only discovered through the use of a NASA-funded, robotic vehicle.
Know Before You Go:
Location: The sinkhole is in the northeastern state of Tamaulipas.
Cost: Tours cost around $450 USD and include transportation, entry fee, swimming, caving, kayaking, and hiking.
Opening hours: Tours leave for the hole at 10 am.
Time needed: The tour will last until 4 pm.
Getting there: El Zacatón tours start from the main square of Aldama, Tamaulipas and transport you in a van to the site.
Copper Canyon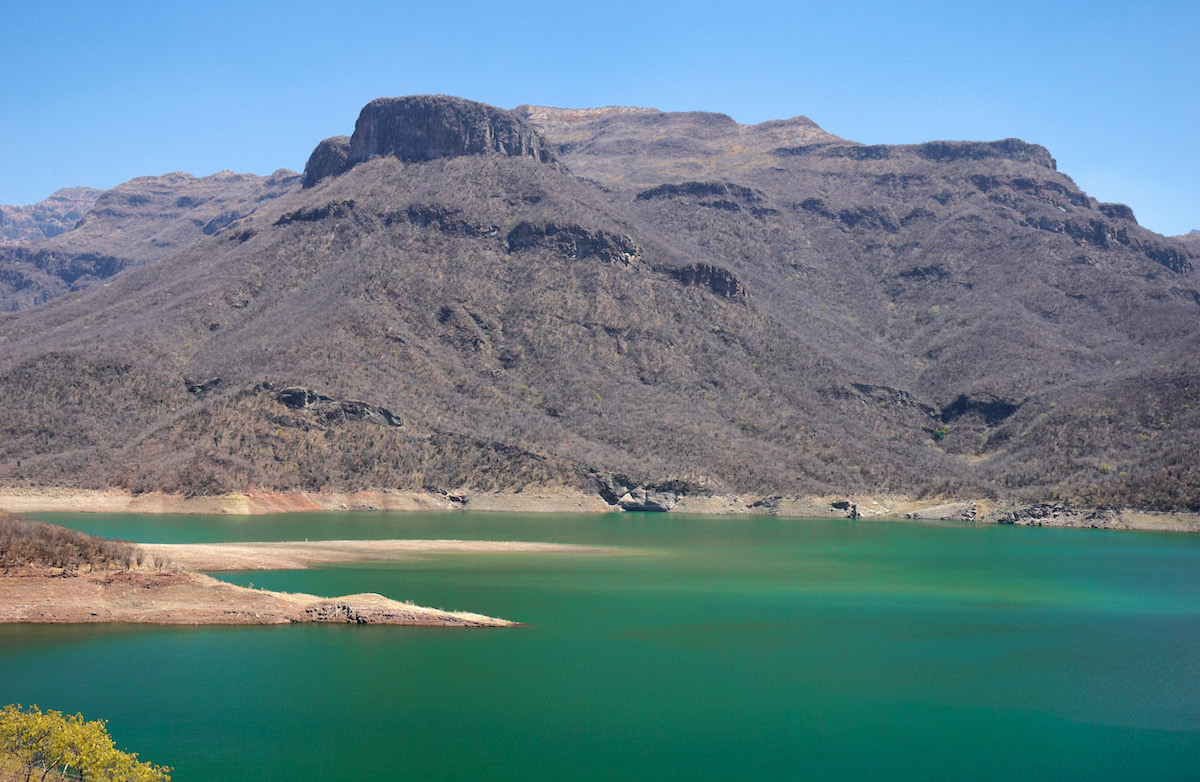 Copper Canyon is actually a series of 6 canyons and got its name from the hue cast on the verdant mountains. Exploring Copper Canyon can be done by hiking, biking, or driving. However, the most popular way to see them is by taking the Copper Canyon train known as El Chepe, which can give you an unforgettable, picturesque journey through the mountains. The perfect option for lovers of rail travel.
Know Before You Go:
Location: Sierra Madre Occidental mountains in northern Mexico.
Cost: The one-way price for the Copper Canyon train is between $1,891 and $3,604 MXN ($98 to $187 USD) depending on your ticket class (economy or tourist) and how many stops you make.
Opening hours: The train departs at 8 am on Tuesdays/Thursdays/Sundays
Time needed: The El Chepe train ride lasts 4 hours but you can hop off at different stops to explore towns.
Getting there: This depends on where you're coming from, but the El Chepe train starts in Creel, which is accessible by train or bus.
Almost Famous Mexican Landmarks: Honourable Mentions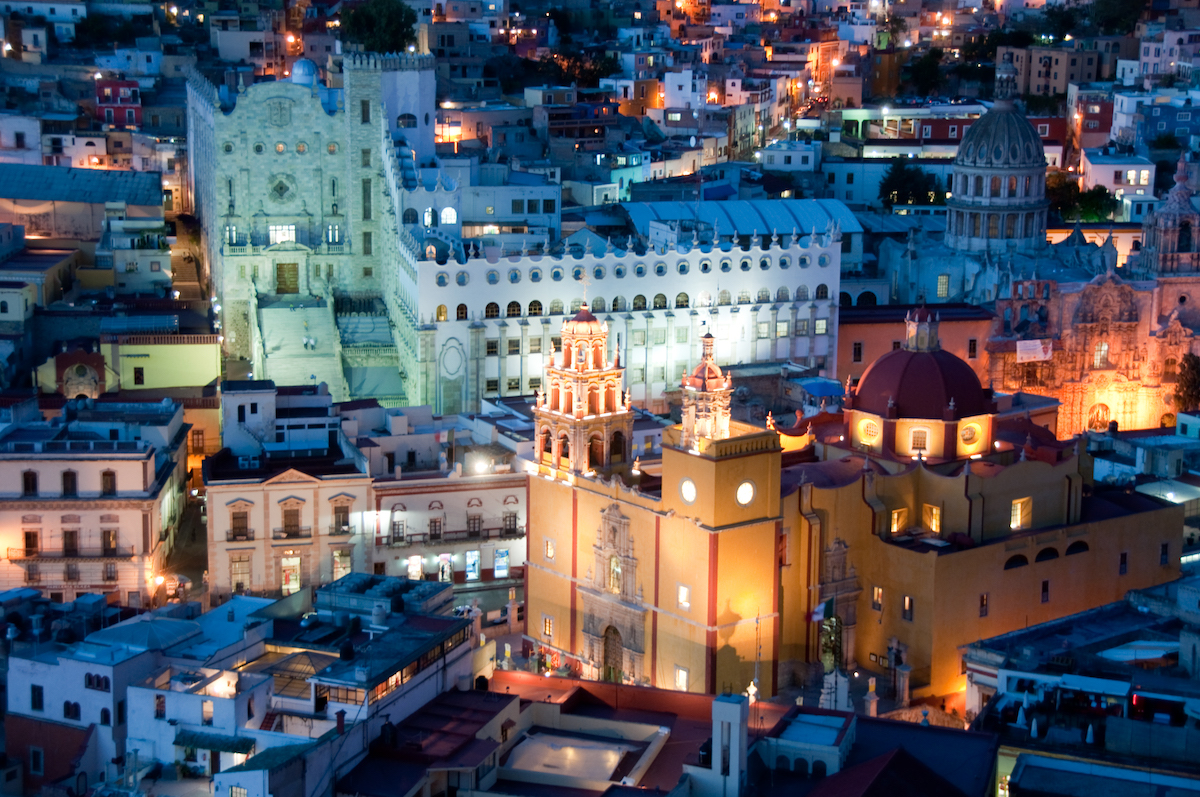 These are just a few more fantastic sights you can see when visiting Mexico but didn't quite make the main list above. To be honest in such a gigantic country with so much to offer, this article could be quadruple the size…but we both have shit to do!
Honourable famous Mexican landscape mentions going out to the following manmade and natural wonders:
Xcaret Park: An eco-archaeological theme park celebrating Mexico's cultural diversity.
Uxmal: Ruins of an ancient Mayan city south of Merida.
Guanajuato: A colourful, colonial-era city that's easy for walking. Often cited as "the prettiest city in Mexico," one of the most delightful Mexican landmarks. It's a little cheeky that I didn't put this in the main list as the secret is well and truly out now, I will probably write an article fully dedicated to this destination.
Catedral Metropolitana: The oldest and the largest cathedral in Latin America (located in Mexico City)
The Marieta Islands: Uninhabited islands off the Mexican coast, known for their breathtaking landscapes, wildlife and hidden cave beach.
Chapultepec Castle: An important site in Mexico City that's one of the only royal palaces in North America. Over the years it served several purposes, from being the viceroy's summer house to a military academy, and even the Presidential residence for a time. It's also the site of the Battle of Chapultepec, which took place in 1847 during the Mexican-American war.
So there you go, I have stated my case to the jury. There are so many famous landmarks in Mexico both modern and natural, that are worth your time if you are ever lucky/brave enough to ever experience this country beyond an all-inclusive resort in Cancun.