Being a Mexico City digital nomad long-term wasn't in my plans, but it certainly became a "happy accident."
After being booted out of my preceding expat country of choice, Colombia (not quite as sexy or exciting as it sounds, my tourist visa had just expired and it resets every calendar year), my intention was to go back to live in Medellin, once I was legally allowed to, 4 months later.
But that wasn't meant to be and I ended up making Mexico City (also known as CMDX and D.F) my long-term home for 3 years.
Mexico remains one of my favourite countries on earth and this guide is aimed at digital nomads who are looking to stay in the capital for the long term. By the end of the article, I hope to give you a better insight into what life is like in CMDX, how and where to lay your sombrero and offer advice on whether this is the destination for you (or not).
Six years after that I flew to Malaysia on a one-way ticket. embarking upon a quest to completely change my life around, and most importantly, to find a place to call "home," Mexico City got into the final of a two-horse race for my potential forever place.
I know that travel bloggers writing about how they've become functioning adults in society and are finally happy to live in one place for more than 6 months a year can become tedious very fast. So let's take the focus off me (with the exception of a few options) and dive into all the reasons to try out the digital nomad life in Mexico City.
Reasons To Try Out The Mexico City Digital Nomad Life
How do I love thee, Ciudad de Mexico? Let me count the ways, and let's make it seven:
1. The Weather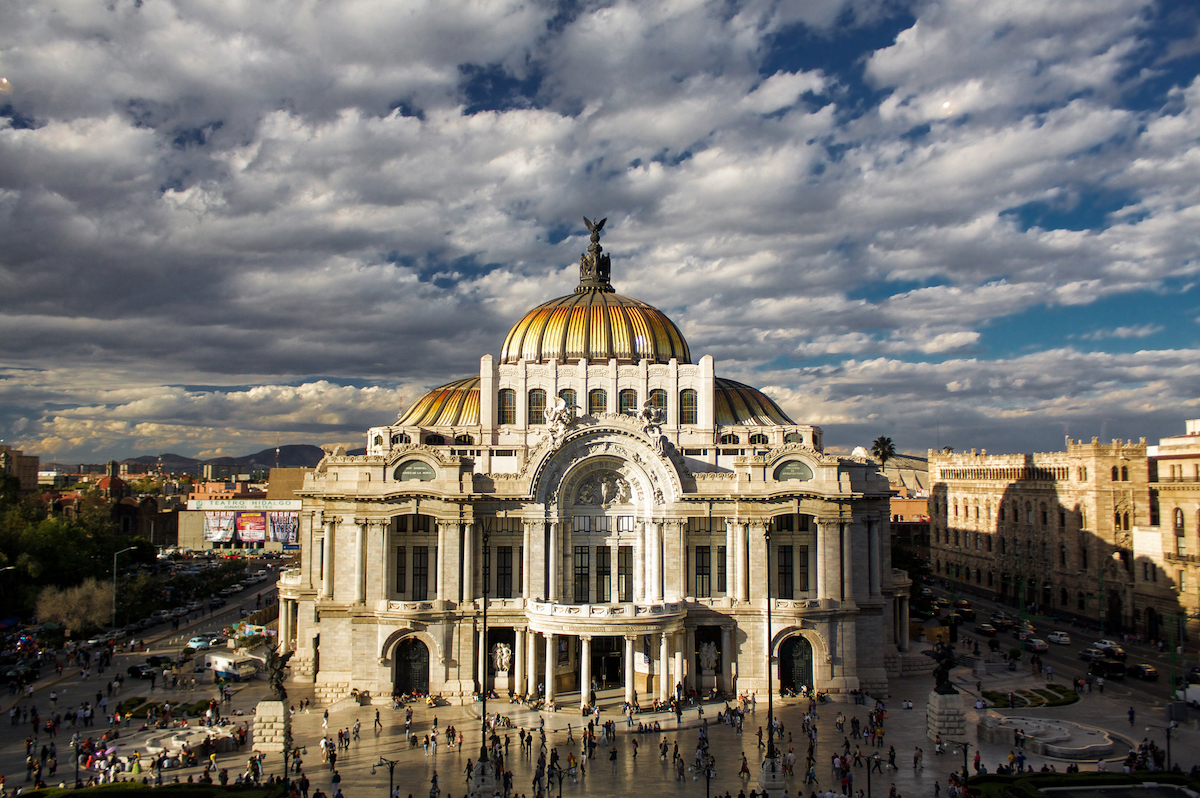 Elephant in the room; Mexico City is sadly a constant prey to powerful earthquakes and this is worth knowing should you wish to live there. But nowhere is a utopia, so with this extremity aside, the weather in Mexico City is as good as it gets.
I always had a feeling that this would be a big (or even the main) factor when choosing a home. I used to really suffer from seasonal affective depression in the harsh northeast England winters and I notice that I'm overall considerably more positive when I get my natural form of vitamin D.
The capital of Mexico still experiences seasons, but even their winters are warm throughout the day. Summer fashion by day, winter trends by night. Jackpot.
This was a big positive compared to living in Bangkok. Both cities share the commonality of being a bouncing, busy city with a myriad of things to see and do, but dressing up all dapper in Thailand's capital in the evening is a neverending game of sweat roulette.
If constant humidity isn't your cup of tea, but you also loathe the cold; the sunny days mixed with a nice chill night is a good reason to visit Mexico City.
2. The People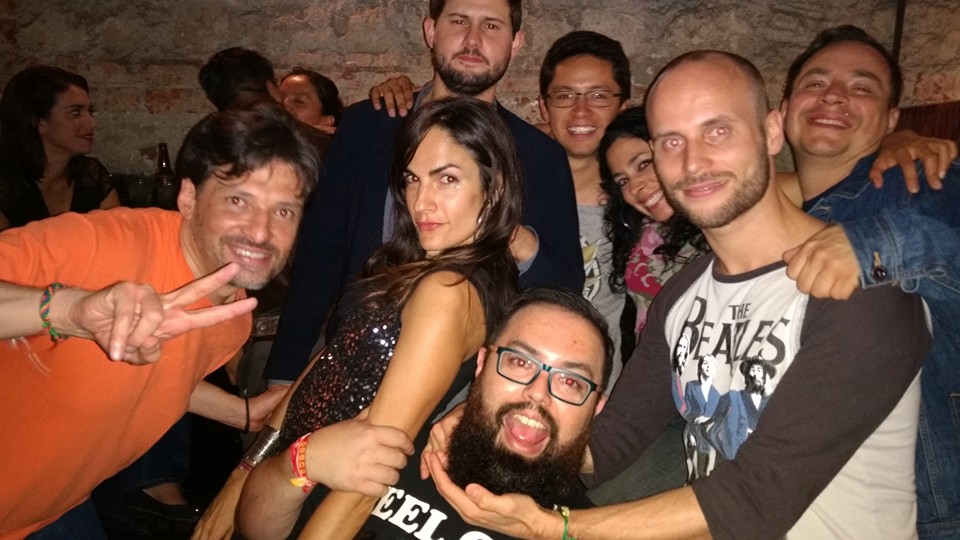 Mexicans are bloody lovely. There are some annoyances, such as the lack of personal space from strangers, being unpunctual for meetups, and interrupting a conversation is not even considered rude. I accept that it's a cultural difference and if I am going to live here again it's simply something that I need to adapt to.
There is a general consensus that people from capital cities are coldhearted and impolite. I would say that this is a fair stereotype, but Mexico City seems to be the exception to this rule. I've found the locals nothing but welcoming and warm.
Also, I love the unspoken Latin social contract when you greet strangers with a good morning, and good afternoon and wish them an enjoyable meal. Ladies are graceful and men are gents in Mexico City and I'm a fan of good old-fashioned manners, it hurts no one.
3. Perfect Base To See The (Phenomenal) Country of Mexico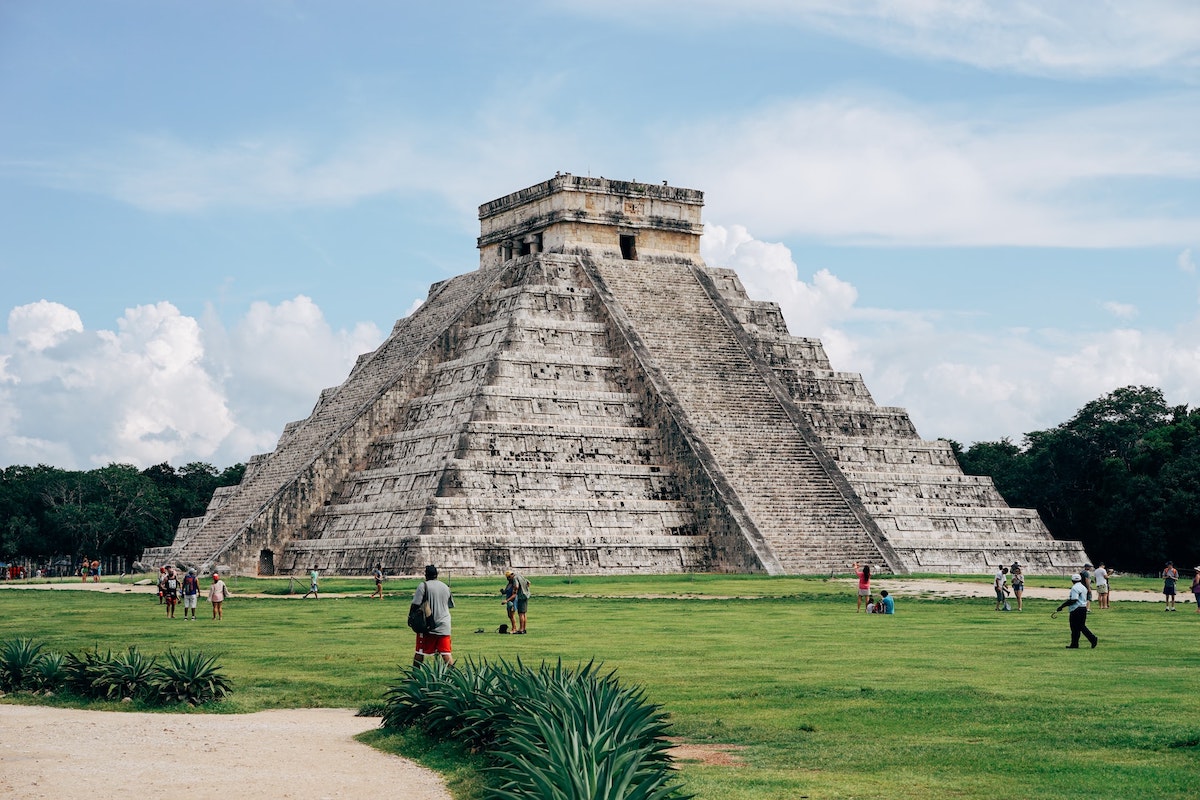 Mexico is the 14th largest country in the world. Considering I was working a lot, I only managed to see the tip of the iceberg and I love that iceberg so far.
I didn't manage to see Chichen Itza, the final entry on the New Seven Wonders of The World list for me, and I am furious at myself for this. Still, it gives me an extra reason to visit Mexico City again.
It's not just about quantity, but quality when it comes to this massive country.
Mexico packs quite a hefty punch of things a wanderer can see and do; pyramids, cenotes, beaches and fascinating famous landmarks in Mexico thanks to Aztec culture, Mayan culture, and Toltec culture – Mexico has more than enough.
I could probably travel here for my full 6-month tourist visa and still miss out on a lot.
Mexico City plays bridesmaid to only Paris to the most museums within a city (if that's your kind of thing) and don't even get me started on their festivals! Mexicans know how to put on a party and the desire to experience them and also see more of Mexico is a solid reason to visit Mexico City.
4. Mexican Food (It's Not What We Think it Is)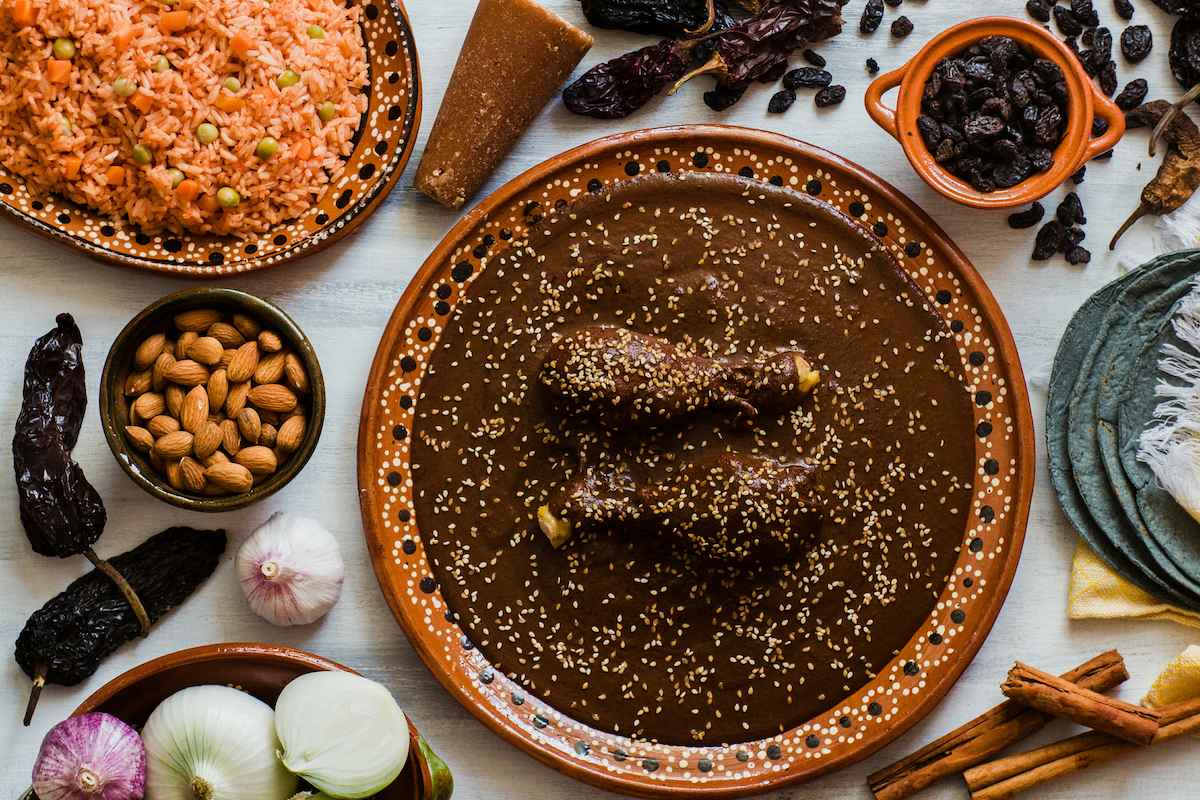 I hate to be that travel wanker, but I'm going to go there…
The Mexican food that we eat and are familiar with in the Western world is not the same as Mexican food in Mexico. That's Tex-Mex, but traditional Mexican food is different and it's absolutely banging!
I've enjoyed many a burrito and chilli con carne in my time (although nachos are overrated shit crisps) however real Mexican food is vastly different. For a start, things like tortillas are made out of corn (good news for celiacs), they use cumin a lot, they don't put dollops of cheese on everything and there is a concoction of ingredients as long as your arm of herbs and spices, so much effort goes into their dishes.
My personal favourite is Mole Poblano, the perfect balance of sweet and spicy, a dish which originates from a town just outside of Mexico City called 'Puebla.'
Mexico City is also veggie-friendly and there is a thriving vegan scene. So there you have it, meat-eaters, vegans and celiacs all have a reason to visit Mexico City; there's something for everyone out there.
With all the above being said, I will still be found in local "Mexicans" over the world, tucking into some sloppy chimichangas without apologies. I'll also be having authentic, delicious Mexican cuisine every time I return.

Variety is the spice of life, pun intended.
5. They Speak A Language That I Actually Want To Learn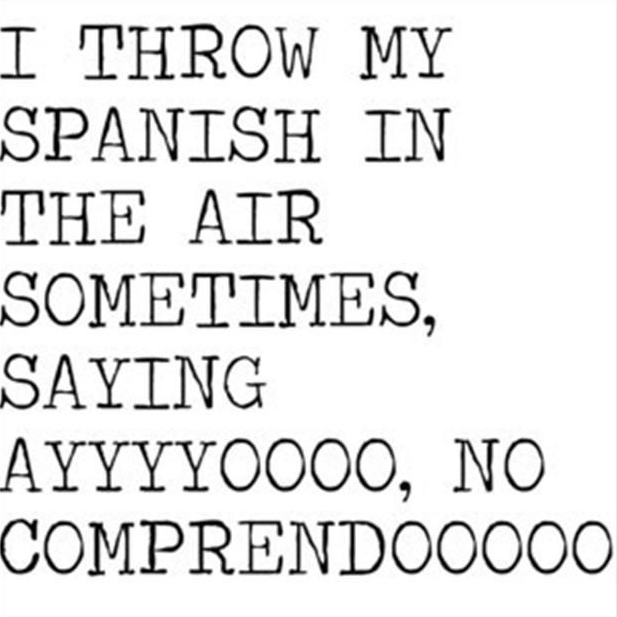 I've been learning Spanish since the day I arrived in Colombia. It's a constant work in progress, but I know enough to get around Latin America and I'll look forward to learning more and speaking this beautiful language on a daily basis when I return.
Colombian and Venezuelan are the sexiest of Spanish in my opinion, Mexico City's is a little fast but clear enough for me to understand.
It is, however, trendy to show off as a local and speak English in certain parts of town. A little annoying for me, as if it was the other way around (someone speaking English to me to practice) I would be more patient and help that person out.
As Mexicans are generally decent people, I don't see this as flexing. They're probably just doing it to make me feel more comfortable, or even practice their own second language.
This is just a minor inconvenience though and there's more than enough Spanish for me if I look for it. I'm currently struggling with the "if you don't use it, you lose it" theory, with me no longer living in a Spanish-speaking country, but I know I'll make learning the lingo more of a priority, should I go back to live there for some time.
6. The Digital Nomad Mexico City Visa Situation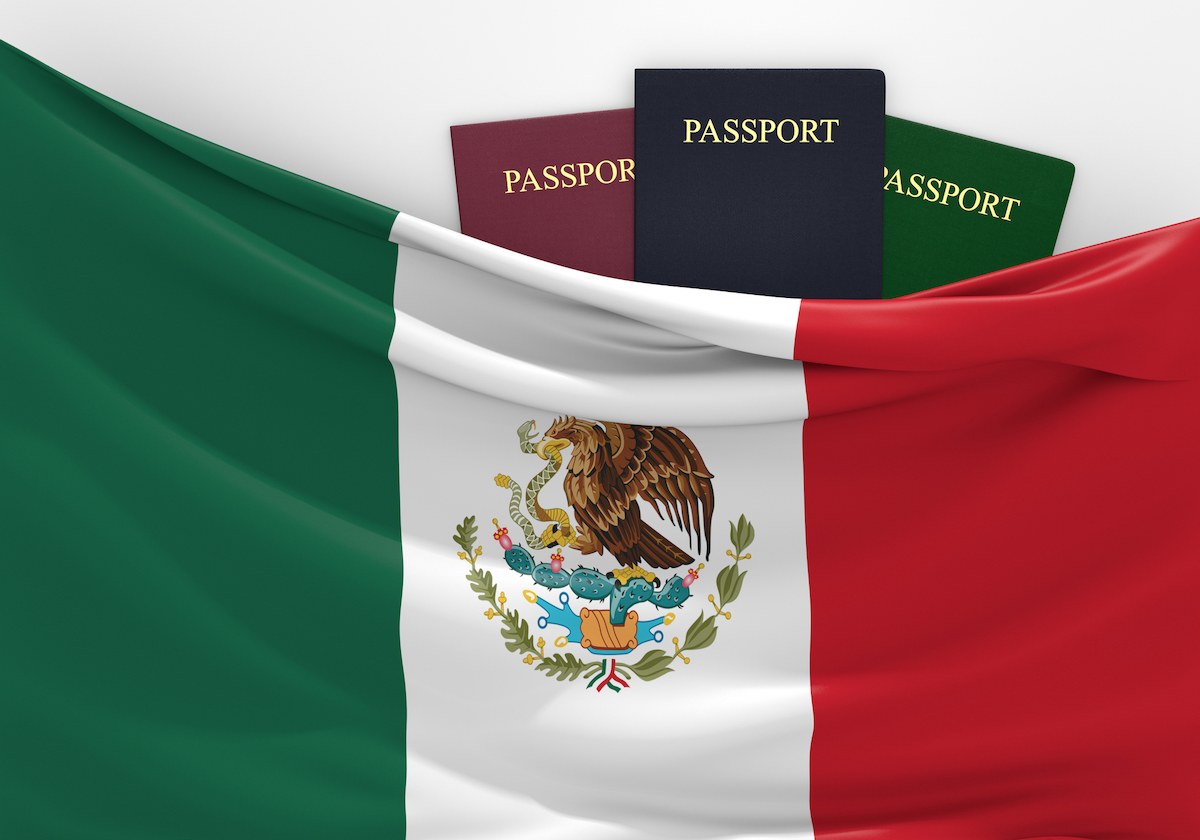 While there is not currently a Digital Nomad Visa program in place for those wanting to stay in Mexico for a long period of time, there are an array of very reasonable options at your disposal. I've lived in many different cities abroad and I've never known a place as easy as Mexico City to legally stay in for several months when I am tired of the road and want to catch up on a good chunk of work and crave a base for a good routine.
Mexico's 6-Month Tourist Visa is Unprecedentedly Kind
Getting a visa to live in Mexico City as a digital nomad is pretty simple for most nationalities. In fact, 70 countries can get into Mexico without needing to obtain a visa. However, they do need to fill in a tourist card called the Forma Migratoria Múltiple (FMM).
The beauty of the FMM card is that it only costs $575 MXN ($35 USD) and allows you to live in Mexico for up to 180 days (6 months!) After the 6-month time period is up, you'll have to leave Mexico and get a new card before you can re-enter. You can apply for it online and once approved you simply print it out and carry the card with you. It should be completed within 30 days of your travel date.
Let me tell you something from someone who has been wandering around for a long time, as an expat and a traveller, this is a damn good deal. From what I know, 6 months on-entry is an incredibly kind offer from the Mexican government for tourists fortunate enough to be on this list.
Another great option is the Mexico ETA, which provides an excellent alternative that bypasses the traditional, often cumbersome visa process. It offers a more streamlined and efficient approach to gaining entry into Mexico, thereby reducing the paperwork and time commitment typically associated with visa applications.
This makes it a particularly attractive choice for Russian, Ukrainian, and Turkish travellers seeking to visit, work, or study in Mexico.
What if My Country is Not on The Mexico Visa Exemption/Waiver List?
You will need to Google "Mexican Embassies Near Me" and write down the contact and address details of the results. Sometimes they will show up as "Mexican Consulate of (whatever destination)," or a synonym of that. You will need to call or email to book an appointment and will need to bring along the documents required.
I really feel for you if you lost the geographical lottery when it comes to passports. I'll never lose sight of how fortuitous having mine is, however, I don't have a 100% clean record with visa waivers, since the USA rejected me at first and I know from personal experience that these appointments can be incredibly stressful for you.
Hang in there, don't forget your documents, dress up as nicely as possible, answer all questions politely (with a deep breath) and best of luck to you.
Temporary Residence Status in Mexico
If you wish to stay longer in Mexico, you'll need to look at different Visa options.
The first is the Visa de Residente Temporal (Temporary Resident Visa), a renewable long-term visa that gives you temporary residency status. Upon issuance, you get 365 days which is then renewed for an additional 1-3 years. You're also allowed unlimited entry/exit to/from Mexico with it.
The visa can only be applied for at a Mexican consulate outside of Mexico, and you must show proof that you have sufficient funds or steady income to sustain yourself. This visa costs around $200 USD.
Permanent Resident Visa
The other long-term option is the Visa de Residente Permanente (Permanent Resident Visa), which is issued to those who plan on living in Mexico permanently and may eventually seek Mexican citizenship. The requirements to obtain it are more stringent than the Temporary Resident Visa, and most people will only qualify for it after spending 4 years on the temporary visa.
You can also go down the "I know a guy who knows a guy," and pay a lawyer to do all the grunt work for you. So you better be ready to mingle if you want to be eligible for that option.
7. The Best Neighbourhoods in Mexico City For Digital Nomads are Fantastic
Choosing your Mexico City neighbourhood can be intimidating. There are 16 districts (called delegaciones), and inside each district are neighbourhoods (called colonias). In total, there are 350 colonias you could potentially live in.
The best thing about living in Mexico City as a digital nomad is that the most popular places are very affordable. Some are pricier than others and that's usually for good reasons such as safety and paying a premium for staying in a location closer to the better restaurants, cafes, co-working spaces and whatever is à la mode in CMDX.
So which ones are the best for digital nomads in Mexico City? Here are 5 of the most viable and sought-after options for digital nomad Mexico City accommodation:
Living in Santa Fé as a Digital Nomad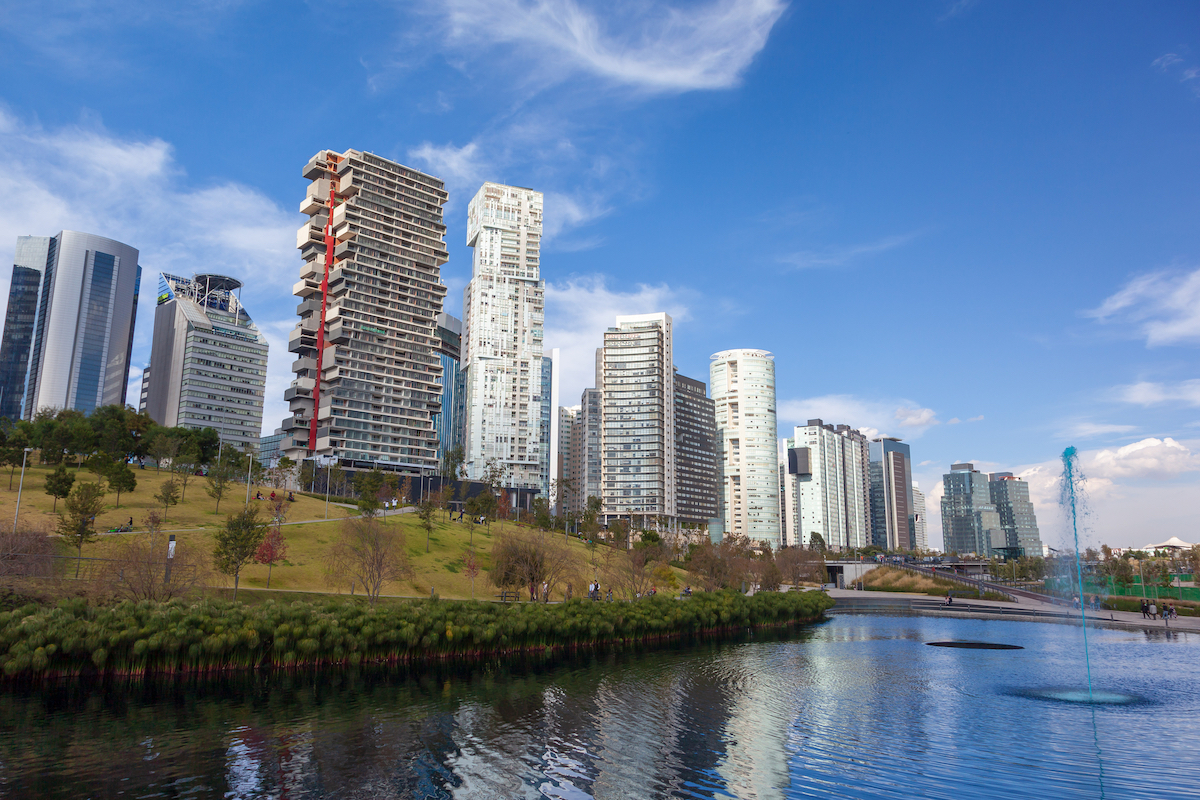 This area is mainly for people planning to work with large Mexican companies that have offices there. I thought twice about putting it in for that exact reason, but I like to mix it up a bit and cover all types of online workers.
Santa Fé is located on the western edge of Mexico City, it spans two districts (Cuajimalpa and Alvaro Obregon) and includes 10 neighbourhoods.
The history of Santa Fé was that of a sand-mining town. Upon the industry's decline, the government bought old mines and turned them into landfills. The development of Santa Fé didn't happen until the 1980s when there was a boom in high-rise buildings and shopping malls.
While skyscrapers are a defining characteristic of Santa Fé, developers have recently infused more eco-friendly areas into the zone, such as Parque la Mexicana and the Garden Santa Fé Mall.
Pros of living in Santa Fé
Modern architecture: Santa Fé has a lot of impressive modern architecture. The most notable is Torre Reforma, which is the highest skyscraper in Mexico City at 807 ft (246 m), and the Torre Arcos Bosques which resemble a pair of pants.
Lots of shopping: Santa Fé is home to Centro Santa Fé, which is one of the largest malls in Latin America, as well as Garden Santa Fé, which is a stunningly designed underground mall.
Good eats: Delicious food is everywhere in Santa Fé, from upscale restaurants to lively bars and affordable street food.
Cons of living in Santa Fé
Few attractions: Due to its history, Santa Fé is more of a business zone and has few cultural/historical attractions compared to other neighbourhoods.
Congestion: There are only 2 roads to get in and out of the area (Reforma and Constituyentes). While Sitio taxis and Uber can be used, they're more expensive than neighbourhoods with reliable public transportation.
No metro: As the town was built on landfills, there is no metro system here. However, a commuter rail is being built (Tren Urbano de Pasajeros Toluca-Valle de México) with plans to open in 2023.
You will be disconnected from the city and 10km takes 2 hours to the main hubs, traffic en route (to and back) from Santa Fé during peak traffic jams can be nothing short of brutal.
Santa Fé is a good place to live if you are into high-rise life, fancy food, and places to shop, but its downfall is that it doesn't have a strong cultural draw. Think of it as the Dubai of Mexico City.
Living in Santa Maria la Ribera as a Digital Nomad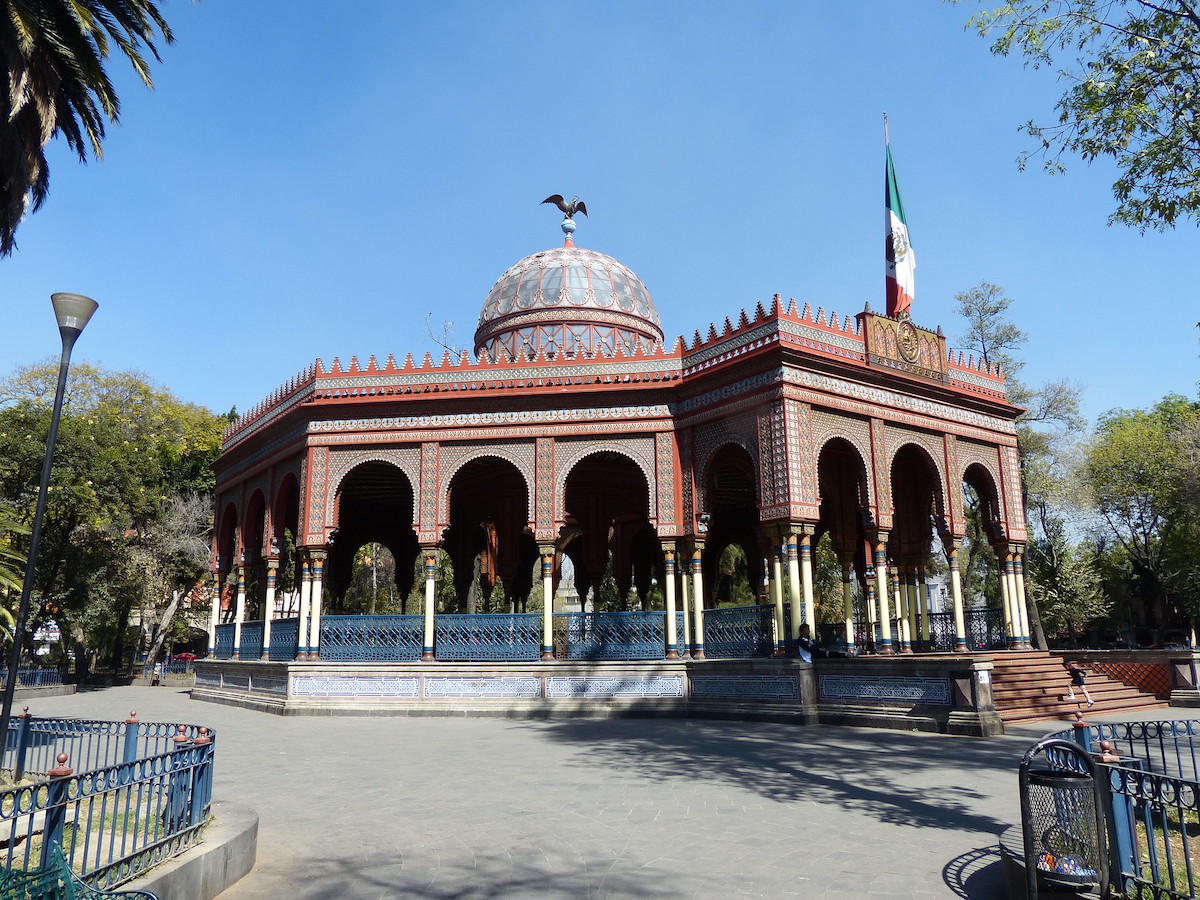 Santa Maria la Ribera is located in the Cuauhtémoc district, just west of the city centre. It was created in the late 19th century as a place where affluent Mexicans could own country homes. Over time, the area became industrialized and middle-class Mexicans took over.
After the Mexico City earthquake of 1985, displaced residents from working-class neighbourhoods began to move into the area. This led to an influx of homelessness and drug activity, which gave it a reputation as a tough neighbourhood, but it doesn't touch the likes of Tepito.
More affordable housing was required, which led to the creation of large apartment buildings throughout.
Pros of living in Santa Maria la Ribera
Cultural things to see: Santa Maria la Ribera's history dates back to the 1800s, so there are some cultural sites here like the Kiosco Morisco and the more modern Biblioteca Vasconcelos.
Public transportation options include multiple Line 2 metro stations, a Line B station, and connections to the Insurgentes bus line. 3 Metrobus routes provide fast north-to-south city access.
Modern apartments: Developers have constructed modern apartment buildings and are fixing up old ones to help bring the city back to life.
Cons of living in Santa Maria la Ribera
Barrio bravo: With its close proximity to Tepito, it's known to be a barrio bravo (tough neighbourhood), although its crime rate is still lower than some popular colonias.
Homeless: Santa Maria la Ribera is rough around the edges, and they have a pretty substantial issue with homelessness.
Limited options: Unlike other areas of Mexico City, your options are limited when it comes to historical/culturally significant attractions.
Santa Maria la Ribera is a colonia in transformation. While it does have a somewhat shady reputation, it's slowly turning around into a place that's affordable and safe to stay in.
In short, Santa Maria could be good for those on a budget and at the start of the journey to building their online empire.
Living in Centro Historico as a Digital Nomad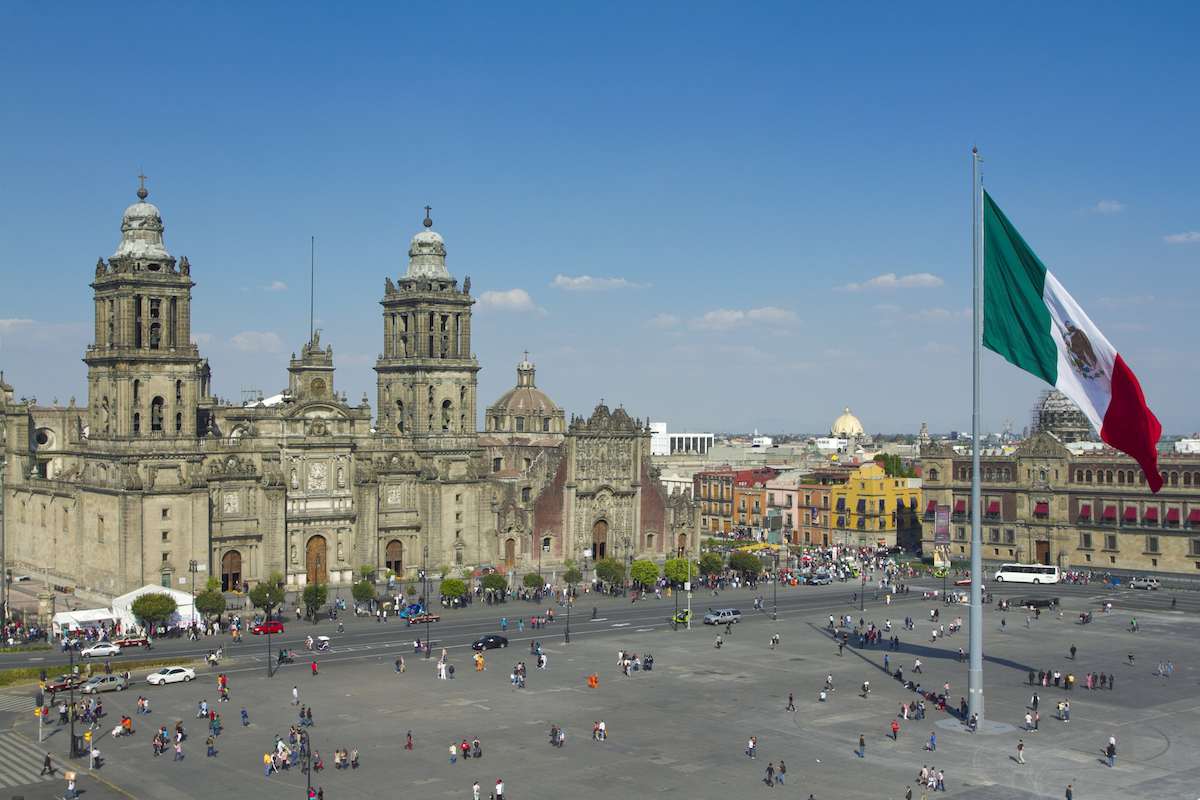 Centro Historico aka Centro (City Centre), is the beating heart of Mexico City. It's home to historic landmarks dating back to when it was the ancient Aztec city of Tenochtitlan. Centro revolves around Zócalo Plaza, which is the 2nd largest square in the world and can hold up to 100,000 people.
It's a bustling area of activity, with significant cultural and historical importance that can be explored through ruins, cathedrals, museums, hotels, and restaurants.
Pros of living in Centro Historico
Big city living: Centro is never dull, and the vibrancy of this area ensures there will always be something for you to see or do.
Easy to get around: You have all transportation options at your fingertips in Centro – buses, metro, taxis, Uber, and walking.
Relatively safe: Centro is considered safe but it's still recommended to not saunter around alone at night.
Cons of living in Centro Historico
Expensive: Compared to other areas in Mexico City, Centro can be a bit more expensive.
Overwhelming: If you don't like being a part of the action, you may not want to stay here, as there's a lot of noise and activity all the time.
Pollution: With so much traffic comes a big problem with air pollution in this particular area.
Centro is a must-see area of Mexico City, and if you like the typical big city way of life, you might find it to be the perfect place for you to live.
Living in Roma Norte as a Digital Nomad
Roma Norte is a trendy, expat-friendly neighbourhood in Mexico City, located 2 miles southwest of Centro. It was developed in the early 20th century due to overcrowding of the city centre and has a European vibe to it. There's a lot of beautiful architecture to be found here due to the Euro influence, and canopied trees line parks and plazas. Roma is an affordable colonia that borders Condesa (a similar neighbourhood), making for a large overall area for you to explore.
Pros of living in Roma Norte
Easy to walk: Exploring Roma is easy to do on foot, as it's not too big and getting from one place to another only takes a few minutes.
Safe: It's generally a safe area to live, although keep your wits about you at night.
Tons of food options: Roma Norte is packed with endless cafés and places to grab a quick bite and it's also a haven for vegans and vegetarians.
Cons of living in Roma Norte
Devilish Seductions: More temptations for people like me who can't say no to a cheeky beer/wine (or 2).
Lacking "authenticity": While it's still Mexico City, it might not have that "authentic Mexico" feel you're seeking if that's your cup of tea.
Pricey accommodations: The price of apartments here won't break the bank, but they're more expensive than in other areas of the city.
Plainly put, digital nomads love Roma Norte, and it should be at the very top of your shortlist of places to live in Mexico City.
Living in Condesa as a Digital Nomad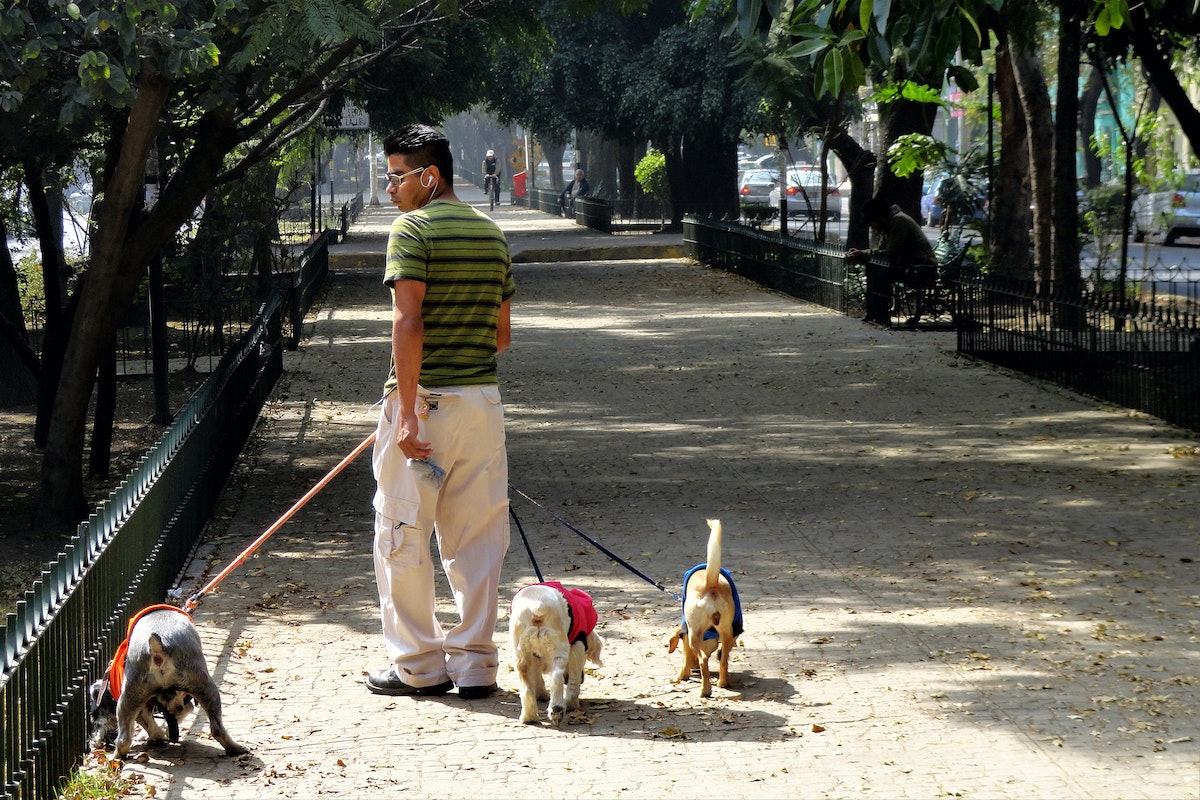 Condesa is similar to Roma Norte in that it's well set up for digital nomads, trendy, and visually appealing. After years of decline, Condesa began gentrification in the late 1990s, which has helped attract more tourists to the neighbourhood.
Parque Mexico is one of the main appeals here, filled with trees, ponds, fountains, and pathways. Condesa contains three neighbourhoods – Hipódromo, Condesa, and Hipódromo Condesa (not confusing at all) – and is easily walkable. It's situated next door to Roma Norte and is only a few minutes walk to Bosque de Chapultepec and El Ángel de la Independencia, one of Mexico's most revered man-made landmarks.
Pros of living in Condesa
Plenty to see and do: Cafés, bars, galleries, bookstores, and designer stores can all be found here.
Exercise: Condesa is well-placed in Mexico City, allowing you to easily walk to get where you need to go.
Transportation: If you need transportation, there are buses, the Metro, taxis, Uber, bikes, and even scooters at your disposal.
Parque Mexico is unrecognisable on Sundays: you can hear a pin drop and the area is bereft of the usual chaos, making it a lovely area to meet a friend for a cuppa.
Cons of living in Condesa
It's in the earthquake zone: While the entire city is technically prone to earthquakes, certain areas (like Condesa) are more at risk due to it being built on soft ground on a lake bed.
It's Not Cheap: Affordable, but not extortionate. Being hip and living with the modern crowd comes at a cost, usually a higher one. You generally tend to get what you pay for.
Too busy: Some people feel Condesa was much nicer and quieter before the explosion of cafés and restaurants brought in a busy and trendy crowd.
Most digital nomads would enjoy Condesa for its hip vibe, walkability and food & drink options.
Wifi and Data For Digital Nomads Living in Mexico City
Us Digital nomads have most of our life online, so we need to stay connected at all times. Thankfully Mexico City is one of the top destinations for free WIFI, with an average speed of 21mbps.
When you land, Mexico City International Airport provides you with 45 minutes of free WIFI, and once you get into the downtown core, you'll have over 13,000 access points at your disposal, including museums, public parks, plazas, and public transportation.
If you need data, you can pick up a SIM card at the airport's Mobo shop or in the city at Oxxo convenience stores. AT&T Unidos, Telcel, and Movistar are the three providers, with Telcel providing the best coverage. A prepaid SIM card will cost you roughly $200 MXN ($10 USD) for 3 GB of data, unlimited social media apps, as well as unlimited texting and calling for 30 days. Remember to have your phone unlocked so you can use any SIM card with it.
Be aware that Oxxo will charge an extra $150 MXN ($7.50 USD) to activate your Telcel SIM card. You can save this money by activating it yourself and as it's good to have options you should also check out Airalo's SIM packages for Mexico.
Setting up a Bank Account as a Digital Nomad in Mexico City
If you want to bypass ATM fees and the general inconvenience of transferring money abroad when it doesn't suit you, then opening up a bank account in Mexico City is the natural solution.
Some things are difficult while living in Mexico City, but thankfully opening a bank account isn't too tricky at all. First of all, choose which bank you want to be a member of out of the following:
Banorte
BBVA
Citibank
Citibanamex
HSBC
Santander
Scotiabank
Then rock into any of them, dressed relatively nicely. This is a common theme I talk about on my blog in such situations. I'm not saying get dressed up as dapper as David Beckham at the Royal Wedding, just that showing up looking like a member of the down-and-out club might work against you.
Then bring along the following and also a copy of all of these documents:
Your Immigration card
Passport (if you have dual-nationality/2 passports make sure you bring the one you entered Mexico with you)
Proof of Address in Mexico
Cash: Most banks require 4-500 pesos to open your account and it will be added straight to your balance.
The best time to visit a bank in Mexico is just before lunchtime when it's generally less busy. There is a ticketing system where you will wait for your number. The whole process of setting up an account takes around an hour.
Take note: The best time to NOT go to the bank in Mexico City is on the 1st and 15th of every month, as this is when Mexicans get paid and the place will be guaranteed to be jam-packed.
Safety in Mexico City
Mexico City (and the country in general) has a notorious reputation for being unsafe. Is this safety concern legitimate? Of course, it is. Even though the crime rate is mainly due to gang violence, as opposed to the targeting of tourists, it's not completely uncommon to be the victim of a late-night street robbery (my mate got his phone taken from him by 2 lads and got a black eye as a souvenir a few weeks ago).
I won't sugarcoat things. You definitely have to keep your wits about you in Mexico City, and you shouldn't put yourself in situations that invite trouble. There are areas you should avoid due to higher chances of muggings (ie. Tepito, Iztapalapa, La Lagunilla, Mercado Merced, Doctores, Ciudad Neza), and walking around alone after dark with valuables is generally a bad idea. If you're going out at night, always take taxis/Uber and wait indoors until they arrive.
Pickpocketing and petty crime is the most common offence in tourist-heavy areas, so you'll need to maintain a good level of situational awareness. Just be smart. Don't flash cash or expensive goods.
Use ATMs in the daytime if possible. Stay at reputable accommodations in safe neighbourhoods. Especially if you're carrying a bag you can be a target, so stay vigilant. The police are super-corrupt too and can make up rules for on-the-spot "fines," just stick to the usual large-city and travel safety suggestions, such as safety in numbers and become privy to the no-go areas and popular scams and you should be fine.
As for ladies; please take note of the information provided below in this guide concerning the safety of transport in Mexico City, labelled 'Metro (Subway)'
Getting Around Mexico City
Mexico City has a size of 573 square miles, which is 105 square miles larger than New York City. Translation: It's a beast; you'll have to figure out how to get around the city if you want to see it all. Here are the best ways to move through the delegaciones.
Driving Your Personal Vehicle
You can drive a foreign-plated vehicle in Mexico on a temporary import permit that matches your tourist visa duration. You also can choose to buy a Mexican-plated vehicle as a foreigner. Driving in Mexico City is a bit of a nightmare and you are restricted to specific days based on your license plate numbers. You will need to carry Mexican auto insurance and find secure parking as well.
Pros: You have the freedom to leave the city and travel. Mexico is friendly for car camping in many areas. A vehicle is a great means of exploring the country without the restrictions of bus schedules and terminal locations.
Cons: Owning a vehicle is expensive and it won't serve you well within Mexico City. The temporary import permit also restricts the time you are allowed to keep the vehicle within the country.
Uber
No introductions are needed here, most of us know that Uber is a ride-hailing app that you download to your phone and perform some sort of smartphone black magic, where a person finds you and takes you to your destination, like a knight in shining armour.
I hear from friends living in Mexico City right now that there has been some extra competition with apps such as Didi, Beat and Cabify. I will say this though – Mexico City is the place where I have had the best Uber experience in the whole world, with a reliable Uber always a stone's throw away from me.
Oh, and they also have Uber Eats there too!
Location: Download any of the above onto your phone from the app store.
Cost: Price varies depending on where you're going, but an average trip is around $60 MXN ($3 USD).
Pros: Affordable, safe, fixed rates, private transportation, can link it to your credit card for cashless transactions.
Cons: More expensive than public transportation.
Metro (Subway)
If you're looking for a cheap way to efficiently get around the city, the Metro is for you. Twelve lines run through Mexico City, and there are 9 cars per train. Mexico City also has designated women-only parts of the tram (they have a pink placard), to make women feel safe from any form of sexual harassment (there are also pink, women-only bus options).
I once accidentally walked into the women-only part of the tram and of course was red as a beetroot when one young lady told me what I'd done. All the women were really sweet as they knew it was an accident, so they spared my blushes and directed me to the male carriage.
I know an uncomfortably high amount of women who have been victims of an unsolicited feel-up on public transport in Latin America (hence there sadly being a reason for the existence of these safeguards), which is certainly something to be aware of, ladies.
Tickets are purchased at the station's ticket booth and the Metro operates Monday to Friday 5 am to midnight, Saturday from 6 am to midnight, and Sunday from 7 am to midnight.
Location: There are 195 stations in the city.
Cost: $5 MXN ($0.25 USD) one way.
Pros: Can bring you all around Mexico City for very cheap. Rides are smooth, fast, and clean.
Cons: Is very busy (4.5 million people use it daily), can get hot and muggy in the carriages, is a prime area for pickpockets and thieves.
Metrobus
This is no regular bus system, it's an advanced bit of transport that boasts its own car lane. However, it can get very crowded, as it only costs $6 MXN ($0.30 USD) per trip. The Metrobus was created to help alleviate the strain of human traffic fighting for traffic.
It's a red bus that predominantly runs up and down the 29 kilometres of Avenida de Los Insurgentes, the longest street in the city. The Metrobus has 7 lines, and its own designated lane so it can travel faster than most of the traffic on the road.
Location: Stations are on Avenida de Los Insurgentes, but it has some east-to-west routes including to and from the airport.
Cost: Requires a Smartcard costing $16 MXN ($0.80 USD). Each trip is $6 MXN ($0.30 USD), and an extra $30 MXN ($1.50 USD) is charged for airport runs.
Pros: Cheap, fast, efficient, reduces Mexico's greenhouse gas output, is more accessible for those with mobility issues than the Metro, connects the airport to central Mexico City as well as points of interest.
Cons: Can be just as crowded as the city's regular buses.
Honourable Whiney Reasons NOT To Live in Mexico City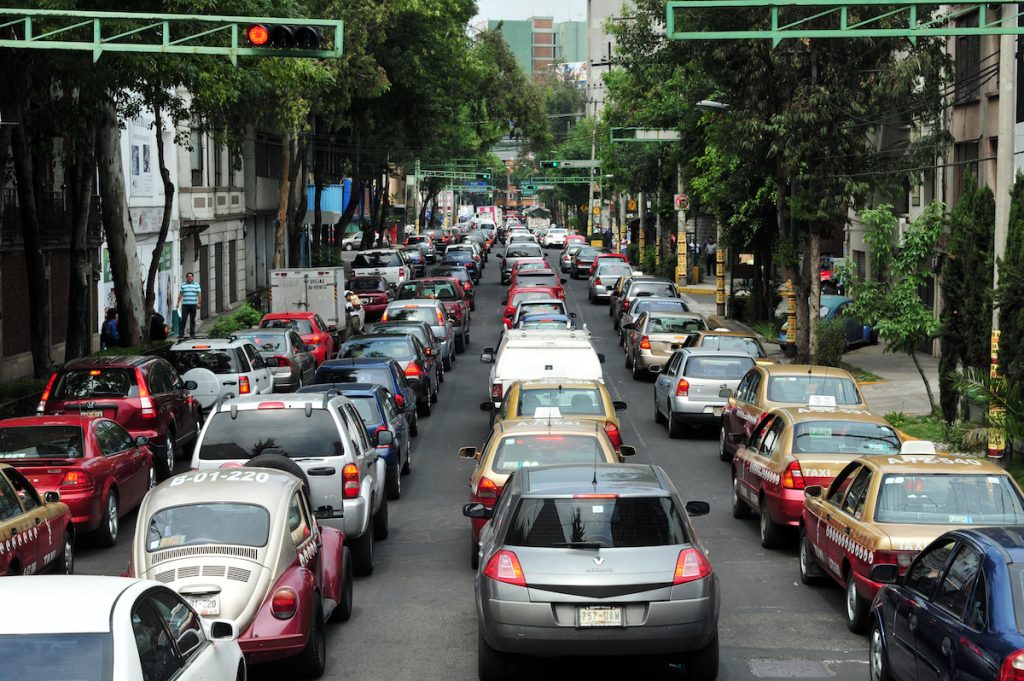 Nowhere is perfect, so with the good, there is always the bad. I think it's obvious by my tone of the article (and the fact I am open to returning to Mexico City one day soon) and that I believe that there is an overall net positive in visiting Mexico City.
It's genuinely one of my favourite cities in the world. With that being said, here are the whiney bits about visiting Mexico City…
Busy Traffic
It's just the way it goes when living or travelling in a populous city. Getting across town can be a nightmare with the traffic (it's also maybe the best city in the world for using Uber. Ok, I'm cheating here as I was supposed to be adding negatives in this section).
Terrible Restaurant/Cafe Service
I've waited hours in empty restaurants for even a drink, never mind food. You can't be in a rush in Mexico City, and if you are then you should sort your belly out on busier days (unless it's glorious street tacos).
The Air Pollution
I did end up moving to a city that has awful air… but that's only for a few months of the year (and I leave for those months). Mexico City's air is relatively bad, especially if you are sensitive to it. I have sensitive, dry eyes so I have to be careful.
The Terrifying Threat of an Earthquake
Always a concern. I was very lucky during the last huge one, travelling through Quito in Ecuador when it kicked off. Everyone who I know and love is fine, but it's a worry for sure and the anxiety is certainly raised living in a city with earthquake alarms going off at all hours of the day and night.
AWFUL Postal Service
It's not just a Mexico thing. Even well-organised Japan broke my heart, losing my nostalgic local hiking stick I sent to the UK after climbing Mount Fuji. But Mexico's delivery service is terrible, and a successful supplement guy I buy from had to blacklist Mexico City as the products kept getting "lost."
It's Not As "Safe" as I Would Like It To Be
I have already beaten this dead horse in the safety section. When I am travelling in a dangerous country I adapt and accept that my trip will be a short-lived one, but the older I get the more
Conclusions on Digital Nomad Mexico City Life
I now live in Chiang Mai, Thailand. However, one of my big life goals is to make enough money to build and own a house in Chiang Mai AND own an apartment in Mexico City.
As much as I love Chiang Mai, it has this annoying thing called "smokey season," where the illegal burning of crops makes our city one of the most polluted cities on earth for a few months.
Ideally, I'd like to up sticks during this period and spend some time in Mexico City. This plan is laced with a bit of irony though; as mentioned earlier in the post, Mexico City is not exactly known for having clean, pure, air.
There are other reasons for me wanting to go back and spend some time there, I have good friends in CMDX and I miss them (I'm getting soppy in my old age). I'm pretty sure I will be living the Mexico City digital nomad life again someday in the future and I hope my article helped you to make a decision to do the same at least one time in your life.