Finding unusual things to do in Bangkok isn't exactly an uphill struggle. The capital of Thailand is well-known for activities that may raise a couple of judgy eyebrows to those with more vanilla, or perceived "normal" taste buds.
But how much can you really know about the wonderful weirdness of Bangkok without actually going there? In terms of Bangkok oddities, while cringe-worthy ping-pong shows are common knowledge, it barely gives life to such a fascinating, thriving city.
I have lived in Bangkok on 2 occasions and I still frequently visit there, since deciding to put down roots to return to live in Chiang Mai.
I'm also well into the weird side of travel. So you're in good hands here.
17 Unusual Things To Do in Bangkok During The Day
Beyond the obnoxiously loud beeps of the neverending traffic lies a whole slew of odd things to add to your itinerary. Let's get the party started and look at 18 unusual things to do in Bangkok during the day and after the sun goes down, before moving on to the evening activities.
Staying in Thailand's bouncing capital? Check out these best neighborhoods to live in Bangkok!
1. Check Out The Willy Statues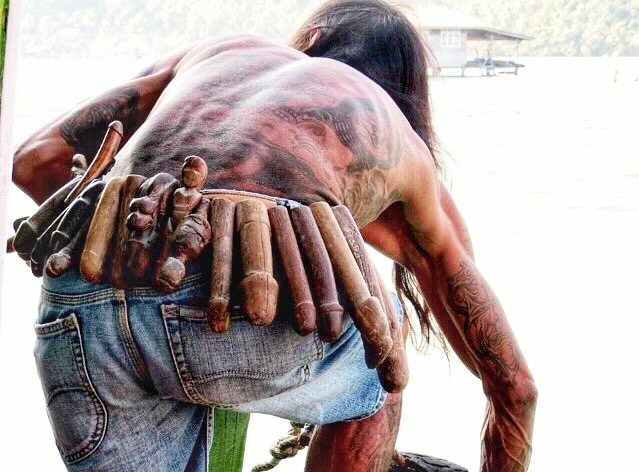 Well, there's a lot more to it than that, but I had to get your attention, right? Ok, now I have it. There is a place in the Phloen Chit district that has a couple of statues of large penises which seems like a decent starter for unusual things to do in Bangkok.
What's the big deal? Well, to be honest, the older place was more impressive and home to quite literally hundreds of giant-sized penises, but the relocated monument is somewhat… flaccid, with fewer statues to check out.
So what's the story? This is the Shrine of Goddess Tubtim, the female fertility goddess of fertility for people of the Hindu faith. Couples who are struggling to conceive visit this place as a sanctuary to light incense sticks and pray to the Goddess for help with their potential pregnancy.
I know I was a little cheeky with my wording, but do have some tact if you happen to find the big willies funny while visiting here, as some couples visiting the shrine might be going through an emotionally difficult time trying for a baby.
Know Before You Go:
Location – As I mentioned before, the new place (located on the grounds of Nai Lert Park Heritage Home) doesn't quite measure up to the old one. But it's worth a visit to try and comprehend the culture of the country that you are in; Thais are generally superstitious at heart.
Cost. It's free.
Opening hours. Open Weds-Sun, 9 am-9 pm. Closed Monday and Tuesday.
Time needed. The time you will want to spend here really depends on your individual enthusiasm for the place. It's possible to walk up to the shrine, snap a few pics and go on your way, or you might want to spend some time inspecting the particulars and enjoying the atmosphere.
Getting there. To find the shrine, you can get the bus to Neon Market, or take the ferry to Pratunam/Wat Sriboonruang. You can also get the BTS to Chit Lom or Ploen Chit, and walk for about 8 minutes.
2. Climb The Ghost Tower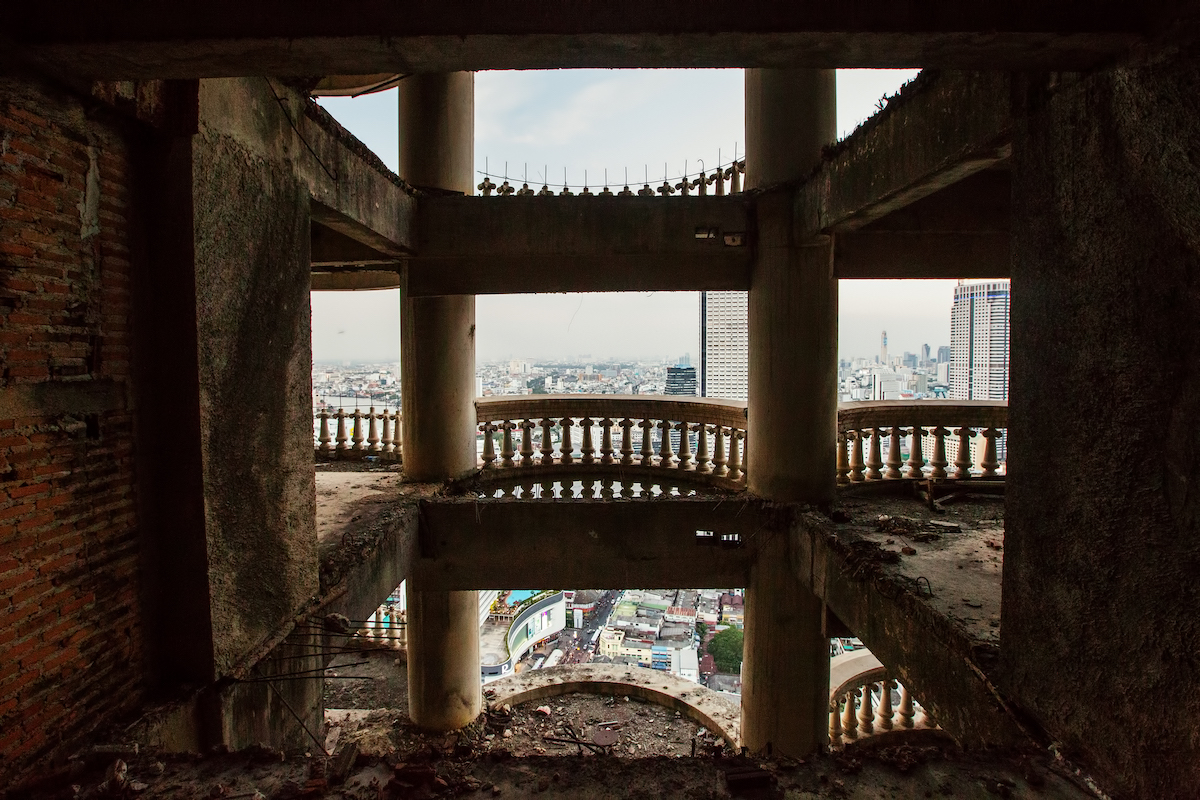 Back to that veiled Thai superstition again. Bangkok is no stranger to massive, unfinished skyscrapers thanks to the 1997 Asian financial crisis however there is one abandoned building that lives well up to its hype.
The eerie, 49-story building once known as Sathorn Unique is now referred to by the locals as "The Ghost Tower." It is genuinely believed to be haunted by Bangkok natives, even before the tragic story of the Swedish backpacker who ended his life there.
After a long and sketchy scramble to the top, you will be rewarded with a fantastic panoramic view of the city.
Know Before You Go:
Location. On the river and next to a major BTS station (Saphan Taksin) the tower is easy to find. The entrance is down the soi (side street) to the left of the building.
Cost. What seems to be the going rate these days is a 500 THB bribe. Obviously, this is somewhat arbitrary and you might get lucky – or even pay more. You'll have to practice your negotiation skills should the opportunity present itself.
Opening hours. I am hearing from mates still living there that it's much harder to access this derelict building than when I first climbed it. (Read more below).
Time needed. How long you are given depends on when you can get the guards to let you in, or when you manage to sneak past them. The word is that you now need a keyholder to open a stairwell for you, so it is essentially up to them. Ideally, about 4 hours would let you go at a relaxed pace and take in the artwork. It's also a great
Getting there. Manage your expectations and pencil in The Ghost Tower when you have more free time to spare. You will need to get the BTS train to Saphan Taksin Station to access the building, or you can get a Grab bike/taxi. The Sathorn Unique will be the opposite.
2022 update: Apparently, a Chinese company has bought the building and the entrance is now under lock and key. As this is Thailand, security staff have taken money/bribes at the right price, but there is a chance you might get to the tower and not be able to experience it fully.
While some of the guards will arrange a time to let you in, don't wait until the final day of your trip to Thailand to do this, as if you're not granted entry, or told to come back again the next day, you'll have missed your chance.
3. Visit Airplane Graveyard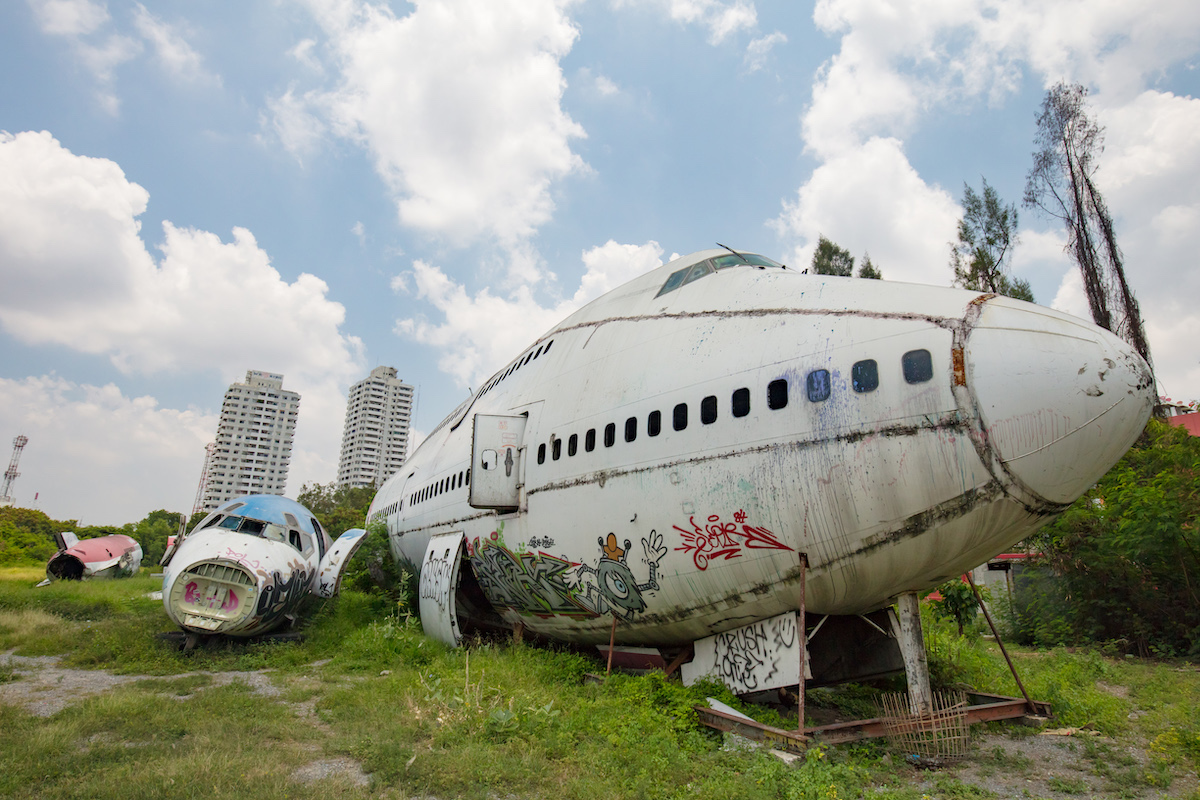 If you thought haunted derelict buildings were odd, then how about a trip to a huge, abandoned, defunct aeroplane that is also somebody's home?
The airport graveyard is somewhat unique in Bangkok. While not the first thing you think of when planning a trip, it remains an interesting side attraction and might be a good option for people that have 'done' most of Bangkok before.
This is worth a visit if you're interested in planes themselves, like a post-apocalyptic landscape, or want to take some unusual photographs.
This is essentially a huge open-air junkyard. While not exclusively for planes, these are what draw in tourists. The area is home to three families who will charge entry – please be mindful of the fact they have made homes in some of these planes.
There have also been some reports of heavy drug users moving onto the site, I want to show you all the unusual things to do in Bangkok, but I still want you to stay safe on the road.
Know Before You Go:
Location: Located to the far east of the city, in Bank Kapi. Bang Kapi district is the home of the Thai national soccer team and often hosts big concerts. It is primarily a residential area and houses many students.
Cost: While this is not an official attraction, the families that squat at the site will demand 300 THB per person to explore. Mixed reviews of their courtesy abound, so take caution.
Opening hours: While purported to be open 9 am-6.30 pm, these hours will be somewhat flexible given that this is not a recognised attraction. This will be at the discretion of the current dwellers.
Time needed: It can take half a day to explore the wrecks in this junkyard. Because it is not central to the city, you need to include travel time, which will vary depending on your base.
Getting there: The best way to get there is to catch a Khlong ferry and get off at Wat Sri Bun Rueang (at the end of the line). From there, it's just a few minutes walk to the airplane graveyard. You can get a taxi to Soi 103 off Ramkhamhaeng Road.
4. Go Wakeboarding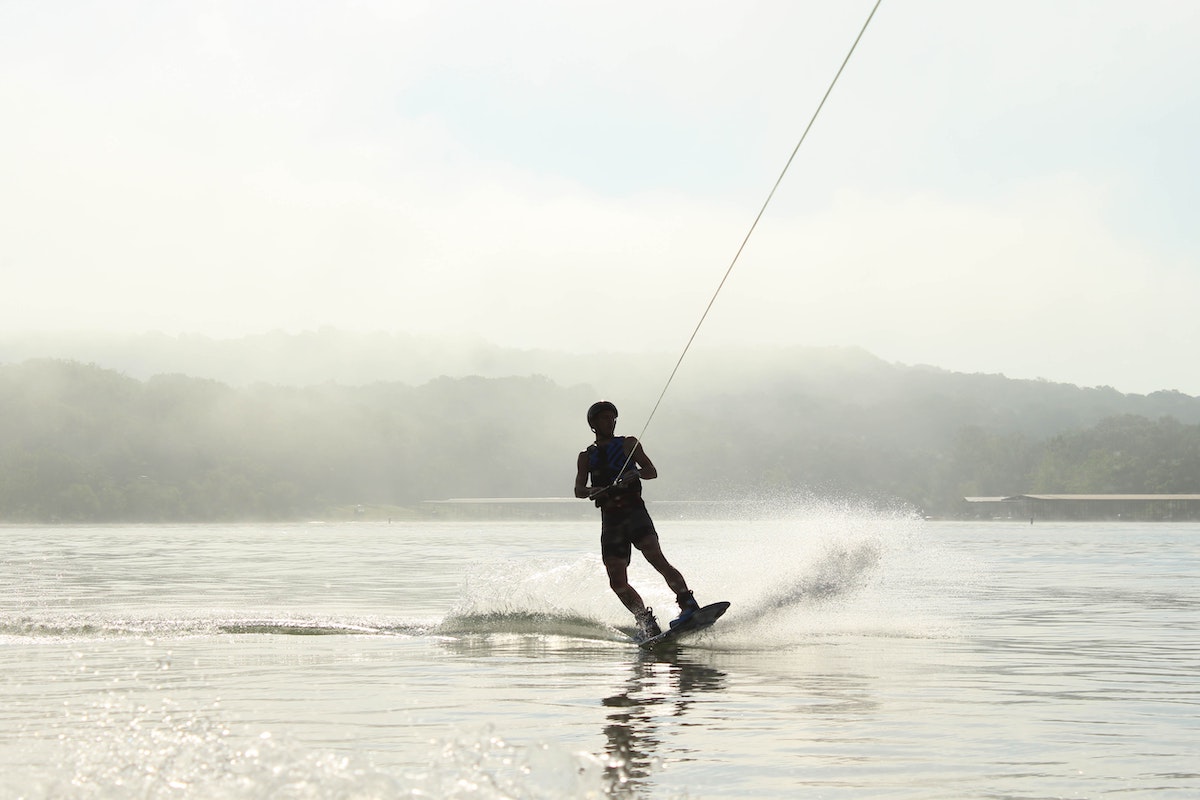 The idea of wakeboarding in Bangkok may seem a little obscure, but in fact, there are several places providing the chance to give this a go!
The closest wake park to central Bangkok is Zanook Wake Park. It has a family-friendly vibe offering huge inflatables for the kids (and the big kids) to play on, and stand-up paddling for those maybe not be adventurous enough to try actual wakeboarding yet also.
This is worth a visit if you are done with the big city attractions and want to do something in a more natural setting, cool off or get some exercise. Full disclosure: I face-planted into the water on every go, safe to say I'm not a wakeboarding natural and this was my personally most frustrating entry of the unusual things to do in Bangkok!
Know Before You Go:
Location. Zanook Wake Park is located in Bangbon Healthy Park, not far from Mai Thai Forest Park – so you could possibly combine the two. Southwest of the centre,
Cost. 1-2 sentences here…
Opening hours. 11:00 am – 9:30 pm
Time needed. Full-day event, no need to rush! Or half a day at least.
Getting there. It's possible to drive or catch a cab for the hour's journey out to Zanook, but be mindful of the infamous Bangkok traffic jams. Probably wiser to take the blue MRT line to the end of the tracks the hopping on bus #7, which will drop you outside.
5. The Giant Swing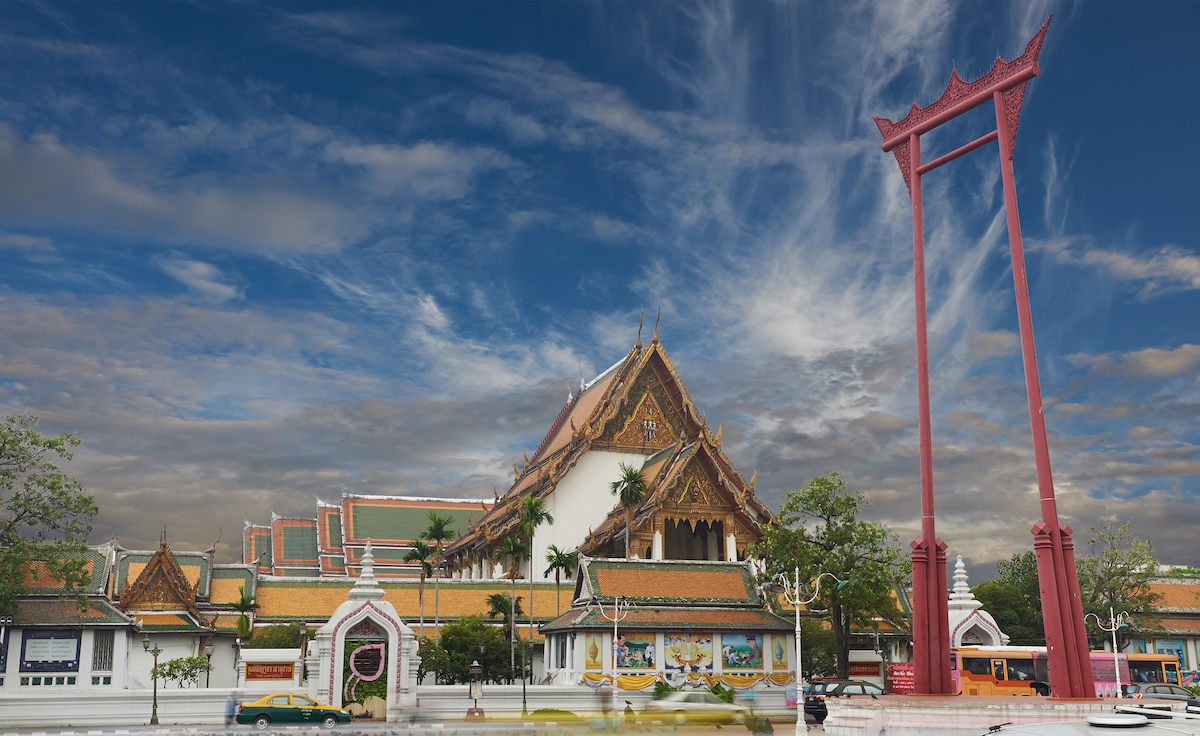 Standing outside of Wat Suthat in central Bangkok, this large wooden swing-like structure, known simply as the "Giant Swing," may even look a little out of place to the Western eye. Aside from being 27 metres tall (88 feet), the Giant Swing holds an interesting place in Bangkok's religious past.
Originally constructed in 1784 in front of the Devasthan Hindu temple, the Giant Swing was used to conduct the Brahmin Hindu Swing Ceremony. This ceremony involves attaching a huge swing to the 88-foot construction and swinging it through the air, where men catapulted from it in order to try and grab a bag of golden coins… with their teeth.
If successful, the individual would get to keep the small fortune, but many tried and failed and paid the ultimate cost, should this be the crown of the most unusual things to do in Bangkok's history?
The ceremony was performed right up until the mid-1930s when it was discontinued due to numerous fatalities. The Giant Swing has gone under a number of renovations over the years, the most recent being in 2007.
Set to enter under UNESCO status, the Giant Swing is truly one of the Thai capital's most unique sights, with the history to add to its mystique, natural addition to my list of unusual things to do in Bangkok, if only to gaze up at the massive monument in awe and attempt to contemplate the shenanigans of this era.
Know Before You Go:
Location: The Giant Swing is located in the Sao Chingcha subdistrict of the city, just outside of the Wat Suthat temple.
Cost: Standing on the side of the road, it's free to visit the Giant Swing.
Opening Hours: You can visit the giant swing at any time of the day or come back at night for a whole new perspective.
Time needed: It only takes about five minutes to take the Giant Swing in and maybe take a few photos. Give yourself around an hour to see the swing and the nearby Wat Suthat temple.
Getting there: You can catch a number of buses to the Giant Swing, including the numbers 12, 35 and 42. Getting a taxi or Grab to the Giant Swing is another easy way to get there.
6. Visit The Abandoned Mansions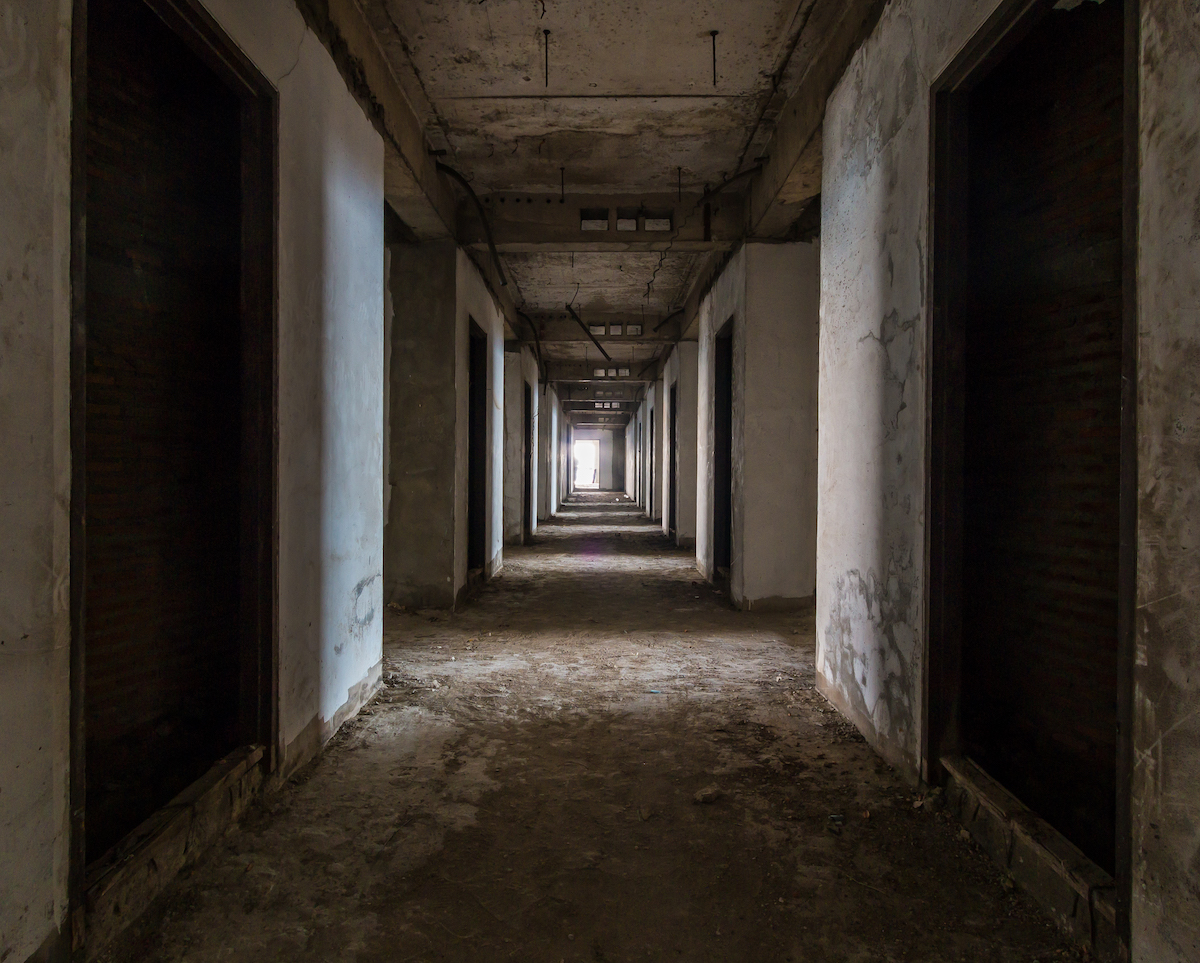 When Asia's economy crashed in 1997, Thailand's booming construction sector came to a sudden halt. The result was a series of unfinished, abandoned mansions scattered across Thai suburbs. Frozen in time, these unfinished and abandoned mansions stand like gravestones and empty mausoleums. If you have the nerve, exploring these abandoned mansions can be a pretty cool experience.
Standing outside the city, some of these mansions are cared for by company-employed caretakers, while others are completely absent of people. Although you'll always run the risk of being caught trespassing, the thrill of abandoned building exploration is always a draw. Complete with tales of hauntings and strange goings-on, this all adds up to be a truly unusual thing to do in Bangkok.
Know Before You Go:
Location: Many of these abandoned mansions are located east of the city centre in the suburbs of Nakhon Pathom.
Cost: Being an abandoned building, this isn't really an official tourist attraction, so entry fees are out of the question. If Thai law enforcement takes it upon themselves to apprehend you – rare though this is – you may need to hand over a few hundred baht as a waiver.
Opening hours: Although there are no official opening hours, it's best to visit these abandoned mansions during the day, if only not to draw suspicion from locals.
Time needed: To get there and fully explore the mansions, it is best to give yourself at least half a day.
Getting there: The mansions are located around a 40-minute train journey from Hua Lamphong train station in the centre of Bangkok, and the fare should only cost around 50 baht.
7. Drink Your Selfie in a Coffee
2022 update: This establishment is currently closed and will reopen in a new location, soon to be announced.
East and Southeast Asia tend to keep themselves ahead of the curve when it comes to novelty online trends and the downright weird. If you've ever taken a sip of your morning coffee and thought, 'I know what's missing from this – my face', then KC Selfie Coffee is the place to go.
Alongside this mammoth list, this admittedly is one of the more tepid, unusual things to do in Bangkok: a cafe that prints your own face onto the surface of your latte! The novelty of this doesn't take anything away from the quality of your drink, or the fantastic range of cakes and sweets available. Simply take your best selfie, and wait for that latte to arrive.
Know Before You Go:
Location: TBC!
Cost: Drinks cost around 40-100 baht with a 35 baht fee for the extra selfie on top
Opening hours: Grab your caffeine fix (with a selfie!) anytime between 10 am and 10 pm
Time needed: TBC!
8. The Human Body Museum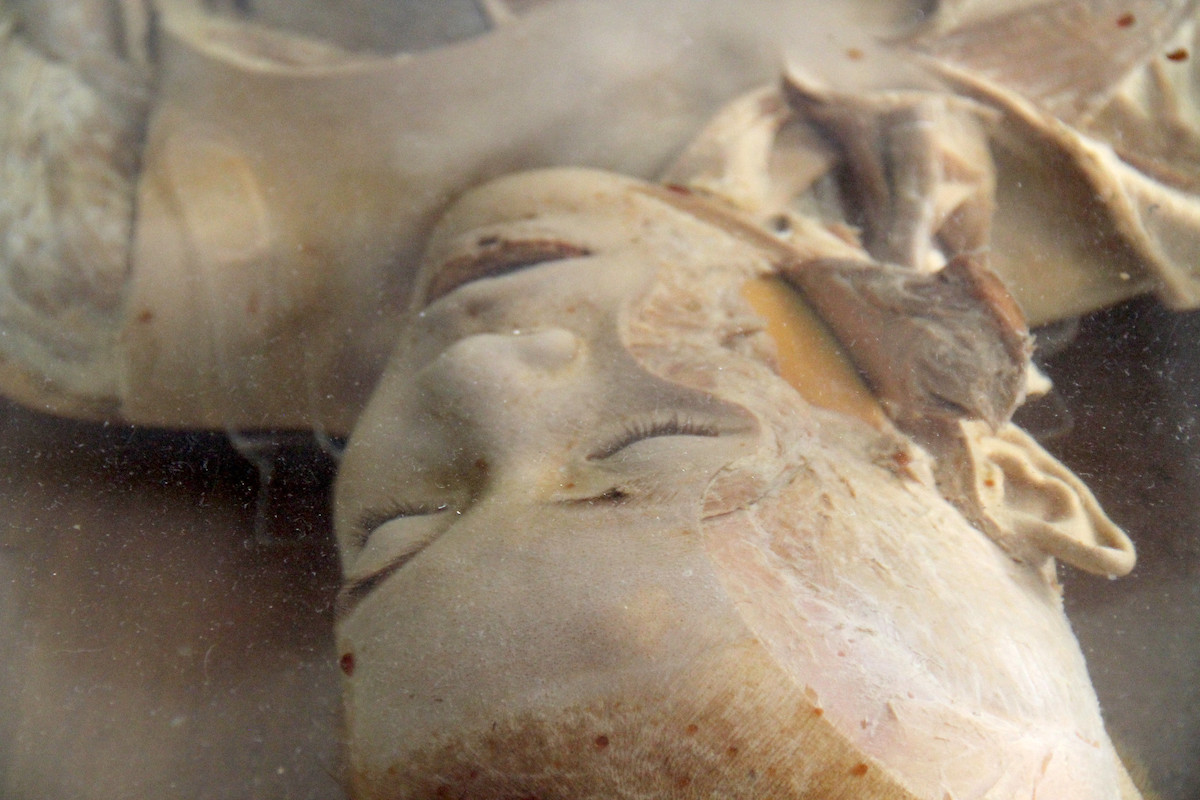 If you're looking for unusual things to do in Bangkok that have an educational spin, The Human Body Museum is the place to go. What makes this museum different from the others that you'll find around the city, is that they're not displaying benign plastic mannequins here, these are real bodies preserved for science.
Donated through the Medical Doctor Soft House Company in Japan, the museum features 14 preserved and dissected bodies alongside their internal organs.
The museum gives detailed information about how certain systems work throughout the human body, with a real-life display to accompany it. It also provides a detailed explanation of the plastination process and how liquid polymer is used to preserve the bodies. All in all, the Human Body Museum is an extremely interesting museum, if not a little strange for many.
Know Before You Go:
Location: The Human Body Museum is located on Henri Dunant Road in the Pathum Wan district of the city.
Cost: Free of charge, but donations are welcomed.
Opening hours: Monday, Wednesday and Friday from 10 am-4 pm
Time needed: Give yourself a couple of hours to really immerse yourself in the exhibition.
Getting there: You can catch the sky train from Bangkok to The Human Body Museum, getting off at Siam station.
9. Dragon Temple (Wat Samphran)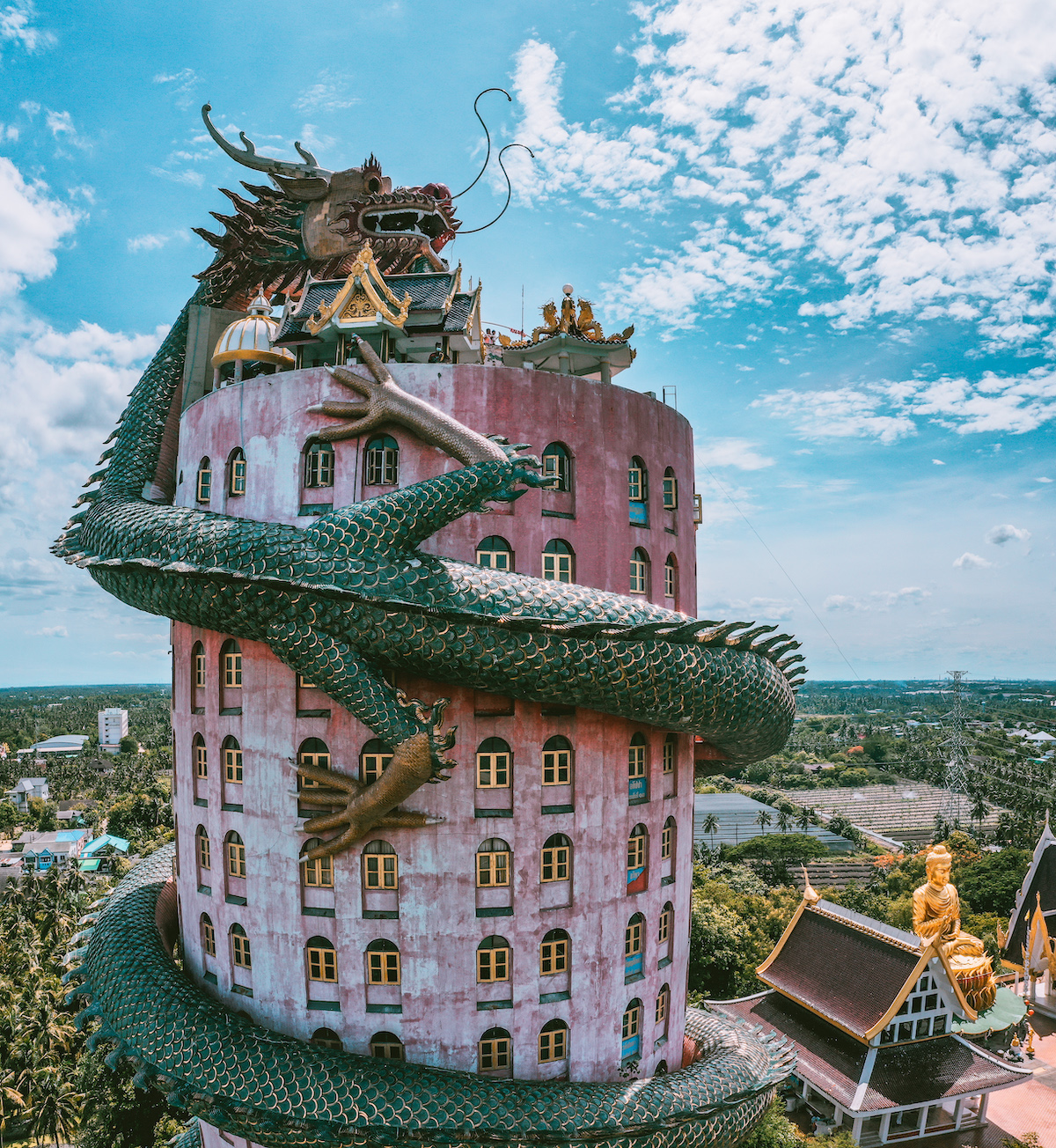 Wat Samphran, also known as the "Dragon Temple," is an image right out of an action monster movie. This pink cylindrical temple rises up to 80 meters (263 feet) in the air and is surrounded by a giant red-and-green dragon sculpture that looks like it's scaling the tower. One of the most unusual sights in Bangkok, Wat Samphran, is worth a visit even if you feel like you have seen more than enough Buddhist temples to last a lifetime.
This 17-storey building is worth the climb to the top if only to experience the fantastic views of the surrounding area. Below, you can also see a wide range of sculptures depicting different animals from Buddhist folklore and teachings. This is definitely one of the unusual things to do in Bangkok that offers up great photo opportunities.
Know Before You Go:
Location: Wat Samphran is located half an hour's drive west of Bangkok.
Cost: Free to enter!
Opening hours: 6 am – 6 pm
Time needed: You'll need at least an hour to explore what Wat Samphran has to offer, climb to the top and admire the views.
Getting there: A round trip there and back via a taxi is likely to cost around 600 baht. If you'd prefer a money-saving but longer route, you can catch the BTS to Bang Wa Station and get a Grab taxi from there.
10. Day Trip To The Maeklong Railway Market
A few miles west of Bangkok, in the province of Samut Songkhram, you'll find a typical Thai market. Far from the reach of Western health and safety laws, Maeklong Railway Market sets up alongside the railway tracks. Market traders don't let something as trivial as a speeding train affect their day's trading; they simply step back and pull down their umbrellas to let the train pass.
Don't worry, you'll certainly hear the train well before you see it, travelling around 15mph and continuously honking its horn, you'll have plenty of time to get out of the way. As well as watching a train hurtle past just inches away from you, the market itself is a place of tangible Thai market traditions and is well worth an exploration.
As one of the largest seafood markets in Bangkok, you'll find a plethora of fish and shellfish as well as stalls selling fruit and vegetables too. Take a look at the organised pandemonium for yourself:
Know Before You Go:
Location: Maeklong Railway Market is located an hour's drive west of Bangkok city centre in the Samut Songkhram area.
Cost: There's no entrance fee, but you might want to bring some spare cash to buy some local fruit and veg.
Opening hours: 8 am – 7 pm, but the earlier you go, the better.
Time needed: To really soak up the Maeklong Railway Market, it's best to give yourself a good three hours.
Getting there: You can join a tour of the market from Bangkok which includes your transport there and back. However, if you want to travel there by yourself, then you'll need to catch the BTS Skytrain to Victory Monument station and grab a minibus from there. These buses don't have a strict timetable, but just leave when they're full! Or just be lazy and grab a "Grab" taxi (no one is judging).
11. Cook With Poo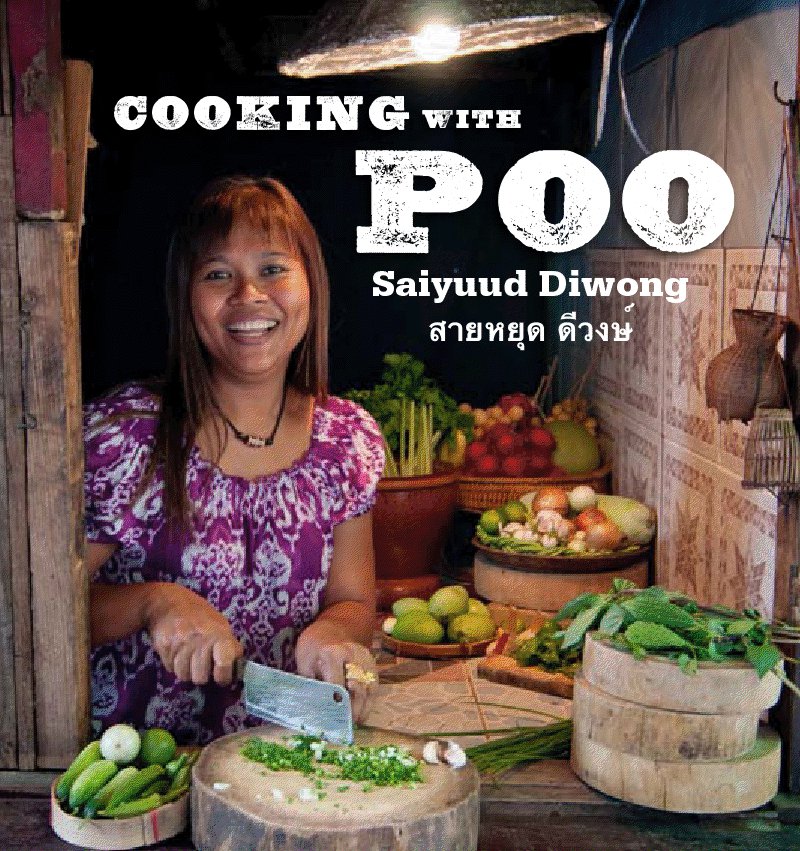 I thought that might have grabbed your attention. But don't get too weirded out, Poo is actually the name of a lovely, enterprising Thai lady who organises authentic Thai cooking classes.
Established by Khun Saiyuud Diwong, affectionately known as Poo (short for "Chompoo," which means "rose apple" in English) the school started out as a way to earn extra money for a struggling lady living in Bangkok's biggest slum district, Klong Toey. The classes have been such a success that Poo is now able to hire several local staff and help improve the district she lives in.
Learning to cook some of Thailand's most famous dishes is a reward itself, but putting your money back into such a grassroots, slum-helping organisation as Cooking With Poo is the cherry on the cake.
Myself and 2 friends ran a 100 miles ultramarathon for the exact same slum, as they were seriously affected by Covid-19. We visited the district ourselves and I can confirm with absolute conviction, that Poo's impressive endeavours are contributing to a much-needed cause and helping out an incredibly grateful and strong community.
Know Before You Go:
Location: Emporium Suites, 622 Sukhumvit Road.
Cost: 1,500 baht, including ingredients, transport and lesson.
Opening hours: 8:15 am until 1 pm
Time needed: The class lasts from 8:15 in the morning until 1 pm, but don't forget to allow for travel time to get to the Emporium Suites.
Getting there: As the cooking class takes place deep within the slum district, it's really hard to find. To help with this, Cooking With Poo organises pickup services from the Emporium Suites. Take the Skytrain (BTS) to Phrom Phong BTS station then it's a short walk to the Emporium Suites.
12. Abandoned House at Thawi Watthana
Similar to the abandoned mansions at Nakhon Pathom, the abandoned home at Thawi Watthana has passed down into Bangkok folklore.
Legend has it that a group of Thai teenagers headed to this abandoned house, already a sight of proposed paranormal activity. Getting cold feet, the teenagers hastily left… but what follows is the scary part. One by one the would-be ghost hunters began to meet their maker, dying in car accidents, house fires and other suspicious manners, à la Final Destination.
A local medium claims that this is the result of a vengeful spirit named "Dao" or "Deuan" that followed and killed these teenagers in the name of divine retribution.
Now, a globe of ghost hunters and thrill-seekers search out the abandoned house at Thawi Watthana to test their nerves. Think you're brave enough?
Know Before You Go:
Location: The Abandoned House is located in Thawi Watthana, twenty-minute drive west of Bangkok city centre.
Cost: There's no entrance fee to get into the abandoned houses, just make sure it doesn't cost you your life…
Opening hours: N/A
Time needed: To get there and explore the home, you should really set two hours aside.
Getting there: The quickest and most efficient way of getting to the house in Thawi Watthana is by taxi.
13. David Beckham Temple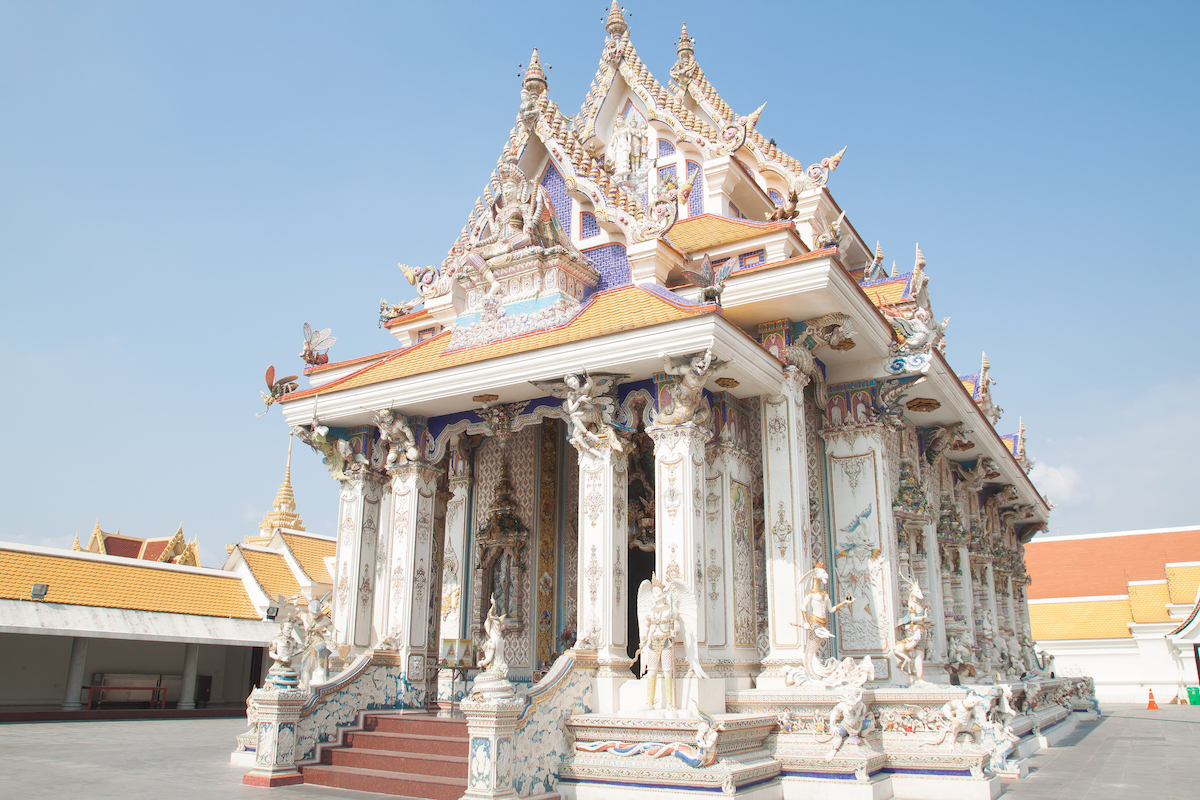 Fellow Englishmen and women who have travelled to the South East Asian continent are probably used to hearing the enthusiastic words 'David Beckham!' when you tell locals where you're from. But, to come across this world-famous football icon carved amongst Buddhist imagery is like something out of a weird dream.
The David Beckham Temple, or to give its official and proper name, 'Wat Pariwat Ratchasongkram' is a temple that is adorned not only with traditional Buddhist imagery but with imagery of a more modern flavour.
Images that are carved in gold plate include Donald Duck, Pikachu and the aforementioned footballing legend and offensively handsome, Mr David Beckham. As quite a new temple, many of the monks adorned the temple with icons from their childhood – with permission from the abbot of course.
There's no denying Beckham '90s curtain haircut and Sharpe-sponsored Man Utd shirt – making Wat Pariwat Ratchasongkram one of the most wholesome entries into the unusual things to do in the Bangkok list.
Know Before You Go:
Location: Wat Pariwat Ratchasongkram is located in south Bangkok on Rama III Road.
Cost: Free!
Opening hours: Opening hours are a little confusing as the temple is only open to the public for special festivals. Appropriately dressed and polite, however, you may be able to convince the monk to open it up for you.
Time needed: To get a fully immersive experience, it's good to set at least an hour aside when visiting Wat Pariwat Ratchasongkram.
Getting there: The best way to get there is by catching the BTS Skytrain to Chong Nonsi station, and then getting a taxi from here.
14. Terminal 21 Mall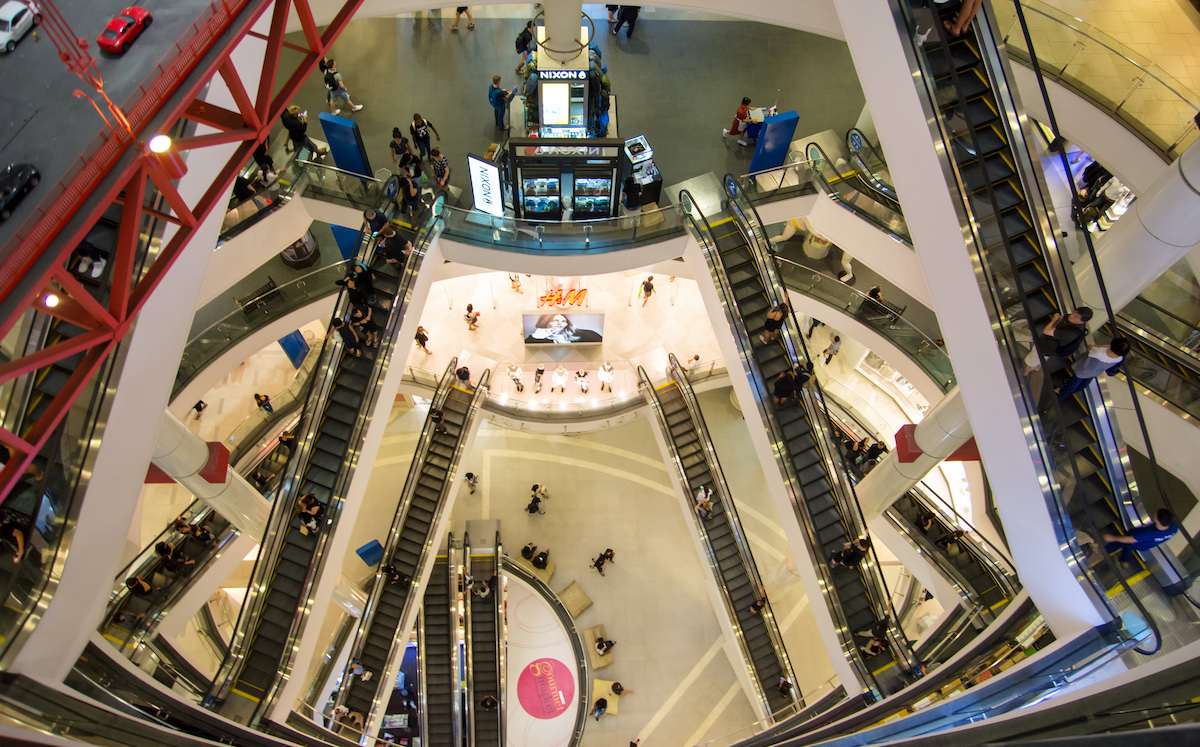 When you're looking for a taste of home, Terminal 21 Mall will give you that Westernized experience that you've been craving. Much like any super mall, Bangkok's Terminal 21 Mall has an array of different stores, eateries and entertainment hubs, just on a massive scale.
However, this mall has something a little different hidden inside making it one of the more unusual things to do in Bangkok. Consisting of seven floors and a Skydeck, Terminal 21 Mall takes shopping to a whole new level. Each floor is set out with its own decor, representing an area of the world, be that Rome, the Caribbean, Tokyo or Istanbul.
With every new floor, your senses are changed and are fed a whole new set of shops, decorations and tastes.
Know Before You Go:
Location: Terminal 21 Mall is located along the Mittraphap Road and Ratchasima-Chokchai intersection.
Cost: There's no entrance fee for Terminal 21 Mall, but bring your wallet along if you want to do some serious shopping.
Opening hours: 11 am – 9 am
Time needed: Being such a colossal mall, you should put aside a good couple of hours to explore Terminal 21 Mall.
Getting there: the best way to get to the mall is to jump on the back of a Grab motorbike – ideal for manoeuvring through the congested traffic.
15. Chill With Giant Lizards in Lumphini Park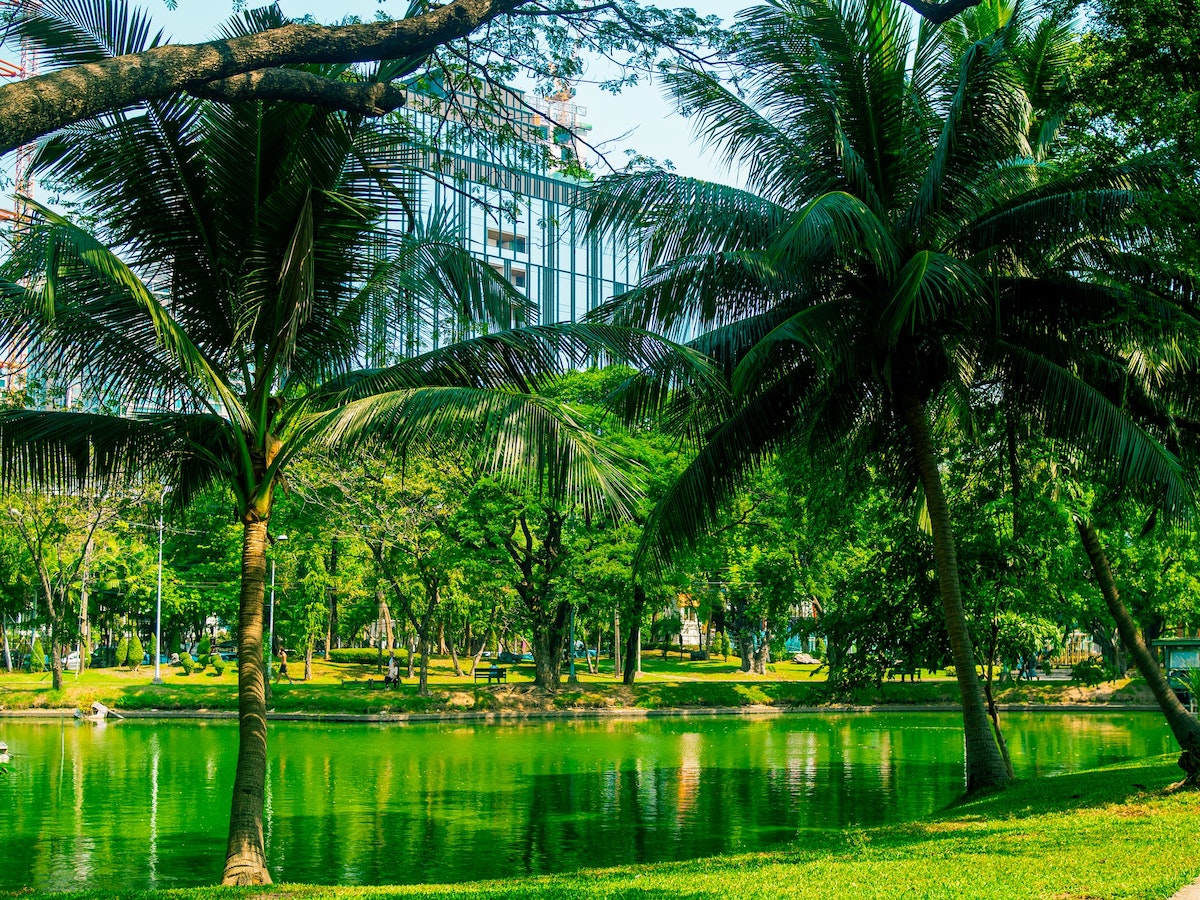 In a hectic national Asian capital city such as Bangkok, green spaces are a welcome oasis from the dusty, humid streets and nowhere is this more true than Lumphini Park.
Complete with huge patches of greenery, an artificial lake, flowers and its fair share of monitor lizards, Lumpini Park is a relaxing park in this bustling city. In the morning, you'll catch your average Thai local getting their daily jog in, while also catching a glimpse of birdlife, lizard life and general parkland landscapes – a welcome tonic from the busy metropolis streets.
Apart from relaxing, a quick walk around Lumphini Park will quickly enlighten you about the multipurpose nature of the space. Both Lumphini Park Library, Lumphini Youth Center, and a refuge for homeless children call the park home, offering so much more than your standard city green space.
Know Before You Go:
Location: Lumphini Park is located on Rama IV Road in the Pathum Wan District.
Cost: Free
Opening hours: Lumphini Park is open and locked up every single day. You can visit as early as 4:30 am, but you'll need to be out by 9 pm.
Time needed: Take a good break from the city and spend at least two hours exploring what Lumphini Park has to offer.
Getting there: A train to Sala Daeng BTS station is the best way to get to Lumphini Park.
16. Phra Chan Amulet Market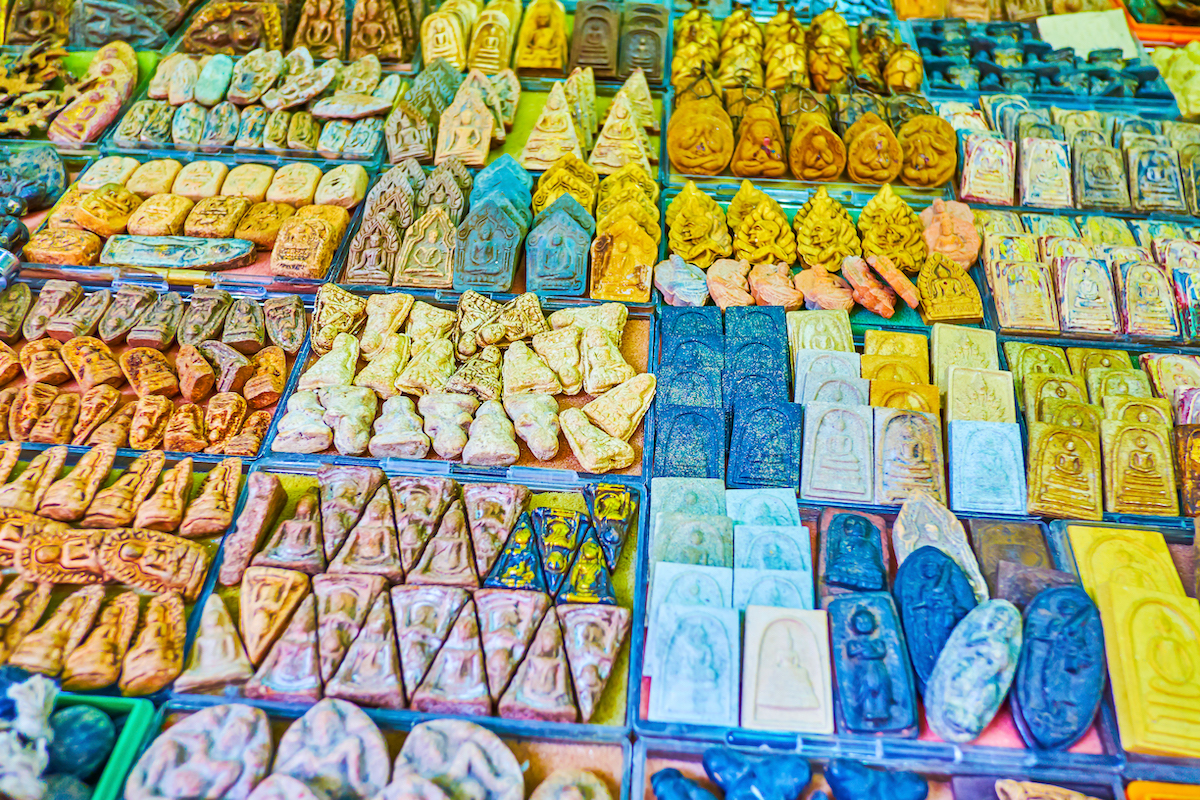 Buddhist tradition and superstition go hand in hand, not only with Thai culture but also with the culture of East and Southeast Asia as a whole. It's no surprise then, to hear that Bangkok is home to such a thriving place as the amulet market.
One of the more unusual things to do in Bangkok, visiting Phra Chan Amulet Market will not only give you a chance to spend some of your hard-earned pennies, but it will also open the door to a more typical Thai shopping experience.
Selling all manner of good luck charms, powerful religious amulets and the odd tourist souvenir, Phra Chan Amulet Market is an endless treasure trove. With amulets said to protect you from ill health, and give you success in business or love, there's no harm in trying your luck with a blessed necklace. Just be sure to have your bartering hat on, as the amulet economy is a fierce one.
Know Before You Go:
Location: Phra Chan Amulet Market is found in the Phra Borom Maha Ratchawang subdistrict of the city, close to the river.
Cost: There's no entrance fee, but bring some cash in case you see something you like!
Opening hours: 10:45 am – 5:45 pm
Time needed: A good hour or so is perfect for exploring the Phra Chan Amulet Market.
Getting there: Taxis are the best way of getting straight to Phra Chan Amulet Market as stations are few and far between here.
17. Lopburi Monkey-Feeding Festival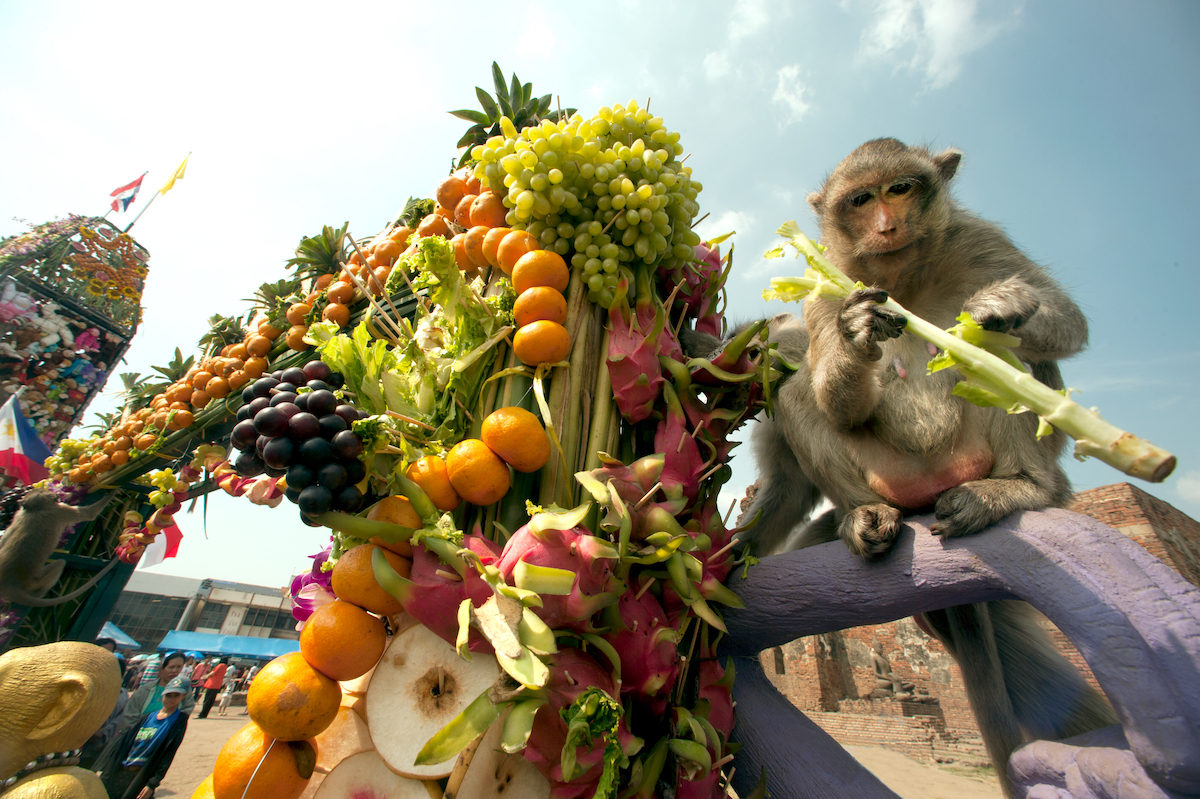 Located a couple of hours north of Bangkok, the temple of Phra Prang Sam Yot plays host to a huge family of long-tailed macaques. This Khmer-constructed temple has stood here from the 13th century onwards, guarded by its primate guardians.
Visitors can come to see the temple and its numerous monkey friends any day of the week, but it's the Lopburi Monkey-Feeding Festival that really makes a show. On the last Sunday of November, many gather at the temple to revere and celebrate the macaques and their ties to Hindu and Buddhist legends.
Aside from performances by traditional dancers, the festival culminates in a huge fruit buffet feast for the macaws. Mountains of watermelon, durian, lettuce, pineapple, and more pile tables and the macaques gorge themselves.
Just remember to keep your wits about you as the monkeys are known to be quite mischievous/feral, but you can pay a local young lad a few baht to keep them away with a pea-shooter if you get yourself into too much trouble with the monkey mafia!
Know Before You Go:
Location: Phra Prang Sam Yot is found in the centre of Lopburi, 90 miles north of Bangkok.
Cost: Visiting the temple and festival are free of charge.
Opening hours: You'll see the monkeys chilling around town at any time of the day, but the temple grounds are technically only open from 8:30 am until 6 pm.
Time needed: You'll probably need a day to allow for travel time to Lopburi and back.
Getting there: You can either book a day tour from Bangkok, which is usually combined with a visit to the ancient city of Ayutthaya or you can make your own way to Lopburi via train. Trains take around two hours from Hua Lampong station in Bangkok and tend to leave in the morning.
9 Unusual Things To Do in Bangkok At Night
So you've exhausted all the activities you can do in Bangkok during the daytime but it's when the sun goes down that this titan of a capital city truly comes to life. Take a look at this list of unusual things to do in Bangkok at night and you'll never want to sleep again…
1. Dine in the Dark
2022 update: It looks like this place struggled during the Covid-19 lockdown. I'm not sure if it will re-open, but I will try my best to keep on top of that information.
Imagine enjoying a three-course meal at a fancy restaurant, but with one twist – you can't see a thing. Dine in the Dark, or DID as they are sometimes known, is a restaurant in the heart of Bangkok's Sheraton Grande Sukhumvit, a luxury hotel. Here, visually impaired waiters and waitresses serve up a collection of Thai and international dishes in pitch black.
By losing one of your senses (your sight) it's thought that your other senses (your tastebuds) are heightened, and, in theory, your foodie experience should be made all the better for it.
You don't get to see the menu before you eat either, making the experience all the more interesting. They do, however, pander to a number of dietary requirements by offering every guest the choice of meat, fish or vegetarian menu.
By employing visually impaired front-of-house staff, Dine in the Dark gives employment to a group of people that would otherwise struggle to find employment in the Thai capital.
Know Before You Go:
Location: Located in the Sheraton Grande Sukhumvit Hotel in the Khlong Toei district.
Cost: Four-course surprise menus are priced at 1,450 baht per person.
Opening hours: Dine in the Dark is only open for dinner service. Book a table between 18:30 – 23:00.
Time needed: You will need at least two hours to enjoy all of the courses on offer!
Getting there: You can get to the Dine in the Dark restaurant on the BTS Skytrain by getting off at Asoke. Alternatively, use the MRT to get there and jump off at Sukhumvit.
2. Cabbages and Condoms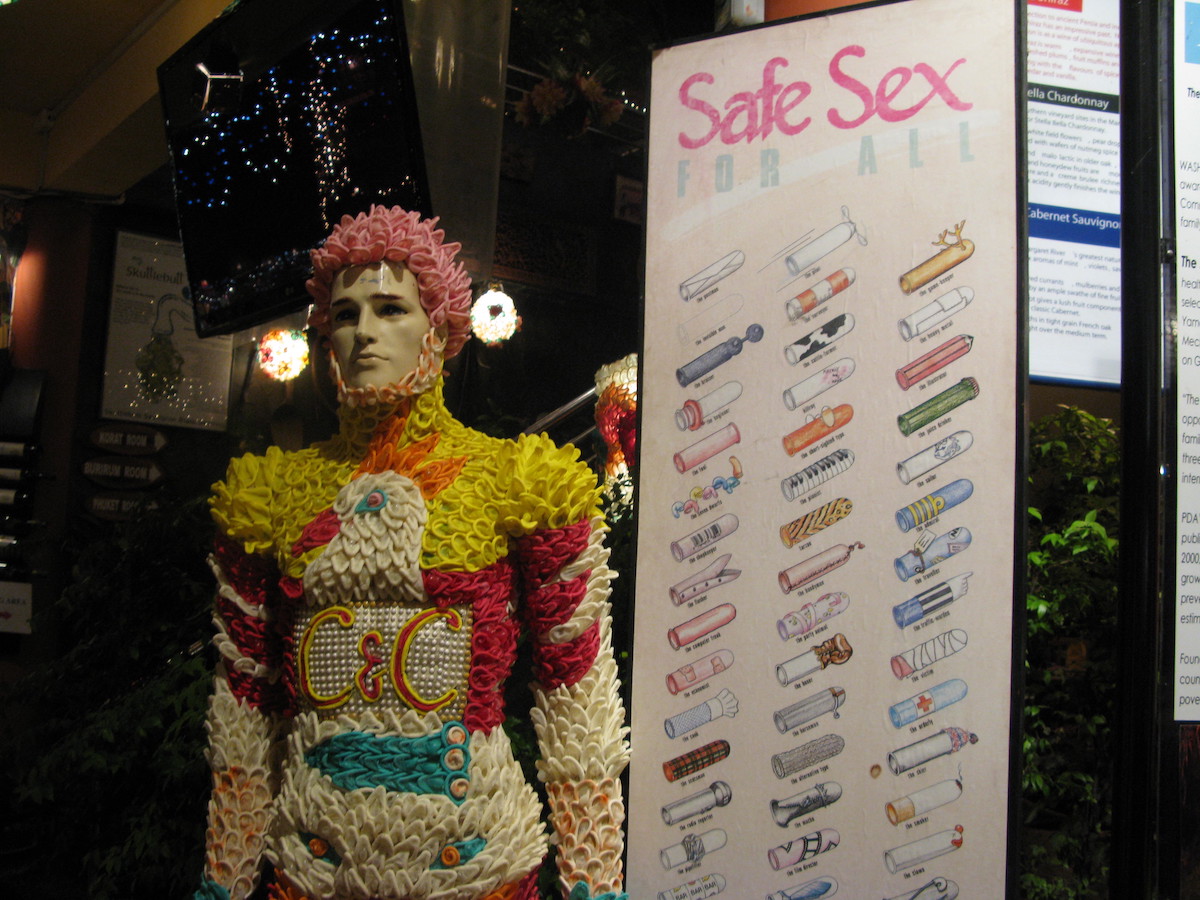 Another restaurant on the unusual trail through Bangkok's nightlife is Cabbages and Condoms. Behind the quite catchy name is a well-thought-out business concept that delivers great Thai food while promoting social health and change through the Thai community
This not-for-profit restaurant invests its earnings back into development programs initiated by the Population and Community Development Association. This association deals with issues such as family planning and reducing poverty in Thailand.
Serving up fantastic traditional and innovative Thai dishes, dining and Cabbages and Condoms will not only treat you to delicious Thai food, but it will also leave you with a lot of free condoms for when you next get lucky.
Know Before You Go:
Location: 10 Sukhumvit 12 Alley, Khlong Toei district, just east of the city centre.
Cost: Main courses start from around 250 baht.
Opening hours: Grab breakfast, lunch or dinner at Condom and Cabbages. The restaurant is open for service from 11:00 until 23:00.
Time needed: Give yourself around two hours to enjoy your meal.
Getting there: Cabbages and Condoms can be reached from the Nana BTS station.
3. North Korean-Themed Restaurant
2022 update: All of the below is still relevant, although it looks like this place is closed until further notice.
As a closed-off and closely guarded country, trying authentic North Korean food isn't an easy thing to do. Now, you can try it in Thailand instead. Pyongyang Okryu is run directly from North Korea and (apparently) funnels money back to the regime – something you'll have to level with your own conscience.
I didn't know this at the time, but having visited North Korea myself, it would show some pretty strong double standards if I got all high and mighty about it. It's best you know beforehand though so you can make an informed decision.
All of that aside, this North Korean restaurant gives guests an opportunity to try Korean dishes that are north of the border. You'll be quick to notice that the Thai capital has its fair share of South Korean restaurants, hangouts and more, so it's a little fascinating to see somewhere representing the DPRK – even if some of us can't square that with our own views on politics and human rights.
Alongside the food, Pyongyang Okryu offers guests its own form of entertainment, whereby its waitressing staff change into sparkly outfits and perform a song and dance. Although a little unusual, this experience is definitely one that you'll remember and it's not every day you get to eat a Kim Jong Un-promoted bowl of noodles.
Related Post: North Korea Travel Advice: 14 Tips Before Visiting The DPRK
Know Before You Go:
Location: 481 Sukhumvit Road in Khlong Toei district, just east of the city centre.
Cost: Main courses cost between 280 – 480 baht, depending on what you've ordered.
Opening hours: Head here for a decadent lunch or a filling dinner at any time between 11 am and 10 pm
Time needed: As long as you need to enjoy the best of North Korean food – I'd probably say at least two hours.
Getting there: The easiest way to reach Pyongyang Okryu is via Phrom Phong BTS station.
4. Sook Station Prison Hotel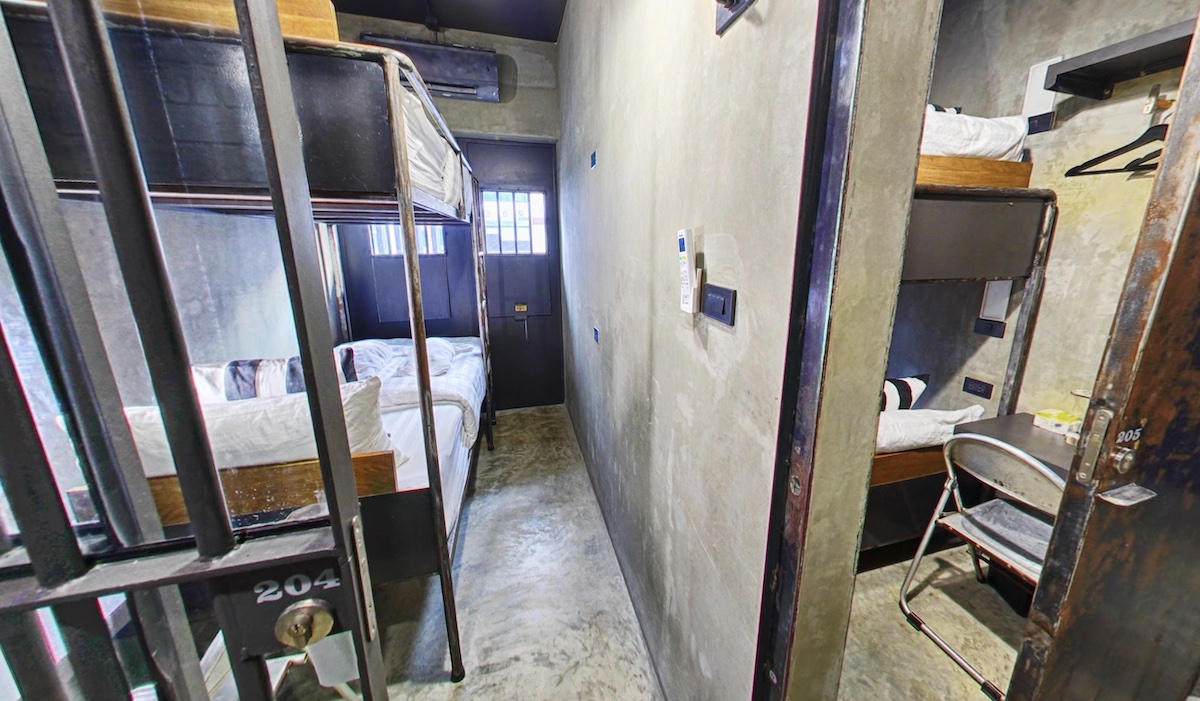 For many of us, the idea of spending time in a Thai jail is the stuff of nightmares, but at the Sook Station Prison Hotel, that's just the vibe they're going for. Okay, it's not quite the slum-like conditions of a hot and grimy Bangkok jail, but Sook Station Prison Hotel strives to blend comfort with prison decor.
Rooms are surrounded by bars and decorated with black and white striped bed covers, and on arrival, each guest is given striped pyjamas, an inmate number and a mugshot taken.
Complete with a cafe, working space and restaurant, Sook Station Prison Hotel dips between the authentic prison experience and those hotel necessities. Unlike any other hotel you will ever stay in, Sook Station Prison Hotel really is one of those strange and surreal environments that have to be experienced to be believed – definitely one of the most memorable and unusual things to do in Bangkok.
Know Before You Go:
Location: 45-49 Sukhumvit in the Khwaeng Bang Na district, which makes up the southeast portion of Bangkok.
Cost: Single rooms start from 970 baht, but if you're on a budget you can split a four-person dorm with some of your mates. Book your stay at Sook Station on Agoda!
Opening hours: You can check in anytime from 2 pm, but you'll need to check out before 12 pm the next day.
Time needed: It's pretty cool to spend a day and night here, chilling and soaking in the vibes, but it's not the cheapest accommodation in Bangkok, so you may want to find elsewhere to spend the rest of your break.
Getting there: Sook Station Prison Hotel is just a few minutes walk away from the Udom Suk BTS station or
5. Go To a VIP Cinema
The Thai capital is home to its fair share of VIP luxury cinemas, making it a fantastic place to have an overindulgent movie night. The Emprive Cineclub in the Emporium Building has to be one of the best VIP cinemas in the city and guarantees that you'll have a Thai movie experience you'll never forget.
Showing Thai movies, classic films and a range of new Hollywood blockbusters, Emprive Cineclub does all this surrounded by top-tier luxury.
Sitting in seats that remind you more of an over-lavish living room than a cinema and with access to a bar and restaurant tops it all off. Each seat comes with its own blanket and pillow too – just in case the AC gets too much and you fancy resting your head for a while.
One patently weird thing here though… While you certainly can not live like a king in Bangkok on the cheap, you still face pressure to stand up for the King's song before the opening credits of every movie starts (a long-standing tradition in Thailand).
However, there is a palpable divide now in Thailand and I am seeing more and more Thais not stand than I have in 10 years.
Know Before You Go:
Location: 622 Sukhumvit Rd, Khlong Tan district, just east of the city centre.
Cost: Seats range from 300 – 900 baht depending on the level of comfort you're going for.
Opening hours: The cinema is open from 10 am to 10 pm, but you'll need to check out the exact film screening times yourself.
Time needed: As long as the film lasts! And a bit of extra time to watch the trailers too and take advantage of the bar…
Getting there: The Emprive Cineclub sits right across the road from Phrom Phong station, which can be reached via Bangkok's SkyTrain.
6. Watch a Local Football Match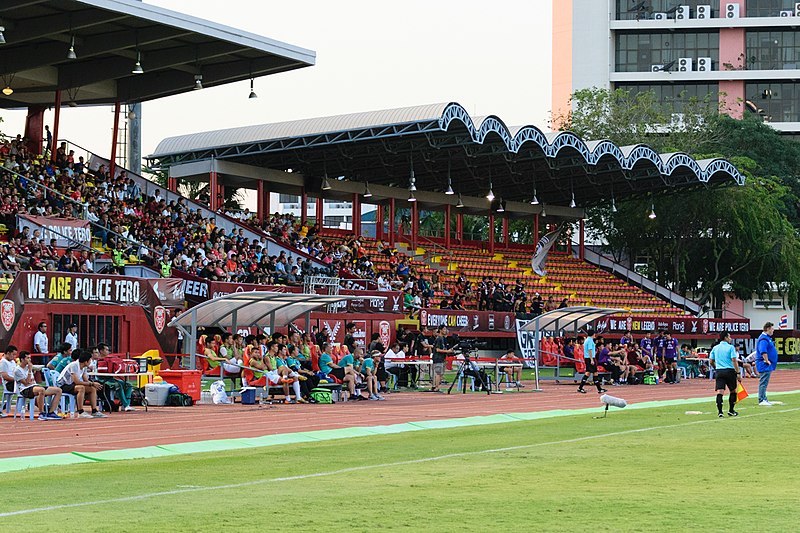 Much like the rest of the world, the Thai people are mad about football. And, as a visitor to Thailand, what better way to enjoy the beautiful game than with a whole new set of fans at a football match in the city of Bangkok?
Probably one of the capital's most popular and successful football teams is Police Tero F.C., who play their games at Boonyachinda Stadium. Part of Thailand's top league, watching a Police Tero F.C. match is something any worldly football fan should experience.
You'll need to book your tickets in advance as games tend to sell out quickly. You can do this using the website www.thaiticketmajor.com or by heading to the stadium before the game to buy tickets from the box office. If you're struggling to get your hands on some tickets, I'd recommend reaching out to the front desk at your hostel or hotel and they'll probably be able to track some tickets down for you.
Know Before You Go:
Location: Boonyachinda Stadium, Talat Bang Khen.
Cost: Most tickets cost an incredibly low price of 20 baht.
Opening hours: Much like the Western world, you'll find a schedule of games online so you can plan ahead.
Time needed: Thai football matches last the usual 90 minutes, although I'd recommend getting there early to soak up the atmosphere.
Getting there: Match days can get pretty hectic around Boonyachinda Stadium, so I'd recommend rocking up early. The metro line (Sukhumvit) that heads this way will be packed with avid fans up to two hours before the game, as will the buses that stop nearby (29, 52, 538 and 555). If you're all about the easy life, jumping in a taxi to the Boonyachinda Stadium is your best bet and will set you back no more than 150 baht.
7. Eat Durian at a Night Market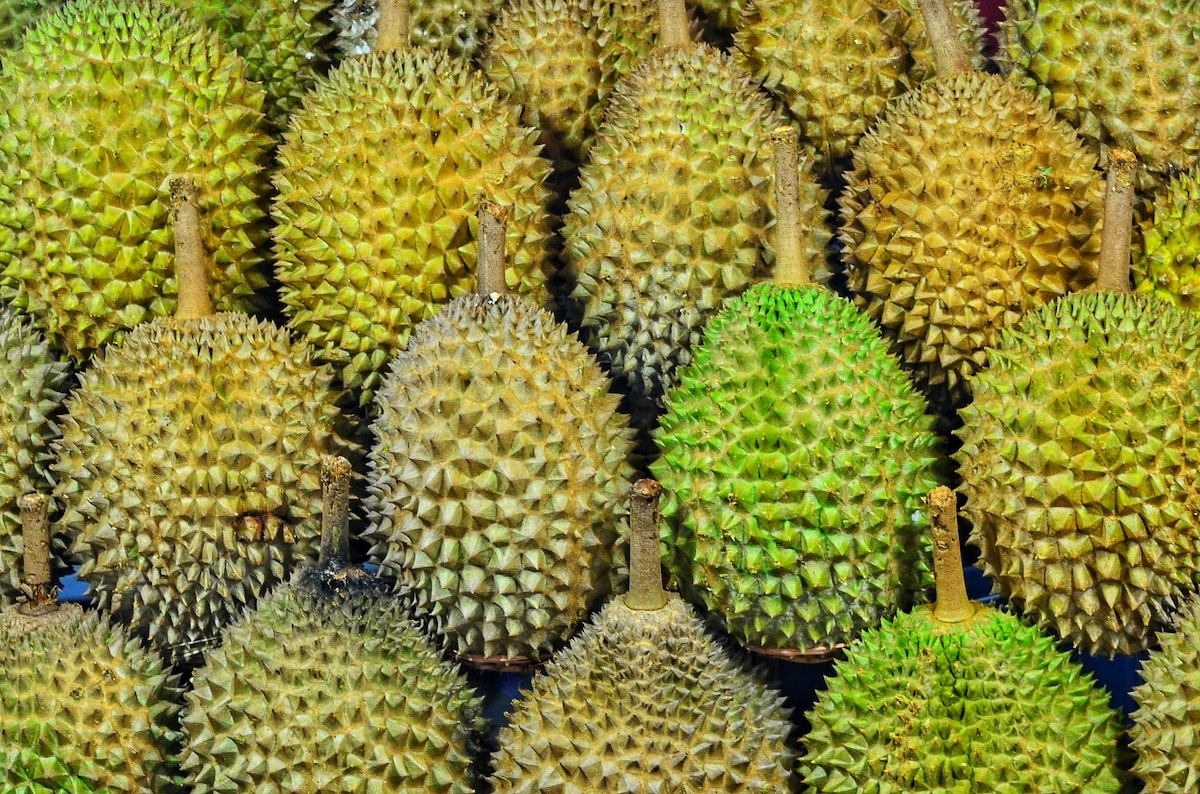 The durian fruit is one of the most defining images and smells, of Southeast Asia. Polarising both locals and tourists, this pungent fruit has a reputation of being both beloved and grotesquely disliked.
A right of passage for any traveller visiting this part of the world is to try a sample of this King of Fruits. I'll warn you though, that durian has such a distinctive and awful smell, that you're not allowed to carry it on lots of public transport in Bangkok – look out for the "no durian" signs that sit hand in hand with the "no smoking" signs!
If you're hoping to give Durian a try, you've got a few options. You'll find most local markets selling the fruit whole, in half or as ready-to-eat pieces. Once you've tried the fruit (and decided that you like it…), you'll also find it as ice cream, in yoghurt and even in coffee drinks (not exactly my cup of tea!).
I have tried it for the unusual things to do in the Bangkok box tick, but never again… I'm more of a mangosteen kind of guy.
Know Before You Go:
Location: You'll find the Yaowarat Road Night Market at Yaowarat Road, Samphanthawong, just down the road from Wat Traimit Withayaram Worawihan.
Cost: Durian will set you back around 200 baht per kilo, though smaller precut samples can be brought for much less.
Opening hours: Yaowarat Road Night Market opens from 16:00 until late.
Time needed: Take around an hour to really soak up the market and taste a range of durian and other delicious local delicacies.
Getting there: There are numerous bus stops near the market, with buses 40 and 73 passing by, as well as the MRT. Jump off at Wat Mangkon station and walk for five minutes to reach the market.
8. Chao Phraya River Ferris Wheel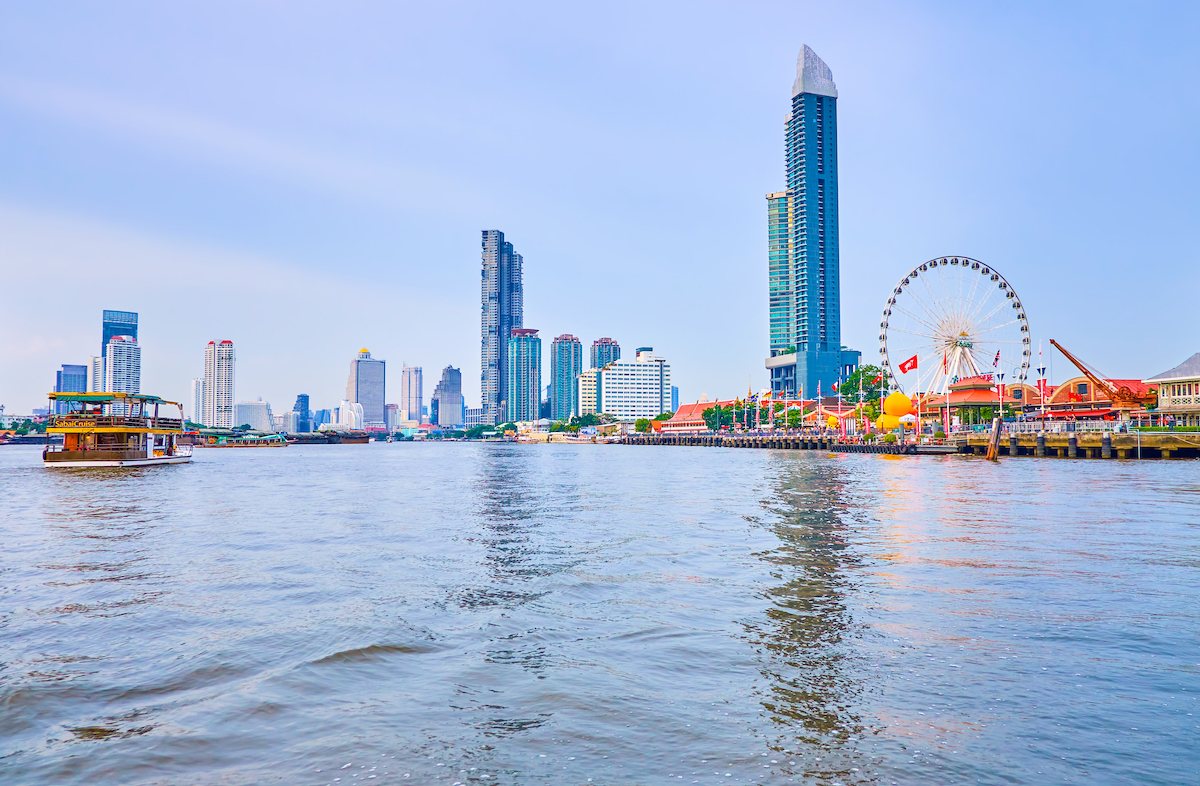 Much like the London Eye is an icon of the English capital, the Singapore Flyer is defining feature of The Lion City and the Navy Pier Ferris Wheel represents the Windy City of Chicago, Bangkok too has its own epic Ferris Wheel.
Standing by the Chao Phraya River, the Asiatique Sky Ferris wheel is a sight to behold, especially in the late hours of the evening. When the sun disappears, the Asiatique Sky Ferris wheel is lit up in tonnes of different colours.
If you're hoping to jump on the Ferris wheel and soak in some of those Bangkok cityscapes, heading here at sunset is your best bet. Once the sun goes down, the artificial light of the city looms large over the Thai capital, creating a cityscape view like no other.
Know Before You Go:
Location: Charoen Krung Rd, Bang Kho Laem district, sits just downriver from the city centre.
Cost: For standard entry, you'll need to pay 400 baht per person. For your own box and VIP service, it's around 2500 baht. Rides don't have a time limit but include between three to five revolutions per ride.
Opening hours: You can enjoy a ride anywhere between 5 pm and midnight.
Time needed: An entire loop of the Ferris wheel lasts a few minutes, with a 'go' lasting at least three turns.
Getting there: The closest BTS station is Saphan Taksin, you can then take the ferry across to the Asiatique Sky Ferris wheel.
9. Tuk-Tuk Midnight Feast To 7/11!
If anything has passed into Thailand backpacker folklore, it has to be the Aladdin's cave of a shop, that is the 7/11.
Take your average corner shop, or local store and times it by ten and that is the South East Asian 7/11. Open 24 hours a day, the Thai 7/11 is the saving grace for anyone with a midnight craving for cheese toasties, every instant noodle you could imagine, sticky rice burgers and a slush puppy with enough sweetness to drag you out of that drunken stupor.
My personal shout; the veggie pad Kaprow.
With over four and a half thousand branches scattered across the capital, you're never too far away from a 7//11 – whatever time of day. A quick jump in a local tuk-tuk can have you waiting for your toastie to be cooked in the bright lights of the shop in no time at all.
Know Before You Go:
Location: You'll find 7/11s on almost every street in Bangkok. I can almost guarantee that you'll be within walking distance of a local shop, or at least a short tuk-tuk ride.
Cost: The beauty of 7/11 is that there's something for every budget. From ham and cheese toasties for less than 30 baht and microwave burgers to multi-coloured slushies and more pot noodles than you never knew existed.
Opening hours: All 7/11s used to operate from 7 am in the morning to 11 pm at night (hence the name), but nowadays most stores are open around the clock.
Time needed: I'll be honest, it's pretty easy to end up browsing through the shelves of a 7/11 for a good twenty minutes.
Getting there: As I mentioned earlier, in Bangkok, you're pretty likely to be within walking distance of your closest 7/11. Ask whoever's at the front desk at your hotel and hostel and they'll point you in the right direction.
Unusual Things To Do in Bangkok: Honourable Mentions
These are all a worthy addition to the unusual things to do in Bangkok, some of them require a specific date as they are part of the best Thailand festivals list…
Thailand Vegetarian Festival: Also known as the 'Nine Emperor Gods Festival,' it usually takes place between September and October. It's quite a tame affair in Bangkok with a lot of colours and an abundance of delicious vegetarian food, if this is too tame for you then check out how they roll in Phuket instead, where you will witness a Phuket religious minority called the Peranakan people putting themselves through extreme self-mutilation in the name of their ancestors and Gods.
Read more: The Phuket Vegetarian Festival Thailand
Songkran in Bangkok: Without a doubt, one of the best travel festivals in the world and certainly one of the best festivals in Thailand. A national water fight to celebrate the Thai new year, according to the zodiac calendar. It's a bigger deal up, in Chiang Mai, but you'll still have enough fun celebrating Songkran in the capital.
Read More: Songkran Chiang Mai Festival
Bangkok Marathon: Running in marathon events is a life goal to a few, which is often deemed as "crazy" to many. Go to that one extra level and run it in Bangkok, during the evening (as it's too hot to run during the day).
The event organisers have come a long way since their incredibly embarrassing cock-up in 2015!
Have a Traditional Thai Massage: Forget the Nordic-style spa treatments that you're used to in the Western world or your Turkish baths in Istanbul experience that you still rave about. Thai massages are hardcore and uncomfortable.
The weirdness in this city knows no bounds. It can also be edgy, it can be cosmopolitan and it can also be completely degenerate. When you're talking about such a hugely populous city, you're always going to get a little bit of everything.
It's definitely one of those "love it or hate it" kinds of destinations, here's hoping after your visit to Thailand's capital that you belong to the lovers, not the haters. I really hope you enjoyed this huge list of quirky and unusual things to do in Bangkok and that you enjoy visiting them even more.