Signing up for the best Turkish bath in Istanbul, also known as a "hammam" is one of the most culturally enriching experiences you can have while travelling within the country.
It can also be a real pain in the bum finding the best hammam in the capital, as what makes the 'best' for one person may not necessarily be the best for another.
Luckily for you, I have hand-picked 5 of the best hammams in Istanbul for every occasion and kind of traveller.
I unapologetically love spa culture. I have soaked my body in many natural hot springs of an onsen during the Tokyo vs Kyoto showdown, my story began with a traditional Thai massage (akin to a beating) while ticking off my Bangkok bucket list and I still long for natural landmarks such as Tu Soa Ocean Trench.
Still, the experience of a traditional Turkish hammam stands alone.
Once the social houses of Sultans, the Turkish baths in Istanbul have become a must-visit for the curious tourist, or simply those looking to relax, reset and renourish.
It really is something to experience at least once in your life.
Let's break it down for you.
A Brief History of Turkish Hammams in Istanbul
Before Istanbul became the capital of the Byzantine and Ottoman Empires, the city (back then, known as Constantinople) was part of the Roman Empire, a kingdom famed for its bathhouses.
During the early years of the Ottoman Empire, Sultan Mehmet the Conqueror took inspiration from the Roman bath, building 19 of their own grand hammams, giving birth to the Turkish bath Istanbul culture that swept the capital and around the country.
What sets the Turkish baths apart from the Roman bathhouses is their design, which often mimics the facade of a mosque, with domed roofs and star-shaped windows. Traditionally, hammams were built close to mosques, allowing Muslims to cleanse their bodies before praying, not just physically but spiritually too.
It didn't take long for this bathing ritual to become more than just cleansing the body and soul, and hammams soon became a social house for all members of society.
What Happens in a Turkish Bath?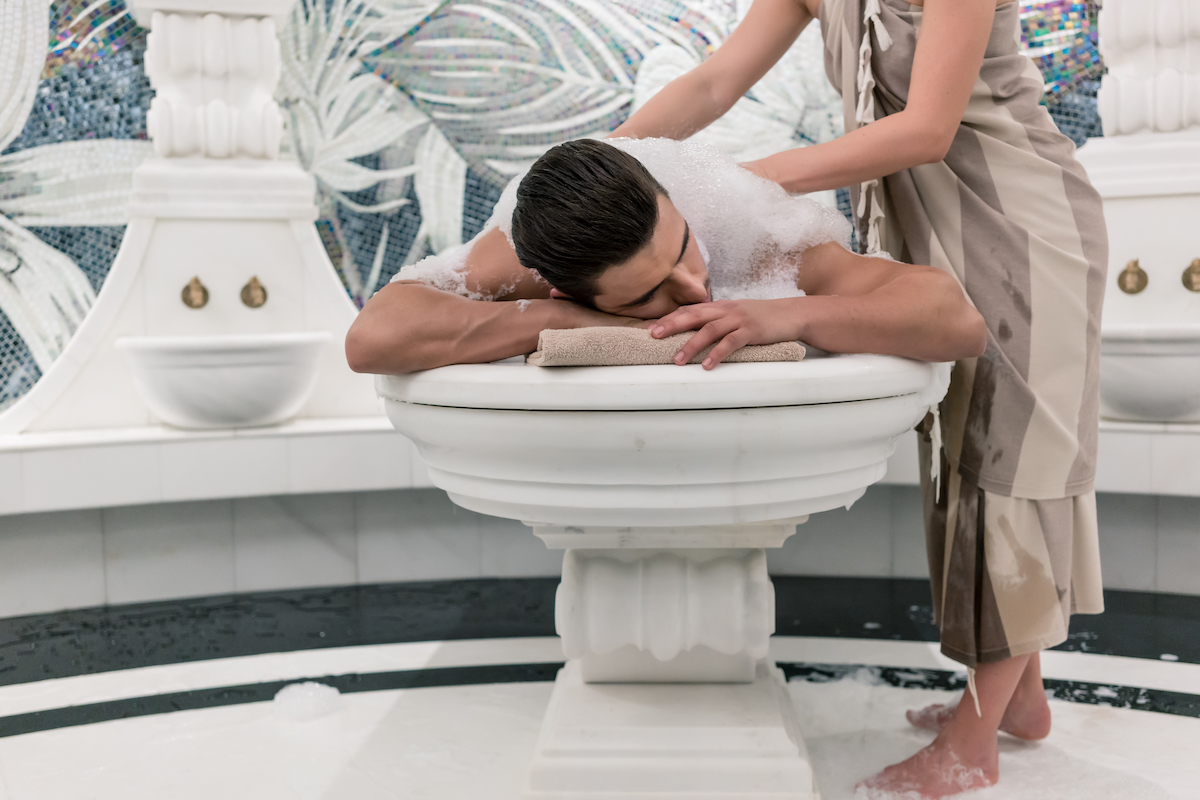 A Turkish bath typically lasts from 45 minutes to an hour. During this time you will receive a strong scrubbing down from head to toe in a reasonably hot room, men and women are typically separated in a Turkish hammam due to the famous ritual staying true to its Islamic roots.
If you are a man and are curious about what to expect then read my Turkish Baths for men experience; a more open and honest account of the male hammam encounter in the country that invented this ritual.
If you suffer anywhere on the spectrum of claustrophobia or are not a big fan of intense sauna heat then the good news is the temperatures of Turkish baths are nowhere near as hot as a sauna. Although most hammams do have a steam room it is an optional extra and not part and parcel of a standard Turkish bath formality.
When you enter the first room in the bathhouse (called a camekan) you will be handed a folded cloth known locally as a "pestemal," which is roughly the size of a small body towel.
After being presented with your locker key you will be given ample time to get rid of your clothes and slip into your pestemal and the provided wooden flip-flops before making your way to the main event in a separate steamy room in the bathhouse.
A male masseur is called a tellak and a female masseur is called a natir, whichever one you have – expect a rigorous rubdown while you're constantly in between being naked or exposed, getting thrown around by another stranger who is speaking in a language that you don't speak.
This is not the slow Swedish massage that we are accustomed to in the West. If you are shy about your body or have other reasons not to be naked then you can bring swimwear to wear, just know that you will be in the minority as Turks always wear their birthday suit.
For most of the Turkish bath experience, you will be sweaty and full of soapy suds, your body is being exfoliated and as uncomfortable as this can be, it's doing your body good as you will get rid of dry skin, sleep better, decrease muscle tension and eliminate toxins from your body.
After your scrub, your hammam ritual will end with one more (softer) soaping down and water poured over your body before being left with a refreshing drink in a cooling room called a soğukluk, where you can reflect on your Turkish hammam experience and dry off before going back to your daily business.
Best Hammams in Istanbul: 5 Unique Turkish Baths
There are a whopping 235 hammams in Istanbul. Chances are you'll only be in Turkey's magnificent capital once in your life and so you didn't choose the Turkish Bath Istanbul life, the Turkish Bath Istanbul life chose you.
Jokes aside, you'll want to opt for the best hammam out there, even though "best" is a very vague term that doesn't cater for individual preferences and budgets.
Lucky for you, I did a Turkish hammam tour along with some additional research, which narrows your choices down to Istanbul's top five hammams depending on what you're looking for while exploring Turkey's capital.
1. Aga Hamami (Oldest Hammam in Istanbul)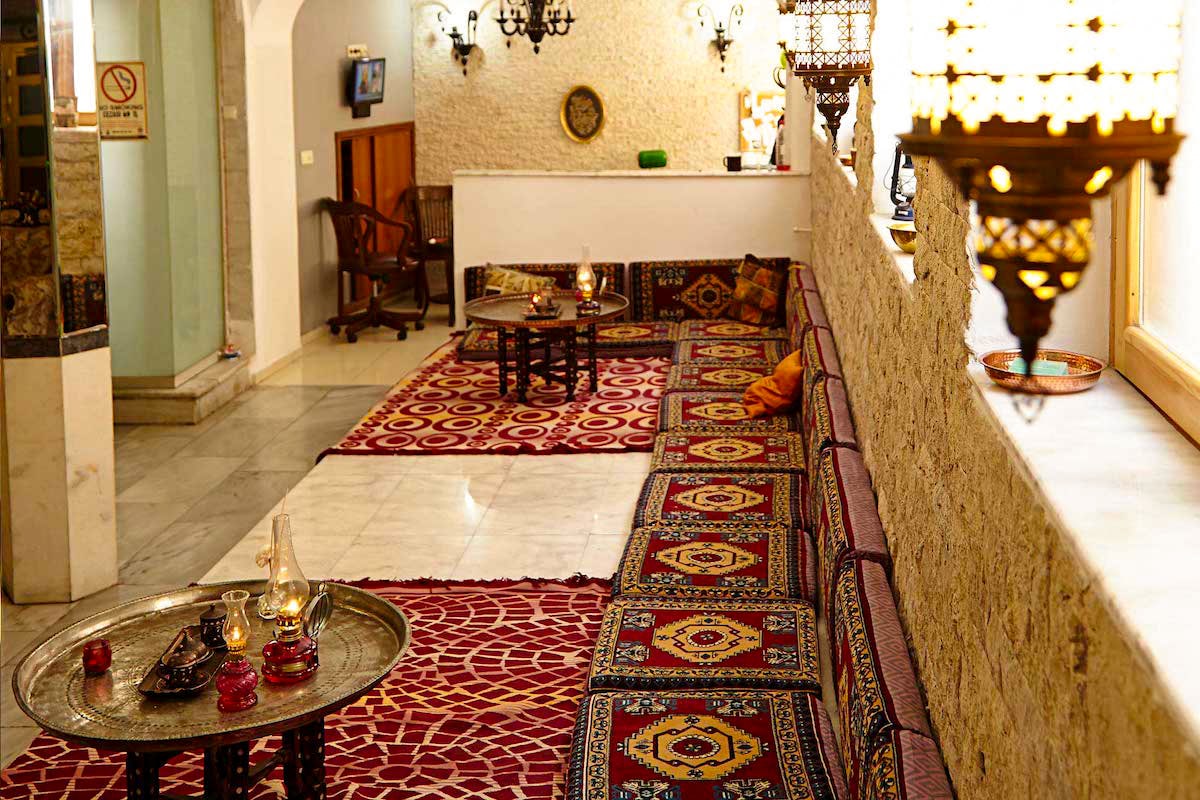 At the ripe age of 567, Aga Hamami is the oldest hammam in the city. Originally built as a private hammam for Fatih Sultan Mehmet, the hammam underwent considerable renovations in 1844 to make it accessible to the public.
It's also one of the more affordable Turkish baths Istanbul has to offer. While you won't find opulent marble rooms or grand domed ceilings, you will get a glimpse into a more humble hammam experience enjoyed by your average Turk.
Know Before You Go:
Location – Aga Hamam sits around a five-minute walk from Taksim Square, in the heart of modern Istanbul.
Cost – $20 will grant you access to the main sauna rooms, and for another $20, you can enjoy a scrub, foam bath and oil massage.
Getting there – It's easiest to grab a taxi, but if you're looking for a budget option, catch the metro to either Taksim or Sishane stations. From there you'll need to walk for about ten minutes.
Time needed – Around one or two hours for the whole experience.
Opening hours – Treat yourself to a good scrub at Aga Hamami between 10 am and 7 pm, Monday to Saturday.
2. Cagaloglu Hammam (The Last Turkish Bath of The Ottoman Empire)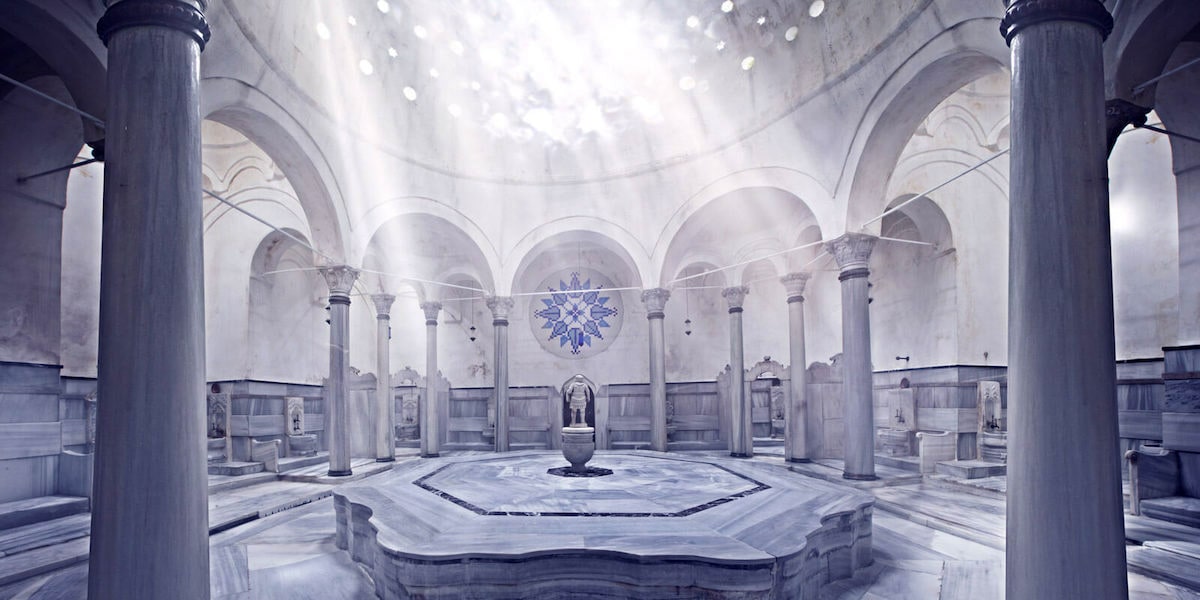 Built in 1741, Cagaloglu was one of the last hammams to be built during the Ottoman Empire, and it seems like they were keen to leave their mark.
This historic hammam is an authentic option and a more relaxed affair than some of the harder scrubbing downs you can have across the city.
This vast domed hammam is stunning, complete with marble fountains, an indoor garden and towering white marble columns. This place is worth visiting alone for its delicious Turkish tea, homemade sherbet and Turkish delight that you can enjoy at the end of your visit.
Know Before You Go:
Location – Hidden away in the busy streets of the Old Quarter, Cagaloglu is just a stone's throw away from Topkapi Palace.
Cost – If you're a bit wary of the full Turkish treatment, then you can part with $35 to enjoy the hammam at your own pace. For anything with a massage, prices start from $60.
Getting there – The easiest way to reach Cagaloglu Hamam is by taxi. If you don't mind a walk at the other end, the Vezneciler and Sishane metro stations will get you the closest.
Time needed – Whether you're going for self-service or the full treatment, you'll want to set aside at least an hour to enjoy the experience and make the most of the sweet treats afterwards.
Opening hours – Treat yourself to a luxurious scrub anytime between 10 am and 10 pm.
3. Ritz-Carlton Istanbul Hammam (Best Turkish Hammam in Istanbul For Couples)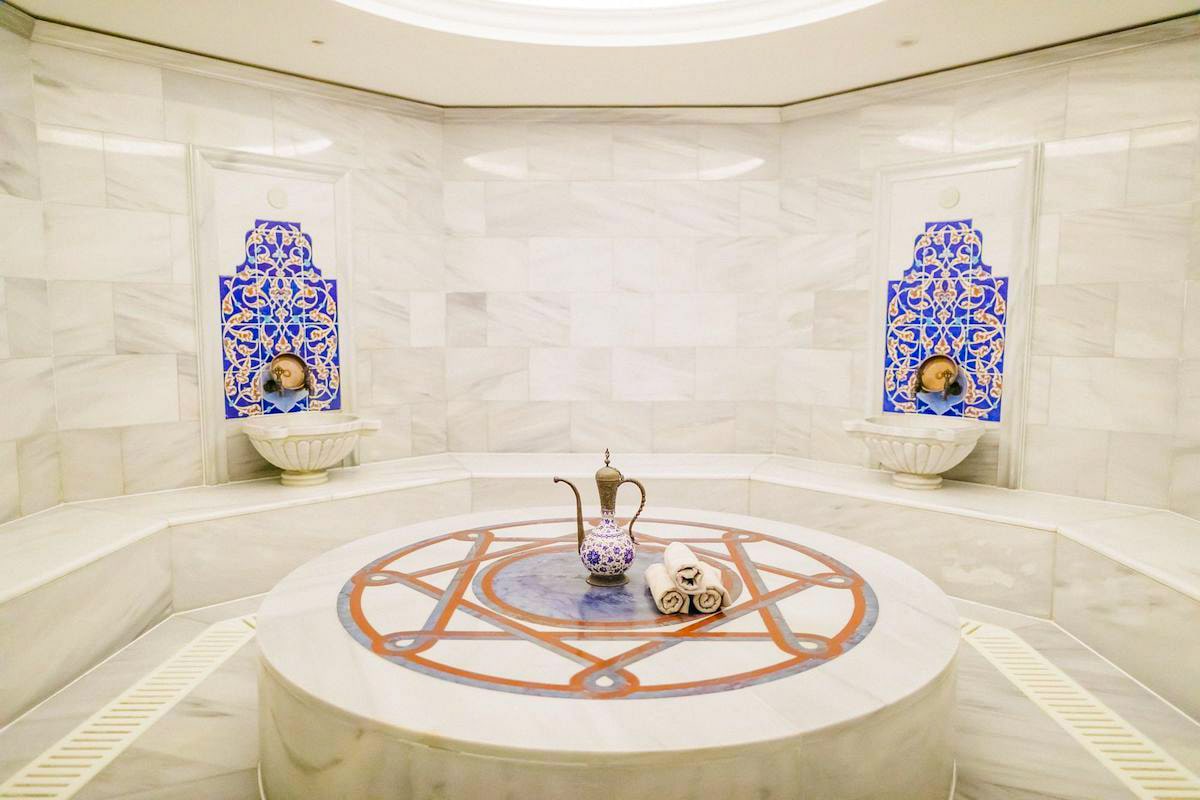 Not your typical hammam, the Ritz-Carlton offers a modern take on the traditional Turkish bath Istanbul has reserved for lovers. While you may want something a little more authentic, there is an advantage to this; couples 'hammaming'.
Remember that traditional hammams in Istanbul separate men and women, so if you want to hunker down with your loved one in a luxury spa experience, consider the Ritz, modelled on a 16th-century Turkish bathhouse, it doesn't feel too far from tradition, except for the rooftop infinity pool!
It goes without saying that the only couples welcome here are straight couples. Sorry, I don't make these (unfair) rules and I just want to keep it real for those who are not in the know.
Related Post: How To Plan a Trip To The Maldives
Know Before You Go:
Location – Head over to the famous pedestrianised shopping boulevard, Istiklal Street, and you'll find the towering Ritz right around the corner. It's hard to miss.
Cost – The Ritz keeps their spa prices close to its chest, so you'll have to shoot over an email if you're keen to find out.
Getting there – The Ritz sits right next to Taksim metro station and is around a 20-minute walk from Osmanbey.
Time needed – As much or as little time as you want if you're going there for casual relaxation. For specialised massage treatments, allow an hour.
Opening hours – The spa is open any time from 7 am until 7 pm, but massages and treatments are only available from 10 am.
4. Ayasofya Hurrem Sultan Hamami (Best Luxury Option)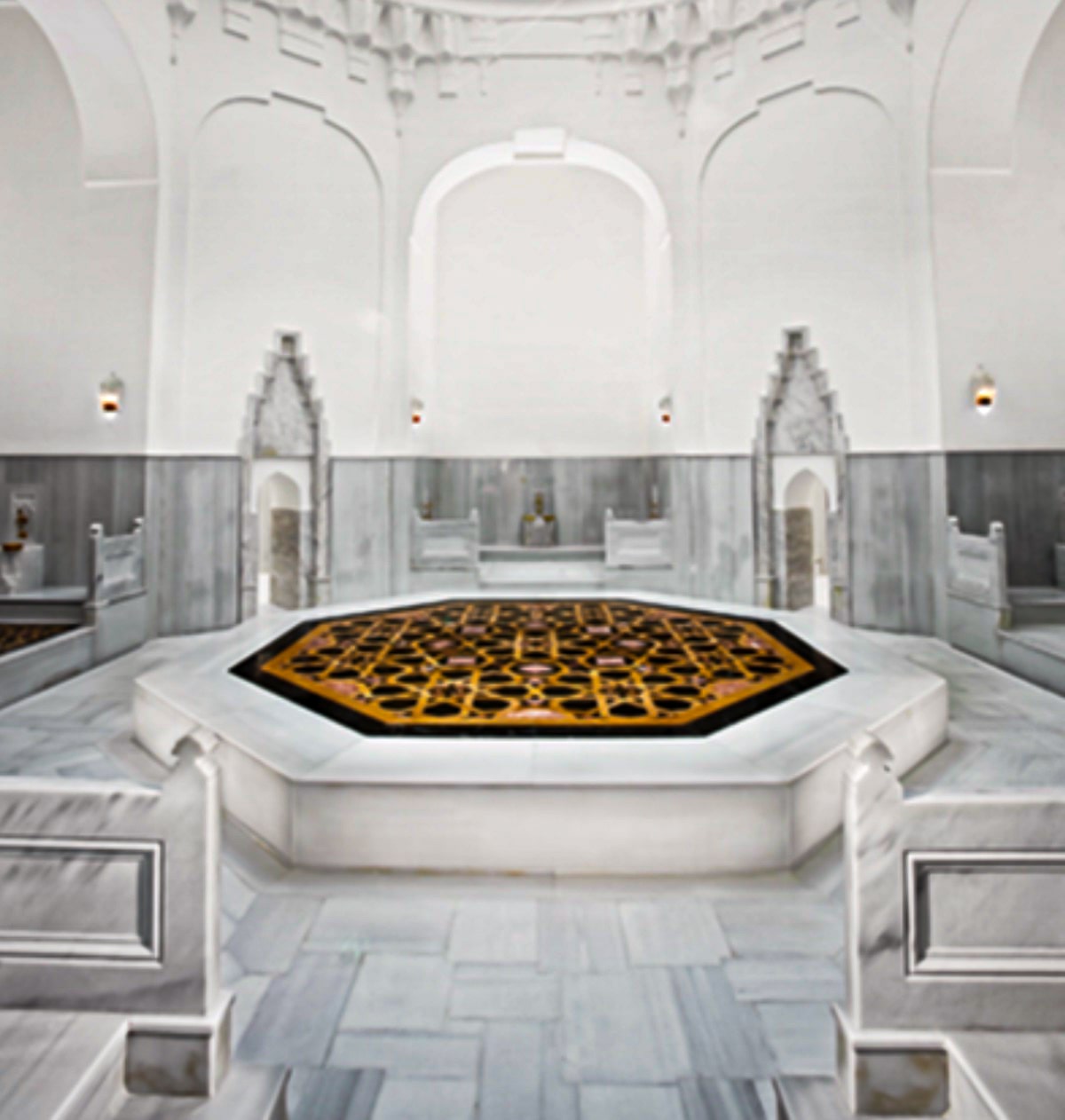 If you're in the mood for an afternoon of true hammam heaven, then the fancy Ayasofya Hurrem Sultan Hamam is sure to fit the (very large) bill. Built in 1556 for the wife of Suleiman the Magnificent, Roxelana, no expense was spared in the process.
The rather grim legend has it that Roxelana, a lady from Poland, was kidnapped at 15 and "given" to Suleiman as a gift.
The hammam was closed until 1910 when it became a prison for the overflow of visitors in Sultanahmet. It wasn't until 2008 that the baths underwent huge renovations to bring them to the luxurious hammam you see today where 14,00 square feet of Marmara marble and 160 gold-coated bath bowls were crafted specifically for guests.
It may be one of the most expensive options in the whole of Istanbul, but if you fancy living like a Sultan for the afternoon, this is certainly the place to do it.
Know Before You Go:
Location – Head to Istanbul's historic Old Quarter, and you'll find Ayasofya Hurrem Sultan Hamam between the unmissable Blue Mosque and Hagia Sophia.
Cost – With its glitz and glamour comes a hefty price tag. You'll need to set aside around $100 for a 45-minute experience that includes entrance to the hammam, traditional body scrub and wash ritual on a warm marble stone.
Getting there – Sitting in the touristy neighbourhood of Fatih, Ayasofya Hurrem Sultan Hamam is easy to get to from almost anywhere in the city. Jump in a taxi or on the Metro to Vezneciler or Yenikapi station.
Time needed – If you're going for the full treatment, you'll need to allow at least an hour to get scrubbed from head to toe and enjoy some relaxation time.
Opening hours – Ayasofya Hurrem Sultan Hamam is open every day from 10 am to 6 pm, but it's best to book ahead to make sure there's space for you!
5. Galatasaray Hamami (Turkish Bath Istanbul Cheap and Cheerful Option)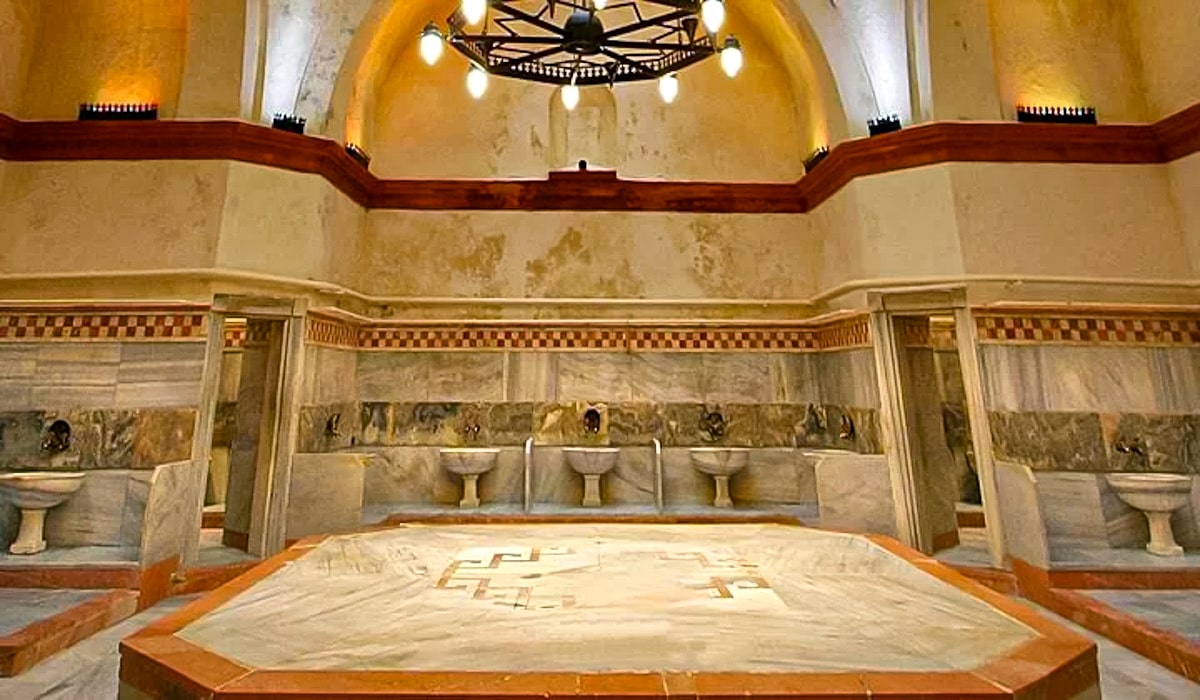 For those on a tight budget looking for an authentic Turkish bath experience in Istanbul, Galatasaray Hamami is an ideal choice.
As you may have guessed from the name, this Turkish bathhouse is part of Galatasaray, a social complex during the Ottoman era (although ardent travelling football fans may recognise the name due to the most decorated club in Turkey, Galatasaray FC).
It was last renovated over fifty years ago, which adds to its charm with a grand marble fountain in the middle of the main room and walls decorated floor to ceiling in intricately glazed tiles.
Know Before You Go:
Location – This Turkish bath Istanbul budget choice sits just off Istiklal Avenue, the ever-popular shopping street. Follow the crowds, and you won't have trouble finding it.
Cost – With prices starting from $16 for self-service, this is the best price you'll find for a Turkish hammam in Istanbul.
Getting there – Head over to metro stations Taksim or Sishan, and then you'll need to walk around ten minutes to get there.
Time needed – With the option of self-service, scrubs and massages, we'd recommend an hour here, more if you're opting for the full hammam scrub, oil and massage.
Opening hours – For men, Galatasary Hamami opens between 7 am and 10 pm. Women are robbed of two hours with access from 8 am to 9 pm only.
Best Hammams in Istanbul: A Summary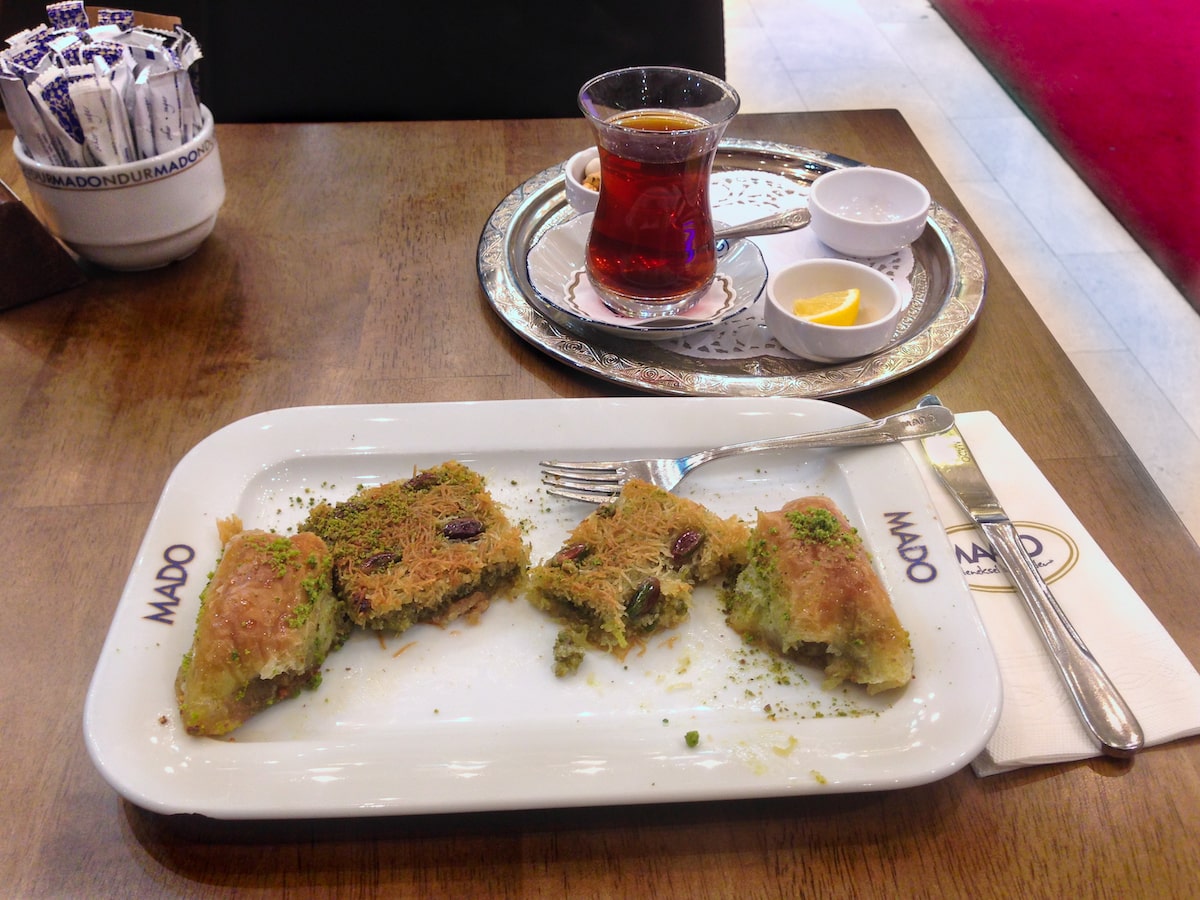 As you can see you are not short of options for Turkish hammams when travelling in one of the most popular capital cities in the world.
Just make time for some of that delicious baklava and Turkish delight and go easy on those little coffees, they pack quite a punch!
I hope you enjoyed this carefully assembled list of the best Turkish baths in Istanbul or moreso the best Turkish Hamams in Istanbul for YOU and your personal preference. If this Turkish tradition is not for you, then fret not, there are plenty of other cool things to do in this massive, fantastic city.