Auschwitz is undoubtedly one of the most infamous places on earth, capturing attention due to its historical significance and many are reluctant to visit because of its notably dark past.
It's understandable some may have reservations about visiting Auschwitz, it's also a place where you can gain a deeper insight into the appalling events that transpired throughout the Second World War.
If you're reading this article, you may be planning to visit Auschwitz from Krakow or may already be in Poland. Either way, there are so many other things to see and do in Poland but if you are interested and have the stomach the Auschwitz-Birkenau Concentration Camp awaits to tell its story.
In this guide, I'll outline how you can get from Krakow to Auschwitz, the logistics on visiting Auschwitz and what to exect so you'll know in advance what to expect and can prepare yourself according to your time and budget.
Why Would Anyone Want To Visit Auschwitz, Anyway?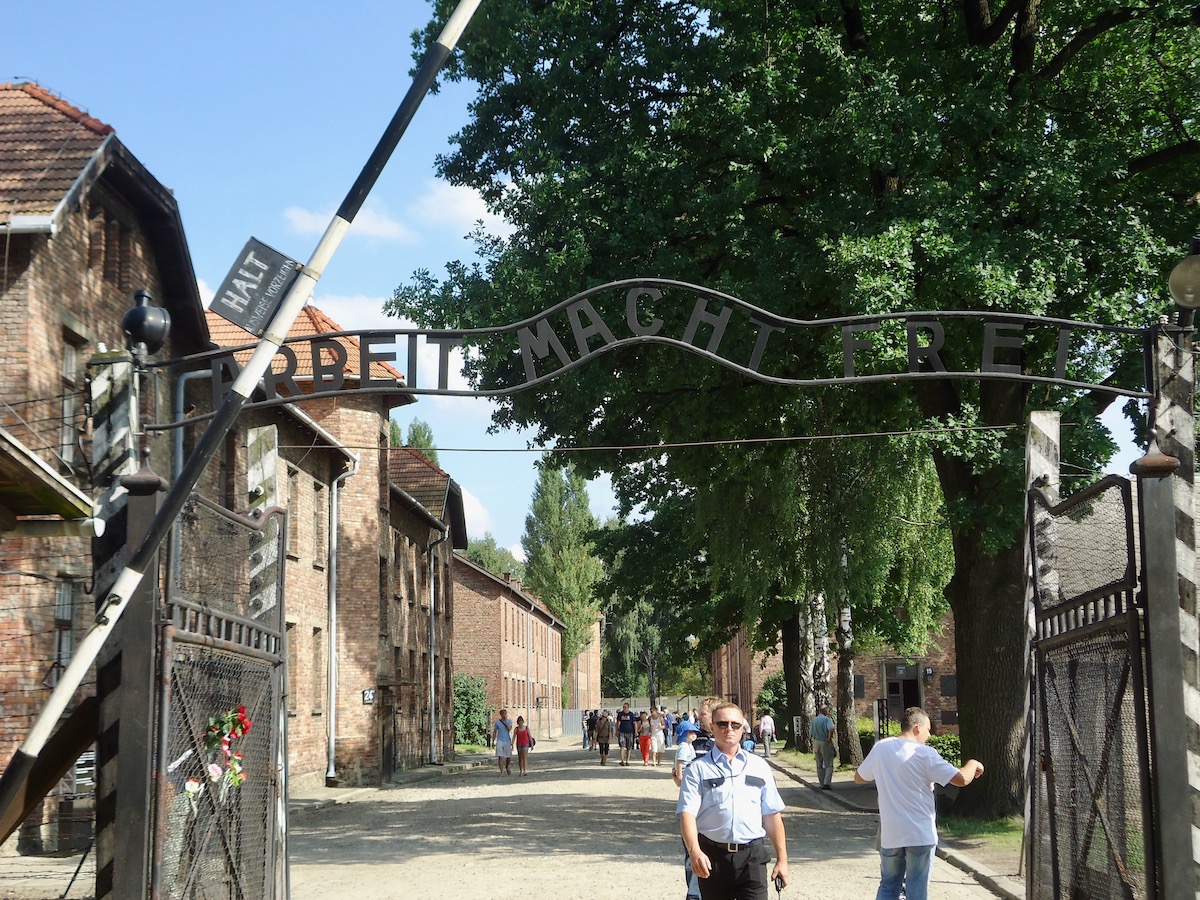 For many people, the reason for visiting Auschwitz is because the reality of what happened there is so confronting, and it's something that history can never forget and for some, even fathom.
For others, visiting Auschwitz provides an opportunity to learn about the history of the Holocaust and bear witness to the inhumanity that took place.
Some of the darkest pages in modern European history were written in Auschwitz – human life and dignity were worth less than nothing. So it should go without saying that your experience visiting Auschwitz will likely be something that'll stay with you for the rest of your life.
However, don't feel any obligation to visit Auschwitz if you are in Poland and you feel like it's not for you. Walk your own path, as your reasons are your own personal rationale and you don't owe anyone any explanations if you don't feel like going.
How To Get To Krakow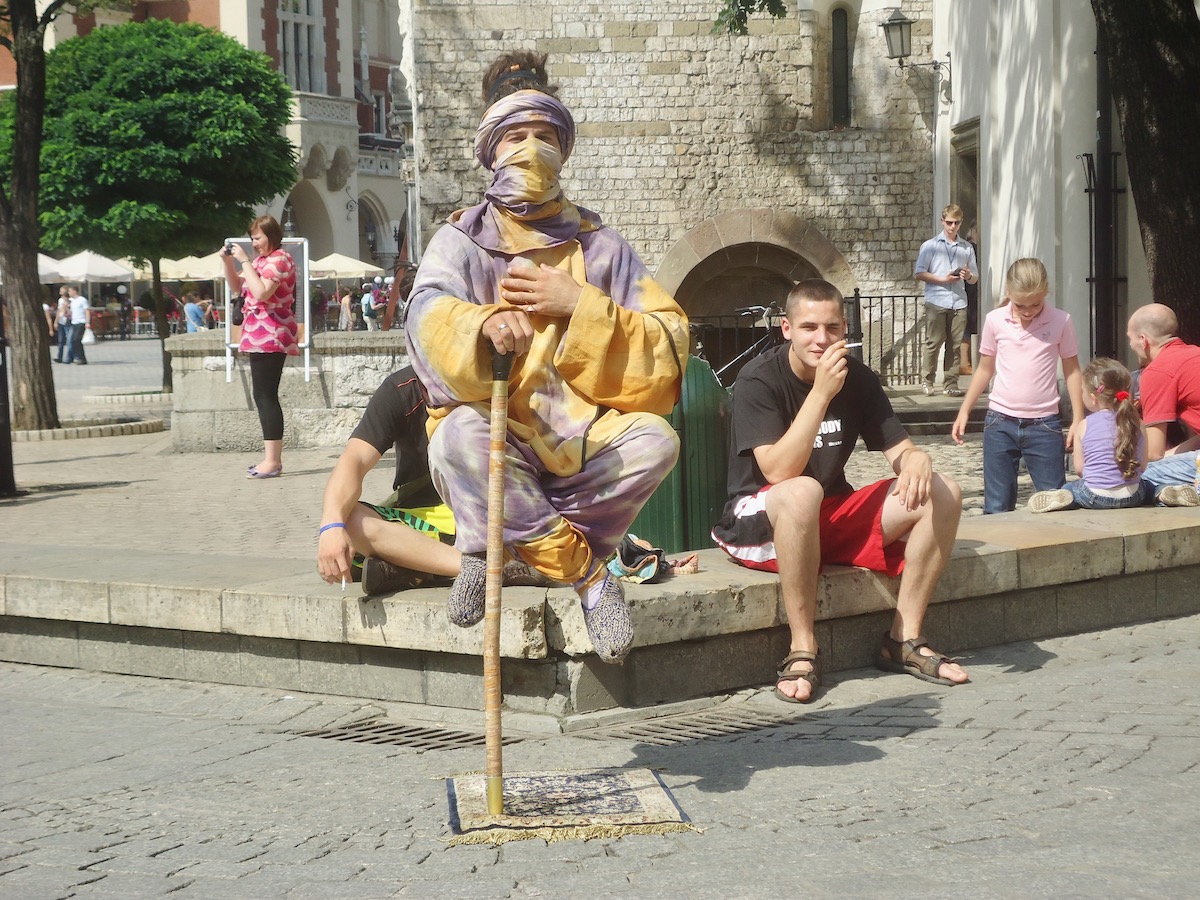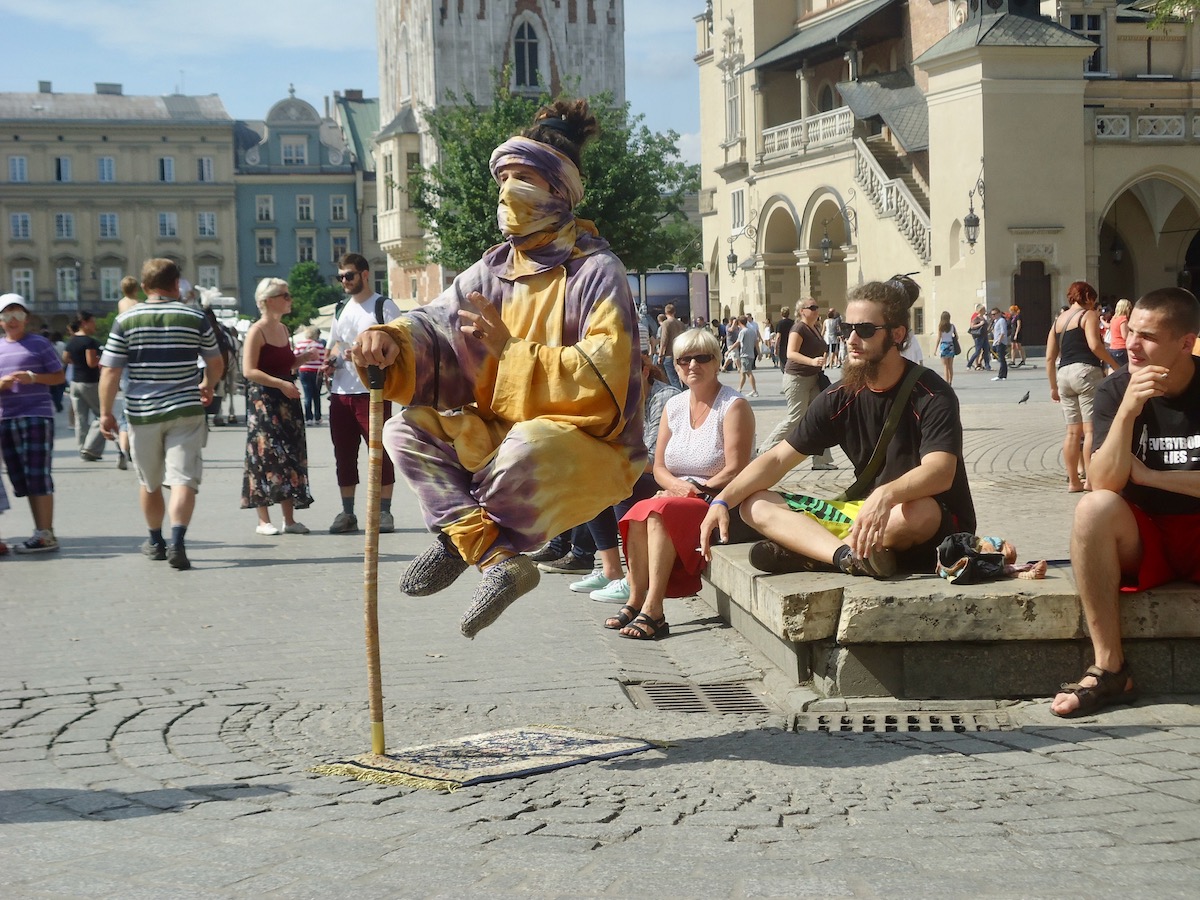 The most convenient way to reach Krakow from abroad is generally a direct flight, although it all depends on your starting point.
Krakow is serviced by many airlines, including Ryanair, Wizz Air, and Lufthansa, among others. Flights arrive at John Paul II International Airport (KRK), with Wroclaw's Copernicus Airport (WRO) as an alternative option.
For those based in the UK who plan to visit Krakow, you have several cheap flight options at your disposal from major airports, including Birmingham, Manchester, London Heathrow, and East Midlands. The average price for return flights is around GBP 90, although this will vary depending on the time of year that you're travelling.
It's also possible to travel to Krakow via other means. For example, a superfast train from Warsaw allows you to reach Krakow in as little as 2.5 hours, with the price ranging between PLN 100 and 229 (GBP 18 – 42).
How Far is Auschwitz From Krakow?
Auschwitz is approximately 75 kilometres (46 miles) from Krakow. This distance isn't huge, but you should give yourself plenty of time getting from Krakow to Auschwitz, to account for potential delays and to ensure you have enough opportunity to see everything you need to.
If you plan on driving from Krakow to Auschwitz, it will take around an hour, depending on traffic conditions. On arrival, you'll find there are paid car parks nearby both Auschwitz 1 and Auschwitz 2 for your convenience.
One of the most cost-effective ways to visit the location is by catching a train to and from the railway station at Oswiecim, which involves a journey time of around 90 minutes.
However, this won't drop you off directly outside the museum's gates, so other travel methods such as a bus or taxi may be preferable depending on your needs.
How Far Is Auschwitz 1 From Auschwitz 2?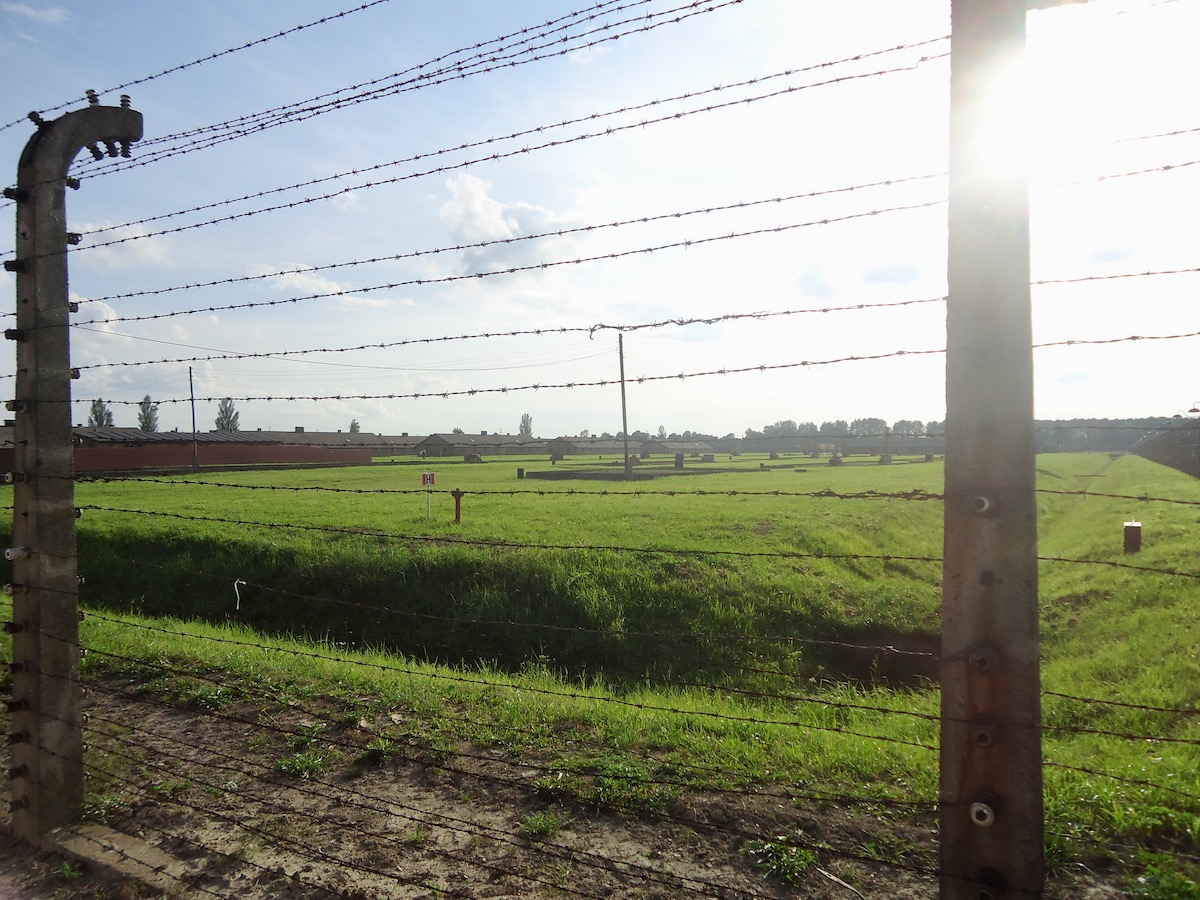 Auschwitz 1 and Auschwitz 2 (Birkenau) are around 3.5km (2.1 miles) apart. Visiting each location is highly recommended if you'd like to learn more about the complete history of Auschwitz, as they each provide a different perspective.
If you plan to visit both Auschwitz 1 and 2 (which you definitely should), I'd recommend doing this in one day. You should factor in at least 4 to 5 hours to see Auschwitz 1 and Auschwitz 2 together to give yourself ample time to take in your surroundings.
For those doing a self-guided tour, you'll likely need additional time to explore due to the distance between the two museums, so it's worth bearing this in mind when planning your day.
9 Rules For Visiting Auschwitz Concentration Camp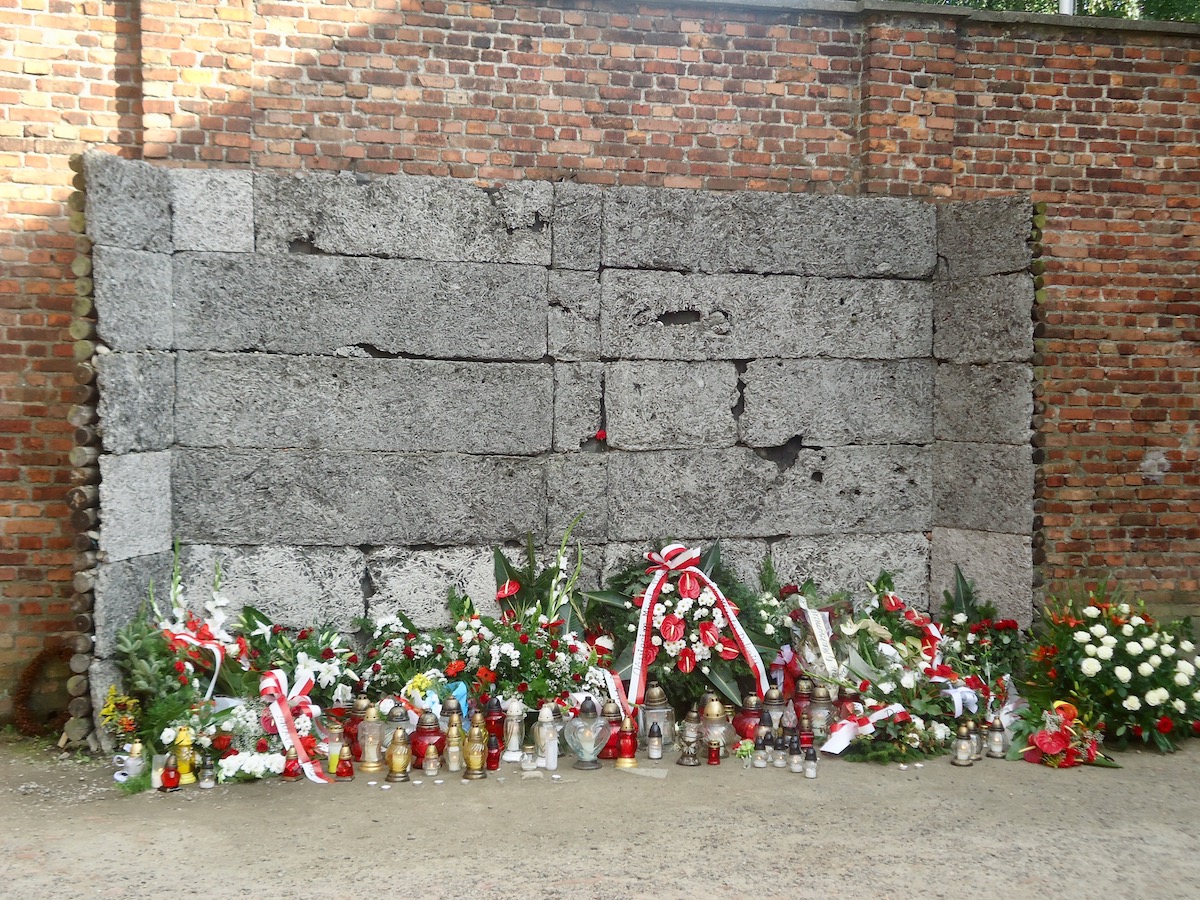 Auschwitz is a place of remembrance and also educational value. Visitors should therefore behave respectfully and follow instructions set out by educators and any museum staff.
Before you visit the Auschwitz concentration camp, it is vital to know the rules in order to be respectful of those who passed. Keep the following in mind at all times:
Flash photography is forbidden inside the buildings; you may only take photos in certain museum areas.
During the winter months, there is a chance that Auschwitz I and Birkenau could be covered in snow or ice. Dress appropriately and wear suitable footwear for your safety.
Travel light and keep your personal belongings with you at all times; your luggage size must not exceed 30 x 20 x 10 cm.
You must not move, remove, or destroy any property on the museum grounds.
You must obtain your entry pass as you cannot visit Auschwitz without one. Head to the official website to register your interest to avoid disappointment.
Children under the age of 14 are not recommended to visit the site.
Smoking (including e-cigarettes) is not permitted in any area of the museum grounds; you also must not consume any food/alcohol or be under the influence of alcohol or any other intoxicating substances while on site.
It is forbidden to light candles in places other than specifically designated areas.
Don't take jubilant photos in Auschwitz for baffling Insta gains. (This sadly became a thing). I saw a couple of lads holding their football scarves above their heads at the "death wall." Seriously.
Key Information About Visiting Auschwitz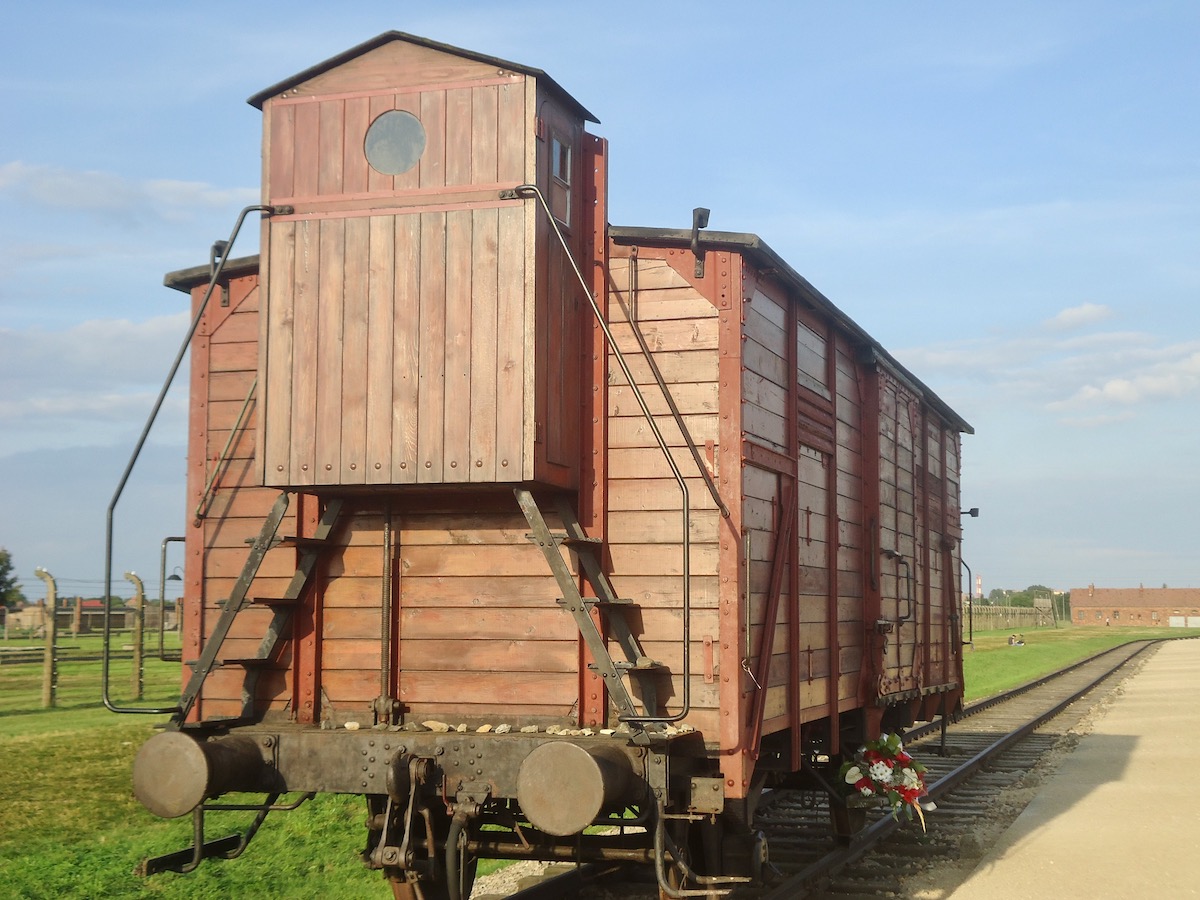 The museum at Auschwitz is open seven days a week and is open every day except on 1st January, 25th December, and Easter Sunday.
Opening times vary depending on the time of year that you plan to visit. Below is a complete schedule of the Auschwitz opening hours:
8:00 AM – 2:00 PM December
8:00 AM – 3:00 PM January, November
8:00 AM – 4:00 PM February
8:00 AM – 5:00 PM March, October
8:00 AM – 6:00 PM April, May, and September
8:00 AM – 7:00 PM June, July, and August
May to September can get very busy at Auschwitz as this is the most popular time to visit. Between April and May is best if you wish to avoid the peak season rush.
You'll need to make an online reservation on their official website to guarantee entry, whether you're an individual visitor or part of an organised group.
Self-Guided Tour vs Full-Day Tour (Pros and Cons)
A self-guided tour is a great option if you prefer to plan your own trip and have plenty of prior knowledge of Auschwitz. However, there are some pros and cons:
Pros include:
You can see Auschwitz Concentration Camp at your own pace.
There are many boards providing useful information for you to learn.
There are limited free entry tickets available for individual visitors.
Cons include:
You won't have a professional guide to answer any questions you may have.
At certain hours, you cannot enter Auschwitz as a solo visitor.
There will still be large crowds of people visiting the camp, so it may not feel as private or personal as one would wish.
With a Full Day Tour:
On Full-Day Auschwitz tours, an expert guide will join you throughout your visit.
Pros include:
A guide will be able to tell you more information than you would know by heart.
You'll be surrounded by like-minded individuals who are also there to learn everything about the history of Auschwitz.
You'll be picked up/dropped off at your accommodation or another designated area.
Cons include:
You may not be able to spend as much time as you'd like in a particular area.
You have to arrange your own transportation (although this may suit some people).
You have to stick to an itinerary, so you can't go at your own pace.
How To Get From Krakow To Auschwitz
Whether you're travelling on a budget or don't mind spending extra on getting there, read on to find out everything you need to know about getting from Krakow City Centre to Auschwitz Concentration Camp.
Taxi
Know Before You Go:
Location: From your accommodation/Kraków Główny Train Station
Cost: PLN 200 – 300 (GBP 40 – 50) each way
Time needed: 55 minutes
Getting there: Head to the rooftop parking lot at Kraków Główny Train Station and let your driver know you wish to visit Auschwitz-Birkenau State Museum. It may be worth pre-booking your return journey to save waiting around.
Uber/Bolt
Know Before You Go:
Location: From your accommodation/Kraków Główny Train Station
Cost: PLN 200 – 300 (GBP 40 – 50) each way
Time needed: 55 minutes
Getting there: Simply download the Uber or Bolt app (if you haven't already) and choose the Auschwitz-Birkenau State Museum as your destination.
Bus
Know Before You Go:
Location: Dworzec Autobusowy (Main Bus Station)
Cost: PLN 14 (GBP 2.70) single, PLN 28 (GBP 5.40) return
Time needed: 85+ minutes
Getting there: Head to the north side of Krakow Old Town to the main bus station from where you can get a direct bus to Auschwitz any time between 6 AM and 8 PM.
Train
Know Before You Go:
Location: Kraków Główny Train Station
Cost: PLN 16 (GBP 3) one-way.
Time needed: 1h40
Getting there: Head to Kraków Główny Train Station before taking the pedestrian tunnels to the underground ticketing area. From here you can get a direct train to Oswiecim. There is then a 1-mile walk to the museum entrance.
Tour
Know Before You Go:
Location: Direct from your hotel/accommodation
Cost: From PLN 100 (GBP 19)
Time needed: All day (7hr+)
Getting there: Book with one of many tour operators who will pick you up from your accommodation, drop you off directly outside Auschwitz, and then drop you back at your accommodation after your tour.
What To Expect When Visiting Auschwitz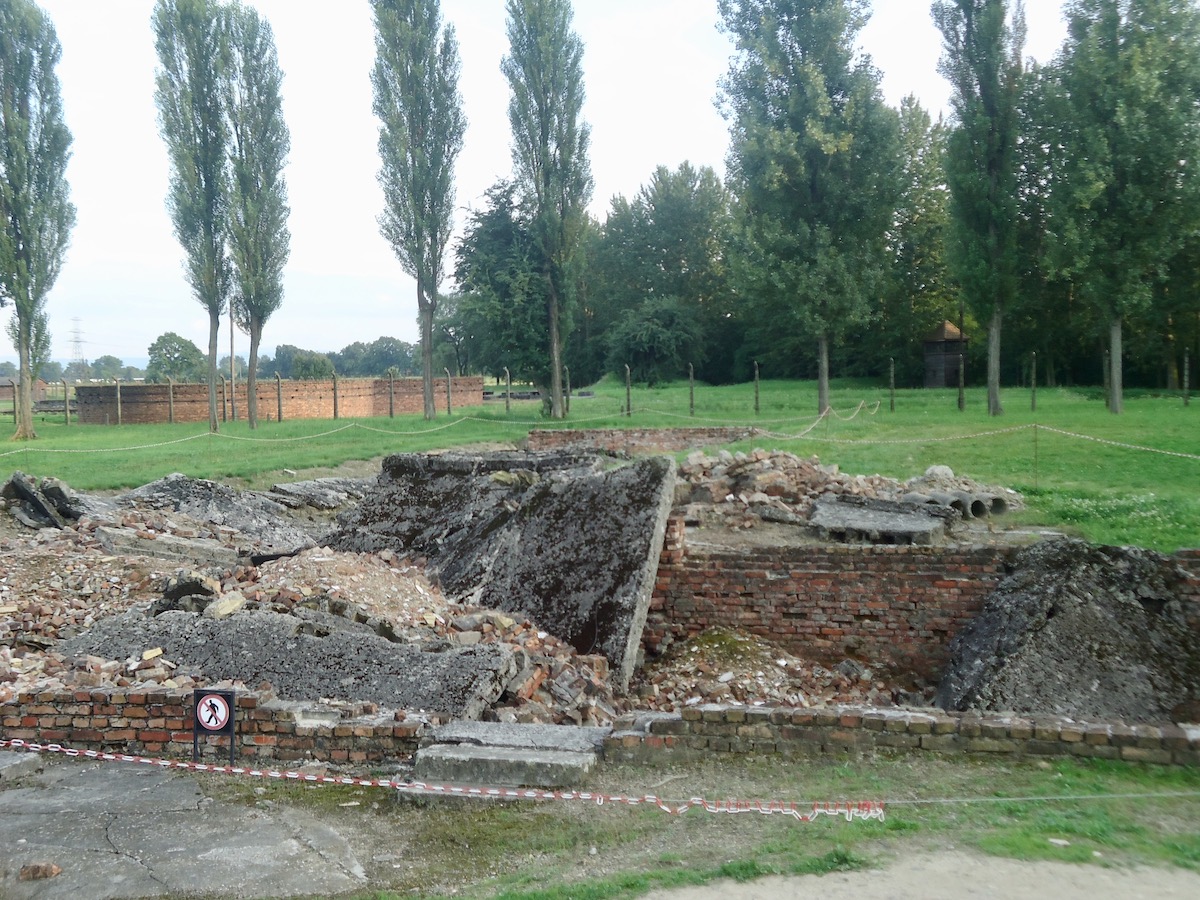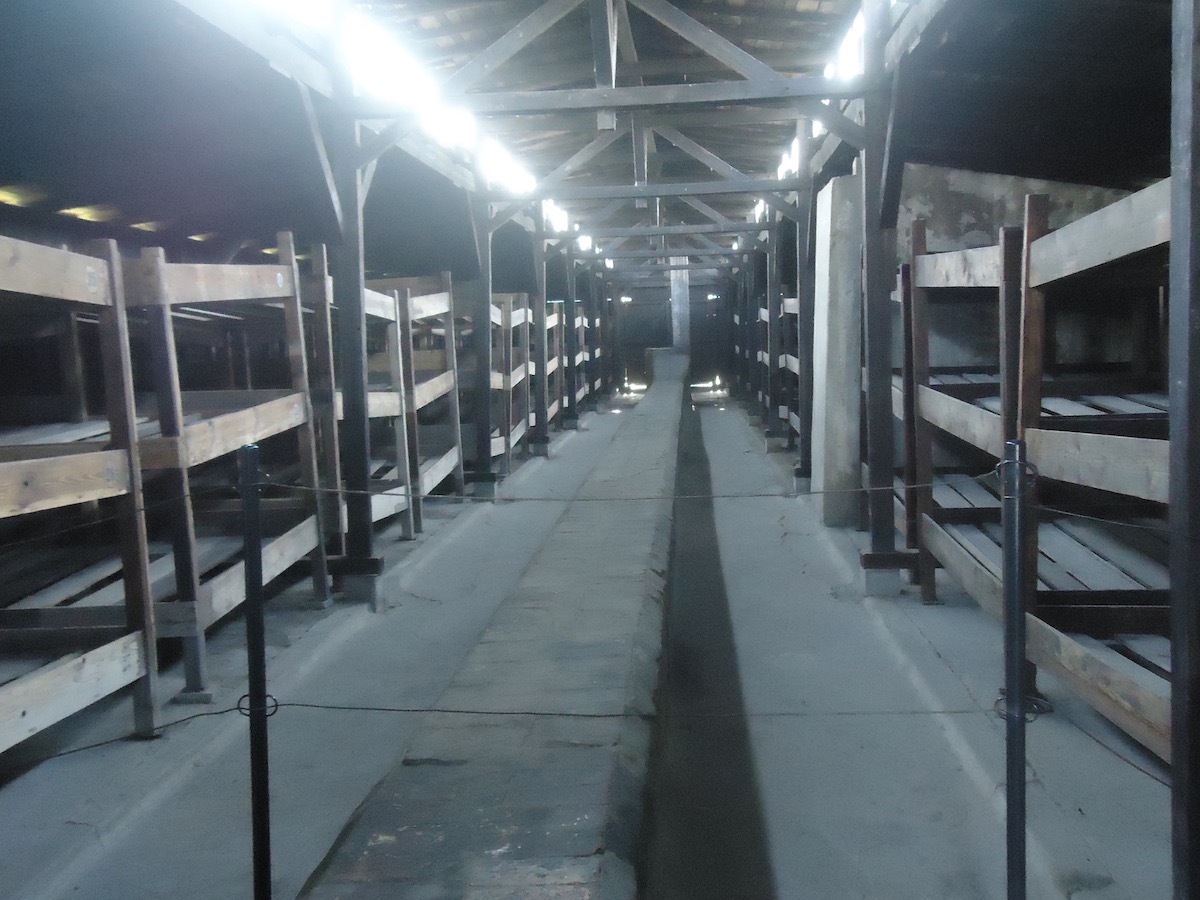 Given its brutal past, Auschwitz is an extremely sobering place to visit. It's therefore important to prepare yourself before entering.
It has been said that no birds fly over or around Auschwitz and that the animals can feel the energy of the place and stay away from it. I can confirm from my own experience that this is an urban myth, but the whole of the grounds definitely does carry a feeling that is hard to put into words.
Most visitors leave the camps in stunned and contemplative silence, having seen everything from the original barracks and watchtowers to the mass extermination devices and unloading ramps; you'll often have to take a moment to process your surroundings.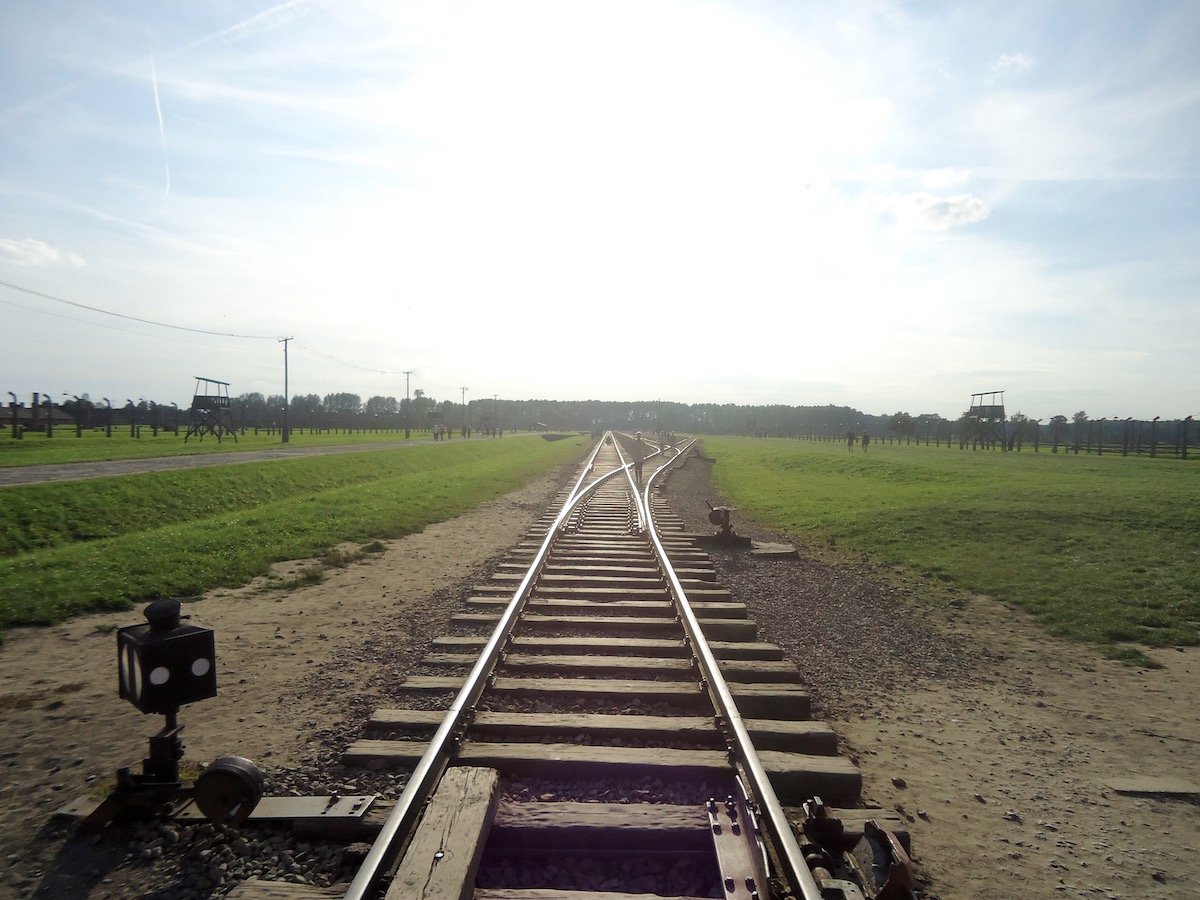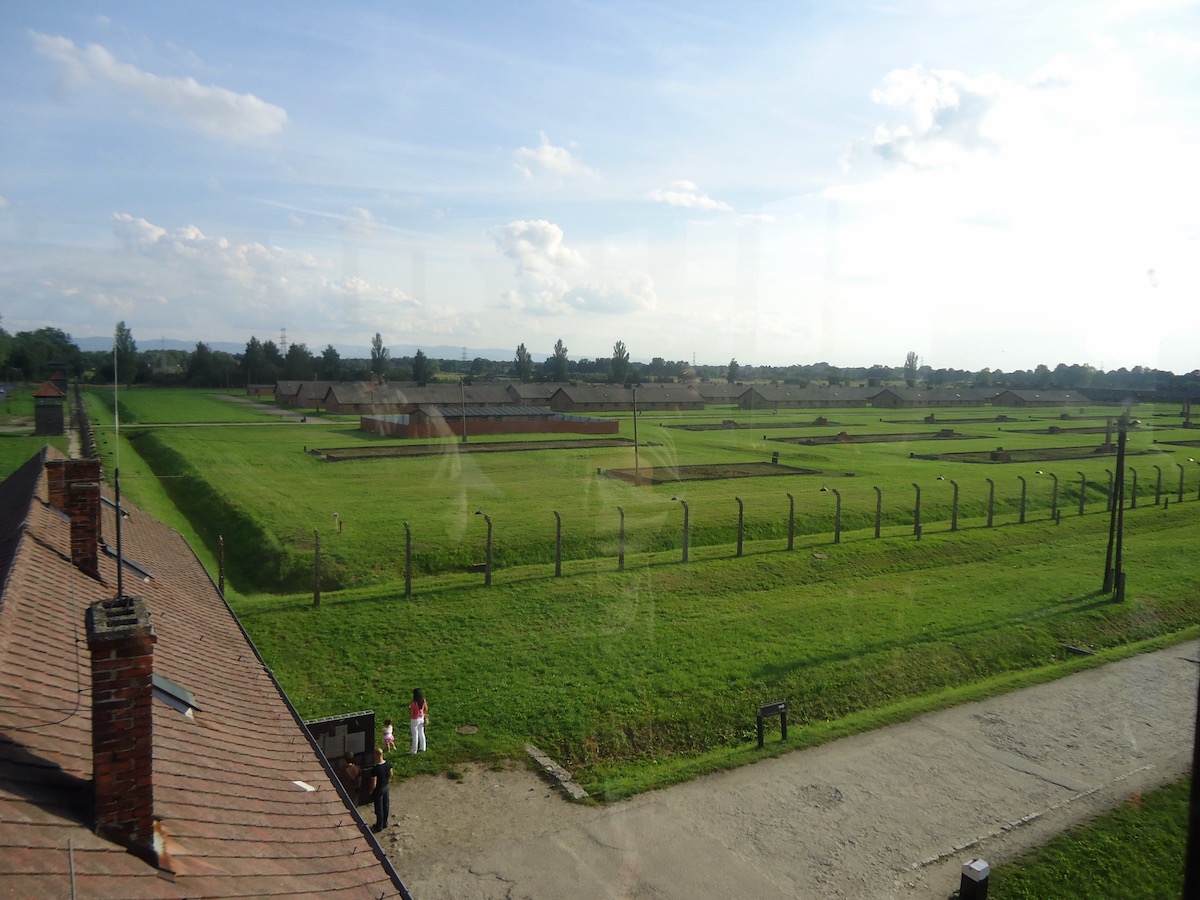 There are two parts to visiting Auschwitz concentration camp: Auschwitz I and Birkenau (Auschwitz 2). Seeing both is a must if you'd like to understand the history of this saddening location as thoroughly as possible.
It takes around 1.5 hours to take in everything at Auschwitz I. Later, you'll head to Birkenau, the second camp at Auschwitz, which will take around an hour to explore.
English is the standard language for most tours; French, Italian, Spanish, and German are also available on request, among other languages.
From the very first moment of walking in and seeing the notorious "Arbeit Macht Frei" (work sets you free) returned sign that was recently stolen by a Neo-Nazi group, you'll feel the chills. This is the sign that the Auschwitz victims walked into, with music playing. They had no idea what horrors would meet them here.
You will witness the barbed wire, which had electric volts in it when a prisoner tried to escape. It was enough to kill an individual weighing 55 kg – most of the malnourished victims weighed no more than 30 Kilos.
The selection process was callous at Auschwitz. Healthy-looking men were accepted to work in horrific conditions, while women and children were separated and sent to immediate death.
The purchases of the victims were taken and used for recycling to improve the German economy, you will see mountains of the stolen purchases, including children's clothes and even the hair off the victims' heads. Every bit of the sufferers of Auschwitz was used for Nazi gain, as the victims were stripped of everything from their items to the last of their dignity.
You will see prosthetic limbs screaming with untold irony, as the Jewish victims lost their limbs fighting for Germany in World War One. The Polish victims were already well integrated into the German community, making these actions even harder to believe.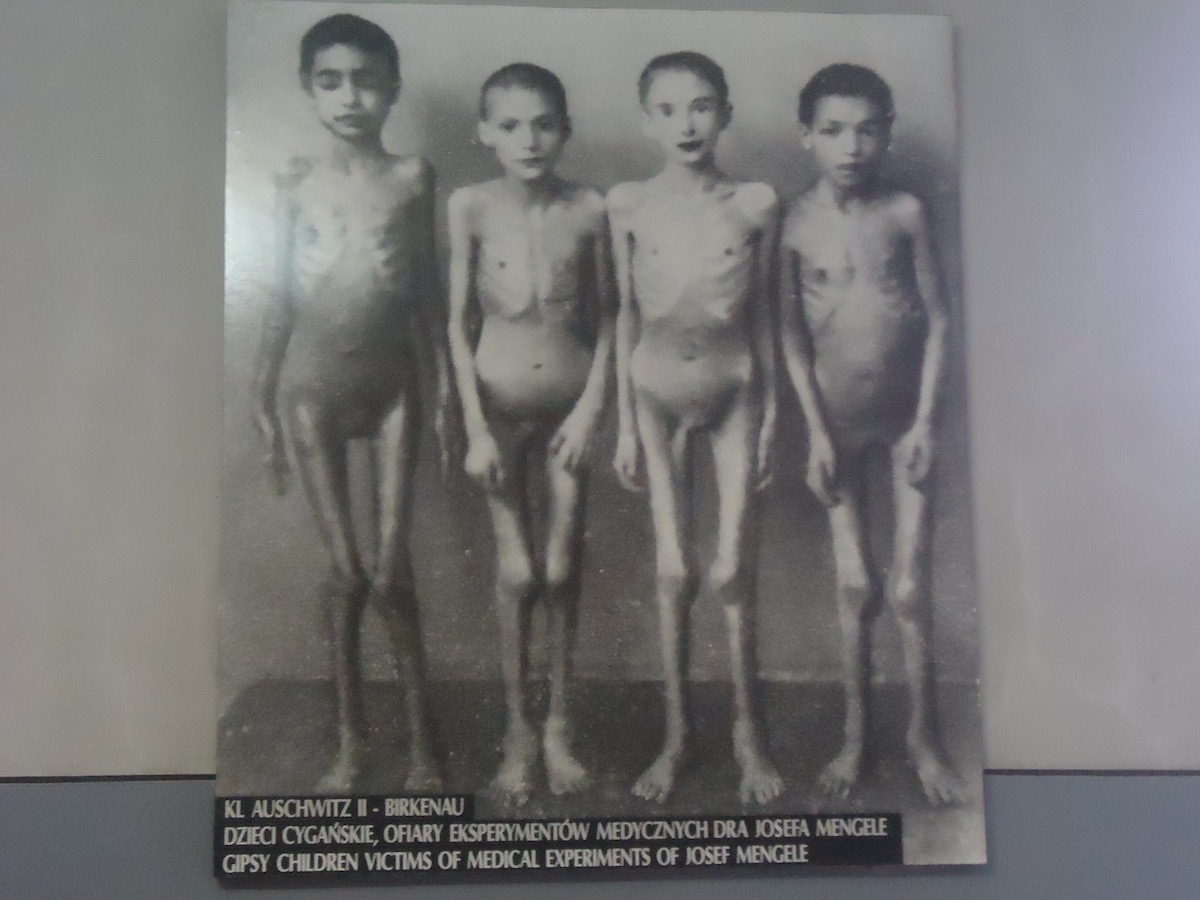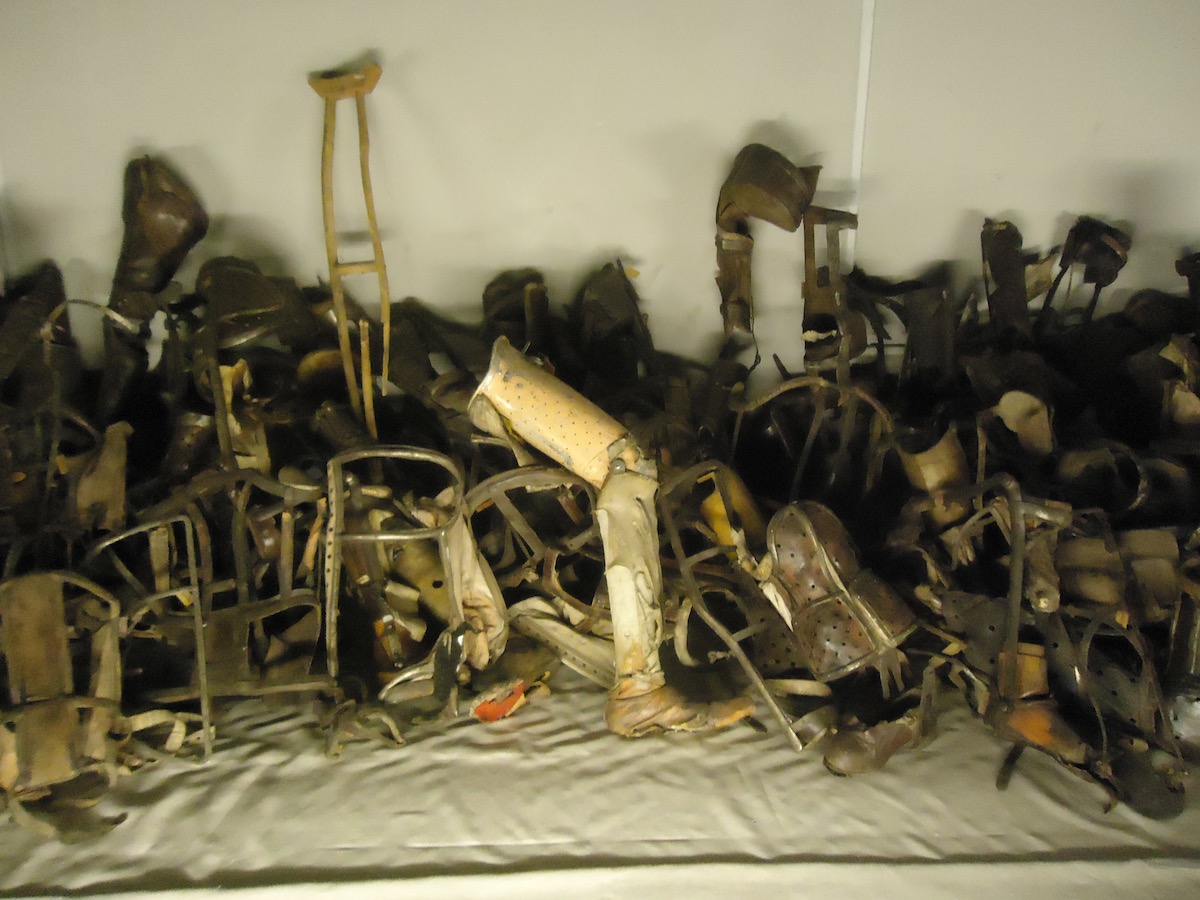 I have spoken to a lot of people who just don't 'get' why I'd want to visit such a sad place. It's very simple; I want to experience everything on the road; the good, the bad, the beautiful and even the downright depressing.
I strongly reiterate that it's also completely fine if visiting Auschwitz isn't for you, but if it is; I hope this article gave you all the options that you need for your trip to Poland.