When making a claim about the best digital nomads insurance for a relatively new travel insurance company after I've already fawned over World Nomads in another post, it would come as no surprise to me if it brought about a few raised eyebrows.
The suspicion over my seeming capriciousness is a fair one and one I'm happy to answer. Why would I jump ship and fall into the loving arms of another? Surely the reason for my turncoat nature would be a financial one – is this yet another travel blogger sell-out?
That's where my cynical mind would naturally go if I read such a clickbait title, but the truth is that World Nomads offers a much bigger slice of the affiliate cake, which is one big draw to them and why travel bloggers yell its name from the rooftops.
That's not to badmouth World Nomads, they were good to me in times of need and I have no complaints about my time with them – a solid company with great service.
Why I Chose SafetyWing
There is only a small percentage of the world that lives like me. I say that as a positive; I love my life and the lifestyle that I have created over the years, but speaking as someone who left a country with free healthcare it would be dishonest to say that health insurance wasn't a big concern of mine.
I've had some near scrapes on the road, and it was almost lights out for me on one occasion. Life and health are precious and shortly after my World Nomads policy finished, I received an email from a SafetyWing representative asking if I'd like to take a look at their company. If I was happy with it, I could take out an insurance policy and partner with them.
That word again – cynicism. We are creatures of comfort, we like what we are used to, and the comfort zone is, well, comfortable – especially when it comes to matters of the wallet.
I politely declined, feeling overwhelmed after climbing Mont Blanc in France and then jetting off to Tanzania for another mountain and Africa's highest –Mount Kilimanjaro. I simply couldn't be arsed to read the policy, terms and conditions.
This was a stupid mentality, of course. Surely climbing mountains would increase my chances of injury (or worse) and this was a "no time like the present" scenario to either sign back up with World Nomads, or potentially make a new deal with SafetyWing and cover myself.
Nope. Off I went and climbed Kili with no cover whatsoever.
When I got back to Chiang Mai a few weeks later feeling calm and work-focused, I looked back at the email from Safety Wing and, like most people, immediately compared the price…I thought it was a typo.
As a 35-year-old I would be paying $37 USD per month – that's a third of what I used to pay. Massive chunk in savings.
Other ages:
18-39: $37 USD
40-49: $60 USD
40-59: $94 USD
60-59: $128 USD
World Nomads starts at $120 per month and for a pre-determined period of time, the latter not being an issue for people who methodically plan their travels.
But for someone like me who is constantly on the go or jetting off at the last minute I need something more flexible. The second factor which signed, sealed and delivered this for me was the fact that SafetyWing allows you to automatically renew your policy every 28 days.
Sweet! I can just cancel any time and after 364 days it self-cancels – I just have to opt in via email.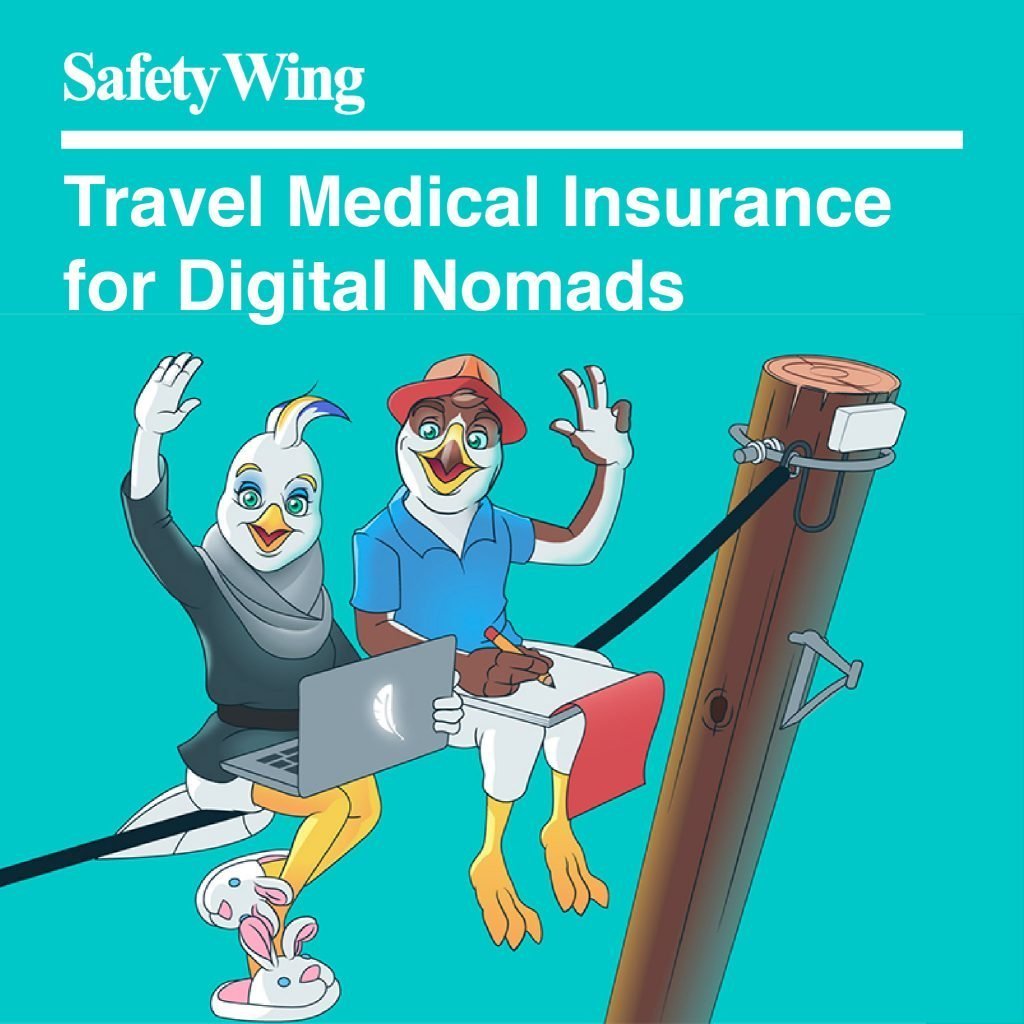 Can you Sign up to SafetyWing Outside your Own Country?
You sure can! To be fair you also can with World Nomads, but as written above without a fixed trip time and for a third of the price.
If you are a non-American planning on visiting the US, you're better off getting the US cover only while you're in the country and switch back to the non-US cover as soon as you leave the States.
Does SafetyWing Offer Private Healthcare?
Yes, in most countries and there's every chance that you can get to use private healthcare in your own country, as you are also covered if something happens to you while you're visiting back home for 30 days within every 90-day period (or for 15 days per 90 days if you're from the US). They make this bit very easy for you, wherever you are in the world – log into your personal account and type in your location in their dashboard, and they will inform you of all the private hospitals in your area.
What am I Covered for with SafetyWing?
The dental coverage is up to $1,000 and emergency medical expenses up to $250,000, with a $3,000 USD of lost luggage coverage.
Excess/Yearly Deductible Offers
$250 a year is the max you will pay.
Family-Friendly Travel Insurance
Every adult can add a child between the ages of 14 days and 10 years onto their policy free of charge, up to 2 per family.
Which countries does SafetyWing cover me for?
"You are covered for travel anywhere in the world outside of your home country, with the exception of Cuba, Iran, and North Korea.
For those of us who really like to go off the beaten path; We still have the usual cover in volatile countries, with the exception of kidnapping:
"You're not covered for kidnapping or express kidnapping that begins in Iraq, Afghanistan, Pakistan, Nigeria, Somalia or Venezuela or any country for which we are prohibited from transaction due to sanctions by the United States Department of the Treasury's Office of Foreign Assets Control (OFAC). An example of express kidnapping is someone holds the victim at gunpoint and forces them to withdraw cash from an ATM."
SafetyWing Digital Nomad Insurance at a Glance
I appreciate that was a lot of information to take in, especially if you are new to the name of SafetyWing or even new to the world of travel insurance. Here are some nice graphics to absorb the information…