I promise that this 7 days in Cuba itinerary will take you on an exciting journey of Castro, cigars, Communistic chaos and much, much more.
If (like myself when I first visited) you only have enough for a strict one-week Cuba itinerary, fear not, as this guide will take you from the busy streets of Havana to the white sandy beaches of Playa Ancon and everything that is possible in between. 
It'd be nice to have more days to play with when visiting a new country, but let's get the most value out of your trip to the 'Pearl of the Antilles' with the time that you do have so that your Cuba trip is worth bragging about.
Is a 7 Day Cuba Itinerary Enough Time?
Are 7 days in Cuba enough? Are 7 days of travel enough time for any country that is this famous?
Realistically, no – it is not "enough" time as we always want more and this slow-moving island admittedly packs a punch that requires more time spent in the country.
However, if 7 days in Cuba is all you have – then this guide is action-packed enough to make the most of the time that you have there.
I certainly felt like I made the most out of it!
If you have an extra bit of wiggle room, you can extend your one-week Cuba itinerary to 10 days with considerable ease, taking in the western side of the country and the town of Viñales (which I have left out of this post as it's an optional extra).
It's also possible to enjoy your week in Cuba without a hint of booze. There is more to Cuba than just partying, it also has a lot of fun nightlife waiting for you if you do want it.
Day 1: Classic Car Tour in Havana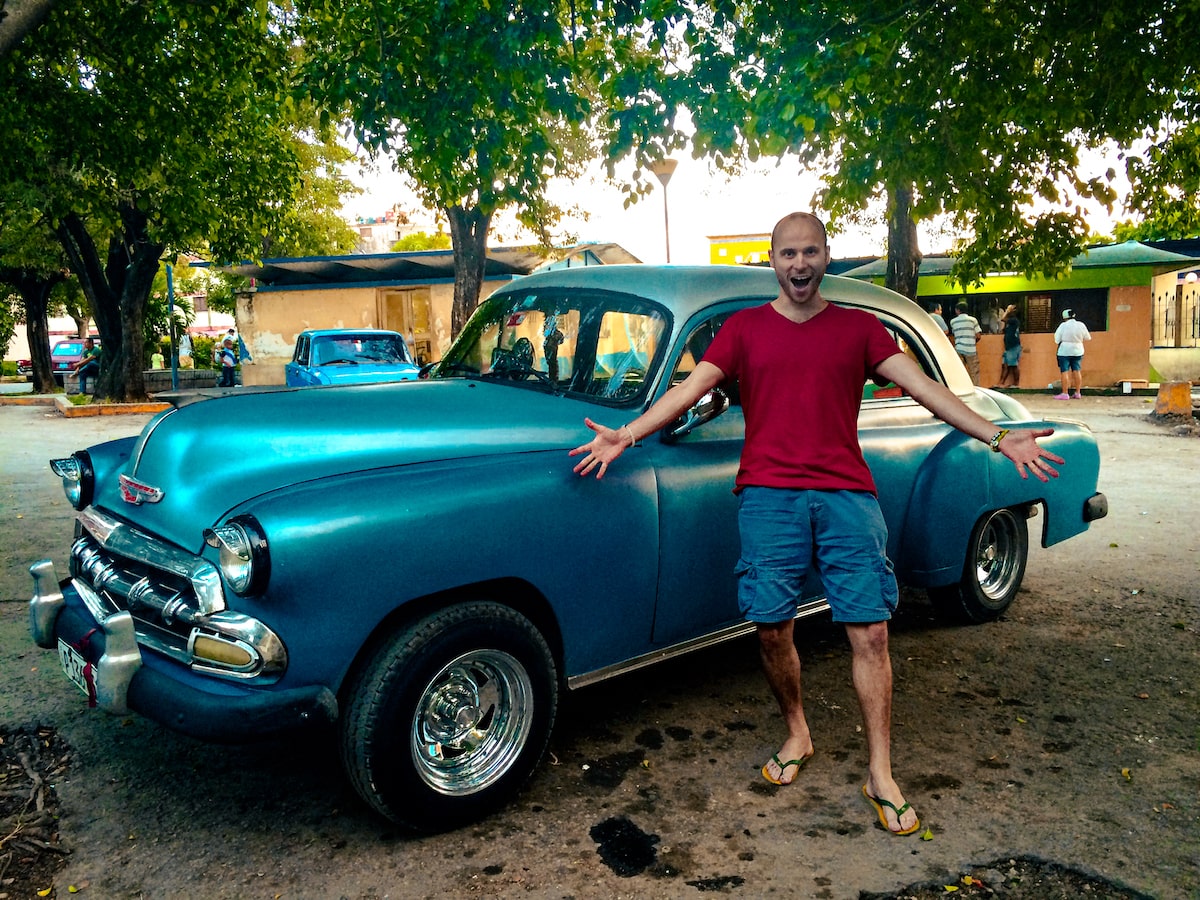 One of the first things that come to mind when we think of Cuba and Havana, is the classic cars, especially the 1950s Ford Fairlane or Chevrolet.
What better way to see the city and do a bit of sightseeing on the first day of your Cuba itinerary than from the comfort of a classic car? Spend the day being driven around by an English-speaking guide, taking in old, central and new Havana.
Even if you're not a petrolhead car enthusiast, the experience of exploring the city and beyond in such a way is like nothing else.
Strictly speaking, you can't jump behind the wheel of these classic cars yourself, and in the insane traffic of Havana, you may not want to. But, putting travellers at the helm is not totally unheard of, especially if you slip a few extra pesos your driver's way.
Know before you go:
Cost: $34 for one seat or $109 for the whole car
Time needed: Tours generally last a couple of hours and start from 9 am or 11:45 am.
Eat a Local Dinner With Your Casa Particular Family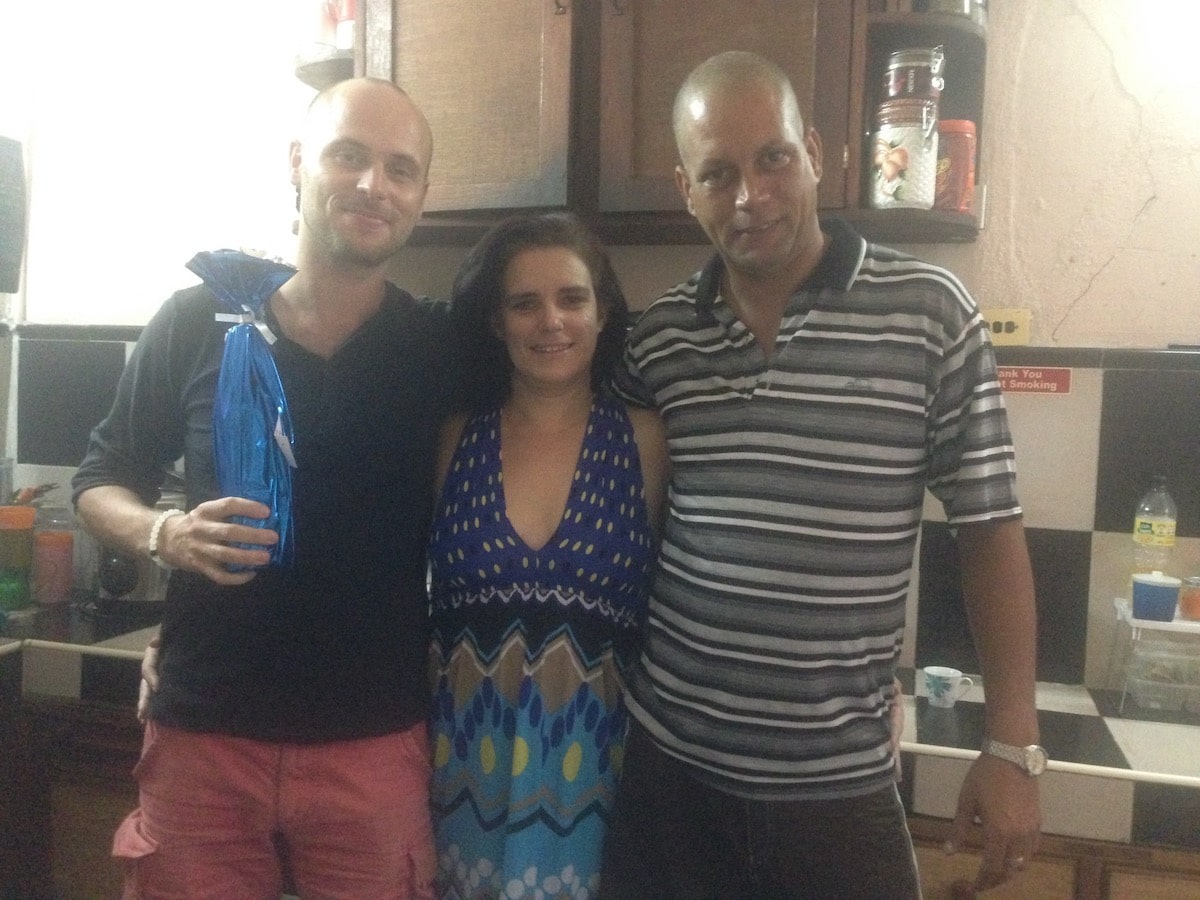 There are typically two ways you can visit the island of Cuba; you either treat it like every other resort-like island in the Caribbean and stay in gated luxury away from the real Cuba (no thanks) or you stay in a Casa Peculiar. 
A Casa Particular is the private home of a local Cuban family, and you'll pay them a few pesos for the luxury of staying a few nights, sometimes with the added luxury of a home-cooked meal.
No matter what your budget is, staying with a local Cuban family gives you a truly authentic experience of life in the country and also adds richness to your experience.
Your host family can give you insight into local life in Cuba (and even some rebellious opinions, that are not published by some biased Western media outlets) along with some handy tips on what to see and do while you're there. 
One of the most important times of the day in Cuba, like a lot of countries across the globe, is meal times. Sitting down and eating a local dinner with your Casa Particular family is a fantastic way to end your first day and one of the coolest things you will do on your 7-day Cuba itinerary.
Often based around local staples such as chicken, rice, beans and plantain, Cuban home cooking is a hearty and healthy affair. Veggies and vegans won't struggle to find a tasty filling meal as many locals rely heavily on grains, beans and other natural ingredients.
It's generally a good idea to book your Casa Particular well in advance, ensuring that they are registered with the authorities. Families that host foreigners without being officially registered with the government can receive hefty fines.
We found one by searching Facebook groups and the sister of the lady, whose Casa Particular we stayed in was living in the USA – she facilitated a lot for us before we arrived in Cuba.
Know before you go:
Location: Casa Particulars can be found across the city and it's usually a case of following the word of mouth or a guy who knows a guy if you don't plan it (although it's best to plan in advance with due diligence). 
Cost: Board usually costs between $10 and $30, depending on the quality of accommodation.
Day 2: Free Walking Tour of Central Havana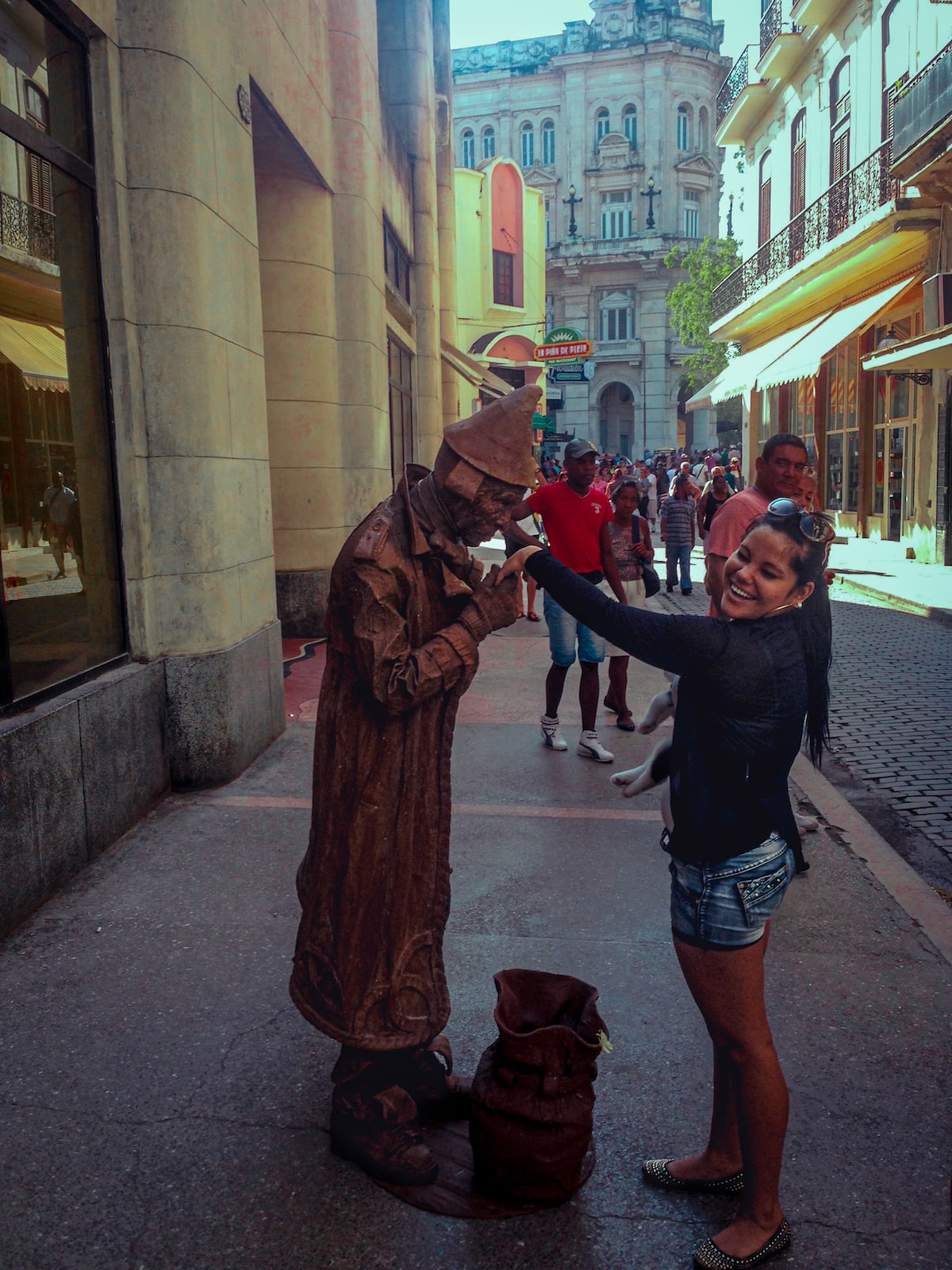 You may be more than capable of walking around the city under your own steam, but having a local to show you hidden spots around Havana is unbeatable – it allows you to experience the city through the eyes of a local, someone who lives and breathes Havana and has called the city home for a lifetime.
These guides often have a zest for their country and capital city, and allowing them to share this passion is a reward in itself. Ask your host or hotel about your nearest walking tour – you'll normally find groups gathering on street corners around the city.
The hidden nooks and crannies of Havana aren't always easily noticeable, yet with a local walking tour, they will jump out. While the walking tours are advertised as "free", it's custom to tip your guide at the end of the tour. How much you choose to give all depends on your experience, guidance and how generous you're feeling.
Of course, walking tours aren't for everyone and some may see them as nothing more than a tourist trap that takes out the natural enjoyment of stumbling through the city on your own.
On that note, as much as it can be perceived as a tourist trap, having a walking tour guide can work the other way and stem the likelihood of being ripped off by some opportunistic Cubans.
Tour of Hotel Nacional (Sunset With a View)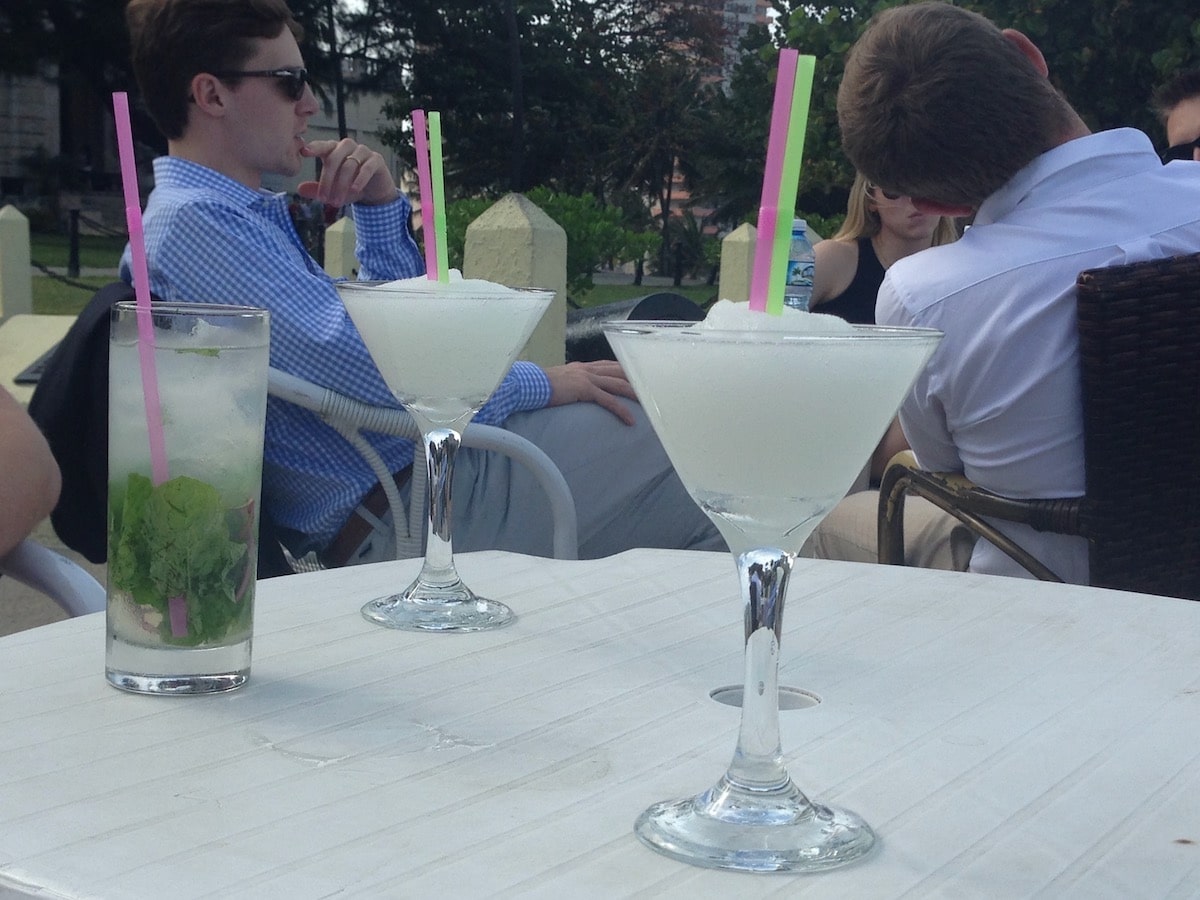 One of the most famous buildings in all of Cuba, the Hotel Nacional first opened its doors during the 1930s and would be the place to be in the mid-20th century. Once the meeting place for the US Mafia underworld, the Hotel Nacional soon began to swarm with American stars who found fame in the 1950s.
Frank Sinatra, Marlon Brando, Walt Disney and Ernest Hemingway all frequented the hotel – a theme that continues to this day with the potential opening up of relations between Cuba and the States.
Standing at the top of Taganana Hill on the city's northern shore, the Hotel Nacional provides stunning views of the beach below and the sunset horizon out to sea.
Although you can choose to stay in the Hotel Nacional for a few hundred dollars a night, you may wish to go for the cheaper and more simple option of enjoying a delicious cocktail and watching the sun go down over Havana and the Florida Key horizon.
A stroll up the nearby Malecon either before or after your trip to the Hotel Nacional is also a must while you're in this part of town.
Know before you go:
Location: Hotel Nacional can be found on the seafront, in the Vedado district.
Time needed: Stay for a good few hours, enjoy a drink, watch the sun go down from the hotel and soak in the ambience.
Cost: Around $15 for a cocktail, $150-250 per night for a stay.
Opening hours: Open all hours.
Time needed: An hour and a half mooch about to get the feel of the place, then chill with a drink or two for a few hours.
Getting there: We took a 10-minute public bus for pretty much pennies from Avenida de Los Presidentes. Our Casa Particular lady got mad at us and said we were prime targets for pickpockets (I think she was right and we were just fortunate).
Day 3: Free Walking Tour of Old Havana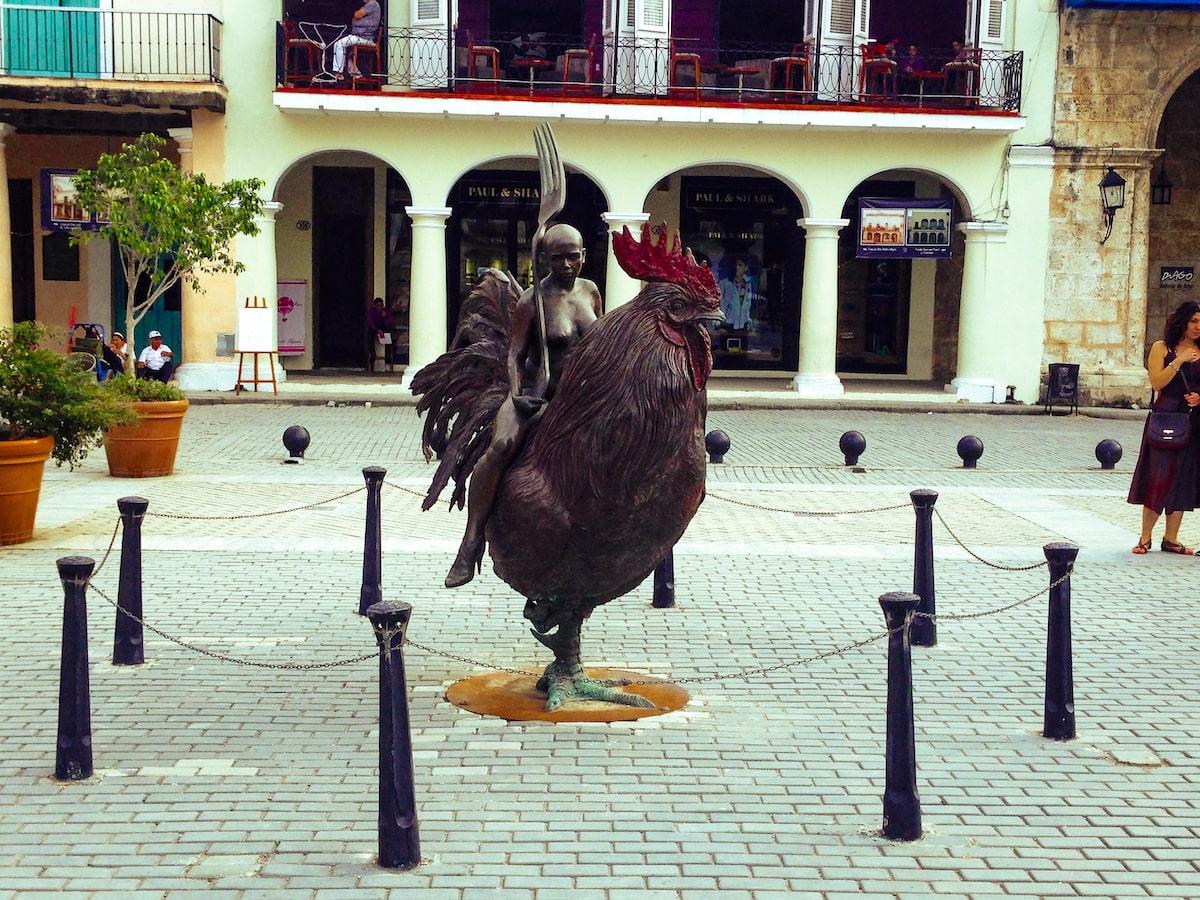 You may have spent your second day on a walking tour of Central Havana, but the eastern port district of the city, known as Old Havana, is a whole new world and deserves a walking tour of its own right.
The oldest part of the city, Old Havana has now been granted UNESCO World Heritage status, highlighting its significance in world history. First founded in the early 16th century by the Spanish, Old Havana played a pivotal role in shipbuilding in the Caribbean. It also became a popular stopping point between the old world and the new.
Old Havana is broken down into five different squares and joining a walking tour will ensure you see all the sights scattered around this area. One of the most attractive aspects of walking around the old town is the plethora of buildings.
Designed in the Baroque and neoclassical architectural styles, the buildings are artwork within themselves. El Capitolio, or the National Capital Building, is the heart of Old Havana and most directions given will all be from this building. Another building to look out for in Old Havana is the Havana Cathedral with its asymmetrical bell towers, a must-see when on your walking tour.
Much like the walking tour of Central Havana, these tours are technically free but a donation or tip is always welcomed.
By joining one of these tours, you can learn about the Old Town from people who have walked its streets for generations and know it as their own family. Seeing both sides of the city will give you a more well-rounded view of Havana, both from a historical and modern point of view.
Attend a Local Baseball Game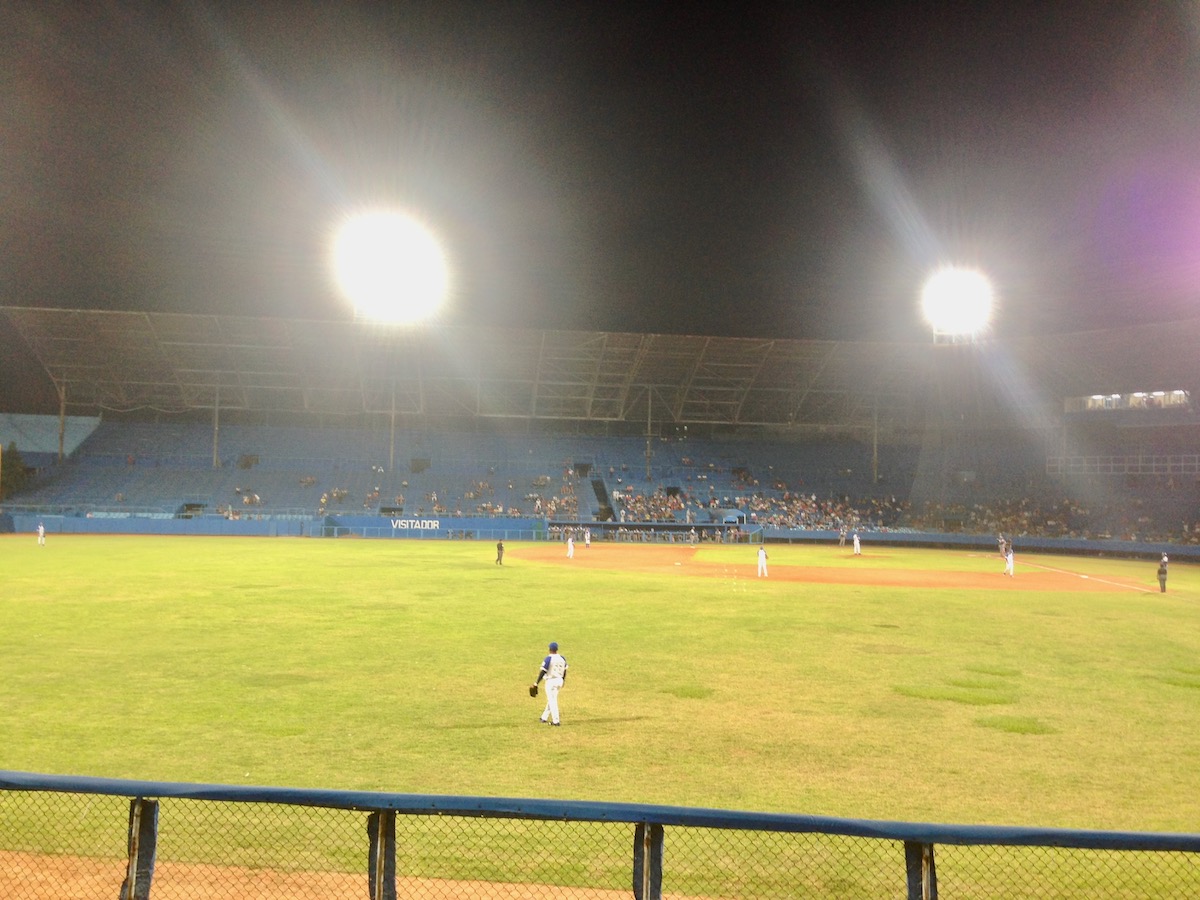 Cuba and the United States have been locked in a political and cultural cold war for over half a century, but there is one thing they can both agree on; baseball.
Watching a baseball game in Havana is a great way to have your finger on the community pulse and although it's not quite like the crowds you see at American Major League Baseball, it's still a must for travelling sports fans to experience the country's national sport, then you can make your mind up for yourself.
The baseball season in Cuba is between November and May, so it is important to factor this in if you're set on watching a game in the capital. You'll also want to plan ahead and make sure you can secure some tickets.
Havana has two baseball teams in the top league and you can always expect a thrilling night out under the floodlights and a lively crowd thrown in for good measure. Even if you aren't a fan of the sport (I am not), watching a baseball game in the heart of the Cuban capital is a quintessential cultural experience for your Cuban itinerary.
Know before you go:
Location: The Estadio Latinoamericano Stadium is located in the Cerro district of Havana. Holding around 55,000 spectators, it's considered to be the second-largest baseball stadium in the world!
Cost: Tickets cost around $3 for a game.
Opening hours: Games typically start at either 2 o'clock in the afternoon or 7 at night.
Time needed: Games usually last around the 2.5-3 hour mark.
Getting there: Public bus P14 leave regularly to the stadium from Parque de la Fraternidad for 10 pesos, if you don't want to do that then your Casa Particular owner will 100% know a guy who knows a guy, who will be your chauffeur for a pre-agreed price.
Cuba Road Trip: Havana To Santa Clara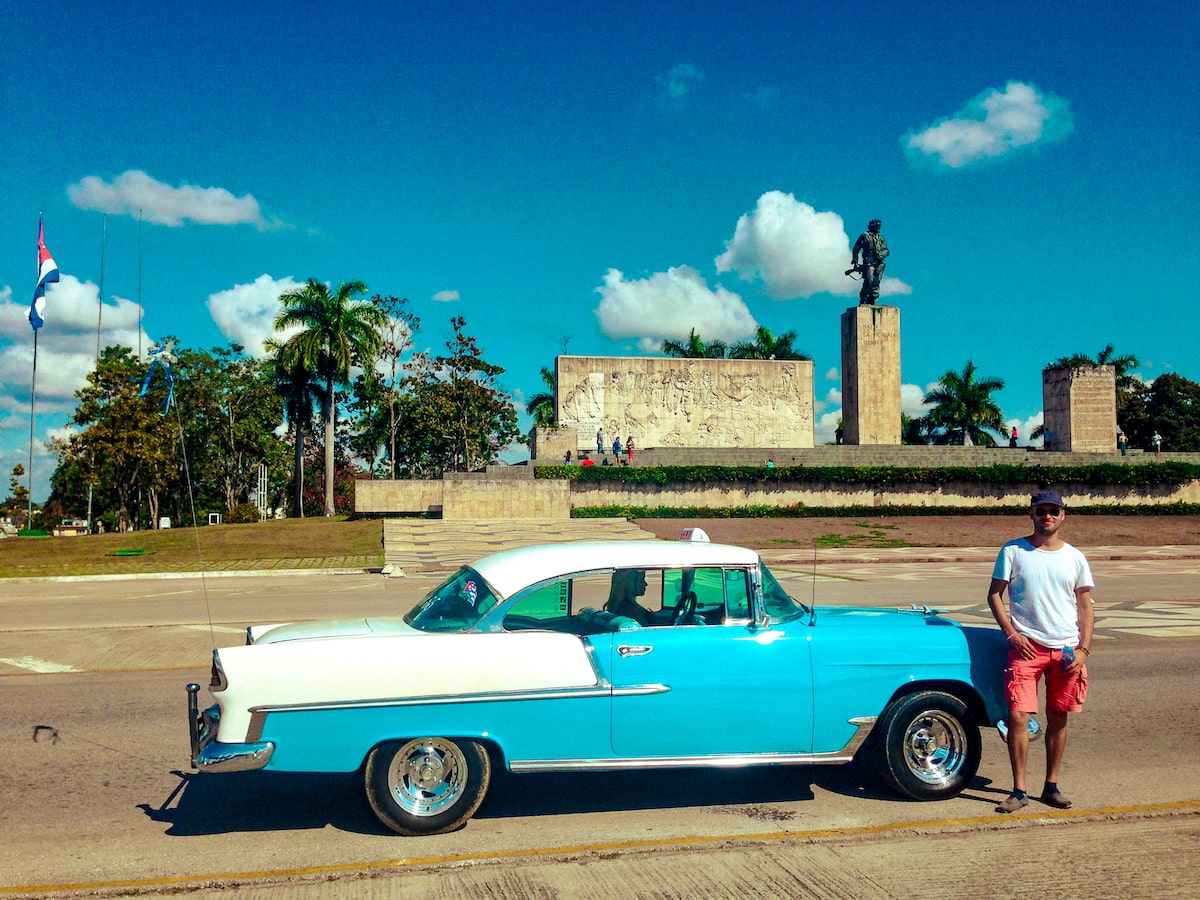 Heading out of Havana and into the country is highly recommended. Leaving the busy city behind and being out on the open road, proves why a resort holiday in Cuba is arguably a waste of precious time.
Making the 170-mile trip from the capital Havana to Santa Clara, Trinidad and beyond is a fantastic thing to include in your Cuba itinerary. This way, you can see multiple sides of the country, from north to south, from cityscape to coast.
Day 4: Drive To Santa Clara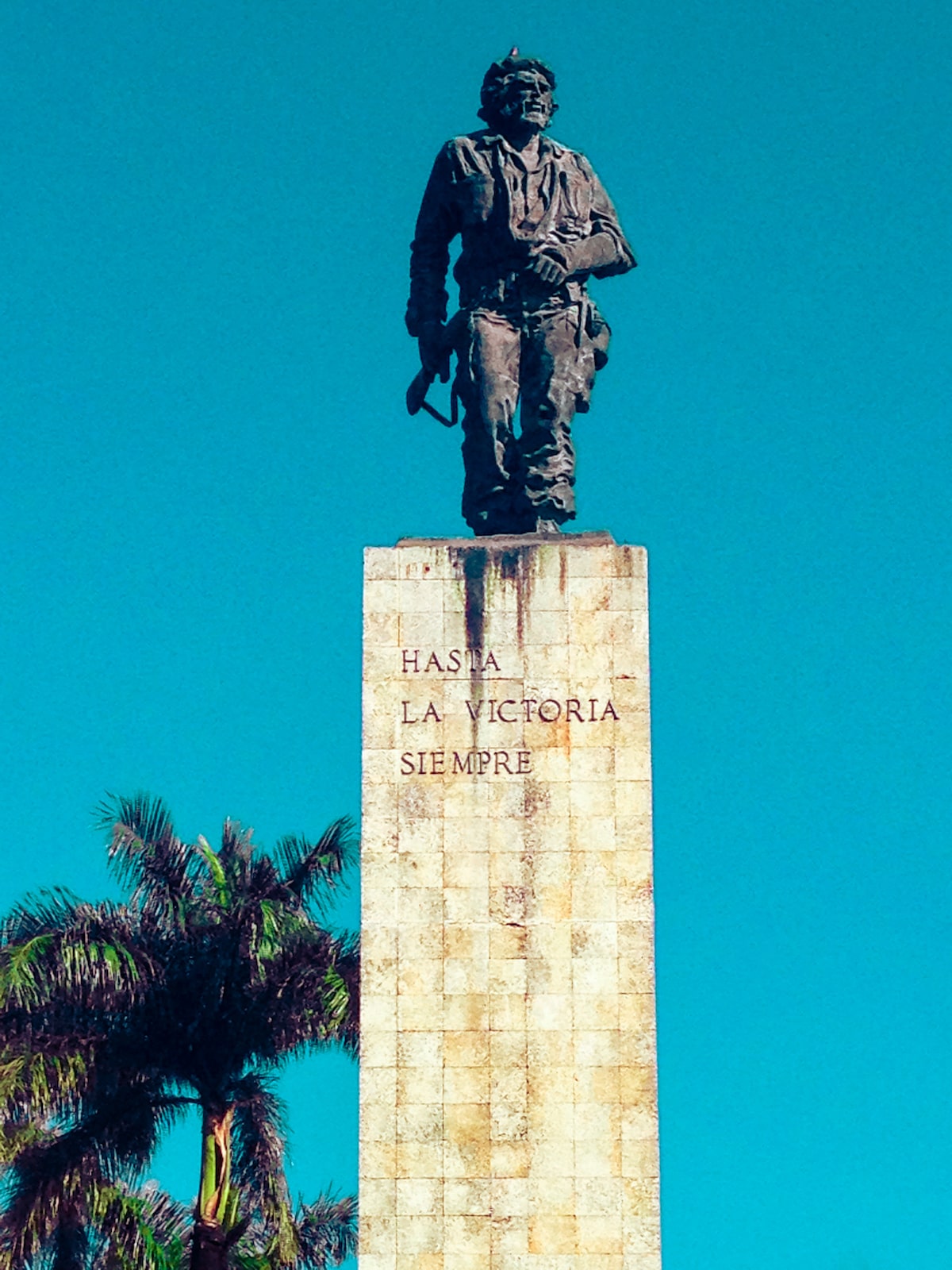 You can hire cars for your road trip across Cuba, but if you're dead set on this being a classic car, you're probably going to end up disappointed.
Besides the fact that foreigners renting these classic cars is prohibited by the government, many owners of these 1940s, 50s and 60s cars are sitting on a goldmine of classic car collectables and are reluctant to let anybody else sit behind the wheel.
Once (or, if) the political embargo ends and the reopening of trade begins, many owners of these cars will be able to sell them off for a pretty penny, which could be life-changing.
With that being said, Cubans are not stupid and are very resourceful, so our driver (who came with us and brought his very bored girlfriend, bless her heart) let us have a go at driving his pride and joy for the small price of $200 USD.
We were both allowed an hour each, we were very respectful and didn't speed. Driving a gorgeous classical 1955 Chevrolet down the Cuban highway, en route to visit the mausoleum one of the most politically divisive figures ever – glorious.
That's some proper travel right there!
You can also opt to hire a "normal" car and be on your own, I am more than happy with our decision.
Driving across the island will give you a real sense of freedom and exploration, and it will only take three hours to get from Havana to the city of Santa Clara. This charming city is well and truly Che's very own; images of the Argentine revolutionary/terrorist are scattered all over the city and are even where he is laid to rest.
The Che Guevara Mausoleum is an interesting complex dedicated to Che and houses his remains. It's also home to a museum dedicated to his life and the eternal flame, a flame lit by Fidel Castro. Alongside all of this stands a 22-foot statue of Guevara, an impressive sight as you walk into the complex.
Know before you go:
Location: Santa Clara sits 170 miles east of Havana.
Cost: $65 – $120 per day, depending on the make and the number of passengers. Optional splurge for a gentlemen's agreement to drive the owner's sexy car (remember to be deeply respectful if they agree and take no risks when driving that bad boy. You look cool enough, chief!)
Time needed: The initial drive will take around 3 or 4 hours, though you'll probably want to allow some extra time to stop off along the way.
Getting there: The drive is pretty simple, and you can choose between two routes: either along the A1 motorway or a back route along the ​​Carretera Central.
Sunset at El Tenedor (Trinidad)
To squeeze this next drive into the day, you're going to have to rise with the birds and get that potent Cuban coffee down your neck. It takes a couple of hours to get from Santa Clara to the coastal town of Trinidad, and you should be in time for a sexy sunset over the Caribbean Sea.
Finding a place to stay in the town shouldn't be too difficult as it's firmly on the tourist trail. You can either stop at one of the many hotels in the town or settle amongst locals in one of the Casa Particulars. Casa Particular Diego gets particularly high praise, so check that out if you're struggling to find one.
Before that though, you'll want to get some food down after a long drive from the capital and Santa Clara. The El Tenedor restaurant in the north of the town is a favourite spot for a bite to eat. Along with the fantastic cuisine, El Tenedor also provides live music and rooftop sunset views across the town – a perfect end to your first road trip day.
Know before you go:
Location: Trinidad is 97km directly south of Santa Clara, and the journey shouldn't take you more than a couple of hours.
Cost: Most meals cost around 8-10 CUC.
Opening hours: 12 pm-12 am.
Time needed: As long as you want!
Getting there: Follow directions to Route 152 and keep going until you hit Trinidad.
Day 5: Explore The Colours & Cobblestones of Trinidad Town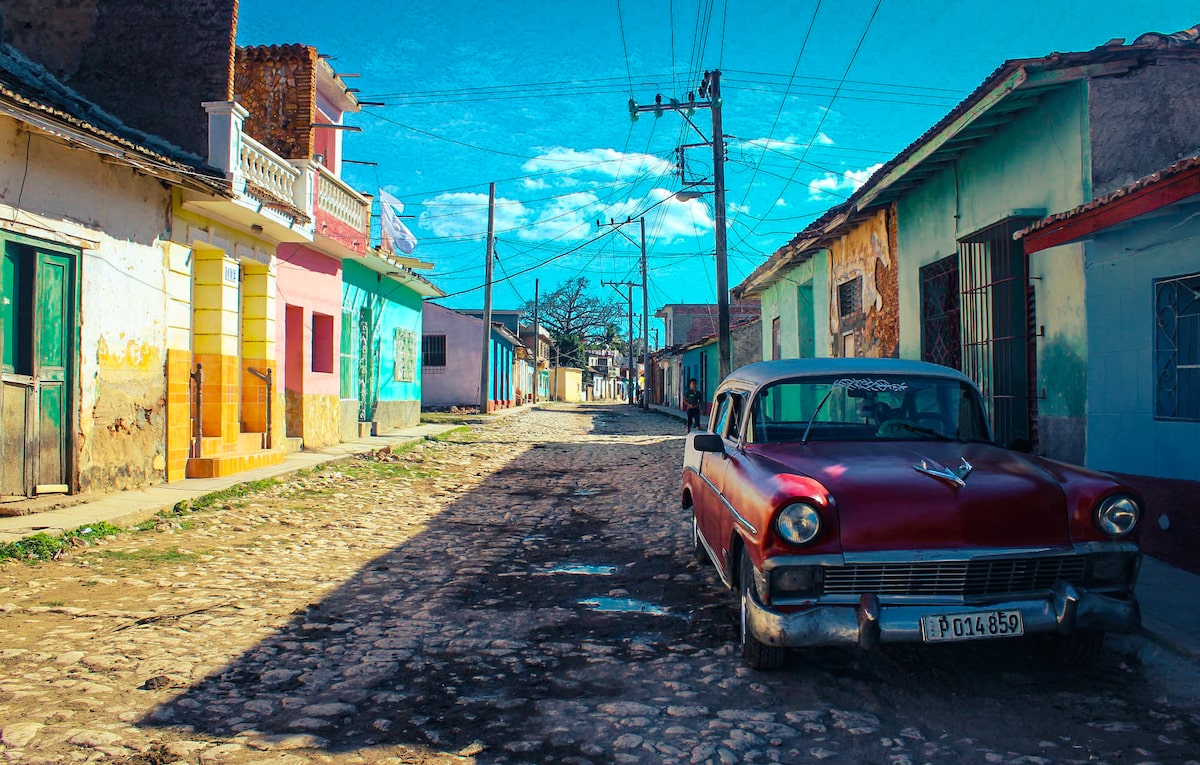 Waking up with the rising sun over Trinidad will give you plenty of time to explore the town. Known as a living museum, the whole town of Trinidad has UNESCO World Heritage clout and is recognised as one of the best-preserved colonial towns in the entire Caribbean. 
Much like many ex-Spanish colonial towns, the grand square dominates the centre of the town and is known as the Plaza Mayor. Many of the buildings surrounding the Plaza Mayor date back to the early 18th century, with the Iglesia Parroquial de la Santisima Trinidad church watching over the square.
The cobbled streets and bright colours of Trinidad are alone enough to warm your heart and have you thinking back to Trinidad's golden age. Both residential and business buildings adorn the same bright-coloured buildings, all of which give an overwhelming sense of Trinidad's identity and place in Cuba and the wider Caribbean.
The town also has a booming nightlife scene, one like nowhere else, as we will see in finer detail below.
Rave in a Cave at Disco Ayala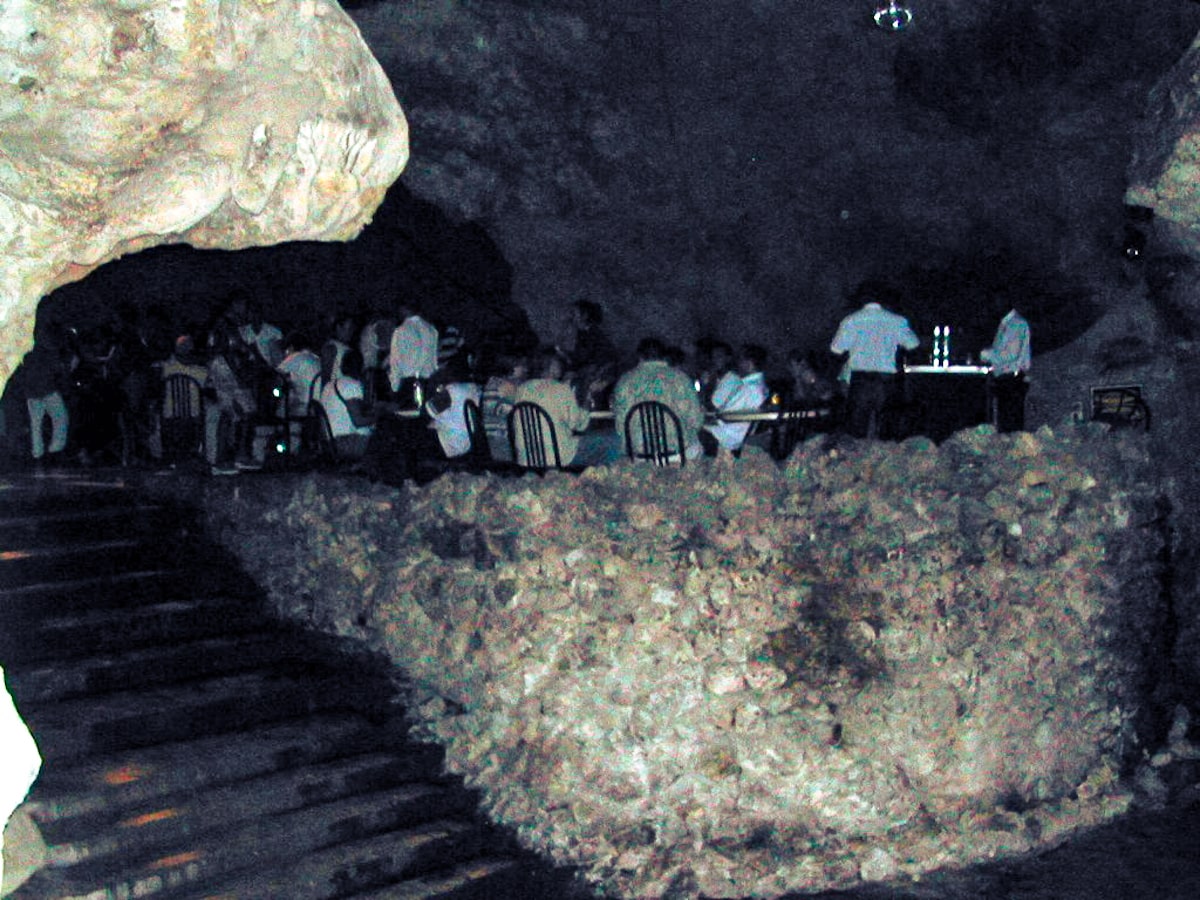 Once the bars and drinking holes begin to close in the town, there's only one place to go – Disco Ayla. Housed within a cave on the northeast outskirts of town, this club mixes the Cuban nightclub feel with a natural cave system.
With stone stairs carved from the cave itself leading you through the club and the chance of bats flying overhead to the sounds of the Caribbean and Cuban dance music, partying in the cave of Disco Ayala is pretty authentic.
Although I'd probably recommend not staying out until the early hours, or the drive back to the capital tomorrow could be a struggle on those bumpy roads!
Know before you go:
Location: Just northeast of Trinidad.
Cost: Entry is $5 (which includes one drink), and drinks are around $4 a pop, depending on what your poison of choice is.
Opening hours: 11 pm – 3 am
Getting there: Starting from Trinidad's main square, head northeast on foot, following signs for Disco Las Cuevas. If you get lost, a local will happily point you in the right direction.
Day 6: Drive To Playa Ancon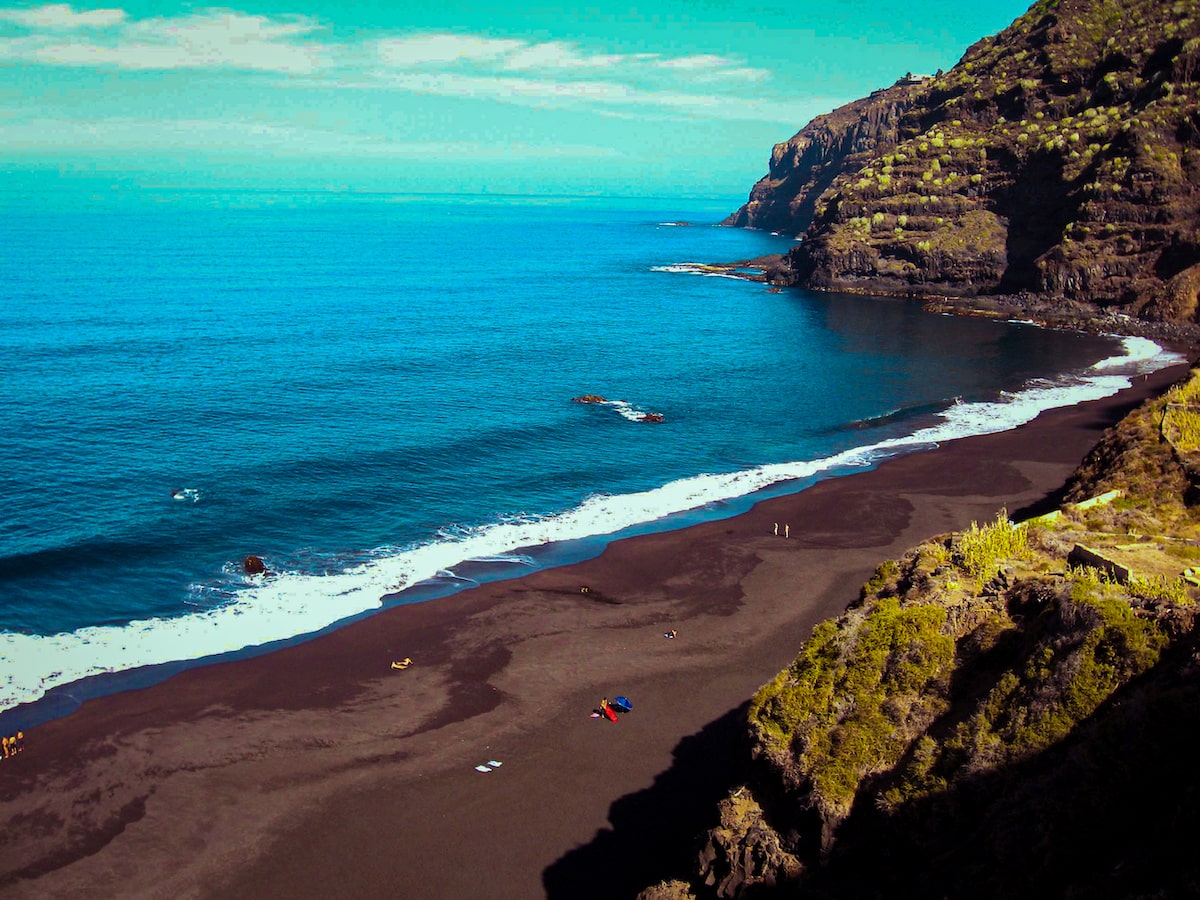 If your head isn't pounding too much from the previous night's escapades, the call of the beach and sea awaits. A twenty-minute drive south of Trinidad is the coastal town of Playa Ancon, a popular resort-like settlement on Cubas's southern coast.
Different from resort town giants of Varadero, Cayo Coco and Guardalavaca, Playa Ancon has an unspoilt feel to it, while still providing a paradisiacal coastal feel.
So whether you simply want to catch some rays on the sandy beaches, swim off your hangover in the cool waters or enjoy a grilled lunch at one of the seaside restaurants. Once the sea and sand have cured all your ills, you're now free to set off back to the capital – a long road waits ahead…
Drive Back to Havana Before it's Too Dark!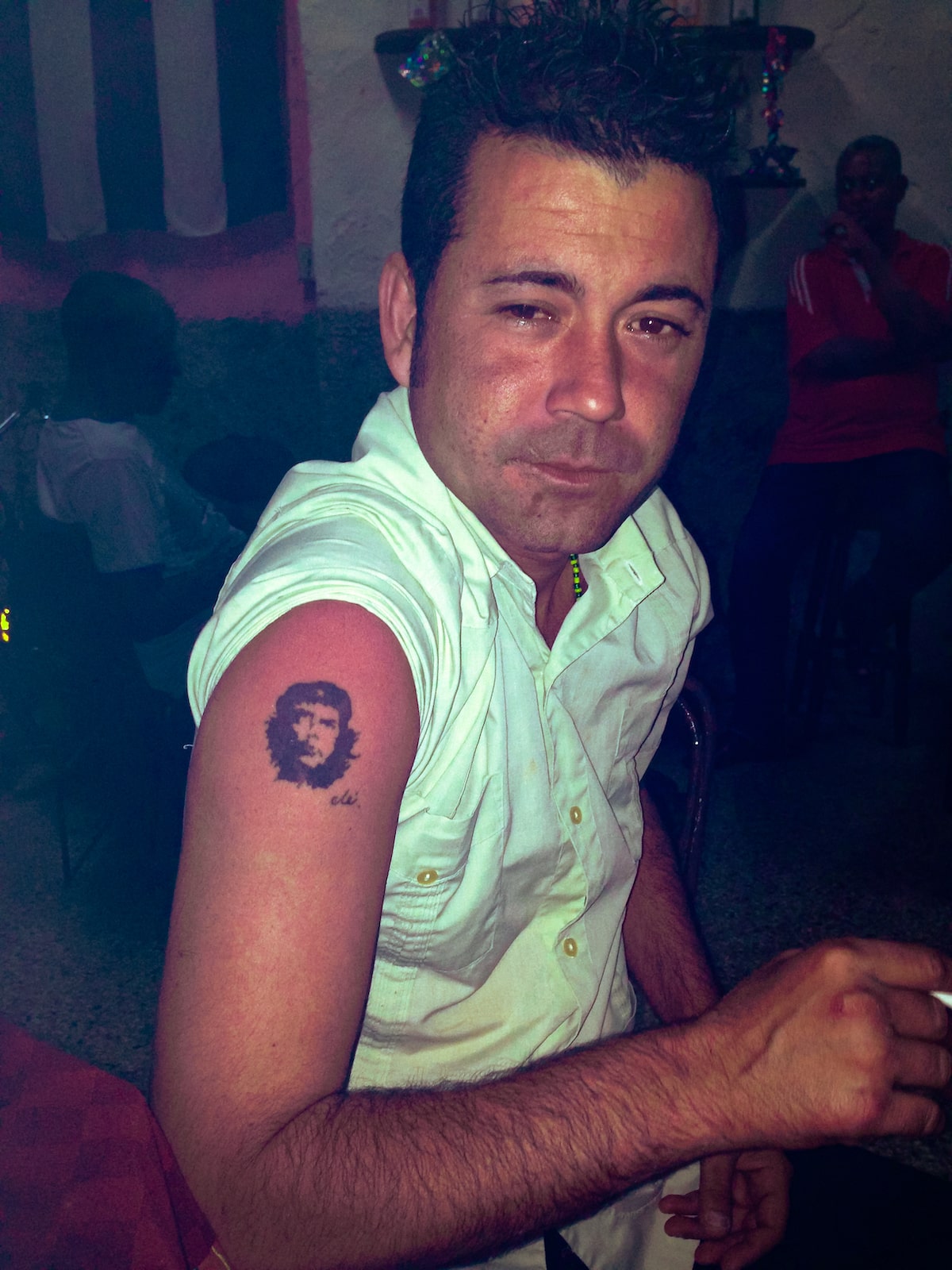 It's best to set out early in the afternoon as the drive back to the capital is not one you want to do in the dark.
Having such a packed 7-day Cuba itinerary often means that you will need to pack in a lot of driving and travelling in a short period of time. The drive back from the southern coast to the northern coast of Havana takes around four hours if you head down the A1.
Cuban roads are notoriously marked with potholes, lack a lot of street lighting and can even be used by horse and cart. You'll also want to make this journey back as quick as possible as the final day of your Cuba itinerary will be one packed to the rafters with activities.
Havana Farewell Stop of 7-Day Cuba Itinerary (Hangover Warning!)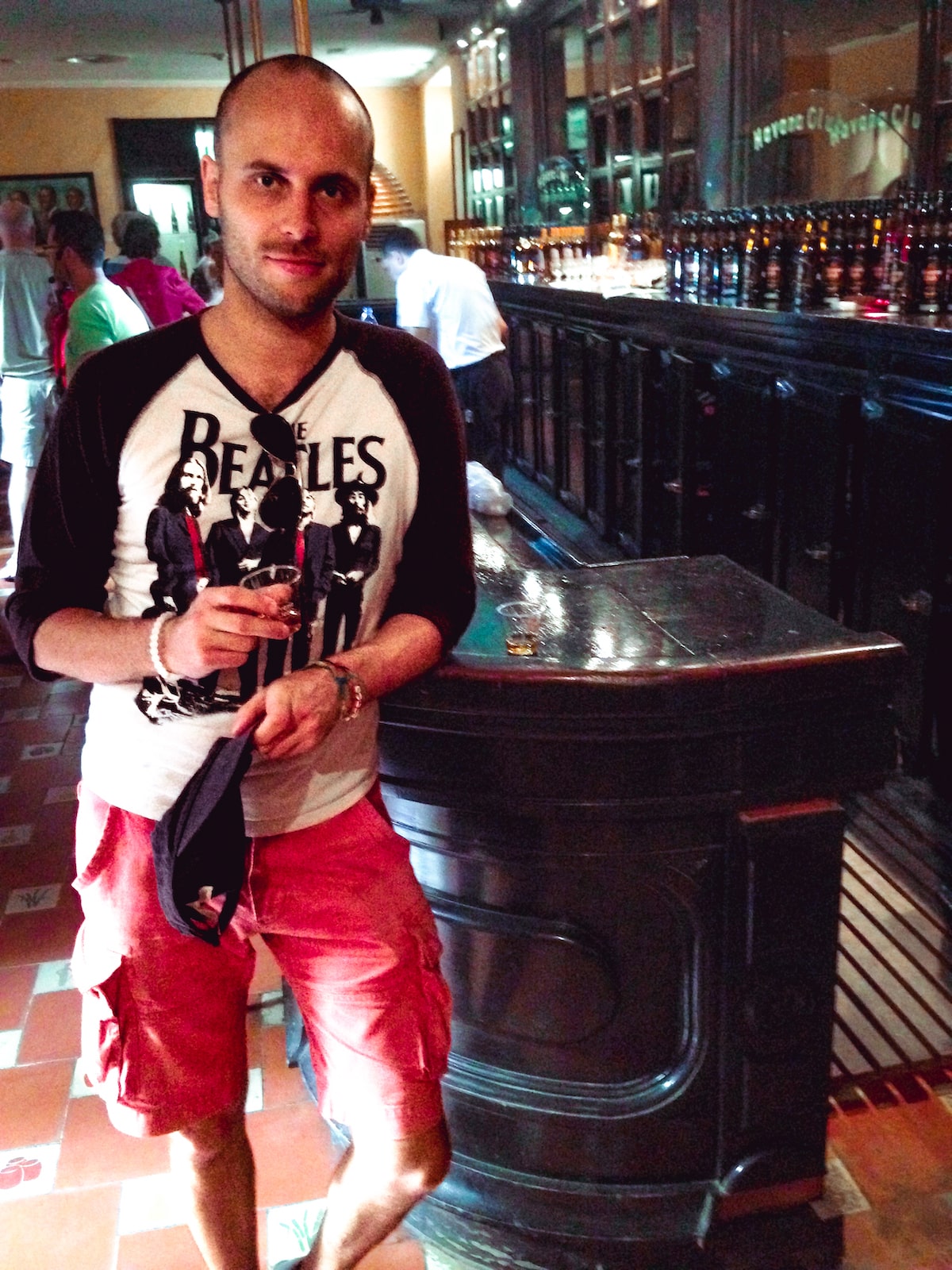 Now that you're back in the capital and driving duties are no more, there's a chance for one last hurrah in Havana.
This means complete Cuban decadence and indulgence, so be prepared for a little booze-soaked fun under the Cuban sun. Preparing a few bottles of water and a handy pair of painkillers on your bedside table is a must. Then again, you could take it easy but with so many delicious cocktails and beer to sample, you'd be mad not to.
Day 7: Lunch at Cafe Laurent 
To start off your culinary experiences on your last day in Havana, you can do no better than book a table at the city's Cafe Laurent. Standing in the heart of the city, Cafe Laurent offers a little bit of dining class to your week in Cuba, cooking up both local and international dishes with a selection of wines to boot.
While it's not going to be street food prices, you will have little hang-ups parting with a little extra cash at Cafe Laurent.
Modelled on modern 1950s decor, complete with '50s newspapers lining the walls, Cafe Laurent helps you to escape the streets of Havana and immerses you into a restaurant of style and surprising minimalism. The pièce de résistance of Cafe Laurent is its balcony tables, perfect for people watching on the streets below while enjoying some of the best food in the capital while listening to the pure passion bouncing off the live vocalist.
Know before you go:
Location: Cafe Laurent is found in the centre of Havana, just around the corner from the famous Hotel Nacional.
Cost: Mains start from around $10 – $12, and a glass of wine will set you back $5.
Opening hours: Cafe Laurent serves up dishes from 12 pm – 12 am
Wash it Down With a Beer at Beer Factory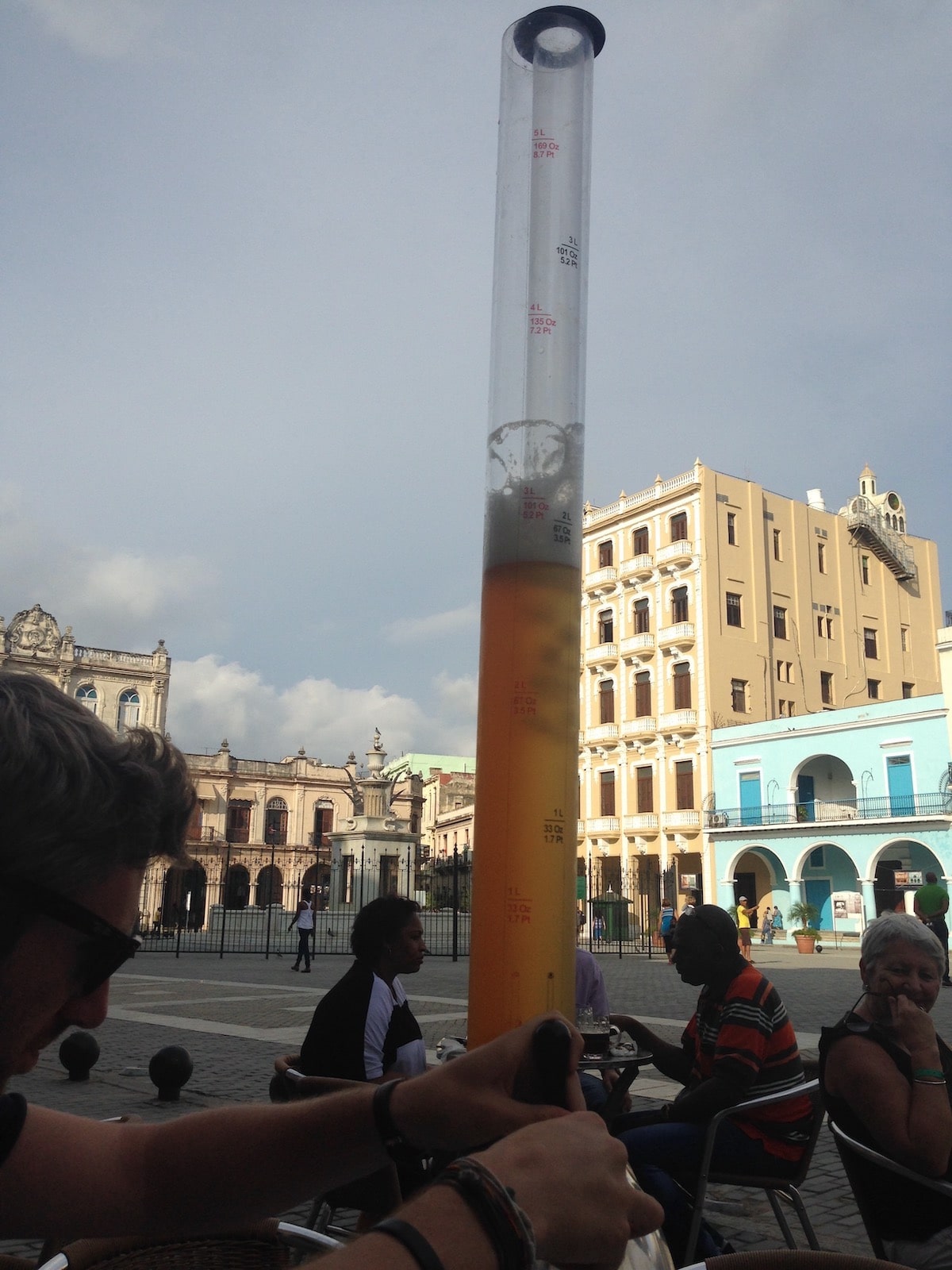 After a dignified lunch at Cafe Laurent, it's worth heading over to Beer Factory, one of the city's original microbreweries. Standing in the boisterous corner of Plaza Vieja, Beer Factory is a real nucleus of good time drinking in the city.
Selling smooth cold traditional beer, unchanged in decades, both locals and tourists sit along with the sturdy wooden benches and watch the world go by on the cobbled streets of Havana.
If you prefer a drink inside, the Beer Factory is home to a bright and atmospheric beer hall. Choose from three types of beer; light, amber or dark – or one of each – just try not to let that day's drinking get the better of you. If it does, it's back to the hotel or Casa Particular for an afternoon siesta.
Go Back To Hotel/Casa Particular and Nap
After a morning and afternoon eating, drinking and getting merry, a nap might be in order to get you through the rest of the day and night's activities. With the Cuban sun on your back and a few beers in your belly, it won't be long after your head hits the pillow – just remember to set an alarm before you do so.
Wake up, Dress Smart, and Go For an Early Dinner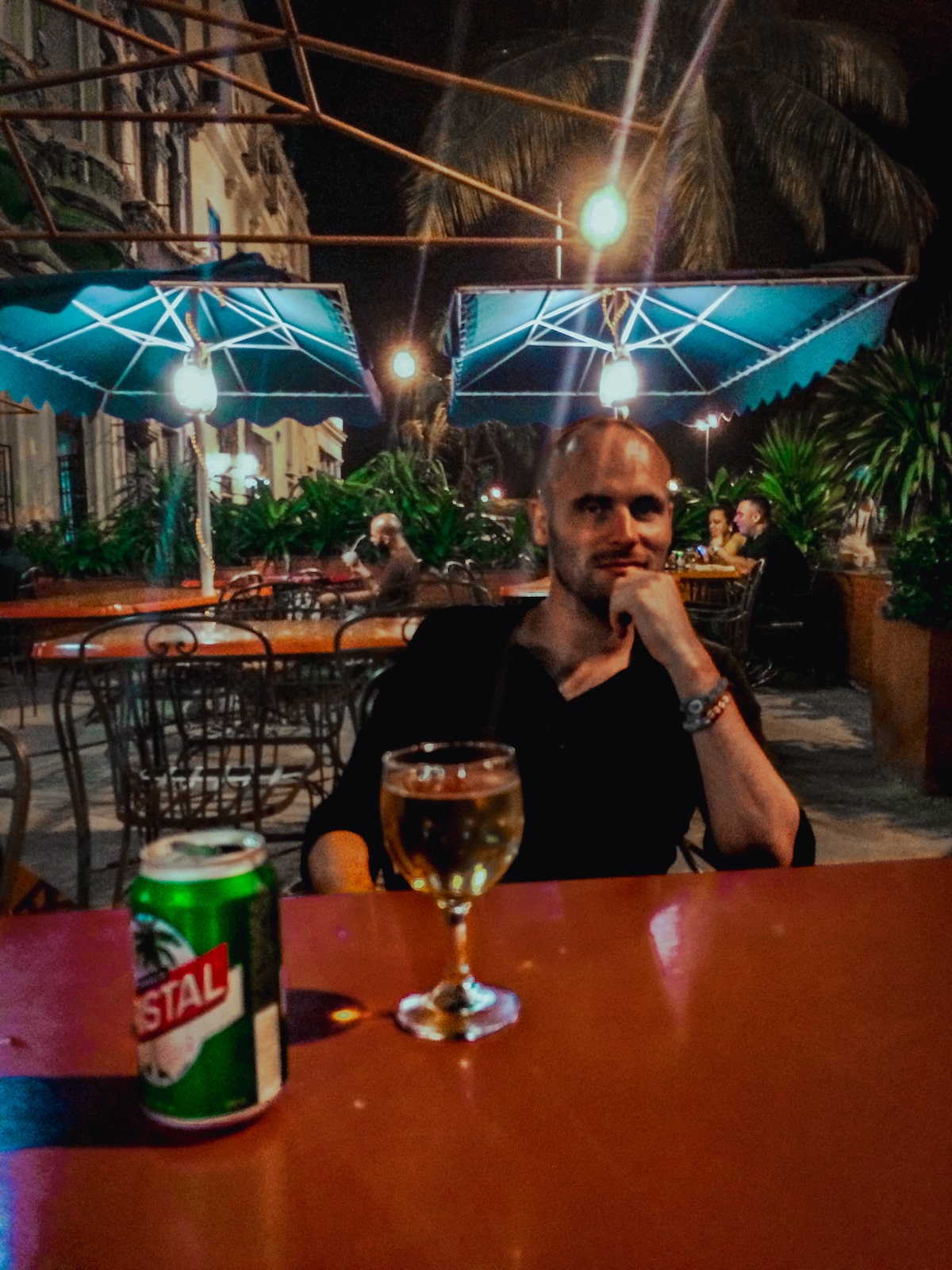 With the final evening looming, it's time to get dressed up and enjoy an early dinner and final hurrah in Havana. The city has a large range of evening dinner options, depending on what you want out of your evening or how much you want to spend to say "adios" to your Cuba itinerary.
If tapas is your thing, then booking a table at Cafe Madrigal is a must and a place of pure Cuban atmosphere. Bag yourself a balcony seat before the evening begins and you will have the best view in the house for Cafe Madrigal's famous evening of music.
Booming out Spanish versions of all the English classics, such as Sinatra's "My Way." Dinner at Cafe Madrigal is a musical experience as well as a gastronomical one.
If the idea of dining in a bar/restaurant seems a bit too formal after your early afternoon session, Havana has its fair share of street food spots. Grab a bite of Tostones, and Churros for dessert and head to the north of the city for a sunset view – an ideal last dining experience in the Cuba capital.
Drink Ernest Hemingway's Favourite Cocktail at El Floridita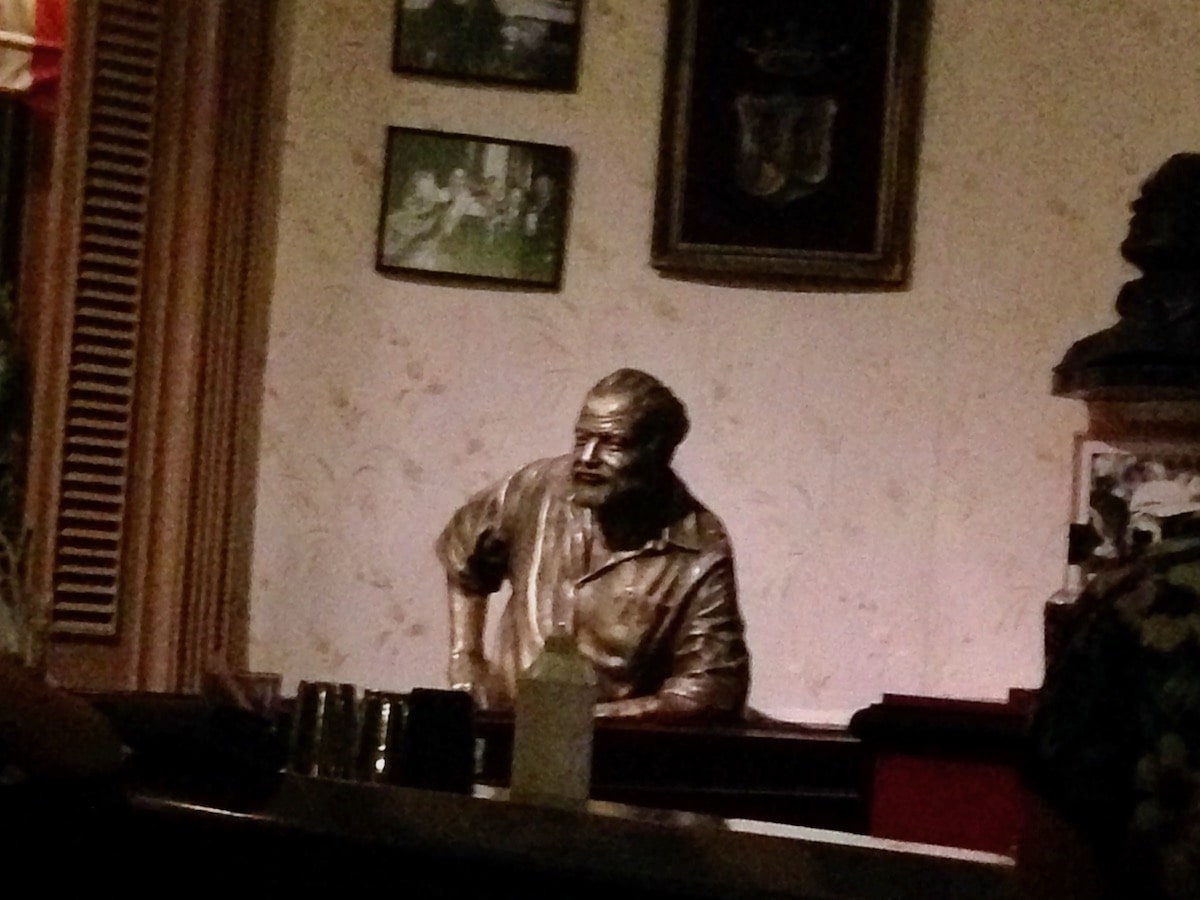 The unmissable pink building that is El Floridita is one of Cuba's most famous bars and for good reason. Opened in the mid-19th century, the bar already had a fearsome reputation amongst Cubans, but it was the American writer Ernest Hemmingway who propelled it into its current fame.
Legend has it the Farewell to Arms author stumbled across the little bar and fell in love with its ice-cold daiquiris and, in time, with the fantastic atmosphere of the place.
Today, you too can follow in the footsteps of the famous writer, whose statue now permanently props up El Floridita's bar and enjoy a very good daiquiri, without the sugar of course!
Although it's now become a strong tourist attraction, it takes nothing away from the draw of El Floridita and with every step, you feel closer to the hedonistic days of mid-century Havana and the many famous names that have fallen in love with its customs, people and streets.
Know before you go:
Location: El Floridita is located on the western edge of Old Havana.
Cost: The famous daiquiri costs $6, and most cocktails follow suit.
Opening hours: 11am – 12am
Smoke a Big Fat Cigar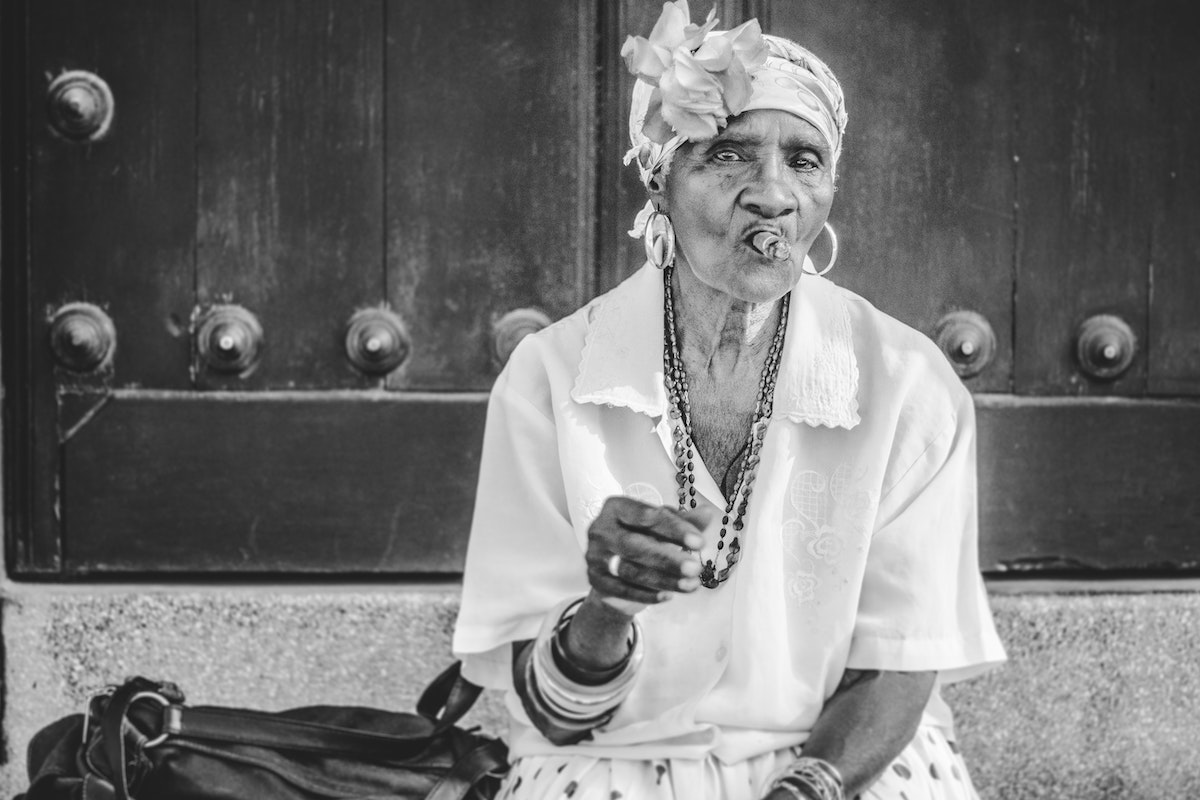 If there's one image that defines Cuba, it's the cigar-smoking Castro and the Cuban cigar itself. Even non-smokers may break their healthy habits for a moment and indulge in something so truly Cuban. (I did!)
The Cuban capital is brimming with fine cigar shops, and it's quite easy to feel a little overwhelmed. With broken Spanish and an eagerness to try new things, you can pick out a fine Cuban cigar for surprisingly less than you would anywhere else in the world.
Once you've secured your tobacco prize, all you need to do is find the perfect place to light it up Castro or Churchill style.
There are numerous sweet smoking spots across the city…let's not plan this one and choose whatever feels right for you at the time, as you end your Cuba itinerary in style.
Set Your Alarm and Drink Water
As you stumble back to bed with the competing sweet tastes of cigar and daiquiri on the tongue it's a good idea to spare a thought for your morning self and down a few pints of (bottled) water before setting your alarm.
Heading home after a heavy evening may not seem like the best idea once the beer fear and balance check kick in, but with a lifetime of memories, I like to think that some hangovers were definitely worth it.
So remember to bid a heartfelt "adios" to Cuba the morning after as you stumble to Havana Airport (HAV) and move on to your next destination.
Final Thoughts on 7 Days in Cuba Itinerary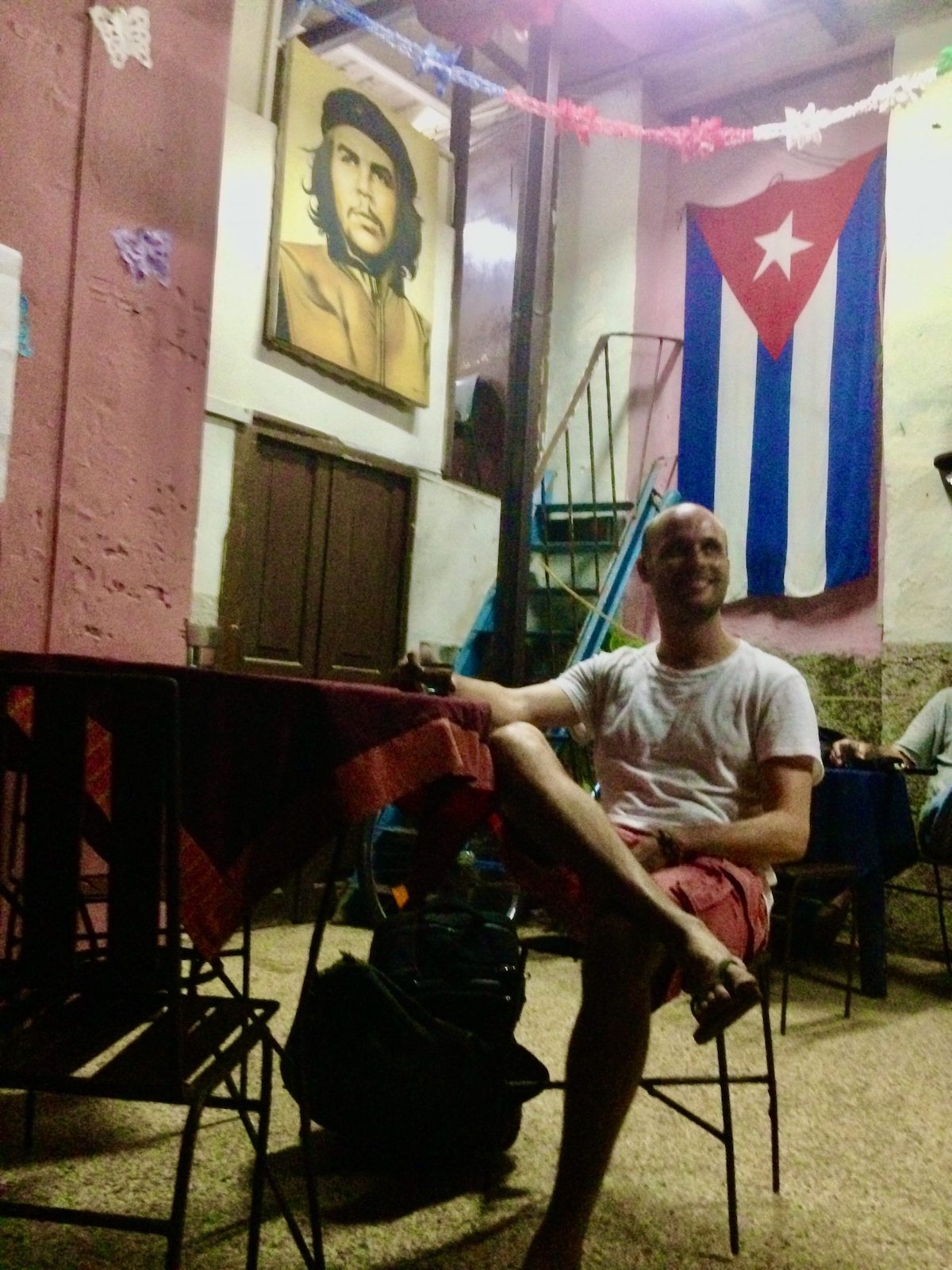 I was living in Colombia at the time of my Cuba visit, so the Spanish language that I had learned added depth to my one-on-one conversations during my Cuba itinerary.
Many Cubans don't speak English, so if you have the time and opportunity to learn a bit of the lingo, you will reap the rewards while you're out there.
One of those benefits is that you will be more aware of any scams that take place. However, you can still fall prey to scams even if you do speak the local language, so it's best to be aware before you go and stick to the usual travel safety tips so that you don't become a victim of any deception.
Also, the internet is incredibly slow and not the most accessible – some food for thought if you need to work online or have fast internet access during your time there.
This is travel, and you just have to roll with the punches and be happy you're on the road!
If you feel like your Cuban experience was cut short before you were ready to say bye-bye, you can always go back another time if you feel like you have unfinished business. I obviously chose the highlights of the capital city due to anyone with serious time constraints, you can read my one day in Havana itinerary if you fancy adding more to your plate and can handle it!
To reiterate, I was more than happy with this 7 days in Cuba itinerary and I felt that I was efficient with my time, I do plan to go back one day and see Holguin and Viñales to name a few!