A vacation in the magnificent Maldives has always been a serious entry for an intense bucket list chaser like myself and, thanks to my blog, I got to experience the well-known Promised Land for lovers of luxury last September for an early celebration of my birthday.
The sweet little haven of bliss in the Indian Ocean did not disappoint and the only negative from the trip is the weeping echo from my savings account. With that being said, there are cheaper options and seeing as travel is very much a "different strokes for different folks" kind of deal, you need to work out what's best for you.
I hope that this post helps you do that. Before I review my experience in my chosen resort of splendour, here are some things you may need to consider when planning a trip to the Maldives.
Best Time To Visit The Maldives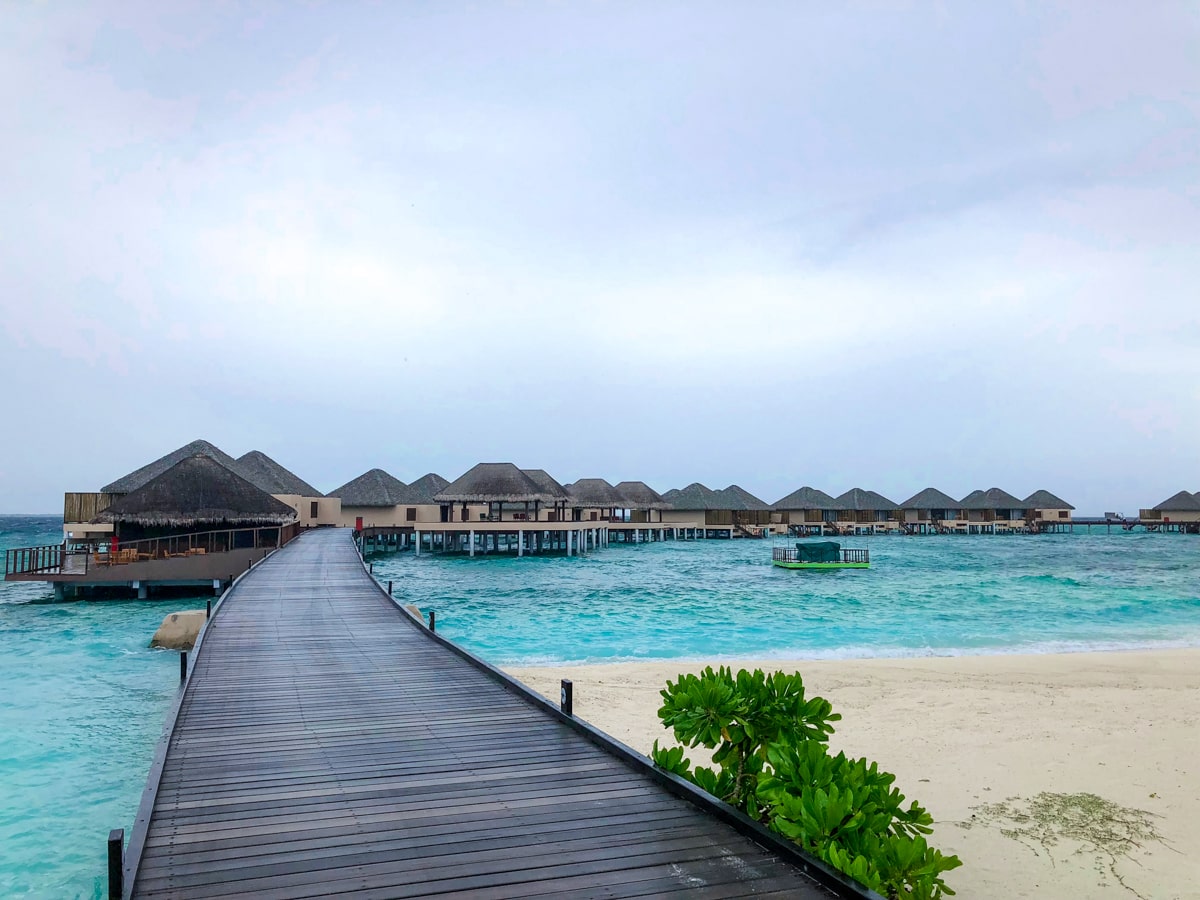 The best time to visit The Maldives is between the months of November and April. These months are outside of the monsoon season, with barely any rain, and low humidity and you will be treated to those clear-blue skies that you've been dreaming about from the start of planning your trip to the Maldives.
I threw caution to the wind by visiting the Maldives in September considering the rainy season ends in November. It was slightly cheaper and the date coincided with a double-birthday celebration, we were incredibly lucky and it never rained once.
How Long Should You Stay in The Maldives?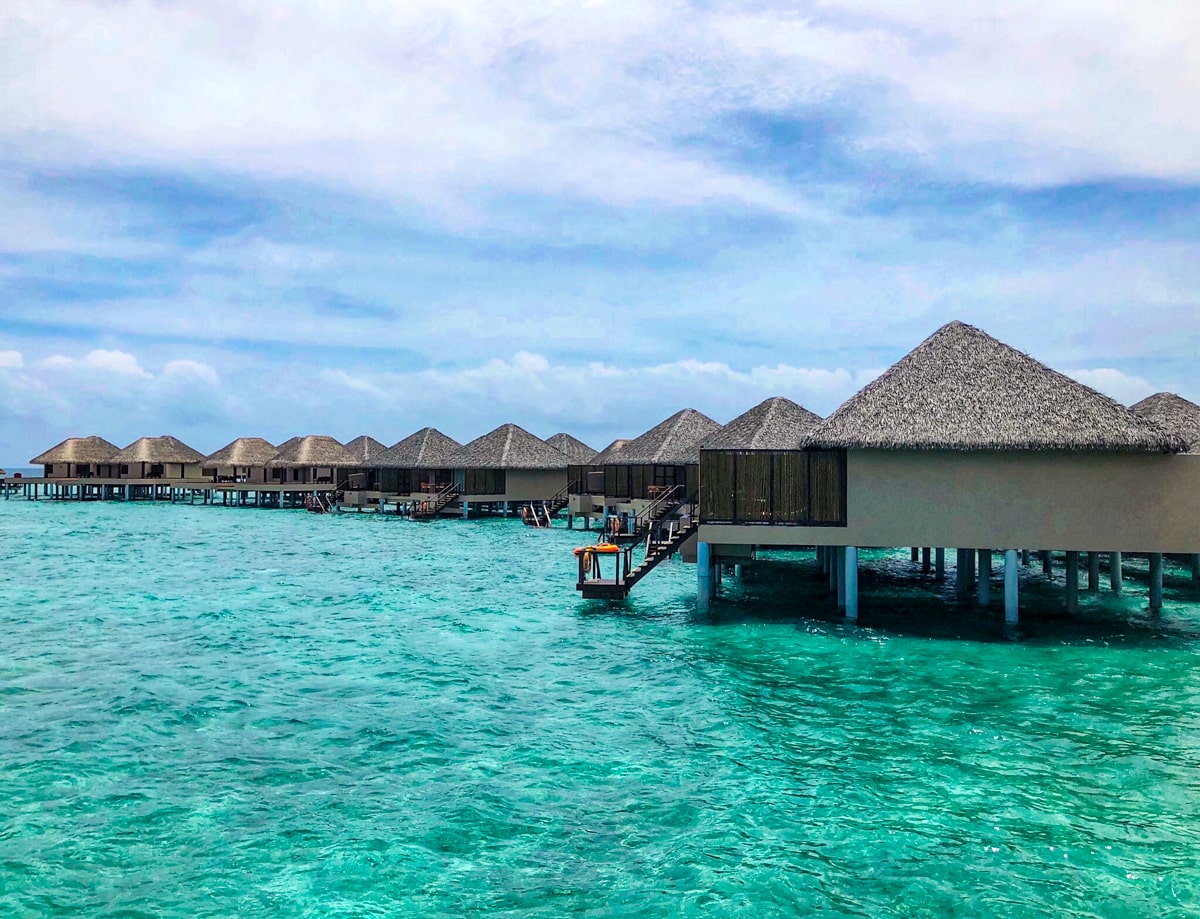 This is a case of time, budget and personal preference. I have friends who claim to hate luxury resorts with a burning passion (although I remain dubious with a sceptically raised eyebrow). I stayed in my beautiful bungalow on stilts for 4 days and 5 nights.
Most people who we spoke to at the resort were staying for 4-7 days.
I have no problem admitting I was envious of those who got to spend a week there. It depends on your personality; I like to go hard when I am in work mode but when I have a clear schedule I am all about rest and recuperation and I have it down to a fine art after teaching myself to not feel guilty when relaxing.
How To Get To The Maldives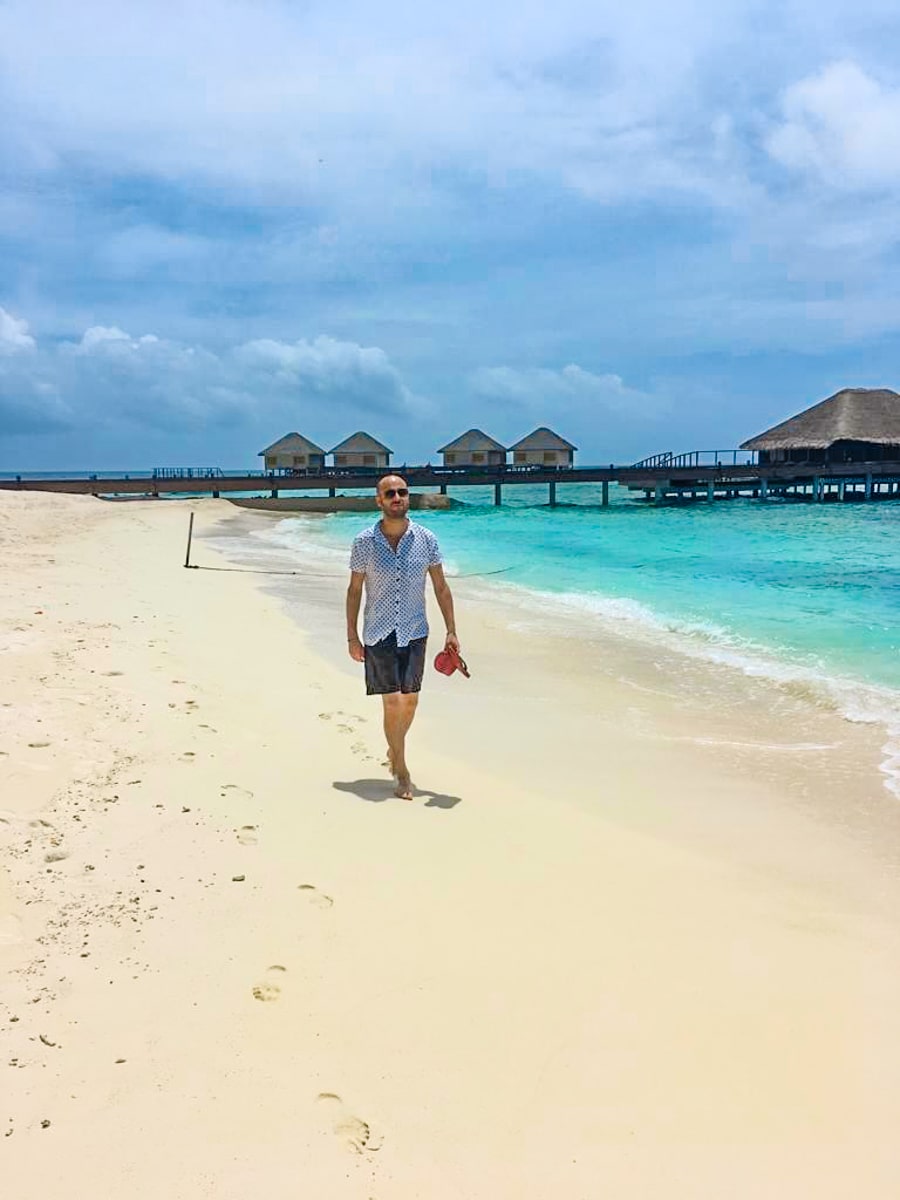 You will have to put in a pretty decent effort to get to the Maldives considering it's an isolated set of islands in the Indian Ocean, with the closest country being the beautiful country of Sri Lanka 645 kilometres northeast of the Maldives.
Bearing this in mind, your airport connection options are in the Middle East, India and Sri Lanka itself. I flew from Dubai, after spending 4 wild days in Baghdad and I could not have been any more ready to lap up a bit of luxury for a couple of days.
Once you get to Velena International Airport in Male (MLE) you will then have to take a seaboat or a seaplane, which could take half an hour or even two hours depending on the location of your resort of choice.
Food and Drink in The Maldives
Like most tropical island destinations, Maldive cuisine consists of seafood and coconuts, although take into account that the resorts cater to tourists so if you are allergic to seafood, or are vegetarian/vegan then you will more than likely have options.
If you're a bleeding-hearted foodie who simply must try the most native dishes possible when you travel then ask your resort for authentic food of Maldives, also travel to Male or local islands to experience a wilder pallet of food.
If you don't eat animal products, you will have absolutely no problems in your bungalow on stilts heaven. The staff will bend over backwards to make your stay as perfect as possible and will be happily accommodating, also considering Indians (many of who are vegetarians) and us fussy Brits and Americans prop up the majority of Maldives tourism they are used to strict dietary requirements.
Maldives Alcohol Rules & Regulations
It can get confusing considering that the Maldives is an Islamic country with Sharia Law prohibiting the import and consumption of alcohol. But what about all those Insta babes on your timeline, slurping on those fancy cocktails in their bungalows on stilts, you ask?
Is it all one big lie? A whole massive virgin-mojito-flavoured mocktail-laden conspiracy?
Don't worry, if you are partial to a cheeky tipple during your time in paradise then you will be happy to know that private resorts are the loophole in the law and alcoholic beverages can be sold on those regulated premises.
Outside the comfort of your own resort is completely 100% dry and it's important to note that any alcohol that you bring into the Maldives will be taken from you at the airport when you arrive in Male.
I had a bottle of red confiscated after my large luggage was scanned, but they kindly gave me a receipt so that I could pick it back up when I got my return flight home.
How Expensive are The Maldives?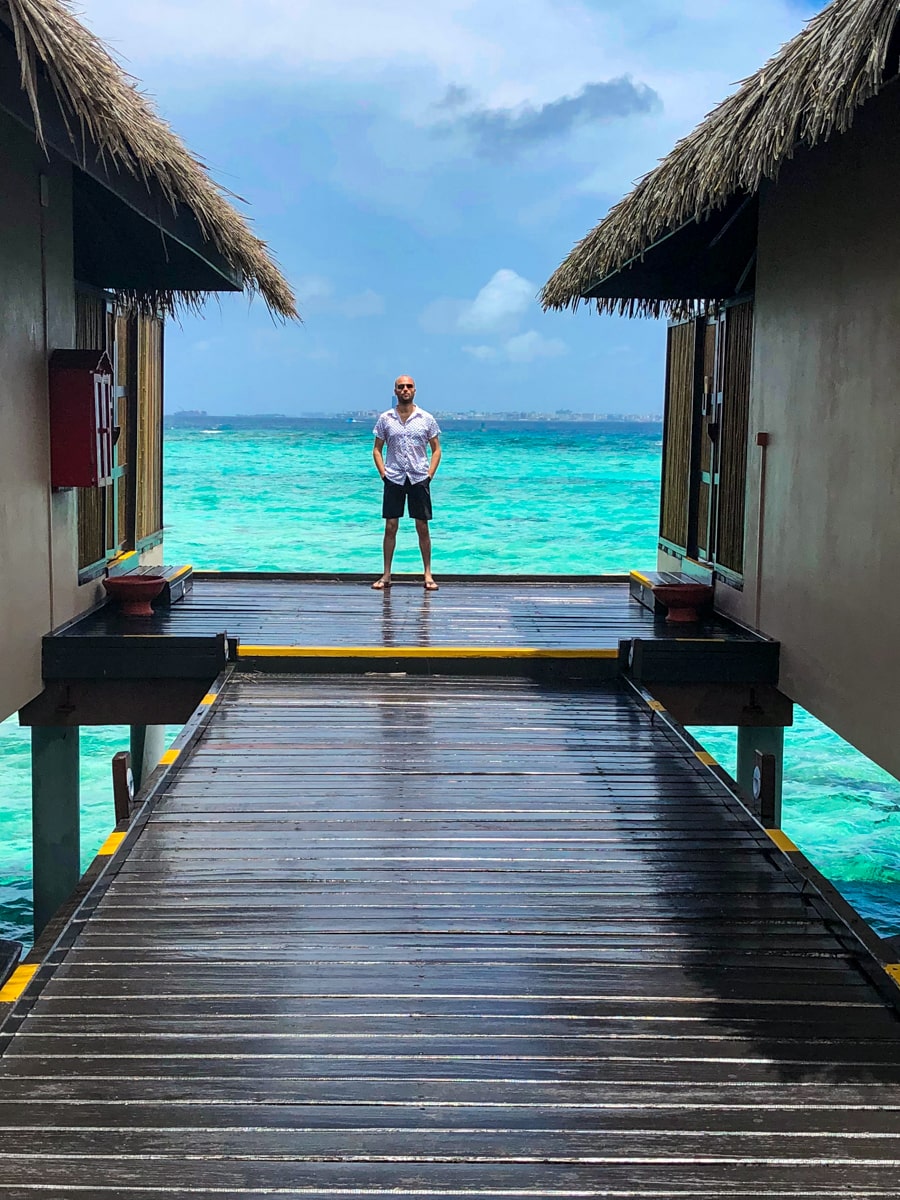 The concept of 'budget travel' in the Maldives barely exists. Quite frankly, I don't care – I manage my expectations when I travel to individual destinations and I did warn you at the start of this article that this Maldives planning guide was for those who despite a couple of days of unapologetic splendour and luxury.
There are plenty of cheap vacations for couples and solo travellers, but this nation is simply not one of them.
Work out what you want from your trip to the Maldives and commit. Do you want a discretionary splurge, but not completely bankrupt yourself? Do you even unapologetically detest resorts and want to stay with locals? Are you holding out for an off-peak season bargain? Is this your honeymoon/special occasion and you want to smash into your piggy bank with a "screw it, let's do it" attitude?
Work out which one you are first and jump in with both feet, so that you can find the best Maldives trip to suit your personality and financial situation. On that note, let's discuss budget options…
Budget Options (Kind of)
I use the term 'budget' sparingly here, but let's say you fancy a crack at it. You're thrifty and nifty and you want to experience local life whilst seeing a different side of the country that is not shown online. Power to you!
Resort life makes you wince and even if you do fancy a bit of high-level comfort, you simply don't have the financial means to do so at the moment. Good news – locals have taken advantage of a 2009 law, allowing Maldives folk to open their guest houses, restaurants and homes to tourists.
Mathiveri Island gets rave reviews – an uninhabited island with cheap and cheerful guesthouses like Mathiveri Inn and Mathiveri Island Guest House at around $60 a night. Travelling with another person will halve the costs and bingo–budget travel in paradise.
If you like the sound of that but feel like you're missing out on local interaction, then check out homestay.com. I love homestays when I travel and the last time I stay in one in India I asked myself why I don't consider them more often. There are plenty of good deals on there, so you can stay with a Maldivian, eat local food, and visit parts of the country you'd never see on a resort – for as little as $40 a night.
Mid-range options
You're shrewd and inspired. You want to relax in the Maldives but are not fussed about paying the premium for a beautiful bungalow on the water.
$400–$500 a night is your realistic shooting range here but note: it will be the trickiest of all options and you'll need to dig deep into the bargain bin, although it's still doable if you're willing to put the time in.
Luxury options
You have deep pockets and an unrepentant love for the high life when possible, but going a tier up seems exorbitant even for a high roller like yourself.
Or maybe this is the very top of your dream vacation list and you're going to ride it until the wheels come off. You understand that you "get what you pay for" and want an unforgettable holiday in wonderland.
This will typically set you back around $800–$1000 per night.
Upper luxury options
Oh hey there, big spender! You have "f**k you" money. If Jordan Belfort were your mate he'd be arranging an intervention for you – the Maldives doesn't know what it's letting itself in for.
Sexy beach houses on stilts await you at the higher end, with fancy places such as Niyama Resort and Soneva Jani leading the way to make your dreams come true.
Where I Stayed in The Maldives: Review of Adaaran Prestige Resort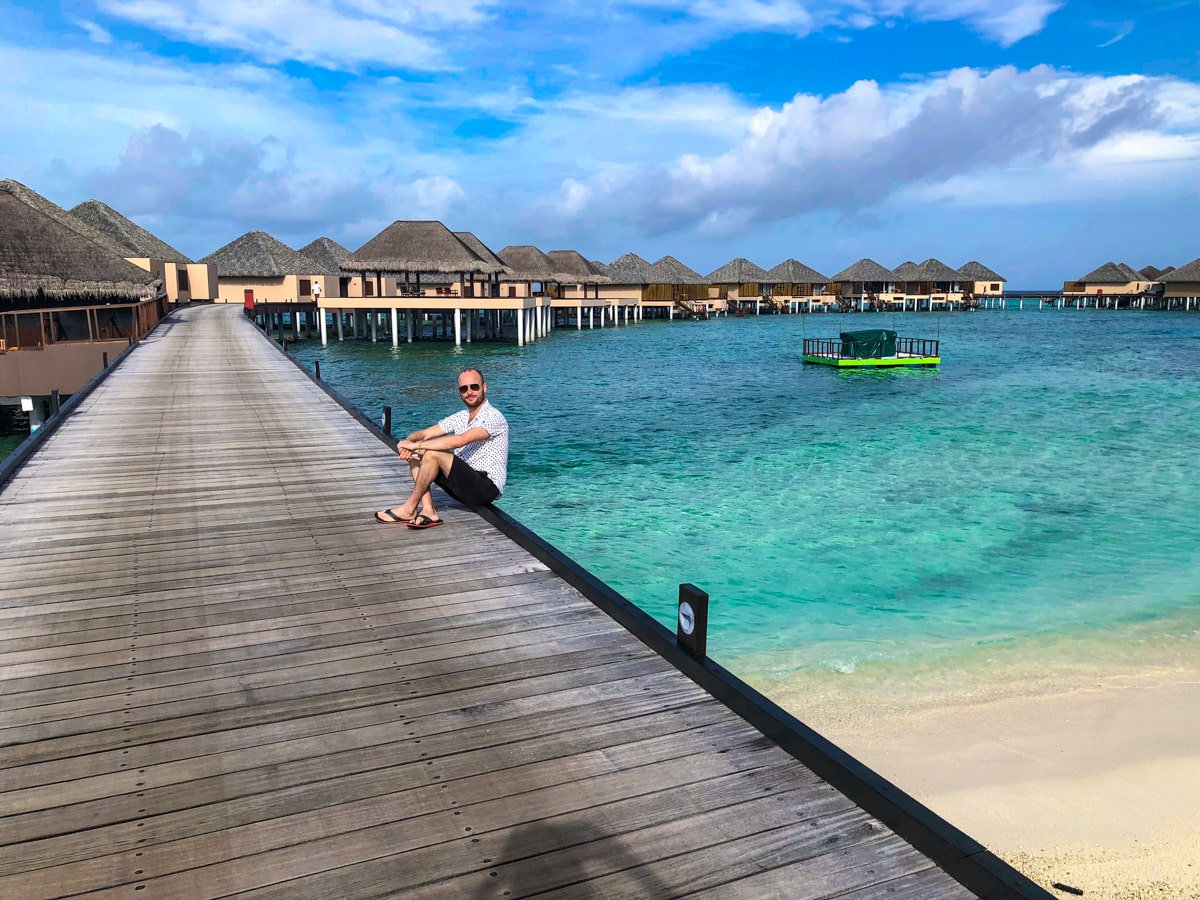 Upon landing I made my way to the Adaaran boat taxi – it wasn't hard to find as the airport in Male is so small. The bumpy ride took about 15 minutes and I was greeted upon arrival by a friendly guy who would be my personal butler for my time there.
I was then shown around with a refreshing glass of iced tea before arriving at my room – classy, gorgeous, stylish and set up for the privacy that was so badly needed. On that note, the resort, like most, is designed for intimacy. Guest interaction is sparse and that suited me perfectly.
There were options for activities such as visiting other islands, snorkelling and diving. I declined, as all I wanted to do was chill and regenerate in paradise after four high-energy days in Baghdad.
Food
There's always one princess with a diva food request, and that princess is usually me. Being a vegan who hates onions doesn't make the most popular of dinner guests, but Adaaran sorted me out with samosas, delicious selections of dahl, chana masala, and pasta and the chef got creative with my slightly drunken requests.
It's very out of character for me but I did not do my homework on what I would get for all-inclusive and at $300 extra per day, it wasn't worth it – especially for myself who doesn't eat animal products as the menu was full of meat and fish.
The menu I ate from was room service and restaurant menu, which was separate from the all-inclusive menu, but I had to pay more last minute and will delve into that in more detail later when I reveal all of my expenditures.
I didn't feel like I was missing out when I saw the all-inclusive food and I genuinely think I would have felt the same as an omnivore. It looked dull and second-rate to the menu that I was eating from.
Again – you have to do your own homework on this, but in my opinion all-inclusive can be a sneaky way of penny-pinching for the business, which leaves the consumer with a false sense of being frugal.
Wi-Fi
I wanted a full digital detox during my time there, but I was seduced into a good old couple of Instagram stories. T'was a small victory for hedonism.
Also, on the second day, Khabib Nurmagomedov was fighting Conor McGregor in the UFC early one morning and my stream worked perfectly for this, so that's a solid nod for the Wi-Fi at this place.
Staff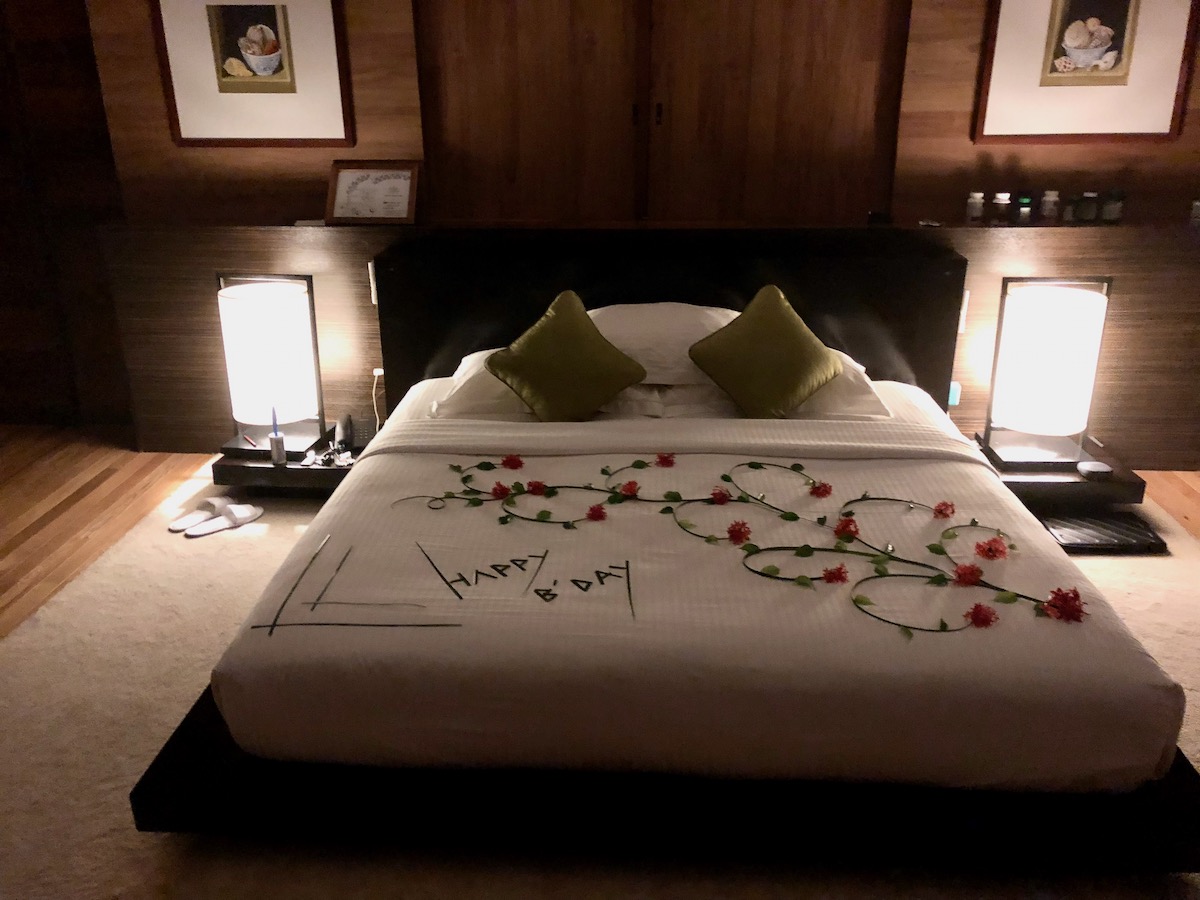 Second to none. Always making an effort to go the extra mile for personal preferences and for special occasions.
Amenities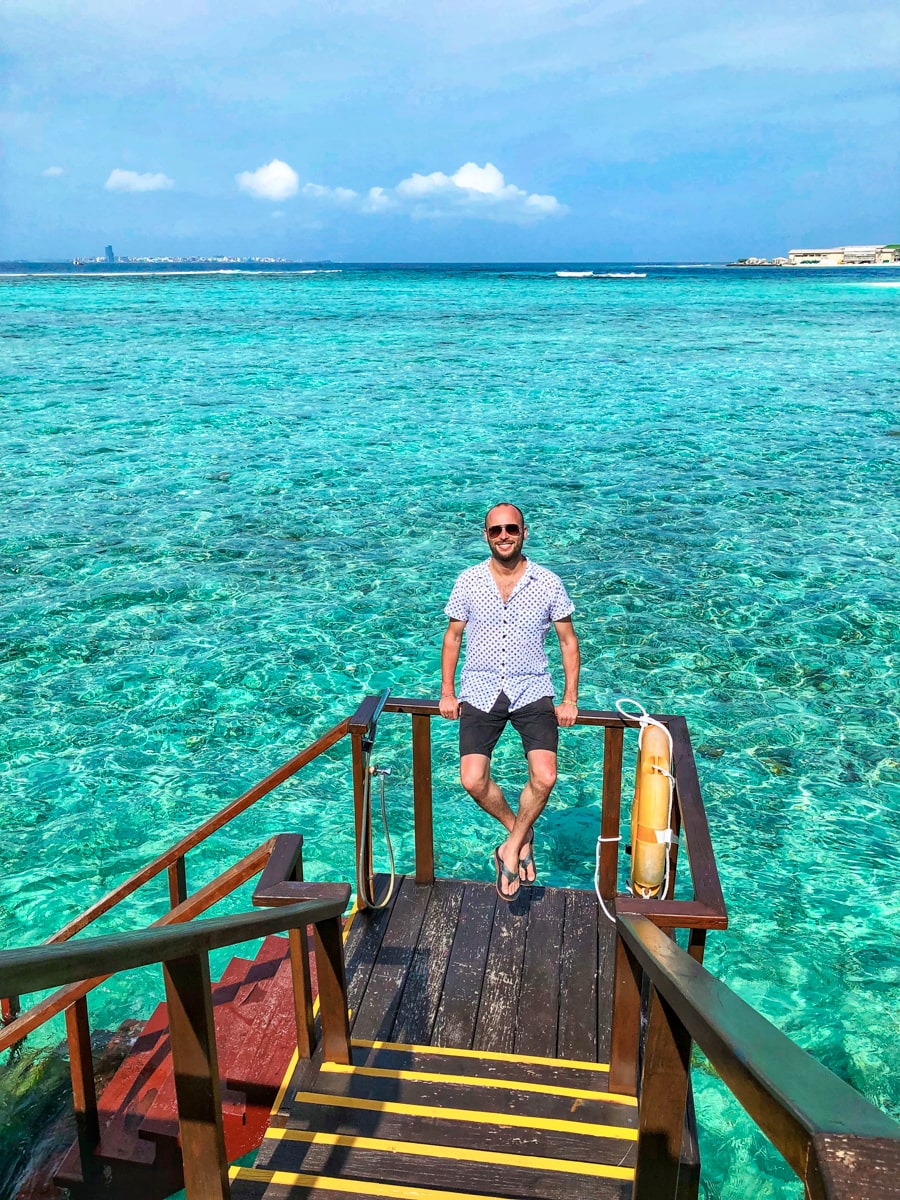 The resort had a lovely little beach bar, which overlooked the gorgeous view of the bungalows in the sea. On our resort, women could dress how they wanted with skimpy bikinis and men could don Daniel Craig-style short shorts – but that isn't a green light to fly to the Maldives and walk around in the nude, shaking your paralytic drunken ass to Sean Paul (or whatever the cool kids are listening to nowadays).
The country is aesthetically glorious, but an overlooked truth is the discriminatory harsh punishments that are handed out, and as always with religious dogma – it's the women who bear the brunt. So it's best off leaving your canoodling and shenanigans until you're in your luscious private room.
The private room had a small wading pool on the balcony, which overlooked the ocean. On the day that I planned to use it, I had an uninvited visitor…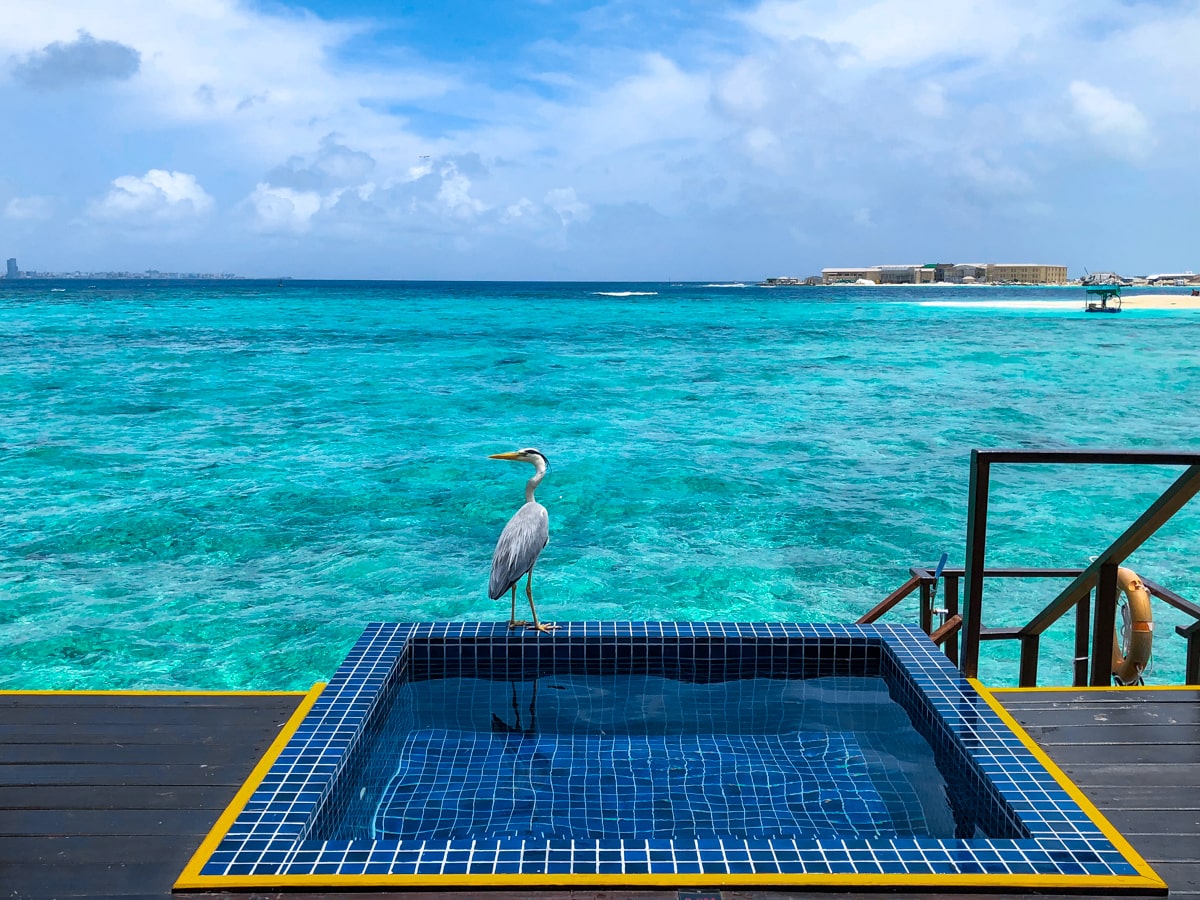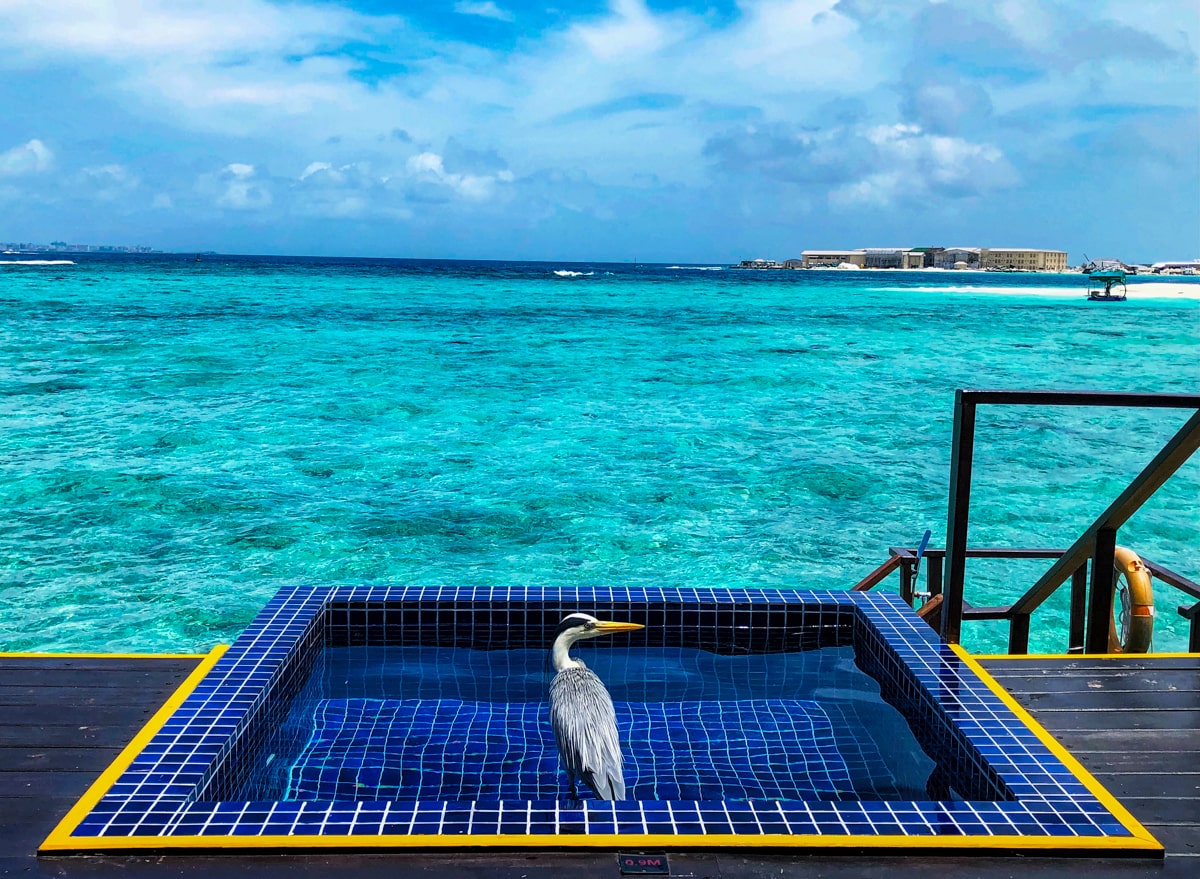 S/he set the place up for a perfect photo opportunity… before taking a nonchalant dump in the private pool. I guess that's the small price you pay for getting to kick back and relax in one of the world's most sought-after dream destinations.
How Much I Spent on My Maldives Trip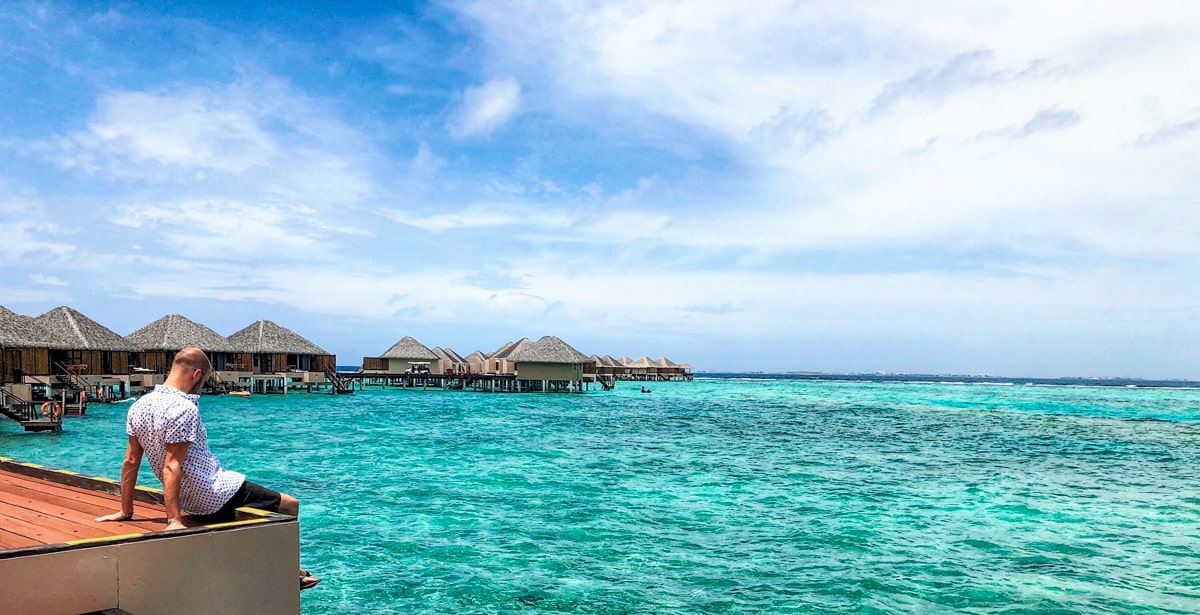 Food and accommodation: $2,640. $80 a day for food and drink, plus a 20% tip for my butler. I wish I did things a little differently and I'll explain more in the segment below.
Drink extras: $400! That's a lot of wine, but it was a double-birthday celebration.
Flights: $829. I flew From Iraq on Fly Dubai for $605, connecting in Dubai and I flew out of Dubai to Bangkok for $224.
Travel Insurance: $42. The exact price was for my monthly SafetyWing policy while I travelled around Oman, and Iraq and kicked back in the Maldives.

Total expenditure for visiting the Maldives: $3,911
Is an 'All-Inclusive Package' Worth it For The Maldives?
Not all-inclusive packages are created equal and I can't hammer it home enough that you should email the resort in advance and ask for as many details as possible about what food will be included in the package.
We were travelling as two; one picky vegetarian and myself who is a vegan that hates onions! We were a little disappointed with the options presented, something I take absolute accountability for due to not enough due diligence.
Not to be beaten easily, I looked at the extra options on the menu and had a word with the staff about our situation. Essentially we moved to a hybrid of half board mixed with all-inclusive, with an agreed additional fee of $20 extra per day and whatever alcohol we consumed was to be added onto the bill.
If you have any strict dietary requirements you need to be aware of the fact that most all-inclusive packers are rather ironically, not very inclusive at all for individuals with restrictions.
If you're an omnivore with zero allergies, or intolerances and don't have any aversion to any food then it makes complete sense to go all-inclusive for maximum enjoyment and a cost-effective holiday.
What To See and Do in The Maldives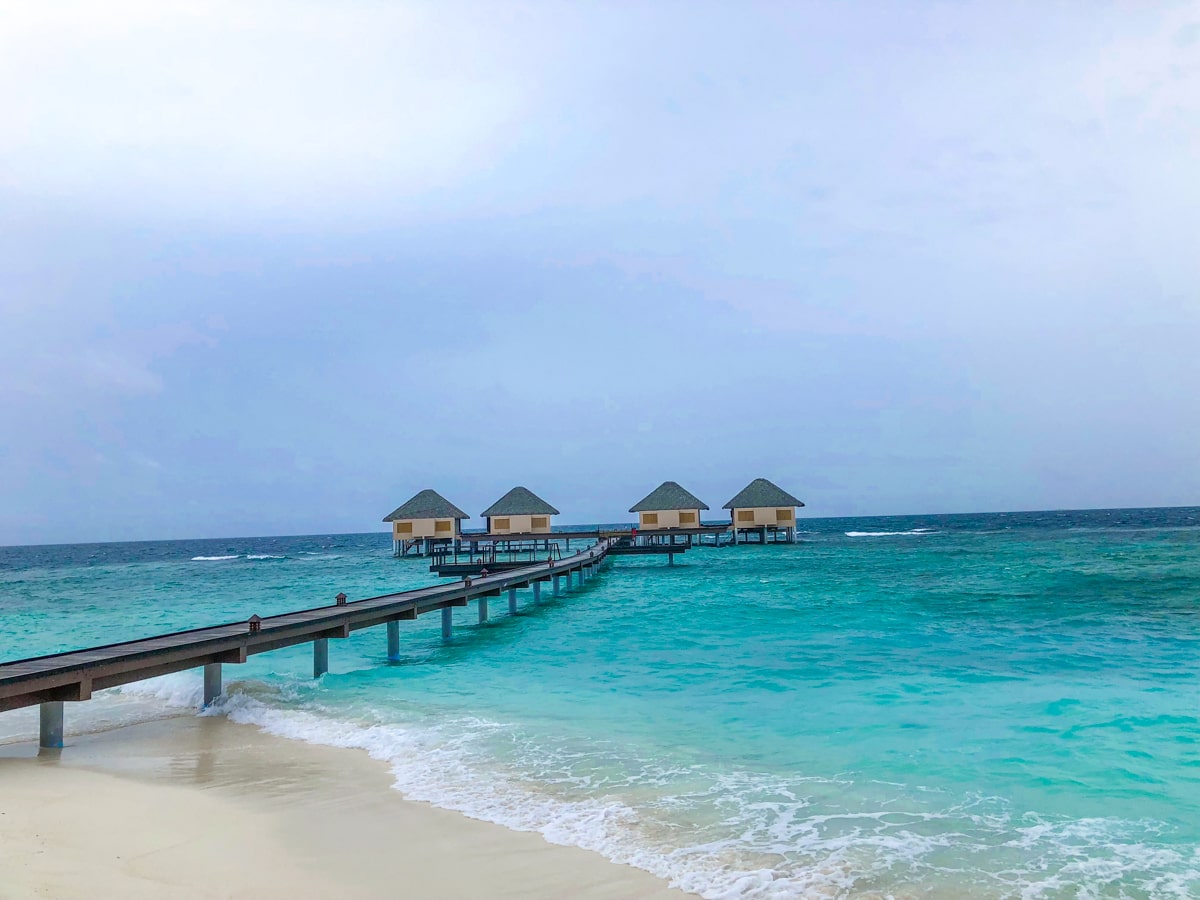 Honestly, I was absolutely done in from all the hardcore travel beforehand that I was more than happy to get to be a sun lounge lizard, soaking in the rays and getting lost in a book in privacy. But there are options for those visiting the Maldives with itchy feet who would like to venture out beyond the luxury.
With you being surrounded by a set of islands there are the usual options of fishing, dolphin-spotting, snorkelling and enjoying a floating romantic dinner as an extra option.
Island-hopping is expensive but if you are interested you can sort out a speedboat via your resort, for the foodies you can have the option of taking a local cooking class too. If you simply want some time to kill between your next meal then your resort will have ample spa options.
And that's a wrap! I hope you have all the answers that you need on how to plan a trip to the Maldives. After 4 days and 5 nights in the Maldives, some mistakes were made before I got there regarding the food and many dollars were spent on food and wine. I regret nothing!