I decided to write a comprehensive guide packed with climbing Mount Kinabalu tips after receiving a lot of emails from people wanting to know how to climb Borneo's tallest mountain in one day as opposed to two days.
I did it as part of a Man Vs Clock fitness challenge. However, that option is no longer possible.
I have left a little bit of bonus info about the one-day climb just in case this becomes available again, however, this article is fully focused on the logistics of planning this wonderful climb in the usual two-day period, in 2022 (post-Covid plus other regulations on Mt Kinabalu have changed).
Climbing Mount Kinabalu Tips
At the end of this post, you will be fully armed with climbing Mount Kinabalu tips such as how (and when) to book, where to stay, and costs, demystifying any outdated advice and most importantly you will feel confident for a successful Mount Kinabalu climb for that glorious summit feeling.
Let's go!
Is Mount Kinabalu The Tallest Peak in Southeast Asia?
Mount Kinabalu (also known as Low's Peak, or 'Gunung Kinabalu' in the local language) is a pretty tasty mountain, towering at 4,095 metres (13,435 feet) and is usually incorrectly referred to as "the tallest mountain in Southeast Asia."
I don't know if that is due to a marketing gimmick that has just stuck around, or whether it's looking at it from a differing geological perspective. Puncak Jaya is the tallest mountain in Indonesia, which is of course in Southeast Asia and it joins 28 other mountains in the region that are taller than Mount Kinabalu.
But don't let that get you down!
The Mount Kinabalu climb is a serious workout and it's not always about what is the biggest, but if that is important to you; Mount Kinabalu is the tallest peak in Malaysia and Borneo (the 3rd biggest island on the planet)… that certainly gets me going.
Can I Climb Mount Kinabalu Without a Guide?
Nope, sorry. The guide comes as part of the deal when you secure your permit to climb Mt Kinabalu.
Even if you are a hardcore climber you have to have an experienced guide with you, not only are they lovely people but they are very qualified to get you up and down safely. Malaysians are also pretty chilled out too, so you won't get that annoying overbearing experience that can come from less self-aware tour guides.
The 230 Malaysian Ringgit that you pay for one guide covers up to five climbers; something to be aware of if you are climbing Mt Kinabalu with a large crew.
How To Get To Mount Kinabalu
Mount Kinabalu resides in Kinabalu National Park, which is located in the state of eastern Sabah, on the island of Malaysian-governed Borneo.
To reach Mount Kinabalu you have to make your way to Sabah's capital state; Kota Kinabalu.
Getting To Kota Kinabalu
There is only one way to get to Kota Kinabalu and that is by flying. There are no options via water and although 27 global destinations offer direct flights there, the best two options for flying to Kota Kinabalu Airport (BKI) are via Bangkok's Suvarnabhumi Airport (BKK) and Kuala Lumpur (KUL).
Kota Kinabalu To Mount Kinabalu
It takes around 2 hours drive to get to the mountain from Kota Kinabalu airport. If you have a tour operator they will sort this transfer out for you (unless they are complete cowboys!)
If you are taking down Mount Kinabalu independent of a tour operator you will need to reach the city centre by shuttle bus for 5 Malaysian ringgits, which departs from terminals 1 and 2 (this is where you purchase your ticket, you don't buy it on the bus).
You will need to get off at Pedang Merdeka where you can get an onward shared van signed for 'Ranau.' There is no strict timetable for these types of transport as they go when they are ready and cost around 20-30 Malaysian ringgits, depending on how full they are and how desperate the driver feels you are to get there.
If you're knackered after a long-haul flight and can't be arsed to barter with taxi drivers with money signs in their eyes, then opt for a Malaysian-owned 'Grab' taxi that will take you to the park for a pre-approved price.
Kota Kinabalu isn't just a stop-off shop for the Mt Kinabalu climb and has plenty of fun activities to explore, so you will probably want to spend a few days there beforehand, or get your game face on first and enjoy the city after your successful summit.
That's your call.
Best Month To Climb Mount Kinabalu
The best month to climb Mount Kinabalu is between March to September, as this is officially the dry season in Kota Kinabalu. However, if you can not climb during this period, there are some perks to having a crack between October to January.
The downside is that there is more chance of rain and your pre-agreed climb might be delayed or even cancelled, but you'll reap the benefits of cheaper local accommodation and less traffic on the mountain.
I climbed Mount Kinabalu in April, which I am assuming is the sweet spot because there was little to no chance of rain and the mountain wasn't too busy at all.
Before Your Mount Kinabalu Climb Tips (Booking & Fitness)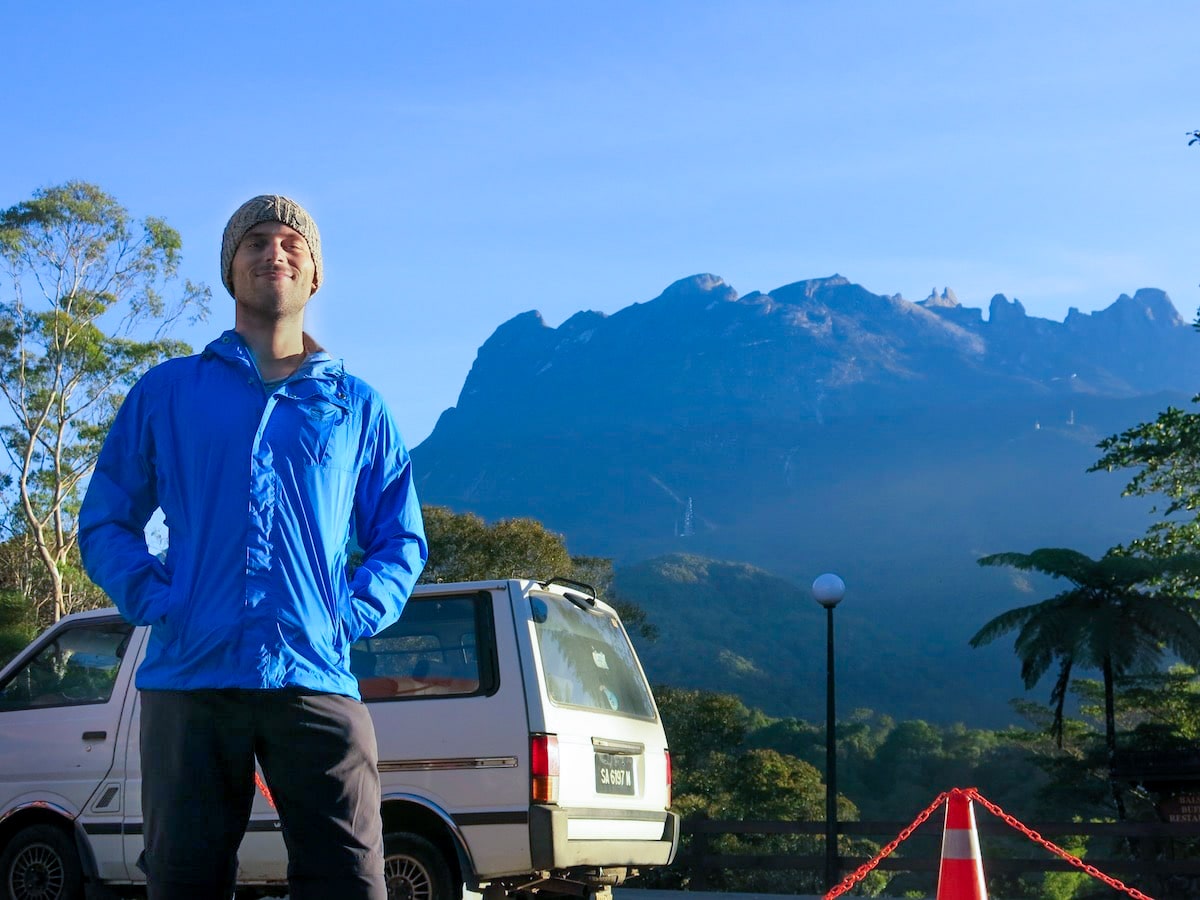 The logistics of climbing Mount Kinabalu can be pretty tricky compared to less-regulated mountains, but let's look at how to prepare for a successful climb to the very top of Borneo.
Accommodation For Climbing Mount Kinabalu
We stayed at Sutera Sanctuary Lodges at Kinabalu Park the night before, it comes at a premium of course, but that's for the privilege of quality facilities and having the mountain quite literally on your doorstep upon waking on the day that you set off.
There are private rooms and dorm options at your last stop after day one of two at 3,272 metres high.
Laban Rata (which is run by the lodge mentioned above) is the most popular place to stay on Mount Kinabalu for the first night of your 2-day Mt Kinabalu climb before summiting. This is due to the fact that it's compulsory to book a night here since the cancellation of a one-day climb.
Other options include Pendant Hut and Panlaban Hostel. Lemaing Hostel is only available to Malaysian nationals.
Pendant Hut is for those doing the Via Ferrata route, which includes more technical rock climbing. The vast majority (myself included) of Kinabalu climbers take the Ranau Trail.
Package deal for climbing Mount Kinabalu: If you have the budget to spend and you prioritise convenience over costs then you should check out this Viator Mount Kinabalu package and let them do all the hard work for you.
How To Book For Mount Kinabalu Climb
It goes without saying that a tour operator is easier when it comes to paperwork and logistics. However, if you are happy to do the groundwork yourself, then you need to email mtkinabalu.co@gmail.com or follow the steps on their official website.
If you want the hard work taken care of then I suggest searching Viator to find a reputable guide for climbing Mount Kinabalu.
Climbing Mount Kinabalu is more popular than ever and due to its limitations of 150 climbers per day, you really should book months ahead. There is an outside chance of rocking up and securing a solo climb (you plus a guide) last minute, but it's up to you if you want to take a puncher's chance, especially in these times of tight regulations and with people absolutely itching to get life back to normal after peak pandemic.
Mount Kinabalu Price: 1 Day Climb (Relic or Making a Comeback?)
Just a friendly reminder that this is no longer a viable option and I've only kept it here on the slight off-chance of it returning.
Park entrance – RM 15 (RM3 for Malaysians)
Permit – RM100 per person (non-Malaysian)
Insurance – RM7 per person
Mountain guide – RM128
Conservation fee – RM3
Private room in a nearby hostel – RM27
Mount Kinabalu Price: 2 Days Climb (Only Option Available)
This is a "too long didn't read" price breakdown of the Mount Kinabalu climb. I elaborated more on logistics and prices above, but I know I'm competing with your Netflix show in the background and all the other modern-day distractions.
Park entrance – RM 15 (RM3 for Malaysians)
Overnight stay in Laban Rata – RM1300 (RM 931 for Malaysians)
Permit – RM200-00 per person (RM50 for Malaysians)
Insurance – RM7 per person
Mountain guide – RM230 (This is compulsory and it's up to 5 people)
Conservation fee – RM3 per person
Transportation fee there and back (budget option) – RM50
What To Wear When Climbing Mount Kinabalu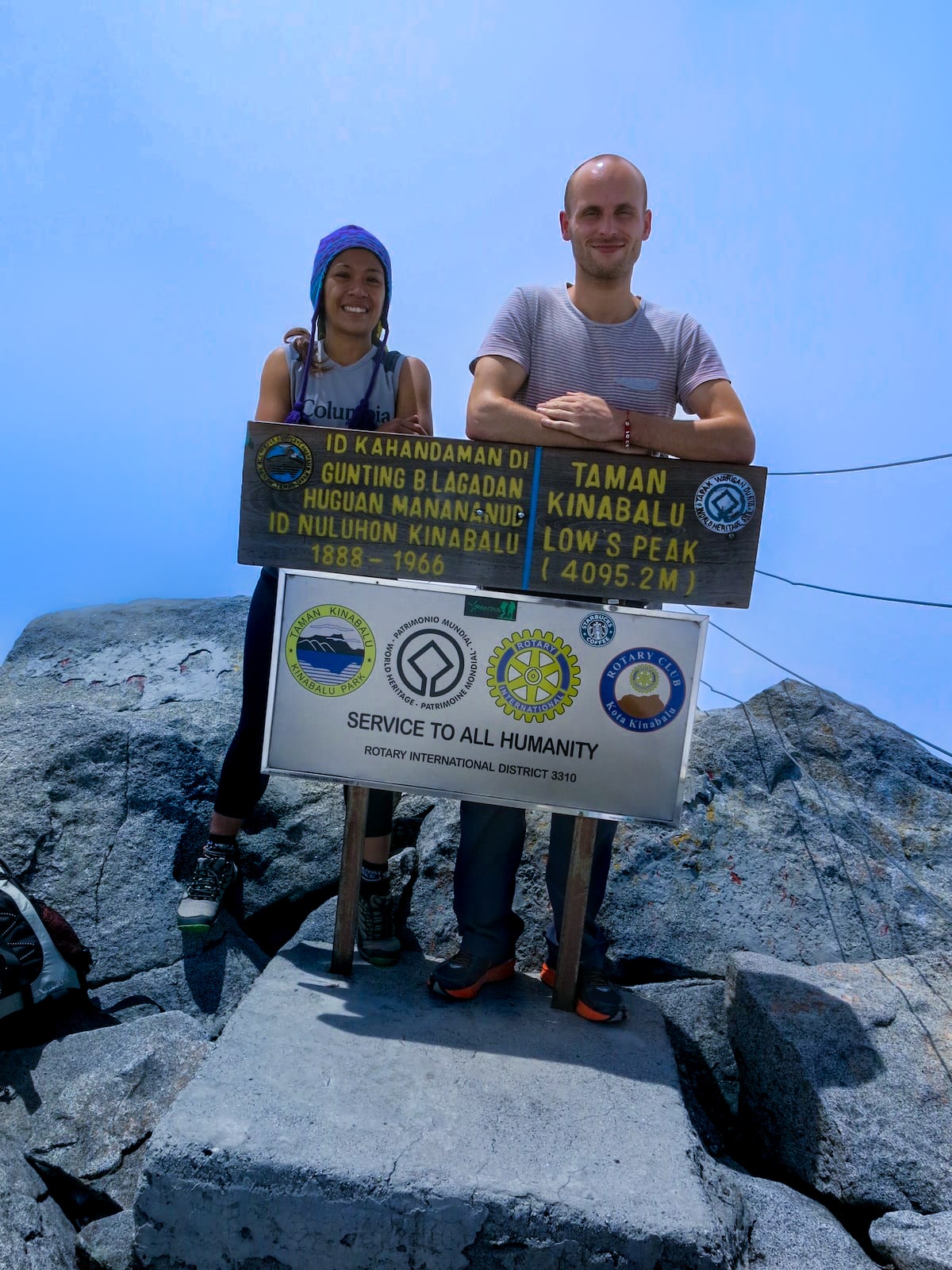 I've climbed a decent amount of mountains all over the world, and I've had to learn the hard way that not having the best gear for your climb can make things unnecessarily harder.
When I say "best" gear, I don't mean the most expensive, I am talking about the best gear in terms of terrain, weather and technical level for the particular mountain that you are attempting to climb.
It's the usual suspects here for the packing and gear list, but don't be fooled by my t-shirt in my summit pic. Even though Borneo is a tropical destination, you are up high and you can get very cold very fast up there.
A good pair of hiking boots. Sports shoes or versatile shoes might be "just enough" but they are not optimal, also Kinabalu can be very slippery, so it's best to have proper shoes with a good grip.
Waterproof backpack (or a waterproof cover, for a cheaper option. It will just be a little annoying taking it on and off)
2 lightweight t-shirts
Fleece jacket
Trekking poles (or rent them there for RM45)
Head torch (make sure you do a dummy run with it beforehand). There's nothing more irritating than realising you have the weakest head torch during a night climb, trust me. 
A BUFF Headwear/Cap if you're a fellow baldie who doesn't want their head fried
Raincoat/Poncho
Sunscreen
Sunglasses! You will see by my squinty eyes in my photos that I am not wearing any. I lost my pair en route to the top! Now I pack a spare just in case as it's a nightmare with all of that glare on a mountain with the naked eye. 
How Difficult is The Mount Kinabalu Climb?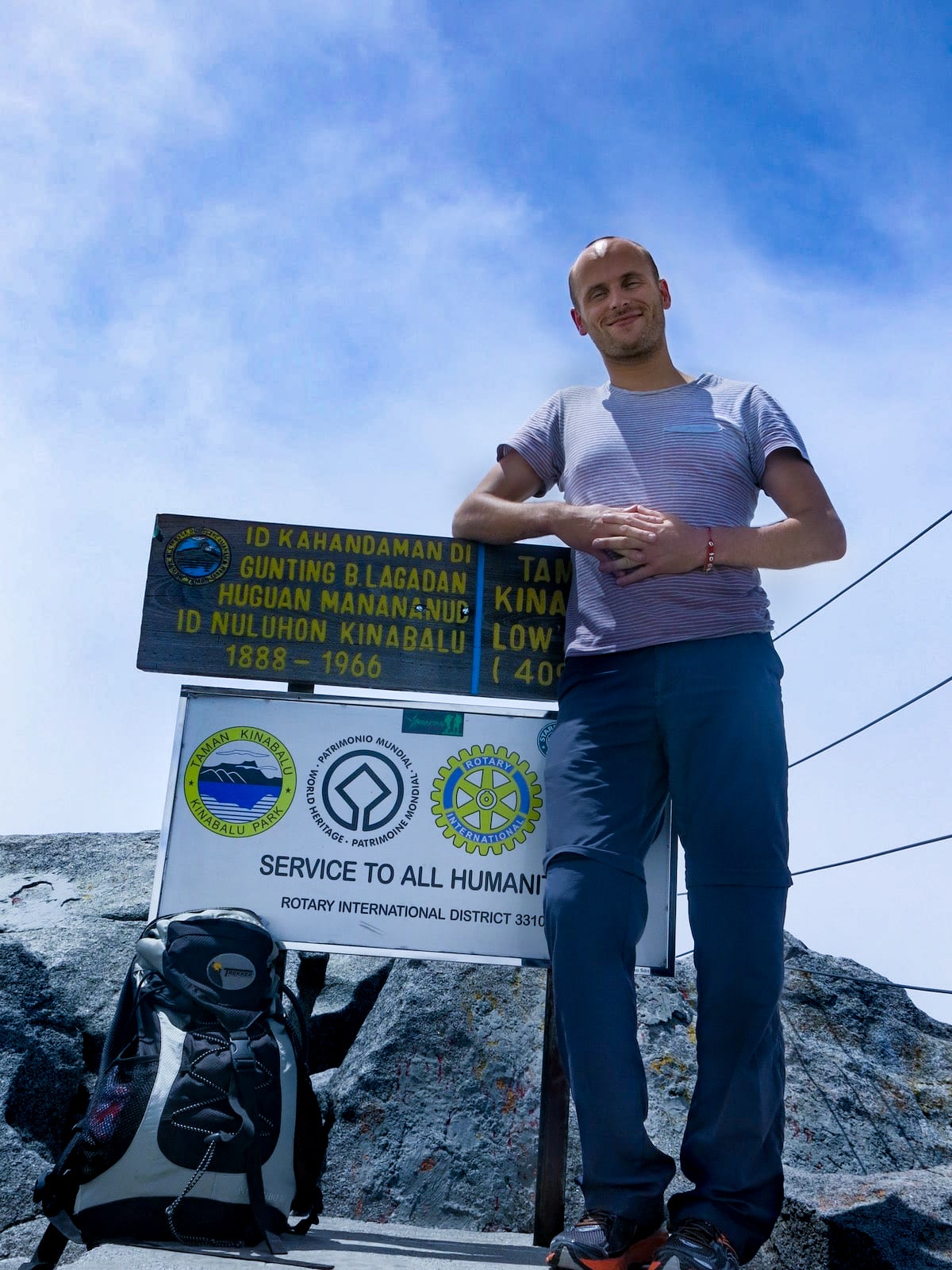 The failure rate of climbing Mount Kinabalu is 10%. While altitude sickness is a freak lottery that I have fallen prey to on other mountains, it's best to focus on what you can control and prioritise your health and fitness for this challenge.
You should have above-average fitness levels when climbing Mount Kinabalu because your body will be more adaptable at high altitudes, you will also enjoy the climb more and be able to get to the Laban Rata lodge faster.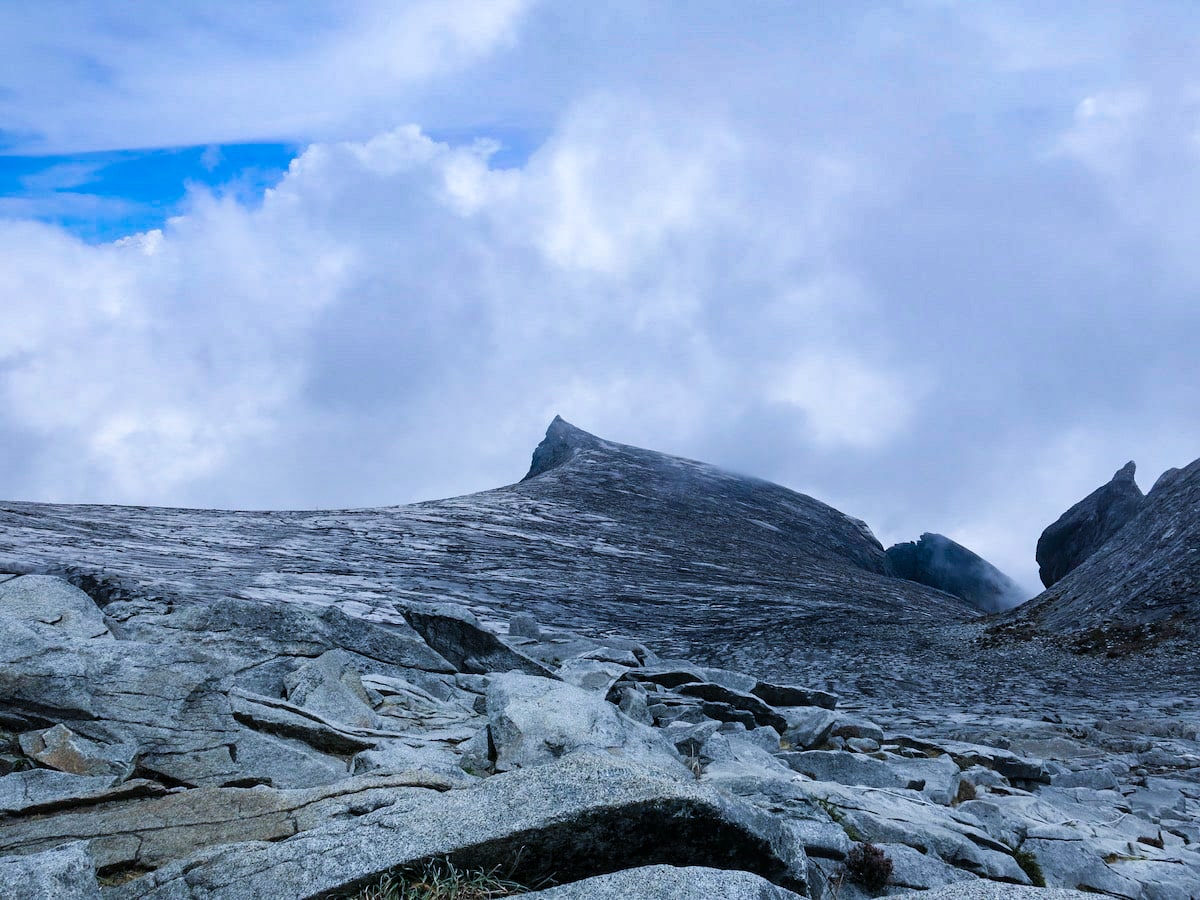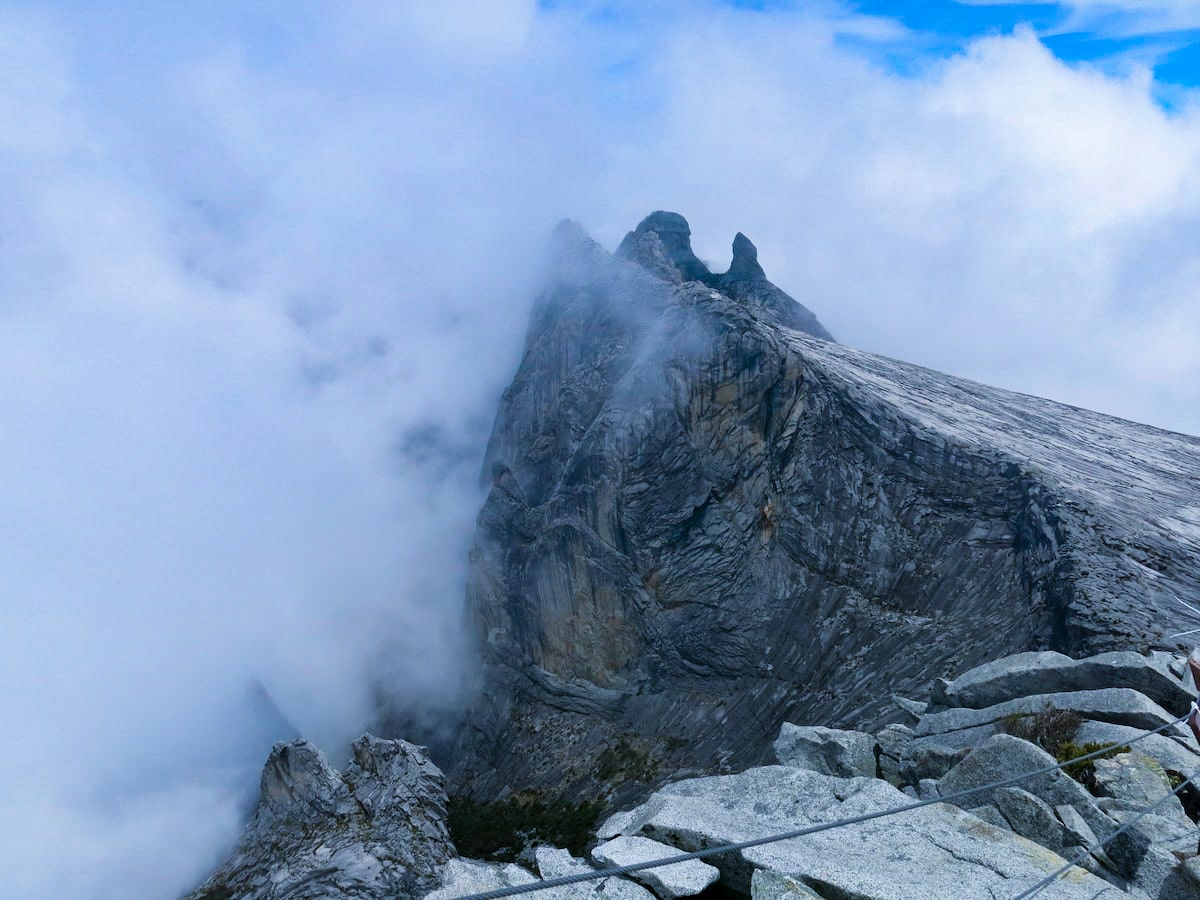 Arriving there faster means you can get refuelled quicker and you will have more time to relax before your early morning climb from Laban Rata to the peak on summit day.
You will be leaving around 2 am, so that you can be at the top for sunrise around 5:30-6 pm. I'm not suggesting you rush to the point of exhaustion. You should certainly stop to 'smell the roses,' so to speak, but getting your head down for extra sleep will make an easier summit.
So you'll need decent cardio and a strong core to climb Mount Kinabalu, although there have admittedly been times when I have been out of shape and slipped through the net by summiting a mountain that I should have had absolutely no right to summit.
But I don't recommend this. It's miserable and takes away the beauty of many moments. Train hard for this mountain if you have the time, there is no point in making it any more difficult than it needs t
Climbing Mount Kinabalu Tips: A Cheatsheet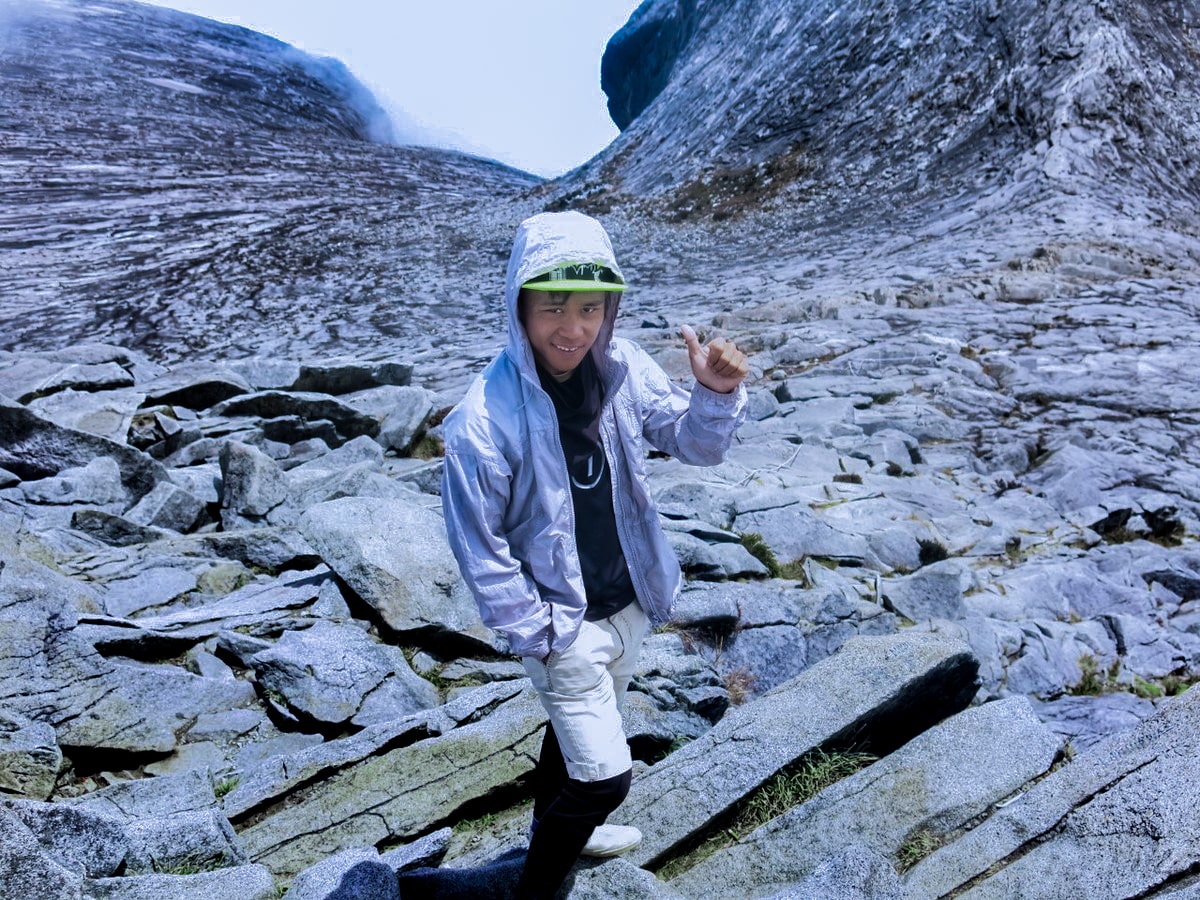 I think that this covers everything you need for your Mount Kinabalu climb, but let's finish it off with a checklist to hammer home all the information with some added pearls of wisdom so that you will have the confidence that you need for your trip to Malaysian Borneo:
Dress accordingly: Pack your backpack weeks before as a test pack. Make sure you have everything from the above checklist. Unpack and pack again just to make sure!
Book everything in advance: Regardless of budget, don't leave anything until the last minute due to the 100-people-a-day limits, time and seasonal constraints.
If you're conservative/risk aversive: Book your Mount Kinabalu hike for the driest season and book it early.
Read the online reviews of your mountain guide: Coz we don't want no scrub, a scrub is a guy who can't get no love from us (or something like that).
Train hard for your climb: Your fit, strong body will thank you for it and your mind will enjoy it more
Don't wander off from your guide: They know what they're doing, it's their job.
Rent or buy a walking pole: If you think you might need it.
Remember that you have to come down too: I've climbed so many mountains now, that this doesn't catch me out anymore. Smile and be proud at the top (you earned it!) but get your game face on for the slippery road back down. Many sources state that people have more accidents when descending a mountain. No fear-mongering here, just looking out for you like an overprotective mother. I'm on your side!
Don't leave without extra travel insurance: You will have limited coverage with your official Kinabalu insurance, but SafetyWing covers mountains below 4,500 metres. Better safe than sorry, you can read my SafetyWing review here.
Plan your photo to get the famous shot in: Last, but not least – the backdrop of this gorgeous peak makes a wonderful view and is a famous photo to grab on your way up to the very top of Borneo.
I actually think it's a good thing that the one-day climb is no longer possible. Just like when I climbed Mount Fuji in one day, as beautiful as it was – the flip side was I missed quite a lot of beauty in the moment due to the rush that I enforced upon myself.
Good luck, I hope these climbing Mount Kinabalu tips get you to the top. Feel free to annoy your friends and family with the frequent "that one time, when I climbed the highest mountain in Borneo" story. If they stop hanging out with you then go back to the other side of Borneo and hang out with orangutans at Semenggoh Wildlife Centre all day instead!
Like this post? Pin it for later…