Mysterious tropical islands, complete with their own captivating tribes and apocalyptic dangers, sound like something straight out of the pages of Indiana Jones. Yet deep within the south pacific, there lies the remote islands of Tanna, an adventure traveller's dream.
A guide to hiking Mount Yasur, an active volcano in Vanuatu is definitely on the cards if you wish to itch your intrepid scratch while visiting this welcoming island nation.
Mount Yasur volcano, which is sacred to the indigenous Melanesians, Mount Yasur has been a focal point for generations of both locals and most recently, travellers who like to get off the well-beaten path.
While it may have erupted continuously for several hundred years, Yasur draws in a handful of willing hikers every year. Combining the thrill of climbing an active volcano in one of the often-cited happiest places on earth, whose country's name translates as the chest-thumping; "our land forever," what's not to love about this idea?
So, how do you get to this fairly unknown island Tanna, and what does it take to hike the angry beautiful beast? Let's get into it after taking a look at the natives who live there.
Source: Wikimedia Commons
Religion and Culture of Tanna People
The people of Tanna are mainly made up of Melanesians, indigenous peoples who are spread right across the western South Pacific. Adhering to a traditional way of life, many of the native islanders reject any form of modernisation, especially in the high-altitude villages, known as Kastom villages – a word taken from the Australian pronunciation of custom.
One of the most peculiar traits of the Tanna islanders is their adherence to religious movements known as 'Cargo Cults'. Cargo cults came about after many of these Pacific Islands were occupied by military forces during the Second World War. The islands were quickly transformed from societies untouched by modern technology for thousands of years to military bases, filled with all kinds of modern cargo – often dropped by aeroplanes onto the island.
You can imagine the sheer shock felt by the indigenous population; seeing all this modern technology of the 20th century appear before them in an instant. To them, only the Gods could have created and bestowed such technology.
Once the US Navy and Army left the islands, the indigenous peoples created a religious cargo cult known as the John Frum Movement. This movement includes building ritualistic landing strips, mimicking the militaristic drill formations, and marches, and even raising the American flag.
All of this is done with pure religious zeal, hoping that the Gods that gave such modern technology to the outer world will return and bestow it on the indigenous Tanna islanders.
Apart from the John Frum Movement, the Tanna villages of Yaohnanen and Yakel follow another cargo cult known as the 'Prince Philip Movement'. This follows the notion that Prince Phillip, the late husband of the recently deceased Queen Elizabeth of the UK, is a divine being and embodies a strong spirit directly connected with Mount Yasur.
As out there as this might sound, Prince Phillip welcomed a select group of these islanders to visit Windsor in 2007 and a mourning ceremony was recently carried out by tribal leaders shortly after his death.
Where is Mount Yasur? (And How To Get There)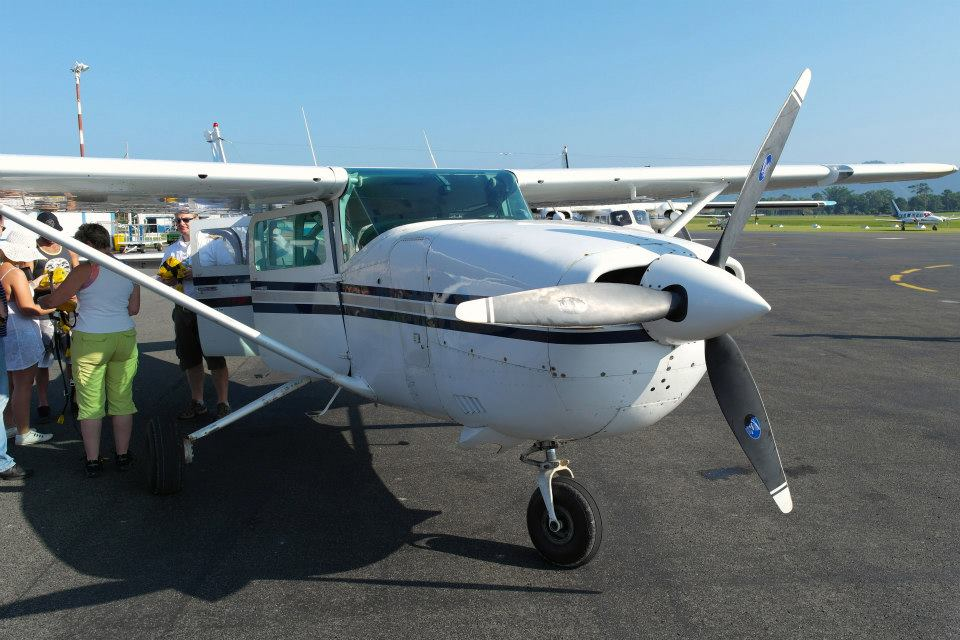 Mount Yasur stands proud on the island of Tanna, one of the southernmost islands that make up the Vanuatu archipelago chain, which lies within the South Pacific Ocean, a thousand miles east of Australia and 700 miles west of Fiji.
To get to Tanna and Mount Yasar you'll need to fly to Port Vila (VLI), Vanuatu's capital and only international entry point. Generally, this means flying via one of Australia's eastern cities such as Brisbane, Sydney, or Melbourne. Your flight from here will take around four to five hours.
Related Post: Unusual Things To Do in Sydney
The high-maintenance accessibility possibly explains why this gorgeous country is still one of the least visited nations on Earth. 
Once on the island of Efate, Vanuatu's main island, it's a case of getting a smaller inter-island flight to Tanna. Air Vanuatu runs two flights daily, departing early morning and early afternoon. The flight from Port Vila to the island of Tanna will take around forty minutes and will cost about VUV 12,000.
Is it Safe To Climb Mount Yasur?
Hiking one of the most active volcanoes in the South Pacific is never going to be without its obvious inherent dangers. This is no fairweather bubbling peak such as the Pacaya volcano hike in Guatemala, the Vanuatuan government have even developed a number system to ensure everyone is aware of Mount Yasur's activity level.
Level 0 is normal

Level 1 is signs of volcanic unrest

Level 2 is major unrest

Level 3 implies a minor eruption

Level 4 is a moderate eruption

Level 5 is a major eruption.
The volcano is prone to lava bombs, falling volcanic rock, landslides and sulphuric clouds. This may sound like a hellish landscape, but with the right care and precautions, there is no reason why you can't complete a Mount Yasur hike.
Mount Yasur is broken down into three zones; safety zone B, safety zone A and a permanent exclusion zone within 395 m of the eruptive vents. There have been around three deaths, all of which took place during the mid-1990s, but these have been as a result of tourists ignoring the exclusion zones.
With scorching volcanic rock being thrown out at hundreds of miles an hour, it would be foolish to venture any lower into the lip of Mount Yasar than the permanent exclusion zone.
There's no getting away from the fact that hiking the slopes of an active volcano is going to come with some risks, but you'll be fine. Following clear safety instructions will go a long way to keeping you out of harm's way, and after all, a little risk is what makes hiking a volcano on a tropical island even more seductive.
Best Time To Climb Mount Yasur
Like most of the Pacific Islands, Vanuatu has two distinct seasons; a dry season and a wet one.
Vanuatu's wet season starts around November and continues right through until March. While showers are sporadic and rarely affect the ability to travel across the island, it does make the trek very hot and very humid – not something you really want when surrounded by molten hot rock.
Peak season in Vanuatu lasts from mid-December right through until the end of January. This is the time when Australians and New Zealanders tend to descend on the island in numbers.
I'd say that the best time to visit Vanuatu and climb Mount Yasur would be during its shoulder months, around May or September (which is what we did). The weather is pleasant, there is very little chance of a cyclone, and the tourist traffic is low – ideal conditions for climbing a volcano!
You can also choose whether to climb Mount Yasur during the day or in the evening. During the day, you can enjoy pretty amazing views across the island, but you'll pay for it in sweat. Alternatively, climbing Mount Yasur in the evening is much cooler and you'll have time to appreciate the hypnotic glow of the not-so-distant magma dancing above the volcano.
Can You Volcano Board Down Mount Yasur?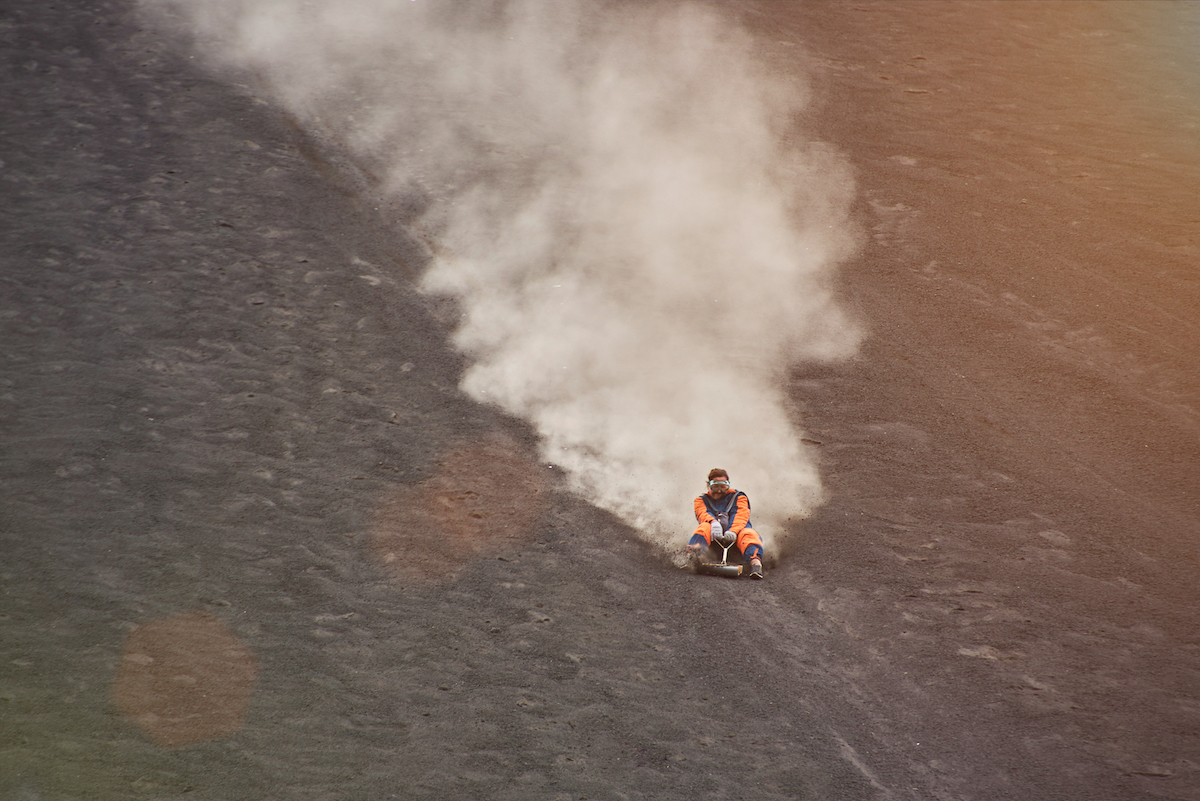 Sadly for me, it was not allowed at the time that I hiked Mount Yasur and was closed temporarily due to the volcano bubbling a little too much, which apparently affected visibility.
However, volcano boarding down Mount Yasur is a done thing and seeing so there aren't many places in the world where you can do this wild activity, I say you make it happen if the stars align.
After volcano boarding in Nicaragua, I was completely hooked on the idea, however, it just wasn't meant to be for me. So if you can, go do it and make me jealous!
Fitness Level For Climbing Mount Yasur
Like most volcanic mountains, Mount Yasur is not a Sunday morning ramble around the park and will take some effort. This being said, you don't need to be an Olympic athlete or even super fit to complete the climb.
People of all ages and fitness levels complete the Mount Yasur climb; it's all about patience. There's no point rushing to the top without appreciating the nature around you. Stop regularly to catch your breath or even sit down on your way.
Go slow as the ash will make you slip down if you go too fast. You're not in a race, just slowly dig in and enjoy the beauty around you.
Where To Stay in Tanna To See Mount Yasur
Tanna is home to a variety of different accommodations, suiting a range of budgets and experiences. Much like other island nations in this part of the world – if you fancy experiencing island life in a more subtle and authentic way there are a number of traditional bungalows located on the east of the island, perfect for clear views of Mount Yasur.
You'll also find endless bungalow-type accommodation peppered along the Loanengo road and this eastern region, offering a real down-to-earth feel to your stay on Tanna without spending the earth. 
If you're looking for a more luxurious stay on the island, then the western edges are your best bet. Scattered along the beaches here are boutique hotels with a more refined resort-like feel. If you do stay on the western shores, you will need to organise transportation to the Mount Yasur centre before beginning your hike.
We stayed in a lovely little traditional bungalow called 'Hidden Treasures' where we could see the furnace of smoke erupting from Mount Yasur, what a life.
Climbing Mount Yasur: My Experience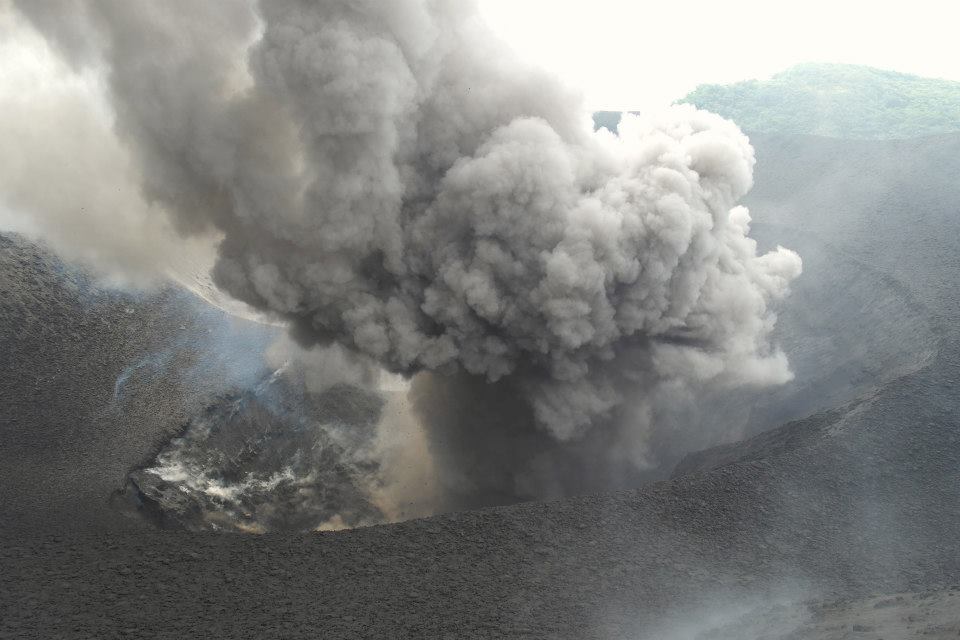 I think this one speaks for itself. Taking a private jet to a remote paradise island, in an already isolated country and hiking up an incredibly active volcano, with some of the friendliest people in the world… never has there been a better time to use the term; "why not?"
The only thing that I didn't love was the fact that I left my new camera up there! I did, however, manage to snap a few on my phone of the trip to Tanna Island, and of the bubbling furnace at the top.
It's forever in my memory though and maybe the universe was telling me that I needed to slow down a bit and enjoy the moment.
Yasur volcano is definitely worth the time and effort required to get there and the prize of the foaming lava, once you get to the top is one of those that you're best off being present and completely taking it all in, I hope this guide to hiking Mount Yasur convinced you to take the plunge and make this unique experience a chapter in your own life story.