Nothing quite screams 'travel bucket list item' like Skydiving in New Zealand and my Skydiving in Wanaka experience proved you don't have to reinvent the wheel too much to fill in your quotas for a scary adrenaline kick on the road.
While the thrill of jumping out of a moving plane at 15,000 feet sounds utterly exhilarating to some, the mere thought of it can induce nausea in tamer travellers, who simply can't get their heads around why someone would put themselves through such a terrifying ordeal.
There's no doubt for me where I stand on this sort of thing. My love for adventure travel galvanises me to have experiences just like this, so I found the idea of skydiving for the first time incredibly seductive.
After a lot of online research, I decided to go with the company 'Skydive Wanaka.'
It wasn't an easy decision, but I believe it was the right one. We were simply spoiled for choice in this famously outdoorsy country, so I've laid out all of your best skydiving in New Zealand options below, along with my reasons for choosing to skydive in Wanaka, along with my own personal experience of the eagerly anticipated jump from the heavens.
Popular Skydiving Destinations in New Zealand
When it comes to answering your own made-up dilemma of what is the 'best' skydiving in New Zealand, you have to ask why it may be the 'best' for you before you commit.
If your angle is "I want a lovely view," then I've got news for you; pretty much everywhere in New Zealand comes with a lovely view. This country is one of nature's eye candy, with an abundance of clear waters, handsome hills, majestic mountains and luscious landscapes at your disposal, so a scenic skydive you shall definitely have!
With that being said, beauty is the eye of the beholder, so here is a rundown of the places that are considered the very best destinations for skydiving in New Zealand, I'll highlight why I chose Skydive Wanaka at the end.
Auckland

Lake Taupo

Bay of Islands

Mercer

Abel Tasman

Fox Glacier

Queenstown

Wanaka (Representing!)
Like myself, if you read up on each destination in the above list, you will learn quickly that every one of them comes with the promise of stunning scenery to complement your parachute jump. You have to decide for yourself whether you have a slight preference for looking down on a glacier, mountain, national park, or a set of pretty islands (sidenote; if you like the sounds of all of that then my Patagonia itinerary ticks every single one of those boxes).
I wasn't able to choose an aesthetic preference, so safe in the knowledge that there is no such thing as an ugly jump in New Zealand I went for logistics.
As we were travelling via the west coast, we limited it down a bit and then chose Skydive Wanaka based upon the fact it was the direction that we were heading in our trusty motorhome and they had fantastic reviews.
Along with the area's allure of wine tours, hiking trails and Lake Wanaka itself looking beyond gorgeous, we were ready to commit to Wanaka.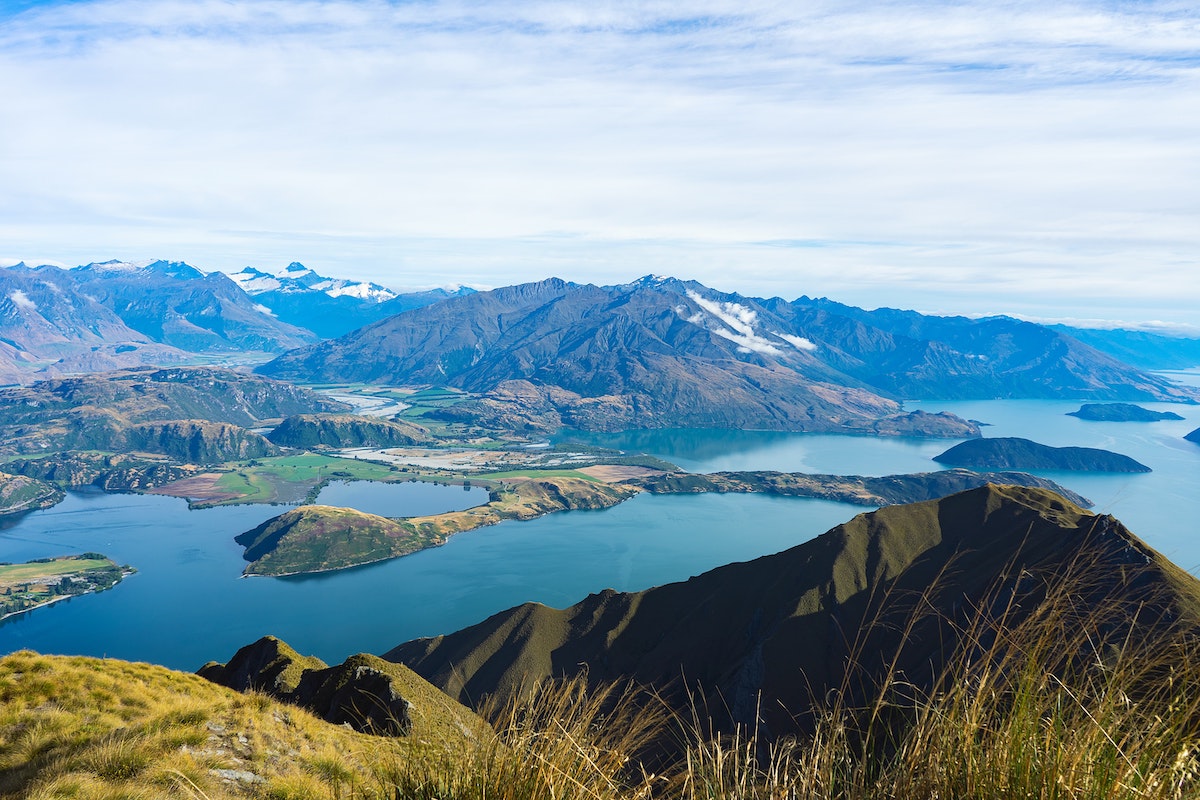 My Experience Skydiving in Wanaka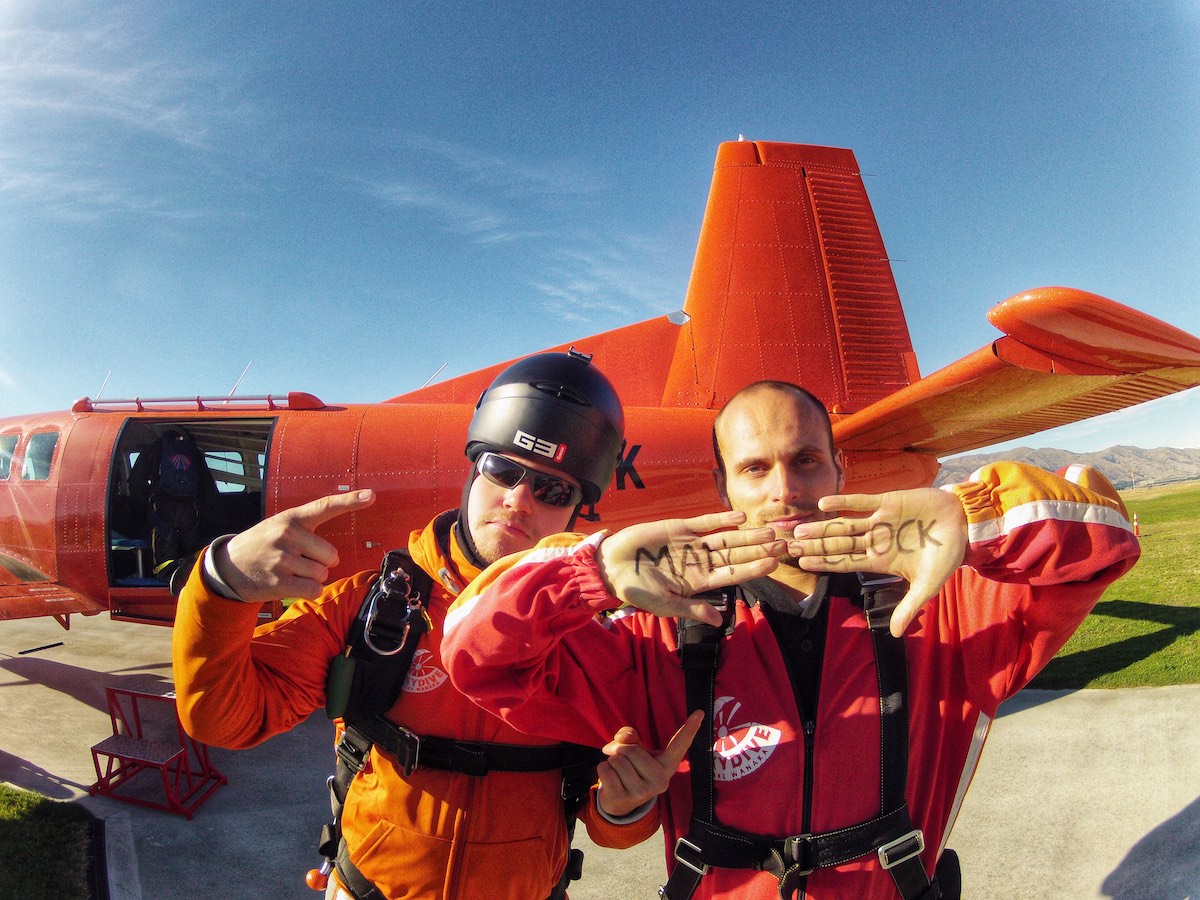 After a few weeks of experiencing the fickle Kiwi weather, we reserved a spot online and within a few days, we received an email with a good weather window and a request that we show up on the day with closed-toes footwear.
It was happening, we were going to officially skydive in New Zealand in a matter of days!
I can't and won't try to make a health and safety briefing sound sexy or even vaguely interesting. We've all been there and if you're anything like me, you sit through them impatiently waiting and itching to get to the action.
So when that was done and I was given the green light to wear my contact lenses, you wear goggles anyway, so you may as well get to see the beautiful view on your way down, off we went to put on our orange jumpsuits (worst ISIS boyband tribute act ever) where we would meet our tandem buddies.
The tagline of Skydive Wanaka is; 'strap yourself to a beautiful stranger' and mine was a jovial Norweigan lad who turned out to be a multiple-time tactical skydiver champion.
Safe pair of hands for sure.
Speaking of hands, I was given a permanent black marker to write a message on them. I chose website branding for the palm of my hands and a message for my Mam on the back.
Something for you to consider for your skydive; a special note for a loved one, or a funny inside joke for your friends.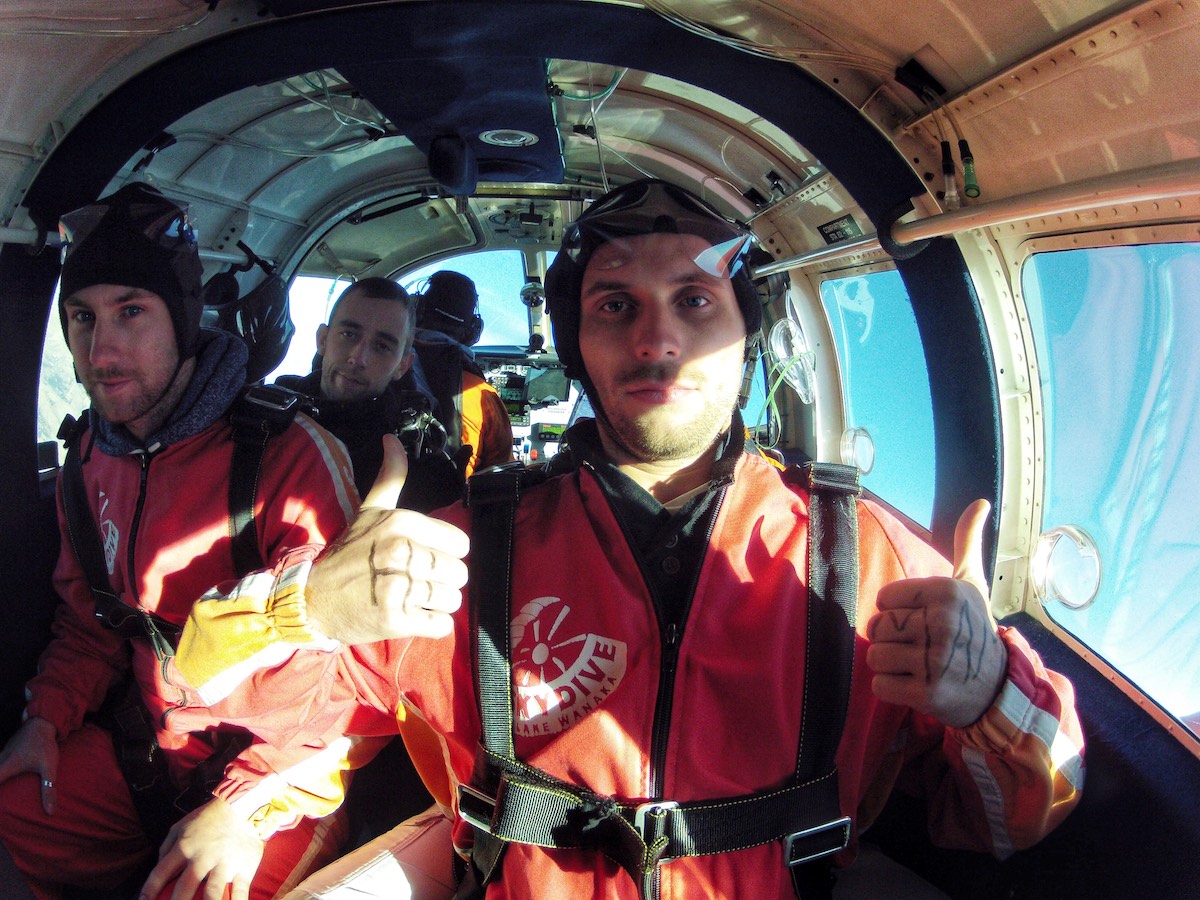 Joining me on my skydiving virginity date of terrifying cherry popping was one of my best mates, Johnny, from Onestep4ward. It was his second skydive and his perpetual state of dread on the plane transcended my excitement to nervousness…
…until that plane door opened roughly 5 minutes later.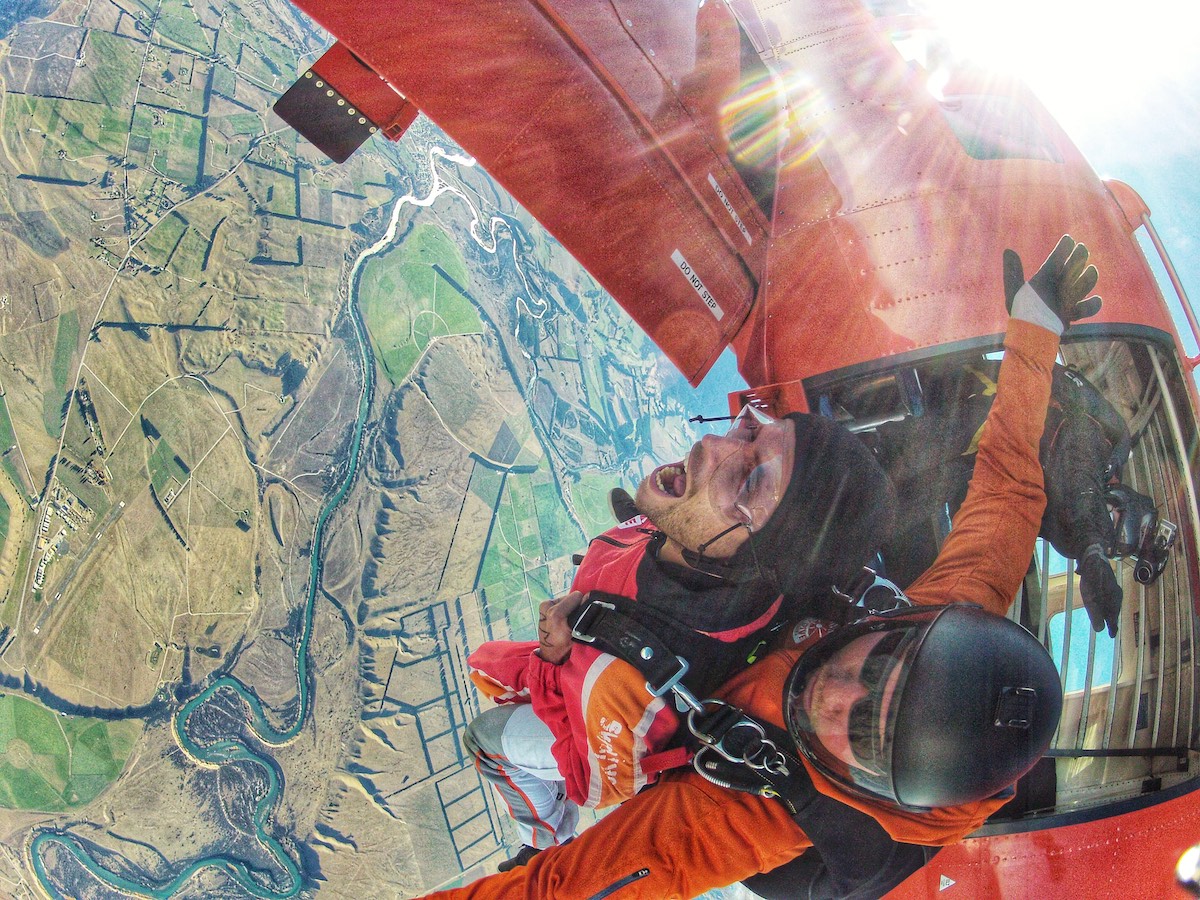 It was game time and I gave my trust to a man who I'd literally just met to throw us out of a moving plane. I can't even remember getting on the plane – all I remember is the off-the-scale adrenaline rush as I was launched out of it.
The absolute euphoria danced around my veins thanks to my 60-second freefall! Skydiving is not an anti-climax, or overrated – it's the ultimate rush and it simply must be experienced if you're that way inclined.
As I looked down upon the aforementioned gorgeous landmarks of Lake Wanaka and Mount Cook showing off their beauty below me, the hysteria got the better of me as I clumsily showed my hand messages to the skilful flying cameramen.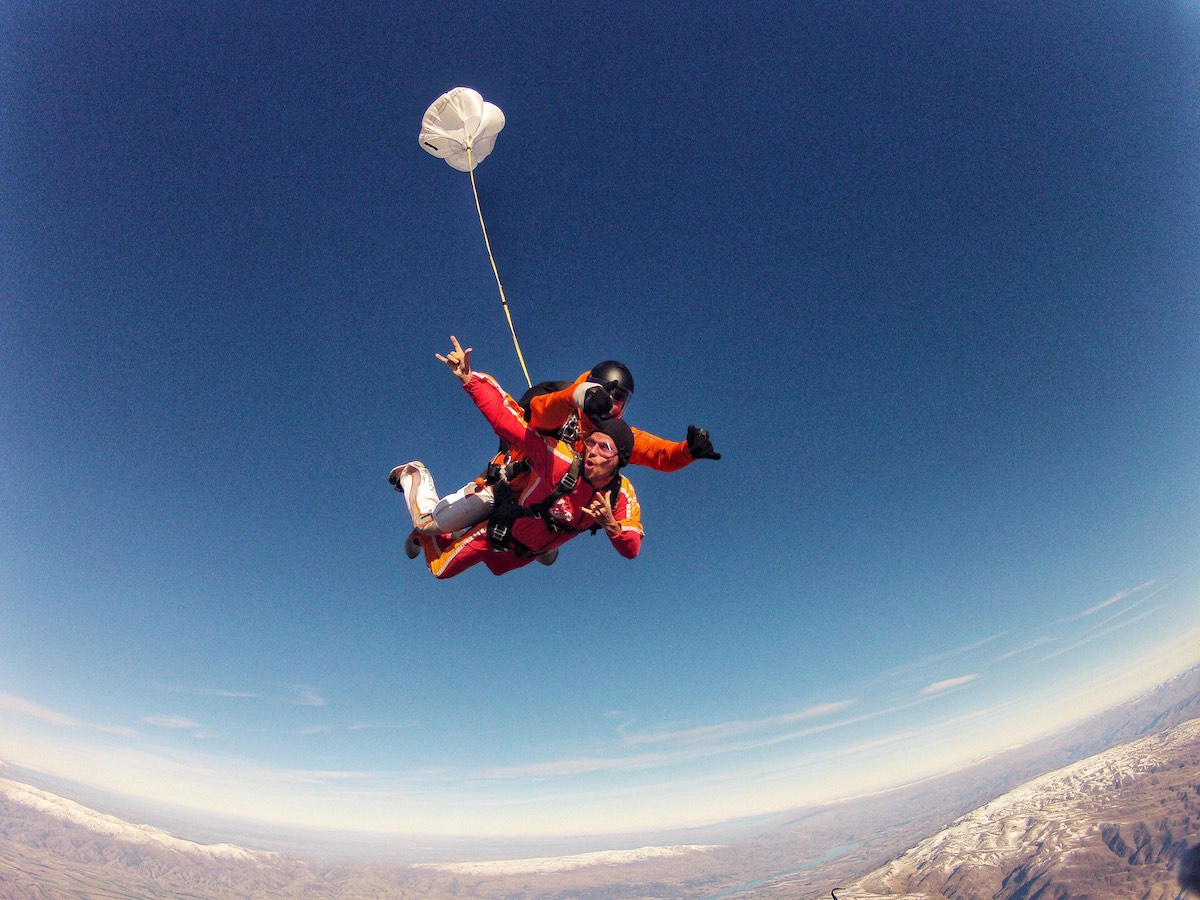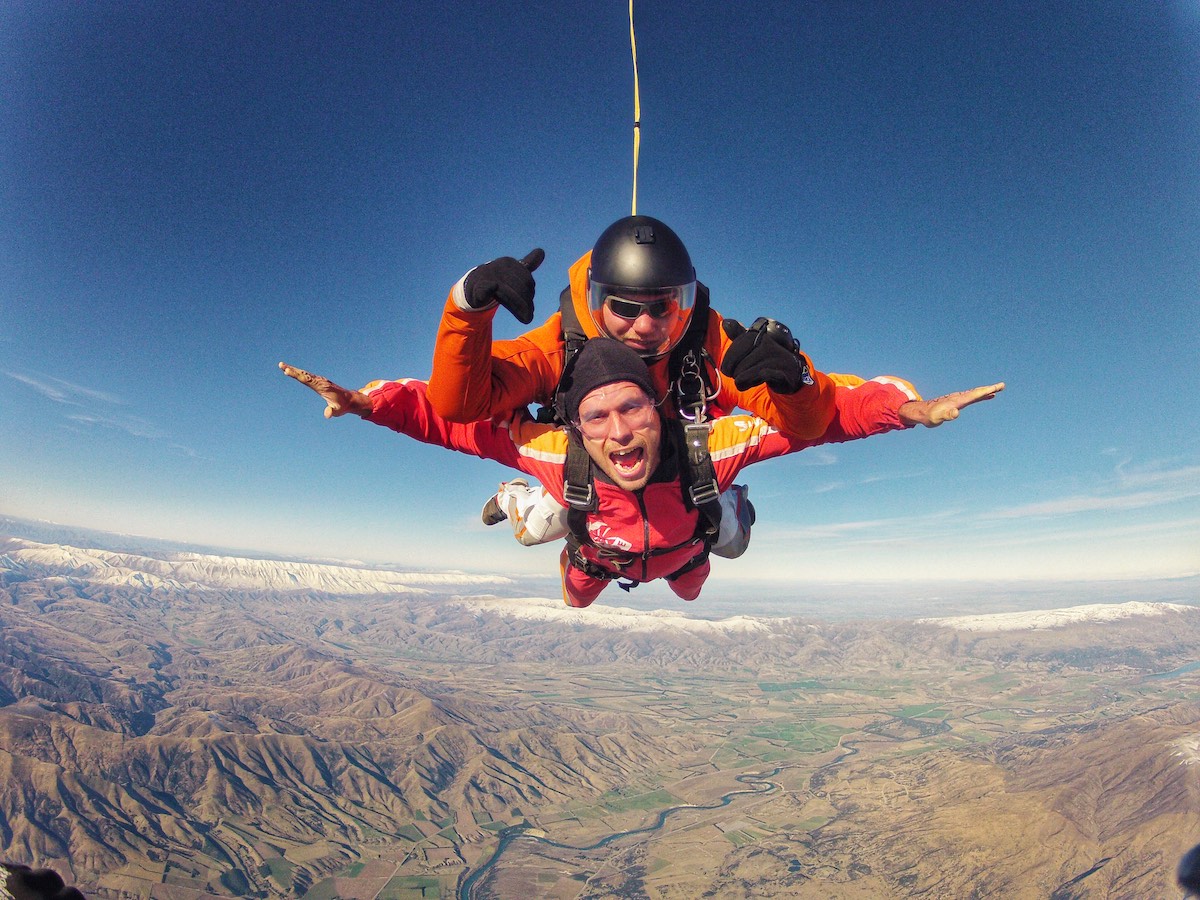 Parachuting down to the ground for roughly 8 minutes, I knew I had chosen the perfect location and company for myself to tick off the top item of my own travel bucket list.
(Edit: It seems I have somehow misplaced my video footage. Sorry, folks! No one is sadder about this than me and I am working on retrieving it).
How To Get To Wanaka
New Zealand is a country made up of two islands with a couple of smaller islands offshore and Wanaka is located at the southern end of the south island.
Driving: I saw the whole of the south island via a rented motorhome (highly recommended if you have the budget) and driving into Wanaka means you will be blessed with Kiwi icons listed above in the best places to skydive in New Zealand.
You will be able to rent cars from all hub airports Christchurch, Queenstown and Dunedin. Remember to drive on the left!
Bus from Queenstown: The Queenstown to Wanaka coach departs at 11.30 am & 4.40 pm via the company 'Ritchies,' taking 1 hour and 45 minutes.
Bus from Dunedin: There is no direct bus from Dunedin to Wanaka, but you can grab a 3-hour bus to Cromwell, get off there and then take a 40 minutes bus to Wanaka.
Bus from Christchurch: Absolute mission! You'd need to take 3-4 busses, maybe it's doable if you have a methodical itinerary on the way to Wanaka via Christchurch on a bus. Depends entirely on your time limit, personally, I think there is just too much to see and do on the way to rush it but that's your call and you might need to search around on Kiwi Taxi a bit to get from A to B.
How Dangerous is Skydiving?
For me, the idea of jumping out of a plane and not dying was always very appealing. This is often confused with people constantly telling me before doing anything adventurous; "you have a death wish, Anthony!"
This is completely false, I don't want to die and I'm quite a fan of living, thanks. But it's a fair question about this activity, this is not exactly knitting a sweater and it does come with risks, so how dangerous is skydiving exactly?
The answer to this question differs based on country, but they don't differ too much. It's best to look at data from a large country that gets excited about stats, where skydiving is popular and is also a stickler for health and safety rules.
Step forward: USA.
According to the United States Parachute Association, in 2019 there was only 1 fatality in every 220,301 jumps and that's for jumping solo. Tandem jumps (a pro skydiver strapped to your back) had even better odds of showing the middle finger to the Grim Reaper; Just 1 fatality in every 500,000 jumps.
If you're interested in how skydiving fares amongst other life choices, here is a funny and slightly morbid page called 'your chances of dying' based on possible activities. I was not surprised to see scuba diving pencilled in as more dangerous than skydiving, seeing so I have had a previous near-death scrape with the sport myself.
In terms of fear, I have always been told that skydiving is scarier than bungee jumping and I was always largely sceptical of this claim. That was until I did the World's Tallest Bungee Jump in Macau and I can confirm that it is correct, bungee jumping is indeed scarier than skydiving!
Can I Skydive Solo in Wanaka?
Steady on there, mate. You can't just rock up without experience and jump out of a plane in New Zealand.
From what I know from the people I've met over the years if you can't prove that you have ample solo-diving experience, you have to take a 9-hour course to prove your capabilities and then you can jump on the big day when you're ready. I had no desire to do this for my first jump and I lived to tell the tale of my skydiving in Wanaka experience, but if you do then a massive hat tip to you for your unquestionable chutzpah.