Edit: I have looked back on my fashion sense during this period of my life behind my hands and all I can do is apologise and promise that after shopping with gay and Italian men, that I'm much better now. 😛
I receive quite a lot of emails nowadays from starry-eyed traveller wannabe's, asking me where the 'best' place is, to go and get away from the daily grind. I'm usually a little disappointed that I can't help them (yet) because since I left English shores, it's been more work than play. However after last week, my outlook on the question has changed tenfold.
I'm not sure where the 'best' place is, or if it truly exists – the beauty certainly is in the eye of the beholder. My answer now to such people wanting to escape the 9-5, taking mind-numbing trips to Tesco with the highlight of their week being a 2-for-1 deal on 'Golden Grahams' would be without a doubt:
Go and celebrate the 'Sonkgran' festival in Chiang Mai
Songkran is the official Thai New Year….it's also a national water fight.
Yes.
A NATIONAL WATER FIGHT! They say 'boys don't grow up – they just get taller', and I couldn't agree any more.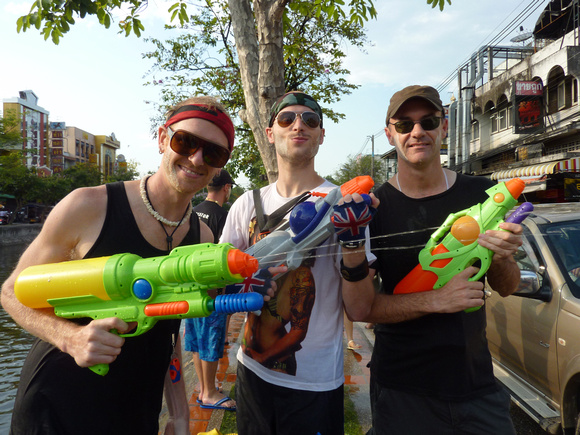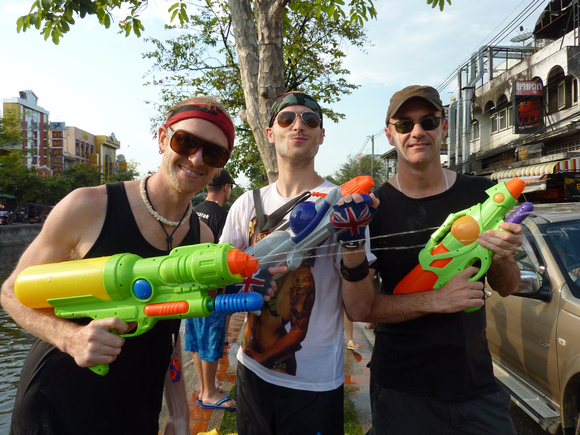 Songkran is the perfect excuse for reliving your childhood, living in the moment and collecting them feel-good vibrations that we humans crave. I'm not sure I can do it justice by words on a blog, but I can only try. Imagine going out in your street right now and everywhere you turn you are met with buckets of water (sometimes ice water) being thrown over your body, an abundance of kids with water pistols running by and shooting you with a delightfully mischievous "hehe!" There is literally water coming from everywhere, so make sure you are wearing good enough water-war shoes!
Envisage a traffic jam for 4 days, with people dancing on top of their cars and pockets of your city with foam parties on make-do stages…Imagine walking past a police officer and getting drenched from her and her Super Soaker 5000! That's the experience that James from Nomadic Notes had. Don't worry, James – I got her back good!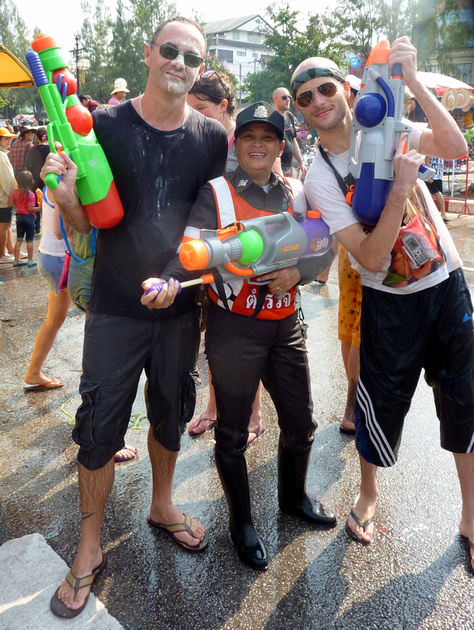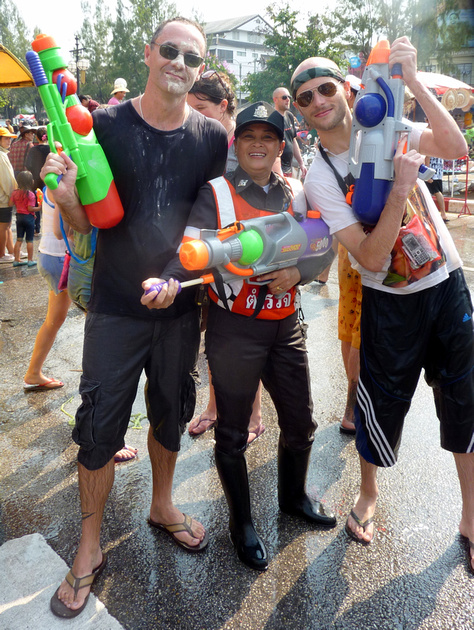 Chiang Mai's Songkran festival is notoriously longer than other cities in Thailand (four days instead of two). And the beauty of it – the city has a bed of moat that the city is built around, meaning refills are quick and easy so that you can be back in battle in an instance. See the photo's below to look at the revenge attack by a little girl, who has now been christened 'The Songkran Ninja.'
I ambushed this cutie-pie with my most impressive stealth skills and got her good with my Super Soaker…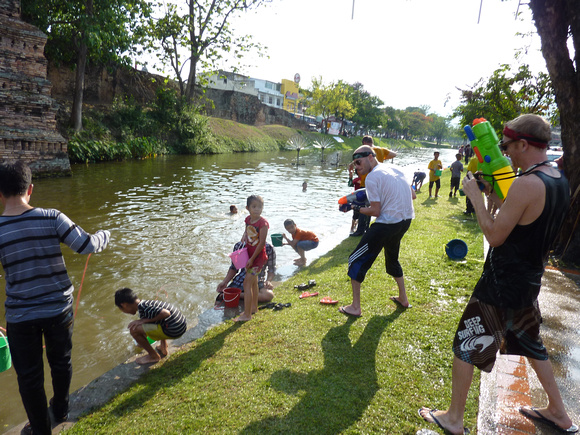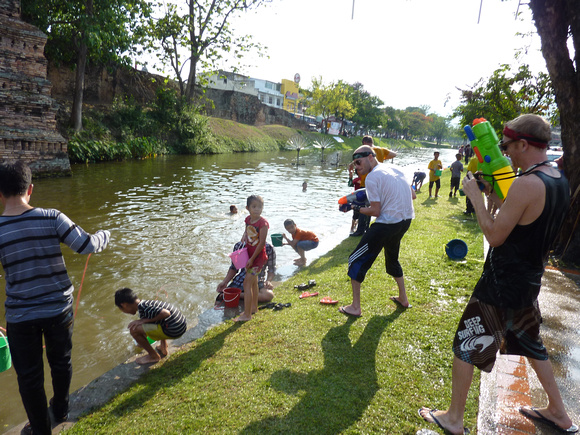 Happy in my battle victory, I paused for a pose with Ian from Where Sidewalks End – check out the karma attack by my opposing soldier…
The highlight of my four days was swimming in the moat with these cute but ruthless kids, who we trained to be elite Songkran soldiers with our guns – who then turned on their mentors!
Ian taught his soldier to shoot men in the crotch, I taught mine to swim under water and have the barrel pointing out – so he could kill and not be killed. Our recruits revolution for their own army and dominance was reminiscent of 'The Terminator' movies, as our own creations became more intelligent and waged a spine-chilling war for freedom of the army – leaving James, Ian and myself completely unarmed.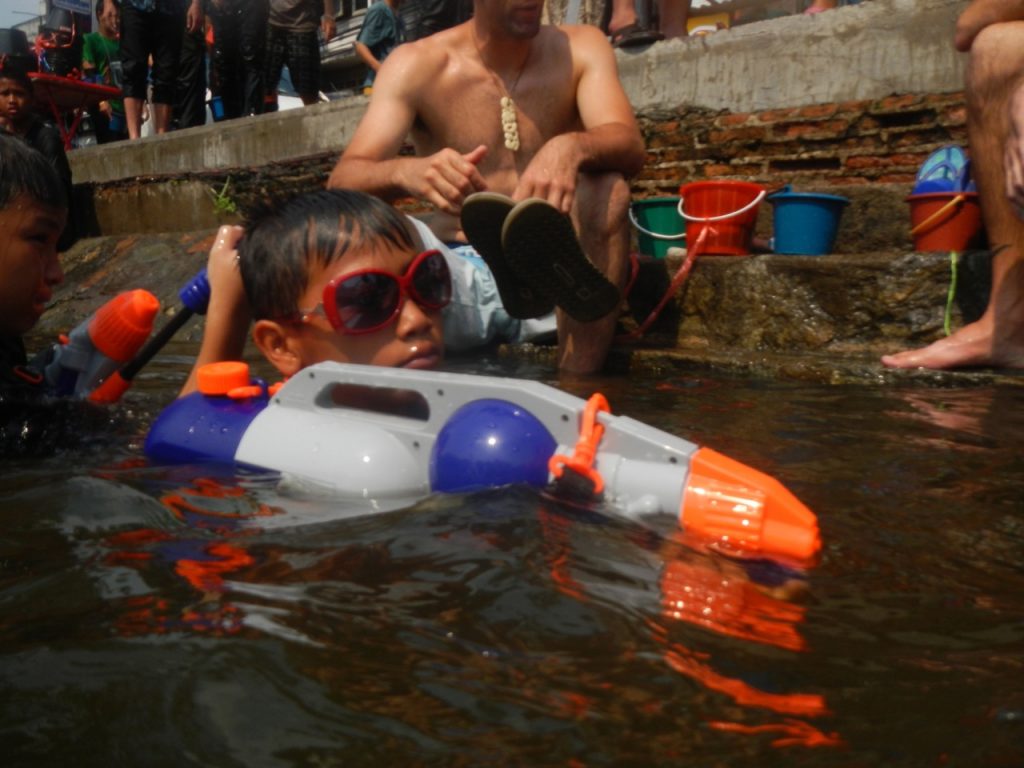 I'm finding out that travel isn't just about taking snaps of The Eiffel Tower and country collecting – it's about them special moments that give you goose pimples and make your life that little more gorgeous.
Anyway, enough about me and my new-found hippy serenity, let's touch on some Songkran etiquette. Do you want to be a part of this next year? Fancy reliving that childhood? Here's my take on how to have the greatest Songkran experience:
Songkran Etiquette For Dummies
Buy your weapons early
Oh how they laughed at me, when I enthusiastically bought my gun two weeks before Songkran. And oh how I laughed harder, when their last-minute crappy weapons malfunctioned or didn't suffice! I went through two guns until I found my baby – you're in a free-for-all water fight for four days. Make sure you have the best arsenal at your disposal!
Book Early
Duh! Songkran is the biggest Thai festival and Chiang Mai is the most popular city for the event. Book your accommodation and flights as early as possible. The sooner you book the more likely as well that you'll get cheap tickets.
Use Your Intuition
Some people are on their way to work and really don't want to get wet. Use your intuition, and you'll see who is not up for it – even though they are hard to find. Don't squirt people on a motorbike with babies, don't attack Monks (they are totally off limits) and don't face-shot when in close proximity. This is supposed to be fun, be wise.
Don't go to Songkran and complain when someone squirts you
I saw so many princess type girls do this. What did they expect?!
Respect the meaning
To you it might be a water-fight – to the Thais it symbolises the cleansing of bad karma from the past and moving on to the next chapter in a positive light. You don't have to be Thai to appreciate that, but don't forget it and make sure you're not trigger happy when the traditional ceremonies take place.
Only take waterproof cameras
Which is why I left my Sony Cybershot at home 🙁 All photos here accredited to James from Nomadic Notes. Cheers, mate!
One set of clothing
It's a bit minging to wear dirty-watered clothes for four days, but there really isn't any point in wearing anything else as you can't go anywhere without getting soaked. Undress as soon as you return home, blast your battle clothes with fresh water and leave them to hang in the blistering sun.
Kindness is a boomerang
Help out a stranger who is less mobile than you and refill their gun, before refiling yours. I can 100% guarantee that this kind gesture will be repaid around this city.
Soak up every minute (pun shamelessly intended)
James makes an excellent point, that the day after Songkran – he wandered the streets wondering if it was all a dream. I get that, I really get that. Make sure you live in the moment and soak up every bit of this crazy festival.
Final Thoughts
Would I go again? Yes, in a heartbeat but I hear it clashes with India's festival of colours so I'm not so sure I'll make it next year. I'm deciding to take a break from my projects and am moving on from Chiang Mai at the end of the month, as it was becoming boring and my wanderlust (and cabin fever) have been crazy-intense lately.
Songkran was the perfect send-off to me and let me tell you – I'm pretty hard to please. I'm the kind of person who has huge expectations that are hard to be matched, as my imagination is always better than the reality.
Songkran ticked all the boxes and even made its own boxes. It surpassed my imagination on a grand scale and I feel so lucky that I was part of it. If you're considering a visit next year, my advice – book the ticket now. I really doubt you'll regret it.
Have you ever experienced a Songkran festival?