Figuring out where to live in Bangkok as an expat can be a right headache if you don't know the place too well or have any friends on the ground there.
Thailand's capital is an absolute beast in terms of size and the chaotic energy that comes along with it doesn't make finding the best place to live in Bangkok any easier.
As someone who has been there, and done that, let this guide be the cheat sheet for those looking to find the best Bangkok neighborhood for your personal tastes. If you are still unsure if this loud, bouncing city is the right one for you to lay your hat for a while; check out my Bangkok Digital Nomad guide.
Finding The Best Bangkok Neighborhood To Live in For You
As you'd imagine is the case with any big city, choosing a neighbourhood to live in is a big deal; it can affect your wallet, your experience and your overall happiness.
Luckily, Bangkok is huge, and different districts offer up completely opposite experiences, whether you want to be close to the heart of the action, embrace local life or find a group of like-minded expats to bond with.
Having lived in the city for a year and a half, here are a few areas I'd recommend:
Silom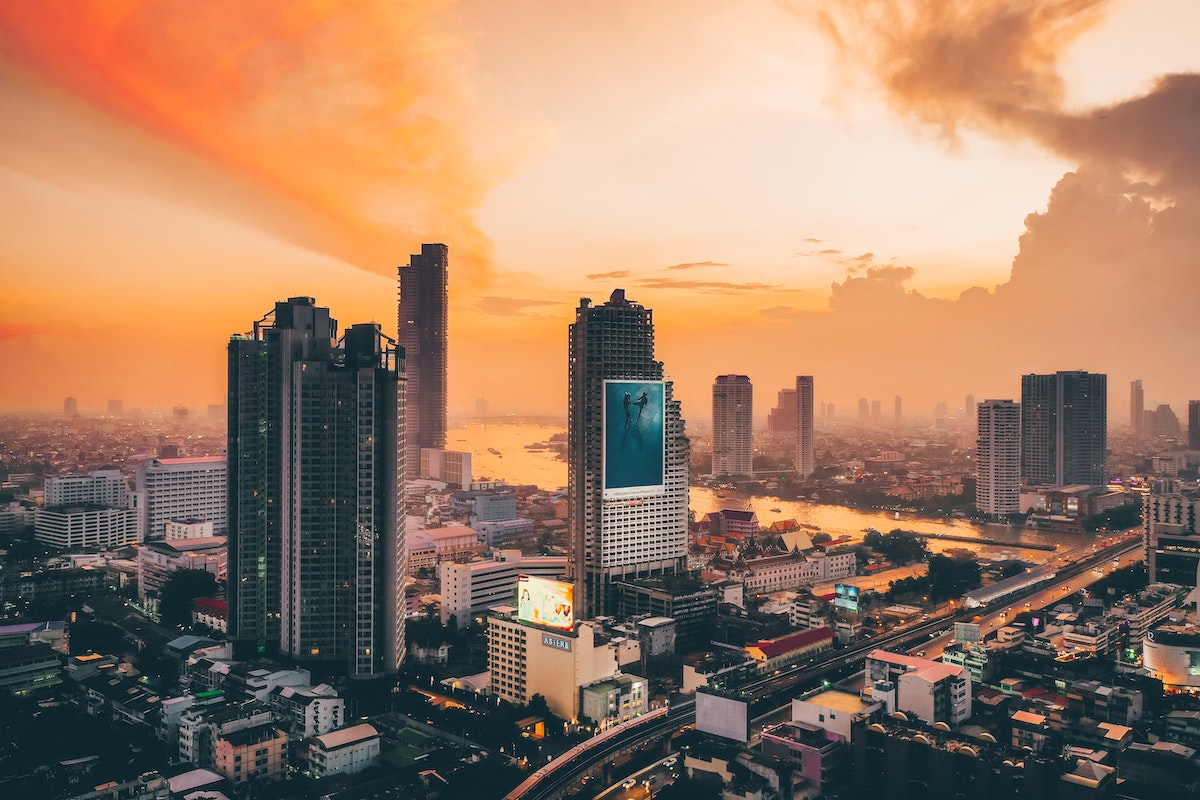 Located in the Central Business District of Bangkok, also known as the CBD, the neighbourhood of Silom is the closest Thailand gets to The City of London or Wall Street. While Silom has gained a reputation as the financial district, it has done nothing to take away from its genuine hipster and authentic vibe.
Silom is the perfect blend of the two faces of Bangkok, and when you live here as an expat, you can truly say you've seen all sides of the Thai capital. The neighbourhood is a true cross-section of life in the city, offering a flavour of the old Siam-esque way of life with the ultra-modern capitalist side of modern Bangkok.
As an expat in Bangkok, Silom is a great neighbourhood to settle in, based on its transport connections alone. Being able to choose between two of the city's main transport hubs, Silom is home to the interchange between the BTS Green Line and MRT Blue Line.
Aside from this, this area of Bangkok is seen as one of the epicentres of the city and just makes perfect sense to settle here as an outside digital nomad.
Pros of living in Silom
Fantastic transport links.
Right in the heart of the city.
A fair share of coffee shops and restaurants for expats who need to work online.
Cons of living in Silom
Rent prices are far higher.
Busy streets aren't for everyone and Silom Road is often the site of a slow traffic crawl.
Asoke
Similar to Silom, Asoke sits in the central business district of Bangkok and is one of the more commercial districts of the city. Much of the district's streets are taken up by office buildings and shops, doing nothing to take away from the obvious residential possibilities of the neighbourhood.
Expats living in Bangkok are drawn to Asoke if only for its convenient central location.
Aside from its location, Asoke is also home to some of Thailand's business elite, and this expat class has given birth to a more leisure-based kind of working people. Full of both Thai professionals and expats, these people are out to spend the money of higher-waged business life, giving birth to luxury malls, high-end shops and upmarket bars and restaurants.
Pros of living in Askoke
In the central area of Bangkok.
Great transport links around the city.
Close to the Asoke Intersection, one of Bangkok's main business centres.
Cons of living in Askoke
Congestion in the city centre.
Higher rates of rent.
Ladprao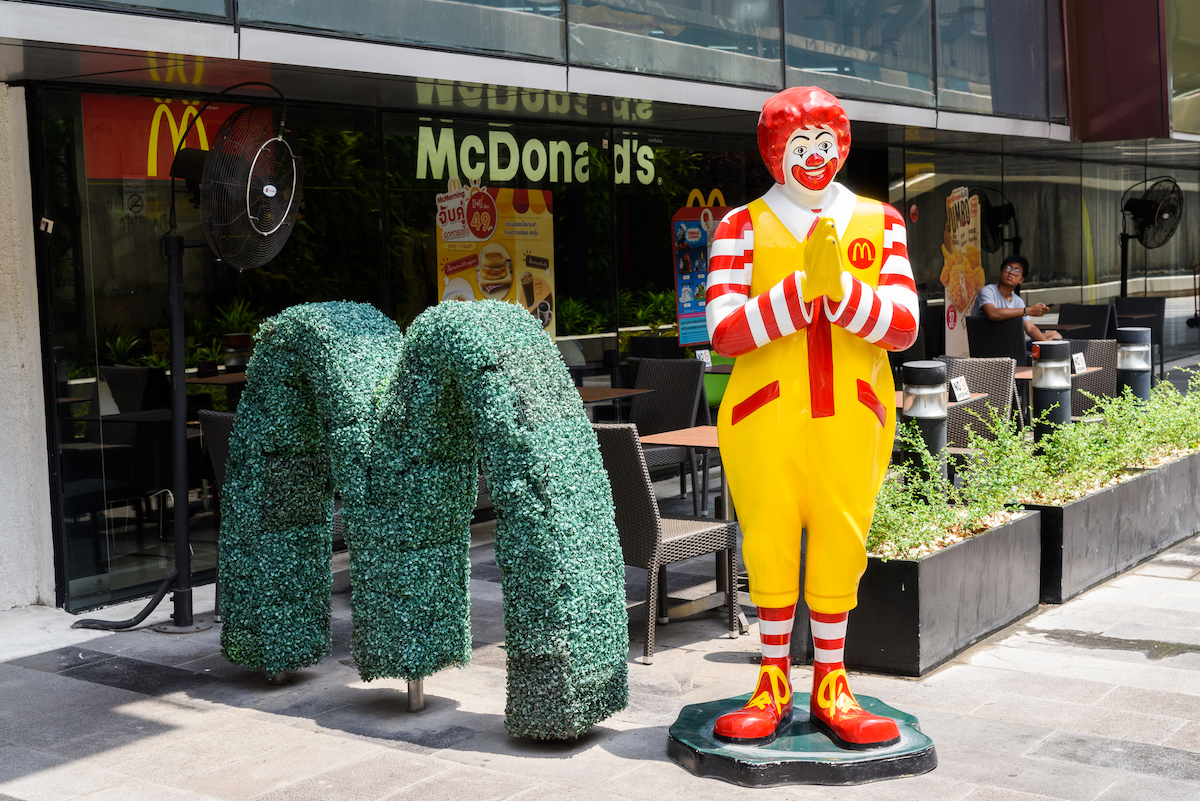 Located in the northeast district of Bangkok, the Ladprao neighbourhood has remained one of the most genuinely Thai neighbourhoods in the centre of the city. Ladprao remains to be the perfect balance of old and new Bangkok.
With new stations in the area, Lat Phrao and Phahon Yothin, Ladprao is a great place to choose if you want quick transport connections when you're living in Bangkok. Alongside these transportation networks, Ladprao is also home to a number of famously large supermalls.
With malls, transport options and an array of condos and plush apartments, Ladprao is an excellent choice for anyone living in Bangkok as a digital nomad.
Pros of living in Ladprao
Great transport links.
Home to many malls.
An array of different condos and apartments to choose from.
Cons of living in Ladprao
Further out from the city centre.
Expensive rent.
Sukhumvit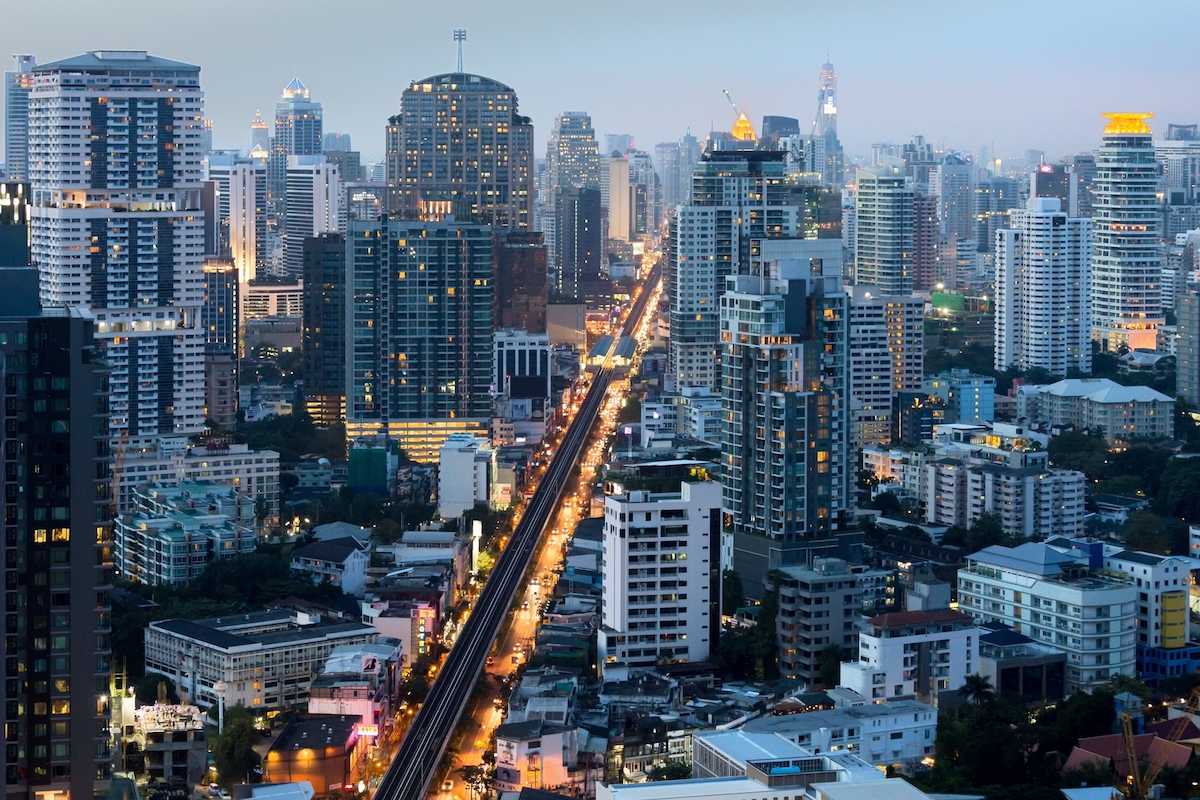 Often seen as the 'expat ghetto' of Bangkok, Sukhumvit is one of the city's most popular places to settle when it comes to living in Bangkok.
The neighbourhood has an extensive collection of restaurants, cafes, bars and other entertainment venues as well as a number of large malls, including Terminal 21 (recently featured on my list of the best unusual things to do in Bangkok) and Emporium. The neighbourhood is located on the eastern side of the city, away from its tourist centre's often-distracting hustle and bustle.
Sukhumvit has a cosmopolitan air to it and a feeling of modern luxury. Skyscrapers, condos and apartments are surrounded by luxurious malls and shopping centres. Sukhumvit is also famous for its vibrant nightlife – playing host to the more party-centric residents of Bangkok.
Pros of living in Sukhumvit
A multitude of bars and restaurants.
Lots of malls and shopping centres.
Famous nightlife.
Cons of living in Sukhumvit
Upmarket and expensive place to live.
Is often referred to as 'the city centre,' when in reality it's on the outskirts and no good if you're not too much into the party lifestyle.
Ploenchit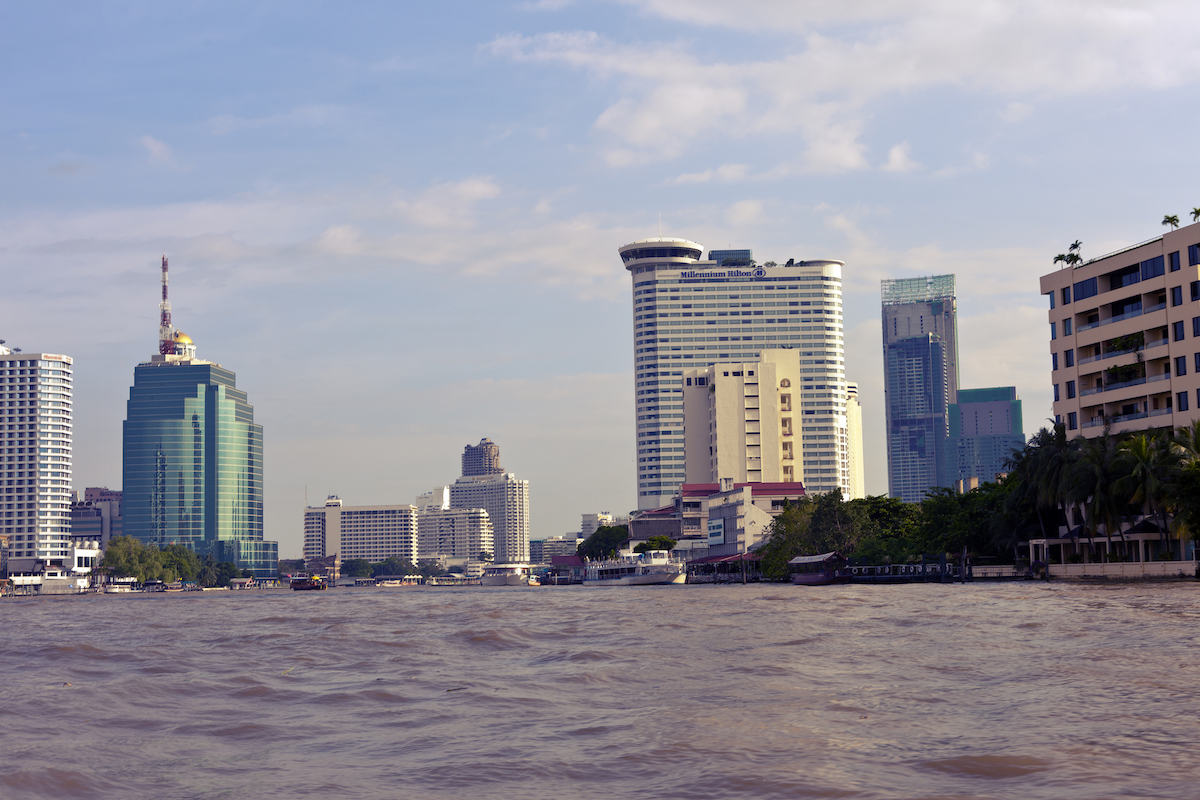 A few stops away from the Askoke neighbourhood, this is the first place I lived in Bangkok long-term. Ploenchit was the city's original business area and still maintains an air of professionalism about it. As a result, office blocks and company headquarters make up most of the buildings in the Ploenchit area of Bangkok.
During weekdays, you'll see the streets teeming with suited and booted savvy professionals. When the weekend comes Ploenchit transforms into an entertainment district, with bright lights, booming music and plenty of tipsy locals. While it may not be one of the most popular places to live for expats, Ploenchit still has the charm that could make it the ideal place to call home when you're living in Bangkok.
Pros of living in Ploenchit
An upmarket business sector.
Bangin' Middle Eastern food just up the road on Soi Arab!
Numerous condos and apartments to choose from at relatively affordable prices.
Cons of living in Ploenchit
Busy 24/7 with businesses open in the day and nightclubs opening early evening.
Although it markets itself as "central" I felt it was a bit of a scam and that other places in the city were more deserving of this title.
Thonglor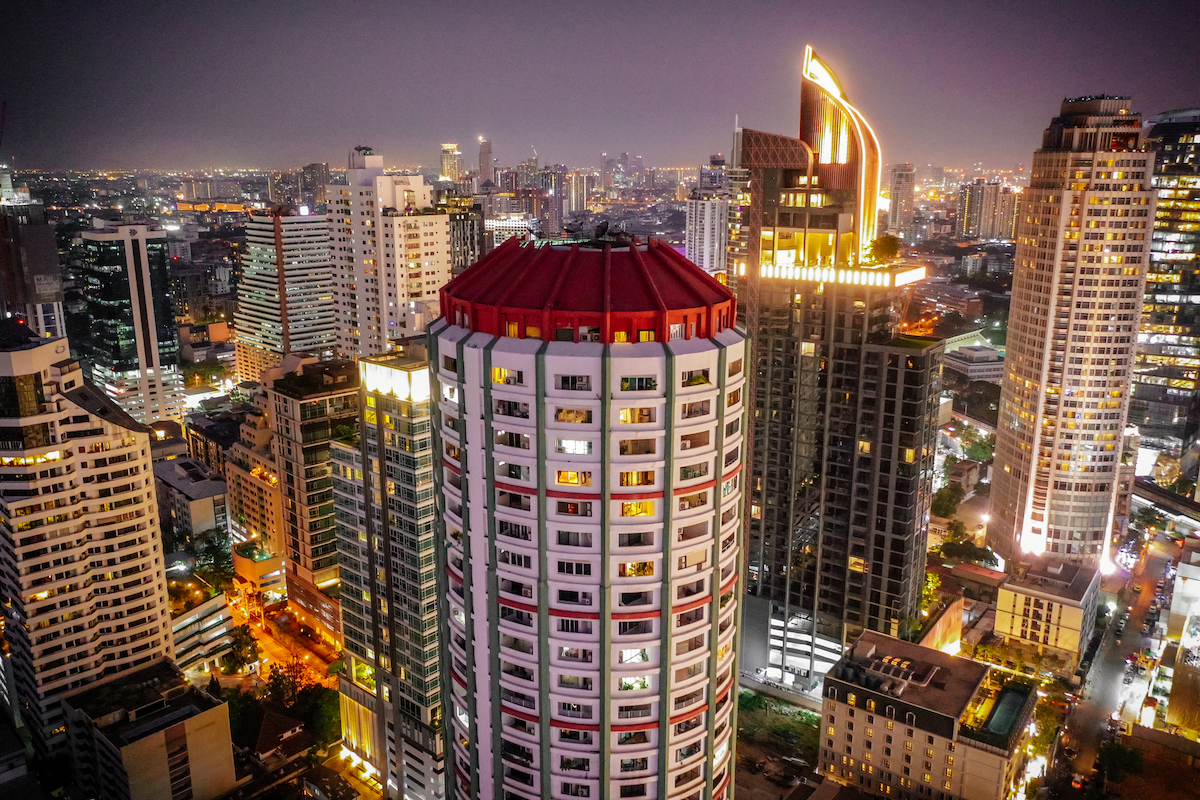 Thonglor is home to much of the upper-class Thai as well as a huge expat community. Sighted as being one of the most sophisticated areas in the Thai capital, Thonglor has an array of cafes, restaurants and bars (generally of a more trendy and pricey nature), creating a booming nightlife and social scene amongst its residents.
The mix of young professionals and foreign digital nomads also means there are lots of co-working spaces to choose from in Thonglor, something that makes the area even more popular with expats that are living in Bangkok.
Pros of living in Thonglor
Large expat community.
Lots of co-working spaces.
Upmarket social scene.
Cons of living in Thonglor
Higher-class communities drive higher rental prices in the area, not ideal for the expat who is starting out but excellent for seasoned ones who are wanting to upgrade.
Ekkamai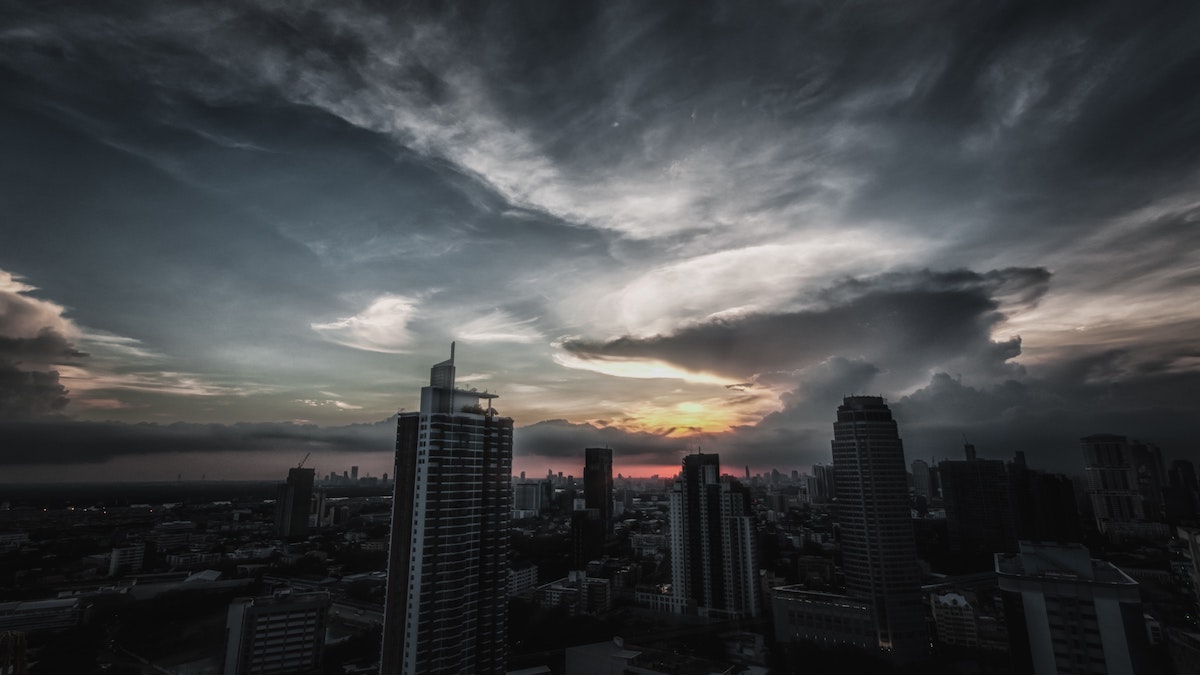 Ekkamai has gained a reputation as one of Bangkok's hipster neighbourhoods and has become a popular place for young professionals and local entrepreneurs. As a result, you'll find streets lined with trendy cafes, local restaurants and a number of co-working spaces that are perfect if you're looking for a bit of head-down office space.
Pros of living in Ekkamai
Up and coming.
Younger demographic.
Large expat and young professional community.
Cons of living in Ekkamai
Same as above. No good if you don't have the money. If you do, then you'll love the high life there. 
Ratchada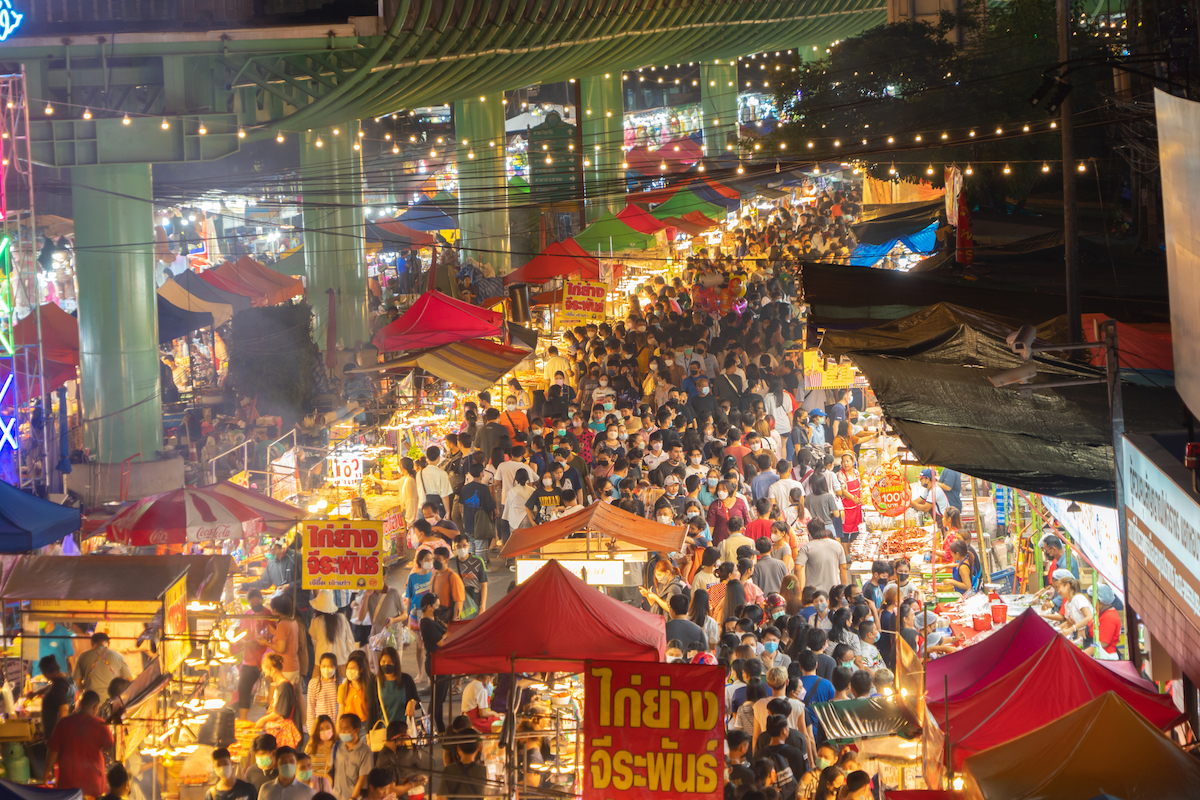 Located on the northeastern side of the city, Ratchada is one of Bangkok's up-and-coming business districts. Choosing to settle in Ratchada will put you ahead of the curve of incoming expats and won't break the bank in terms of rent either.
Set between the older business district and Bangkok's international airport, you can access inner-city Bangkok in just a 20-minute train ride, or jump on a plane to explore the rest of Southeast Asia, or even travel domestically to experience the best Thailand festivals.
Pros of living in Ratchada
Newest business district neighbourhood.
Low rent prices (for now).
Lots of co-working spaces.
Cons of living in Ratchada
Congested living arrangements.
Far out from the centre of the city.
On Nut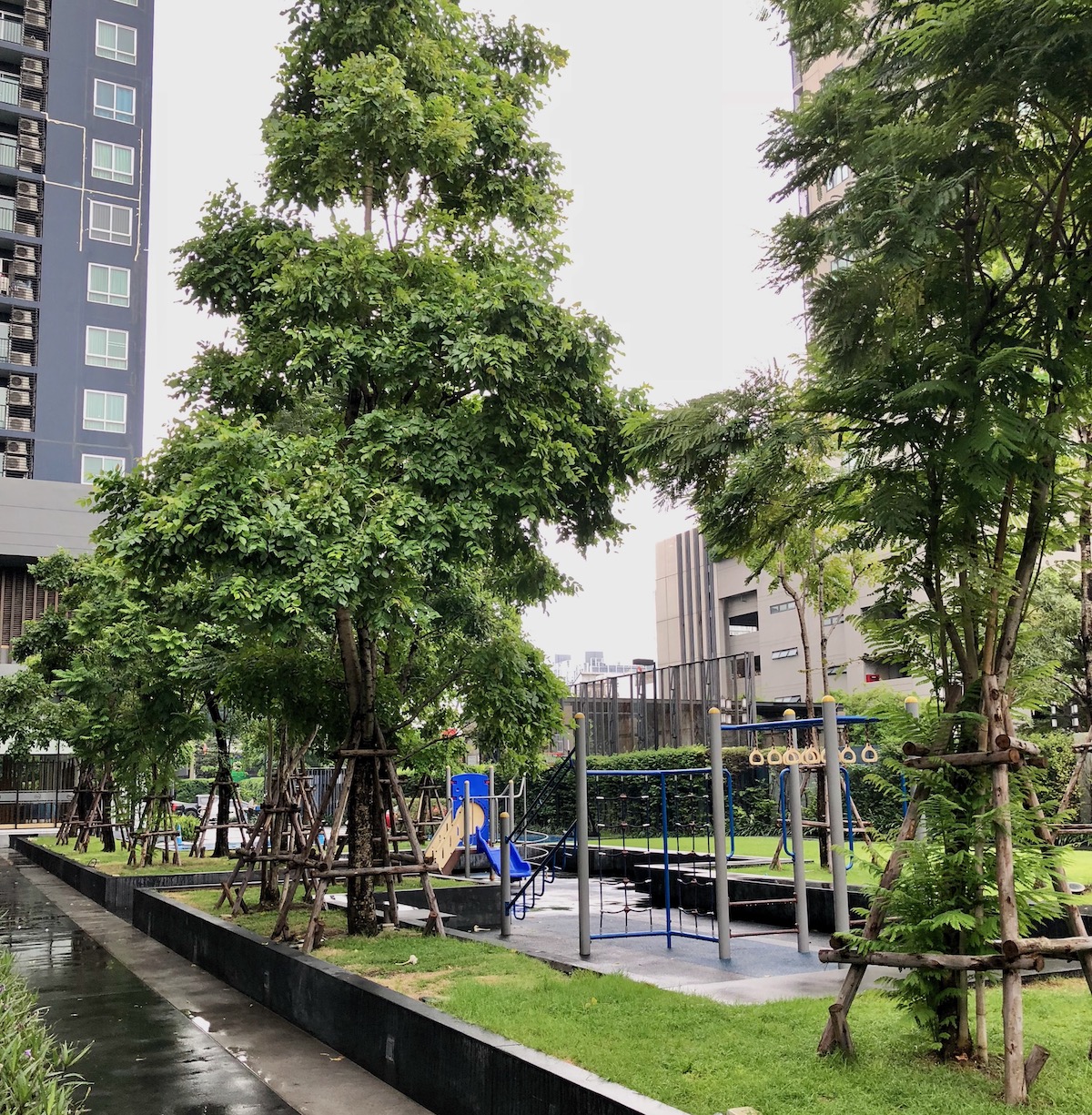 Far out on Bangkok's eastern side is the neighbourhood of On Nut. Almost considered part of the capital suburban area, On Nut is fast becoming a popular choice for those settling in Bangkok.
The peace and quiet that comes with living in On Nut is not something you would come to expect when living in Bangkok. Although far out from the hustle and bustle of central Bangkok, you are amongst local families who are living a simpler way of life compared to the bright lights of the city.
This means the eateries, street food stalls and rent prices in On Nut are some of the best value for money in all of Bangkok. If you're seeking peace and quiet when you move to the capital, On Nut may be the place for you, I lived there for a few months and that pace is LOUD.
Pros of living in On Nut
A cheaper way of life with a relatively high value of living.
No stiff competition for apartments.
Cons of living in On Nut
Far away from the main points in the city.
Not as many transport connections unless you live right by the BTS.
Phrom Phong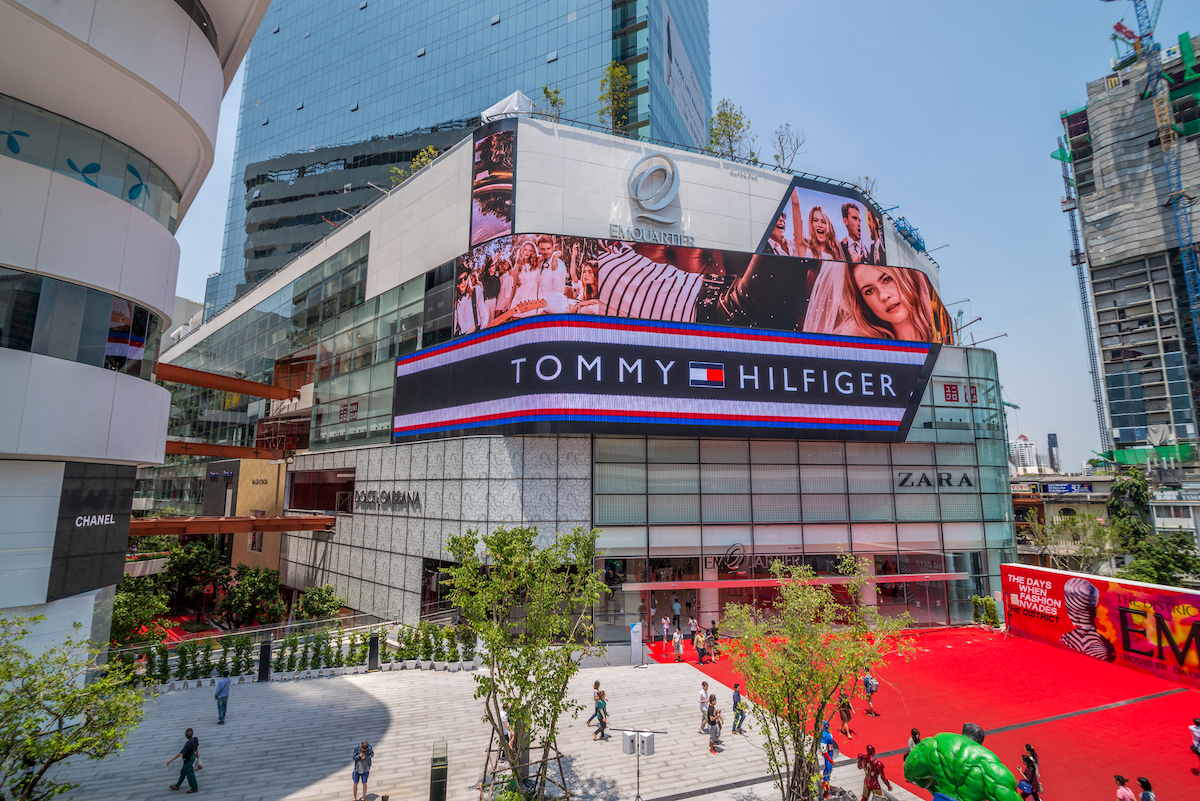 Halfway between the centre of Bangkok and its outer suburbs, the modern neighbourhood of Phrom Phong is a community full of modernity. Contemporary buildings make up most of the neighbourhood, from high-rise condos to five-star hotels and huge shopping malls, Phrom Phong is a modern city lover's dream.
Although it's considered to be the new modern centre of the city, there is still a fair share of green spaces, the most popular being Benjasiri Park. This is a great way of escaping the concrete jungle for a while and getting some much-needed fresh air.
Pros of living in Phrom Phong
The epicentre of modern Bangkok.
Connections to the rest of the city.
Cons of living in Phrom Phong
Busy congested streets in the heart of the city.
Overpriced food compared to other areas in Bangkok.
Final Thoughts on Where To Live in Bangkok as an Expat
As you can see from this guide Bangkok is a large, bustling city with pulling power in all areas of town for different types of expats. From the partying "work hard, sleep when you're dead" business chest-thumpers in Sukhumvit, to the English teacher who wants to broaden their horizons in cheaper parts of Bangkok outside of the centre, to the startup online entrepreneurs in On Nut and Ploenchit who arrive in Thailand with a dream for a better life.
Bangkok really is one of those cities that you love or hate. It can be crazy and chaotic, but it also attracts a wide array of interesting people (for better or worse) and one thing that it can't be accused of being is boring!
Finding the best Bangkok neighborhood to live in as an expat is the one that caters to your priorities in what you're looking for in a city and in this one, you certainly have options. Best of luck with your Bangkok quest!