There are other things to do in Vientiane, Laos than get drunk in a floating tyre as they used to be 80 miles north of the country up in Vang Vieng.
The long and beer-splattered history of backpackers in Laos is often one of boozing, unregulated indulgence and pub crawling along the Nam Song River. And yet, this landlocked South East Asian nation has more to offer than that if you want it.
I'm no goody-two-shoes when it comes to drinking, but my visit to Laos correlated with my no alcohol for 6 months challenge. I don't cheat on challenges, so I got to explore all the things to do in Vientiane from a different lens.
Unlike the booming Southeast Asia capitals such as crazy Bangkok and high-energy Hanoi, Vientiane is a shy capital of understatement with plenty to enjoy if you have an open mind.
Today, I'll be pulling the curtain back on a nation that has so much more to offer than Laos beer and Lao-Lao whiskey.
How To Get To Vientiane
Before you get stuck into the many unsung things to do in Vientiane, you'll need to get there. As the Laotian capital, getting to Vientiane is relatively easy, whether you're heading here from abroad or a nearby area.
Here's how to do it.
From Abroad
As a landlocked country, there are only two ways of travelling to Vientiane from abroad, North America or Europe, for example. You can either fly directly to the city's international airport, Wattay International Airport (VTE), or you can take a bus from nearby countries such as Thailand or Vietnam.
Although Wattay International Airport enables you to fly into Laos, you will no doubt have to catch a connecting flight before you get to Laos capital.
Most of the time, especially for European flyers, your connection will be from Bangkok, Thailand. Other connecting flights from North America or Australia will usually fly connecting in Singapore, Ho Chi Minh City or Kuala Lumpur.
From Bangkok, Thailand
If you want to travel from Bangkok to Vientiane, not an unusual route for those travelling across Southeast Asia, and you don't want to fly, then the railway is your way in. Covering a distance of 387 miles, a budget-saving trip from Bangkok to Vientiane will take around 10 hours.
First, you'll need to jump on the cross country train from Hualamphong Railway Station in Bangkok to Nongkhai railway station, which is just opposite Vientiane near the Thai Lao friendship bridge. From here, you will catch a short second train that crosses the Thai – Laos border and takes you to Vientiane.
From Hanoi, Vietnam
The Vietnamese capital of Hanoi is another popular hub in South East Asia and a common place to head to Laos from. Without flying, the journey from Hanoi to Vientiane is a long and often testing one.
The route is crossed via a sleeper bus, which takes around 24 hours to complete. Buses depart from Hanoi's Nuoc Ngam bus station and travel the 460 miles, down Vietnam and across the Vietnamese-Laos border at the Nam Phao international border checkpoint.
Although an epic journey, the Hanoi to Vientiane bus will only set you back around $30 – $40, making it a cheaper option – and makes a hell of a travelling story once done.
From Elsewhere in Laos
If you have already made your way into Laos from Cambodia, Thailand or Vietnam, you'll more than likely need to catch a bus to Vientiane from wherever you may find yourself.
Bus routes run throughout Laos, and it is more than possible to travel from various main cities and towns throughout the country. The main hubs include Paske and Savannakhet in the south, both of which will take you around 10-13 hours to complete.
Further in northern Laos, buses can be caught from the mountainous town of Phonsavan, taking around nine hours. Straight connections from Luang Prabang and Vang Vieng are also possible, both of which are a little easier due to the straight-road connections.
The Best Things To Do In Vientiane, Laos
Vientiane has struggled to stay firmly on the traditional tourist trail, and many pass it by for the more 'fashionable' spots of Vang Vieng and Luang Prabang. This is a shame, as the Laos capital has something to offer, especially for those wishing to peel back the curtain on Laos' culture, history and society.
I'm not suggesting it's up there with the myriad of pros and cons of living in Cambodia, the whacky and fun things to do in Taipei or that it rivals a chunky Hong Kong bucket list, and if you DO want a beach bum party place check out then the world really is your oyster in the Southeast Asian region.
So let's take a look at what Vientiane activities I got up to when I spent just under a week there while visa-hopping from my adopted home-town Chiang Mai in Thailand:
1. Sunset Stroll Up Patuxai Victory Monument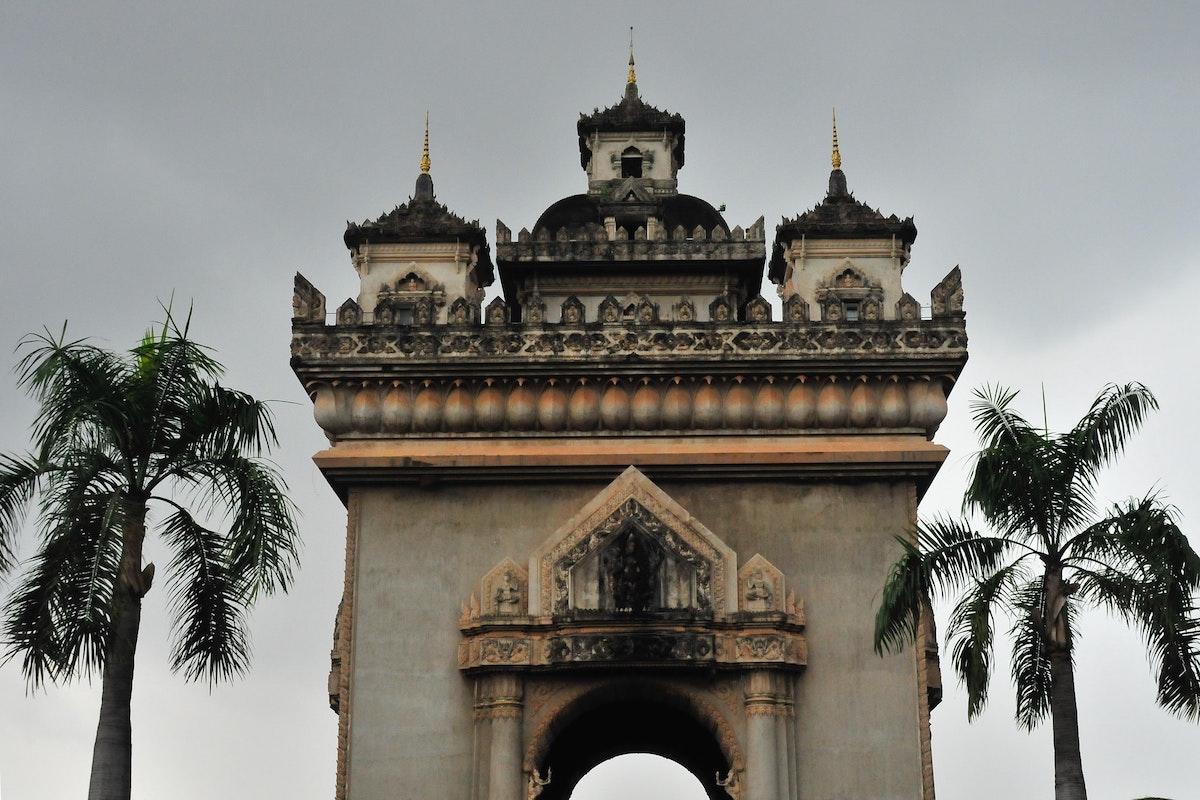 One of the most iconic landmarks in all of Vientiane and Laos itself is the Patuxai Victory Monument in the centre of the city. This was constructed throughout the late 50s and 60s, designed to commemorate the soldiers who died fighting both the Japanese army and the occupying French during the War of Independence.
Built during a turbulent time in Lao's history, the monument was begun by the ruling royal monarchy, yet they were overthrown by the communist Pathet Laos, who renamed the monument Patuxai in honour of the victory.
A sense of irony can be felt in the Patuxai Victory Monument's architectural design. Though built to celebrate the victory over the colonising French, the monument has a striking resemblance to the Parisian Arc de Triomphe.
A non-accident, tongue-in-cheek build? I do hope so.
This is where the European influence ends, however, as the face of the monument is typically Laotian, decorated with mythological creatures such as the kinnari.
For a small fee, you can climb the beautiful spiral staircase that takes you to the top of the monument. Rising high over the city of Vientiane, it makes for the perfect sunset spot in the city and is easily reached by foot or tuk-tuk.
Know before you go:
Location – The Patuxai Victory Monument is located on Lane Xang Avenue, a little outside the city centre.
Cost – Around 5,000 Kip to climb to the top.
Opening hours – 8 am – 5 pm.
Time needed – Around an hour to take it all in and enjoy the sunset views.
Getting there – Either cycle for around 20 minutes from the Old Town or take a cheap tuk-tuk.
2. Wat Ho Phra Keo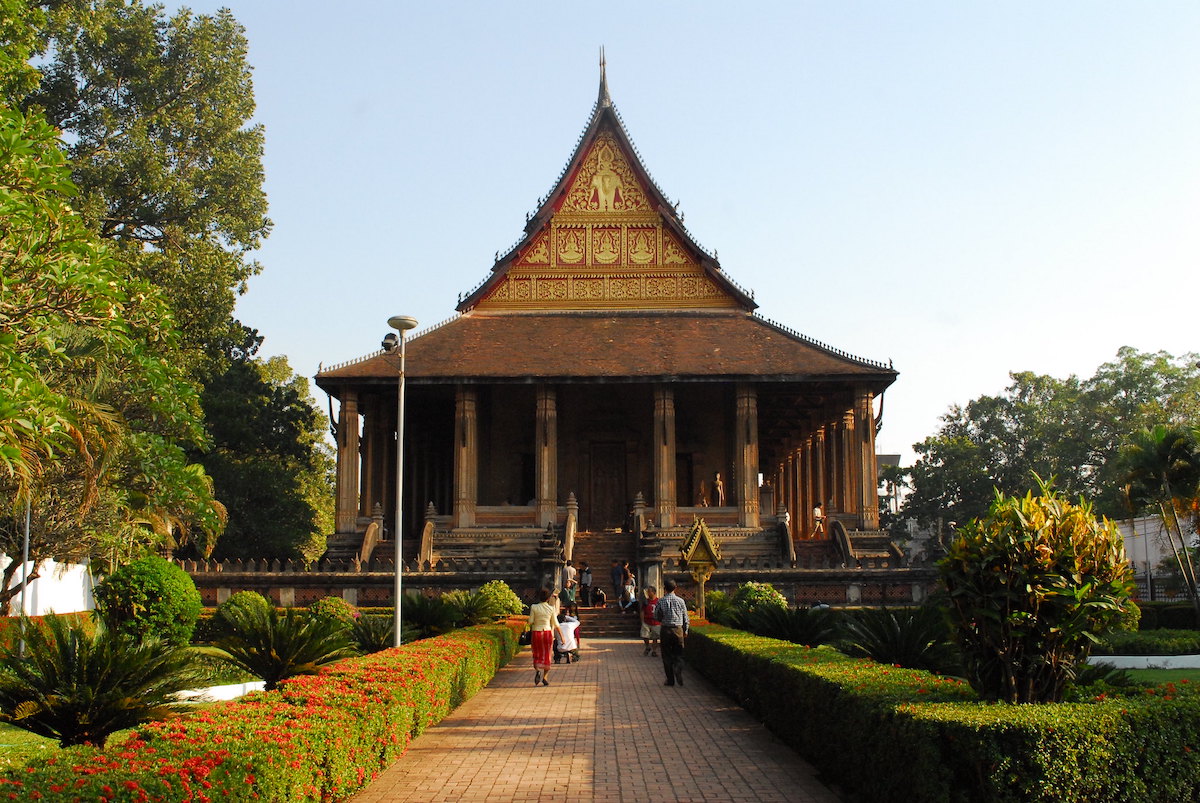 One of the most iconic religious buildings in Vientiane, Wat Ho Phra Keo was constructed in the mid-16th century by King Setthathirath as his personal place of worship and to house the Emerald Buddha.
The Emerald Buddha stayed in the temple for over 200 years, but in 1779, Vientiane was sacked, and the Buddha was seized by the invaded Thai armies, then known as Siam, along with the destruction of the temple.
The temple was reconstructed by the French between 1936 and 1942 during their rebuilding plan for Vientiane. During the mid-20th century, Wat Ho Phra Keo converted from a place of worship to a museum. Today, you can visit the temple museum and see a range of Laotian Buddist artworks and walk around its landscaped garden.
Know before you go:
Location – Wat Ho Phra Keo is located on the Rue Samsenthai road, a short walk from the Presidential Palace.
Cost – 10,000 Kip.
Opening hours – 8 am to 12 pm and 1 pm to 4 pm.
Time needed – Being quite small, you will only need half an hour to view the artwork and temple.
Getting there – Located close to the centre, you can easily walk to the temple or take a quick tuk-tuk ride there.
3. Vientiane Night Market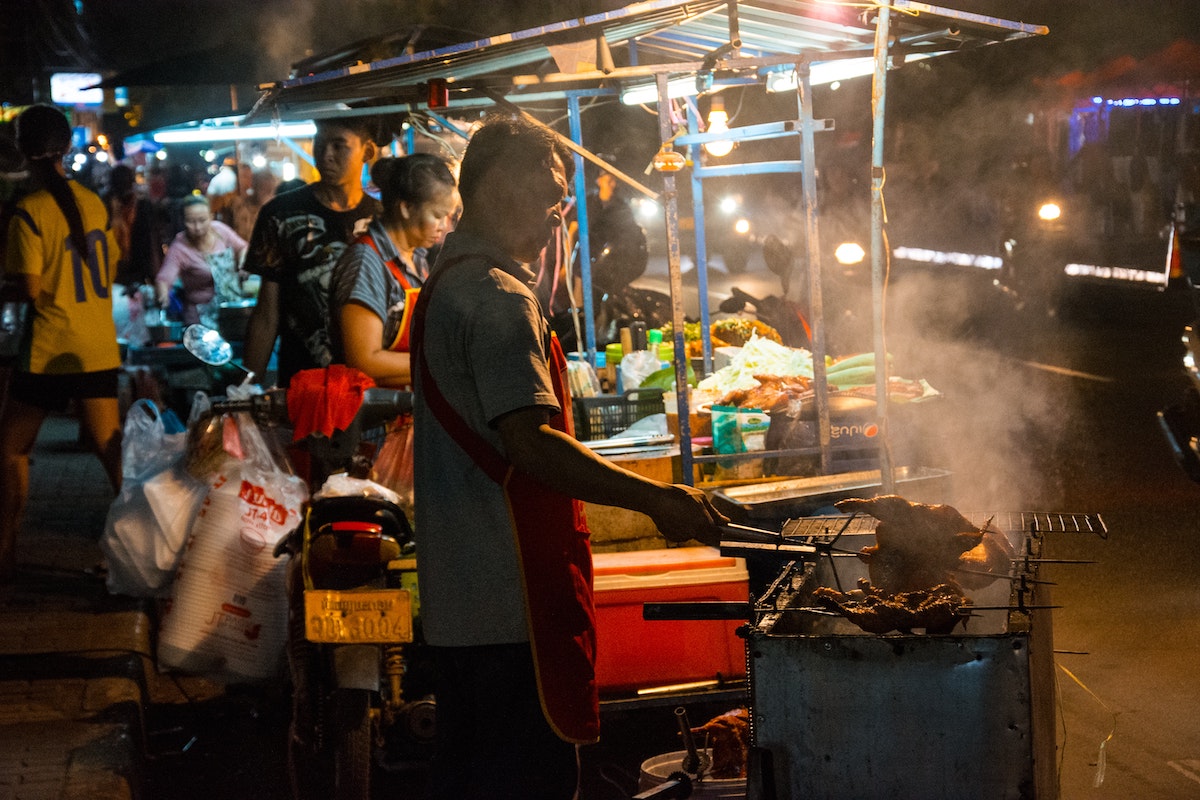 No visit to a Southeast Asian city would be complete without wandering around the city's night market, and while Vientiane's is a little timid, there are still bargains to be had and international cuisine options if Laotian food is becoming a bit samey for you.
Sprawled across Chao Anouvong Park and along the riverbanks of the Mekong, the collection of stalls, street food vendors, and children's playground is the social hub of nighttime Vientiane.
Starting around sunset and peaking around eight o'clock, the market is a fantastic place to try local delicacies, shop for souvenirs, replace a few old clothes or just soak up the buzz of Laos nightlife.
The food is what will really draw you to the Vientiane Night Market, and there is a huge selection of cuisines here. For the meat-eaters and seafood lovers among you, the whole barbecued squid and chicken rotisserie are popular choices, fresh from the flames.
Delicious veggie dishes such as Khao Piak Sen, similar to the Vietnamese Phở and Yall Dib, a healthy and refreshing spring roll are definitely some of the market's winners.
Know before you go:
Location – Located in Chao Anouvong Park, at the southern end of the city and close to the Mekong River.
Cost – Varying costs, from super cheap 2,000 Kip dishes and upwards. Clothes and souvenirs can be haggled to get the best price.
Opening hours – Around 6 pm to 10 pm
Time needed – You can easily spend a couple of hours perusing through the stalls and grabbing a bite to eat.
Getting there – The market is so close to the city centre and major accommodation, that it is more than easy enough to walk to the night market.
4. Visit Xien Huang (Buddha Park)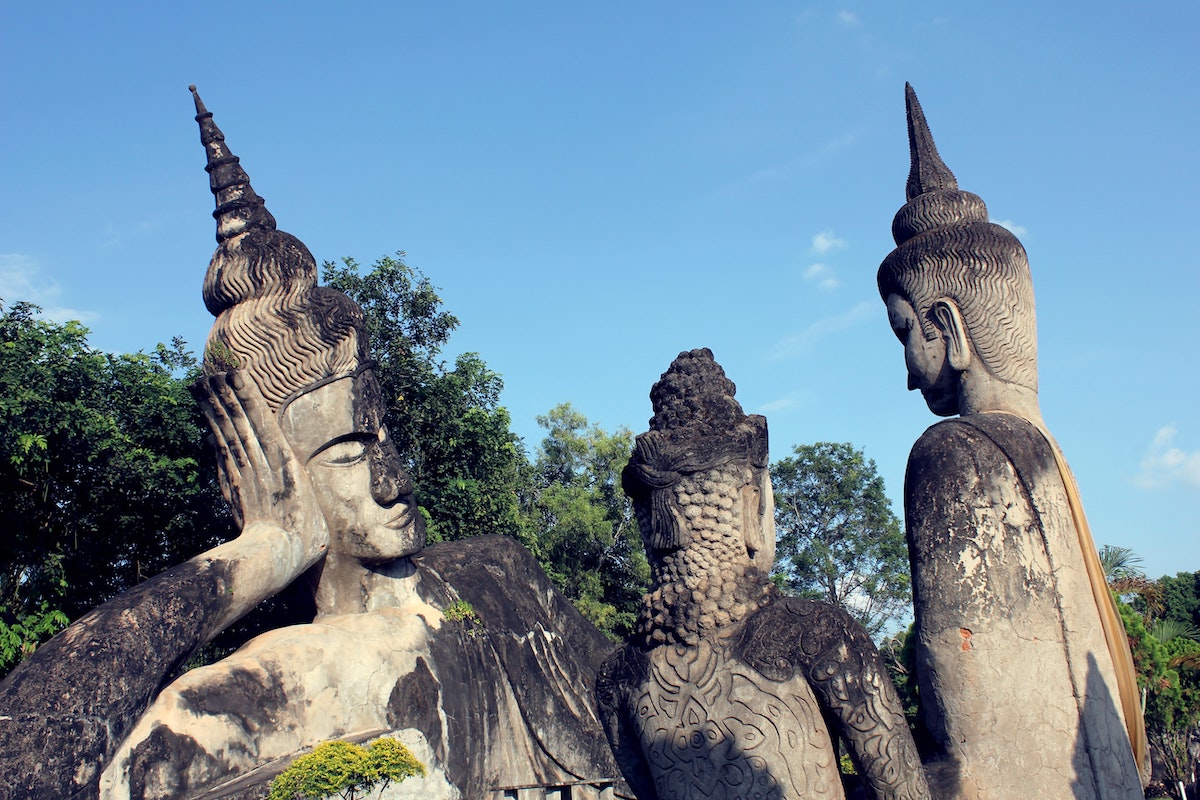 Twelve miles southeast of the Vientiane city centre is the famous Xien Huang, known in English as Buddha Park. The name sums up this picturesque sight perfectly as the park is home to over 200 stone sculptures depicting both Buddhist and Hindu imagery.
The park was started by Laos/Thai mystic and sculptor Bunleua Sulilat in 1958 and is one of two such parks in both Laos and Thailand. Buddha Park is the perfect place to explore on a day out cycling.
Cycling from the city and through rural villages such as Ban Na Khouay adds to this, and with such an idyllic and interesting finish line at Buddha Park, the ride is a great one.
Sculpted out of reinforced concrete, the strong but weathered state of the sculptures can easily lead you to believe that they are centuries old, though they were placed here in the 20th century. Many of the sculptures depict Buddha and Hindu deities such as Shiva, Vishnu, and Arjuna.
Others are a little more out there, such as the 3-metre-tall demon head, where you can climb the stairs and get a huge landscape view of the entire park.
Know before you go:
Location – Buddha Park sits 12 miles southeast of Vientiane near the Thanon Tha district.
Cost – 5,000 Kip entrance fee and 3,000 camera fee.
Opening hours – 8 am – 5 pm.
Time needed – Around three hours to travel and explore the park.
Getting there – Cycling to Buddha Park is a great way of visiting, though you can also catch the number 14 bus from the central bus station.
5. Wat Si Saket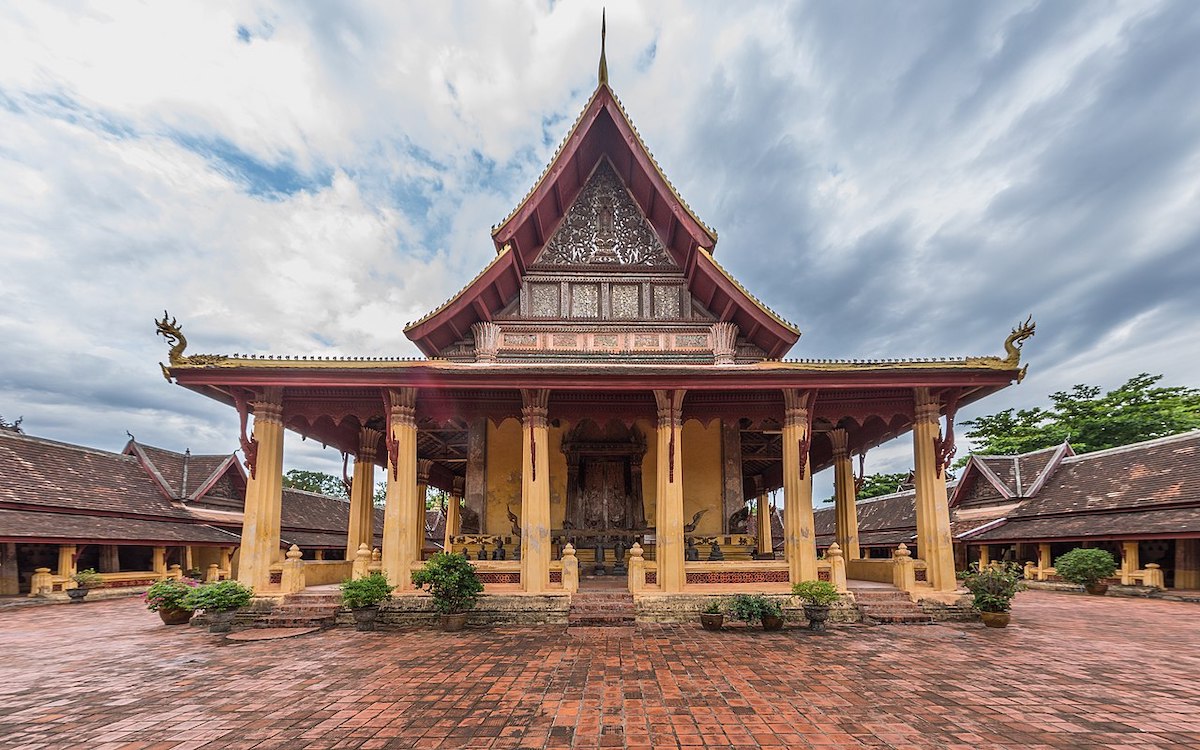 Although visiting temples is often high on the list of things to do in Vientiane, there is one particular building that stands out. This is the temple of Wat Si Saket, which was constructed in 1818 in the style of a Siamese Buddhist temple.
When Siam invaded in 1827, it knocked the city to the ground, including every temple, except that of Wat Si Saket.
Many believe that it was the Siamese design of the temple that saved it from destruction, with the invading armies using it as their headquarters and place of lodgings while in the city of Vientiane.
Aside from coming to visit arguably the oldest still standing in Vientiane, Wat Si Saket is also the home of two thousand ceramic and silver Buddist images. The temple also has an onsite museum, allowing you to learn far more about the history of Wat Si Saket and its place in the city's history.
Know before you go:
Location – Wat Si Saket stands on Lane Xang Avenue, close to the Presidential Palace end.
Cost – 5,000 Kip
Opening hours – 7.30 am to 7 pm
Time needed – Give yourself around forty minutes to explore the temple and museum.
Getting there – A 20-minute walk from the centre or a quick tuk-tuk ride will be the easiest option.
6. Pha That Luang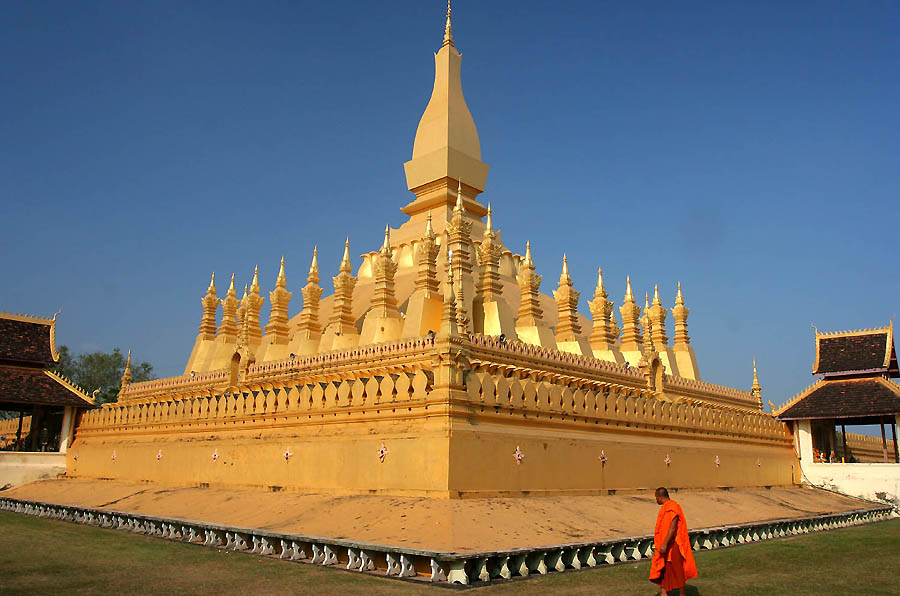 Generally considered the most important national monument in Laos and the national symbol of the entire nation, Pha That Luang is the religious nucleus of Laos. Pha That Luang is a huge golden cover stupa that stands on the northeast side of Vientiane.
First constructed in the 3rd century, the stupa has gone through many redesigns, plunders and rebuilding programs over the one-and-half-thousand years it has stood here. Its glowing gold colour is an overwhelming sight and shows the high praise and divinity the Buddhist Laotians have for this stupa.
The stupa stands at a huge walled compound designed to keep traffic out; on entering the 279 footwalls through the entrance gates, the golden stupa reveals itself as a huge golden sun. Aside from the golden stupa, Pha That Luang's walls are also adorned with a large number of Lao and Khmer sculptures, even some of Jayavarman VII, responsible for many constructions in the Angkor City area of Cambodia.
Know before you go:
Location – Pha That Luang is located in the northeast of the city, just east of Nong Sa Phang Lenh Park.
Cost – 5,000 Kip.
Opening hours – 8 am – 12 pm and 1 pm – 4 pm.
Time needed – Around an hour should be enough to explore the grounds and stupa of Pha That Luang.
Getting there – As there are no bus routes nearby, it is easier to grab a taxi or even cycle a short distance.
7. Cycle Around Vientiane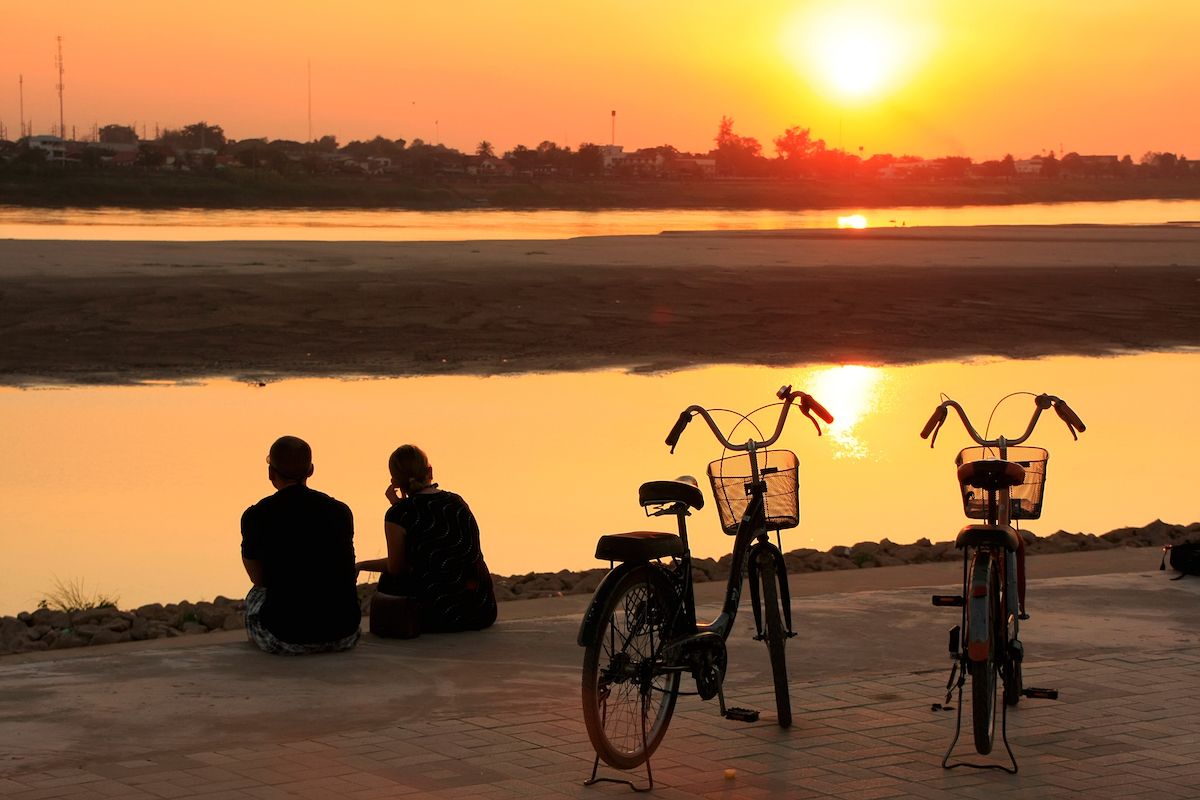 Nearly 90% of Vientiane is built around a pretty level and flat plain, compared to the rest of the country. This flat structure of the city, combined with its relatively small citywide area, makes it the ideal Asian capital city to explore via bicycle.
Many of the city's guesthouses, hostels and even hotels run a bicycle hire service, and some may even offer these for free. Regardless of whether your accommodation provides bicycles, Vientiane is home to a number of cycle hire shops, with very affordable prices. Rental prices start from around 10,000 kips for a day.
Aside from doing a few DIY cycle routes around the city centre, wider suburbs and rural outskirts, the Laos capital also runs a number of organised bicycle tours of the city. These tours include a group leader and English-speaking guide, bicycle hire and even entrance fees to many of the sights you will see on your bicycle tour.
Some of these bicycle tours revolve around the city centre, cycling from temple to temple. Others, however, concentrate on more rural and picturesque routes such as around Buddha Park and even further north to Nam Ngum Lake.
Personally, I opted for the DIY cycle with a licence to roam (and get lost) but that's your call.
However you choose to spend a day cycling around Vientiane, it is one that will be well-spent. The topography and charm of the Laos capital make it a highly rewarding thing to do in Vientiane.
Know before you go:
Location – Days cycling around Vientiane can include the city centre, suburbs and even the surrounding countryside.
Cost – Half a day tour with sights included will set you back around 350,000 Kip. If you'd prefer to do a DIY tour, bike rentals for one day cost around 10,000 Kip.
Opening hours – 8 am onwards.
Time needed – Join a half-day tour or spend even longer doing it yourself.
Getting there – Organised tours will almost always pick you up from your selected accommodation.
8. Eat at Reunion Cafe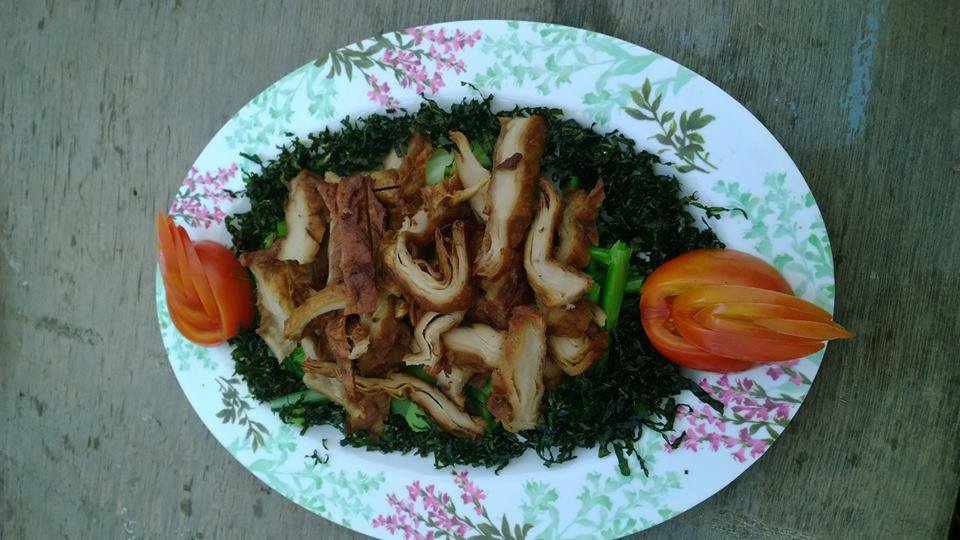 Travelling when you don't eat meat means it can sometimes be difficult to find high-quality grub, especially in a meat-heavy nation such as Laos. One Vientiane restaurant, however, has raised the bar in complete style and excellence, and that is the Reunion Cafe in the Chanthabouly district.
This small yet successful vegan restaurant serves up a wide variety of vegan Laos recipes, capturing the essence of the cuisine's flavours and feel without the inclusion of meat and dairy.
The extensive menu is written out in English as well as Laos, complete with pictures of all of the dishes on offer.
Some of the most popular dishes and drinks at the Reunion cafe include curries, papaya salads, smoothies and stir-fries, all with their own uniquely Laotian culinary identity firmly placed on them. Both veggies and non-veggies are sure to enjoy an excellent meal here, no matter the time of day.
Know before you go:
Location – Reunion Cafe can be found just northwest of the city centre in the Chanthabouly district.
Cost – Dishes starting from around 15,000 Kip.
Opening hours – 8 am – 9 pm.
Time needed – At least 40 minutes to sit and enjoy a meal here.
Getting there – Travel west along Samsenthai, cross Khun Bulom on your right and carry on straight until you see a sign for the restaurant pointing you towards a narrow street.
9. Hike The Mini Jungle To Wat Dane Soung Temple
Eighteen miles northwest of the city is the Dane Soung Plateau, home to the Wat Dane Soung Temple and surrounded by the Laotian jungle of the Phou Phanang National Biodiversity Conservation Area. Once the spiritual epicentre in ancient Vientiane, the area is home to a huge scattering of stone shrines and religious iconography.
Wat Dane Soung Temple is believed to have been constructed in the first millennium by the Mon people, prevalent throughout Myanmar, Thailand and Laos. The temple is home to many Dvaravati-style Buddha images carved into the rock, many of which have then been adorned and painted with gold.
Far off the main road and winding its way through jungle paths, hiking to Wat Dane Soung temple is a whole mini-adventure all within itself. The best way to begin the hike up to Wat Dan Soung is to hire a moped and make your way up to Houay Xone Reservoir.
Here, you can dismount and park in the nearby car park. The hike along the dirt jungle track will eventually bring you to Wat Dan Soung Temple.
Know before you go:
Location – Wat Dane Soung Temple is located 18 miles northwest of Vientiane, near the Houay Xone Reservoir.
Cost – Free
Opening hours – N/A
Time needed – Give yourself around five hours to travel and complete the hike.
Getting there – You are best hiring a moped to bike up to the start of the track or paying for a tuk-tuk or taxi to drive out of town.
10. Sala Keoku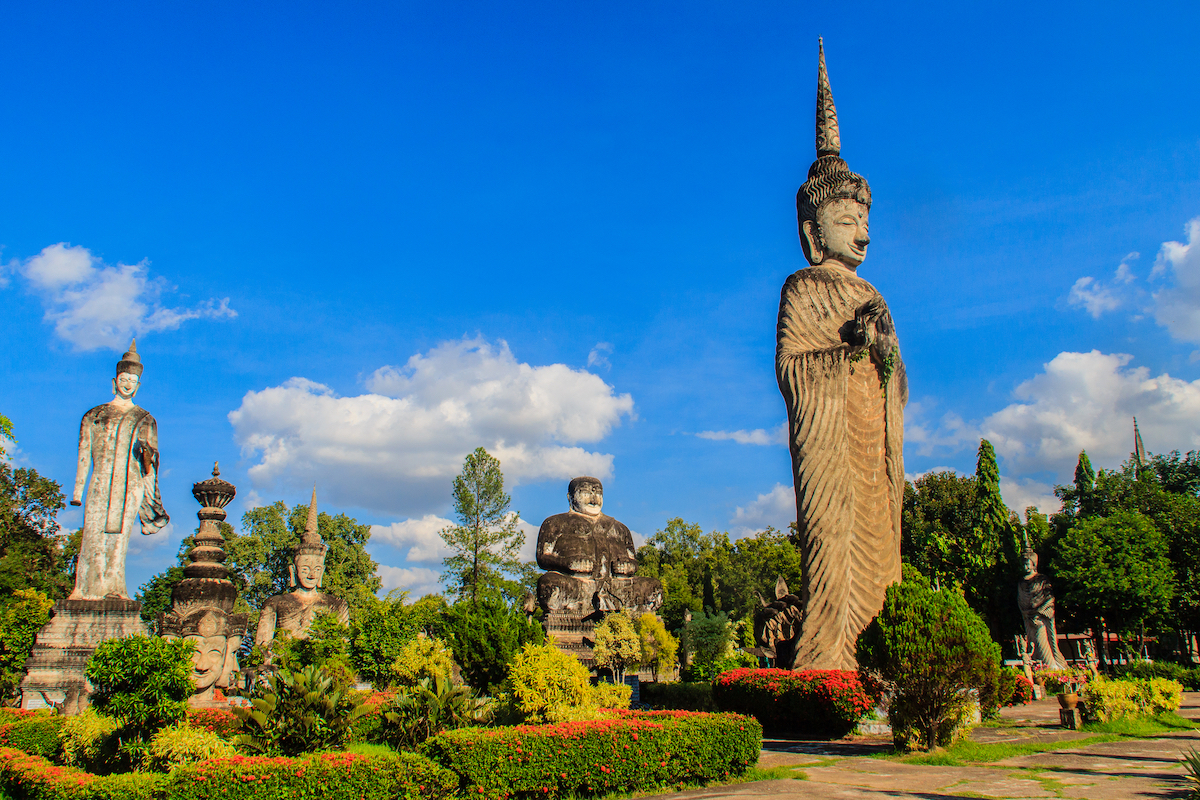 When I spoke about the impressive Buddha Park earlier in the article, I said it was one of two such parks constructed by the Lao/Thai mystic and artist Bunleua Sulilat and Sala Keoku is that park.
Located close to the border of Thailand, Sala Keoku shares many similarities with Bunleua Sulilat's earlier Laos creation, yet is far bigger, extravagant and out there. The park is home to huge and impressive concrete structures depicting imagery from Hinduism and Buddhism and others that would give Salvador Dali a run for his money for surrealism.
Some of the Sala Keoku sculptures reach 25 meters high, including a huge Buddha meditating under the protection of a seven-headed Naga snake.
Another impressive structure is the Sala Keoku pavilion, which rises up out of a three-story building of concrete. This was constructed out of plans left after Bunleua Sulilat 's death, and the third-floor houses related artefacts to the project, as well as Sulilat's mummified body.
Arguably the most impressive section of Sala Keoku is the Wheel of Life, a circular multi-part group of sculptures representing the karmic cycle of birth and death through a progression of tarot-like characters.
As this lies just over the Thai/Laos border, getting here will require you to travel across the Thai-Lao friendship bridge. You can do this by catching a taxi and walking over the bridge or hiring a moped and driving there and back.
Know before you go:
Location – Sala Keoku is located just across the border in Thailand, 16 miles southeast of Vientiane.
Cost – Around 20 to 30 Thai Baht.
Opening hours – 8 am – 6 pm.
Time needed – Give yourself around 5 hours to travel and view the park.
Getting there – One of the easiest ways is to take a shuttle bus across the border or hire a moped and make the short journey yourself.
11. Chill & Chat With a Monk at Sangha College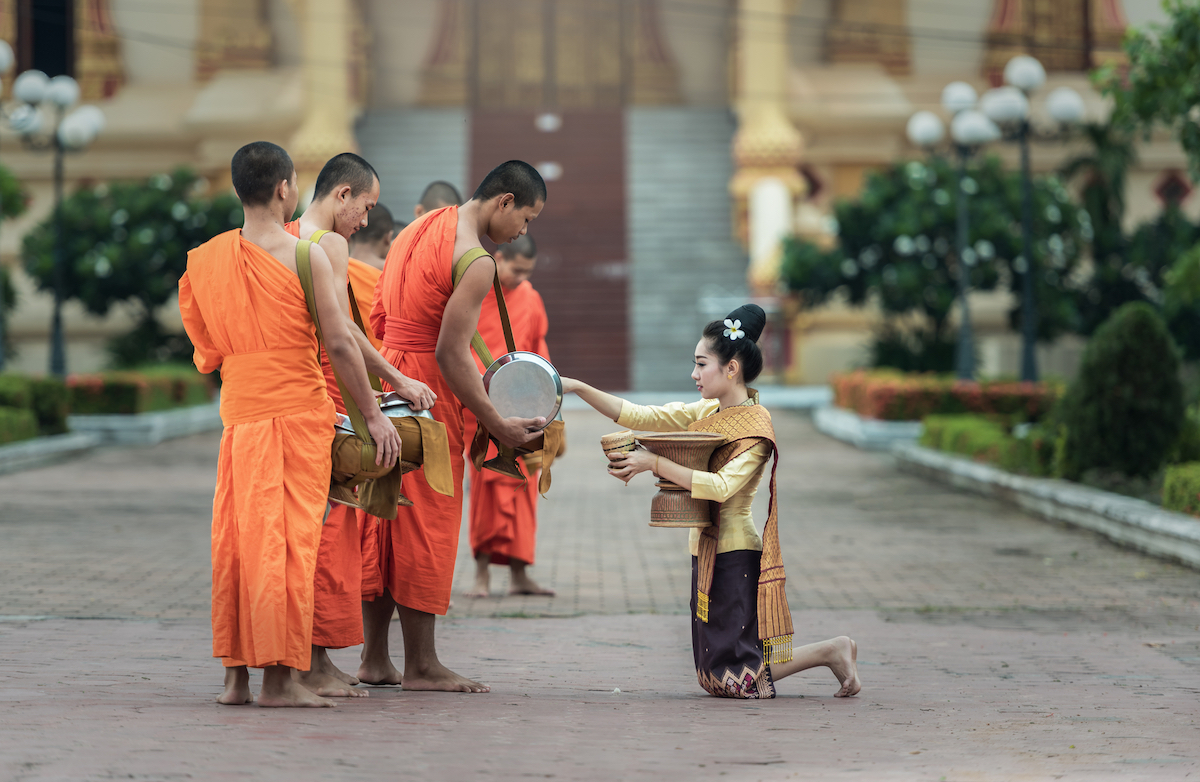 As the capital of Laos, many of the nation's educational institutions are located in Vientiane, including both secular and religious studies. Long has the work of Buddhist monks been tied up in the world of academia through studies in Buddhist theology and philosophy.
The Sangha College in Vientiane is one such place, offering up Monastic Education for young monks and novices from throughout Laos. Once a month, this monastic college opens up its doors to engage in a dialogue with visiting foreigners.
This 'monk chat' was set up for the monks to improve their English language skills through conversational practice and provide a space where foreigners can engage in a unique form of Lao cultural tourism.
After many successful monk charts, the whole practice has continued and speaking with a fully-fledged learned monk is one of the most rewarding things to do in Vientiane.
As this only happens once a month, it's best to try and find out if you are in the city when the chat is going to be conducted. Speaking with your hosts or accommodation will ensure you get up-to-date information while on the ground.
Know before you go:
Location – The Sangha College is located on Chao Anou Road in the centre of the city.
Cost – Free.
Opening hours – Once a month, with the event held on a different day every month of the year.
Time needed – Set aside half a day to get the most out of the chat.
Getting there – Found at the heart of the city, it is easy enough to walk to Sangha College.
4 Day Trips From Vientiane
Fun things to do in Vientiane go far beyond the boundaries of the city, with a couple of exciting day trips to be enjoyed too.
Whether this is heading out to such landmark attractions as the Ngon Floating Restaurant or simply escaping the built-up inner city of Vientiane for the more idyllic and picturesque Nam Ngum Lake and Phou Khao Khouay National Park, the opportunities are varied.
Let's take a look at four excellent day trips you can do from Laos capital of Vientiane.
1. Ngon Floating Restaurants 
A half-hour drive north from the city of Vientiane is the small village of Tha Ngon, nestled on the banks of the Nam Ngum River. This small, unassuming fishing village is not too often noted in many Laos guidebooks or blogs, making it a little treasure to be found when looking for things to do in Vientiane.
The restaurant complex that sits above the water along the river bank is a perfect place to sample some traditional Laos food while enjoying the picturesque river surroundings.
You can either dine at the Lao Derm Som Ngum which is a large moored restaurant along the bank or you can hire your own miniature floating restaurant, a private floating restaurant complete with a boatman for one hour.
Floating restaurants range in price from 100,000 Kip for a small boat to 200,000 Kip for much larger ones. It is not uncommon to see a large floating restaurant with just a couple of people enjoying their own private lunch.
Know before you go:
Location – Tha Ngon floating restaurants are around 13 miles north of Vientiane.
Cost – Meals cost around 10,000 to 40,000 Kip.
Opening hours – 8 am – 6 pm.
Time needed – Take most of the day to travel north and enjoy a good few hours along the river.
Getting there – Either take a taxi or tuk-tuk for the half-hour drive up or rent a moped to make the journey yourself.
2. Nam Ngum Lake Tour
Fifty-five miles north of Vientiane is the largest body of water in all of Laos, the Nam Ngum Lake or reservoir; a by-product of the building of the Nam Ngum Dam from the late 60s right through to the mid-1980s.
Although the building project aimed to bring hydroelectric power to Laos, the resulting artificial lake is one of the more relaxing places to be in the Vientiane area and joining a Nam Ngum Lake Tour brings this all to life in one day.
On the 55 miles journey to the lake, your tour will stop off at notable spots such as the village of Ban Keun, where you can observe the traditional salt extraction and sticky rice wine distillation at Ban Pak Khanhung.
On arriving at Nam Ngum Lake, you and your group can enjoy an afternoon of boating along the reservoir. You can take in the panoramic views of the surrounding land and water while enjoying a cooling swim in the clear waters of the lake.
On the way back from Nam Ngum Lake, another stop will bring you to a small archaeological site at Vang Xang, related to the Mon Hill tribe population who lived throughout the area.
Know before you go:
Location – Nam Ngum Lake is 55 miles north of Vientiane, close to the small town of Tha Heua.
Cost – Prices depend on the tour operator and how many are in your group
Opening hours – Lasting all day, from around 8-5.
Time needed – Set aside a whole day as there is much to see and a large amount of driving included.
Getting there – As part of an organised tour, you will be picked up from your accommodation.
3. Ban Mai Cycle Route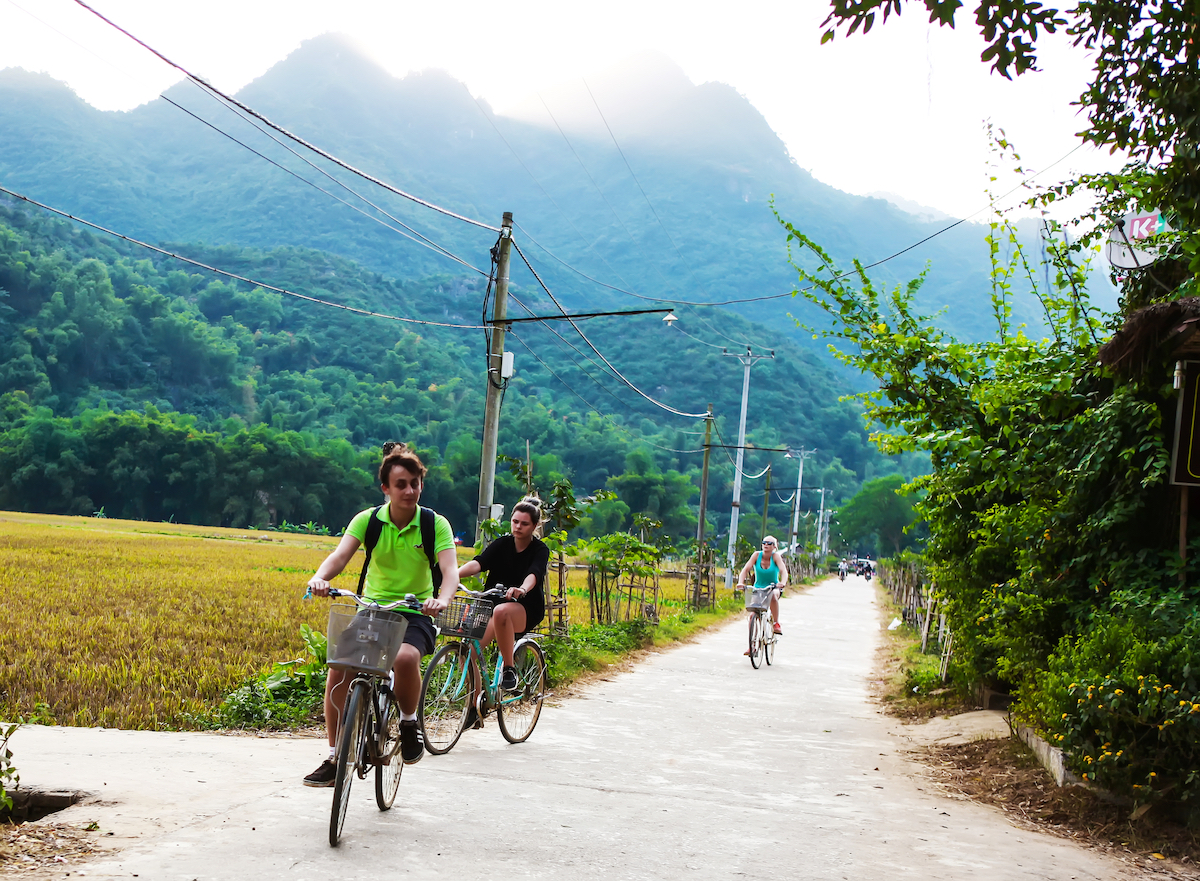 To the west of the city of Vientiane, 11 miles to be precise, is the riverside village of Ban Mai, which sprawls along the Mekong River and is surrounded by the farmlands of outer Vientiane and the surrounding countryside.
The small and peaceful roads form a loop around western Vientiane and the village of Ban Mai, creating the perfect environment in which to explore this area via bicycle.
Starting your tour around 8 am, you will cycle out of the city streets of Vientiane and into the mesmerizing countryside. Here, you will see the farmers doing their daily chores as you cycle on raised tracks flanking the rice paddies and farmlands.
Before reaching the village of Ban Mai, the cycle route will take you past the Tad Moun waterfall, a small fall surrounded by the floating, stilted riverside homes of transitional Laostions. Passing the waterfalls, you will arrive at the village of Ban Mai.
Ban Mai is a quaint village straddling the Mekong and is an ideal place to stop off for a bite to eat before heading back on your homeward leg to Vientiane.
Know before you go:
Location – Ban Mai sits eleven miles west of Vientiane, along the same river course.
Cost – Prices depend on the tour operator and the number of your group.
Opening hours – The tour will start at around 8 am and finish around 5 pm.
Time needed – Set aside the whole day to travel on this cycling loop; you will definitely need it.
Getting there – As part of an organised tour, you will be picked up at your accommodation around 7:30/8 am.
4. Phou Khao Khouay National Park
Phou Khao Khouay National Park is an often overlooked piece of natural forest oasis, despite being just twenty-five miles northeast of Vientiane. It was established on 29 October 1993, covering an area of 772 m2 and includes a mismatch of mountain ranges, sandstone cliffs and a selection of meandering rivers flowing into the great Mekong River.
Aside from the overwhelming natural beauty of Phou Khao Khouay National Park, it is also a biodiversity conservation area and is home to many animals, such as elephants, tigers, bears, and 13 pairs of white-cheeked gibbons, langurs, reptiles, amphibians and numerous types of birds.
Visiting Phou Khao Khouay National Park can be a little tricky, but your best bet is to either hire a driver for the day or hire a moped and make the journey yourself, giving you far more freedom, and this will cost far less than a driver.
Know before you go:
Location – 25 miles northeast of Vientiane, close to the village of Hat Khay
Cost – 5,000 kip entrance fee.
Opening hours – 8 am – 22:00
Time needed – A whole day will be needed to get the most out of your visit to the national park.
Getting there – Either hire a driver or moped for the day, giving you the freedom to explore.
Is Vientiane Safe To Visit?
As far as major world capitals go, Vientiane is considered a pretty safe city. A mixture of decades of visiting tourists and the conservative ways of the Laotian people means you're unlikely to be a victim of crime here.
This being said, like anywhere, it is best to keep your wits about you and don't put yourself in a situation that can be taken advantage of. Instances of petty theft and pickpocketing are not unheard of, and keeping your belongings and bags safe will ensure you don't fall foul of this.
Away from crime, road safety is where you also need to be on the ball. Inferior road surfaces and a lack of pavements and manhole covers are common sights throughout Laos; always be aware of your surroundings, especially if you have hired a bike or moped.
Try these safety tips if you're travelling alone, they can help you in Laos and any other country that you visit solo.
A little tip for the randy backpacking chaps; it's illegal to have sex with a Laotian woman. I know, I know; it's always more fun when you're not allowed.
Just thought I'd warn you about the danger-shagging reality. I can't imagine a Laos prison being the most fun cultural experience, one of the best things to do in Vientiane would be to keep it in your pants.