Although Myanmar has austere restrictions for where you can and cannot go, what you can and cannot see, places you need unjust paid permits for with ludicrous time frames – there are still a couple of ways to tackle the country upon your visit.
The following itinerary is the path that I ended up wandering and is an assumption, that you also have (give or take) 28 days in a country that is never far away from the international spotlight. Get your adventurous boots on, bring your best smile (as it will be more than matched by the lovely locals) and enjoy this step back in time to the entrancing time warp that is Myanmar.
Fly into Yangon (day 1-4)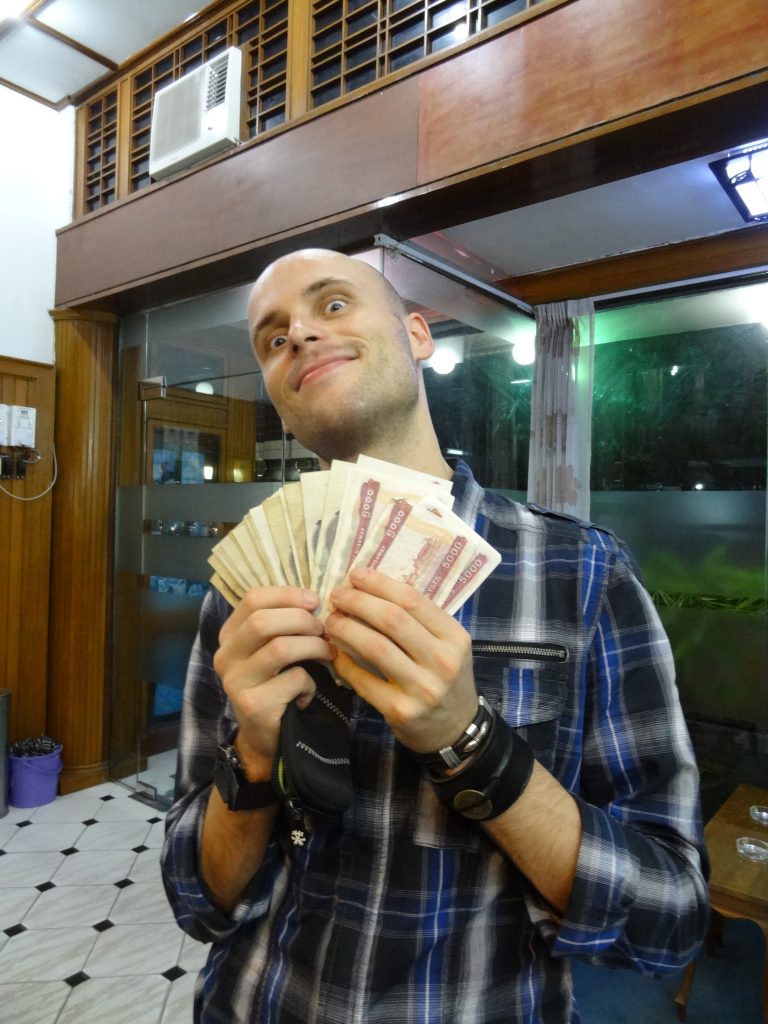 Yangon is located in the south west(ish) of Myanmar (the country has a leg of land that is the proper south, but has restrictions – more on that later). Take this opportunity to absorb the adoringly naive, yet friendly natives and expect this to be your very first day in 28, of feeling like an international rock star.
Settle into a tea house and expect the whole place to stare at you in a non-hostile way, like you're a Martian who has just landed your spaceship outside and strolled in for a brew. The locals will be more than happy to practice their English with you and find out more about your life and your own place of birth. (Hint; it pays to be a football fan of an English club).
Grab a taxi to see 'Shwedagon Bagoda' – The country's most prestige religious monument which is said to hold a hair relic from Buddha himself. A Bagoda (new to me at the time) is like a temple on steroids and this particular work of art, is better seen with clear skies and sun as the golden roof glistens to create an amorous scene. Go Bagoda crazy and check out the others until you suffer Bagoda fatigue. In all honesty seeing the others after this beauty, is like kissing Audrey Hepburn in her prime and then making out with Jabber the Hut's uglier sister. Save the best until last and catch Shwedagon at 5:30 pm, as the sun goes down. Bloody marvellous.
Check out the old government building where Aung San Su Kyi's father – General Aung San, was murdered in cold blood during a meeting, which marked the beginning for the merciless military government. The building is very eerie and when looking for it amongst a plethora of old red bricked buildings (that being the only description of the place) I took one look at one particular building and said to my travel friend "it must be that one – that place looks like it has stories." I was not wrong.
Check out the beloved white elephants. They're beautiful, not meaning to be pedantic or anything – but they're actually terracotta! Make friends, smile loads, talk to lots of monks (they are a lot less shy than the monks of Thailand). Edit: Since writing this post I'm no longer keen on visiting elephants with chains around their ankles.
Hotel I stayed in: "Yoma One Hotel." $30 for a double bed, pot of tea with scrambled egg on toast with a banana and juice for breakfast too. The people at reception bend over backwards to help you plan your future trips and will even call up other hotels and book for you.
Get the train to Mandalay (day 4-10)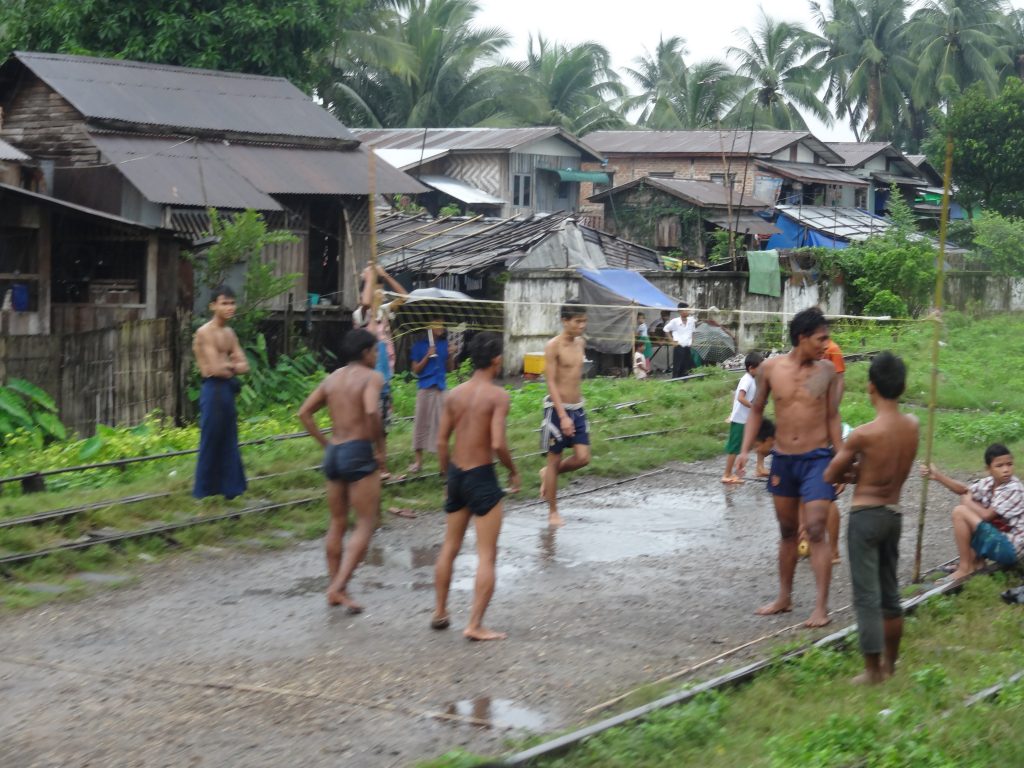 You simply must go to the last royal capital of Myanmar for the fact that it's the transport hub of the country. If you want to go elsewhere – you've probably got to do it via Mandalay. Fellow travellers thought that I was crazy getting a bumpy and slow, train journey ($30) instead of a bus or flight – but I just adore train travel!
The ride is pretty brutal and don't expect to get any sleep on this 16 hour journey as locals get on every stop, to scream at the top of their lungs for you to buy some tea and hard boiled eggs. Old school train travel; love it.
Check out Mandalay Hill and grab a bike for $10 a day and try to navigate the crazy roads of Mandalay. Notice just after paying, that the bike has a Manchester United emblem on the body and refuse to ride it and actually choose a worse bike with no gears. Because stupid male pride is priceless, clearly.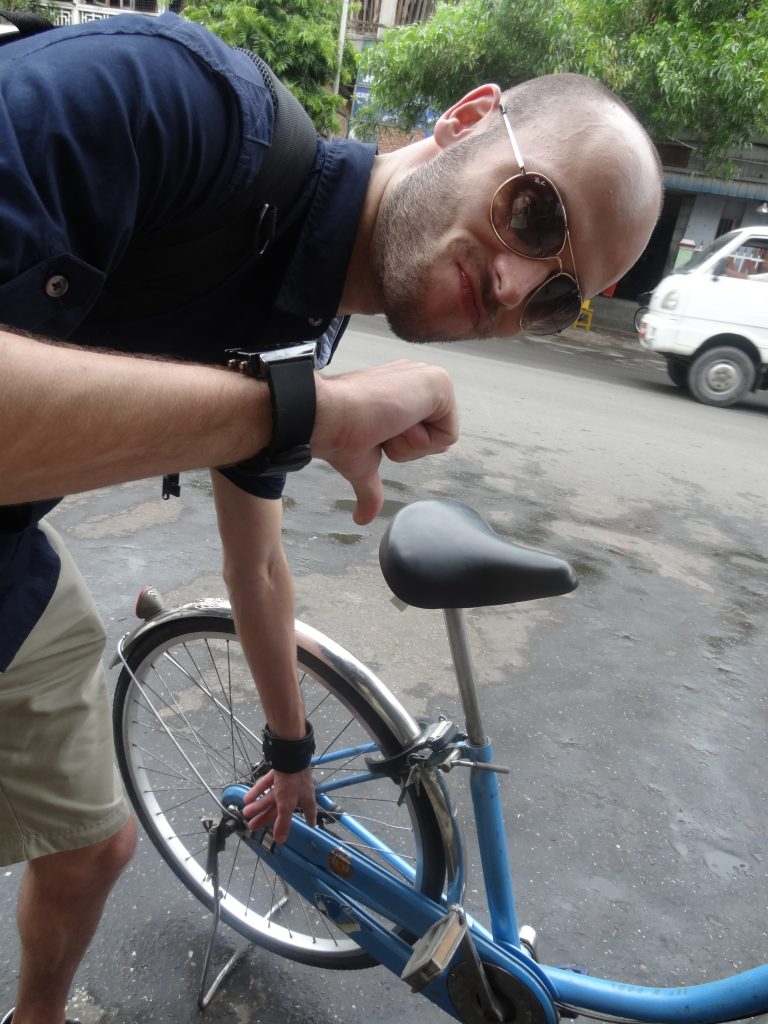 Your senses will be overridden by the constant beeping – I've never known anything like it! Spend a day up at 'Mingu' and be sure to get a motorbike taxi because the journey there through the lush countryside, with wild caramel-coloured horses walking out in front of you is an image that you won't forget in a hurry. Highlight of Mingu: barefoot climbing the 174 steps of the unfinished palace – not for those who are scared of heights and an incredible view of the neighbouring white temple.
Get up at the crack of dawn to see sunset at Ubein Bridge – delightful 🙂
Hotel I stayed in: "Nylon Hotel" $12 for a double room in the heart of the centre! The price included a pot of tea/coffee with egg and toast and a banana for breakfast.
*It's worth noting two things here*
1.) I stayed a bit longer than planned, as my malaria tablets molested my internal organs so I needed to rest.
2.) I wanted to go north from here to Kachin State but I would have had to wait 2 weeks to maybe get my permit, which would leave very little time to get back to Yangon. I also couldn't justify the $500 price tag – more on that in a later post.
P.S. Don't forget to check out The Moustache Brothers!
Get the slow boat to Began (day 11-14)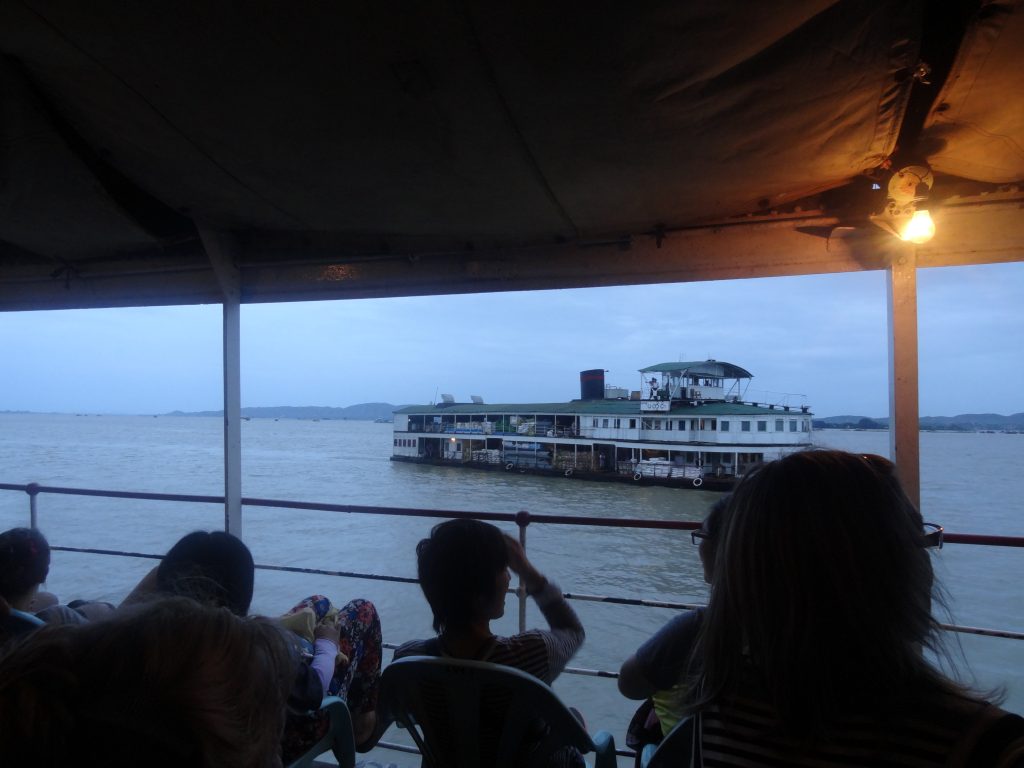 I initially booked a 9 hour bus journey for $7 – I then remembered that I completely despise bus travel so I counted my losses. The slow boat leaves at 5:30 am and arrives in Began at 7 pm. You can buy your $10 tickets from the jetty half an hour before.
I absolutely loved every minute of this chosen method of transport and it was one of the highlights of my trip. The boat stops about five times at rural village coast lines and the locals come on to sell you food – you get some right characters! 🙂 I wish you to have the same weather that I had that day – perfection!
When in Began, you can grab a horse and cart guide for the day for 30, 000 kyats (share with one or two mates). Wind down your temple fatigue the day after, with a bike ride around this sleepy and friendly town. I highly recommend 'Aroma 2' for an evening meal (Indian). Walk off your curry the day after, at Mount Popa. Don't take food – the monkeys WILL get it from you and the "hike" is too easy anyway.
Hotel I stayed in: "May Khlar Hotel." $10 for a room with two single beds, cold showers in the hallway (actually a godsend in the more humid, northern heat). The hotel is situated in the heart of the backpacker's cheaper region of Nyaung U. The breakfast is great – lovely pot of tea, scrambled egg on toast, sweet pancakes and a big fruit salad. The woman at the front desk is an absolute angel, too.
Get a Bus to Kalaw, for the start of your 3-day hike to Inlay Lake (day 14-19)
I stayed in Kalaw for two nights as I needed to do a laundry run, it's a bit boring but worth the wait of the three days hike to Inlay where you get to meet local tribes, stay in their villages and monasteries with wise old monks.
Hotel I stayed at: "Winner Hotel." Booked solely on the fact that I liked the name. The price is $20 a night for a small portion of scrambled egg on toast and fruit. Tip: buy eggs from reception and ask them to hard boil them for you, as the food in Kalaw isn't too handsome.
These people "lost" my laundry and were consistently incompetent, in comparison to the others – wouldn't recommend them at all.
Stay around Inlay Lake (days 19-23)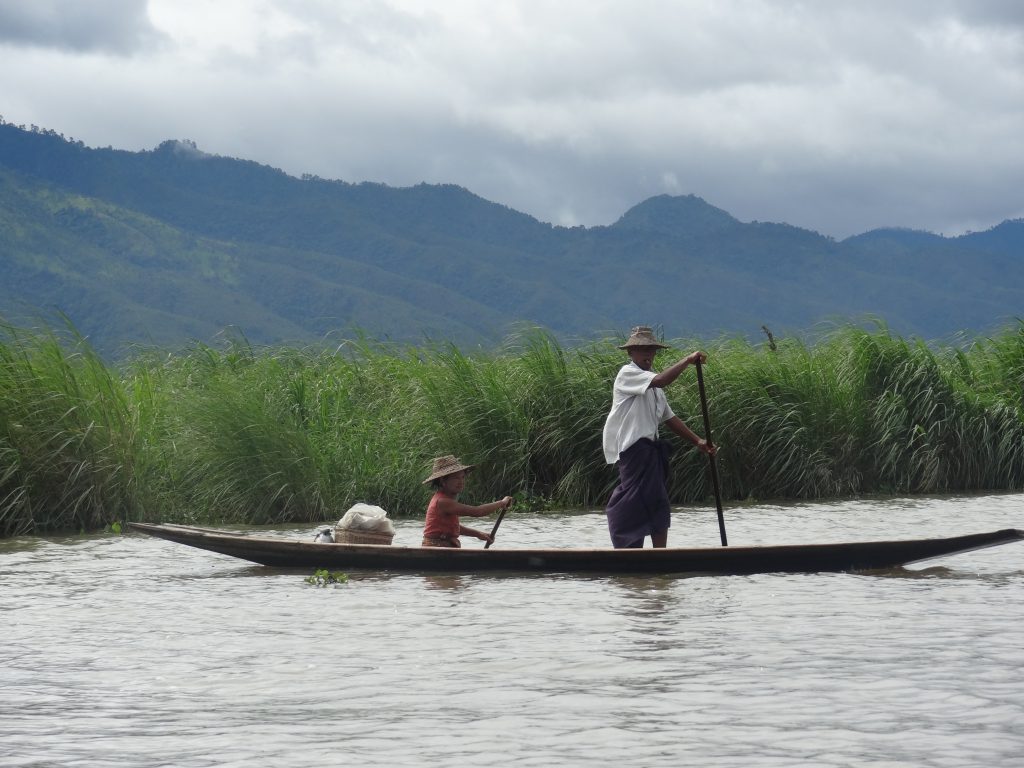 Inlay lake was my favourite because I finally got some peace after the hustle and bustle. Stay in the village of Nyaung Shwe, at the Nan Da Wunn Hotel. I can't speak highly enough of this place – and it was only $15 per night 🙂
Wind down in Yangon before your flight
I flew back for $118 – ask your hotel to book it for you. If I do it all again, I will get my permission to go to Kachin State and the very south of Myanmar, before checking out the beach on the east coast! It's worth noting that due to illness, or meeting amazing people – I probably overstayed in the sightseeing areas.