Looking for a suitable Hong Kong Bucket list is no mean feat, especially if it's your first time in one of the most densely populated regions on earth.
With a long-held image of a concrete jungle of high rises, an intense work ethic and a jostling population, Hong Kong is often written off as a mere stopover place, or a convenient connecting hub for the traveller's final destination.
While it's undeniable that the modern city is awash with concrete and steel, there is much more to this part of the world and after visiting the place 5 times, I can genuinely say I think it's a little misunderstood.
With that said, here is my personal tried and tested Hong Kong bucket list, so you can make the most out of your time in this dangerously underrated place.
1. Grab a Photo at The Monster Building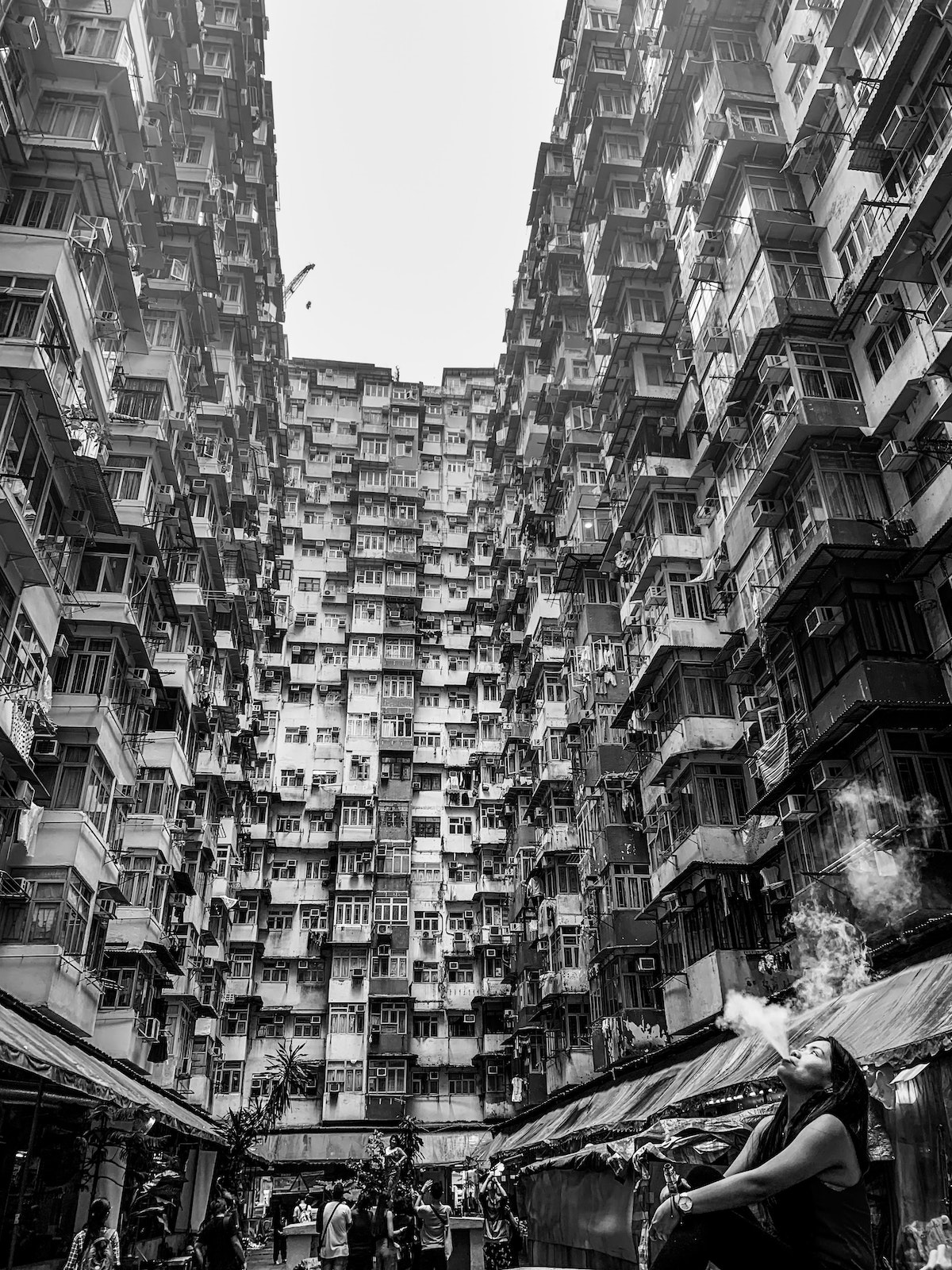 One of the most recognisable structures in all of Hong Kong, Montane Mansion or the Monster Building as it is now affectionately known, epitomises life within the crowded city centre. A tightly packed series of apartments, the Monster Building, is a personification of Hong Kong's concrete jungle reputation… I didn't say this label was untrue, I said it was unfair to be saddled with this and only this.
Many visit the crowded apartment block to indulge in the perfect Instagram snap, but if that's not your style, the Monster Building offers up an interesting, and authentic insight into the daily lives of Hongkongers.
It's worth bearing in mind that these are the homes of real people, who put up with hundreds of tourists passing by and taking photos every single day, so be as respectful as you can when you're exploring this famous spot.
Know before you go:
Location – The Monster Building is located at 1028 King's Rd Quarry Bay, on the northeast side of the island.
Cost – Free
Opening hours – Open around the clock, though you'll probably get the best photos during daylight hours.
Time needed – You won't need more than an hour to visit the Monster Building, but if you're into people-watching, it's not hard to while away two or three.
Getting there – Catch the subway to Tai Koo Station and walk for about five minutes on King's Road until you reach the unmissable Montane Mansion.
2. Hike Dragon's Back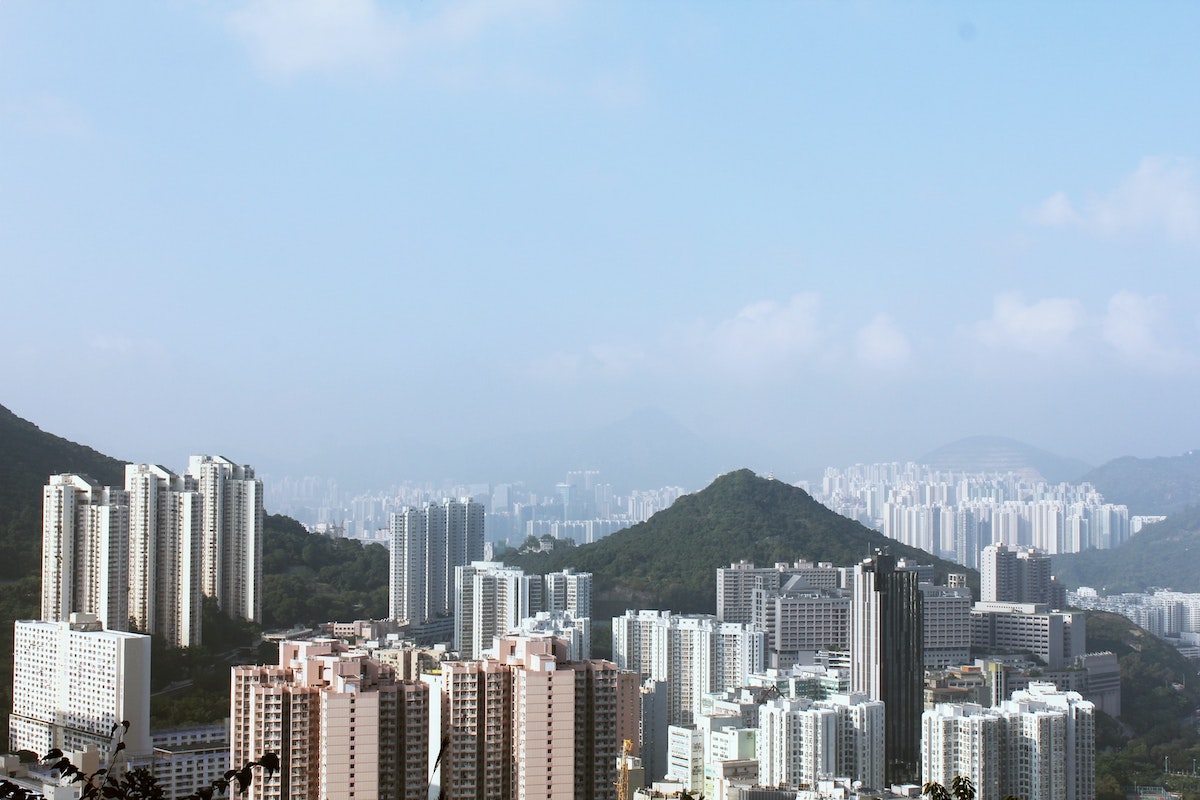 Hiking the mountain ridge known as the Dragon's Back will be more than enough to prove that Hong Kong is much more than its cramped-city reputation. Located on the southeast of the island, the trail is considered to be one of the best hikes in Hong Kong and some might even say, East Asia.
A relatively easy hike, the trail will take you up onto the top of the ridge, providing views of the island below as well as the beached shoreline, with the South China Sea air blowing gently through. Taking around two hours to complete, the Dragon's Back Trail is a small part of the much larger Hong Kong Trail, which stretches 50 kilometres across the island, passing through five country parks.
If you're brave enough, you can attempt the whole of the Hong Kong trail too, but you'll probably want to set aside a couple of days to complete this impressive feat.
Know before you go:
Location – Southeast side of the island, within Shek O Country Park
Cost – Free
Opening hours – 24 hours
Time needed – Around 3-4 hours to hike, enjoy the views and take a few snaps.
Getting there – You can either grab a taxi or take the number 9 bus from Shau Kei Wan MTR station, and stop at the bus stop at To Tei Wan Village. The entrance is right by the bus stop.
3. Sample World-Beating Dim Sum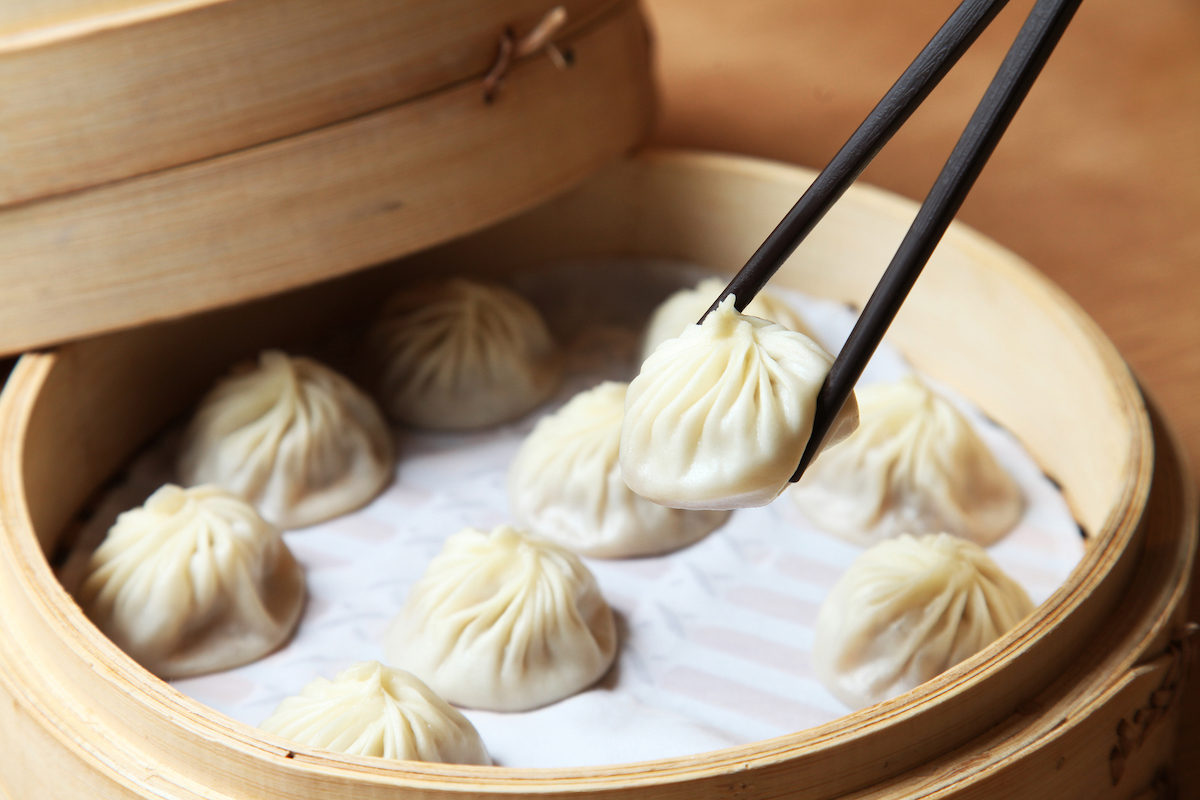 The world-famous Dim Sum is now enjoyed around the world, but not many know it first originated in the south China city of Guangzhou. Sharing a border with Hong Kong, it is no surprise that these two Cantonese powerhouses produce some of the best dim sums you can find anywhere in the world.
Taking humble dim sum to a whole new level is the One Dim Sum restaurant in downtown Hong Kong. Elevating this Cantonese dish from street food to a taste sensation that has earned One Dim Sum a Micheline star has been no mean feat.
Serving up all of the favourites including Har Gao (shrimp dumplings), Siu Mai (pork dumplings), and also vegetarian options, rice sheet rolls, steamed buns and more, you'll definitely remember your Dim Sum experience as the tastiest item on your Hong Kong Bucket list.
Know before you go:
Location – One Dim Sum is located on Tung Choi Street in the East of Hong Kong Island.
Cost – Average price sits between HKD20 to HKD40 for a plate of dim sum.
Opening hours – Though typically a breakfast or brunch dish, you can head to One Dim Sum anytime between 9 30 am and 12 am for your fix.
Time needed – At least an hour or two to sample all they have.
Getting there – Take the MTR to Prince Edward Station and you'll find One Dim Sum right around the corner.
4. Ride The Hong Kong Observation Wheel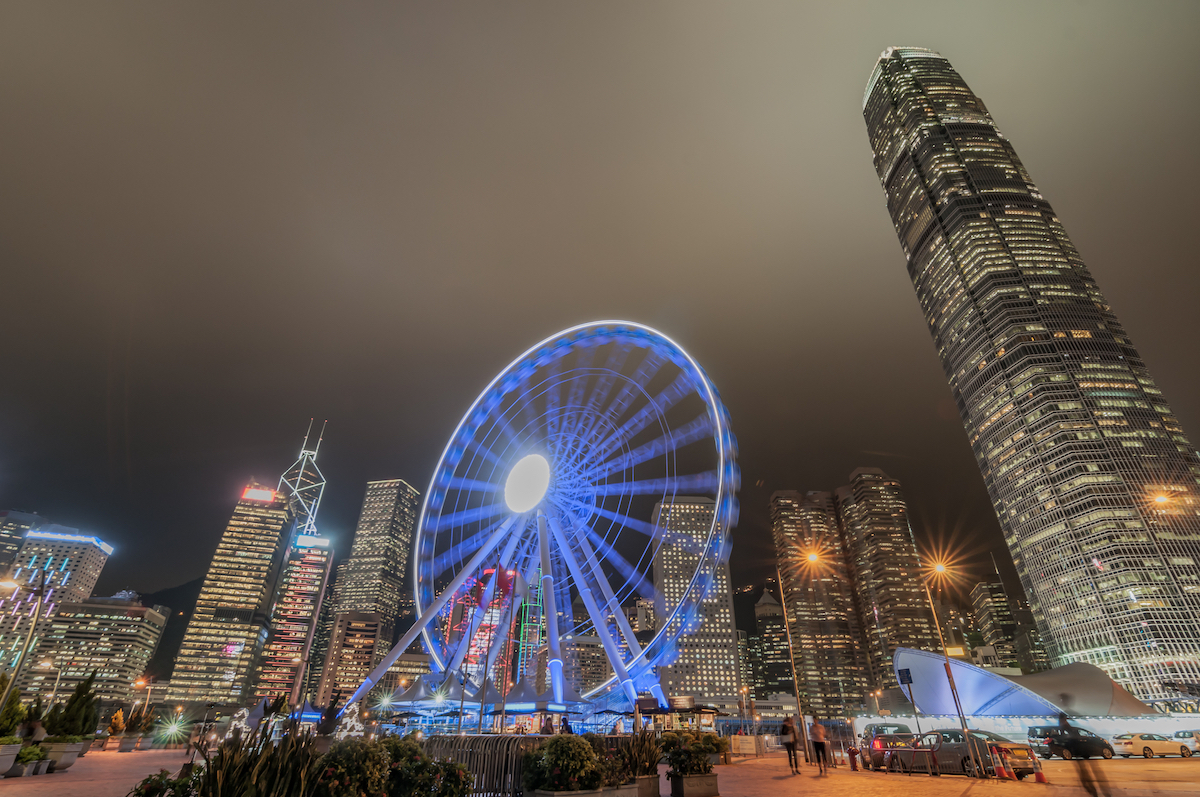 The Hong Kong Ferris Wheel, or Observation Wheel as it is officially named, has become one of the defining images of Hong Kong's Victoria Harbour. Akin to the London Eye and Singapore's Flyer, the Hong Kong Ferris Wheel is not only a great way to view the city but is also a sight to behold all on its own.
Standing at sixty metres high, the Hong Kong Ferris Wheel offers stunning views across Hong Kong. Although it's best to get here during the day, allowing you to dodge the crowds, riding the Hong Kong Ferris Wheel at night provides even better views of the lit-up skyline of the city and beyond.
Know before you go:
Location – Located right along Victoria Harbour on the north of the island.
Cost – Tickets cost HK20 per adult, HK10 for Seniors and Children 3-11, and children under 3 go free.
Opening hours – The Ferris Wheel operates from 11 am until 11 pm.
Time needed – Set aside at least an hour to enjoy the wheel at a steady pace.
Getting there – Take the MTR to Kowloon Station, only a short walk to Victoria Harbour and the Ferris wheel.
5. Hike Victoria Peak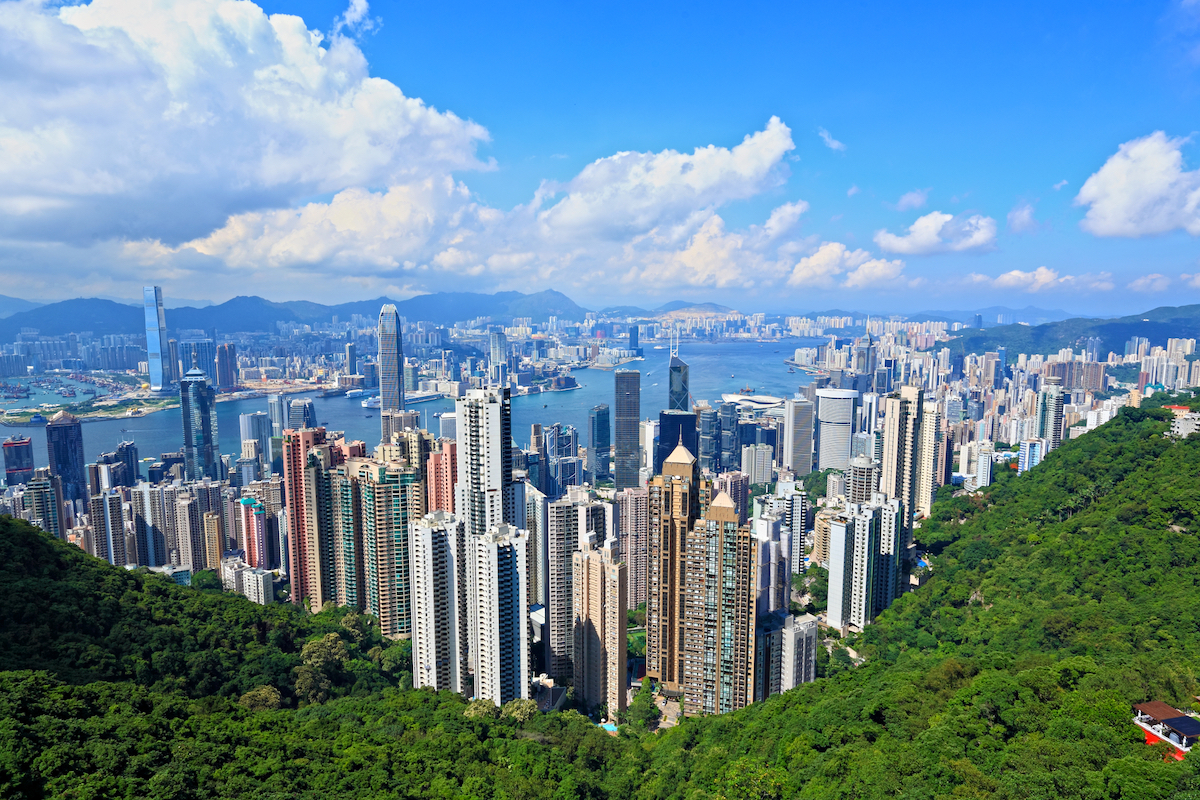 To start your morning off in the best way possible, head to Victoria Peak to watch the sunrise. Sitting on the western side of the island, Victoria Peak offers up one of the most scenic hikes in all of Hong Kong.
A paved circular trail takes you through Lung Fu Shan Country Park and to the peak above. When the weather is good and the skies are clear you can take in panoramic views of Kowloon, Victoria Harbour, the north side of Hong Kong Island and some of the neighbouring islands in the South China Sea.
The walk starts off on a small incline and gets steadily steeper as you approach Old Peak Road, but it should be manageable for most fitness levels. Halfway along the walk, you will catch sight of the mid-levels, a residential neighbourhood home to a maze of high-rise buildings. For something that is so rewarding and costs nothing to do, hiking to the top of Victoria Peak is one of the best Hong Kong bucket list options for outdoorsy travellers.
Know before you go:
Location – Nestled within the Lung Fu Shan Country Park on the western side of the island.
Cost – Free
Opening hours – 24 hours
Time needed – It's worth giving yourself the morning to hike to the top of Victoria Peak and enjoy the scenes.
Getting there – Walk from Central MTR Station to Victoria Peak via Old Peak Road.
6. Sail The Junk Boat for the Day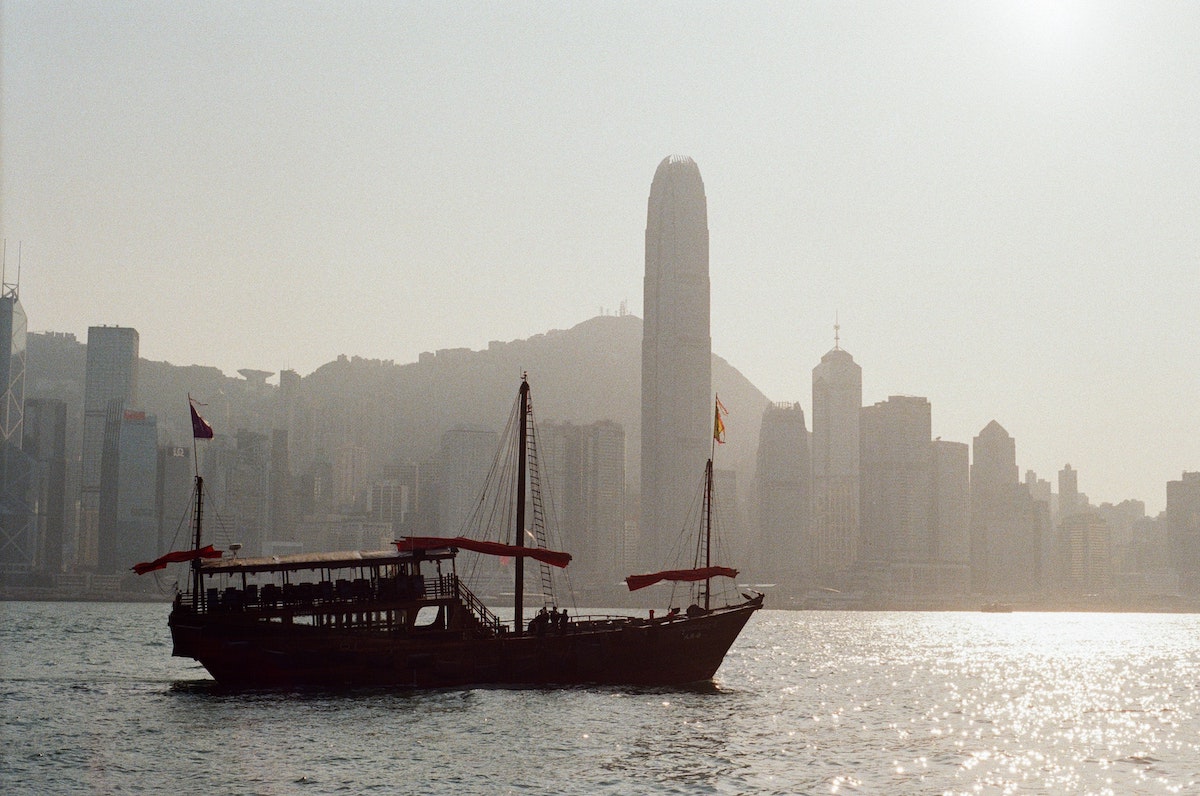 When it comes to planning a trip to Hong Kong, seeing it from the water as much as possible makes sense. The Junk Boats of Hong Kong is a retro transport option for your Hong itinerary; first used during the middle ages, these traditional bronze sailed boats were used as trading vessels, and they were a common sight in the harbour right through the mid-20th century.
Although only a handful of traditionally designed boats remain, it's still possible to hire some of their modern cousins for a day out on the water. Whether you have a large group of you who want to spend the whole day cruising around, with lunch and dinner served on board or you're a couple looking for a few relaxing hours on the water, you'll find a number of different boat hire options for every opportunity.
Know before you go:
Location – You can board the Junk Boats at Tsim Sha Tsui Pier 1 or Central Pier 9 not far from Central Hong Kong.
Cost – Prices vary depending on the package that you choose. For a simple boat trip, you'll be looking at around 300 HKD per person. This can go up to 1,000 HKD if you opt for a longer cruise with lunch or dinner included.
Opening hours – N/A
Time needed – Taking a whole day out on the water is the best way to really experience a junk boat trip on your Hong Kong bucket list.
Getting there – Catch the rail to Tsim Sha Tsui MTR station which is just moments away from the pier.
7. Cycle East to West of The New Territories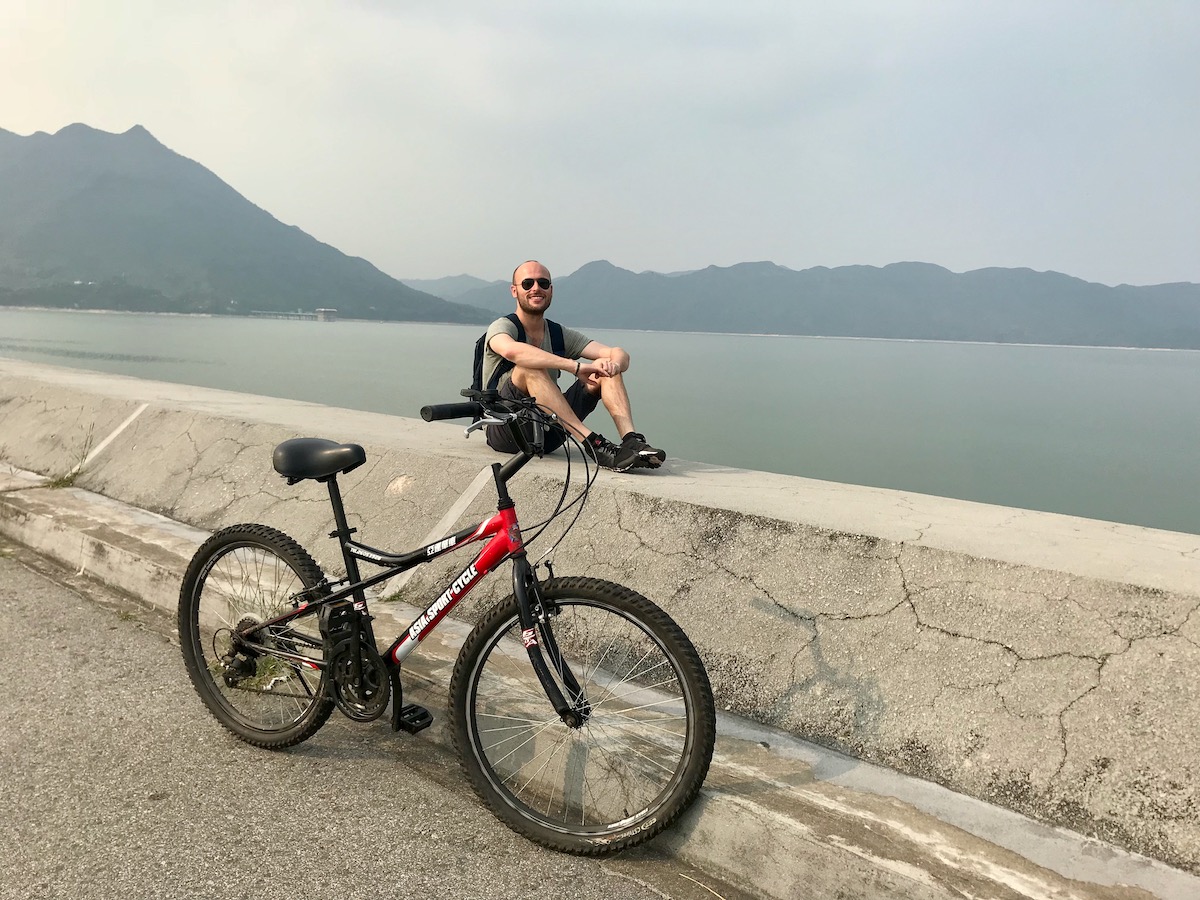 Made up of numerous country parks and wide open green spaces, Hong Kong's New Territories is a true example of how misrepresented the idea of Hong Kong as a concrete jungle really is.
Making up around 86% of Hong Kong's territory and containing around half of the population of Hong Kong, the New Territories offer up a whole new image of green and rural Hong Kong.
One of the most enjoyable ways to see this great expanse of greenery first-hand is to cycle from east to west across the New Territories. Starting from Pak Shek Kok in the east, you can cycle across the landscape with ease, thanks to the winding paths that crisscross the island.
Taking in the awesome sights of the New Territories landscape as you ride, there are numerous local cafes and street food stalls to stop off at along the way, perfect for keeping your energy up. This is undeniably the best way to see the New Territories in all its glory and at a pace that allows you to soak it all in.
Know before you go:
Location – Start from Pak Shek Kok in the eastern Tai Po District and cycle to Yuen Long on the west coast of Hong Kong.
Cost – Bicycle rental costs around 80 HKD for the day.
Opening hours – N/A
Time needed – Enjoy a full day cycling from east to west.
Getting there – Catch the rail to the University Station near Pak Shek Kok, and you'll find tonnes of bike rental shops just outside.
8. Explore The District of Sham Shui Po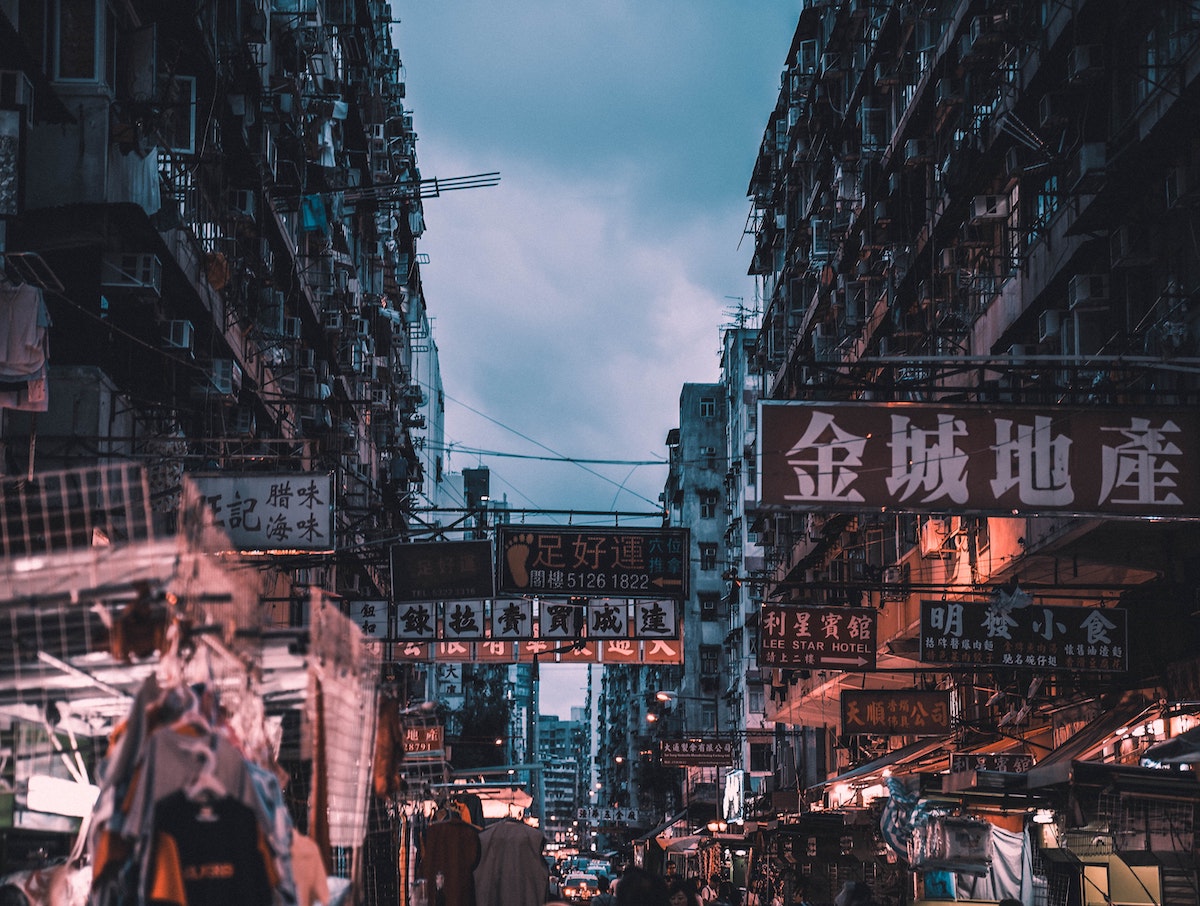 Hidden away in the northwestern part of the Kowloon Peninsula, Sham Shui Po is one of Hong Kong's most famous districts. Slap bang in the middle of urban Hong Kong, Sham Shui Po is a collection of neighbourhoods crammed together in one of the densest and most eclectic regions in the country.
While it may be one of the poorest neighbourhoods in the city, Sham Shui Po has an undeniable vibrancy and energy to it.
Sham Shui Po is known for its fantastic food stalls and electrical goods shops, including the infamous Dragon Centre. This nine-story building is the second-largest shopping centre in West Kowloon and is home to a huge range of treasures. From traditional goods right through to state-of-the-art technology, it has it all.
It's the bustling atmosphere and fascinating vibe that make the Sham Shui Po district what it really is. Simply wandering around its streets is an experience in itself, though do be prepared to battle with the crowds.
Know before you go:
Location – Sham Shui Po district is located in the northwestern part of the Kowloon Peninsula
Cost – Free to explore
Opening hours – 24 hours
Time needed – Take a good couple of hours to see everything in the district, more if you fancy a spot of shopping in the Dragon Centre.
Getting there – Take the train to Sham Shui Po MTR station and you'll come out in the thick of it all.
9. Try 'Stinky Tofu' Street Food at Mong Kok Street Stall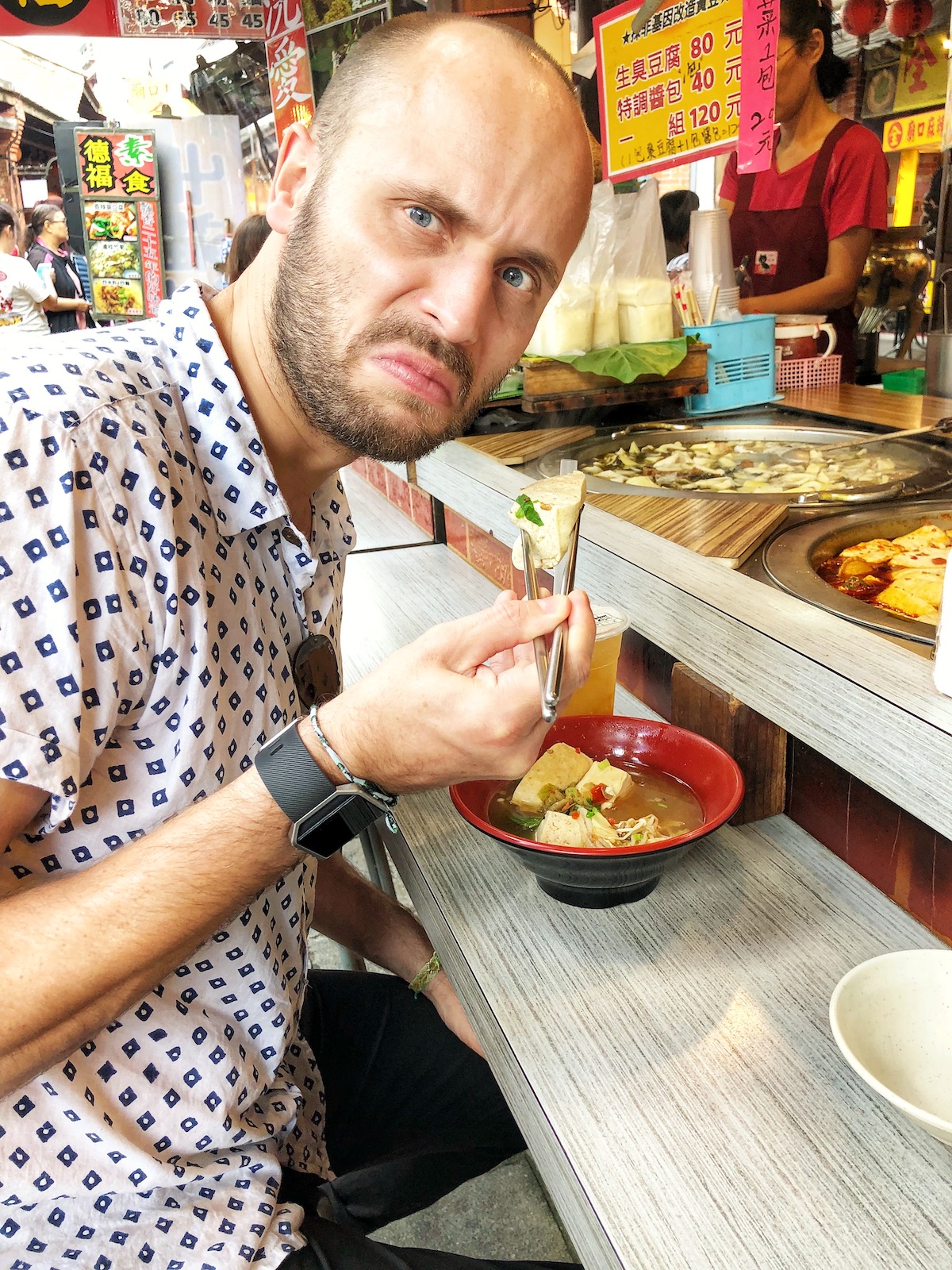 One of the defining street food delicacies in Hong Kong, trying the stinky tofu street food dish is not to be missed off your Hong Kong bucket list. With a name like stinky tofu, it may not seem like the most appetizing thing for your pallet, but this accidentally fermented soy product was a big hit in the Qing dynasty and is also popular in quirkier parts of Taiwan.
The tofu gets its pungent odour from a strong fermentation process, whereby a brine is infused with fermented milk, vegetables and meat. It is then served up and fried with a side of hoisin dipping sauce.
While you can find this delicacy across Hong Kong, there are few institutions that agreed to serve up the best – the top of these is Kai Kei Snacks in Mong Kok. Aside from the stinky tofu, they all sell a wide range of bite-size street food, perfect for those who don't have the will not to follow their nose.
Know before you go:
Location – Kai Kei Snacks is located on Dundas Street in Mong Kok.
Cost – Around 8 HKD per dish.
Opening hours – Kai Kei opens from 11 am – 10 pm, so you can enjoy this delicacy for lunch or dinner.
Time needed – Minutes!
Getting there – Take a bus to Sai Kung Minibus Stop which will drop you right outside the door of Kai Kei Snacks.
10. Spot (or Hear) The Barking Deer Of Hong Kong
The only deer that are native to Hong Kong is the Northern Red Muntjac, more commonly known as the Barking Deer. Taking their colloquial name from the sound they make, they're recognised by their crying shriek, which has been likened to the sound of humans being strangled.
They're elusive animals, and if you're lucky you might just hear one while you're out and about exploring one of Hong Kong's country parks. However, for a guaranteed sighting, you'll need to head to the Kadoorie Farm and Botanic Garden.
Here, they keep two females, named Sasa and Didi, in an open-air enclosure. Both of the deer were found abandoned as fawns and nurtured back to health on the farm, a common occurrence in the ever-growing urbanisation of Hong Kong.
If you do manage to spot a barking deer, remember to approach with caution. Unlike the cockily confident bowing deer of Nara Park in Japan, this species is particularly sensitive and like other nervous creatures on earth, this animal can quite literally be scared to death!
Know before you go:
Location – Lam Kam Road in the Tai Po district. Or just listen out for their howls whenever you're in nature during your Hong Kong bucket list journey.
Cost – Free
Opening hours – 9:30 am – 4 pm
Time needed – Two hours to see the deer and enjoy a walk around the rest of the gardens.
Getting there – Jump on the MTR East Rail to Tai Po Market or Tai Wo. From here, you can catch the connecting 64K bus towards Yuen Long. After around 15 minutes, you'll arrive at the Kadoorie Farm bus stop.
11. Drink at Ozone: the World's Highest Bar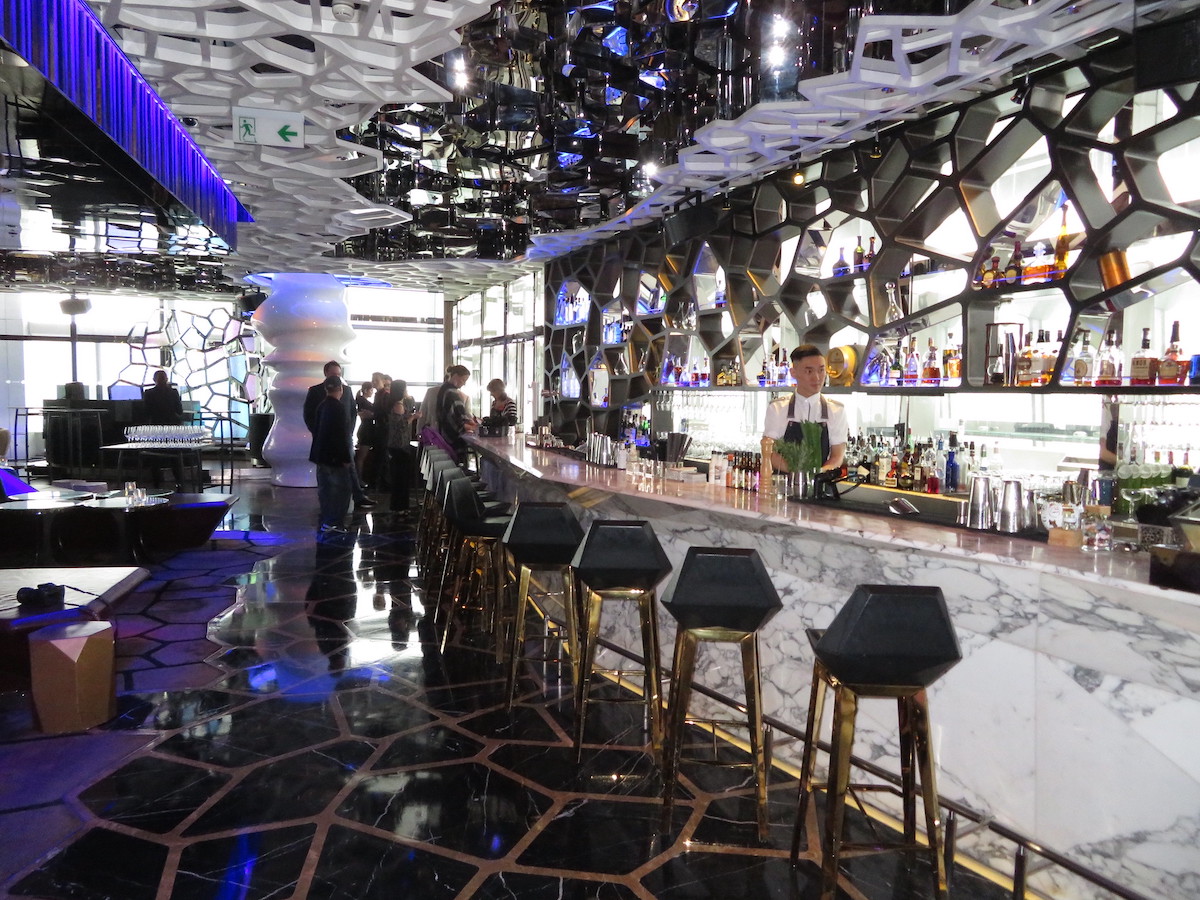 Positioned on the 118th floor of the International Commerce Centre, above the Ritz-Carlton Hotel, Ozone is considered to be the highest bar in the world.
Ozone was the brainchild of the Japanese interior design company Wonderwall. Their vision for the bar was to create a man-made environment of nature in an imaginary world. This decor, added to the fact that you are drinking at a bar 490 metres above sea level, makes a night at Ozone an unforgettable one on your Hong Kong bucket list.
Aside from enjoying the dazzling views of the city from its tallest building, you can also get stuck into a range of expertly made signature cocktails and a selection of Asian tapas and Japanese specialities.
12. Climb Tai Mo Shan (Hong Kong's Highest Peak)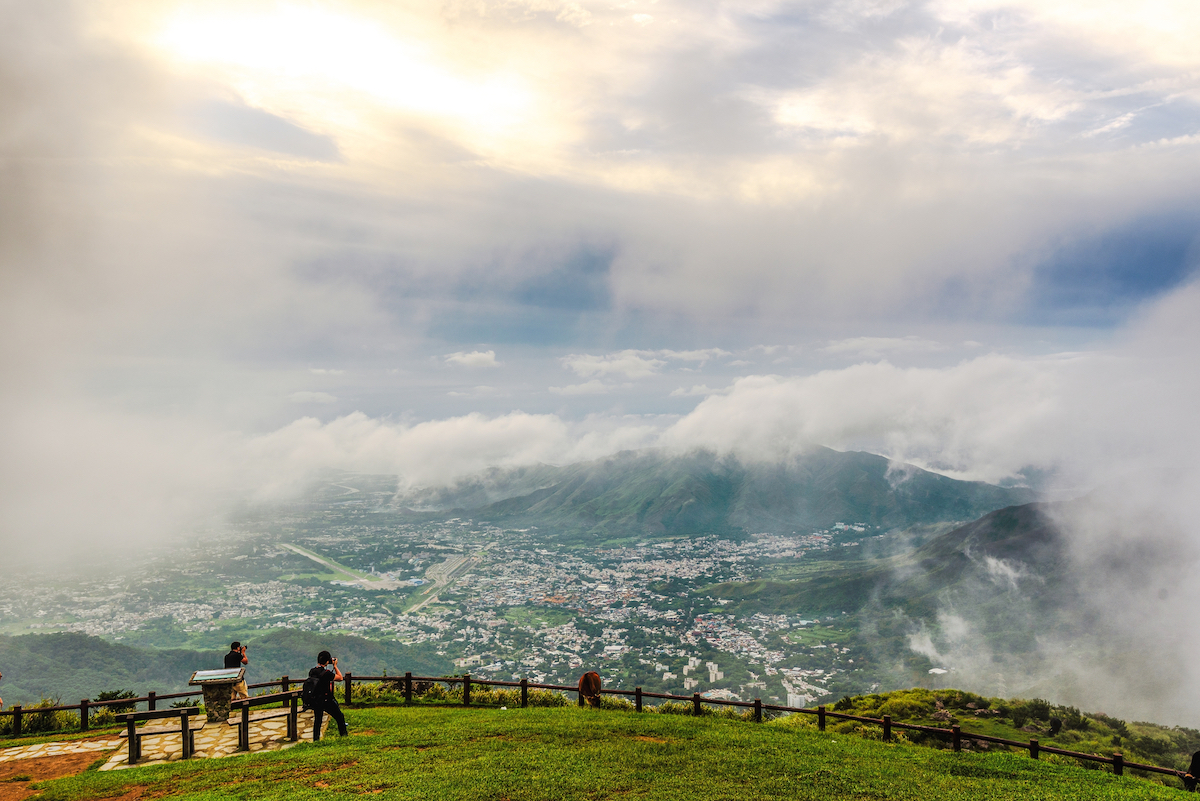 Tai Mo Shan stands at around 3,140 feet, and due to the humidity levels, it's also one of the wettest places in the entirety of Hong Kong. Conquering its peak isn't as difficult as some of the other famous touristy mountains, but depending on how you want to go about it, you can make it harder or easier for yourself.
If you want a complete view of Tai Mo Shan Mountain, then opting for the well-maintained MacLehose Trail is your best option. This 9.7-kilometre trail stretches from the Lead Mine Pass campsite near Tai Po on the eastern side of the hill to Route Twisk in Tsuen Wan on the west. Taking around five hours, this way up to the peak offers some of the best views of the surrounding hills and built-up Hong Kong itself.
For those that are more inclined to take an easier route, you can jump in a taxi or minibus from Tsuen Wan to get dropped off at Chuen Lung, a local village at the foot of the mountain. From here, the climb will only take you an hour to make it to the Tai Mo Shan Lookout and another hour to make it to the peak, where the Tai Mo Shan Weather Radar Station stands, commonly known as the White Ball.
Know before you go:
Location – Located in the centre of the New Territories.
Cost – Free
Opening hours – 24 hours
Time needed – Around 5 hours to travel and complete your trek.
Getting there – First, you'll need to get the MTR to Kam Sheung Railway Station, before catching the 64K bus to Ng Tung Chai Bus Stop, which is 100 meters away from the start of the main trail.
13. Take On Lion Rock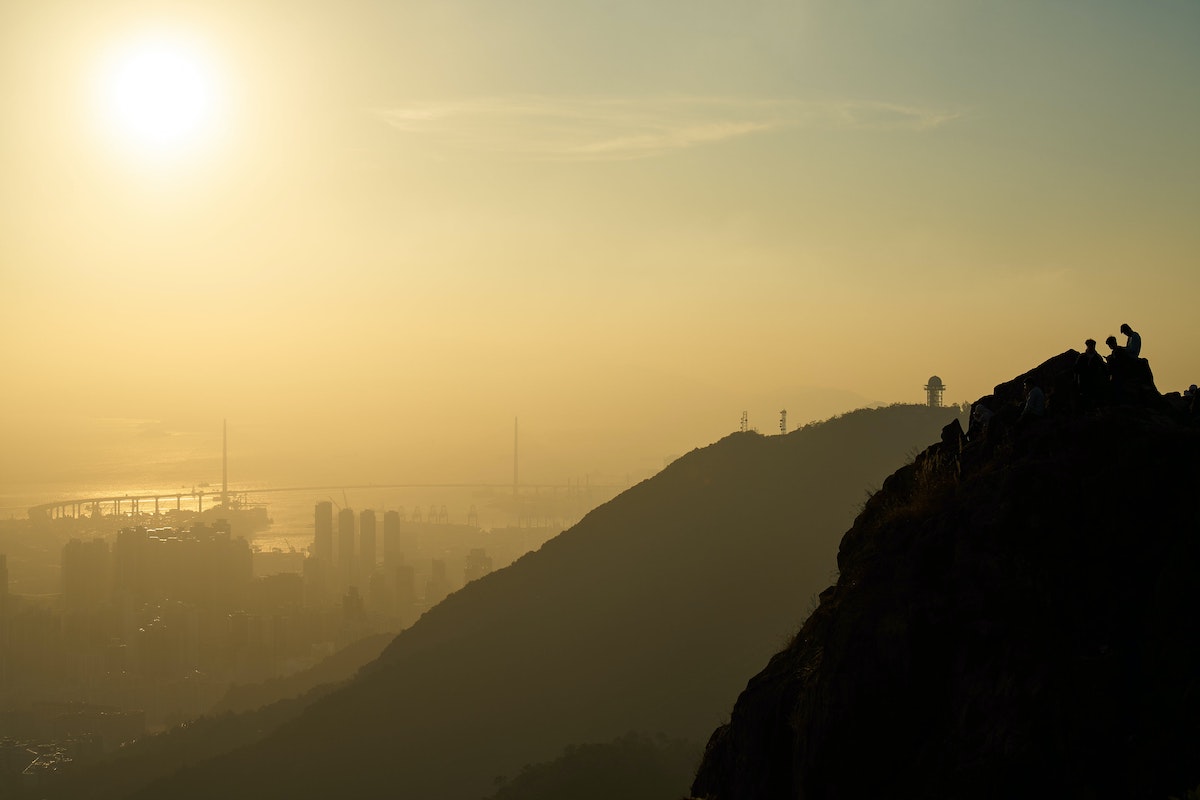 Lion Rock gets its name from its side-on profile, which looks a little like the face of a lion. This rocky crag has long been a place that has tested climbers for decades, and it isn't the easiest of climbs.
While there is an option to climb the face of Lion Rock, using traditional rock climbing techniques, most people choose to tackle the easier 340 steps that wind up the back of the rock.
Small logs are placed down the pathway of the tracks, allowing you to count off the steps as you go. Leading you through woodlands and riverbanks, the climb itself is worth it for the surroundings. On reaching Lion Rock's peak, you will be drawn in by the impressive views of the surrounding landscape, making this rewarding hike all the more worth it in the end.
Know before you go:
Location – Lion Rock is located in the Sha Tin District, just north of the city.
Cost – Free
Opening hours – 24 hours
Time needed – At least three hours to get to the destination and climb Lion Rock.
Getting there – Take the MTR to either Diamond Hill MTR Station or Wong Tai Sin MTR station. From there, you have two options to get to the start of the trail. Either walk an hour to the start of the trail or take a 10-minute taxi for around 30 HKD.
14. Get Your Fortune Read at Yau Ma Tei Tin Hau Temple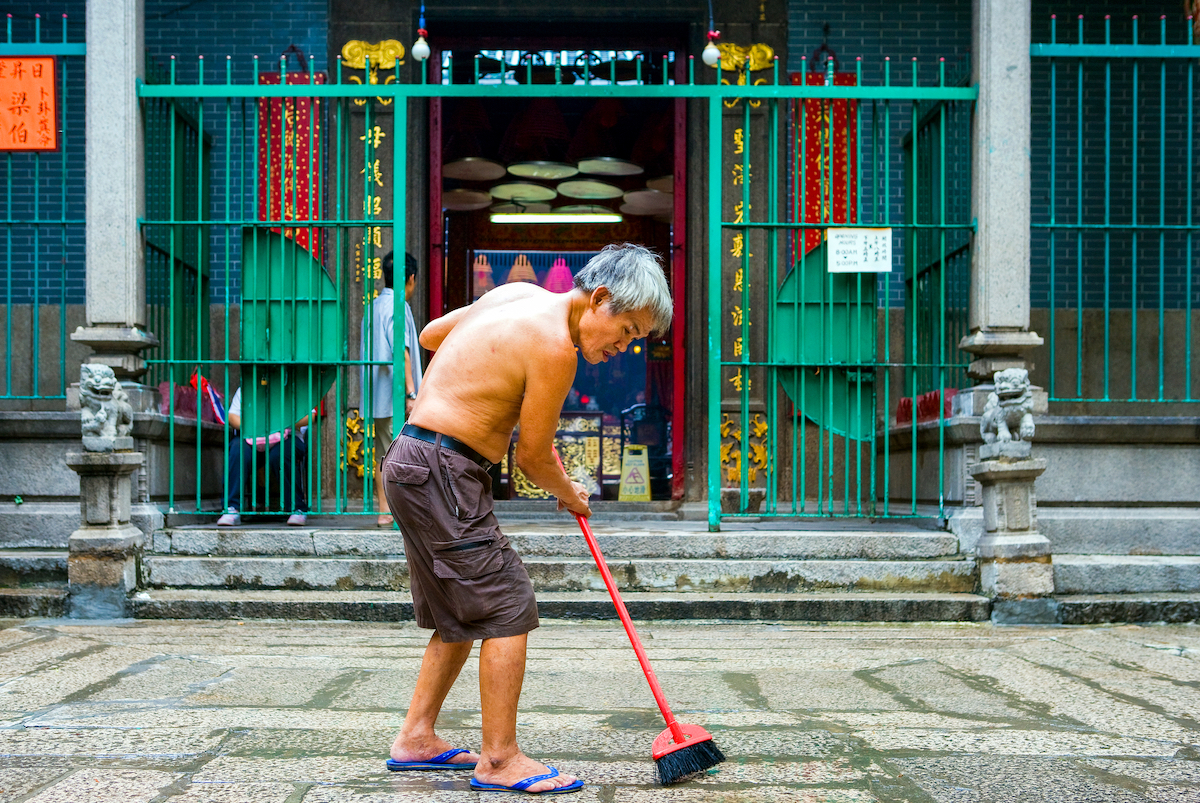 The Tin Hau Temple complex in Hong Kong is one of the most stunning and layered sets of buildings in the city. Made up of five individual buildings separated by four lanes, the five temples range in age and have been built over the last few centuries.
During the evening, the temples are beautiful places to explore, especially if you're interested in finding stunning examples of Cantonese architecture.
What really makes this area of the country most interesting, is its reputation for fortune-telling. The streets outside of the Tin Hau Temple complex are lined with market stall-like tents, each with a fortune teller inside. Fortune telling goes a long way in eastern cultures, I've found that out since living in Thailand for several years; superstition in this part of the world can be intense.
For a small negotiated fee, you can get your fortune told in one of these tents. Whether you believe in the 'power' or not, it's a fun and great way to get engaged with the culture here and may even reveal something to you after all… if you're that way inclined.
Know before you go:
Location – Tin Hau Temple complex is located on a public square street, in the Kowloon district.
Cost – You'll probably need to negotiate your price, but you will likely pay around 100 HKD
Opening hours – Starts around sunset and continues well into the evening.
Time needed – Set aside two hours to explore the temples and have your fortune read.
Getting there – Catch the underground to Yau Ma Tei MTR Station, from which you can walk to the temple.
15. AME Stadium Virtual Reality
The arrival of eSports with the ever-increasing developments in virtual reality technology has added newfound levels of excitement to gamers with a competitive streak. Hong Kong is one of the first places to combine this technology with the traditional video arcade at the AME Stadium; the first e-sport stadium in Hong Kong.
Through the use of virtual reality and adapted gaming controls, you take part in a range of virtual sports. This can be anything from virtual horse racing and skiing to boxing, rowing and football. This combination of video gaming and genuine sporting effort creates a fantastic experience for gamers or even casual gamers like myself (I had to stop buying consoles because I found them way too addictive!)
The facilities here are jointly developed by the sports science team Fitzio Fitness, which provides sports medical support and physical fitness solutions. With all this sports science data on hand, you are also given post-match training suggestions and scientific data analysis about your performance.
Know before you go:
Location – AME Stadium is located at 15 Middle Road in the Tsim Sha Tsui district.
Cost – Can't remember, sorry!
Opening hours – Monday to Friday, 11:30 am-11:00 pm; Saturdays, Sundays and public holidays, 10:30 am-11:00 pm.
Time needed – Take a couple of hours to try your hand at all of the eSport games on offer.
Getting there – Catch the underground to East Tsim Sha Tsui Station which is seconds away from AME.
16. Destimulate Your Senses in Kowloon Park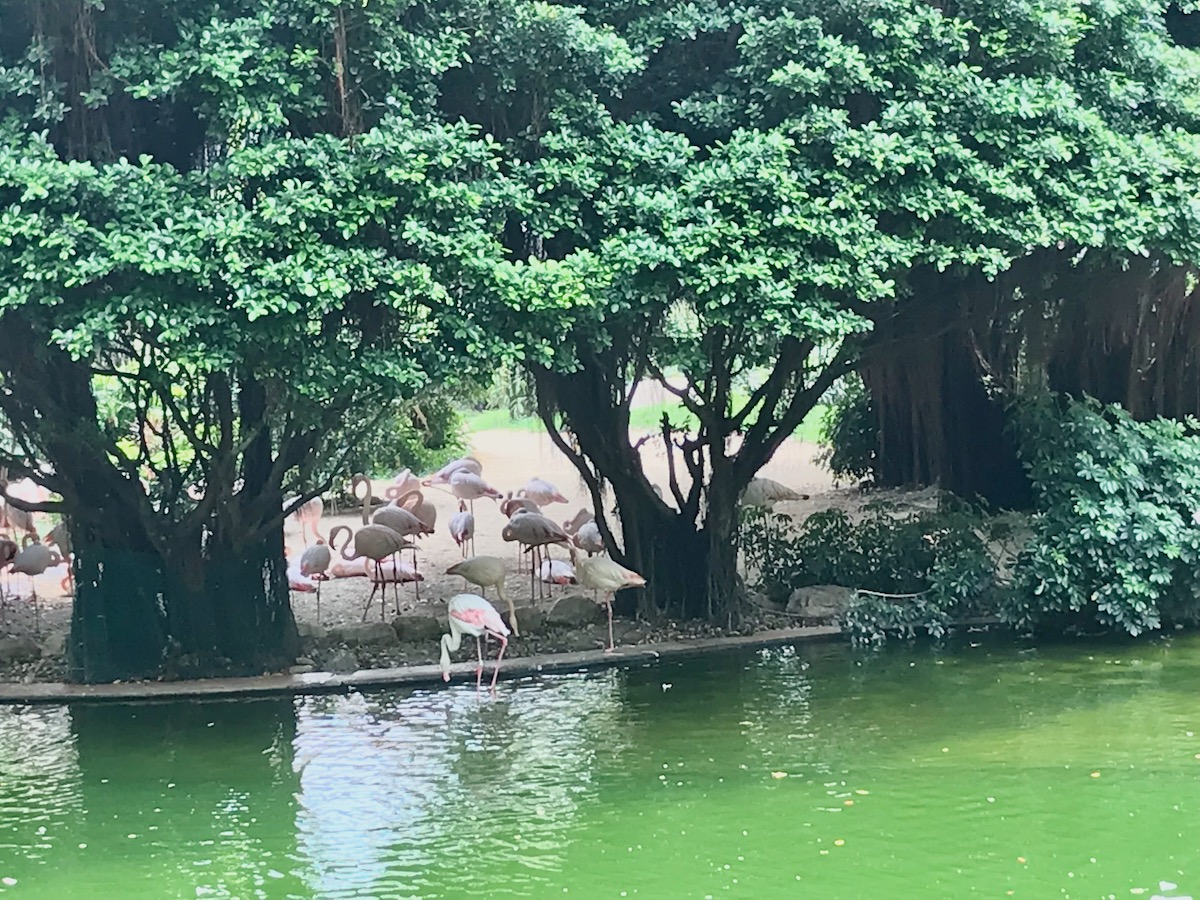 It doesn't always take a day-long excursion outside of the city to find a little bit of greenery and peace. Kowloon Park is in the heart of Hong Kong's Tsim Sha Tsui district and provides a charming parkland oasis amidst the concrete of the city.
Once a British Army barracks, the barracks were knocked down for the park to be created in 1970. The gardens make for a peaceful place to escape and are home to a wide range of flora, spread across its 33 acres of parkland. The rose garden and tree-lined walk are one of the most idyllic parts of the park and attract hundreds of visitors every day.
Aside from nature, Kowloon Park is also the site of the Hong Kong Heritage Discovery Centre, one of the preserved army barracks. This tells the story of Hong Kong's heritage and development over the decades.
Know before you go:
Location – Kowloon Park can be found in the Tsim Sha Tsui district, between Kowloon Park Drive and Nathan Road
Cost – Free
Opening hours – 5 am – 12 am
Time needed – Take a morning to wander around the park and discover all of its many attractions.
Getting there – Both Tsim Sha Tsui station and Jordan station are within walking distance of the park.
17. Tsim Sha Tsui Light Show
Since the early 2000s, the Symphony of Lights shows have been illuminating the building along the harbourfront of Hong Kong every single night. A mixture of lasers and projections set to a symphony curated specially by the Hong Kong Philharmonic Orchestra, it's a worthwhile addition to your Hong Kong bucket list.
The best vantage points to watch the show are from the Tsim Sha Tsui waterfront outside the Hong Kong Cultural Centre and the Avenue of Stars, the promenade at Golden Bauhinia Square in Wanchai, or from the sightseeing ferries that sail through the Victoria Harbour at just the right time.
Know before you go:
Location – Located near the Tsim Sha Tsui waterfront, close to the Hong Kong Cultural Centre
Cost – Free. If you decide to join a cruise, prices start from 270 HKD per person.
Opening hours – The show starts at 8 pm every night
Time needed – The show lasts around 10 minutes, but it's good to give yourself enough time to get a good vantage point.
Getting there – Take the train to Tsim Sha Tsui Station Exit E; it's only a 5-10 minute walk to the harbour from here.
18. Ride a Cable Car To Tian Tan Buddha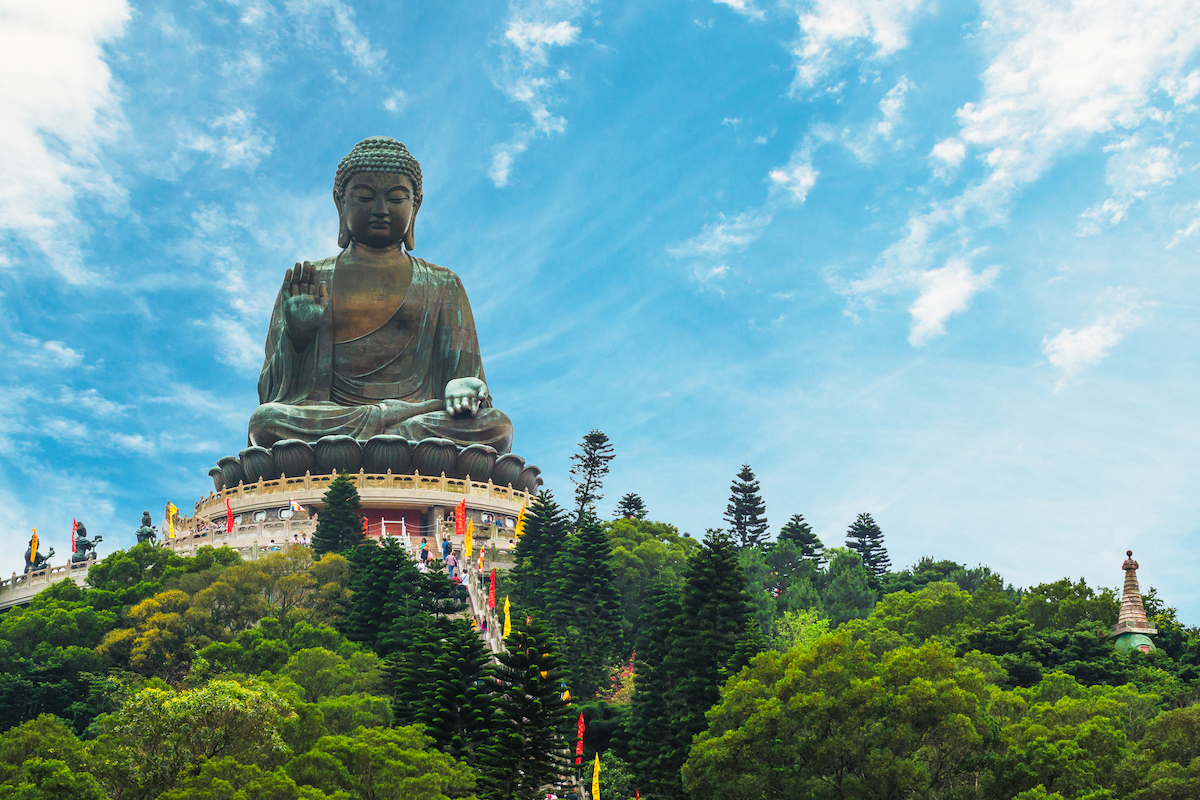 One of the largest western islands of Hong Kong, Lantau is a beautiful isle, boasting a mix of tradition and modernity. Arriving at the island's main settlement, the New Town of Tung Chung, you'll have the chance to wander around the former fishing village before heading inland to one of the island's most popular sights; the Tian Tan Buddha on the Ngong Ping plateau.
The Ngong Ping plateau is the island's highest point and home to a number of fantastic sights, including the Po Lin Monastery and its vegetarian restaurant. Above all else, it is the magnificent Tian Tan Buddha that makes this journey to the top all the more worth it. This huge bronze seated Buddha is one of the largest of its kind in the world and engulfs the entire skyline as you approach.
To get to the top of the island and to the big guy himself, you can either hike the two hours to the top or take the Ngong Ping 360 cable car to the summit which takes around 25 minutes. The cable car runs from Tung Chung and up to Ngong Ping plateau, giving you stunning views of the whole island below. If you book your Ngong Ping 360 ticket beforehand, you can skip the queues and get straight onto the cable car and to the top!
Know before you go:
Location – Lantau Island is located to the far west of Hong Kong.
Cost – Standard cabins start from 235 HKD
Opening hours – 10 am – 6 pm
Time needed – Give yourself half of the day to get to the island and to the top of Ngong Ping.
Getting there – Take the rail to Tung Chung Station and then the cable car to Ngong Ping.
19. Sunset Peak Hike
Sitting further east on Lantau Island is the mountain known as Sunset Peak, one of the top five highest peaks in Hong Kong, and a favourite hike among locals and tourists alike. This five-and-a-half-mile trail takes around four hours to complete and can be completed in a circular motion; ideal if you're not a fan of having to walk back on yourself.
Starting from the town of Tung Chung, the first section of the hike takes you towards Por Kai Shan, a wooded area made up of concrete steps, allowing you to make ground pretty quickly. After this, the route turns into more of a dirt path, closed in with a few boulders on each side.
After just under a mile, your path will join the Lin Fa Shan Trai, taking you on to Sunset Peak itself. The 360 views on Sunset Peak make the entire climb worth it, and as the name suggests, hiking up here for the sunrise or sunset only adds to the beauty – it also allows you to hike in cooler temperatures as there is very little shade along the way.
Coming back down the peak on its western side, along the Lantau Trail, will bring you back down to Pak Kung Au where you can catch the bus back to Tung Chung.
Know before you go:
Location – Sunset Peak is located in the centre of Lantau Island, just south of Tung Chung.
Cost – Free to climb
Opening hours – 24 hours
Time needed – At least 4-5 hours to complete the hike and get back.
Getting there – Take the rail to Tung Chung Station and the bus back to Tung Chung from Pak Kung Au.
20. Visit The Tai O Houses on Stilts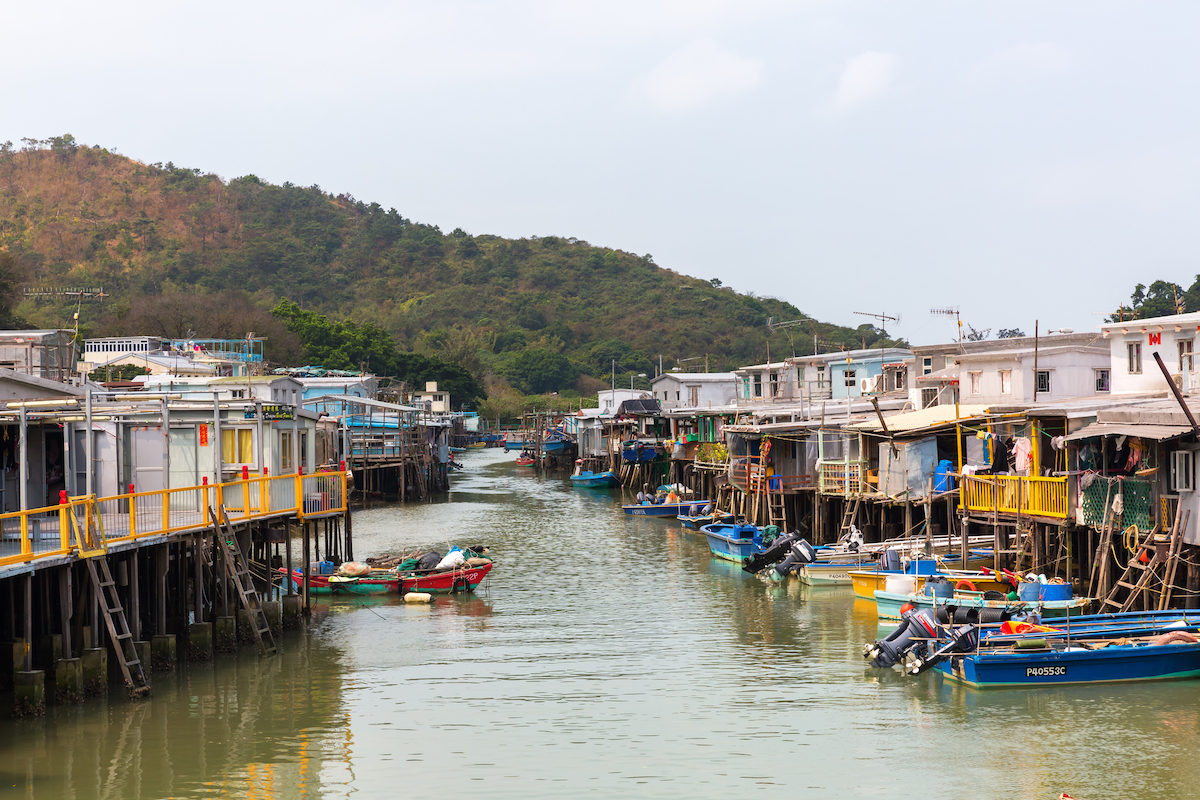 Once you've completed the Tung O Ancient Trail, you will arrive in the fishing town of Tai O. Home to the Tanka people, who have lived on and around the water for centuries, the town is made up of traditional stilt houses.
These homes built on stilts allow the locals to live almost on the water, without a division between sea and land. Their oneness with the water and ocean life is a firm part of their society and cultural history. Not unlike Cienaga Grande del Magdalena in Colombia or Inle Lake villages in Myanmar, the ability of humanity to live this amphibian-like way of life seems to be a worldwide phenomenon.
A truly awesome sight, wandering around these stilted homes shows you how the modern world and historic cultures can live in harmony and it is these fascinating villages and communities that must be continually protected and preserved.
Know before you go:
Location – Tai O is located at the extreme far west of the Lantau Island
Cost – Free to visit
Opening hours – 24 hours
Time needed – Give yourself a few hours to explore the town and its surroundings.
Getting there – Either complete the Tung O Ancient Trail and arrive on foot or take the Number 11 bus from Tung Chung town.
21. Island Hop To Cheung Chau island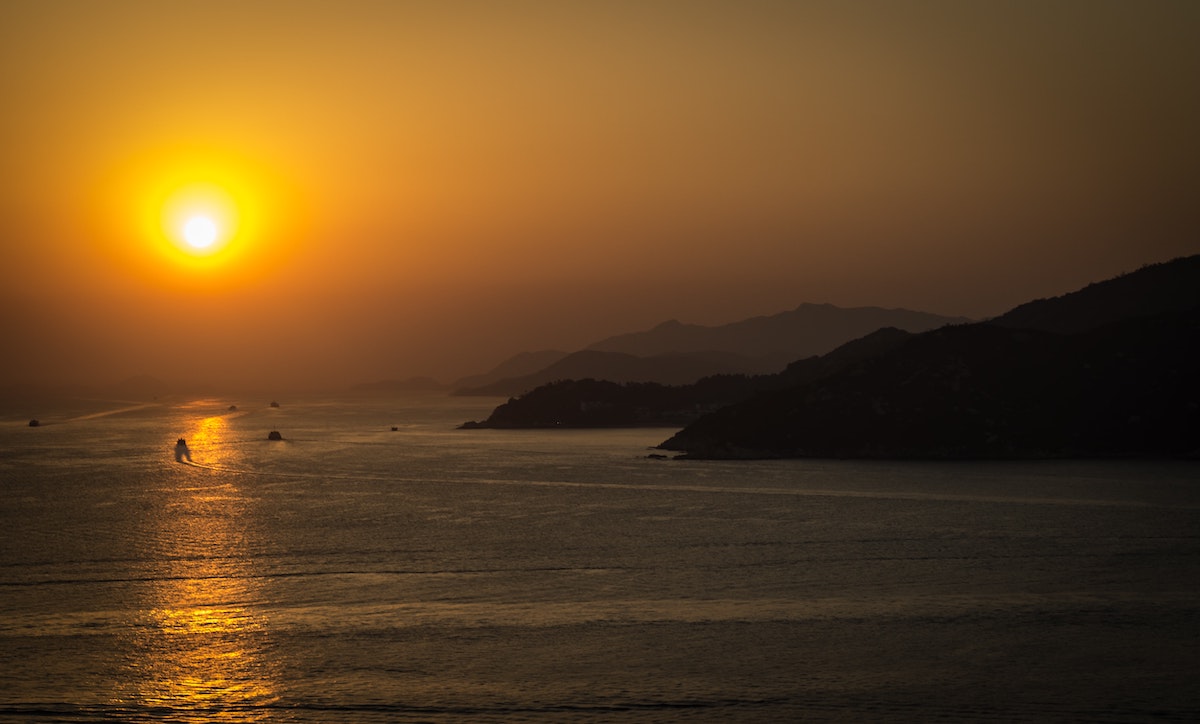 A worthy addition to your Hong Kong bucket list is visiting the popular Cheung Chau Island. With beautiful beaches and narrow alleyway streets, the island is free from car traffic and harbours the ideal balance between activity and relaxation. Though you can wander through the many markets and food stalls, its northern edges are far less inhabited and make for a great hiking country.
The North Lookout Pavilion on the northern edge of the island is the highest point in Cheung Chau and provides stunning views across the island and surrounding oceans. You can start the hike from nearby the Pak Tai Temple, which leads you along a paved path, up to this terrific vantage point.
Know before you go:
Location – Cheung Chau Island is located southeast of Lantau Island.
Cost – Free!
Opening hours – 24 hours
Time needed – Take a few hours to hike around the island.
Getting there – Take the ferry from Central Ferry Pier No. 5 on Hong Kong Central.
22. Pink Dolphin Spotting on Lantau Island
Fastly becoming a rare sight around the waters of Hong Kong, the pink dolphins have long been a loveable attraction for those island hopping in the area. If you're hoping to catch sight of these smart animals yourself, your best chance is to join a tour that will take you to the dolphin's playgrounds between the islands of Lantau and Peng Chau.
Though numbers are quickly dwindling, the recent pandemic has halted a lot of the boat traffic, helping the pink dolphins to claw back their territory and they seem to be returning to the waters in greater numbers.
Know before you go:
Location – Pink dolphins can be spotted on the east coast of Lantau Island.
Cost – 560 HKD for a boat tour that lasts around two to three hours.
Opening hours – Tours generally run in the mornings from 9:30 am until 12:30 p.m
Time needed – At least three hours for the tour.
Getting there – Tours start from Tung Chung Harbour, which is just a short walk away from Tung Chung MTR station.
23. Explore The Abandoned Ma Wan Ghost Town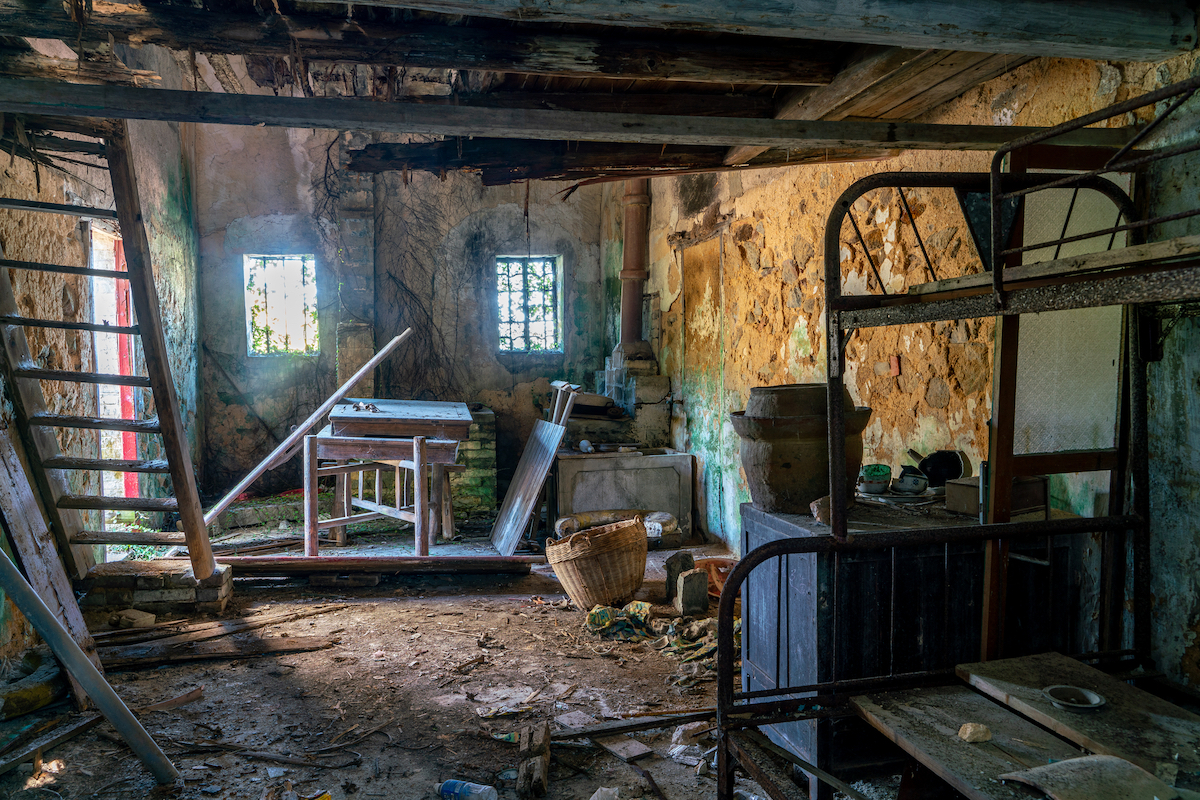 The island of Ma Wan is one of Hong Kong's smallest, sitting between Lantau Island and Tsing Yi and dominated by a huge bridge that connects all three. Before such modern infrastructure was built on the island, along with its private housing estate of Park Island, Ma Wan was home to a number of indigenous fishing communities.
All of this changed in the 2000s when modern building projects sought to 'buy out' or forcibly move the families of these ancient fishing villages. Though many protests ensued, the families were eventually left with no choice but to relocate, and all that remains now on the island is a ghost town of a village.
With hollowed outbuildings that were once homes, abandoned schools and closed businesses, visiting this village is a little like walking through the streets of Pripyat in Ukraine (before the war). In stark contrast to the ultra-modern buildings and developments, visiting the ghost town of Man Wan can't help but leave you with a sense of loss and changing of the times.
Know before you go:
Location – Ma Wan is located between Lantau Island and Tsing Y.
Cost – 10 HKD for the ferry to the island, free to wander around.
Opening hours – 24 hours
Time needed – A couple of hours to walk around and explore the ghost town.
Getting there – Jump on the fast ferry that runs between Central and Park Island Pier and departs from Central Ferry Pier No. 2
24. Snorkel at Sharp Island Beach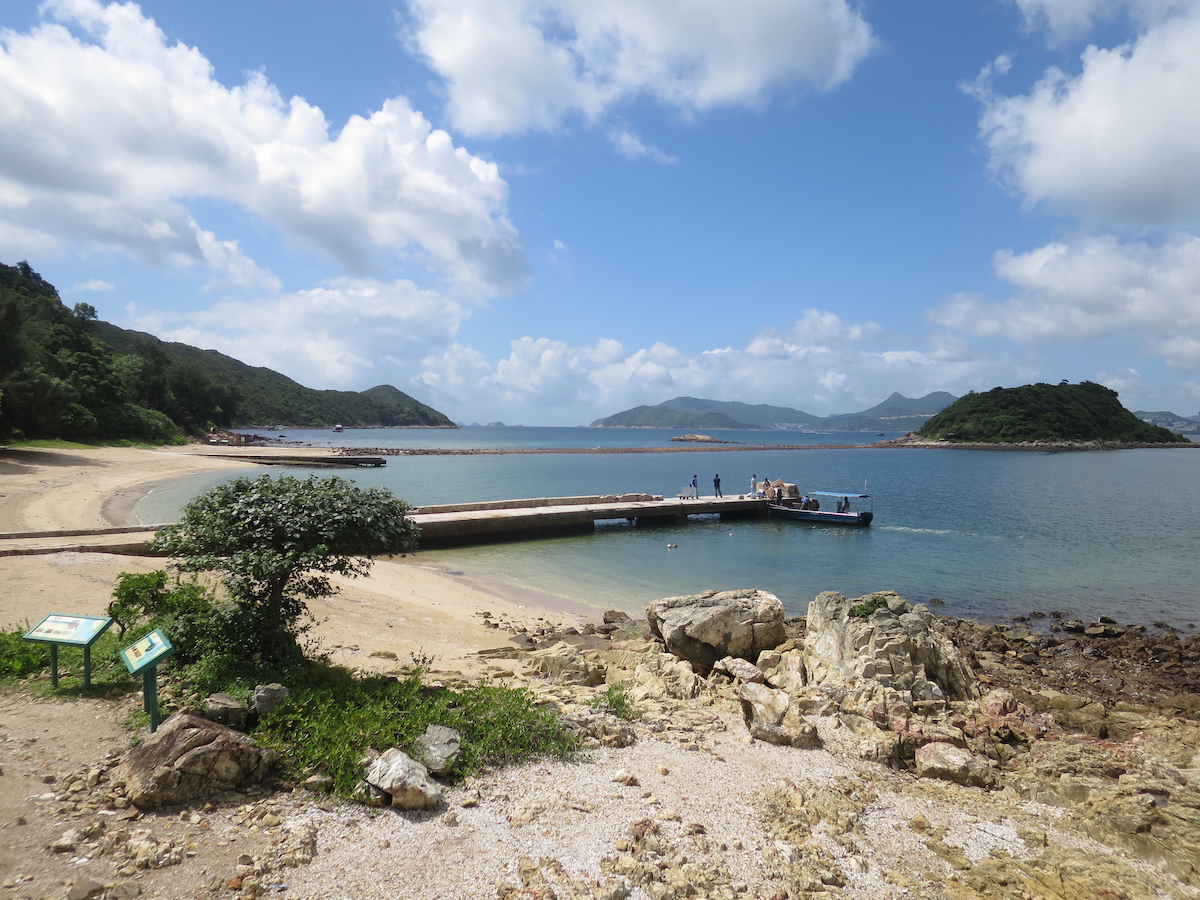 If you're looking for a bit of sun, sand and relaxation during your Hong Kong bucket ist quest, you're in luck. And, although the names of Sai Wan, Ham Tin, and Tai Wan all jump out as popular places to sunbathe, if you head to any of these spots, you're going to have to deal with crowds. So why not head to a beach a little less popular and get the true relaxation you need?
Sharp Island is a small island between Hong Kong Island and Kau Sai Chau. While it may be one of the smaller islands, the beaches of Sharp Island are some of the most stunning in the country. Hap Mun Bay Beach, at the southern end of the island, boasts white sandy shores and is surrounded by lush forests, making for a relaxing afternoon well spent.
Know before you go:
Location – Between Hong Kong Island and Kau Sai Chau.
Cost – 40 HKD there and back on the ferry
Opening hours – 24 hours
Time needed – Depending on how much you love the beach, you could easily spend a whole day relaxing here.
Getting there – Take the ferry that shuttles between Sai Kung Town and Sharp Island at Sai Kung Pier.
25. Day Trip to Macau (Bonus Option)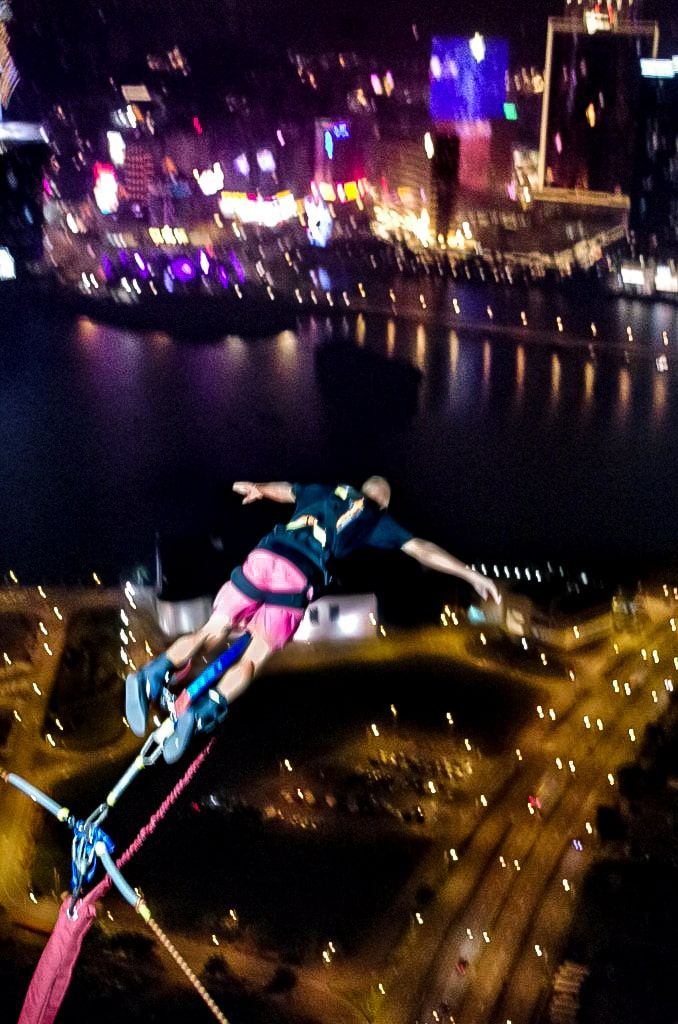 All it takes to visit another country while conducting your Hong Kong bucket list is a ferry ride to the nearby autonomous region of Macau. Separated by a small stretch of the South China Sea, a day trip to Macau swaps the relatively conservative Hong Kong for a day of high-flying living in Macau.
Known as the Vegas of the East, Macau's lax gambling laws have led to a huge casino-based economy. Stopping off and people-watching for free at one of the 41 casinos in Macaus will give you a taste of how the other half lives. 
Aside from hitting the casinos, you can also get your adrenaline junky fix by doing a bungee jump. This isn't any old jump; however, the Macau Tower bungee jump is the highest commercial bungee jump on earth!
Jumping from Macau Tower is certainly one of those things that you will remember for the rest of your life, and claiming to have done the highest bungee jump in the world will give you serious pride (or chilling nightmares for life) and that's how I decided to spend my 30th birthday.
Know before you go:
Location – Macau is only 37 miles west of Hong Kong, a quick jaunt across the South China Sea.
Cost – The ferry crossing will cost around 170 HKD.
Opening hours – 24 hours
Time needed – Take the whole day or even spend the night seeing the city by moonlight.
Getting there – You can catch the ferry from the Hong Kong Macau Ferry Terminal, located near the Shun Tak Centre on Hong Kong Island. This ferry leaves every fifteen minutes and will take around one hour, costing around 170 HKD one way. You can also catch a bus from Tsim Sha Tsui district or Hong Kong Airport, paying around HK$65 for a single journey. But this will take considerably longer at around three hours.
Case closed; there is so much to see and do in this city/country/administrative region – whatever the hell you want to label it as, and now you have more options than a mere stopover for your very own Hong Kong bucket list challenge – please feel free to tell me if I missed out any items!