Looking for a Turkish bath for men experience that isn't scared to talk about the good, the bad and the ugly? (not to mention the downright awkward).
Then look no further, gents.
If you're eager to know what happens in a Turkish bath for men like me who unapologetically love spa culture and you want to fully prepare for your best chance of hammam happiness, in the words of the great George Michael; baby, I'm your man.
I'll get the party started with a little cheat sheet of expectations for your first Turkish bath (also known as a hammam) and then we'll jump right into the unedited, raw truth of a male Turkish bath experience.
Turkish Bath Etiquette 101: How To Hammam (in 6 Steps)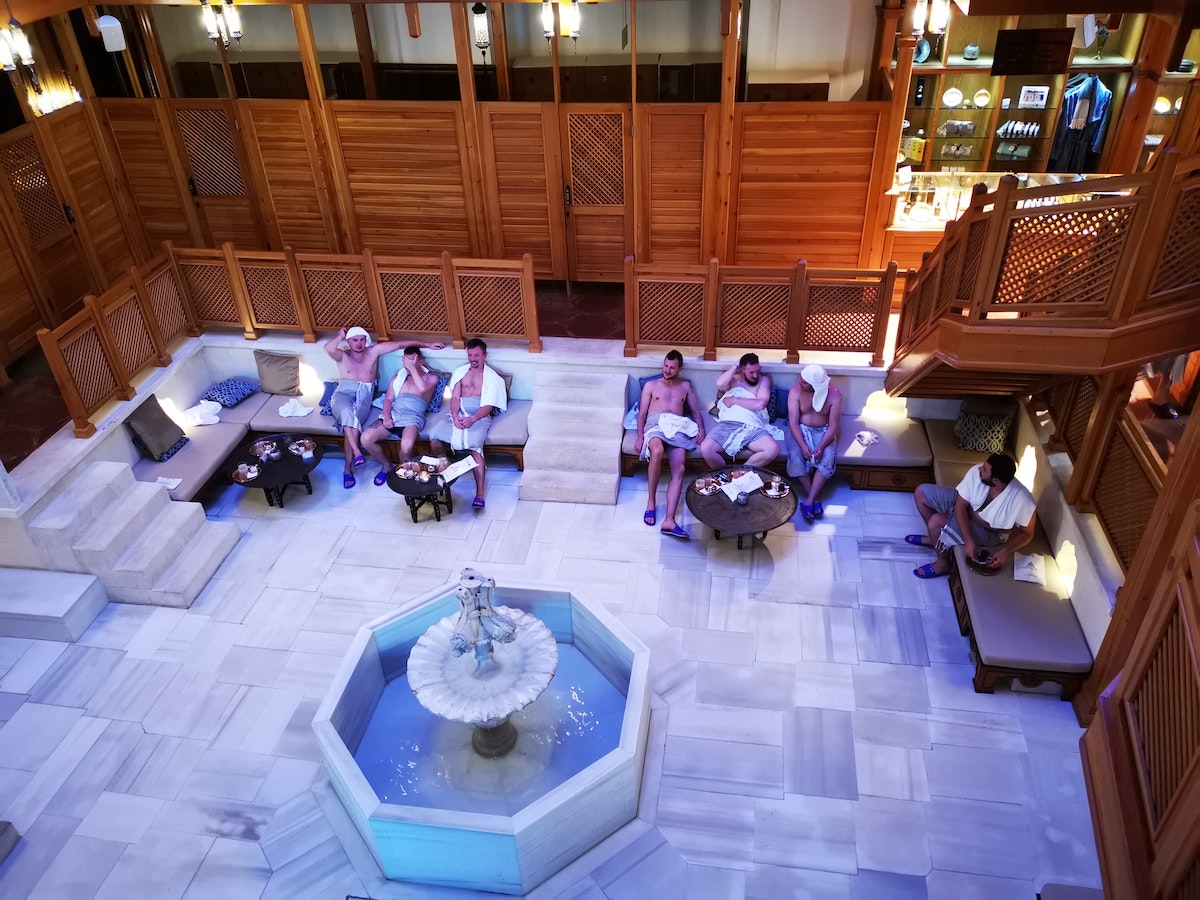 As a ritual steeped in tradition and culture, there are some things worth knowing before you head to your first hammam.
To begin with, men and women bathe separately, unless you go to a modern bathhouse that accommodates couples. As a man, you'll also be expected to be naked but to keep your pestemal (a checked cloth to tie around your midriff) around your waist while you're walking around.
You'll need to remove this and use it to lie on when it's time for your massage. Oh, and bring some change with you; it's expected that you tip your masseuse around 15% of the price of the service.
Every hammam is different, but generally, your experience will follow these steps:
Step 1: Acclimatising to the heat
You'll begin your experience in a dry and hot room to allow your body to acclimatise to the heat and for your pores to start opening up.
If you are outside of Turkey and your Turkish bath of choice is trying to recreate those in the country, this will also give you a great chance to check out all of the architecture – usually a marble-covered room with a domed roof, basins and a central raised platform. The wait usually lasts around 15 minutes.
Step 2: Starting your hammam treatment
Depending on the venue, you will be shown where to go next by your male masseur, known as a tellak. Typically, you'll be shown to a gӧbektași, a heated marble platform, and asked to remove your towel and use it to lie down on. Your masseur will begin to pour warm water on you.
Step 3: Getting a good scrub down
Next, your tellak will use a kessa glove to give you a full-body scrub. This can be surprisingly painful so prepare yourself for some slight distress. Maybe it'll be worth it when you see how much dead skin is being removed! No one said a Turkish bath memoir would be written without a confession of discomfort, certainly not mine.
Step 4: Soaping up
Using a large cloth roughly the size of a pillowcase, the tellak will start soaping your body. They do this by filling the cloth with air, dipping it into a bucket of warm soapy water and squeezing out a scurry of bubbles onto you. After a quick cleanse, these will be washed off with warm water.
Step 5: Traditional massage
Once your muscles are warm and well and truly relaxed, it's time for the massage. Typically, these are done with olive or rose oil, which helps to relax and moisturise your skin. Be warned: Much like the Thais, the Turks are known for their vigorous massaging.
Step 6: Relaxation
After your massage, you'll be taken to a cooler room where you can take a shower or relax with a cup of tea and Turkish treats. You can stay here for as long as you want, or as long as it takes to get your head around what you've just experienced.
Turkish Bath For Men: My Experience Having a Hammam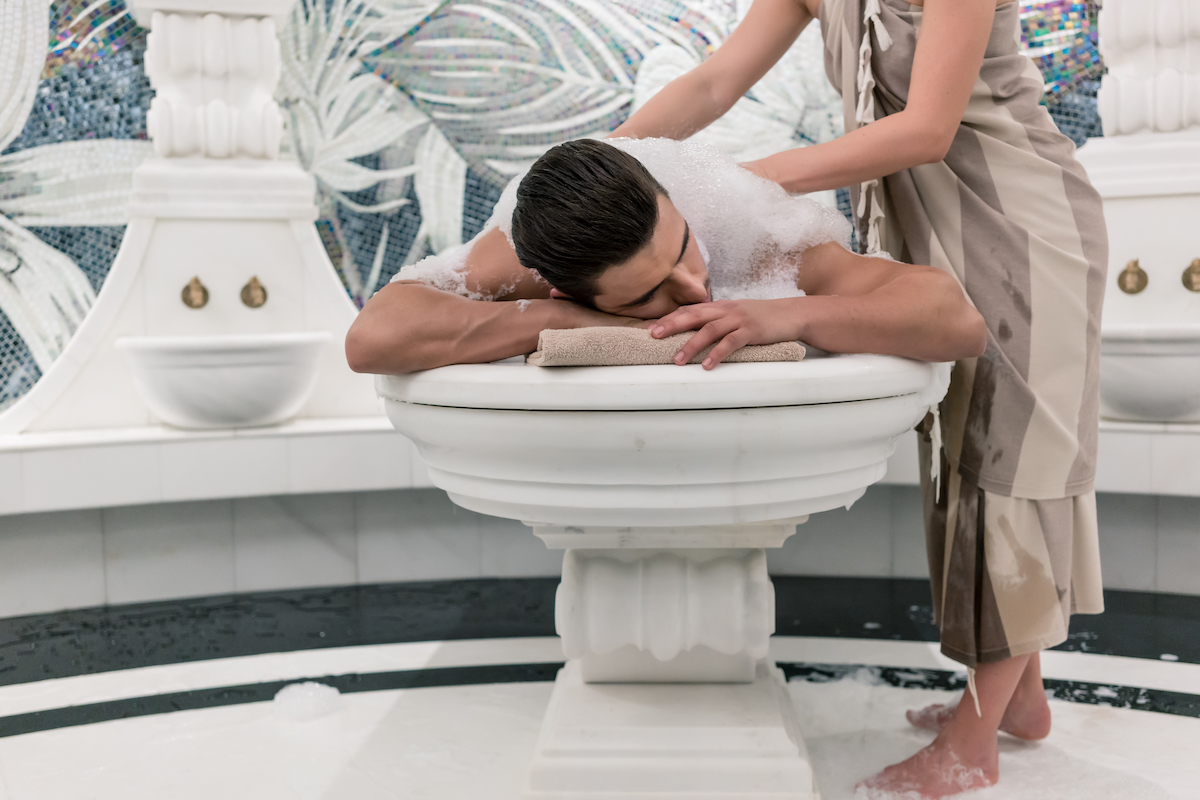 Now we have gotten the 'typical' Turkish bath experience out of the way, let's get into mine. I don't know if the Turkish bath male experience is any different to that of a female. I am simply a man and this is my honest experience of my first ever hammam, which was very similar to the others as I searched for the best Turkish bath Istanbul had to offer.
Let's dive right in.
Question: What's worse than having a language barrier when you don't understand what's going on?
Answer: Having a language barrier when you don't know what's going on, while you're naked and there's another guy wrestling and throwing you about! (Unless you like that sort of thing, of course).
I didn't choose the spa life; the spa life chose me.
I've chilled out for days in the Onsens of Japan.
Kicked back in the natural mineral waters of the Dead Sea of Israel, doggy-paddled in the To Sua Ocean Trench of Samoa and enjoyed an abundance of spa treatments in Thailand as a Chiang Mai expat.
So it only made sense for me to try out the world-famous Turkish bath Istanbul experience.
After parting with my money and requesting the whole works, I was told in broken English to go and change into a towel (no shorts underneath – birthday suit only).
A couple of minutes later, the guy directed me to what resembles a massive steam room (a big, hot, steamy room, but not as dry or as intense as a sauna). I was instructed to lie down on a towel on the marble surface. I lay down and I thought to myself; 'this is so relaxing,' as the guy came in with a bucket of soapy suds and plonked it down next to me.
He then began to massage me immediately. I don't love a firm massage, but my tolerance has upped somewhat after living in and travelling around Thailand for so long.
However, this was borderline sadism. The employee then flipped me over ten minutes after, onto my back and it was more of the same, with him throwing me about and aggressively poking away at me.
My towel came off and I was naked a lot of the time. I have no problems at all with being naked (in fact, I prefer it over the oppressiveness of clothes on the best of days) but there's something that feels inherently awkward getting manhandled in such a fashion whilst in the nuddy when you don't speak the same language.
After feeling like I'd just gotten to third base with someone who I knew nothing about I was then dragged over to the sink, where I received the most rigorous of sponge baths, accompanied by the guy's howling chuckle.
The laugh, which he let out pretty much every 30 seconds, while repeatedly affirming; "gooood, goooooooood," added to the unpleasant feeling I felt during the whole ritual.
Nobody said the Turkish bath Istanbul-style encounter would be easy, no one ever said it would be this hard…
The experience was far from pleasant and I'm pretty sure after this (and a few other cracks of the whip) I will never have a Turkish bath ever again. Getting thrown about and really hard massages like that aren't really my cup of tea and I find it hard to understand how anybody would find that relaxing.
But each to their own.
When the hammam experience finally ended I was instructed to shower but I told the creepy laugh guy that I wanted to stay and just relax for about 30 minutes or so. It took a while for him to understand, but he finally got it with some blundering hand gestures.
He left with one final eerie chuckle that will haunt me until my last breath.
As I sat there, a sea of tranquillity soaked every cell of my body. I felt incredibly relieved that it was all over. In my (and his) defence, the honest account written here is all completely normal and part and parcel of the Turkish bath tradition within the country (again, I tried out a few more hammams and it was all the same story).
Also, I'm not much of a prior-to-the-experience Googler myself in these situations. I'd rather commit blindly to a new travel bucket list item and go with the flow.
With that being said I guess I did have my own set of preconceived notions after booking my cheap flights to Turkey and I expected more of a relaxing spa-like experience, where I could just kick back and get lost in quiet contemplation.
Retrospectively, I'm sure there are a lot worse things to do than get your body exfoliated and some knots loosened up in your tight areas and I certainly need it with all of the running that I do. This was simply not my idea of relaxation (but it works for millions of other people so try it out yourself).
If anything, it actually made me tenser!
I really didn't enjoy it and the next time I go to Turkey, with the ordeal of the Turkish bath for men experience told and fully ticked off for good; I'll just enjoy my tours to Istanbul by stuffing my face with Turkish Delight and Baklava and getting my beard looking sharp by one of the many skilled barbers within the country instead.
Jetting off to Turkey?