Are you a fairweather football fan wanting to know how to buy Boca Juniors tickets as a tourist in Argentina, or even for their arch-rivals, River Plate?
Or maybe you are more hardcore and want the best of both worlds; is securing Boca Juniors vs River Plate tickets for Argentina's "superclasico" a major goal for your sports bucket list?
As someone who has been there, done that and evaded many a dodgy ticket tout around the world; sit back with a nice cuppa tea (or yerba mate if you're already in the country) and I'll discuss the intricacies of buying tickets for Boca Juniors and River Plate as a tourist within Argentina.
How To Buy Boca Juniors Tickets As A Tourist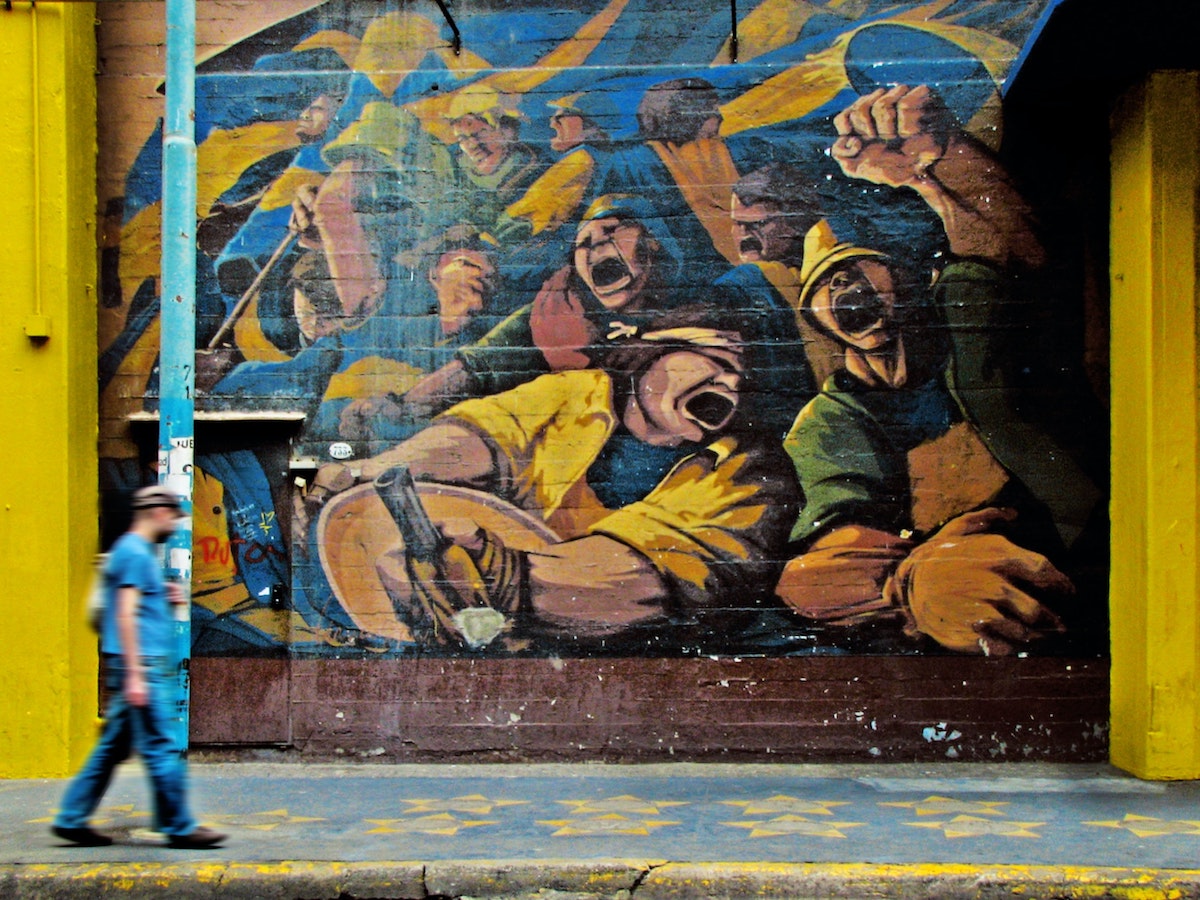 A tour agency is your very best bet for securing Boca Juniors tickets in terms of personal safety and not being ripped off with fake tickets. I know this might sound boring to those who like to be completely autonomous on the road, but Boca Juniors Football Club does not sell tickets to individuals.
The system is very much (rightly) against you because the club rewards loyalty and this club has one of the most passionate and ardent fanbases in the world.
They sign up to wait on a waiting list to receive an official Boca Juniors membership card in order to buy a ticket and the current waiting list is eight years!
Sometimes those fans sell their tickets for a match, but it's not black and white and if you don't personally know a Boca fan who you 100% trust, then your chances of being extorted are extremely probable.
Also, Boca fans have formed a Boca admin-sanctioned group called the "Defensa de Socios" who patrol the entry gates for obvious foreigners to "confiscate" their tickets – you must be pragmatic and understand that Boca fans are intense, hardcore fans and that a significant minority of them do not want you there as a tourist.
A bonafide tour agency will prepare you for this eventuality and you need to be painstakingly aware of this or you could leave Buenos Aires incredibly disappointed.
The world of football has always been rife with dodgy geezers and scam artists. Vultures that creep around online with fake ticket scams, or even worse for those new to the game – preying in person on unsuspecting, naive tourists with more cash than their football culture IQ.
I searched high and low for this answer and the answer is definitely going to a bonafide tour agent in Argentina.
I went with the company, 'Tangol' which is one of the most reputable companies in Argentina for securing Boca Juniors tickets, unlike other companies that I read up on with fake ticket stories and they also had a fast customer service email service, offering me a wide array of options before I sealed the deal.
Sadly, Tangol has lost the Superclasico gig and has not had Boca Juniors vs River Plate tickers since 2018 so it's trickier than ever to grab a ticket – especially if you want to support from the Boca side.
How To Buy Tickets for River Plate As A Tourist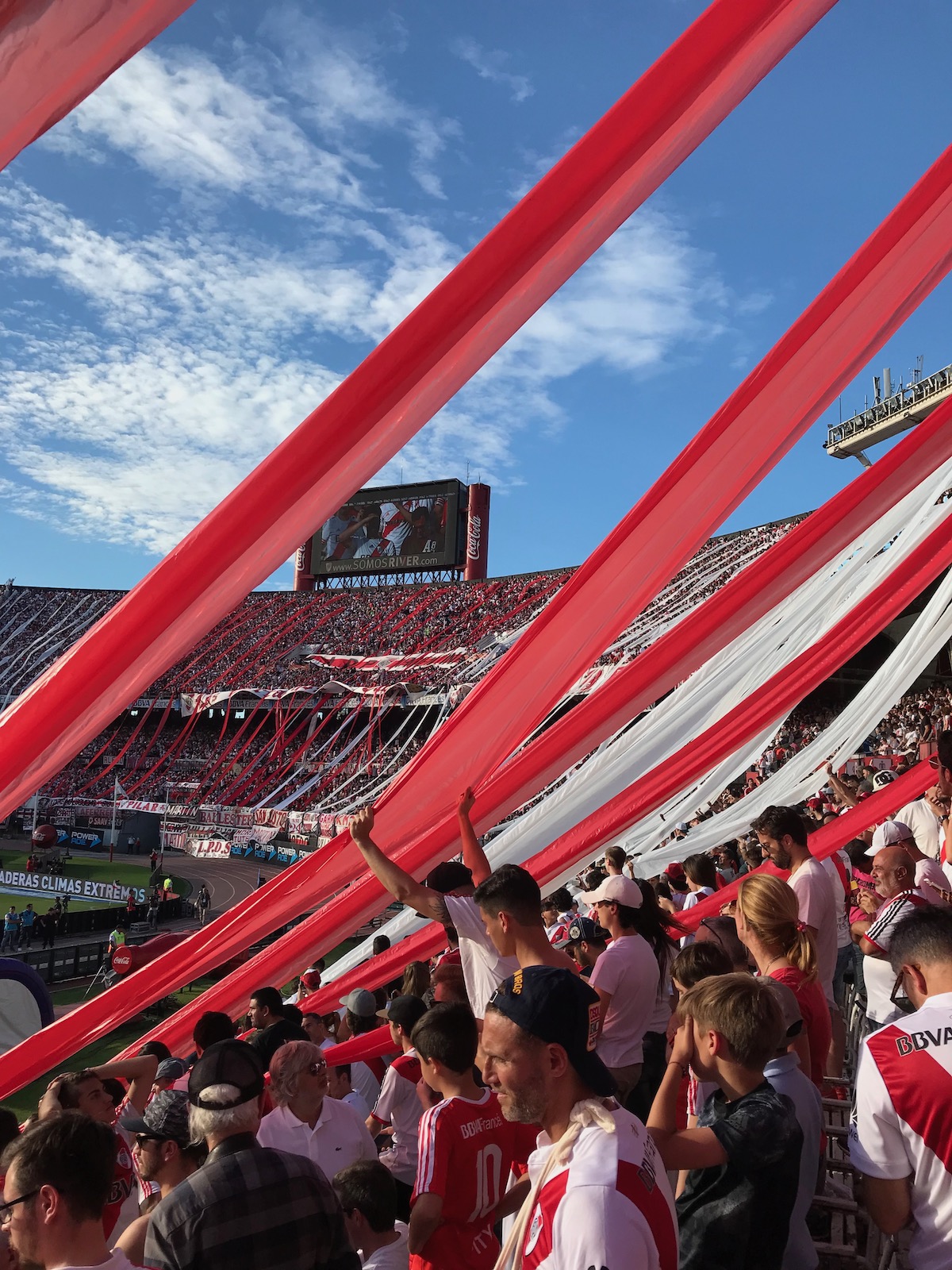 Buying tickets as a tourist for River Plate is much easier than buying tickets for Boca Juniors. Just rock up to their stadium, Estadio Monumental Antonio Vespucio Liberti (AKA El Monumental) between 10 am – 7 pm.
Tickets for nose-bleed seats (high in the stadium) were around 5000 Argentine pesos and it gets pricier if you want to be closer to the action, with premium tickets rising to 2,550 pesos, however due to massive inflation you might (sadly) want to add 70% on those numbers.
As a foreigner, you will need to bring your passport with you to acquire these tickets. I will discuss how to get to El Monumental Stadium in this post, for those wanting this option or to go for a stadium tour of River Plate.
How To Get Tickets For Boca Juniors vs River Plate (The Superclasico!)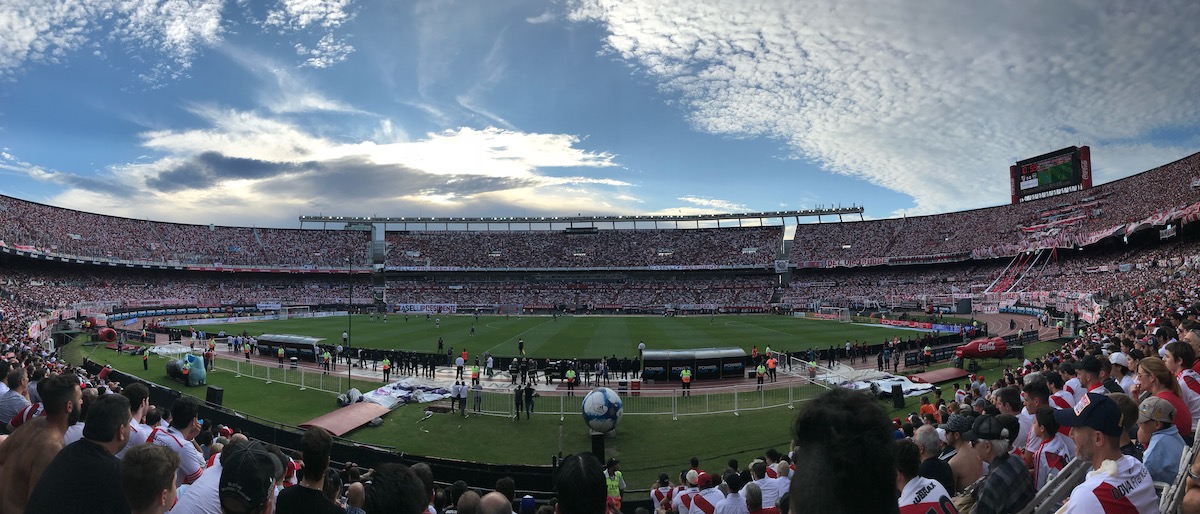 If you want the best of both worlds and you want to see River Plate go head to head with Boca Juniors, then forget the above method… the local derby is a whole different ball game and you must go with a tour agency.
Step forward Tangol, after looking at all of the options that they sent me when I first enquired; I decided to splash my travel fund cash, paying 12,000 Argentine pesos for what I felt was pretty much the best seat in the ground for a last-minute tourist!
This an extra reminder that Tangol is no longer the go-to guy for Boca vs River tickets and also to not buy into anyone's bullshit who lurks outside either of the clubs' grounds, saying they can get you cheap Superclasico tickets.
They are probably lying and your starry-eyed traveller's dream will turn into one of those "holidays from hell" tv shows.
In 2018, the Boca fans took umbrage to the illegal resales considering the fact that they were die-hard Boca fans, waiting excitedly in the wings while fairweather fans (or tourists like myself wanting that sweet sport bucket list tick) were being prioritised over their unbridled loyalty.
Local authorities did their job and cancelled this option.
I have it on good authority in the Argentina Superclasico online world that your best bet is to buy a ticket from River Plate (when they host Boca at home). A deal is being made for some premium seating for the next 5 years and sales will start in 2023; bookmark/save this article as I will be adding which sites to visit when those bad boys start flying off the shelves!
History Of The Buenos Aires Superclasico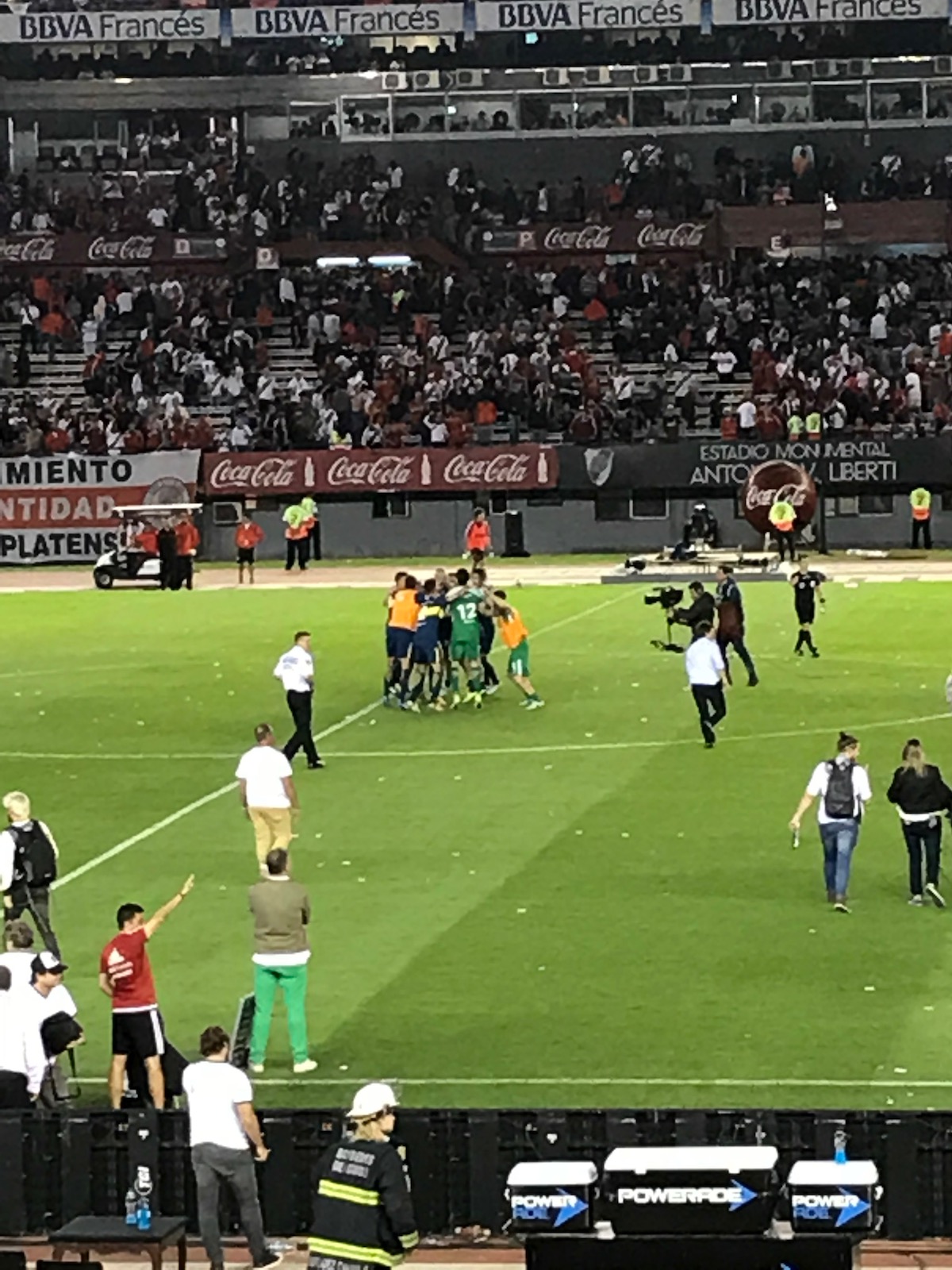 The word; "clásico" basically means derby (an intense local rivalry) and "super" just speaks for itself – the two most successful teams in Argentina facing one another adds to the magnitude of what's at stake… throw in a bit of good old class-warfare and what you get is football's very own version of civil war.
River Plate fans reside in the north of Argentina's capital, the richer part of the city. They are seen as middle/high-class (posh) fans and even refer to themselves as; "The Millionaires." Their club legends list boasts Argentinian football players past and presents such as Alfredo Di Stefano, Gonzalo Higuaín and Javier Mascherano.
Boca Juniors fans are from the "Boca" district of Buenos Aires, and refer to themselves as "la doce," meaning 'the twelfth" (as their impassioned support makes them the 12th man in a team of 11). They historically represent the poor/working-class immigrants of BA.
Make no bones about it, these two teams hate each other. In 2011, River Plate was relegated to the lower division for the first time in over 100 years… Boca fans held a huge street party, an unprecedented carnival of schadenfreude to celebrate their rival's misery.
Riots, of course, broke out across Argentina's capital.
Boca's Hall of Fame football club icons swagger the undeniably impressive likes of Gabriel Batistuta and Carlos Tevez and it goes without saying that their most celebrated son is Diego Maradona.
This football rivalry is one of the most intense in the world, so I had to have some tasty glasses of Malbec the night before in order to sleep, as I was way too excited once I received confirmation of Superclasico tickets.
Is it Safe to Attend a Boca Juniors or River Plate Game as a Tourist?
Those who are risk-averse or of anxious disposition should stay clear of a Boca Juniors or River Plate game. Boca in particular is known for its aggressiveness, harassing of tourists and creepy excuses of men copping a feel of ladies on their own.
Related Post: 32 Safety Trips For Travelling Alone
I managed fine. There was a few hairy moments, but nothing that I couldn't handle as this was not my first rodeo. I didn't wear anything expensive and although I did take my phone, I used it sparingly.
Even though the tour operator came with a premium, I was offered some extra safety with them as a bilingual Tangol tour operator will pick you up from the hotel, give you your tickets and take you to the match and bring you back, although it is very easy to get swept away with the crowd.
Since 2013 Argentina's Football Association has completely banned away fans from attending matches. The straw that broke the camel's back was the death of a fan during a match in 2013.
This is better for your safety, but also a major loss for the potential atmosphere until Argentina's footy fans can get their act together. I don't see that happening anytime soon. I've been to games all over the world and in my opinion, the following are the worst football fans on the planet (in no particular order):
England
Russia
Italy
Argentina
Turkey
How to Get to La Bombonera (& El Monumento)

Whether you're going for a Boca game or a Boca Juniors stadium tour, you will have to make your way to La Bombonera in La Boca, an incredibly rough part of Buenos Aires where you don't want to be walking around without any purpose, especially at night.
It used to be possible for tourists to queue for stadium tour tickets but this option is no longer available and all bookings must be made online.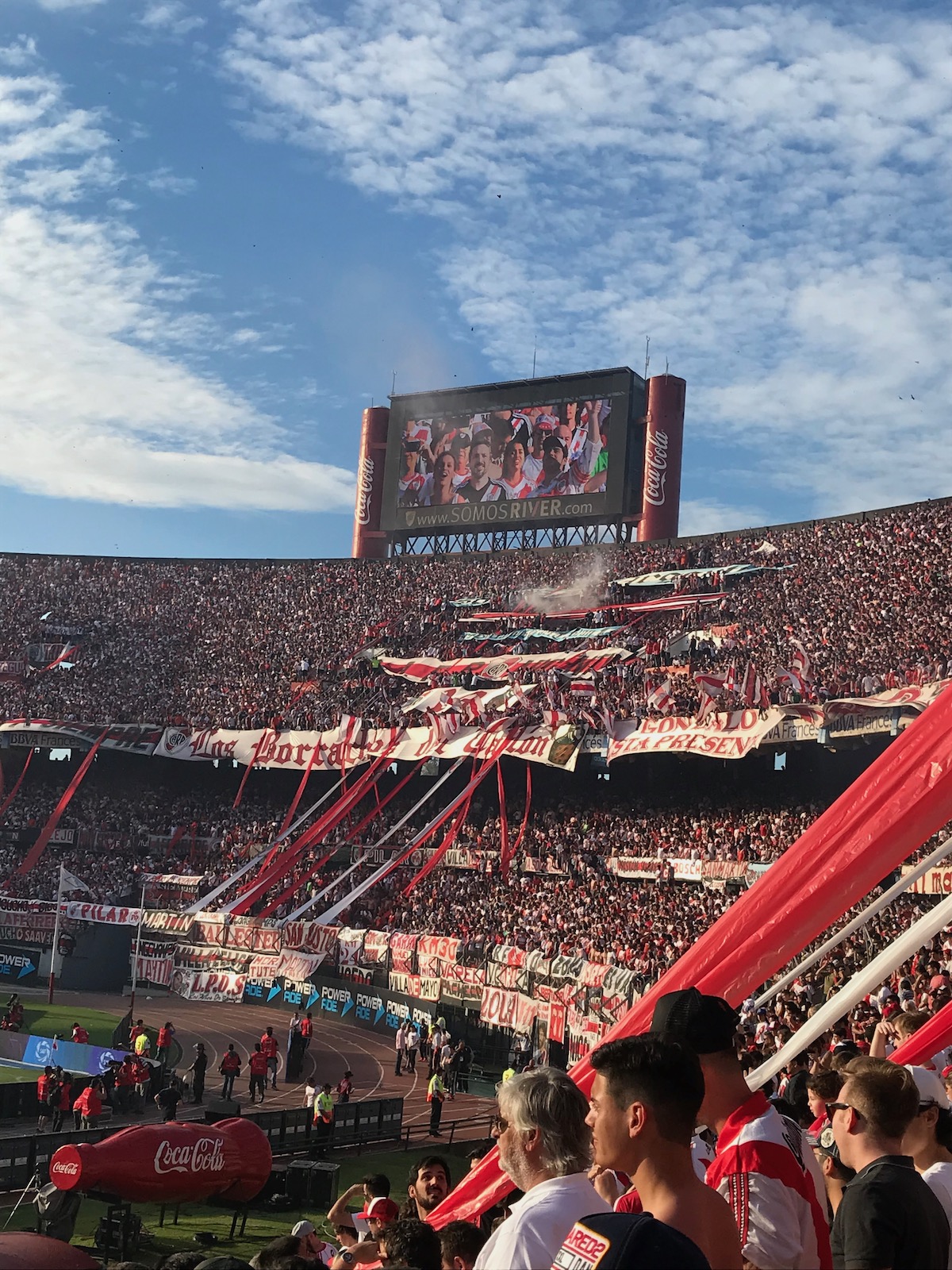 A tour guide will take you to either of these places during matchday on a coach or minibus with other tourists. He will look after you to the best of his ability in the mad rush of the crowd.
In terms of stadium tours for both of these clubs, I got myself a fantastic offer with GetYourGuide; a two-for-one deal that took me to both La Bombonera and El Monumento on the same day for a tour of each club!
That was my warm-up, tantalising myself until the big event that I had paused my Patagonia itinerary for… the Buenos Aires superclasico experience!
River Plate vs Boca Juniors: My Experience At The Match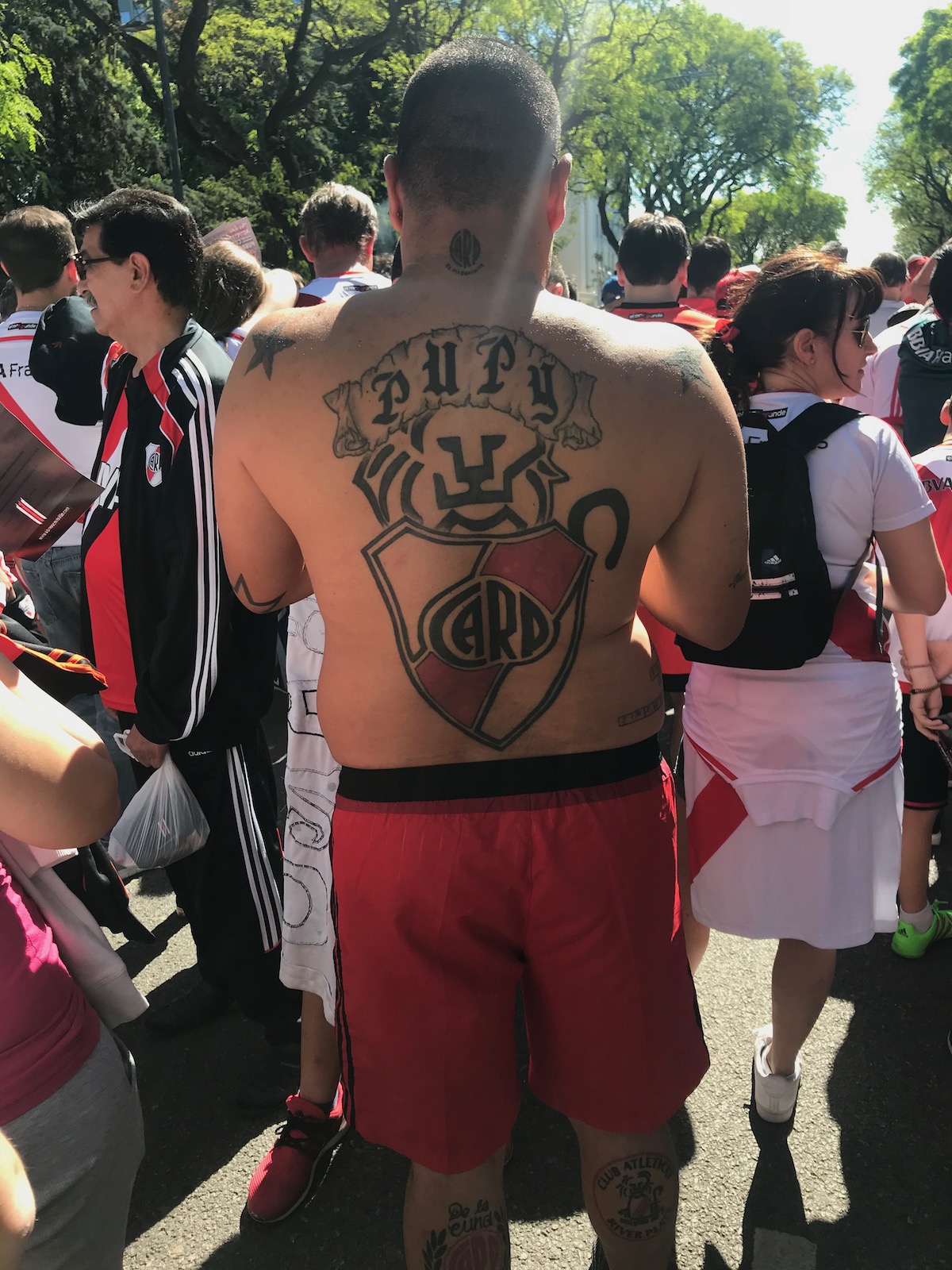 The guide picked me up from the hotel and I met the other tourists in a minivan. He impressively explained in English, Spanish and Italian about the history of the two clubs, which I already knew about thanks to the stadium tours a few days before, but it was good to get a reminder as we made our way over to River Plate's home stadium, Estadio Monumental Antonio Vespucio Liberti.
Once we got close to the ground, the atmosphere was a mixture of boyish excitement and jittery anxiousness. The security is extremely tight, I was thoroughly searched maybe 8 times before actually getting into the stadium.
The police at the match are in no mood for small talk, or friendly banter and one officer even offered a River fan out for a fight when he dared to ask him a question about the speed of the queue.
As I paid a premium for my tickets, the bar in the ground that I went to before the game kicked off was a tame affair.
So tame that it served zero alcohol, this is not a River Plate thing – the no booze rule has been implemented in Argentinian football attempt to crack down on football hooliganism, but there was a pretty cool few games of football pool to play before the match kicked off!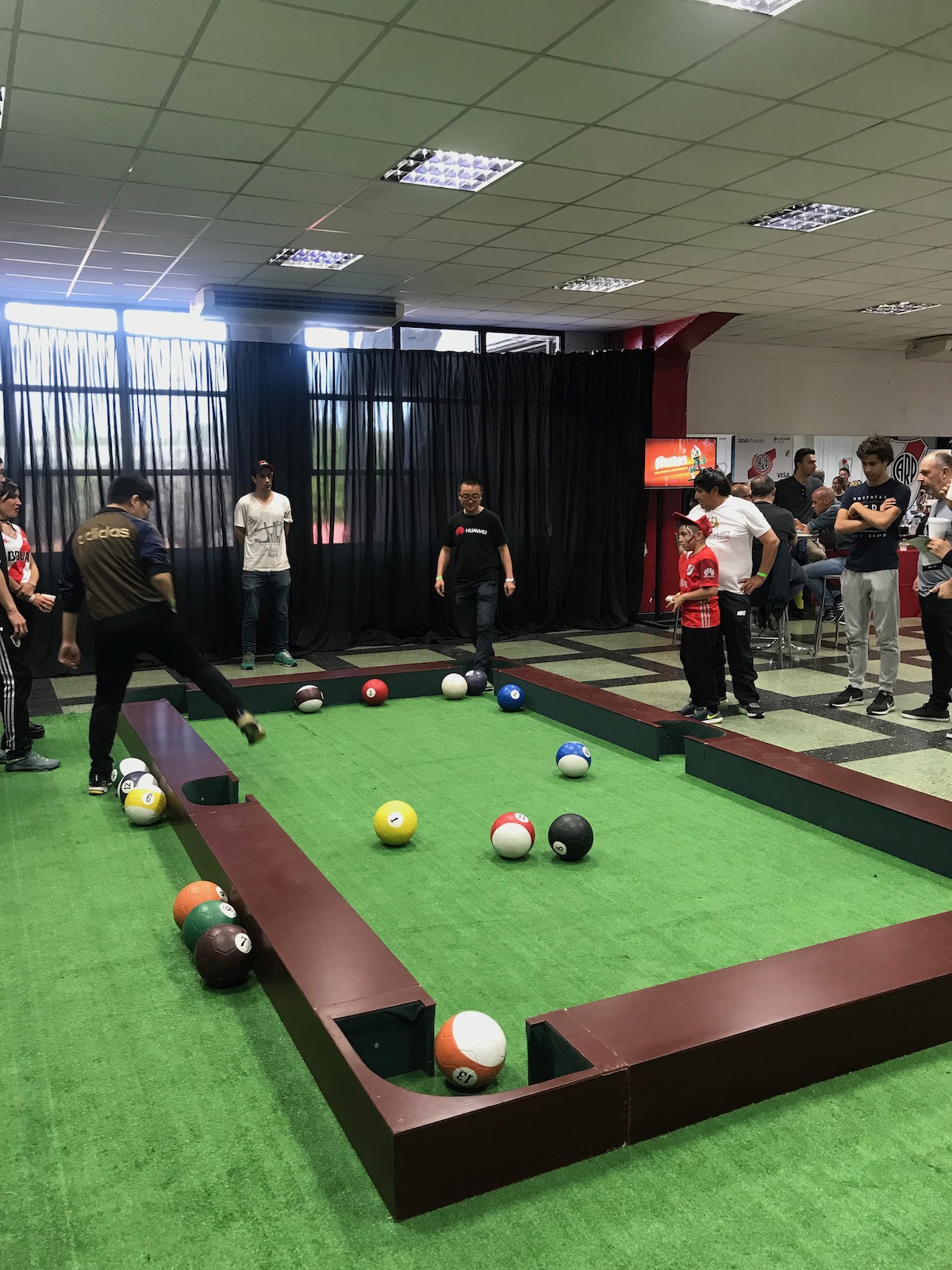 The match was very eventful, resulting In 2 filthy red cards, 3 gorgeous goals and Boca going home with all three points in a fiery 2-1 victory.
If you're a football fan and you have always wanted to go to the Superclásico, you will not be disappointed by the constant electric atmosphere in the ground for this fixture.
I've been to a few Tyne/Wear derbies (Newcastle United vs Sunderland) and to be honest the Superclásico experience makes that one seem like listening to 'Pan Pipes by Enya' in the bath with some scented candles… and that's only with one set of fans!
That being said, the hooligans from both sides were arranging a nearby meetup, adding the police's extra vigilance and understandable hostility before and after the match.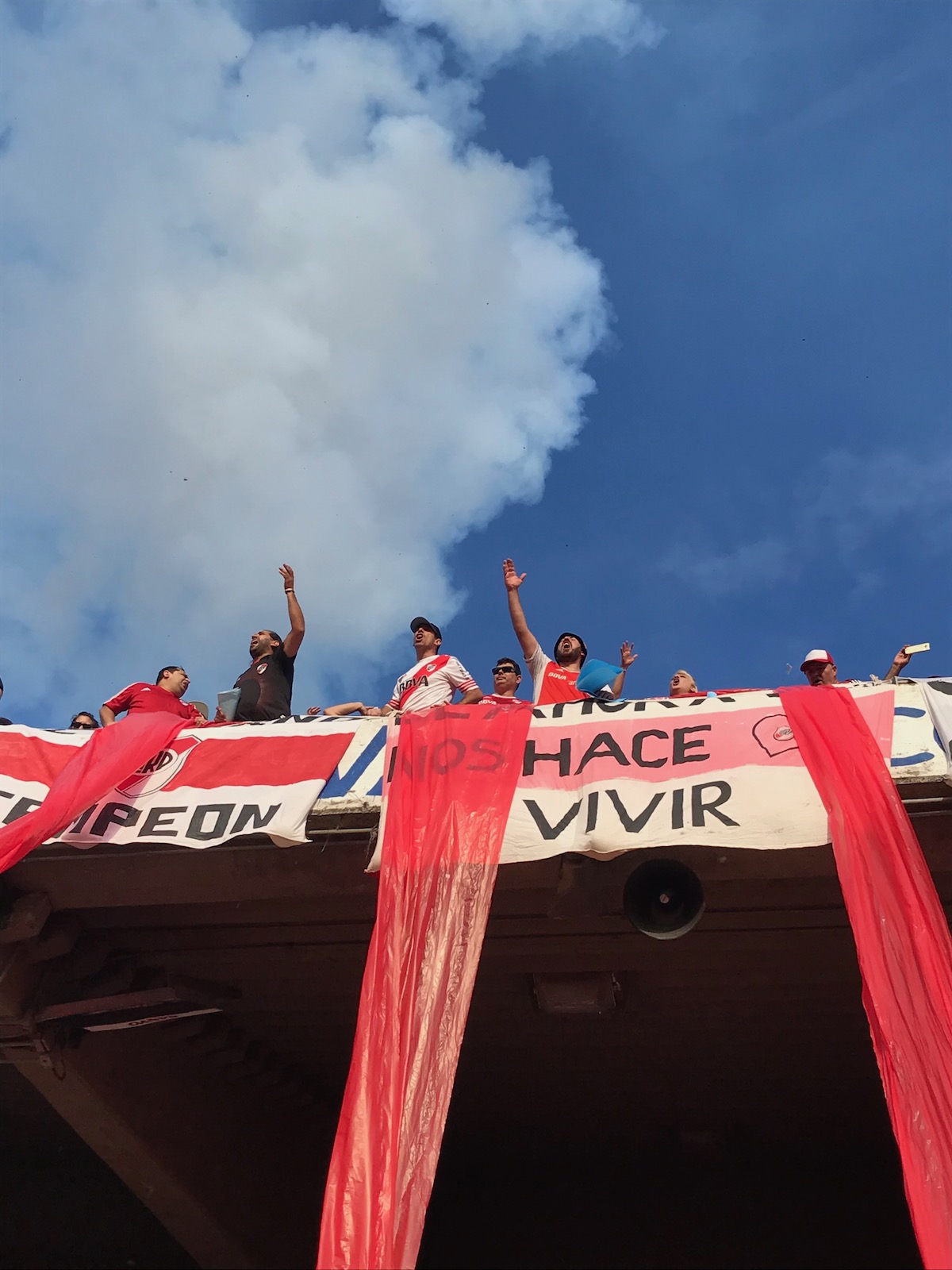 It was an absolute cauldron in there, I've not known too many football experiences like this and I've been to some of the sauciest football matches around the world.
If football isn't really your thing and you have a disdain for the uglier side of the beautiful game, then I'd say that this experience is certainly not for you. A significant chunk of fans here are insane, acting like drunken apes and this is without the Boca fans, who are arguably worse!
England has its football violence problems too, but we are at least allowed to drink in the club bar before the game – we are just not permitted to drink on the terraces during a match.
And the swearing in front of small kids, who then replicate the behaviours of their sad excuses of male role models…horrendous and absolutely no signs of it being taboo.
In Argentina, fanaticism is seemingly on another level, as the final whistle blew the fans turned around and turned on their club's owner sitting behind me.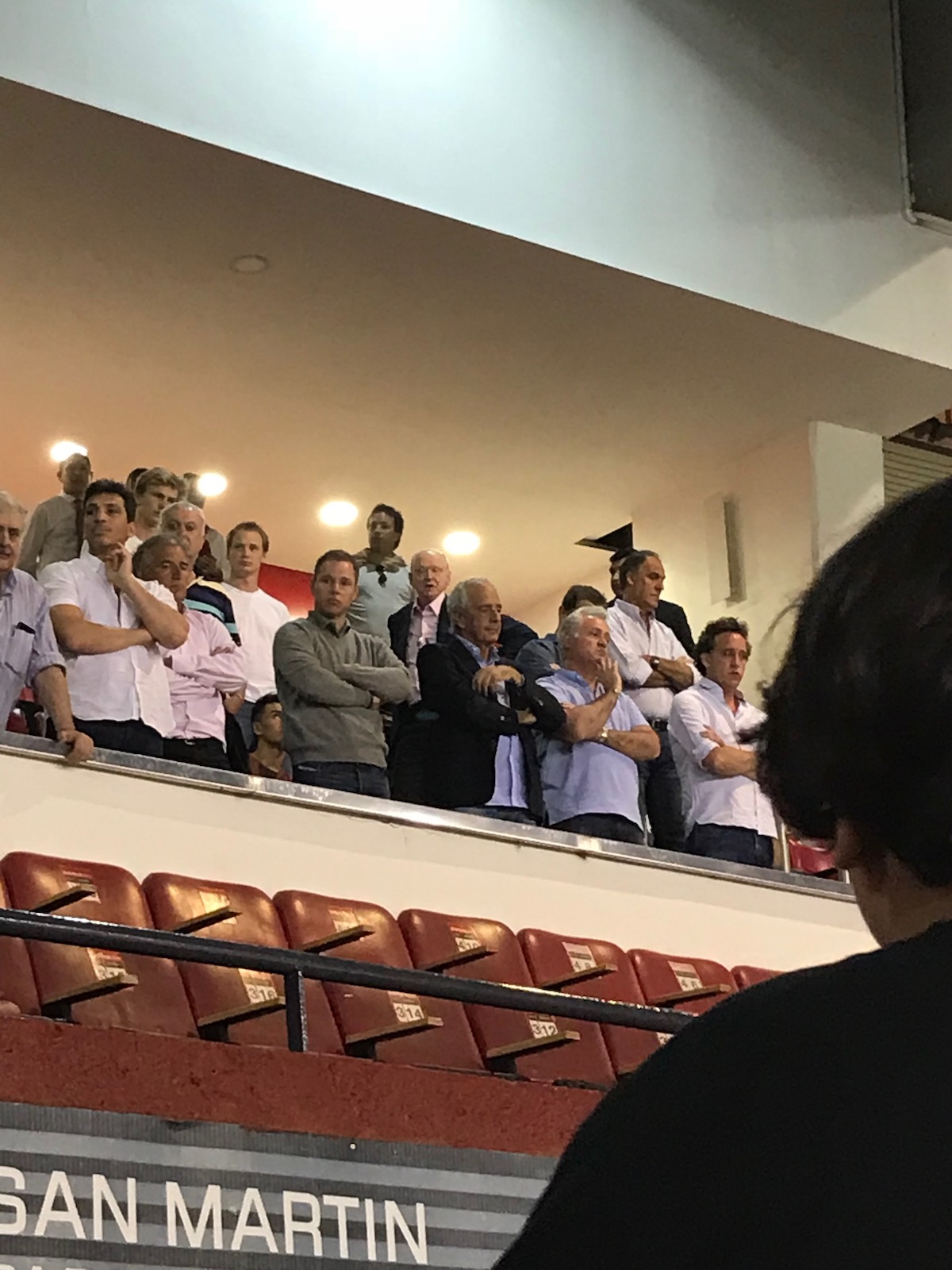 Or so I thought. A reader educated me that Argentinian clubs have no owners. The gentleman was Mr Rodolfo Donofrio, who acts as an acting president, apparently, the club holds elections every 5 years.
Interesting set-up.
This resulted in an interesting schism, as other fans defended their man at the top and almost started a brawl amongst their own fans… and this is in the supposed "classy" part of the stadium. I can only begin to imagine how it gets when you add a couple of thousand of their arch-rivals and beer into the mix.
It's certainly not for the faint-hearted.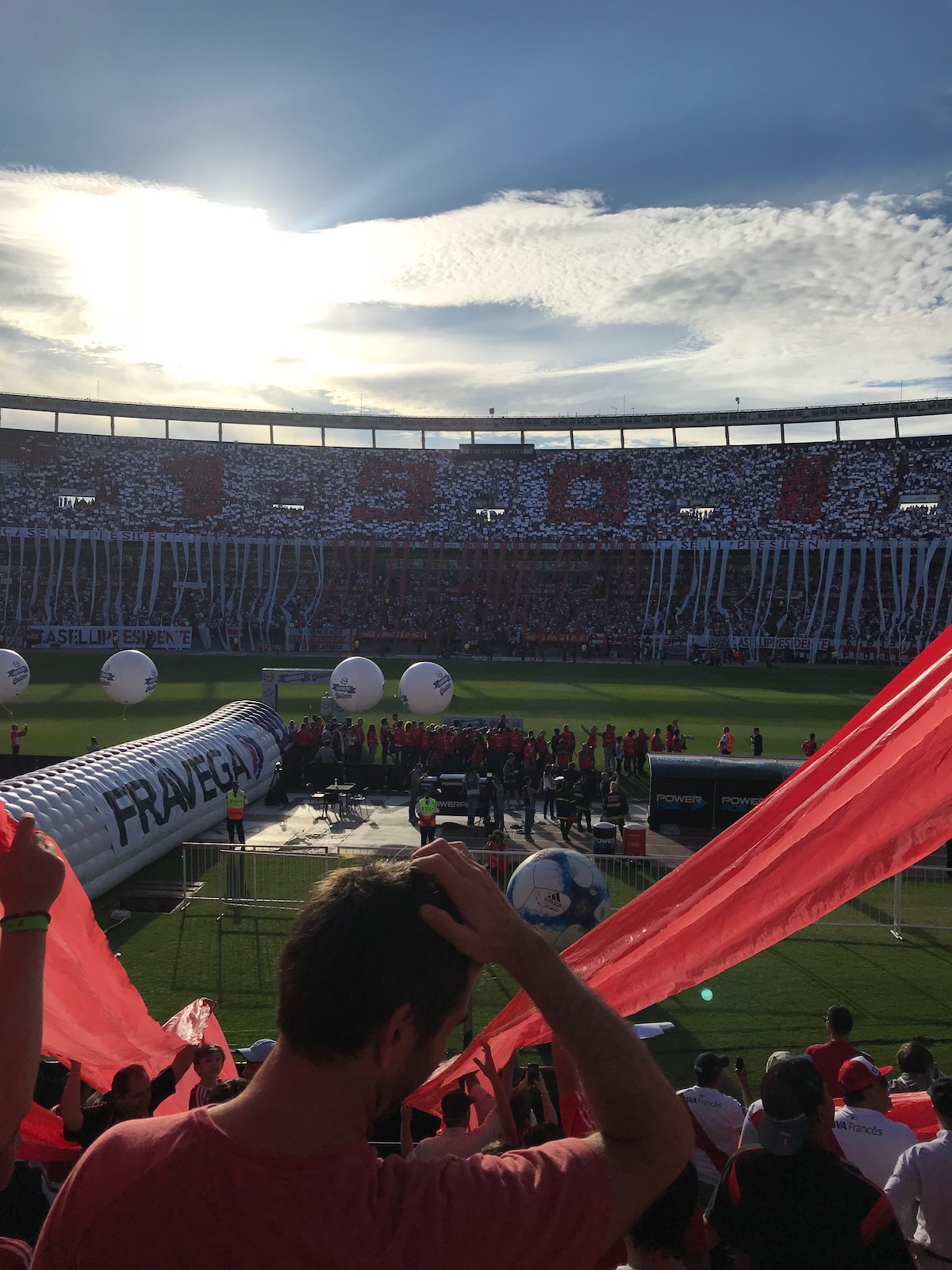 Regardless of all of that nonsense, as a football fan who travels a lot and lustfully chases life experiences, I can hang my hat on the Boca Juniors vs River Plate derby and say I am 100% happy with my choice and delighted that I experienced this wild part of Argentinian culture.
And most importantly, now that I know how to buy Boca Juniors tickets as a tourist, I will definitely return to see these two go at it again from La Bombonera in La Boca, which I hear is an even wilder experience! As promised I will update this article as soon as I become aware of a company that is lucky enough to seal the deal for this fixture.
Visiting Argentina? Check out more related content here: