Real talk; the best place to see the Great Wall of China is not the area where travel agents within the country tell you it is. This isn't because they're being purposefully unscrupulous, they just want the best-case scenario for their business, with less hassle and maximal profit margins.
And it's you, the tourist who misses out. On top of that, you are competing with a lot of traffic out there as China is the most populated country on earth and this Beijing icon is deeply revered by its natives.
Spontaneous travel can be sexy, but there's a time and a place for it. The Great Wall of China is an absolute masterpiece, but the potential for an anticlimactic visit is very possible and those with high expectations should read on.
If you quite literally, like to take a walk on the wild side, then this guide is for you. I'll highlight the most viable options for the more chilled-out, yet curious tourist and suggest some solid options for the adventure traveller, to make sure you get the best view and happiest memory of this architectural marvel.
China has officially reopened for tourists, so let's go and see this beauty…
Brief History of The Great Wall of China
The Great Wall of China (known as "chang cheng" in Chinese) has a long and complicated history behind its success. For those who don't know much about it (I was one of them until I visited), here's a little crash course to bring you up to date.
Who Built The Great Wall?
Emperor Qin Shi Huang, the top dog of the Qin dynasty is the man usually cited as the creator of The Great Wall, but it's a little more complex than that.
The Zhou dynasty and King Wen of Chu State had already put in some solid graft over their time in power, building their own set of impressive walls.
Emperor Qin was pivotal in the unification of China hundreds of years later, resulting in a connection of the walls to make it the beast that became The Great Wall of China.
Soldiers, peasants, slaves, convicts and anyone who Qin took a disliking to laboured away (many of them up until their last breath), building the wall with earth, and stone and impressively using sticky rice for mortar!
Why Was it Built?
The Great Wall was built to keep out northern invaders, such as the Mongols. Many moons later, The Ming Dynasty saw this as an even greater potential threat to a China that was flourishing and decided to improve The Great Wall by ordering a mass construction in 1474.
How Old is The Great Wall?
Although some publications claim that The Great Wall of China is 500 years old, it's fair to say it's 2,700 years old. The wall that we get to see today is just a wee couple of bricks compared to the real deal.
It has survived successful invasions from none other than Ghenghis Khan, outlasted 7 dynasties and bounced back from disrepair on numerous occasions.
How Long is The Great Wall?
The Great Wall of China is a whopping 21,196 kilometres long (13,171 miles), making it the longest structure to ever be built by humans.
How Much of Today's Great Wall is Left of the Original Version?
Around 10% of the wall is preserved and 60 percent is in various degrees of disrepair, due to wear and tear from natural erosion and human involvement. The Chinese government has made efforts to keep it in good condition although this was not without criticism from locals and Great Wall enthusiasts.
Can You Really See The Great Wall From Space?
Sorry to be the party pooper here, but no. I also believed this at one point and I wanted it to be true (because that would be cool) but I'm afraid that it's just one of those myths that refuse to die.
The Best Time To Visit The Great Wall of China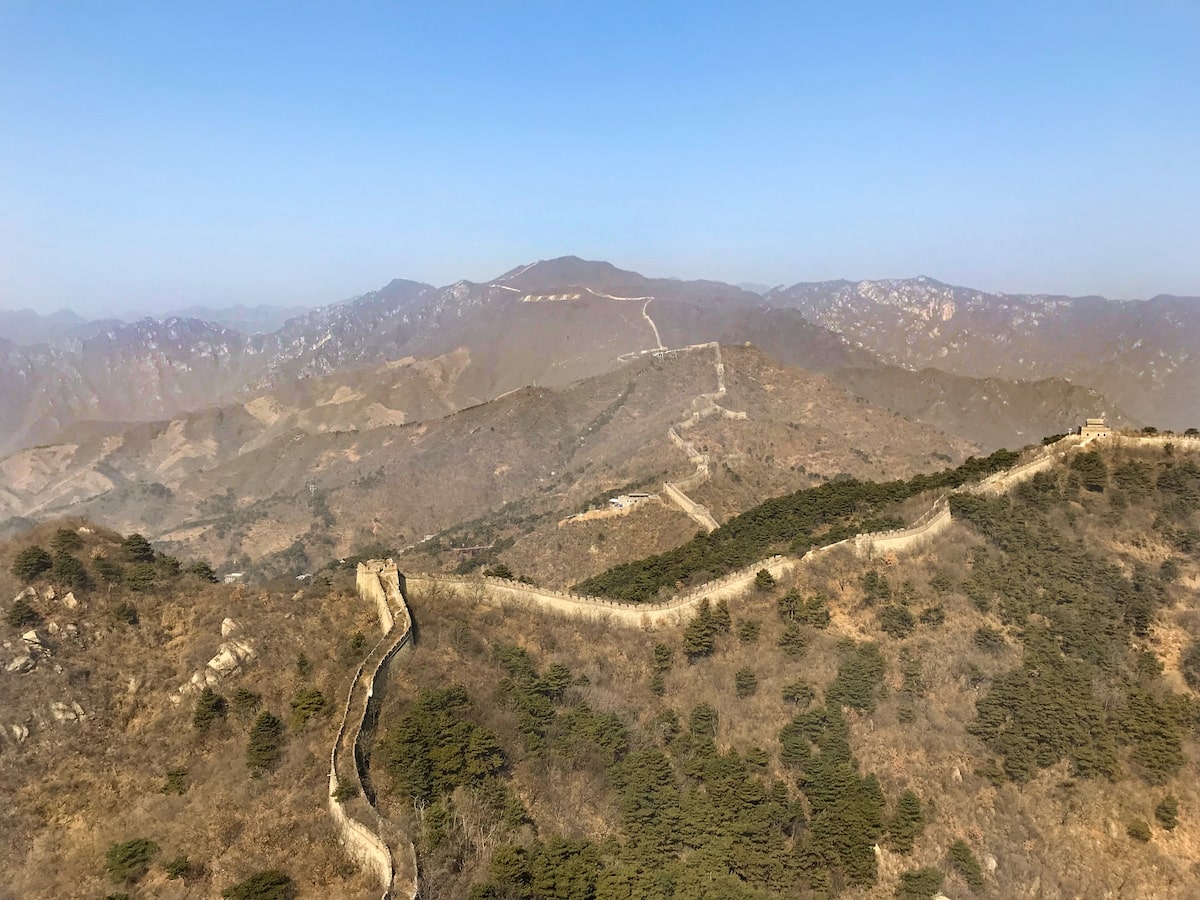 The best time of year to visit The Great Wall is spring and autumn, resulting in clearer photos, a more pleasant climate and there are significantly fewer crowds of tourists.
If that is your priority, the best time to go is April to Early June (spring) and September to early November (autumn).
If you are a winter lover then wrap up well and visit The Great Wall whenever you fancy, as it's open all year round. I'm not a lover of the cold myself, but The Great Wall capped with snow looks absolutely gorgeous and you would have more of the wall to yourself, with the added bonus of unique photography opportunities.
Public Holidays in China
You should look out for the following Chinese public holidays as the wall will be considerably busier during these periods.
Labor Day holiday – Avoid the first week of May (especially May 1st-3rd)
Chinese New Year/Spring Festival (Never on a fixed date, as the event is planned according to the Chinese lunar calendar, but it typically falls between late January to late February)
National Day holiday – (October 1st–7th)
Mid-Autumn Festival (September 21st-24th)
Special Great Wall Events
Some sections of the wall may be closed or limited during these exclusive events.
The Great Wall Marathon
Cinco De Mayo 2021
Great Wall Discovery
Great Wall of China Trek
Don't Go To Badaling (& Trust No One Who Tells You To!)
From the moment you arrive in Beijing, all bright-eyed and bushy-tailed you will naively ask a tour operator or hotel receptionist for the lowdown on seeing the Great Wall of China, you will more than likely hear the name "Badaling."
As soon as you do, I want you to walk away mid-conversation, sit down to a lovely local hot pot with a nice cuppa Chinese tea and forget that this dialogue ever happened.
The selling point from their side; Badaling is the best place to see The Great Wall of China because it's the most popular. (The old "all the cool kids in school are doing it, so it must be good for you" argument). Oh, and it is also the most accessible with it only being around a 2 hours coach ride from Beijing city centre!
Ka-ching.
What they are saying here is true. Badaling is the most visited section of the wall and it's only 50 miles away from the centre of Beijing (it's also the most easily reached by public transport). However, you will simply not be able to move when you get there due to the sheer amount of bodies, tourists litter the place unapologetically, and it's become a disneyfied, cheap and tacky shitshow.
And yes, I am speaking from personal experience. I make all the silly mistakes, so you don't have to. 🙂
The Great Wall of China: Expectation Vs Reality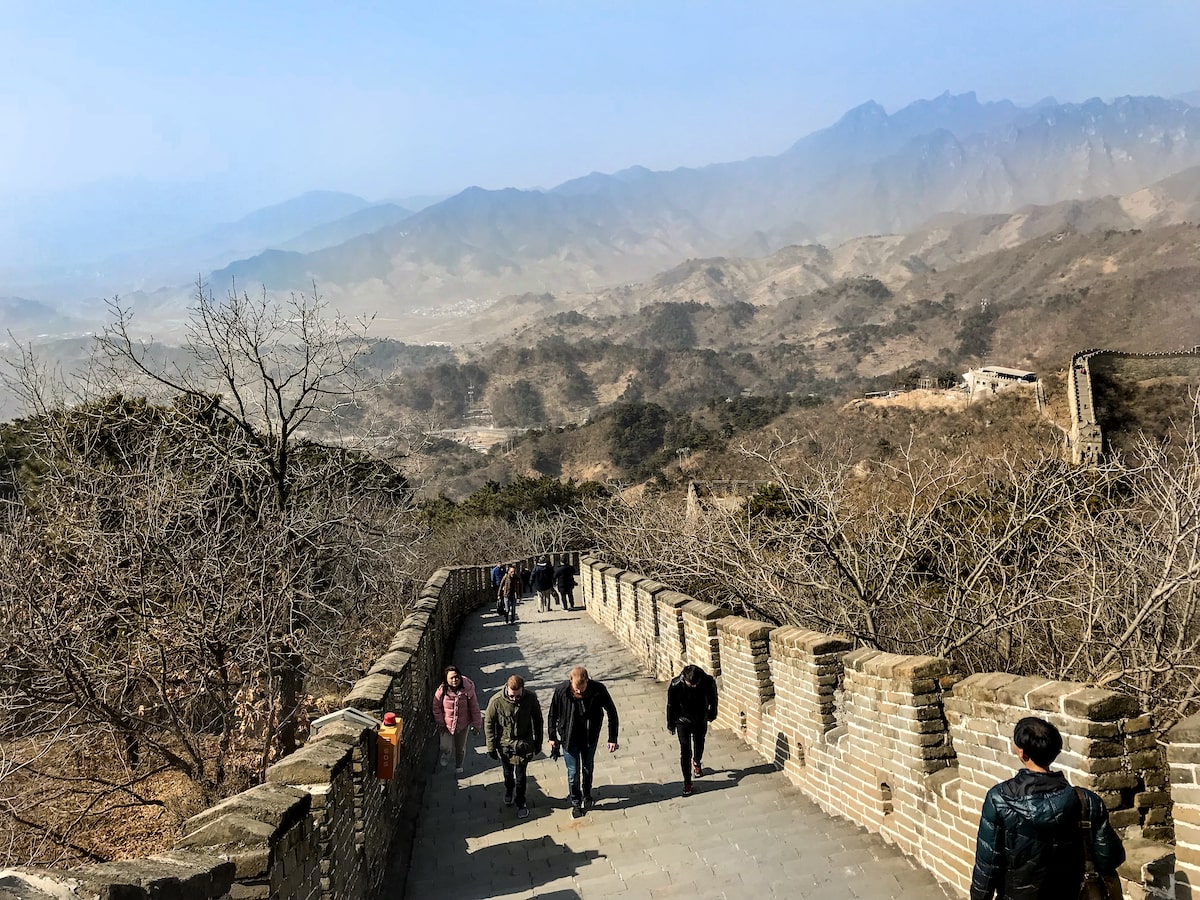 Have you ever heard of the phenomenon that is 'Paris Syndrome?' It's a commonly known psychological condition in Japan, when tourists feel incredibly depressed upon visiting France's capital city, due to it not living up to their own expectations.
I'm not sure if there is a Great Wall of China version of this, but I wouldn't be surprised if that was the case. Still, I refuse to let that happen to you. If you do shun Badaling, you will then be offered the chance to visit the Mutianyu section of the wall.
Mutianyu is the second most visited part of The Wall. It can still get busy and it has some of the issues raised above about Badaling, with the hard sell, ostentatiousness and tacky souvenirs (writes the man who is a total fridge magnet hoe) but it has significantly less human traffic than the Badaling section of the wall.
If you aren't into the alternative adventure travel suggested later in this post or are limited due to disabilities (or simply can't be arsed), then I suggest you go a little out of your way and choose Mutianyu over Badaling.
Just try and avoid going on weekends and please, for the love of God, don't visit during China's biggest public holiday, "Golden Week" (October 1-7) where a considerable chunk of the whole nation of 1.4 billion people, migrate around the country for tourism.
Also, there is a bonus option available for you if you do choose Mutianyu and have an open mind and want to dip your toes into the waters of a wilder walk of the wall, without fully committing to being overly risky.
Introducing "The Wild Great Wall of China"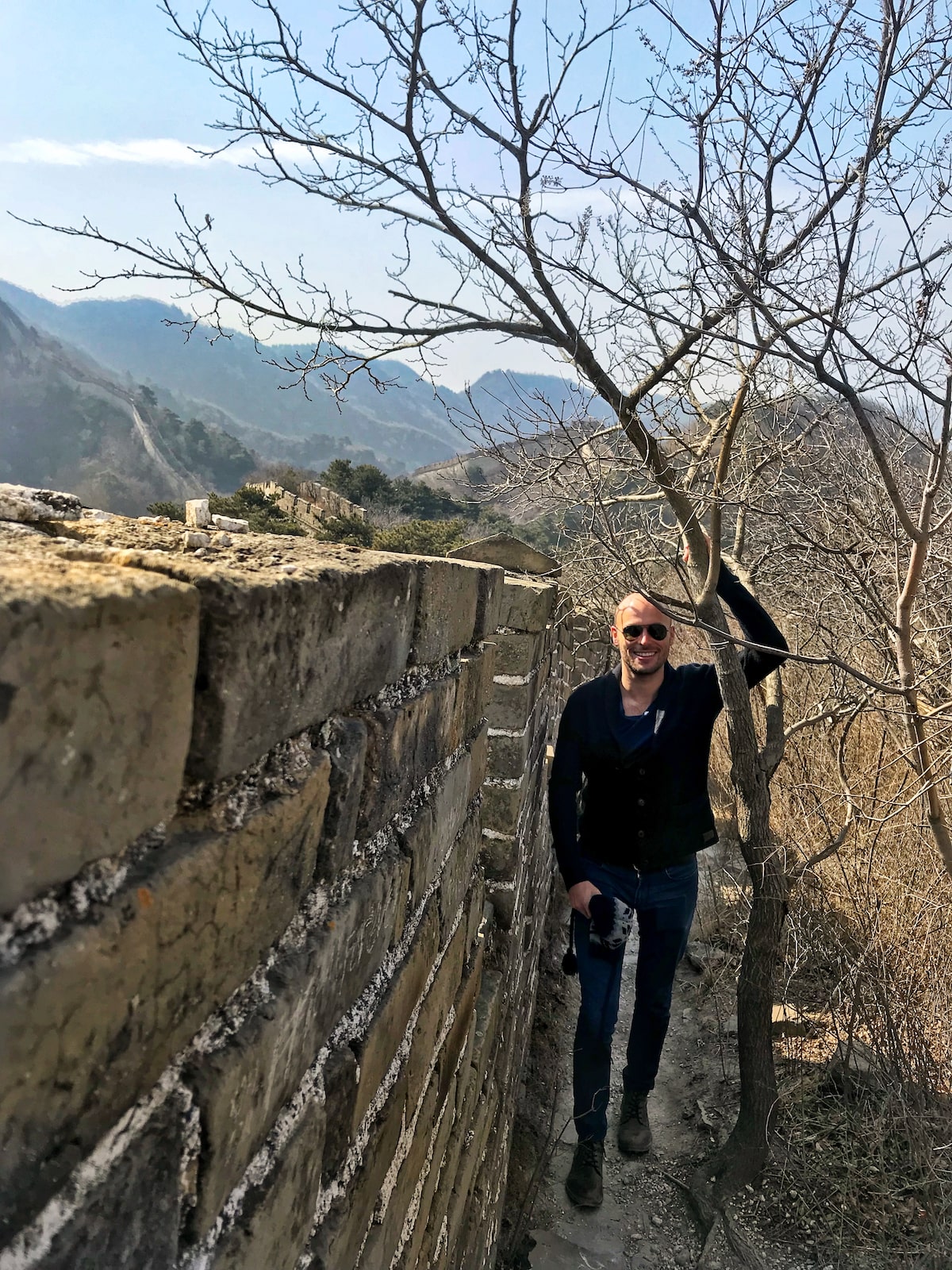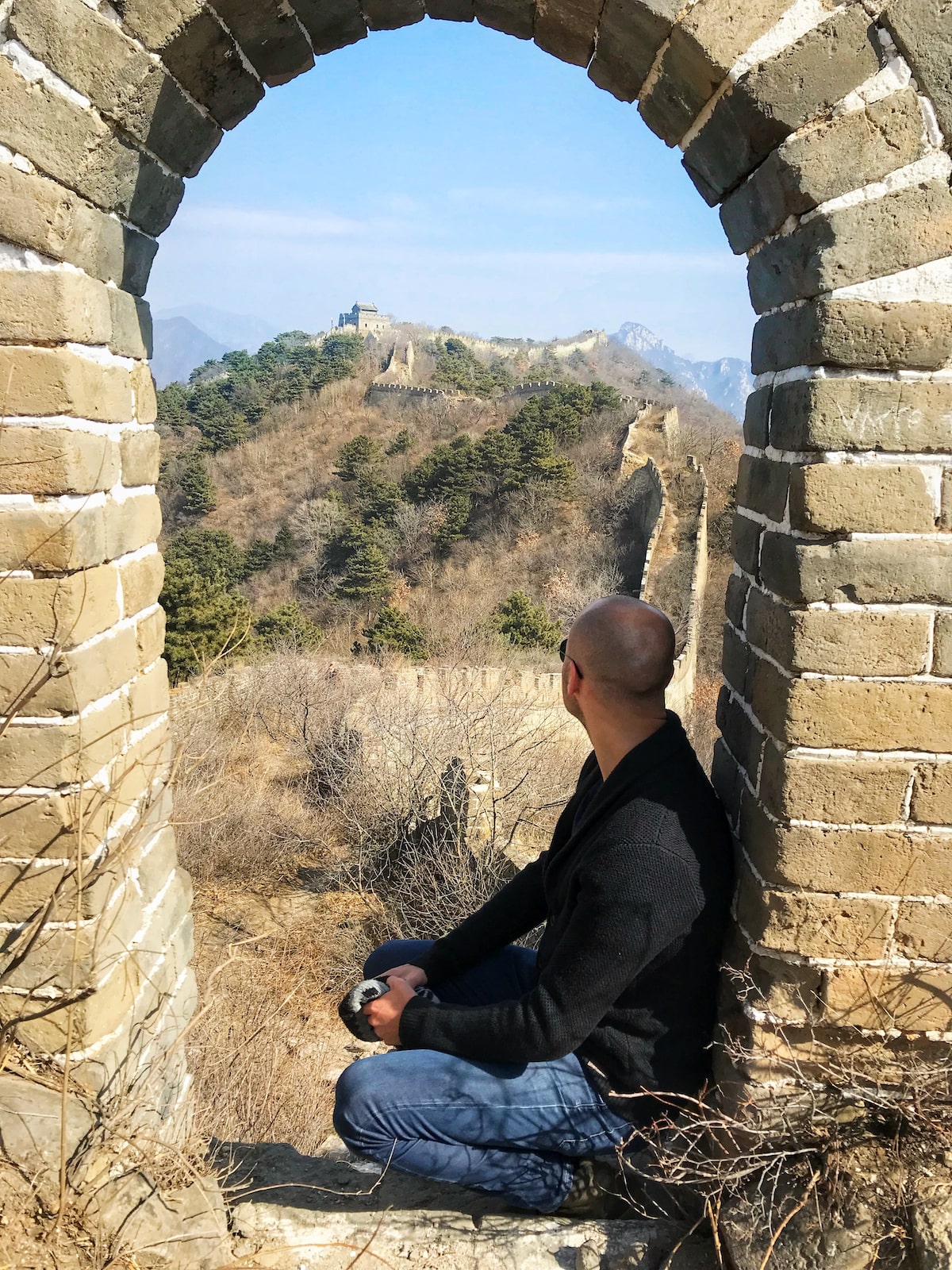 If you're a fit person who enjoys hiking as much as you appreciate visiting one of the most impressive World Heritage Sites on Earth, then I have some excellent news for you.
There are sections of the Great Wall of China that are part-restored, and chaotic, and some with the original ruins kept intact. I was fascinated by the prospect of getting in some exercise while hiking a lesser-known part of the wall with steep, uneven steps and hindering trees to navigate around. If this sounds like your cup of tea, then the "Wild Great Wall" is certainly the best place to see the Great Wall of China.
The term "Wild Wall" for this unique part of the landmark was coined by a local China expat. William Lindesay is an English author, conservationist and a Great Wall enthusiast who has devoted his life to writing, learning and fighting for the maintenance of the wall. Lindesay has been pivotal in the success of this delicate preservation.
5 Routes To Hike The Wild Great Wall
There are a handful of hiking routes along the Wild Great Wall, some more dangerous and primitive than others and some superior in terms of beauty. I've highlighted 5 wild wall hiking options below, pick whatever is better for your personal preferences.
1) Jiankou to Mutianyu (Harcore Hiker!)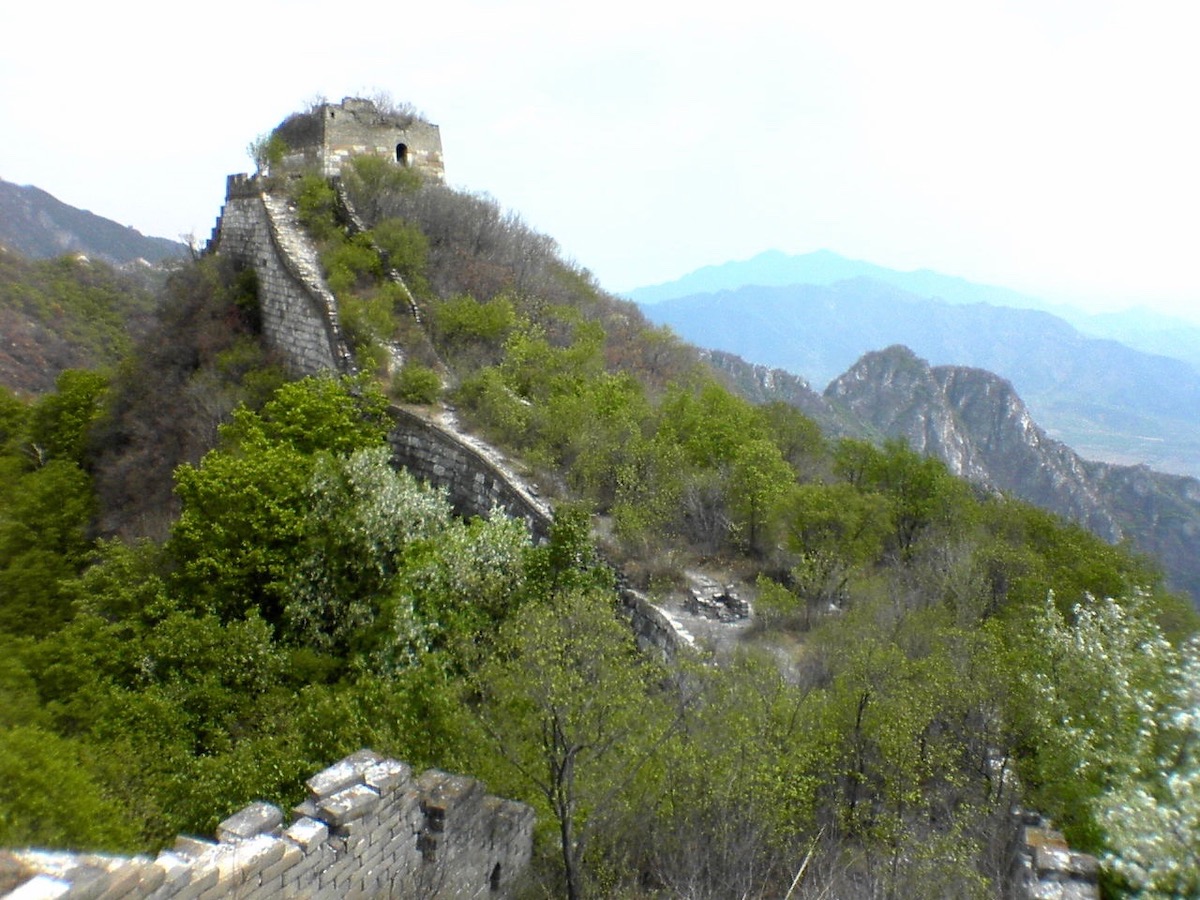 Jiankou is the most dangerous, most photographed section and the least repaired of all the alternative Great Wall options. Its steep inclines come armed with broken and craggy steps sandwiched between narrow sections, with trees and bushes bursting through the ground, making it the wildest and most challenging of the wild great wall routes.
This route is pretty strenuous, but if you're a strong and confident hiker with good awareness then you have nothing to worry about.
Know Before You Go:
Location: Jiankou is 100 kilometres from Beijing.
Cost: Hiking is free, but local villages will set roadblocks and charge you CNY10 as a toll and ladder assistance can cost CNY5 if you ever are to borrow a local's ladder.
Opening hours: Unofficial hiking spot, open all day.
Time needed: 5-6 hours for the full hike.
Getting to Jiankou From Beijing: Take bus line 916 Express from Dongzhimen Hub, near Dongzhimen Subway Station and get off at Huairou North Avenue (Huairou Beidajie)

5:50 to 19:50
From there, change to bus line h36 to Tianxianyu
Then walk to the entrance of the Jiankou Great Wall

Taxi

From Yangjiayuan to Xizhazi Village

~ CNY120 to 130
~ 30 mins

From Qianmen to Xizhazi Village

~ CNY 350 to 370
~ 1 hour 30 mins
2) Mutianyu (+ Bonus Sneaky Adventure!)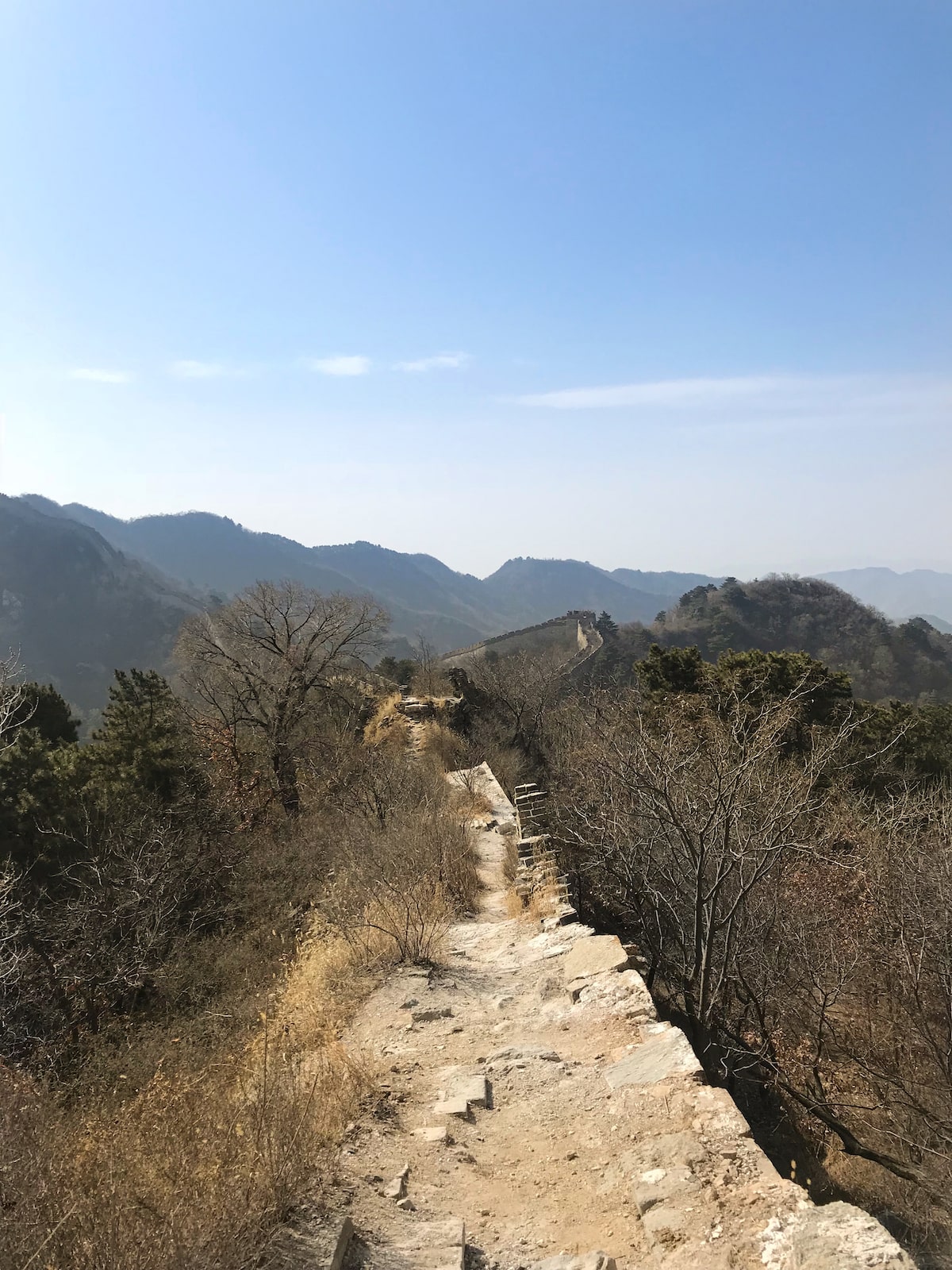 As mentioned before, if you don't want to commit to hiking large sections of The Great Wild Wall but you're curious enough to want to see some of it, you can still access a part of the Wild Wall via Tower 23 at the tourist hotspot of Mutianyu.
Just scramble over the broken barrier at the top and voila… you're at the end of the Jiankou to Mutianyu Great Wall route…you'll see the instant transformation from touristy to the wilderness.
Go for as long of a stroll as you feel comfortable, you will get photos of yourself looking like you had the whole of The Great Wall of China to yourself.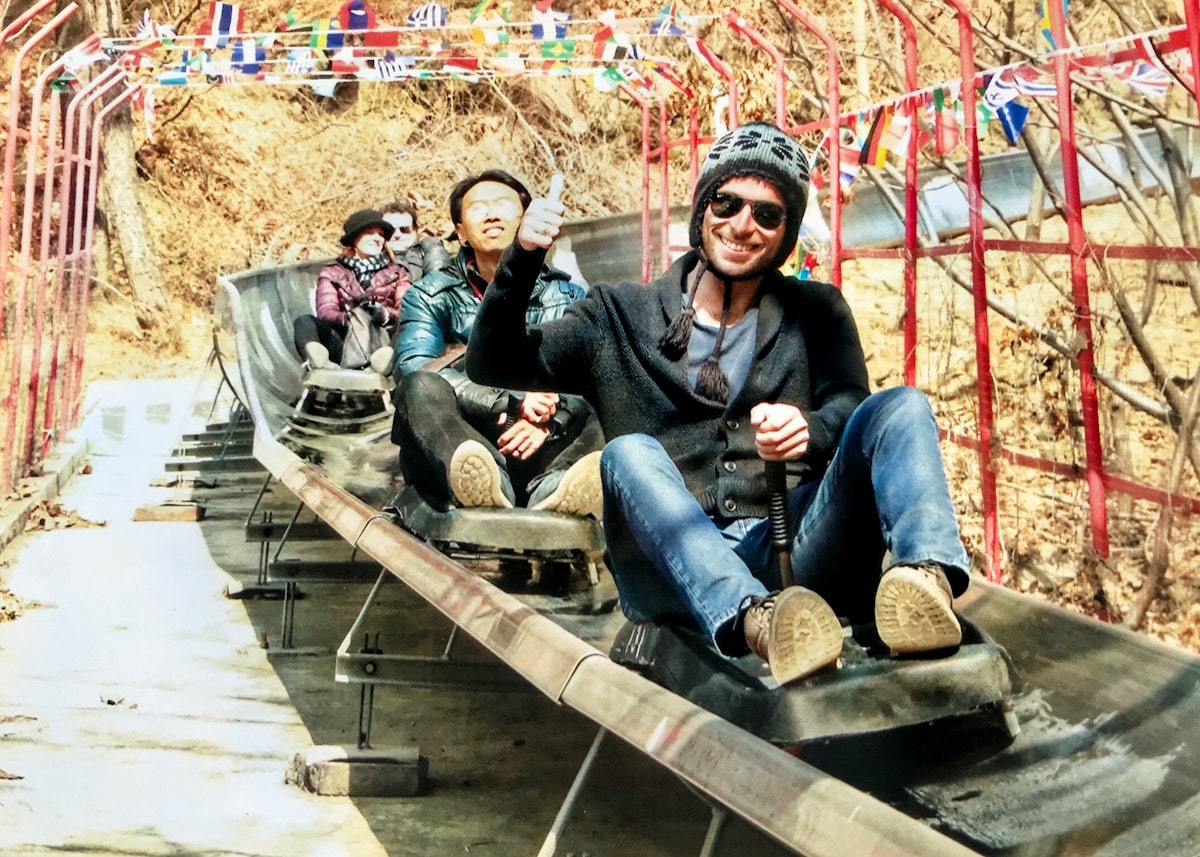 Also, even though I whined a bit earlier about the hyper-theming of the popular sections of The Great Wall, I did love finishing the longer trek on a toboggan ride, as you can see on my face here…
Know Before You Go:
Location. Huairou District is a 2-hour drive from Beijing (75 kilometres away).
Cost:
| | |
| --- | --- |
| Adults | CNY 40 |
| Children between 1.2 – 1.5m (3.9 – 4.9 feet) | CNY 20 |
| Children < 1.2m (3.9 feet) | Free |
Cost: Other than the entry fee, the Wild Great Wall part is at no additional cost.
Opening hours: 8 am-5:30 pm. So if you take this option of the wild wall, make sure you're back with enough time to leave!
Time needed: That's entirely up to you.
Getting to Mutianyu From Beijing: Grab a train at Beijing Railway Station and get off at Huairou Station. From Huairou Railway Station, you can take a cab or take a bus to Mutianyu Great Wall Scenic Area. Agree on the price beforehand or you WILL be ripped off!
3) Simatai (Adventurous Hike + Romantic Option!)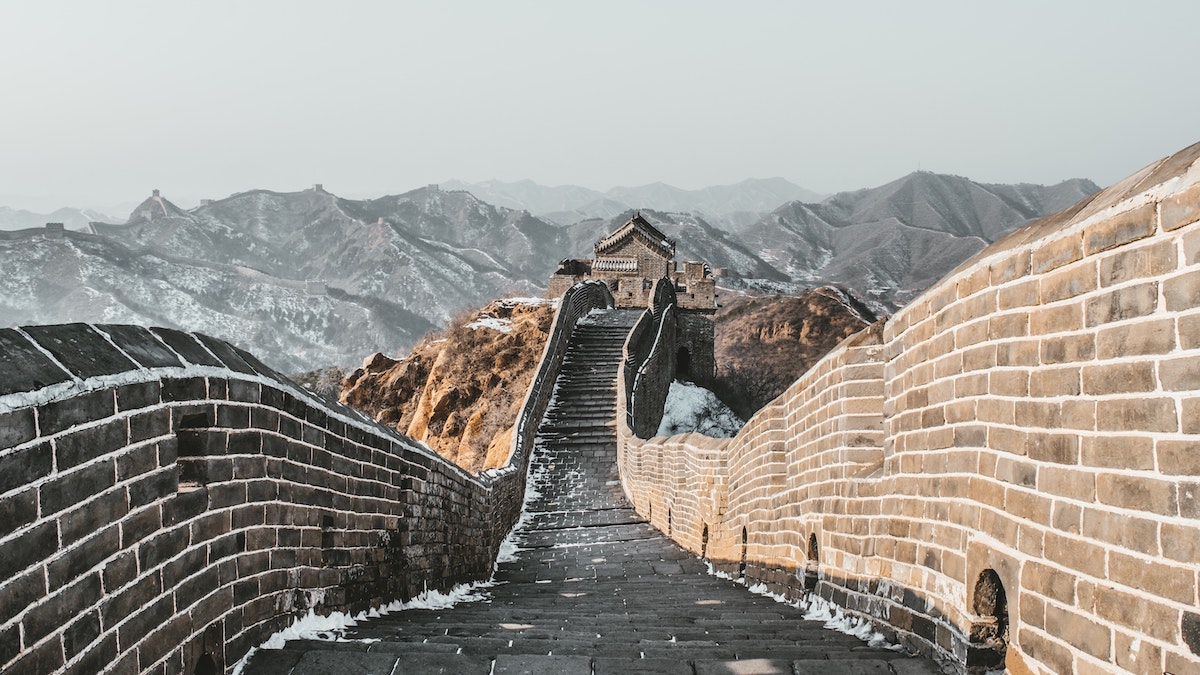 Simatai is the only part of the Great Wall of China that is open in the evening, making it the best place to see the Great Wall of China for night owls and heart-bleeding romantics. The path is well-lit, uncongested and on par with Jiankou for beauty.
A stroll along this section of the wall is an absolute pleasure, but the hardcore hikers in search of wilder walls should flock to East Simatai with its incredibly steep terrain and looser stones waiting for you to clamber over.
Bookings for Simatai should be made 10 days prior to your visit on this Simatai official website, with your passport details (don't forget to bring it on the day).
Know Before You Go:
Location. Ji Country, Tianjin, 3 hour's drive from Beijing.
Cost:
| | |
| --- | --- |
| Adults | CNY 40 |
| Children between 1.2 – 1.5m (3.9 – 4.9 feet) | CNY 20 |
| Children < 1.2m (3.9 feet) | Free |
Daytime
April – October
November – March
Note: Site-cleared
8:00 – 18:00
8:00 – 17:30
16:30
Night
April – October

November – March
Open: 18:00 – 22:00
Ticket times: 18:00 – 21:30
Open: 17:30 – 21:00 (Mon. – Fri.),
17:30 – 21:30 (Weekends)
Ticket Times: 17:30 – 20:10 (Mon. – Fri.),
17:30 – 20:40 (Weekends)
Time needed. 4 hours in total as you will do the nicer, more refined part in the evening before hitting the wild side. My advice is to break them up – do a charming night tour of the wall, stay in Gubei Water Town then see it again during the day (and of course explore the wild part on the same trip).
Facilities:

Cable cars

80 yuan one-way ticket
120 yuan round-trip

Battery carts

10 yuan one-way through Simatai Tourist Village

Zip-line to Simatai's West Wall
Boats on the reservoir up to East Tower
Great Wall + Gubei Water Town
Great Wall + one-way cable car
Great Wall + round-trip cable car

Getting to Simatai From Beijing:

Take a tourist bus from Dongzhimen to Gubei Water Town directly

~2 hours
~CNY 48 for a single trip
From Dongzhimen 8:00, 9:00, 12:00, and 15:30 (+ 14:00 during weekends and holidays)
To Dongzhimen 13:00, 17:00 and 21:00 (+ 19:00 during weekends and holidays)

Take Bus 980/ 980 Express from Dongzhimen to Miyun Xidaqiao

Change to Miyun Bus 51 to Gubei Shuizhen (Gubei Water Town)

Taxi

From Miyun Town to Gubei Shuizhen
I'm a big fan of delayed gratification so, in all honesty, I think it's better to do the wild part first and then book a night tour for later, up to you.
4.) Jinshanling (Semi-Wild With Option of Further Hardcore Hike!)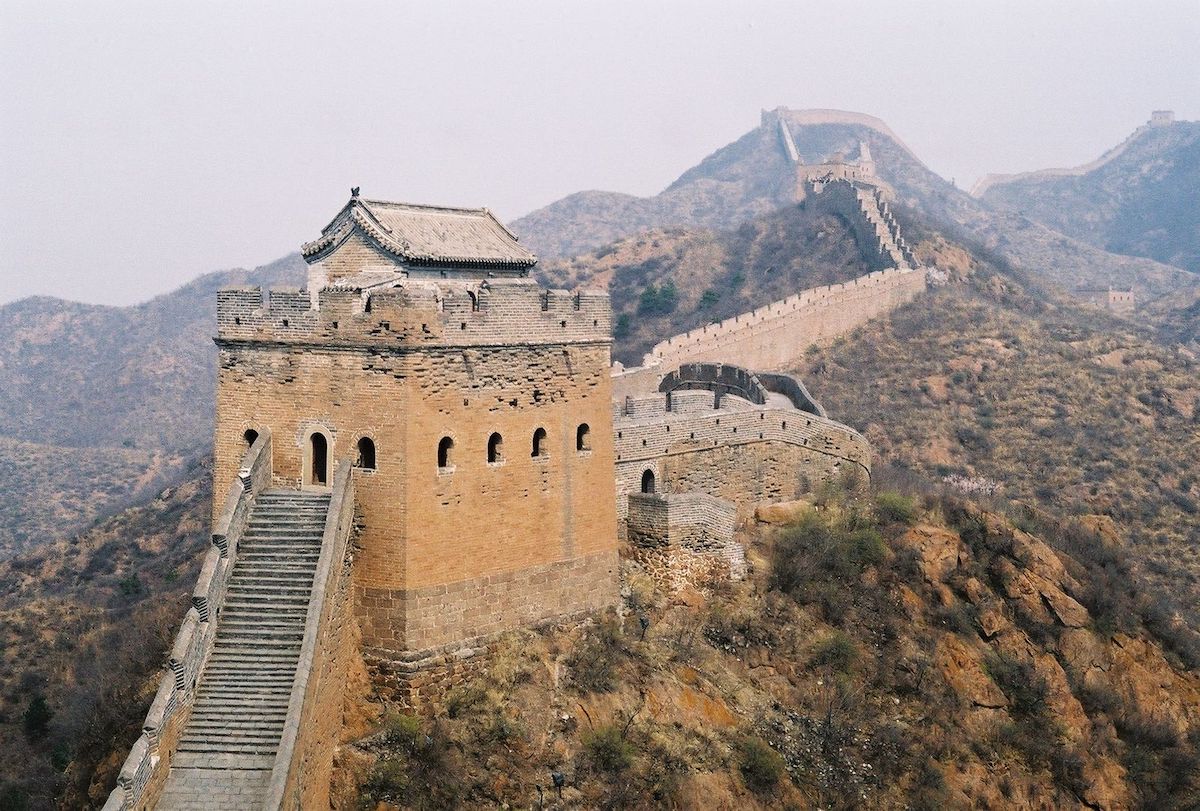 The beauty in visiting Jinshanling is twofold as the wall is semi-restored and it's also relatively low in human traffic compared to Mutiayani and Badaling. Basically, the further you walk from the "normal," you will ascend into the wilder sections of the wall.
This is the only dipping your toes into the wilderness option. If you're feeling strong and want to continue this wild adventure, then good news… you can also trek an extra 4 hours to the above-mentioned Simatai if you're keen on seeing more.
Know Before You Go:
Location: 154 kilometres, about 3 hour drive from Beijing
Cost:
| | |
| --- | --- |
| April to October | CNY 65 |
| November to March | CNY 55 |
| Children < 1.2 meters (3.9 feet) | Free |
Opening hours: April to October: 6:00 – 18:00 and November to March: 7:00 – 17:00
Time needed: About half a day, but you can extend this based on how far into the wild great wall onward to Simatai you choose to go.
Facilities:

Cable cars

– 8:30- 16:30 from April 1 to November 10
CNY 40 for a single trip
CNY 60 for a round-way ticket

Getting to Jiankou From Beijing: Take subway line 13 or subway line 15 to Wangjing West Station

Take the bus from Wangjing West Station to Luanping, and get off at Jinshanling Service Area

CNY 50 (One way)
~2 hours (including shuttle bus)

Take a free shuttle bus from Jinshanling Service Area or hike the 2 kilometres (1.3 miles) to the entry gate.
| | | |
| --- | --- | --- |
| Schedule | Onward Trip | Return Trip |
| Bus | 6:30 – 16:00 | 7:00 – 16:30 |
| Free Shuttle Bus | 10:00, 11:00, 13:00, 15:30 | 10:30, 11:30, 13:30, 15:00 |
5.) Huanghuacheng (Slightly Wild, Very Pretty!)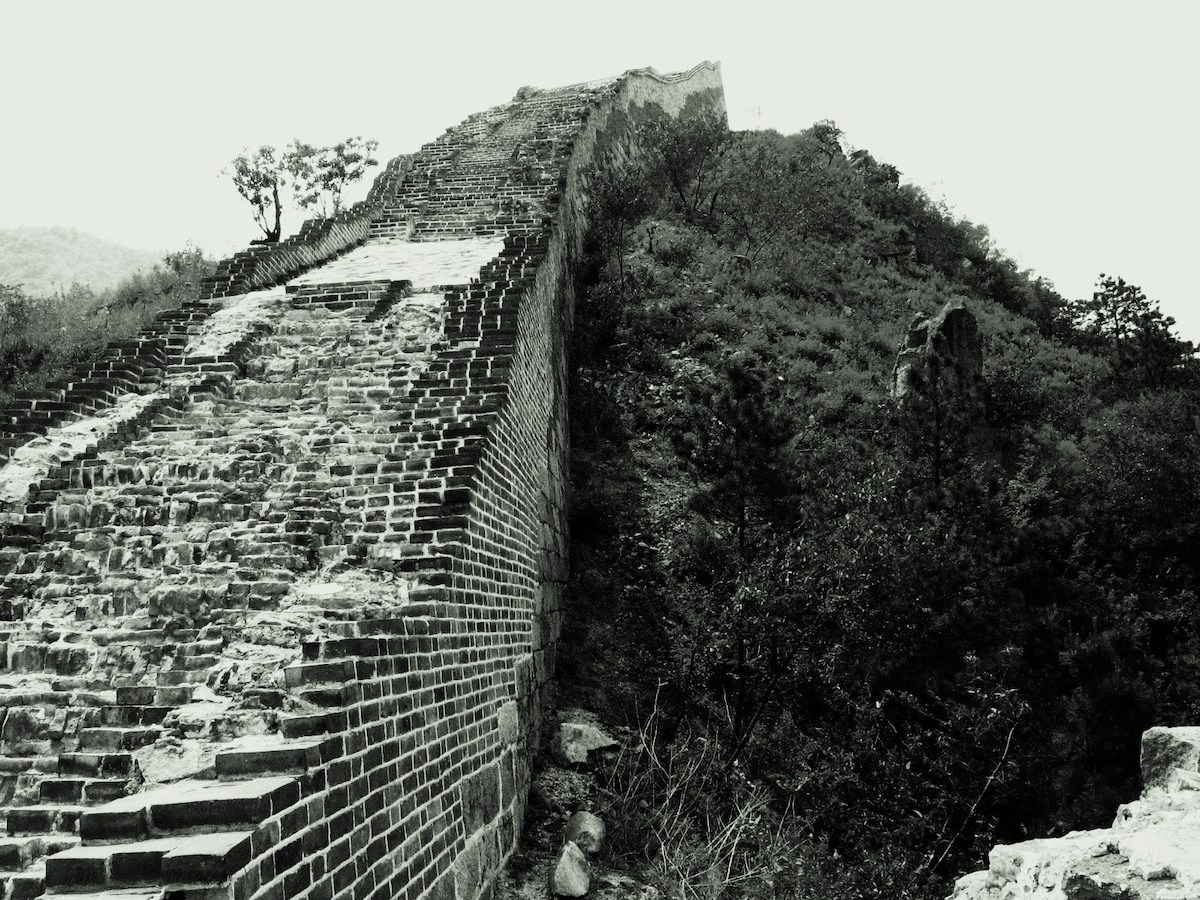 In terms of strenuous wild wall hiking, the Huanghuacheng wild part is relatively tame, with the exception of longer parts of the north route that await you, with menacing sounding names such as "Sky Ladder" and "The Eagle Flies Facing Forward" living up to their intimidating labels.
I did not see a single soul around me for 3 hours and the serenity of the nearby glorious lake makes the trip worth it, for those who simply want to enjoy a slightly weirder hike with fewer bodies around.
Know Before You Go:
Location: Jiuduhe Town, Huairou District of Beijing City

70 km (43 mi) north of Central Beijing

Cost:
| | |
| --- | --- |
| Adults and children > 1.2 meters ( 3.9 feet) | CNY 45 |
| Children < 1.2 meters ( 3.9 feet) in height | Free |
April to October
8:30 – 17:00 (Weekdays)
7:30 am–5:30 pm (Weekends, May 1 to 7, and October 1 )
November to March
8:30 – 16:30
Time needed: 2-3 hours of absolute bliss.
Facilities:
Yacht
CNY 25 / per person / one-way
CNY 40 / per person / round-way
Sightseeing Boat
CNY 20 / per person / one-way
CNY 35 / per person / round-way
Pedalo
CNY 50 / h (for four people)
CNY 60 / h (for five people)
Rowing Boat
CNY 40 / h (for four people)
Amphibious Car
CNY 60 / per person/ once
(CNY 40 between June 10 to October 31)
Getting to Jiankou From Beijing: Take Bus 916 from Dongzhimen to Huairou Town (怀柔汽车站)

CNY 12 (Bus 916 & 916 Express)
From Dongzhimen: 6:00 – 21:00, To Dongzhimen: 4:55 – 19:00 (Bus 916)
From Dongzhimen: 5:50 – 19:50, To Dongzhimen: 4:50 – 20:00 (Bus 916 Express)
Then the 'Huairou–Waterside-Great-Wall Direct Bus' (怀柔–水长城专线车, a blue minibus) to Huanghuacheng.

From Dongzhimen: First, at Dongzhimen Public Transit Hub you need to buy a combo ticket for Huanghuacheng Lakeside Great Wall and round-trip bus rides before getting on onboard

CNY 80
Departure 08:00 to 09:00.

From Xuanwumen: The ticket is sold in the northeast of Xuanwumen, right before Beijing South Cathedral

CNY 84, including the ticket for Huanghuacheng Great Wall and the round-trip bus fare
It leaves around 7:30 to 8:30
Hiking The Wild Great Wall Independently Vs Tour Guide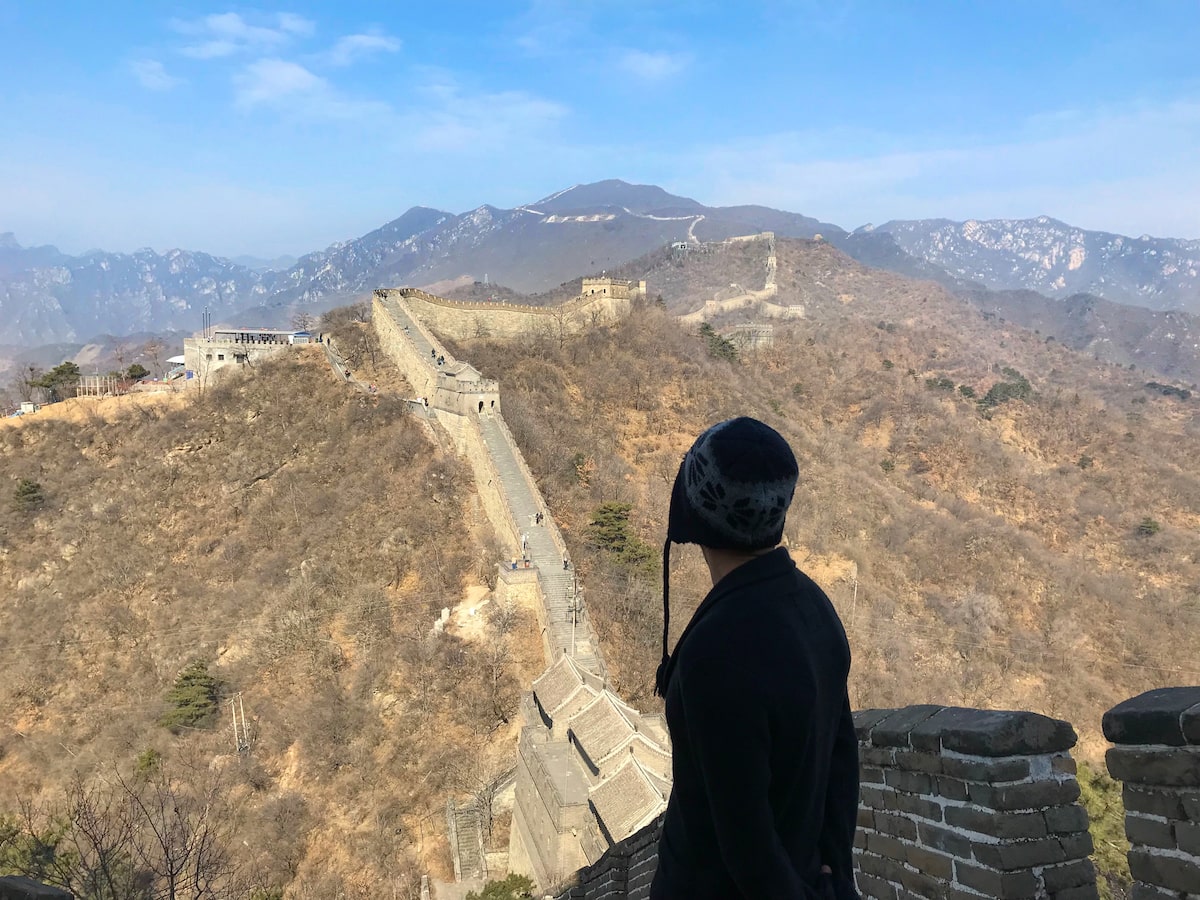 If you are sold on experiencing this uncommonly wandered part of the Great Wall of China, you may be torn between an independent outing vs an experienced tour guide.
I found this not to be as easy of a choice as I usually do in this situation. I'm naturally a lone wolf, who feels smothered and shackled by limits and strict rules given to me by an external authority. I'm not a big fan of group tours either, but there were many options to have a guide all to myself.
I had the privilege of time on my side and as I planned to experience more than one of the Wild Great Wall routes, I decided to mix it up a bit! On some routes, I went solo and on others, I went with an experienced guide with sound reviews.
It's up to you at the end of the day. I have to admit though, I was more than happy with my guide as English isn't widely spoken in China, I didn't have to worry about getting lost and I learnt a lot about the wall's history during the hike.
Another bonus option for me choosing to hire a guide; I was travelling solo in China, so on the guided hikes I had someone to take photos of me having the time of my life, whereas, on the independent hikes, it was just a bunch of criminally bad selfies.
Is The Wild Great Wall Dangerous To Hike?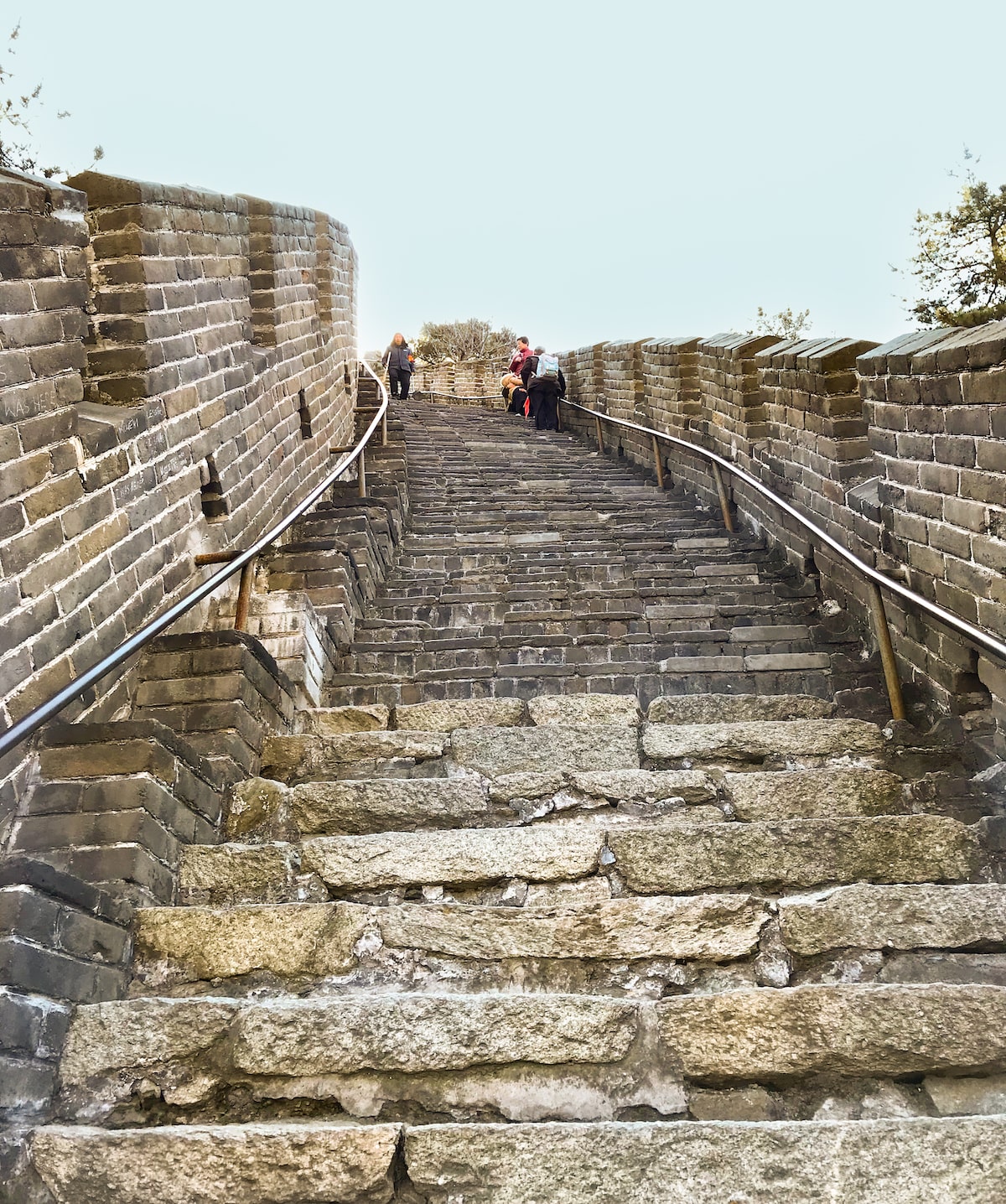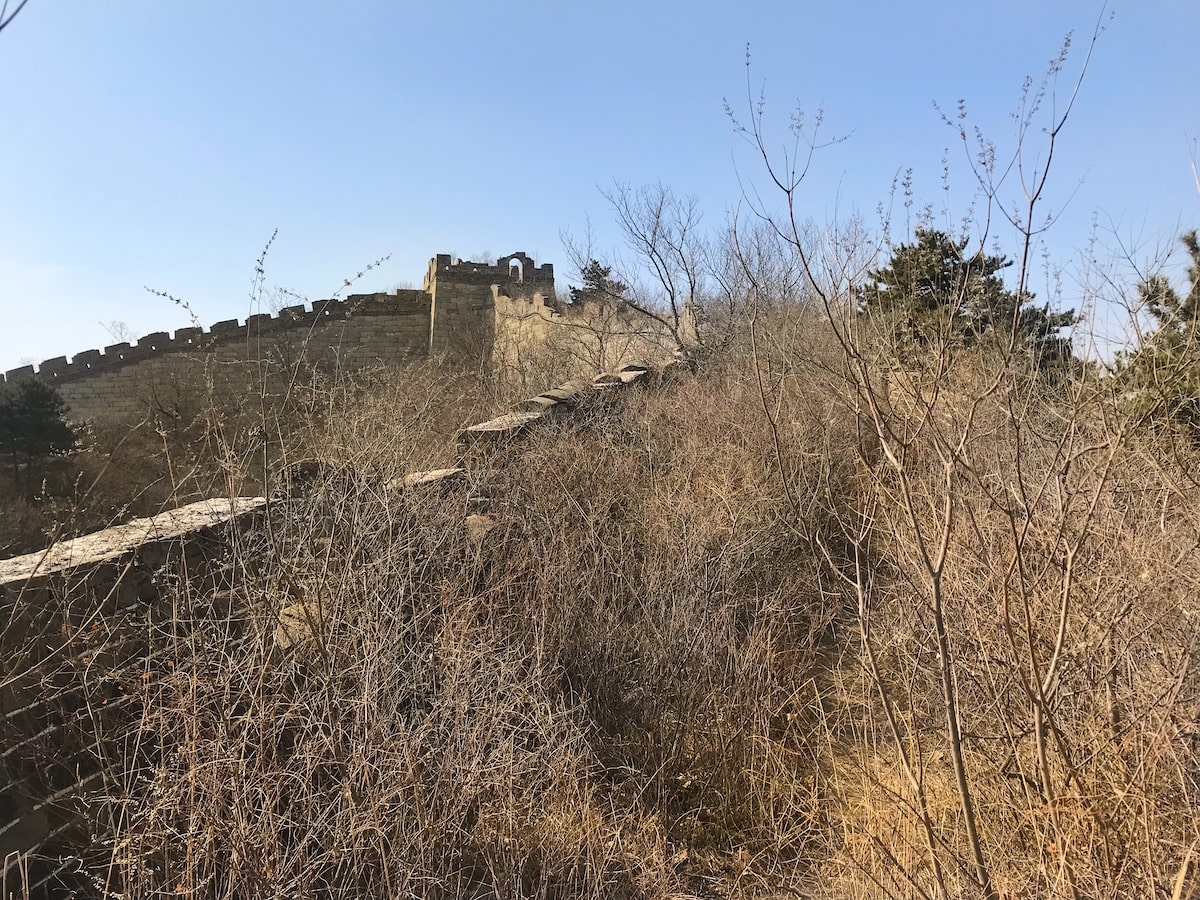 Hiking the Wild Great Wall does not come without the possibility of accidents or risks. The Great Wall Projection Project confirmed that a couple of hikers die every year on the most challenging parts of the Wild Great Wall, so for me, it comes down to two things; common sense and confidence.
Common sense is going into the hike with respect for the rustic part of the wall, with the unspoken agreement of not doing any unnecessary daredevil stunts to impress your Instagram followers.
Confidence should not be confused with arrogance. If you are an experienced and fit hiker, who is self-assured in your ability, then go ahead, stay safe and enjoy yourself.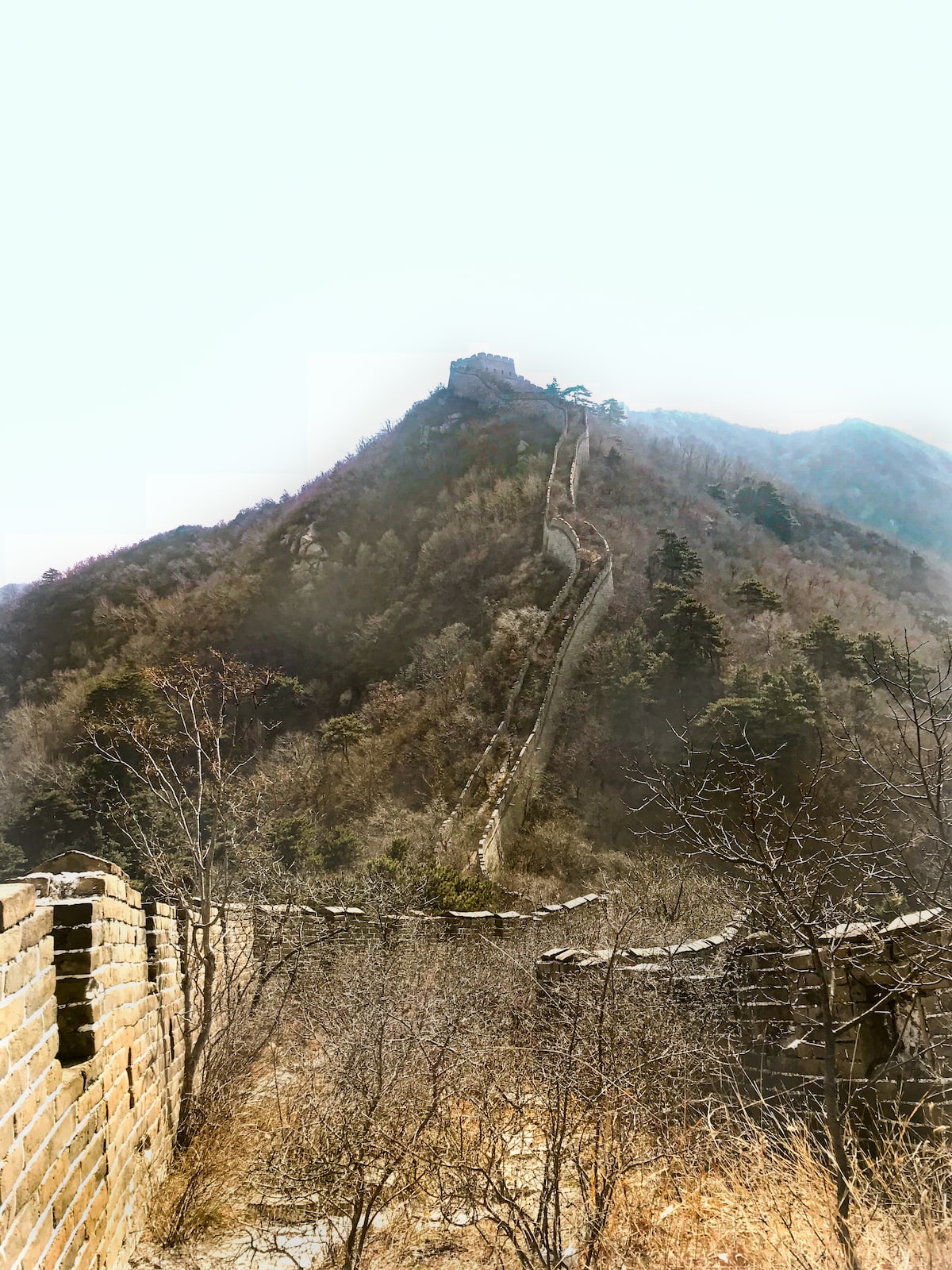 Lack of confidence should also come as a red flag. If you feel like you have bitten off more than you can chew during any of these routes, simply turn back and listen to your gut instinct.
Accidents tend to happen in the most dangerous parts of the Wild Wall such as the aforementioned parts of Huanghuacheng and this lady had a particularly nasty fall on the Jiankou route.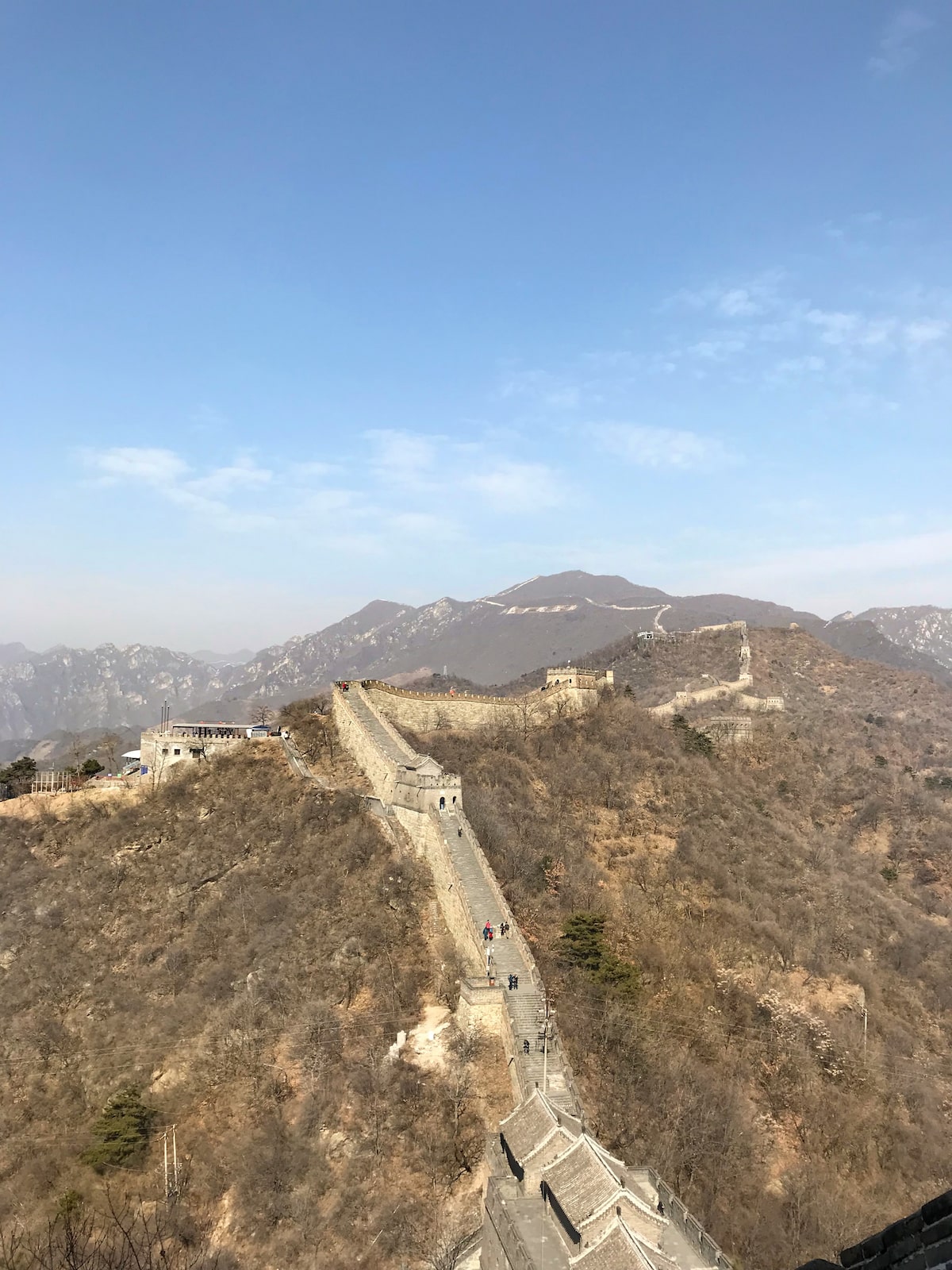 Other dangers could be a fine or trouble with the police if you climb parts of the wall that have recently been sanctioned. It's important to remember that the Great Wall of China is a national treasure and there are continuing developments with regard to what is possible and what is not, in a country that is a stickler for rules, and where English is not widely spoken.
With all that being said, I think it's an extra reason to hire a local tour guide for the more demanding hikes so that you get to encounter the wild side of the wall without feeling the wrath of Beijing law enforcement.
Conclusion: Is The "Great Wild Wall" The Best Place To See the Great Wall of China, For Everyone?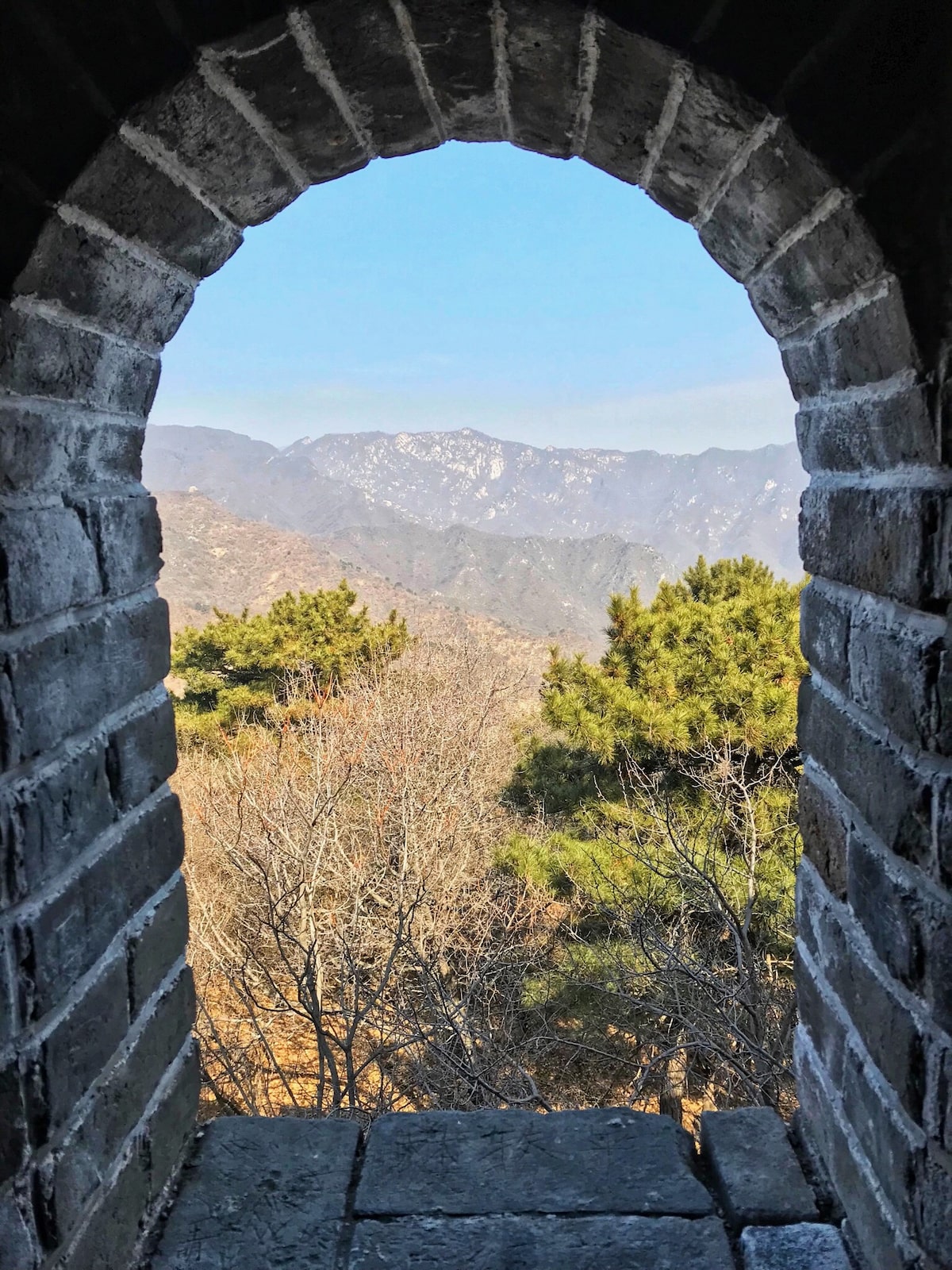 The Great Wild Wall was the best place to see The Great Wall of China for me and my personal preferences. I didn't want to go home disappointed, throw my toys out of the pram and become one of those travel bloggers who cry about "over tourism" because the world refused to revolve around me and I didn't get my own way.
I found an alternative path to witness a unique and lesser-visited part of one of the Seven Wonders of the World, a glorious monument that I had been looking forward to for a very long time and it worked perfectly for my own tastes.
With all the information provided above, you have to work out if either of these choices is best for you because I doubt you want to be stuck like sardines in a can in Badaling.
You have options to make sure you bring home happy memories of The Great Wall of China, so good luck and take your time if you do choose to take a walk on the wild side.
Heading To China? A couple of tips before you go…
China is famously tricky to get a visa, so don't leave it too late! Also if you're planning a trip to Hong Kong you will need to apply for a double-entry Chinese Tourist visa
Want access to Netflix, Gmail, Instagram and all of your favourites while in China? They are all blocked, but ExpressVPN worked perfectly for me and I use it in countries that have similar restrictions.
Are you from a country that likes to politely queue? Forget about that. In Chinese culture, it's not deemed rude to push in. So get ready for being more aggressive or you'll never get served.
China is a safe place to travel solo. As always the usual travel safety tips apply.
Still don't have travel insurance? Oooh, that's naughty (and risky). I used SafetyWing in China, you can read my honest SafetyWing review here.
Always be prepared on the road with these best travel items