While many of us may be familiar with Angel Falls, Victoria Falls and Niagara Falls; the idea of visiting Iguazu Falls doesn't seem to get as much love in the mainstream, although it recently has become too good to ignore.
Straddling two countries and only a few miles away from a third, Iguazu Falls' scale and beauty make a popular choice on most people's South American itineraries.
This article has a strong bias toward the "do it yourself" trip on how to see both sides of Iguazu Falls and most importantly, the most efficient way to beat those pesky crowds so that you have the best views from both Brazil and Argentina.
Best Time To Visit Iguazu Falls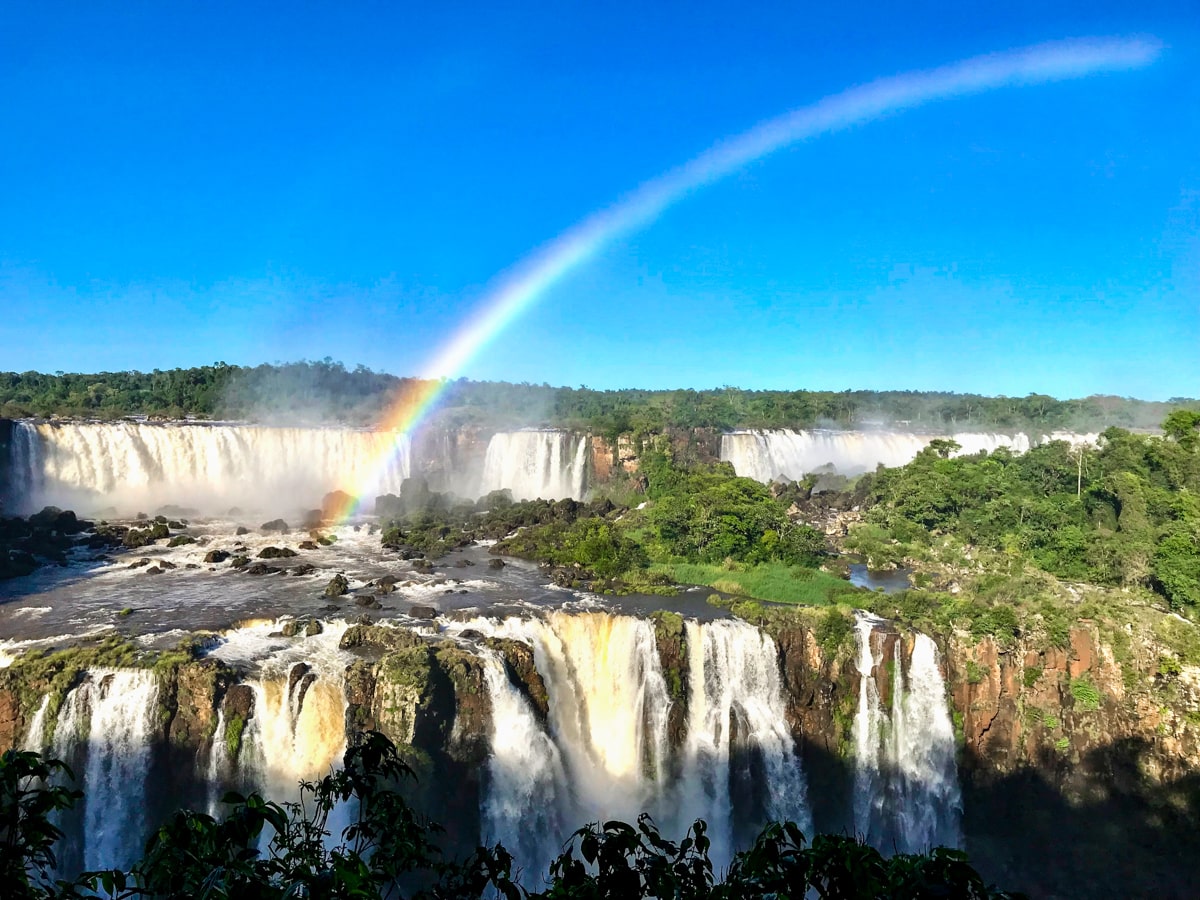 Generally speaking, visiting Iguazu Falls any time of the year is worth the trip. While water levels rise and fall over the year, the beauty of the falls is never in doubt and the cascading water is always just as impressive.
What really dictates the best time of the year to visit Iguazu Falls is the comfort of the trip and your own opinion on fighting the crowds.
The dry season between late March and early June offers optimal weather conditions for visiting Iguazu Falls; the sun is shining and humidity and heat levels are less uncomfortable.
There's also a smaller chance of getting caught in the rain. Unfortunately, less rain means less water in the falls, but they're still equally as mesmerising to watch. It also just so happens to be the quietest season of the year, so you'll have much more space to enjoy the falls. Personally, this would be my season of choice.
August to early October are also dry months but the sun shines a little less, making it a far cooler experience visiting Iguazu Falls. During these months, rainfall is at its lowest which means the waterfalls aren't at their peak, but are, nevertheless, impressive.
If you want full-blown high water levels and to visit when the falls are at their most powerful, then December and February are the time to go.
This isn't a popular choice, however, as heat, humidity and rainfall are at their very highest. The summer months also coincide with local school holidays, so you'll find that domestic tourism is at its peak.
If you're after smaller crowds and don't mind the water being a touch less powerful, then I'd highly recommend avoiding visiting during these months.
Do I Need a Visa For Visiting Both Iguazu Falls?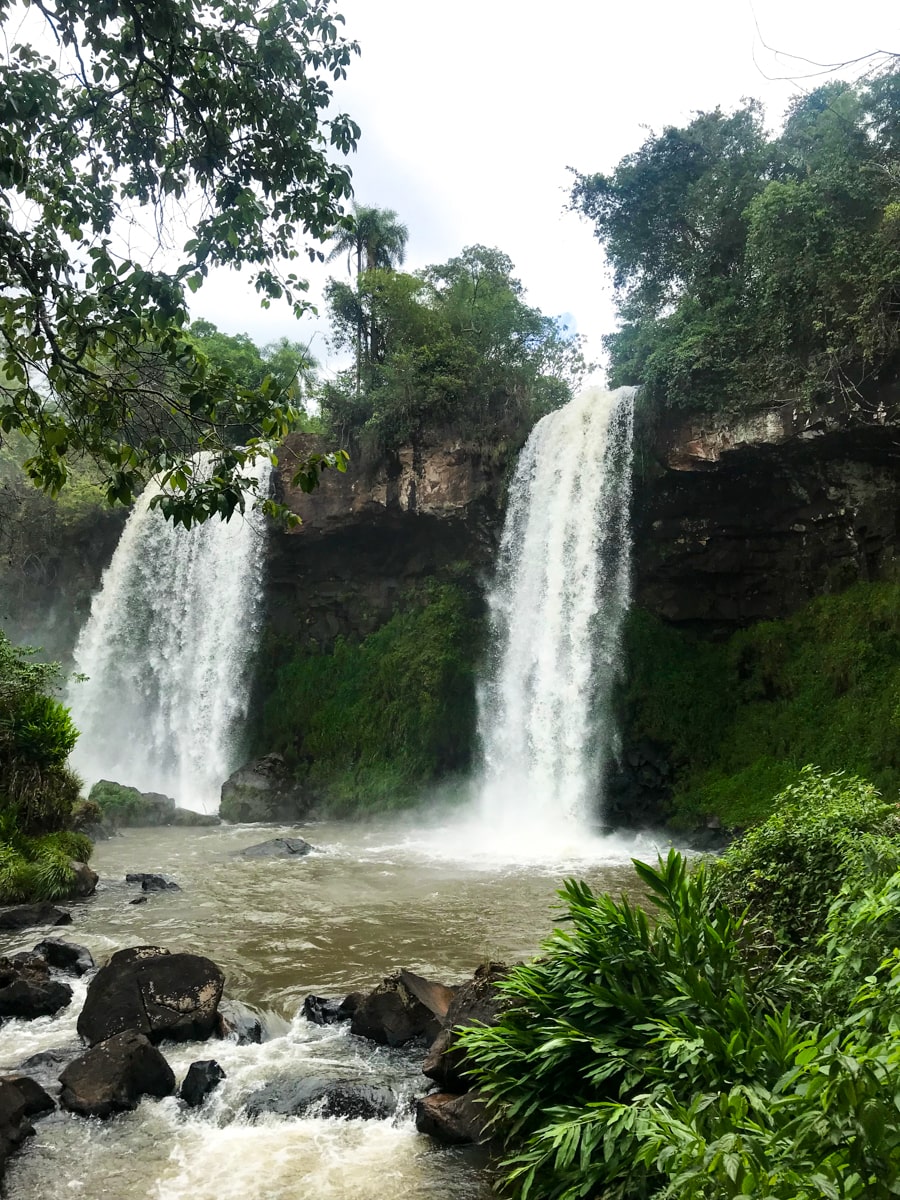 Visiting Iguazu Falls can be done from either the Argentinian side or the Brazilian side. To really maximise the experience of the trip, you could potentially hop across the border and catch a view from both sides.
There's one border crossing between the two countries, around 11 miles northwest of the falls themselves. The crossing is located in two towns that sit on either side of the border, Puerto Iguazu on the Argentina side and the town of Foz do Iguacu on the Brazil side.
The border is separated by the river and can be crossed by taking the Tancredo Neves Bridge, but not on foot.
The majority of passport holders don't need a visa to visit Brazil and even less so for Argentina, that's as long as it's for tourism purposes. However, if your nationality requires a visa to visit Brazil or Argentina you should obtain one ahead of time because the border crossing station here at Iguazu does not issue any visas.
Visiting Both Sides of Iguazu Falls Without a Tour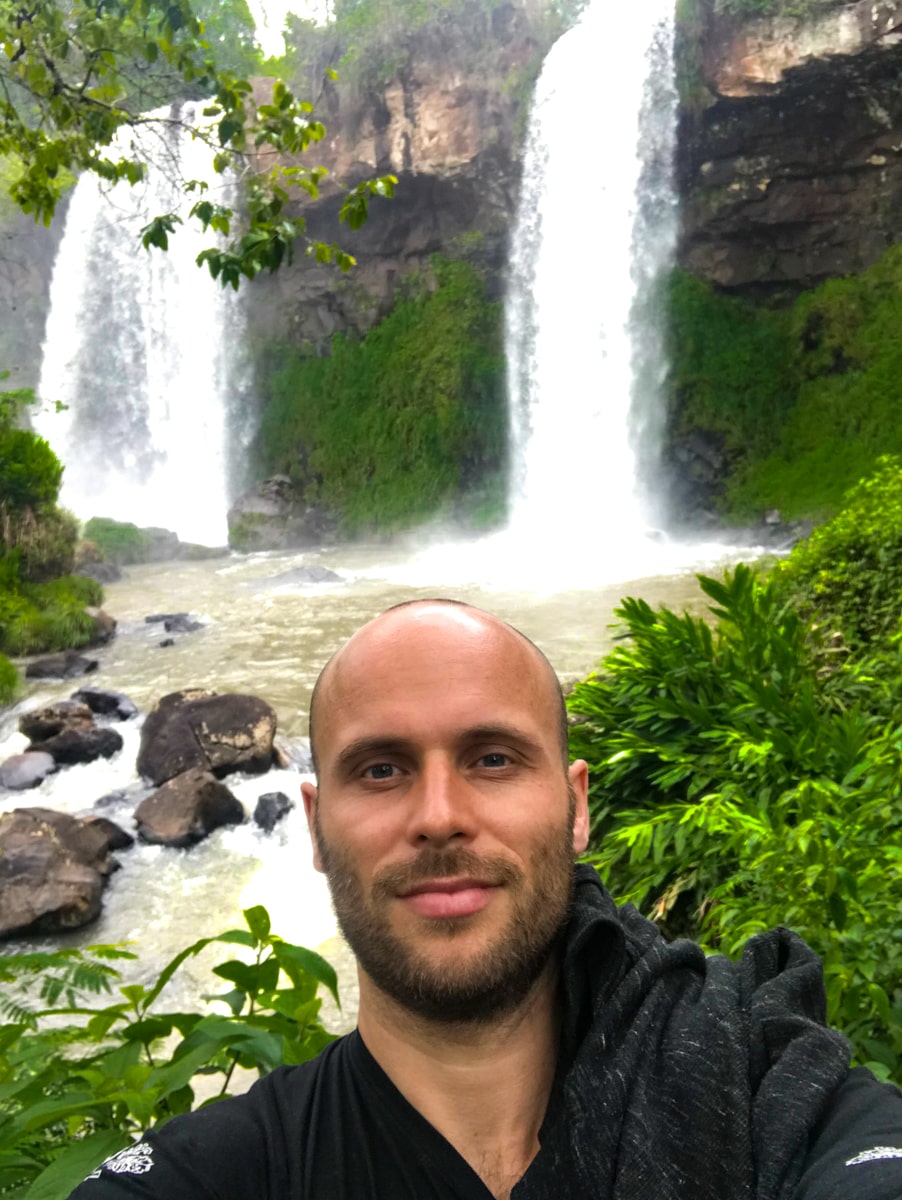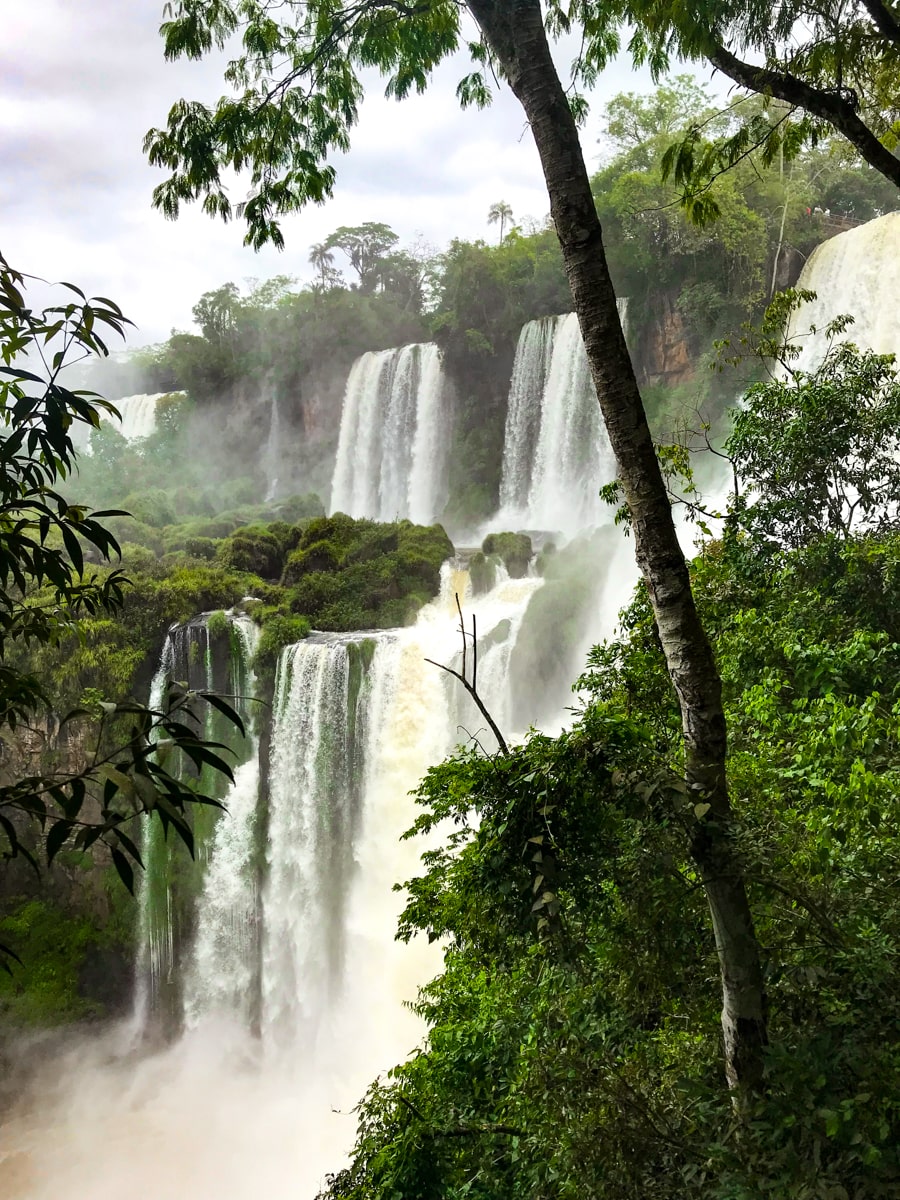 Like many attractions around the world, deciding whether to go as part of a tour or solo can be a difficult choice to make. When it comes to visiting Iguazu Falls, it's not wholly necessary to join an organised tour. For full disclosure; I visited both sides of Iguazu Falls without the tyranny of a tour guide and I had no dramas.
Visiting the falls under your own steam gives you the freedom to see the place at your own pace and not to the set criteria or timetable.
Getting to and from Iguazu Falls is simple enough with a little research and effort; local transport will take you directly to the entrance of the falls. Dodging the crowded sections of the viewing platforms is also a lot easier when it's just you and ultimately you can save money by not paying for the tour.
Where a tour may come into some use is if you wish to do some added extras when visiting Iguazu Falls. This includes boat rides out onto the river, seeing the falls from the water or joining a tour that will take you across the border and see the falls from both Argentina and Brazil.
All in all, it is not necessary to join a tour when visiting Iguazu Falls and a sense of adventure is all the greater when you're doing it independently, but it comes down to personal preference and a part of me does wish that I visited Iguaza with a tour so that I would have had better photos of me with the waterfalls instead of my amateur selfies with my big mug shoe-horned into it!
How To Visit Iguazu Falls: Argentina Side
Argentina is arguably the most popular side for visiting Iguazu Falls. When looking to visit both sides of Iguazu Falls in an efficient time, it's better to start from the Argentina side of Iguazu.
Here's how to do it efficiently as possible, so you can plan accordingly:
Fly To Argentina First (Buenos Aires)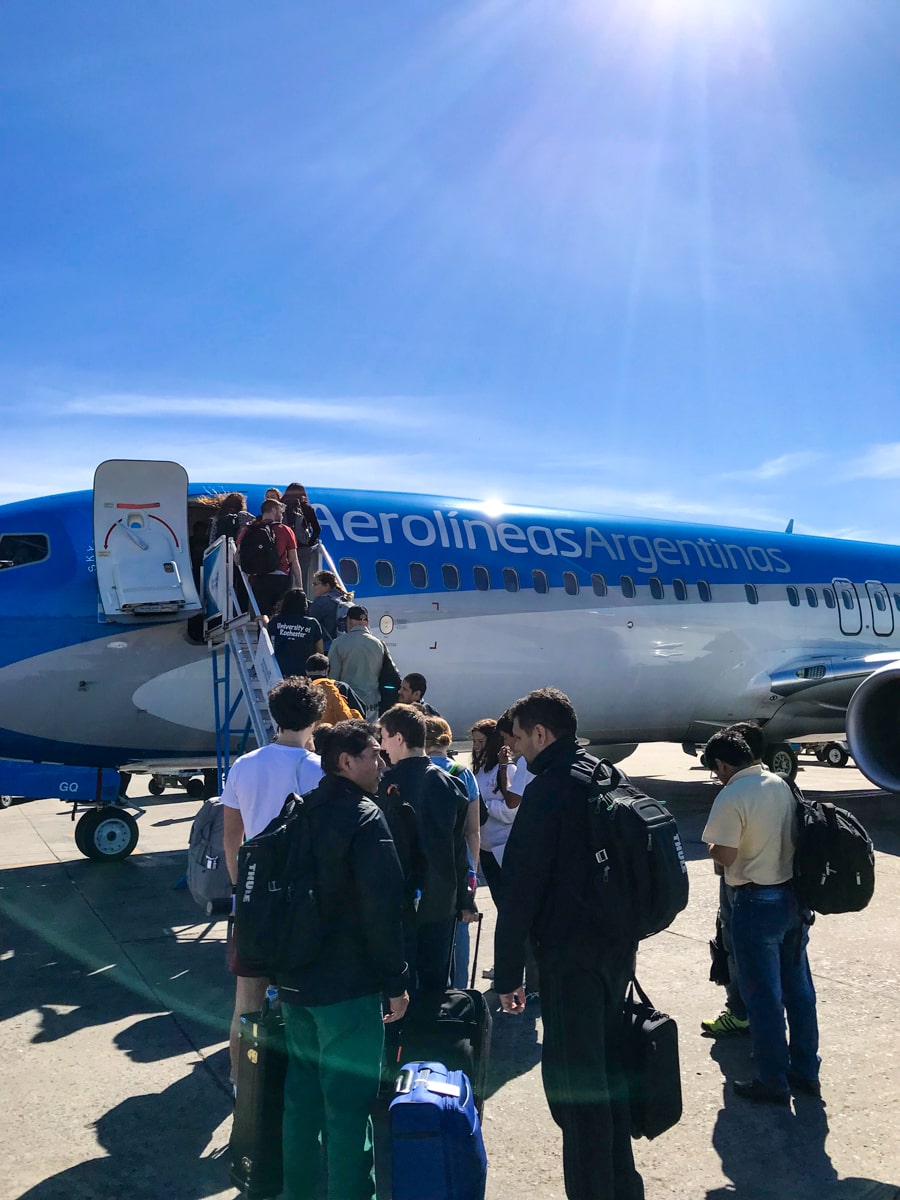 The quickest and most efficient way of getting to Argentina in the first place is to fly to its capital Buenos Aires. Although around 800 miles south of the falls, Buenos Aires is the gateway to the country and will be the best way of getting to Argentina from across the globe.
There are many direct flights from major world cities to Buenos Aires, while others may require a connection elsewhere. Pssst, BA has two airports, so make sure you check that you book correctly or you may have to do a stressful last-minute dash across town as I did!
London -14 hours, <£532
Amsterdam – 14 hours, <€500
New York – 11 hours, <$1,000
Atlanta – 10 hours, <$600
Sydney – 28 hours, 1 connection in a US city, <AU$1,300
Fly To Cataratas Del Iguazu International Airport
From the Argentinian capital, you will then need to catch a domestic flight to Cataratas Del Iguazu International Airport (IGR), an airport that is only a short distance from the falls. The flight will take just under two hours and will cost you around USD$70 depending on when and where you book the flight.
Where To Stay in Iguazu Falls (Argentina Side)
The beauty of Argentina is that you can find a whole host of accommodation options; from the backpacker budget hostels to the opulently luxurious hotels. Here are a few pointers on where you might want to stay:
Budget: Hostel Park Iguazú
If you're on the hunt for low-cost accommodation when you're visiting Iguazu Falls, you'll find a bunch of hostels nearby that offer dorm rooms for as little as a few dollars each night.
Hostel Park Iguazu is an extremely popular option. Located on the northeast side of Puerto Iguazú, close to the river, Hostel Park Iguazu has a variety of rooms for all budgets. The hostel provides a typical hostel dorm room, where you can bunk down a bed for the night at a low rate.
There are also options for private and single rooms if you're after a bit of privacy. Hostel Park Iguazu also has a shared kitchen, swimming pool, garden, barbecue and games room for guests to enjoy.
Check rates and dates for Hostel Park Iguazu on Booking.com
Mid-Range: Hotel Yvera Cataratas
For something a little more high-brow, the Hotel Yvera Cataratas in northwest Puerto Iguazú is a fantastic shout. This 3-star hotel offers comfy and stylish rooms, complete with air conditioning, a flat-screen TV, a desk, a safe and a private bathroom with a bath and free toiletries, with some rooms offering views of the hotel gardens.
The hotel itself has a swimming pool, hotel bar and free private parking for guests. 
Check rates and dates for Hotel Yvera Cataratas on Booking.com
Luxury: O2 Hotel Iguazu
For high-end accommodation when it comes to visiting Iguazu Falls, you can't go wrong staying at the O2 Hotel Iguazu. This four-star hotel is a little drop of luxury in the area and will provide you with all the comfort you will need for a great visit.
Dine in the in-hotel restaurant or relax in the spacious and well-furnished rooms of the hotel. To cool off, you can take a dip in the huge outdoor pool, complete with deck chairs and shaded canopies.
Check rates and dates for 02 Hotel Iguazu on Booking.com
Entering Argentina Iguazu Falls From Inside Argentina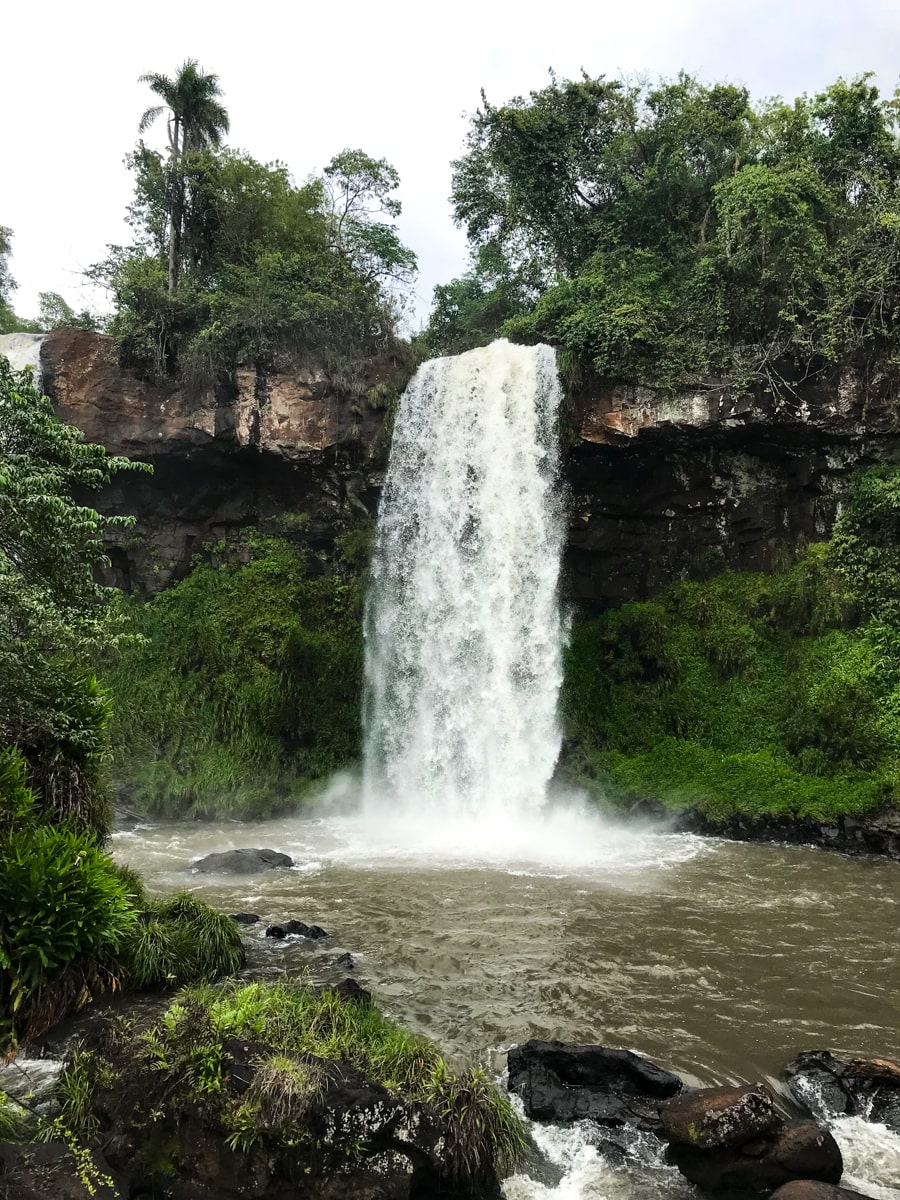 During your visit, you will most likely be staying in the nearby town of Puerto Iguazú, around ten miles northwest of the falls. There are two ways of getting to the falls from Puerto Iguazú.
Either take the local bus from the main bus terminal, they leave every 20 minutes and take around 25 minutes to get there (sometimes more if there are locals onboard stopping along the way). This option will cost a mere $1 each way.
Alternatively, you can hire a taxi to take you the ten miles and haggle yourself a price. This shouldn't cost much more than $15 each way, though some taxis may ask you to pay for waiting time when you're there.
Entrance to the falls will set you back around 800 Argentine Pesos (USD $18) for adults and 200 Argentine Pesos (USD $5) for kids up to the age of twelve. Once you have entered the Iguazú Falls National Park, huge stretches of boardwalks crisscross the area, giving you different perspectives of the falls and the surrounding park.
Top Attractions in Argentina Iguazu Falls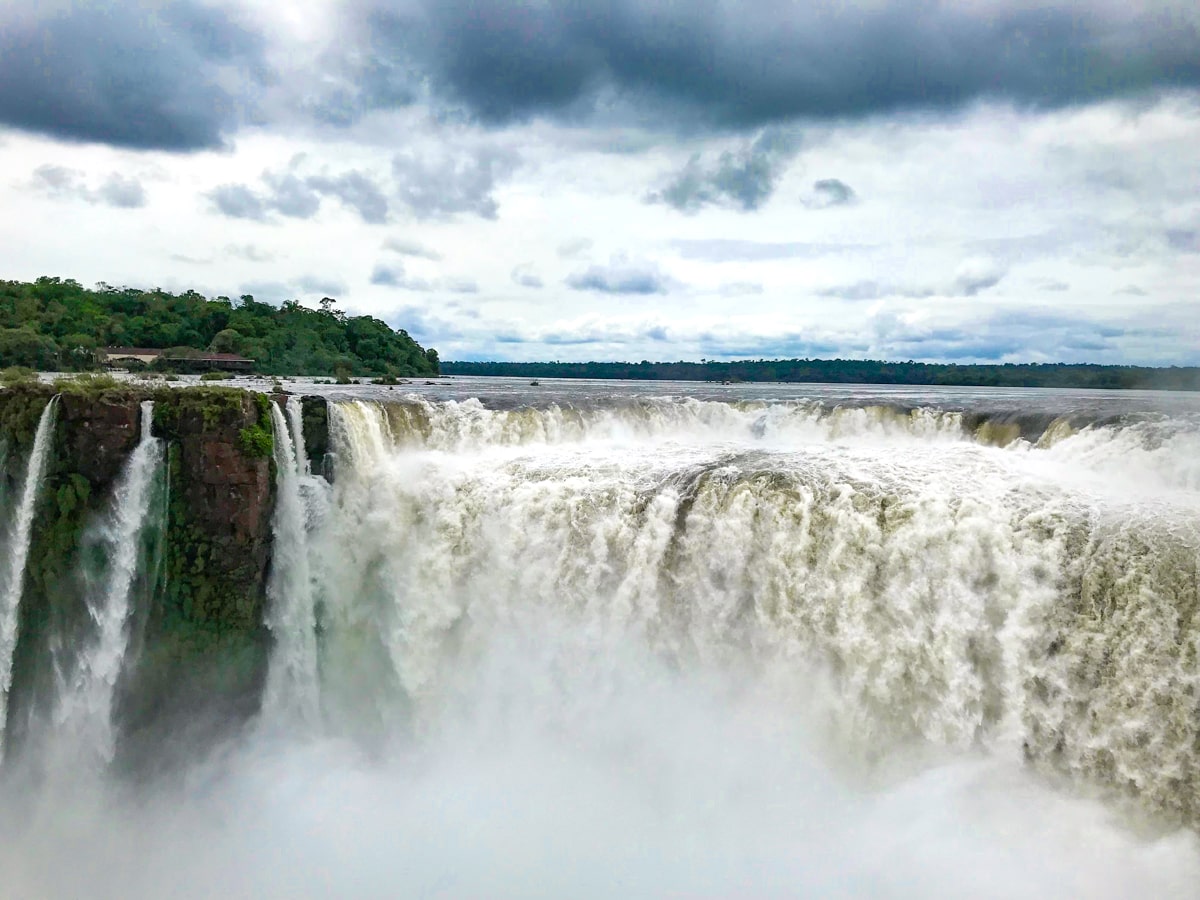 Visiting Iguazu Falls isn't just about the falls themselves, but the fantastic surrounding trails too. On entering the park you will first come across the Lower Circuit. The Lower Circuit is just over half a mile of boardwalks that run along the basin of the Devil's Gorge and under small splashing waterfalls or hopping over rivulets.
The Rainforest Ecological Train or Waterfalls Train is another of the falls' most popular sights. The trains can transport up to 150 passengers over four miles of track and lead you through the rainforest, under the thick foliage inhabited by a plethora of wildlife. Riding the train is a great way of experiencing the falls and the park around it, especially if you haven't got time to explore one of the longer trails.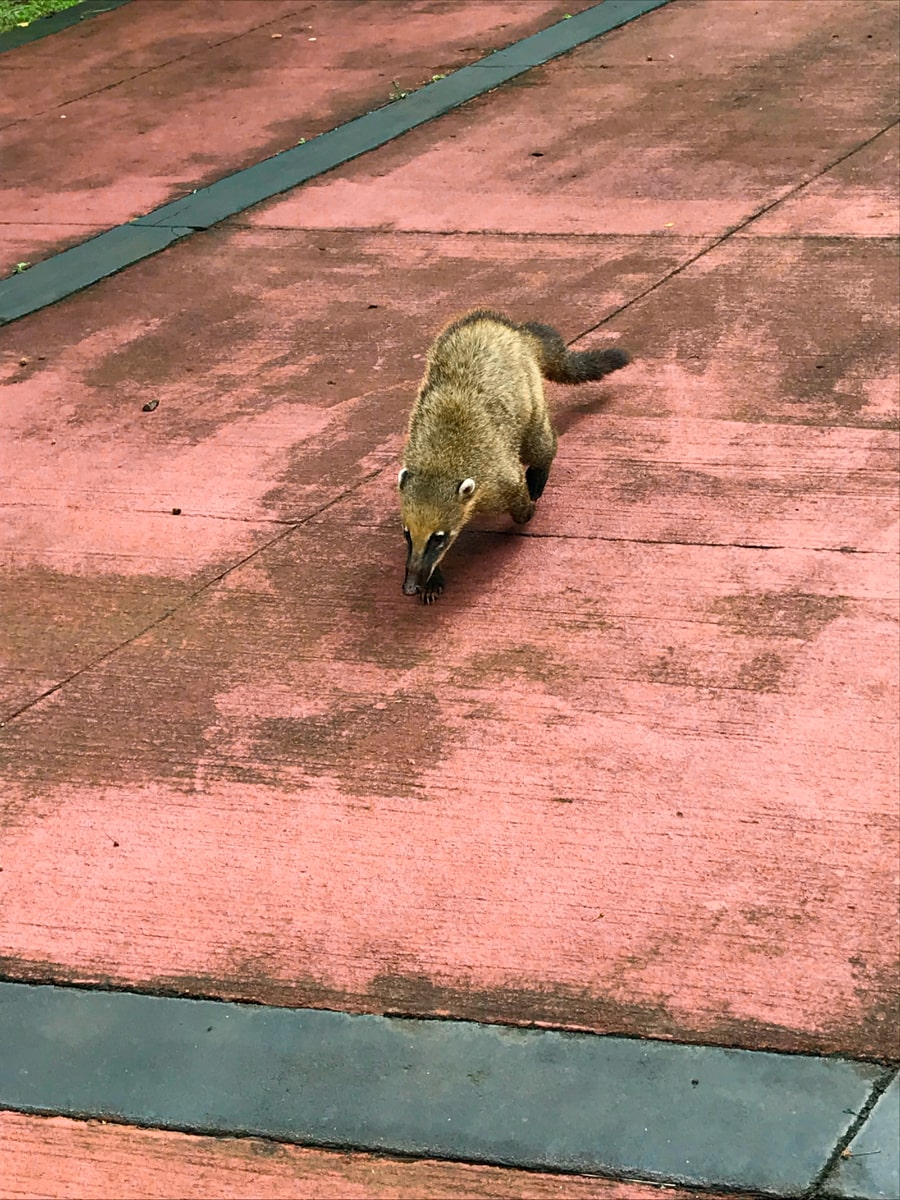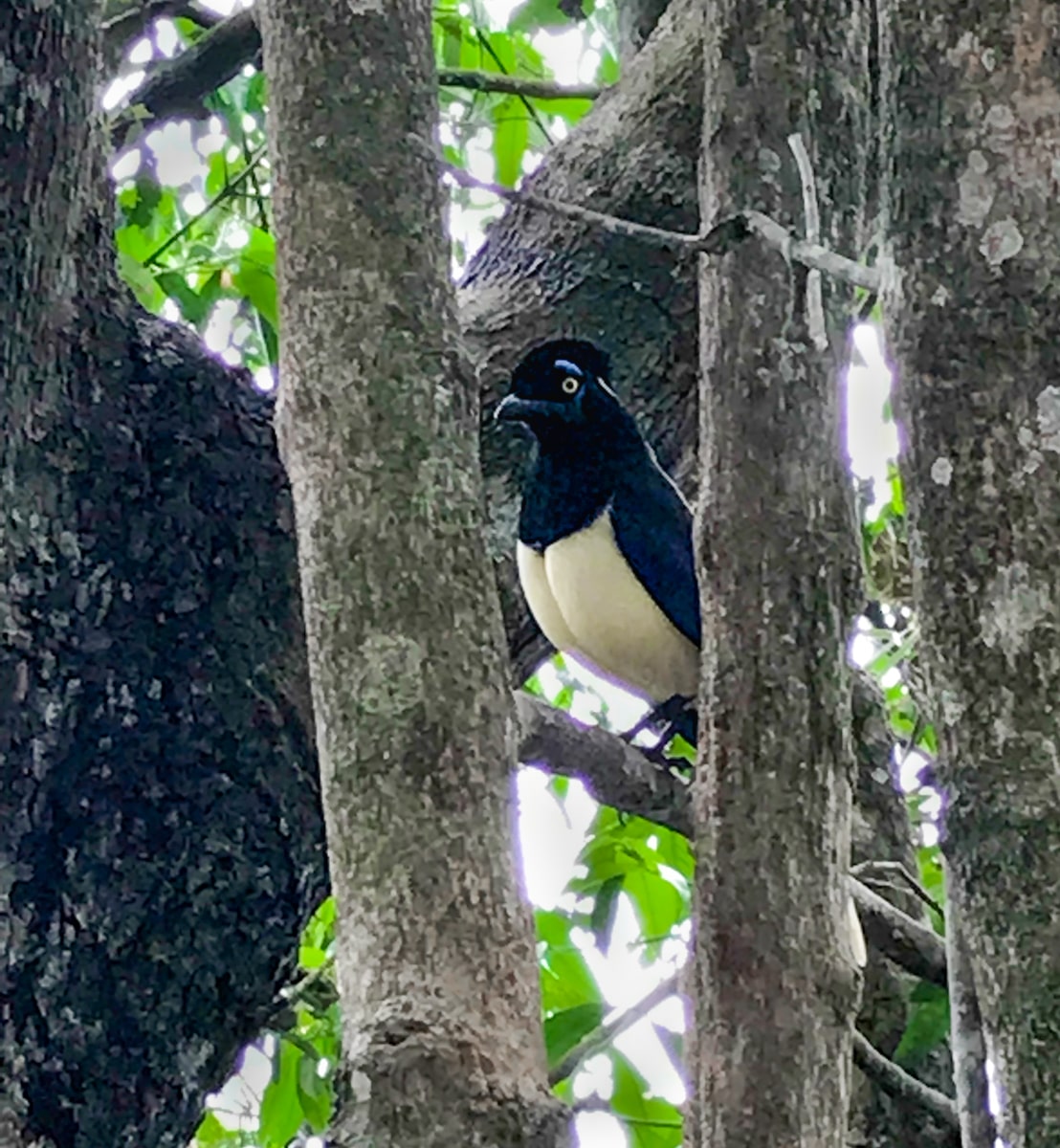 The Devil's Throat or Devil's Gorge as it is also known is one of the most popular areas when visiting Iguazu Falls. These falls are gigantic and one of the most majestic out of them all, stretching around two and a half miles across.
The vast cascading waterfall was formed by a geological fault, which was possibly the result of a volcanic eruption, some 200, 000 years ago. It's a pretty unbelievable sight, and well worth taking the time to see, or even prioritising while you're visiting Iguazu Falls.
Border Crossing From Argentina To Brazil Iguazu Falls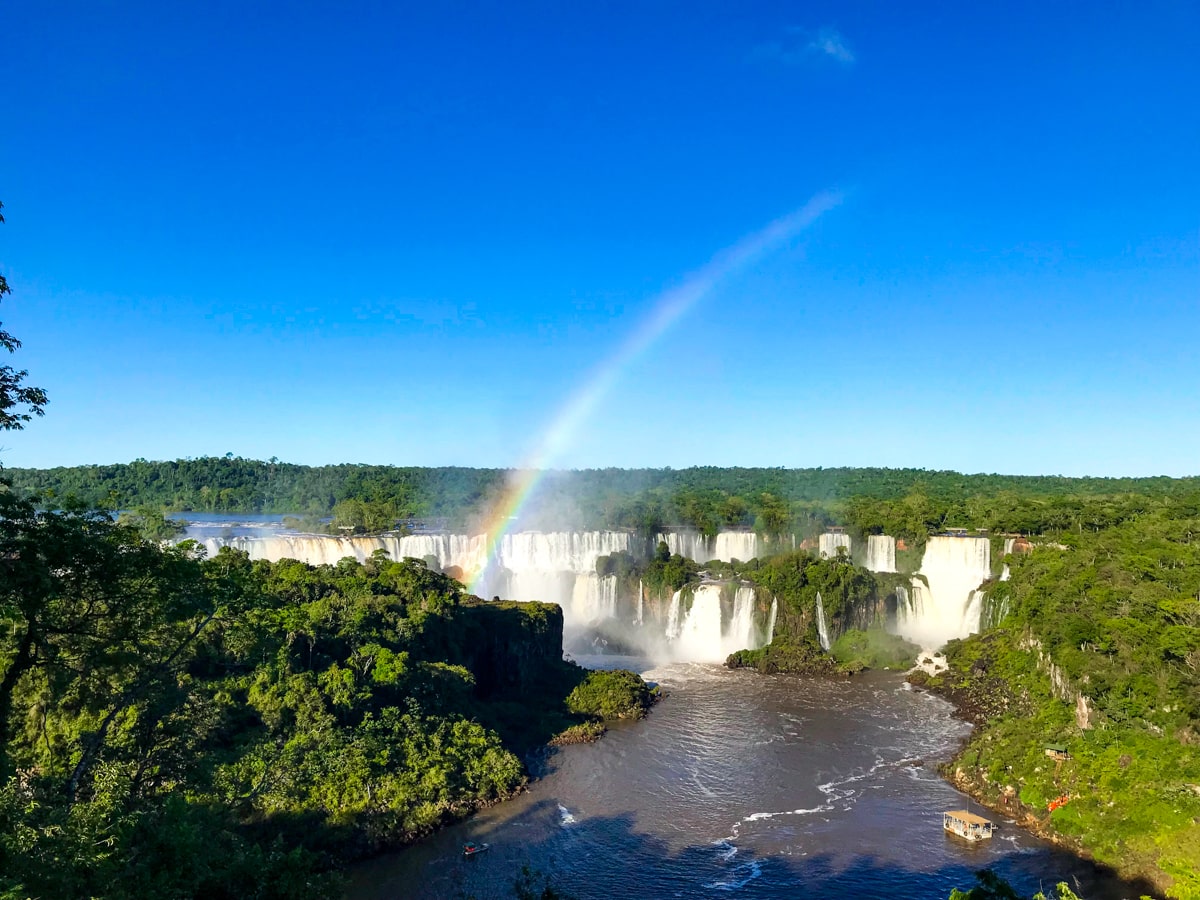 Once you've finished visiting Iguazu Falls from the Argentinian side, you'll no doubt want to see what the Brazilian side has to offer. Crossing the border is a pretty simple process and can be done 24 hours a day, as the border crossings never close.
As I mentioned above, you can only cross the border at one point and that's via the Tancredo Neves Bridge by vehicle. You can catch a taxi and will need a visa stamped on the Brazilian side as you enter for around 150 Brazilian Real (around $30 USD).
A bus sounds like a sweeter deal, but you will have to wait around for the bus to fill up and then wait your turn for the visa stamps. Taxi drivers are well-versed and will do a lot of the work for you…all those minutes do add up when you are on a time restriction, or even more importantly – want to optimise your time better for less annoying queues and more gorgeous views!
A visa is waived for residents of the following countries: the USA, Canada, Australia, New Zealand, and most Western European countries. Upon arrival, residents of these countries can stay for up to 90 days.
Top Attractions in Brazil Iguazu Falls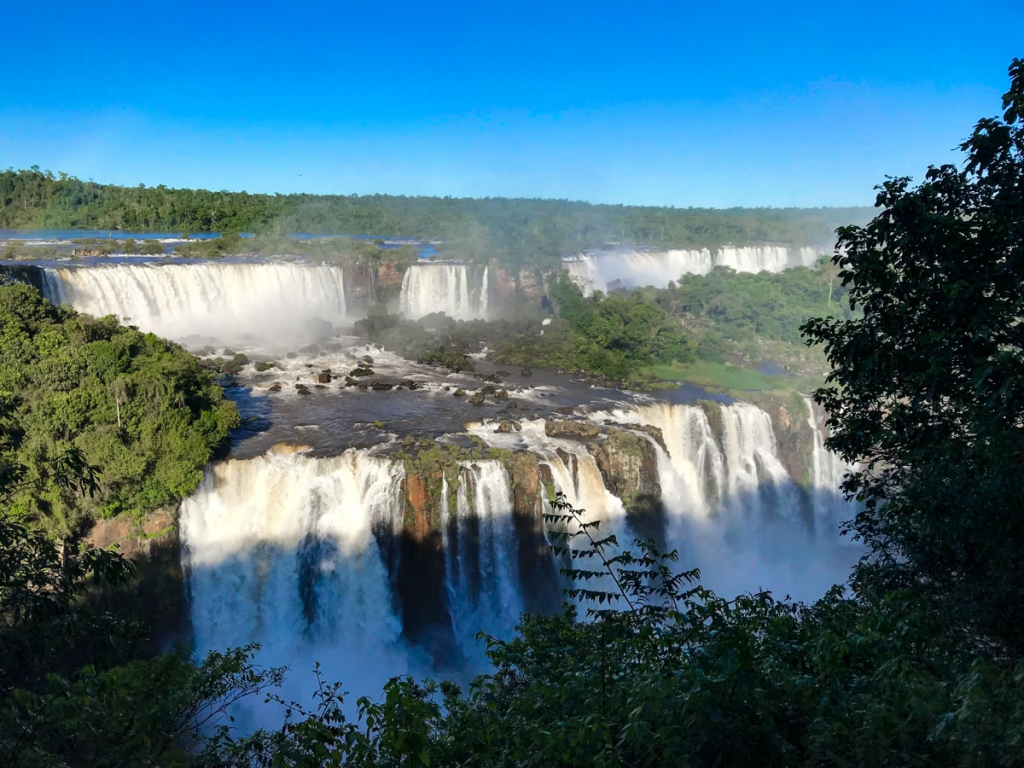 The Brazilian side of Iguazu Falls has a plethora of sights all of its own, giving you a whole new perspective on the falls. First off are the winding pathways that take you through the lush jungle and give you an epic sight of the casting falls on the opposite side of the river.
The highlight is the platform and series of walkways at the foot of one of the upper waterfalls and the walkway that takes you to the lower base of the Devil's Throat falls.
Further upriver from Iguazu Falls on the Brazilian side is the Itaipu Dam, a breathtaking feat of civil engineering that converts the upper river and helps keep the surrounding area from flooding.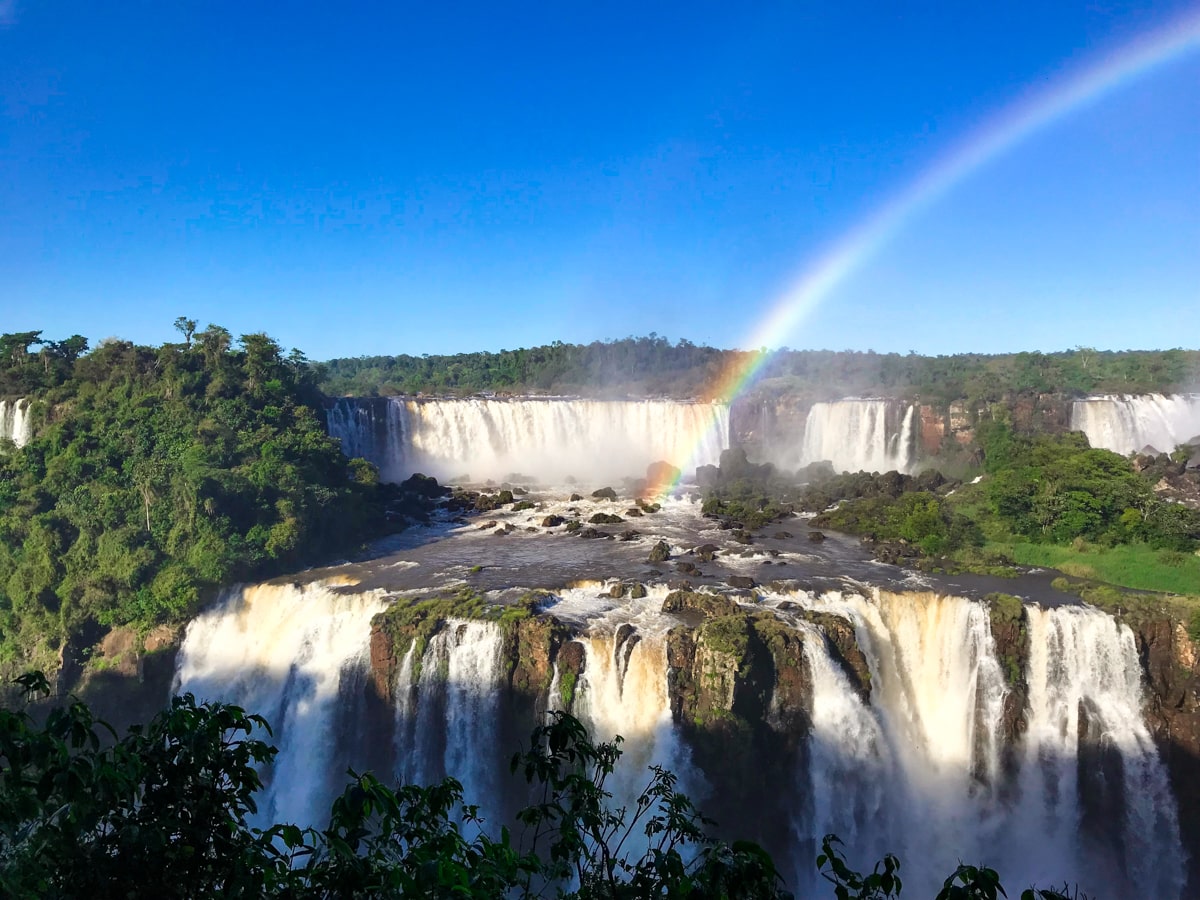 West of the falls is the point known as the Triplice Fronteira or the Triple Frontier. Here you can stand and catch a photo of the place where three nations meet, Brazil, Argentina and the often-overlooked Paraguay.
The final attraction on the Brazil side is the Parque das Aves 'The Bird Park'. This park is a sanctuary and shelter for birds situated in this area of South America and the only institution in the world focused on the conservation of the beautiful and exuberant birds of the Atlantic Rainforest.
Remember that it's generally a much more chaotic affair visiting Iguazu Falls from the Brazil side once you've crossed over from Argentina.
Where To Stay in Brazil Iguazu Falls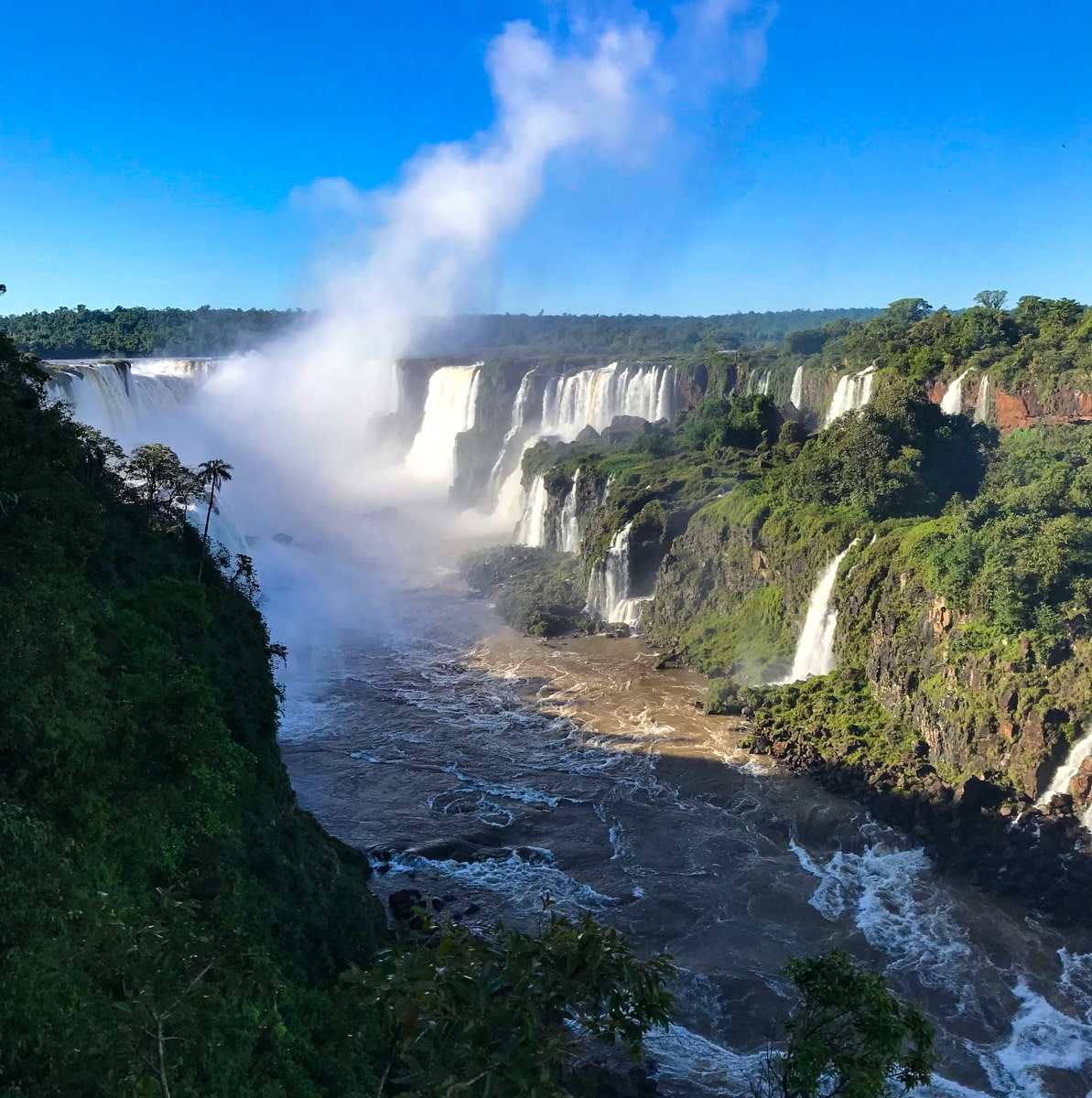 Much like in Argentina, you'll find a range of accommodations not too far from the falls that cater to a variety of budgets.
Budget: Frontier Hostel
Frontier Hostel is a simple and humble hostel in the north of Foz do Iguaçu city. Ideal for shoestring travellers visiting Iguazu Falls on the Brazilian side, the hostel houses a series of dorm rooms and private rooms at a meagre cost.
With a simple cosy family atmosphere and breakfast included, you will have all you need to stay in Foz do Iguaçu.
Check rates and dates for Frontier Hostel on HostelWorld.com
Mid-Range: Ibis Hotel
A hotel brand known the world over, Foz do Iguaçu's Ibis three-star hotel is ideal for the mid-range traveller. Located in the Cento central district of Foz do Iguaçu, you are ideally located for exploring the city and the falls. The hotel has Twin bedrooms, with two single beds, free WIFI, a minibar and air conditioning. Offering up an excellent breakfast selection, and a hotel bar area that is available 24 hours, what more could you ask for?
Check rates and dates for Foz do Iguacu Ibis Hotel
Luxury: Belmond Hotel
Visiting Iguazu Falls was an early birthday present for me and so I went all out and booked myself in the Belmond Hotel on the Brazilian side of Iguazu. This is the only hotel in Brazil's Iguassu National Park and is the best way to see both the falls, as you can see all the sights in Argentina and when the rest of the park is closed (at night time and first thing in the morning) you will have pretty much the whole of the Brazilian Iguazu falls to yourself!
It goes without saying that this comes at a premium cost, but as this is a once-in-a-lifetime kind of thing, I would recommend dipping into that piggy bank to get the very best of both worlds and also spend a night in luxury if it's an option.
Pure heaven and a perfect way to visit both sides of the falls without rushing.
Check rates and dates for Belmond Hotel on Booking.com, right in the heart of Brazil's Iguazu Falls!
Which Side of Iguazu is "Better?"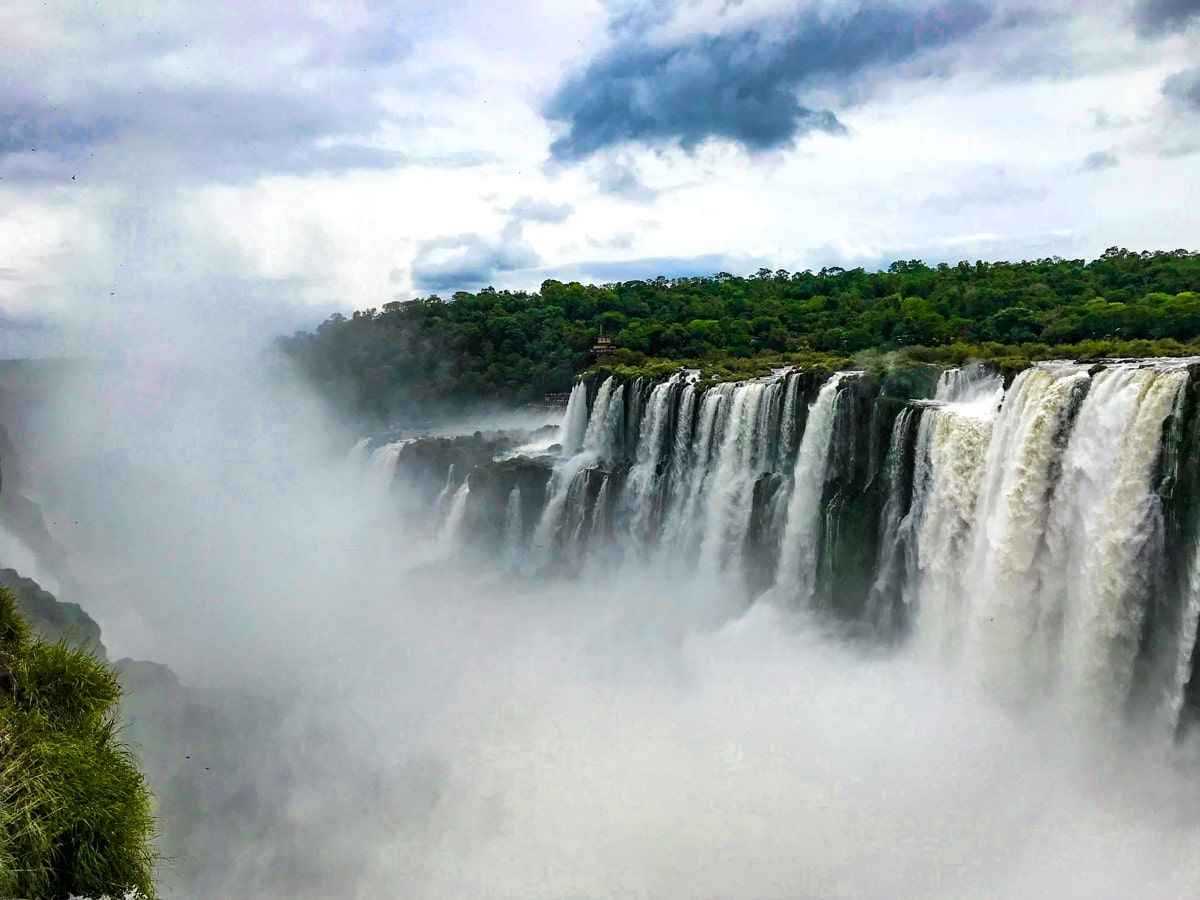 It's popular to choose a side (quite literally) after visiting Iguazu Falls, however, there is way more nuance to deciding what is "the best." Argentina is undoubtedly the most popular answer due to the sheer volume of waterfall attractions that its side possesses.
I would argue that the very best view of Iguazu is Garganta del Diablo, from the Brazilian side. I was overwhelmed by three beautiful, powerful waterfalls from one side. Also, the Brazilian side has less traffic, which is music to the ears of people who hate fighting through crowds.
With Argentina's side having the most views and Brazil being more relaxed and having the best, I am even more convinced that the optimal way to see both sides of the Iguazu Falls is to start your Iguazu visit bright and early from the Argentina side, power through with the knowledge above and wind down the day at the Brazilian side – which also gives you the option to stay nearby and have a second bite of the cherry if you don't feel like you got there in time.