I absolutely loathe cold weather, but I don't mind if it's for a winter sport achievement like climbing a snowy mountain, or feeling the wind batter against your eardrums while cycling down Bolivia's Death Road.
I'm also up for a bit of nippy weather if it chips away at my neverending bucket list so staying in The Kirkenes Snow Hotel, the famous snow hotel in Norway's Arctic Circle was a hard yes for me.
Also, my favourite travel partner in crime, Johnny, was celebrating his final country after successfully visiting every country in the world, so there was a party to be had.
With Norway as his last stop and it being a new country for me to explore, my wallet wept as I travelled to one of the most expensive countries on the planet.
And so off we all flew to the Arctic Circle, to experience all the things to do in Kirkenes, with the main event being our accommodation: The Snow Hotel in Norway's lesser-known cities (well at least to non-Norweigans).
At the end of this shorter-than-usual article, you should know what to expect when staying in this particular snow hotel (AKA 'Ice Hotel,' know all that it has to offer and be fully prepped for staying in the fantastic Snow Hotel Kirkenes.
Kirkenes Snow Hotel in Norway: My Experience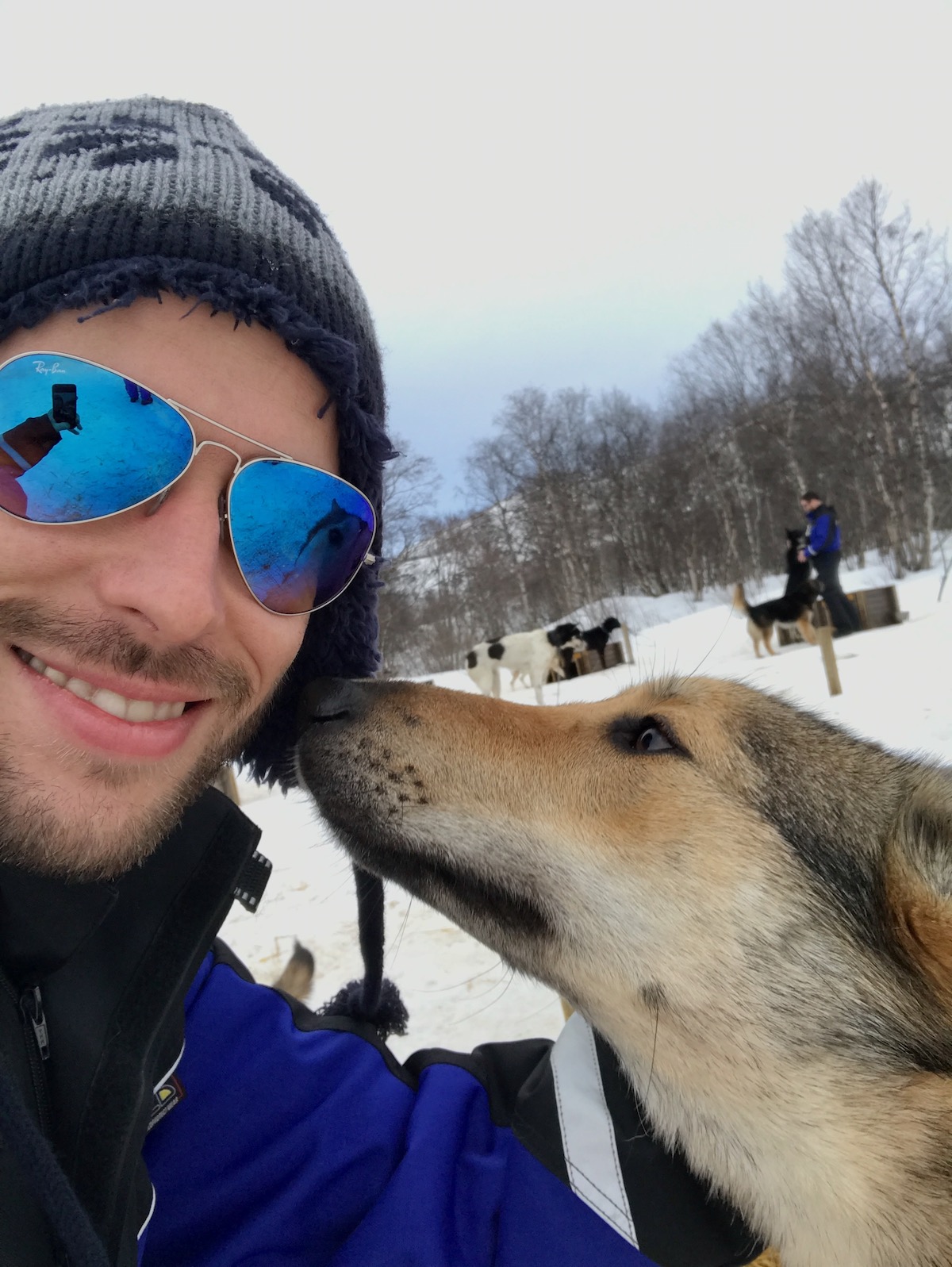 After connecting in Olso via Norweigan Airlines, Snow Hotel Kirkenes took care of our pickup from the airport and took us directly to see what was on offer for the next few days.
I found the main building very unassuming as I approached it, but as soon as I entered the place was very far from modest. The facilities, including a large ice bar, with impressive statues of dogs, men in cold-weather gear and intricate carvings of snow art on the wall, make it look like every bit of a wintery wonderland as you would hope while visiting this unique establishment.
After celebrating Johnny's impressive achievement with a couple of drinks we got the full-on Snow Hotel Kirkenes experience with a tour of the place.
First, we met the resident reindeer, then the impressive game cabins; quintessential wilderness lodges, which we would, later on, spend an evening witnessing the beauty of the northern lights. You can also opt to sleep in these cabins if the idea of sleeping overnight in the best ice hotel Norway has to offer sounds more like cold hell than a fancy travel bucket list experience.
The Snow Hotel really did save the best until last. After showing us around the grounds' most postcard-perfect views we were introduced to the friendliest locals in town… the gorgeous husky dogs.
If you are a dog lover then this pace will be your Mecca, as these furry friends are pretty much perfect dogs; well-behaved, affectionate and love to be petted. The highlight of the trip for me for sure.
The hotel took care of every single item in the above link for the Kirkenes activities and with service to match the aesthetics, it's easy to see why they're one of the most popular ice hotels in Norway.
10 FAQS About The Kirkenes Snow Hotel
If you still have a few questions about the ice hotel in Norway, here are a few of the most commonly asked. A cheat sheet if you like, most of these questions were inspired by my Instagram messages that I received when sharing real-time stories while I was at the hotel.
Found at such a huge distance away from the rest of the world, most people who want to visit the ice hotel in Norway, and the town of Kirkenes, choose to fly round-trip flights into the area. If you do make it to Kirkenes but don't manage to secure a night in the hotel but still want to see what all of the fuss is about then this tour package will get you into the premises for a good look around during the day.
1. Who built the Snow Hotel Kirkenes? (And How?)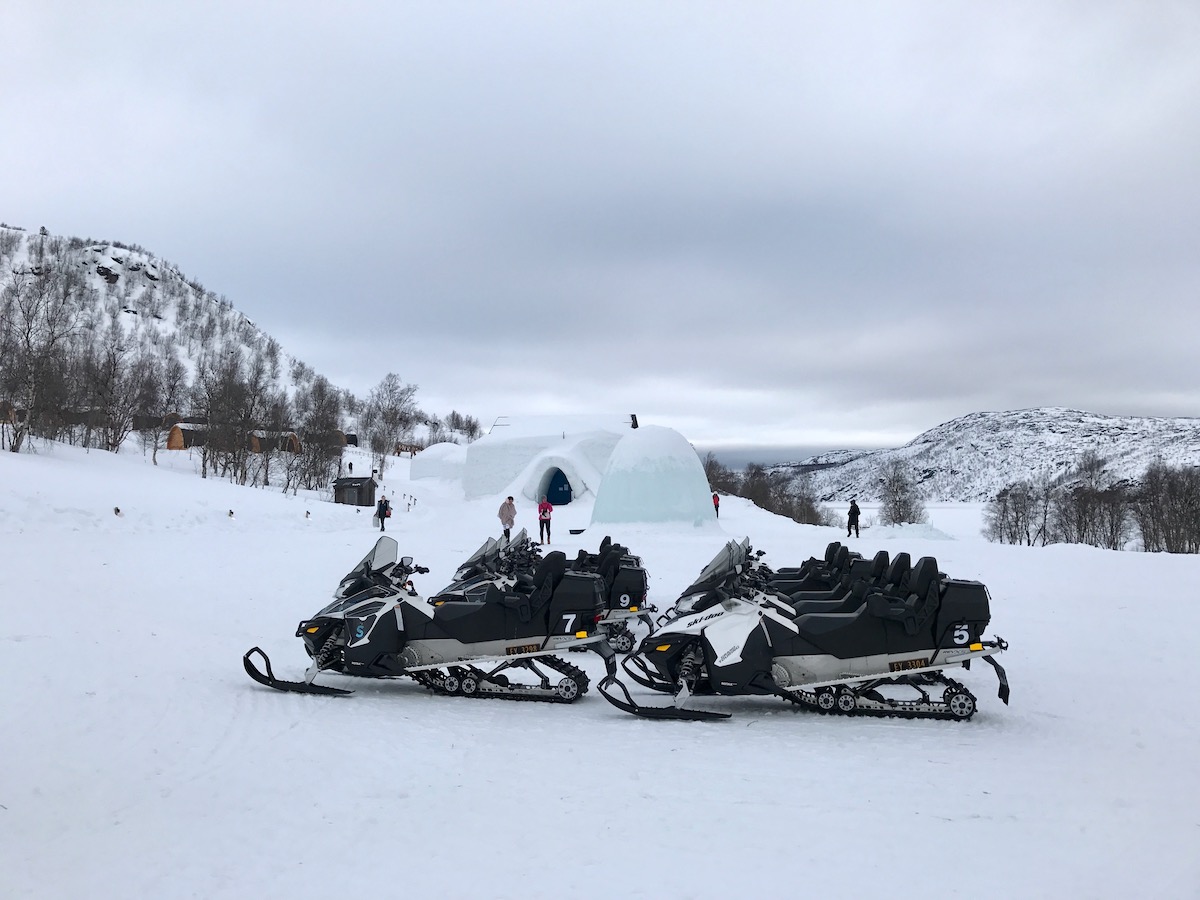 The original Snow Hotel Kirkenes was the brainchild of Kirkenes native Kaare Tannvik who realised the potential of such a structure on vacation packages in Finland where there was already an ice hotel.
Originally, the Snow Hotel was built from scratch every December when the snows were at its greatest. But every year the structure melted once the temperatures warmed up. Now, thanks to modern technology, an extra bit of man-made snow allows the snow hotel to operate all year round.
The hotel was constructed using a set of large balloons which were specially designed and then blown up to take the shape of different sections of the hotel. Once the shape was made, snow was then placed onto the balloon to form the hotel. Left to harden for a few days, the balloon was then deflated and the Snow Hotel was left standing.
2. Can I Stay Overnight at The Snow Hotel? I heard they stopped it!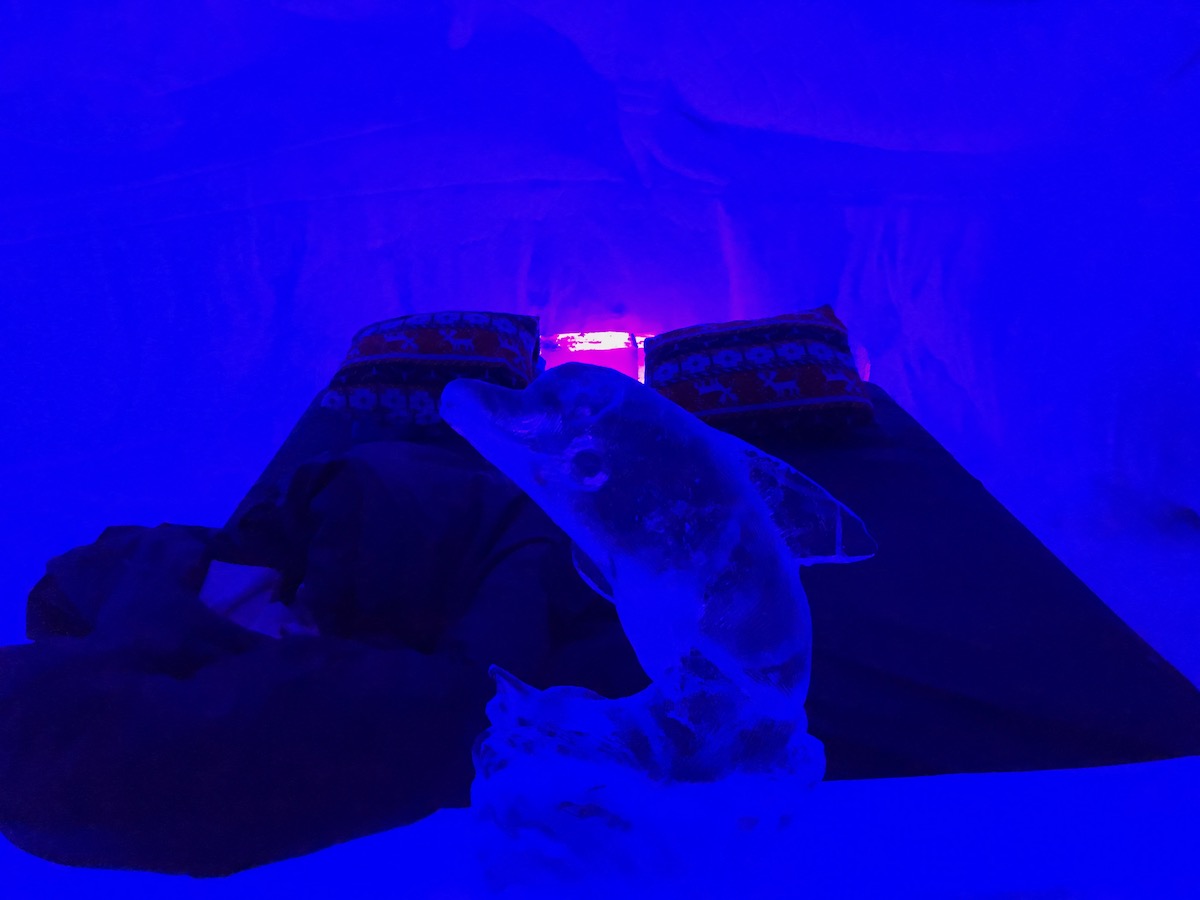 I personally slept there, but I read this rumour too and I emailed the hotel for confirmation of this rumour. They replied:
'Hi, Anthony.

That's not true. Our Snowhotel is open 365 days a year.

You find more info on our homepage.

If there is anything else I can assist you with, please let me know.'
So there you go, straight from the horse's mouth!
3. How Do I Sleep a Night in Snow Hotel Kirkenes? (Won't I freeze to death?!)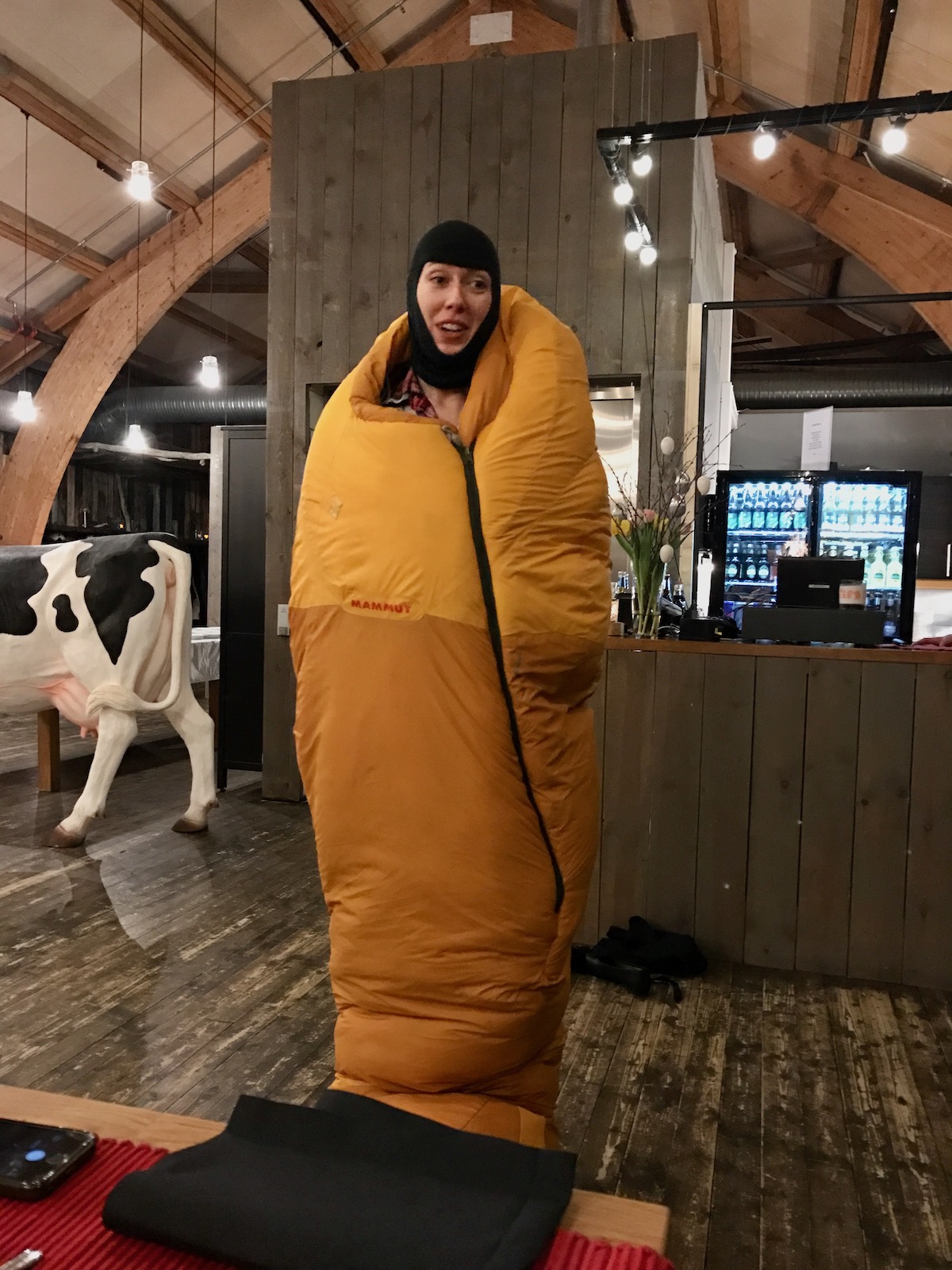 When you think of an ice hotel in Norway, you may be put off by the idea of not being able to stay warm. However, while the temperature inside the hotel hovers around and below 0°C, there are simple rules and practices that will ensure you have a cosy night's sleep.
The first thing you should do is ensure you pack enough warm winter clothing that is suitable for the Arctic Circle conditions that will be all around you.
This includes long thermal woollen underwear, a pullover, a hat and socks and extra layers. A thermal suit, hat, mittens and winter boots are also included in the price of an overnight stay in the Snow Hotel, along with a warm sleeping bag and sheets to keep you toasty at night.
In the Snow Suite, you'll find standard beds with normal mattresses, as well as reindeer hides to keep your back warm during the night. Guides at the ice hotel in Norway will demonstrate and explain the best techniques for sleeping in your sleeping bag and keeping warm.
Generally speaking, children are allowed to stay at the Snow Hotel, but this all depends on the individual child. The staff will assess each child's suitability for the cold environment inside the Snow Hotel following an hour or so spent there.
If they decide, or the child and parents decide, it is not suitable for them, then they will spend their night in the warm service building next door to the Snow Hotel. This being said, all the children and their welfare are the responsibility of the parents, not the hotel.
4. Can I smoke in Snowhotel Kirkenes?
Though it may come as no surprise, you are not allowed to smoke or make a fire of any kind inside any facility of the Kirkenes Snow Hotel.
5. Can I drink in Snowhotel Kirkenes?
In true ingenuity, the ice hotel in Norway has a whole section set aside that functions as a bar. The Snow Bar, as it is known, serves up a range of drinks for you to enjoy during your stay. Though a drop of booze may help with the cold, Snow Hotel advises not to overindulge too much before settling in for a night in the hotel.
6. What do I pack when staying in an ice hotel in Norway?
When it comes to staying in an ice hotel in Norway, you have to think outside of the box from your typical camping list. It's important, above all else, to pack the correct type and amount of clothing.
You should ensure you pack long thermal underwear, a pullover, a warm night hat, multiple pairs of thick warm socks and a couple of packets of hand warmers wouldn't go amiss either!
It's also wise to pack comfortable footwear, something that will not only keep you warm but provide suitable grip and protection from the elements in and around Kirkenes.
7. What facilities are at Snow Hotel Kirkenes?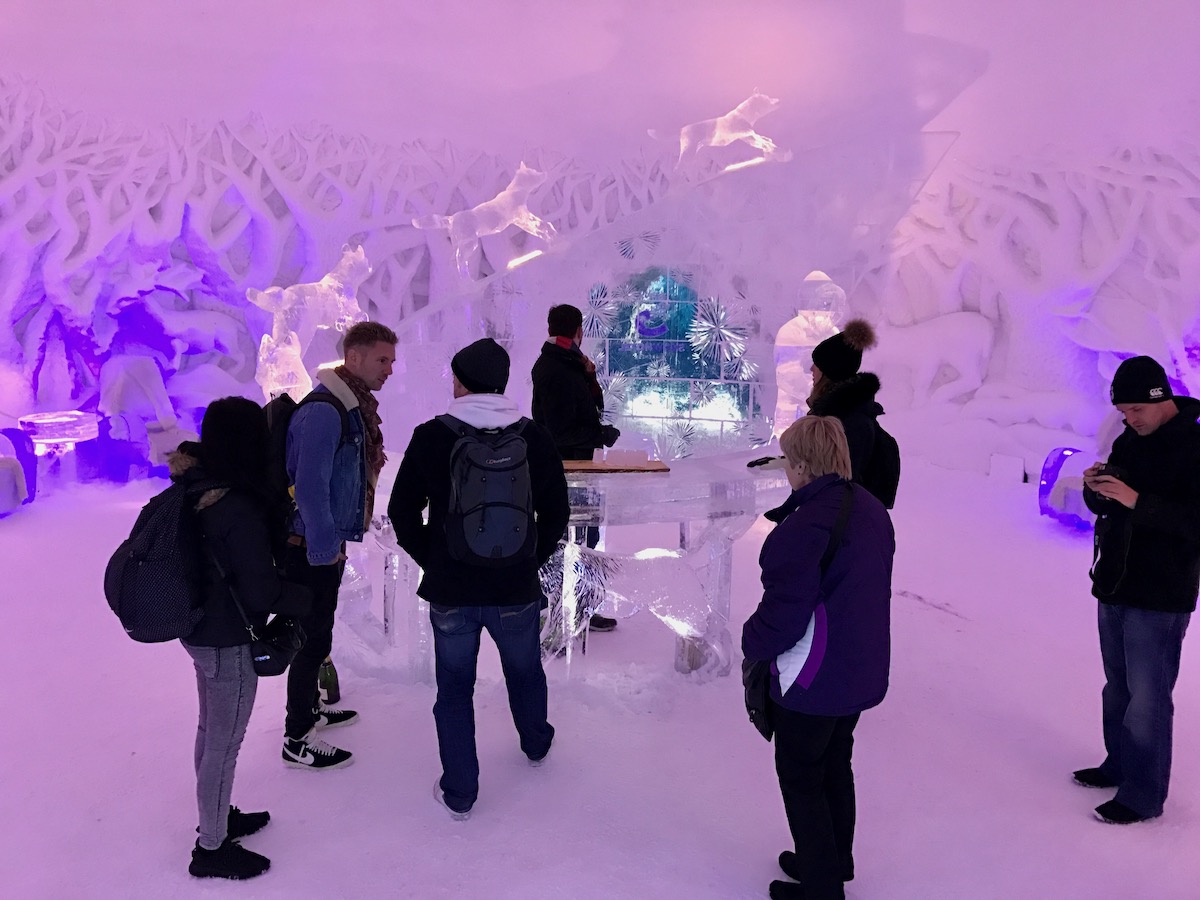 Bedroom facilities in the Snow Hotel include normal beds with standard mattresses and reindeer hides to keep your back warm during the night; there are also curtains that act as doors in every Snow Hotel suite.
Next to the Snow Hotel, you'll find a warm restaurant where breakfast and dinner are served. Inside the hotel, there is the Snow Bar and, much like the rooms, this is crafted completely from snow and ice.
When it comes to the shower, sauna, and toilet facilities, this organised ice hotel in Norway has you covered. Located next to the Snow Hotel is the service building.
Here you will find toilets, showers and a sauna – perfect for warming yourself up before a night surrounded by snow. As it's a little tricky getting from one to another during the night, it's best to make sure you 'go' before nestling yourself into your sleeping bag.
8. Does Snowhotel Kirkenes have tour connections?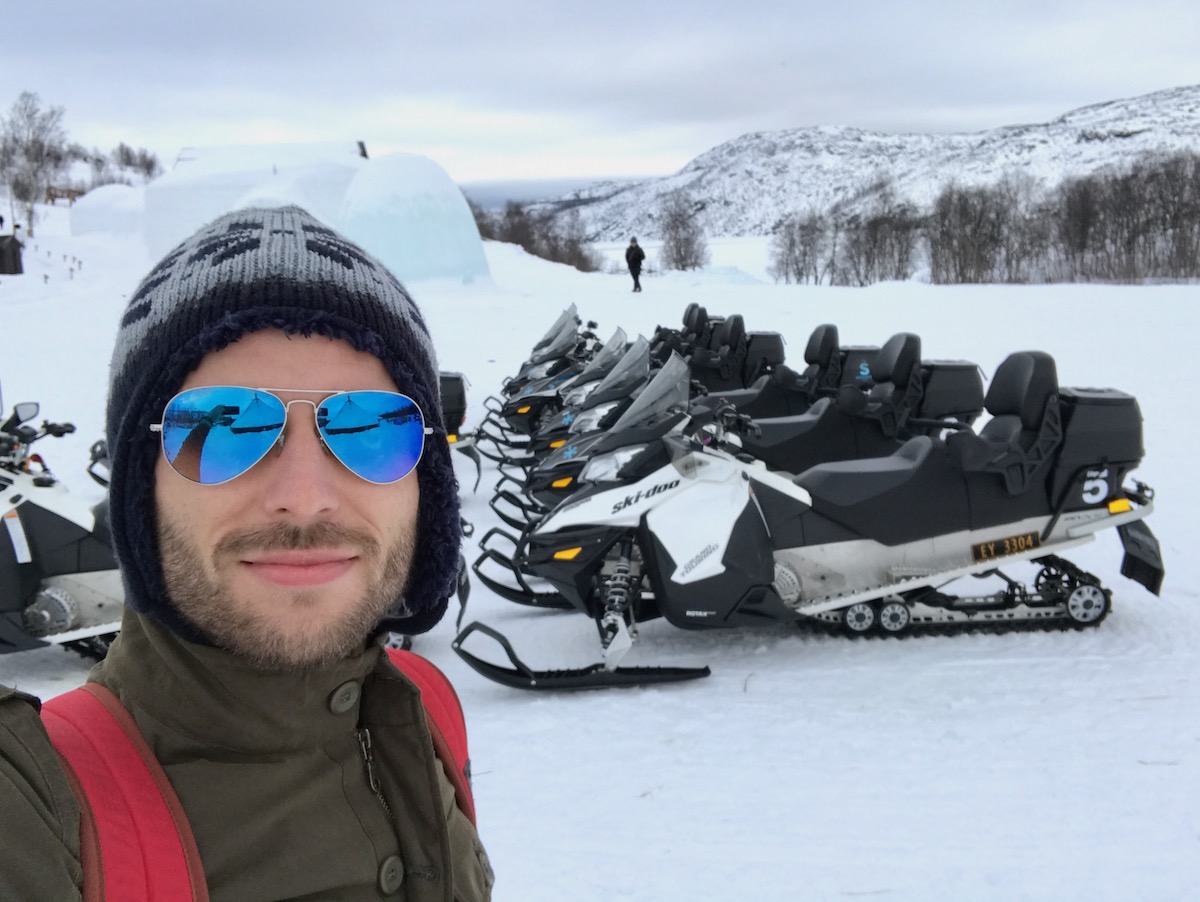 As one of the biggest attractions for visiting this area, it will come as no surprise that the Snow Hotel has connections to many of the tours operating in the area. You can book a huge array of tours and activities through the hotel's front desk, and the friendly staff are happy to help you put together an itinerary.
Every single one of the activities listed in my Kirkenes guide can be taken care of by the hotel.
9. How Much is one night's stay in Snowhotel Kirkenes?
The Snow Hotel in Kirkenes offers a range of different rooms, and the cost of each is dictated by the time of year that you choose to visit. Prices for a double room that can accommodate a couple or a small family start from 3,100 NOK though this can more than double during the peak season.
10. Is The Snowhotel in Kirkenes vegetarian (or vegan) Friendly?
The vegetarian/vegan options were in the middle of incredibly sparse to non-existent. I politely asked every member of staff, but I got no love.
I ditched meat around 7 years ago and I'm very pragmatic about the fact that I will probably always be in the minority. However, I wasn't solo traversing the South Pole, or staying in the jungle with Papua New Guinea tribes. This was an (excellently ran) ice hotel in Norway, a rich country sitting on a tourism goldmine, so this was a little disappointing (albeit only a slightly thumbs-down experience).
11. Can You See The Northern Lights in Kirkenes?
Sitting so far north and within the Arctic Circle, Kirkenes is a perfect place to see the Northern Lights or to give its proper name so I can look all fancy and smart, the Aurora Borealis.
Although it's usually possible to see the Northern Lights from the town itself, tours will regularly take you further out into the wilderness, far away from unnatural light, giving you the best chance of spotting the dancing lights in the night sky.
We got a brilliant view of them from our old-fashioned hut while drinking local booze… winner!
The Snowhotel Kirkenes in Norway gives you the trifecta of visiting the Arctic Circle, staying in one of the most established Ice Hotels Norway has to offer while enjoying a host of winter sports. Big thumbs up from me, a fantastic experience and a true travel bucket list experience.