Straddling the border between France and Italy at the western stretches of The Alps, the Mont Blanc climb provides well-earned pride for ascending Western Europe's tallest mountain (you'll need to climb Mount Elbrus in order to claim that you've scaled the tallest mountain in the whole of Europe).
The alpine mountain range has been a dream for winter sports lovers and adventure travellers for aeons. Starting from the delightfully gorgeous town of Chamonix, thousands attempt to climb Mont Blanc every year, with hundreds of successful ascents every day.
Although Mont Blanc is no Everest in terms of size, it's nonetheless a worthy hat-tip of a mountaineering feat, for beginner climbers, who are new to the alpine skills needed in order to summit her.
With proper planning, preparation, professional acclimatisation and an appetite for Alpine adventure, climbing Mont Blanc can be a memorable and victorious experience. Let's take a look at what you need to do to prepare yourself for your Mont Blanc climb so you can get to the top of that big, white beauty.
Mont Blanc Climb For Beginners
For your average person climbing Mont Blanc, summiting takes around 3-5 days. But you'll definitely want to allow some more time for your trip, especially if you're not experienced with Alpine mountain climbing, or if you don't want to miss the opportunity to climb the great Gran Paradiso in the same week.
It's not uncommon to approach the climb with a week-long travel package, allowing time for training and acclimatisation before the three-day climb.
As a beginner, It's important not to underestimate the technical nature of climbing Mont Blanc if your climbing experience is more about hiking a day-long slog, or better suited to a fun, but hard hike in the snow as opposed to a climb that requires a massive level of skill.
Home to glacial ice, sometimes harsh conditions and low oxygen levels, it's definitely no walk in the park for a newbie. However, with the right mental and physical preparation, experienced guides and appropriate equipment, you don't have to be a world-class or hardcore mountaineer to make a successful climb.
History of Mont Blanc
Standing proud and pretty at 4,808 metres (15,774 feet), Mont Blanc ("White Mountain" in English) is the tallest mountain in Western Europe and the key peak in the Mont Blanc massif mountain range.
Ownership of the peak has long been contested, with Italian officials stating that the mountain range divides between the two countries, whereas France claims the border avoids all the peaks – leaving it solely in France. (Just remember that to climb the mountain, you'll need to make your way to the French town of Chamonix).
In this battle between the sexy accents; Italy wins this clash in terms of names, referring to it as "Monte Bianco," (give it a go, it just rolls right off the tongue) but in terms of ownership, I'd personally give it to the French.
Italy conceded and their tallest mountain is the Gran Paradiso, which is also an absolute beauty and you can get a 2-for-1 deal, climbing both in one week (more on that later in this post).
The first successful ascent of the mountain was carried out in 1786 by Michel-Gabriel Paccard and Jacques Balmat when the mountain was part of the Kingdom of Sardinia.
As the centuries have passed, many have tried to break the record for the fastest ascent and descent, with the record now standing at a freakish 4 hours 57 minutes and 40 seconds, set by the legendary (in endurance and mountain circles) Kilian Jornet.
How To Get To Mont Blanc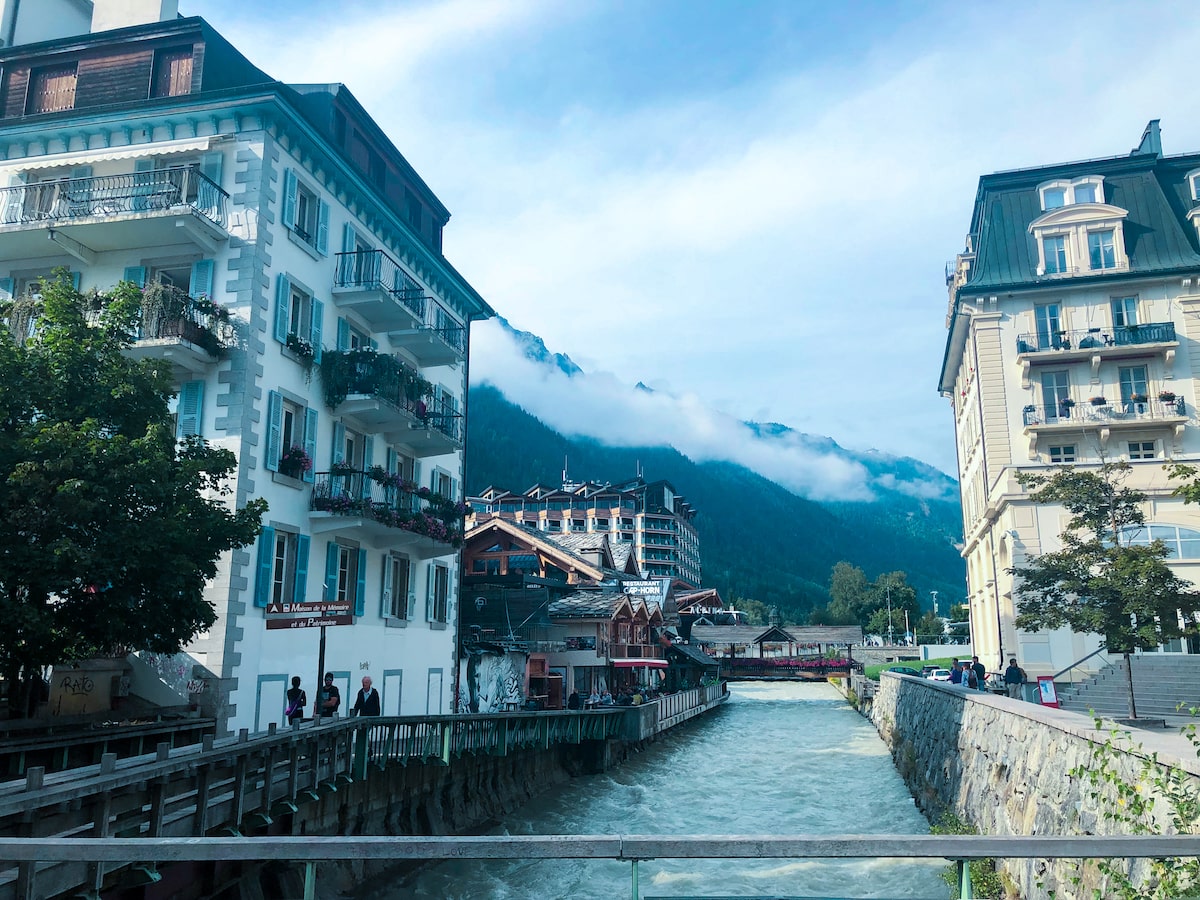 Mont Blanc is well-connected and easily accessible for most travellers, especially if you're already based in Europe. The neighbouring resort town of Chamonix is the most popular jumping-off point for most climbers and sits at the foot of the mountain.
I'd highly recommend starting here – Chamonix is maybe the most beautiful city in Europe (so much that it needs a blog post talking about the charm alone). and very well-equipped to get your fill of delicious grub before you go and to enjoy a celebratory pint/glass of your preferred tipple when you return.
There are a number of different routes you can take to get to Chamonix, all of which depend on where you're travelling from.

I personally did a tour of the smallest countries in Europe before heading to Switzerland. Highly recommended.
Travelling via air
If you're flying to Mont Blanc, you'll need to get a flight to one of two airports: Haute-Savoie Mont Blanc Airport (in France) or Geneva Airport (in Switzerland). Most large airport hubs in Europe will fly direct to either of these airports, but if you're coming from outside of Europe, you're likely to have to stop over, either in London, Paris or Amsterdam. From both airports, it's around an hour's drive to Chamonix.
Travelling via rail
Oh yeah, now you're talking!
A picturesque option, if you're based in mainland Europe, is to jump on the train. Unless you live close, you'll struggle to find a direct train to Chamonix, so be prepared to have to change in Paris or Geneva. To give you an idea of journey times, a train from Paris to Chamonix will take around ten hours and from Berlin to Chamonix will take around 12 hours (including change over).
I was already in Switzerland, so my journey to maybe the prettiest city in Europe was compounded with even more eye candy on the way. Glorious!
Travelling via bus
Long-haul buses leave from most major European destinations and many head towards Chamonix. This tends to be the cheaper option, but it's also the longest and not the most comfortable ride either. Direct buses are a big no-no unless you're starting your journey from Geneva. A bus from here to Geneva will take around three hours.
Travelling via car
You can, of course, rent a car, or make the journey in your own car. This is great if you're not the lightest of packers and don't fancy trudging all of your things on public transport. To give you an idea of travel times, here's a quick breakdown of how long it will take you to drive from some major European cities:
Paris to Chamonix: 6 hours
London to Chamonix: 10 hours
Berlin to Chamonix: 11 hours
Geneva to Chamonix: 3 hours
Zurich to Chamonix: 3.5 hours
Munich to Chamonix: 6.5 hours
Rome to Chamonix: 8 hours
Barcelona to Chamonix: 8 hours
Best Time of Year For Your Mont Blanc Climb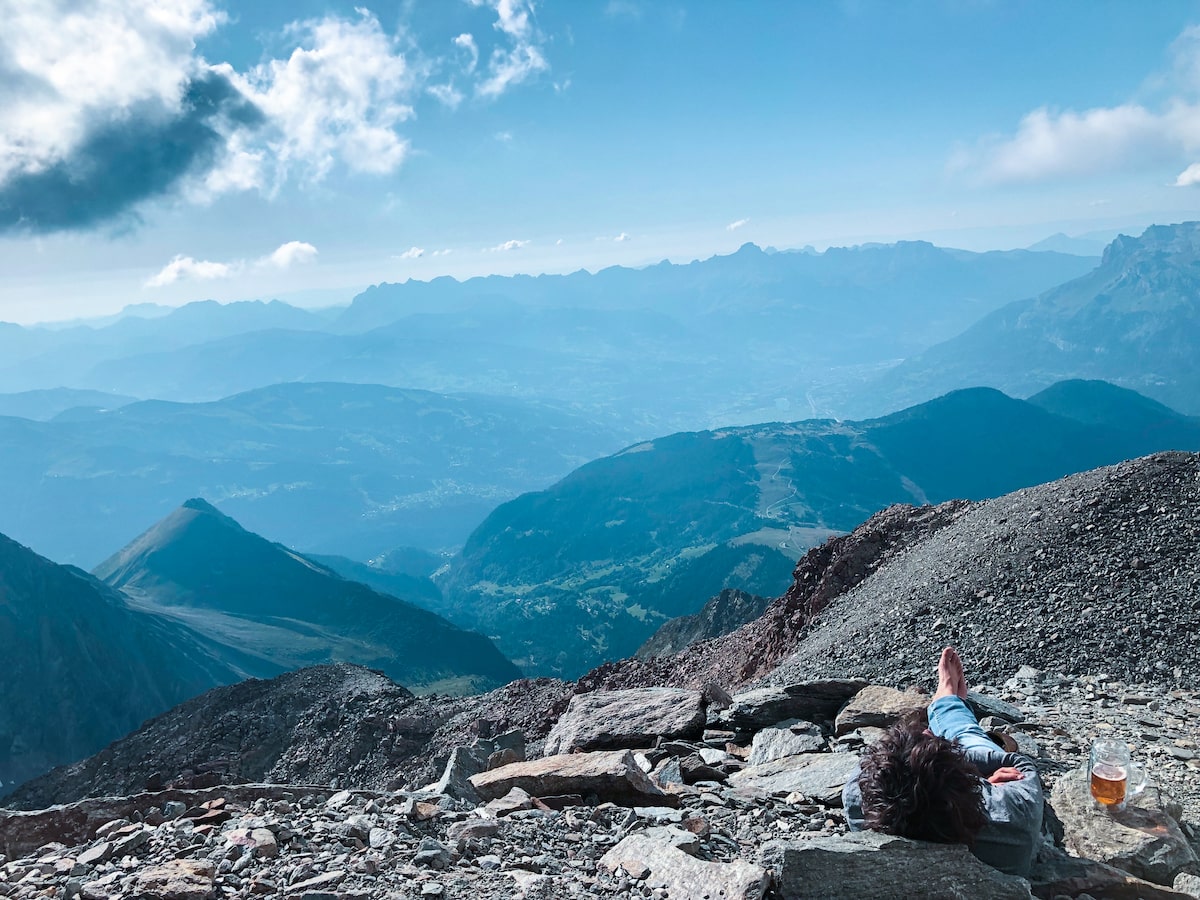 Climbing season in the Alps, including Mont Blanc, starts from late May until the end of September. This climbing season coincides with better weather and the opening of the Refuge de Tete Rousse, Refuge du Gouter and Refuge des Cosmiques, the shelters you'll stop off on your way to the summit.
Climbing Mont Blanc during early or late summer can mean cooler temperatures, whereas the height of summer can be surprisingly hot, even at some of the higher elevations.
As so many people make the climb every year, it's quite difficult to find a time of year when the slopes of Mont Blanc aren't chock-full of human traffic. So you'll need to cross your fingers and toes so that you get lucky on the week you decide to tackle the climb.
I climbed Mont Blanc in late August and it was certainly busy, but not too busy to the point of annoyance.
Can You Climb Mont Blanc Independently?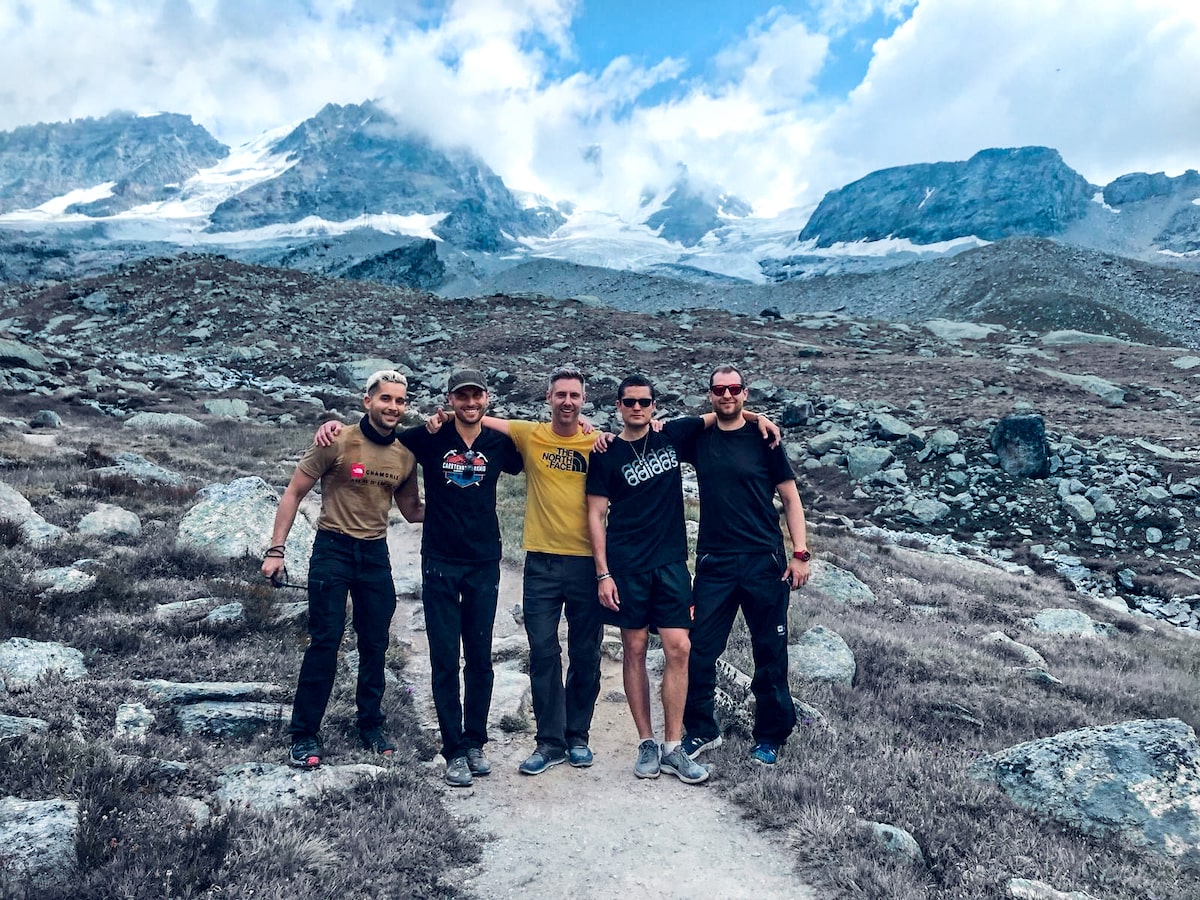 Unlike climbing Kilimanjaro or Aconcagua, the state government doesn't demand that you hire a guide to get to the summit. However, just because climbing Mont Blanc without a guide is possible, it's not exactly the right decision for everyone.
If you're an experienced climber who knows how to tackle acclimatisation and Alpine environments, then you might be okay to do this solo. If you're even a little bit unsure, it's almost definitely worth hiring a guide for the climb.
After my aforementioned battle with Russia's Elbrus and the likes of Mount Fuji, along with climbing Mount Kinabalu, I still put myself very much in the "novice" box, due to my lack of technical skills, so I hired a guide.
And there is no shame in my mountain-climbing game, it was the best decision for me.
For those who are not so experienced in mountaineering or haven't climbed in the Alps before, a guide is pretty essential. They'll be there to help you acclimatise to the high-altitude environment before the climb, to book all of the huts you'll need along the way, and you won't need to worry too much about mapping out the route – your guide will be there the whole time.
Cost of Climbing Mont Blanc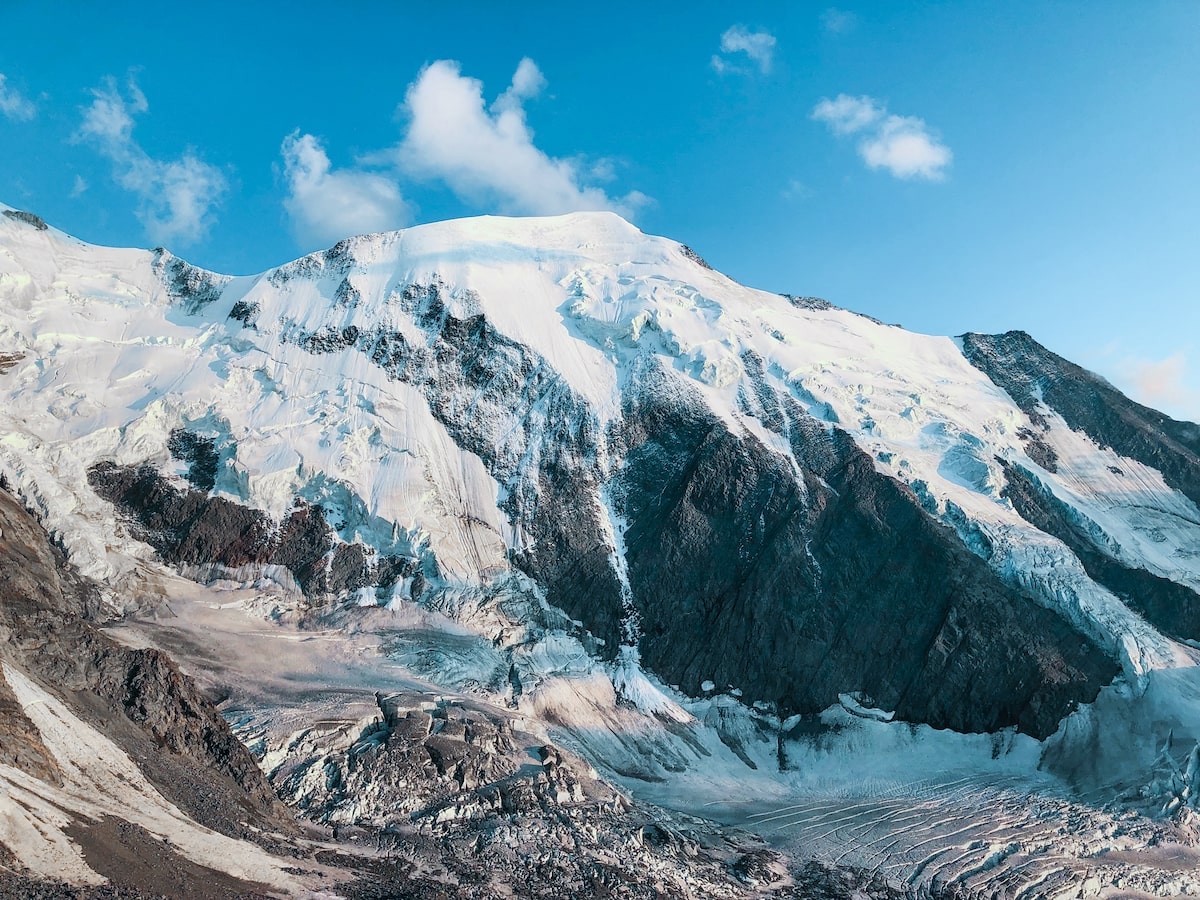 The cost of climbing Mont Blanc varies hugely depending on how you approach your climb, where you travel from and if you buy, or rent your climbing gear (on that note, Chamonix Town is extremely well set up for renting anything you need).
If you opt to go for a guided package tour (this usually includes rental prices of some of the more niche equipment too) you'll be looking at paying between €1500 – €3,000 per person.
If you do want to join a tour, make sure you read the small print, as they're not all created the same. Some will include your flights, meals and acclimatisation days, while others might just be the price of the guide, with the option of add-ons. Tours also vary between three and five days long, so make sure you pick one that is right for your climbing abilities.
For guided tour, me and 5 friends, including (Johnny from OneStep4Ward.com, and Nelson from NelsonQuest) spent $2,750 USD for a guided tour with Mountain Tracks, which included the guide, accommodation and food (except for hiking days, which is fine by me as I like to choose my own!)
The quality of the huts was outstanding compared to other base camps I've experienced over the world.
5 Mont Blanc Routes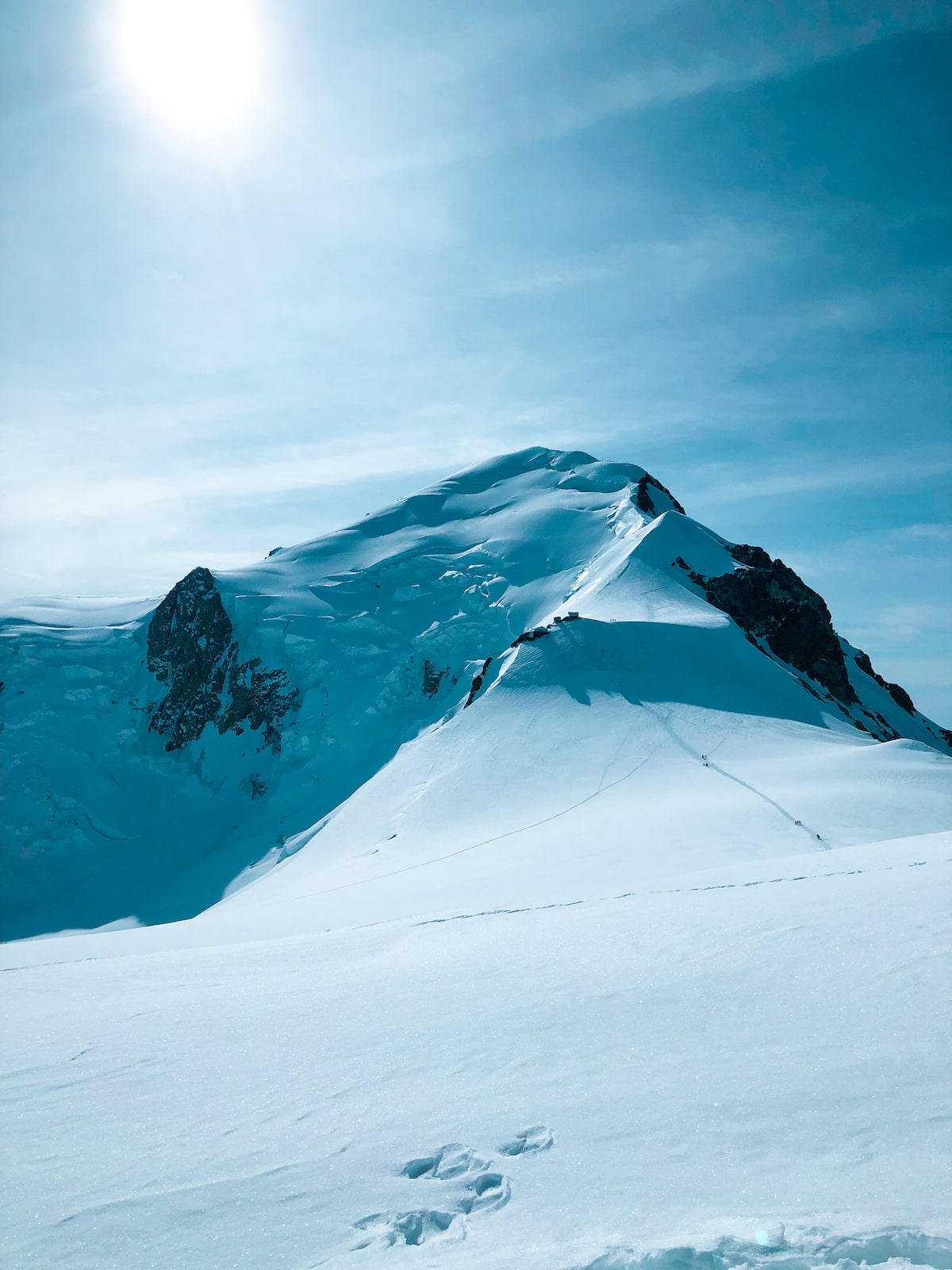 You can climb Mont Blanc via five different routes. All vary in length and difficulty so you'll need to do a bit of digging and figure out which one suits you the best.
Goûter Hut Route
The Goûter Hut Route is the most popular and quintessential route to climbing Mont Blanc. As one of the busiest routes, you'll need to book your tour or any huts way ahead of time and be prepared to share the mountains with a fair few other climbers.
During the first section of the route, you'll plod along a pretty easy, well-established path that winds up to the Goûter Hut refuge. Once you've reached this point, you'll join the more difficult path, Grand Couloir – a part of the track which is much more prone to rockfall and avalanches.
The second half of the climb is more akin to a scramble than a hike, with glaciers cutting through much of the mountain landscapes. Get ready to make good use of those annoying crampons, and fiddly harnesses that you've been carrying!
The final stretch of this route will take you along the Mont Blanc ridge and finally to the summit, another more challenging section of the trek. You can either come back the way you came or use the Aiguille du Midi cable to get back to Chamonix.
The Grand Mulets Route
Also known as the skiing route, the Grand Mulets Route can only be tackled in Spring from April through to June. Most people choose to ski along this route, but it can be climbed on foot too. Starting the route, you'll make your way across the Big Blossoms glacier, before reaching the Grand Mulet hut for a well-deserved rest.
Early the next morning, you'll need to ascend the north ridge of the Dome du Gouter, before reaching the second hut – Vallot Hut. This is where a few routes join to make the final climb to the top. If you're on skis, descending Mont Blanc is quick and easy (if you know how) – either take the path down the north face of the mountain or, for a simpler route, head down the Aiguille du Midi.
La Voie des 3 Monts (also known as La Traversée)
Known by several names, the (Three Mountain Route, La Traversee, La Voie des 3 Monts or 3 Monts Traverse), this route follows the Mont Blanc du Tacul, Mont Maudit Normal and Mont Blanc summits.
Choosing this route, your journey will start by climbing up the North Face of Mont Blanc du Tacul. This is a pretty steep climb that takes you over seracs and crevasses, but experienced climbers shouldn't have any issues.
From here, the actual route can change from year to year, depending on the movements of the Alps' glaciers. If you want to be sure of the route, you'll need to do a bit of research before your trip or contact your tour company to find out your exact path (if you're going with a guide).
Aiguille Grise Route
Probably the least frequented route when it comes to climbing Mont Blanc, the Aiguille Grise Route starts from the Italian side of the mountain. You'll need to navigate numerous crevasses on the Glacier du Dome, so come prepared for a relatively difficult ascent to the summit.
Your route back to civilization will all depend on how the snow has shifted during the day. It's worth keeping in mind that the route becomes particularly precarious when the afternoon sun starts to warm up the snow. If you want to do your Mont Blanc climb as part of a tour, your guide will decide your route back down the mountain depending on the conditions that morning.
Miage – Bionnassay – Mont Blanc Traverse
Also beginning from the Italian side, this route up Mont Blanc shouldn't be too difficult for some of the more experienced climbers out there. This being said, you need a good few days of nice weather to make your way across the bridge that connects Aiguille de Bionnassay with the Dôme du Goûter.
The ridge is, in places, only a foot wide, which means you'll need the weather on your side to make the climb. This is also one of the only climbs that traverse the Domes de Miage – a line of mountain peaks that sit just around the Mont Blanc massif.
Acclimatisation For Mont Blanc Climb: Gran Paradiso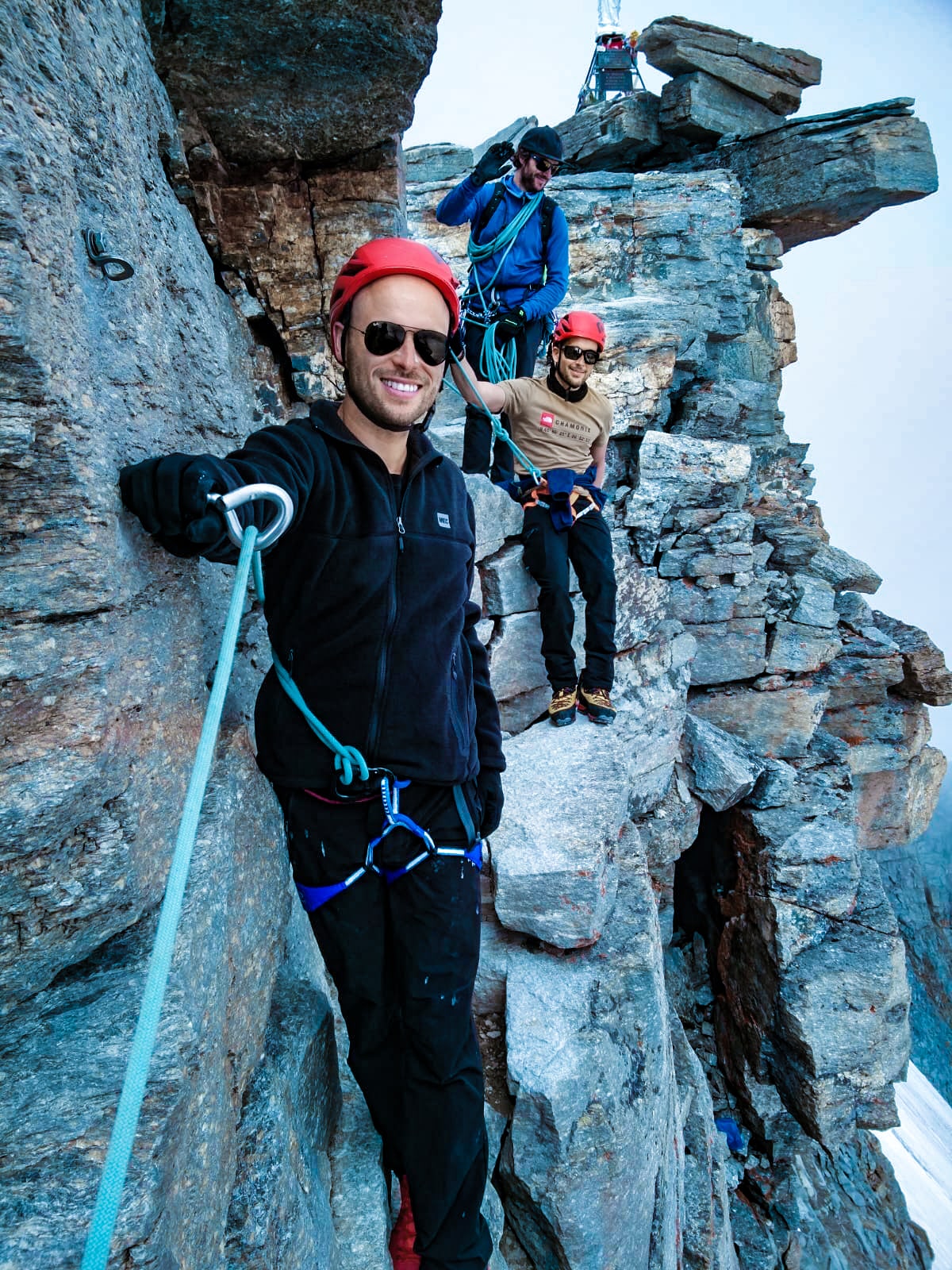 As the tallest mountain in Western Europe, you'll need to give your body time to acclimatise to the higher altitudes that you'll be experiencing while you're walking. To make sure your body doesn't go into shock, this has to be a gradual process.
If you're joining part of a tour, your guides will normally provide training and acclimatisation on the first day of your trip, but this won't take place on Mont Blanc itself.
Instead, you'll cross the border into Italy through the Mont Blanc tunnel and to the foothills of the Gran Paradiso, the tallest in Italy. Although a little smaller than Mont Blanc, climbing the Gran Paradiso gives you a real taste of what it takes to climb some of the Alp's tallest peaks, and gives you the best chance of avoiding altitude sickness by going too high too fast.
The Gran Paradiso stands at just a smidgen over 4,000 meters and is the only mountain in the Mont Blanc massif that stands entirely in Italy. I took this option and I can't recommend it enough.
Not only do you get to climb Italy's tallest mountain, but it's also stunning and I was so acclimatised after scaling these two mountains, that I was in prime condition to climb Mount Kinabalu, Africa's tallest mountain less than a week later.
Packing List For Your Mont Blanc Climb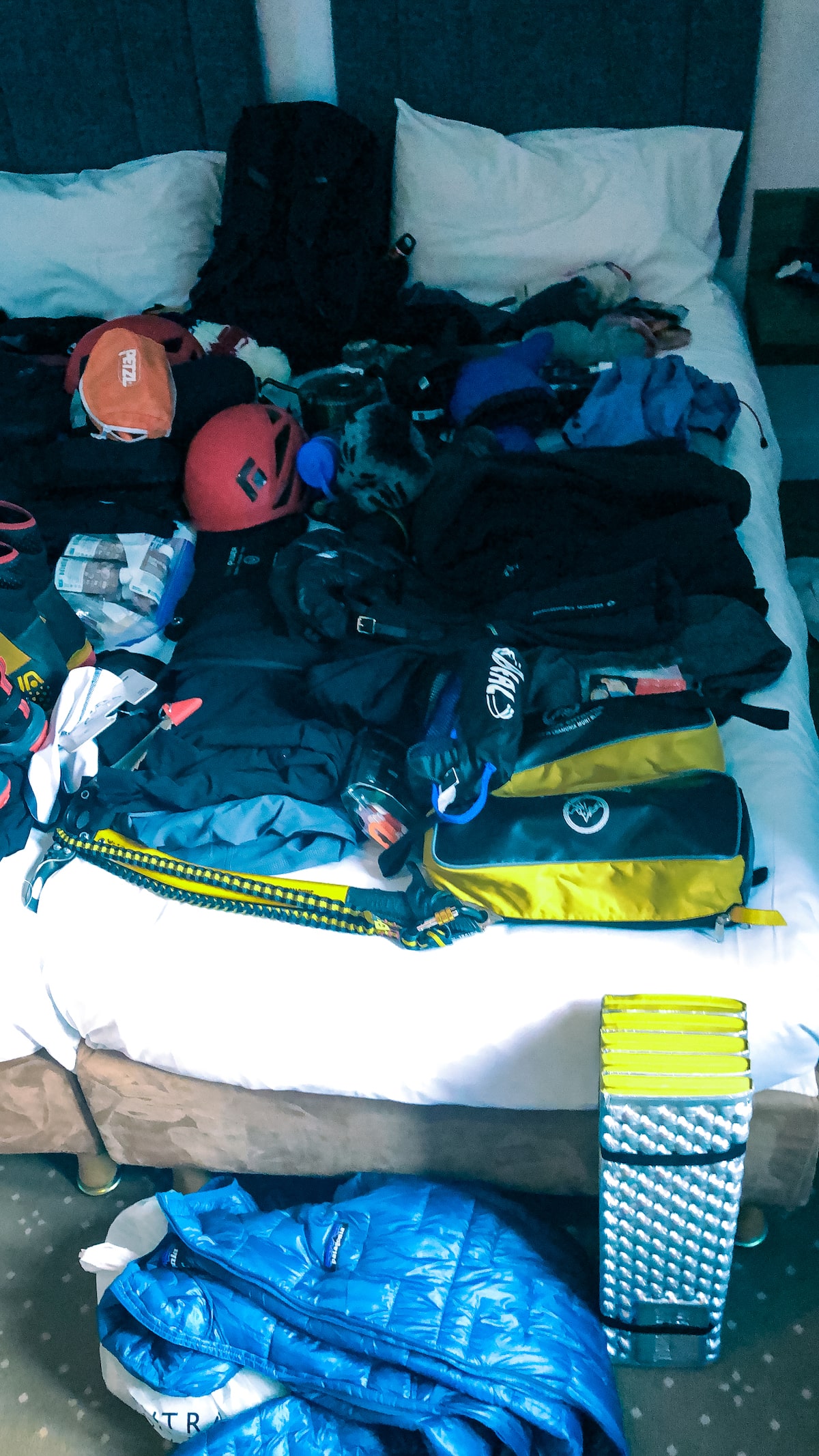 Packing to climb the tallest mountain in Western Europe isn't the simplest of everyday things, and much of what you'll need is unique. You can rent some equipment from local guides, but with other items, you will probably want to purchase your own.
Here are some things you shouldn't make the trip without:
Mountaineering Boots – Having the right footwear is instrumental when it comes to climbing such an epic mountain as Mont Blanc. Mountaineering boots are purposely designed for high-altitude climbing. Make sure you try them on a few times (with the warm weather socks) to avoid blisters.
Ice Axe – During your Mont Blanc climb, you'll come across suaves of glaciers and ice sheets. Having an ice axe will help you to keep stable when you're making your way to the top. Most importantly, it makes you feel like a total badass when you use it.
Thermal Clothing – Temperatures can drop well into the minuses on the mountain, so high-quality thermal clothing is a must-have. This includes underwear, gloves, hats, base layer trousers and long-sleeved tops.
Crampons – As you've probably guessed, Alpine climbing tends to involve a lot of snow and ice. Attaching crampons to your boots will keep your feet firmly gripped on the heavy snow and ice. They can be awfully fiddly for newbies, so do a few dummy runs with these (preferably not on your nan's new laminate) so that you are well-versed enough for when you need them on the mountain.
Climbing Helmet – Mont Blanc isn't a stranger to rockfall and avalanches. Keeping your head protected at all times will help reduce your chances of taking a fatal blow to the head.
Head Torch – Take spare batteries and also do a dummy run in the dark, way before you think about climbing Mont Blanc. I wish someone had told me this before my first failed attempt at Aconcagua, as my shitshow of a head torch was pretty much useless on South America's tallest mountain!
Mountain Poles – You will 100% need them for snowy conditions and you'll be thankful for them when your lower back starts weakening.
Climbing Gloves – The rocks are jagged and sharp, you will absolutely need these for grip and protection.
Travel Insurance For The Mont Blanc Climb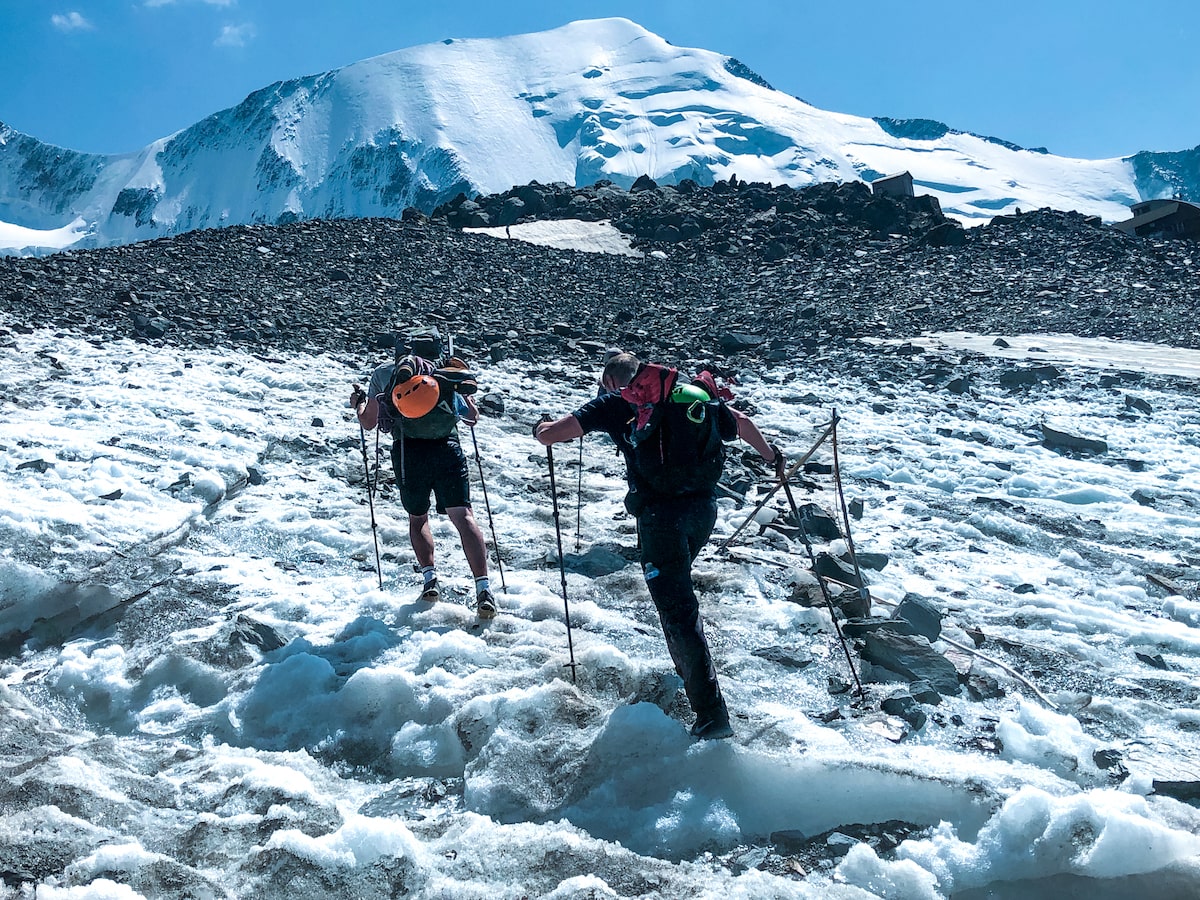 Most of us want to organise travel insurance before setting out on any excursion, but climbing the tallest mountain in Western Europe is a bit different to your typical beach-bum holiday in the sun.
To make sure that you're covered for every eventuality for your Mont Blanc climb, it's definitely advisable to get extreme sports insurance (ours added that onto the package), rather than just your typical travel insurance. This way, you'll be covered should the worse happen.
Although my current travel insurance agreement covers me for up to 4000 metres ascents, most everyday travel insurance won't usually cover you for scaling a mountain of this size and reputation.
For me it's a no-brainer; Have both extreme sports insurance and travel insurance in these situations. You never know when you're going to have a terrifying accident on the road, so it's best to be doubly prepared and do some shopping around.
My Experience of The Mont Blanc Climb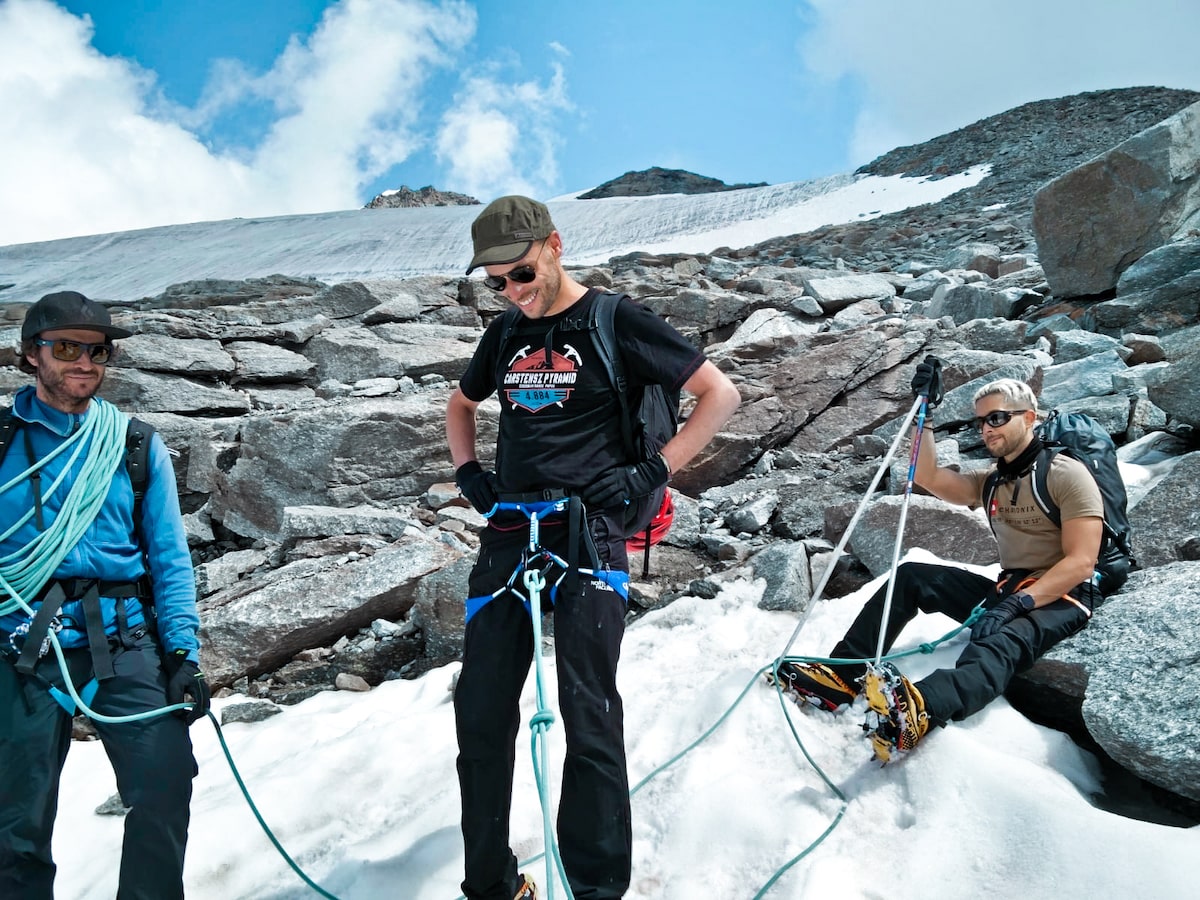 The Mont Blanc climb was a perfectly intimidating challenge for me as a relatively new member of the mountain-climbing world.
My friend Johnny had already 100% committed to climbing The World's 7 Summits (summit the tallest mountain on every continent).
I remained unsure. I still had some residual decent cardio left after successfully completing the toughest footrace on earth in The Sahara Desert, 4 months before climbing Mont Blanc.
However, my mountain confidence needed some serious work.
I just about summited Elbrus with my last bit of energy (although that was unlucky timing, I had a chest infection from hell before I started that climb) and aside from last-minute crampon training in Russia, I had less-than-impressive alpine experience.
My hypothesis was that if I could climb Elbrus, Kilimanjaro, and Aconcagua – I would consider the Seven Summits challenge. On top of that, climbing Mont Blanc would incite confidence within me, to tackle the most technical climb of the Seven Summits: Puncak Jaya, which I did triumphantly summit not so long after climbing Mont Blanc.
Day 1: Arrived in Chamonix. We met up with our guide in the eye-candy area which is Chamonix. I know I've banged on about it a bit in this article, but for perfectly valid reasons, you really should see it for yourself.
As per usual with climbing mountains, we met our guide for a kit check. To the uninitiated readers; you basically put all your gear on your bed in your hotel room, and your guide checks what you do, or do not have.
If you don't have it, they will accompany and advise you in one of the arrays of rental and second-hand/new mountain gear shops in town. It's good to be prepared and you can chat with your guide via email beforehand, but this is much like Kathmandu, with respect to being in a good place if you need last-minute gear.
Day 2: Setting off For Gran Paradiso. We woke up for lunch and drove to the base of Italy's tallest. It was only a wee hike and we got to our hut late afternoon, enjoying a gorgeous sunset with a lovely pasta dinner.
After my experience hiking all over the world and staying in some mountain base camps with questionable competence, I couldn't believe the high standard of mountain huts in Italy. This theme continued all the way throughout the Alps, me being wowed by the impressive level of accommodation that the French and Italians had managed to build.
Day 3: Summit Attempt of Gran Paradiso. This day is a lot tougher than the previous day and worth every bit of effort. We wolfed down our brekkie and got going, the 7 of us split into 2 groups due to the teams needing to be roped together should anyone fall down a crevasse.
Nelson did just that, but he's a tough lad and we helped him back out. It wasn't too deep, but definitely a heart-in-mouth moment. However our Italian guide, Andrea, was as cool as a cucumber with his instructions and onwards we marched to the top of Italy (albeit awkwardly, due to us being in crampons for the majority of the time).
About 3 hours later… Viva Italia! We were on top of the country after a mad scramble – the crampons being a challenge with the rock climbing and we all had to be in sync with one another as we were all roped/harnessed together, meaning if we went too fast we could make life hard for the person behind us.
"Teamwork makes the dream work" and all that.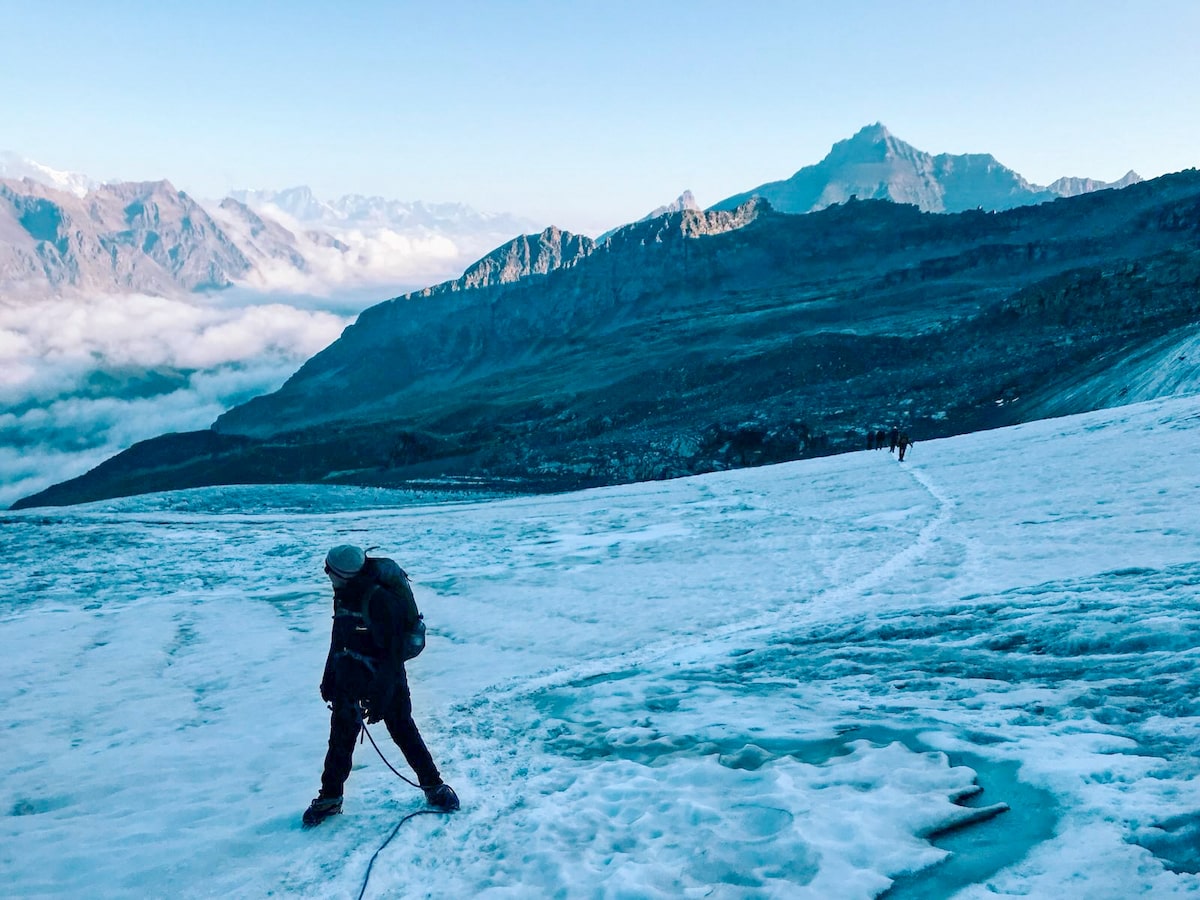 Day 4: Back to Base in Chamonix. After a nice sleep at the hut, succeeding at the summit of Italy's tallest mountain we made our way back down to Chamonix. Just a nice 2-3 hours hike, taking in the scenery and as we descended we got the chance to take off the crampons and have a nice stroll back to France, all acclimatised and buoyant after topping the great Gran Paradiso.
Day 5: Setting off for Climbing Mont Blanc. All showered and fed, still feeling high after the gorgeous Gran Paradiso, our tour took us for a little drive to a charming little tourist train, which took 20 minutes to drop us off at the ski lift, which took us to the very start of our climb.
It's still warm at this point, so you'll be fine in a t-shirt and roughly 4 hours later after a heavenly, yet steep hike, we were at Tete Rousse Mountain Refuge; our final base before our attempt of climbing Mont Blanc all the way to the top!
Day 6: Summit Attempt of Mont Blanc. I'm not a morning person, but you really don't have a choice on summit days when climbing mountains. This was by far the hardest day of the week.
We were all roped in together, with crampons on, in the pitch-black dark at 4:30 am – with a biting bit of windchill for good measure, a far cry from the clear blue skies and warmth the day before – but that's mountain climbing for you; appreciate the calmer weather when you have it because you won't have it for too long when you get higher.
This was the next level for me and the challenge that I had been expecting. After my aforementioned hard hikes on the road, I was now experiencing something for the first time…
Having to have 100% focus and balance – navigating around stones in clumsy crampons and pulling my body up jagged, sharp rocks – all while roped in with the other guys, pure mutualism in action.
After this relentless, mad scramble of around 3 hours, we (thankfully) reached the mountain hut for a much-needed coffee, a sit-down and some snacks.

Me and Nelson were the most naturally neurotic members of the group of friends, so nature took its course…
…Upon getting ready for the 5-hour climb, he convinced himself that his feet had swollen and me being the absent-minded wally that I am, had somehow managed to misplace my warm weather gloves.
I never did find them (luckily it wasn't cold enough for frostbite) and it turns out Nelson's boots were just laced way too tight. In all fairness to him, climbing Mont Blanc for your first-ever mountain takes a serious set of balls, so fair play to him and I understood his panic at the time.
Nelson and I didn't want to hold the rest of the team behind, so sadly we let them go ahead while myself, Nelson and our (awesome and fun) guide Andrea took us for the long snowy road ahead, roughly 5 hours later resulting in me and Nelson standing on top of France and Western Europe, overlooking Italy.
There was a 2-hour rough patch en route to the summit where sharp ridges, mixed in with a steep incline really tested our grind and also required some solid focus, due to the extra danger.
Hilarity ensued about 10 minutes later when I went for a wee on the summit. Andrea rushed over to me, and spun me around so that I was peeing onto the west side, affirming in his animated voice; "no, no, no…don't piss on Italy!"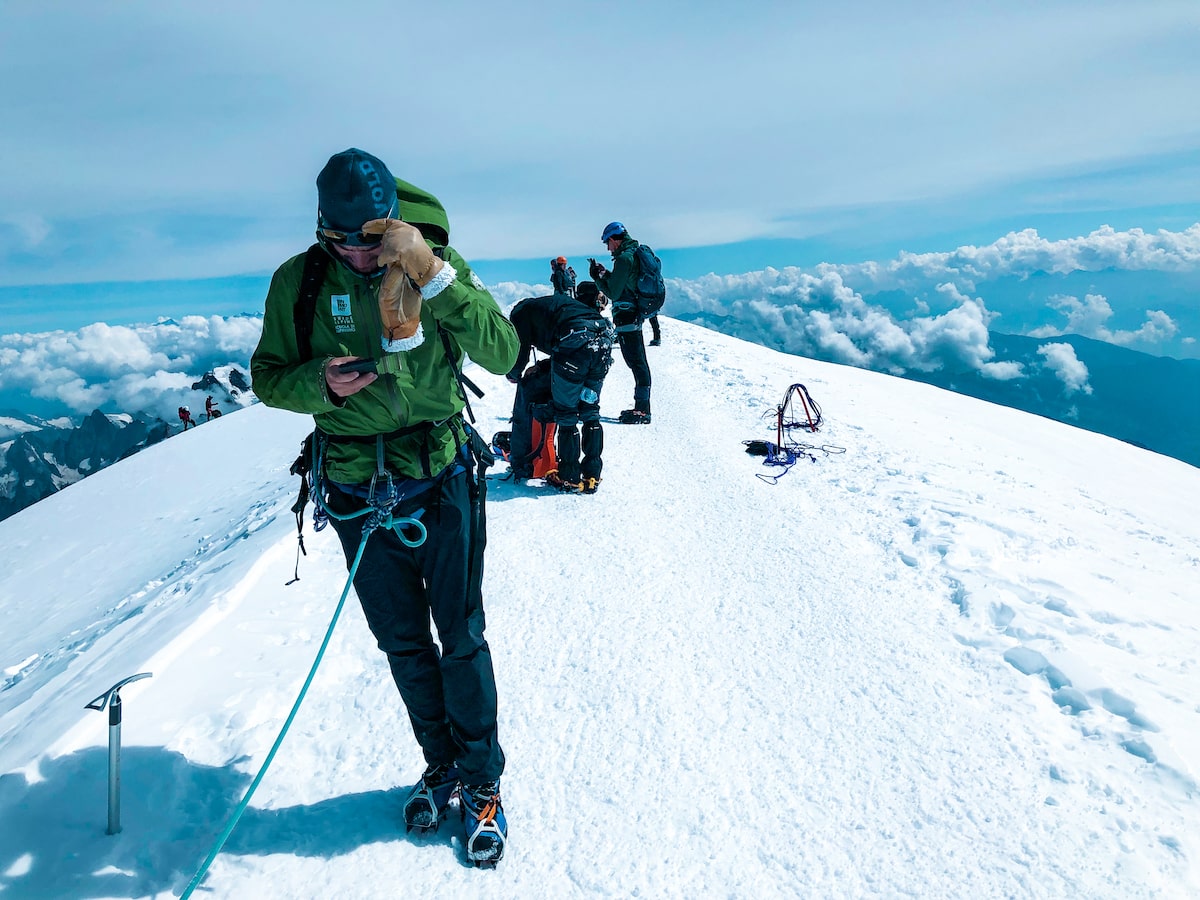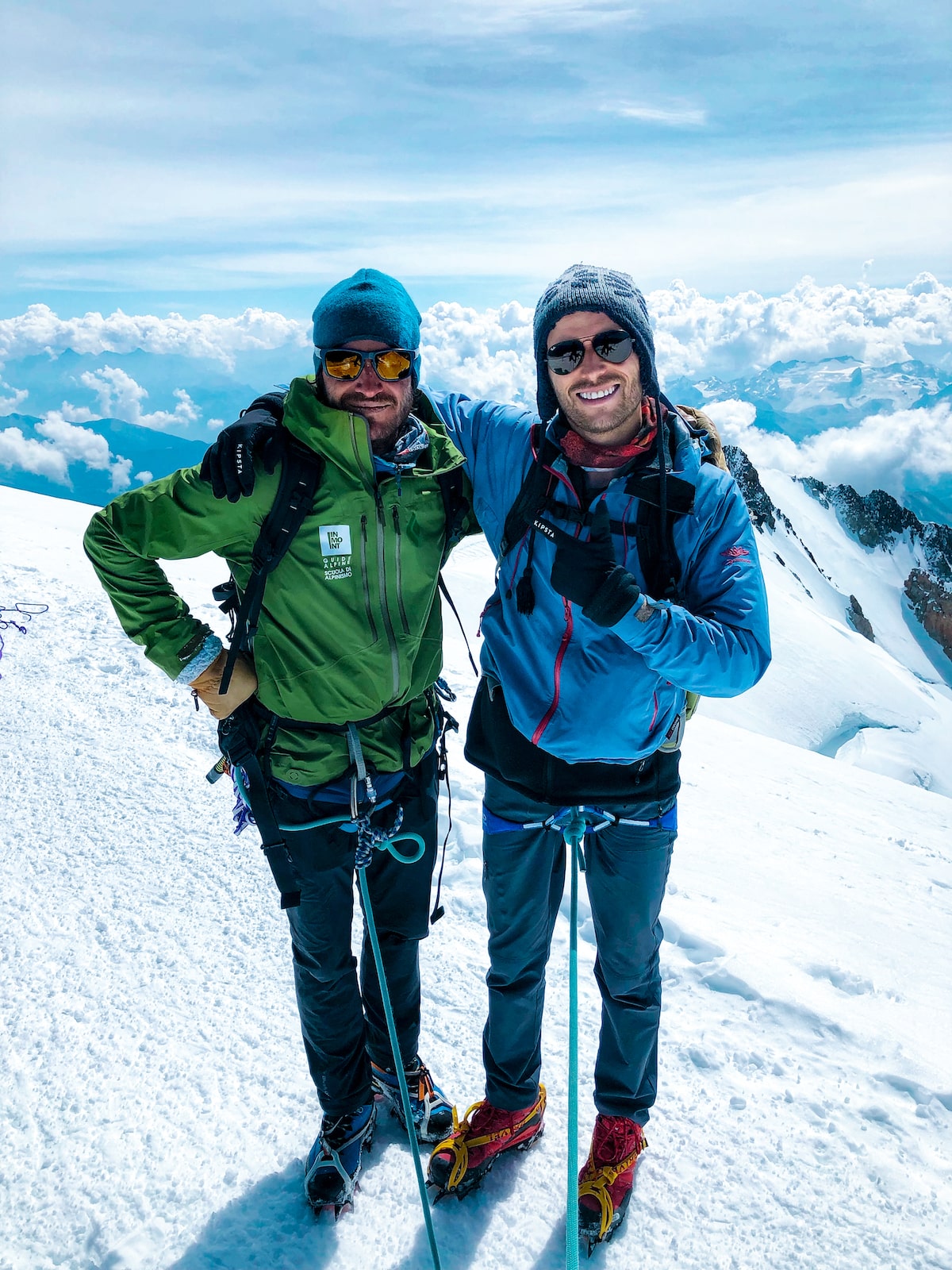 After taking in the breathtaking views of the Alps and of course the victory photos, It took us about 2-3 hours to waddle back down to camp. Not too much time to celebrate here, we got to bed relatively early as we were up at 5 am the next day, back to the real world after the thrill of climbing Mont Blanc.
Maybe I was high on adrenaline but I couldn't help thinking of an idea that was bouncing around my head that night…I had gone through the acclimatisation process in France, in order to be able to successfully summit Mont Blanc at 4,808 metres,
If I chose to fly to Africa in the next few days, would my blood oxygen levels already be in optimal condition for climbing Mount Kilimanjaro?
Day 7: Hike Back (Down) To Chamonix. A 5 am start again, but the last one of the trek. Coming down the mountain is often as hard as getting up. In terms of the Mont Blanc climb, the hardest thing about coming down is navigating in crampons when you are already fatigued.
It had snowed the night before so it was mandatory that we wore them for most of the descent. There were a couple of sketchy, narrow parts too (that we had already experienced going on the way up) but before you knew it we were having a coffee break a few hours later at Tete Rousse hut, a few more hours after that and we were back in charming Chamonix.
We immediately celebrated in style with a couple of glasses of wine and a delicious Italian, before watching the finishers of UTMB coming into town.

UTMB is an extremely arduous, week-long mountain ultramarathon (similar to The Marathon Des Sables that I had completed 4 months before climbing Mont Blanc). Johnny (half) joked with a question about when we were going to do it.
I had no problem telling him exactly where to stick that idea and that I was done with endurance runs, however not too many moons later we were running a 100 miles ultramarathon together in the blistering heat of Thailand! So I'm finally learning to never say "never" with 100% absolutism… or to agree to a future challenge when hungry or tired.
Day 8: Au Revoir, France. The day after my Mont Blanc success, I made my way from France to Tanzania, with the plan to climb Mount Kilimanjaro, Africa's tallest mountain. The Mont Blanc climb was an absolute pleasure and if you found your way here because you're wanting to do the same; don't second guess it… train hard, get your head down and go after it!
Best of luck.