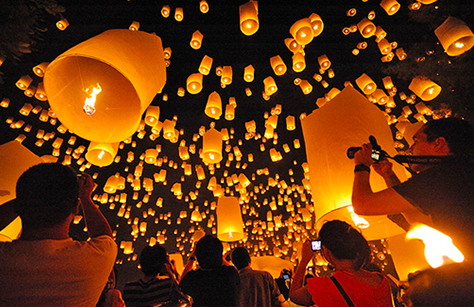 In 2011 I turned up to Chiang Mai, Thailand with the goal to start an online business. I had no idea how to do it, had zero experience, very little money saved up and I sucked at technology (I still do). Many things that you read online are grossly overrated regarding travel and expat destinations. However, the theory that Chiang Mai, the city in the north of Thailand is a wonderful place to live as an online startup is absolutely true in my opinion. Allow me to elaborate…
Low Cost Of Living
When you're just starting out and you're unsure when, or if, you're going to make your first quid/euro/dollar – you need to be living somewhere that is kinder on your wallet. Chiang Mai is brilliant value for money in all areas including food, accommodation and transport around the city.
Delicious Food
Not only is Thai food cheap; it's absolutely delicious. You can eat mouthwatering street food for under £1, even the restaurants have dishes between £2-3 and if you choose to cook in your place – Thailand is full of fresh produce to chose from. Why buy fresh produce from a crowded, stressful supermarket when you can buy it organic and straight from the lady on the street?
Thailand is known as 'the world's kitchen' in the food industry because of its abundance of culinary choices. It doesn't matter if you're omnivore, veggie, vegan or what the hell ever – you're not going to miss out there.
Fast Internet
I found Thai internet and also 3G to be better than my country (The UK) and most 'developed' nations that I have visited. This should maybe be top of the list if you're relying on a strong daily internet connection to conduct business.
Affordable Accommodation
I stayed in a humble one-bedroom apartment (with 24-hours security) for £110 in the centre of the city. I used to pay triple that rate in the UK to live next to psychopathic chavs in a desolate area in the north-east of England. Go figure.
Warm Locals
You won't find many natives more welcoming to a Westerner who has chosen their country as a place to live than you do in northern Thailand.
Warm Weather!
The weather is as warm as the locals. It's like a permanent spring, but don't take my word for it because I've got a weirdly high heat tolerance for a man who was born close to the cold North Sea.
Healthcare
What's the point in making decent money if you don't have your health? Chiang Mai and Thailand as a whole have you covered here and I can definitely speak from experience. I had two tumours successfully removed from the inside my mouth whilst living here. People back home told me I'd be better of flying back to the UK and getting it fixed on national healthcare.
They were unequivocally wrong and I was right to stay in Chiang Mai and get myself all fixed up.
Enough To Do…But Not Too Much
Let's get this straight – Bangkok is a party city and Chiag Mai is either a chilling out, or getting started kind of city. It's peaceful but has enough going on to not be boring. It has an abundance of fun festivals (personal favourite being the Songkran Festival) and you're spoiled for choice with regards to weekend/day trips away so you can explore the rest of Thailand.
Other Digital Nomads
There will be many people in the same boat as you in this city – enough to make you feel like you're not a complete weirdo. You can easily join other digital nomad groups and grow amongst other people trying to make it in the online world. Like in any sub sector in life, a lot of people are full of sh*t and this is no different. Be careful who you hang out with and stay focused on your business.
It's Gorgeous
Chiang Mai is aesthetically pleasing with an array of eye candy hotspots to relax when you've been squinty-eyed, hunched over a desktop for too long. I highly recommend a motorbike ride up to Doi Suthep when you need to de-stress.
Visas?
There are a few options here. The really fun choice is to fly in and have a 30-day visa, stay for a month – take advantage of Air Asia's cheap flights and visit a different place in Asia for a week or so and then fly back to Thailand for a month of work.
Realistically this won't be an option for you if you're in start-up mode, so it's better to fly into neighbouring Malaysia, or Laos and get a 60 or 90 day visa from the Thai embassy. I'm not a big fan of getting a sweaty-arsed, overland, fake-hippy-filled bus to Burma for only 14 days extension. No thank you!
I've lived in Bangkok, Medellin, Santa Marta, Phnom Penh and at the time of writing this article – Chiang Mai is still my personal favourite to live as a digital nomad. It wont be too long until I'm back there and I dream of owning my own place in Thailand's Rose of the North.