The official translation of Langkawi is "The Jewel of Kedah." I find the built up area of Pantai Cenang can get extremely crowded, especially during the peak season (November – February) and so what's the best way to get away from it all, to see a bit of a paradise island? It is without doubt – on a motorcycle.
'FE Holidays' are a motorcycle rental place situated on the front street of Pantai Cenang's hustle and bustling road and there are many motorcycle companies – but not all of them have a 24-hour service, in case your motorcycle breaks down. Imagine breaking down at 3am in the morning, miles away from your place of stay – not a problem if you went with these guys. However, you might want to get the correct type of Travel Insurance before you decide to burn some rubber!
And so off I went with my friend on a journey to see what Langkawi had to offer, I felt like I was creating my own film "Motorcycle Diaries", the Malaysian version….
The most famous touristy thing to do in Langkawi is to visit the cable car; an absolutely orgy of breathtaking views is available as you go higher and higher, taking in the lush greenery of the hills, complimented by the blue sunny sky. Go as early as possible as the queue gets very long in the late morning. If you were to get public transport, you'd be paying over the odds and you'd also be too far away from the other sights when  you're done with the cable car – hammering home another tick in the box for the motorbike rental.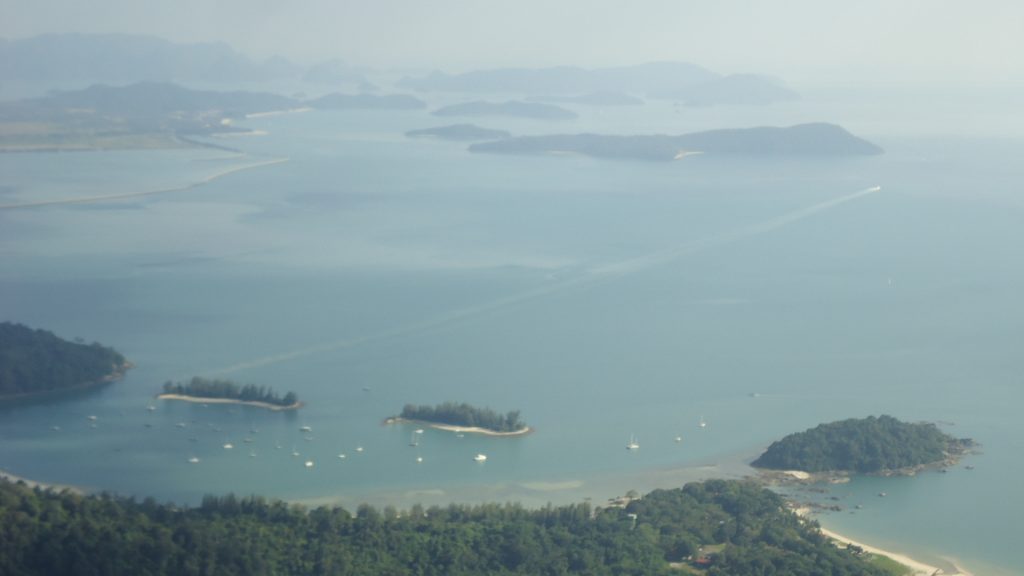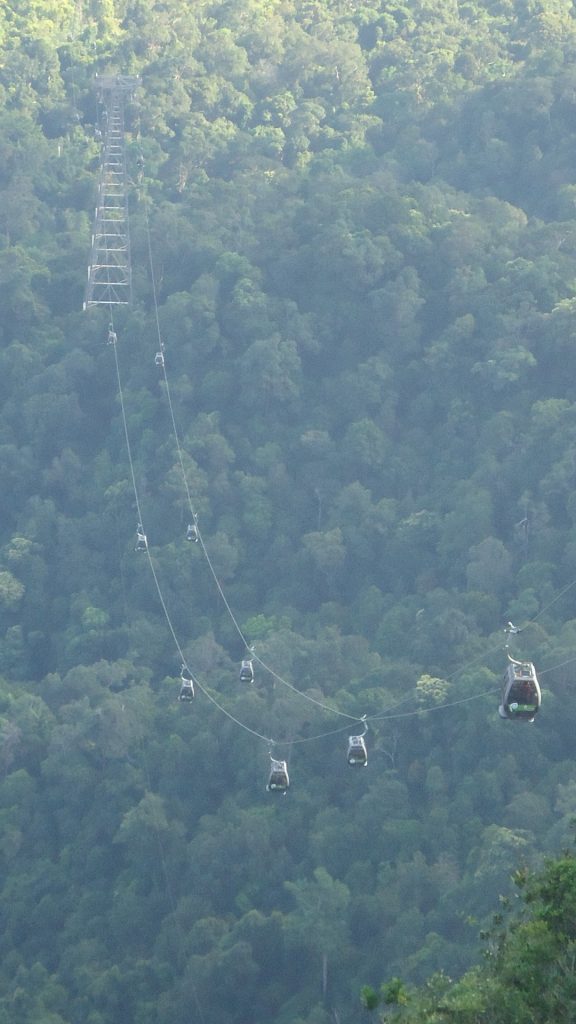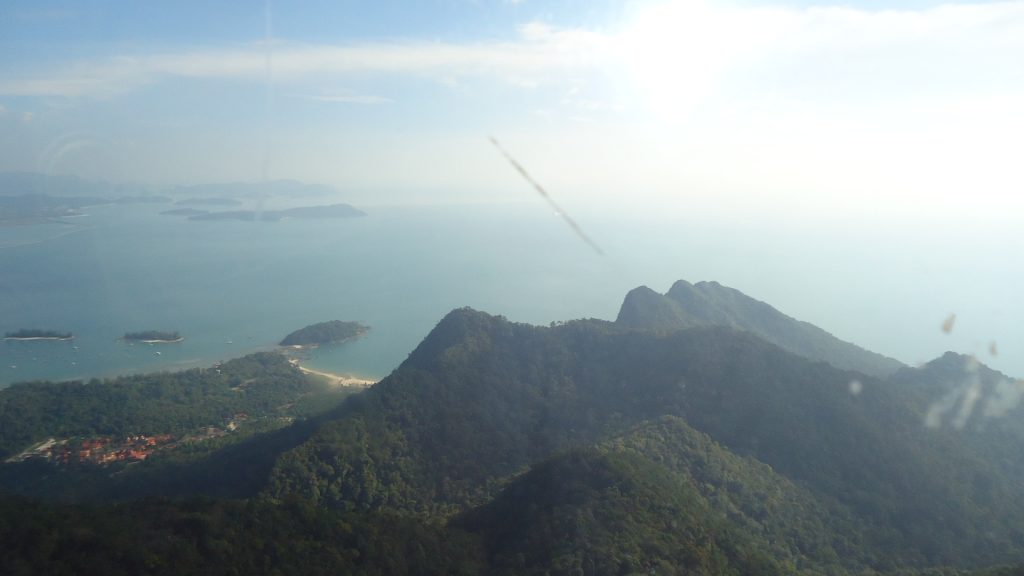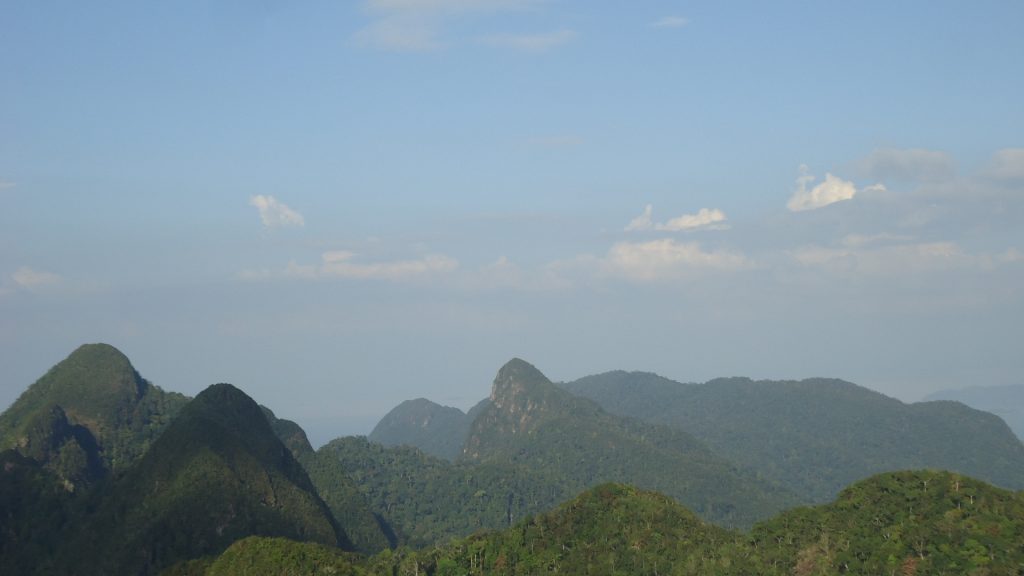 As you can see, the cable car is pretty much a photo taking opportunity! On the way back from seeing beautiful islands (a hard job, but someone had to do it), my friend suggested we get a coffee and a bite to eat. There was something almost suspicious about his tone and I was on my guard as we sat down.
I checked to see if I had any food on my face in the mirror as my mate held back a grin while we ate our grub. Nope, face clean. As I sipped my coffee and took in the beautiful view of the botanic garden through the window, I almost wet my pants as I saw this looking back at me: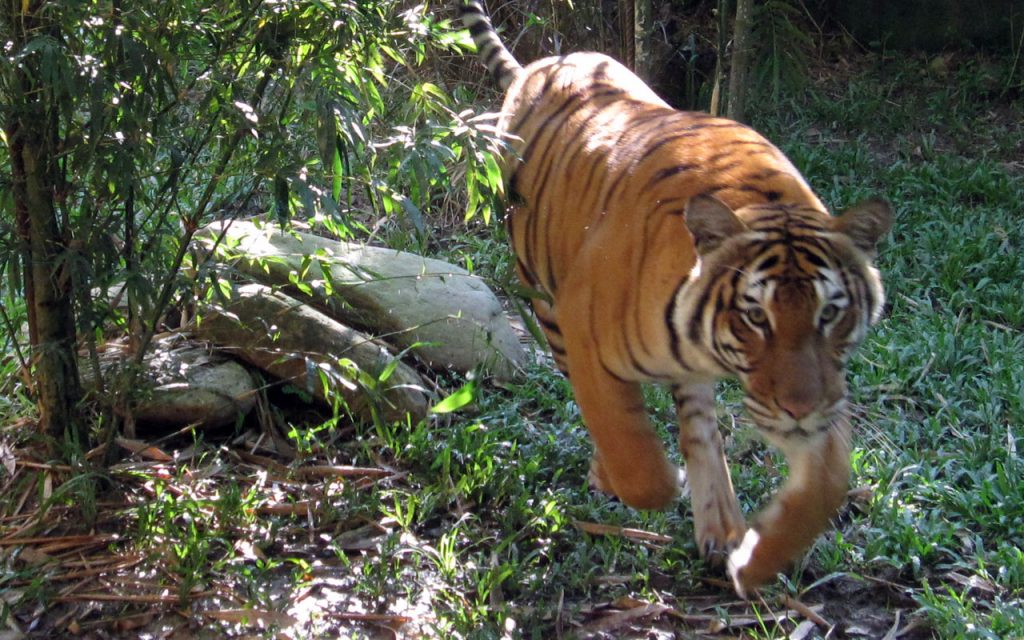 It turns out that the place I was eating in was called "Tiger, Tiger!"
Fact about the tiger and elephant after the interrogation: 
Name of Tiger: "Zanah."
Name of Elephant: "Lasah."
Why are they endangered? 
– for the elephant, it would be "Loss of Habitat."
– for the tiger, "loss of habitat" is a contributory factor, but more recently poaching has been a growing concern. Note that there were as many as 100,00 tigers worldwide at the start of the 20th century but fewer than 5,000 at the end of it.
On the Tiger! Tiger! Gallery: "The Tiger! Tiger! Gallery & Exhibit is a private initiative aimed at increasing the awareness of the Malayan Tiger and highlight the plight of the 500 remaining wild tigers in the country."
Tiger! Tiger! Gallery & Exhibit
E.01 Oriental Village, Burau Bay, 07100 Langkawi
Tel: +60.12.521.9200
E-mail: gallery@zanah.com
Langkawi Elephant Adventures
Oriental Village, Burau Bay, 07100 Langkawi
Tel: +60.12.512.9200 (slight difference in number)
E-mail: hello@gajah.org
I pretty much spent the whole day out on the bike and I definitely felt it was the best choice of transport to see Langkawi. I mean who wants to be cooped up in a taxi (who might rip you off), in scorching tropical weather – when you can just feel the wind on your face and see the sights at your own pace? Plus, it's almost impossible not to feel cool when on a motorbike.
I seen so much more of Langkawi then I would have done on any other land transport. The island may be small, but it's still big enough to miss out on the beautiful and unspoiled parts that Langkawi hides away. There were many times that I'd see something and simply had to jump off and take a closer look, and the bike made this very possible. I feel so lucky to have gotten away from the noise and crowds and I can now say that I have seen the best that Langkawi has to offer, on land and on water.
Edit: Since writing this post, I'm a lot stricter about investigating animal exploitation beforehand. This was a very long time ago and I didn't do the research back then that I would do now. If you're concerned about this tiger – you can contact the people above in the article."