Looking for some direction for the plethora of weird and wonderful things to do in La Paz, Bolivia – the highest city in the world by a country mile?
I loved this rough-around-the-edges place as soon as I arrived.
It does so well to hold onto its one-of-a-kind culture, has bucket loads of adventure, a nice mixture of traditional and quirky and has an air of a city that just doesn't give a f**k whether you like it or not!
For example, Bolivia is one of 12 nations that have more than one capital city and unsurprisingly La Paz is one of them.
South America is probably my most travelled continent in terms of duration and even though I'm a big fanboy of the region, La Paz was a breath of fresh (albeit high-altitude) air.
Holding onto their Mestizo, Spanish and 40 other ethnic groups' heritage, Bolivia is one of the top countries for authenticity when it comes to its historical culture.
In a nation where more than 60 percent of the population is of native descent, it's a refreshing experience to see what distinct things there are to do in La Paz, Bolivia so let's jump straight in.
1. Try to Survive The Trip Without a Nose Bleed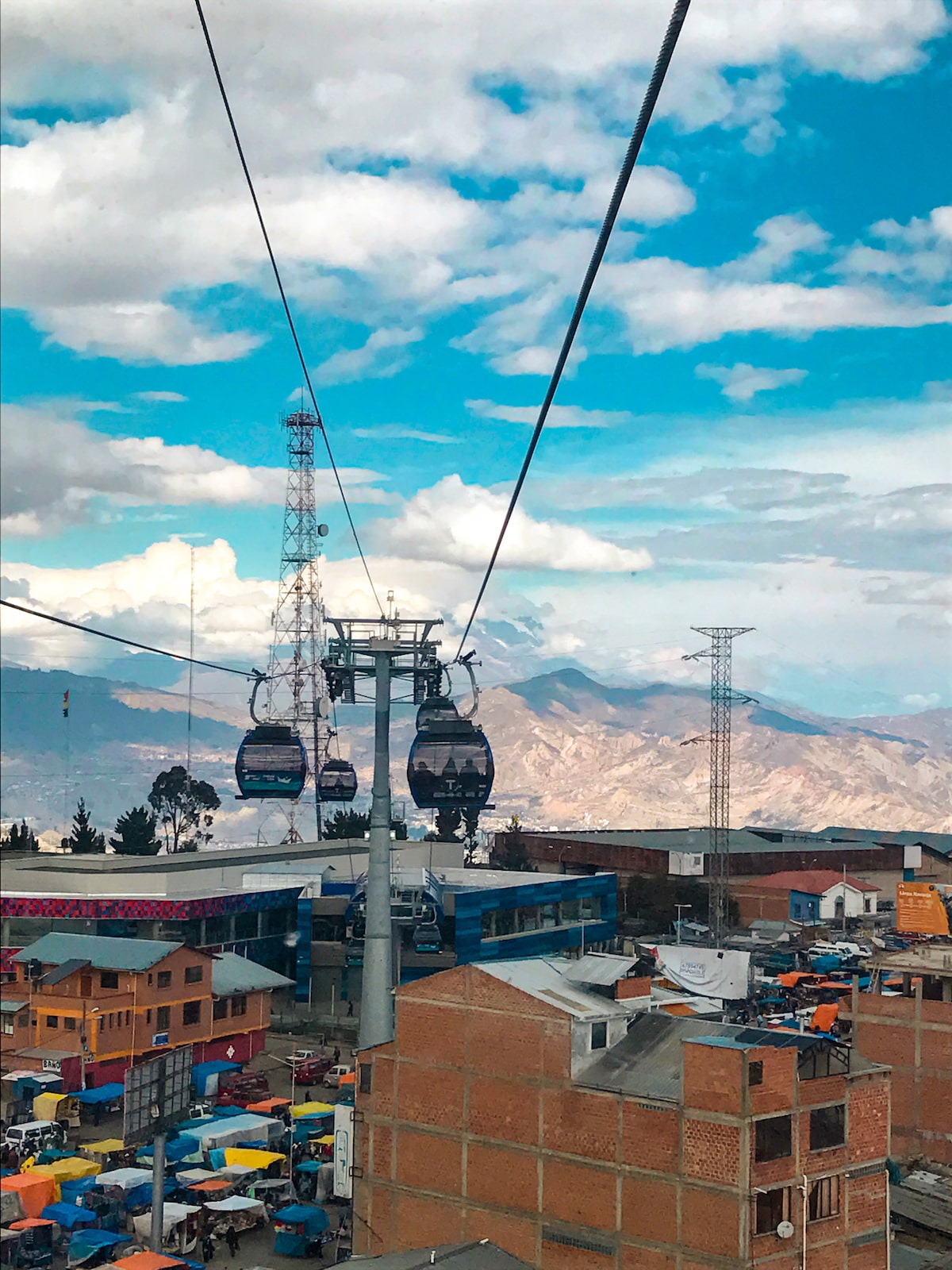 Did I mention that La Paz holds the title of being one of the highest-elevated capital cities in the world? Yeah, I know, that dead horse is so beaten that I'll be having a PETA-fuelled Twitter hate mob after me. Well, I'll just tell you one more time so you can look smart amongst your peers when it comes up in your next pub quiz.
With this being the case, before you can set about discovering all of the fascinating things to do in La Paz, you'll almost definitely need to adjust to this dizzying height first.
At around 3,640 meters above sea level, all visitors to La Paz are likely to feel the effects of altitude sickness in one way or another. This can range from a mild headache and lethargy to some of the more serious side effects like migraines, nose bleeds or even vomiting.
If you've experienced some of the more serious symptoms of altitude sickness before, or have a pre-existing condition that could worsen your side effects, it's worth taking every precaution possible, and maybe seeking medical advice where you can.
But, there's really no need to flee in the opposite direction. When approached in the right manner, most people get away with a light headache and, at most, a day spent in a hungover-like- state in bed.
If you're worried, try and take it easy for the first couple of days; this means no excessive hiking or to-ing and fro-ing, as this will increase your chances of developing some of the more complicated symptoms.
Some people report taking Diamox (also known as ​​Acetazolamide) in La Paz. I personally only take that when tackling extreme, high-altitude mountains and I didn't take any in La Paz. I had about 5 nose bleeds and was slightly short of breath every now, which makes sense as I was only 400 metres shy of Borneo's highest peak, Mount Kinabalu!
I also should add a disclaimer here that I am not a doctor and that I choose to take this on my own accord. Personal accountability should be taken into consideration before listening to some random pleb with a blog.
2. Visit The Witches Market (El Mercado De la Brujas)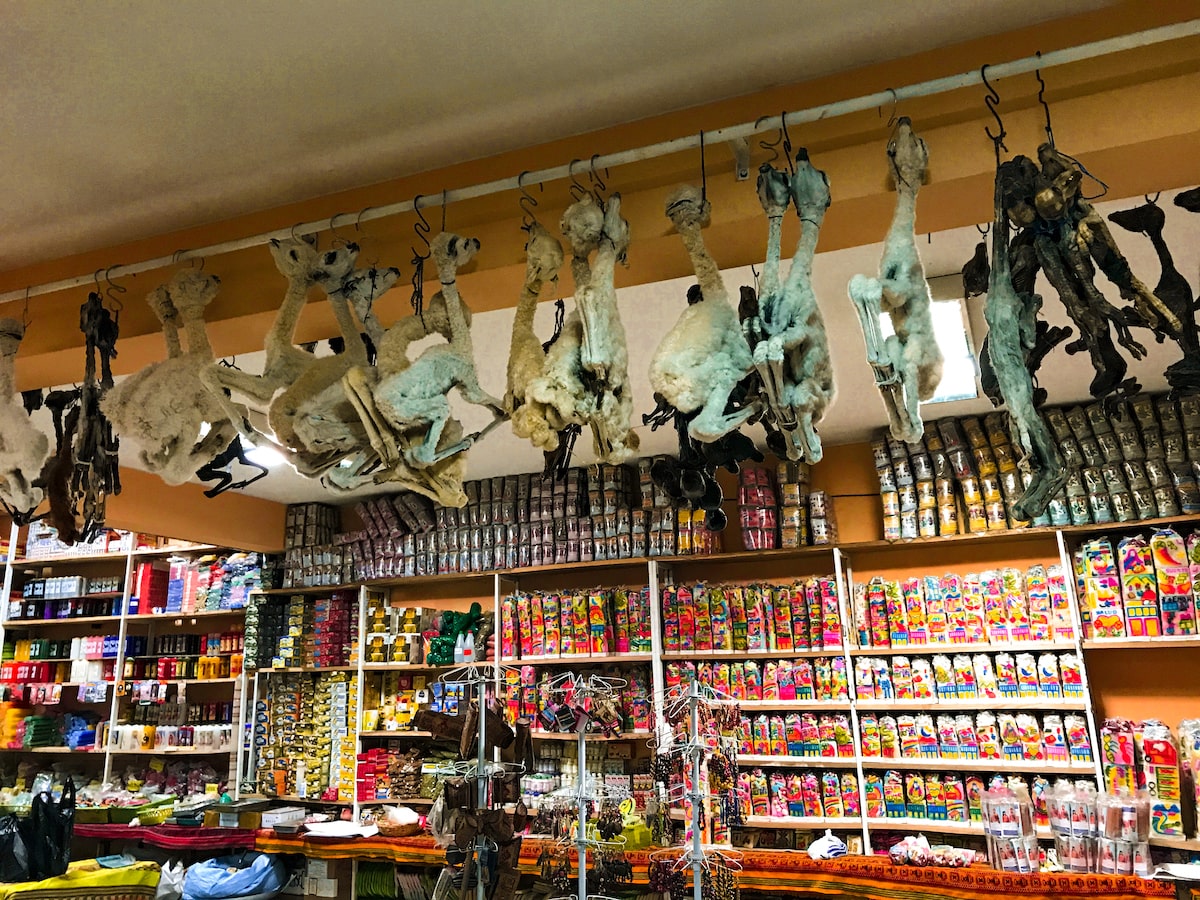 The culture and practices of La Paz and Bolivia as a whole seem far more connected with their indigenous past than most South American countries. Nowhere is this seen more strongly than in La Paz's Witches market.
As Westerners, our everyday experiences of going to the local market are made up of buying fresh bread, veggies and maybe a few discounted clothes. Yet, when you take a stroll into the Witches Market of La Paz you're more likely to come across potions, spells, dried frogs, herbal Viagra (adorned with images which leave little to the imagination), or lucky charms, but the thing that will stand out the most is the array of llama fetuses (sacred offering to the goddess Pachamama).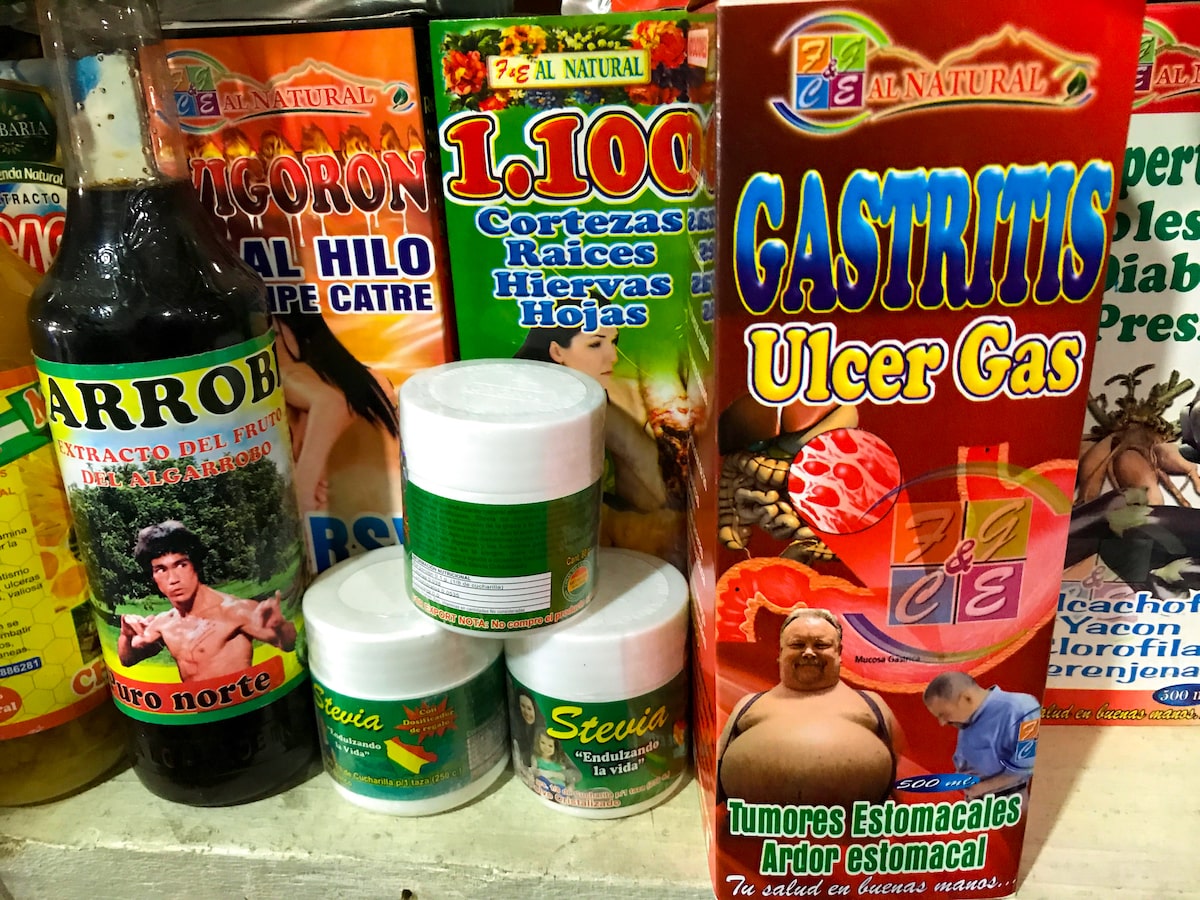 Before the religious law of Catholicism was forced by the sword on the indigenous peoples of South America, a religion more akin to European paganism was practised. This took the form of shamanism and witch doctors carrying out rituals and religious practices with items from the natural world.
What really puts this into focus is the number of local men and women in black bowler hats perusing through the items. These are what are known as the Yatiri – medical practitioners and community healers among the Aymara of Bolivia and other South American peoples. They will conduct ancient healing rituals that use the coca leaf for a small fee, foretelling fortunes of health, love, finances, and overall emotional well-being.
Know before you go:
Location – Santa Cruz Street, between Lineras and Illampu – just outside the city centre next to the Alpaca market.
Cost – There's no entry fee for the market.
Opening hours – 9.30 am to 7 pm
Time needed – Set aside at least a couple of hours to get lost in the weird and wonderful isles of the Witches Market.
Getting there – It's easiest to hail a taxi or ask your hotel if there's a collectivo that runs nearby heading to the market.
3. The Valley Of The Moon (Valle de la Luna)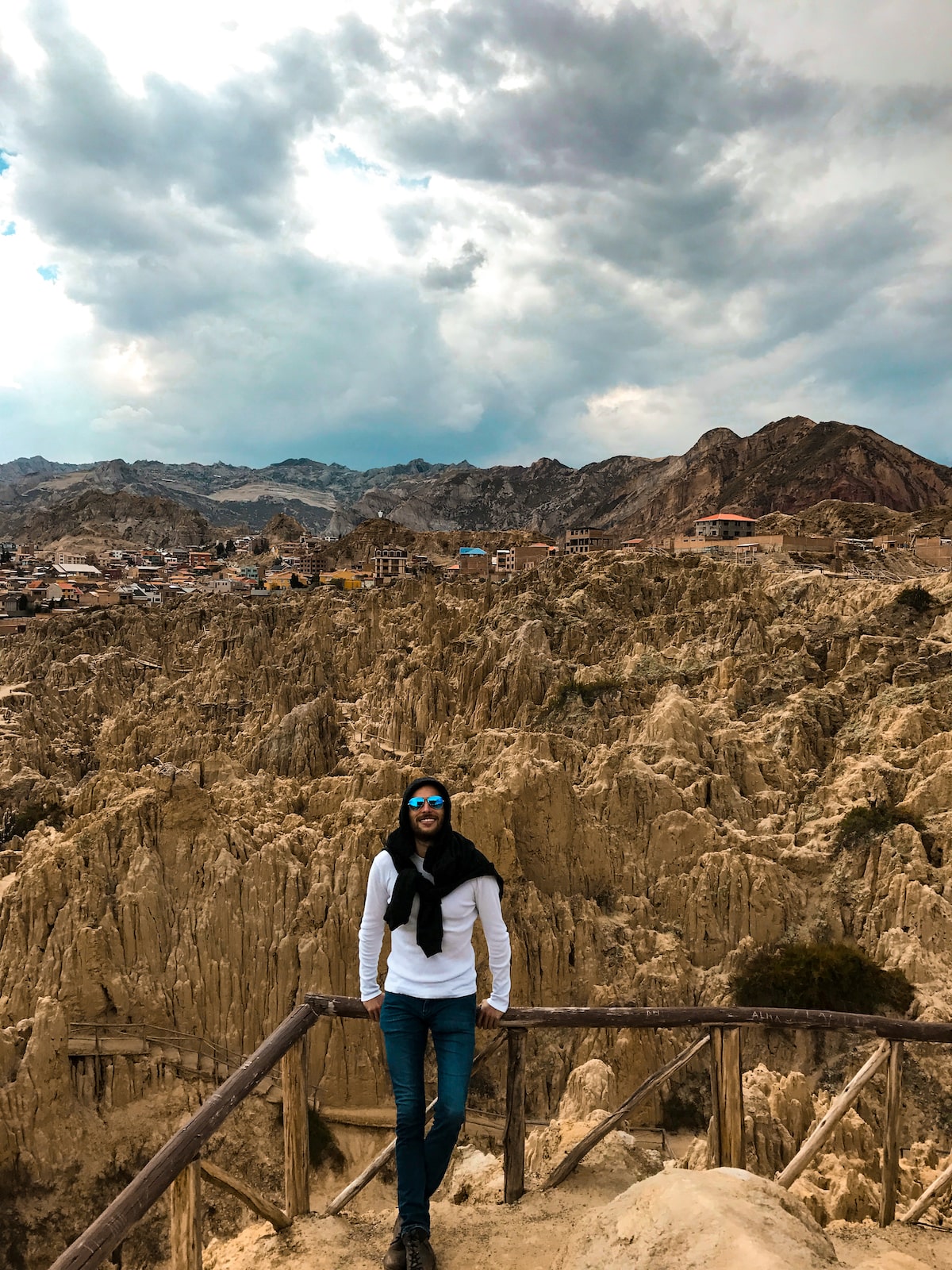 Found just six miles south of La Paz city centre is the Valle de la Luna, or Valley of the Moon, as we'd call it in English. Less famous than its namesake in The Atacama desert, but don't let that put you off, it comes with its own charm.
An intricate collection of canyons and spires, the Valle de la Luna has been naturally carved out of the mountainside after centuries of sandstone and clay erosion resulting in rock-like formations, resembling the surface of the moon.
This process of natural erosion has left the landscape looking like something you'd find in a sci-fi movie. You can spend a nice couple of hours wandering here; a perfect escape from the busy city.
This fascinating and unique terrain is full of hidden wonders, taking on names such as 'Old Grandfather' – for their resemblance to human faces in profile. Valle de la Luna is also the epicentre of Bolivia's Dia de Los Muertos (Day Of The Dead) annual festival.
Random fact #1: Rumour has it that the first man on the moon, NASA astronaut Neil Armstrong was golfing in the area and commented that the rock formations reminded him of the moon. Although the validity of this story has never been confirmed, it makes a great story, and you'll almost certainly get told the story by locals when you visit.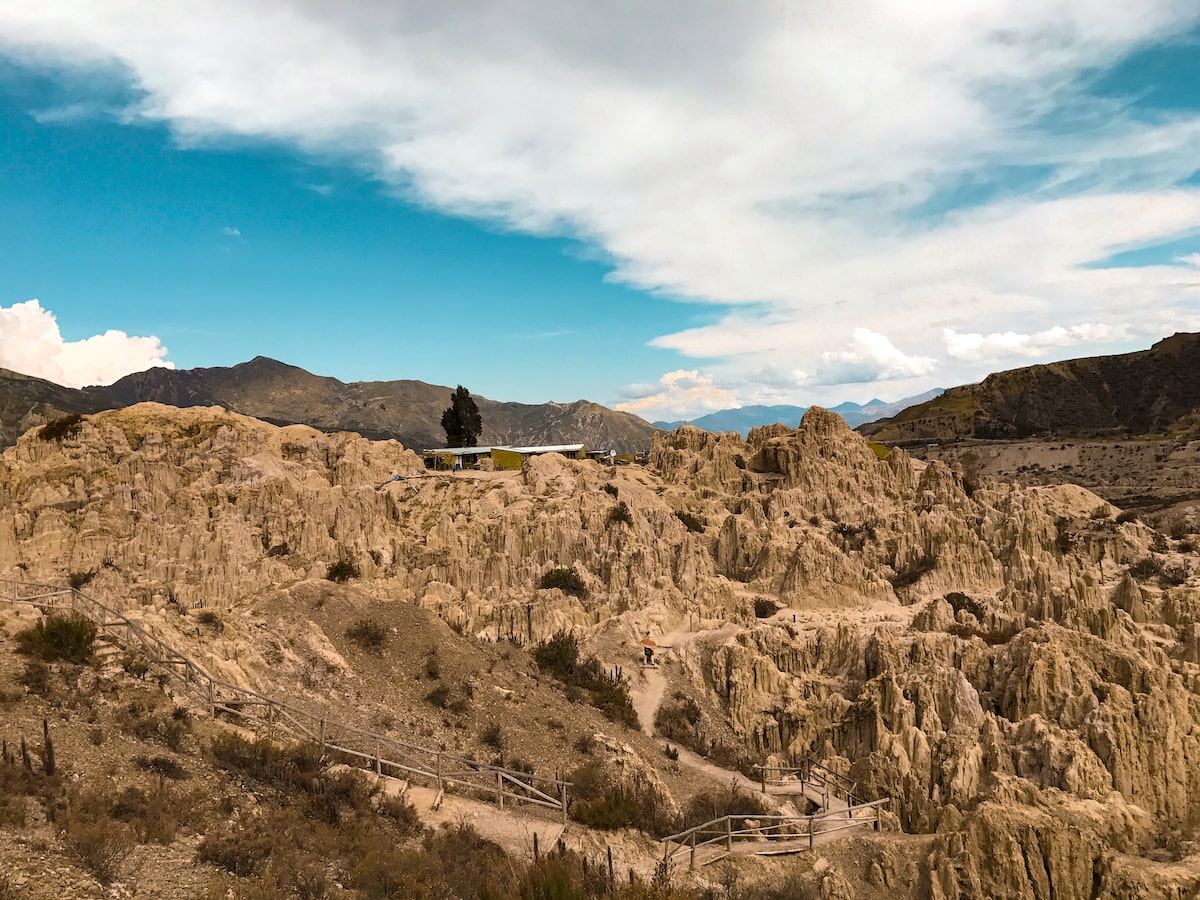 Know before you go:
Location – Six miles south of the centre of La Paz, not far from the small settlement of Mallasa.
Cost – 15 Bolivianos entrance fee plus transport costs.
Opening hours – Opens from 8 am until 5 pm.
Time needed – Give yourself half a day to get yourself over there, and spend a couple of hours hiking through the valley.
Getting there – You've got a few options to get to Valle de la Luna. The easiest is to jump in a taxi; from the southern zone of La Paz, a taxi to Moon Valley will take around 15-20 minutes and cost around 30 bolivianos. Alternatively, take a cable car to the last stop on the green line. From here you can catch a taxi or jump on any minibus you see that's heading towards Mallasa. Just let the driver know where you're getting off.
4. Cycle The Death Road (Yungas Road)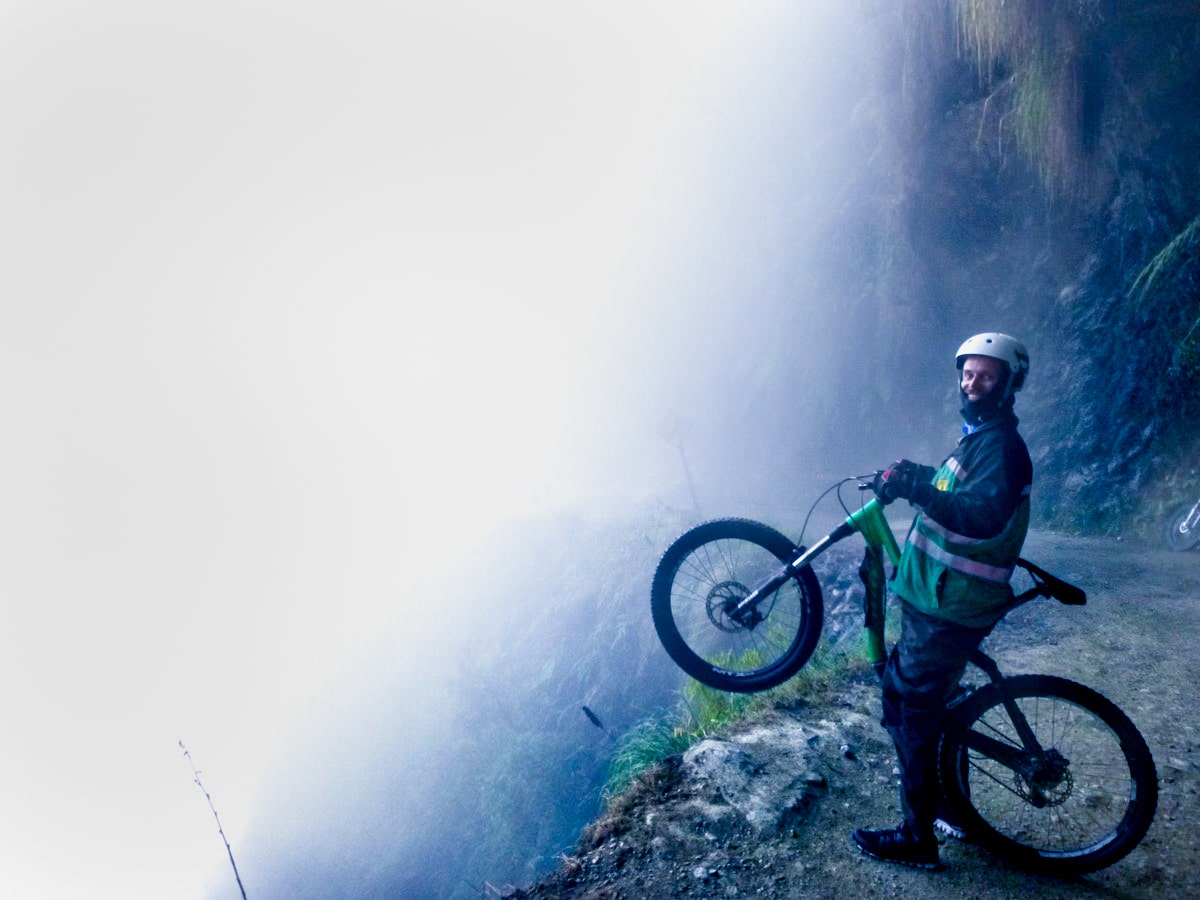 Combining beautiful mountainous scenery with heart-pumping cycling routes, travelling along the Death Road of La Paz is a once-in-a-lifetime opportunity for any thrill-seekers out there who love to travel and tick scary-sounding bucket list items.
Part of the longer Yungas Road, a 37-mile-long road linking La Paz to the Yungas region, the Death Road was once named one of the most dangerous roads in the world. High upon a mountainous edge, with just a narrow strip of road and a hefty drop below, this isn't an activity for the faint-hearted.
Constructed in the 1930s by Paraguay POWs, the road was once responsible for hundreds of deaths from heavy-handed motorists. Today, with the construction of another highway, the death toll isn't as high as it once was and cycling the route has quickly become a must-do attraction in the area.
All tour operators drive groups to the tops of the mountain path, which is where the treacherous cycling journey begins. From here, you'll make your way along Death Road, taking every precaution to watch out for huge boulders, blind corners and other traffic on the road.
Although Bolivians drive on the right, things are a little different on Death Road. Both cyclists and drivers drive on the left-hand side to ensure that the left-handed drivers can see where their wheels are in relation to the huge cliffside drop.
Cycling the Death Road will be an experience you won't forget in a hurry and will provide you with exaggerated bragging rights for years to come when this appears in a documentary amongst impressionable loved ones. Fancy it? Read my guide to cycling Bolivia's Death Road here.
Know before you go:
Location – The Death Road is around 33 miles east of La Paz.
Cost – Tour prices start from around 555 Bolivianos, which includes vehicle hire and transportation from La Paz.
Opening hours – N/A
Time needed – You'll need to give yourself a whole day to experience the thrill of the ride and settle your nerves with a few beers afterwards.
Getting there – Most tour operators will pick you up and drop you off from your central accommodation in La Paz so there's no need to worry about getting yourself there.
5. Visit The Colorful Neighbourhood of Chualluma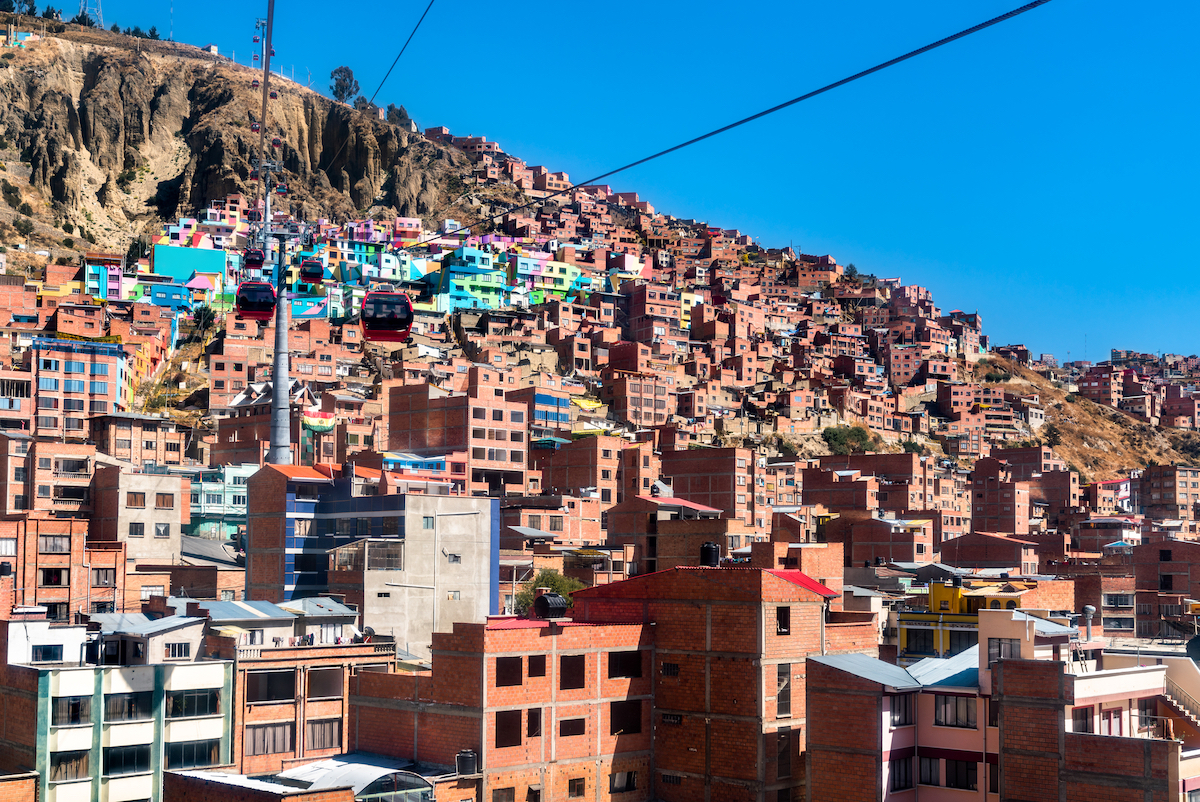 Whether it's the loud and proud murals of Santa Marta of Colombia or the painted favelas in Brazil, colour and South American neighbourhoods often seem to go hand in hand.
When it comes to Bolivia and La Paz in particular, there's one neighbourhood that seems to top this list, the vibrant neighbourhood of Chualluma. As soon as you step foot into the neighbourhood of Chualluma you'll know about it; with bright splashes of colour, vivid murals and unique pieces of art on every building, walking through Chualluma are like stepping into a work of art.
This fun-filled neighbourhood is actually the brainchild of one female Bolivian artist, Norka aka Knorke Leaf, who served as the creative director, and concept designer, as well as the urban artist who painted it. This project transformed the struggling neighbourhood into one of the must-see things to do in La Paz, bringing tourists and boosting the local economy.
Know before you go:
Location – You'll find Chualluma on the western edge of the city
Cost – Free
Opening hours – 24 hours
Time needed – Take at least a couple of hours to explore the colourful streets of Chualluma
Getting there – There's no direct way to get to Chualluma from most places across town, so you'll probably need to flag down a taxi, or book one on either Uber or Easy Taxi. You can get a cable car on the red line towards El Alto, which flies over Chualluma and provides pretty awesome views of the colourful buildings below. However, sitting between two red line stations (Cementerio and 16 de Julio) you'll have a bit of a walk on your hands when you get off.
6. El Choro Trek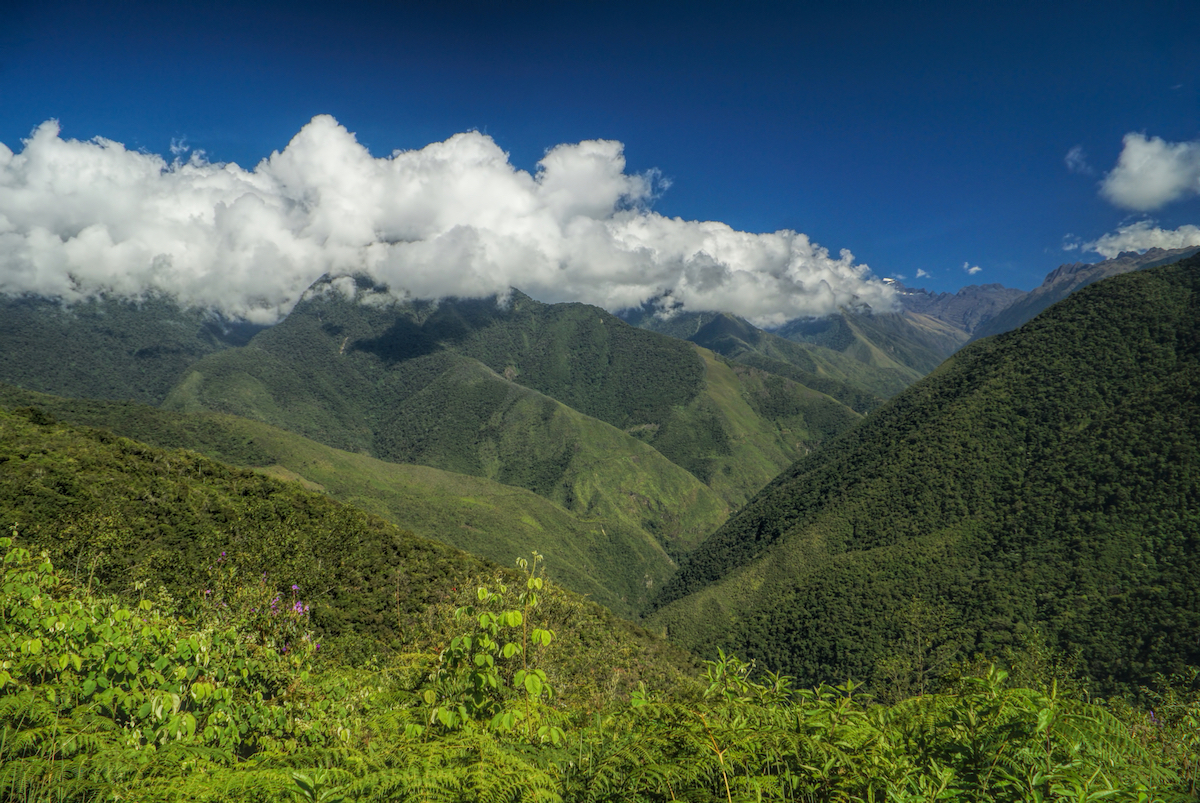 Of all the things to do in La Paz and Bolivia itself, hiking through the famous South American mountains and foothills is high on the list for lovers of the outdoors. One of the best places to enjoy such a trek is just north of the city, known as the El Choro Trek.
Much like the famous Inca Trail in Peru that leads to the mystical Machu Picchu, this hike runs along an ancient route that long predated Spanish conquest. However, unlike the Inca Trail, the El Choro Trek will only set you back a few dollars on permits, can be done without a guide and you won't be cramped in with hundreds of other hikers.
Here's a quick overview of what to expect on the hike:
Day 1: Starting from La Cumbre and its statue of Jesus, the hike will take you past Lake Estrellani until you turn off to the official start of the El Choro Trek. The entire trek lasts around three days; you can do this independently by packing your own tent and food, or you can have everything taken care of by joining up with an organised tour.
When you begin the trek, a lot of your first day will be spent heading downhill. The first few miles will have you descending to around 4,300 feet as you admire the centuries-old Inca trail that still remains.
You'll pass through a few settlements and get a real feel for the lifestyles of those who live in such terrain. For your first night, you can stop at Chuccara or at the riverside campsite of Challapampa, which costs around 10 Bolivianos for the night.
Day 2: The second day gives way to more tropical surroundings, broken up by river crossings and idle bridges. This section is great during the dry season but can be pretty hazardous during the wet seasons. After around four hours and a gentle uphill hike, you will come to what is known as Buena Vista. This grassland is home to wildlife and stunning views of the surrounding mountain ranges.
Day 3: Day three will have you walking up the incline of Cuesta del Diablo, the Devil's Uphill; its name says all you need to know about the effort involved. Once you've defeated the climb, you can visit the former home and garden of the eccentric Tamiji Hanamura, a Japanese native who lived here remotely from the 1930s until his death; there is also a small museum dedicated to his honour.
The last part of the trek will take you on an extremely steep descent along overgrown narrow paths to the small town of Chairo. From Chairo, you can either take the three-hour bus back to La Paz or carry on, heading toward Coroico.
The El Choro trek combines all the things that make travelling to this part of the world one of the most rewarding things to do in La Paz.
Know before you go:
Location – The El Choro trek begins in the settlement of La Cumbre, around 14 miles north of La Paz.
Cost – A DIY excursion will cost you around 800 ​​Bolivianos in permits and camping costs, while three-day tours start from around 1,100 Bolivianos.
Opening hours – N/A
Time needed – Three days and two nights to complete the trek.
Getting there – To begin your hike, catch a minibus from La Paz heading to the Yungas region and ask the driver to drop you off at La Cumbre.
7. Teleferico Tour (World's Highest Cable Car)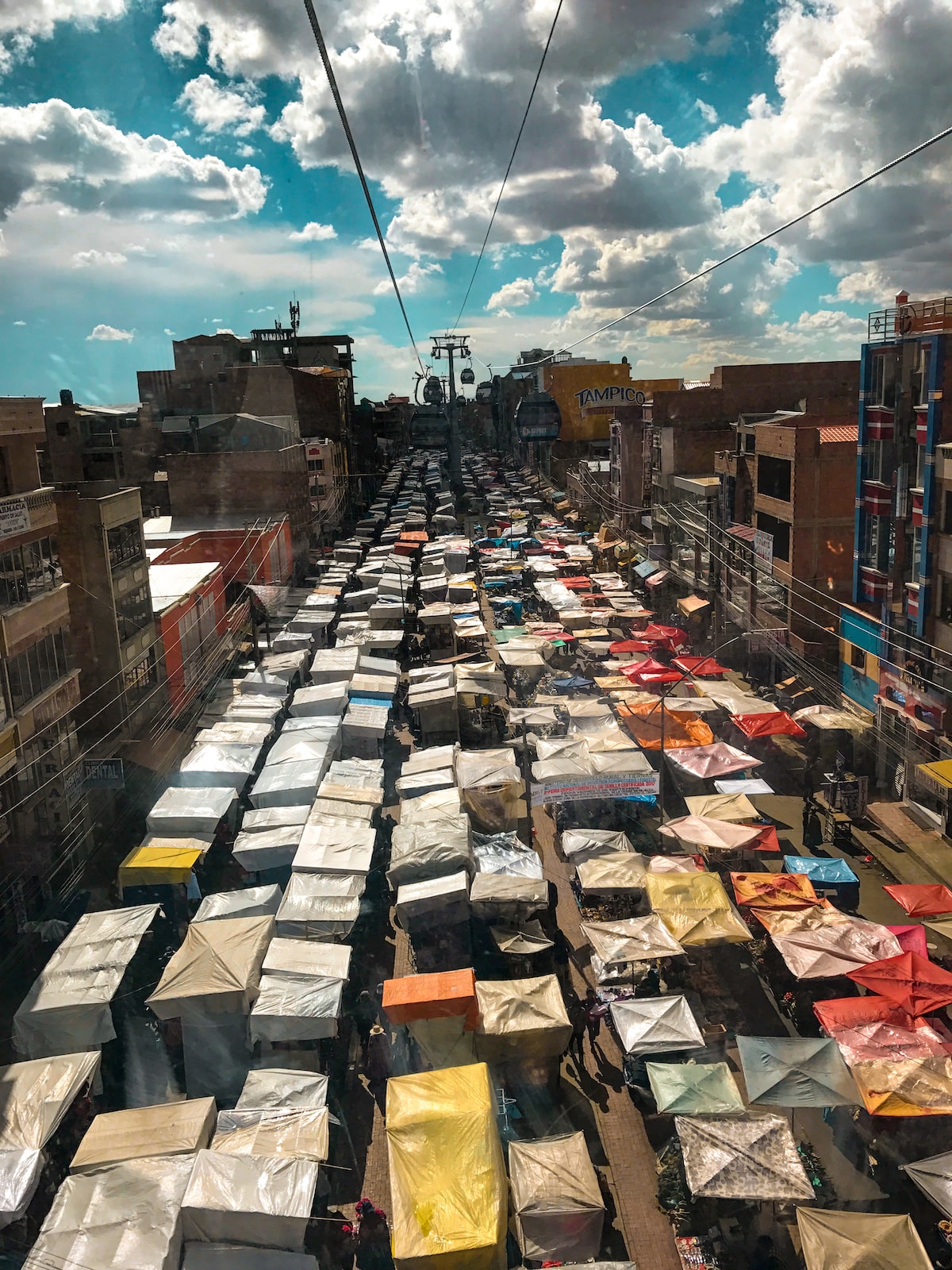 El Teleferico sounds way more exotic than "cable car" and I loved getting around the city in these funky metal boxes.
Both locals and visitors use this cable car system to navigate their way around the ever-changing heights of La Paz and its surrounding area. Aside from using cable cars as a mode of travel, they can be an experience all within themselves.
One of the easiest ways to enjoy the world's highest cable car is to simply jump on the nearest one and let it take you across the city, perfect for those looking for things to do in La Paz that don't take too much planning.
If you're the kind of traveller that enjoys things that err towards the organised-fun side of things, you're in luck; you'll find Teleferico tours of all shapes and sizes scattered around the city.
These usually involve jumping in a carriage, soaring to the highest of heights and taking in the awesome panoramic views of La Paz. Other Teleferico tours will take you south to admire the modern architecture and mountainous perimeter of the city.
Combining a sightseeing tour with a unique rise on the world's highest cable car is something totally unique and a time of undeniable fun. Personally, I would skip the tour and do this DIY, but that's your call.
Know before you go:
Location – Cable cars can be found across the city, with different coloured lines taking you to various destinations across the city.
Cost – A Teleferico tour will set you back around 60 Bolivianos for a morning of adventures.
Opening hours – Tours usually begin in the morning or early afternoon.
Time needed – Tours vary from a few hours to a whole day, so choose whichever suits you best.
Getting there – If you're exploring by yourself, jump on a cable car from your nearest station and see where it takes you! If you're looking for a dedicated tour, most start from the Galeria La Republica in the centre of town.
8. Urban Rush Bolivia
With heady heights and plenty of surrounding mountains, abseiling and La Paz seem to go hand in hand. But what if I told you that you don't have to venture far out of the city to get your adventure sporting fix? That, in fact, you don't even need to be anywhere near a cliff face?
Urban Rush Bolivia is a company that lets you abseil from the side of La Paz's high-rise buildings; descending 50 meters, you'll make your way down the huge building face first. If you have a chance to catch your breath as your pulse races, you can enjoy the fantastic views of the city as the ant-like people below draw ever closer.
Designed and constructed by experts from New Zealand, the US, and Bolivia, Urban Rush strictly passes every safety measure that all international standards set. Located in the centre of La Paz, the on-hand guides will take you through practice runs before you tackle the 17th-floor abseil to the streets below.
Not the first time I've jumped off a high-rise building in the name of adventure travel and it won't be the last!
Once you get to the height of six floors, your guides will stop you so you can start the free fall. This involves letting go of the rope and jumping, shooting down to the platform below – with two guides with brakes to stop you just before the ground level. This is a solid entry for those adrenaline junkies looking for heart-racing things to do in La Paz.
Know before you go:
Location – Urban Rush is located at Hotel Presidente in the centre of La Paz.
Cost – 200 Bolivianos for one jump.
Opening hours – Jumps take place between 13:00 and 18:00 most days.
Time needed – The jump itself only takes a few minutes, but leave yourself an hour for the safety talks and to get geared up.
Getting there – Sat in the centre of La Paz, you can walk to the hotel if you're staying in any central accommodation. Once you're there, head to the 15th floor of Hotel Presidente and follow signs to Urban Rush.
9. Watch an Independent Movie at Cinemateca Boliviana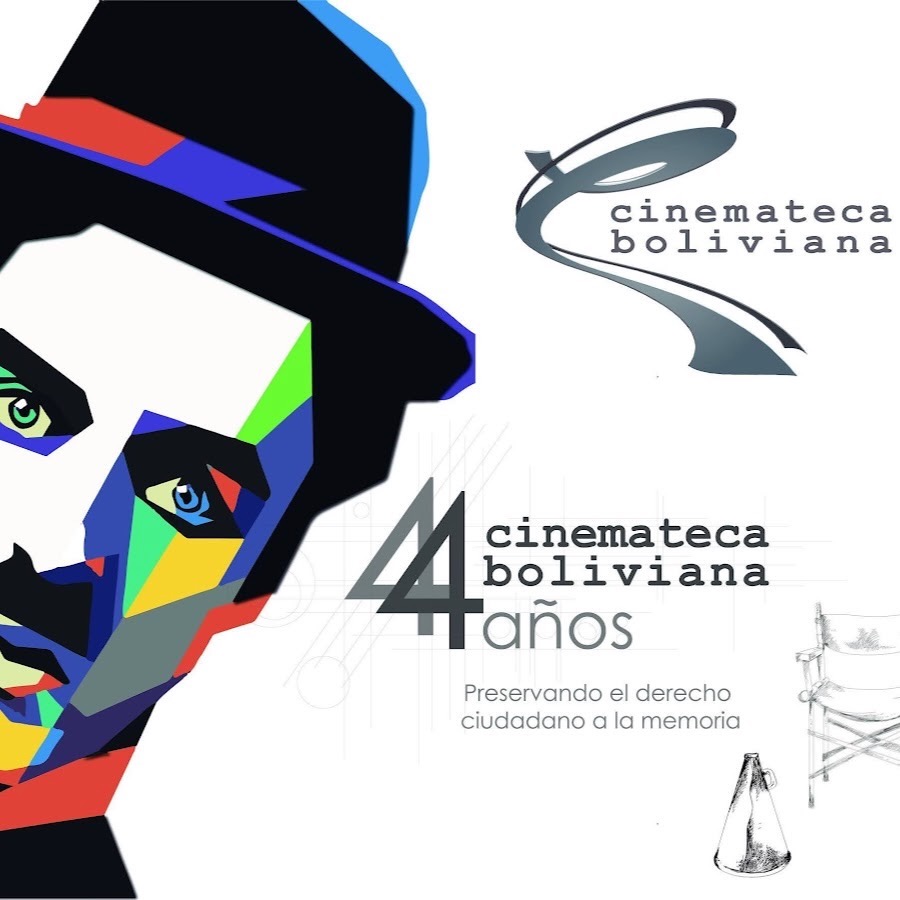 For anyone visiting La Paz with a love for the big screen, Cinemateca Boliviana has your back. Then again, even if you are new to the world of local cinemas and have only ideas for Hollywood blockbusters, I'd encourage you, even more, to go and branch out.
In a country where arts are not highly funded, Cinemateca Boliviana was a unique project designed to shine a light on lower-budget and independent films, not only from Bolivia but from across the globe.
Supported by its paying customers and donations, the cinema has battled to stay open with success, so far. Kept brilliantly clean and boasting a laidback and quiet atmosphere, watching a film here at Cinemateca Boliviana is a real cultural experience and perfect if you are looking for one of the more relaxing things to do in La Paz.
Know before you go:
Location – Oscar Soria Road in the centre of the city.
Cost – Around 20 – 30 bolivianos for a ticket
Opening hours – Varying times, so take a look at the listings on their website.
Time needed – Most films last around two hours, but it all depends on what you're going to watch.
Getting there – Several local buses pass the cinema, including the 11, 21, 33 and 42.
10. Visit Cementerio General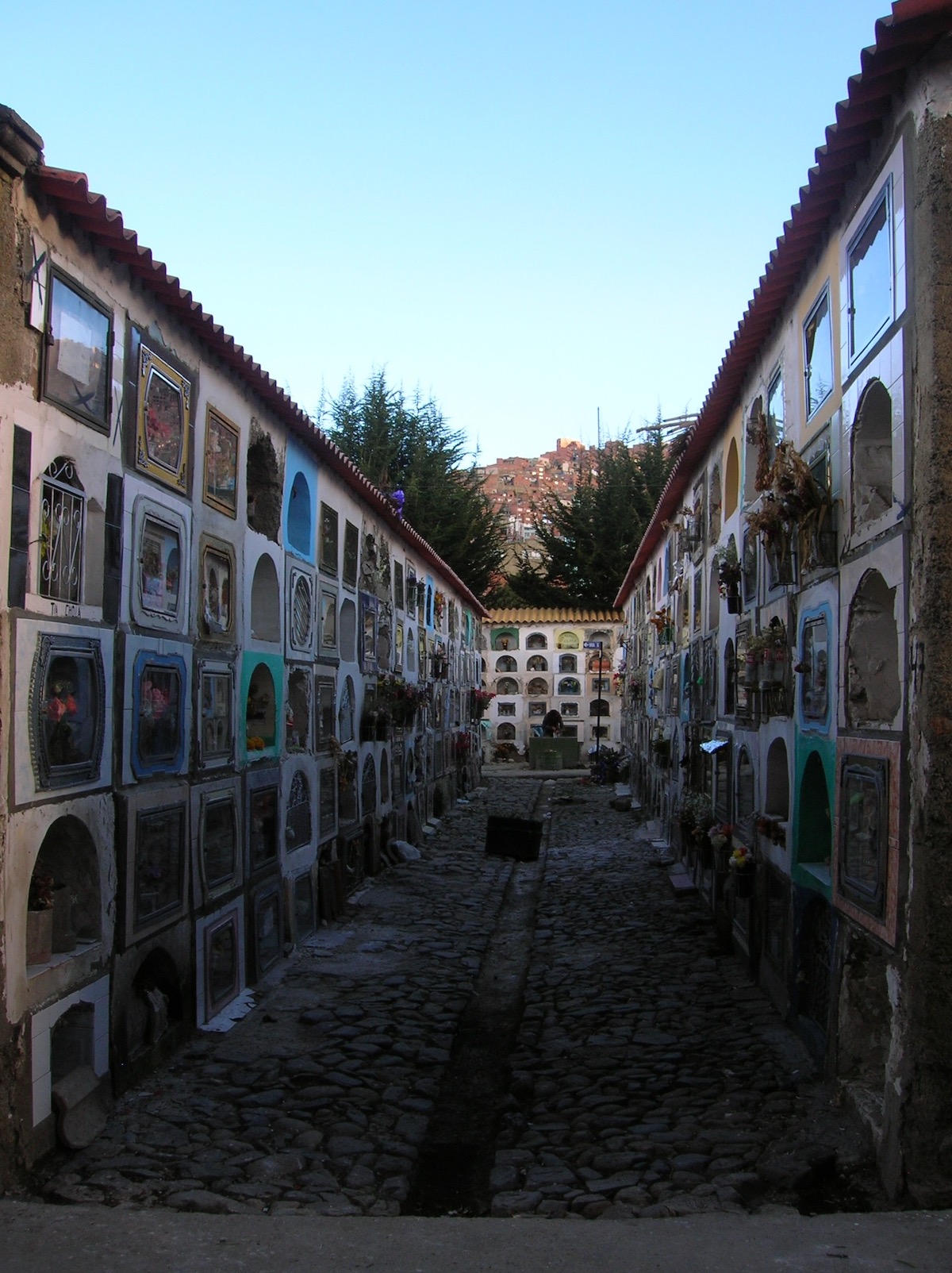 Nestled between La Paz's historic centre and El Alto is one of the most fascinating cemeteries you're likely to come across, La Paz's Cementerio General.
Covering an area of one and a half miles, the General Cemetery is made up of concrete compartments, each set in structures over four stories high.
These compact tombs are stacked on top of each other and are framed by glass adorned with pictures, flowers and a number of mementoes. The walls of the cemetery are also painted with murals and a burst of colour – completely juxtaposed to our Western drab and dour approaches to death, funerals and cemeteries.
The murals of Cementerio General are interspersed with intricate series of alleys where families of the deceased often gather in family groups, have lunches and even play music. This is heightened even more so during the "Day of the Dead" festivities, where families spend the entire day here celebrating the life of their loved ones, pretty much the Bolivian version of Mexico's Janitzio Day of The Dead Festival.
Know before you go:
Location – Avenue Baptist, a few miles west of the city centre.
Cost – No entry fee.
Opening hours – 8.30 am – 5 pm (8 am – 5 pm on weekends)
Time needed – An hour should be enough to wander around and see the Cementerio General.
Getting there – Take the Red Teleferico in central La Paz, and get off at the second stop before El Alto.
11. Eat at Ali Pacha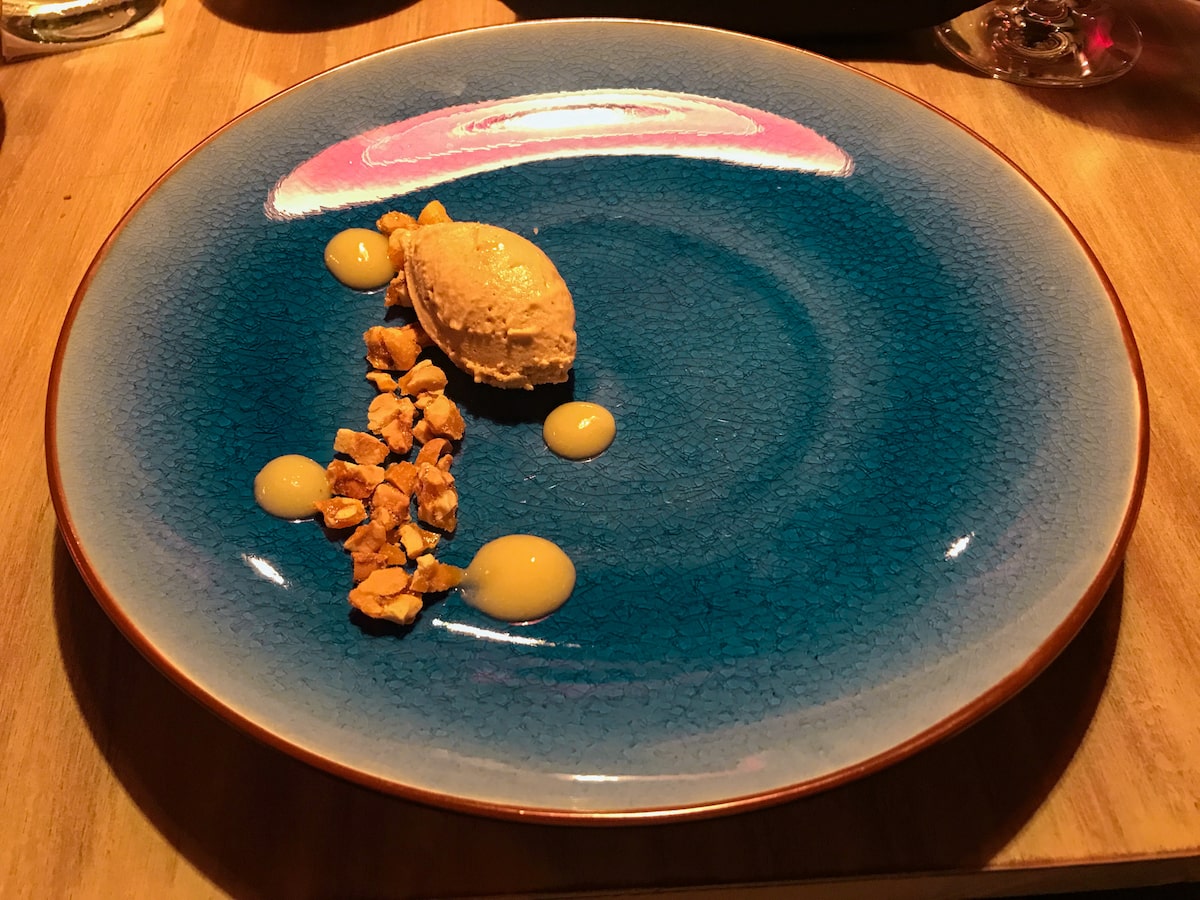 Finding groundbreaking vegan restaurants can be a difficult task at the best of times, even in the biggest of cities. Yet, vegans and general food connoisseurs will be blown away by La Paz's and Bolivia's first and only fine-dining vegan establishment.
It's weird walking through the rugged, beaten streets of La Paz all day and then suddenly entering a restaurant that wouldn't look out of place in the fancier parts of London and New York.
Ali Pacha, meaning 'plant universe' in the indigenous language of the Aymara people, serves up mouth-watering and intelligent concoctions, all from the plant-based world.
Aside from being conscious about what they serve, Ali Pacha is also responsible when it comes to where it sources its produce; using only local ingredients and ingredients grown in Bolivia.
Ali Pacha's 11-course tasting menu is one of the restaurant's highlights, serving up a range of taste bud-tingling dishes that will have you pleasantly surprised at how good Bolivian plant-based food can really be – even if you're not usually that way inclined.
Once you've dined on this incredible food, don't miss out on freshly brewed South American coffee in the cafe upstairs. Whether a vegan or not, visiting the award-winning Ali Pacha should be a worthy item on your list of things to do in La Paz, especially if you consider yourself a bit of a foodie.
Know before you go:
Location – In Juan XXIII neighbourhood of La Paz, just outside the city centre.
Cost – 200 Bolivianos for the taster menu.
Opening hours – Monday and Tuesday: 12 – 3 pm, Wed, Thurs, Friday: 12 – 3 pm and 6 – 8:30 pm. Closed on weekends.
Time needed – Give yourself a whole evening to enjoy the culinary heaven, washed down with an elegant wine, or whatever tickles your fancy.
Getting there – Located close to the centre, it's easy to walk or take a short taxi/Uber to Ali Pacha.
12. Lucha Libre de Cholitas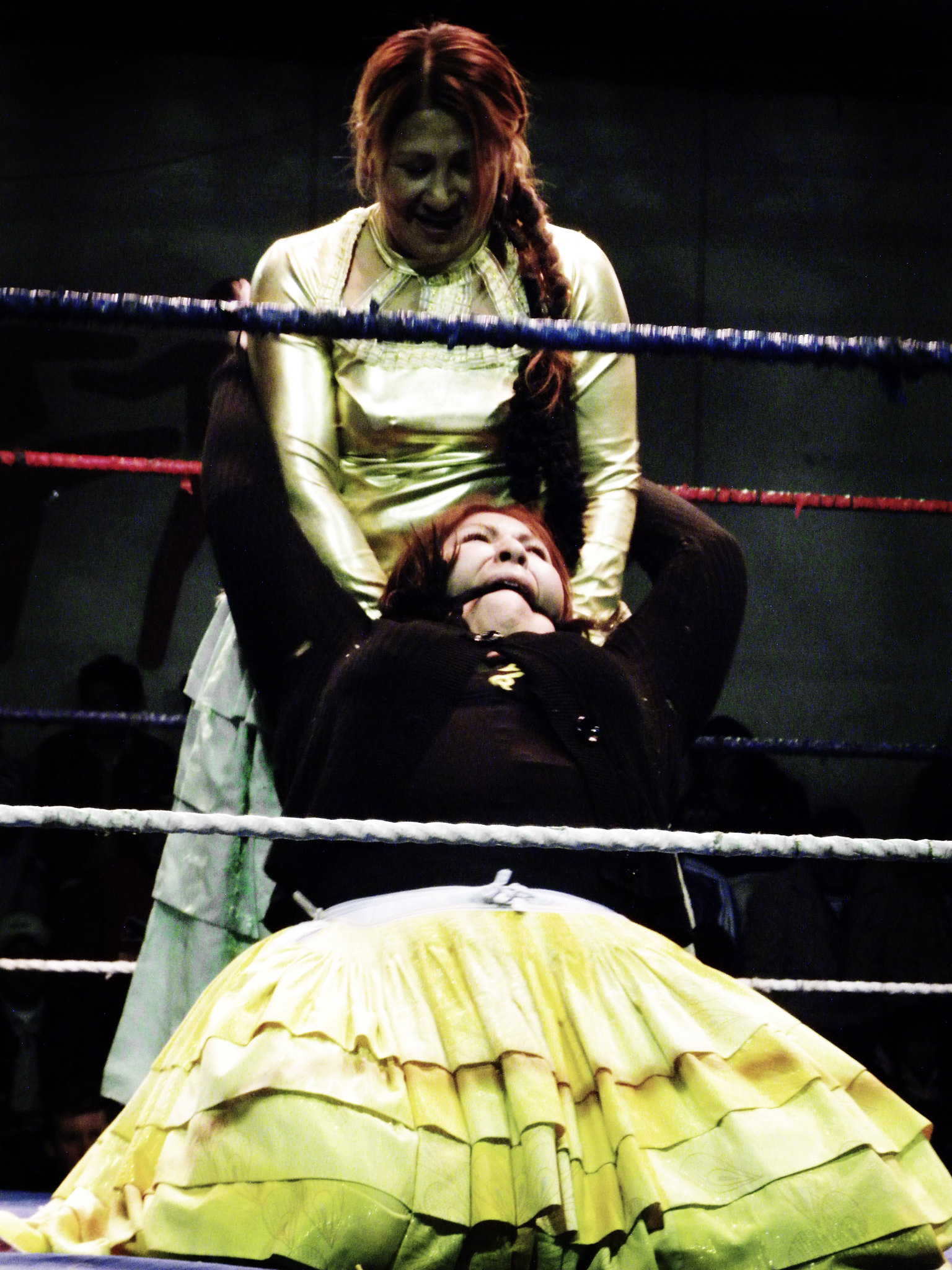 Lucha Libre, a form of Latin American wrestling, has long been a popular sport throughout Bolivia and much of Latin America, namely Mexico. I can confirm as a former resident of the capital that it's a rite of passage for those living in Mexico City.
Usually a male-dominated sport and form of entertainment, it wasn't until the early 21st century that women started to take an interest.
Cholitas, women of the indigenous peoples of Bolivia and wider South America, are defined by their wide, colourful dresses and bowler hats. Cholitas and other indigenous peoples were once the most marginalised community in the country and were unable to acquire the same resources and rights to vote as the European descendants (though this has somewhat changed with reforms brought in by the nation's first indigenous president Evo Morales).
This marginalisation transcended right through society, to the point where the Cholitas had no refuge from domestic violence issues. A small group of women took to meeting up and participating in wrestling, using it as a way to relieve stress and restore a sense of empowerment.
This group has grown over the past few decades, and now, the Lucha Libre de Cholitas is a strong part of La Paz's entertainment scene and welcomes thousands, both locals and tourists, to watch their shows.
What started out from a deep and poignant place has now become a show of entertainment, with subtle references to abuse that the Cholitas have had to endure.
If you're looking for things to do in La Paz, a night watching the Lucha Libre de Cholitas is something you will never forget. Think WWE wrestling but rather than your man-mountain male wrestlers, it's the bowler-hatted, traditional dress-wearing Cholitas diving from turnbuckles and bouncing off the ropes!
Know before you go:
Location – Multifuncional Ceja de el Alto, an event venue in the Villa Dolores neighbourhood.
Cost – Tickets cost 50 bolivianos and can be purchased on the day from the venue. Going as part of a tour is only marginally more expensive than making your own way, costing around 80 Bolivianos for transport and entry.
Opening hours – 4.30 pm on Thursdays and 5.30 pm on Sundays
Time needed – Take the whole evening to enjoy the entire show.
Getting there – Without a tour, take the red teleferico to La Ceja station, and walk from here.
13. Watch The La Paz Derby (El Clásico)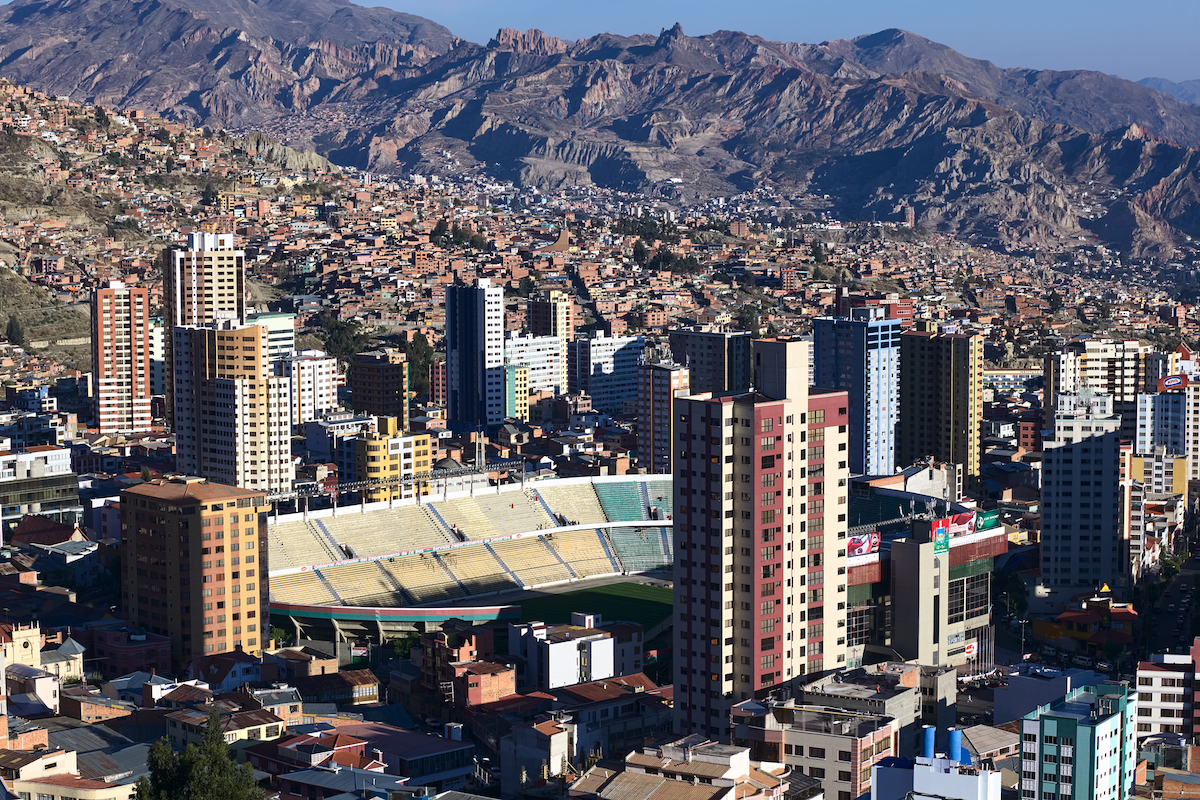 When it comes to football all over the world, no one sporting day is more intense than the local derby, or El Clasico as it's known in this neck of the woods.
There are many across the footballing world, whether it be Celtic/Rangers, Liverpool/Manchester United, Real Madrid/Barcelona (or my personal favourite… Newcastle/Sunderland) all are highly anticipated and fiercely contested in a cauldron-like atmosphere.
The La Paz El Clásico (Bolivia's answer to Argentina's Superclasico) is between the city's two local teams 'Club The Strongest' and 'Club Bolívar'; some of the biggest names in Bolivian club football.
Often played in the national stadium of Estadio Hernando Siles, holding up to 40,000 supporters, the game is one of pure electricity and a lively experience, whether you're a football fan or not.
Know before you go:
Location – Estadio Hernando Siles, the Olympic Stadium in Los Guindales, La Paz's historic centre.
Cost – 60 Bolivianos for a seat behind the goal to 250 Bolivianos for the best seats at the main stand.
Opening hours – Depends on the day of the match!
Time needed – 1 hour 45 for the match itself, needless to say – get in an hour or two earlier and soak up the atmosphere.
Getting there – From most central areas the walk takes 30 minutes at most. Alternatively, jump on bus 8, 33 or 2 and get off at Club Bolivar or Carasco stops.
14. La Paz Golf Club (Highest Golf Course in the World)
Keeping with the topic of things to do in La Paz that centre around sport and being really elevated, how about trying your hand at a round of golf at the highest golf course in the world?
La Paz Golf Club is just under eight miles south of the city and is a beautiful place to play golf, by any standard. Trading the hustle and bustle of the inner city for the beauty of La Paz Golf Club is not only a great way to play a memorable round of golf but is a perfect excuse to admire the landscape from this viewpoint.
The course is looked down upon by Mount Illimani and the grounds themselves are full of shimmering lagoons, tall shady trees, and unworldly natural rock formations. This 18 holes par-71 course (whatever the hell that means) isn't the easiest to navigate if you're a beginner and, with numerous golfing hazards to navigate, you'll want to make sure your first stroke is a good one.
One of the most interesting holes is number 12, similar to the Valle de la Luna that is nearby, this hole is known as the 'Moon Hole'. The lunar landscape-like rocks that make up the Valle de la Luna run into the course and you don't want to be pitching off of them!
The high altitude of the La Paz Golf Club course means that air pressure is lower and the air is thinner. This has the result of making your drive go noticeably further and straighter, which can be a little surprising for experienced golfers. This being said, there are a team of experienced local caddies on hand to suggest the right clubs for the hole.
Know before you go:
Location – Eight miles south of La Paz in the Macrodistrito Mallasa area.
Cost – 600BS for green fees, 200 for rental clubs and 120 for a caddy.
Opening hours – 7:00 am – 7:00 pm
Time needed – As long as you need to get around 18, pretty tricky, holes.
Getting there – A short taxi ride will take you to the golf club in around 20 minutes.
15. Take an ATV Tour
Enveloped by the aforementioned interesting rock formations, deserted plains and moonscape landscapes, La Paz is one of the most impressive places in Bolivia to explore via an all-terrain vehicle or ATV.
Luckily, you'll find tonnes of tours where you can do just that in the small town of Mallasa which sits just south of La Paz. Jump on a quad bike, take your hand to an ATV or test out your motorbiking skills along the many dirt trails that wind their way around Andean hills.
You can choose between an automatic or manual vehicle, which makes this type of tour accessible for even the most inexperienced of drivers. Most tours last at least half a day, with the option to extend your adventures to a full day if you fancy.
Know before you go:
Location – Around the south of La Paz, in the area of Mallasa.
Cost – Most tours begin from 925 Bolivianos for half a day.
Opening hours – Usually between 8 am and 10 am for morning tours and between 1 pm and 2 pm for afternoon tours.
Time needed – You'll need half a day to make your way to the starting point in Mallasa and enjoy a few hours on the tracks.
Getting there – Tour organisers will collect you from your accommodation in La Paz so no need to worry about getting there yourself.
16. Wander Calle Jaen Colonial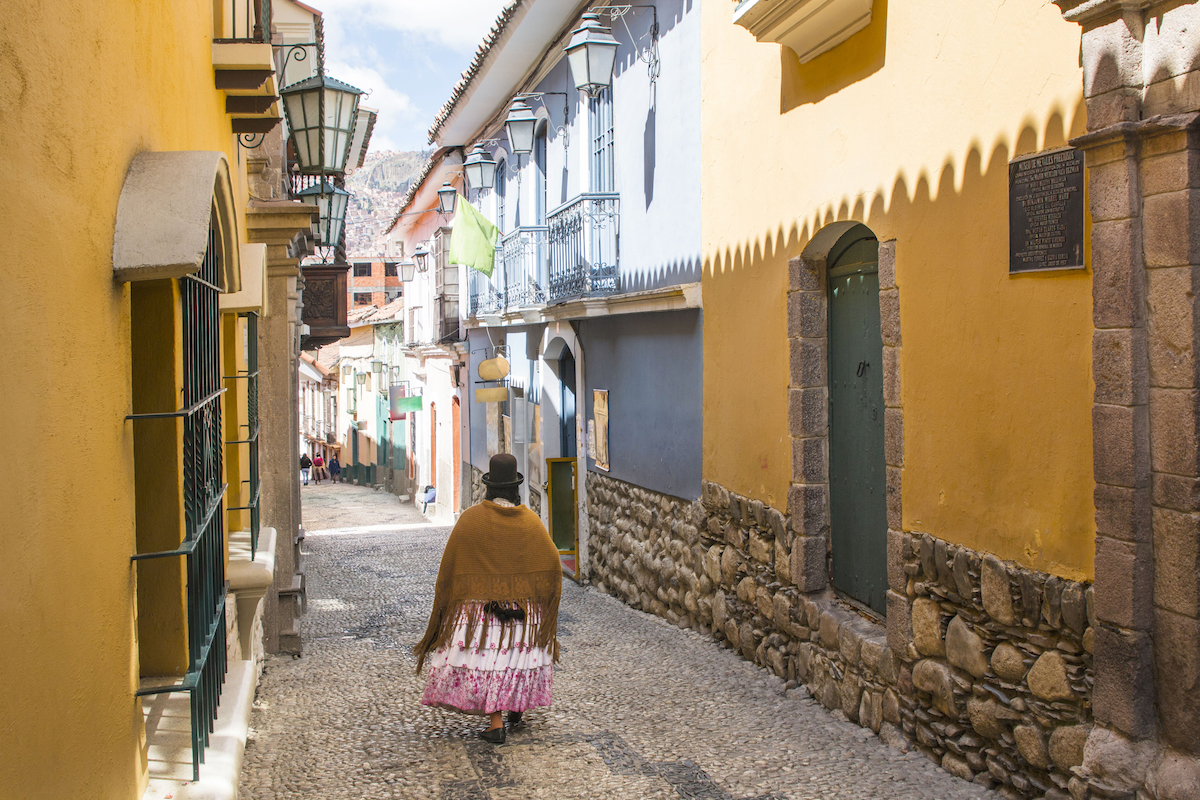 Calle Jean is one of the more unusual streets in La Paz; a time capsule of the city and Bolivia as a whole, former colonial history. Walking through its cobbled streets and looking up at the coloured buildings, it's hard not to picture how the city may have looked centuries ago.
The Spanish architecture, with large balconies and broad windows, has undeniable beauty to it. Finding this small section of colonial La Paz is not easy to do, yet when you come across the street, it makes the jaunt of finding Calle Jean worth it.
Aside from the colonial architecture, Calle Jaen is home to four small museums, which are all worth a look at while in the area. Museo Costumbrista Juan de Vargas holds an interesting collection of art and colonial artefacts, while Museo del Oro (Gold Museum) displays a number of pre-colonial silver, gold and copper works and pieces from Tiwanaku.
The other two museums are the Museo del Litoral which tells the story of Bolivia's defeat to Chile and the loss of its coastline in the 1880s, and the former home of Don Pedro Domingo Murillo, a leader in the La Paz Revolution of July 16, 1809.
Know before you go:
Location – Located on the western side of the city, in the San Sebastian area.
Cost – The street is free to explore and the museums cost 20 Bolivianos for entry to all four.
Opening hours – 9 am-12:30 pm and 3-7 pm Tue-Fri or 9 am-1 pm Sat & Sun
Time needed – A good couple of hours to admire the street and explore the museums.
Getting there – Taking a taxi to Calle Jaen is properly the best option, as it is quite hidden away with very little public transportation heading this way.
17. Hang With The Hipsters at Sopocachi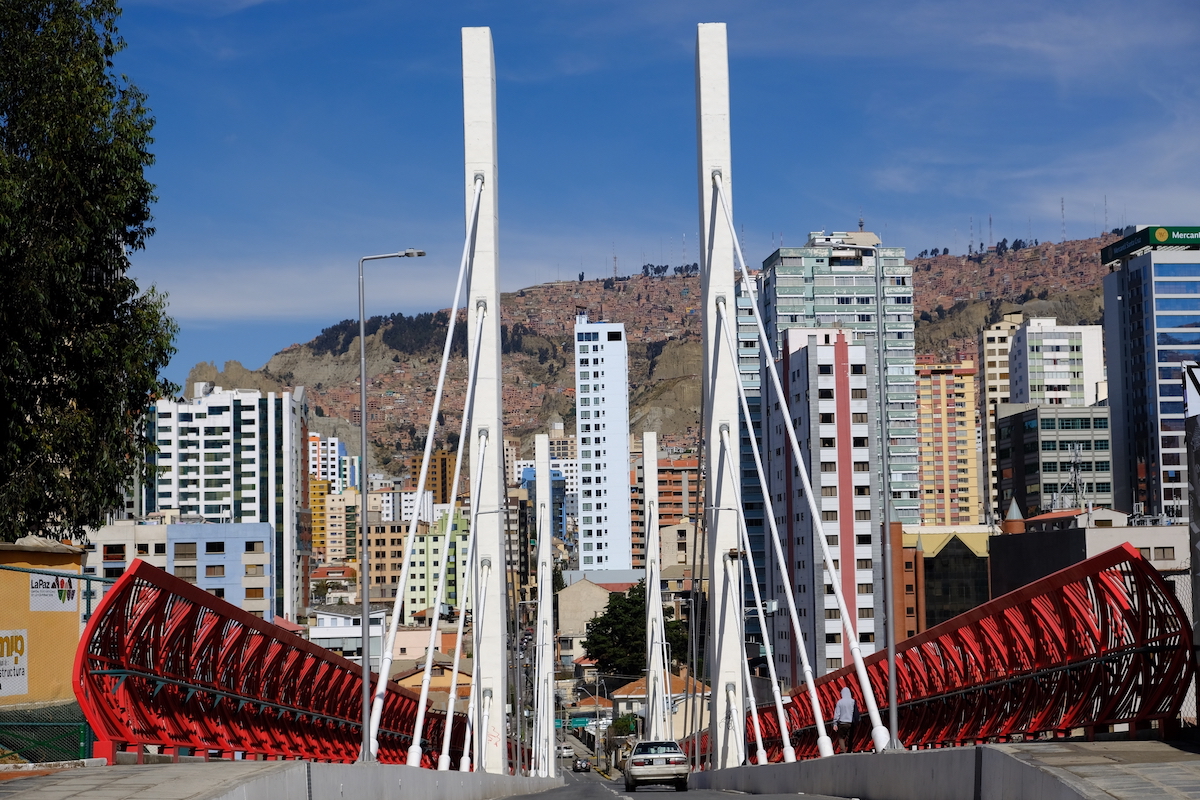 It seems that almost every city has its trendy hipster districts and La Paz is no different. If you're looking for things to do in La Paz that satisfy your innate desire for an overpriced avocado on toast, and a sea of ironically expensive Che Guevara portrait t-shirts; Sopocachi is your spiritual homecoming.
One of the more middle-class residential areas of La Paz, Sopocachi has its fair share of leafy parks where the city's art and music scenes frequently choose to hang out.
The nightlife in Sopocachi is also one of its most popular attractions in this area, drawing both locals and tourists to its favourite haunts. Diesel Nacional rises up as one of Sopocachi's popular watering holes, or should I say a fine cocktail bar.
Though not quite the cocktail you may be used to, it seems that its designers and often its clientele have fallen straight out of art college and into the bar. With dimly lit interiors, visible only by candlelight and a steampunk-like interior the array of industrial upcycled displays really make this bar a memorable one.
Before hitting the local nightlife, a venture to Sopocachi's Montículo Park, which is located on a small hilltop looking over the neighbourhood is worth a go. Here you can enjoy unreal views of the people and city below as well as a chance to mix with a few locals.
Know before you go:
Location – Sopocachi sits between the San Jorge and Cristo Rey neighbourhoods not far from the centre of La Paz.
Cost – N/A
Opening hours – N/A
Time needed – There's enough here to keep you busy for the day, so why not spend morning till evening in Sopocachi?
Getting there – Sopocachi has a dedicated stop on the yellow teleferico line and is also serviced by buses 21, 42, 45 and 7.
18. Wander Outside San Pedro Prison ('Marching Powder' Prison)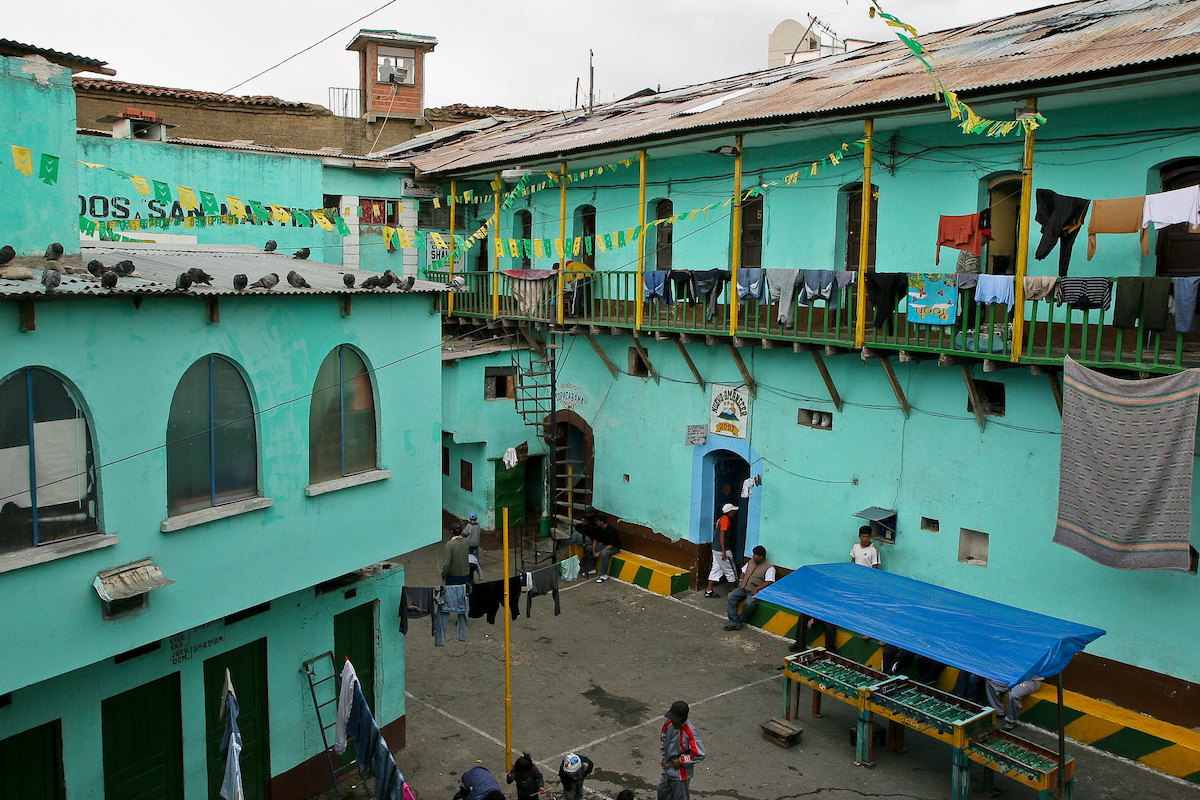 If there's one thing that's synonymous with the dark side of South America, it's their notoriously terrifying prisons. But, no one prison has gained such a reputation as La Paz's San Pedro.
Throughout the 1900s and early 2000s, this notorious prison was akin to an isolated community, with practices and rules that would shock any Westernised view of even the harshest prisons.
Firstly, prisoners were expected to earn a living and buy their cells as if it was real estate. Prisoners' families and children were brought to live with them, which eventually led to a primary school opening inside. Even more sinisterly, there was a full-blown industry of cocaine production inside San Pedro Prison.
Where the story really becomes a little insane is the huge tour business operating in open secrecy for years in San Pedro. Unofficial tour operators would run illegal tours through the prison for tourists, often led by the inmates themselves.
One of the most famous inmates who ran these tours was a British, Tanzanian man by the name of Thomas McFadden. McFadden was sentenced to 18 to 30 years for drug trafficking and began to run tours for hundreds of curious backpackers from across the globe.
This came to the international forefront when Australian tourist Rusty Young visited the prison and joined one of Thomas McFadden's tours. He would go on to strike up a friendship with McFadden and seek to tell his story through the international best-selling novel 'Marching Powder.'
A while later, the prison was filmed by a Bolivian journalist who exposed the corruption and way of life in San Pedro prison and put the tours to an end. While you can no longer go inside the prison, you can join a walking tour that stops outside of the prison walls and tells McFadden's story.
Just don't take a picture of the building, or you might find yourself in an altercation with a prison guard as I did. Learn from my mistakes and don't bother… those guys get really pissed off.
In whatever light you see the prison, San Pedro Prison is one of the most famous destinations in the city and wandering around its walls is quite possibly one of the most interesting things to do in La Paz if only to wonder what's going on inside. (I highly recommend reading the book first).
Know before you go:
Location – Located in the San Pedro district in southwestern La Paz
Cost – You can walk around the prison walls for free. Or, if you join a free walking tour, you'll normally be expected to leave a small tip.
Opening hours – N/A
Time needed – An hour will be enough to wander around the prison walls and get a feel for the place as much as is possible.
Getting there – The nearest bus stop is the PumaKatari (Chasquipampa) – Plaza Camacho, but the prison is more or less walkable from most central locations.
19. Attend The Alasitas Festival
If you're looking out for one of the more special things to do in La Paz, you can do no better than heading to the Alasitas Festival. This festival dates way back, before the colonisation of South America and is an important event for the Aymara people.
The celebrations honour the Aymara god Ekeko, the god of abundance who takes the form of a dwarf dressed in a traditional poncho and beanie to keep warm.
This month-long festival celebrates the longing for wealth and success in the lives of the community. Throughout the festival, miniature versions of the god Ekeko are placed around the homes of families, usually with a cigarette to keep him happy.
In modern times, the festival sees huge celebrations taking place across the city. On its opening day on the 24th of January, huge crowds gather, along with numerous bustling markets in Plaza San Pedro, Plaza San Francisco, and Parque Urbano.
Market stalls are set up selling a wide variety of small objects that represent the hopes and desires of the people; anything from miniature cars and houses to food and money. These small versions of things represent the real-life goal, and the Alasitas Festival is there to help the people obtain them.
Know before you go:
Location – The festival takes place throughout the city, but especially in Plaza San Pedro, Plaza San Francisco, and Parque Urbano.
Cost – N/A
Time needed – Alasitas festival lasts for a month, but you won't need more than a day to get a feel for the celebrations and check out the markets.
Opening hours – The festival begins on the 24th of January and lasts a whole month.
Getting there – Take a walk through the city and you'll find celebrations taking place on most streets. Plaza San Pedro, Plaza San Francisco, and Parque Urbano are all walkable from any central accommodation too.
20. Grab a Selfie With Dancing Zebra Road-Crossing Guards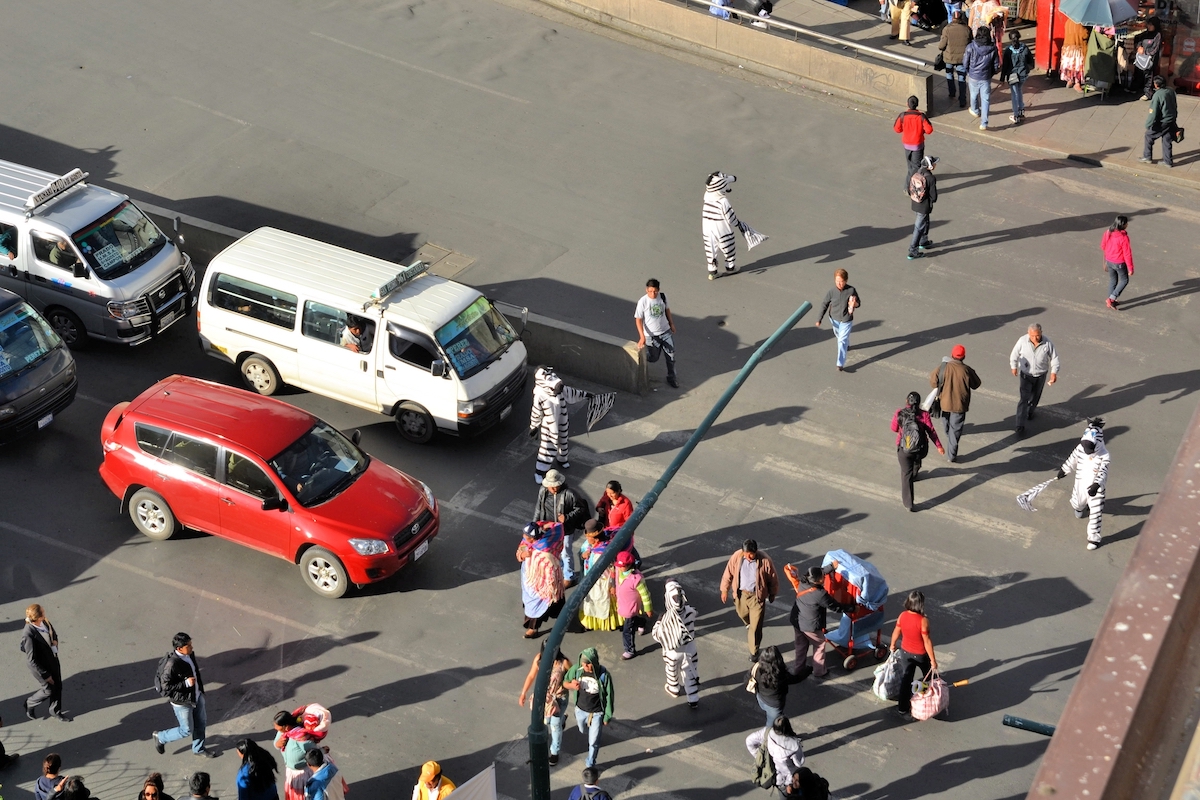 Road safety in general on the road is a lot trickier to navigate than in the Western world, making the odd taxi ride, or crossing of a big city road a real nail-biting experience.
Whether it's the busy streets of Vietnam, or the bouncing boulevards of Beijing, crossing the road in most places around the world could come to be considered "adventure travel" in itself.
Bolivian officials, however, have come up with an ingenious way of shaming rule-breaking drivers into following the laws of the road, in a typically South American way.
On many zebra crossings in downtown La Paz, you'll catch sight of road-crossing volunteers dressed up as zebras dancing in front of cars to stop them from running red lights. These stripy volunteers were first introduced to tease and shame the city's drivers for breaking traffic rules, in the belief that embarrassment was a far better deterrent than punishment.
Aside from their very serious job, these volunteers dressed up in zebra costumes have unsurprisingly attracted a lot of attention from tourists and locals, for better, or worse. The people behind the dancing have branched out zebras with educational programs in schools regarding positively reformist issues such as recycling, water conservation, and bullying
Grabbing a selfie with the dancing zebra road-crossing guards is one of the stranger things to do in La Paz. But once I realised the message behind the madness; that the city has come up with a quirky way to deal with the city's rising demands for cars, inadequate traffic signs and road fatalities – I felt an evident sense of respect for the volunteers.
Know before you go:
Location – The dancing zebra road-crossing guards can be seen at the busier intersections in the city centre of La Paz and its neighbouring city, El Alto.
Cost – Free
Opening hours – Best during rush hour; between 9:30-10:30 in the morning.
Time needed – Just a few minutes to grab a selfie with the guards (but not during their flow, let them do their job first).
Getting there – Follow the traffic in the heart of the city centre and it won't take long to spot one of these dancing zebras.
21. Take in The View at Mirador Kili Kili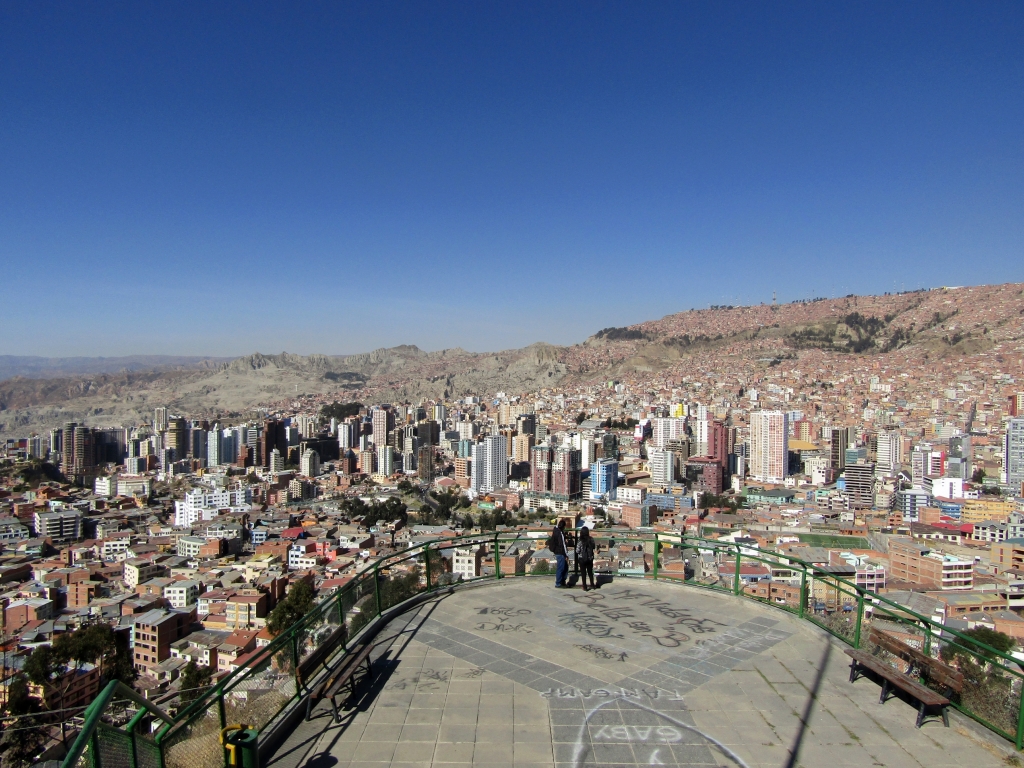 My personal (Cholita-inspired) bowler hat-tip to the unique culture aside, surrounded by the Andean hills and rolling mountains that rise and fall across the horizon, La Paz truly is one of the most bewitching cities on the South American continent.
And, as you can imagine, finding the perfect viewpoint to enjoy the sunset, sunrise or just to have a good old ponder is a compelling duty when wandering the streets of La Paz.
One of the most rewarding viewpoints to admire the city from beneath you is the Mirador Kili Kili lookout park. From here you can enjoy breathtaking panoramic views across the city, perfect for capturing a sense of La Paz's natural cityscape beauty.
The lookout itself takes its name from the bird of prey that inhabits the area, and you yourself may feel like you're sharing the same bird's eye view from Mirador Kili Kili. Take in the backdrop of the city, grab some scenic shots or simply take in the sunset if the weather has been kind to you.
Know before you go:
Location – Avenue la Bandera, just northwest of the city centre of La Paz.
Cost – Free
Opening hours – 24 hours
Time needed – Give yourself a good hour or so to climb to the lookout, enjoy the view and unwind from the chaotic energy of the city centre.
Getting there – A taxi from the centre of La Paz will cost around 10 Bolivianos or a walk from the centre of the city in 20 minutes.
22. DON'T Go To The Cocaine Bar! (Route 36)
Some of you may not care or have never even heard of it. For those of you who have and want to go to the cocaine bar in La Paz, here's a truth bomb…
Know before you DON'T go:
I haven't written about this in full detail yet (but I plan to). When I lived in Medellin, I became completely addicted to the white stuff.
Marching powder, blow, Big C, Dust, or "Charlie" as we call it back in England.
Whatever you want to call it; I got into it DEEP. Did I have some fun, seedy nights out on it? Sure. Did I feel good when I was on it? Yep.
But the end result, the bigger picture – wasn't as glamorous as you sometimes see on your tv screens.
What started off as a one-off – became a weekend habit, then became "just this time" during a week thing, which ended up being me snorting cocaine first thing in the morning, every day with my coffee (and several kicks throughout the day to keep me going when the buzz wore off).
The result was I almost lost everything that I had built up after leaving home and building up my dream life. I made the most irrational business decisions (which of course seemed the brightest of ideas while under the influence) and lost sight of everything.
If you are in too deep and are reading this, then there is every bit of chance that you will roll your eyes and say "it won't happen to me."

I get it, I was that guy too. I thought I was too strong, too iron-willed to become a slave to a potent, addictive substance that turned me into a little coke-fiending goblin.
I went from making 6 figures a year to barely being able to scrape together $500 for my monthly rent. I had to start all over again.
I lost everything, including my integrity. I became eerily comfortable with lying, emotionally numb and the straw that broke the camel's back was I couldn't, ahem… "rise to the occasion" in the bedroom until I well and truly got that nasty shit out of my system.
I will definitely write about this in more detail. But for now, I'll finish on this; you think you're a winner when you take cocaine, but there's a very high risk you can end up becoming a loser.
Fuck Route 36 and FUCK cocaine!
23. Day Trip to Tiwanaku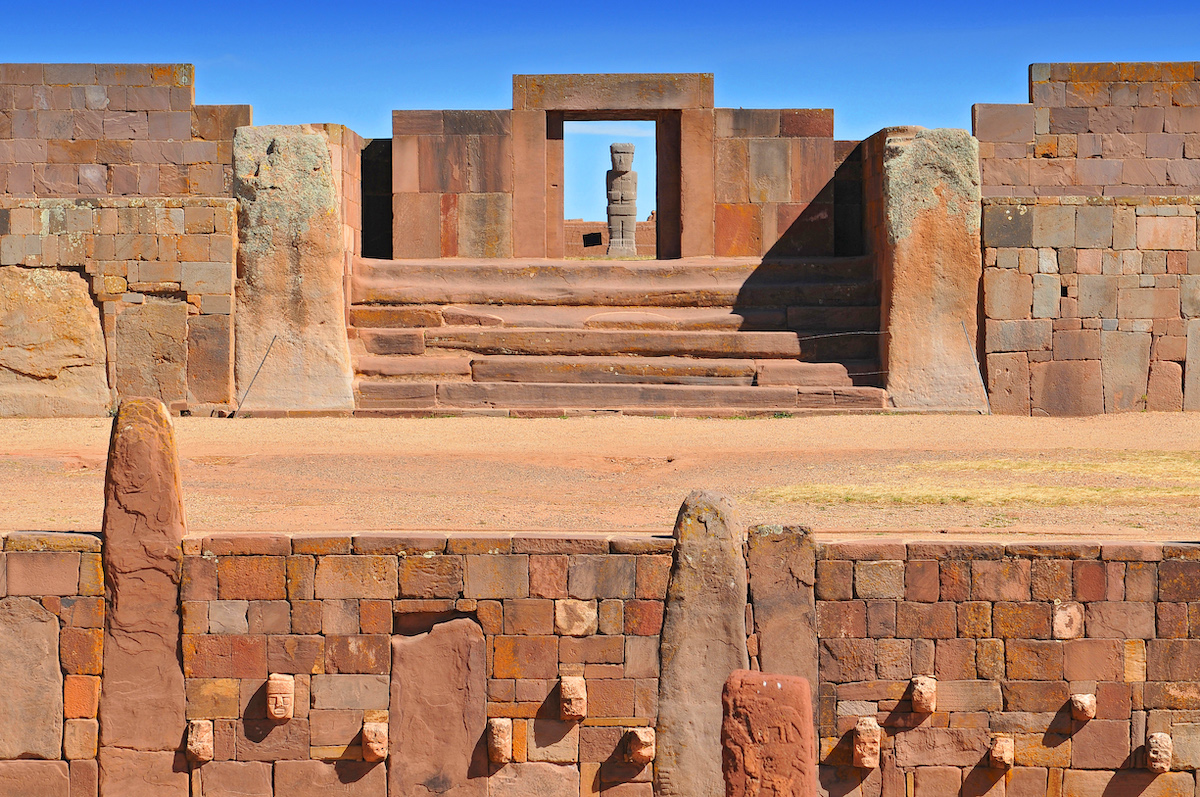 Only 47 miles west of La Paz is one of the most remarkable pre-Columbian sites in all of South America. Believed to be around 2,000 years old, the surface remains of Tiwanaku City are around 4 square kilometres.
Now recognised as a UNESCO World Heritage Site, the archaeological site is of huge importance to understanding the civilisations that lived in Bolivia and the wider continent before the arrival of Europeans in the 16th century.
The site's focal point is the Akapana pyramid, which is a huge mound and stepped pyramid. Although no more of a mound than what we would imagine a pyramid to be, it would've once stood with seven tiers and a staircase leading to the summit.
Another of the more interesting sights within Tiwanaku is the 'Templete Semisubterraneo', a semi-underground Temple. This temple still retains 175 stone heads protruding from its interior walls, a perfect glimpse back down the centuries to a world and civilisation that has all but disappeared.
Know before you go:
Location – Tiwanaku is located 47 miles west of La Paz.
Cost – A minibus costs around 20 Bolivianos each way, and you'll need an extra 100 Bolivianos for entry to the site and its two museums. Tours start from around 400 Bolivianos and usually include entry, transport and lunch.
Opening hours – 9 am to 5 pm
Time needed – A whole day is best set aside for travelling and exploring the ruins.
Getting there – You can join a tour from La Paz or take a minivan. Minivans depart from the General Cemetery area, located behind the flower market and depart each hour on a daily basis.
24. A Few Days at Lake Titicaca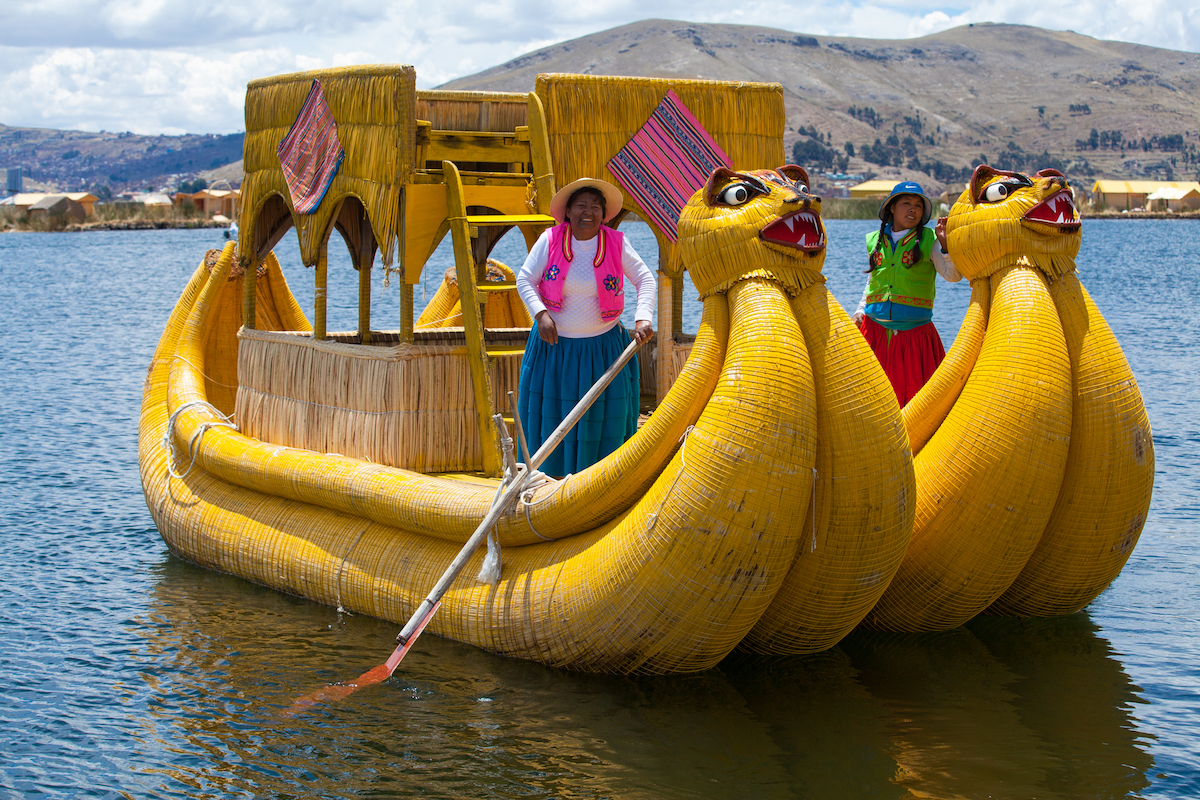 Straddling the Bolivia – Peruvian border, Lake Titicaca is one of the region's and continent's most beloved lakes. Alongside being one of the most popular, it is considered the "highest navigable lake" in the world and the largest freshwater lake in all of South America.
Designated a national reserve in the late 1970s, Lake Titicaca is home to sixty varieties of birds, fourteen species of native fish and eighteen types of amphibians. This abundance of wildlife, captivating natural views, and many must-see sights all make Lake Titicaca one of the best things to do while you're in La Paz.
Covering an area of over 3,000 square miles and straddling two countries, seeing the entire lake is no easy feat in a one-day, one-night trip from La Paz. However, the town of Copacabana provides the perfect point to explore the lake's many attractions. Only 95 miles west of La Paz, Copacabana is situated right along the shores of Lake Titicaca.
One of the most interesting places to explore on the lake, aside from the town of Copacabana, is the island of Isla del Sol. With breathtaking views of the lake and numerous Inca sites to discover, it's well worth making the extra bit of effort to get there – the island is also believed to be where the famous Inca Empire began.
Lake Titicaca is a fantastic place to explore on an extended day trip from La Paz. With its undeniable beauty, and rich history and as the heartland of the Aymara people, there is so much to see and experience here, even if you can only squeeze in a day visit.
Know before you go:
Location – 95 miles west of La Paz, along the Peruvian border.
Cost – If you're heading to Lake Titicaca by your own steam, buses cost between 30 and 120 Bolivianos, depending on the level of comfort you're going for. Alternatively, two-day, one-night tours start from around 1,000 Bolivianos.
Opening hours – N/A
Time needed – If you've got the time, give yourself at least a whole day and a night at the lake. Another night and day is worth it if you can spare the time!
Getting there – Jump on a bus to Copacabana from Terminal de Buses La Paz or, if you're joining a tour, they'll normally pick you up from centrally-located accommodation.
25. Hike To The Muela del Diablo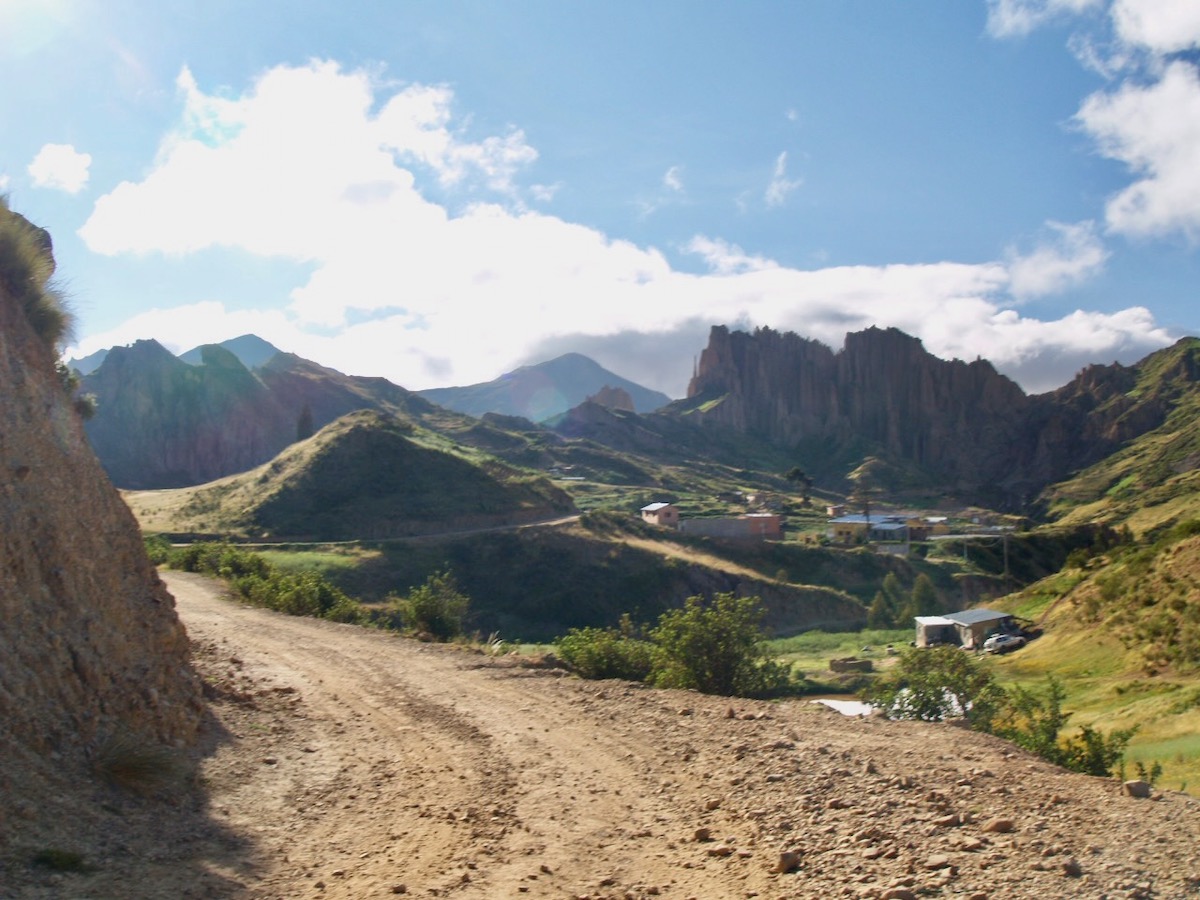 The Muela del Diablo or Devil's Tooth in English is a 3,825-metre-high extinct volcanic plug that rises up between the Río Choqueyapu River and La Paz's Pedregal.
Hiking to the Muela del Diablo's base is a great way to spend half a day and is the perfect excuse to escape the urban sprawl of the city.
Starting from the cemetery in the Pedregal neighbourhood, the hike gently makes its way up to a grassy swale, with the Muela del Diablo coming into view after about an hour. At this point, the track joins a road and makes its way through a sparsely populated hillside hamlet. A side route then branches off the road and takes you to the base of the Muela del Diablo.
This is where the path actually ends, and you can either admire the stunning views the raised Muela del Diablo offers of the surrounding areas or scramble through the rocks to the very top. ​​
Found so close to the city, Muela del Diablo offers one of the best options if you're looking for things to do in La Paz that allow you to get amongst the surrounding hills. If you're lucky enough to get a break from the moody weather, hiking to the Muela del Diablo is a fantastic option as it offers stunning views of the surrounding landscape too.
Know before you go:
Location – Muela del Diablo is located southeast of La Paz, close to the suburbs of Pedregal.
Cost – Free to climb.
Opening hours – 24 hours
Time needed – Travelling, and the climb will take the best part of half of your day to complete.
Getting there – Find minibus 288, marked 'Pedregal,' from the lower Prado in La Paz.
26. Climb Huayna Potosi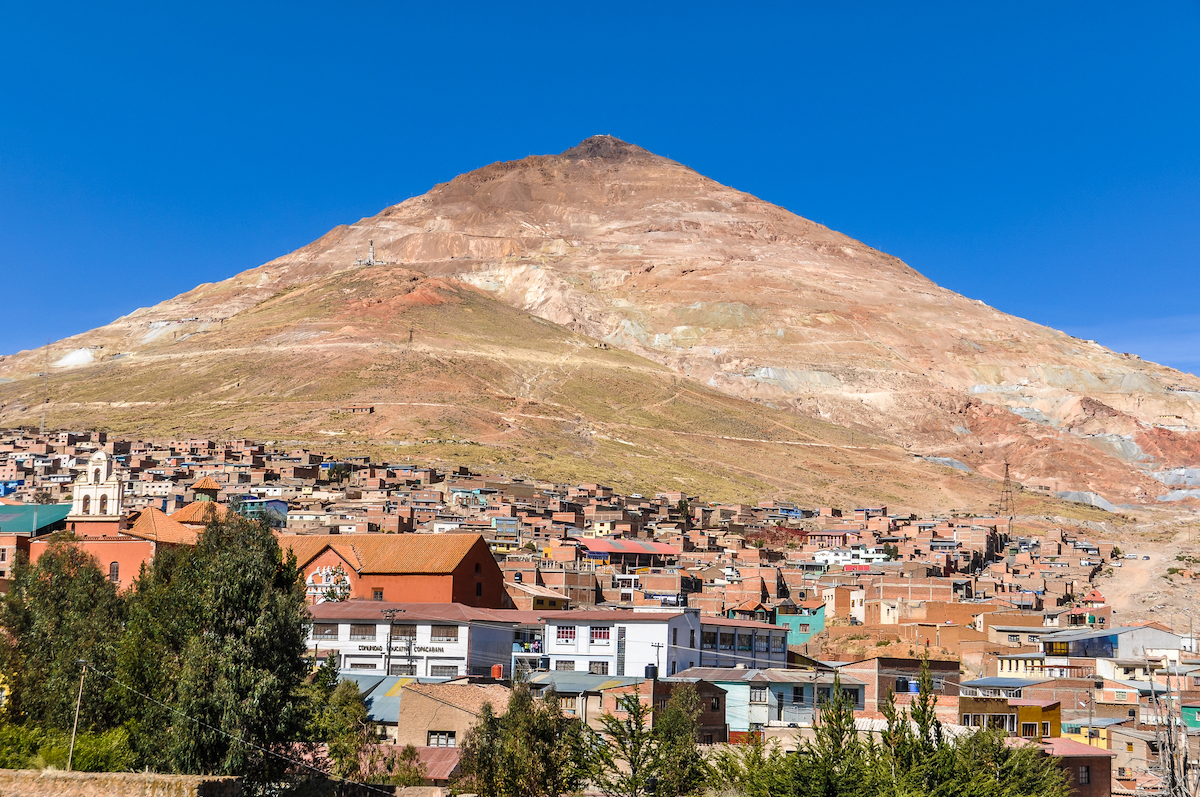 Attempting to climb Huayna Potosi should only be attempted by people with good fitness levels.
Surrounded by snow-capped mountains, the area encompassing La Paz is one of the most impressive in the Andes. Although regions of Chile and Argentina are most famous for mountaineering and huge climbs, La Paz has its fair share of sky-scraping peaks – chief amongst these is Huayna Potosi, which sits just 24 miles north of La Paz.
Rising up more than 6,000 meters into the air, Huayna Potosi is one of the most popular mountains climbs in all of Bolivia. While considered to be one of the easier 6,000-meter climbs in the world, climbing Huayna Potosi should not be taken lightly.
Rocky terrain, snow, ice, and glacier fractures are all formidable obstacles when you're making your way to the summit.
There are numerous companies based out of La Paz that offer climbing expeditions to Huayna Potosi. The whole expedition usually takes around three days; this includes time to learn all of the techniques it requires to conquer such a formidable mountain. All this being said, climbing Huayna Potosi can be a great climb for inexperienced climbers, though time should be taken to truly prepare for the experience.
Here's a quick overview of what your three days could look like (remember you are technically already acclimated to high altitude being in La Paz):
Day one. One day, you'll head to Paz Zongo, where you'll make your way to the lower glacier. Here, you'll learn some of the key skills you'll need to conquer the mountain including ice climbing.
Day two. Today will begin with a relatively gentle climb to what is known as high camp, following a well-worn rock path at the base of the glacier.
Day three. After a night camping at the mountain Refugio, day three begins at around 1 am, climbing the ice sheets with crampons and following the glacier trail. The last section will be scaling your way along an exposed ridge, making your way, at long last, to the summit.
Know before you go:
Location – Huayna Potosi sits 25 miles north of La Paz
Cost – Tour prices begin from around 1, 300 Bolivianos for three days, including some equipment hire.
Opening hours – N/A
Time needed – Tours tend to take at least three days, with two nights spent on the mountain.
Getting there – Tours leave from La Paz with all transport and accommodation included in the costs.
27. Hang Out With Llamas at Sajama National Park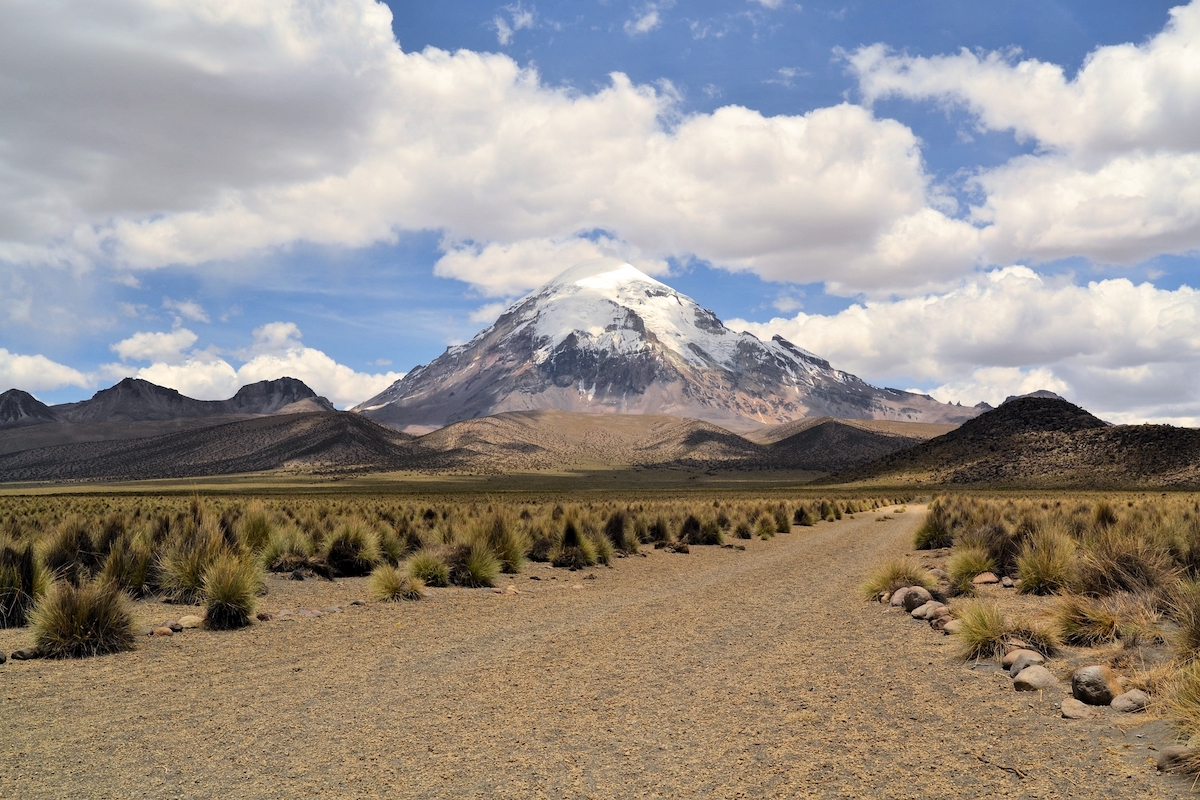 A couple of hundred miles southwest of La Paz lies the high plains of the altiplano, one of the most stunning regions you'll find along Bolivia – Chile borderlands. This sweeping open plain is one of extreme natural beauty, featuring towering volcanoes, unusual high-altitude flora and a bizarrely ginormous population of alpacas, that has become the defining image of the open plains.
This region encompasses Bolivia's oldest national park, the Sajama National Park. Covering more than 600 square miles of fascinating landscapes, the national park has become a playground for nature lovers and adventurous thrill-seekers alike.
The park is named after the Sajama Volcano, which is the highest point on the borders. Alongside other peaks, the park is dominated by thermal springs and geysers, all interwoven with Sajama National Park's volcanic activity.
Populated by the local Aymara indigenous people, there are numerous cultural and historical sights peppered across the park that open your eyes to the traditions of the Aymara people. In fact, the cultural and geological importance of Sajama National Park was recognised in 2003 when it was rightly made a UNESCO World Heritage Site.
The region's highlight is the plethora of wildlife that calls Sajama National Park home. The most popular of these are the large herds of llamas, an image that represents the Andean plains perfectly. Aside from the llama, the park is also home to flamingos, vicunas, cougars and Andean cats.
Know before you go:
Location – 177 miles southwest of La Paz, close to the Chilean border.
Cost – Day tours start from 1,750 Bolivianos and include transport and entry costs. If you're heading to the national park by yourself, set aside around 150 bolivianos for entry fees and the same for transportation.
Opening hours – N/A
Time needed – You'll need at least a day to travel to and explore the park.
Getting there – Most people choose to join a tour, which will organise the transport side of things for you. If you're going alone, you'll need to get a shared minivan from La Paz's main bus terminal that goes directly to the national park and costs 10 Bolivianos.
28. Visit The Abandoned Chacaltaya Ski Resort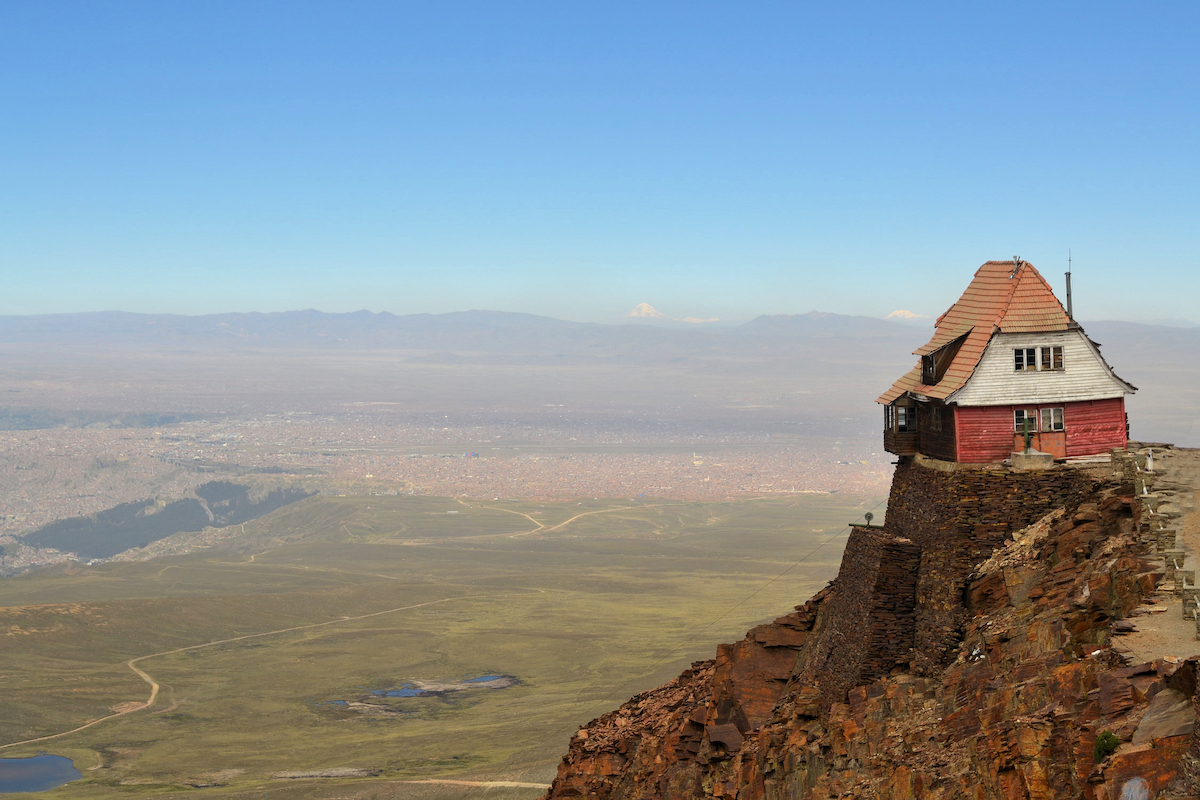 Opened to the public in the 1930s, the Chacaltaya Ski Resort once held the impressive title of being the highest ski resort in the world. Standing at 17,500 feet above sea level, the Chacaltaya Ski Resort was higher than the North Base Camp of Mount Everest and was the playground of La Paz's middle and upper-class elite.
The Chacaltaya Glacier, which once stretched across the mountainside, was the perfect spot for high-altitude Bolivia skiing. However, by the time 2009 came around, the 18,000-year-old glacier was completely gone and so were the hopes of the Chacaltaya Ski Resort.
Today, the Chacaltaya Ski Resort stands atop the mountainside, with the feel of a ghost town rather than a luxury resort. Taking on its new appeal, many heads to the top of the mountain to wander around the abandoned ski resort while taking in the breathtaking views of the surrounding vistas and cities below.
The refugio of Chacaltaya Ski Resort still remains, serving up hot meals to those willing to venture up so high. This last remaining element of the resort means that it can still retain its Guinness book of records title of being home to the world's highest restaurant.
Know before you go:
Location – Chacaltaya Ski Resort is located 18 miles north of La Paz.
Cost – A tour will cost around 150 Bolivianos and a well-haggled taxi between 200 and 240 Bolivianos
Opening hours – 24 hours
Time needed – A few hours to travel wander around the abandoned resort and maybe grab a bite to eat at the restaurant.
Getting there – You've got two options when it comes to visiting the Abandoned Chacaltaya Ski Resort; either join a tour from La Paz or haggle a good price for a taxi up to the peak.
Best Time of Year To Visit La Paz, Bolivia
With La Paz's pretty cool title of being the highest capital in the world (it's actually higher than the top of Mount Fuji), sitting at around 3,600 meters in the air and towering to 4,000 meters high in some areas of the city, this particular Bolivian Andean Plateau gives the city a high mountain climate, creating rainy summers and dry winters that can get a little too nippy if you catch it on a bad day.
Most of the rains fall between December and March, with January being the rainiest month of the year. The months between May and August tend to be the driest of the year, but also the coldest.
While you'll find things to do in La Paz all year round, one of the best times to visit the Bolivian capital is between April and October. During this time the city usually offers up clear and sunny skies, ideal for exploring both the urban and the natural surroundings of La Paz. Saying that it will be particularly cold, so don't go packing your shorts and sandals.
Peak season tends to fall between July and August, so if you're hoping to avoid the crowds, it's worth travelling outside of these months.
How To Get To La Paz
Flying to (and especially flying around domestically) South America is a bit of a nightmare in all honesty if you take the odd flight in between European cities or compare it to the popular tourist hubs of the world. (On that note, if you are a fan of the weird, check out these 26 unusual things to do in Bangkok and 11 weird things to do in Sydney!)
But I'm not having any whining going on here; La Paz is worth any slight inconvenience getting there.
El Alto International Airport is the main and closest airport to La Paz and your best bet for flying to La Paz (plus an 8 miles car journey to the city centre). Receiving both domestic and international flights, flying to El Alto is possible from most travel hubs in South America and from both North America and Europe, you will just have to connect once or twice before you arrive in La Paz.
If you are making your way to La Paz from abroad, chances are that you'll need to catch a connecting flight to Mexico.
Alternatively, if you already find yourself in Bolivia, Peru or even Argentina, there is an overlanding option; the bus. Most larger cities within Bolivia stop off in La Paz. Here's an idea of how long it might take and what cost:
Santa Cruz De La Sierra: 18 hours ~ $30.
Sucre: 12 hours ~ $28
Cochabamba: 8 hours ~ $12
Puno (Peru): 13 hours ~$13
If you're taking the bus from within Bolivia, you'll be dropped off at the main bus terminal in La Paz which can be found near the upper end of the Prado. Buses arriving from nearby Peru terminate in a plaza near the City Cemetery farther to the west.
Final Thoughts on The Things To Do in La Paz, Bolivia
Case closed. There are more than enough weird, wonderful and adventurous things to do in La Paz and you can also use it as a base to visit other places around the area to itch that infinite scratch when you're in pure travel mode and it's also a gateway to visiting Salar de Uyuni, the largest salt flats in the world!
It genuinely baffles me why Bolivia is the 3rd least visited country in South America but I have a feeling that tide my turn once the love of La Paz and Bolivia is shared with the world.