Knowing how to get to Machu Picchu from Cusco is pretty simple, although some preconceptions need to be put to bed.
After drooling over the array of Machu Picchu images on Google and social media, followed by the euphoric joy of starting to plan your Peruvian World Wonder trip, you can certainly be forgiven for the confusion amongst the well-meaning, misguided online advice around how to get to this wonderful site.
You need to know the secret Inca handshake, a permit 16 months in advance and a lock of your Great Grandma's unicorn's hair to enter the sacred gates of Mach Picchu…
Or, just rock up to Cusco and you're pretty much there. Don't plan at all and it'll be fine…
I've seen and read it all and went through many cups of teas and anxious wees before I got the correct information that I needed, and even then I had to make mistakes in order to be eligible to write this post so that others would not make the same errors or fall prey to the same presumptions.
I did luck out though – my mate went 10 days before me and told me a lot of this in advance. He also hid a stick for me on the Machu Picchu route, which I found!
What the hell has that got to do with your enquiry into Machu Picchu? Absolutely nada! But here's the photo evidence anyway seeing as you're here!
Do You Need To Buy Tickets To Hike Machu Picchu?
Those who are planning to visit Machu Picchu during the peak season (May to September) or who are just totally giddy about planning should buy their ticket from this website here.
Peak season Machu Picchu is pretty competitive and tickets can sell out quickly, so it's best to buy them online if you're visiting between these months.
Machu Picchu is closed for the whole month of February for maintenance.
I went just as peak season had ended and I bought my ticket for $46 USD (or 149 Peruvian pesos at the time of purchase) in Aguas Calientes town centre in the yellow building near this statue in this photo: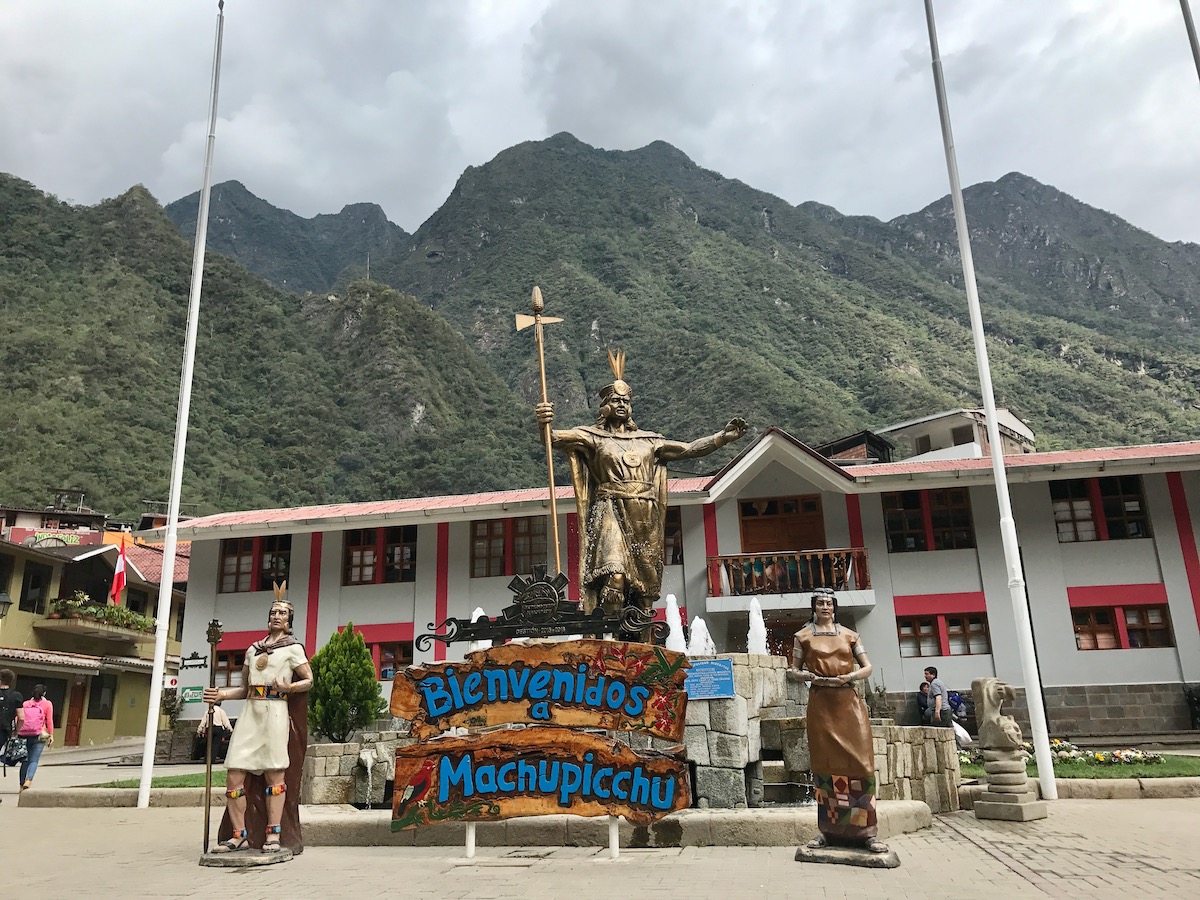 Cusco is't All That "Close to" Machu Picchu
Those short on time need to manage their expectations a little bit better here.
Cusco is a pretty enough city, I didn't spend too much time there, but if you're using it as a base to get to Machu Picchu (like most people do) you should look to make your Cusco visit a completely separate event to your hike.
My advice below is to get to a nearby town from Cusco and base yourself there for one night, get a nice bit of shut-eye before your once-in-a-lifetime journey to one of the most sacred and mysterious places on earth.
You can't just roll out of your bed in Cusco and mosey on up to Machu Picchu, which is actually several miles away from the town that you need to go to, so let's talk about that…
Best Place To Stay Before Seeing Machu Picchu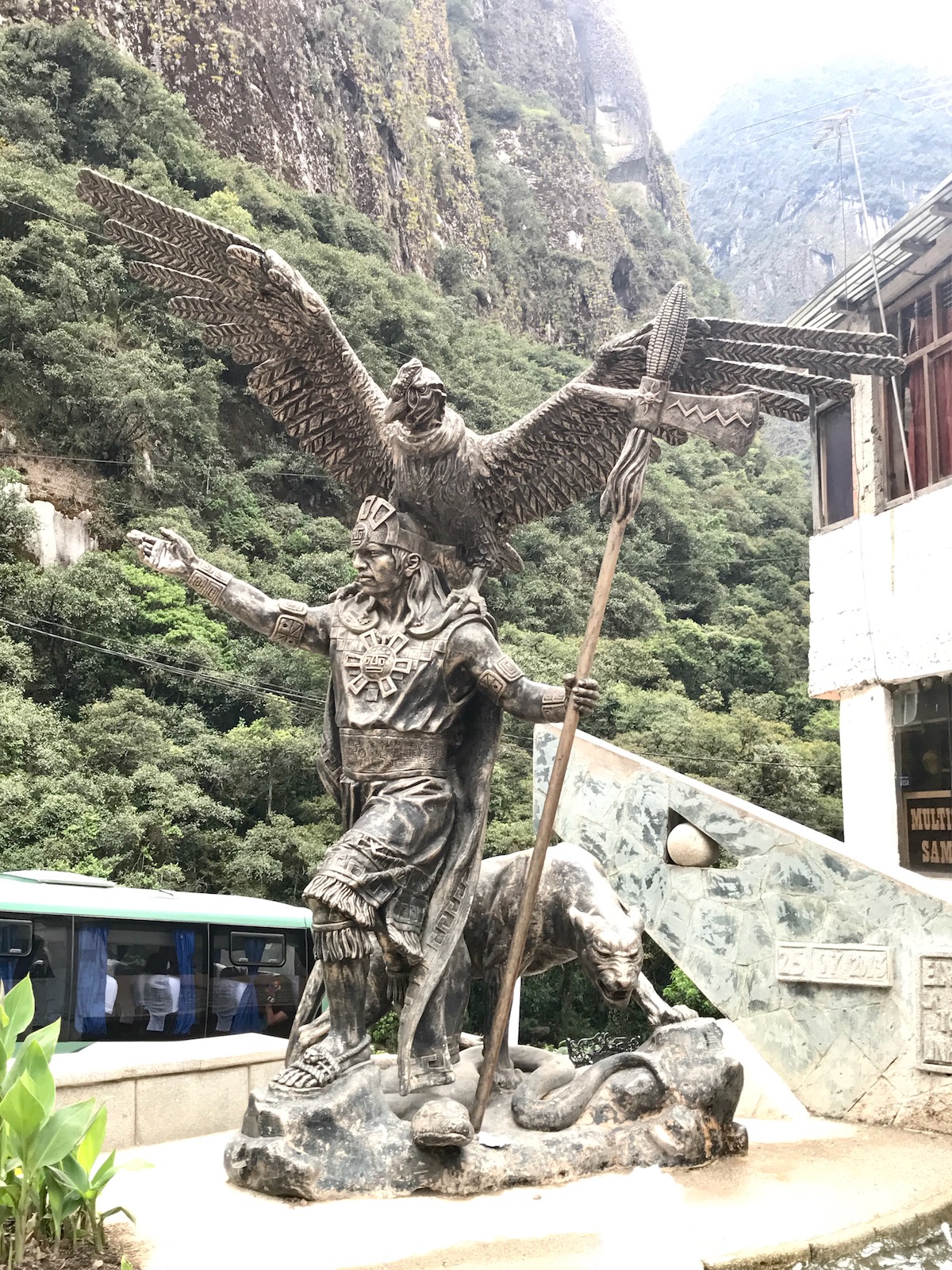 Stay in Aguas Calientes the night before you visit Machu Picchu.
Aguas Calientes is a lovely little town at the bottom of Machu Picchu; it makes more sense to stay there overnight and make your way up to Machu Picchu in the morning if you are wanting to do the hike up to Machu Picchu in one day with ample time and less crowds.
I read that 3 pm has fewer crowds, but that was too risky for me. So I made sure I got there for sunrise (around 6 am) and didn't feel too crowded at all.
Take a look for yourself, this was taken around 7 am: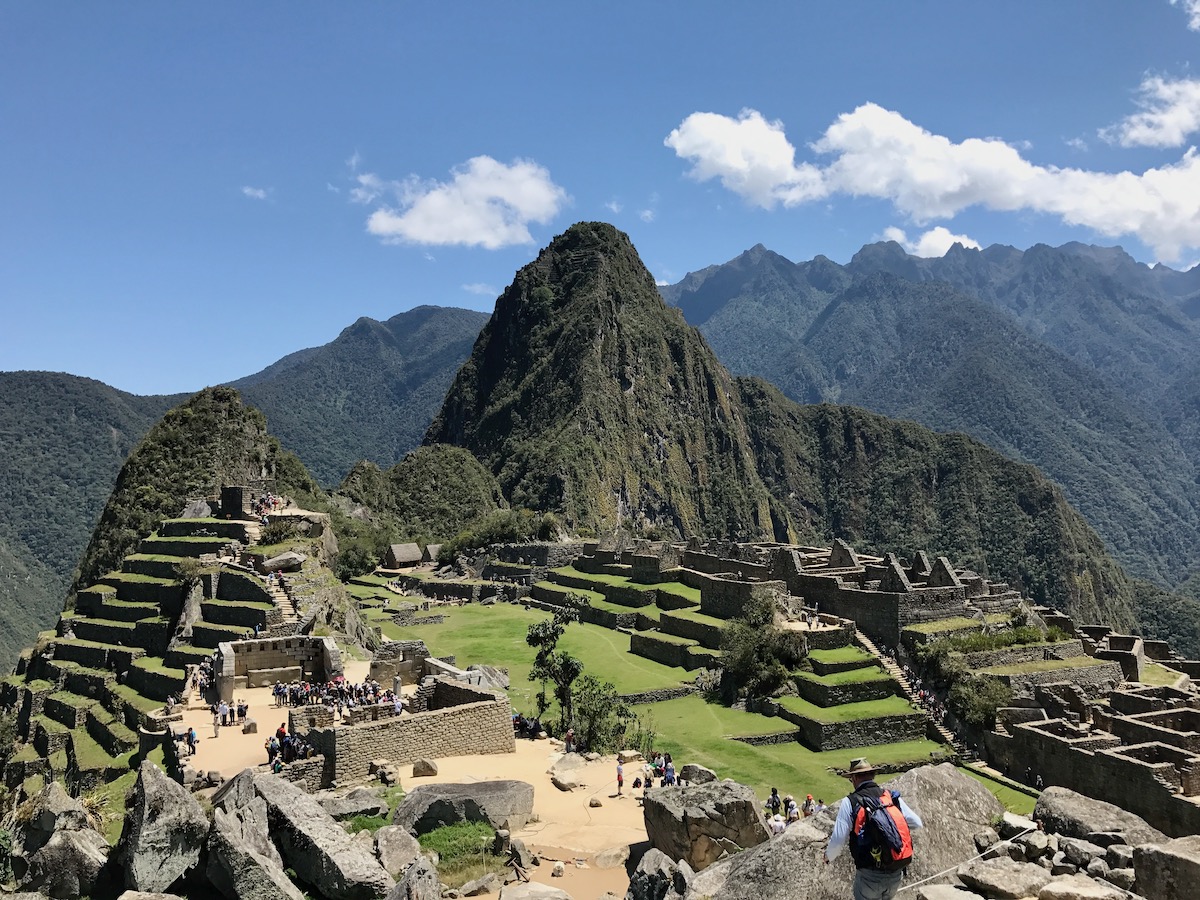 Getting To Machu Picchu From Cusco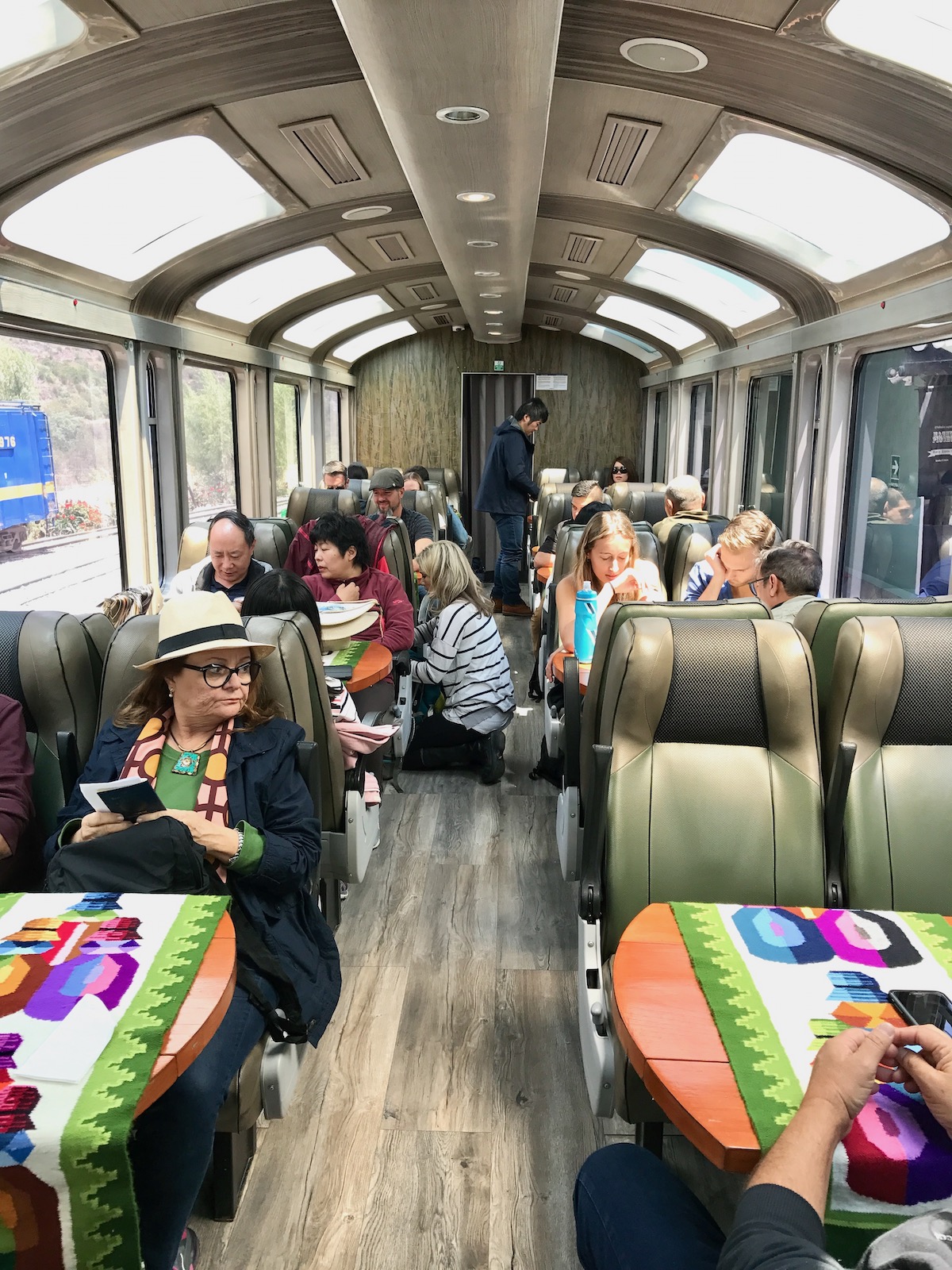 Cusco's train station is called Poroy, which is not an option for a direct route to Aguas Calientes if you are arriving at the last minute. However. if you're staying in Cusco, you can get a direct train, with limited options early in the morning. (I think the last one leaves around 9 am.)
If you are using Cusco as a connection to see Machu Picchu first (which is what I recommend) you need to get a taxi (or shared van if you're on a budget) from Poroy to the train station of – Ollantaytambo in a small town of the same name (also known by its shortened name Ollanta), where you will then get the train to Aguas Calientes.
You can book your tickets in advance via https://www.perurail.com/
Just make sure you give yourself two hours or so from Poroy to Ollantaytambo if you are booking the train in advance – Pomeroy station is about a 25-minute taxi ride from Cusco Centre.
Take the train during the day, preferably early; it's a picturesque view and you may as well chill out in Aguas Calientes before your Machu Picchu day trip.
How Hard is The One-Day Hike To Machu Picchu From Cusco?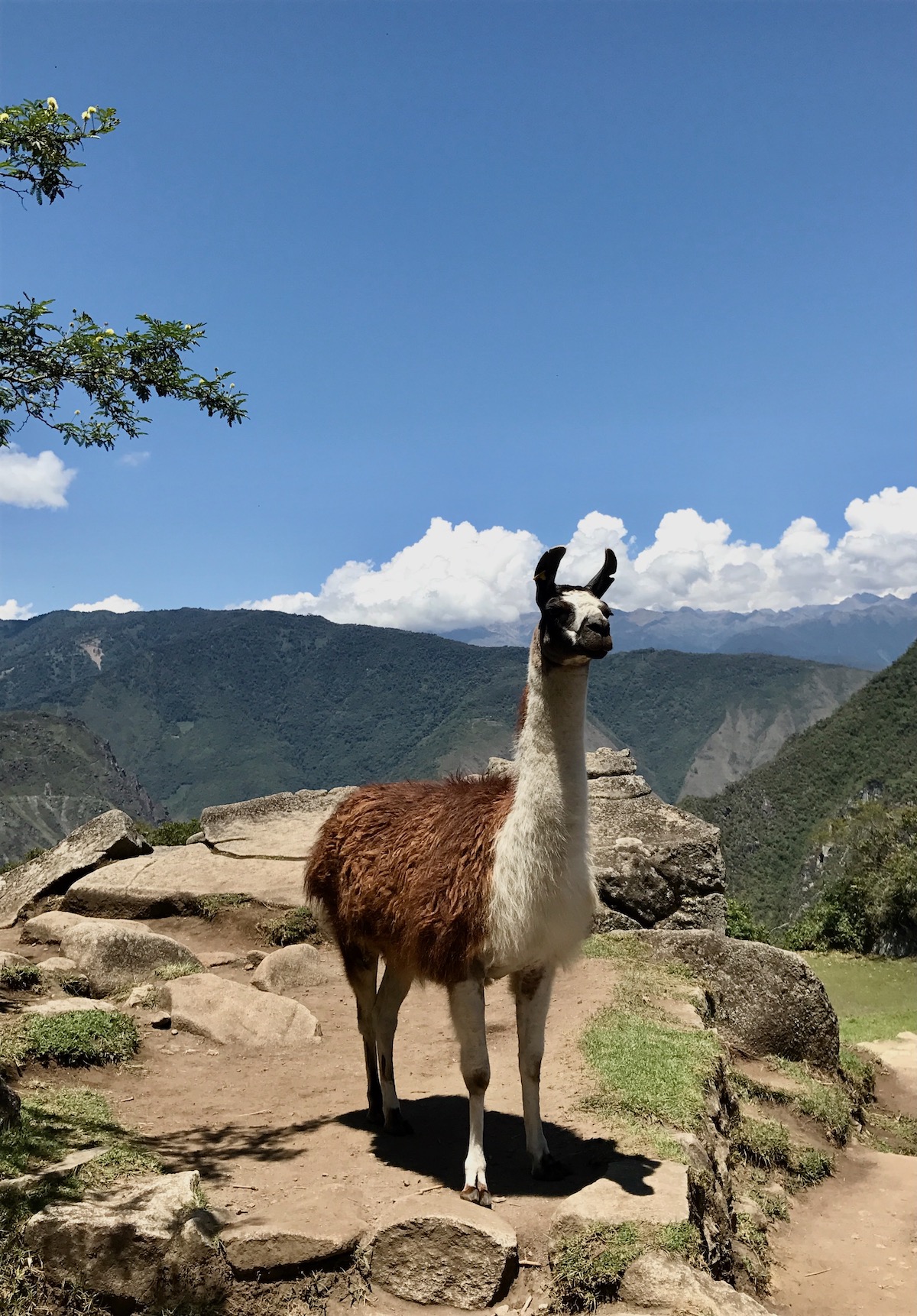 Unless you're pregnant, disabled, very overweight, or incredibly unfit, the two hours (max) walk should be a decent workout and I personally think it perfectly adds to the anticipation of seeing Machu Picchu – but that's totally your call.
There are plenty of buses that run to and from the bottom to the top.
I set off around 5 am. It was surprisingly freezing but it warmed up within 30 minutes of walking up so maybe take a little bag for when you peel your layers off, or just don't be a little wussy like me and bear the cold until you get higher and the sun kisses your skin.
Enjoying one of the best Latin American landmarks is well worth the hype, it really is beautiful! getting to Machu Picchu from Cusco is simple when you are armed with the correct information.