Looking for the best things to do in Medellin, Colombia? Look no further!
After living in Medellin for the good part of a year and the frequent return visits that I have made to 'The City of Eternal Spring,' I like to think that I am pretty well-versed on how to get around Medellin, how to have a good time (and also where to avoid to make sure it stays that way!)
There has been a positive paradigm shift regarding the city since I first landed there and although the ghosts of its dark past still linger around in some people's minds, the city has done fantastic to become the tourist titan that it is today.
Get ready for the onslaught of tasty arepas, delicious coffee and beautiful women as you head to this part of the world and I hope that my list of the very best things to do in Medellin helps you get the best out of this resilient and ever-improving city.
What Happened in Medellin's Recent Past?
The industrial revolution in Colombia, mixed with the boom in coffee production, again increased the city's population in the early 20th century to the hundreds of thousands.
The later part of the century saw the city fall into a dark period, brought about by high poverty levels, the drug trade and the infamous Pablo Escobar. This gave Medellín the unwanted title of the most dangerous city in the world back in 1988, only increased by the presence of urban paramilitary groups such as FARC and the AUC.
Throughout the 21st century, Medellín has gone through a regeneration, bringing it from its poverty and crime-stricken depths to a resurgence of hope via its enriched culture and alluring tourism.
Although not without its flaws, Medellin has grown into one of the most popular cities to visit in all of South America. Still lagging a little behind the top 10, but certainly moving up the ranks.
Is Medellin Safe?
Having gone through this period of transformation and regeneration over the past few decades, the city has come out on the other side as a general (in South American terms) safe place to visit and live. This rebirth of hope has been born out of economic recovery and a strong appreciation for making Medellin a top tourist hotspot in all of South America.
As is the case with many lively Latin American cities, you'll still need to have your wits about you, and common sense comes into play to keep you safe.
It's advisable to refrain from walking around the much poorer areas of the city, where you are more likely to be a victim of crime. Drunkenly wandering around the city during late night hours is also seen as a no-no here (do as I say, not as I did!)
The Scopalaomina scam is one of the most worrying that I have come across during my decade on the road. A powdery substance, nicknamed "The Devil's Breath," can be blown into your face, rendering you completely unable to exercise free will.
Men often fall prey to this honey trap (not surprising as Colombian women are gorgeous) and wake up with their bank accounts cleared with absolutely no recollection of what happened.
Check out this fascinating VICE documentary on this terrifying drug:
Best Things To Do in Medellin, Colombia
Some of the items on this list I still frequent every time I go back to the city. It's easy when you know how, of course, and also the privilege of knowing where to stay in Medellin helps a lot.
I've got your back though and in this list of the top things to do in Medellin, I will also give details of all of the logistics that you need to get the best out of these Medellin activities.
Hike The Hill Of Three Crosses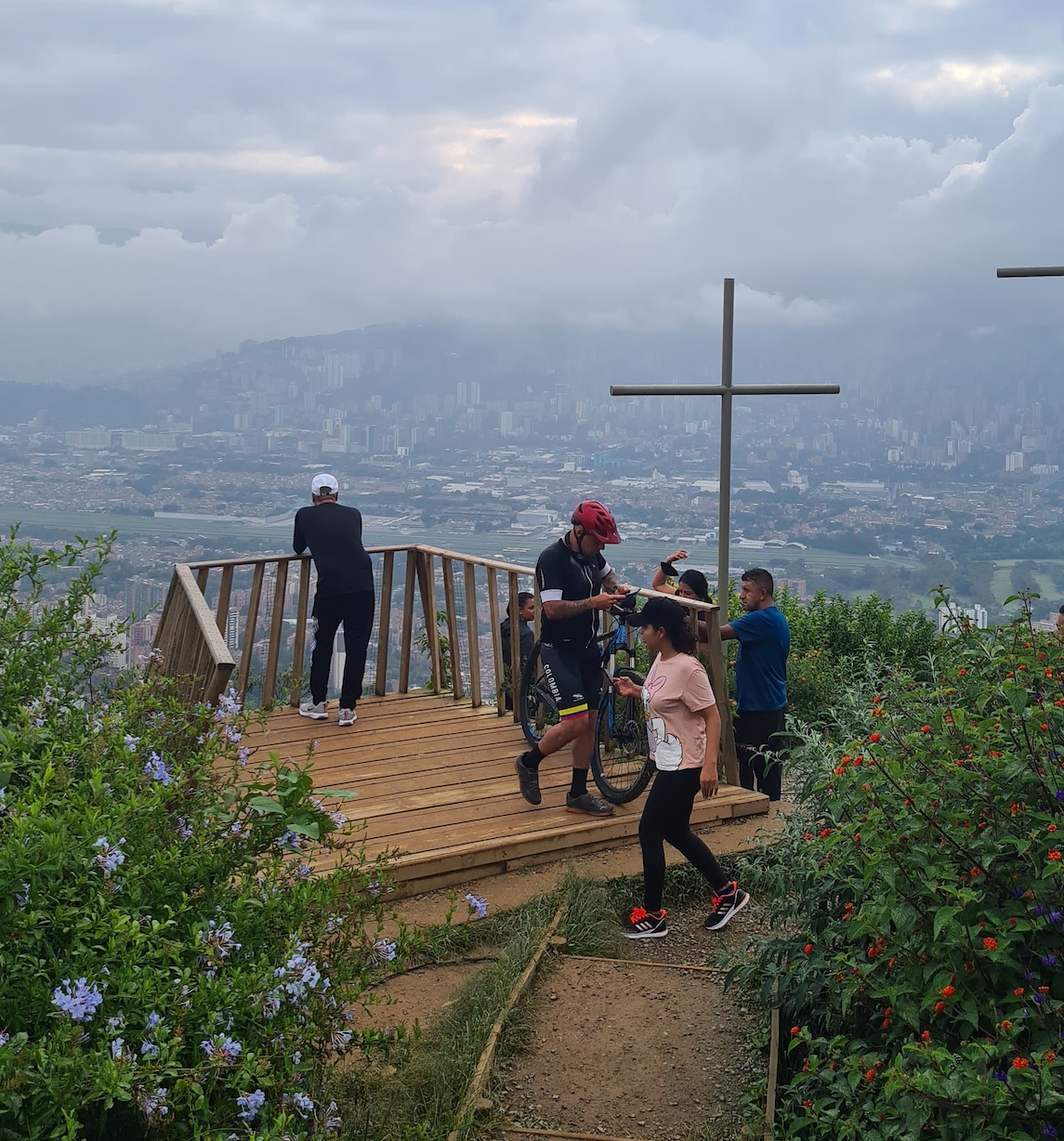 Slightly southwest of Medellin is the Hill Of Three Crosses, renowned as one of the best hiking spots around the city and known locally as Cerro de las Tres Cruces. The steep hill can be seen from practically anywhere in Medellin and has long been one of the most frequented Medellin landmarks, not only for visitors but for locals also.
The Hill of Three Crosses gets its name from the three wooden crucifixes that stand on the steep hill, and it has become the place for hiking and general fitness in the area. The steep climb can be a little difficult if you've been too much into party mode lately, but the views and surroundings are well worth the effort.
Generally, it will take you between twenty and forty minutes to climb to the top of the hill and is around three-quarters of a mile hike, one way. The trail leading up the hill is perfectly marked out, and with numerous other hikers making their way there, it is impossible to lose your way.
Along the path, the first steps have been carved out of the hillside, though with many people making the climb, you may have to hike along these.
At the base, midpoint, and top of the hike, you'll find concession stands selling fresh-pressed juice, fruit, and numerous other things to give you a boost. Both from a fitness and sociable point of view, hiking the Hill Of Three Crosses is one of the best things to do in Medellin if you like to get out in nature when the concrete jungle is doing your head in a bit!
Know before you go:
Location – Hill Of Three Crosses is located in the southeast area of the city.
Cost – Free.
Opening hours – 24 hours.
Time needed – Around 2 to 3 hours should be enough to climb up and down while enjoying the views.
Getting there – If there are a few of you, it's more economical to take a taxi to the base of the hill.
Take a Weekend or Day Trip To Guatape and El Peñol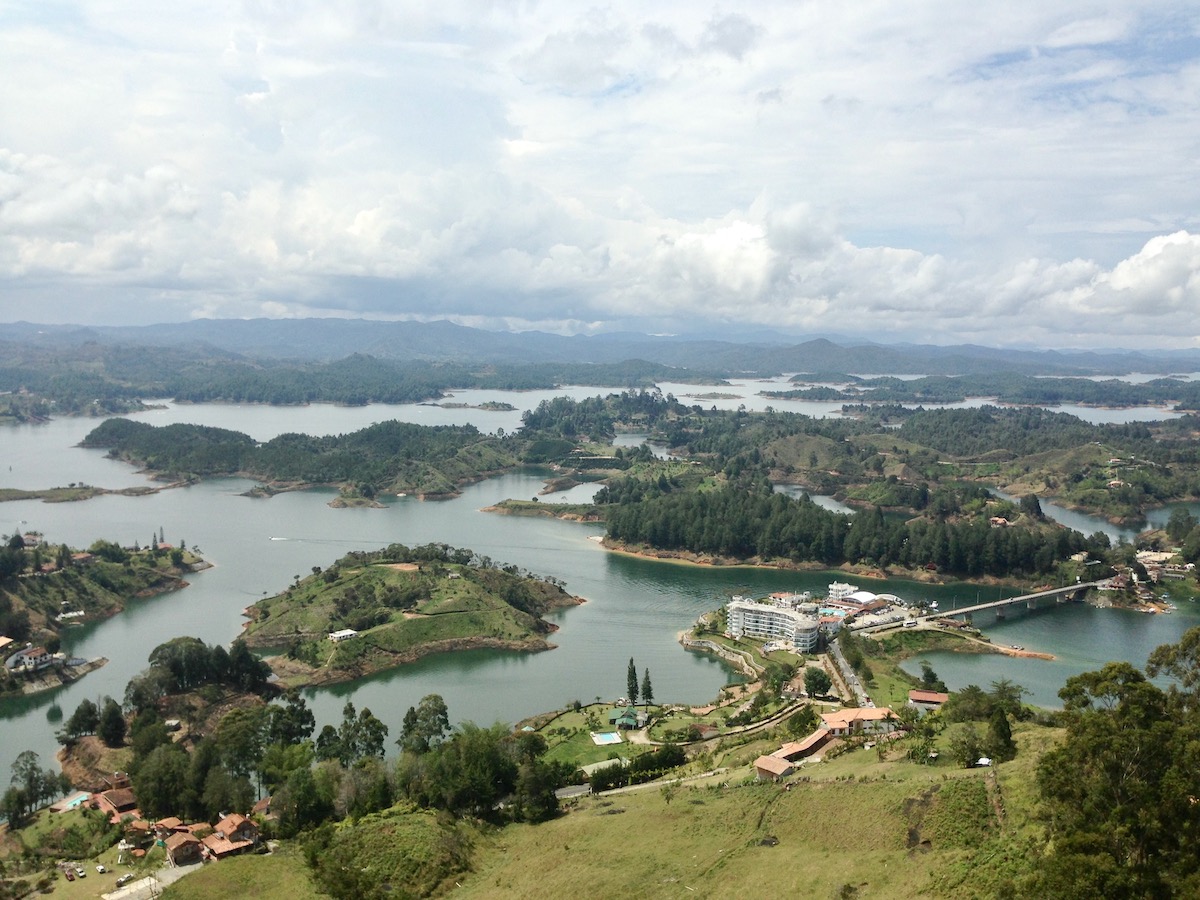 Out of all of the best day trips from Medellin, the most popular (and rightly so) is the jaunt to Guatape and neighbouring El Peñol.
When you get to that point of your Medellin trip when the chaos and commotion are becoming less fun and more annoying then a day or weekend visit to Guatape and El Peñol is just what the doctor ordered.
Guatape is a picturesque, colourful little town; the town square (Plazoleta de Los Zócalos) is the main attraction and El Peñol's number one bragging point is a giant stone compromised of 740 steps from the stairway to summit, where you will be rewarded with stunning birdseye views of green islands and a large bed of water below you.
It makes perfect sense to combine the two trips together considering they are a 30-minutes drive away from one another. In fact, their close proximity is so intense that both cities have fought over ownership of the Giant Rock!
I guess El Peñol won as they got their name on it, regardless of ownership; consider a weekend here if you don't like early mornings and queues and you'll get to see most of them without too much waiting.
Know before you go:
Location – Guatape is 50 miles east of Medellin and El Peñol is 14km away from Guatape.
Cost – Around 14,000 COP for the bus one-way.
Opening hours – Buses run between the city and town from around 8 am.
Time needed – With 4 hours of travelling and the Giant Rock hike, you'll definitely want to set aside the whole day to soak in the sights and sounds of Guatape and El Peñol; which is why I suggest you consider a weekend if you have the time and leisure to do so.
Getting there – If you are in a group, it may be easier to hire a driver or a car yourself. However, most grab a bus from Terminal del Norte in Medellin. Once you're at the terminal, head to the ground floor and you'll find booth number 14, where you can buy your ticket.
Pablo Escobar Tour: Important Things To Consider
When you have a curious and open mind for the truth like myself, some trips may bring you to the deserted Chernobyl, and the gutwrenching Auschwitz museums of Poland and learn about uncomfortable, unfathomable truths such as the Cambodian genocide to name but only a few.
When you go on these trips you will always be met with a synonym of "Why the hell would you want to go there?"
Every case is not the same. For example, all of the above receive donations from the victims of the horrors, but I have less of an argument for visiting North Korea where 100% of the spent money funds the barbaric government.
I plan to write a more comprehensive article on this topic, but for now, just know two things:
Most tours fund friends and families of Pablo, or other Narcos who exotify Escobar and continue the cycle of violence in impoverished areas of Colombia.
Most Paisas (the name for Medellin locals) loathe the man and do not want to hear about your Pablo Escobar tour, or how much you enjoyed the Netflix show. (It was fantastic, but if you have had loved ones who died or were affected by this era, then imagine how you would feel).
You have to do what's best for you and your own moral compass.
There is, however, a good compromise to any of your ethical conundrums; some companies donate large profits to victims of this dark period, or to bettering beaten-down neighbourhoods.
Those that do are very proud and forthcoming about where your money goes, it's a simple case of emailing in advance and doing your due diligence.
So you get to itch your curiosity scratch and sleep with the soft pillow of a sweeter conscience.
Know before you go:
As I said above, this can only be done by a tour operator. It's up to you which one you want to go with.
Mountain Bike Tour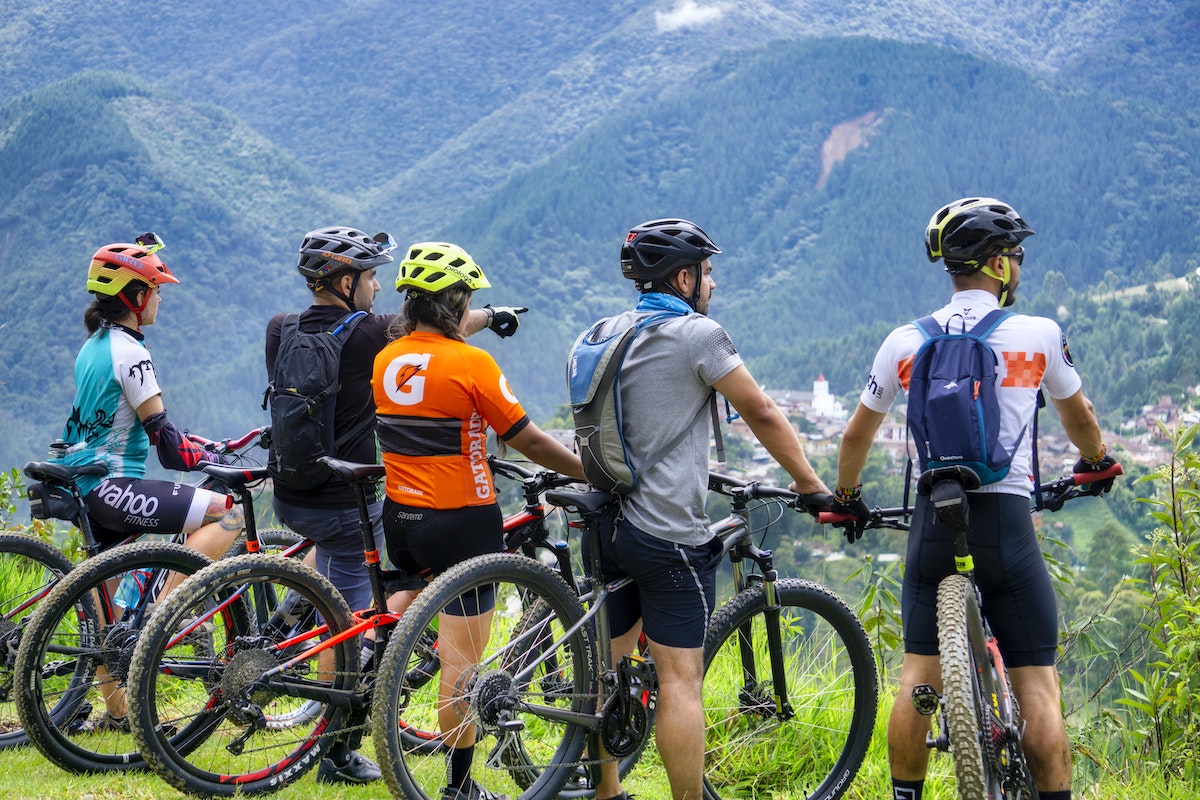 This area of the world offers some of the most incredible scenery in its jungles, mountainous regions and forested foothills, so it's no surprise that it is one of the best places to join a mountain bike tour.
The rolling foothills of the surrounding valley and the endless dirt tracks that cut through the landscapes offer the perfect challenge for mountain biking in unfamiliar territory.
By joining an organised mountain bike tour, you can explore the endless stretches of trails and routes that surround Medellin and beyond.
Although it may be a far-flung cry from the unbridled thrill of mountain biking down Bolivia's 'Death Road' the tours are run by guides that also share the same passion for mountain biking, meaning you will get the very best out of the beauty of this area that you might not have experienced on foot. The expert guides will take you to the meccas of Medellin mountain biking, as well as the spectacular spots that you've never heard of, making the trip one that you will never forget.
Know before you go:
Location – Depending on the kind of tour, you will bike around different locations through the foothills and mountain ranges surrounding Medellin.
Cost – Tours will cost around COP400,000.
Opening hours – Mountain bike tours will usually begin in the morning, around 9 am.
Time needed – Tours will last for half of the day, taking around six hours.
Getting there – Part of the organisation includes collecting you from your accommodation
Street Art Tour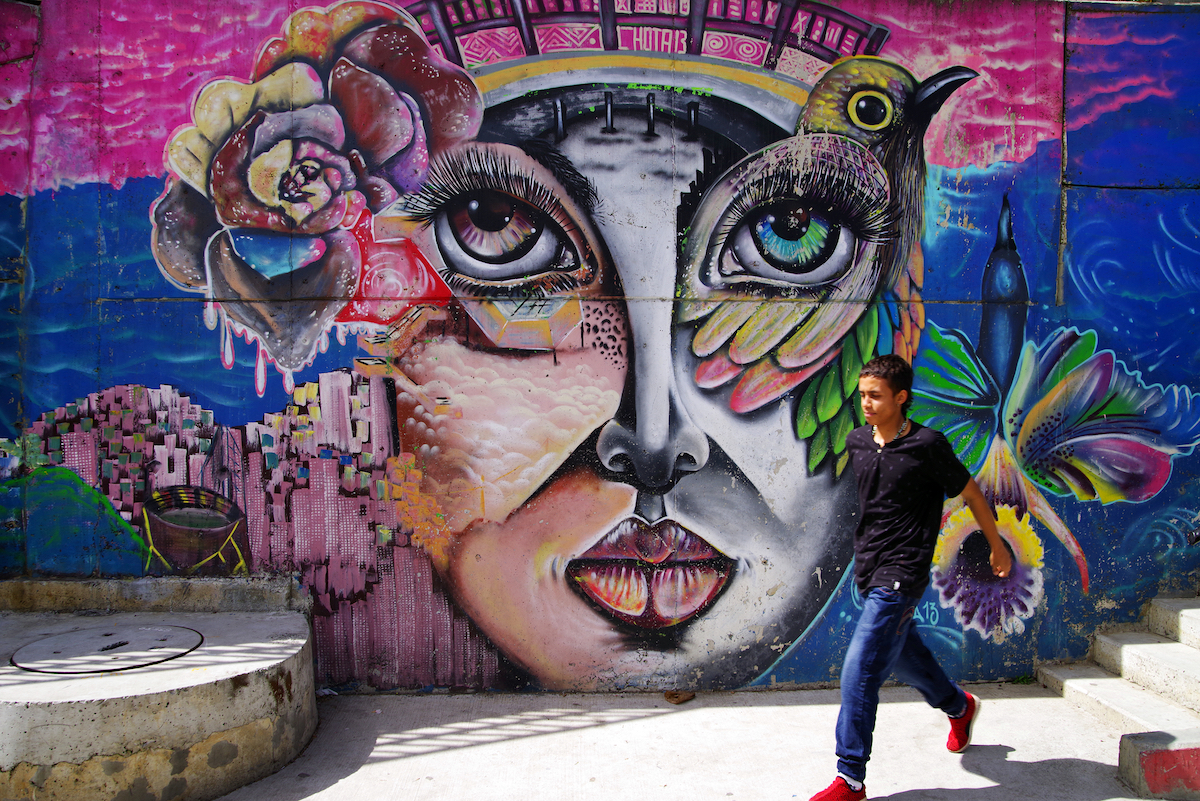 Like many of South America's major cities, Medellin is home to many amazing examples of street graffiti, something that seems to be woven into the artistic nature of the city. The graffiti has been used as one part, transforming the once run-down city streets into something far more attractive to the eye; this is especially true of the city's Comuna 13 district.
The tour will be run by a guide who has a wealth of knowledge about the history and background of Medellin graffiti. These works of art range from poignant memorials to works of surreal art.
Walking around the city streets, these artworks may cover a small wall, whereas others cover a whole block. This tour will really open your eyes to the regeneration Medellin has gone through over the past couple of decades.
Related Colombia Post: 25 Best Things To Do in Santa Marta, Colombia + Travel Guide
Know before you go:
Location – Artworks can be found across the city but mainly in the Comuna 13 district.
Cost – A graffiti tour will set you back around COP 90,000.
Opening hours – 10:00 am, 4 hours and 3:00 pm, 4 hours
Time needed – The tour will last around four hours.
Getting there – A meeting place will be agreed upon when booking the tour.
Get Lost in The Cable Cars (But Not Too Lost!)
One of Medellin's most stand-out features is its modern cable car public transport. Not only is using cable cars an efficient way of getting around but riding them can be an enjoyable activity just by themselves.
Known as the Metrocable, the cable cars allow you to travel across the city's high-altitude neighbourhoods quickly.
The system consists of a network of 16 pre-existing gondolas, similar to those used in the London Eye. Not only can you get across Medellin quickly, but they also allow you to observe the views from above.
Spending a couple of hours travelling on the Metrocable is a perfect alternative (or addition) if the activities mentioned above give you a sickening feeling as opposed to the excited butterflies in your stomach.
Just be sure you know how to get back to where you started!
Know before you go:
Location – There are six lines covering the city, with the main station located in Santo Domingo.
Cost – Standard fares are around COP 2,430.
Opening hours – Monday to Saturday from 4:30 am until 11 pm, Sunday from 5 am to 11 pm.
Time needed – Spend a couple of hours travelling across the city.
Getting there – With many stations across Medellin, there is sure to be one within walking distance of your accommodation.
Find ALL 23 Statues in ​​Plaza Botero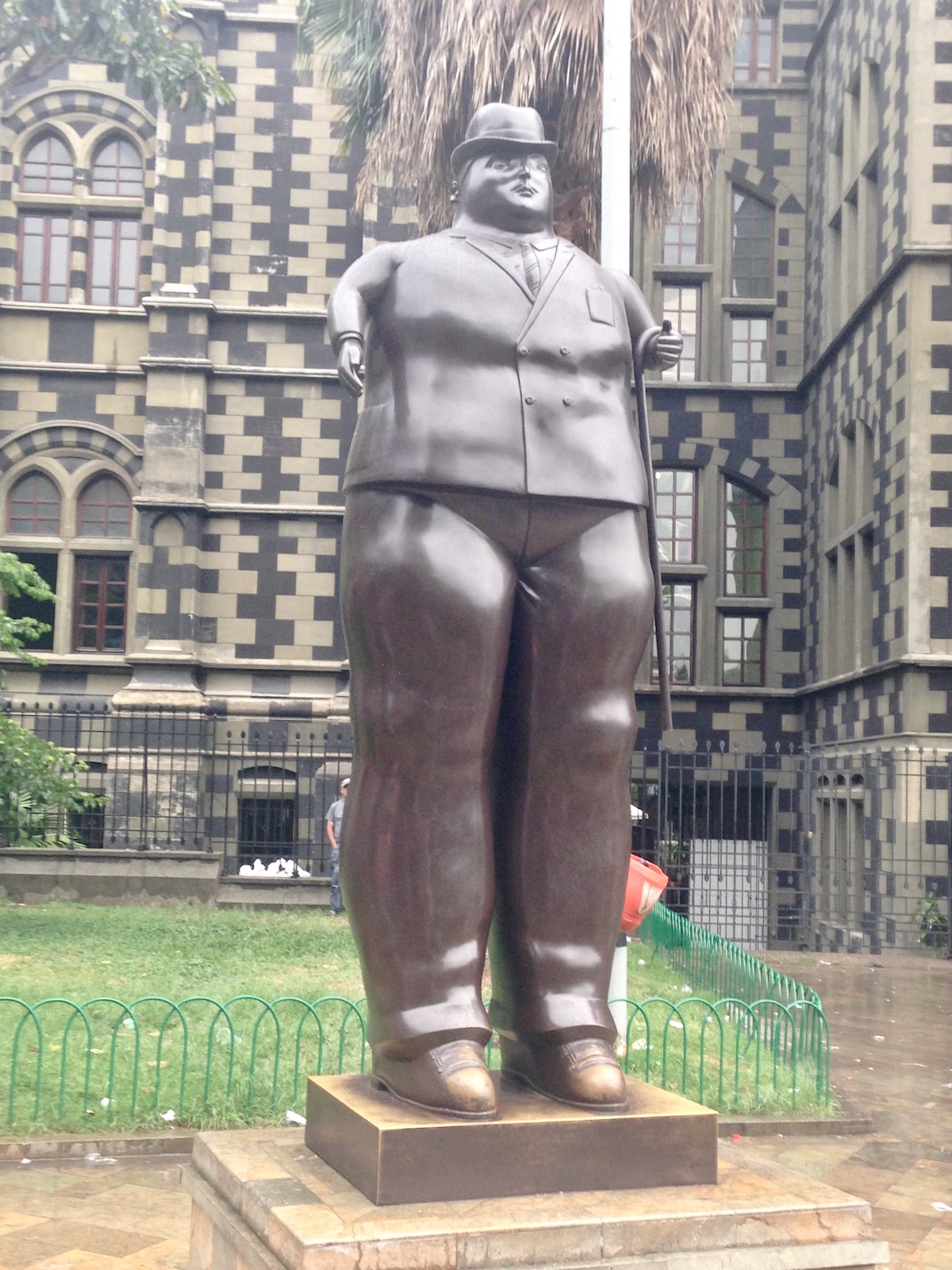 Fernando Botero liked big butts and he could not lie, so he didn't (and neither should he, I'm also a fan!)
Not only was he honest in his love for big bums, but also larger ladies; he dedicated pretty much all of his life's work to celebrating them. He also ventured out to exaggerated caricatures to express his political views, with a lot of his work being inspired by one of Mexico's most revered exports, Diego Rivera.
Plaza Botero is a 7,000 m2 outside park that displays 23 sculptures by the prolific Colombian artist.
Botero dedicated these statues as part of the regeneration of the city, and they really stand out as Medellin's modern cultural centre. The green space is a great place to relax and soak up some greenery while in the centre of the city, helped by a number of benches.
One of the best things to do in a park full of 23 sculptures is to try and find all 23. Scattered across the seven thousand metres square park, these sculptures depict a number of different images and are known by names such as "The Hand", "Eve", "Maternity", and "Man on Horseback". It is said that rubbing the statues brings you good luck, so getting around all 23 is sure to bring luck on your side.
Know before you go:
Location – Plaza Botero is located in the centre of Medellin, along Carabobo Avenue.
Cost – Free.
Opening hours – 24 hours.
Time needed – Only around half an hour is needed to see the park and sculptures.
Getting there – Take a bus to the nearby Berrio Cra bus stop.
Watch a Local Football Match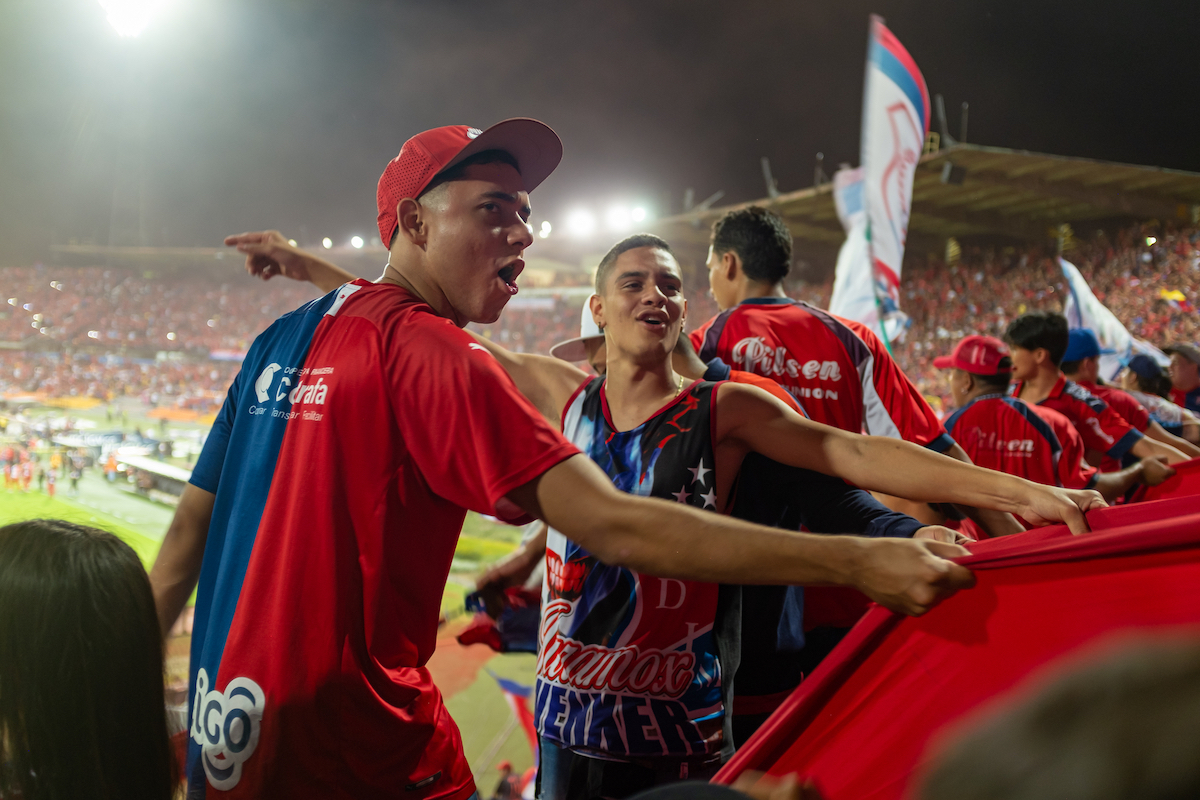 As is the case with all of South America, football, or "soccer" as some of the world knows it, is a huge deal. Medellin is home to two major soccer teams, Atlético Nacional and Independiente Medellín.
Understandably, there is a strong rivalry between the two teams and watching a local Medellin derby game is an electric experience, Colombia's answer to Argentina's Superclasico.
Both teams play their matches at the Estadio Atanasio Girardot in Medellin, and they are two of the biggest teams in all of Colombia. Managing to catch a game between these two is a dream come true for any footie fan visiting Medellin.
However, the chances of this fixture landing at the same time as your trip to Medellin is more than unlikely (unless you're really lucky) but don't worry – watching either team play anyone is a highly electric atmosphere.
So choose your team for your time in Medellin and get behind the lads!
Know before you go:
Location – Estadio Atanasio Girardot stadium in western central Medellin.
Cost – COP 18,000 for a seat at one of the curves and ranges up to COP 48,000 for a seat at the main stand
Opening hours – Games will usually be played in the afternoon around 3 pm.
Time needed – A couple of hours to watch the match and get to the stadium.
Getting there – Stop Estadio is next to the stadium. Take metro line B from stop San Antonio in the city centre.
Survive Aguardiente & Live To Tell The Tale
Colombia's infamous alcoholic beverage, Aguardiente, translated as "firewater" in English lives up to its menacing reputation and should be drunk with precaution.
Seriously, a couple of glasses of this rocket fuel will blow your tits off!
I've tinkered with Tequilla in Mexico, consumed one too many caipirinhas in Brazil, sipped on Sake with the Japanese and "celebrated" with Russians on strong local vodka (yuck!) after taking down their tallest mountain, but this whole aguardiente business…it's the work of Satan.
I can't make you drink it in the comfort of your own home (and to be honest I didn't either) but the best I can do is play overprotective Dad and just warn you how potent this thing is and leave it up to you.
Both men and women have to stay safe from different evils, especially with the aforementioned "Devil's Breath" situation in the safety section. Anyway, I don't want to scaremonger, drink up have fun and be merry with good people who you trust.
Wander Around Parque Arvi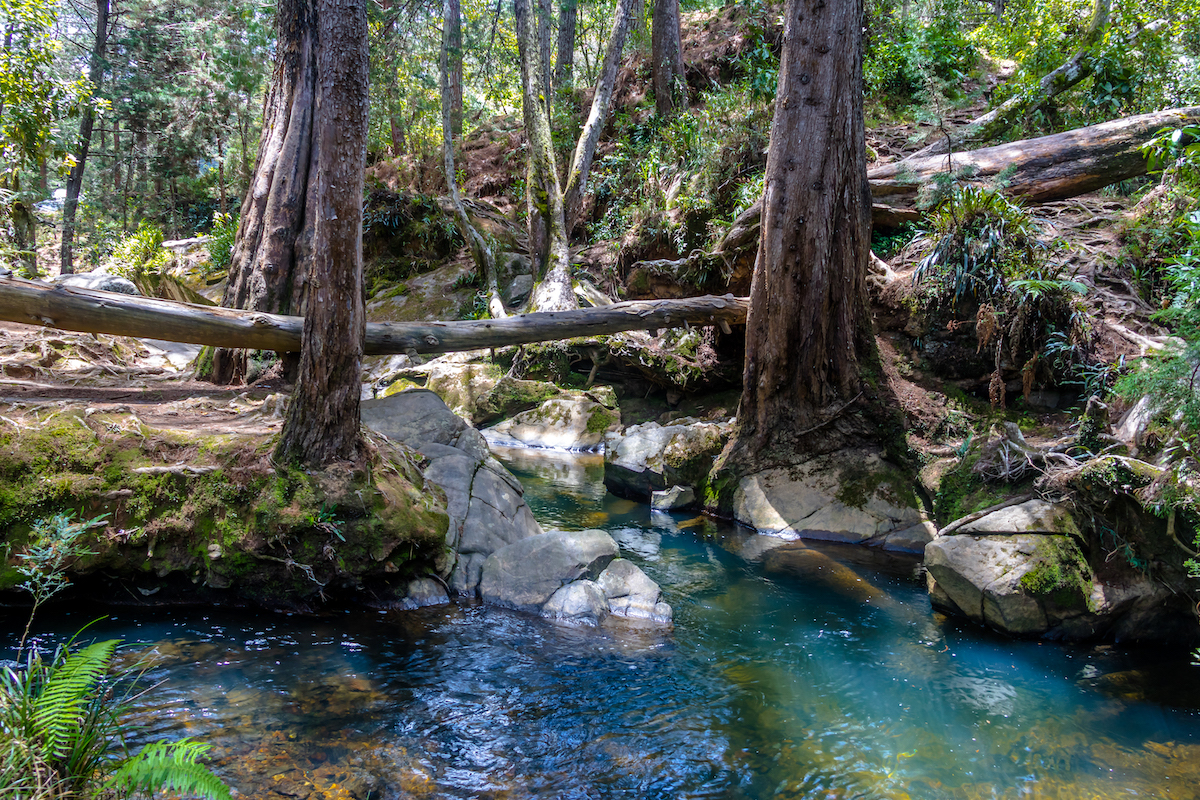 Although only slightly northeast of Medellin, the Parque Arvi is perched high up on the valley's lip, meaning it is quite a distance to travel and requires a day trip to visit comfortably.
Part of a large ecological nature reserve in Medelín, Parque Avri offers visitors a unique chance to explore the wild and wonderful nature of Colombia and immerse themselves in the spectacular landscape.
Covering an amazing 40,000 acres, Parque Arvi is mostly made up of ancient natural forests intertwined with fifty-four miles of walkable trails. As well as hiking, you can enjoy a range of activities such as cycling, picnicking and horseback riding in the park – though your own two feet will be enough without the need of sitting upon an animal's back if you're reasonably fit.
Aside from the beautiful ancient pre-Hispanic trails, the park is home to 72 species of butterflies, 69 species of birds, and 19 species of mammals, proving it a terrific place to spot some of Colombia's best wildlife. For gorgeous views of the Aburrá Valley and Medellin below, you can hike up to a mirador or lookout point where the valley lies out below.
One of the easiest and, perhaps, most adventurous ways to get to Parque Arvi is to take the gondola lift system of Metrocable from Poblado metro station, which will take you around an hour to get to Parque Arvi.
This way, you can cover the heights of the valley pretty quickly and enjoy awesome views of the city and valley to go – making it one of the easiest day trips from Medellin.
Know before you go:
Location – Parque Arvi is located northeast of Medellin, along the top of the Aburrá Valley.
Cost – Guided tours start from COP25,000. However, it's easy enough to explore by yourself for a COP5,700 entrance fee.
Opening hours – 9 am – 6 pm.
Time needed – It's best to spend the whole day here to get the most out of your visit to Parque Arvi.
Getting there – Take the Metrocable from the Poblado metro station straight to the park.
Hike and Zipline At Los Saltos Ecopark
Located between the municipalities of Abejorral and La Ceja, Los Saltos Ecopark is one of the most popular day trips from Medellin for adventure travellers.
The park is home to lovely landscapes, yet it is the activities that really make this park well worth a visit. Taking the top spot in these activities is the highest Cable Vuelo zipline in the country, being 33 meters high and 1350 meters long. Zipping across the waterfall canyon, with your heart racing and breath taken from both experience and the impressive views.
Aside from the fantastic zipline, Los Saltos Ecopark is also home to abseiling spots and beautiful hikes. Hiking across the huge park, you can take in views of stunning waterfalls, rocky hills and lush green vegetation. Whether you're a thrill-seeker or simply wish to take in the more beautiful scenery of this part of Colombia, the Los Saltos Ecopark has a bit of both for you.
Know before you go:
Location – Los Saltos Ecopark is forty-one miles south of Medellin.
Cost – The entrance fee is COP1,000.
Opening hours – Thursday through Monday from 9:30 am to 6:00 pm.
Time needed – To get the most out of the experience, it's best to set aside the whole day.
Getting there – Take a bus to Abejorral, but via the Guaico, these buses only travel at 8:00 am on the way to the park and at 4:00 pm back
ATV Tours
All-terrain vehicle tours are one of the best ways of mixing up a thrilling ride with exploring the stunning Colombian landscapes. By joining an organised ATV tour, you will be picked up at your accommodation and taken to the base camp. From here, you will be provided with all the gear you will need for a safe and exhilarating experience.
Getting off the road on your ATV, the tour will take you through the amazing terrain of Leaves Trail, San Nicolás Valley, airport forests, headwaters and runway trails. Seeing the diverse terrain and views of rural and wild Colombia while travelling over speedy tracks is one for you fellow dopamine-driven individuals.
Combining the fast-paced exhilaration of an all-terrain vehicle with the backdrop of such appealing views and surroundings is one of the best ways of seeing the Antioquia Department in all its glory.
Know before you go:
Location – The ATV tour will take you throughout San Nicolás Valley.
Cost – Around COP 300,000.
Opening hours – Tours depart three times a day, at 1:00 PM, 2:00 PM and 3:00 PM.
Time needed – All in all, you will need around five hours to complete this tour.
Getting there – As part of the tour, you are collected and dropped back off at your accommodation.
Paragliding in Medellin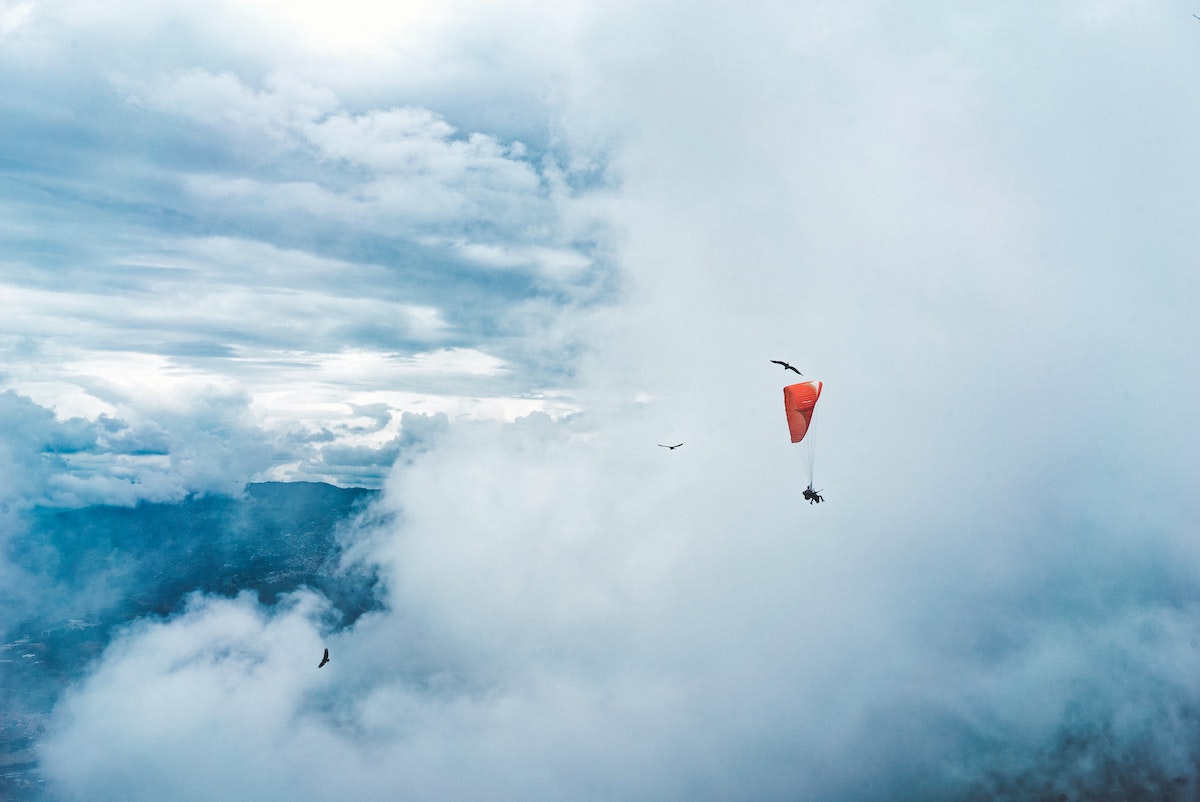 If the ATV didn't quite do it for your high levels of adrenaline requirements, one of the best day trips from Medellin you can do is a paragliding tour, and what better place to do that than in the Edenesque surroundings of central Colombia?
The vast mountain ranges, warm winds and consistently sunny days around Medellin and the Aburrá Valley mean that this part of the world is the ideal place to experience a paragliding tour.
The experience will begin with a ten-mile drive to the northern town of San Felix, high on the northern edges of the canyon. Upon arrival to San Felix, meet your experienced paraglider pilot, who will assess the weather conditions for the paragliding experience.
You will then take a short walk to the take-off ramp, located on a sloping hill, giving you the best take-off conditions possible.
Your experience will be done as a tandem flight, allowing someone with no experience in paragliding to enjoy the flight. All you will have to do is follow instructions for how to run on the take-off site, sit comfortably in your harness and position yourself for landing. An assistant will help you and your tandem pilot take off, and then you will enjoy at least a 20 minutes flight, depending on the day's weather conditions.
All in all, a paragliding tour in Medellin combines both the heart-racing and adrenaline-inducing sport of paragliding with fantastic aerial views of the Aburrá Valley and the postcard views from below.
Know before you go:
Location – The paragliding takes place in the town of San Felix, ten miles north of Medellin.
Cost – COP 179,000.
Opening hours – Flights will take place throughout the day, as long as conditions are good.
Time needed – A good few hours are needed to travel and then conduct the flight.
Getting there – As part of the tour, you will be collected and dropped off at your accommodation in Medellin.
With Medellin being the second largest city in (the huge country of) Colombia, it's no surprise that people are flocking there to lay down their hat for a while or simply pass through to simply enjoy what it has to offer.
I thoroughly enjoyed living in the 'City of Eternal Spring,' and these are my own hand-picked very best things to do in Medellin, I like to think I went for quality over quantity!