When readers write to me asking where to stay in Medellin I immediately tell them that it's El Poblado.
While I completely stand by this immediate response, I think it's pretty short-sighted to think that everyone has the same wants, budget and a whole host of other factors when looking for the best neighbourhood in Medellin.
So to supplement my open and honest living in Medellin article and best day trips from Medellin guide I have whipped up a no-frills cheat sheet of pros and cons for 7 of the best neighbourhoods within the city so you can feel more comfortable knowing where to stay in Medellin, no matter how long you're there for.
Where To Stay in Medellin (For Expats & Tourists)
When you're living in Medellin, you'll quickly realise that there are multiple sides to the city, and neighbourhoods can differ hugely. Finding your perfect Medellin neighbourhood will all depend on your own preferences; where you want to live, how much you want to spend and how close you want to be to certain things in the city.
Let's take a look at the most popular and best neighbourhoods in Medellin for digital nomads.
Living in Poblado as an Expat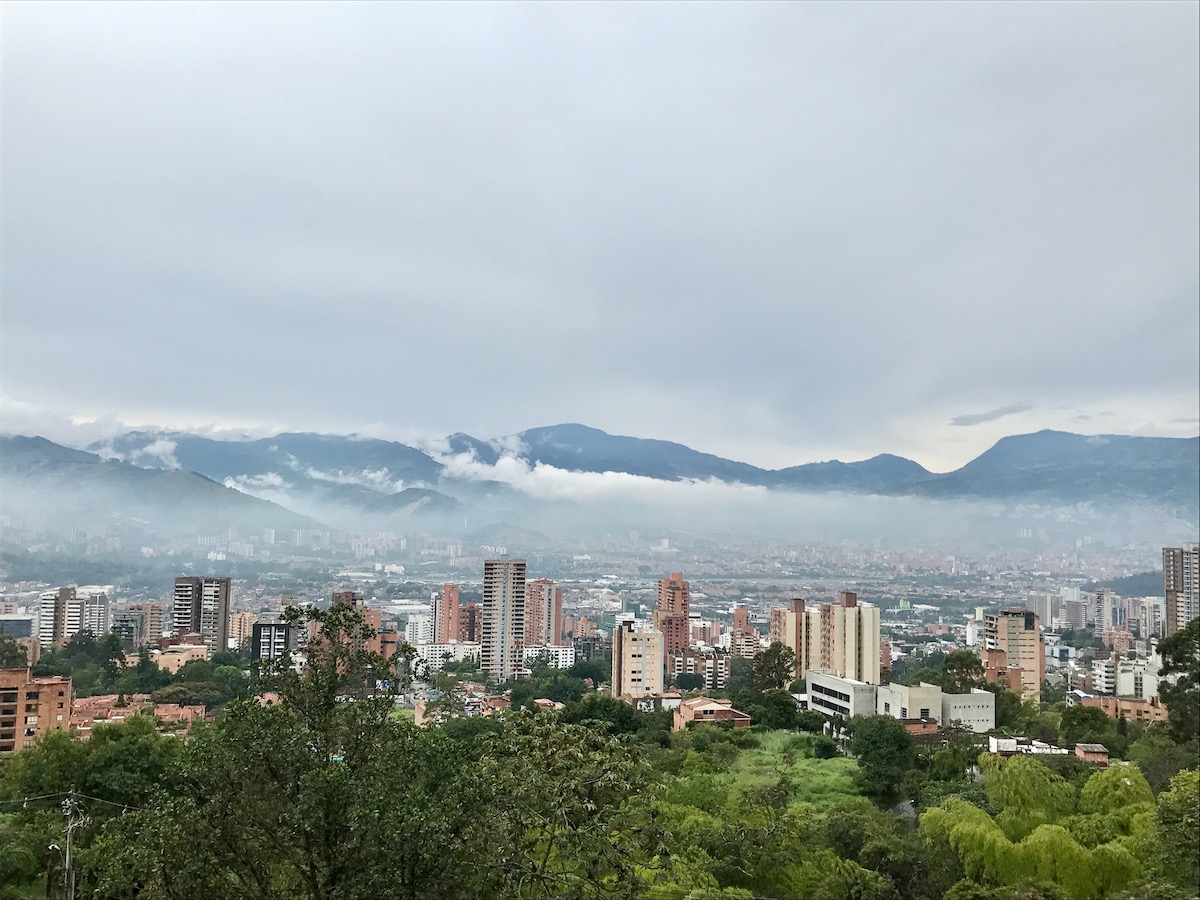 Arguably the most popular area for expats and digital nomads to settle when they're living in Medellin, Poblado is one of the city's most famous neighbourhoods and it's the one that I ended up staying in for 6 months.
Every time I return to Medellin, this is where I choose to stay every time.
Poblado is where you're most likely to find Medellin's upscale restaurants and is also home to much of the city's nightlife, only adding to its popularity. As a result of all these upscale restaurants and clubland, it has become the area for Medellin's hotel and hostel scene.
All of this tourism infrastructure means that many can visit Medellin without leaving this 'Poblado bubble' – of course, it can be quite different when you're staying in Medellin long term as opposed to passing through as a traveller.
If you're more inclined to blend with only the locals (personally I like to mix it up), Poblado may not be the best neighbourhood to live in. However, if you want to live closer to the numerous tourists that visit Medellin or mingle with a group of expats, then the Poblado neighbourhood could be the place for you.
Pros of living in Poblado
Some of the best nightlife in Medellin
There's a huge expat and tourist community already living in this area.
Modern shopping malls and Western-esque shopping opportunities are close by.
Home to EAFIT, one of the best universities in Medellin to learn Spanish (at a premium).
Cons of living in Poblado
You probably won't get the "authentic" Colombian experience.
More people speak English due to it being touristy (no bueno if you're learning Spanish and are lazy!)
It comes at a premium!
Living in Laureles as an Expat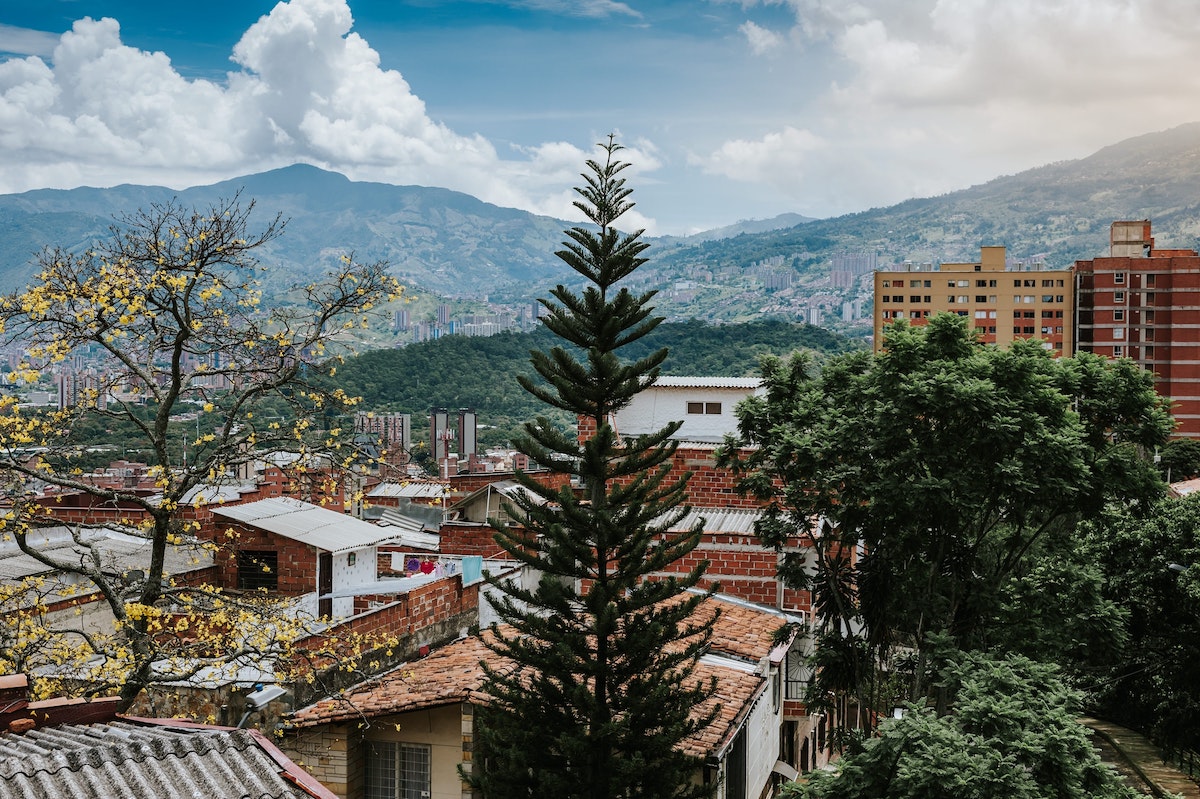 Found on the western side of Medellin, the neighbourhood of Laureles is said to have a far more authentic Colombian feel to it compared to the Poblado region.
Again, Laureles is one of the more popular places in Medellin for tourists and remote workers, but it also has that genuine local vibe.
Laureles has a laid-back feel to it compared to the rest of the city but with all the infrastructure you could wish for with its fair share of restaurants, cafes and supermarkets – as well as a top Spanish language school, set up by Baselang.
Pros of living in Laureles
Authentic Colombian experience but with a big community of expats.
Home to one of the best Spanish language schools in Medellin.
Numerous cafes, restaurants and supermarkets are here.
Cons of living in Laureles
Quickly becoming another touristy centre for the hardcore out there (also harder to make friends with locals if that's a priority).
Higher rent prices than other neighbourhoods for newbie digital nomads on a budget.
Living in Centro as an Expat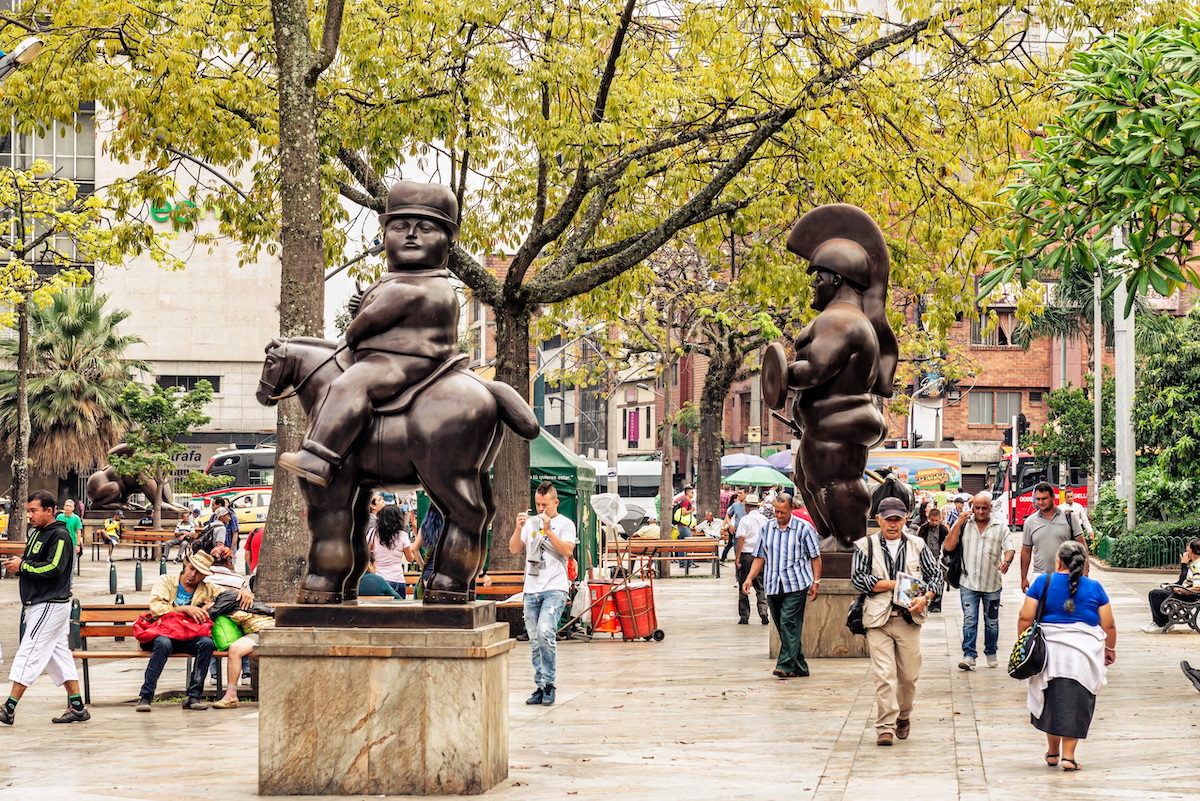 Centro was once the economic and business sector of Medellin, and it still has that white-collar business-centric feel – during the day that is. Throughout the now-infamous reign of Pablo Escobar and the Medellín Cartel, many of the upmarket residents of Centro moved out to the suburbs and while the neighbourhood feels far safer today, it still has a grungy feel to it.
The streets come alive with commuters and daytime office workers, yet when the working day ends, the neighbourhood can feel somewhat empty. That said, there is still a nightlife scene here along La Playa and Maracaibo streets.
The older cultural centre of Medellin can be seen around Parque Bolivar and its old theatres, many of which open up for free shows on selected nights.
This balance between older and newer Medellin in Centro offers a real characterful place to settle when it comes to living in Medellin. While you may have to have more whits about you during the evening, Centro is real Medellin, and there's no denying its attraction.
Pros of living in Centro
One of the most central places in the city.
Has a wealth of history, social and political.
Has a genuine Colombian feel.
Home to a number of bars and cafes.
Cons of living in Centro
Is known to have higher crime rates during the evening.
Can look a little run down in places.
Living in Parque Lleras as an Expat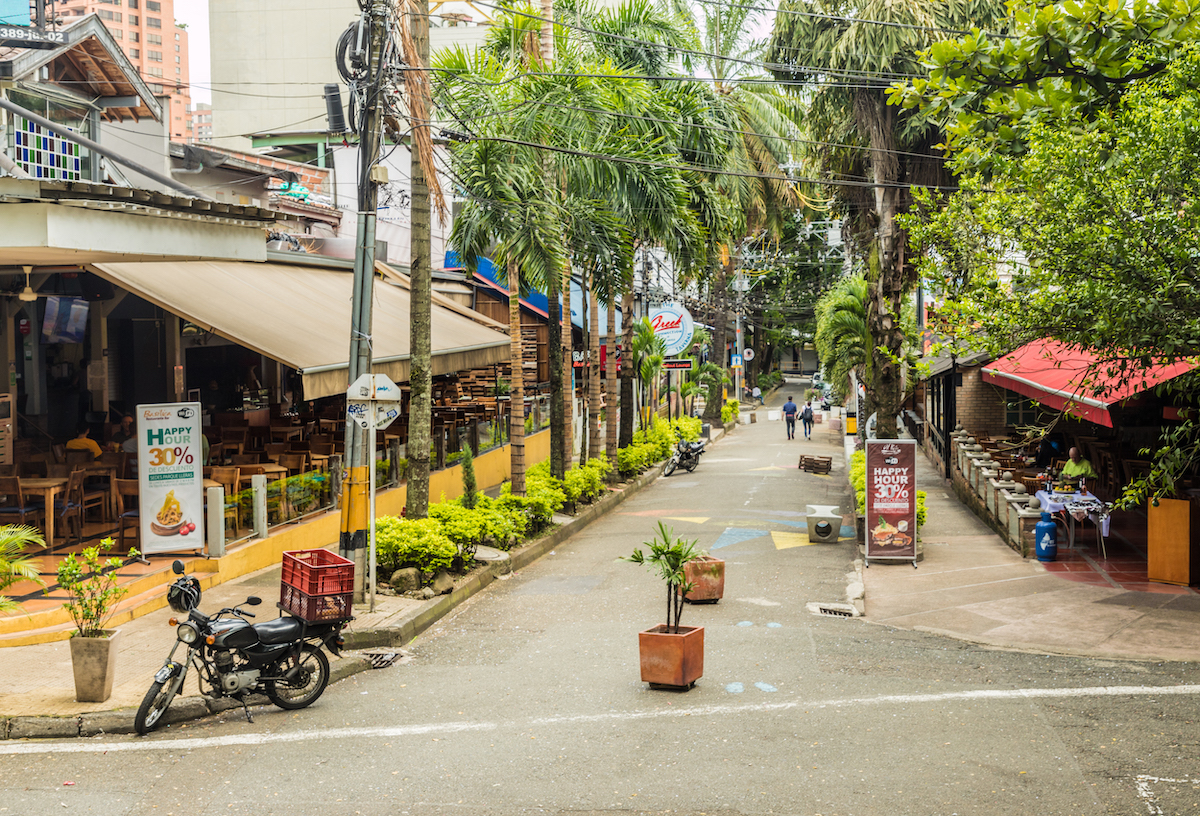 Famously known as the nightlife district of Medellin, Parque Lleras is a smaller area within the Zona Rosa district of Medellin. Street after street and block after block of the Parque Lleras is saturated with bars, clubs and nighttime attractions, making it one of the most sought-after neighbourhoods in the city.
As part of the wider Poblado district, Parque Lleras is frequented by crowds of foreign tourists and nighttime local boozers. This can be an advantage if you're that way inclined, but it can also be a drawback if you're looking for a quieter side when you're living in Medellin.
There is a booming nightlife scene in Parque Lleras and it's an area that you will undoubtedly feel safer in as a result of its popularity. That overhang of international fear of Medellin is long gone when walking the busy streets of Parque Lleras, but don't become so open-minded that your brain falls out!
Pros of living in Parque Lleras
A very popular neighbourhood for foreigners and locals.
Has a regular nightlife scene.
Is part of the wider Poblado district, so best of both worlds.
Cons of living in Parque Lleras
Hectic streets filled with party-goers and Americans screaming "WOO!"
Can portray a disingenuine version of the city.
Loud as f**k maaaate.
Living in Belen as an Expat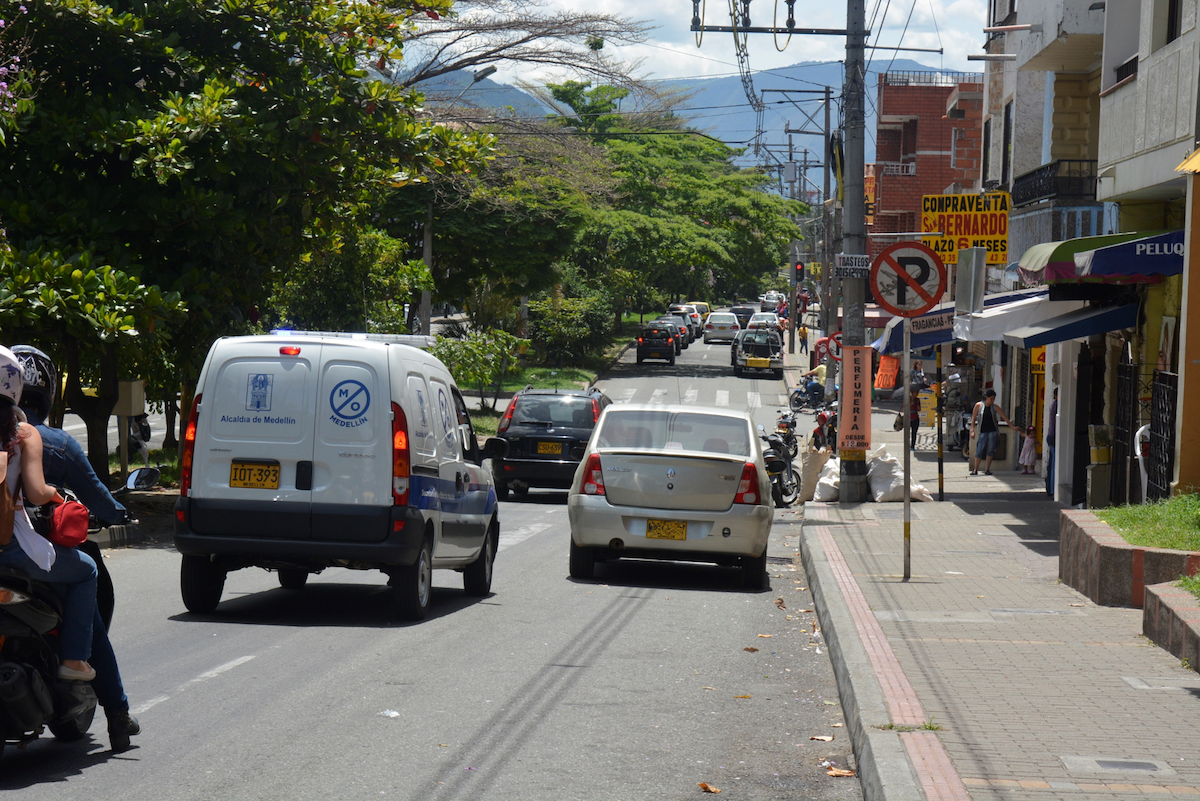 After the extreme neighbourhoods of El Poblado and El Centro, one being quite upmarket and the other a little gritty, the perfect in-between neighbourhood of Belen may just be the right neighbourhood for you.
Lying just west of Medellin River, the working-class neighbourhood of Belen is one of the oldest in the city and has many attractive points of interest to back up this fact.
There is also a perfect balance of recreational activities in this area of the city, ranging from theatres to city malls and a nightlife scene that backs up the claim of being one of the most popular neighbourhoods in Medellin.
It may not be one of the most popular neighbourhoods for tourists, however, Belen fills that gap of being quintessentially Colombian while at the same time harbouring that out-of-town sensibility that makes it attractive to expats and digital nomads.
Pros of living in Belen
Genuine Medellin experience that you may not get in more popular neighbourhoods.
Low cost of rent compared to other busy neighbourhoods.
Great infrastructure including shopping malls, nightlife and theatres.
Cons of living in Belen
It is a little noisy, especially being so close to the airport.
Can be a culture shock for those accustomed to living in more affluent areas.
Living in Envigado as an Expat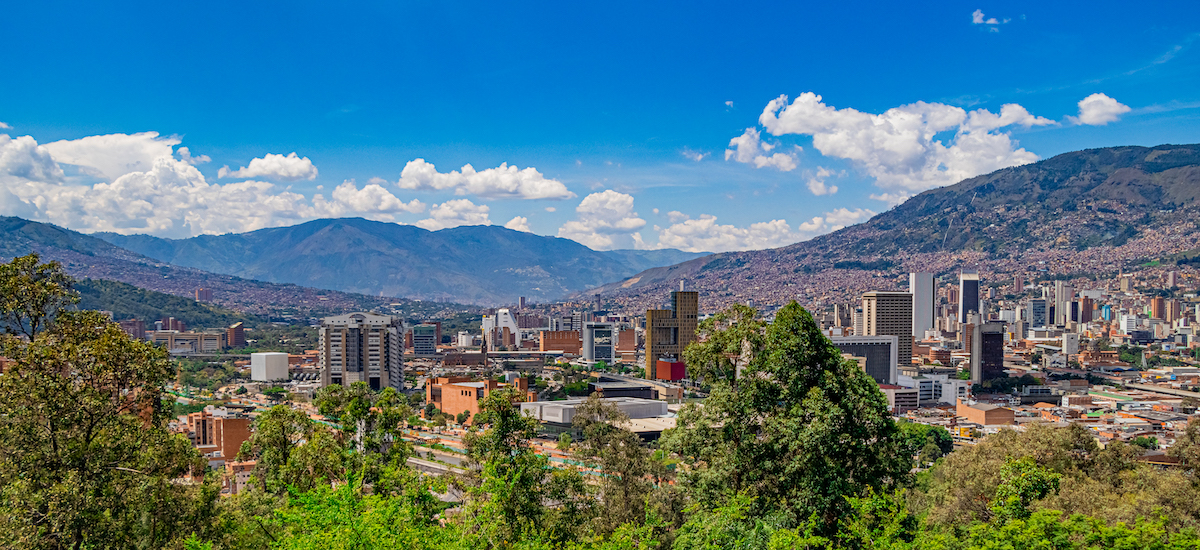 Located in the southernmost regions of Medellin, the neighbourhood of Envigado is an area of the city that still flies the flag high for genuine Colombian living.
Located not too far from the famed El Poblado region of Medellín, Envigado has all the draws that this popular neighbourhood has while still hanging onto the traditional way of life.
One of the more affluent neighbourhoods of the city, choosing Envigado when you're living in Medellin will provide so much more in the way of home comforts. Crime is at a city-wide low in the neighbourhood of Envigado, and that westernised fear of attention and being the possible victims of crime is farther away when walking the streets of Envigado.
Pros of living in Envigado
Lower crime rate.
Suburban-esque way of life.
Close to many popular neighbourhoods without feeling like a tourist hotspot.
Cons of living in Envigado
No coworking spaces in the neighbourhood.
Away from city transport.
Conclusion on Where to Stay in Medellin
It always baffled me when I would meet someone who would moan and groan about where they chose to stay, it's easy to pick holes in what your area lacks, but for me, it makes much more sense to choose somewhere that ticks most of your boxes that you prioritise.
I've stayed in all of the 7 areas above and the best neighbourhood in Medellin for me and my personal preference was and always will be El Poblado.
As someone who works online and needs to work a lot when I'm not travelling, I need as much comfort and convenience as possible, I simply do not have the emotional bandwidth to deal with too much new stimulation – I save that for when I'm properly on the road and not based!
If you can relate to that then choose to live in El Poblado, if you want a mixture of both then choose El Centro and make good use of the public transport in Medellin.
Party animal? Parque Lleras has your back. Want to be more hardcore? Choose Belen, just don't expect me to get involved in any willy-measuring contests to who did moving to Colombia "better," there's no shame in my digital nomad game.
As you can see you are pretty spoiled for choice when it comes to where to stay in Medellin and as cliche as it sounds, the best neighbourhood in Medellin is the one that is best for you, your budget and what you want to get out of your time in the city.